At a Glance
Expert's Rating
Pros
Excellent 4K and 1440p gaming
Cold, silent custom cooler
Loaded with overclocking-friendly features
Fan and RGB headers, striking RGB lights
Precision X1 software is superb
Ray tracing at 4K and 1440p
Ultra-fast GDDR6x memory
Cons
Massive size
Very high power consumption
Steep premium for luxurious features
Ugly red plastic accent 'lips' on ends
Our Verdict
EVGA's GeForce RTX 3080 FTW3 Ultra packs a fantastic custom cooling system and all sorts of extras designed to push clock speeds to 11. Overclocking enthusiasts will love this, and overlook its high power draw and massive size.
Best Prices Today: GeForce RTX 3080 FTW3 Ultra
Before we can review EVGA's luxurious GeForce RTX 3080 FTW3 Ultra, we need to take stock of its place in this new world of graphics cards.
Nvidia has relentlessly improved the design of its own Founders Edition graphics cards over the last few generations. The GTX 10-series Founders Edition added a sleek, metallic design; the RTX 20-series FE swapped out loud blower-style fans for a more common dual-axial setup; and the new GeForce RTX 3080 Founders Edition deployed a radical "flow-through" push-pull cooler than runs significantly quieter than before.
Those constant advancements are great for people who buy the Founders Edition at MSRP, but make life more difficult for board partners like EVGA, Asus, and MSI. What can custom boards offer to justify their premium prices?
Simple: If the Founders Edition is "good enough," more expensive custom RTX 3080 graphics card need to be better.
The MSI RTX 3080 Gaming X Trio went with a beefy three-slot cooler to run much cooler and quieter than Nvidia's FE, for $60 more. EVGA takes things a step further. The $810 GeForce RTX 3080 FTW3 Ultra also relies on heavy metal to run just as cool and even quieter than MSI's card, but then it loads up on extravagant, overclocking-friendly extras like a dual-BIOS switch, sensors embedded throughout the board to provide temperature insight for all sorts of board components, built-in fan and RGB headers, and more. Let's dig in.
EVGA GeForce RTX 3080 FTW3 Ultra specs, features, and design
Based on raw under-the-hood specs, the EVGA GeForce RTX 3080 FTW3 Ultra is largely similar to the Nvidia Founders Edition and essentially identical to the MSI Gaming X Trio, because they're all based on the same "GA102" RTX 3080 chip using the new "Ampere" GPU architecture. Check out our GeForce RTX 3080 Founders Edition review for a deeper look at what's new in Ampere.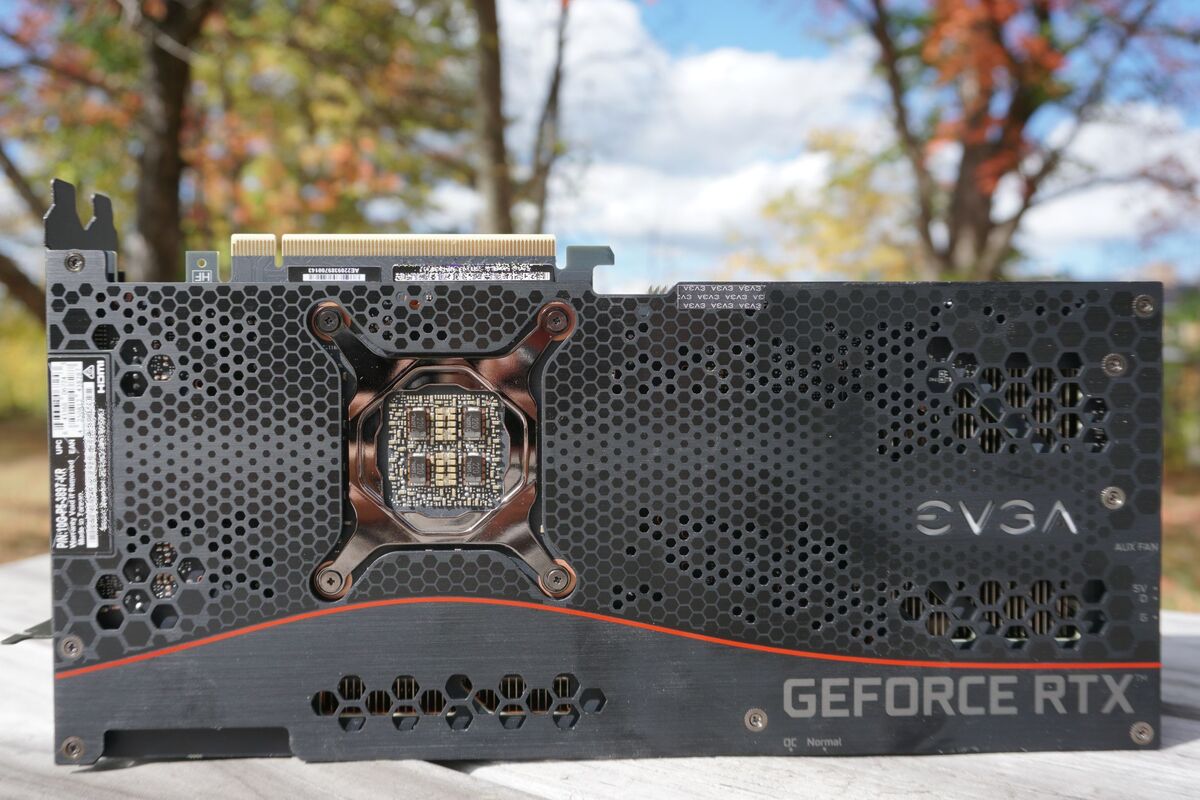 The special sauce for custom cards lies in their specialized cooling design and extra features. Here's a high-level look at what's inside the EVGA RTX 3080 FTW3 Ultra:
CUDA cores: 8,704
Boost clock: 1.8GHz
Memory: 10GB GDDR6X at 9500MHz
Memory bus: 320-bit
Memory bandwidth: 760GB/s
RT cores: 68 (2nd-gen)
Tensor cores: 384 (3rd-gen)
NVLink SLI: No
PCIe: Gen 4
HDMI: 2.1
HDCP: 2.3
Display connectors: 1x HDMI 2.1, 3x DisplayPort 1.4
Dimensions: 3 slots, 11.81 x 5.38-inches
Power: 3x 8-pin
Recommended power supply: 750+ watts
Like the MSI Gaming X Trio, EVGA factory-overclocks the FTW3 Ultra to 1.8GHz out of the box, a 90MHz increase over the Founders Edition's reference specs. Paired with the 10GB of ultra-fast GDDR6X memory, the EVGA RTX 3080 FTW3 Ultra winds up just a hair faster than the Founders Edition in games, but really, all three of these cards deliver essentially the same out-of-the-box performance.
Many people won't buy the EVGA FTW3 Ultra to run it at stock, though. This premium card was built for overclocking and pushing performance boundaries.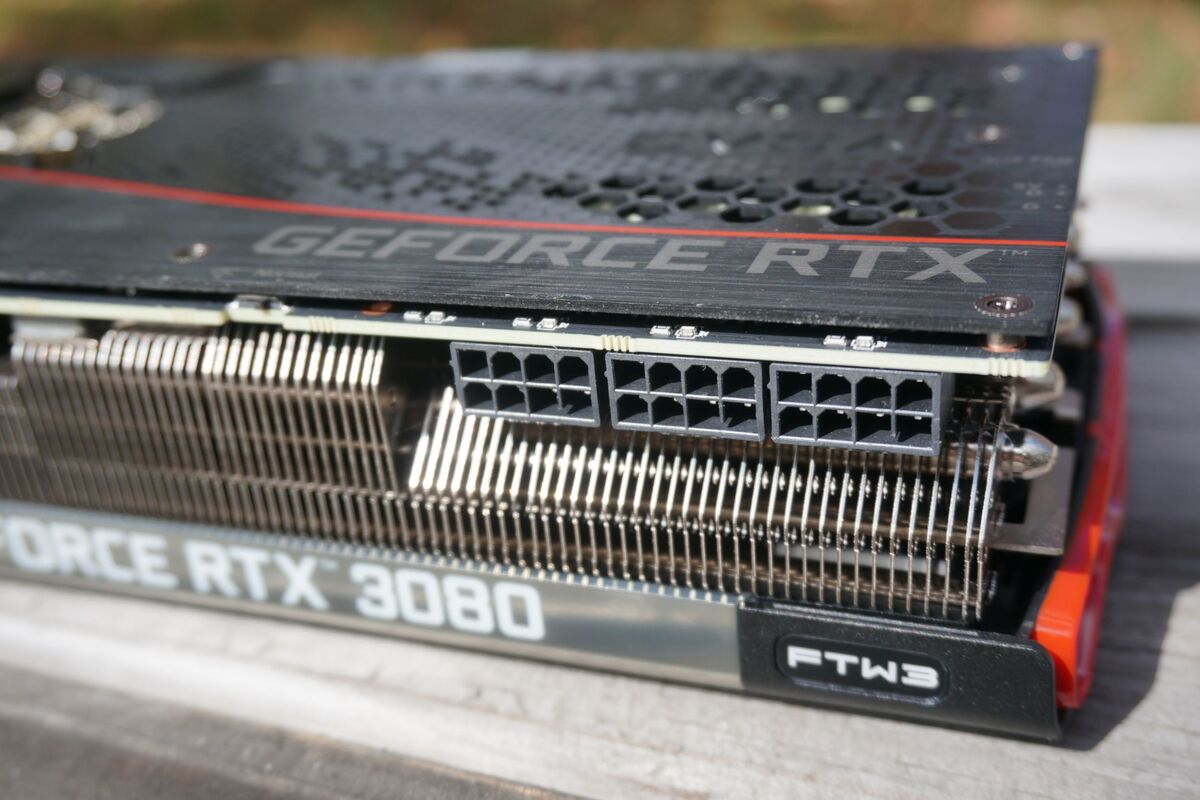 While Nvidia's Founders Edition stuck to a standard 2-slot thickness, embracing an (ugly) new 12-pin adapter that connects to a pair of traditional 8-pin power connectors to help achieve such relative slimness, EVGA took the opposite route. This puppy's a chonker, so much so that EVGA includes a metal support bracket in the box. The RTX 3080 FTW3 Ultra takes three slots in your case, runs almost a foot long, and comes with a trio of 8-pin power connectors rather than a pair. The extra connection doesn't provide much benefit out of the box, but should come in handy during ambitious overclocking endeavors, especially if you're adding a custom waterblock or you're one of the brave few using shunt mods to bypass the GPU's normal power limits.
Mentioned in this article
GeForce RTX 3080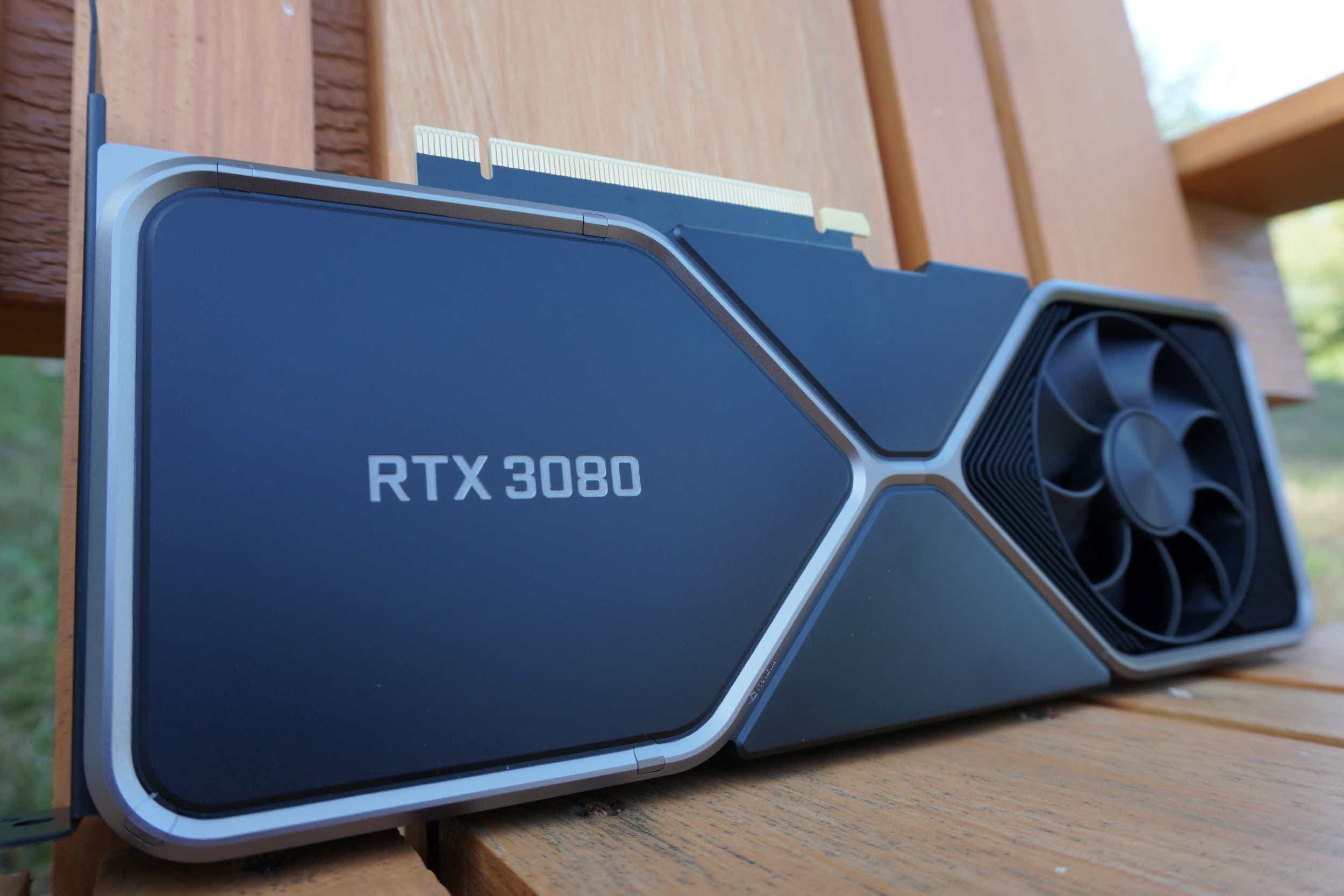 Price When Reviewed:
$699
You can indeed push the EVGA FTW3 Ultra's power limits further than with many rival RTX 3080 cards. The stock reference spec is 350W, but EVGA's card features a stunning 420W power limit. The Founders Edition tops out at 370W if you increase its power target limit in overclocking software like EVGA's fantastic Precision X1. Precision X1 also lets you tap into the not one, not two, but nine "iCX3" sensors that EVGA embedded throughout the card, letting you see temperature readings for different parts of your GPU, memory, and voltage regulation systems. EVGA introduced iCX technology in the GeForce GTX 1080 Superclocked 2 following a (mostly overblown) cooling controversy. It remains a killer exclusive feature for graphics card nerds.
EVGA's entire cooling solution revolves around iCX now. The RTX 3080 FTW3 Ultra features three large second-generation "HDB" fans in its wavy shroud. Their asynchronous control lets each fan respond independently to the actual temperature conditions inside your card, pulling data from those iCX sensors. Better yet, they won't spin whatsoever if your GPU temperatures are under 55 degrees Celsius, so you'll enjoy silent, passively cooled operation during standard desktop usage. (The Founders Edition and MSI Gaming X Trio support idle fan stop as well.) EVGA also offset the center fan by 10mm, which the company claims helps to "increase the direct airflow area by 16 percent."
There's indeed plenty of metal for that air to cool. EVGA slapped an absolutely massive heatsink on this triple-slot card. It's infused with "180-degree" semi-circular heatpipes that EVGA says increases contact area by 65 percent, and bolstered by a large, unified copper block helping to keep both the GPU and memory cool. EVGA says it redesigned the heatsink to allow air to move more freely throughout, then matched that with cut-outs in the custom PCB and aluminum backplate to let air flow through the card (perhaps in a nod to the Founders Edition's unique flow-through design).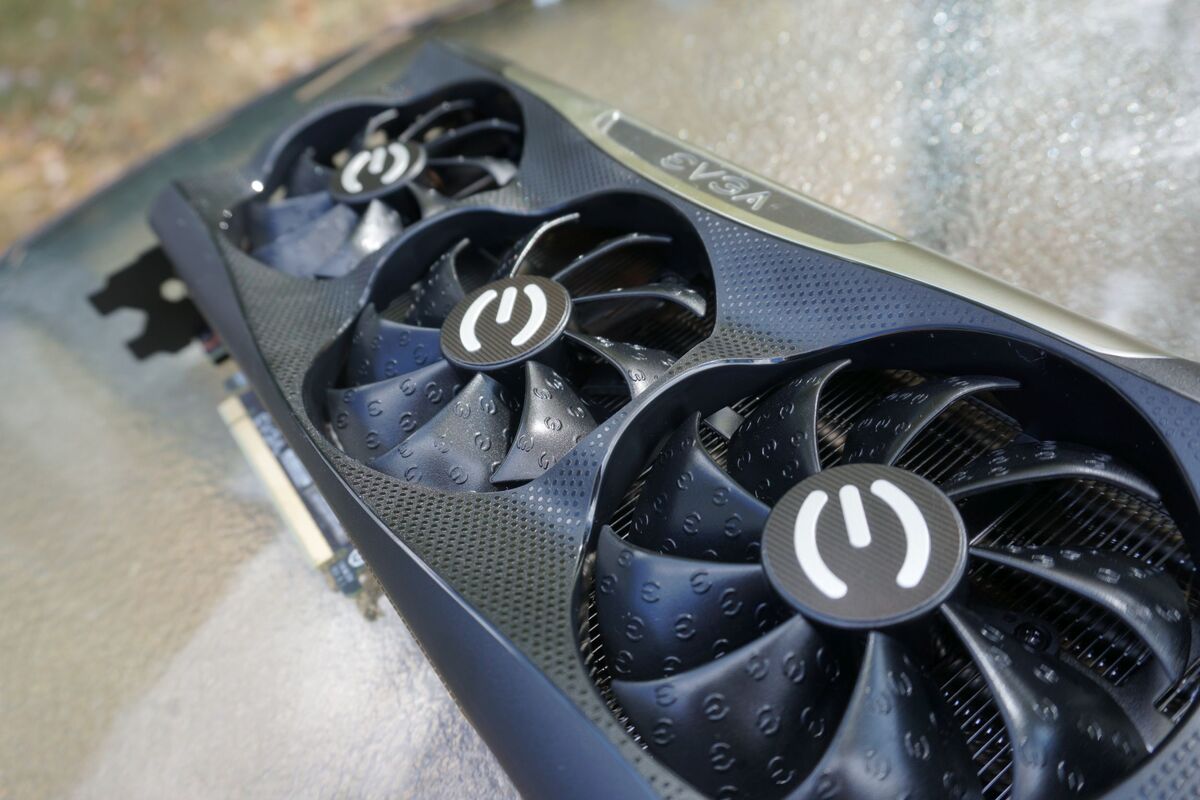 That's a lot of marketing-speak and technical talk, but bottom line? This cooler flat-out works. It tames even the power-hungry RTX 3080 GPU with ease and remains utterly silent even during hot and heavy gaming sessions.
The unique coolers on the RTX 3080 Founders Edition and MSI Gaming X Trio work pretty darn well too, though, and they're cheaper. EVGA justifies the FTW3 Ultra's premium by slapping on extra features you won't find on those other cards.
Don't forget about the higher power limit and iCX sensors, which can prove helpful while overclocking. There's also a dual-BIOS switch on the edge of the card. We test with the stock BIOS, but the secondary "OC" BIOS increases fan speeds to reduce temperatures and give Nvidia's GPU Boost feature more thermal headroom to hit higher clocks (potentially—your luck in the silicon lottery always determines how far a GPU can go). A dual-BIOS switch is really a killer feature for overclockers, though. If you push things too far and things go bad, it's very nice to be able to flip a switch and have another BIOS you can safely boot into.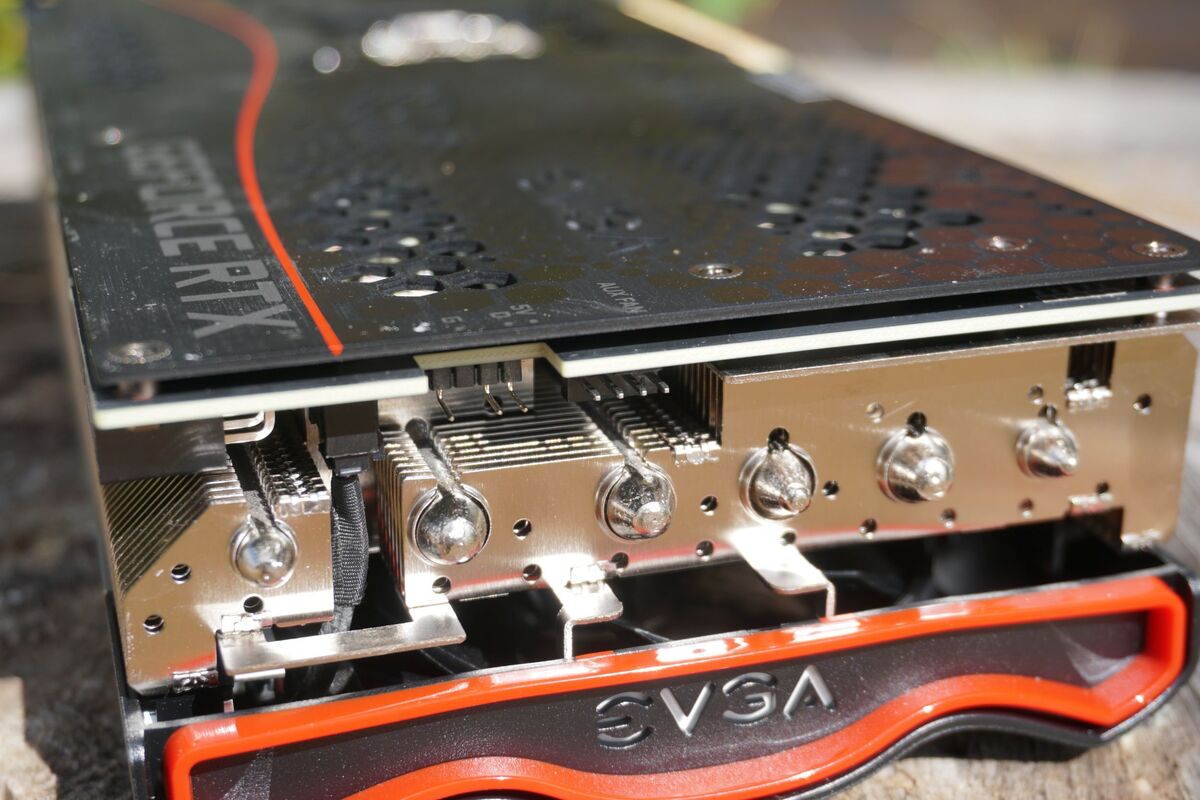 EVGA also equipped the FTW3 Ultra with a PWM fan header on the end of the card. You can plug one of your case's PWM fans into it and have the fan be intelligently controlled by the graphics card's temperature directly, rather than by your motherboard. Cards like the similarly high-end Asus ROG Strix have offered this before, and it proves especially handy if you use your card to control a front case fan pointed directly at the GPU. Next to the fan header, you'll find an ARGB header that you can plug into your motherboard to tie it together with your graphics card's chosen lighting.
Both features can be controlled via EVGA's clean, easy-to-use Precision X1 software, which also provides access to iCX monitoring, an on-screen display that shows vitals during gaming, and overclocking controls—including an easy-peasy OC Scanner tool for modest one-click overclocking tied to your specific GPU's particular capabilities.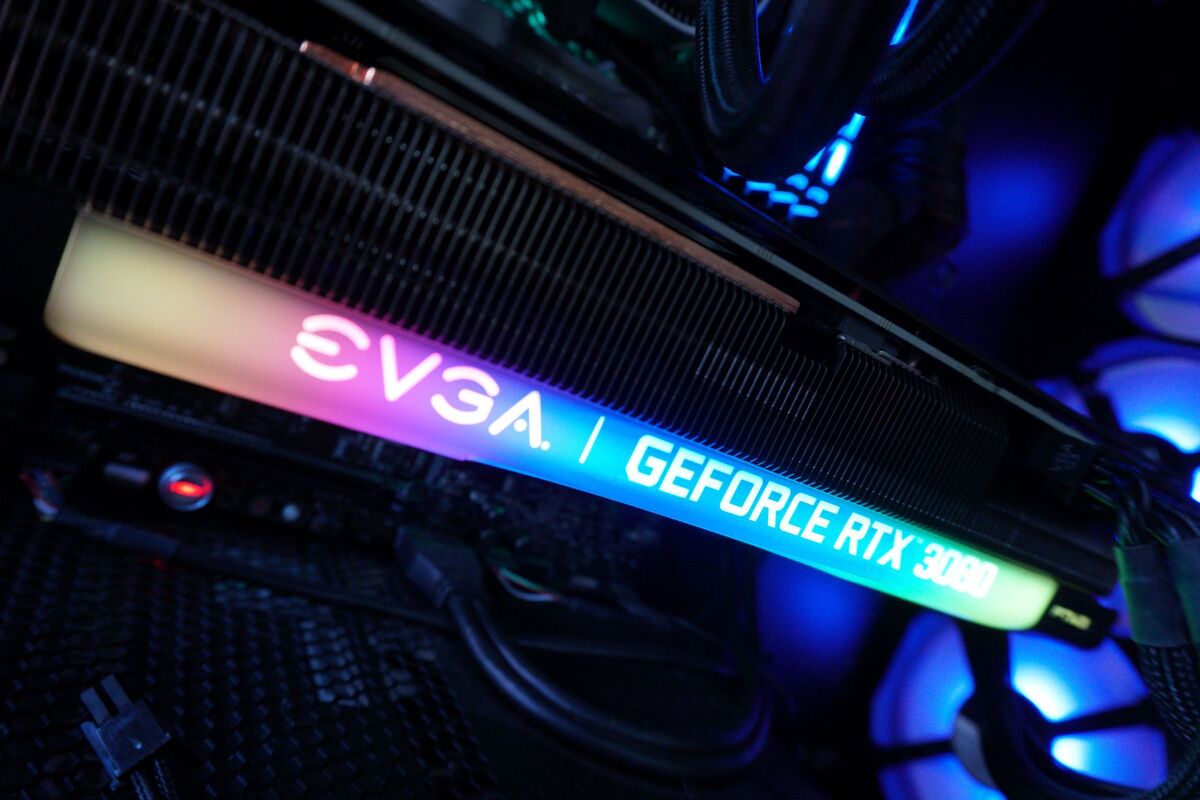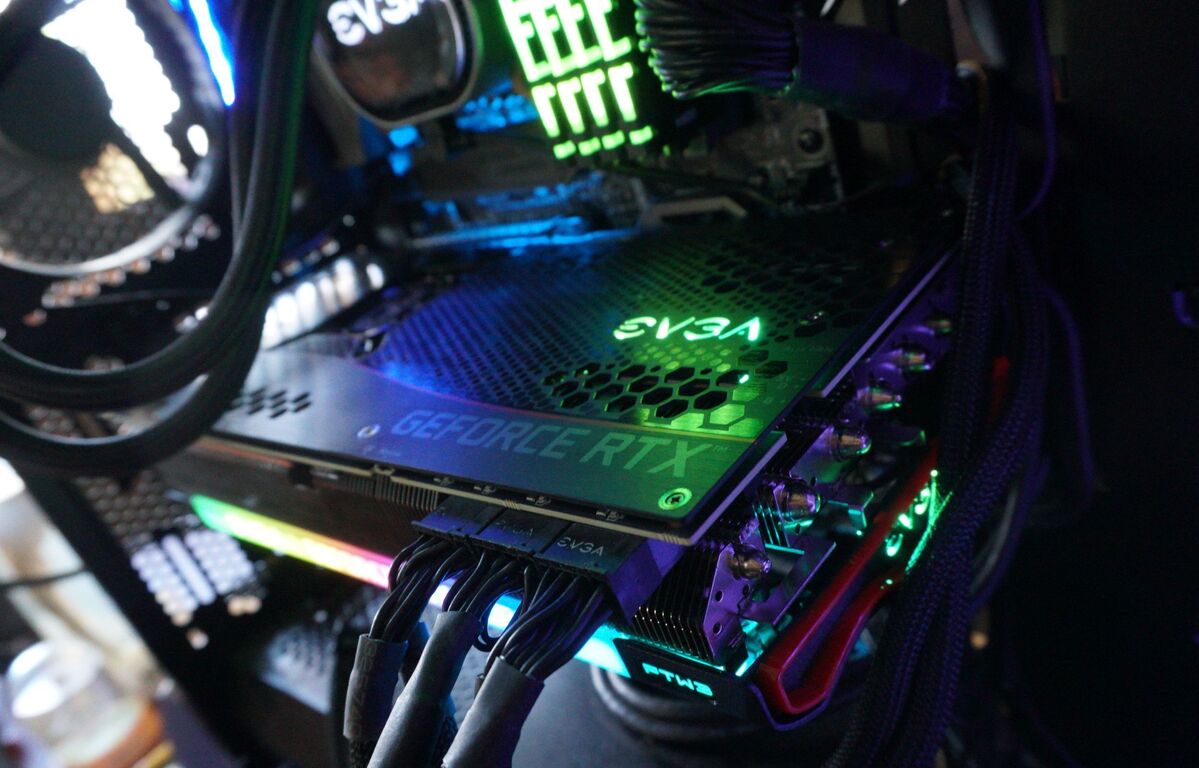 On that note, EVGA filled the RTX 3080 FTW3 Ultra with customizable RGB lights that can also be managed with Precision X1. A large, bedazzling strip on the side of the card defaults to a glimmering rainbow pattern that I found attractive, but it also looks nice when set to a single color. The EVGA logo on the top and end of the card also light up. The MSI Gaming X Trio's RGB lighting isn't as striking, by comparison, and the Nvidia Founders Edition's logo only glows in white.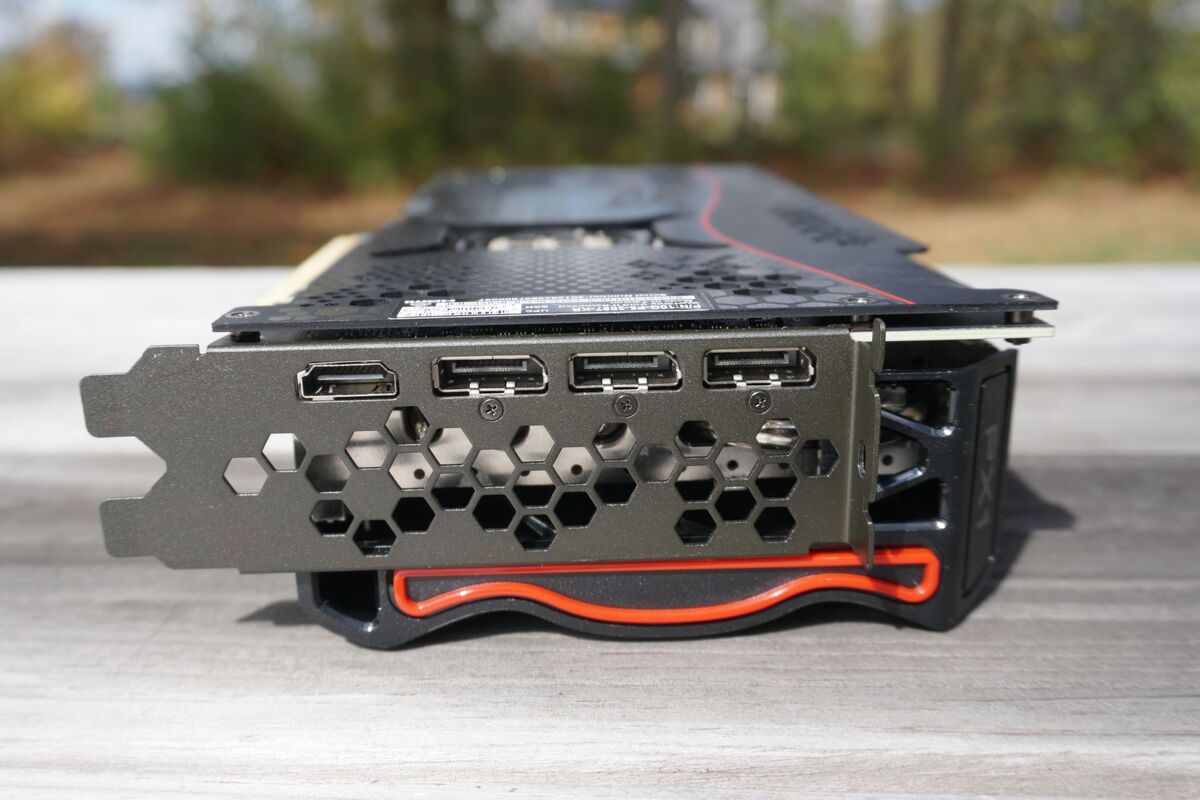 Finally, let's talk about the elephant in the room, and the source of many Internet jokes. EVGA plopped a red plastic accent strip on the end of its RTX 30-series GPUs, and while tastes can be subjective, well, it doesn't look great. JayzTwoCents likened it to a sad clown, and once you've seen it, you can't unsee it. The red trim will really stand out in most systems, and probably not in a good way.
EVGA has listened to the feedback and plans to offer a variety of replacement colors free of charge for existing owners. You can see them in the image below, and EVGA says more details will be announced soon.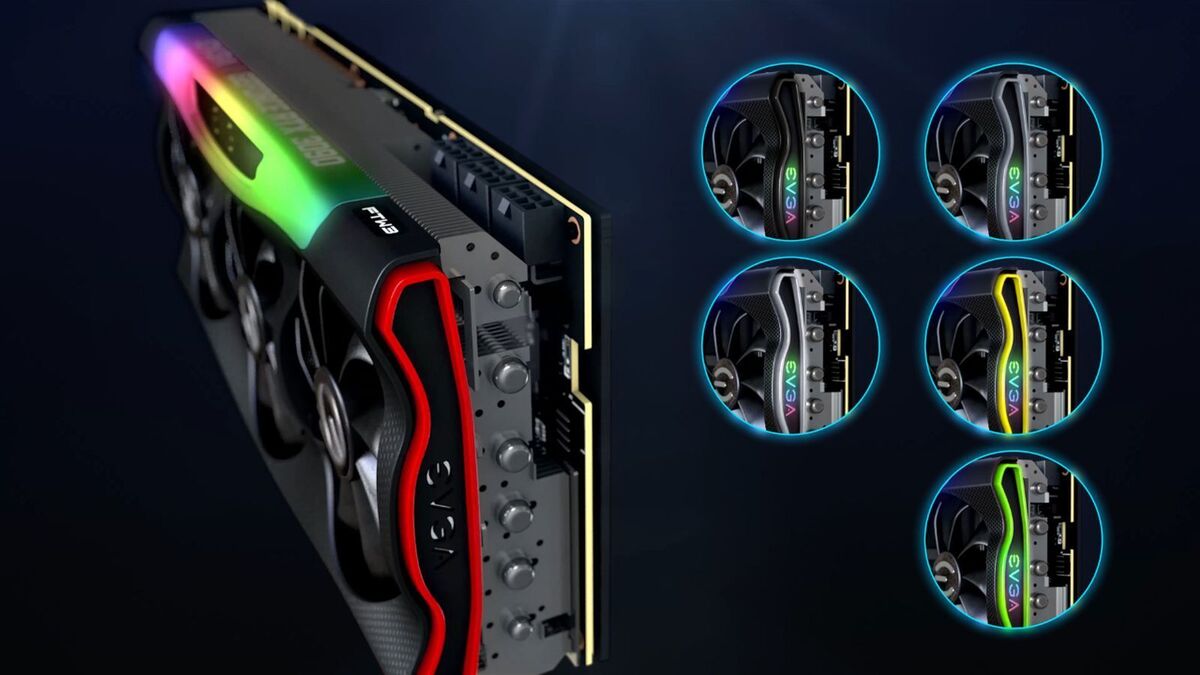 That plays into another reason to consider this card: EVGA is known for being very responsive to customer feedback. The company gets high marks around the web for its stellar customer service and EVGA Step-Up Program.
Now you know everything you need to know about the EVGA GeForce RTX 3080 FTW3 Ultra—except how it runs. Let's get to that.
Our test system
Our dedicated graphics card test system is a couple of years old, but it's packed with some of the fastest complementary components available to put any potential performance bottlenecks squarely on the GPU. Most of the hardware was provided by the manufacturers, but we purchased the cooler and storage ourselves.
Intel Core i7-8700K processor ($300 on Amazon) overclocked to 5GHz all cores
EVGA CLC 240 closed-loop liquid cooler ($105 on Amazon)
Asus Maximus X Hero motherboard
64GB HyperX Predator RGB DDR4/2933 ($355 on Amazon)
EVGA 1200W SuperNova P2 power supply ($352 on Amazon)
Corsair Crystal 570X RGB case, with front and top panels removed and an extra rear fan installed for improved airflow
2x 500GB Samsung 860 EVO SSDs ($70 each on Amazon)
The overclocked 5GHz Core i7-8700K performs as well as the stock Core i9-10900K in games. For more info on why we're sticking to a PCIe 3.0 system with an Intel chip rather than an AMD Ryzen system with PCIe 4.0 to take potential advantage of the RTX 3080's PCIe 4.0 connector, read our GeForce RTX 3080 Founders Edition review. (In a nutshell, fast chips make a bigger difference than PCIe 4.0 in performance.)
Mentioned in this article
GeForce RTX 3080 Gaming X Trio 10G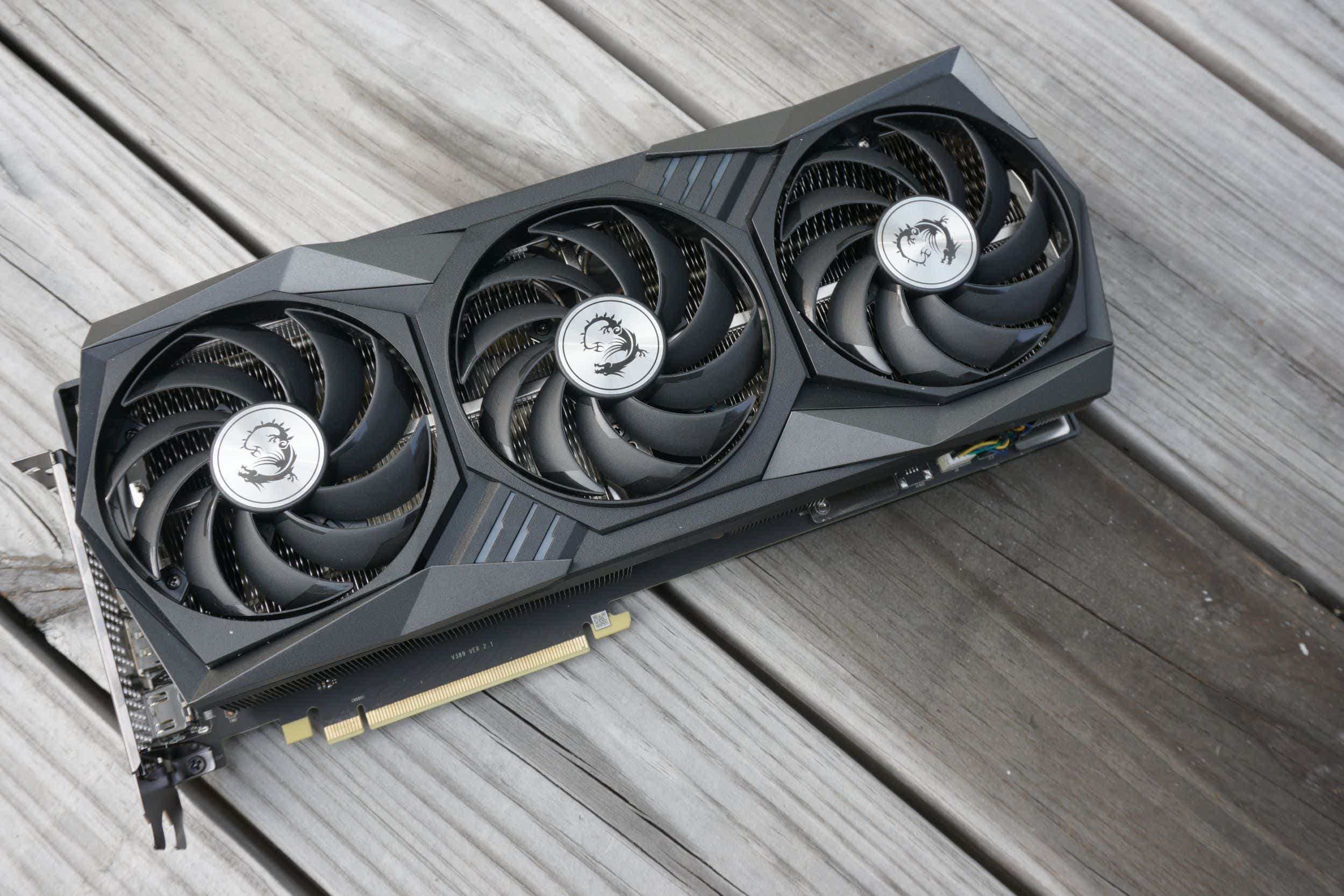 Price When Reviewed:
$750
We're comparing the $810 EVGA GeForce RTX 3080 FTW3 Ultra against the $750 MSI GeForce RTX 3080 Gaming X Trio 10G and Nvidia's $700 GeForce RTX 3080 Founders Edition, of course. Now that it's here, we're including the step-up $1,500 GeForce RTX 3090 FE as well.
We've also included results for a bunch of prior-gen Founders Edition cards: Nvidia's $800 GeForce RTX 2080, $1,200 RTX 2080 Ti, and the older $700 GTX 1080. (MSRP prices for the 1080 and 2080 started at $100 less, but Nvidia charged a premium for the FE models.) Because so many owners of the $700 GTX 1080 Ti decided to skip over the lackluster performance increase in the similarly priced RTX 2080, we're also including the EVGA GTX 1080 Ti SC2 in our roundup.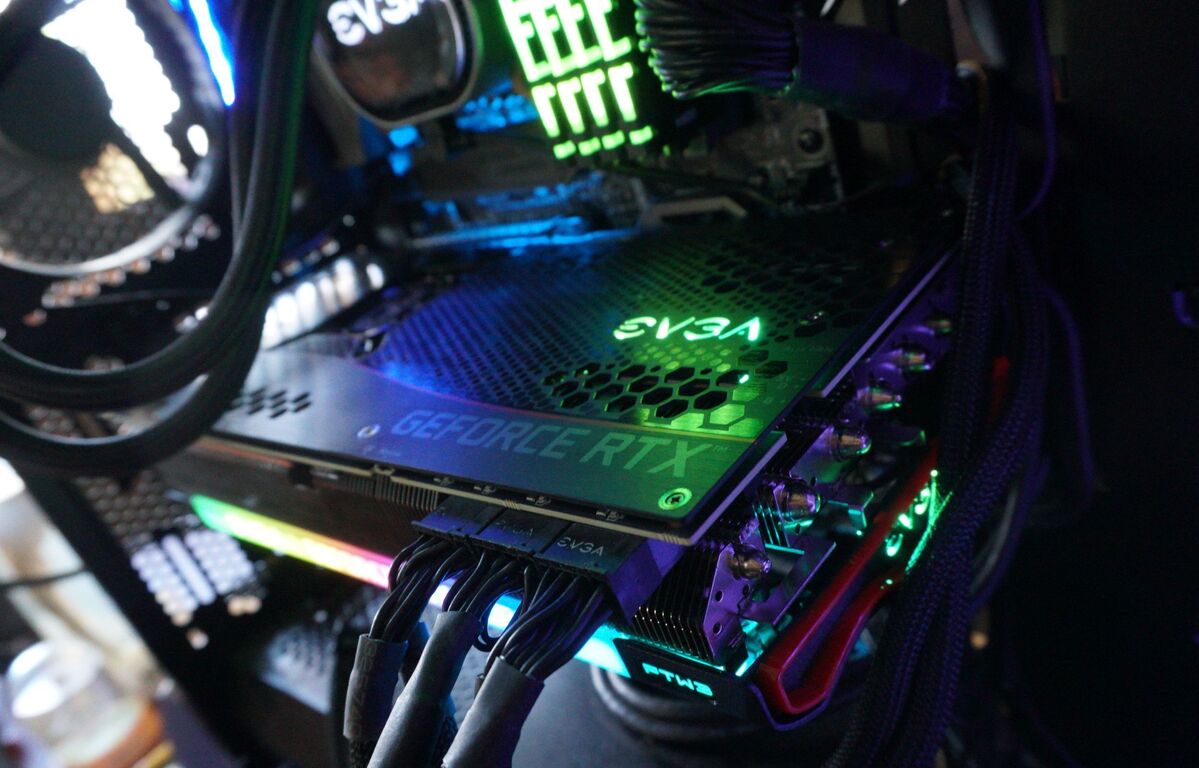 We test a variety of games spanning various engines, genres, and graphics APIs (DirectX 11, DX12, and Vulkan). Each game is tested using its in-game benchmark at the highest possible graphics presets unless otherwise noted, with VSync, frame rate caps, real-time ray tracing or DLSS effects, and FreeSync/G-Sync disabled, along with any other vendor-specific technologies like FidelityFX. We've also enabled temporal anti-aliasing (TAA) to push these cards to their limits. We run each benchmark at least three times and list the average result for each test.
We tested the older cards using Nvidia's publicly available 452.06 Game Ready driver, the RTX 3080 Gaming X Trio and Founders Edition models using a 452.16 driver provided early to reviewers, and the EVGA FTW3 using newly available 456.55 drivers, which fixed stability problems experienced with some early RTX 3080 boards. It limits pure peak GPU Boost clock speeds, but only slightly. Our testing proved the new drivers deliver identical gaming performance to the older ones.
Earlier reviews established that the RTX 3080 isn't a compelling 1080p gaming option for most people, so we'll focus on 1440p and 4K results here.
EVGA GeForce RTX 3080 FTW3 Ultra gaming benchmarks
The EVGA GeForce RTX 3080 FTW3 delivers performance on a par with the MSI Gaming X Trio. They come out ahead of Nvidia's Founders Edition, but just barely. As such, we're simply going to present these graphs with minimal commentary until our final analysis at the end of this review.
For more in-depth comparisons about how the RTX 3080 stacks up versus prior-gen graphics cards, or a deeper analysis of real-time ray tracing and DLSS, check out our original Nvidia RTX 3080 FE review. (These RTX 3080 cards are monsters at 4K and 1440p, and they're fast enough that you can enable ray tracing and DLSS while still playing at those lofty resolutions.)
Horizon Zero Dawn
Yep, Sony exclusives are hitting the PC now. Horizon Zero Dawn hit Steam with some performance issues, but the most egregious ones have been mostly cleared up thanks to hard work from the developers, and the game topped the sales charts for weeks after its release. It also seems to respond somewhat to PCIe 4.0 scaling, which will make this an interesting inclusion when we shift to a PCIe 4.0-based system in the future.
Horizon Zero Dawn runs on Guerrilla Games' Decima engine, the same engine that powers Death Stranding. Ambient Occlusion can still offer iffy results if set to Ultra, so we test with that setting at Medium. Every other visual option is maxed out.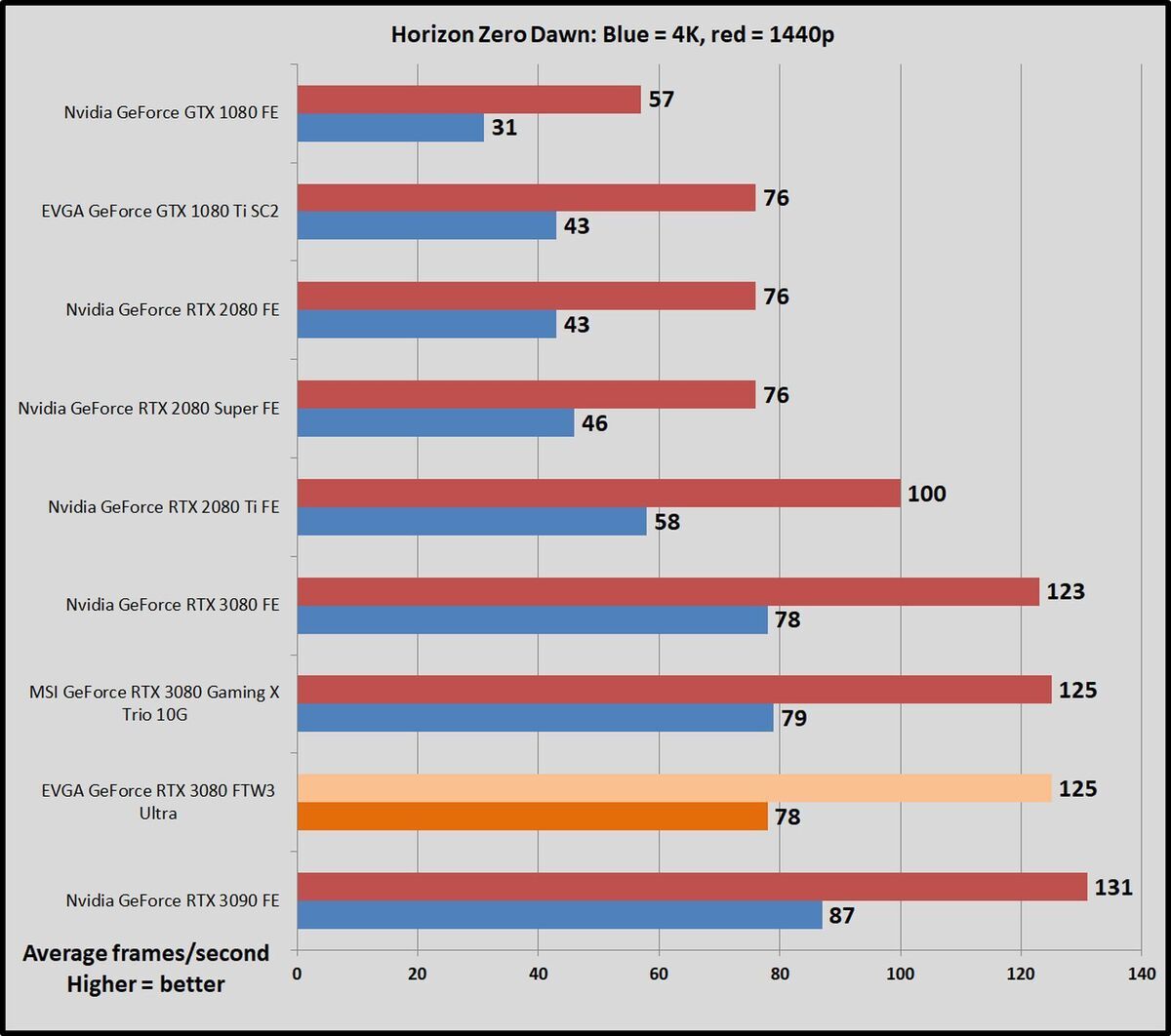 Gears Tactics
Gears Tactics puts it own brutal, fast-paced spin on the XCOM-like genre. This Unreal Engine 4-powered game was built from the ground up for DirectX 12, and we love being able to work a tactics-style game into our benchmarking suite. Better yet, the game comes with a plethora of graphics options for PC snobs. More games should devote such loving care to explaining what flipping all these visual knobs mean. You can't use the presets to benchmark Gears Tactics, as it intelligently scales to work best on your installed hardware, meaning that "Ultra" on one graphics card can load different settings than "Ultra" on a weaker card. We manually set all options to their highest possible settings.
Fun fact: The GeForce RTX 3080 FE is the only graphics card that doesn't generate a "Your GPU can't handle this" warning when enabling Glossy Reflections, and only the 3080 and the RTX 2080 Ti lack that warning for Planar Reflections. Told you these cards are monsters.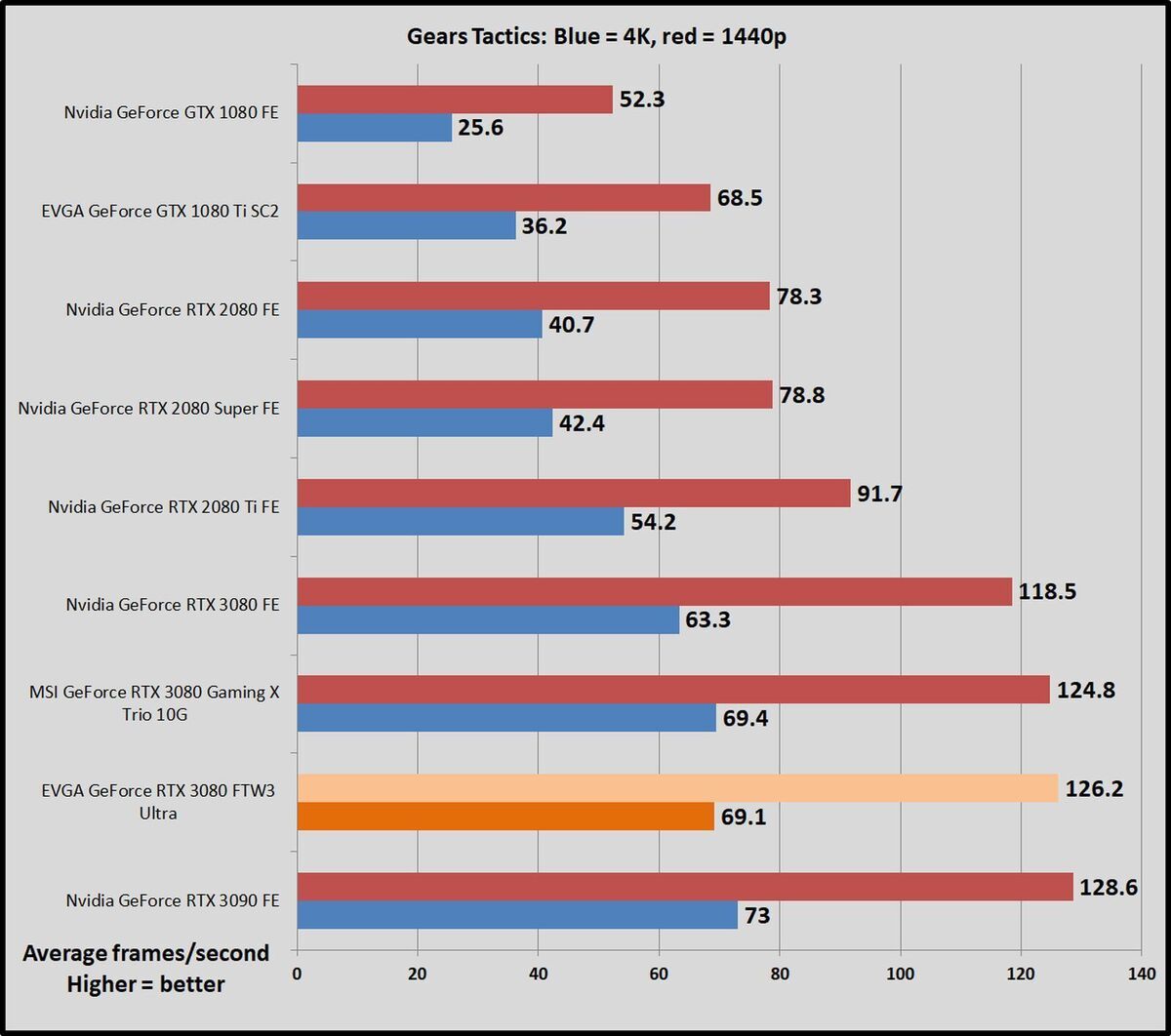 Metro Exodus
One of the best games of 2019, Metro Exodus is one of the best-looking games around, too. The latest version of the 4A Engine provides incredibly luscious, ultra-detailed visuals, with one of the most stunning real-time ray tracing implementations released yet. We test in DirectX 12 mode with ray tracing, Hairworks, and DLSS disabled for our basic benchmarks.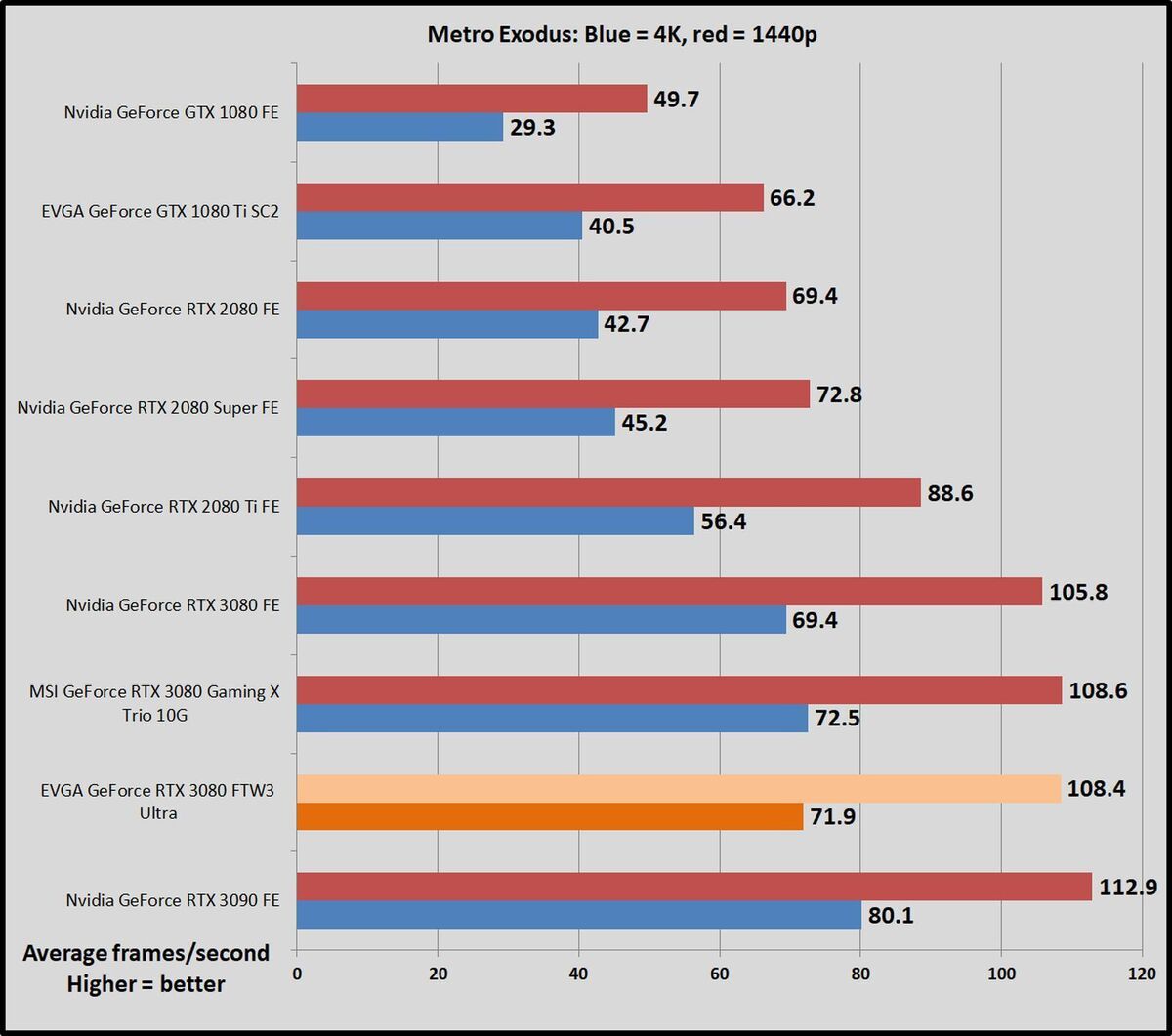 Borderlands 3
Borderlands is back! Gearbox's game defaults to DX12, so we do as well. It gives us a glimpse at the ultra-popular Unreal Engine 4's performance in a traditional shooter.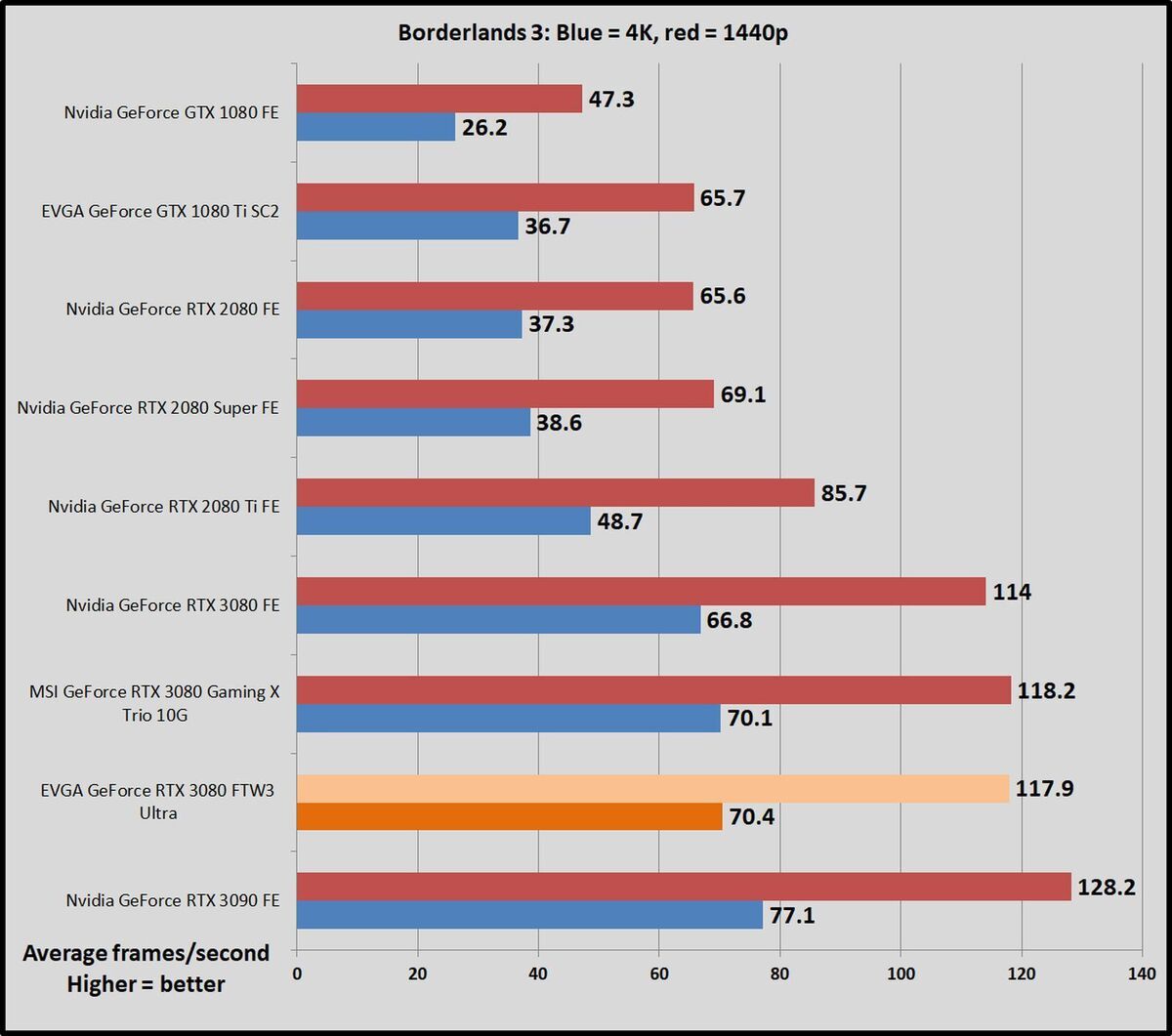 Strange Brigade
Strange Brigade is a cooperative third-person shooter where a team of adventurers blasts through hordes of mythological enemies. It's a technological showcase, built around the next-gen Vulkan and DirectX 12 technologies and infused with features like HDR support and the ability to toggle asynchronous compute on and off. It uses Rebellion's custom Azure engine. We test using the Vulkan renderer, which is faster than DX12.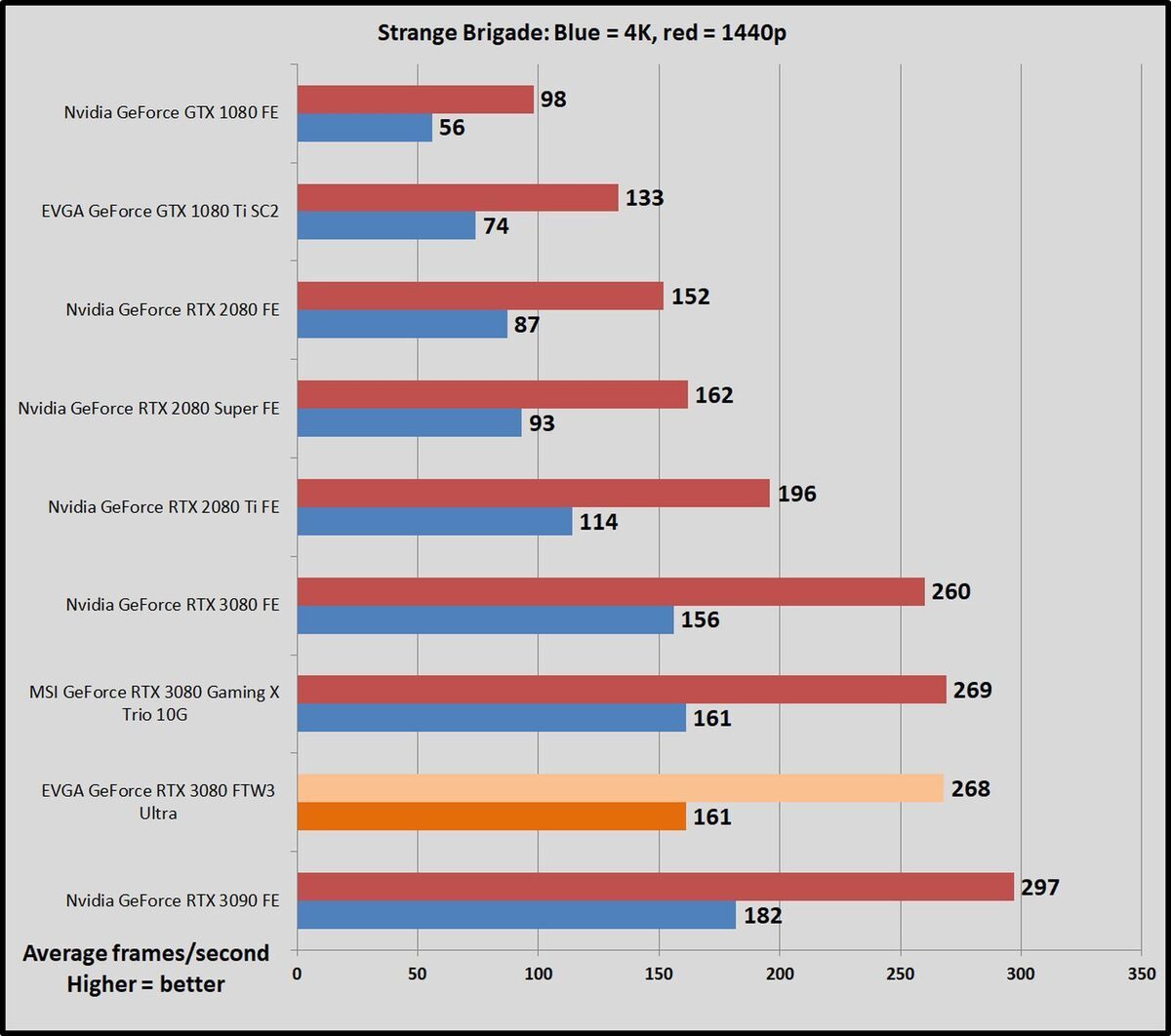 Total War: Troy
The latest game in the popular Total War saga, Troy was given away free for its first 24 hours on the Epic Games Store, moving over 7.5 million copies before it went on proper sale. Total War: Troy is built using a modified version of the Total War: Warhammer 2 engine, and this DX11 title looks stunning for a turn-based strategy game.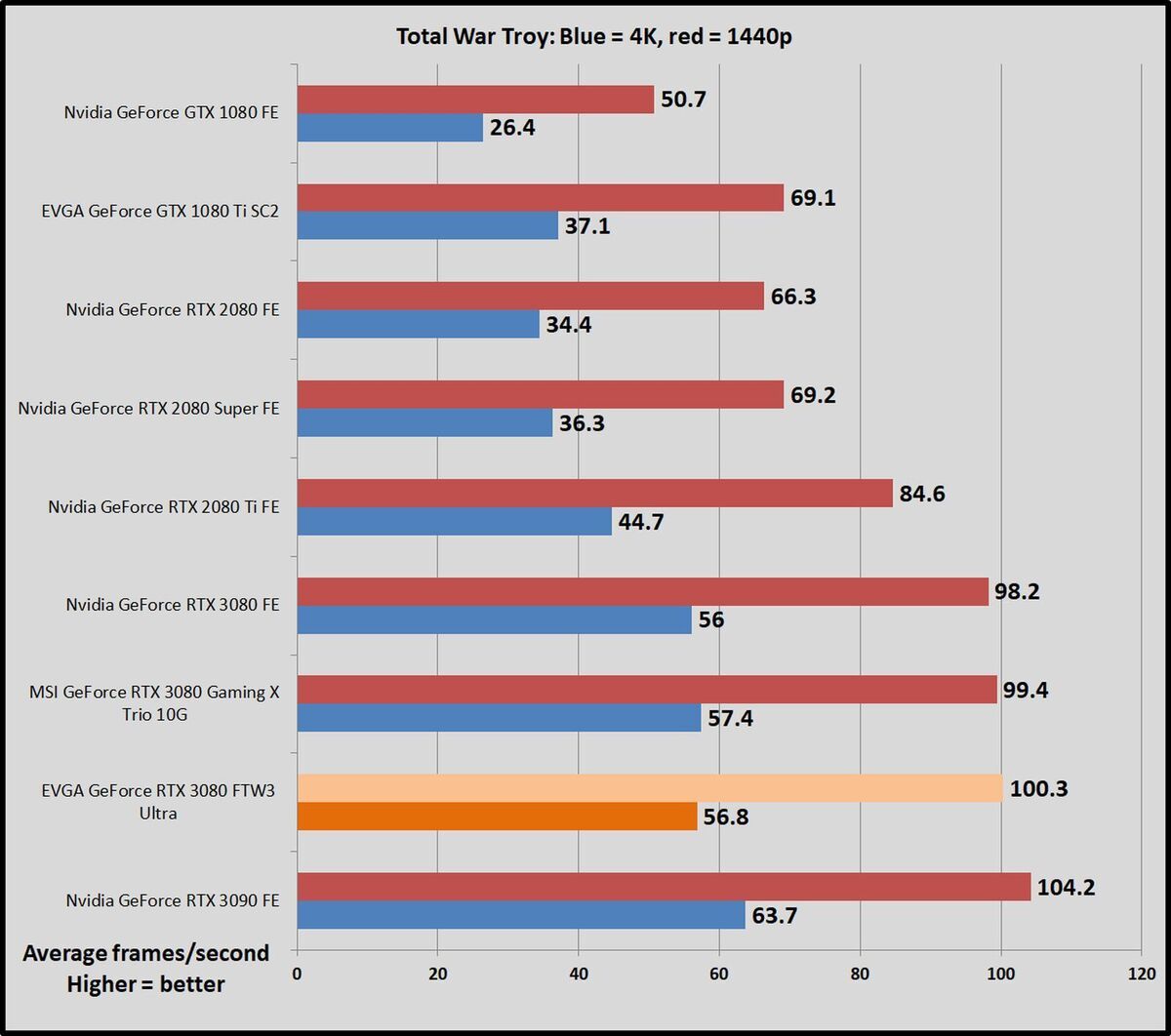 F1 2020
The latest in a long line of successful racing games, F1 2020 is a gem to test, supplying a wide array of both graphical and benchmarking options, making it a much more reliable (and fun) option that the Forza series. It's built on the latest version of Codemasters' buttery-smooth Ego game engine, complete with support for DX12 and Nvidia's DLSS technology. We test two laps on the Australia course, with clear skies on and DLSS off.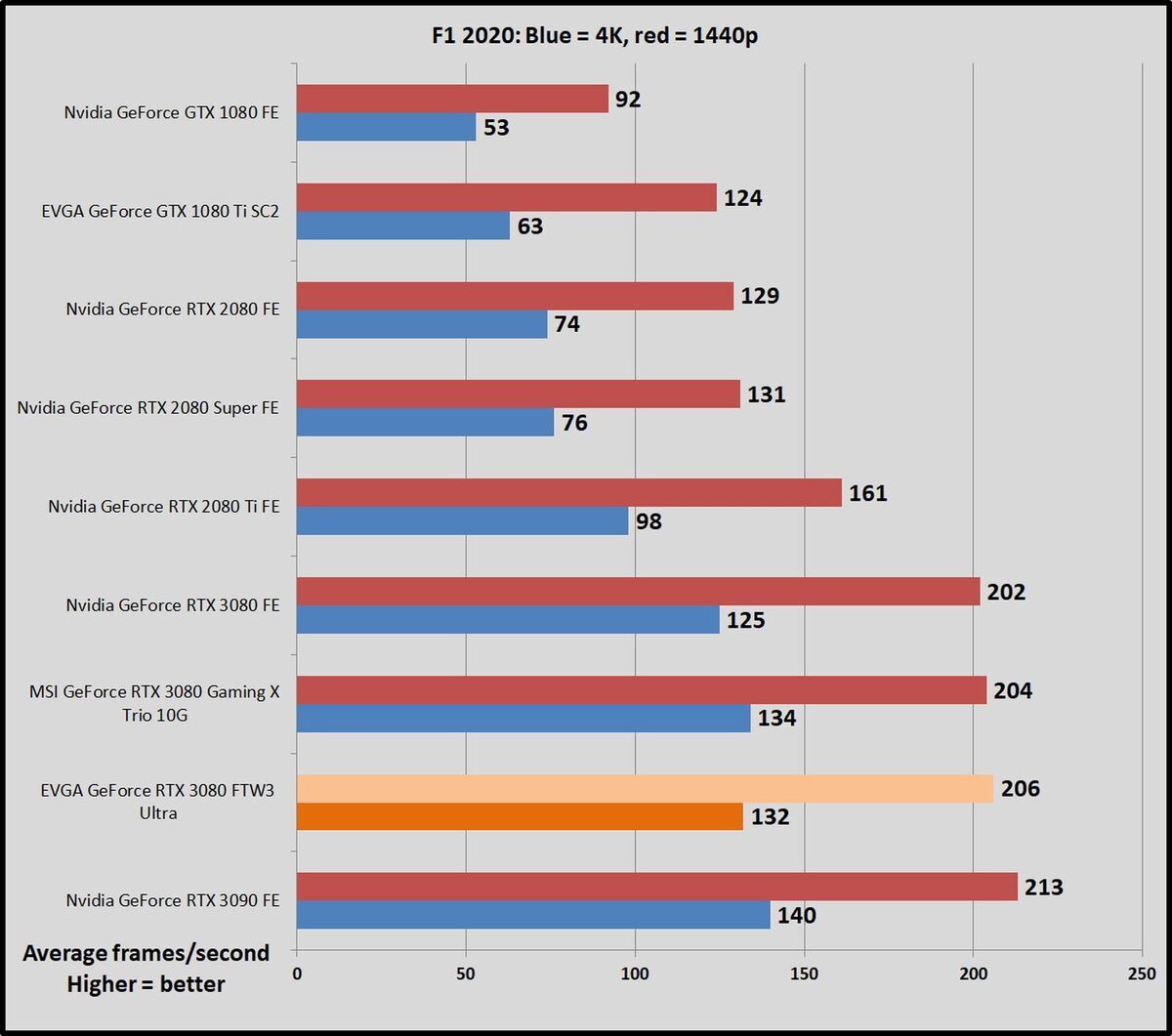 Shadow of the Tomb Raider
Shadow of the Tomb Raider concludes the reboot trilogy, and it's utterly gorgeous. Square Enix optimized this game for DX12, and recommends DX11 only if you're using older hardware or Windows 7, so we test with DX12. Shadow of the Tomb Raider uses an enhanced version of the Foundation engine that also powered Rise of the Tomb Raider and includes optional real-time ray tracing and DLSS features.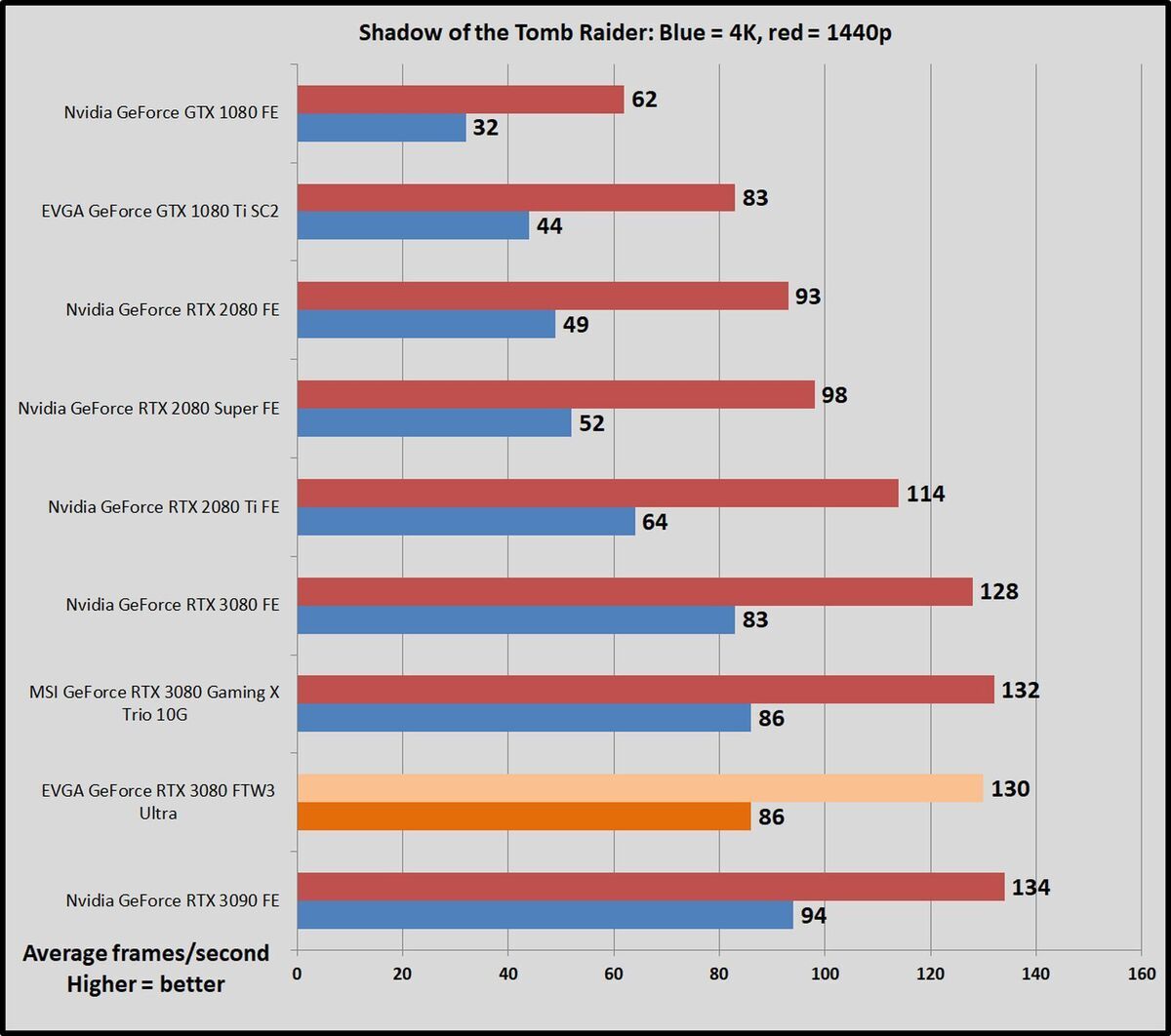 GTA V
This DX11 game that isn't really a visual barn-burner like the (somewhat wonky) Red Dead Redemption 2, but it still tops the Steam charts day in and day out, so we deem it more worthy of testing. RDR2 will melt your graphics card, sure, but GTA V remains so popular years after launch that upgraded versions of it will be available on the next-generation consoles. That's staying power.
We test Grand Theft Auto V with all options turned to Very High, all Advanced Graphics options except extended shadows enabled, and FXAA. GTA V runs on the RAGE engine and has received substantial updates since its initial launch.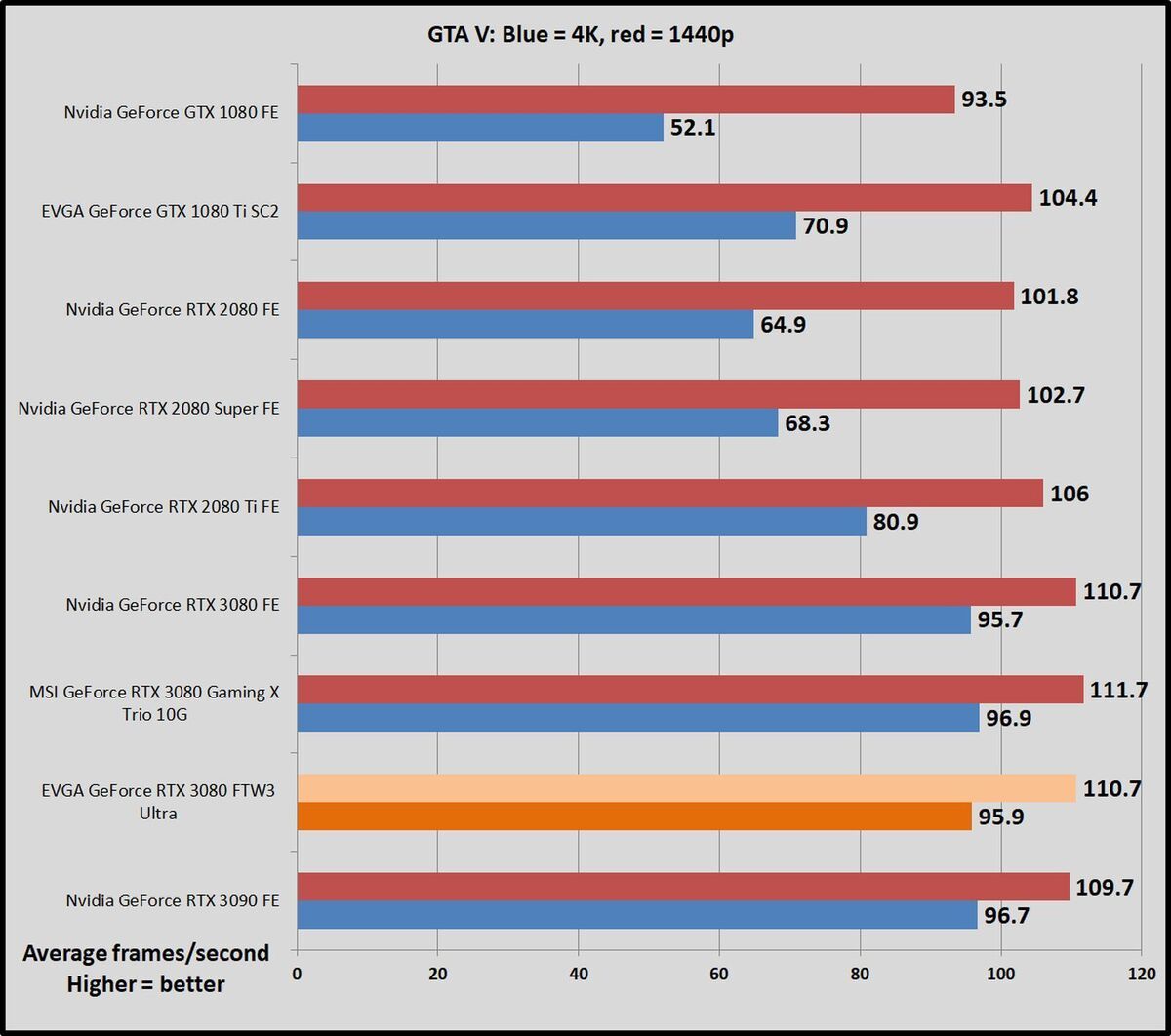 Rainbow Six Siege
Like GTA V, Ubisoft's Rainbow Six Siege still dominates the Steam charts years after its launch, and it'll be getting a visual upgrade for the next-gen consoles. The developers have poured a ton of work into the game's AnvilNext engine over the years, eventually rolling out a Vulkan version of the game that we use to test. By default, the game lowers the render scaling to increase frame rates, but we set it to 100 percent to benchmark native rendering performance on graphics cards. Even still, frame rates soar.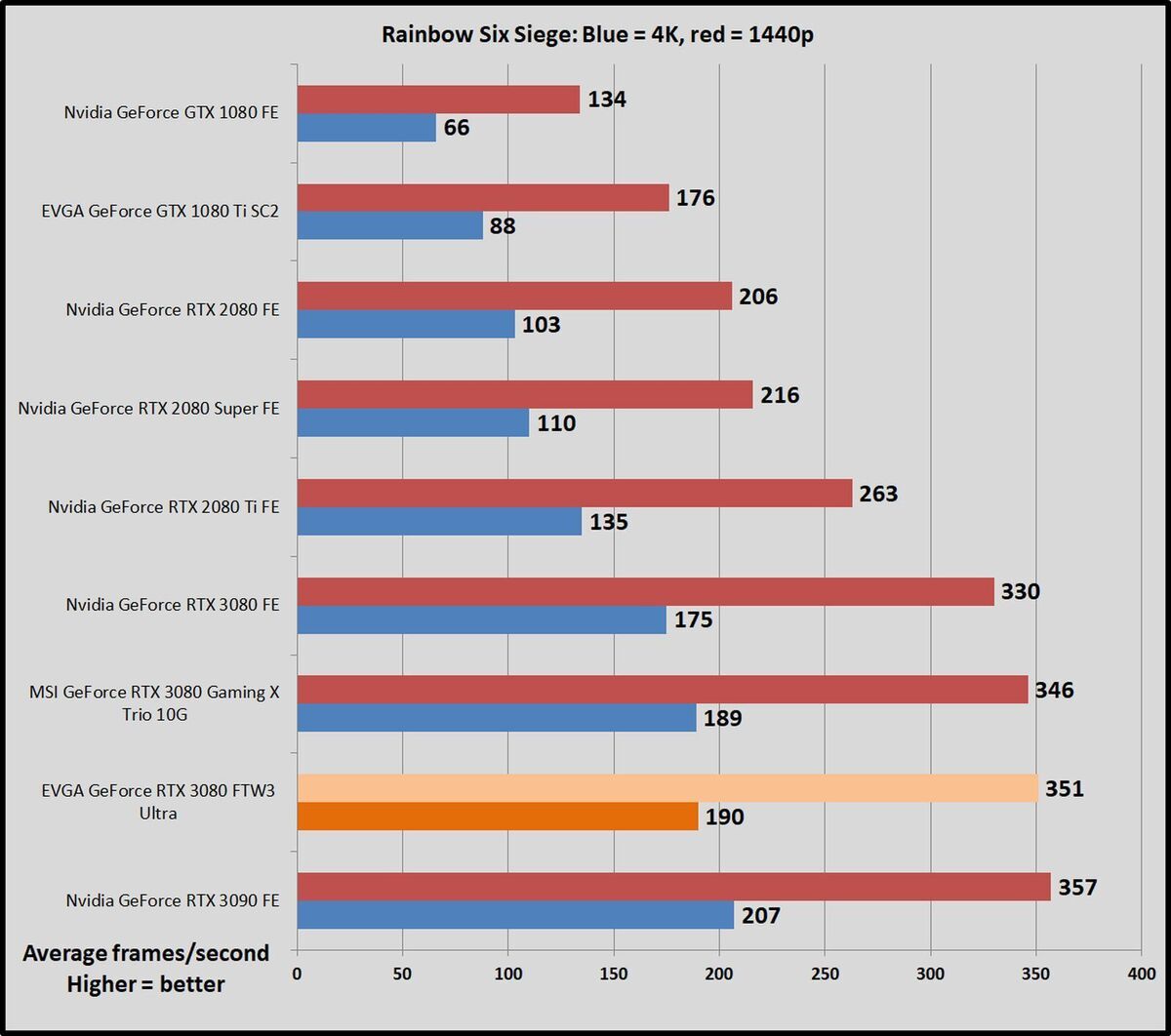 Power draw, thermals, and noise
We test power draw by looping the F1 2020 benchmark at 4K for about 20 minutes after we've benchmarked everything else. We note the highest reading on our Watts Up Pro meter, which measures the power consumption of our entire test system. The initial part of the race, where all competing cars are onscreen simultaneously, tends to be the most demanding portion.
This isn't a worst-case test; we removed the Core i7 8700K's overclock and specifically chose a GPU-bound game running at a GPU-bound resolution to gauge performance when the graphics card is sweating hard. If you're playing a game that also hammers the CPU, you will see higher overall system power draws. Consider yourself warned.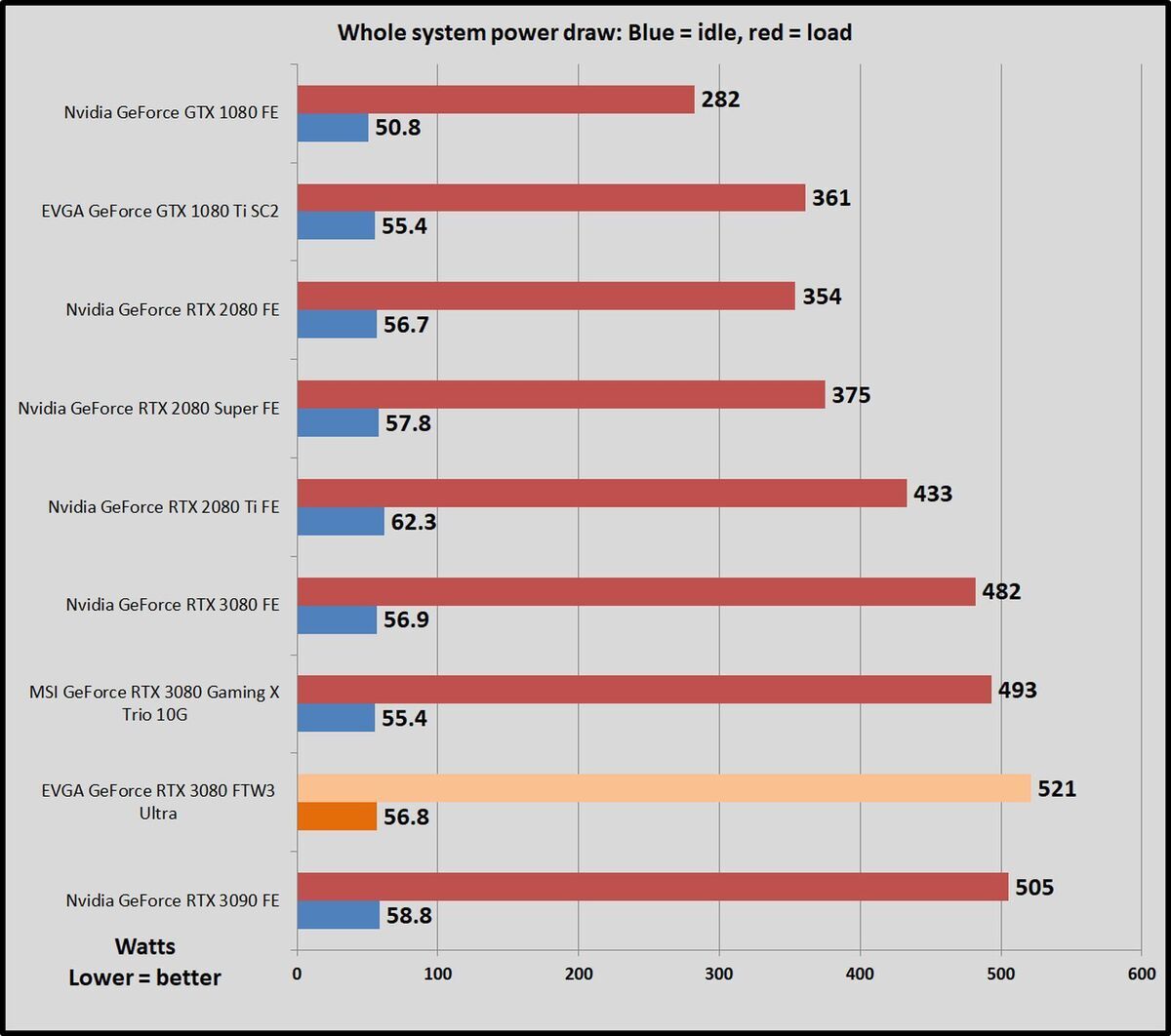 Nvidia's GA102 GPU is a power hungry chip, and it's even more so under the FTW3 Ultra's factory overclock and abundant RGB lights. Make sure your power supply is up to snuff before you snag any of these Ampere cards.
We test thermals by leaving GPU-Z open during the F1 2020 power draw test, noting the highest maximum temperature at the end.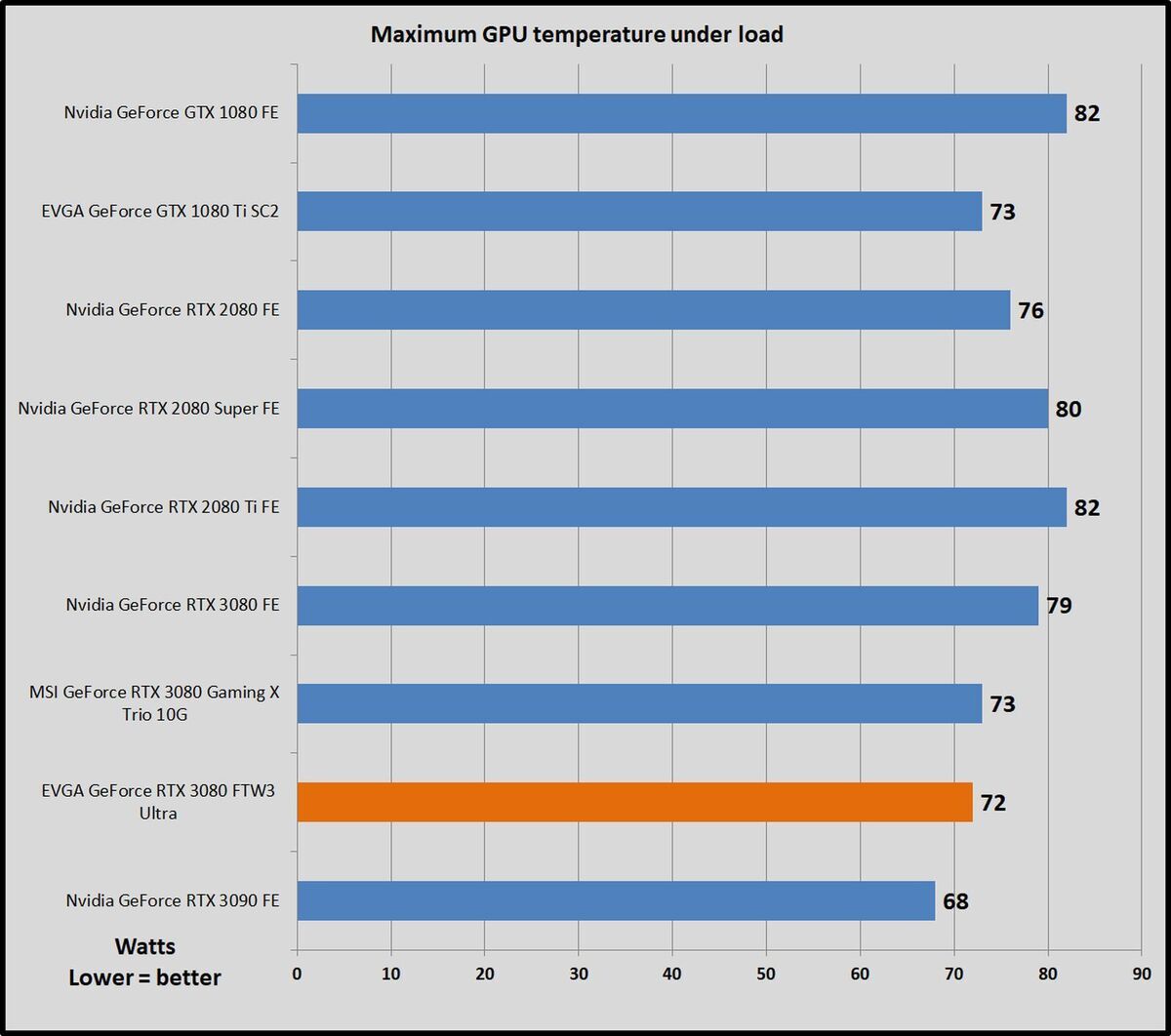 EVGA's heavy-metal, sensor-laden cooler works. Keeping such a power-hungry GPU limited to just 72 degrees Celsius under maximum load is a stunning achievement. While MSI's Gaming X Trio was incredibly quiet, the FTW3 Ultra stays silent no matter what you're doing. You can't hear it over the case fans and CPU cooler in our system for practical use, nor did it make a peep even with the side panel off. This is a fantastic cooler.
It's worth noting that the FTW3 Ultra's secondary BIOS increases fan speeds, either to lower temperatures or to give the GPU more thermal headroom for boost clocks, but we didn't benchmark that configuration. We test graphics cards at stock settings.
Should you buy the EVGA GeForce RTX 3080 FTW3 Ultra?
The $810 EVGA GeForce RTX 3080 FTW3 Ultra is a fantastic graphics cards for gaming enthusiasts, especially if you overclock.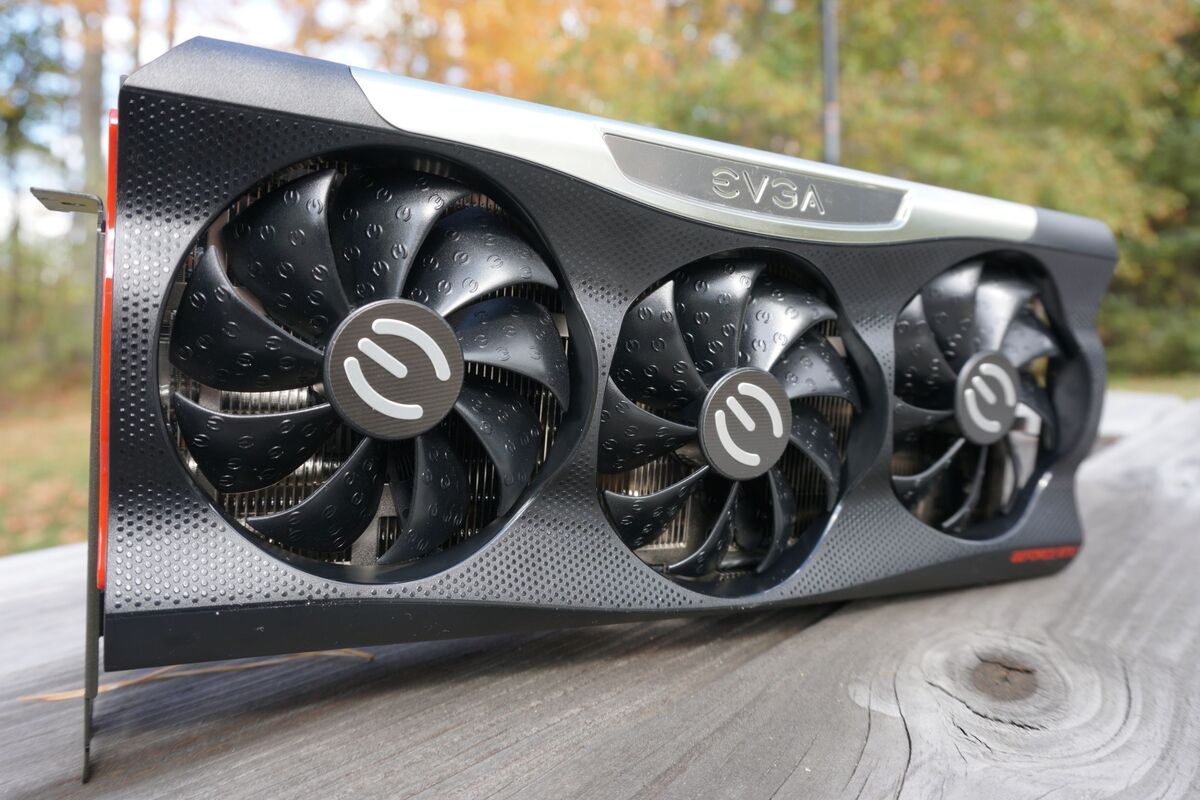 Pulling back to higher-level first, any GeForce RTX 3080 graphics card will knock your socks off for gaming at 4K resolution, or keeping a high refresh rate 1440p monitor well fed. It rocks for 3440×1440 ultrawide gaming, too. Avoid it for 1080p gaming, though, as this card is so fast that most games become wholly CPU- or engine-bound at that resolution, negating its monstrous performance advantage.
Improvements to the Ampere GPU architecture inside the RTX 3080 also makes it possible to play ray-traced games at those lofty resolutions with Nvidia's DLSS technology enabled. This is something you couldn't say with previous-gen RTX 20-series cards. (Our original Nvidia RTX 3080 Founders Edition review goes much deeper into ray tracing performance, and comparisons against prior GeForce generations.)
Mentioned in this article
GeForce RTX 3080 Gaming X Trio 10G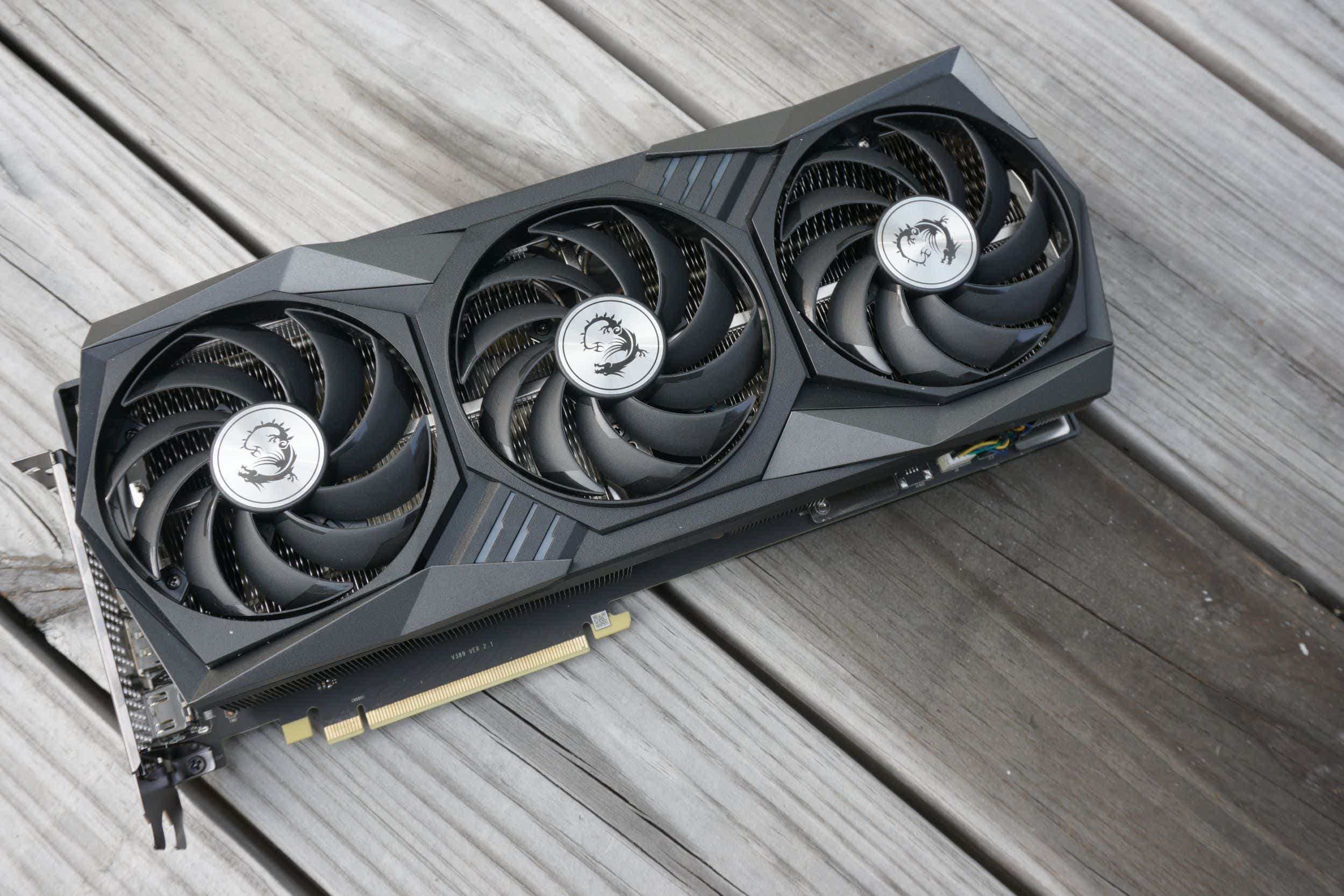 Price When Reviewed:
$750
The GeForce RTX 3080 is fast, and EVGA's factory overclock puts the pedal even closer to the metal, delivering frames just as quickly as MSI's rival $760 Gaming X Trio does, and it also boasts an 1800MHz boost clock speed. It's not perceptibly faster than the Founders Edition's reference clock speeds in most scenarios though, and overclocking the GA102 chip definitely comes at a power penalty.
Our test system draws around 500W in whole system power with any RTX 3080 installed, but only the EVGA FTW3 pushes it over that mark for our power consumption test—and even over the $1,500 RTX 3090 Founders Edition's energy levels. Games that hit the CPU hard can send the power draw soaring higher, too. Make sure your power supply can handle the RTX 3080 before upgrading.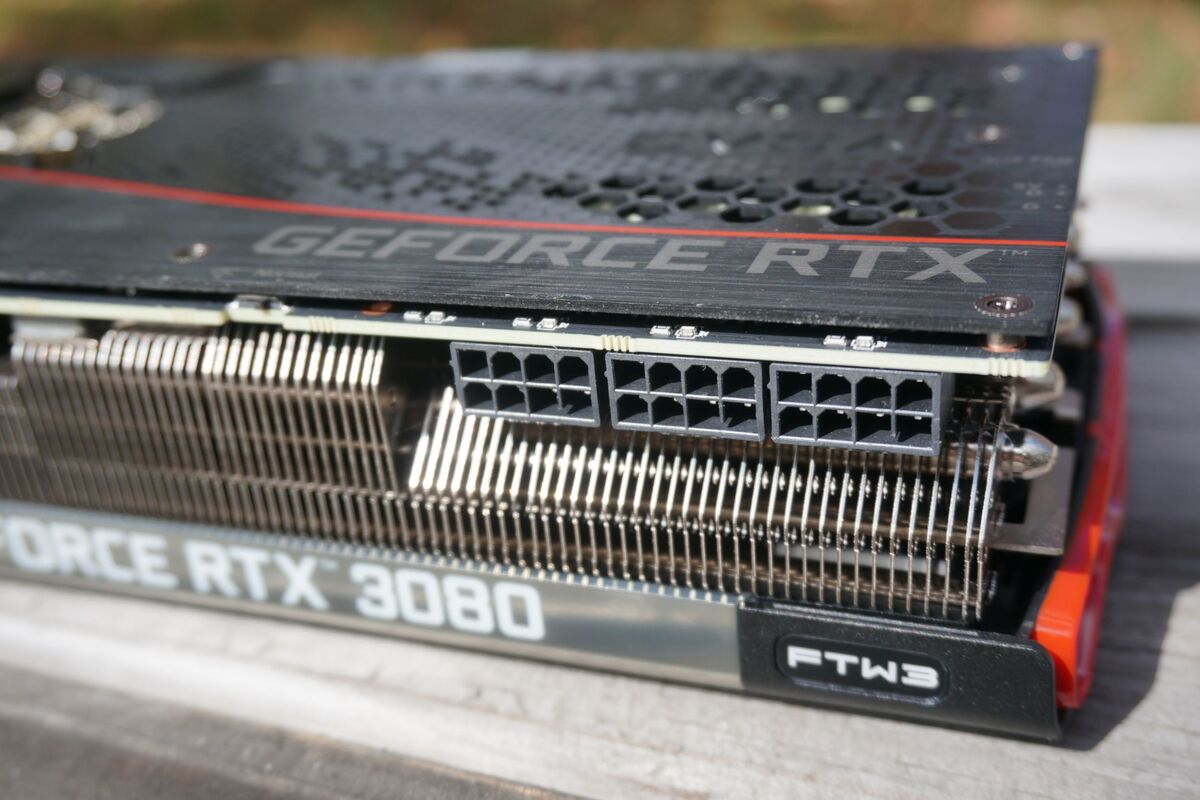 Fortunately, EVGA's killer (and massive) iCX3 cooling solution is up to the task. Even with all that energy coursing through the graphics card, the FTW3 Ultra stays at a chilly 72 degrees Celsius and never makes a sound. It's fantastic. Nvidia's own RTX 3080 offering is significantly quieter than past Founders Edition models, while the MSI Gaming X Trio is just as cool and almost as quiet for $50 less, but the EVGA RTX 3080 FTW3 Ultra tops them all. You won't hear it.
EVGA manages to justify the FTW3 Ultra's premium $810 price thanks to its loaded feature set, however, especially if you enjoy tinkering with your pricey GPU purchase.
The MSI Gaming X Trio doesn't offer many extras, and it packs a graphene-infused backplate that looks and feels like plastic. EVGA, on the other hand, equipped the FTW3 Ultra with an aluminum backplate, even more RGB, and headers on the end of the card that can connect a case fan's performance to your GPU's temperatures, and tie the card's lighting into your motherboard's own RGB capabilities. All of it can be managed via EVGA's excellent Precision X1 management and overclocking software.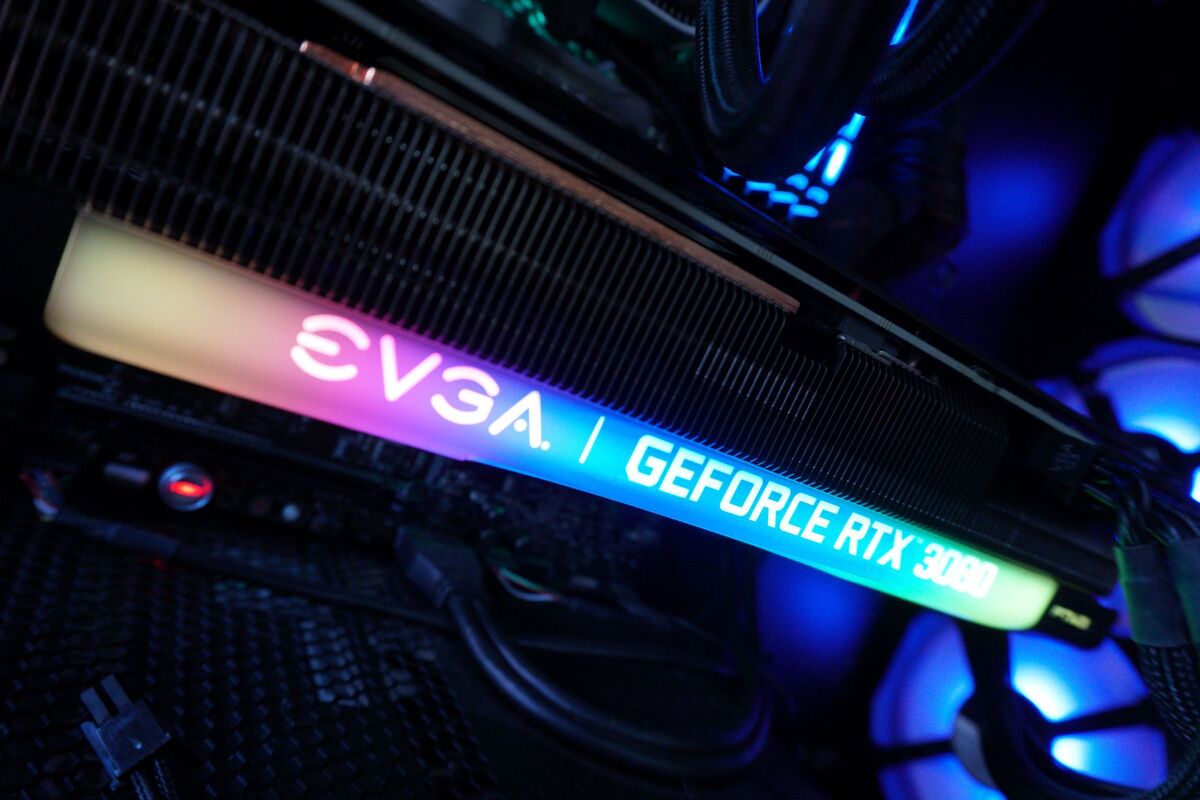 Yes, this card is built to overclock. In addition to its sublime custom cooler, the EVGA RTX 3080 FTW3 Ultra offers a dual-BIOS switch that helps overclockers recover from disaster with ease. It embeds a multitude of iCX sensors throughout that provide real-time temperatures for 10 different areas of your card's GPU, memory, and voltage regulator modules (VRMs). A trio of 8-pin connectors help feed this power-hungry beast even more juice. To that end, EVGA also pushed the FTW3 Ultra's power limit to a staggering 420 watts, significantly higher than the stock 350W specification, and bolstered the card's custom PCB and VRM setup to handle it. Everything you could want as an overclocker is here—though your luck in the silicon lottery always determines how far a GPU can go. Gamers Nexus and Bearded Hardware recently used the EVGA FTW3 in their attempts to set RTX 3080 overclocking world records with liquid nitrogen. (Alas, I only have ice cubes here.)
EVGA is also renowned for its responsive customer service if you run into any issues. In fact, the company already responded to customer feedback about the ugly red accents on the end of the card, with plans to offer a multitude of replacement color options to existing owners at no extra cost.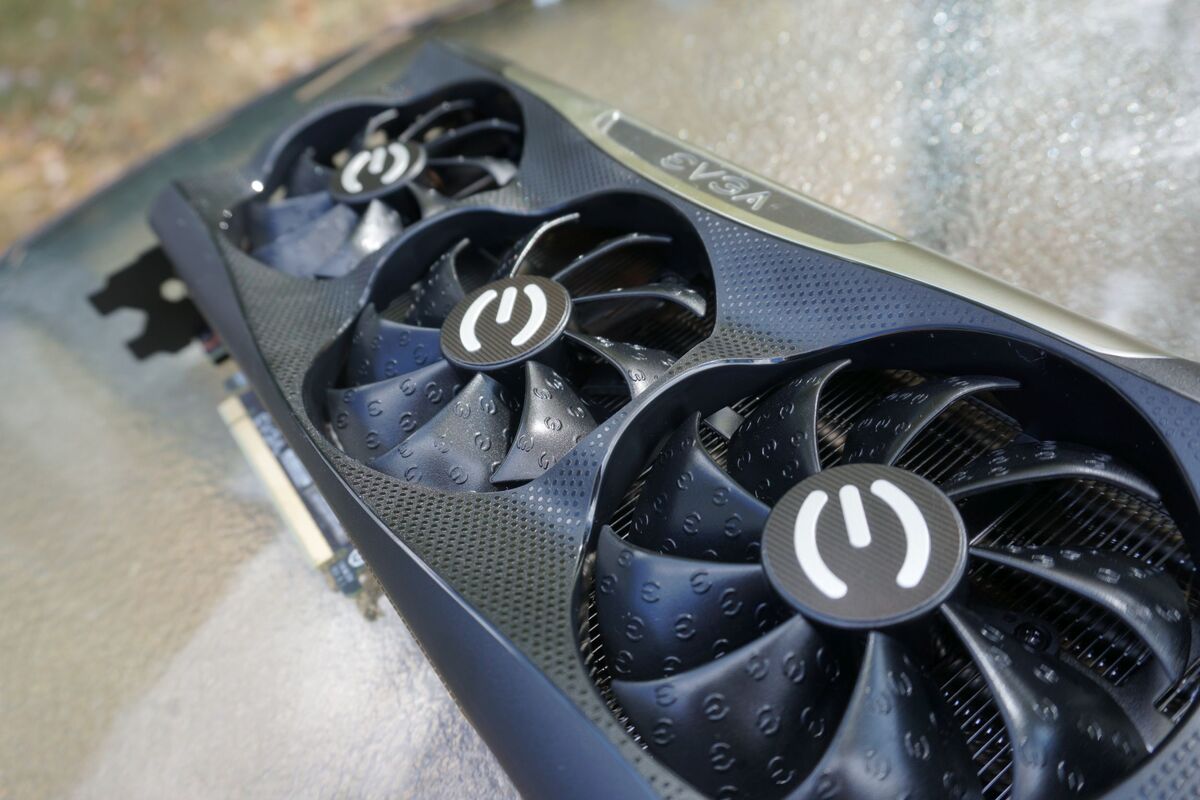 Bottom line? If you like to tinker with your graphics card and push clocks speeds to the bleeding performance edge, the $810 EVGA RTX 3080 FTW3 is worth every penny. Just make sure your case can fit this triple-slot beast, and your power supply can feed it.
It's not ideal for everyone though. MSI's Gaming X Trio offers similar out-of-the-box gaming, thermal, and acoustic performance for $760, and the Nvidia Founders Edition is a very solid package for $699. If you just want to buy a high-end graphics card, toss it in your case, and happily start gaming, those are probably better options for most people. They lack the FTW3's impressive feature set but are plenty fast and quiet in their own right for less money. It's nice to have options!
Best Prices Today: GeForce RTX 3080 FTW3 Ultra