"Frames win games," Nvidia likes to say, but there's more to esports domination than raw frame rates. How those frames get delivered matters too. Latency—the time it takes for an on-screen action to happen after you press a button—reigns supreme in the blink-and-you're-dead competitive esports scene. If your game looks beautiful but feels sluggish, you'll find yourself outgunned by rivals playing with crummy visual settings to increase responsiveness.
Mentioned in this article
GeForce RTX 3080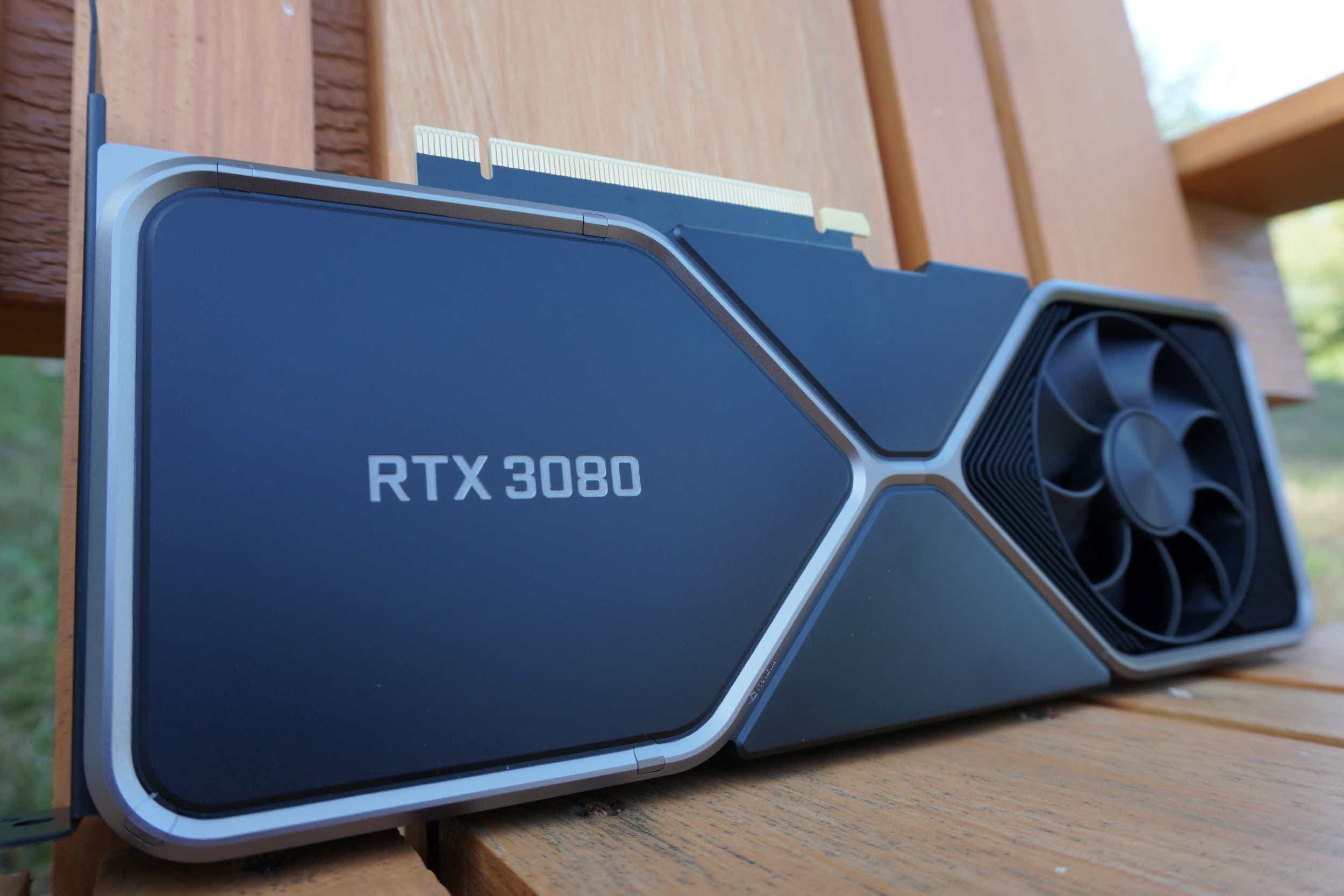 Price When Reviewed:
$699
Enter Nvidia Reflex, introduced alongside the GeForce RTX 3080 and RTX 3090. If you've heard of it before, you probably associate it with low-latency features being added to games like Call of Duty: Warzone, Valorant, and Fortnite. But Reflex is actually Nvidia's overarching brand name for a wide range of new latency-obsessed tools. Yes, the Low Latency Mode being added to games is part of it, but on Tuesday, Nvidia and its partners are also rolling out blisteringly fast 360Hz G-Sync Esports monitors with Reflex Latency Analyzer built in. If you've invested in compatible accessories, Reflex Latency Analyzer keeps tabs on the entire pipeline from the millisecond you click your mouse to the millisecond the game renders your gun shooting, helping you identify which parts of your system are acting as a bottleneck.
Nvidia's Reflex Latency Analyzer and the Reflex Low Latency Mode being introduced to leading esports games are two very different technologies, with two very different use cases, and perhaps two slightly different audiences. But they're both focused on the same underlying goal: making your games more responsive. You don't need one to use the other. And better yet, Reflex Latency Analyzer's powers let us evaluate the effectiveness of both, as well as measure how much faster your reactions would be if you invested in a pricier graphics card or a high refresh rate monitor.
Studies have shown that lower latency can improve your shot accuracy and kill-to-death ratios in competitive esports. Today, we're going to quantify responsiveness across a wide range of scenarios. Buckle up.
Editor's note: This article is updated as needed to mention the Reflex API feature coming to new titles. The most recent additions are Rust, Overwatch, and Rainbow Six: Siege.
Nvidia Reflex Low Latency Mode
First, let's dig into the Nvidia Reflex Low Latency Mode you may already be seeing in the games you play. (For brevity, we'll call the software SDK "Nvidia Reflex" from here on out.) If you're just interested in raw benchmark results for a wide variety of scenarios, consider jumping straight to our benchmarking section instead.
Nvidia Reflex is an optional set of APIs that developers can choose to implement in their game to reduce latency. It works particularly well in heavily GPU-bound scenarios—if you're playing an esports game on a higher-resolution monitor, or crank up all the eye candy, you'll see the most significant responsiveness improvements, as you'll see in our benchmarks section.

Technically, the Nvidia Reflex SDK works by zeroing out the render queue, allowing the game engine to tell the CPU to submit render work to the GPU just-in-time. That keeps your game from feeling sluggish. Because the CPU isn't under stress to supply a render queue, it can keep an eye out for mouse clicks until the last possible second, too.
Mentioned in this article
ASUS ROG Chakram Wireless Aura Sync RGB Gaming Mouse Optical Sensor 16000 DPI
We witnessed Reflex's increased click responsiveness when playing Valorant at 60Hz on a GeForce GTX 1660 with visual settings cranked. With Reflex active, our mouse delivered a blistering 0.5-millisecond response time across 100 clicks, comprised of mostly 0.4ms and 0.5ms clicks. With Reflex disabled, it averaged 0.6ms, with mostly 0.6ms and 0.7ms clicks. That's the most noticeable example, but across the board, we witnessed slightly better mouse latency with Reflex on. This particular benefit might be a bit hidden with the mouse we used for testing, though, as the Asus ROG Chakram Core is ludicrously fast. Most mice take several milliseconds to register a click, but this one averages 0.5ms. Hot damn.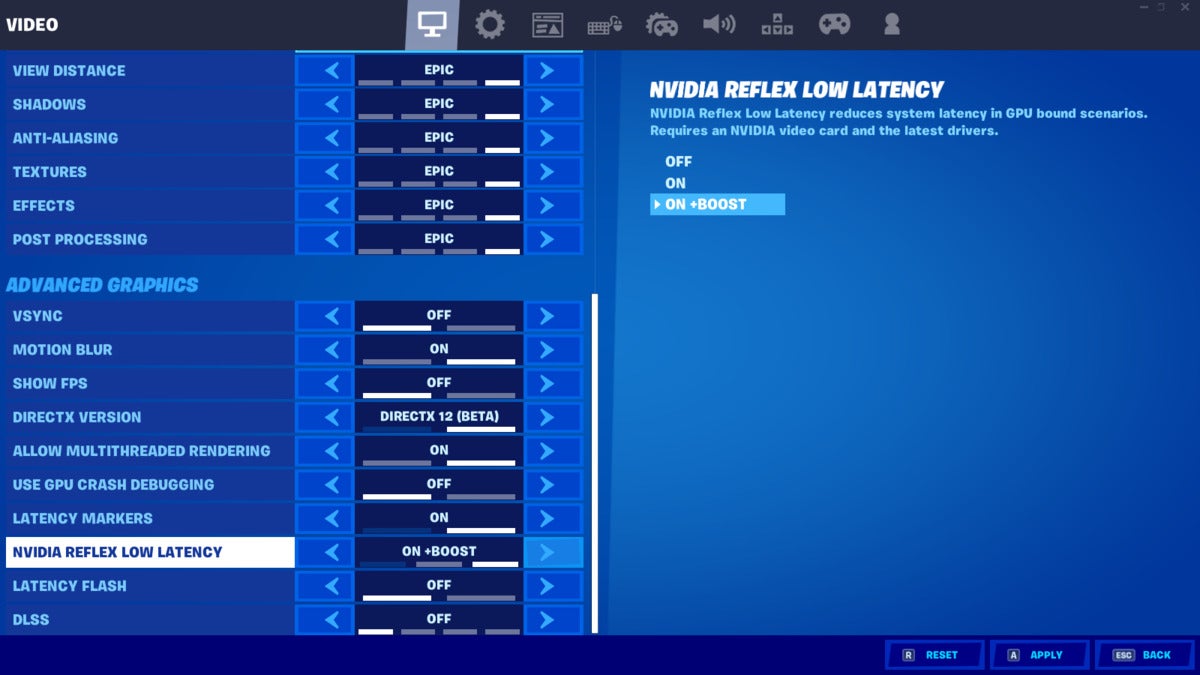 Nvidia supplements Reflex with an optional "Boost" feature that you can choose to enable. Boost, appropriately, keeps your GPU boost clocks higher so that frames hit your display faster. That may help Reflex provide a benefit even if you're already playing with low visual settings. In games, the Nvidia Reflex menu setting has three options: Off, On, and On + Boost. Because activating Boost doesn't have any drawbacks aside from a higher power draw, there's no reason to leave it disabled if you're using Reflex.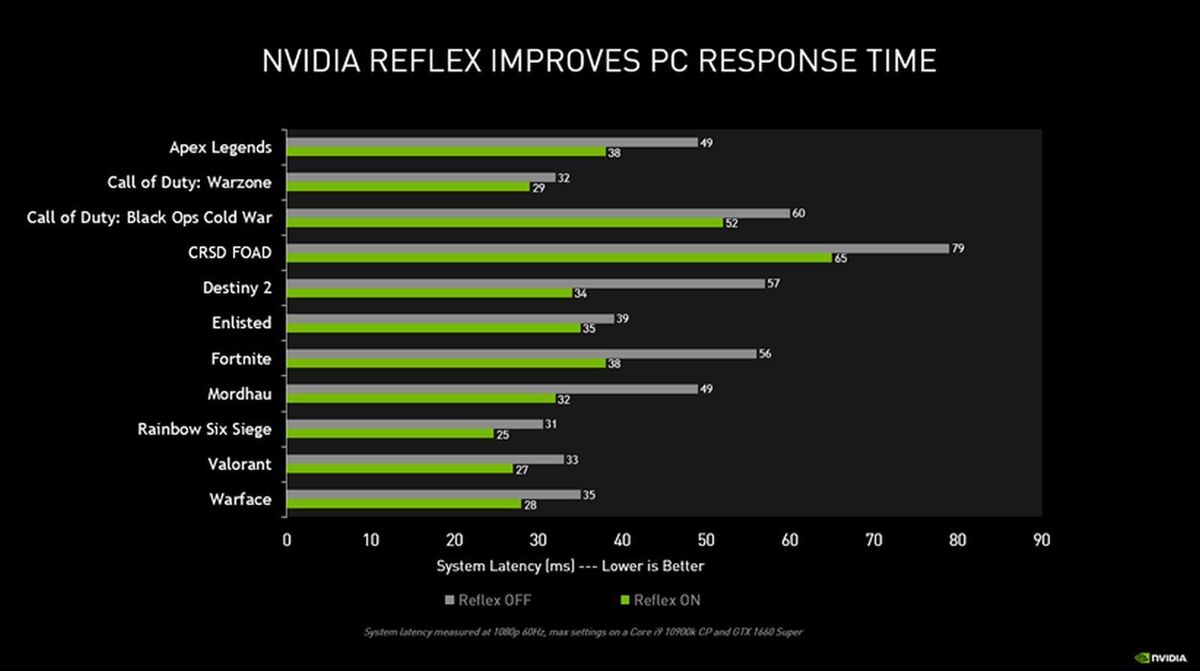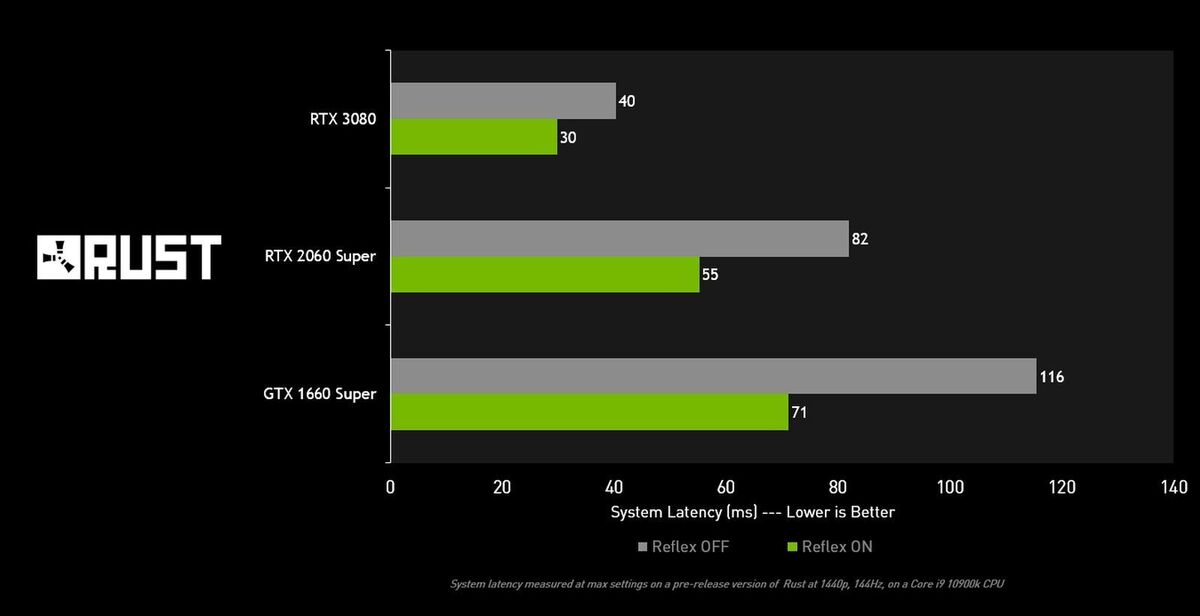 Nvidia Reflex is already supported by many of the most popular shooting games around. You can use Nvidia Reflex in Fortnite, Overwatch, Rainbow Six: Siege, Valorant, Apex Legends, Call of Duty: Warzone, Call of Duty: Modern Warfare, Call of Duty: Black Ops Cold War, Destiny 2, Rust, CRSED, Mordhau, Enlisted, and Warface. Better yet, the feature works with GeForce graphics cards going all the way back to the GTX 900-series. You don't need a pricey RTX 30-series GPU to use it.
Next page: 360Hz G-Sync esports monitors with Reflex Latency Analyzer
360Hz G-Sync esports monitors with Reflex Latency Analyzer
The Nvidia Reflex Low Latency Mode feature helps the majority of gamers out there—people who want their games to both look good and feel good. The other half of Nvidia's Reflex suite focuses on esports obsessives: people who play their games on low visual settings to eke out every drop of responsiveness, and who don't mind spending money to optimize their setup.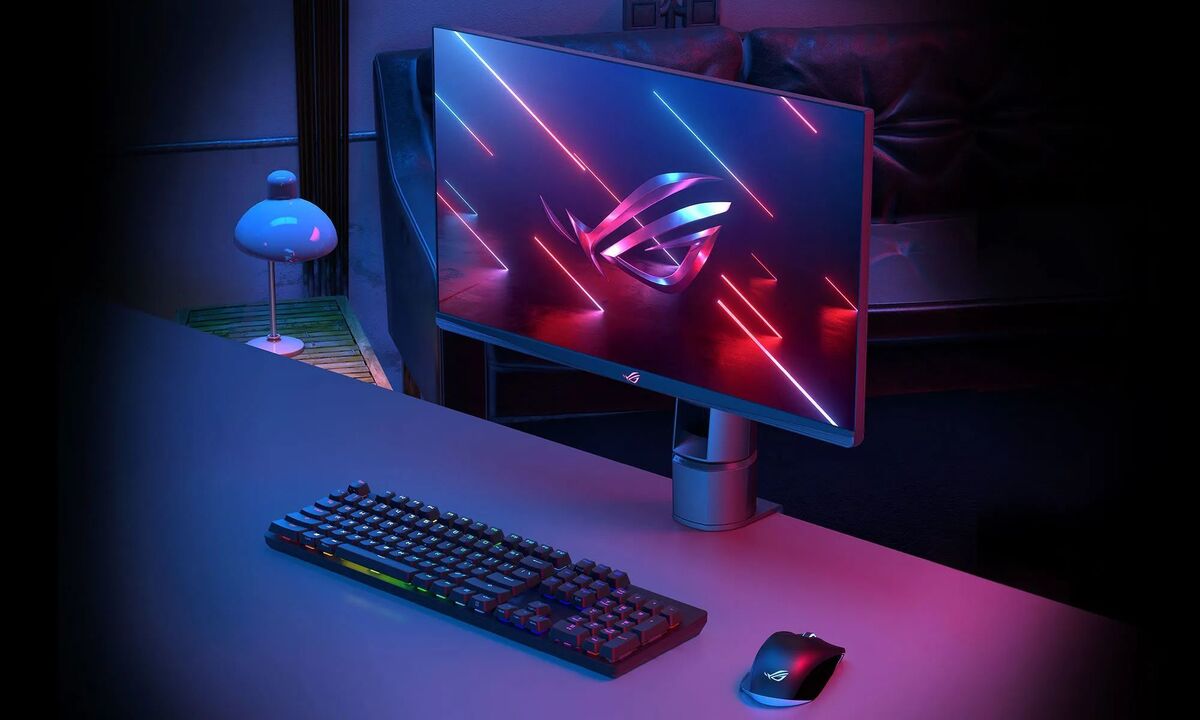 The Reflex Latency Analyzer comes integrated in four 360Hz G-Sync Esports monitors being unveiled Tuesday. These monitors are built around a new G-Sync processor that includes a USB pass-through port that was itself carefully tuned to avoid adding latency. Nvidia also worked with peripheral makers to create Reflex-compatible mice that send packets with exact click-timing information.
When you plug a Reflex-compatible mouse into the designated USB port on the rear of your display, and configure an on-screen box to identify your muzzle flash, Reflex Latency Analyzer can measure mouse latency, PC and display latency, and an overall system latency.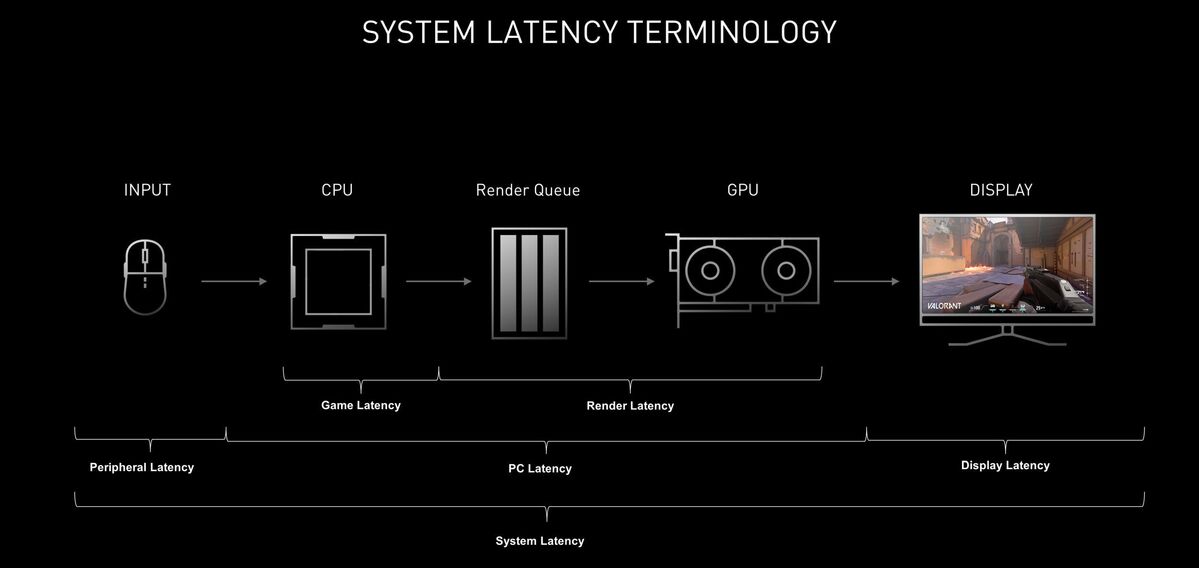 That's very helpful info for latency optimization while you're tinkering with game settings or hardware upgrades. Previously, you needed a 1000fps camera or specialized testing equipment to measure overall system latency. With Reflex Latency Analyzer, it's displayed in real time via a new on-screen display in GeForce Experience.
The RLA overlay displays not one, not two, but ten different metrics. It's topped by FPS and render latency stats, but we're most interested in the items further down: Mouse Latency, PC + Display Latency, and System Latency. Mouse Latency speaks for itself and is tied to your Reflex mouse's left click. PC + Display Latency is "Measured from the moment the mouse click is received by the OS to the end of display latency," per Nvidia. This measurement also displayed by your monitor's on-screen display. System Latency combines the other two metrics to measure full end-to-end responsiveness. In all three items, the "Average" measurement displays the average of the last 20 clicks and is more useful for analysis than the pure frame-to-frame numbers.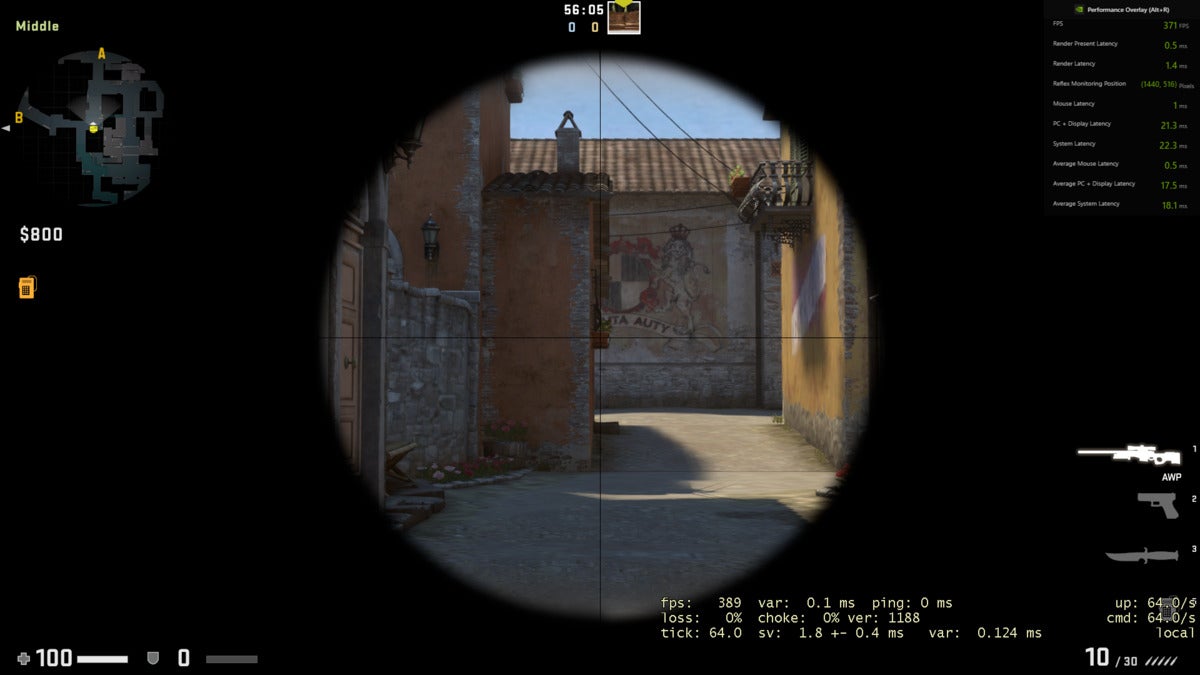 Reflex Latency Analyzer is kicking off with four Reflex-compatible mice: The Asus ROG Chakram Core we used for testing, the Logitech G Pro Wireless, the Razer DeathAdder v2 Pro, and the SteelSeries Rival 3. You may need to download new firmware to enable Reflex support. If you don't have a Reflex-compatible mouse, Nvidia's setup can't measure your mouse latency, which prevents the full system latency from being measured as well. That said, if you have one of the most commonly used esports mice, RLA still works. From Nvidia's reviewer's guide:
"For mice that have not gone through our validation process to become Reflex Latency Analyzer Compatible, there is a mouse database that stores the average latencies of known mice as well, making full System Latency analysis still possible. We will be adding new mice to the database as well as continuing to validate new per-click Reflex Latency Analyzer Compatible mice."
Even if your mouse isn't supported whatsoever, you can still track PC + Display Latency with Nvidia's tools. That can be very helpful while you're optimizing your game settings or hardware setup.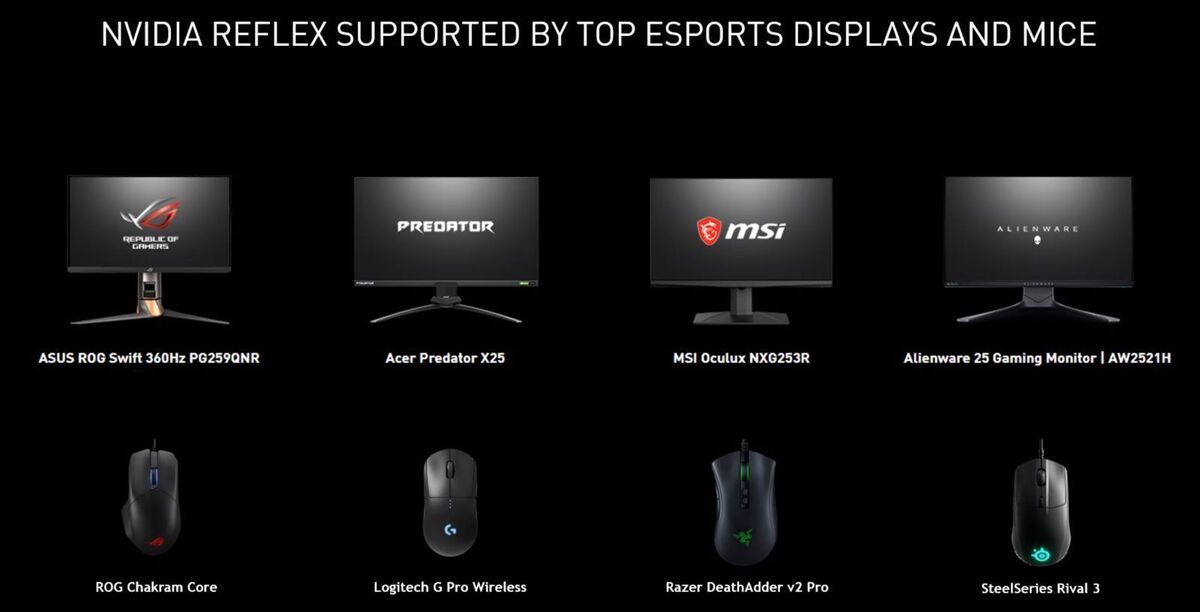 Four monitors are kickstarting the RLA ecosystem: the Asus ROG Swift PG259QNR, the Acer Predator X25, the MSI Oculux NXG253R, and the Alienware AW2521H. These are all high-end 1080p, 360Hz G-Sync monitors, rocking the same advanced G-Sync processor and even the same AU Optronics panel. While bleeding-edge refresh rates typically kick off with faster, but less vibrant (TN) panels, these debut 360Hz monitors feature dual-driver IPS panels that maintain face-melting speeds without sacrificing color. Hallelujah. We're testing the Asus ROG Swift PG259QNR, and the almost tactile smoothness of a 360Hz refresh rate can't be overstated. From games to mousing around the desktop, everything runs like butter, and Asus's hardware and software polish is top-notch.
Because these displays all use the same underlying hardware, Nvidia was able to create a new G-Sync Esports feature that provides an identical experience across monitors. Activated via your display's options menu, G-Sync Esports puts the display into high-power mode, disables variable backlighting, activates Nvidia's Dark Boost technology, and increases the gamma rating to show shadowy areas more clearly. That can impact contrast ratio aesthetics, but competitive gamers will appreciate the tactical advantage. Nvidia says it can help provide a uniform experience in high-end competitions.
Setting up Nvidia Reflex Latency Analyzer
Getting the Reflex Latency Analyzer running takes some work.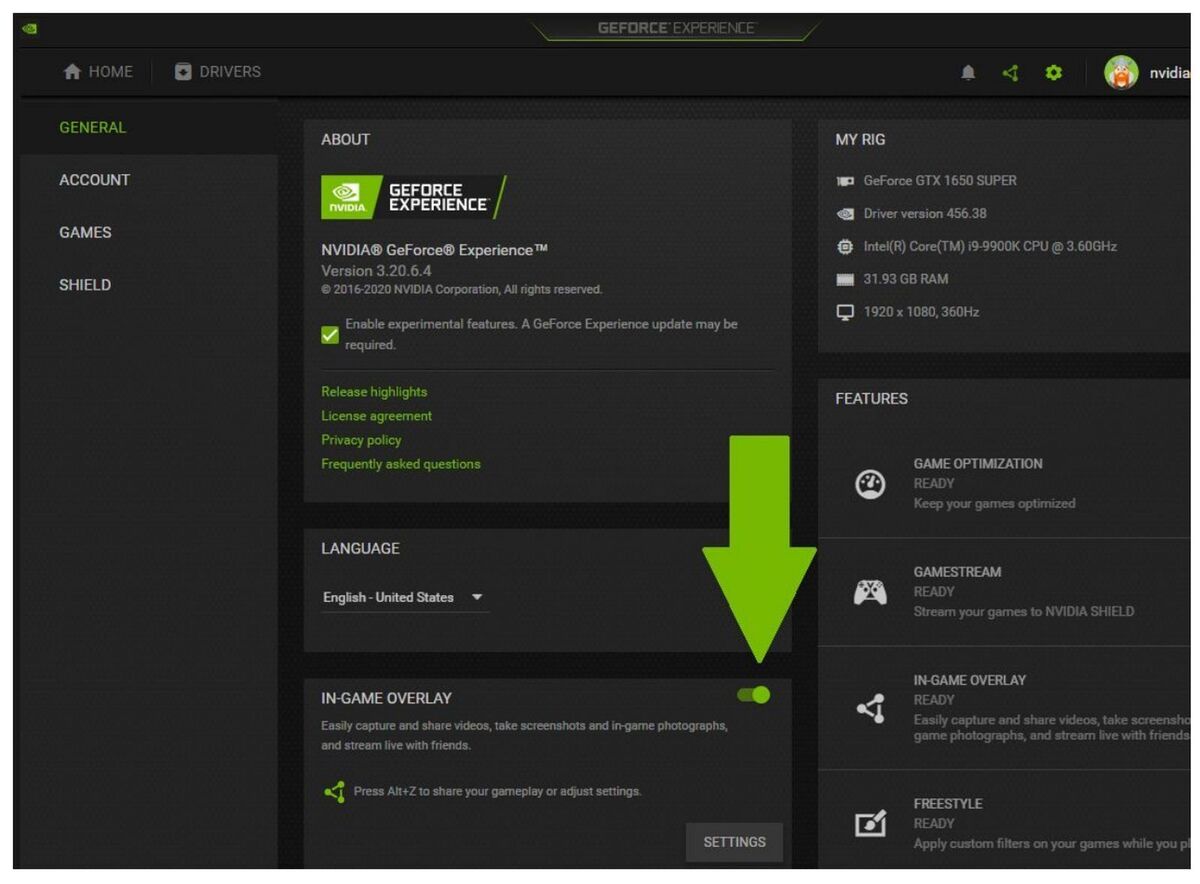 Nvidia is releasing a new version of GeForce Experience this week that supports the technology. To see the new RLA overlay, you'll need to enable experimental features in GFE, as well as the "in-game overlay" option.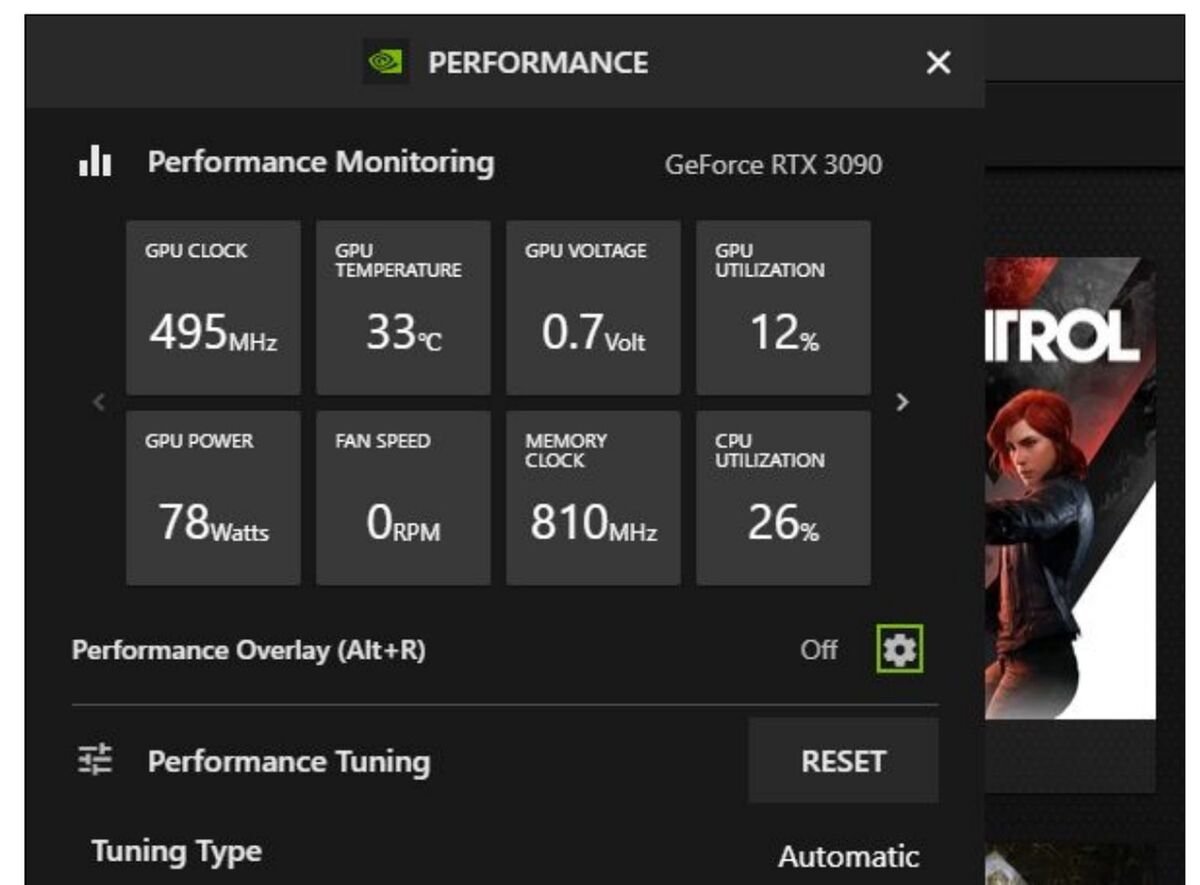 Once that's done, you need to press Alt + Z to summon the GFE overlay. Select the Performance option, and in the Performance tab that appears, click the tiny gear icon next to the "Performance overlay" option.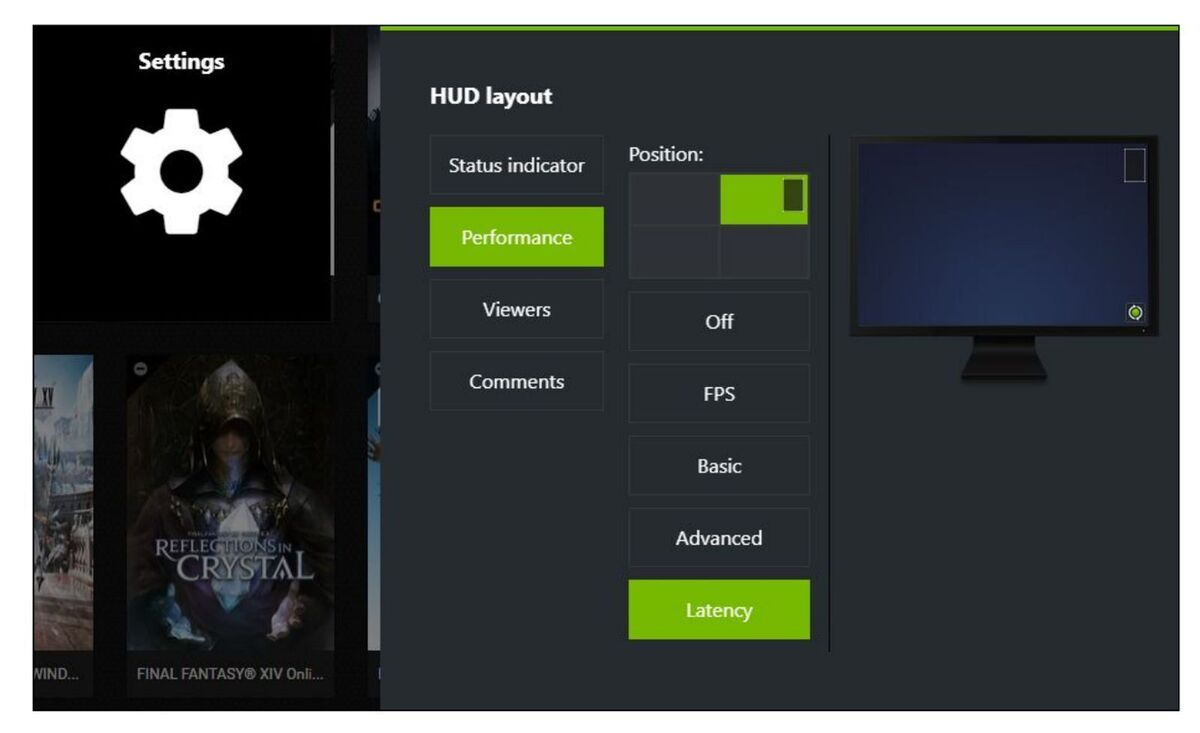 You'll see a lot of options. Select Performance, choose your overlay position, and select Latency. Now, when you press Alt + R the Reflex Latency Analyzer overlay will appear onscreen.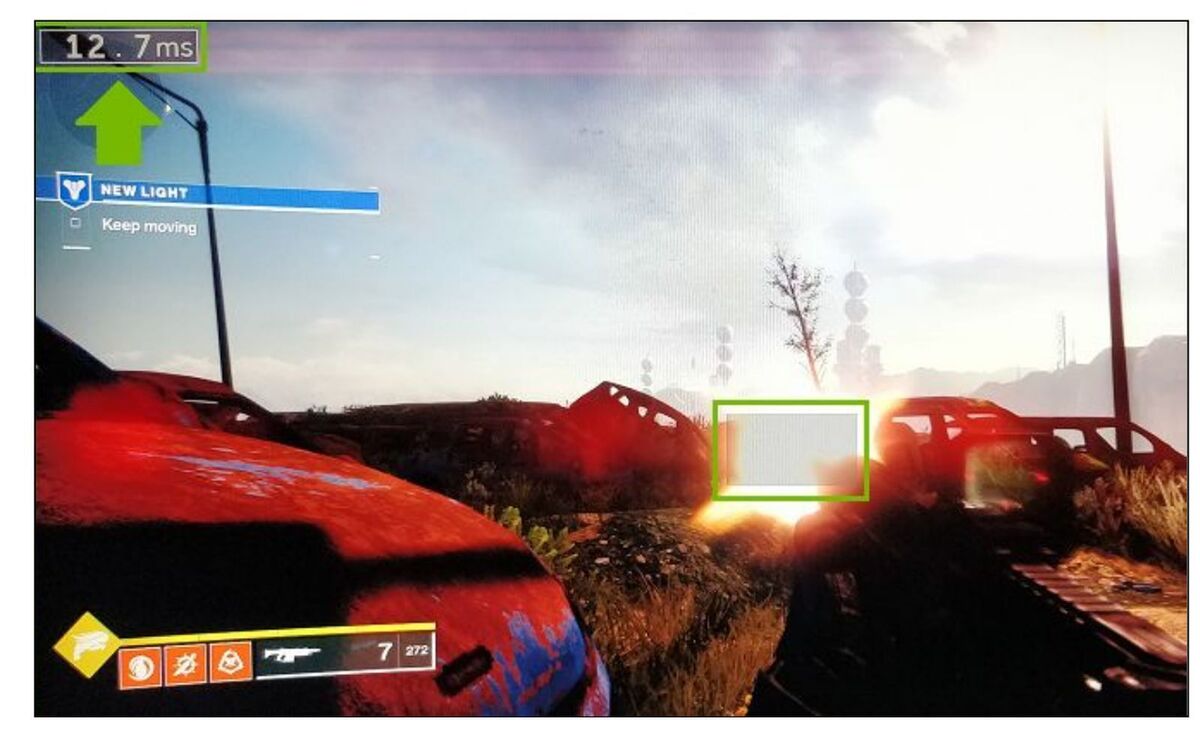 You also need to use your monitor's menu tools to tailor the technology to your specific games, and the specific animations you're tracking to measure latency. Reflex Latency Analyzer works by tracking the luminance of a specific part of the screen—typically a muzzle flash. It then calculates how long it takes for that area to change after you click your mouse, to determine overall system latency. Nvidia's Reflex SDK for games includes a "latency marker" option that displays a flashing box on the edge of the screen to make measurements easy and universal, but currently, only Fortnite supports it. In other games, you'll need to position the monitoring rectangle manually over your gun's muzzle flash (or whatever other animation you're measuring).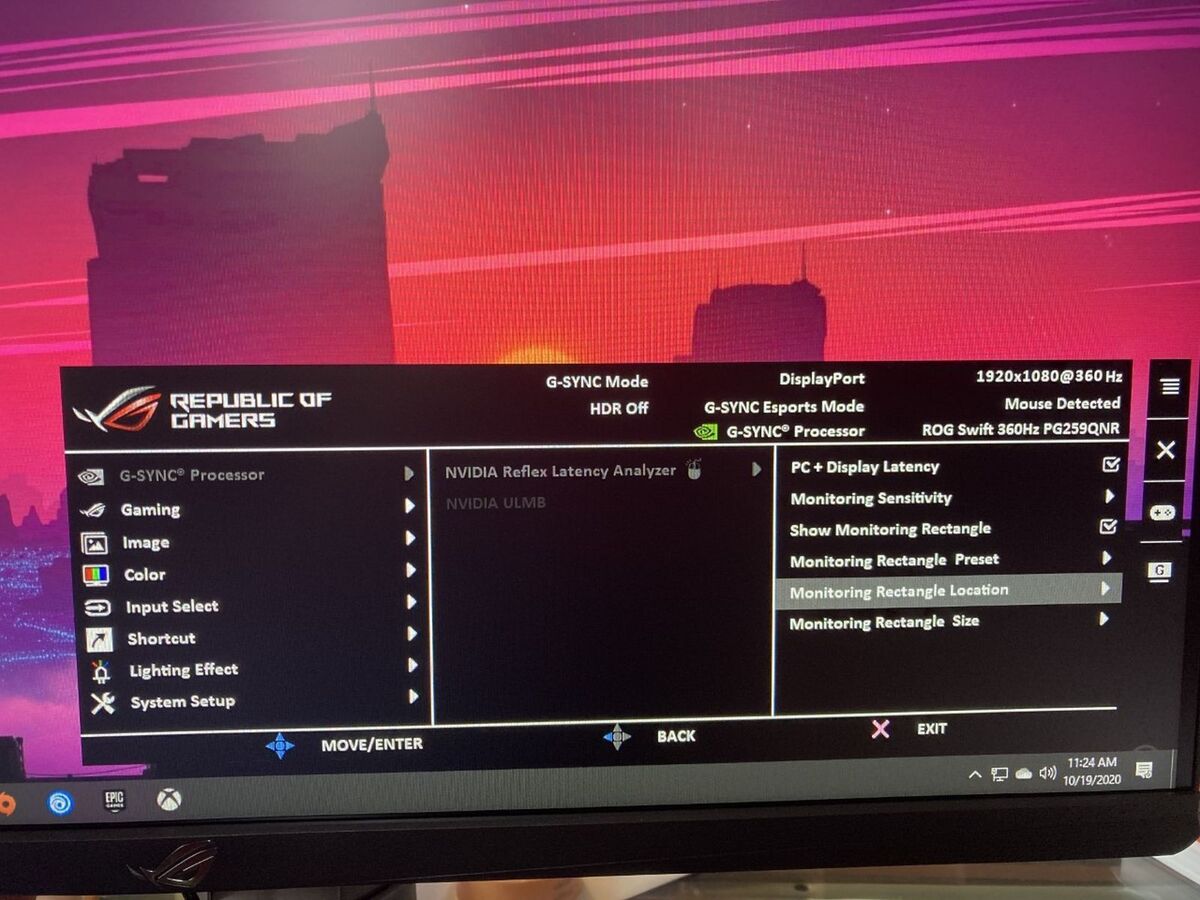 To do so, head into your monitor's menu and head to the G-Sync Processor option, then the Nvidia Reflex Latency Analyzer section. From there you'll see all the options you need to resize the monitoring rectangle and move it around as needed. Get it right over the center of your muzzle flash, and make it as small as possible in the center of the action. You don't want light bloom at the edges of the flashes affecting measurements if you can help it.
Next page: Our test setup, benchmarks begin
Our test setup
Phew! Now that you know everything you need to know about Nvidia Reflex Low Latency Mode, the Reflex Latency Analyzer tool in new 360Hz G-Sync Esports monitors, and how they're totally unrelated to each other, let's use Latency Analyzer to measure metrics that we couldn't before. Are the Nvidia Reflex options in supported games worthwhile? Does upgrading to a more powerful GPU or faster monitor truly matter? How does dropping visual options to low affect responsiveness? Now we can measure it.
We benchmarked Nvidia Reflex on our standard graphics card testing system, which includes 32GB of RAM and an Intel Core i7-8700K overclocked to 5GHz on all cores. You can find the specifics here. We tested the GeForce RTX 3080 as a high-end option, and the original GeForce GTX 1660 for a more mainstream comparison. We tested Valorant and Fortnite with Nvidia Reflex + Boost enabled.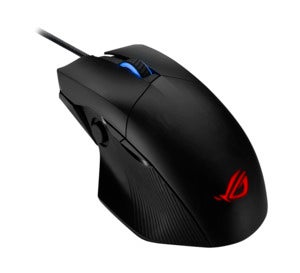 We hooked two mice up to the system: The Reflex-capable Asus ROG Chakram Core was plugged into the G-Sync module to measure mouse latency, and we put tape over the sensor to keep it from moving during testing. A secondary mouse was used for navigation to the testing spots. We set up repeatable testing scenarios in custom matches for each game, clicked the left mouse button to trigger an action, then waited for the animation to reset completely before doing it again. We did that 20 times, jotted down the average Mouse, PC + Display, and System Latency results, then repeated the process four more times. Each result below is the average of 100 clicks, in other words.
We kept an eye on the monitor's real-time latency metrics throughout the process. If any given click resulted in an abnormally high latency far outside of the norm, we stopped the measurements and restarted the 20-click process over. Variables in the game, like Fortnite's day/night cycle or Counter-Strike's random chickens, can introduce small, but noticeable variations in latency results if you aren't careful.
The numbers below show results from the PC + Display measurement. Part of Reflex Latency Analyzer's appeal lies in its mouse metrics and the overall system latency metrics those help provide, which isn't easily measurable with other means, but they're not especially helpful unless you have multiple mice to compare against each other. Our Asus ROG Chakram Core averaged a face-melting 0.5 millisecond latency time pretty much across the board, and in the two tests where it averaged higher, it only bumped up to 0.6ms. The real latency changes across our benchmarks occurred in the PC + Display measurement, so that's what we're focusing on.
Nvidia Reflex latency benchmarks
Let's start with Fortnite. Epic worked closely with Nvidia around the RTX 3080 launch, and Fortnite now supports the full Reflex SDK as well as real-time ray tracing and DLSS. The Nvidia Reflex SDK works best in GPU-bound scenarios, and activating ray tracing without DLSS makes your graphics card sweat even at 1080p. First, let's take a look at how Nvidia Reflex can help with responsiveness.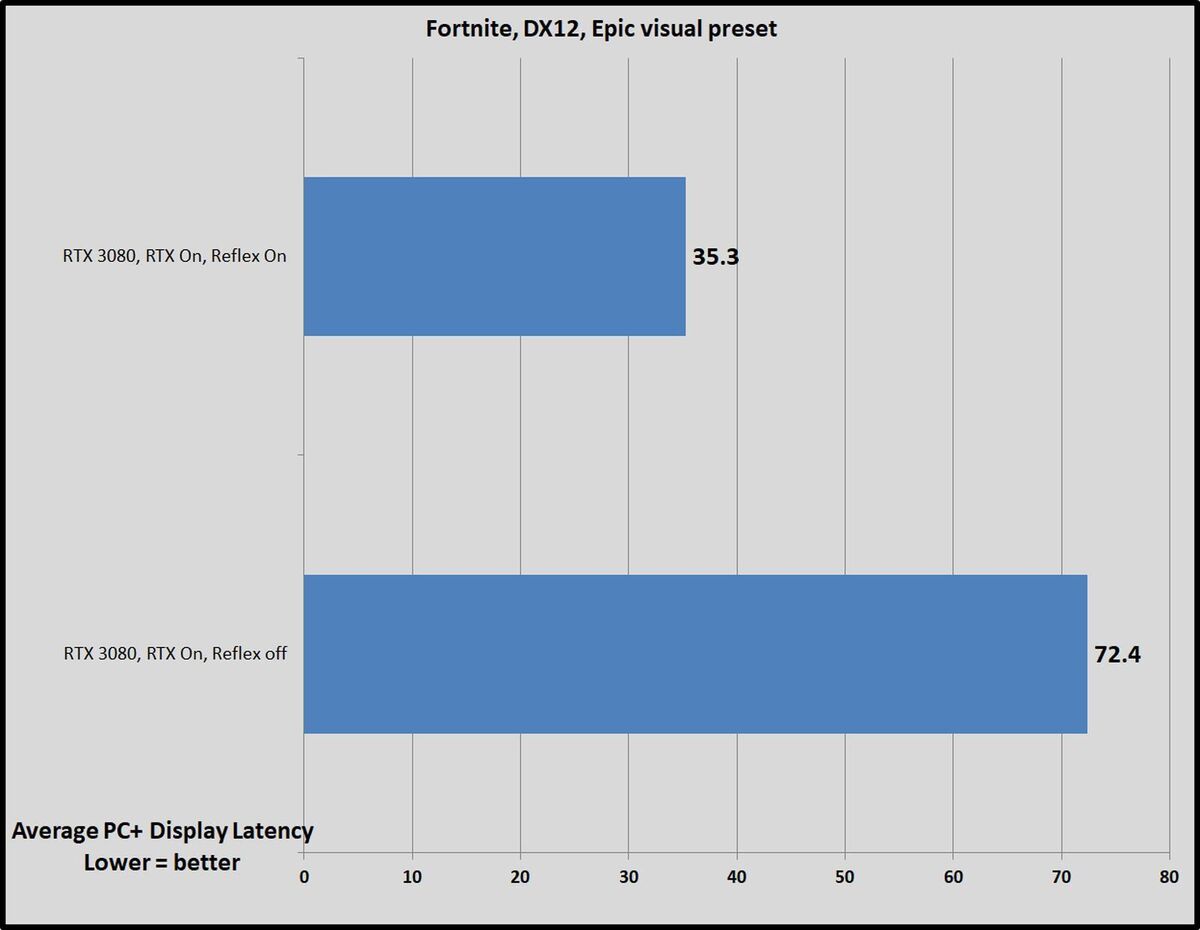 With the RTX 3080, using ray tracing to move the bottleneck from the CPU to the GPU can severely affect latency, but activating Nvidia Reflex claws back much of the pain. Flipping on Reflex results in a whopping fifty-plus percent latency improvement with RTX on, and it's a difference you can truly feel in the game. That's great news if you like playing with all the eye candy on, or prefer to use a higher 1440p or 4K resolution, which are more likely to become GPU-bound. With Reflex, you can have your cake and eat it too, at least to some degree.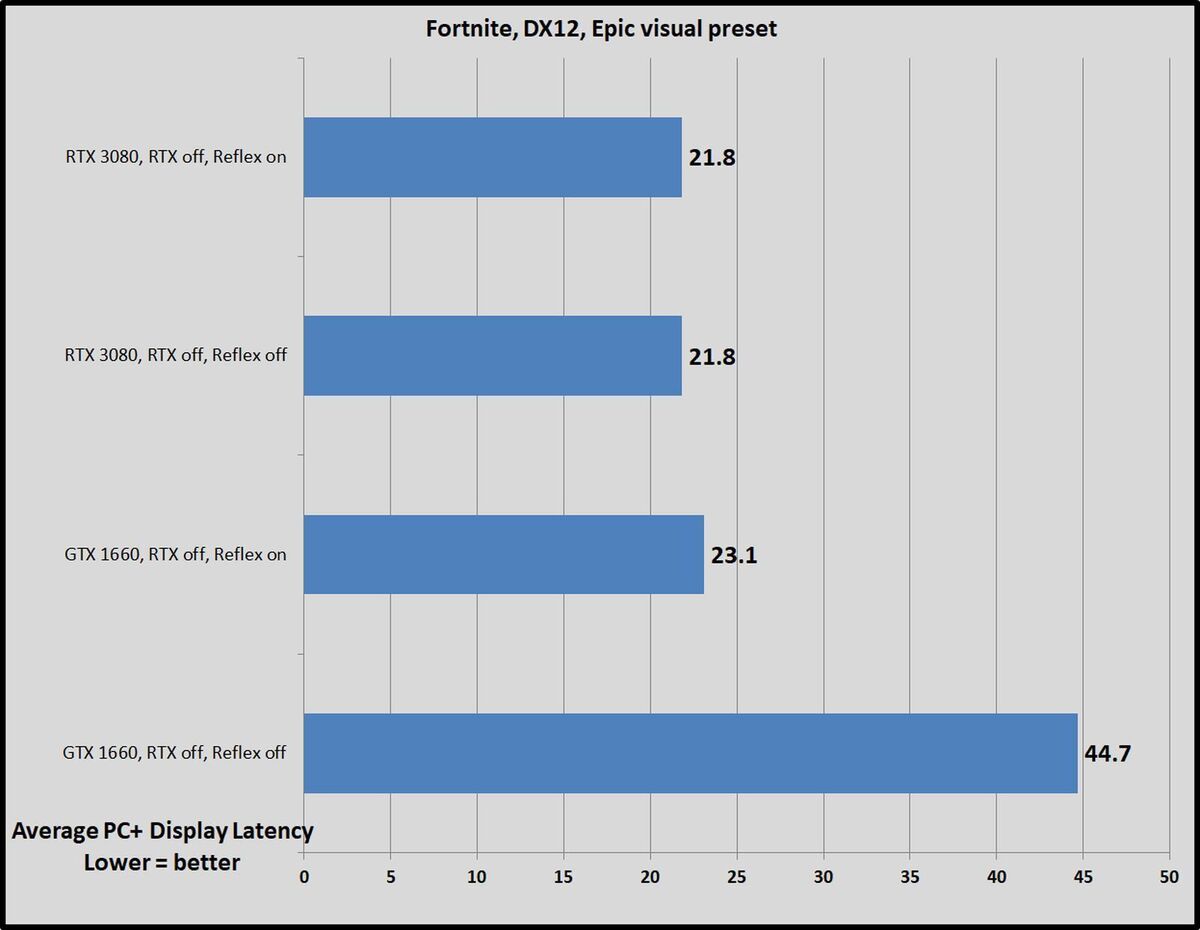 Reflex doesn't deliver such sterling results if you aren't GPU-bound, however. With ray tracing turned off, the staggeringly powerful GeForce RTX 3080 becomes identically responsive with Reflex on or off.
Stepping down to the much more common GTX 1660 reveals Reflex's ongoing utility. That graphics card is nowhere near as powerful as the RTX 3080, and it can become GPU-bottlenecked at 1080p even with ray tracing disabled using the Epic visual preset. Turning Nvidia Reflex on significantly reduces latency with the GTX 1660 once again, bringing us down into the roughly 20-millisecond range considered optimal for competitive esports.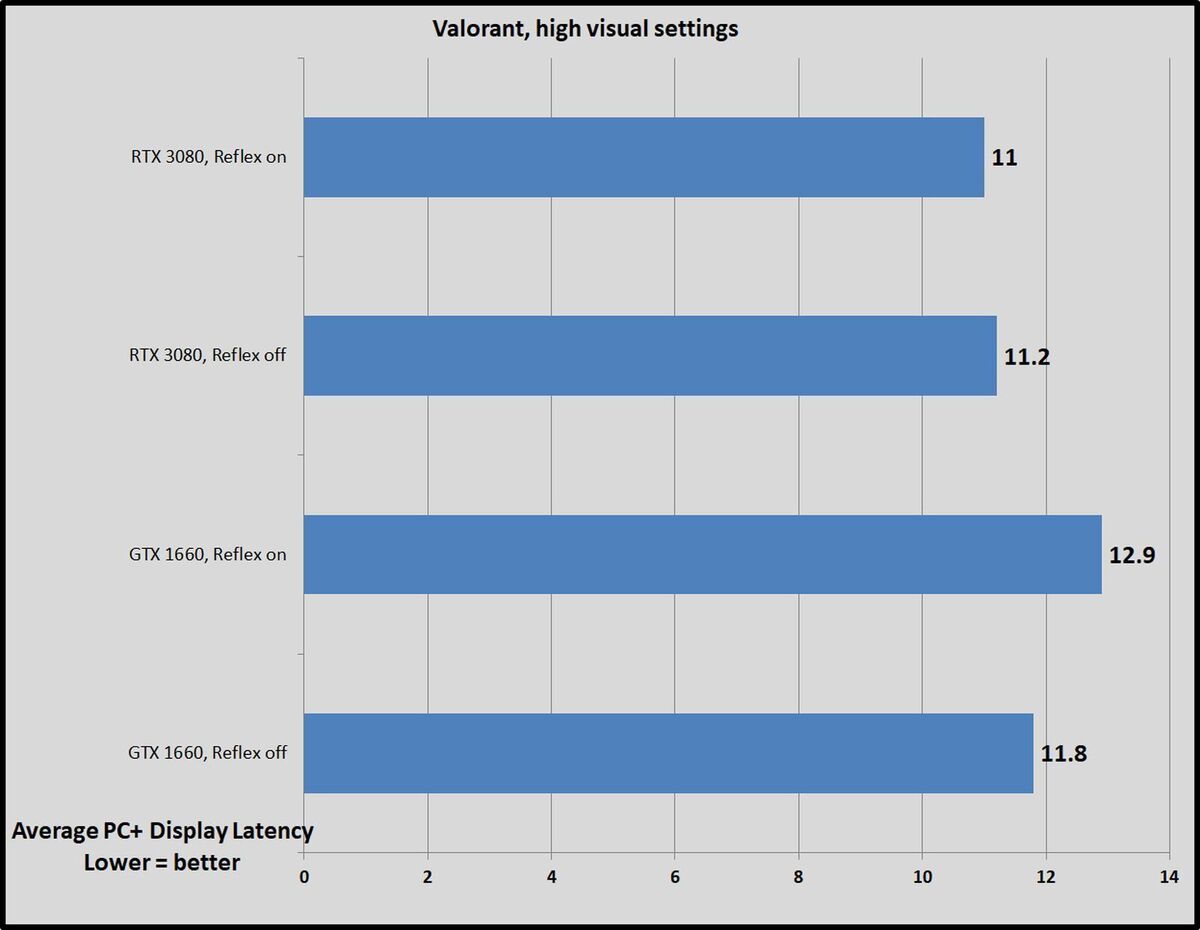 Riot's Valorant has taken the world by storm, and it's an incredibly well-optimized game. Even with visual settings maxed out at 1080p, Valorant remains incredibly responsive regardless of whether you have Nvidia Reflex on or off. To put these numbers in greater context, they're roughly twice as fast as the 20ms latency mark considered the competitive esports gold standard. If your game refreshes at 60 frames per second, that works out to a new frame every 13.3ms. These results are faster than that. Damn.
I'd expect there to be more effect if the resolution were boosted to 1440p or 4K, where the GPU comes more into play, but this is a 1080p panel. I was hoping to be able to use Nvidia's Dynamic Super Resolution feature to increase the render output to 4K, but Nvidia's experts warned me that doing so wouldn't create wholly accurate metrics, due to the slight overhead that DSR imparts. Alas.
Next page: Benchmarking refresh rates and visual settings impact
Refresh rates and visual settings impact
But we can test more stuff. Those Fortnite and Valorant metrics were taken on a blistering 360Hz panel. Latency improves with higher refresh rates. Most people have a 60Hz display. How does using that more common refresh rate affect Reflex's capabilities? We locked the Asus ROG Swift PG259QNR's refresh rate to 60Hz using Nvidia Control Panel to find out. (We consulted with Nvidia to confirm that doing so wouldn't affect the Reflex Latency Analyzer's reliability.)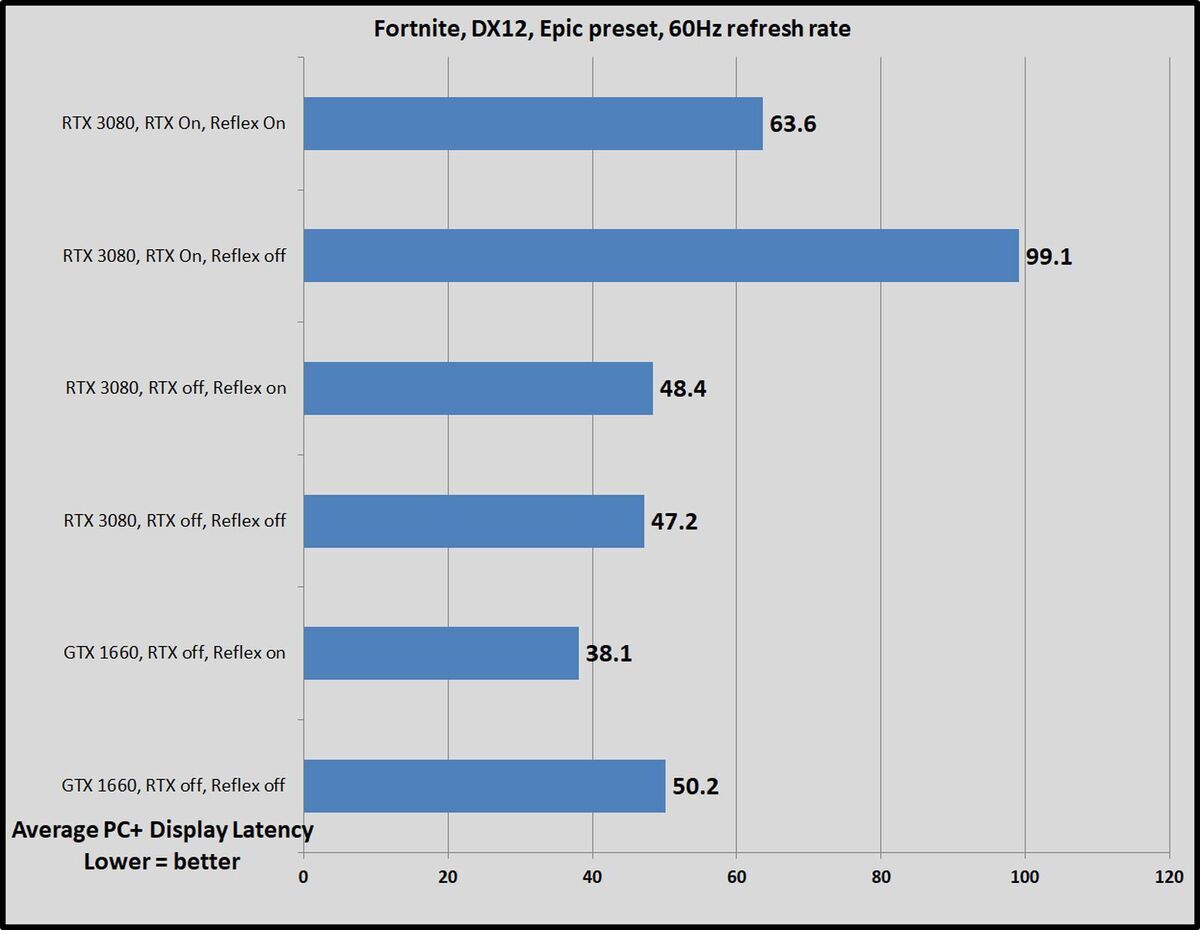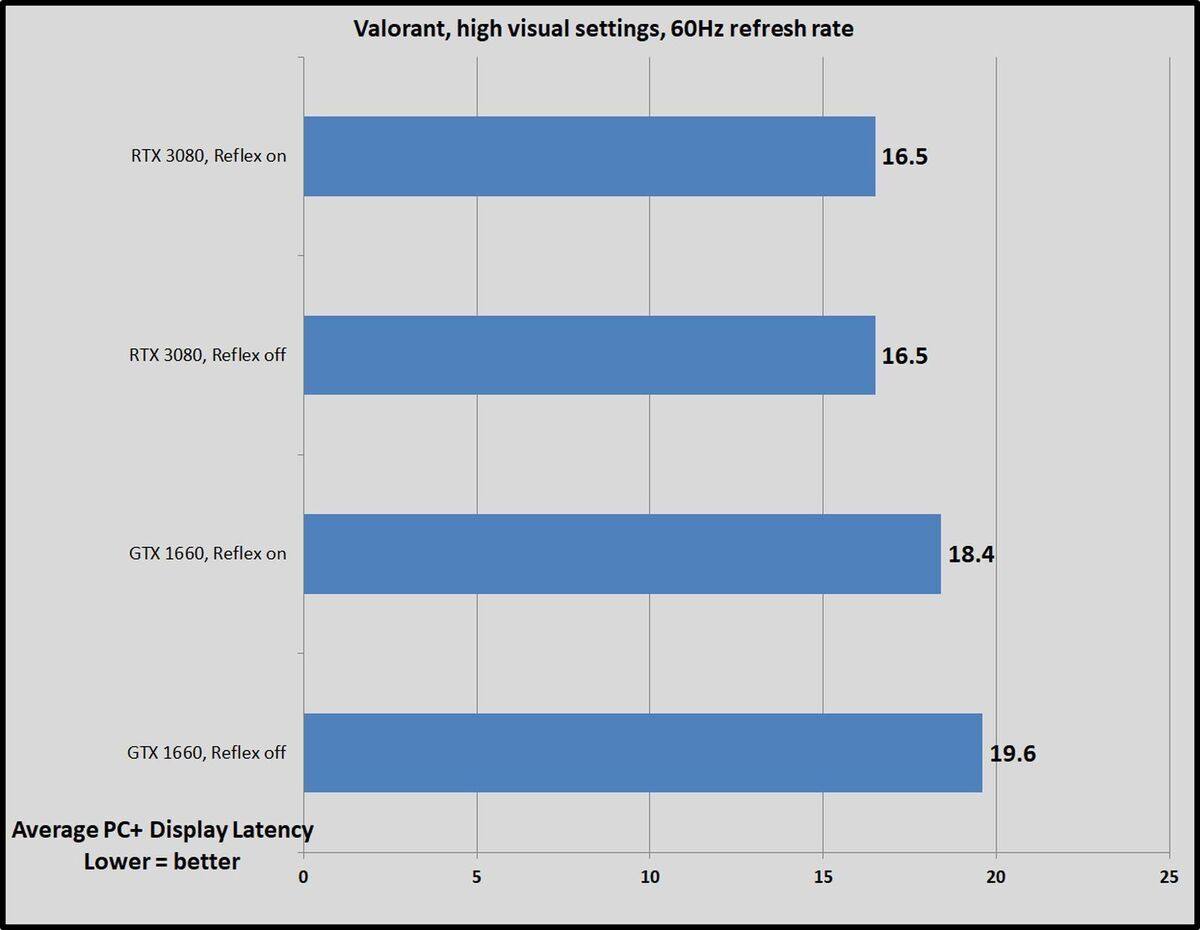 There are a handful of takeaways here. First, note how much less responsive these games become moving from a 360Hz to a 60Hz panel—there's a marked downgrade across the board compared to previous results. (We'll dive into that more later.) Reflex continues to help significantly for the GTX 1660 in Fortnite, as well as the RTX 3080 with ray tracing enabled. Valorant's responsiveness remains largely unaffected with Reflex active at 1080p.
Let's keep that train of thought choo-chooing. We also tested Fortnite and Valorant with the monitor locked at 60Hz, 144Hz, and 360Hz refresh rates to illustrate the advantage that faster displays provide. We also threw in Counter-Strike: Global Offensive because it's massively popular—and to drive home the fact that Nvidia Reflex and Reflex Latency Analyzer are mutually exclusive. CSGO doesn't support the Nvidia Reflex Low Latency Mode APIs, but you can still measure its latency (and the latency of any game) with Nvidia's tools. We tested all three games with the highest visual settings possible, with Reflex off and ray tracing disabled in Fortnite.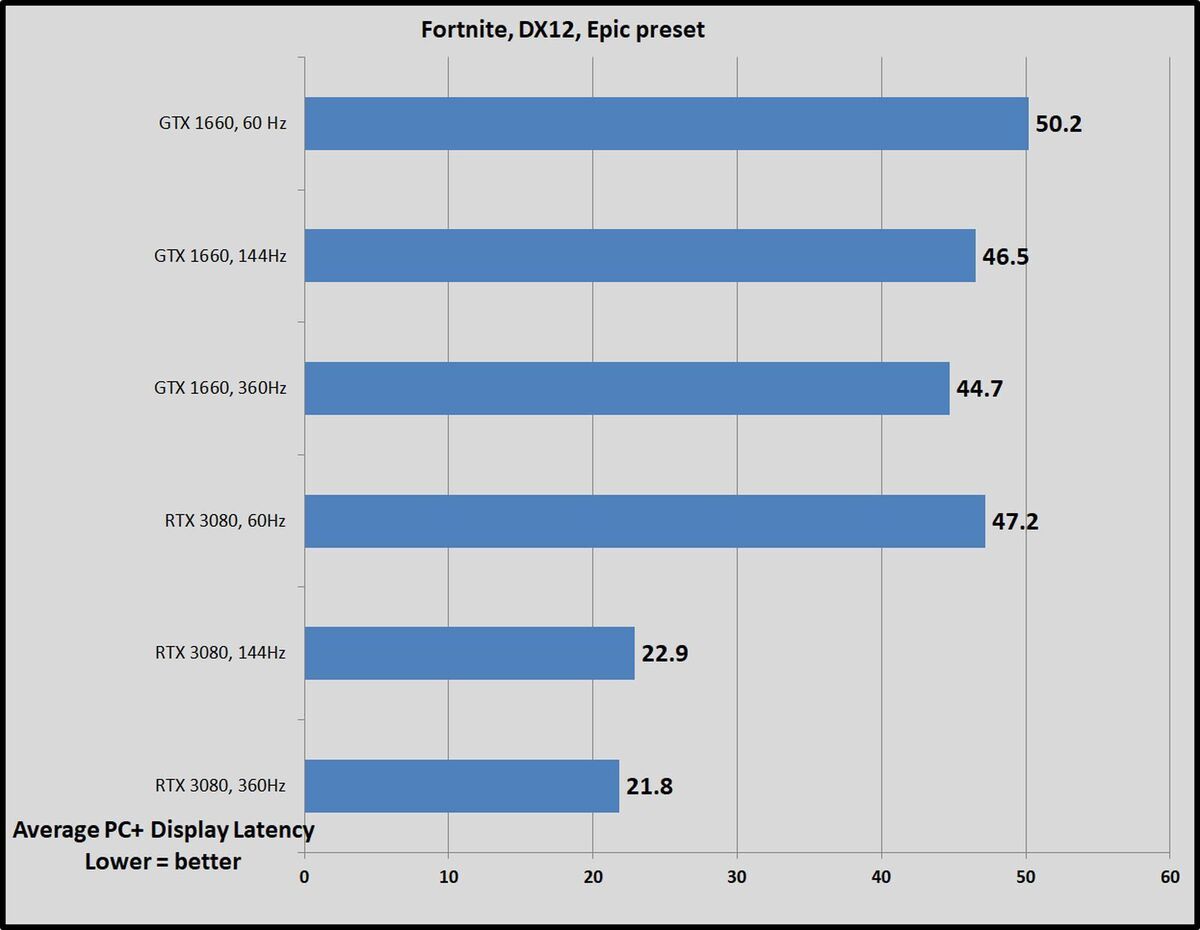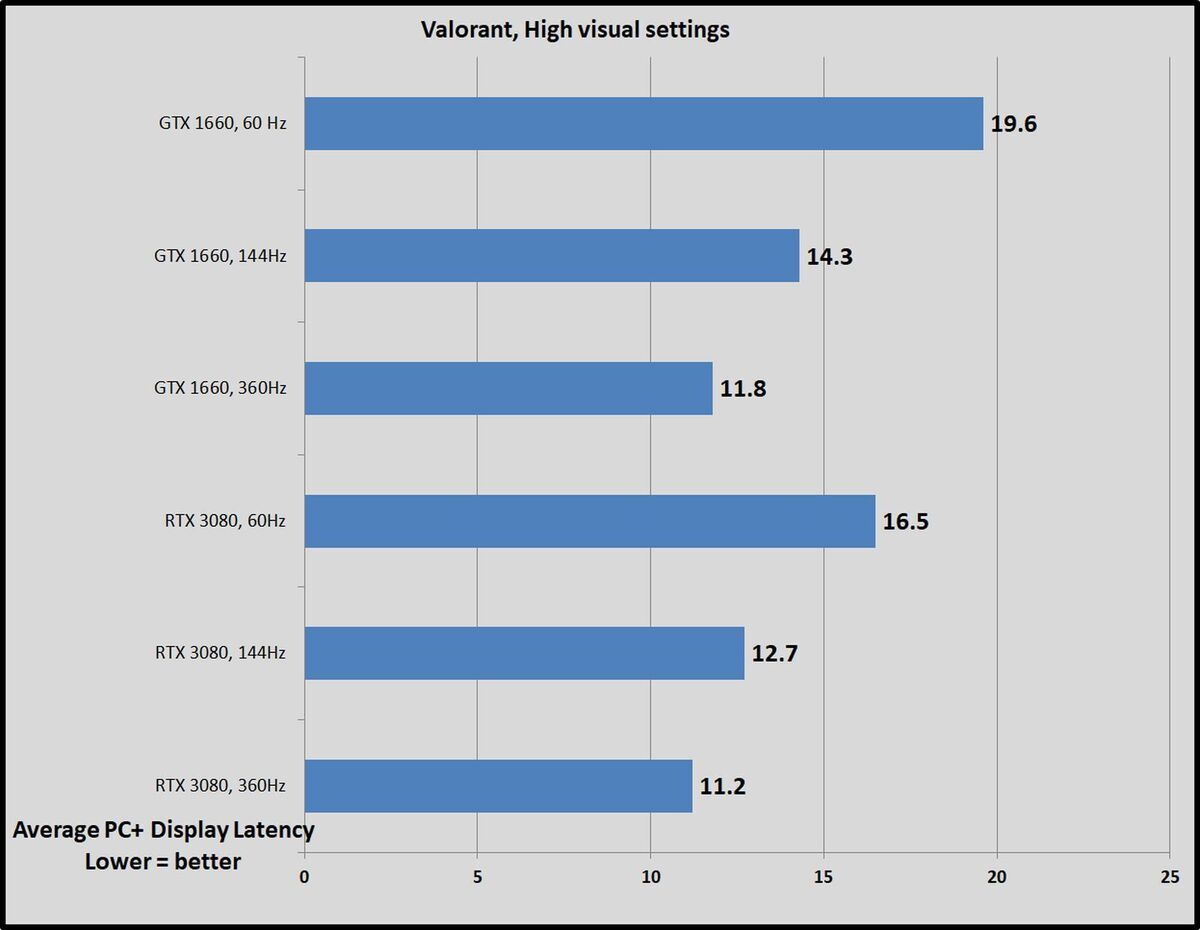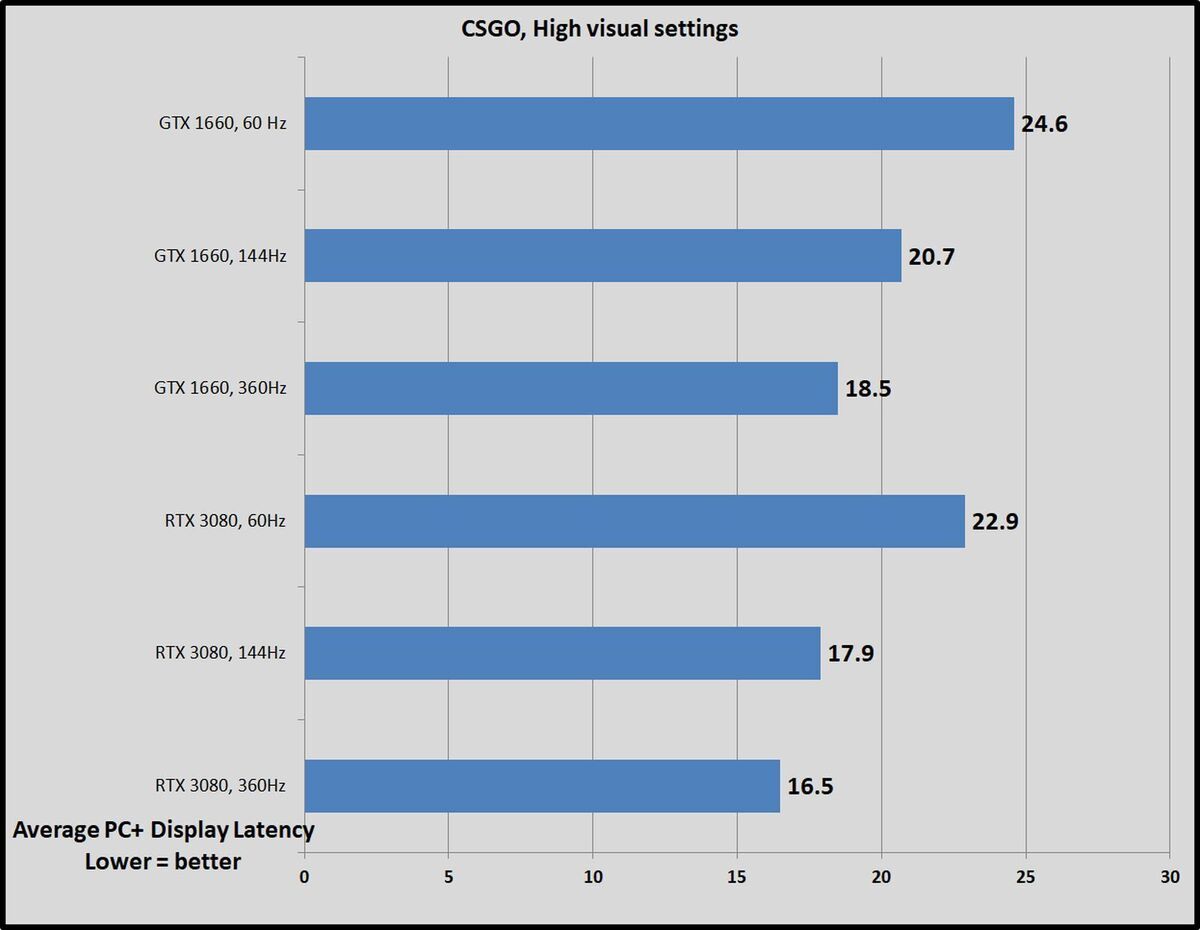 Latency scales down as refresh rates go up, as you'd expect. While upgrading to a 360Hz monitor definitely provides more responsiveness, 144Hz seems like the sweet spot, with diminishing returns thereafter—especially if you're playing esports games with an ultra-potent GPU like the RTX 3080.
Now let's do something completely different. We've been testing these titles with maxed-out graphics settings to test the effectiveness of Nvidia Reflex, which kicks in harder the heavier your GPU is being utilized. But many competitive esports players play the exact opposite way, cranking down all the visuals to improve frame rates and response times. How does Nvidia Reflex hold up versus that standard? We tuned back Fortnite (with ray tracing off) and Valorant to find out, using the panel's full 360Hz speeds.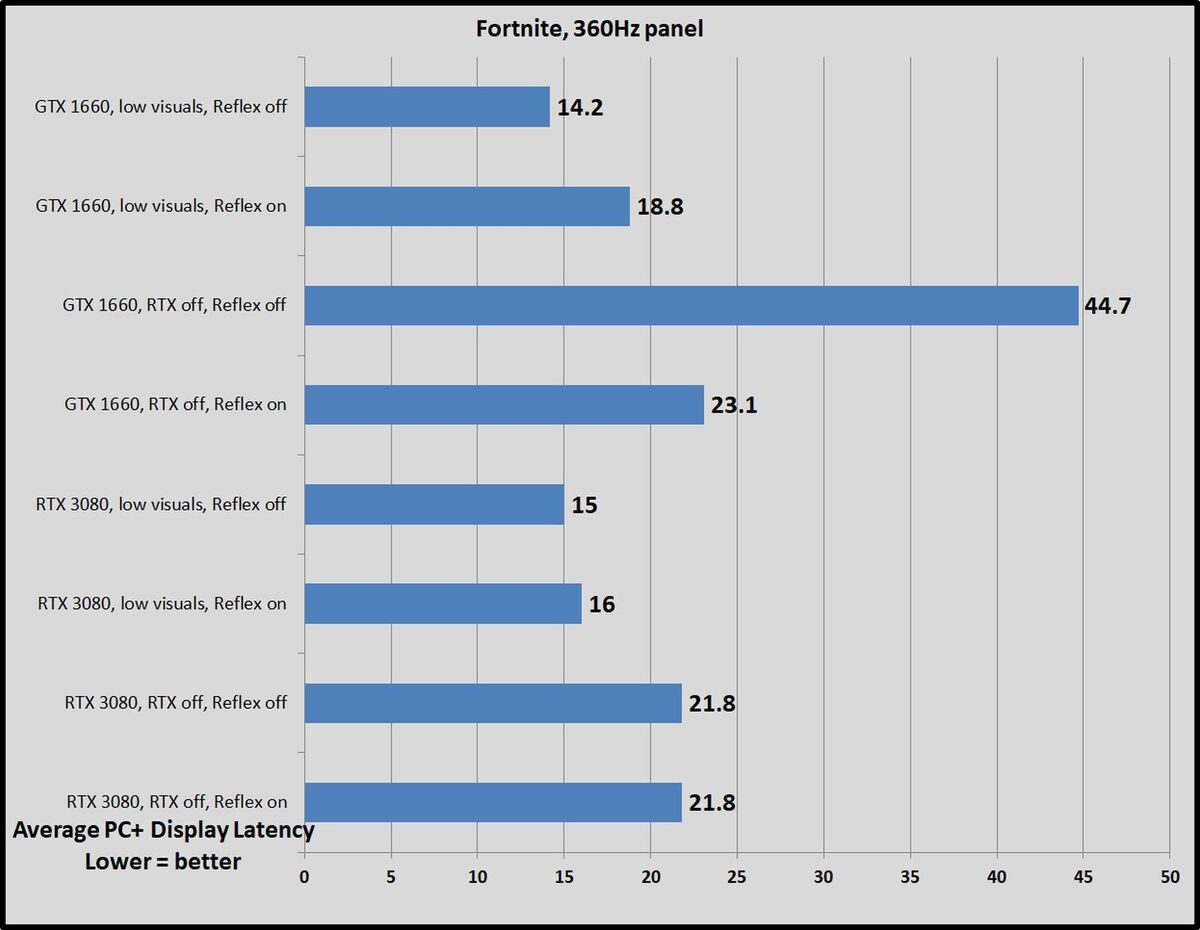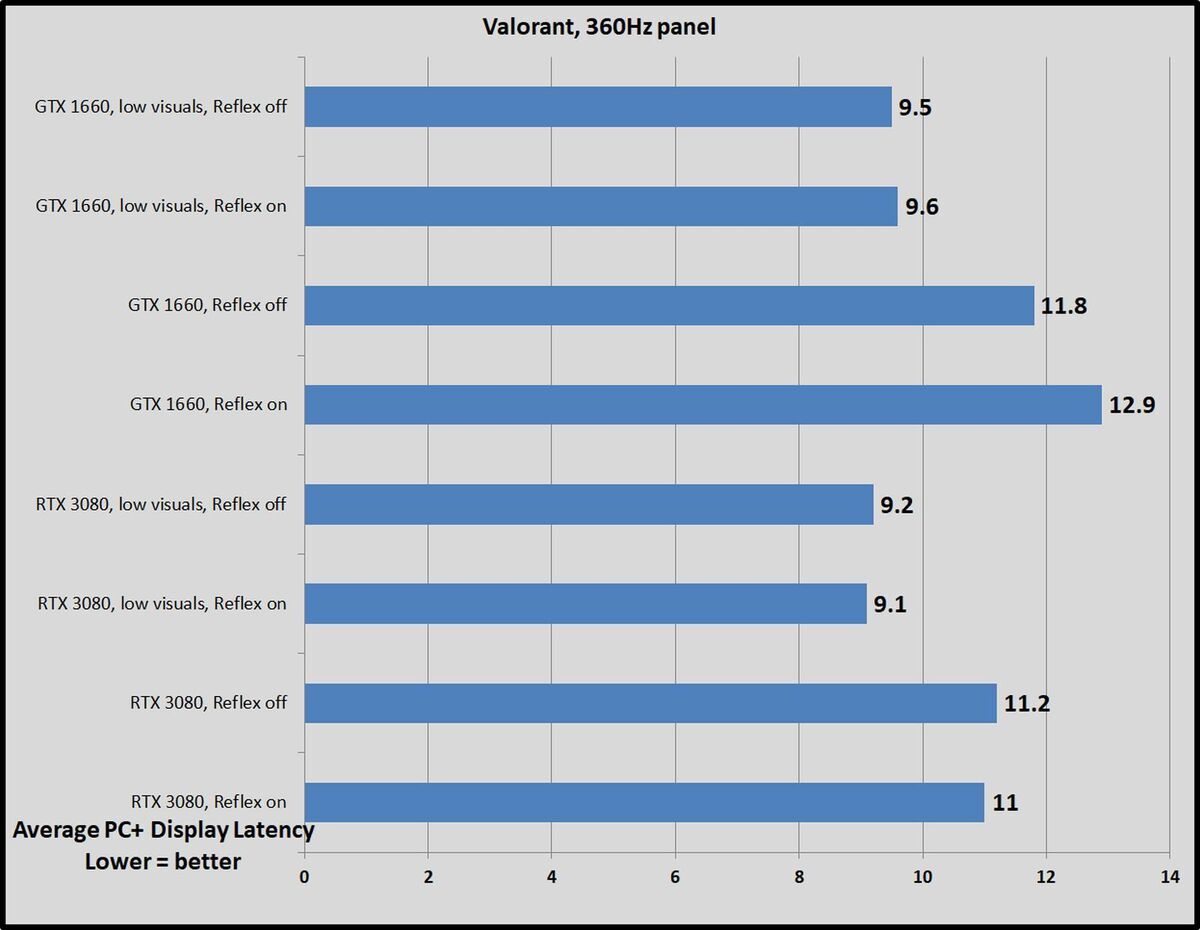 As you can see, playing with low visual settings remains the most responsive option. With the CPU being the bottleneck at that point, Nvidia Reflex's benefits are essentially null in standard circumstances. It even seemingly adds a bit of latency with the GTX 1660 on a 360Hz panel in Fortnite—though 18.8ms remains firmly in the "competitive-grade esports" category.
There are two considerations to keep in mind, though. First, the bottom-rung visuals are ugly: jagged edges, low-res textures, you name it. Boosting the visuals up higher to get rid of that is worthwhile for everyone but the most competitive gamers, and Nvidia Reflex helps you claw most of the responsiveness back.
Second, even when you drop all visuals to low to make the CPU your bottleneck, some scenes in some games can still become GPU-bound. Nvidia's Seth Schneider highlighted a close circle toward the end of an Apex Legends map. When people start chucking thermite grenades, the game can suddenly flip to being GPU-bound, and having Nvidia Reflex on can greatly help with responsiveness in that scenario, he says.
Next page: Bottom line
Bottom line
That was a long ride full of interesting findings. Hopefully you understand the differences between the Nvidia Reflex feature found in games and the Reflex Latency Analyzer found in monitors now. Like I said, they're two very different tools with two very different uses, but both can help you become a better esports player.
First, let's discuss the Nvidia Reflex Low Latency Mode feature in games. It won't help you across the board, but it can improve latency significantly if you become GPU-bound, roughly doubling responsiveness in situations where your graphics card is stressed. That's huge for casual esports gamers. Nvidia Reflex can let you bump up visual details while keeping your games responsive. That's an all-around win for your gaming experience. Better yet, activating Reflex never really hurts responsiveness. There's no reason not to turn it on. This is a fantastic technology that can give you a real edge over your competition, as studies have shown that player accuracy and kill-to-death rates improve as latency goes down.
I suspect Reflex would be even more beneficial at 1440p and 4K resolutions, but the panel we used for testing is a 1080p display, and we need its analyzing tools to measure latency metrics. (We'd love to see 1440p, 144Hz monitors with Reflex Latency Analyzer inside.) Definitely try it though; since they've integrated the Reflex API, both Fortnite and Valorant now include an option to show some latency metrics onscreen in the game itself. You can use those to see if turning Reflex on makes a difference on your system even if you don't have a 360Hz G-Sync Esports display, and to be honest, you'll probably feel it if Reflex drops latency significantly. It's very noticeable in the Fortnite scenarios that show the biggest improvements.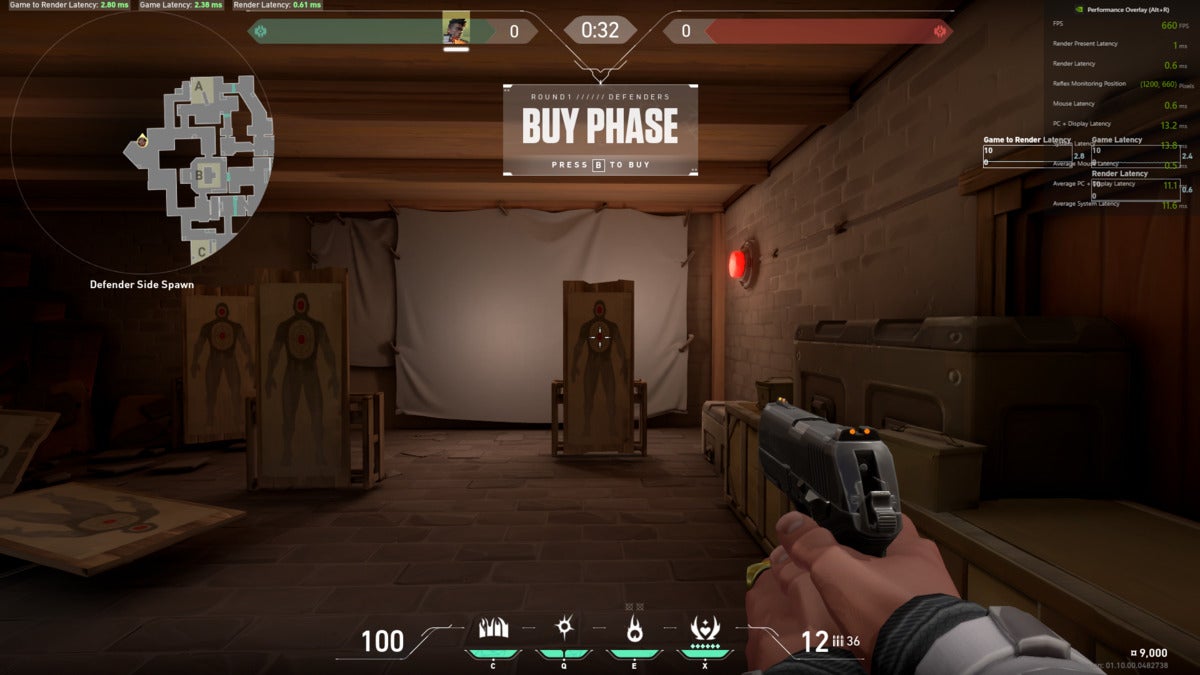 Speaking of those 360Hz G-Sync Esports monitors, they're also very useful, but aiming for a very different crowd—very competitive and deep-pocketed esports fanatics. Asus hasn't announced pricing for the luxurious ROG Swift PG259QNR display we used for testing, but the non-"R" ROG Swift PG259QN model that lacks Reflex Latency Analyzer capabilities costs $700. Expect to pay more for this fancier model.
You get a lot for your money, though. Playing on a 360Hz IPS monitor is simply sublime. Everything feels so smooth. Both the visual quality of the panel and the build quality of Asus's monitor are top notch. This thing rocks. Reflex Latency Analyzer is almost just a value-adding cherry on top.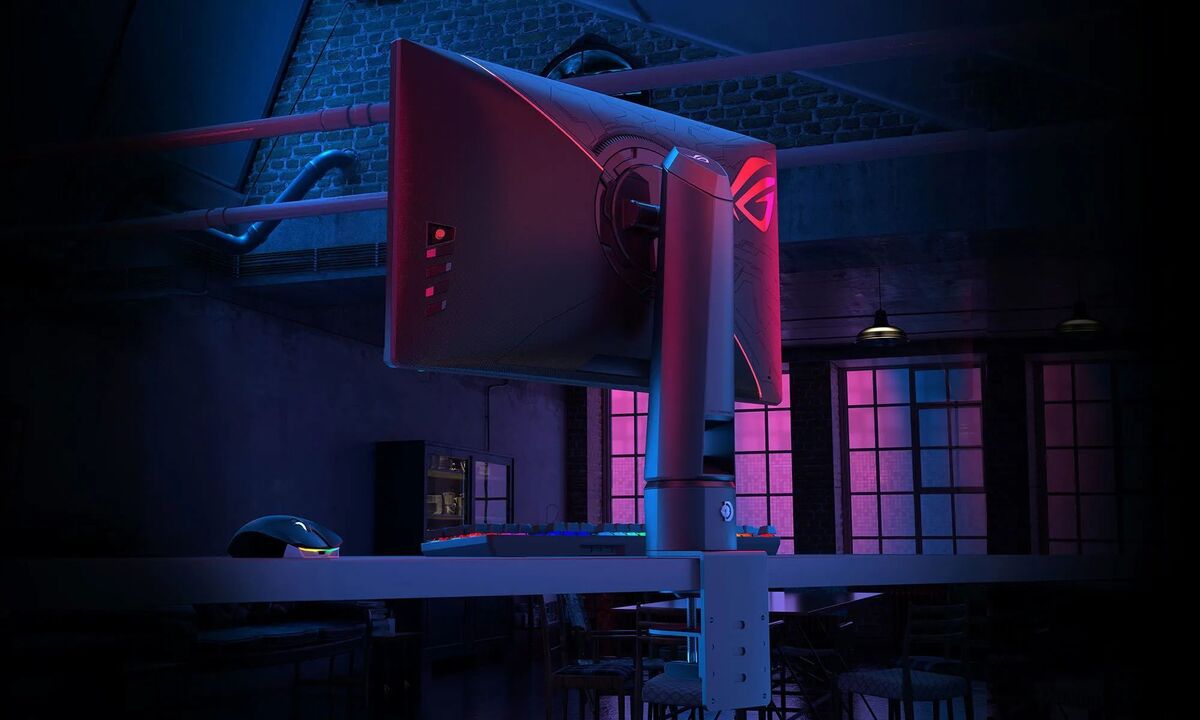 That's generally where I fall on Reflex Latency Analyzer for actual gamers. The technology is wonderful for reviewers like myself, allowing us to test the variety of latency scenarios we walked through earlier. For normal people and casual gamers, it's overkill.
But if you're the sort of person who is willing to invest hundreds and hundreds of dollars into a 360Hz display for peak competitive performance anyway, you'll probably find Reflex Latency Analyzer invaluable. Being able to see the latency impact created by hardware changes and by tweaking specific visual settings in games can help you fine-tune things so your game looks good and feels great, especially if you're using the Nvidia Reflex Low Latency Mode in games. There's a lot you could play with. Nvidia's Reflex Latency Analyzer is a godsend for optimization geeks.
A big part of the appeal lies in Reflex Latency Analyzer's ability to measure mouse responsiveness for true end-to-end system latency, but that's the least compelling reason to buy in, at least for now. Yes, measuring system latency used to take much more equipment. But today, only four mice support Reflex Latency Analyzer. Once I realized the Asus ROG Chakram Core mouse included in my reviewer kit delivered 0.5ms of average latency across the board, I couldn't really do anything else with the information. It just is what it is. Once more mice add Reflex Latency Analyzer support, or once Nvidia adds a wider array of average latency data for unsupported mice to its database, the feature will be more compelling. (Currently, Nvidia's database provides average click latency data for the top 30 esports mice, as tabulated by ProSettings.net, with plans to add more.)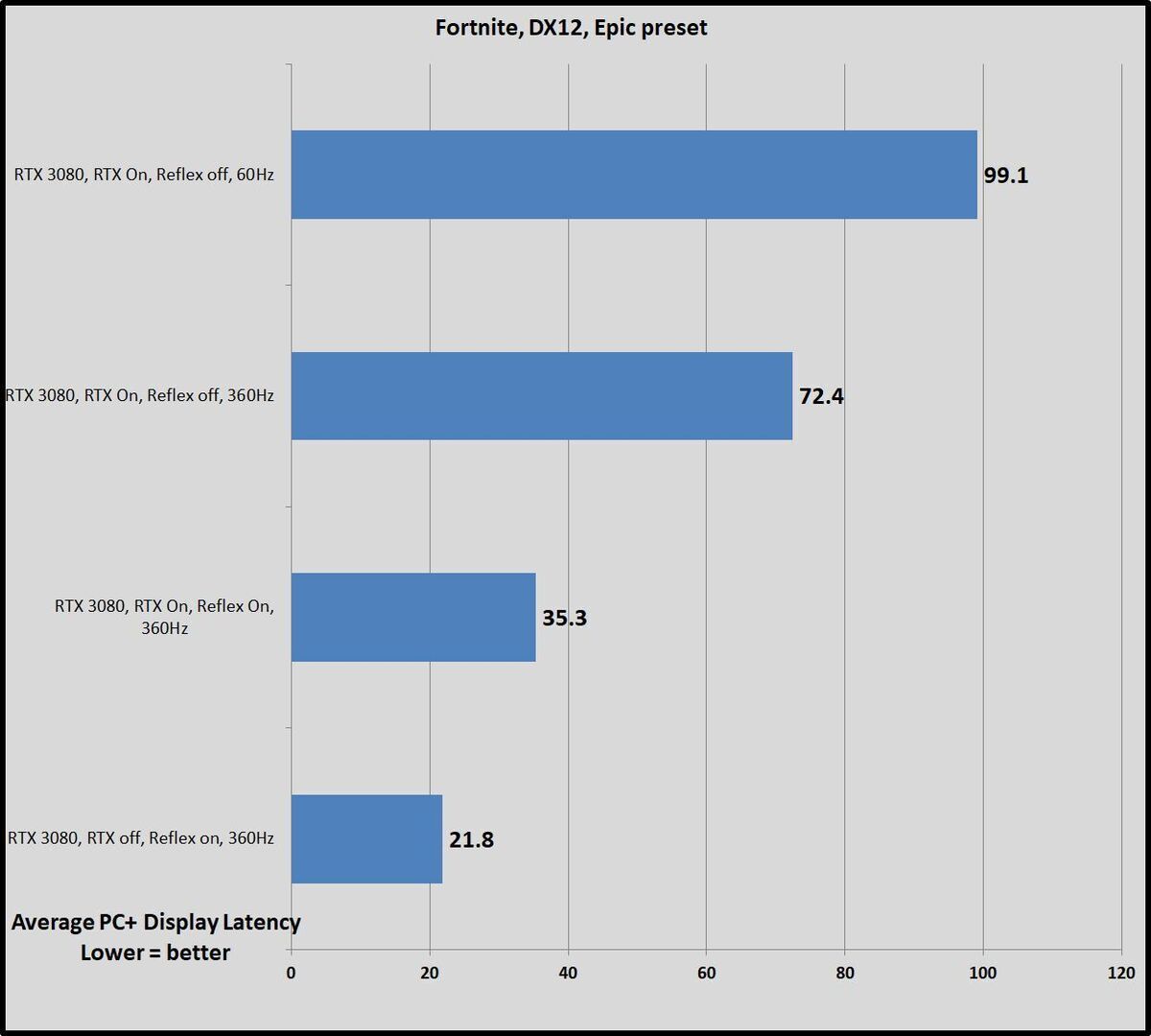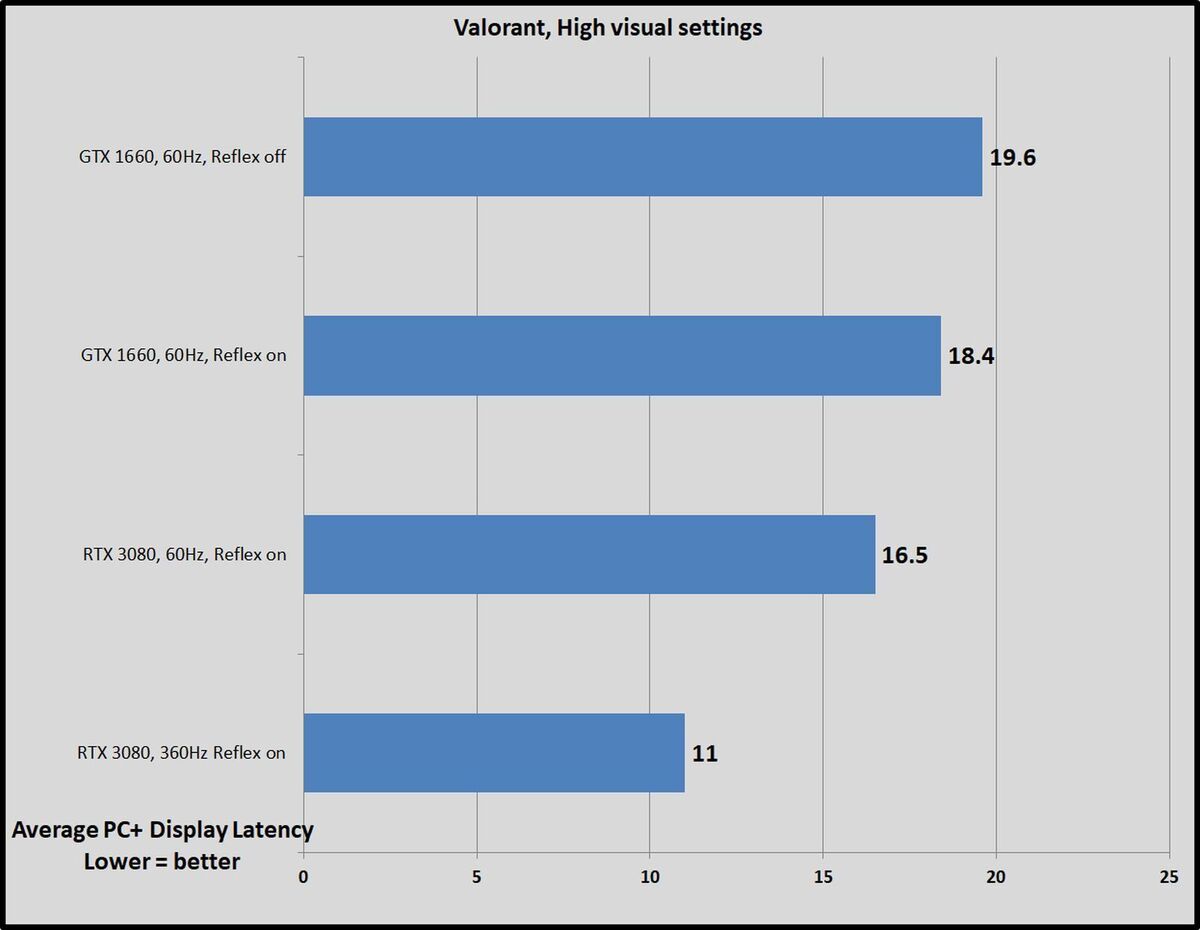 Mentioned in this article
ASUS ROG Chakram Wireless Aura Sync RGB Gaming Mouse Optical Sensor 16000 DPI
This ROG Chakram Core is just as potent as the 360Hz ROG Swift monitor, though. Top-tier gaming mice, including the others with Reflex Latency Analyzer support, take several milliseconds to register a click. The ROG Chakram Core sends its signals in half a millisecond. It's insane, and you can feel it in moment-to-moment gameplay. If you're a competitive esports gamer, check it out even if you aren't interested in the 360Hz G-Sync Esports display ecosystem.
Bottom line? Nvidia Reflex can help make you a better esports gamer, regardless of which facet you're examining. The Nvidia Reflex Low Latency Mode feature can drastically improve responsiveness if you like games to both look good and feel great. There's no reason not to turn it on. The Reflex Latency Analyzer in 360Hz G-Sync Esports monitors serves a much more niche crowd and needs fuller ecosystem support to truly shine, but if you're invested in esports enough to even consider picking up a 360Hz panel, you'll find it an invaluable tool in your tinkering. We're excited by what Nvidia's trying to nurture here.
If you want to go even deeper down the latency rabbit hole, this highly technical Nvidia explainer describing the Reflex suite of technologies is highly recommended.