At a Glance
Expert's Rating
Pros
Speedy CPU performance
Solid 60-fps visuals
Excellent battery life
Comfortable keyboard
Cons
Evidence of screen bleed in the full-HD display
Heavy and bulky design
Our Verdict
WIth a revamped cooling system and a Ryzen 4000-series CPU on board, the affordable Nitro 5 should delight budget-minded gamers.
Best Prices Today: Acer Nitro 5 AN515-44-R99Q
We've long been fans of Acer's line of affordable Nitro 5 gaming laptops. This new entry in the series, just $670 at Best Buy, ups the ante with eye-popping CPU performance and great battery life.
Note that it keeps the same GTX 1650 graphics card that we saw in a similar model last year, so don't expect ray tracing or frame rates much higher than 60 fps or so. But with its revamped cooling system and Ryzen 4000-series CPU, the updated Nitro 5 manages to squeeze every last ounce of performance from its limited GPU power, making it an enticing pick for gamers on a budget.
This review is part of our ongoing roundup of the best laptops. Go there for information on competing models and how we tested them.
Configuration
Acer offers a wide variety of Nitro 5 configurations, with models powered by 9th- and 10th-gen Intel (Whiskey and Comet Lake) processors or AMD Ryzen 3000 and 4000 CPUs; and GTX 1650, GTX 1650 Ti, or RTX 2060 GPUs. The least expensive Nitro 5 variant packs in a quad-core Core i5-9300H processor, a GTX 1650 graphics card, 8GB of RAM, and a 256GB solid-state drive, while the priciest system comes with a hexa-core Core i7-9750H CPU, an RTX 2060 GPU, 16GB of RAM, and a roomier 512GB SSD.
Our Nitro 5 review unit (AN515-44-R99Q) features the following specs:
CPU: Hexa-core AMD Ryzen 5 4600H
Memory: 8GB DDR4 3200MHz (upgradable to 32GB)
Graphics: Nvidia GTX 1650 with 4GB dedicated GDDR5 VRAM
Storage: 256GB PCIe NVMe (plus second PCIe slot and one 2.5-inch HDD bay)
Display: 15.6-inch full-HD (1920×1080) IPS display, 60Hz refresh rate
Webcam: 720p SHDR
Connectivity: 1 x USB SuperSpeed 10Gbps Type-C, 2 x USB SuperSpeed 10Gbps Type-A (one with power-off charging), 1 x USB SuperSpeed 5Gbps Type-A, HDMI 2.0, ethernet, combo audio jack
Networking: Wi-Fi 6, Killer Gigabit ethernet E2600, Bluetooth 5.0
Biometrics: None
Battery capacity: 57.5 Watt-hour
Dimensions: 14.3 x 10 x 1 inches
Weight: 4.7 pounds (measured), 1-pound power brick
The quick takeaway from the Nitro 5's spec list is that it's a solid budget gaming laptop, with (on paper) enough GPU horsepower to run most AAA games at or near 60 fps, once you've tinkered with the graphics settings. The hexa-core Ryzen 5 4000-series CPU should tear through CPU-intensive activities such as video encoding or database crunching. While the 8GB of RAM is only adequate in terms of multitasking, you can upgrade the RAM all the way up to 32GB. We'll delve into the Nitro 5's real-world performance in a bit.
The Nitro 5's 256GB solid-state drive is decidedly cramped when it comes to games. Luckily, the system comes with SuperSpeed 10Gbps Type-C and Type-A ports, ideal for connecting speedy external storage. You can also upgrade the Nitro 5's internal storage using the available PCIe slot or the empty 2.5-inch HDD drive bay.
The 15.6-inch full-HD display is roomy but limited to a 60Hz refresh rate (there are pricier versions of the Nitro 5 with 120Hz and 144Hz screens). More impressive is the Nitro 5's networking features, including a gigabit ethernet port and cutting-edge Wi-Fi 6, which means you'll be able to wring every last bit of throughput out of the latest gaming routers.
Design
Big, bulky and heavy: That's pretty much the name of the game when it comes to gaming laptops, and the Nitro 5 is no exception. Tipping the scale at 4.7 pounds (or 5.7 pounds if you include the 135-watt power adapter), the inch-thick, 15.6-inch Nitro 5 feels as hefty as it sounds. That said, Acer (as it has with previous models) has done its best to give the Nitro 5's shell a slim, tapered appearance.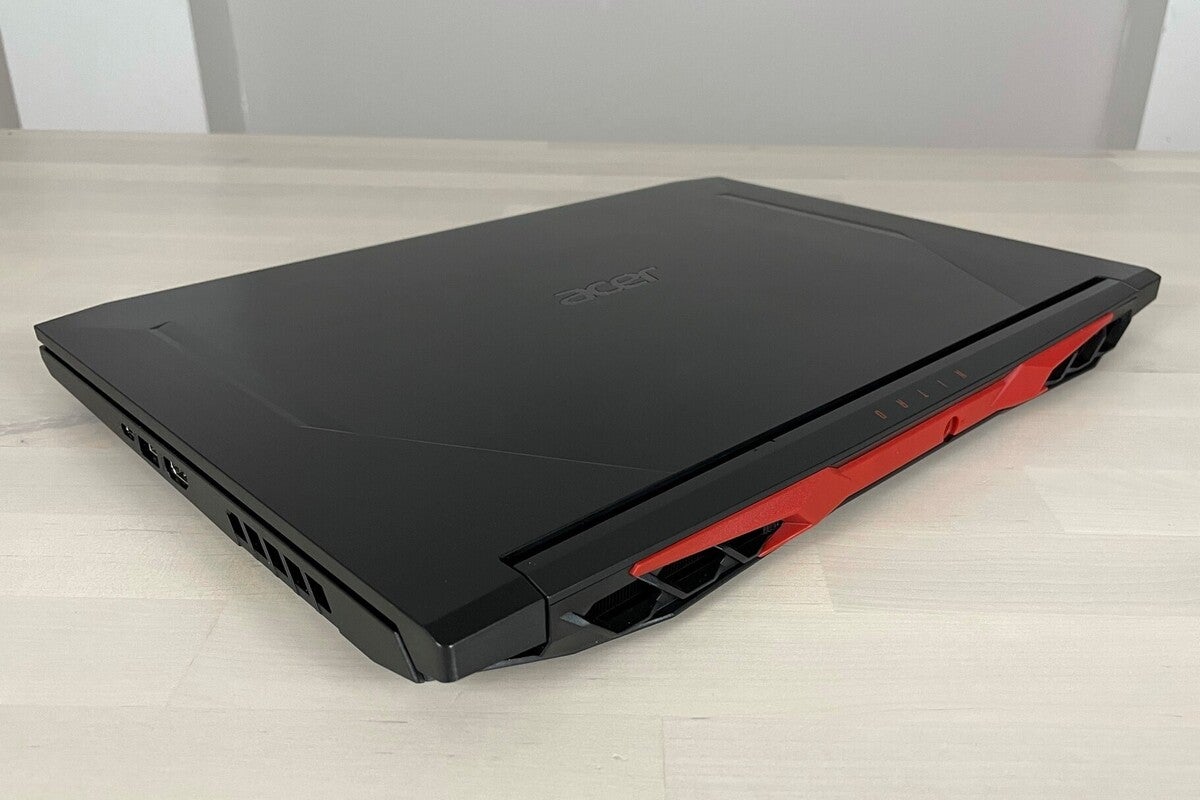 While this year's Nitro 5 looks more or less the same as earlier iterations, there are a couple of key differences. For starters, the Nitro 5's hinge is now black rather than maroon, which means that the shell is now almost entirely black, aside from the bright-red cooling vents in the rear.
Speaking of vents, the latest Nitro 5 models feature four revamped cooling vents (two in the rear and one on each side) that are designed to boost the laptop's thermal performance by up to 25 percent compared to last year's configurations.
The Nitro 5 also comes with Acer's NitroSense app, which lets you change the laptop's power plans as well as tinker with the cooling fans. You can manually customize the rotations of the fans or engage CoolBoost, a setting that intelligently boosts the maximum fan speed and can help optimize CPU and GPU cooling by up to 9 percent. We tried switching on CoolBoost mode and switching the Nitro 5's power plan to High Performance mode during our game testing, and we'll let you know the results later on in the review.
Display
The Nitro 5's 15.6-inch, 1920×1080 display is flanked by a pair of slim, 0.28-inch bezels, while the bezels along the top and bottom of the screen are somewhat chunkier. Overall, Acer says that the new Nitro 5 has an 80 percent screen-to-body ratio. During my real-world testing, the display looked appropriately roomy considering the laptop's size.
As we noted earlier, Acer does offer pricier Nitro 5 models with 120Hz and 144MHz displays, but the version we're tested is limited to a 60Hz refresh rate. That means you can expect screen tearing if you're getting frame rates north of 60 fps and you've disabled synchronization.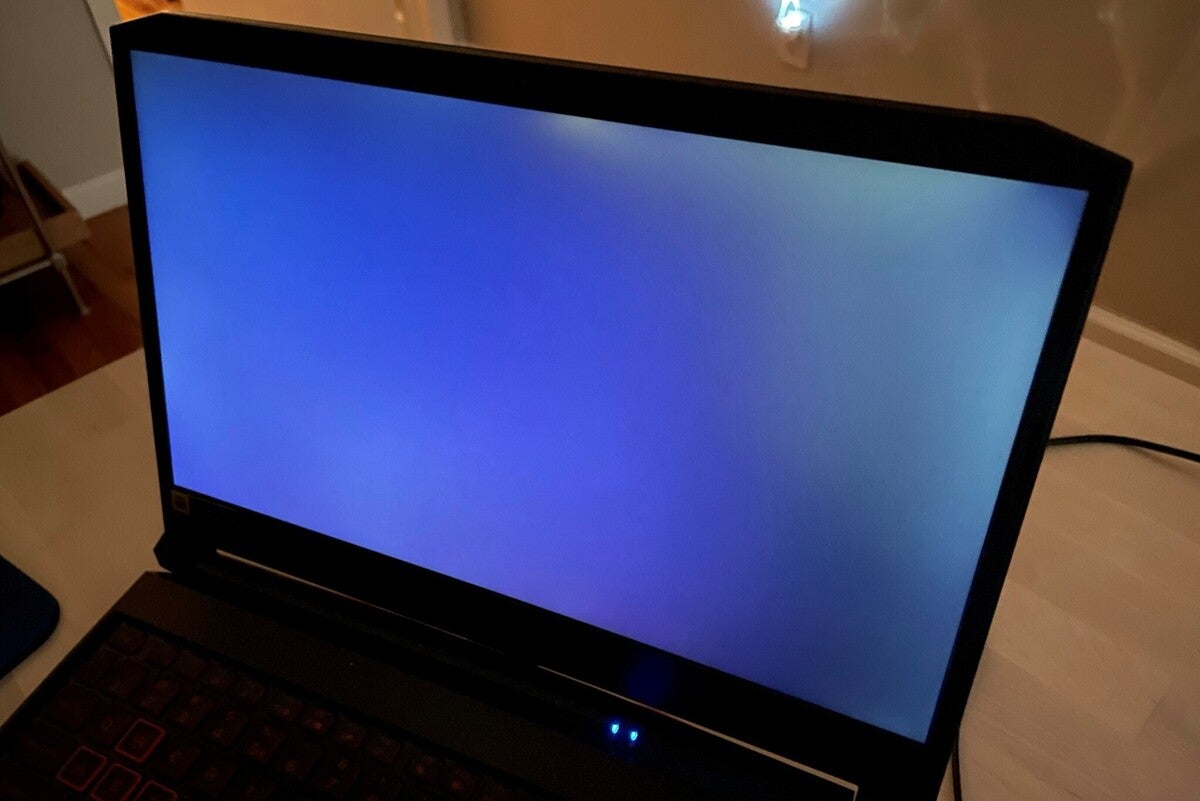 Rated for 300 nits (or candelas) of brightness, the Nitro 5's 15.6-inch display uses IPS (in-plane switching) technology to boost viewing angles. The results are pretty much as expected, with the panel dimming only slightly when viewed from the sides, top or bottom. I did, however, note a little screen bleed near the top of the display on my review unit, below and slightly to the right of the webcam. The screen bleed was never distracting during furious moments of gameplay, but I did notice it during dark scenes in videos and games, particularly in Destiny 2, when my ship was sitting in orbit.
Keyboard, trackpad, speakers, and webcam
I was quite pleased by the Nitro 5's snappy keyboard, which comes with a 10-key numeric trackpad, a generous 1.6mm of travel distance and a satisfying, tactile bump upon key actuation. Gamers who prefer to have their fingers flutter over the keyboard may prefer a smoother, more linear feel to the keys, but personally I prefer the Nitro 5's bumpier approach.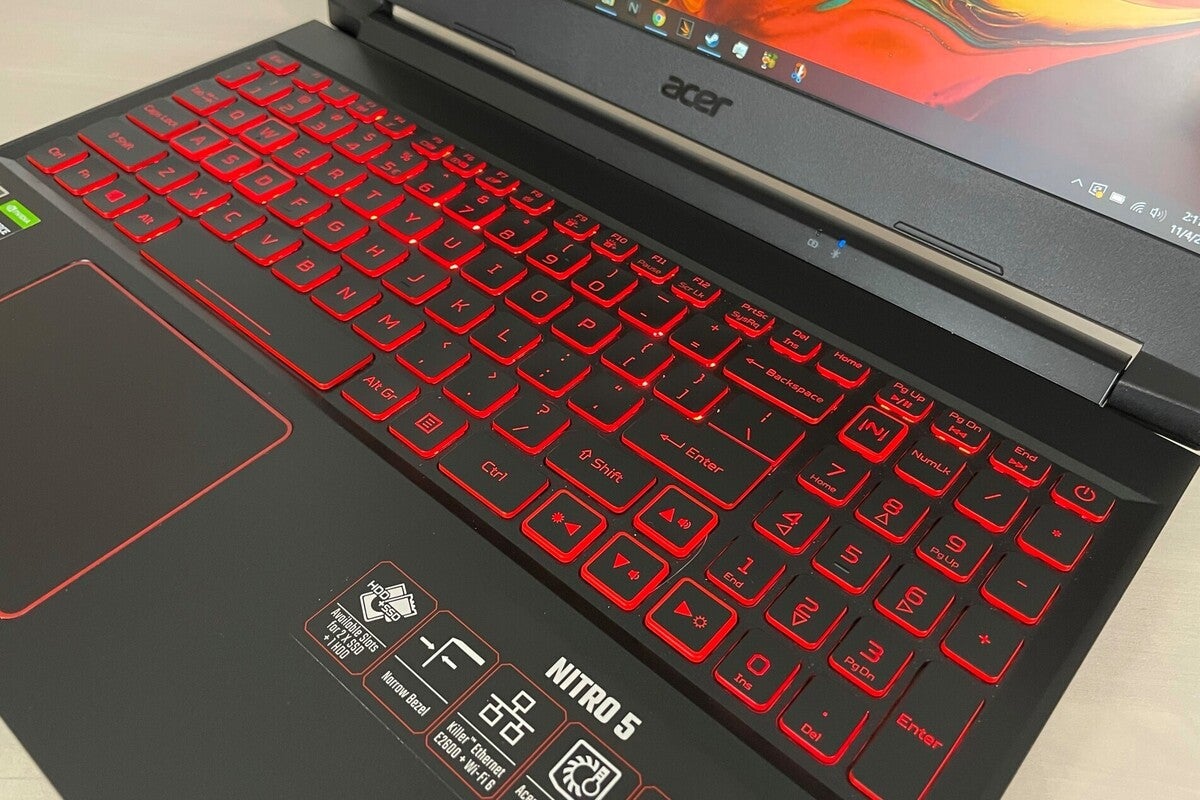 While pricier Nitro 5 models feature four-zone keyboard backlighting, our review unit came with a uniform red backlight. Also worth noting are the highlighted WASD keys, while a highlighted hotkey launches the NitroSense thermal management app that we mentioned earlier. One complaint is that the volume buttons share space with the up and down arrow keys, which means you'll need to hold the Function key to adjust the sound.
The Nitro 5's trackpad sits directly below the spacebar and somewhat left of center of the chassis. When I was gaming on the Nitro 5, I generally didn't touch the trackpad at all, opting instead either for a mouse or a controller. That said, when I did use the trackpad for everyday PC chores, I found that it did the job and avoided false inputs.
The downfiring stereo speakers on the Nitro 5 are augmented by object-based DTS:X Ultra audio, and the results are, well, OK. Yes, I could hear better-than-average virtual surround cues from the Nitro 5's small speakers, but the overall sound was still somewhat thin and lacking in bass. Unsurprisingly, you'll do much better using headphones or external speakers, and yes, DTS:X Ultra audio sounds pretty good when piped through a pair of decent gaming cans.
The Nitro 5's 720p webcam captures relatively smooth 30-fps video, if a tad washed-out and grainy-looking. Acer says the webcam offers SHDR (super high dynamic range) imaging, and I'll take their word for it, but I didn't find the webcam's images to be particularly vivid. It's fine for a Zoom meeting with the office, but you'll probably want to upgrade to an external webcam for your Twitch channel.
Ports
The Nitro 5 comes with a solid collection of ports, including (on the left side) a pair of USB SuperSpeed 10Gbs Type-A ports, a drop-jaw gigabit ethernet port for wired internet, a combo audio jack, and a laptop security slot.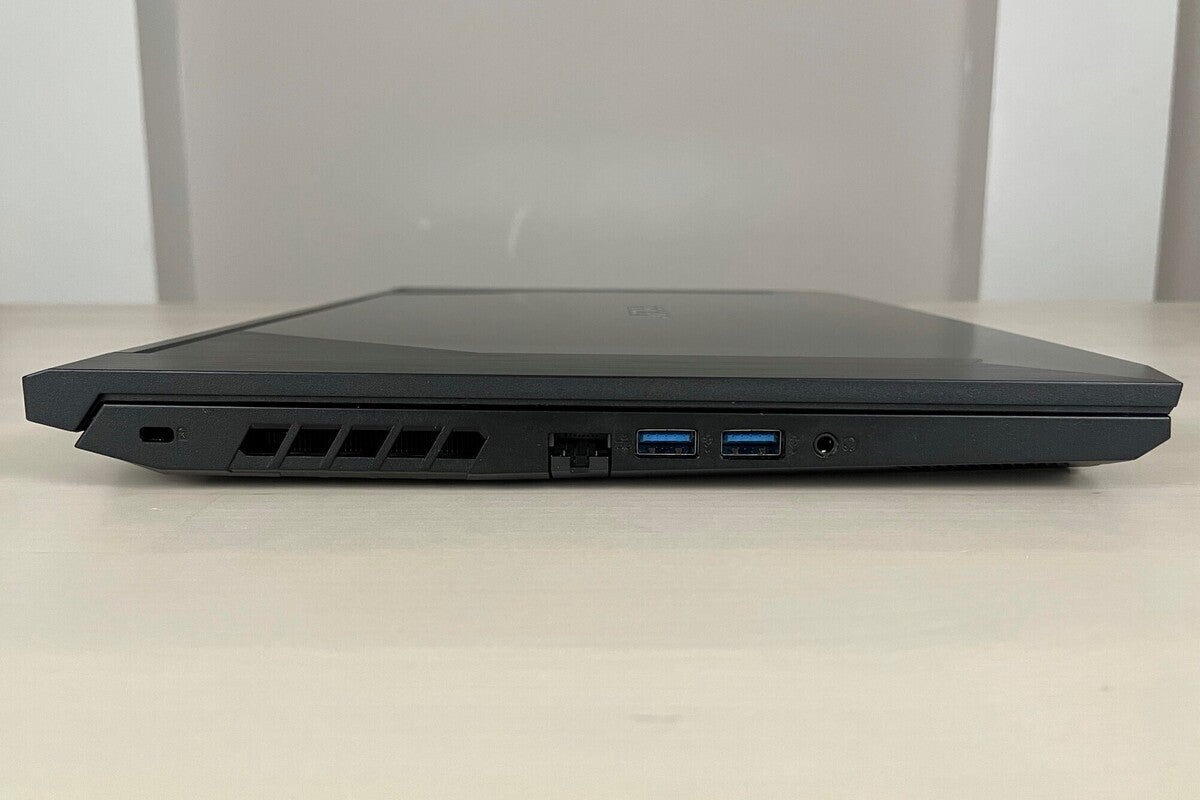 On the right sits a USB SuperSpeed 10Gbps Type-C port, a USB SuperSpeed 5Gbps Type-A port, and a full HDMI 2.0 interface.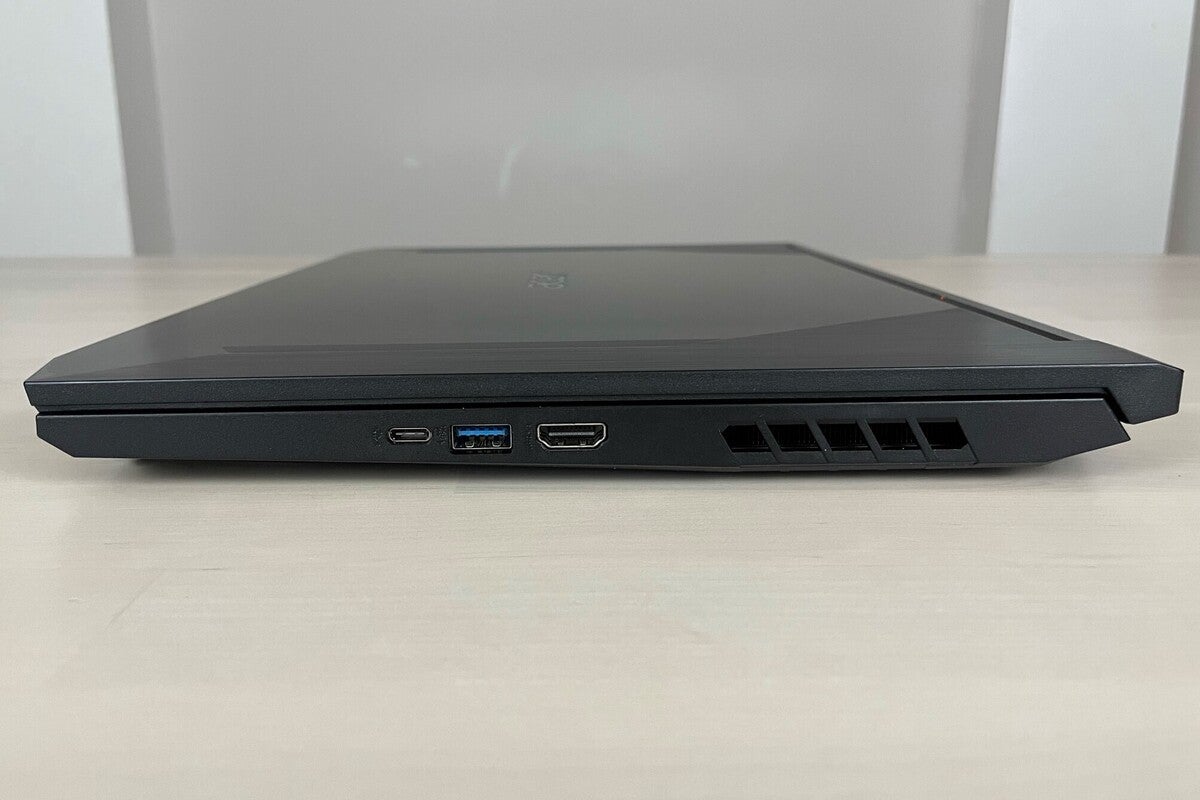 That's a pretty impressive array of ports for a budget gaming laptop like this one, particularly the trio of speedy USB ports and the ethernet interface. A media card reader would have been a nice touch, but its absence on a gaming laptop like the Nitro 5 isn't a deal-breaker.
General performance
For $670, you're simply not going to get a gaming laptop with a GPU capable of ray tracing or Nvidia's AI-enabled DLSS acceleration. Instead, you'll wind up with a laptop like the Nitro 5, whose solid, midrange GTX 1650 will serve up graphically maxed-out visuals in the 60-fps range, give or take. That's pretty much what we got during our real-world tests with the laptop, along with some pretty impressive CPU performance courtesy of the Nitro 5's Ryzen 4000-series chip. We even saw some surprisingly good battery life.
HandBrake
Our first benchmark is a veritable torture test for CPUs, measuring how long it takes for a given laptop to process a 30GB MKV file using the free HandBrake utility. The test generally takes an hour or more, giving us a good idea of how a given system handles high CPU loads over long periods.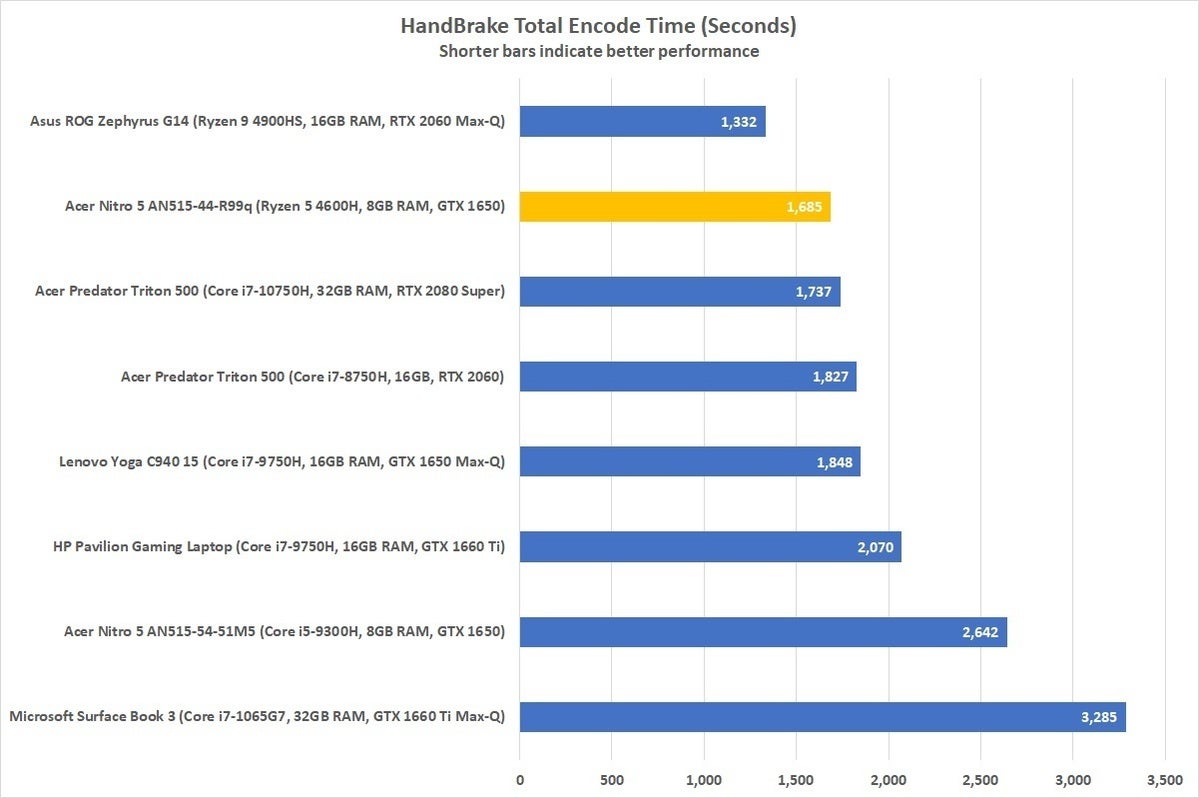 The Nitro 5 and its hexa-core Ryzen 5 4600H processor manage to scare up some impressive numbers in our HandBrake test (remember, shorter bars are better), coming in second only to the Asus ROG Zephyrus G14, a laptop that costs twice as much as the Nitro, while squeezing past a series of gaming systems that cost hundreds more. It also blows away the Nitro 5 we reviewed last year, which was powered by a quad-core Intel Core i5-9300H chip. The Nitro 5's processor won't be a bottleneck as far as graphics go, and it'll boost the performance of games that do depend more on the CPU, such as Minecraft and 2013's Tomb Raider reboot.
Cinebench
Next, we spun up Cinebench, a test that involves rendering a 3D image in real time. Unlike the much lengthier HandBrake test, Cinebench is usually done in mere minutes, and thus shows us how a laptop CPU handles crushing but short-term processor bursts. Here, we'd expect to see chips with the fastest boost clocks get the upper hand. Longer bars are better this time.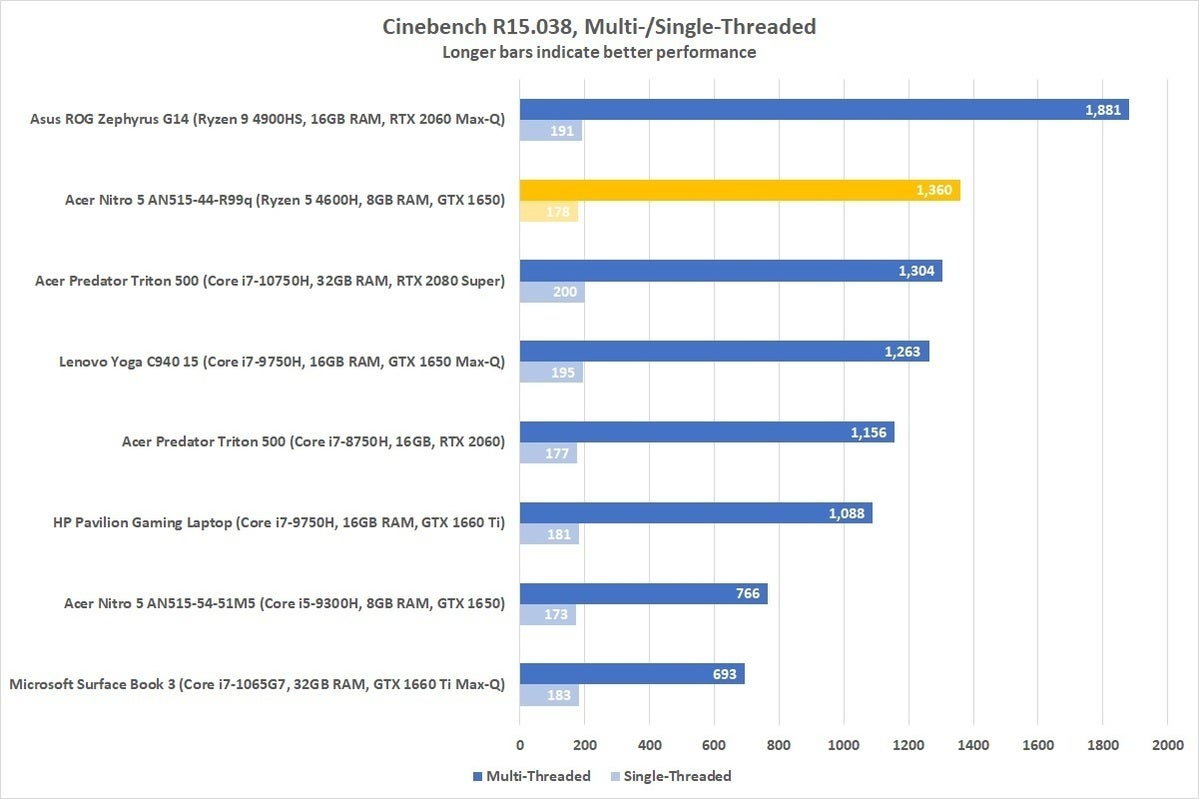 Once again, we see the Nitro 5's multi-threaded score land in second place, behind (again) the Asus ROG Zephyrus G14 but ahead of all other comers, and achieving double the results of 2019's Nitro 5. The single-threaded score for this year's Nitro 5 is a bit lackluster, although I didn't notice any slowdowns in the Nitro's single-core performance. In any event, the Nitro 5 turns in an impressively strong Cinebench performance considering its price tag.
3DMark FireStrike Extreme
At last, let's turn our attention to the Nitro 5's GPU. Here we'll see its performance come back down to earth. While the Nitro 5 has been whipping its competitors when it comes to CPU power, the laptop's GTX 1650 is a decidedly mid-range graphics card. Even when paired with a hot-rod CPU like the Ryzen 5 4600H, it's going to struggle to compete with some of the more powerful GPUs in our roundup.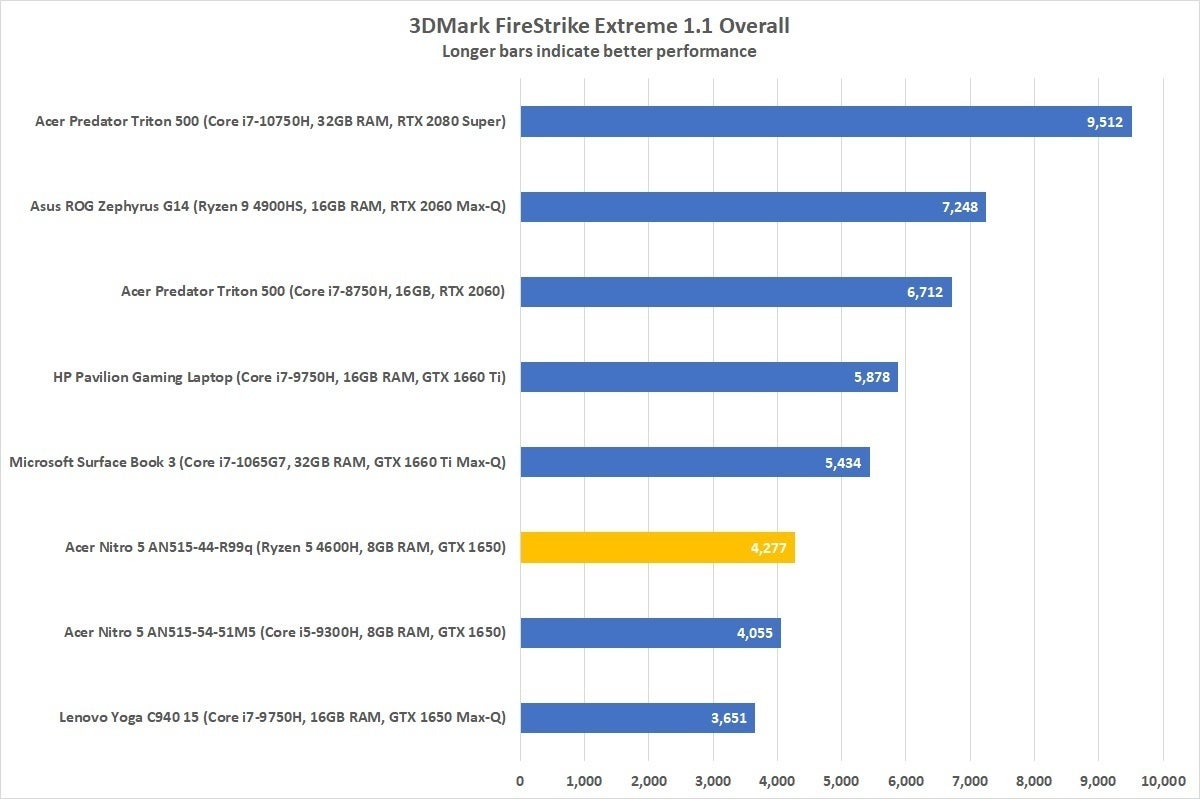 As expected, the Nitro 5 slides down near the bottom of our chart, below gaming laptops with GTX 1660 Ti, RTX 2060, and (especially) RTX 2080 Super graphics cards. Still, our Nitro 5 review unit did manage to notch a better score than last year's Nitro 5, which comes equipped with the same GTX 1650 GPU, as well as the Lenovo Yoga C940 and its Max-Q-optimized GTX 1650.
Rise of the Tomb Raider
Now for some real-world tests, with the Nitro 5 running the benchmark in Rise of the Tomb Raider at maxed-out graphical settings and in DirectX 11 mode. With its GTX 1650 graphics card, we'd expect the Nitro 5 to land somewhere in the 60-fps range, and it did just that.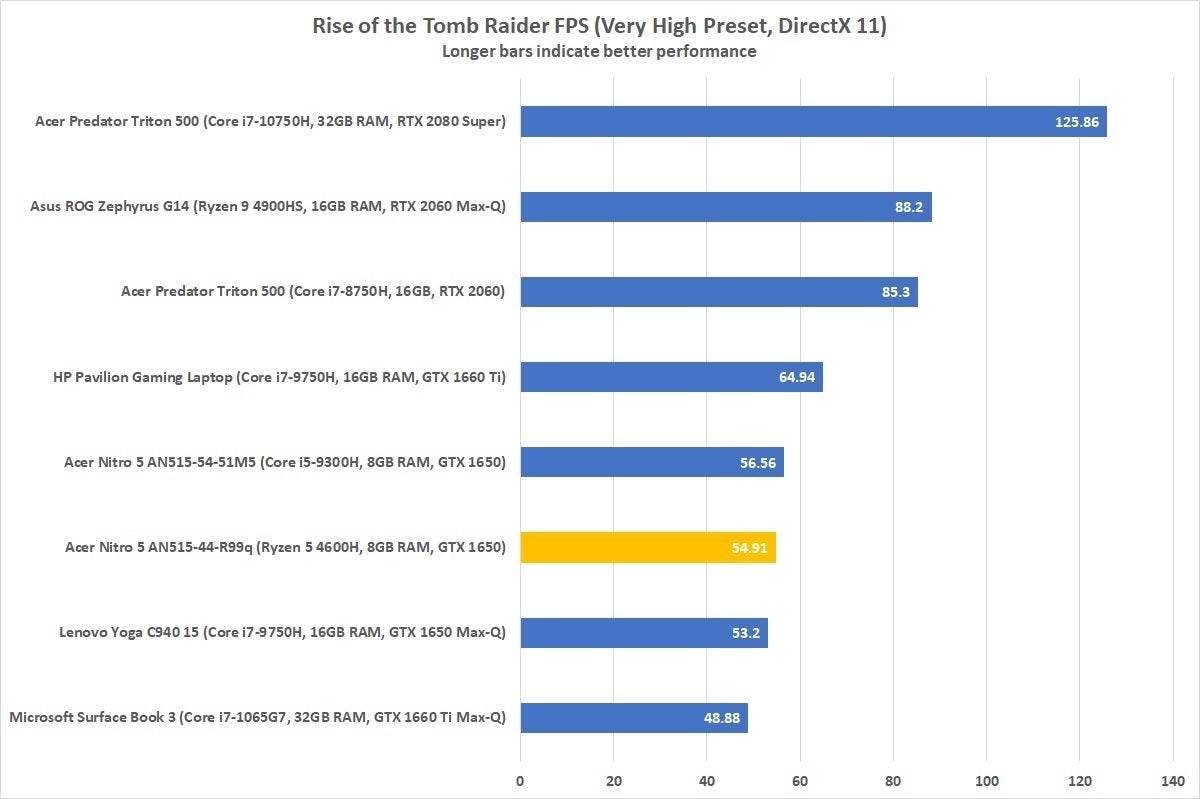 While its recorded score is slightly below that of last year's Nitro 5, we regard that as well within the margin of error. Looking at the chart, you'd need to pay hundreds more for a laptop equipped with an RTX 2060 or better GPU to see frame rates substantially north of 60 fps. That Acer Predator Triton 500 at the top of the chart, with its 125-plus fps score, would cost a cool $2,600 to take home.
As promised, we re-ran the Rise of the Tomb Raider benchmark with the NitroSense "CoolBoost" mode switched on and the High Performance power plan enabled. The improvement was negligible: 56.97 fps versus 54.91 fps.
Middle-earth: Shadow of Mordor
The results are similar for Shadow of Mordor. The Ryzen-powered Nitro 5 sneaks past 70 fps for this more CPU-centric title, a tiny bit faster than last year's Nitro 5.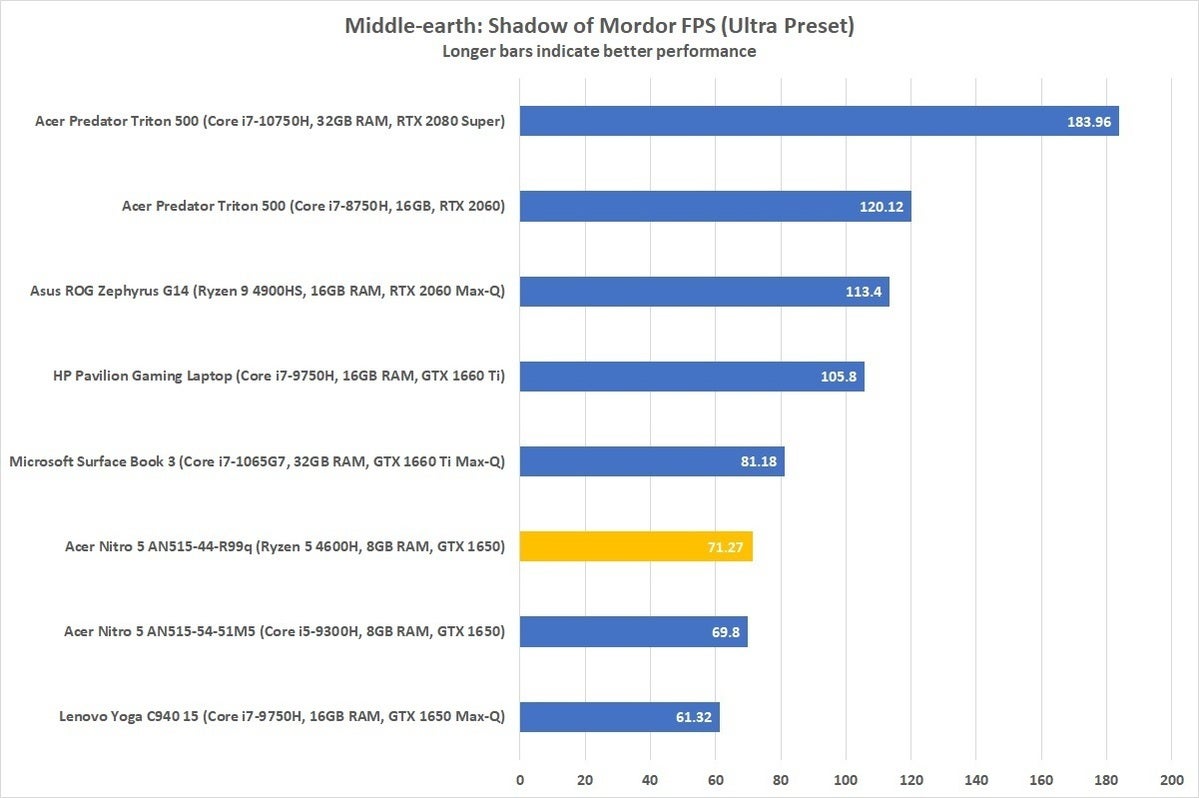 Once again, we re-did the benchmark with CoolBoost on and the High Performance power plan engaged, but this time we barely saw a budge in frame rate.
Destiny 2
We don't have formal rankings for Destiny 2 given that it lacks a benchmarking mode, but having spent dozens of hours running Nightfalls, grinding Lost Sectors and toiling away at a solo Prophecy dungeon clear (I'm stuck at the second boss encounter) using the Nitro 5, I thought I'd detail my experience.
When maxing out Destiny 2's graphical settings and turning vsync off, the Nitro 5 managed framerates in the 50-60 range, including during a hectic "the enemy is moving against each other" episode with dozens of Fallen and Cabal. That's pretty good considering the Nitro 5's GTX 1650 GPU, but there was also frequent screen tearing due to the 60Hz display on our Nitro 5 review unit.
Once I washed its video settings through the GeForce Experience optimizer (which, in the Nitro 5's case, dials down such settings as foliage distance, shadow quality, and screen space ambient occlusion) and turned vsync back on, Destiny 2 on the Nitro 5 looked fantastic, with nearly rock-solid 60 fps (including during a chaotic Taken Blight public event) and no screen tearing whatsoever. So if you were thinking of snapping up a Nitro 5 to feed your Destiny 2 habit, and you don't mind giving up a few bells and whistles (who's looking at foliage when there's a Taken Captain in your face?), you'll be pretty happy.
Battery life
We test battery life on laptops by looping a 4K video with screen brightness set to about 250 nits and the volume at 50 percent, with headphones plugged in.
Generally speaking, we don't expect much from gaming laptops when it comes to battery life. Given its midsized 57.5 watt-hour battery, the Nitro 5 isn't exactly poised to knock anyone's socks off.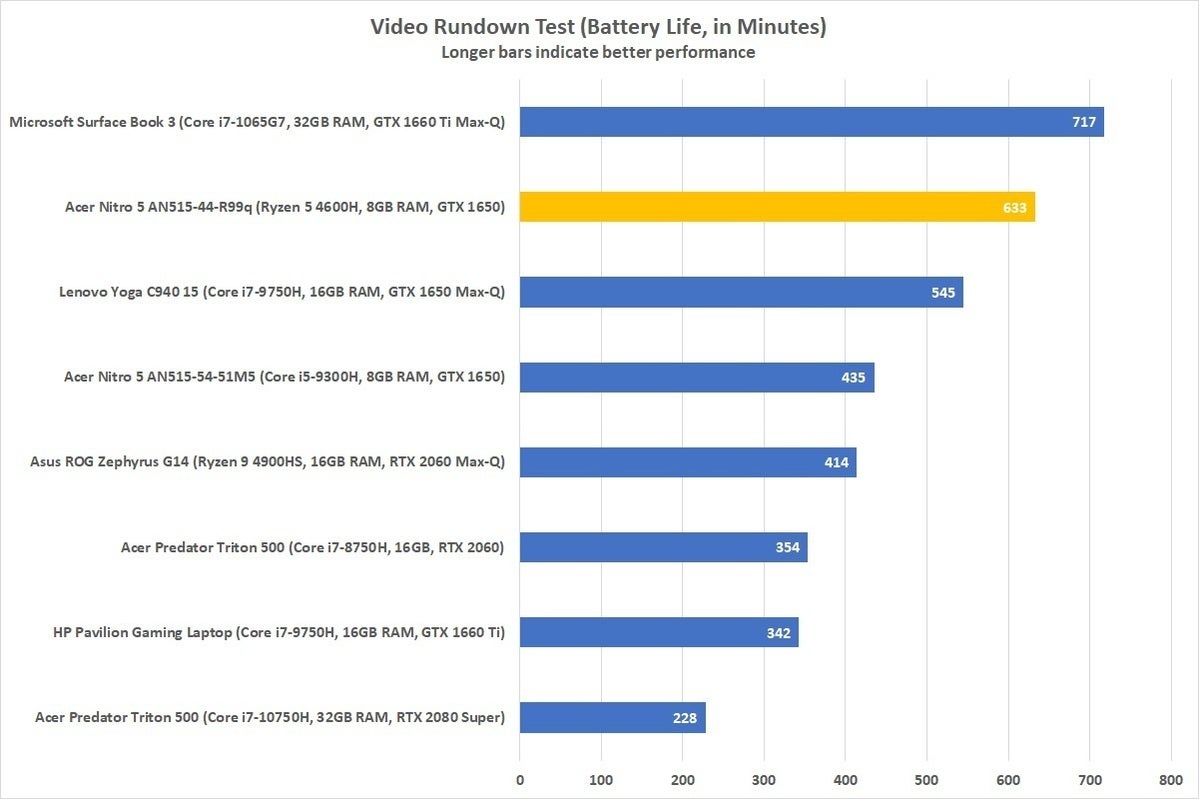 And yet, the Nitro 5 lands a solid second place, right behind the Microsoft Surface Book 3 and its mobile-optimized GTX 1660 Ti Max-Q CPU and well ahead of the rest of its competitors, including some with much larger battery capacities. The third-place Lenovo Yoga C950, for example, has a 69 watt-hour battery, while the Acer Predator Triton 500 has an 82Whr battery capacity.
The Nitro 5's battery won't last 10.5 hours if you're playing a GPU-intensive game or encoding video files. Still, it exhibits some of the best battery efficiency we've seen from a gaming laptop.
Bottom line
You're not going to find a $670 gaming laptop that's perfect. In the Nitro 5's case, you'll have to settle for a mid-range GPU, a 60Hz display that (in our review model, at least) shows signs of screen bleed, and a fairly bulky and hefty design. That said, we still believe that Acer has managed to squeeze plenty of value out of this particular Nitro 5 configuration, which boasts excellent CPU performance, impressive battery life, and—if you don't mind sacrificing such high-end niceties as ray tracing—solid 60fps-range visuals from popular AAA games.
Best Prices TodayAcer Nitro 5 AN515-44-R99Q