As Thunderbolt ports become more common in laptops, a Thunderbolt dock becomes a necessary accessory, providing I/O access for legacy mice, keyboards, external drives, and more. It's a key ingredient for a productive office, whether at work or home.
Thunderbolt docks help fill the gaps as laptop makers slim down, cut costs, and eliminate multiple ports in favor of a do-it-all Thunderbolt port instead. That may seem like they're pushing those costs on to you (which they are) but it also means you can pick and choose a dock with exactly the ports you need. Not only are there budget Thunderbolt docks, but you may even be able to get by with one of our best USB-C hubs and dongles, alternatively.
Note: More bandwidth allows for more devices to be connected. Thunderbolt and USB-C devices share the same physical USB-C interface, but Thunderbolt delivers 40Gbps versus USB-C's 10Gbps. (A good laptop—and dock—will label these ports to help you distinguish between the two.) The key difference is in display support: Thunderbolt allows for up to two 4K displays at a standard 60Hz, while USB-C allows only a single 4K display, at a 30Hz refresh rate that will tire your eyes. Good Thunderbolt docks also supply power to charge your laptop and smartphone.
While there are extremely subtle differences between Thunderbolt 3 and Thunderbolt 4, they're essentially the same. Our FAQ at the end of this article explains more.
Our recommendations use some specific terminology: We use the term dock as one that supplies the ports you need for legacy devices, like USB-A and HDMI. We define a Thunderbolt hub as mainly Thunderbolt-in, Thunderbolt-out. The latter is useful if you're among the small number of people who own dedicated Thunderbolt displays. If you don't, that's fine—just buy a Thunderbolt dock instead. DisplayLink USB-C docks try to offer Thunderbolt capabilities over a USB-C cable, but with middling success.
CalDigit Thunderbolt Station 4 (TS4) – Best for Apple Mac users
Pros
Thunderbolt 4
A whopping 18 ports
98W power delivery to your Mac
2.5 gigabit ethernet
230W power supply
Cons
Only two downstream TB4 ports
Pricey
This recommendation comes courtesy of our colleagues at Macworld, who have compiled their own list of best Thunderbolt docking stations for the Apple Mac market. "All the ports you could want coupled with high-wattage charging justify the price of this full-featured dock," and who are we to argue? We can personally vouch for its progenitor, the TS3 Plus, which we ranked favorably among other Thunderbolt docks.
While we have yet to review the TS4 ourselves, a simple gander at the price re-affirms our certainty that this is a product for the Mac market.
FAQ
---
1.
How do I know if my laptop has Thunderbolt?
The short answer: Look at the laptop's published specifications to be sure. A Thunderbolt port may look indistinguishable from a USB-C port, since they both use the same physical USB-C connection. Put another way, all Thunderbolt ports are USB-C, but not all USB-C ports are Thunderbolt-equipped.
Thunderbolt ports are supposed to have a small lightning-bolt icon to identify them. But some laptop makers use a similar lightning-bolt icon to indicate that a USB-C port can be used for charging your phone, and not for Thunderbolt. Laptop makers sometimes don't want to clutter the clean lines of their products by adding additional logos, it seems.
Adding to the confusion, you may also see USB-C hubs marketed as "Thunderbolt compatible." That's true. You can plug a Thunderbolt dock into a non-Thunderbolt, generic USB-C port. But it will be limited by the available bandwidth that the port provides, so it's somewhat deceptive in that regard.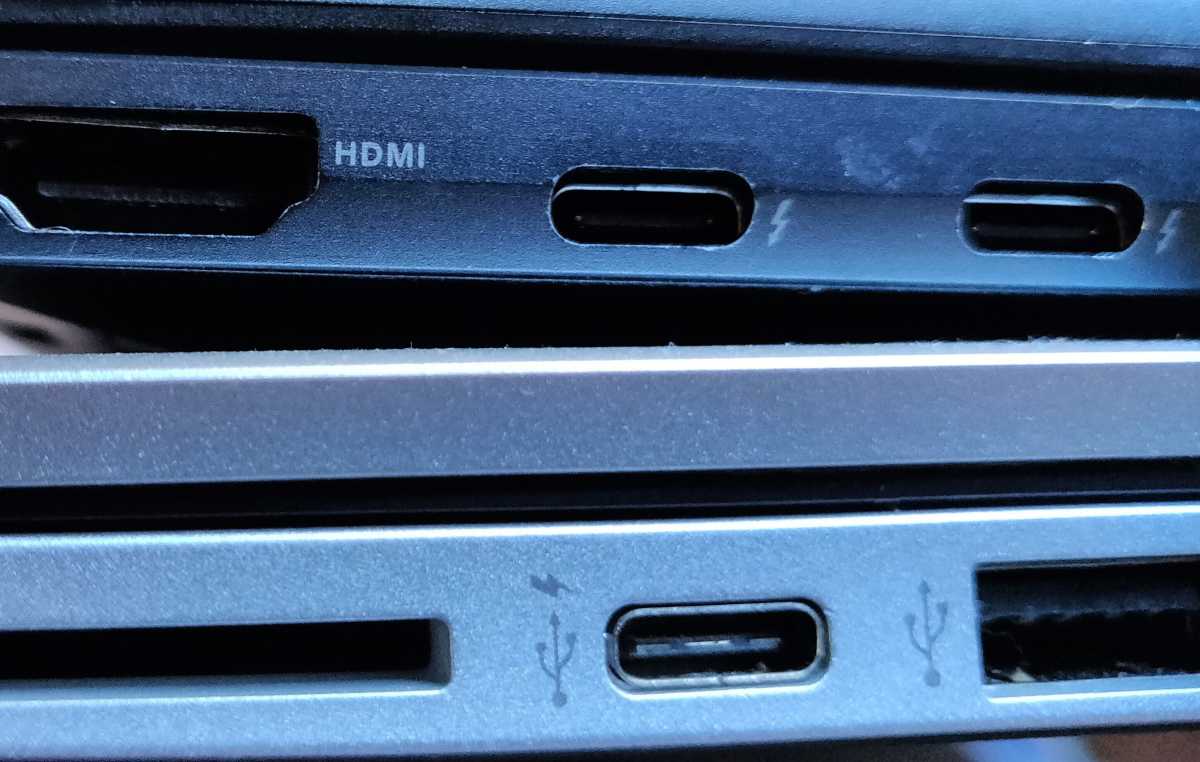 IDG
2.
I already own a USB-C dongle. Can I use it with Thunderbolt?
A USB-C dongle won't replace a Thunderbolt dock, as there's circuitry within the dock that allows it to work your laptop's high-speed Thunderbolt port. However, there's nothing saying that you can't connect the dongle to an available USB-C port on the Thunderbolt dock itself to add even more ports.
That solution will add more clutter to your desk, but it might allow you to buy a cheaper, budget dock, too. It's up to you!
3.
How fast is Thunderbolt?
Most USB-C ports are built on the second-generation USB 3.1 data-transfer standard, which transfers data at 10Gbps. Thunderbolt 3 ports, the most common standard, transfer data at up to 40Gbps. Thunderbolt 4 differs very slightly in that it supports a theoretical maximum of 32Gbps for external storage devices, but you probably won't notice the difference.
There are very rare exceptions: A new USB 3.2 Gen 2×2 spec can pair two 10Gbps channels together, creating an aggregate 20Gbps hub. And while the vast majority of Thunderbolt 3-equipped laptops are designed with four PCIe lanes for a total of 40Gbps, some laptops only ship with two PCIe lanes for a total of 20Gbps. (A Dell support page, for example, details its four-lane and two-lane laptops.) Essentially, a 20Gbps connection should be enough for a single 4K monitor running at 60Hz, with a bit of extra bandwidth for other data transfers among connected peripherals.
4.
What's the difference between Thunderbolt 3, Thunderbolt 4, and USB4?
The short answer: Not that much, and we consider Thunderbolt 3 docks and Thunderbolt 4 docks to be functionally equivalent for most users. The longer answer, which we'll describe below, is that there are differences, and parsing the nuances can be confusing. Think of Thunderbolt 4 as the more restrictive version of Thunderbolt 3, with little room for any gotchas.
Essentially, Thunderbolt 3 and Thunderbolt 4 allow up to 40Gbps maximum bandwidth, enough for two 4K/60 displays. "Up to" is the key phrase: Thunderbolt 3 is only required to support a 10Gbps connection, allowing for a single external 4K display (a 16Gbps PCIe connection, paired with USB 3.2). Most manufacturers go beyond this, however, and our recommended docks support the full specification (and two 4K displays) unless noted. Thunderbolt 3 also supports a slower (16Gbps) PCIe connection for connecting to external storage.
Thunderbolt 3 is also the only specification (not Thunderbolt 4) that we've seen connecting to external GPUs, in case you'd like to try that approach.
Thunderbolt 4 doesn't allow for any leeway—you're getting a full-fledged 40Gbps connection (32Gbps PCIe + USB 3.2), no questions asked. For external storage, Thunderbolt 4 supports 32Gbps of data transfer—this really only matters for video, external GPU connections, or possibly games. Thunderbolt 4 supports "wake on sleep" from an external keyboard or mouse, which allows you to tap your external keyboard or wiggle your mouse to wake up your PC, which is handy. Thunderbolt 4 allows for longer cables and more Thunderbolt ports on laptops, too.
USB4 is essentially a subset of Thunderbolt 4, mainly designed as an an I/O specification. USB4 can only support one display, and manufacturers can choose whether it supports a 20Gbps connection or a 40Gbps connection, according to Thunderbolt dock designer Plugable. As a subset of Thunderbolt 4, a USB4 device will run just fine plugged into a Thunderbolt 4 port. But a Thunderbolt 4 device may not work as expected when plugged into what is specifically a USB4 port. Don't worry about this too much, as it's rare to see a USB4 hub. Instead, most hubs and docks are marketed as Thunderbolt 4, while most devices (like an external SSD) are designed around USB4.
USB4 Version 2 is an upcoming standard that will propel USB4 to 80Gbps, which is the only 80Gbps standard yet announced. The first products will debut (as a guess) in early 2023.
Note that Thunderbolt 3 and 4 require at least 15W to power devices plugged into the Thunderbolt port, such as a bus-powered hard drive. USB4 requires just half that.
Device maker Anker has a nice summary of all of the technical features associated with Thunderbolt 3, Thunderbolt 4, and USB4, if you really want to get into the fine distinctions (below).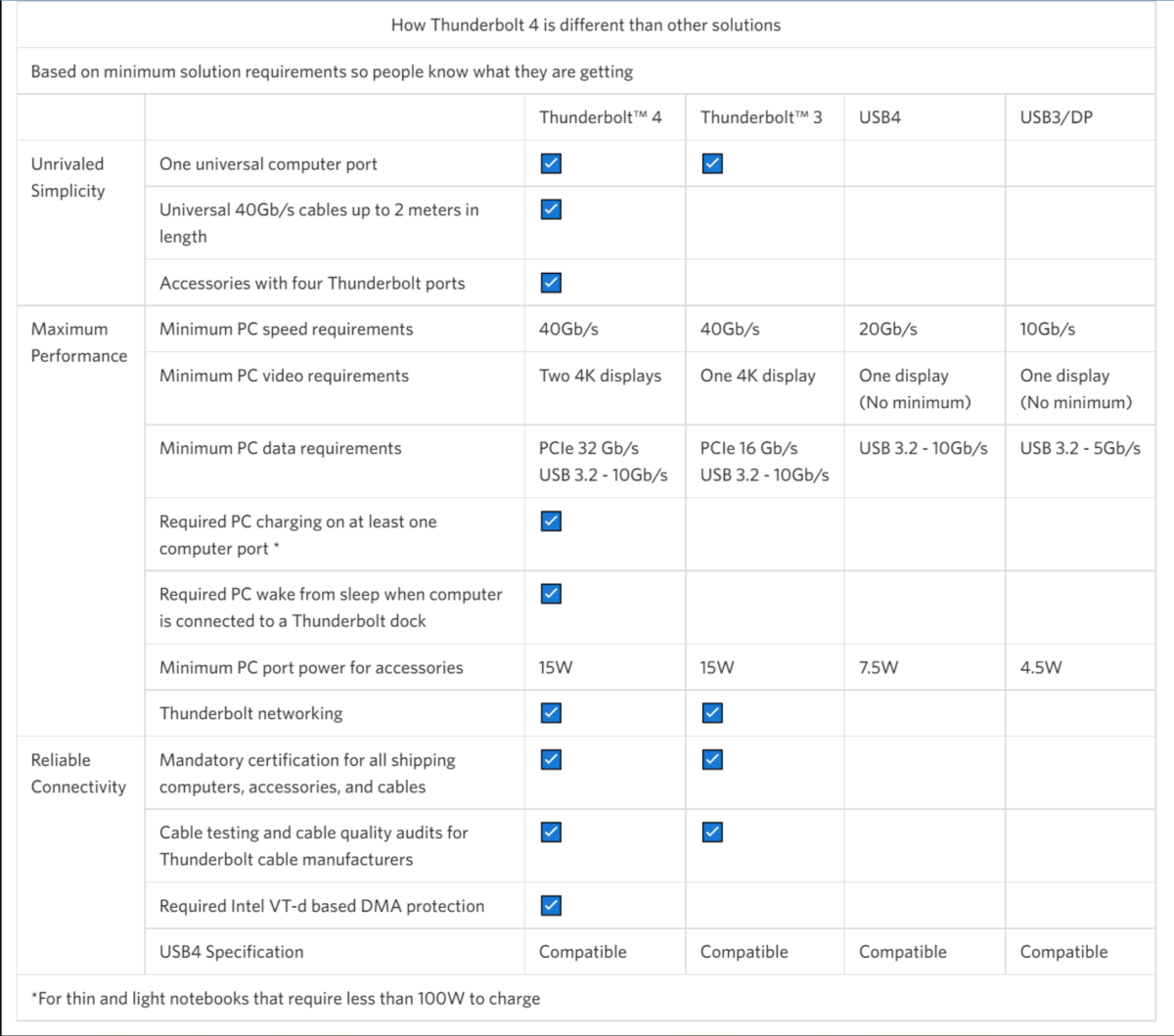 Anker
5.
What cable should I use with a Thunderbolt dock?
Virtually every Thunderbolt device will ship with its own cable. We'd recommend that you use Thunderbolt 3 cables with Thunderbolt 3 products, and Thunderbolt 4 cables with Thunderbolt 4 products.
IDG
Buying Guide: what to look for in a Thunderbolt dock
Ports, cables, peripherals: Those are the three major considerations when buying a Thunderbolt dock.
We're beginning to see the Thunderbolt dock market break down in a few different ways. First, there's the budget versus full-featured docks we've highlighted above. But you also may see something similar to the USB hubs of old: Devices that take Thunderbolt in and then provide several USB-C (including Thunderbolt) ports out. There are a small number of displays with Thunderbolt inputs, which can be plugged directly into these hubs. Do you have an existing cheap USB-C dongle? You can certainly plug that in into a Thunderbolt dock and add even more I/O functionality.
Basically, consider what you'll want to plug into the dock as a guide for buying one. We prefer devices with ports built in (such as HDMI, USB-A, and so on) as the USB-C device ecosystem is still in its infancy. But ask yourself some questions. Do you want a basic Thunderbolt dock, with just a pair of HDMI ports for connecting two displays? Does an SD card slot matter? How many USB Type A peripherals do you plan to attach? Do you want to use the Thunderbolt cable to charge your laptop, too?
Cables can be an unexpectedly important consideration, too. Virtually every dock ships with a Thunderbolt cable. But consider the displays you own (typically HDMI or DisplayPort) and consider whether the dock will accommodate them.
Check your laptop's power supply. Does it plug into your laptop via USB-C? If so, a Thunderbolt dock will likely power it. You'll need to understand how the dock supplies power, though. Check your laptop's charger to learn how much power it supplies, and how much the dock will need to supply to replace it. If your laptop or devices aren't receiving enough power, you may see a warning pop up.
A "bus-powered" dock won't come with an external charger in the package, saving some cost, space, and power concerns. A dock with "power delivery" will supply its own power and charge your laptop and/or a phone via your laptop's existing USB-C charger. (Chances are that it won't offer the quick-charging capabilities premium smartphones offer, though.) The more power your dock supplies, the greater the ability to charge your laptop and any bus-powered devices. This is a gotcha most people don't think about, so if you plan to connect several bus-powered hard drives or SSDs, buy a dock with a hefty power supply. (USB keys, on the other hand, require tiny amounts of power. Don't worry about these.)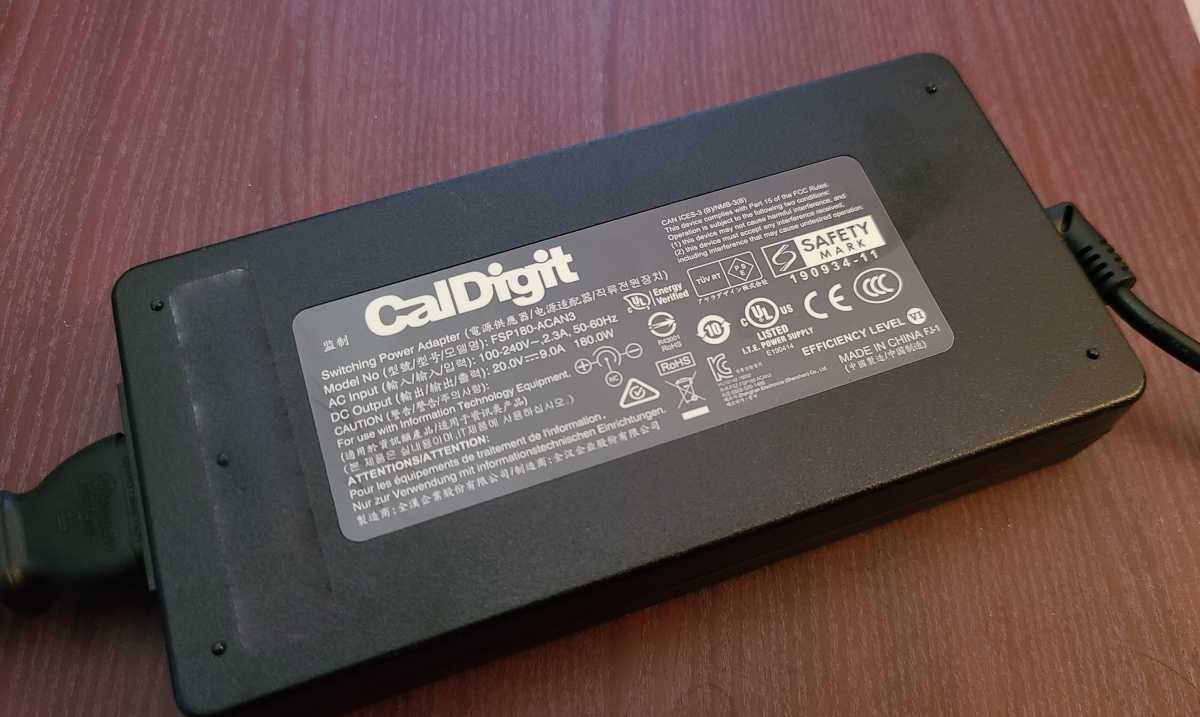 Mark Hachman / IDG
There's one more consideration: the length of the Thunderbolt cable between your laptop and the dock itself. You may have noticed or heard about USB-C ports wearing out on smartphones; a loose or wobbly connector on a Thunderbolt dock can cause a monitor to unexpectedly flicker or lose connection. Consider how much tension will be put on a cable. A Thunderbolt dock that's dangling from a Thunderbolt port will stress the physical connector. You don't want that!
If you're a Mac user who has stumbled across this article, welcome. But please be aware that early Apple MacBook Pros powered by Intel silicon supported up to two 4K displays. The first MacBook Pros powered by the Apple M1 chip only support a single 4K display. Many Mac users have recently left negative reviews on Thunderbolt docks on shopping sites because of this. Buy a PC!
How we test Thunderbolt docks
We're working from the premise that you're buying a Thunderbolt dock for its unique ability to connect to two 4K monitors at 60Hz. Lower resolutions should be much easier to run successfully. Our first test simply connected each dock to a pair of 4K/60Hz displays, each of which could accept DisplayPort and HDMI cabling, and made sure there were no visual artifacts at 60Hz resolution.
Second, we checked to see whether the available ports delivered the bandwidth we'd expect, connecting them to an external SSD and transferring a collection of test files over the Thunderbolt cable and port. We also used AJA's System Test tool to double-check our numbers and test whether read and write speeds were consistent.
Finally, we spot-checked the available power draw of the hubs and ports with a USB power meter, as well as simply connecting them to bus-powered devices to see if they could deliver enough power to allow them to operate. Here, we discovered that one of our testing laptops didn't supply enough power running on battery to power a bus-powered Thunderbolt dock, so we enlisted a second, different laptop as a backup.