At a Glance
Expert's Rating
Pros
Utterly silent
Excellent 4K and 1440p gaming
16GB memory capacity
Efficient, attractive custom cooler
Dual-BIOS switch, higher power limits, upgraded power delivery for overclockers
Gets faster when paired with Ryzen 5000
Cons
Utterly massive
Very steep premium over MSRP
Ray tracing is faster on GeForce GPUs
Aggressive "Merc" logo might turn some people off
Our Verdict
The Merc 319's imposing custom cooler delivers spectacular results with the AMD Radeon RX 6800 XT, but XFX charges a very steep premium for this no-compromises graphics card.
Best Prices Today: Radeon RX 6800 XT Merc 319
Last week the $650 Radeon RX 6800 XT hit the streets and immediately put Nvidia's $700 GeForce RTX 3080 on notice. For the first time in a long time, AMD's graphics cards can hang tough with Nvidia's most powerful offerings. The first wave of Radeon RX 6800-series graphics cards stuck to AMD's (vastly improved) reference design, but customized versions of the Radeon RX 6800 and 6800 XT hit the streets Wednesday to show us what "Big Navi" is capable of with even more elaborate engineering backing it up.
The $800 XFX Radeon RX 6800 XT Merc 319 (from the company's new "Speedster" series) doesn't hold back as XFX's next-gen flagship. This drool-inducing graphics card packs one of the most gargantuan coolers we've ever seen. All that heavy metal helps the Speedster stay utterly silent despite a hefty factory overclock that brings its out-of-box speeds well beyond the 2GHz barrier. Like every RX 6800 XT, XFX's model packs ray tracing capabilities, the ability to get even faster when paired with Ryzen CPUs, and a massive 16GB memory buffer that dwarfs what you find on rival GeForce GPUs.
But is XFX's custom spin worth a substantial $150 more than the reference Radeon RX 6800 XT? Let's dig in.
Further Radeon reading:
XFX Radeon RX 6800 XT Merc 319 specs and features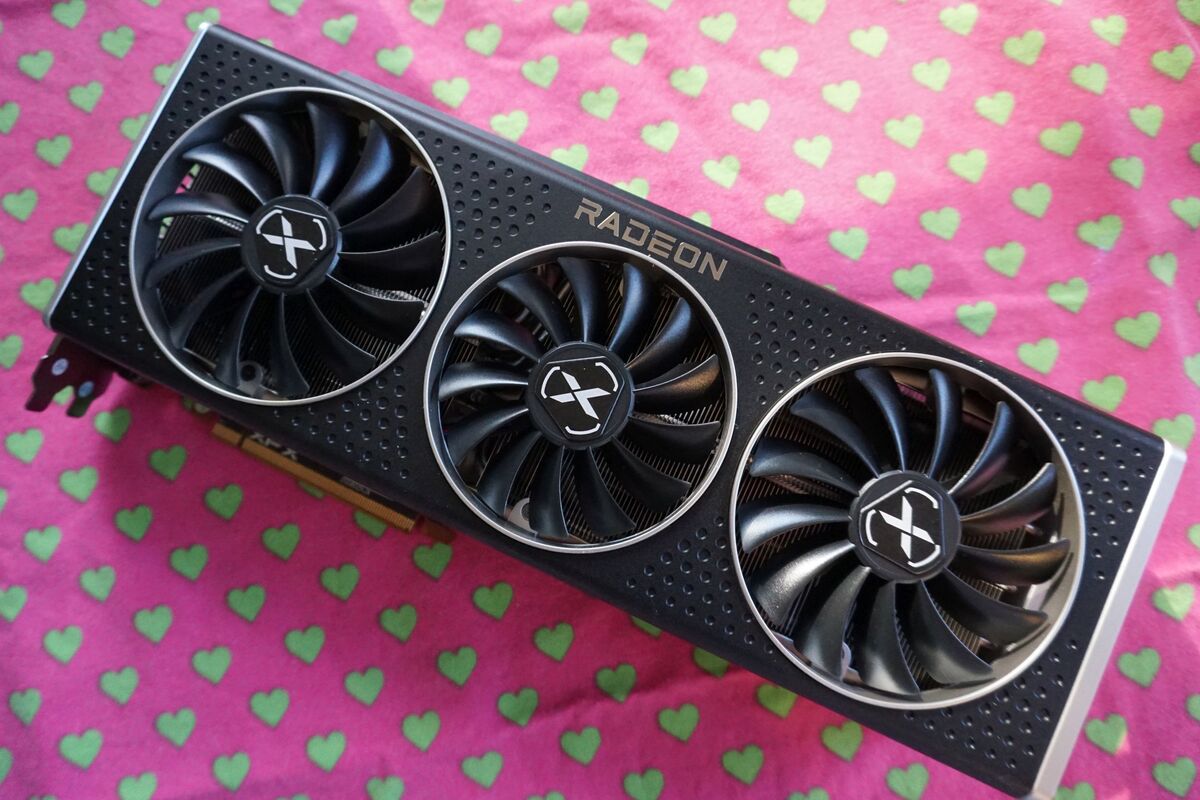 Under the hood, the XFX Merc 319 is built around the same "Navi 21" graphics chip as all Radeon RX 6800 XT models. It's not the full 80-compute-unit version of the GPU—that's being reserved for the $999 Radeon RX 6900 XT coming in December—but it's close, with each of the 72 CUs including a ray accelerator devoted to real-time ray tracing effects.
Here's a look at the reference specifications for the Radeon RX 6800 XT, alongside the RX 6800 and last-generation's RX 5700 XT: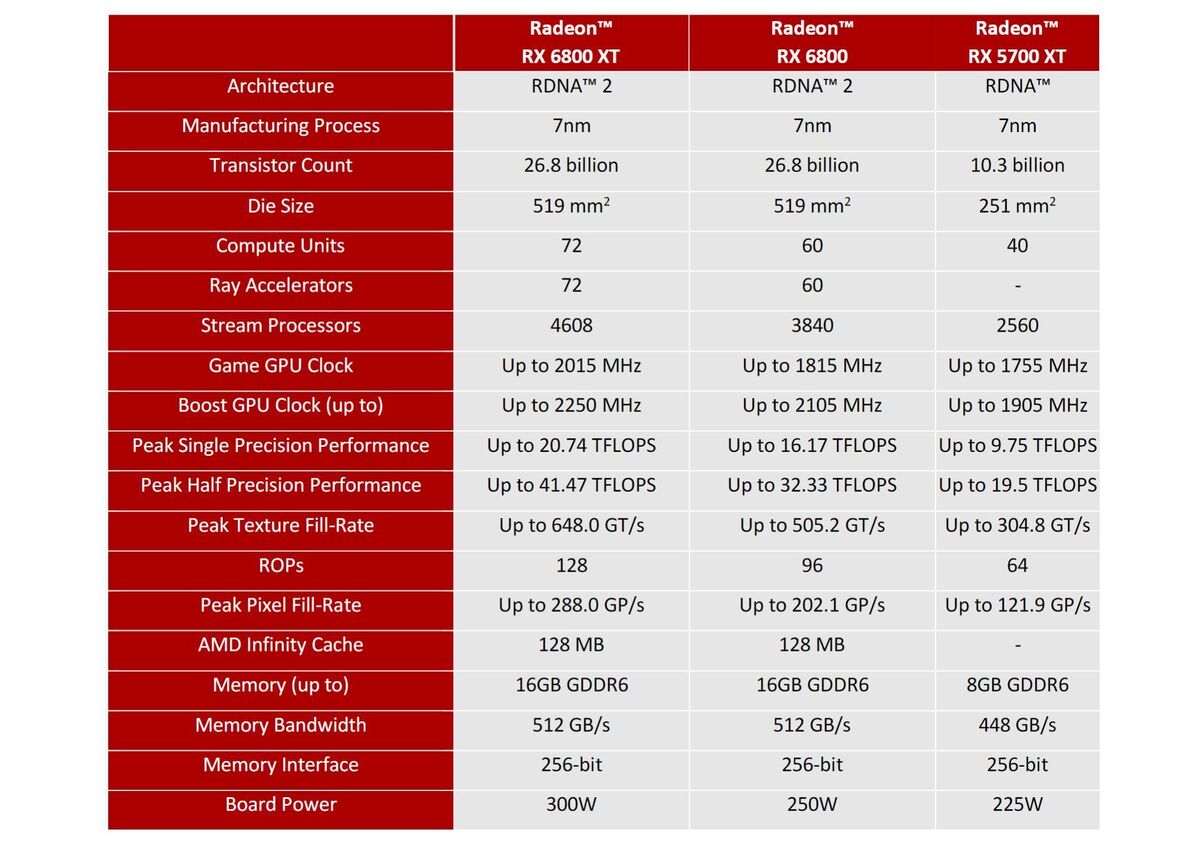 XFX applies a solid factory overclock out of the box. The Speedster Merc 319 comes with dual BIOS switches. The default "Balanced" BIOS on the right is rated for typical Game Clock speeds of 2090MHz (+75MHz vs. reference) and maximum Boost Clock speeds of 2340MHz (+90MHz vs reference). Flipping over to the "Rage" BIOS on the left adds another 20MHz to those speeds, along with raising the power limit by another seven watts to help push performance even further.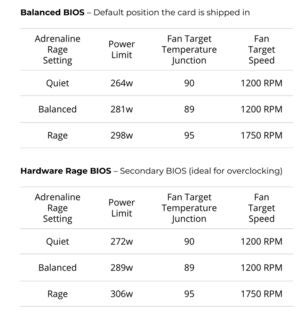 XFX's Rage BIOS takes its name from the new "Rage" power tuning preset in AMD's Radeon Software, which is available only on the faster XT versions of the Radeon RX 6000-series graphics cards. Enabling Rage mode in Radeon Software cranks the power limit even further—and ramps up the card's fan speeds to compensate.
The XFX-supplied chart at right shows how the two BIOSes on the Merc 319 behave with the various tuning presets in Radeon Software. If you're hoping to push performance as much as possible, flipping on both the Rage BIOS and Rage mode in Radeon software will up the overall power limit by a significant 25 watts. That's before you do any manual tinkering to clocks or voltages.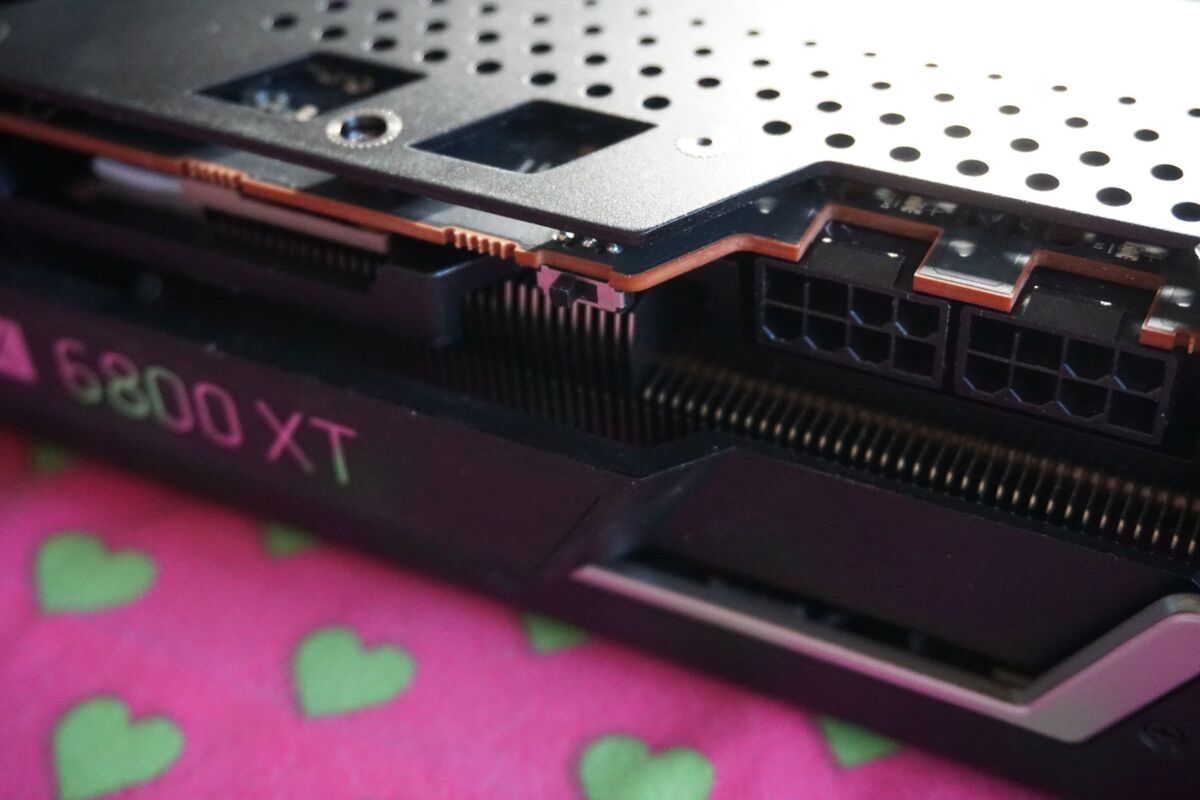 The XFX Speedster Merc 319 fuels that energy using a pair of 8-pin power connectors, same as the reference Radeon RX 6800 XT. It also features the same display outputs as the reference model, with dual Displayports, a USB-C port that can be used with displays and compatible VR headsets alike, and a single HDMI 2.1 connection with variable refresh rate support. If you're connecting the XFX Merc 319 to a high-end TV that includes adaptive sync technology, it'll work just as well as a FreeSync monitor thanks to HDMI 2.1's inclusion.
XFX Radeon RX 6800 XT Merc 319 design
It's the custom cooling design of the XFX Radeon RX 6800 XT Merc 319 that enables those higher speeds and power limits.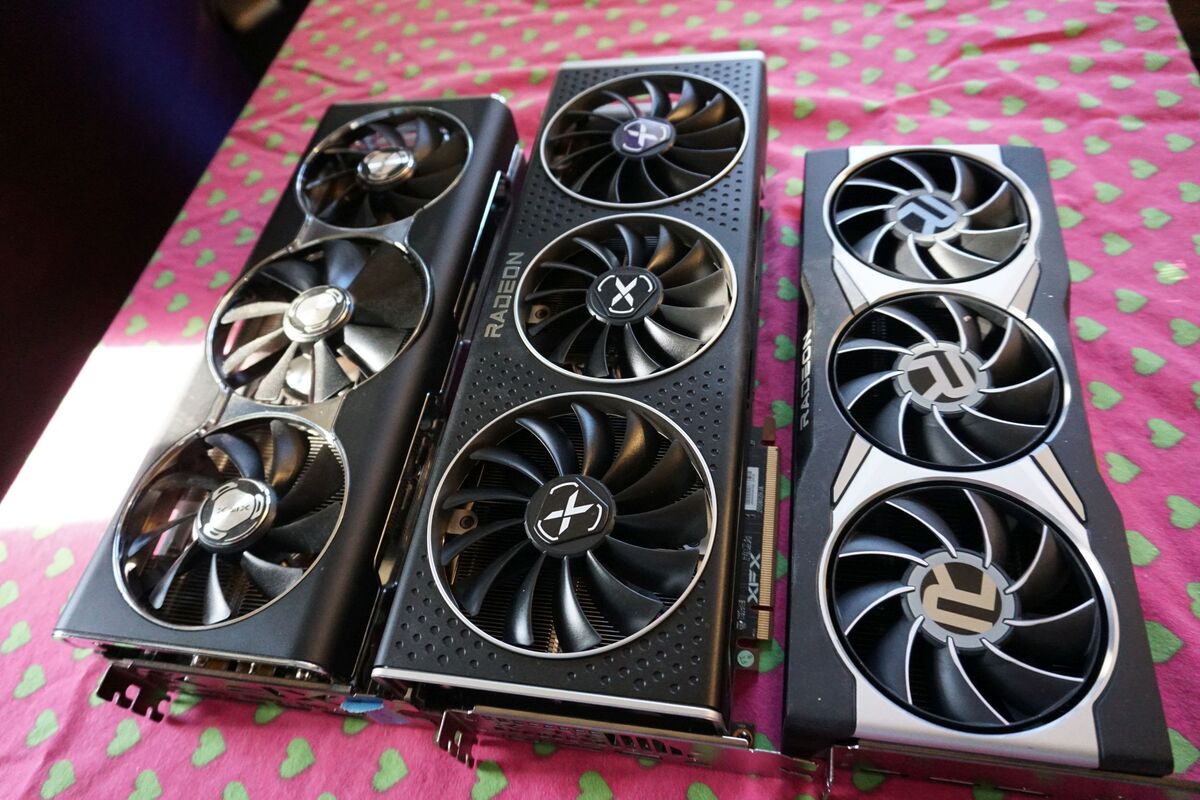 This card is big. XFX's appropriately named Thicc cards were big last generation, but the Merc 319 is even more massive. (Thicc-er?) It measures a sizeable 13.39 x 5.47 inches, and over two slots deep. Make sure you have room in your case before buying it, but that's really the case with almost any high-end custom card these days.
This GPU is so long, we actually had to run our power cables over it from our case's wiring cut-outs, rather than from underneath as we usually do. You'd easily be able to rerun your cables to avoid that in a typical PC that isn't constantly switching out graphics cards, though.

XFX supports that heft with a solid aluminum backplate, an aluminum-cast shroud, and an aluminum "tray" between the PCB and heatsink, all intended to increase the card's rigidity and combat potential GPU sag. On the GeForce side of things, creators of huge honking high-end graphics cards like the MSI RTX 3080 Gaming X Trio and EVGA RTX 3080 FTW 3 have started to include GPU support brackets in the box. XFX relies on the rigid construction of the Merc 319 instead.
XFX devotes all that space to a cooler that runs totally silent. You can't hear it over our test system's case fans and CPU cooler, even during intense gaming loads.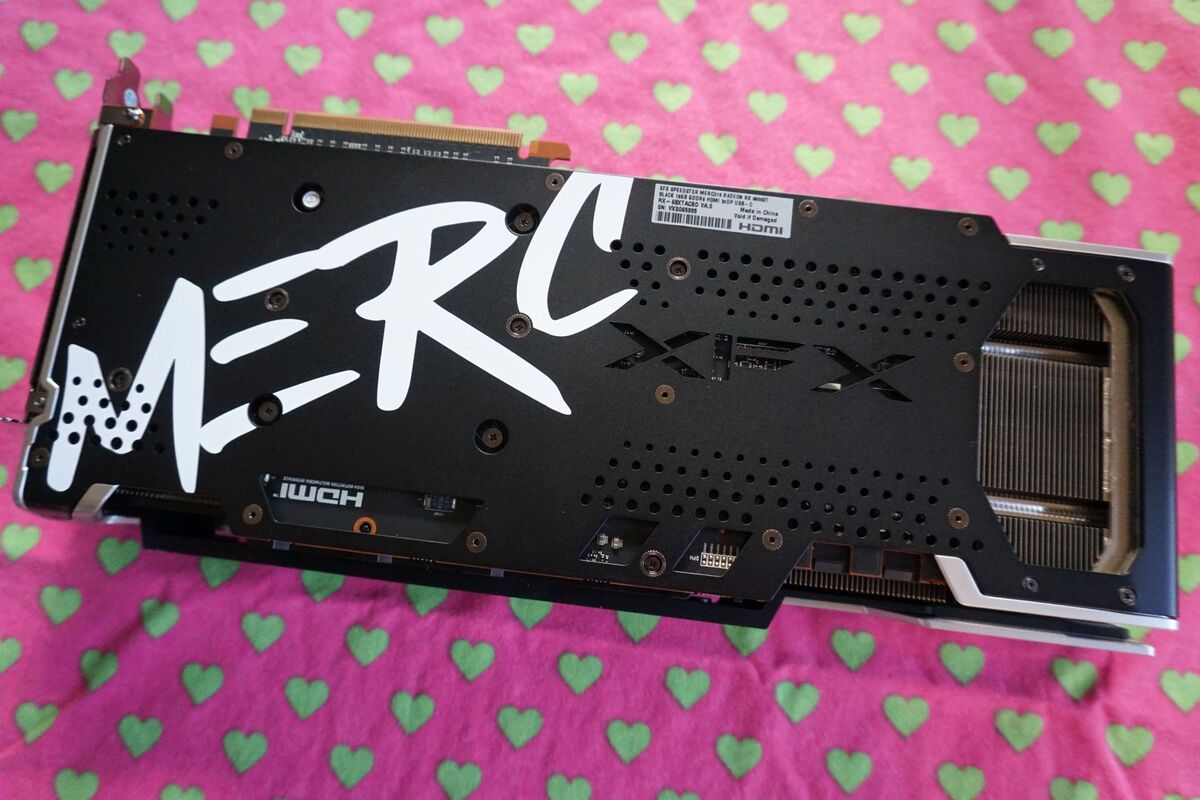 The XFX Radeon RX 6800 XT Merc 319 features a full-length heatsink with a copper coldplate over the GPU and not one, not two, not three, but seven 6mm heatpipes snaking throughout. Three axial fans with 13 blades draw air into that heatsink—dual 100mm fans bracket a slightly smaller, slightly offset 92mm fan in the middle. Swiping a page from Nvidia's RTX 30-series Founders Edition design, a small cut-out in the backplate on the end of the card allows air to blow clean through the heatsink, maximizing airflow.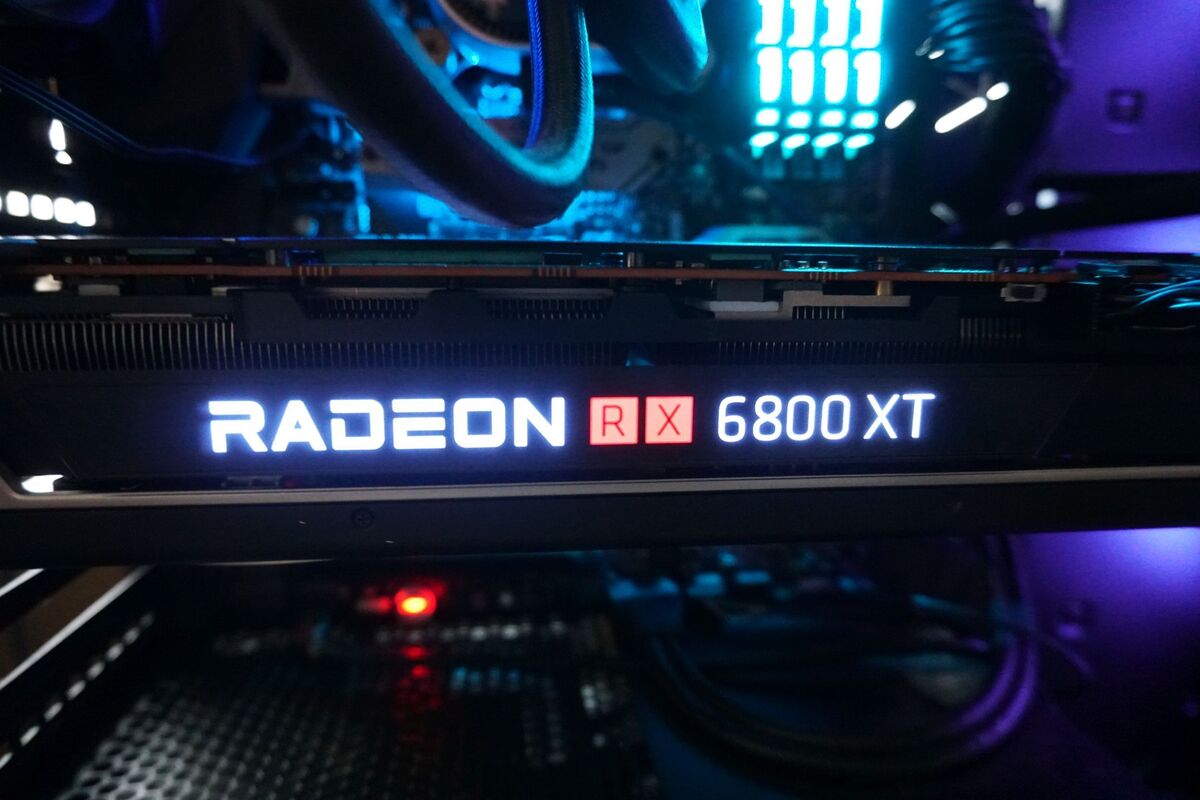 When images of the card appeared online, some online commentators were worried about the placement of the plastic "light bar" that holds the illuminated Radeon RX 6800 XT logo on the outer edge of the XFX Merc 319. From the side, it looks as though the plastic bar significantly blocks airflow on that side of the card, which could impede cooling efforts. Fear not! XFX protrudes the bar by about a third of an inch to allow air to escape, and the heat sink is unfettered on the opposite side. Ditching it could possibly improve cooling, but that would also affect the sleek aesthetic this card aims for. In any case, the cooler is effective enough that the card runs unheard.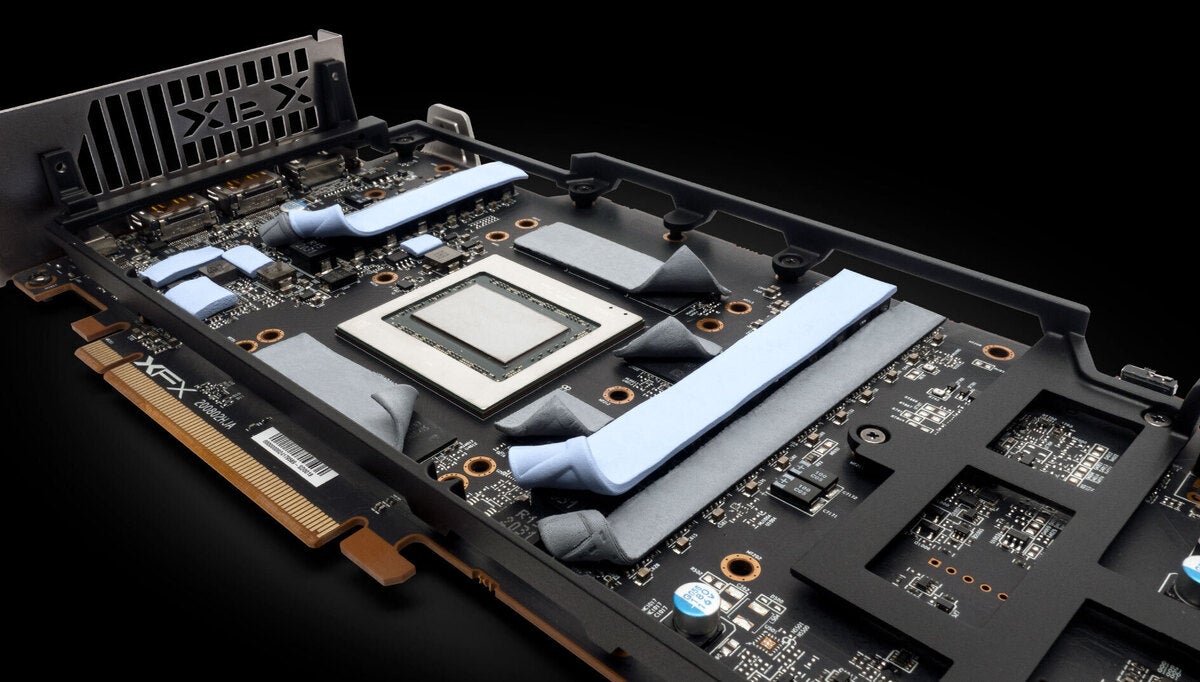 Rather than using AMD's default PCB for the Radeon RX 6800 XT, XFX actually equipped the Merc 319 with the circuitry intended for the step-up Radeon RX 6900 XT for better power delivery, and built the card with a 14+2 power phase design rather than the stock 10+2. The company also applied 20 different thermal pads over various interior components to improve temperatures for the 16GB of GDDR6 memory, voltage regulation, and more.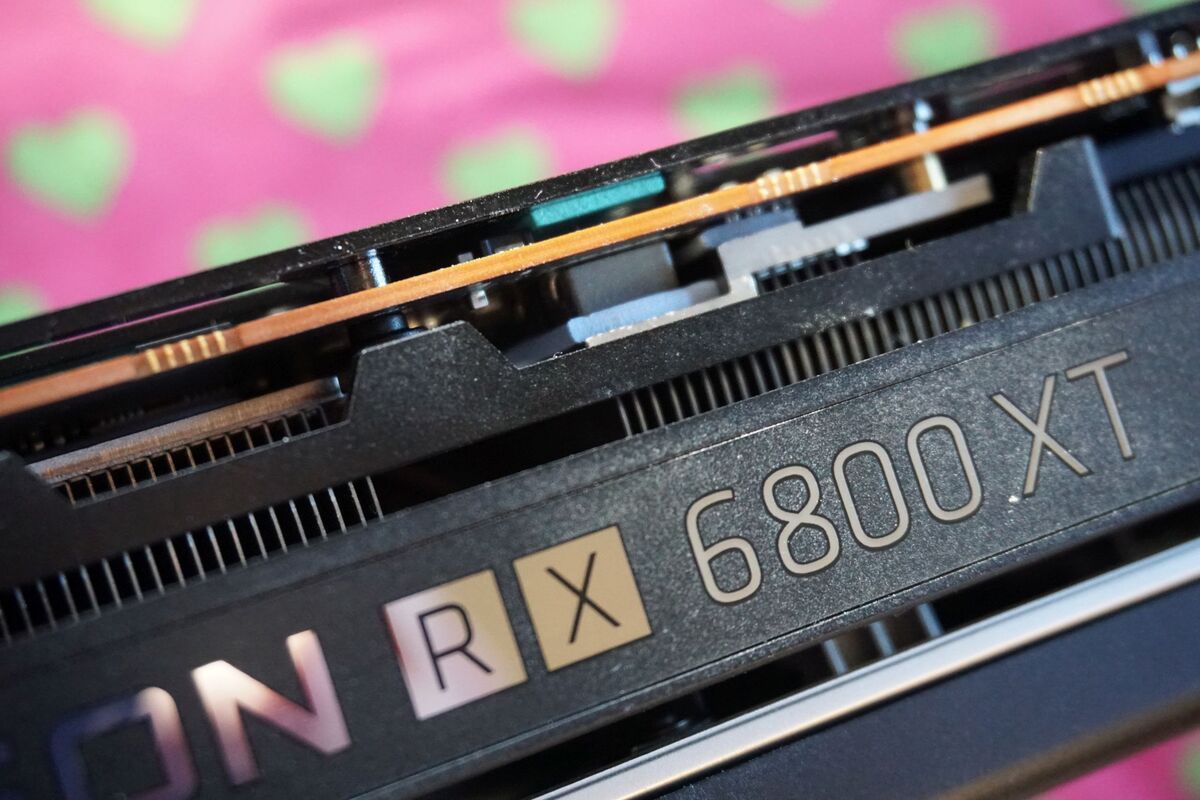 You can see some of the thick pads looking into the edge of the card, as shown above. That includes putting thermal pads on the rear of the PCB, allowing the aluminum backplate to double as a heatsink—a practice we've seen on some other cards.
XFX is known for its aggressive-looking designs. Last generation's Thicc models, for instance, evoked the feel of muscle cars of yesteryear. The Merc 319 refines that aesthetic. I love the industrial black-and-silver vibe of this card, and RGB haters won't find an ounce of unicorn puke anywhere.
The XFX and Radeon RX 6800 XT logos on the side are illuminated though, and in a surprisingly striking fashion. Their white lights (red, for the "RX" lettering) shine much more cleanly and clearly than the logos do on rival graphics cards—sort of like the difference between standard car headlights and LED headlights. These pictures don't capture how nice it looks.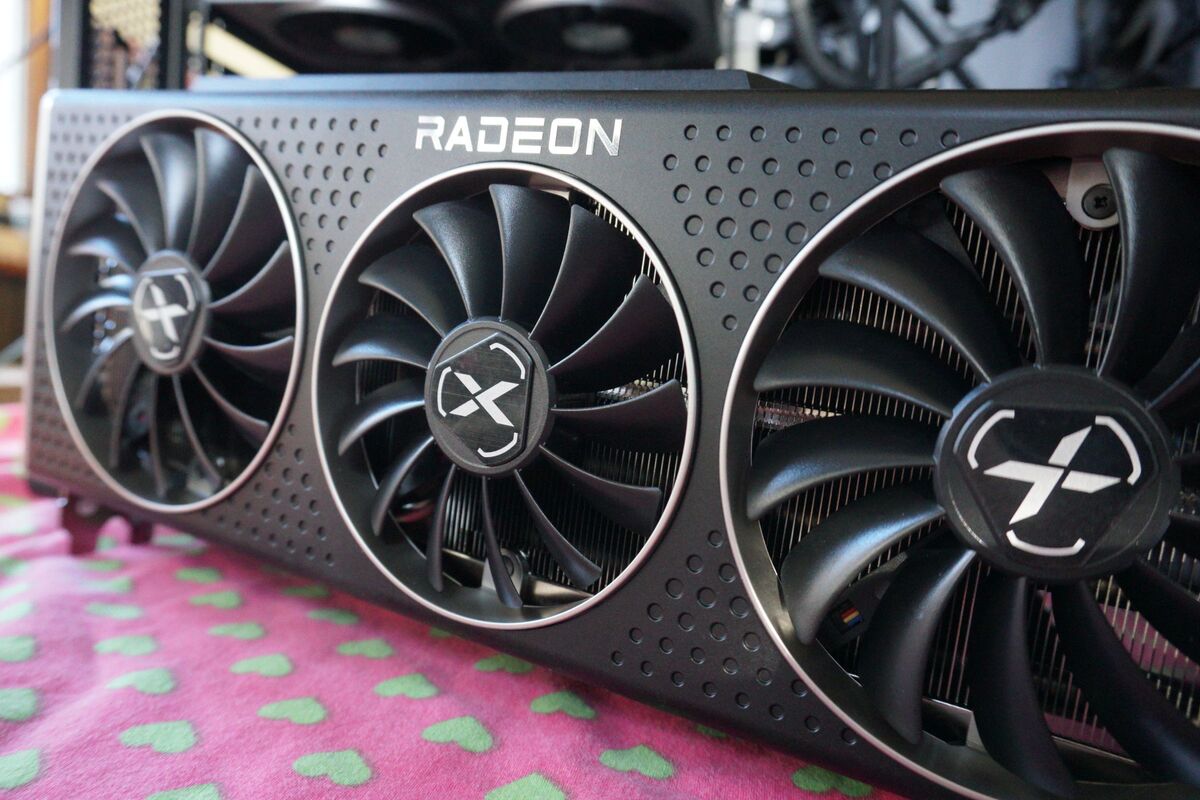 Then there's the logo. XFX emblazoned the word "Merc" in big, stylized white letters across the top of the backplate. It definitely fits the vibe of the card, as well as XFX's general branding, but if you prefer your hardware to look less "edgy," you might not appreciate it. There's no way to avoid seeing it if your case includes a tempered glass side panel. Me? I dig it. Your mileage may vary. And what does "Merc 319" mean, anyway? Here's what XFX told me:
"MERC stands for Mercury (not mercenary), and 319 relates to fan configuration. 3 = Number of Fans, 1 = 100mm, 9 = 90mm. If we were to have a 2 fan model with 100mm fans the number would be 210. So there is some reasoning behind the name, and it's not a random number. For the foreseeable future MERC will be our flagship model with all best features and upgrades."
But enough chit-chat. Let's get to the benchmarks.
Our test system
Our dedicated graphics card test system is a couple of years old, but we packed it with some of the fastest complementary components available to put any potential performance bottlenecks squarely on the GPU—especially at the higher resolutions these graphics cards target. Most of the hardware was provided by the manufacturers, but we purchased the cooler and storage ourselves.
Intel Core i7-8700K processor ($300 on Amazon) overclocked to 5GHz all cores
EVGA CLC 240 closed-loop liquid cooler ($105 on Amazon)
Asus Maximus X Hero motherboard
64GB HyperX Predator RGB DDR4/2933 ($355 on Amazon)
EVGA 1200W SuperNova P2 power supply ($352 on Amazon)
Corsair Crystal 570X RGB case, with front and top panels removed and an extra rear fan installed for improved airflow
2x 500GB Samsung 860 EVO SSDs ($70 each on Amazon)
We're comparing the $800 XFX Speedster Merc 319 against the $650 AMD Radeon RX 6800 XT and $580 Radeon RX 6800 reference designs, as well as the Nvidia Founders Edition versions of the $500 GeForce RTX 3070 and $700 GeForce RTX 3080. (Check out our Radeon RX 6800-series review for comparisons against a wider set of graphics cards, and our RTX 3080 review to see how the older GTX 1080 and 1080 Ti compare against this new generation.) We tested the Merc 319 with its default "balanced" BIOS.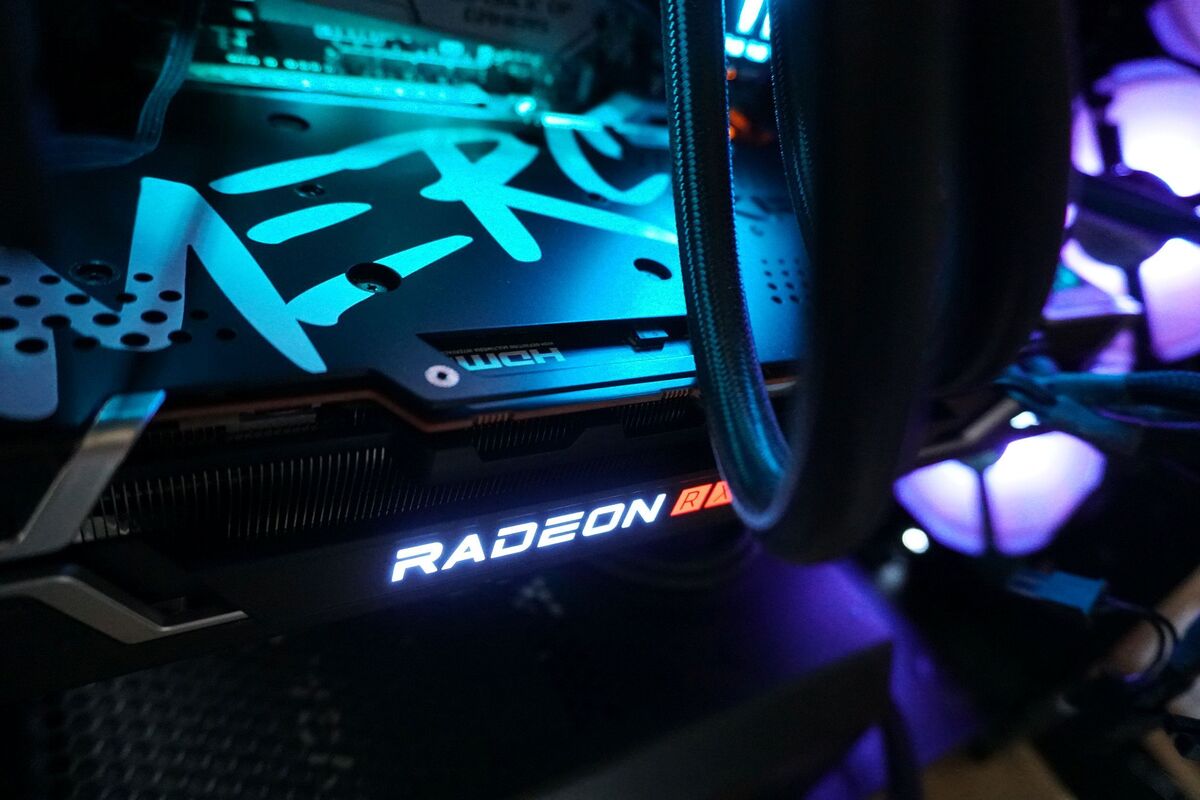 We test a variety of games spanning various engines, genres, vendor sponsorships (Nvidia, AMD, and Intel), and graphics APIs (DirectX 11, DX12, and Vulkan). Each game is tested using its in-game benchmark at the highest possible graphics presets unless otherwise noted, with VSync, frame rate caps, real-time ray tracing or DLSS effects, and FreeSync/G-Sync disabled, along with any other vendor-specific technologies like FidelityFX tools or Nvidia Reflex. We've also enabled temporal anti-aliasing (TAA) to push these cards to their limits. We run each benchmark at least three times and list the average result for each test.
Because the XFX Speedster Merc 319 is essentially a hair faster than the reference Radeon RX 6800 XT, we'll present these gaming performance results without additional commentary. Again, check out our Radeon RX 6800-series review for deeper insights on how these new cards perform against their GeForce rivals and Radeon predecessors game by game.
XFX Radeon 6800 XT Merc 319 gaming benchmarks
Watch Dogs: Legion
Watch Dogs: Legion is one of the first games to debut on next-gen consoles. Ubisoft upgraded its Disrupt engine to include cutting-edge features like real-time ray tracing and Nvidia's DLSS. We disable those effects for this testing, but Legion remains a strenuous game even on high-end hardware with its optional high-resolution texture pack installed. No card can maintain a 60 frames-per-second average with Ultra graphics options enabled, and the game uses more than 8GB of memory even at 1440p. Oof.
Horizon Zero Dawn
Yep, PlayStation exclusives are coming to the PC now. Horizon Zero Dawn runs on Guerrilla Games' Decima engine, the same engine that powers Death Stranding. Ambient Occlusion can offer iffy results if set to Ultra, so we test with that setting at Medium. Every other visual option is maxed out.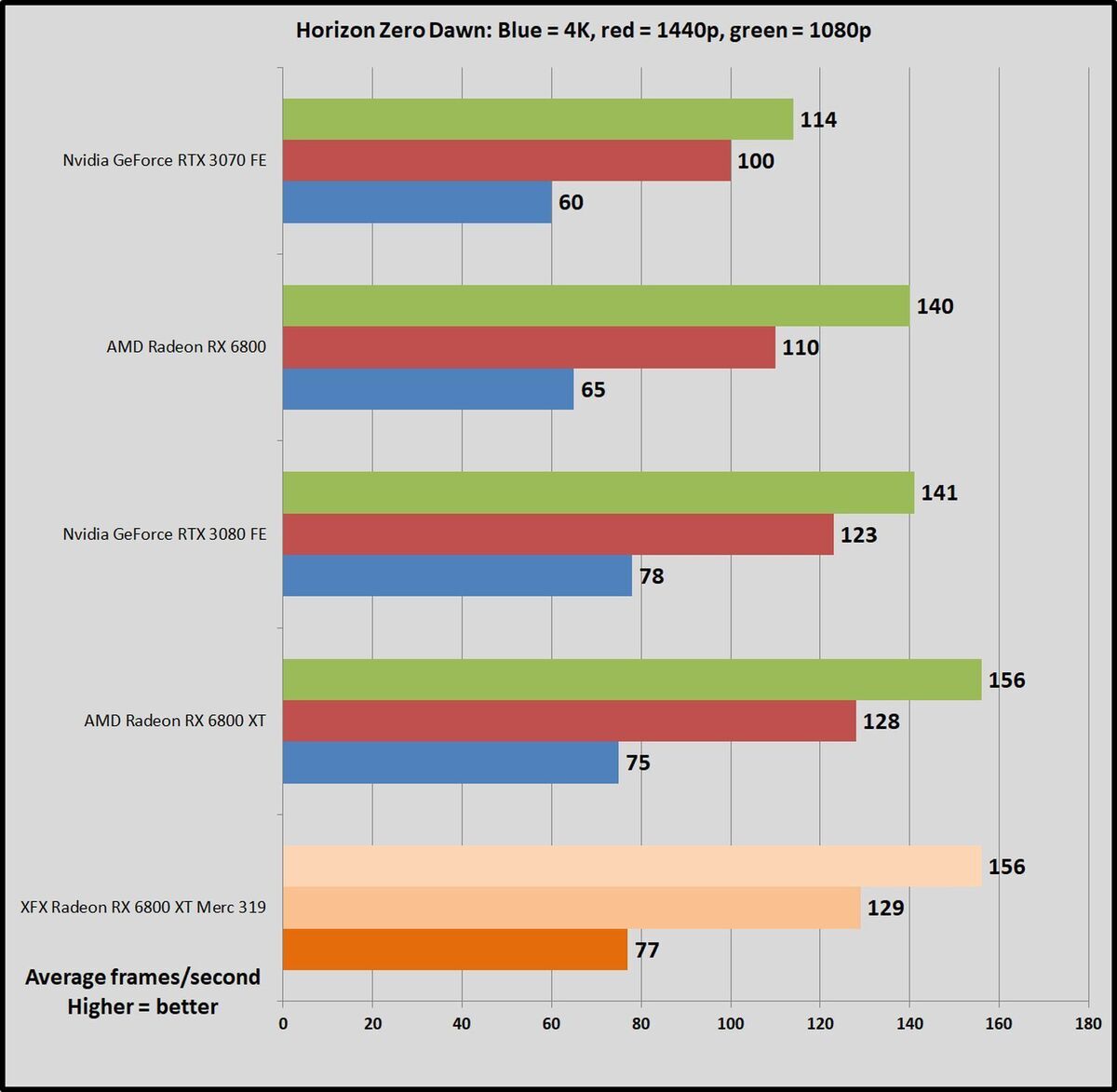 Gears Tactics
Gears Tactics puts it own brutal, fast-paced spin on the XCOM-like genre. This Unreal Engine 4-powered game was built from the ground up for DirectX 12, and we love being able to work a tactics-style game into our benchmarking suite. Better yet, the game comes with a plethora of graphics options for PC snobs. More games should devote such loving care to explaining what flipping all these visual knobs mean.
You can't use the presets to benchmark Gears Tactics, as it intelligently scales to work best on your installed hardware, meaning that "Ultra" on one graphics card can load different settings than "Ultra" on a weaker card. We manually set all options to their highest possible settings.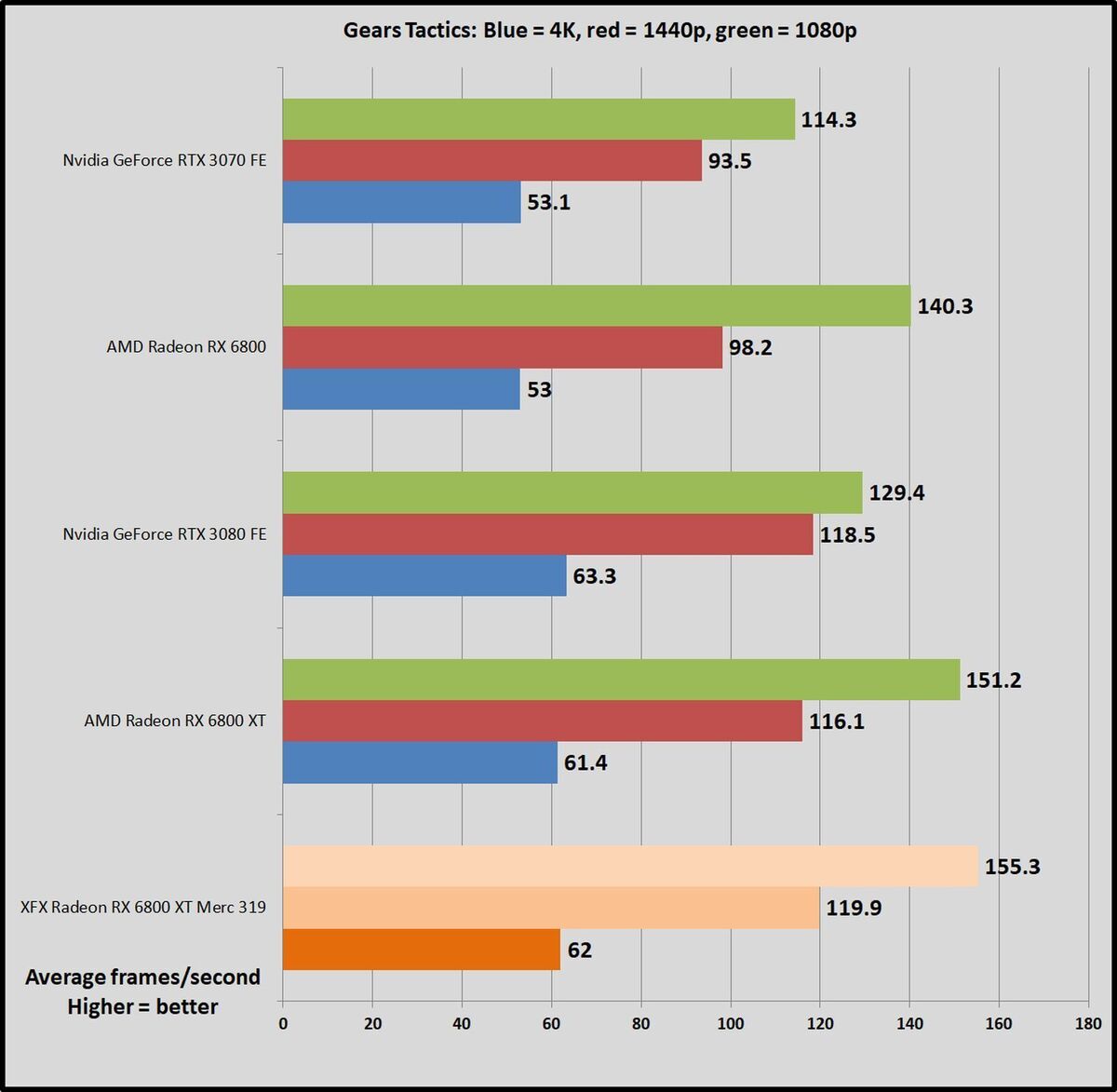 Wolfenstein: Youngblood
Wolfenstein: Youngblood is the most fun when you can play cooperatively with a buddy, but it's a fearless experiment—and an absolute technical showcase. Running on the Vulkan API, Youngblood achieves blistering frame rates, and it supports all sorts of cutting-edge technologies like ray tracing, DLSS 2.0, HDR, GPU culling, asynchronous computing, and Nvidia's Content Adaptive Shading. The game includes a built-in benchmark with two different scenes; we tested Lab X.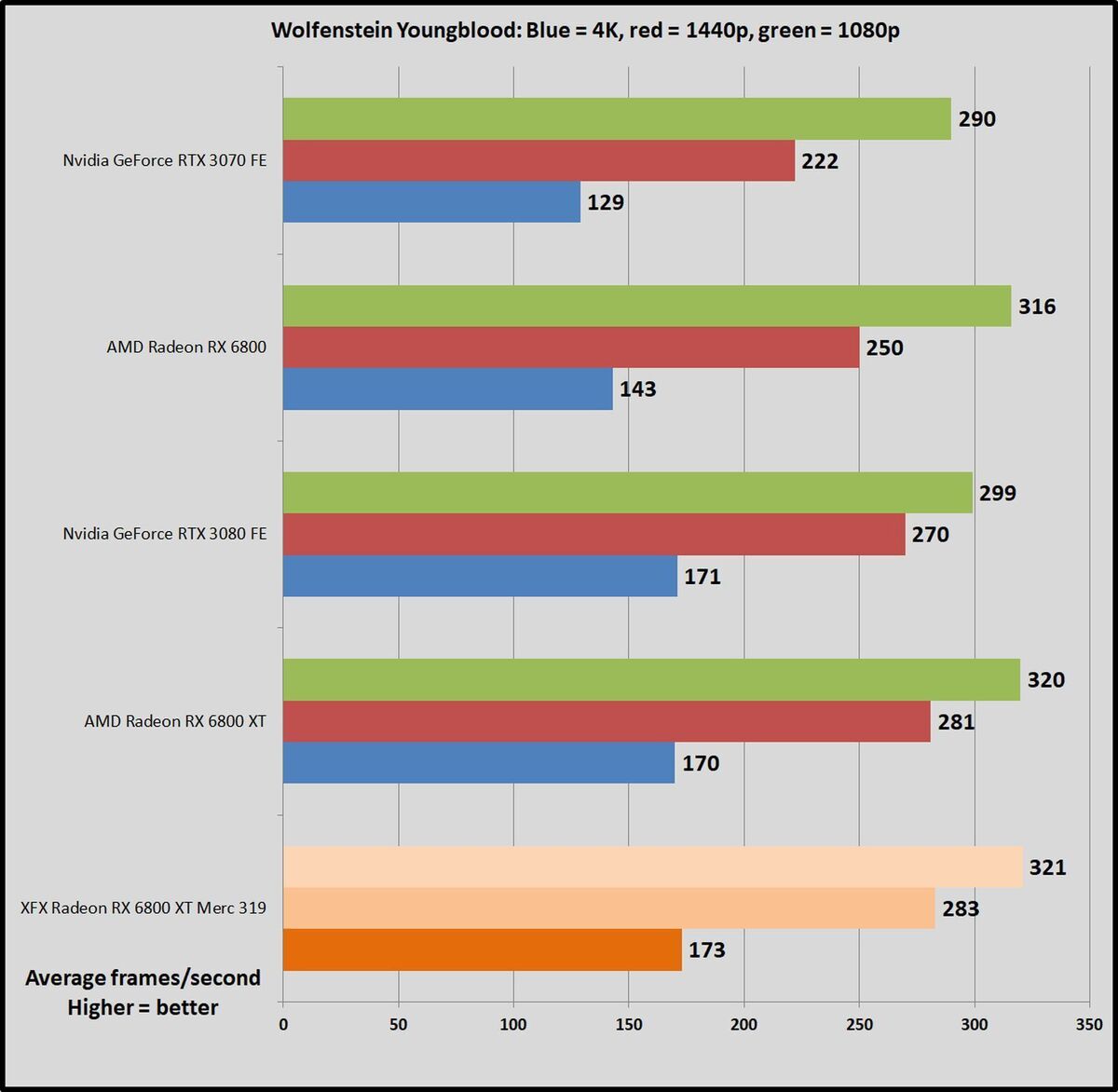 Metro Exodus
One of the best games of 2019, Metro Exodus is one of the best-looking games around, too. The latest version of the 4A Engine provides incredibly luscious, ultra-detailed visuals, with one of the most stunning real-time ray tracing implementations released yet. We test in DirectX 12 mode with ray tracing, Hairworks, and DLSS disabled for our basic benchmarks.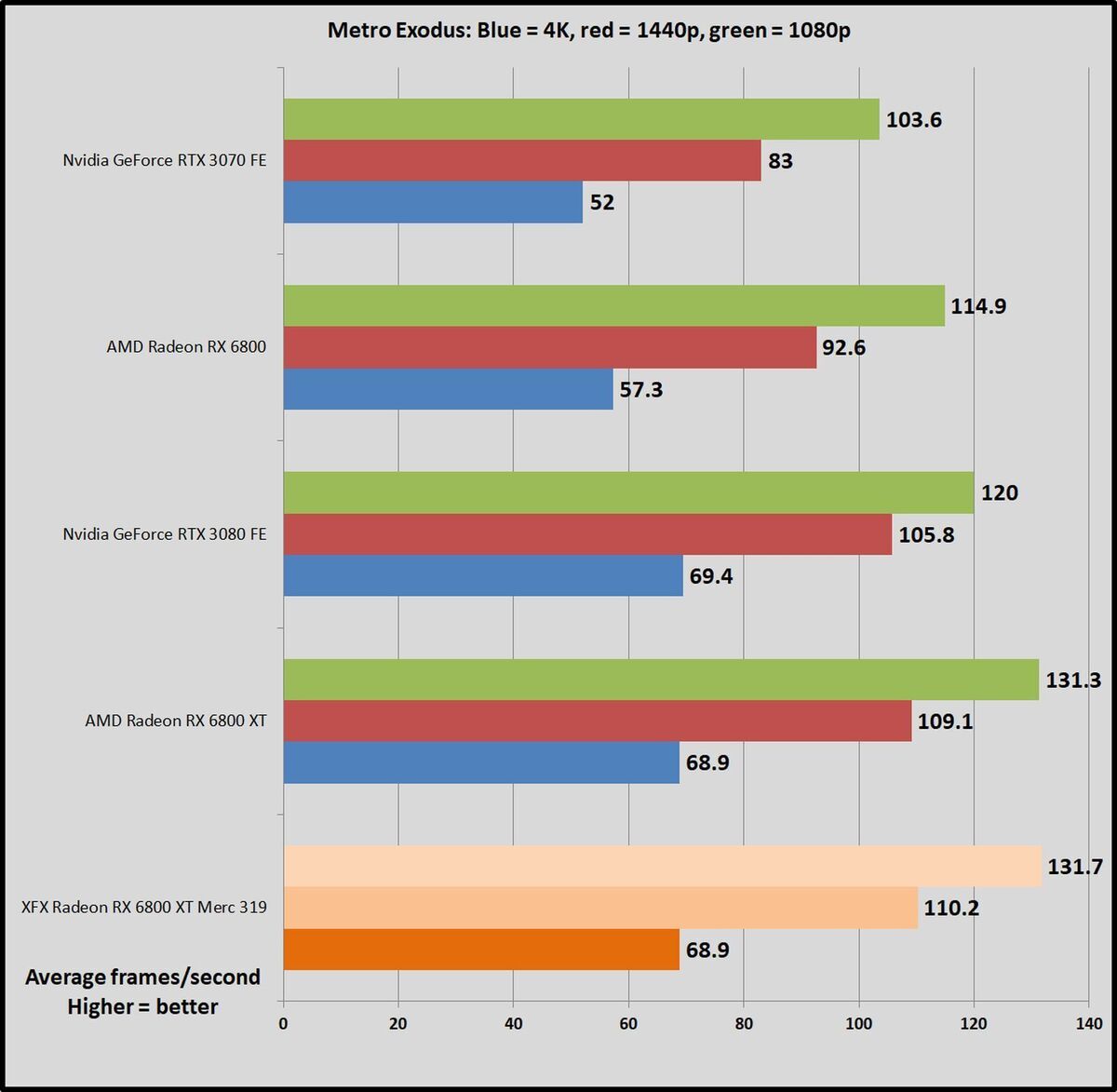 Borderlands 3
Borderlands is back! Gearbox's game defaults to DX12, so we do as well. It gives us a glimpse at the ultra-popular Unreal Engine 4's performance in a traditional shooter.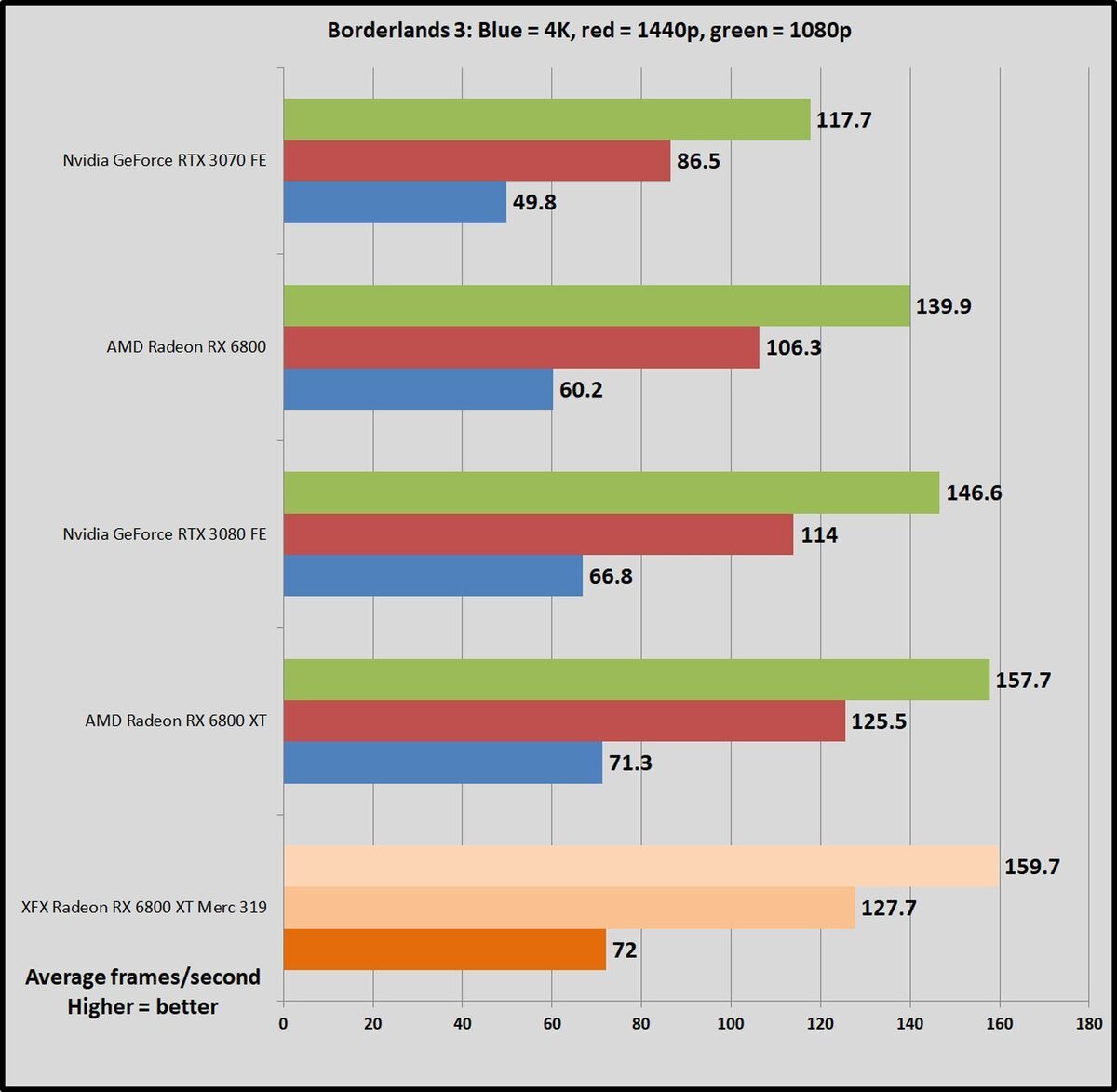 Strange Brigade
Strange Brigade is a cooperative third-person shooter where a team of adventurers blasts through hordes of mythological enemies. It's a technological showcase, built around the next-gen Vulkan and DirectX 12 technologies and infused with features like HDR support and the ability to toggle asynchronous compute on and off. It uses Rebellion's custom Azure engine. We test using the Vulkan renderer, which is faster than DX12.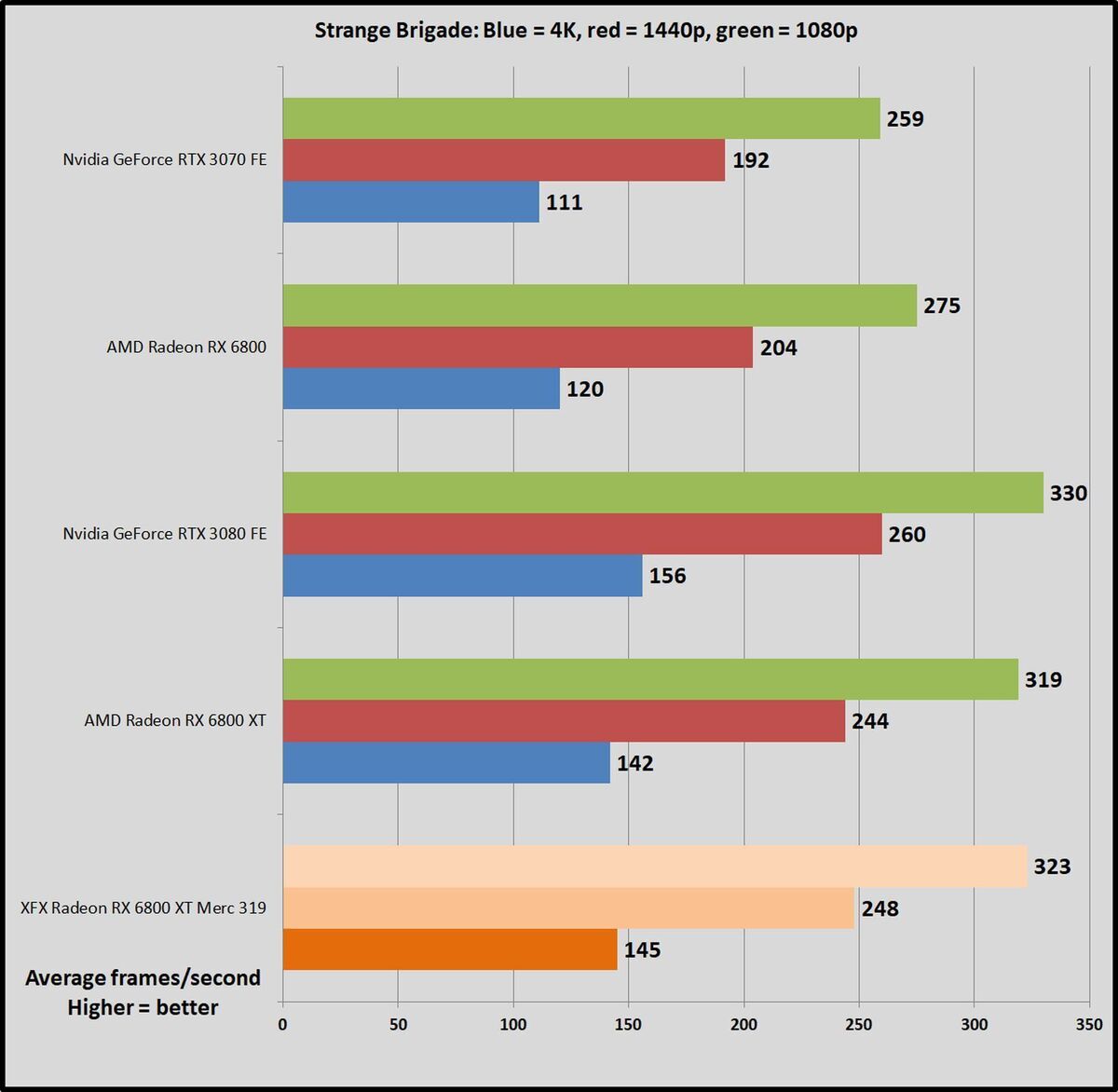 Total War: Troy
The latest game in the popular Total War saga, Troy was given away free for its first 24 hours on the Epic Games Store, moving over 7.5 million copies before it went on proper sale. Total War: Troy is built using a modified version of the Total War: Warhammer 2 engine, and this DX11 title looks stunning for a turn-based strategy game. We test the more intensive battle benchmark.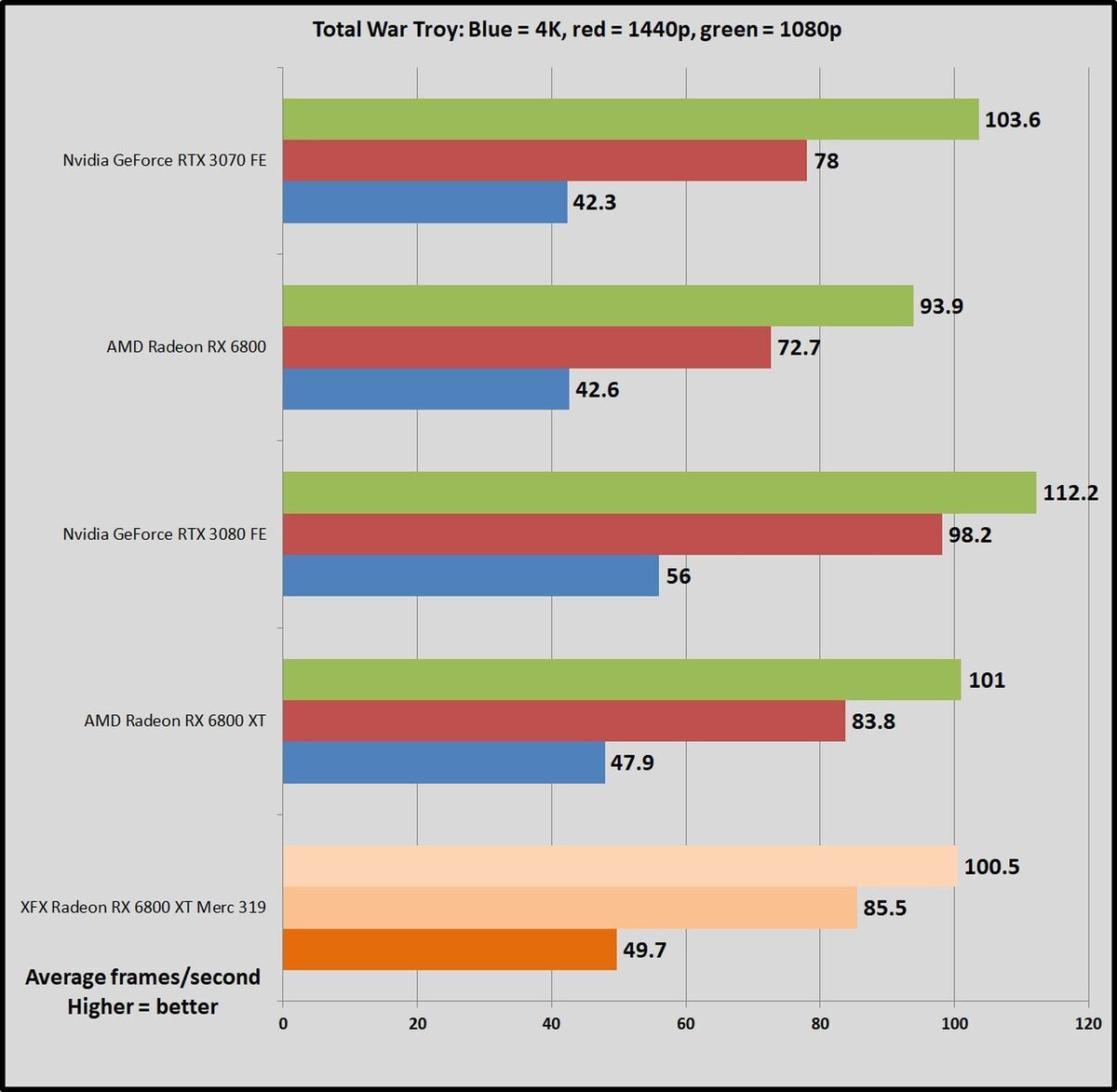 F1 2020
The latest in a long line of successful racing games, F1 2020 is a gem to test, supplying a wide array of both graphical and benchmarking options, making it a much more reliable (and fun) option that the Forza series. It's built on the latest version of Codemasters' buttery-smooth Ego game engine, complete with support for DX12 and Nvidia's DLSS technology. We test two laps on the Australia course, with clear skies on and DLSS off.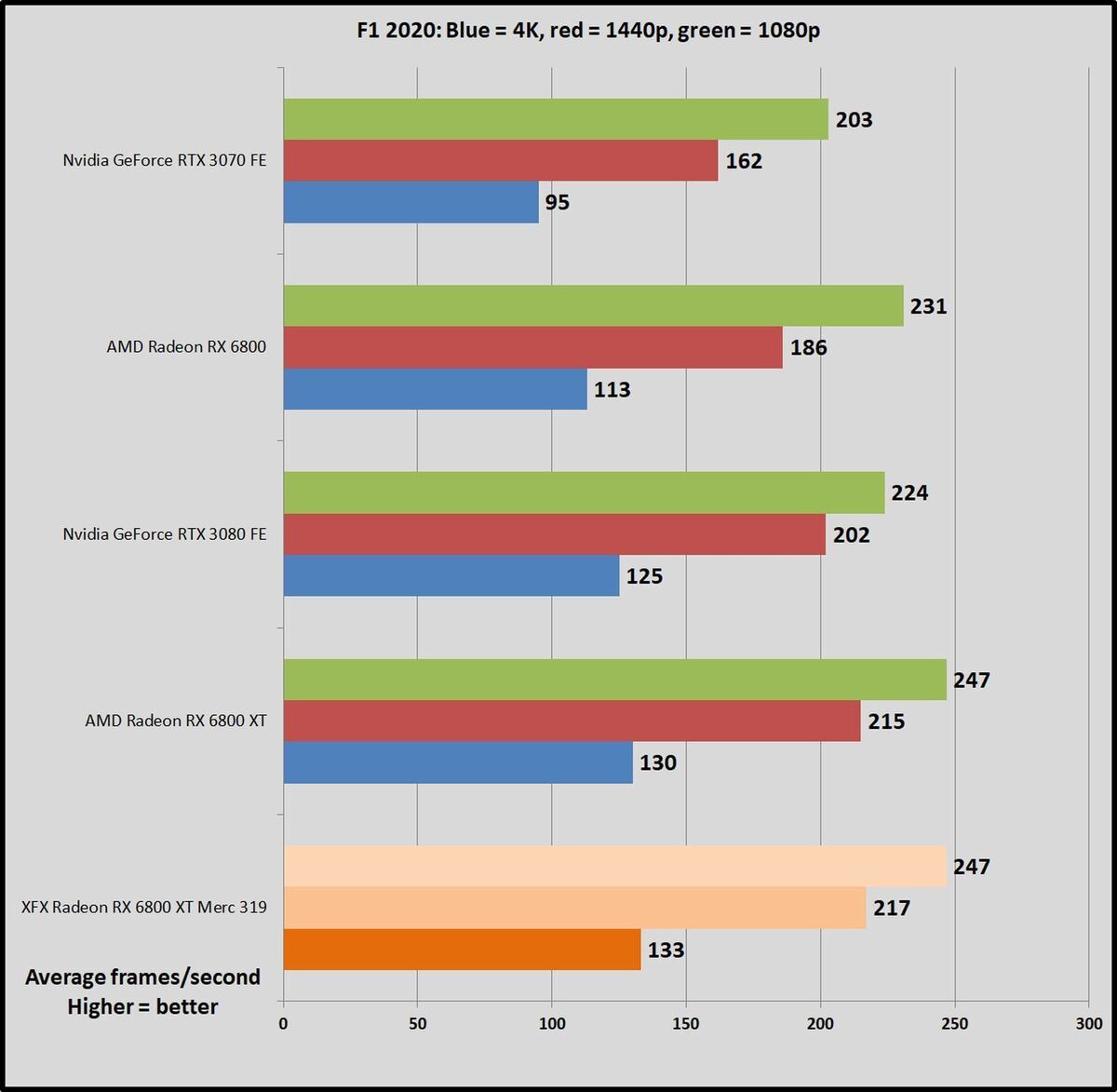 Shadow of the Tomb Raider
Shadow of the Tomb Raider concludes the reboot trilogy, and it's utterly gorgeous. Square Enix optimized this game for DX12, and recommends DX11 only if you're using older hardware or Windows 7, so we test with DX12. Shadow of the Tomb Raider uses an enhanced version of the Foundation engine that also powered Rise of the Tomb Raider and includes optional real-time ray tracing and DLSS features.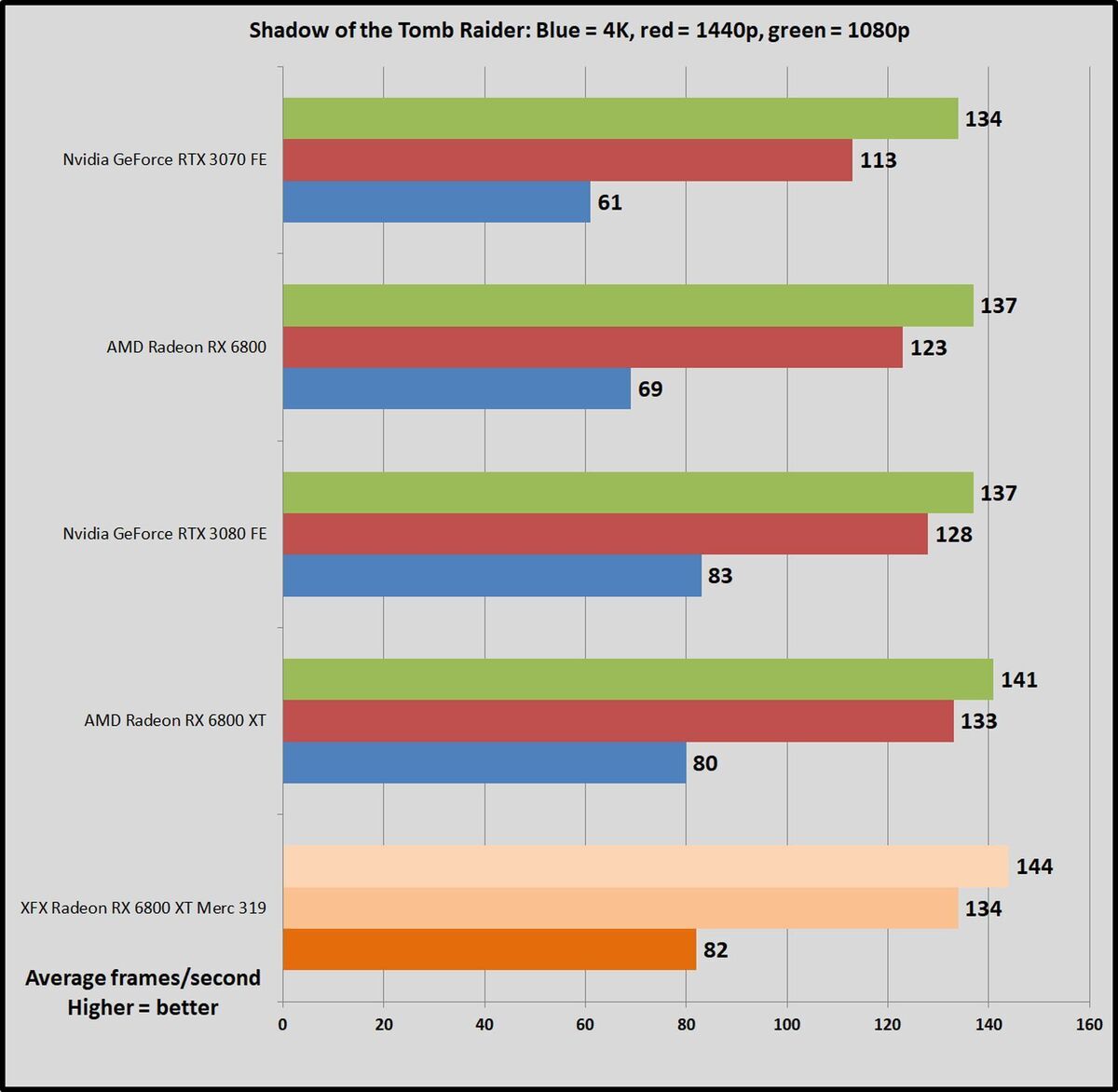 Rainbow Six Siege
Like GTA V, Ubisoft's Rainbow Six Siege still dominates the Steam charts years after its launch, and it'll be getting a visual upgrade for the next-gen consoles. The developers have poured a ton of work into the game's AnvilNext engine over the years, eventually rolling out a Vulkan version of the game that we use to test. By default, the game lowers the render scaling to increase frame rates, but we set it to 100 percent to benchmark native rendering performance on graphics cards. Even still, frame rates soar.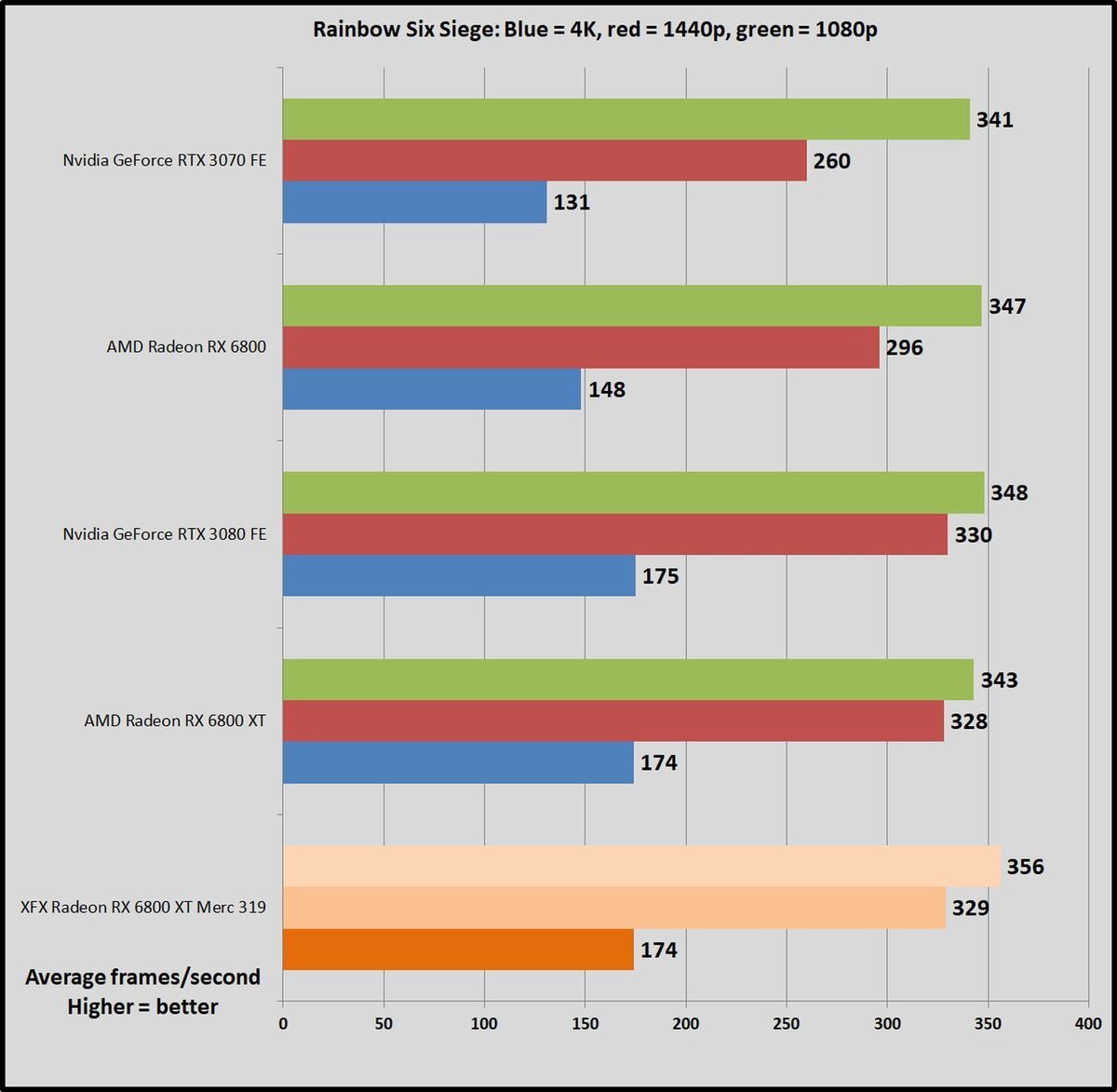 Power draw, thermals, and noise
Quick programming note: We included the MSI RTX 3080 Gaming X Trio in these power and thermal results to show how an overclocked, highly customized RTX 3080 stacks up against the overclocked, highly customized XFX Radeon RX 6800 XT Merc 319.
We test power draw by looping the F1 2020 benchmark at 4K for about 20 minutes after we've benchmarked everything else. We note the highest reading on our Watts Up Pro meter, which measures the power consumption of our entire test system. The initial part of the race, where all competing cars are onscreen simultaneously, tends to be the most demanding portion.
This isn't a worst-case test; we removed the Core i7 8700K's overclock and specifically chose a GPU-bound game running at a GPU-bound resolution to gauge performance when the graphics card is sweating hard. If you're playing a game that also hammers the CPU, you could see higher overall system power draws. Consider yourself warned.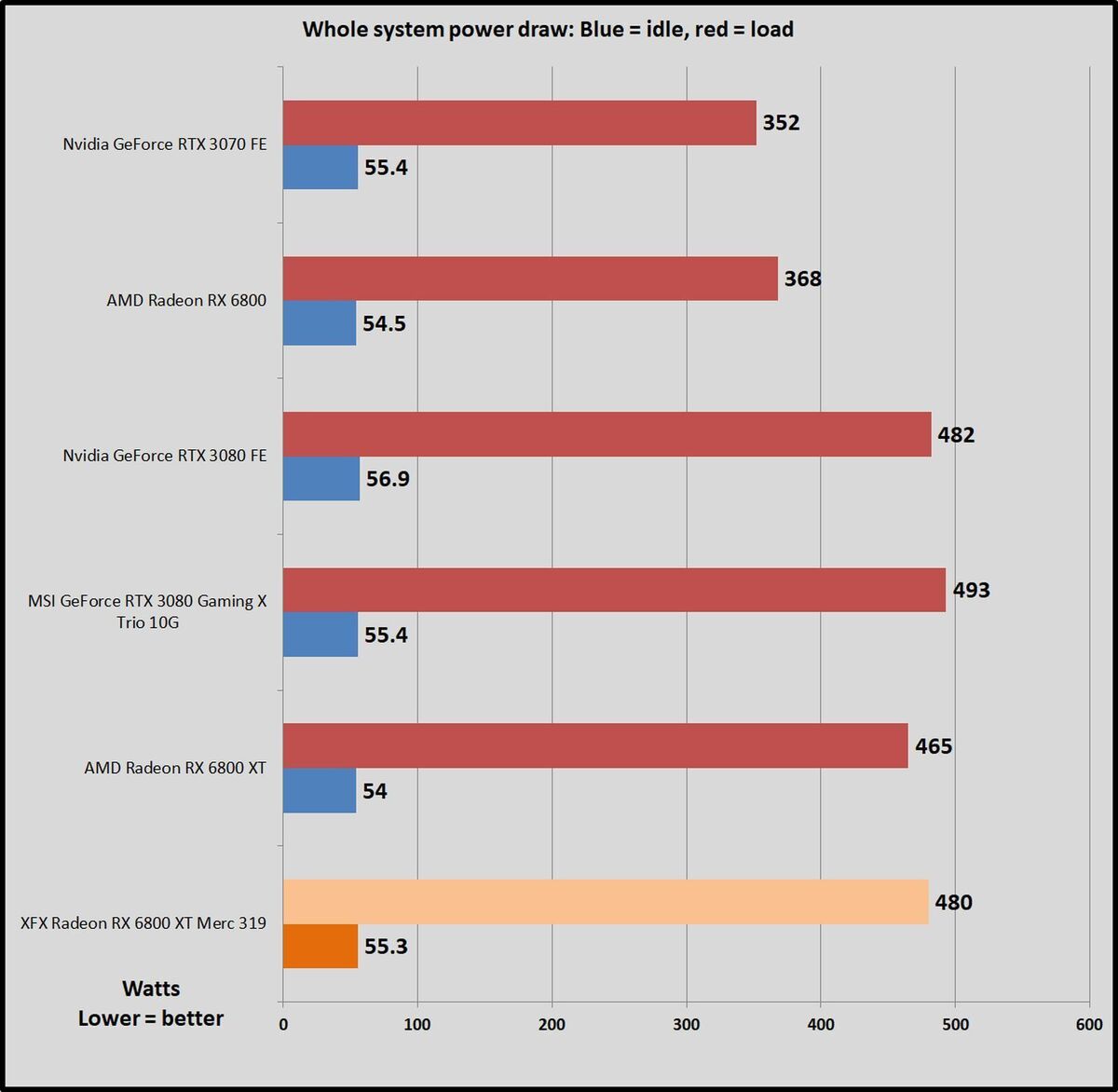 GPUs this powerful take a lot of power. AMD's RDNA 2 architecture is efficient enough that the overclocked XFX Merc 319 manages to draw less energy than even the stock GeForce RTX 3080 Founders Edition, though. Regardless, make sure your power supply is up to snuff before you upgrade.
We test thermals by leaving GPU-Z open during the F1 2020 power draw test, noting the highest maximum temperature at the end.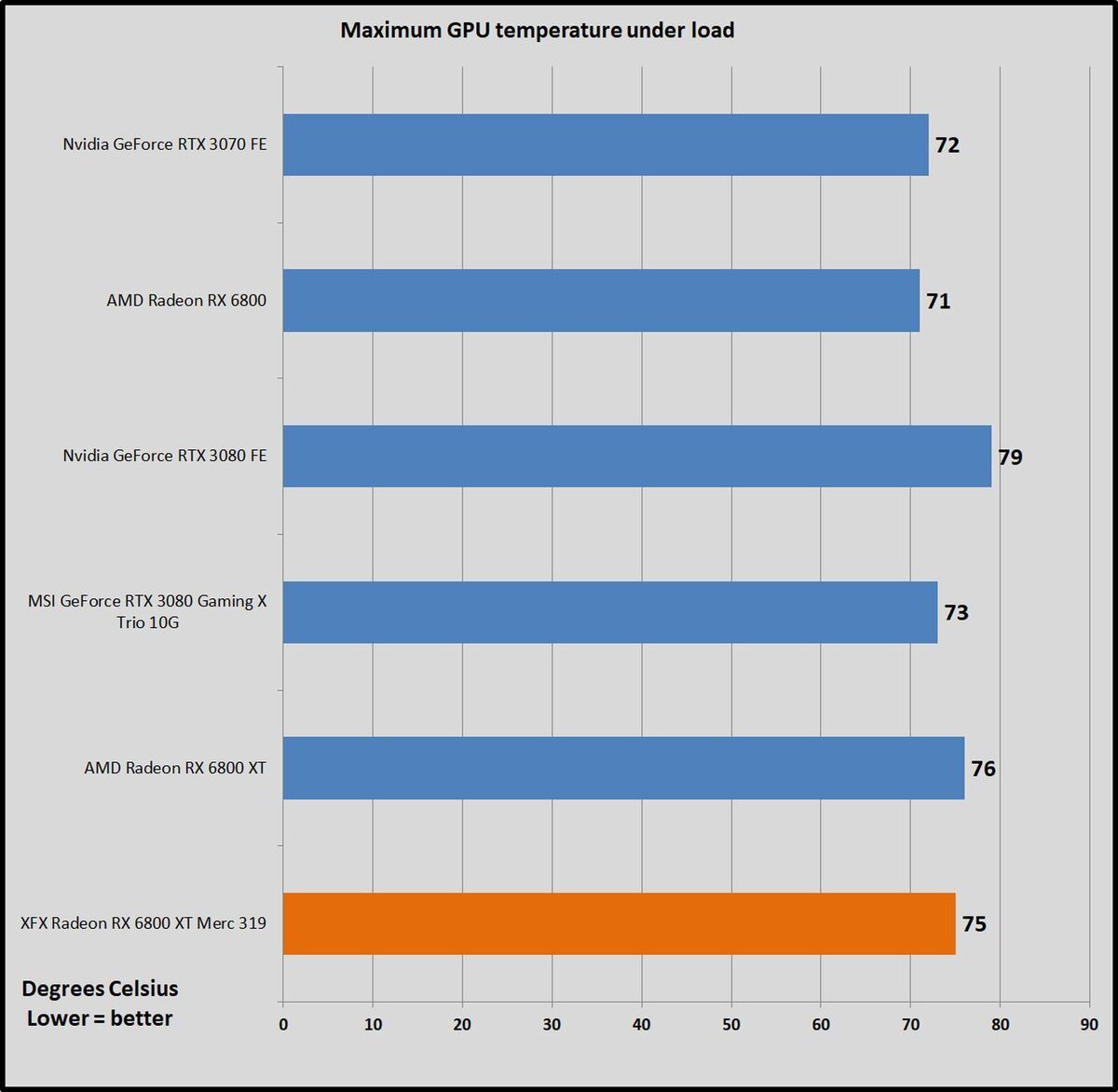 GPUs this powerful take a lot of effort to stay cool, too. The XFX Merc 319 stays roughly as cool as the other enthusiast-class graphics cards in this category.
Its best features aren't represented on this list. First, while you can hear the reference versions of these cards during gaming sessions, the XFX Radeon RX 6800 XT Merc 319 stays utterly silent under load, joining the similarly priced MSI RTX 3080 Gaming X Trio. We couldn't hear it make a peep over our case fans and closed-loop liquid cooler. That's seriously impressive.
Also, XFX's thoughtful cooling tweaks help beyond the raw GPU temperature. All graphics cards report a core GPU temperature, and that's what we report here. But RDNA-based Radeon graphics cards come with significantly more sensors embedded throughout. AMD uses the hottest of those spots to adjust clock speeds as needed—a metric reported as the "GPU junction temperature." This hotspot is significantly cooler in XFX's graphics card. While the reference AMD Radeon RX 6800 XT hits a 103-degree Celsius hotspot temp, the Merc 319 tops out at 93 degrees C.
A ten-degree difference is massive for keeping boost clock speeds higher, longer. The extra headroom would come in very handy indeed during any overclocking endeavors.
Should you buy the XFX Radeon RX 6800 XT Merc 319?
If you're looking for an ultra-powerful graphics card that can chew through any game in pure silence, the XFX Radeon RX 6800 XT Merc 319 is worth considering. It's a fantastic option for 4K, 3440×1440 ultrawide, and high refresh-rate 1440p gaming, backed by a future-proof 16GB of onboard memory. The Merc 319 bests all rivals for 1080p 144Hz gaming as well, but at that resolution (or 1440p 60Hz) you'd be better off getting a cheaper graphics card.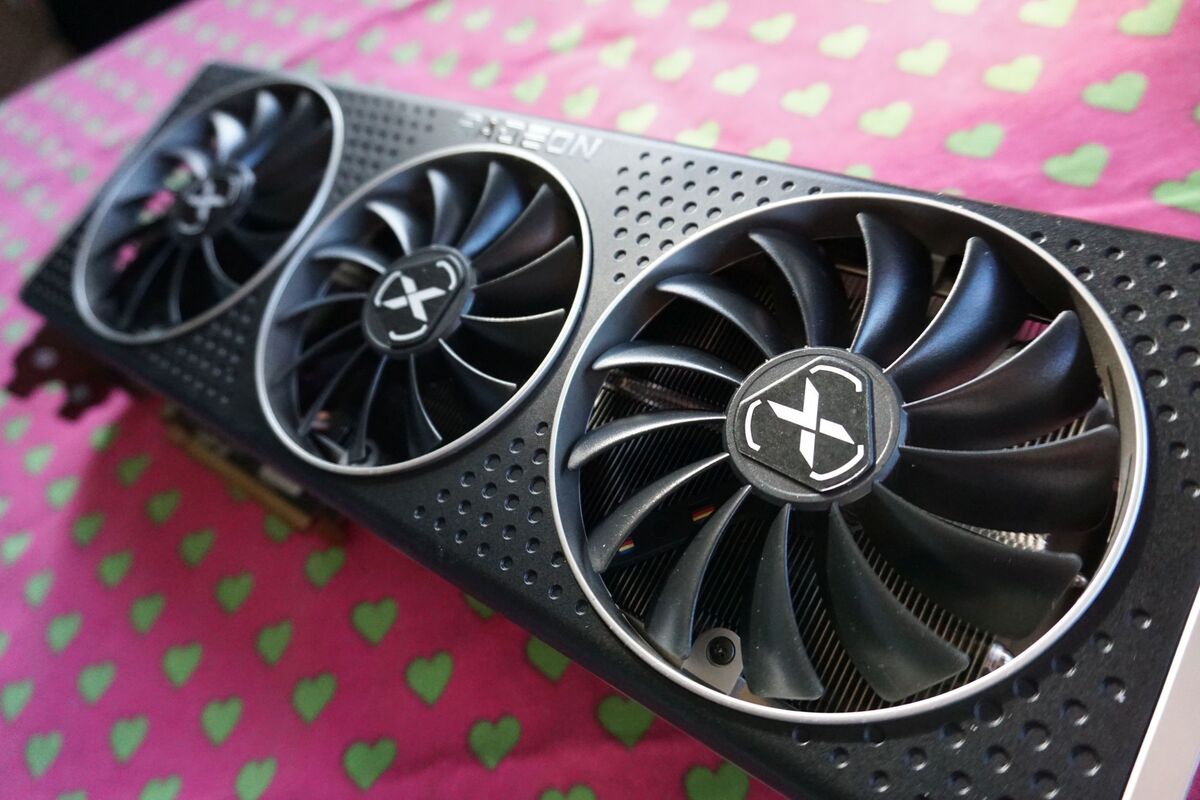 You might want a cheaper Radeon RX 6800 XT option, too. XFX charges $800 for the factory-overclocked Speedster Merc 319. That's a staggering $150 over the base $650 price for the Radeon RX 6800 XT, negating AMD's pricing advantage versus rival RTX 3080 graphics cards. Your money only buys you a few extra frames of performance out of the box, but you're really paying for the cooler. This gargantuan triple-slot card remains utterly silent in its stock configuration and stays remarkably quiet even if you flip over to the higher-performance "Rage" secondary BIOS. Its hotspot temperatures remain a full 10 degrees chillier than the reference RX 6800 XT design, too, and XFX offers a three-year warranty with the Merc 319.
Between the dual BIOS switch and the fantastic custom cooler, the XFX Merc 319 should satisfy overclockers looking to push their hardware to the bleeding edge of performance. Simply switching to the Rage BIOS's higher power and fan limits and running the conservative auto-overclocking tool in AMD's Radeon Software had this graphics card running at a blistering 2,509MHz in under three minutes with no real effort required whatsoever. If you flip to XFX's Rage BIOS and enable AMD's "Rage mode" tuning preset in Radeon Software, you can increase the card's power limit by a considerable 25 watts to crank performance higher without voiding your warranty. And if you do decide to try your hand at a manual overclock, having a backup BIOS in case things go wrong is always a welcome fallback.
The XFX Merc 319 is one of the largest graphics cards we've ever tested. Most enthusiast-class graphics cards are long and thick these days, but this is longer and thicker than most. The new design looks attractive as well, though the large, stylized "Merc" logo splayed across the backplate won't suit everyone's tastes.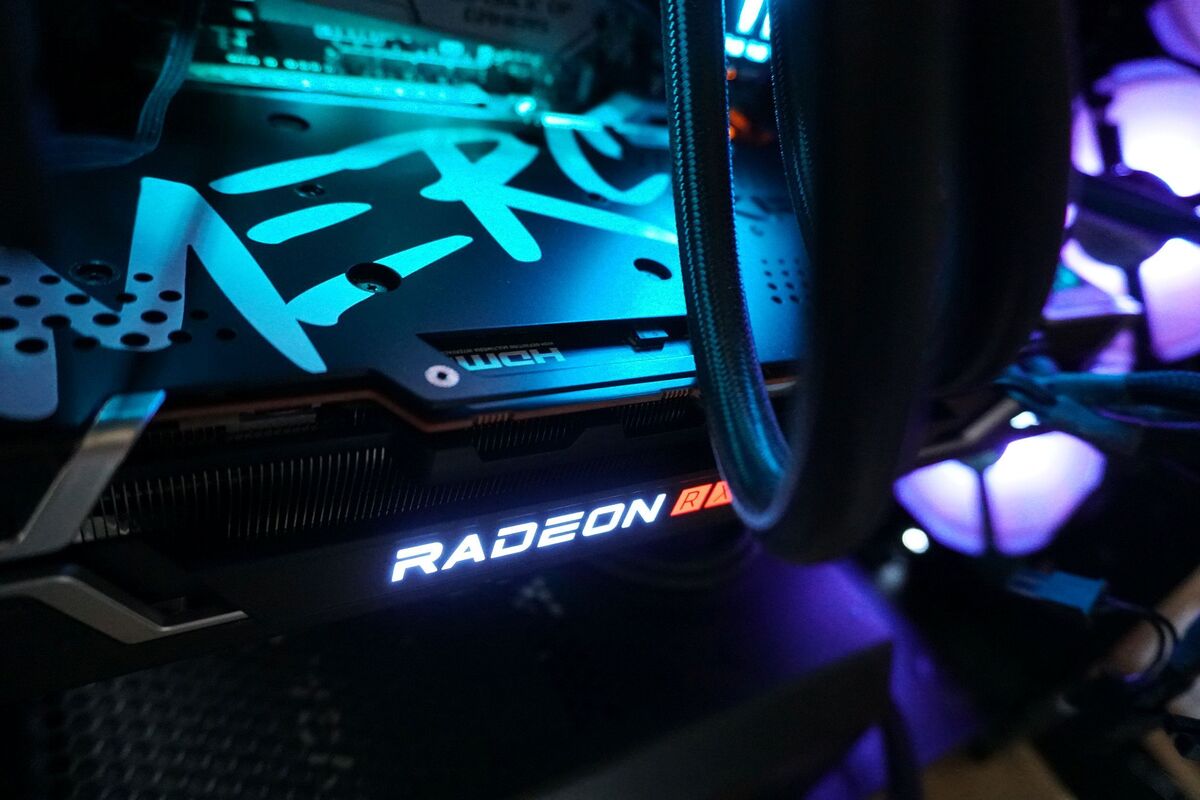 Stepping back a bit further, AMD's Radeon RX 6800 XT offers significantly more memory capacity (16GB vs. 10GB) than Nvidia's rival GeForce RTX 3080, and a Smart Access Memory feature that lets the card get even faster when paired with an AMD Ryzen 5000 processor. The GeForce GPU offers significantly faster ray tracing performance, supercharged by Nvidia's performance-boosting DLSS feature, and AMD has no answer for that yet. DLSS lets you play ray-traced games at 4K resolution, while Radeon RX 6800-series cards top out at 1440p with the cutting-edge lighting technology enabled. Nvidia also offers superior encoding and content creation software ecosystems that people who work and play may find invaluable.
The features that matter more to you should guide your buying decision, as the RX 6800 XT and RTX 3080 trade performance blows in standard games. The conclusion of our Radeon RX 6800-series review dives deeper into the RX versus RTX comparison.
Mentioned in this article
GeForce RTX 3080 FTW3 Ultra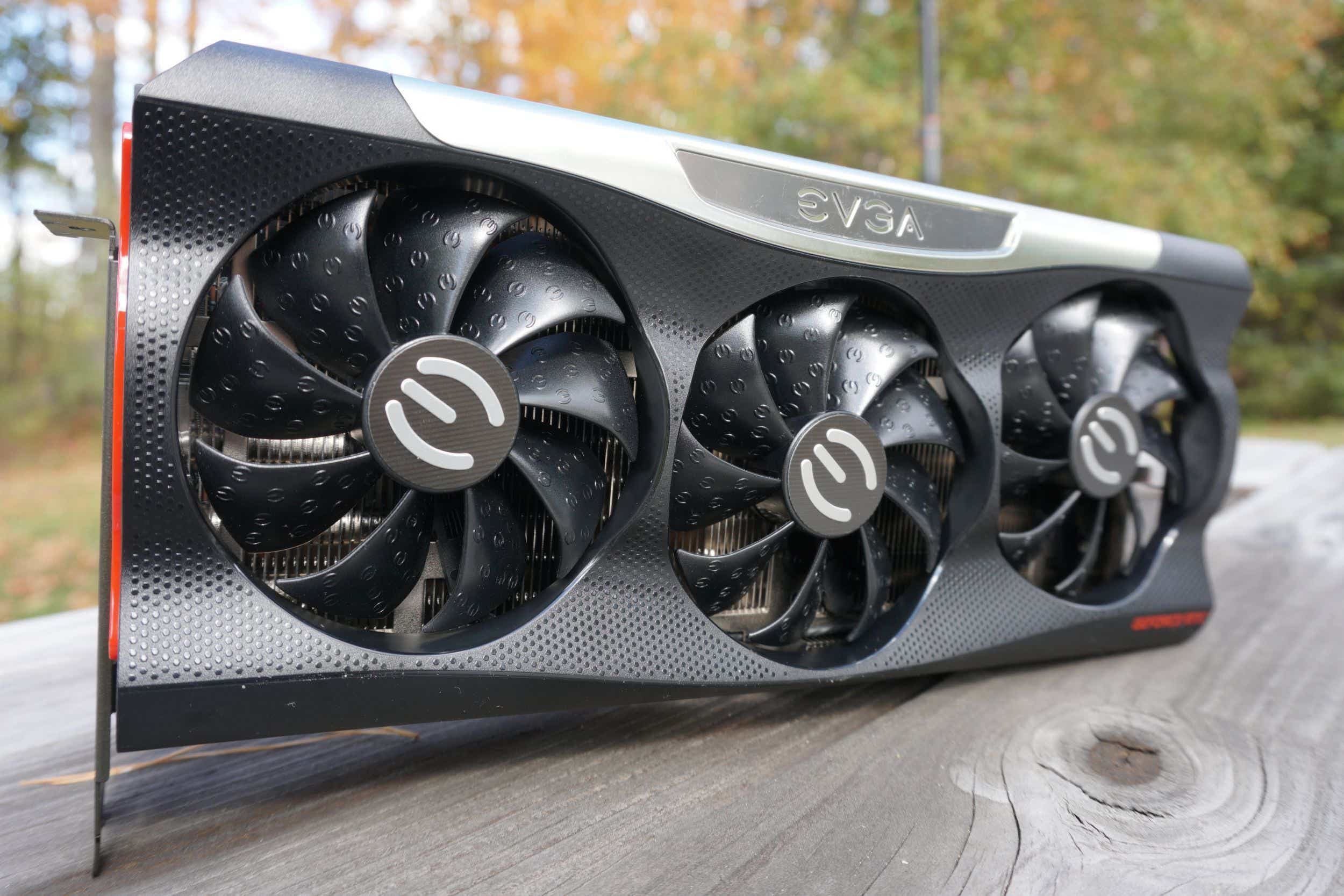 Price When Reviewed:
$810
AMD's reference Radeon RX 6800 XT starts off at $50 less than Nvidia's reference 3080, but by charging a massive $150 premium, the enthusiast-level XFX Merc 319 winds up competing with best-in-class GeForce RTX 3080 offerings like the outstanding EVGA RTX 3080 FTW3 Ultra. At $810, EVGA's card costs $110 more than Nvidia's GeForce RTX 3080 MSRP and just $10 more than XFX's Merc 319. They're both great high-end graphics cards with similar performance, utterly silent cooling, and dual BIOS switches, but the FTW3 runs a few degrees cooler and offers extra niceties such as customizable RGB lighting, fan speed and RGB headers, a bundled GPU support bracket, and EVGA's superb Precision X control software. All those extra features make it feel like you get a bit more for your money with the FTW3.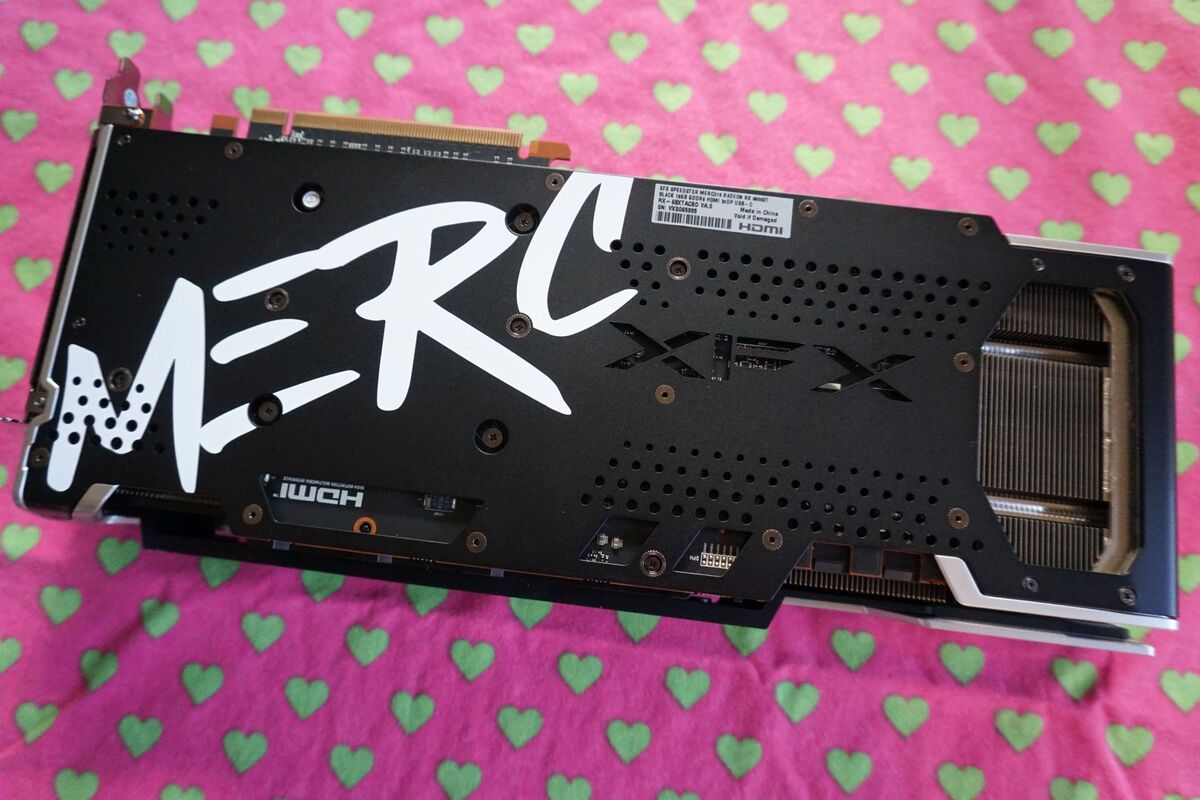 If XFX had stuck to a $100 or so premium, it would be competing against solid, but not fully loaded GeForce options like the $760 MSI RTX 3080 Gaming X Trio in price, which would make it even more compelling. MSI's card also offers a fantastic cooler (and abundant RGB lighting) but lacks the crucial-to-overclocking dual BIOS switch found on XFX's card.
Mentioned in this article
Radeon RX 6800 XT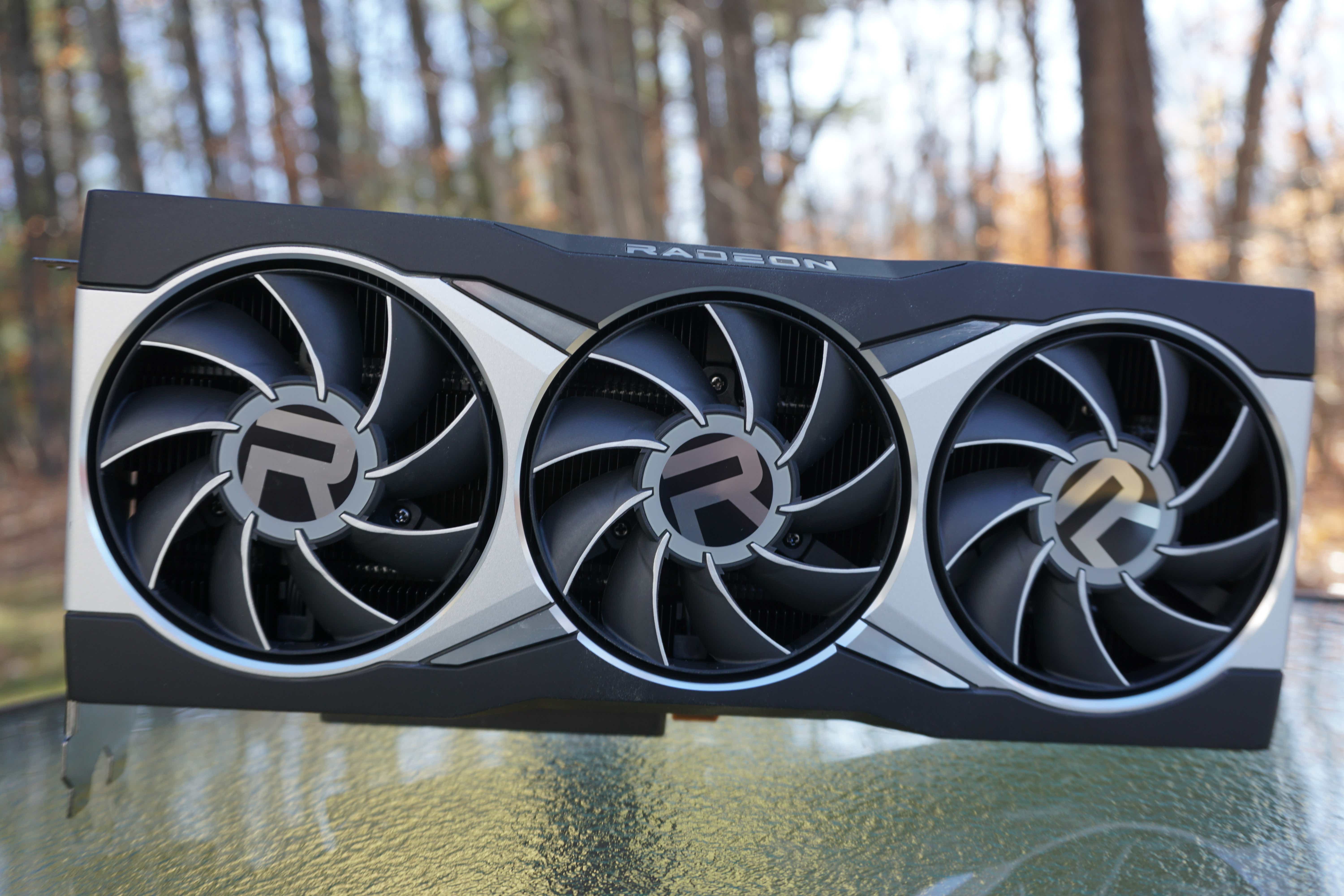 Price When Reviewed:
$650
If you don't care about overclocking and are fine with good, but not utterly silent noise levels, the $650 Radeon RX 6800 XT reference design offers virtually the same out-of-the-box performance and core AMD features as the Merc 319 for significantly less money. XFX is hoping to offer custom Radeon RX 6800 XT options starting at $700 before the end of the year, but with more conservative cooling and power designs, and possibly different display outputs.
Bottom line? XFX knocked it out of the park with the Radeon RX 6800 XT Speedster Merc 319's performance and cooling, but this card is priced like the no-compromises flagship it is. The Merc 319 is blazing-fast, whisper-quiet, and good-looking (if you aren't bothered by the backplate logo). Just make sure you have room in your case before you buy it.
If XFX maintained AMD's Radeon pricing advantage versus its GeForce RTX 3080 rivals and charged $50 less, the Merc 319 would be facing easier competition and easily earn our Editors' Choice award. At $800, however, it's worth weighing all your available options. I can get why XFX wants to charge the same for its incredible custom kit as Nvidia partners do for their flagship entries, since the RX 6800 XT and RTX 3080 trade performance blows and compete with rival features. We haven't seen an enthusiast-class Radeon graphics card kick this much ass in a long time. But the steep $150 premium over MSRP keeps the card from being an absolute slam-dunk must-buy for Radeon enthusiasts.
Best Prices Today: Radeon RX 6800 XT Merc 319