At a Glance
Expert's Rating
Pros
Dead silent and exceptionally cool
Spectacular 1440p gaming
Dual-BIOS switch
Extra HDMI 2.1 port
Attractive all-metal design
Superior ray tracing performance vs. AMD GPUs
Cons
Massive size
Factory overclock provides no real-world performance uplift
8GB of GDDR6 memory limits future 4K gaming potential
Our Verdict
The Asus TUF RTX 3060 Ti puts exceptional custom touches on an exceptional 1440p graphics card. It's dead silent, stone cold, and comes with nice extras like a dual BIOS switch and an second HDMI 2.1 port.
Best Prices Today: TUF GeForce RTX 3060 Ti
Nvidia's $400 GeForce RTX 3060 Ti is a winner—we called it a "flawlessly constructed" 1440p GPU in our comprehensive review. But the cooling system around it matters. We also noted that while Nvidia's radical new "flow-through" Founders Edition cooler tamed the GPU effectively enough, it isn't nearly as potent in this smaller iteration as it is with the massive GeForce RTX 3090. Customized graphics card variants have plenty of room to improve on things, we said.
Today, the $460 Asus TUF RTX 3060 Ti OC proves us right. Asus earned widespread praise for the cooling system on the TUF versions of high-end graphics cards like the GeForce RTX 3080, and it's just as formidable here. The Asus TUF RTX 3060 Ti runs frigidly and silently even under the heaviest loads, though it also comes with a pricing markup absent from more expensive models.
Spoiler alert: It's worth it.
Asus TUF RTX 3060 Ti specs, features, and design
Under the hood, the Asus TUF uses the same core technical configuration as all GeForce RTX 3060 Ti graphics cards, with 4,864 CUDA cores, 38 dedicated second-gen ray tracing cores, and 80 ROPs. The setup is powerful enough to topple last generation's RTX 2080 Super—a ferocious graphics card that cost twice as much. Nvidia paired the GPU itself with 8GB of GDDR6 memory over a 256-bit bus, for a total memory bandwidth of 448GB/s.
Here's a rundown of how the GeForce RTX 3060 Ti's reference specifications compare against last-gen's RTX 2060 Super and the step-up $500 RTX 3070: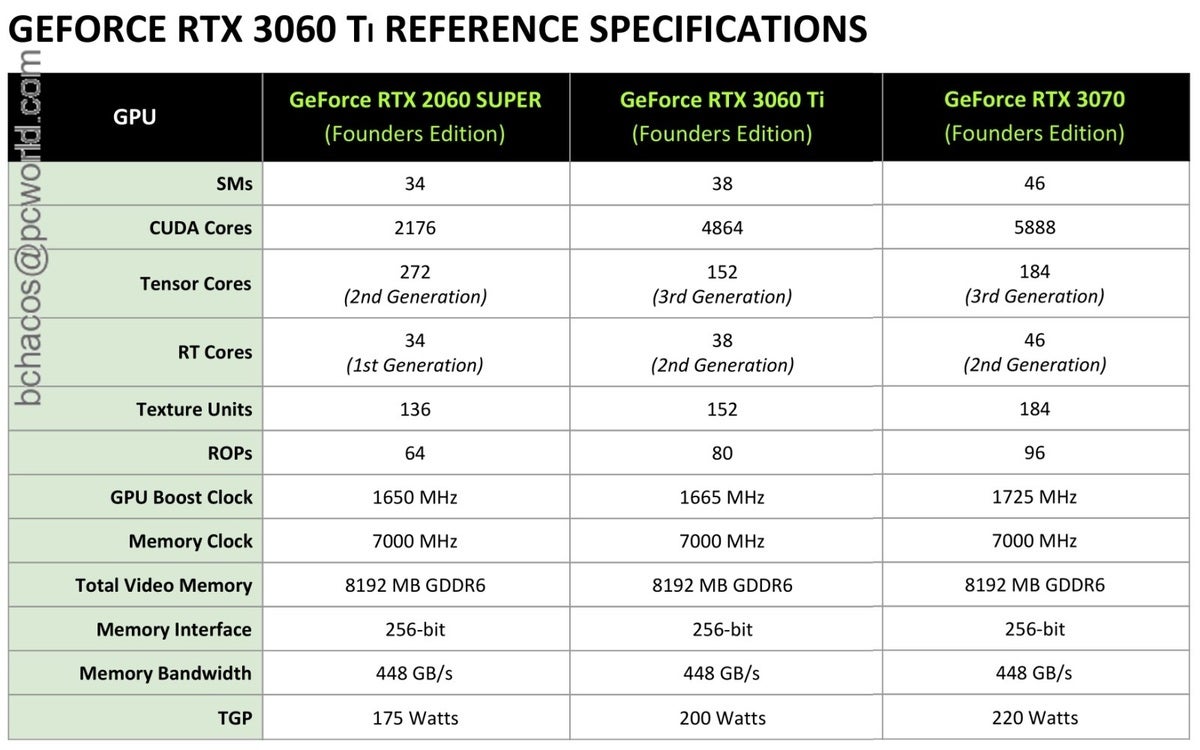 Asus juiced clock speeds a bit on the TUF OC, pushing it to a 1,755MHz Boost clock and a 1,410MHz base clock. As you'll see in our gaming benchmarks, however, the added frequency doesn't really translate to any performance difference. The big draw here is the custom cooler.
Mentioned in this article
GeForce RTX 3060 Ti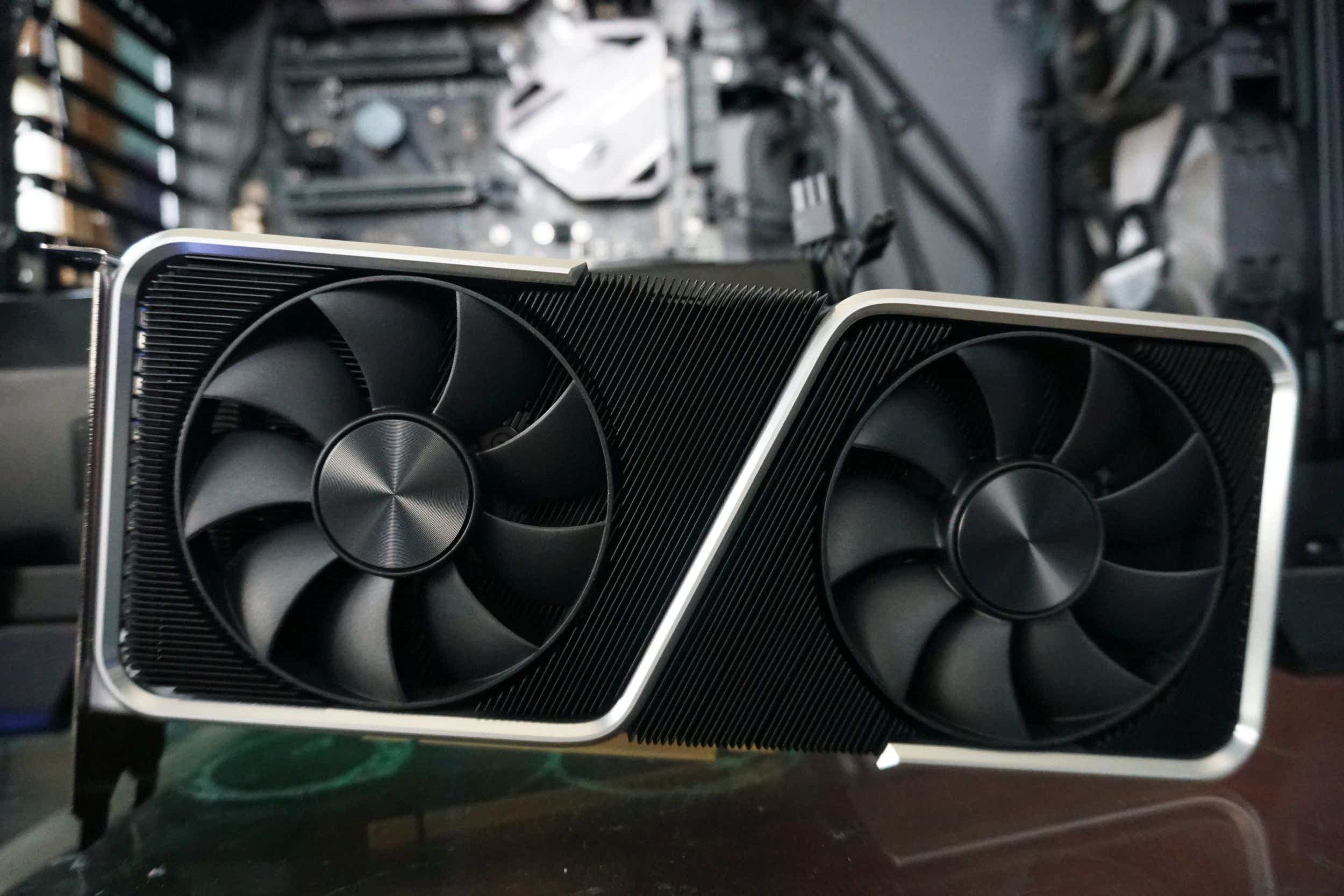 Price When Reviewed:
$400
You can literally see why Asus charges a premium for the TUF in this segment. It's significantly larger than Nvidia's Founders Edition model. While the Founders Edition measures 9.5 inches long and 3.75 inches wide in a standard two-slot design, the pleasantly plump Asus TUF RTX 3060 Ti falls a hair under 12 inches long and a full inch wider. It's also thicker, expanding to fill 2.7 slots (though to be honest, high-end graphics cards tend to be bigger than two slots more often than not these days).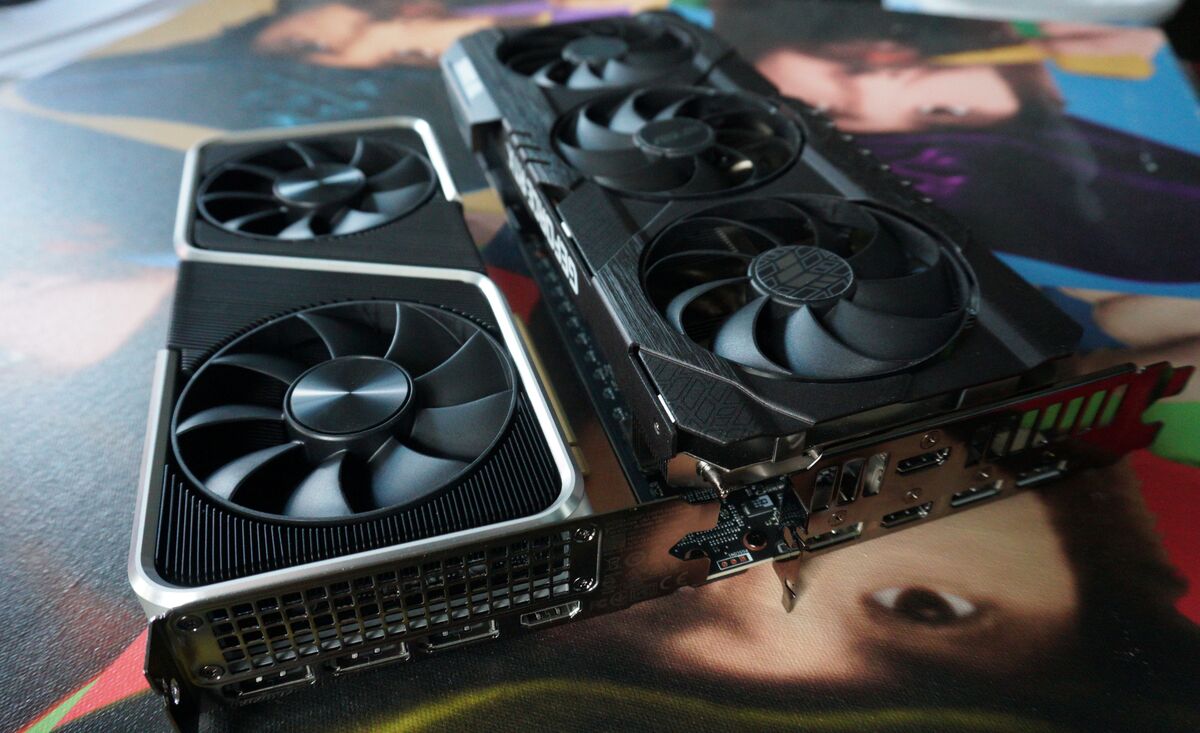 Asus stuffed all that space with cooling. The TUF 3060 Ti includes a massive aluminum heatsink bristling with heatpipes. A polished coldplate provides coverage for the memory modules as well, with the help of well-placed thermal pads. The black shroud is also aluminum and holds a trio of axial fans with nine blades apiece and dual ball bearings. The fans stop spinning when GPU temperatures fall below 55 degrees Celsius, ensuring silence while you're engaged in lower-intensity activities on your desktop.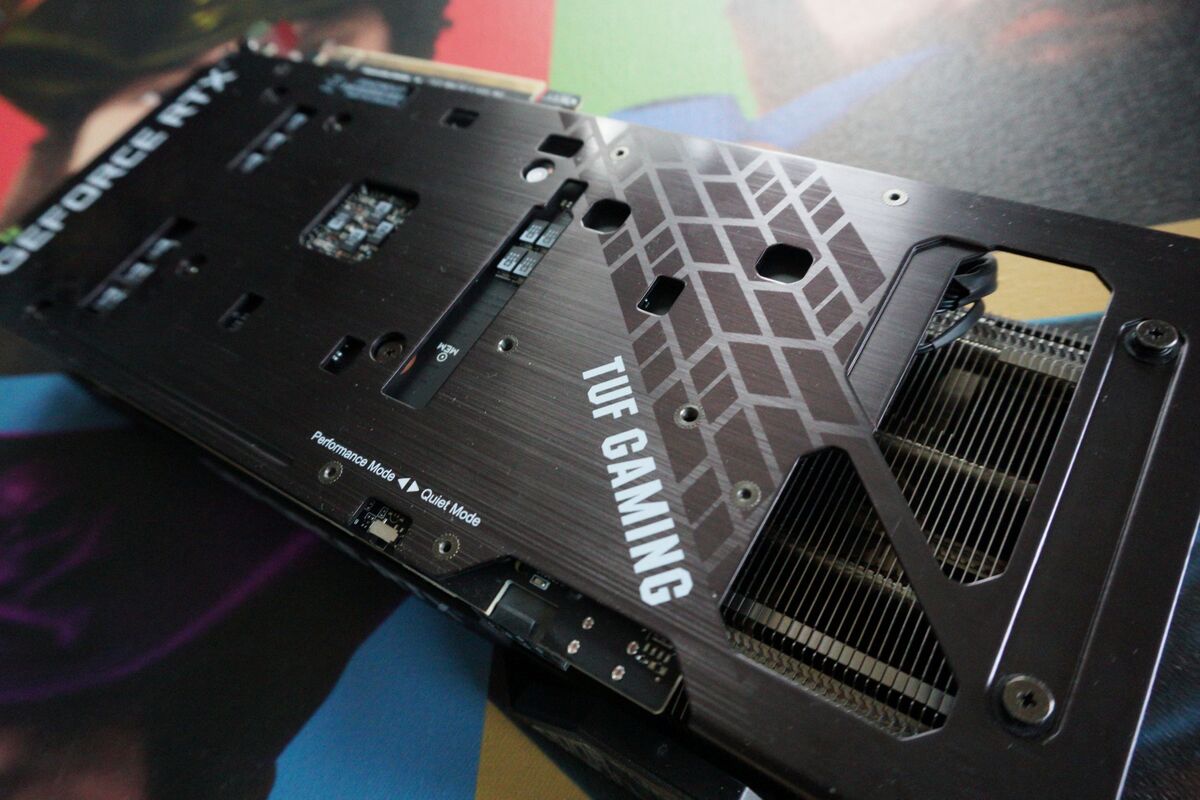 The Asus TUF RTX 3060 Ti includes a full-length metal backplate on the top of the card, complete with a cutout toward the end that reveals the bare heatsink, providing extra airflow in Founders Edition-like fashion. The backplate features subtle black "tire tread" markings to drive home the TUF branding. The lack of thermal pads between the backplate and the card's PCB means this large slab of metal doesn't contribute to cooling any components. Nevertheless, the cooling on this card rocks.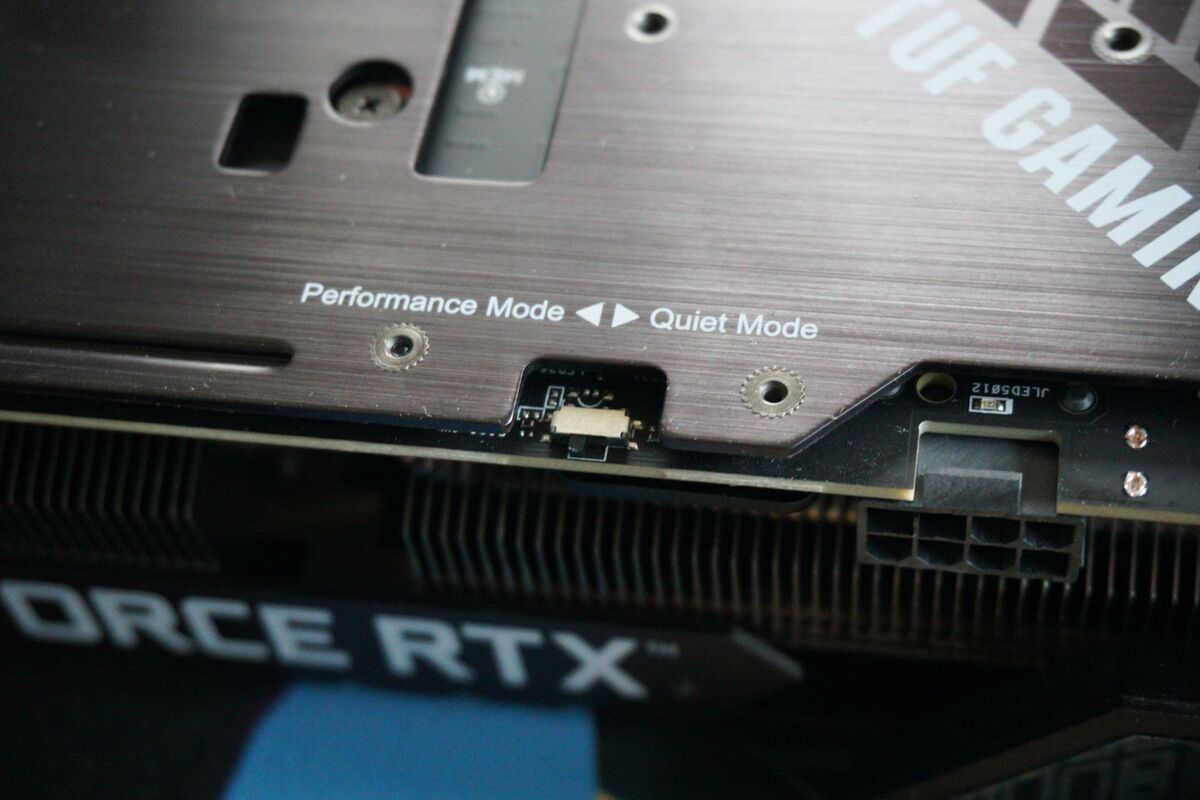 Asus ships this card with a welcome dual-BIOS switch next to its sole 8-pin power connector, and in an especially welcome move, it clearly labels the behaviors exhibited by each BIOS position with labeling on the backplate. Other manufacturers take note and copy this, please—it's vastly superior to having to sift through manuals or GPU-Z settings to puzzle out each option. Asus claims the Quiet mode is four times quieter than Performance mode while only two degrees warmer. But the default Performance mode is so cool and quiet, we can't envision needing to use the secondary BIOS for anything but overclocking.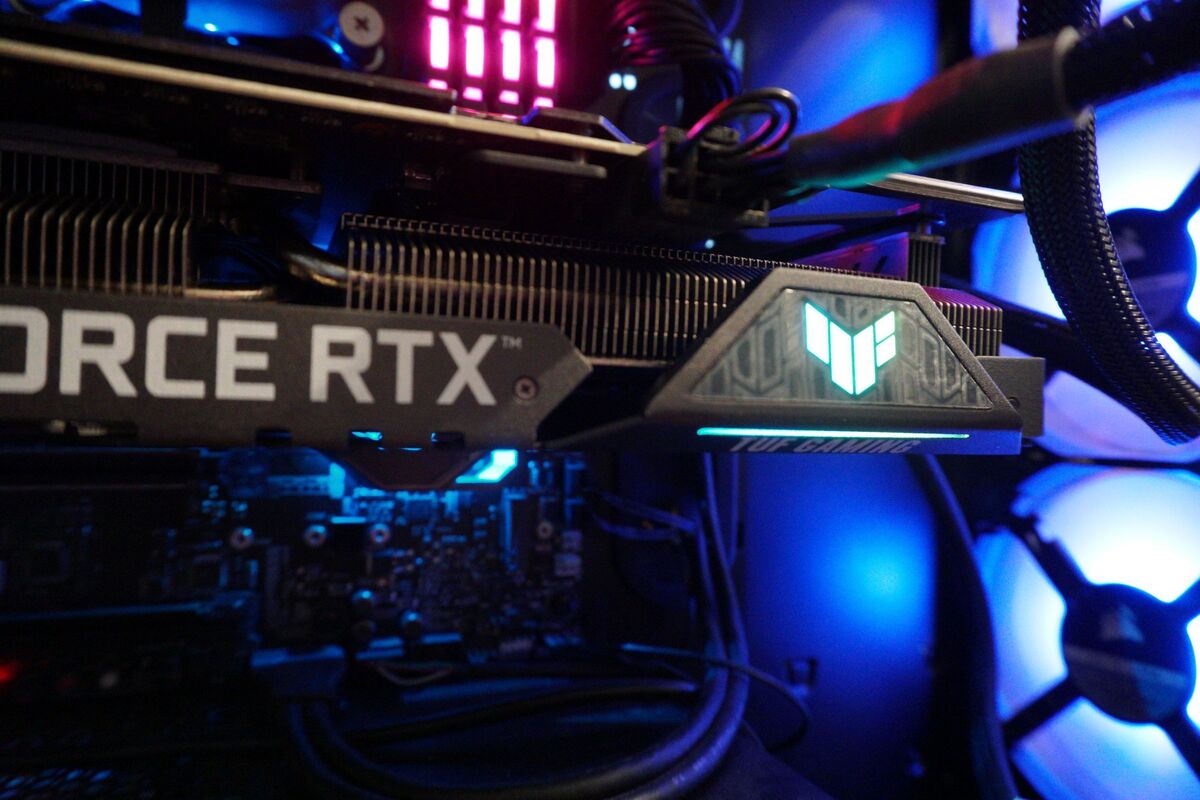 It's not all business on this card. Asus equipped it with an illuminated RGB TUF logo on its edge, and a tiny RGB strip of light underneath that. Those mild accents are the only RGB lighting on the card, and they're controllable with the Aura Sync feature included as part of Asus's Armoury Crate package. Aura Sync manages lighting for all the Asus products in your system, while Asus's GPU Tweak II software gives you finer control over your GPU's behavior if you're into fine-tuning things. GPU Tweak II's software-enabled OC mode can boost the TUF's clock speed by another 30MHz with a simple button-click.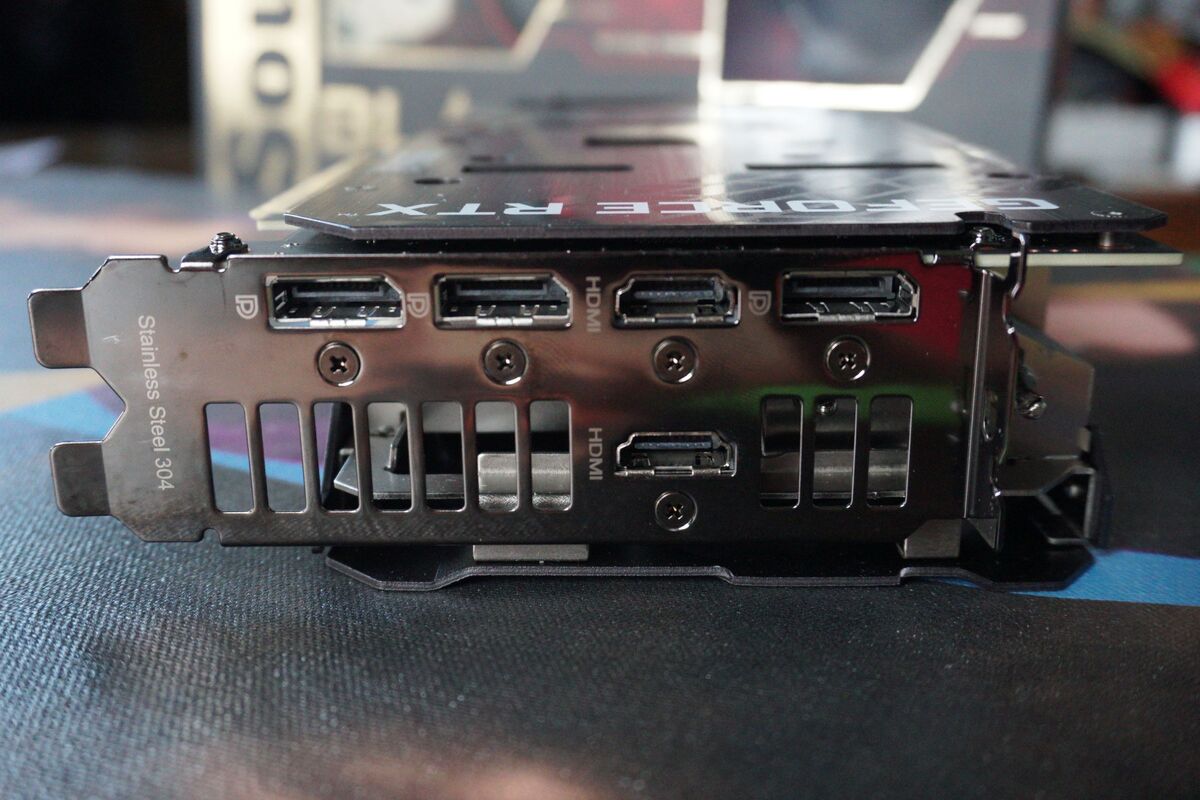 Asus also added a little something extra to the RTX 3060 Ti's port selection. The stock layout includes a single HDMI 2.1 connection and a trio of DisplayPorts, but the TUF adds a second HDMI 2.1 output—perfect for people who want to power both a monitor or TV and a VR headset without swapping wires constantly. It's a welcome inclusion.
As a GeForce RTX 30-series GPU, the TUF supports all of Nvidia's far-flung software features, such as DLSS 2.0, Shadowplay, GeForce Experience, Nvidia Broadcast, Nvidia Reflex, Ansel super screenshots, CUDA and Optix optimizations for creation workloads, and Nvidia's superior NVENC encoder for video creation.
Bottom line? The Asus TUF RTX 3060 Ti offers a great cooler slapped atop a great GPU, augmented by a great software stack. Now let's get to the games.
Our test system
Our dedicated graphics card test system is a couple of years old, but it's packed with some of the fastest complementary components available to put any potential performance bottlenecks squarely on the GPU, especially at the higher resolution these graphics cards target. Most of the hardware was provided by the manufacturers, but we purchased the cooler and storage ourselves.
Intel Core i7-8700K processor ($300 on Amazon) overclocked to 5GHz all cores
EVGA CLC 240 closed-loop liquid cooler ($105 on Amazon)
Asus Maximus X Hero motherboard
64GB HyperX Predator RGB DDR4/2933 ($355 on Amazon)
EVGA 1200W SuperNova P2 power supply ($352 on Amazon)
Corsair Crystal 570X RGB case, with front and top panels removed and an extra rear fan installed for improved airflow
2x 500GB Samsung 860 EVO SSDs ($70 each on Amazon)
We're comparing the $460 Asus TUF RTX 3060 TI against Nvidia's own GeForce RTX 3060 Ti Founders Edition, of course. We're also including results for the $500 GeForce RTX 3070 and last-generation's $350 RTX 2060, $500 RTX 2070, and $800 2080 Super, as well as AMD's new $580 Radeon RX 6800 and last-gen $400 Radeon RX 5700 XT. Everything except the TUF are reference or Nvidia Founders Edition models, and we performed these tests using Asus's default Performance BIOS, rather than the secondary Quiet BIOS.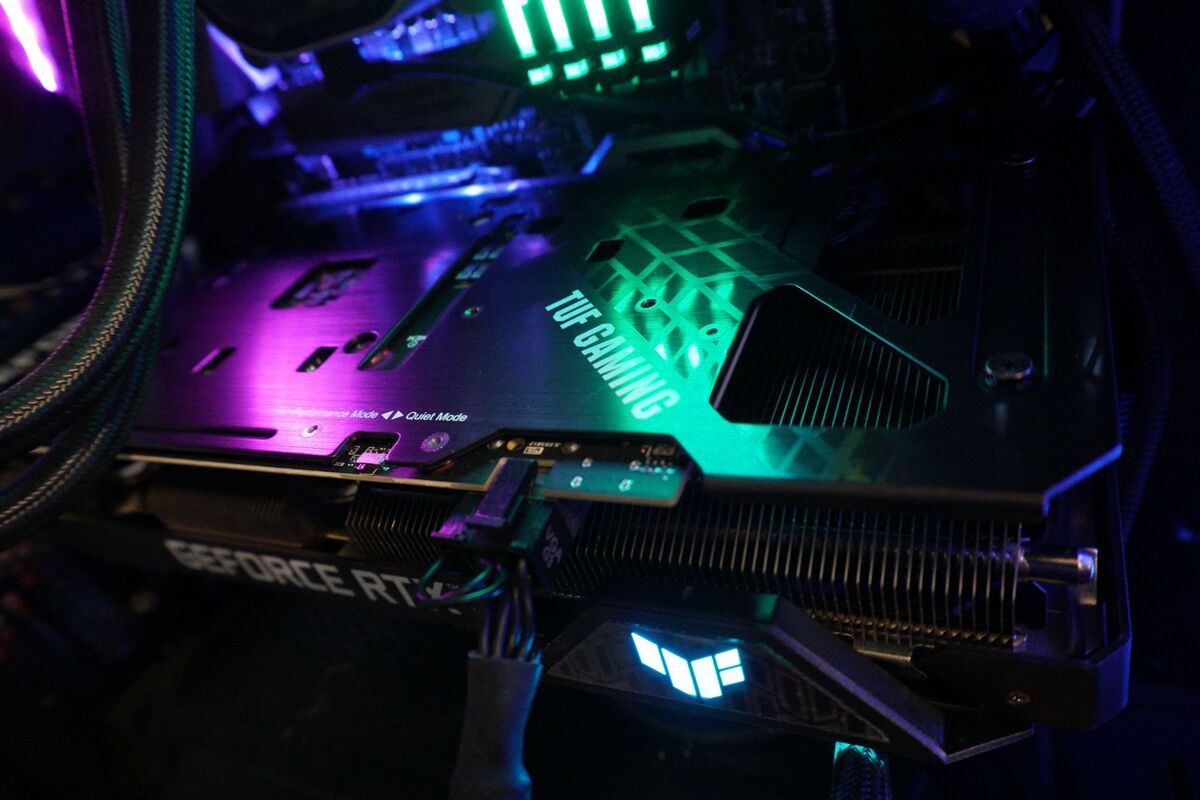 We test a variety of games spanning various engines, genres, vendor sponsorships (Nvidia, AMD, and Intel), and graphics APIs (DirectX 11, DX12, and Vulkan). Each game is tested using its in-game benchmark at the highest possible graphics presets unless otherwise noted, with VSync, frame rate caps, real-time ray tracing or DLSS effects, and FreeSync/G-Sync disabled, along with any other vendor-specific technologies like FidelityFX tools or Nvidia Reflex. We've also enabled temporal anti-aliasing (TAA) to push these cards to their limits. We run each benchmark at least three times and list the average result for each test.
Even with its factory overclock, the Asus TUF delivers virtually identical performance to Nvidia's GeForce RTX 3060 Ti Founders Edition, so we'll present these benchmarks without additional commentary. Hit our wrap-up at the end for further analysis.
Gaming performance benchmarks
Watch Dogs: Legion
Watch Dogs: Legion is one of the first games to debut on next-gen consoles. Ubisoft upgraded its Disrupt engine to include cutting-edge features like real-time ray tracing and Nvidia's DLSS. We disable those effects for this testing, but Legion remains a strenuous game even on high-end hardware with its optional high-resolution texture pack installed. No card can maintain a 60-frames-per-second average with Ultra graphics options enabled, and the game allocates more than 8GB of memory even at 1440p. Oof.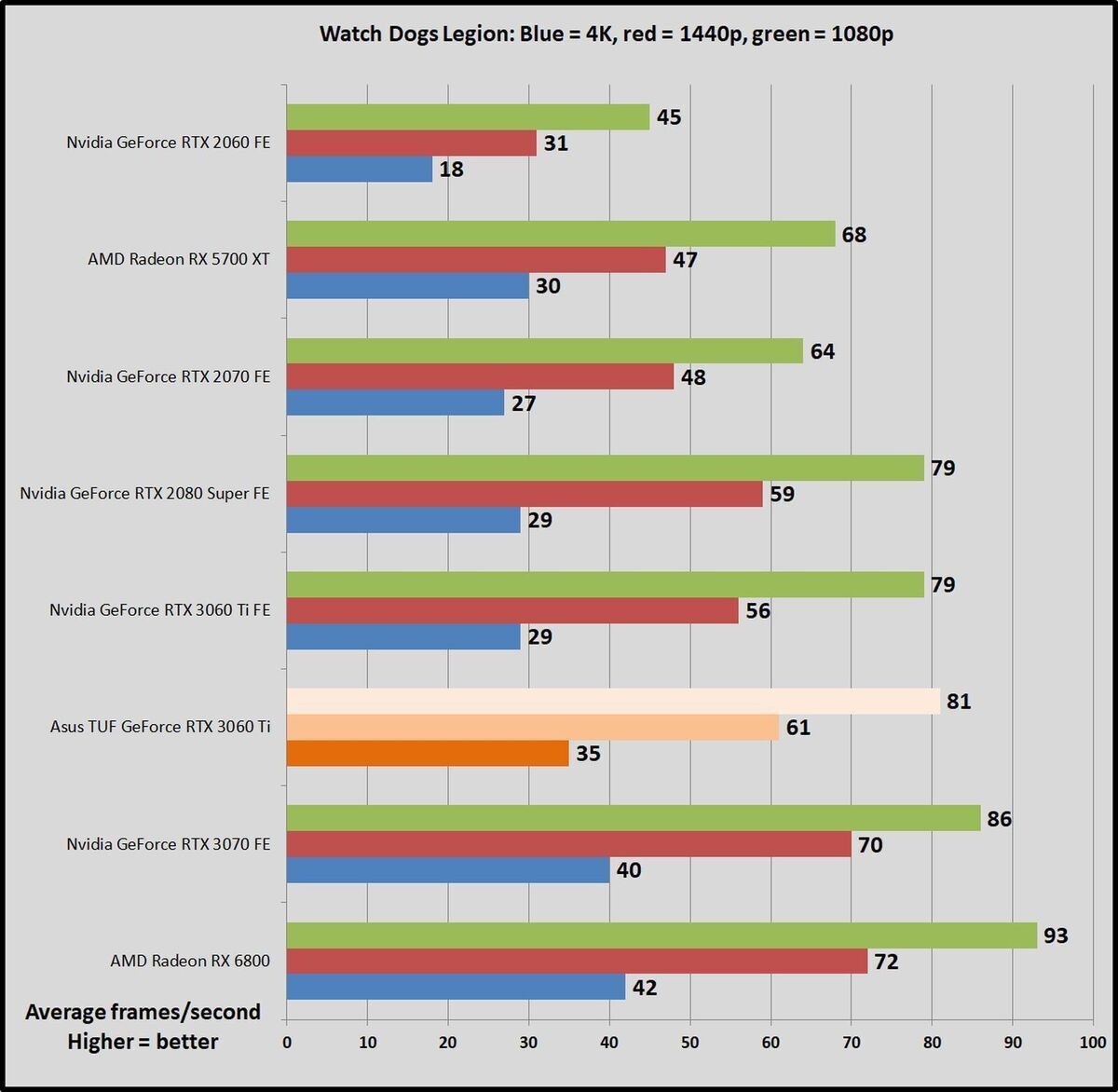 Horizon Zero Dawn
Yep, PlayStation exclusives are coming to the PC now. Horizon Zero Dawn runs on Guerrilla Games' Decima engine, the same engine that powers Death Stranding. Ambient Occlusion can offer iffy results if set to Ultra, so we test with that setting at Medium. Every other visual option is maxed out.
Gears Tactics
Gears Tactics puts it own brutal, fast-paced spin on the XCOM-like genre. This Unreal Engine 4-powered game was built from the ground up for DirectX 12, and we love being able to work a tactics-style game into our benchmarking suite. Better yet, the game comes with a plethora of graphics options for PC snobs. More games should devote such loving care to explaining what flipping all these visual knobs means.
You can't use the presets to benchmark Gears Tactics, as it intelligently scales to work best on your installed hardware, meaning that "Ultra" on one graphics card can load different settings than "Ultra" on a weaker card. We manually set all options to their highest possible settings.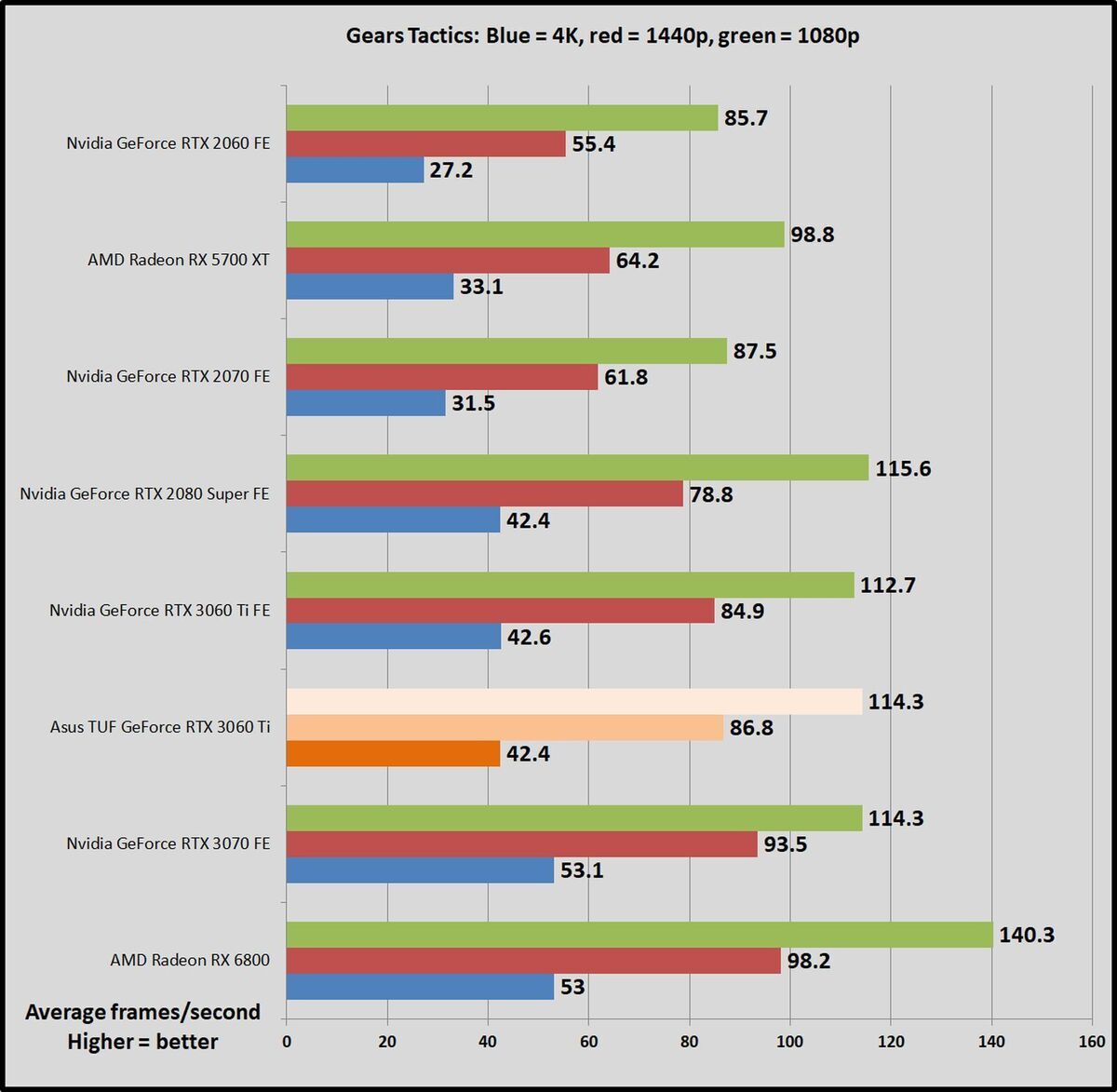 Wolfenstein: Youngblood
Wolfenstein: Youngblood is more fun when you can play cooperatively with a buddy, but it's a fearless experiment—and an absolute technical showcase. Running on the Vulkan API, Youngblood achieves blistering frame rates, and it supports all sorts of cutting-edge technologies like ray tracing, DLSS 2.0, HDR, GPU culling, asynchronous computing, and Nvidia's Content Adaptive Shading. The game includes a built-in benchmark with two different scenes; we tested Lab X.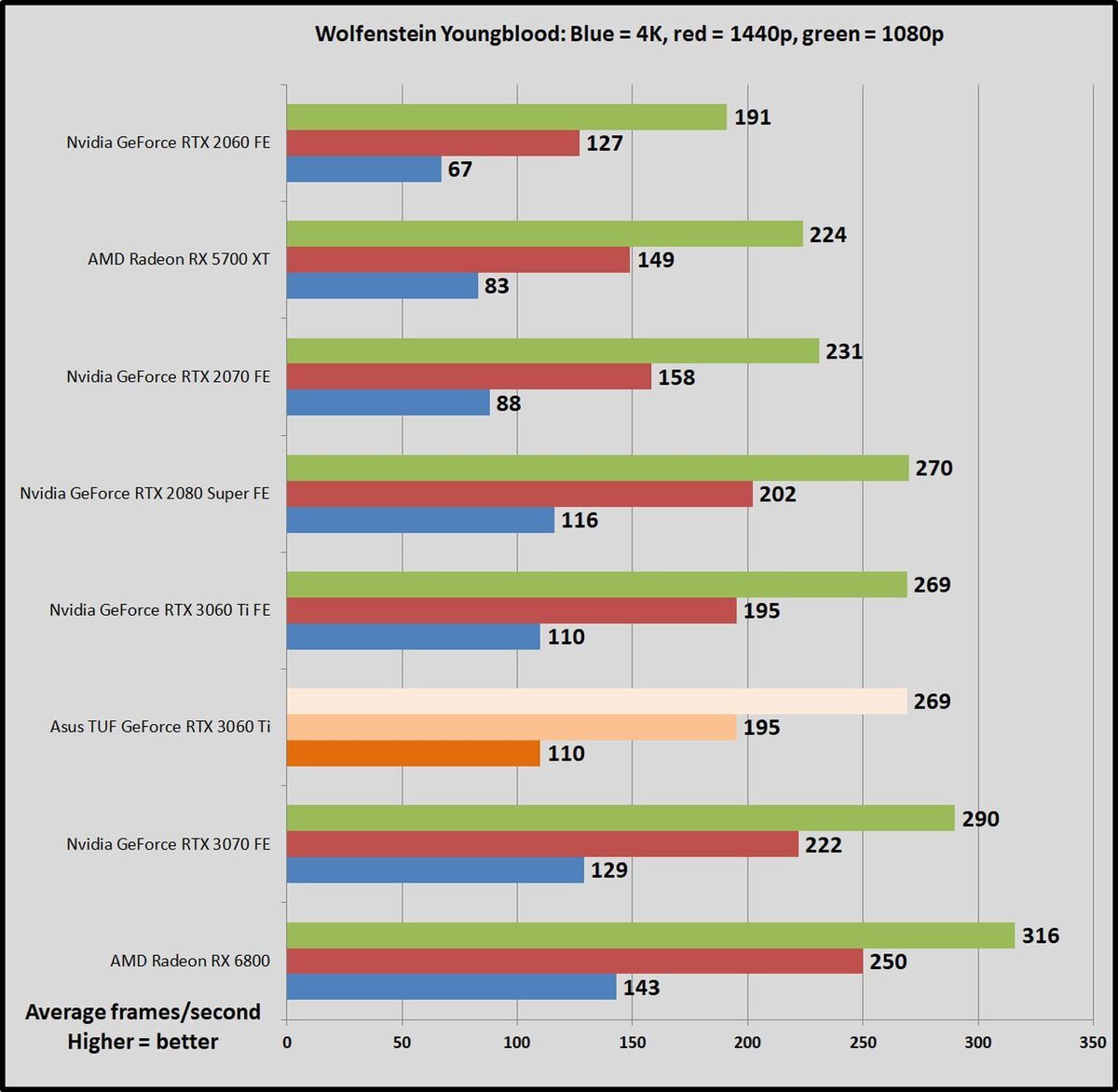 Metro Exodus
One of the best games of 2019, Metro Exodus is one of the best-looking games around, too. The latest version of the 4A Engine provides incredibly luscious, ultra-detailed visuals, with one of the most stunning real-time ray tracing implementations released yet. We test in DirectX 12 mode with ray tracing, Hairworks, and DLSS disabled for our basic benchmarks.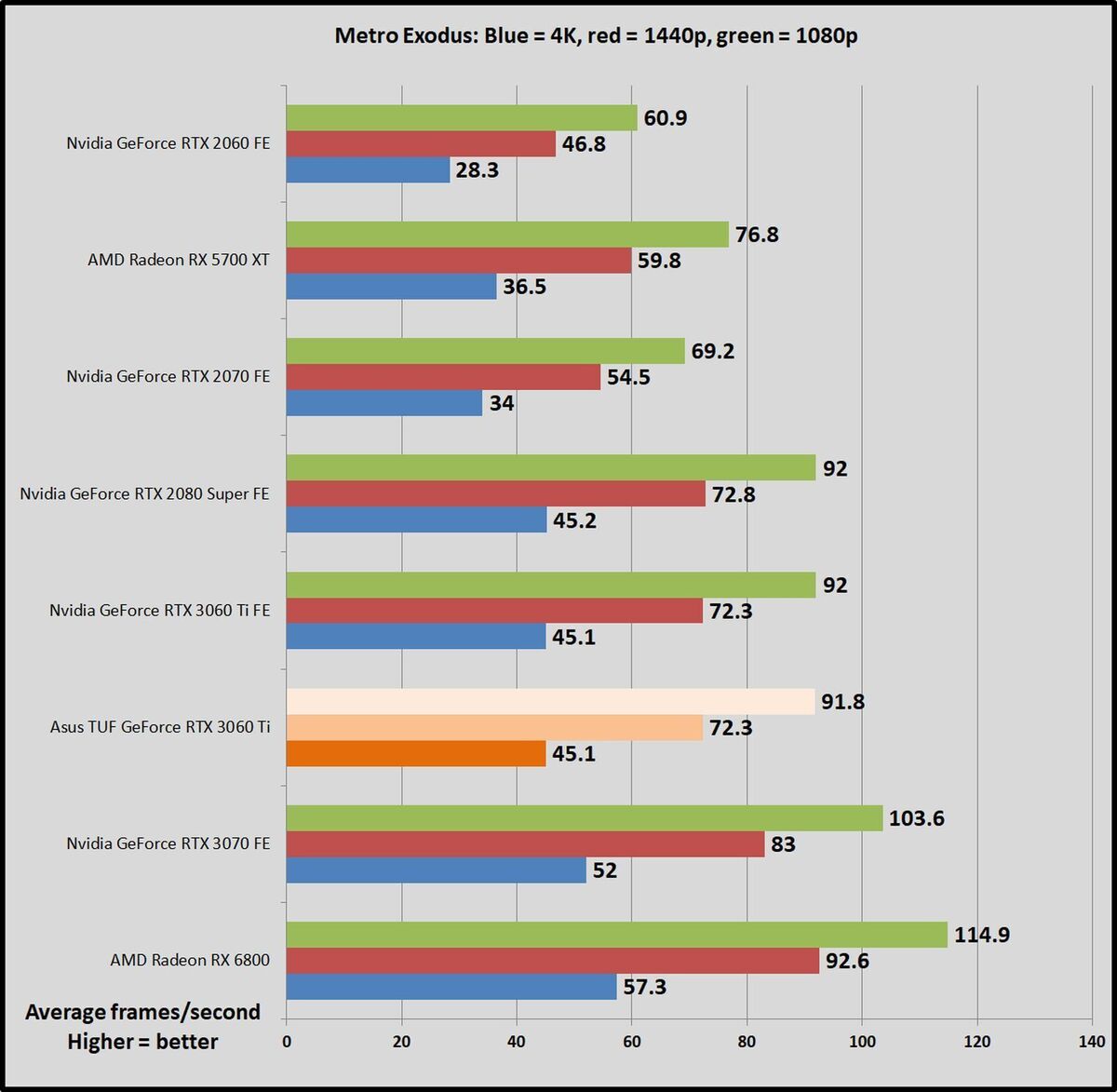 Borderlands 3
Borderlands is back! Gearbox's game defaults to DX12, so we do as well. It gives us a glimpse at the ultra-popular Unreal Engine 4's performance in a traditional shooter.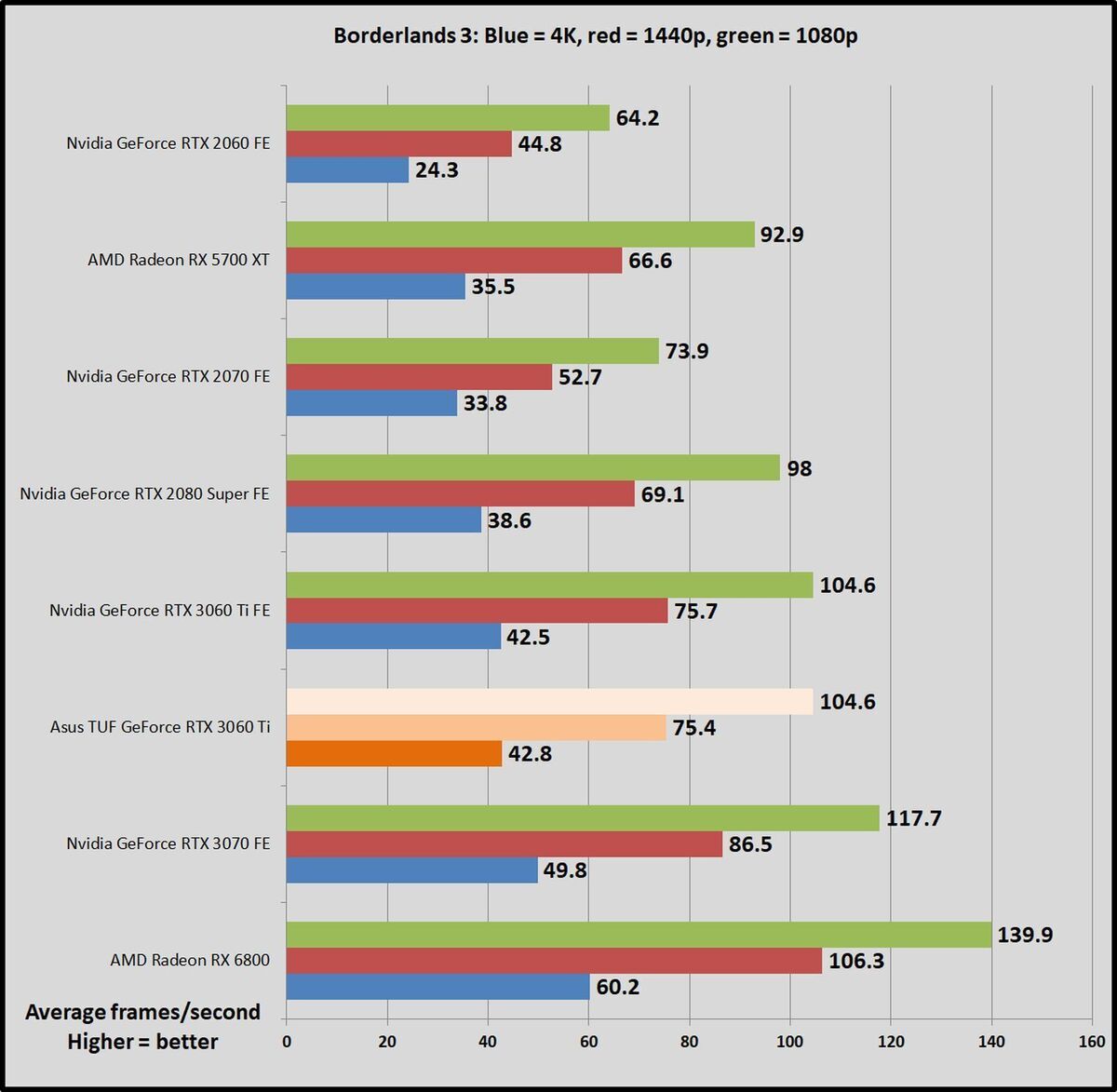 Strange Brigade
Strange Brigade is a cooperative third-person shooter where a team of adventurers blasts through hordes of mythological enemies. It's a technological showcase, built around the next-gen Vulkan and DirectX 12 technologies and infused with features like HDR support and the ability to toggle asynchronous compute on and off. It uses Rebellion's custom Azure engine. We test using the Vulkan renderer, which is faster than DX12.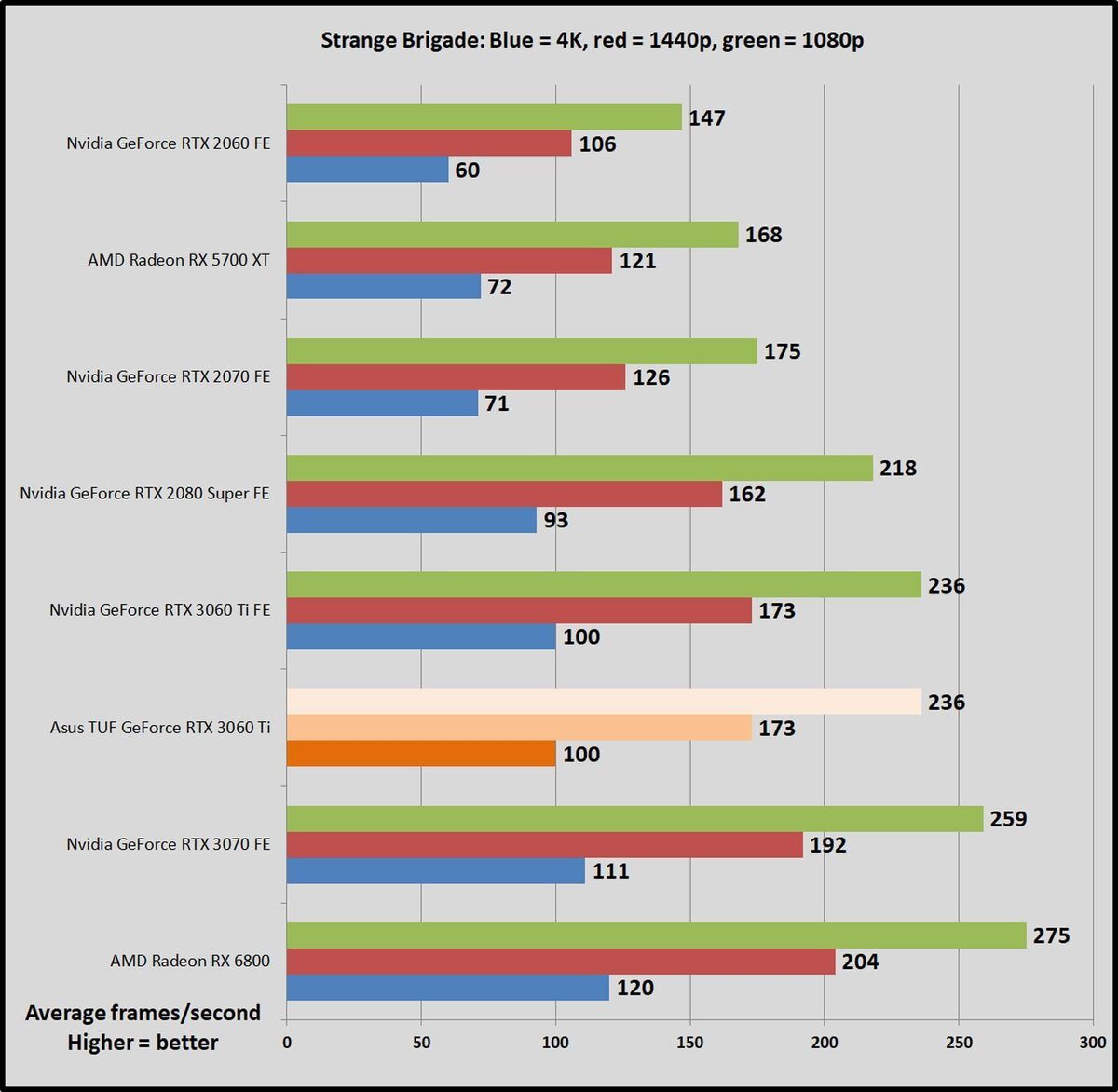 Total War: Troy
The latest game in the popular Total War saga, Troy was given away free for its first 24 hours on the Epic Games Store, moving over 7.5 million copies before it went on proper sale. Total War: Troy is built using a modified version of the Total War: Warhammer 2 engine, and this DX11 title looks stunning for a turn-based strategy game. We test the more intensive battle benchmark.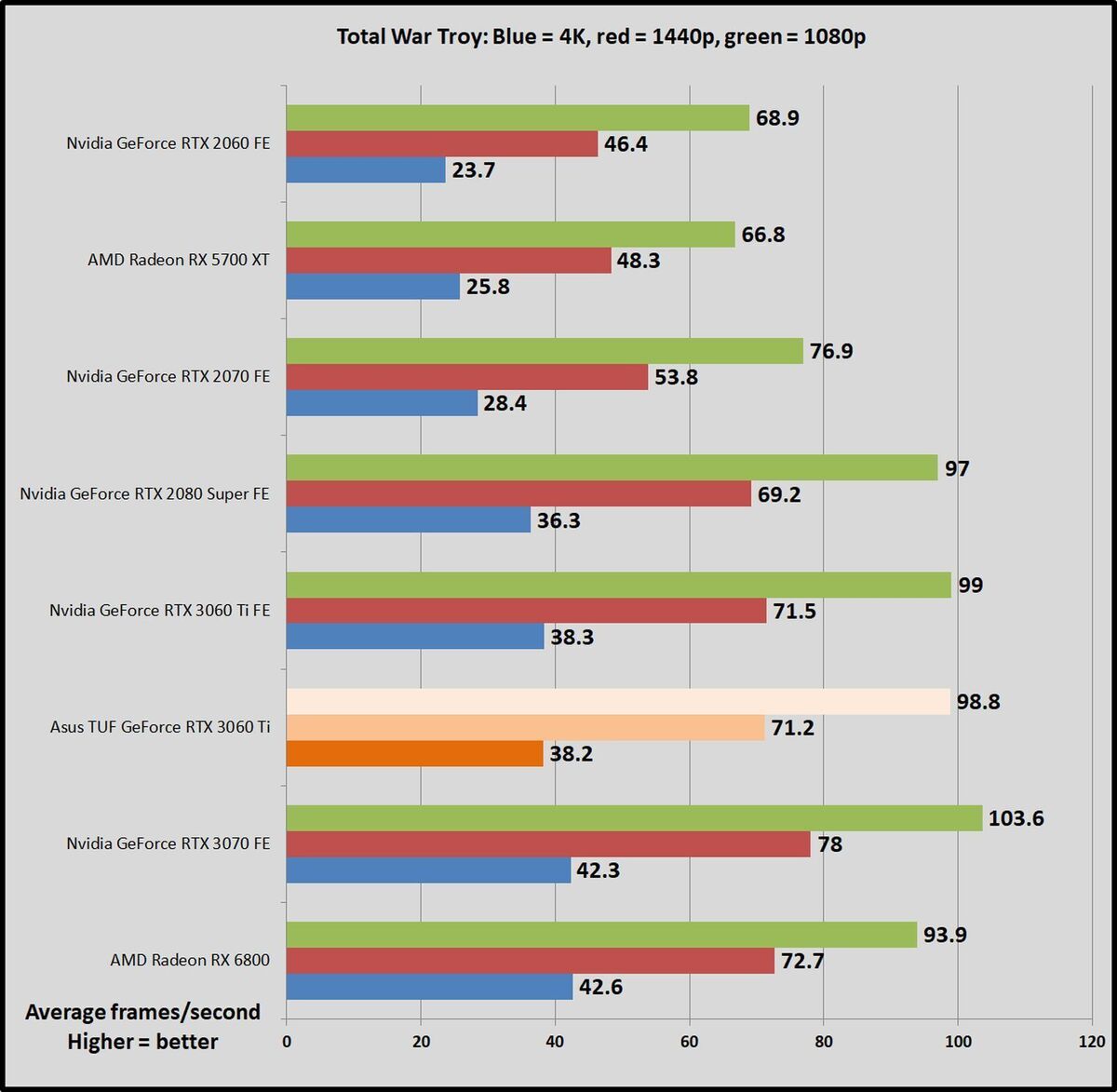 F1 2020
The latest in a long line of successful racing games, F1 2020 is a gem to test, supplying a wide array of both graphical and benchmarking options, making it a much more reliable (and fun) option that the Forza series. It's built on the latest version of Codemasters' buttery-smooth Ego game engine, complete with support for DX12 and Nvidia's DLSS technology. We test two laps on the Australia course, with clear skies on and DLSS off.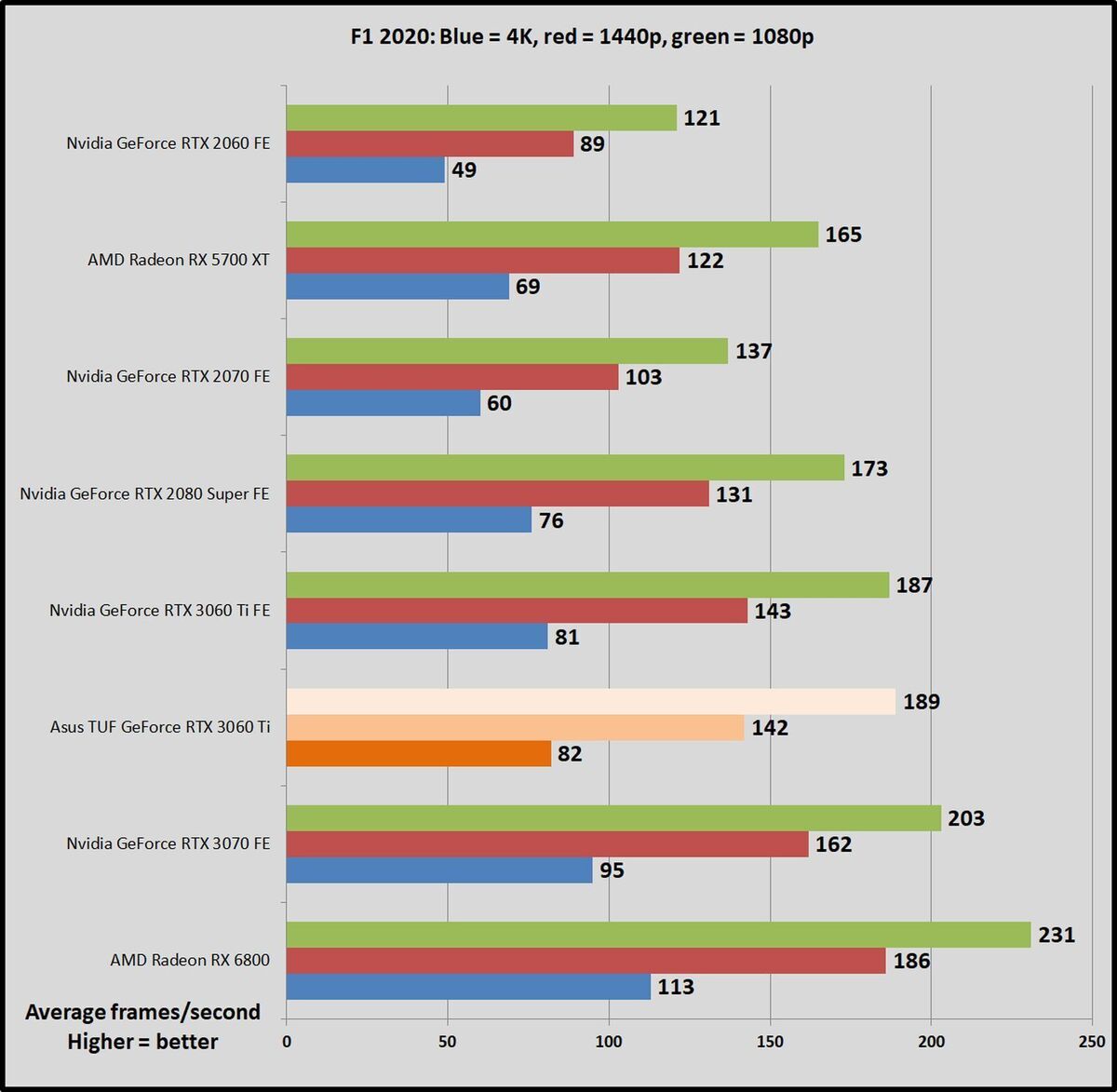 Shadow of the Tomb Raider
Shadow of the Tomb Raider concludes the reboot trilogy, and it's utterly gorgeous. Square Enix optimized this game for DX12, and recommends DX11 only if you're using older hardware or Windows 7, so we test with DX12. Shadow of the Tomb Raider uses an enhanced version of the Foundation engine that also powered Rise of the Tomb Raider and includes optional real-time ray tracing and DLSS features.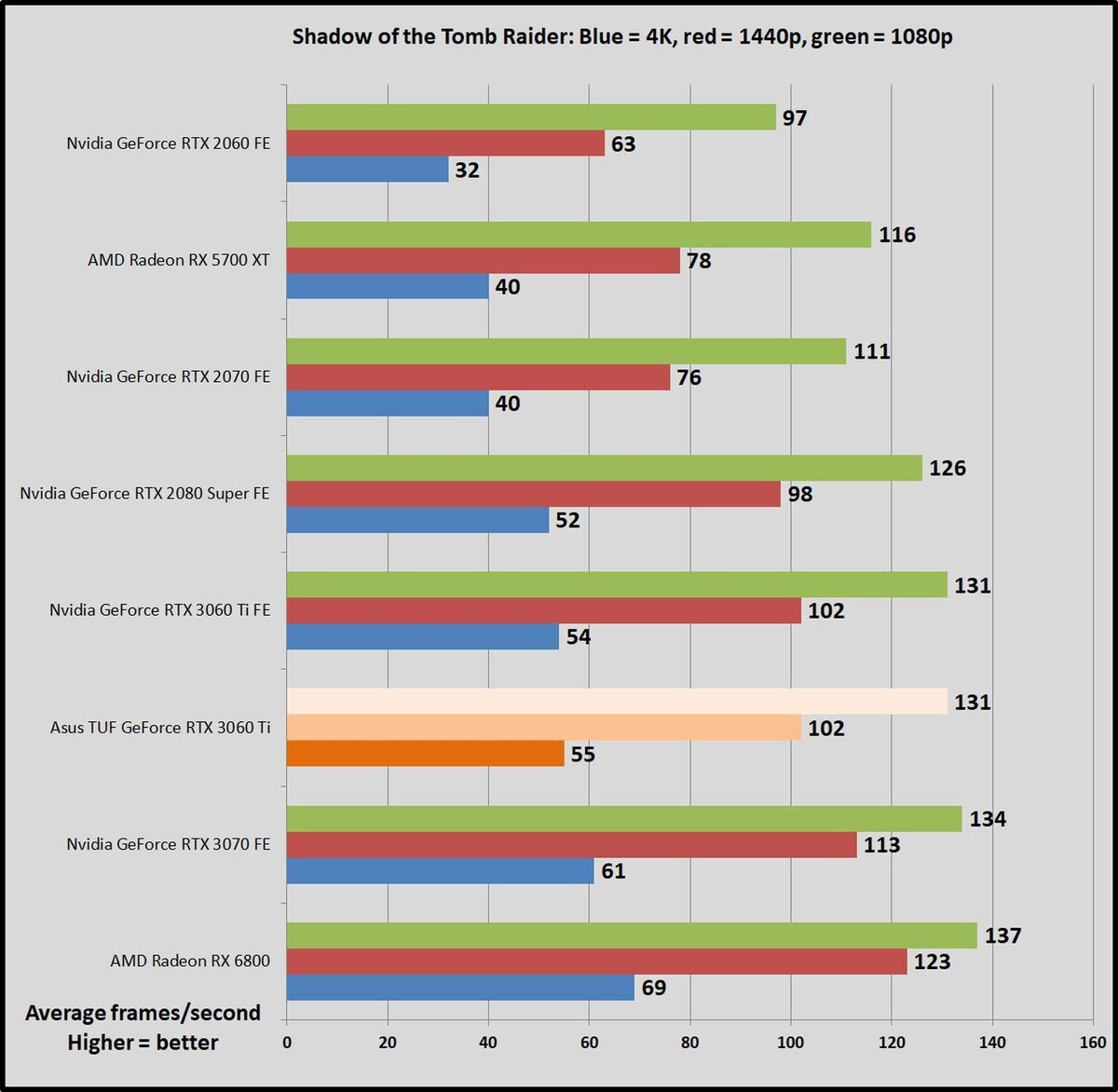 Rainbow Six Siege
Like GTA V, Ubisoft's Rainbow Six Siege still dominates the Steam charts years after its launch, and it'll be getting a visual upgrade for the next-gen consoles. The developers have poured a ton of work into the game's AnvilNext engine over the years, eventually rolling out a Vulkan version of the game that we use to test. By default, the game lowers the render scaling to increase frame rates, but we set it to 100 percent to benchmark native rendering performance on graphics cards. Even still, frame rates soar.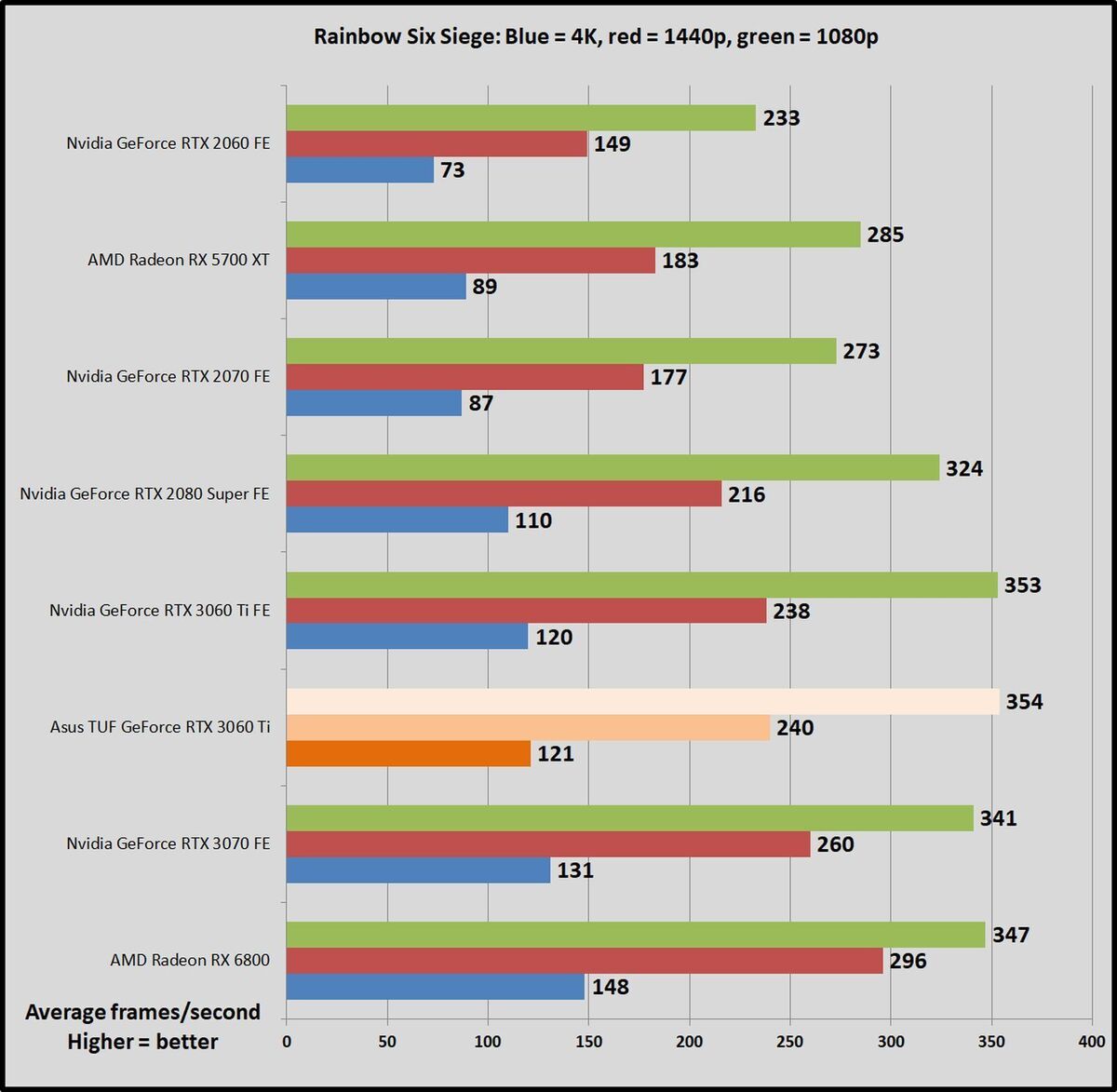 Power draw, thermals, and noise
We test power draw by looping the F1 2020 benchmark at 4K for about 20 minutes after we've benchmarked everything else and noting the highest reading on our Watts Up Pro meter, which measures the power consumption of our entire test system. The initial part of the race, where all competing cars are onscreen simultaneously, tends to be the most demanding portion.
This isn't a worst-case test; we removed the Core i7 8700K's overclock and specifically chose a GPU-bound game running at a GPU-bound resolution to gauge performance when the graphics card is sweating hard. If you're playing a game that also hammers the CPU, you could see higher overall system power draws. Consider yourself warned.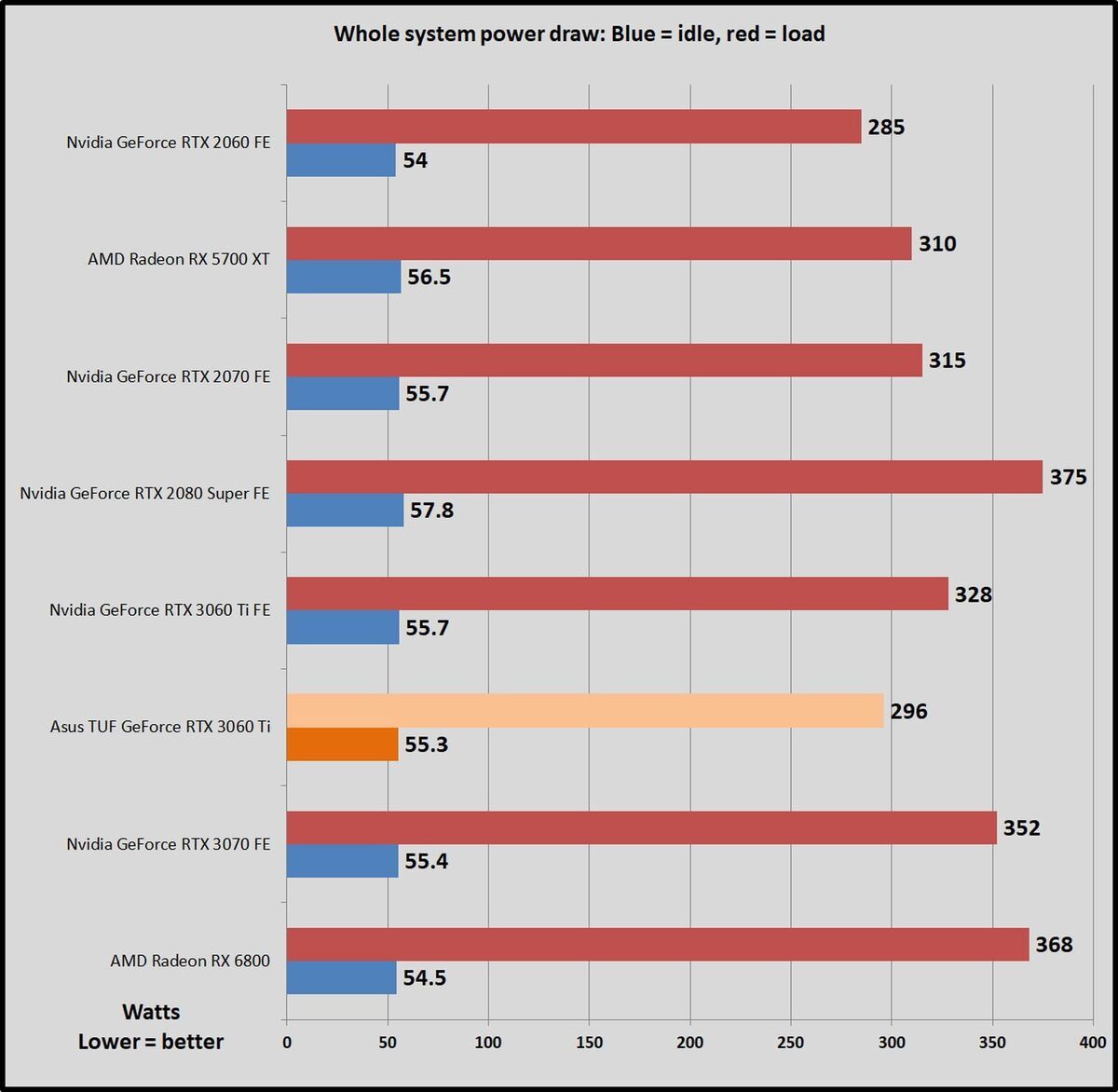 Somehow, Asus manages to draw quite a bit less power with the TUF than Nvidia needs for its RTX 3060 Ti Founders Edition. Rerunning the (long, oh so long) test several times on each card confirmed the results. Bravo, Asus.
We test thermals by leaving GPU-Z open during the F1 2019 power draw test, noting the highest maximum temperature at the end.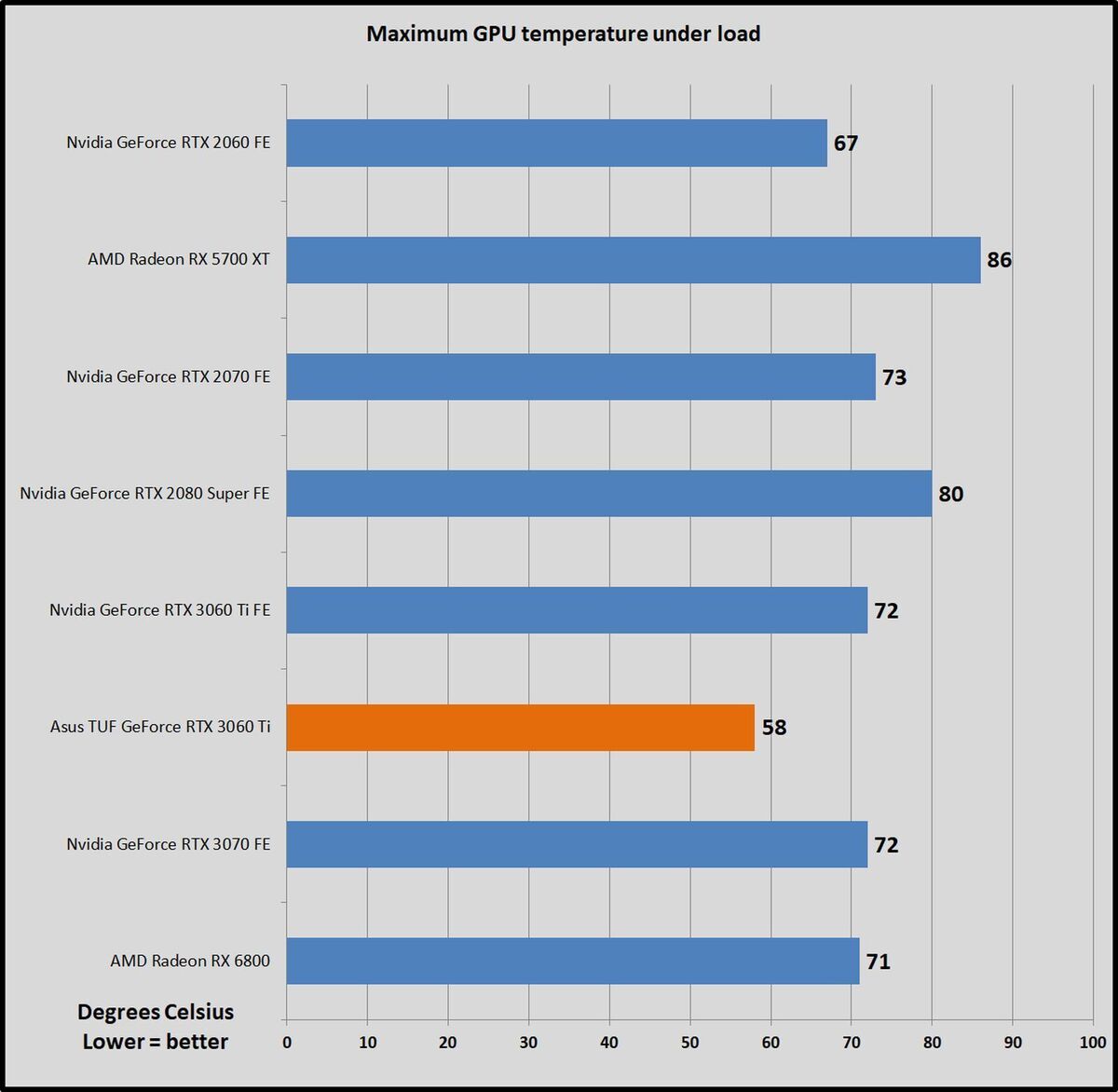 Again: Bravo, Asus.
Nvidia's Founders Edition delivers fine thermal and acoustic performance, but the bulky Asus TUF RTX 3060 Ti cooler takes it to the next level. It delivers downright frigid temperatures and better yet, it remains utterly silent while doing so. Seriously: I couldn't hear this card over my system's CPU cooler and case fans in any scenario. That's not unusual for massive, fully kitted-out triple-slot versions of enthusiast-class GPUs, but it's not typical in more midrange graphics cards like this.
And that's with the default Performance BIOS enabled. I can't envision any reason to flip over to the Quiet BIOS, which Asus claims is four times quieter, because this one is utterly silent. The dual-BIOS options and exceptional TUF cooler should prove welcome in any overclocking endeavors, however.
Should you buy the Asus TUF RTX 3060 Ti?
The $460 Asus TUF RTX 3060 Ti OC should definitely be on your shortlist. It puts an exceptional spin on an exceptional GPU, earning our Editors' Choice award for the results.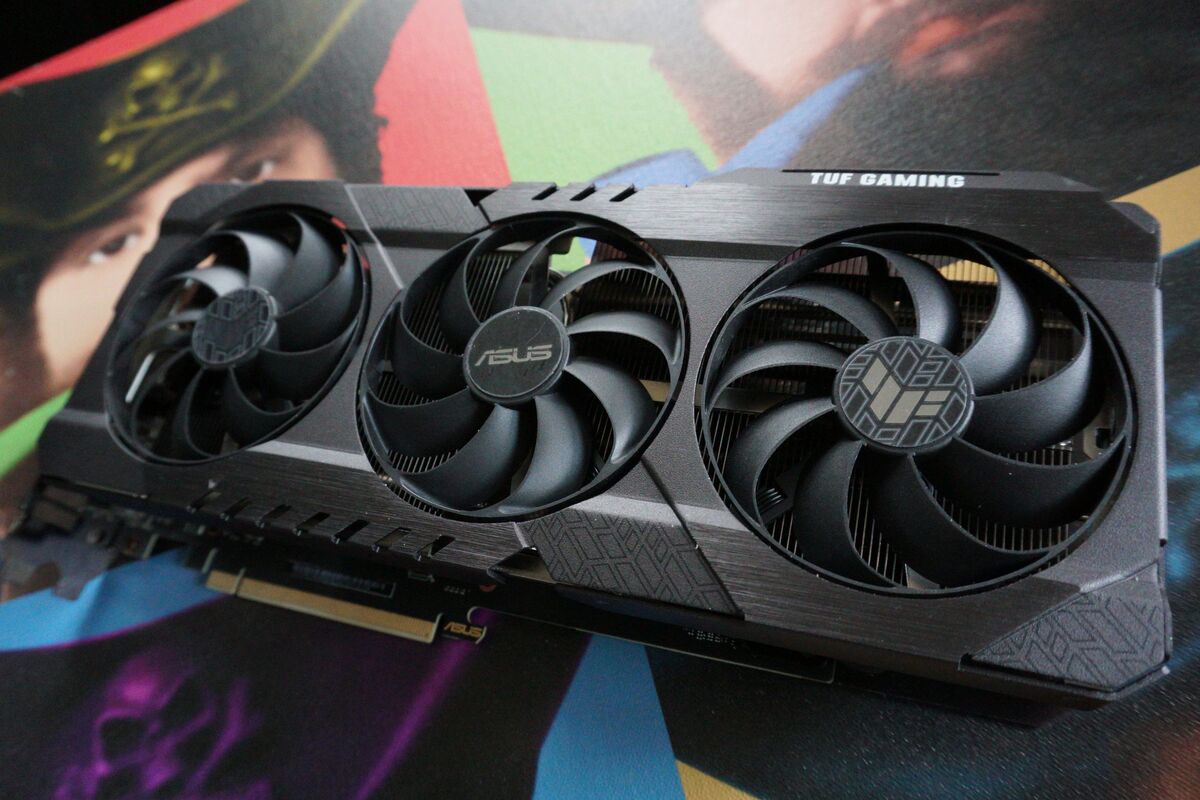 The GeForce RTX 3060 Ti is an exceptional no-compromises 1440p graphics card, as we covered extensively in our Nvidia RTX 3060 Ti Founders Edition review. It exceeds 60 frames per second in all games tested at that resolution—often by a wide margin—even with all visual bells and whistles enabled. Getting your games to run at 90 fps shouldn't be an issue in most games. Nvidia's second-gen ray tracing implementation is much faster than AMD's debut Radeon attempt, especially when paired with the company's fantastic DLSS 2.0 technology.
Mentioned in this article
GeForce RTX 3060 Ti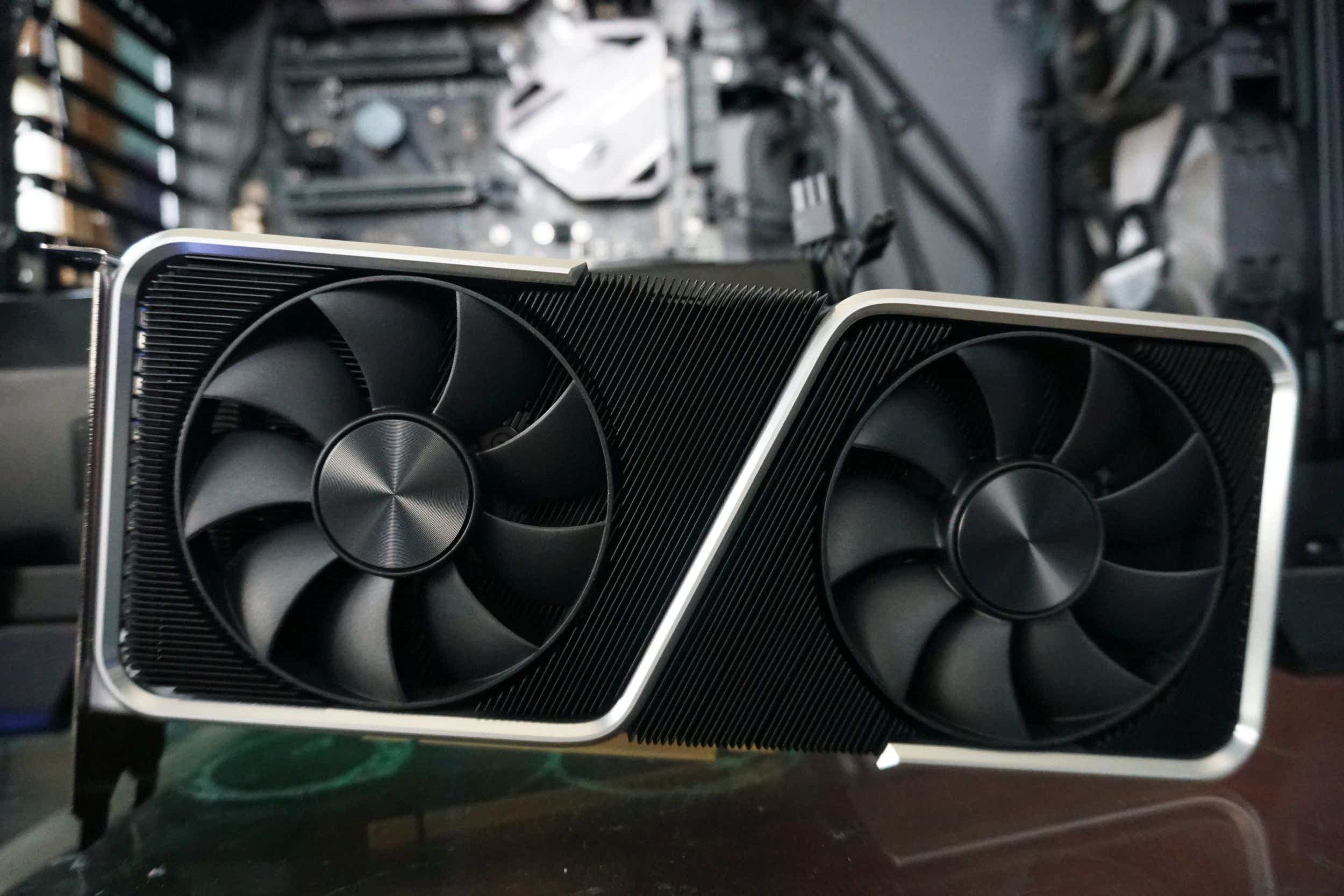 Price When Reviewed:
$400
The RTX 3060 Ti also delivers fast 1080p gameplay if you have a blazing-fast 120Hz-plus monitor. You can use it for a solid 4K gaming experience as well, though the 8GB memory capacity will probably hold the graphics card back at 4K in future titles. You'd be better off with a GeForce RTX 3080 or Radeon RX 6800-series graphics card if you're buying for long-term 4K gaming, though they're significantly more expensive. The RTX 3060 Ti also holds its own during 3440×1440 ultrawide gaming.
Asus builds on that solid foundation with a fantastic custom cooler. While the $400 Nvidia Founders Edition delivers relatively cool temperatures and unobtrusive, but definitely noticeable fan noise, the Asus TUF RTX 3060 Ti stayed a frosty 58 degrees Celsius even under intense gaming loads—a whopping 14 degrees chillier than Nvidia's FE card. Better yet, the Asus TUF remains inaudible even with its default high-performance BIOS. You wouldn't know it was there if it weren't pumping out gaming frames so fast.
That incredible cooling performance, paired with features like the aforementioned dual-BIOS switch and RGB lighting, make the TUF's $60 premium worthwhile in our opinion. You'll definitely want this card's rare dual HDMI 2.1 outputs if you've got a VR headset as part of your gaming arsenal. It's very power-efficient, too—even more so than Nvidia's stock-clocked Founders Edition.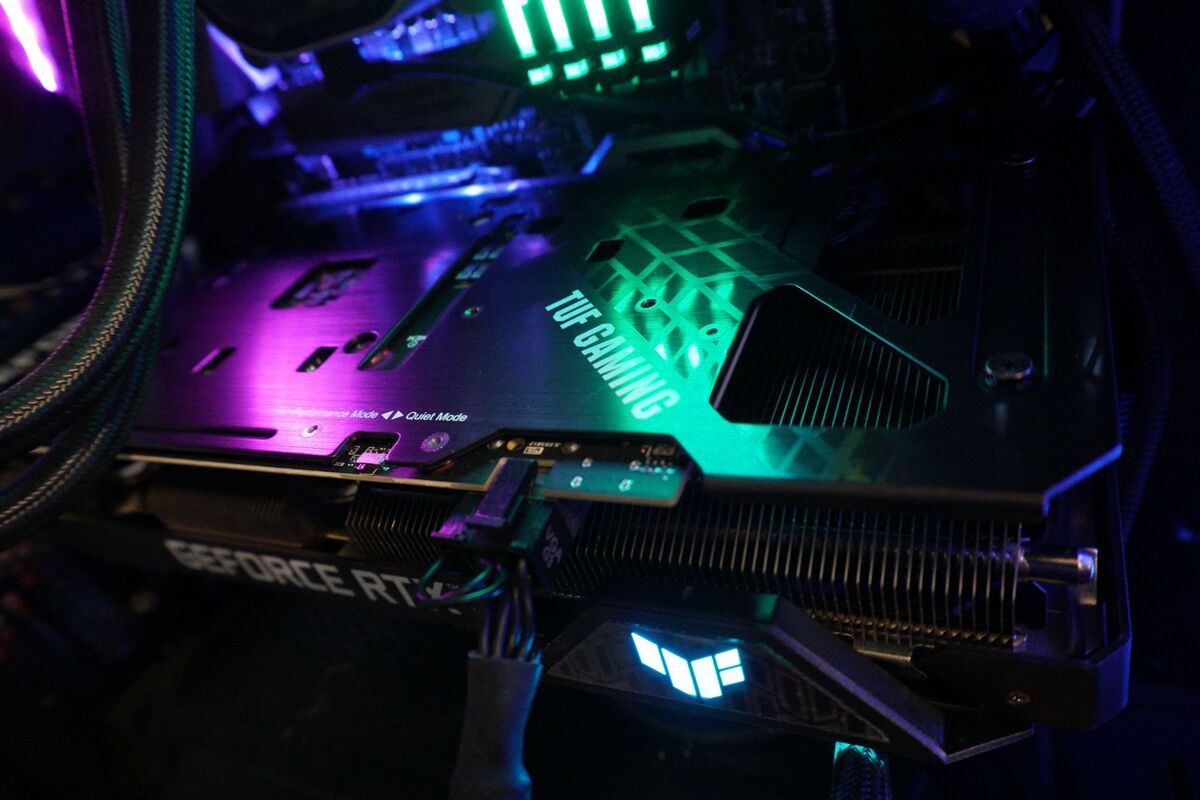 It's not quite perfect, though. There's no getting around the massive physical bulk of the Asus TUF. It's necessary to achieve those extraordinary cooling and noise results, that sheer size means the card may not fit in smaller cases.
More notably, the Asus TUF RTX 3060 Ti's decent factory overclock somewhat bizarrely earns it no performance uplift over the reference-spec'd Nvidia Founders Edition. Even the heftiest factory overclocks provide very little tangible performance benefit these days, to be fair, as Nvidia and AMD push all graphics cards as far as they can go using boost algorithms that adapt to power and thermal constraints. The most hot-clocked, heavily customized cards might eke out another 3 or 5 percent over reference GPUs.
Given that, options like the TUF might be even more enticing. You can always overclock your GPU, but the TUF's arctic temperatures and silent running deliver a sublime user experience you can't easily get from many graphics cards. But all that said, we'd want to see some sort of performance uplift if we're paying $60 more for a custom card.
Bottom line? The Nvidia RTX 3060 Ti Founders Edition delivers identical performance to the TUF with good-enough cooling and noise levels for $400. If you always game with your headset on or aren't bothered by light fan noise, it's a great option. But the experiential benefits of a cool, silent graphics card can't be understated. If you never want to hear your graphics card and prefer that your GPU stay as cold as possible, or if you have a VR headset, the Asus TUF RTX 3060 Ti is highly recommended. I'd buy it.
Best Prices Today: TUF GeForce RTX 3060 Ti