At a Glance
Expert's Rating
Pros
Excellent 4K and 1440p gaming
Trixx Boost can make performance much faster
Cool, quiet custom cooler with attractive futuristic design
3 BIOS switches, option to switch BIOS profiles in software
16GB memory capacity
Gets faster when paired with Ryzen 5000
Extra DisplayPort vs. reference design
Cons
Very steep premium over reference MSRP
Similar out of box experience to much cheaper reference design
Need to switch BIOSes and turn on Trixx Boost for best experience
Ray tracing is faster on GeForce GPUs, can't play 4K ray traced
Our Verdict
The Sapphire Nitro+ Radeon RX 6800 XT is attractive, cool, quiet, and fast, with an excellent Trixx Boost feature that supercharges performance even further. Its only real drawbacks are AMD's weak ray tracing capabilities and Sapphire's massive price premium.
Best Prices Today: Nitro+ Radeon RX 6800 XT
The Radeon RX 6800 XT is finally here, and it's fantastic, duking it out with Nvidia's ferocious GeForce RTX 3080 for $50 less—at least if you buy the reference model. AMD really stepped up its game with this reference design, outfitting the RX 6800 XT with a premium all-metal chassis and a trio of axial fans that keeps it both cool and quiet.
That newfound standard of excellence makes it even more difficult for custom graphics cards to stand out, however. The $770 Radeon RX 6800 XT version of the fan-favorite Sapphire Nitro+ we're reviewing today manages to do so, though it takes some minor tweaking and doesn't come cheap.
Unlike the fantastic, yet massive XFX Merc 319, Sapphire purposefully does not use heavy metal for this graphics card's exterior. The Nitro+ remains as sleek and futuristic looking as ever but uses a plastic shroud to reduce the weight of the card, easing the strain on your motherboard's fragile PCIe slot. Sapphire follows through on the software side too, with support for the tremendous, performance-enhancing Trixx Boost feature that earned an innovation award from our Full Nerd podcast in 2019. It can give the GPU enough of an uplift to topple even the $1,500 GeForce RTX 3090 in some scenarios.
This is a superb graphics card, full stop. Is it enough to justify the Sapphire Nitro+'s sizeable $120 price premium over the reference Radeon RX 6800 XT? Let's dig in.
Sapphire Nitro+ Radeon RX 6800 XT specs, features, and design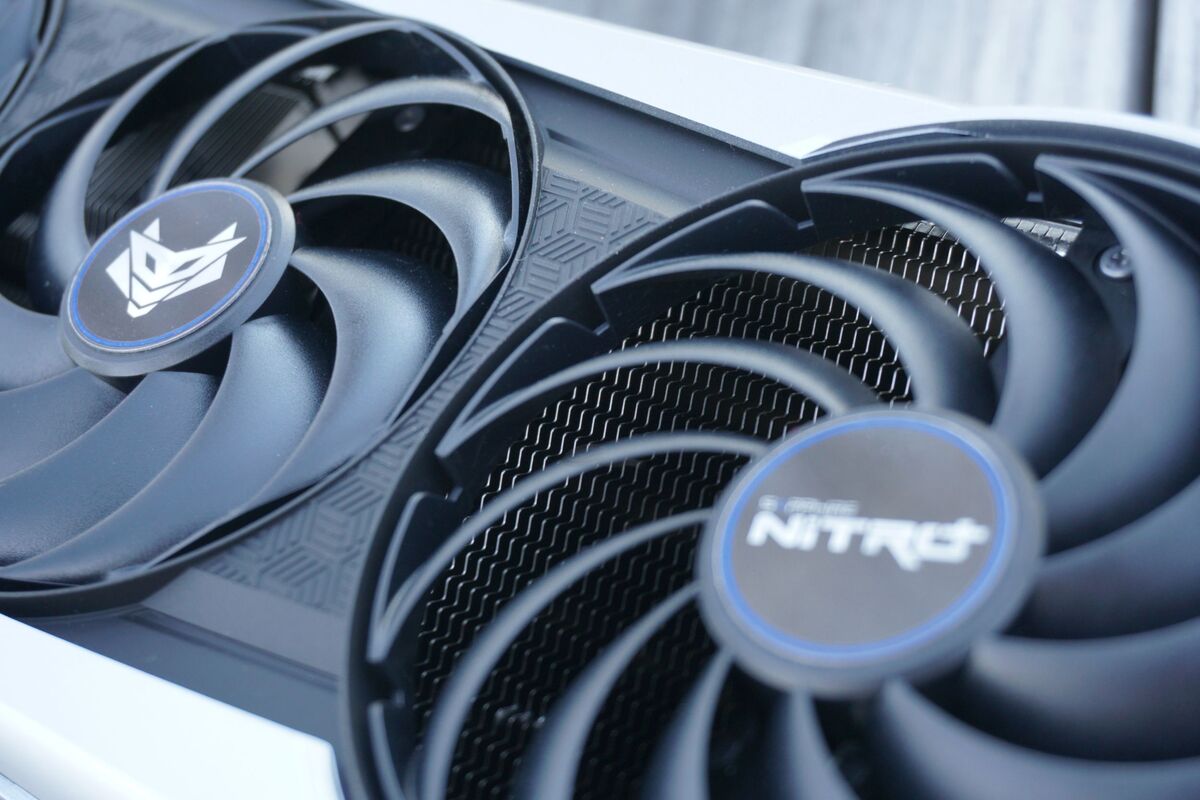 The Nitro+ is powered by AMD's cutting-edge graphics architecture, RDNA 2, which we covered extensively in our RDNA 2 deep-dive. RDNA 2 includes dedicated hardware for real-time ray tracing. Also, its innovative on-die "Infinity Cache" enhances memory performance beyond what the 16GB of onboard GDDR6 memory can normally do, leading to increased frame rates at all resolutions.
As for the Radeon RX 6800 XT itself, here's an AMD-supplied look at its stock specifications, compared with the step-down $580 Radeon RX 6800 and last generation's RDNA 1 "flagship," the midrange $400 Radeon RX 5700 XT: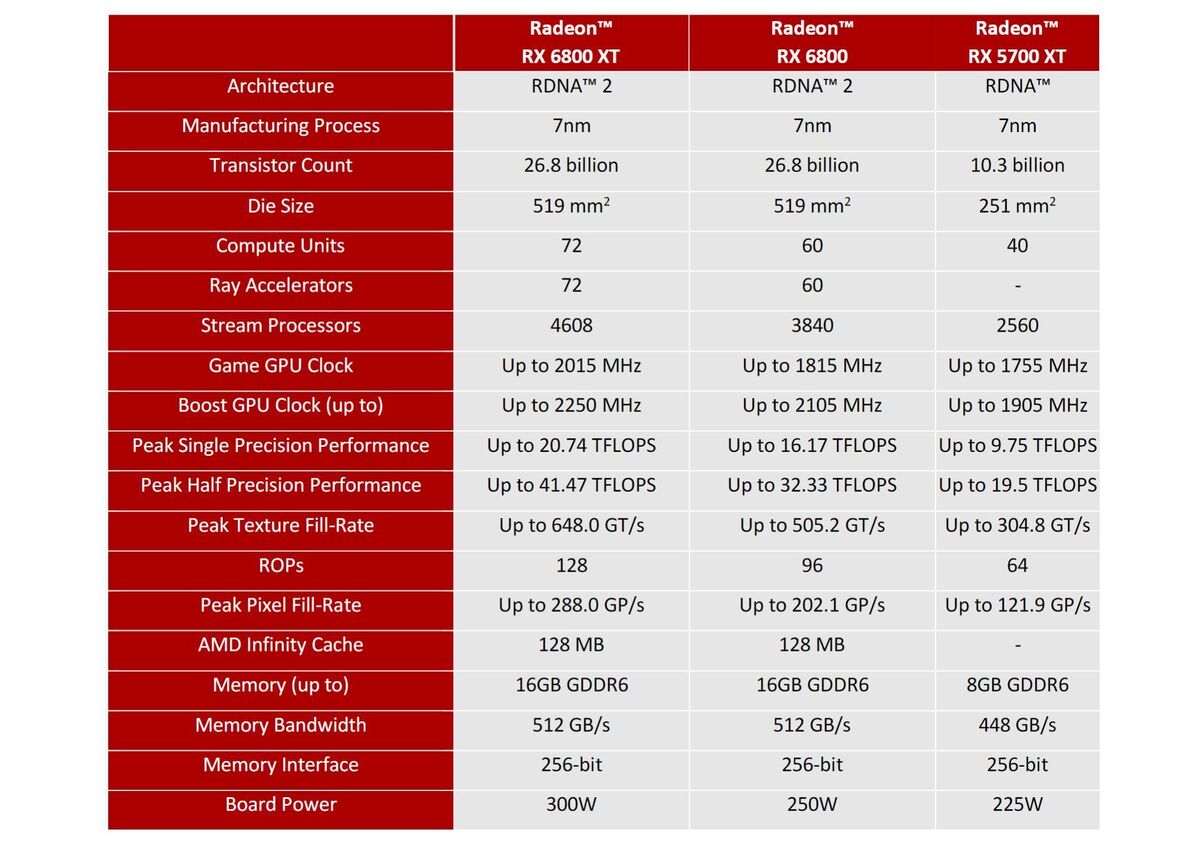 Sapphire juiced the clocks on the Nitro+. The default Performance BIOS is rated for a 2,110MHz average Game Clock speed (+95MHz over reference) and a 2,360MHz maximum Boost speed (+110MHz over reference). That's slightly ahead of the XFX Merc 319's default "Balanced" BIOS, though identical to the XFX card's "Rage" BIOS. Actual in-game clock speeds tend to go much higher for all of these cards. AMD's intelligent boost algorithms adjust based on your graphics card's available power and thermal limits, so they all offer essentially the same real-world performance.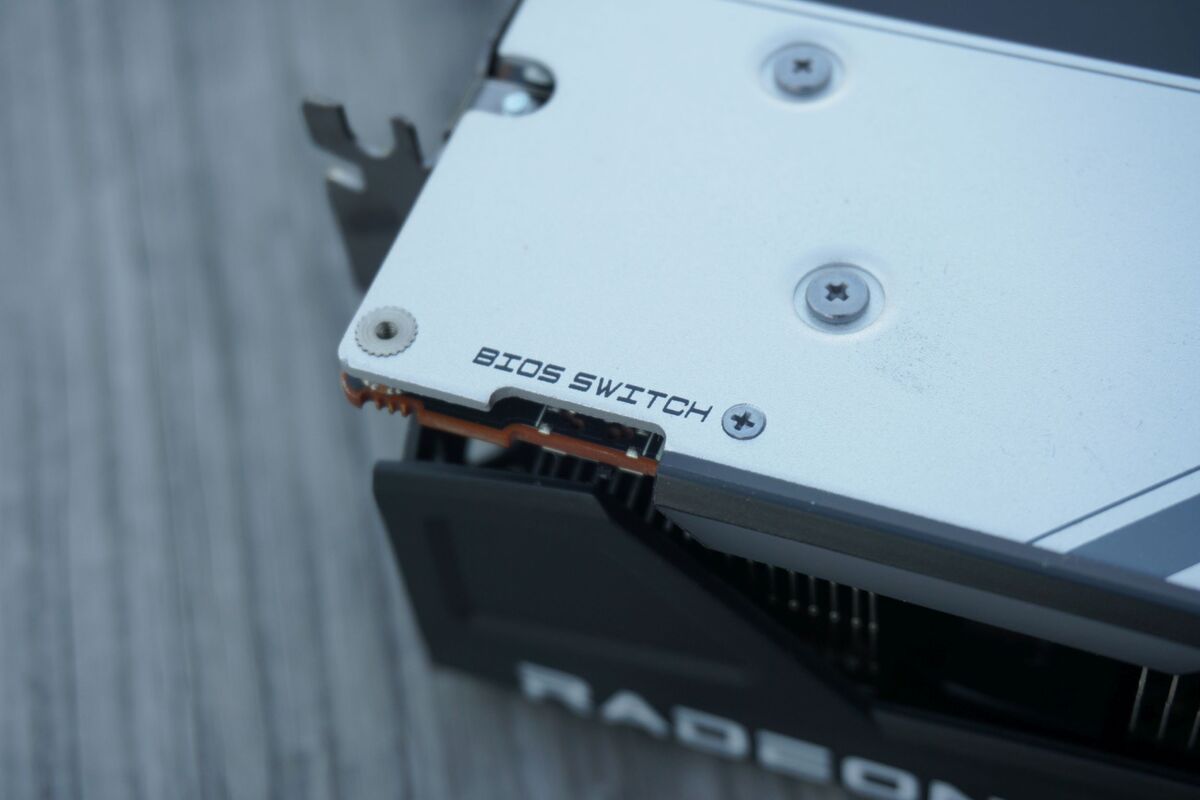 Sapphire also offers a secondary Quiet BIOS that slightly reduces clock and fan speeds for improved acoustic performance. You may prefer it, as the default Performance BIOS is slightly audible. It's what I'd use. The Nitro+ also includes a rare third BIOS switch that lets you choose between the Performance and Quiet BIOSes using Sapphire's Trixx software, eliminating the need to open your case to physically flip a hardware switch to change between the two. It's a thoughtful, handy touch. This third position is actually the configuration the card ships in, set for the Performance BIOS.
More importantly, the new card also supports the fantastic Trixx Boost feature found in Sapphire's Trixx utility, which also manages the card's RGB lighting effects. Trixx Boost debuted with last generation's RDNA 1-based Nitro+ RX 5700 XT, and we instantly fell in love. The feature leverages AMD's excellent Radeon Image Sharpening ability by creating custom resolutions slightly below your monitor's actual capabilities, then using RIS to clean up the image when it's upscaled to fit your display. It works surprisingly well in both performance uplift and visual fidelity. We'll cover Trixx Boost in its own section after our standard benchmarks.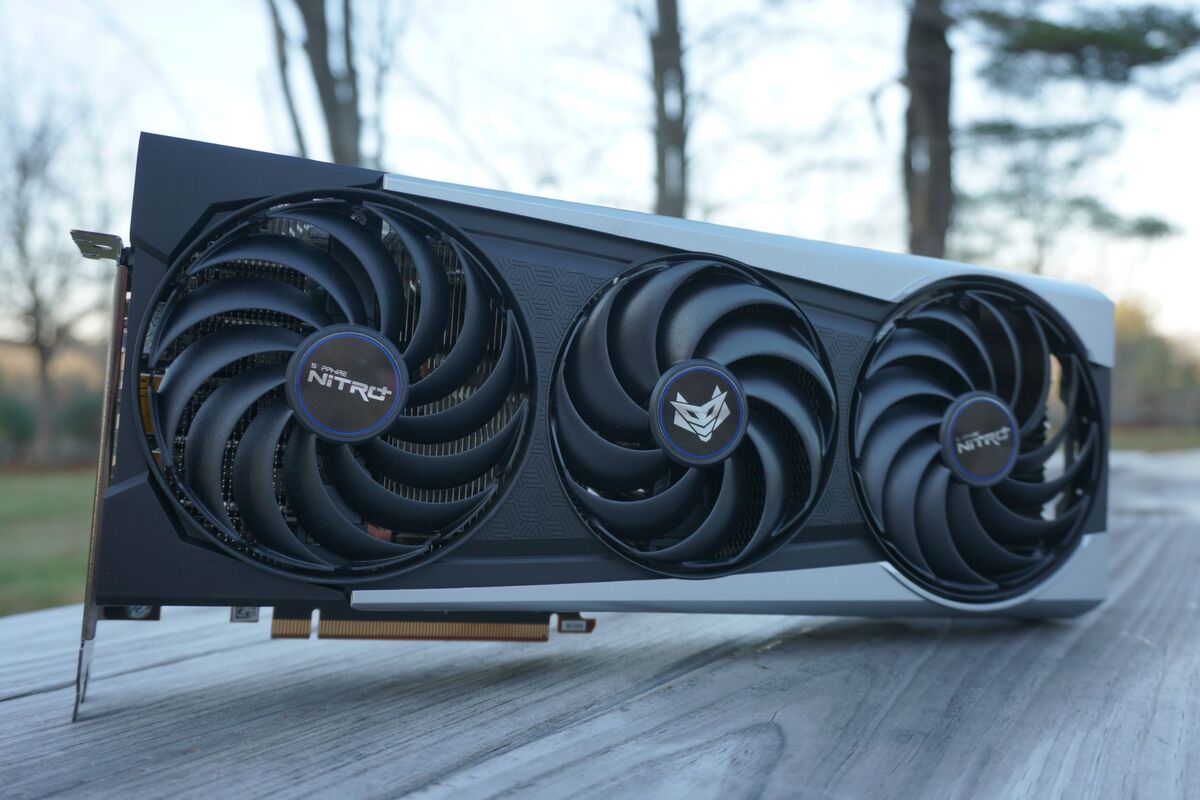 The Nitro+ packs in the sort of hefty cooling performance that enthusiasts expect out of the brand. The cyberpunk-esque black-and-silver design looks similar to past iterations, but Sapphire changed quite a bit under the shroud—and the shroud itself. AMD and XFX use heavy all-metal designs, as have past Nitro+ versions. The Nitro+ Radeon RX 6800 XT swaps that out for a plastic shroud to reduce the card's weight, in turn reducing the strain on your motherboard's PCIe slot.
Weight matters. Heavier designs can sometimes struggle with cleanly mounting the cooler to the GPU die. Even if that isn't an issue, bulky metal designs require extra physical considerations, as evidenced by the extra bracketing hardware in the XFX Merc 319, and all the custom GeForce RTX 3080 cards that ship with a supplemental anti-sag bracket in the box.
The Sapphire Nitro+ RX 6800 XT weighs 2 pounds, 11 ounces—half as much as the older Nitro+ Vega 64. That's also considerably less than the AMD reference design's 3-pound, 5-ounce weight, and XFX's rival Merc 319, which tips the scales a hair shy of 4 pounds.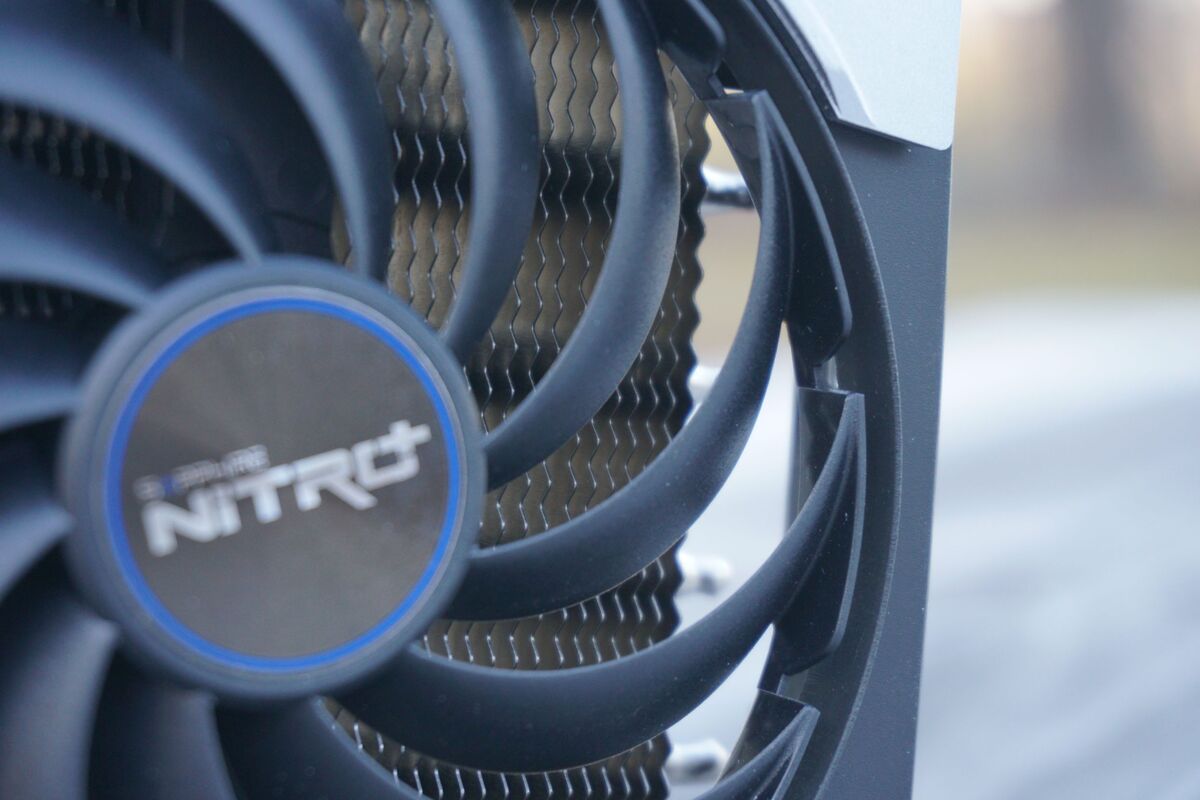 There's plenty of metal underneath all that plastic, though. The Nitro+'s heat sink runs the card's full 12.2-inch length, featuring a new wavy fin design that Sapphire claims helps to cut down on wind noise. The metal over the GPU itself tapers down with a V-shaped notch to "accelerate and centralize" the airflow around the chip, per Sapphire. Sapphire included a standalone metal cooler with its own heatsinks and heatpipe for the memory, voltage regulators, and chokes. Taming temperatures on those components always helps, but it should prove especially welcome during overclocking attempts.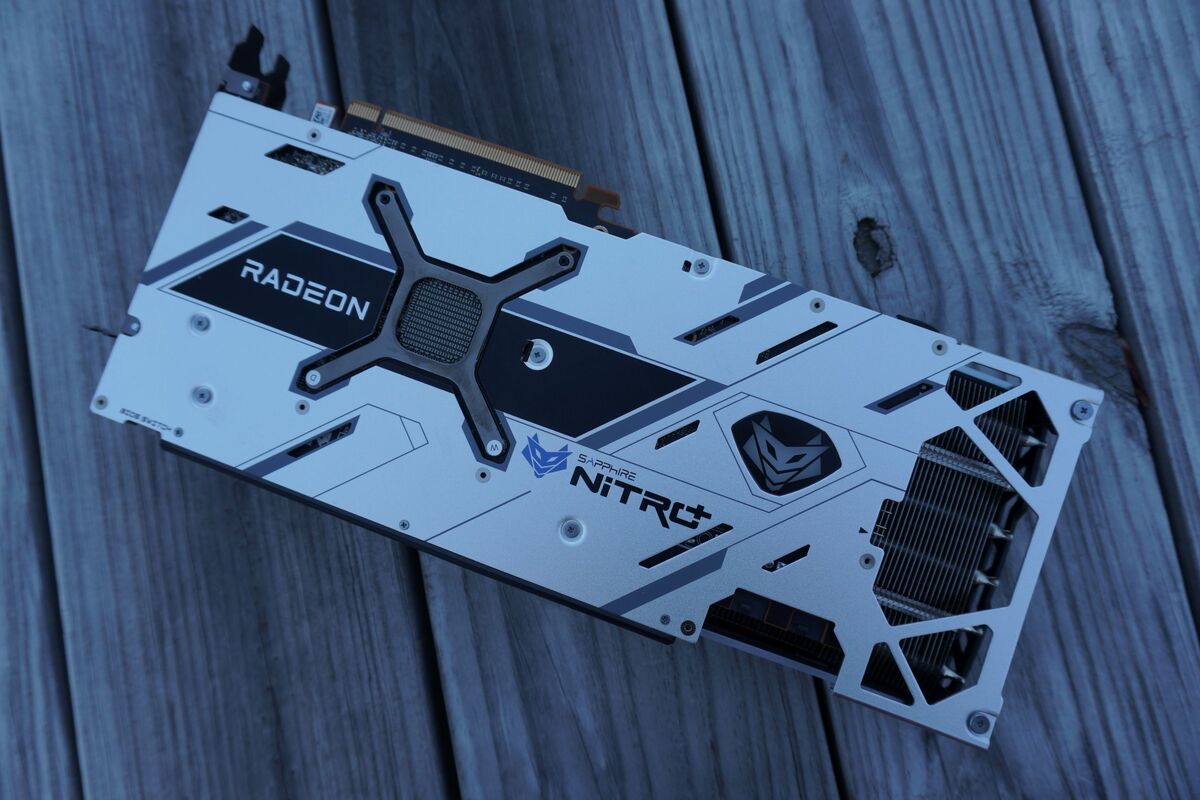 Heat management is helped by the long, futuristic-looking silver backplate, which definitely is not plastic. Customizable RGB lighting illuminates the logo on the backplate, the long light bar on the edge of the backplate, and the Sapphire name on the side of the card, with the light attractively bleeding through the small cutouts spaced across the backplate. The metal covering also includes a large cutout at the end to allow air from the farthest fan to pass completely through the heatsink. Sapphire connected the backplate to the board's PCB via thick thermal pads, allowing the backplate to help with heat dissipation. Speaking of which, Sapphire says it used K6.5 memory pads, which it claims provides 38 percent better thermal conductivity than standard K5 pads.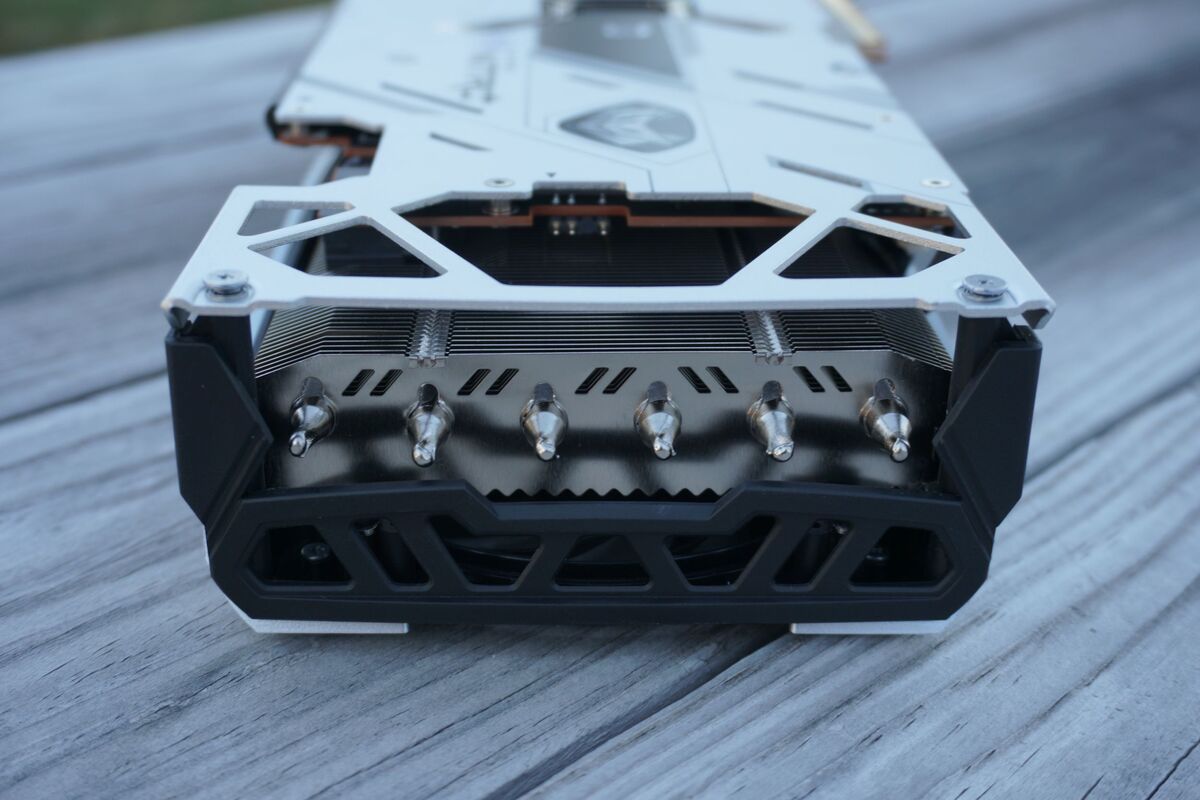 But wait! We're not done yet. All that metal can't keep things cool without air flowing through it, so Sapphire overhauled the Nitro+'s fans as well. The new "hybrid fan" blades merge characteristics from both axial and blower-style fans, improving both airflow and air pressure compared to yesteryear's axial fans while keeping noise levels low. Each fan comes loaded with 12 of the shallow, swooping blades. You can no longer check their health status in Trixx like you could with previous Nitro+ models, however (or at least not yet).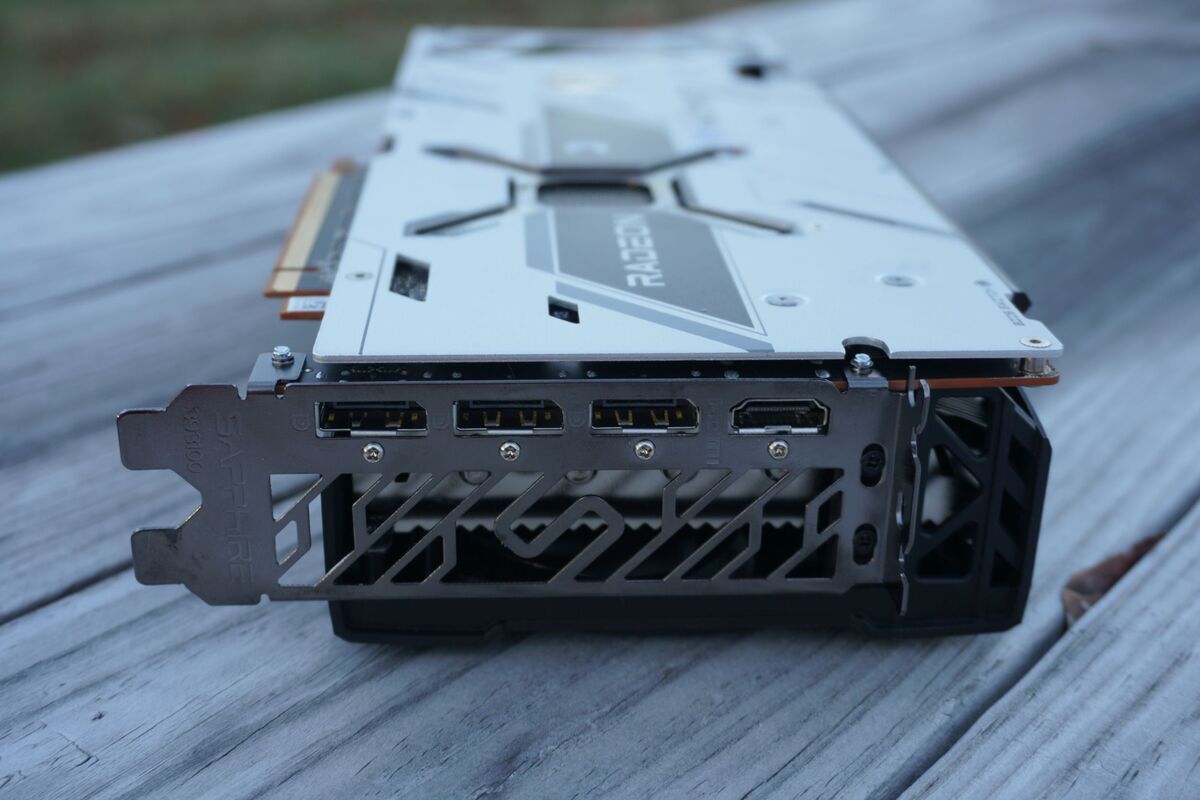 Sapphire shook up the visual outputs, too. While AMD's reference design (and XFX's Merc 319) include a USB-C port, the Nitro+ swaps it out for an extra DisplayPort. That gives the card three of the connections, along with an HDMI 2.1 port capable of powering 4K/144Hz or 8K/60Hz panels over a single cable.
Of course, as a Radeon RX 6000-series card, the Nitro+ supports all of AMD's latest features, including ray tracing, improved performance with Ryzen 5000 processors thanks to Smart Access Memory, FreeSync, Radeon Boost, Radeon Anti-Lag, AMD Link streaming, and more. Check out our original AMD Radeon RX 6800-series review for a deeper look at those.
Now, let's get to the benchmarks.
Next page: Our test system, benchmarks begin
Our test system
Our dedicated graphics card test system is a couple of years old, but it's packed with some of the fastest complementary components available to put any potential performance bottlenecks squarely on the GPU, especially at the higher resolution these graphics cards target. Most of the hardware was provided by the manufacturers, but we purchased the cooler and storage ourselves.
Intel Core i7-8700K processor ($300 on Amazon) overclocked to 5GHz all cores
EVGA CLC 240 closed-loop liquid cooler ($105 on Amazon)
Asus Maximus X Hero motherboard
64GB HyperX Predator RGB DDR4/2933 ($355 on Amazon)
EVGA 1200W SuperNova P2 power supply ($352 on Amazon)
Corsair Crystal 570X RGB case, with front and top panels removed and an extra rear fan installed for improved airflow
2x 500GB Samsung 860 EVO SSDs ($70 each on Amazon)
We're comparing the $770 Sapphire Nitro+ Radeon RX 6800 XT with its default Performance BIOS versus the $800 XFX RX 6800 XT Merc 319, as well as AMD's reference versions of the $579 Radeon RX 6800 and $649 Radeon RX 6800 XT. We're also pitting the card against the Founders Edition versions of its direct Nvidia rivals, the $500 GeForce RTX 3070 and $700 GeForce RTX 3080. For performance comparisons against last-gen graphics cards, check out our original AMD Radeon RX 6800-series review.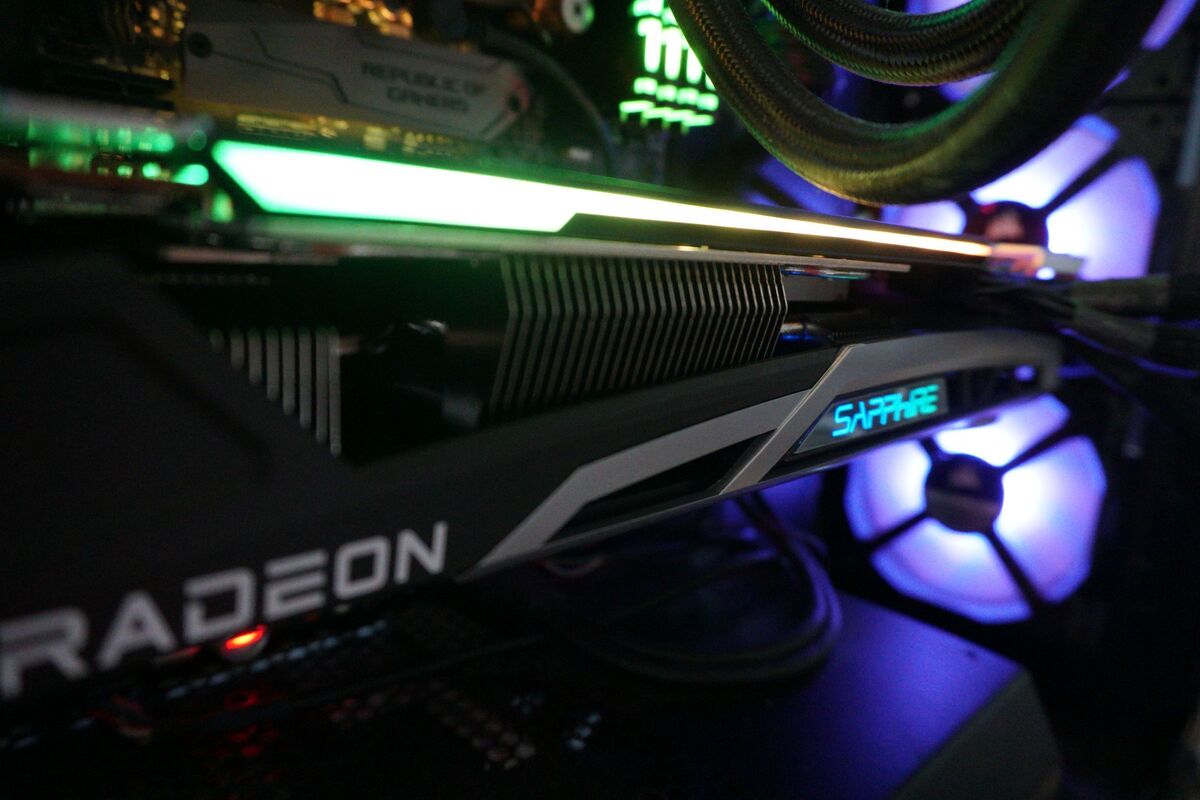 We test a variety of games spanning various engines, genres, vendor sponsorships (Nvidia, AMD, and Intel), and graphics APIs (DirectX 11, DX12, and Vulkan). Each game is tested using its in-game benchmark at the highest possible graphics presets unless otherwise noted, with VSync, frame rate caps, real-time ray tracing or DLSS effects, and FreeSync/G-Sync disabled, along with any other vendor-specific technologies like FidelityFX tools or Nvidia Reflex. We've also enabled temporal anti-aliasing (TAA) to push these cards to their limits. We run each benchmark at least three times and list the average result for each test.
Because Sapphire's card offers the same essential performance as AMD's reference card, we're going to preset our traditional benchmarks without additional commentary and skip a deeper ray tracing analysis. (Spoiler: It's good for ray tracing at 1440p and 1080p resolution, but the lack of an Nvidia DLSS rival leaves it far behind GeForce's ray tracing performance.) Again, check out our original AMD Radeon RX 6800-series review for more extensive performance analysis in each game.
Gaming performance benchmarks
Watch Dogs: Legion
Watch Dogs: Legion is one of the first games to debut on next-gen consoles. Ubisoft upgraded its Disrupt engine to include cutting-edge features like real-time ray tracing and Nvidia's DLSS. We disable those effects for this testing, but Legion remains a strenuous game even on high-end hardware with its optional high-resolution texture pack installed. No card can maintain a 60-frames-per-second average with Ultra graphics options enabled, and the game allocates more than 8GB of memory even at 1440p. Oof.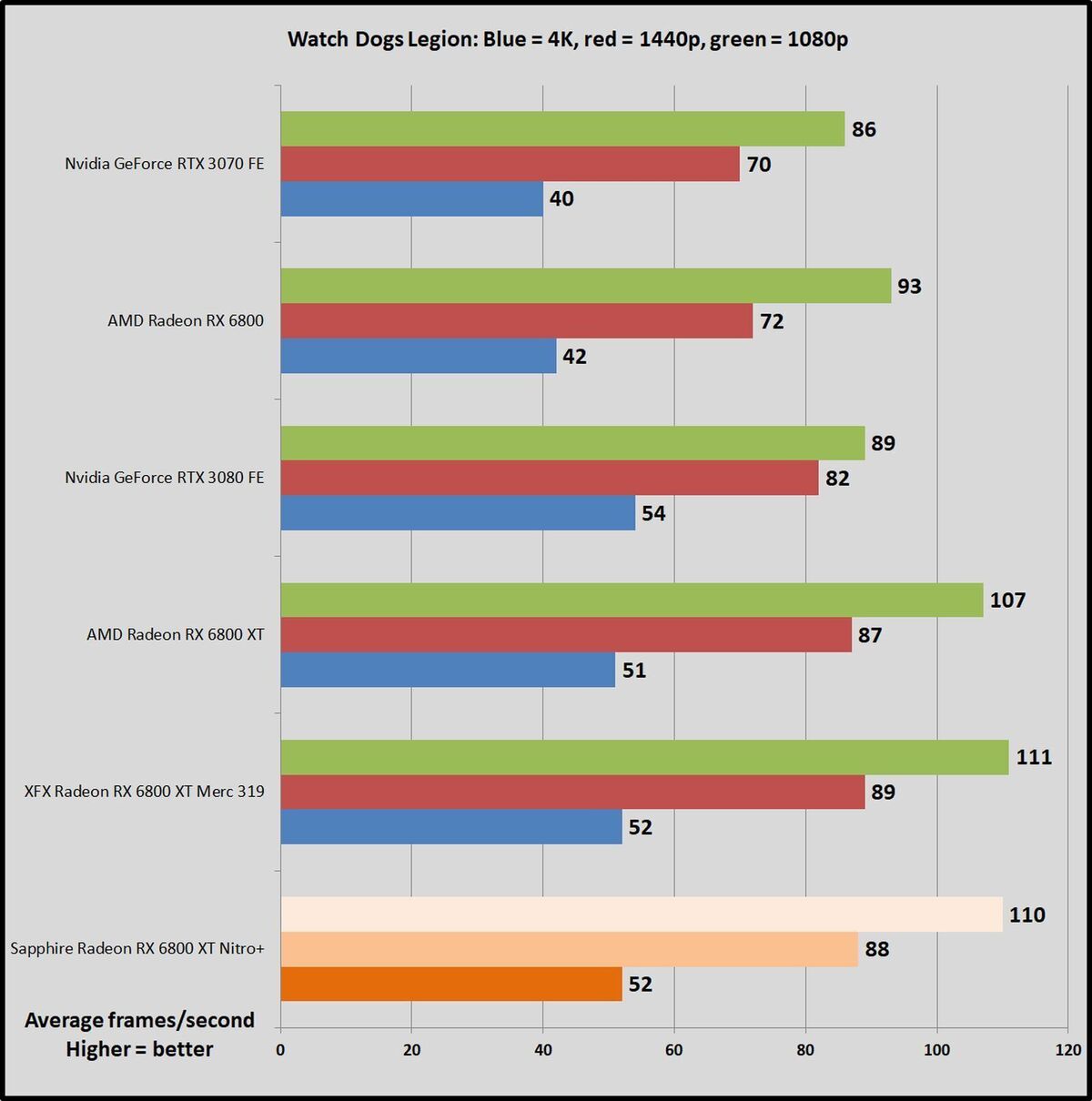 Horizon Zero Dawn
Yep, PlayStation exclusives are coming to the PC now. Horizon Zero Dawn runs on Guerrilla Games' Decima engine, the same engine that powers Death Stranding. Ambient Occlusion can offer iffy results if set to Ultra, so we test with that setting at Medium. Every other visual option is maxed out.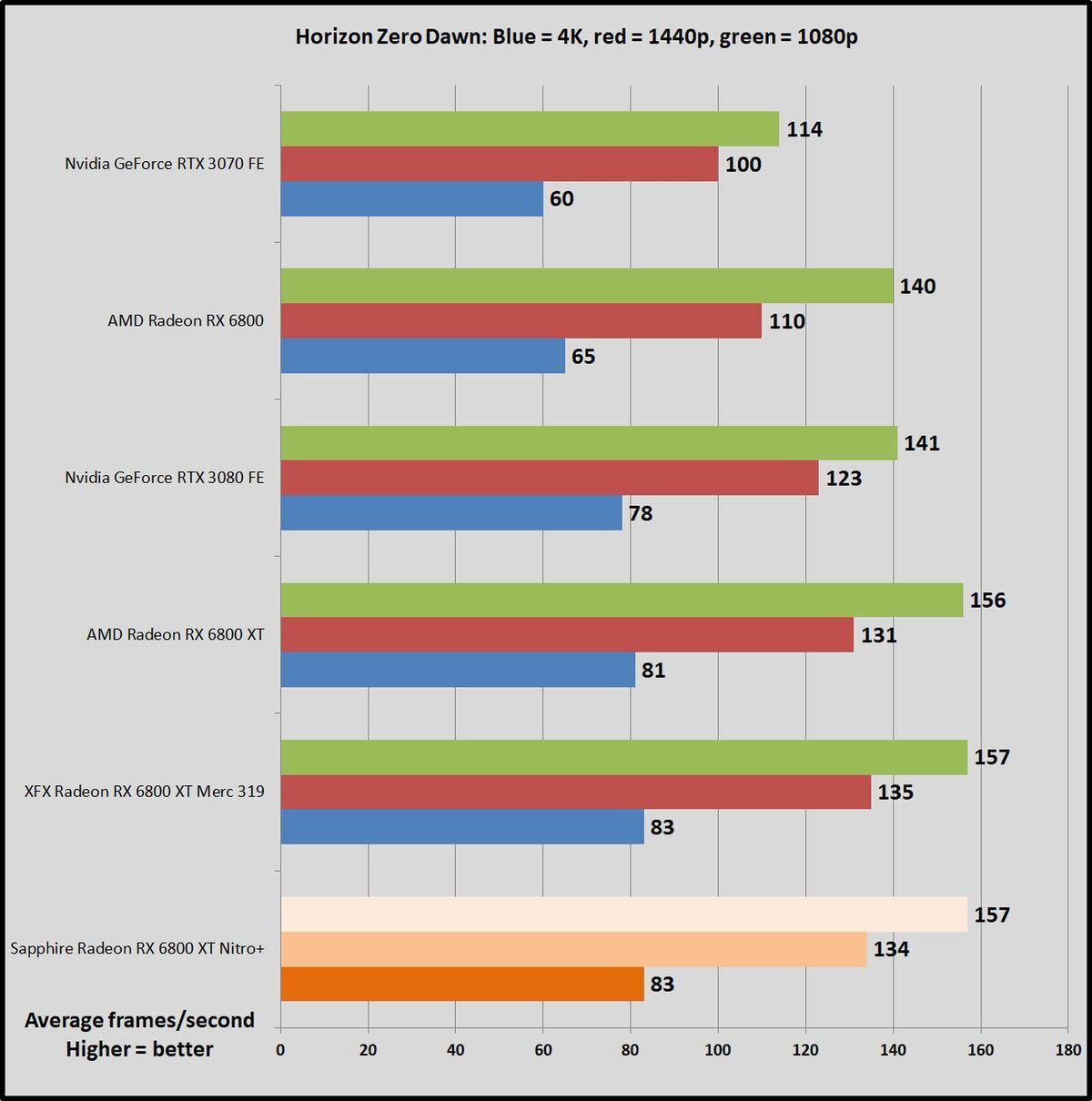 Next page: gaming benchmarks continue
Gears Tactics
Gears Tactics puts it own brutal, fast-paced spin on the XCOM-like genre. This Unreal Engine 4-powered game was built from the ground up for DirectX 12, and we love being able to work a tactics-style game into our benchmarking suite. Better yet, the game comes with a plethora of graphics options for PC snobs. More games should devote such loving care to explaining what flipping all these visual knobs mean.
You can't use the presets to benchmark Gears Tactics, as it intelligently scales to work best on your installed hardware, meaning that "Ultra" on one graphics card can load different settings than "Ultra" on a weaker card. We manually set all options to their highest possible settings.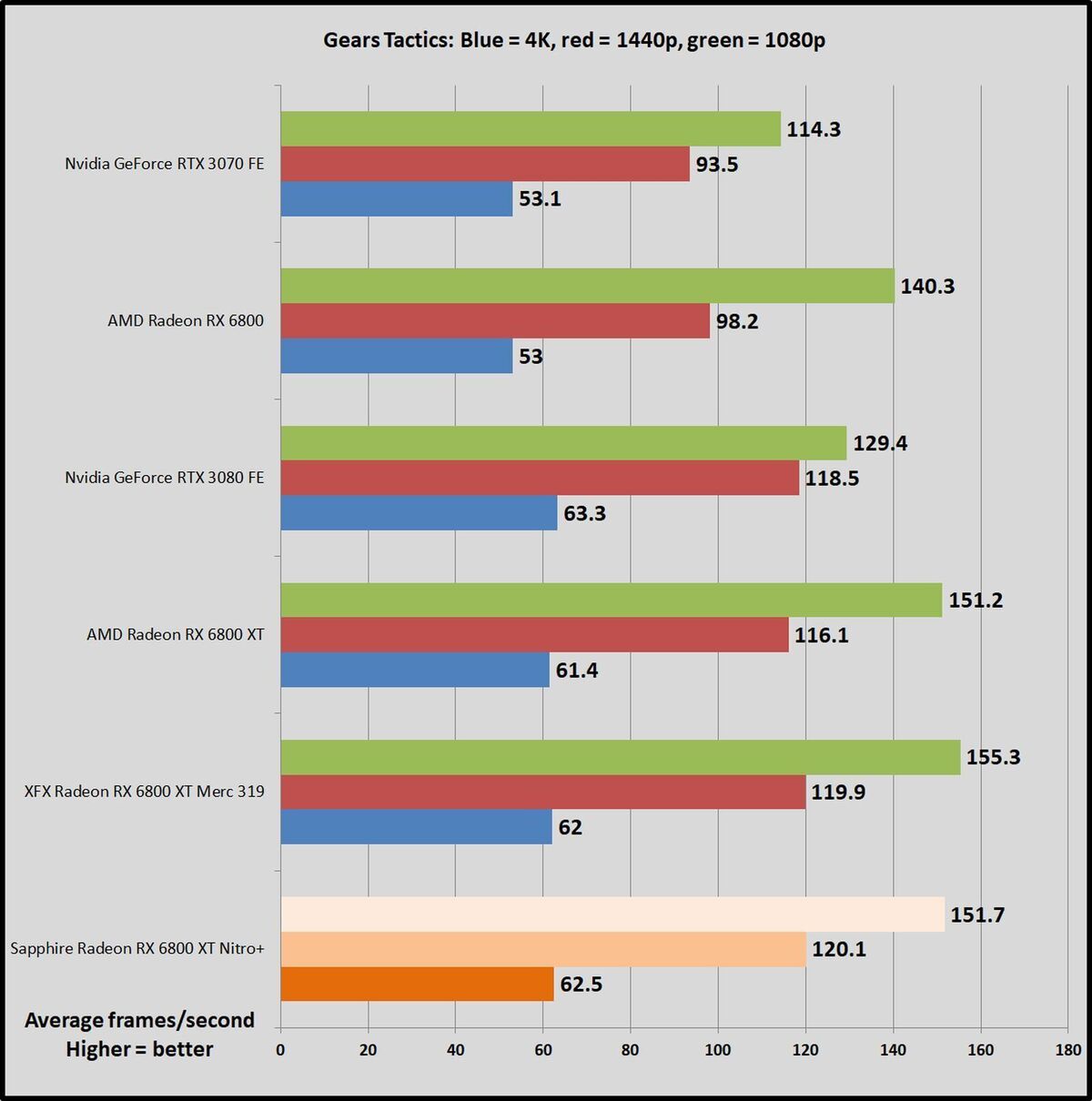 Wolfenstein: Youngblood
Wolfenstein: Youngblood is more fun when you can play cooperatively with a buddy, but it's a fearless experiment—and an absolute technical showcase. Running on the Vulkan API, Youngblood achieves blistering frame rates, and it supports all sorts of cutting-edge technologies like ray tracing, DLSS 2.0, HDR, GPU culling, asynchronous computing, and Nvidia's Content Adaptive Shading. The game includes a built-in benchmark with two different scenes; we tested Lab X.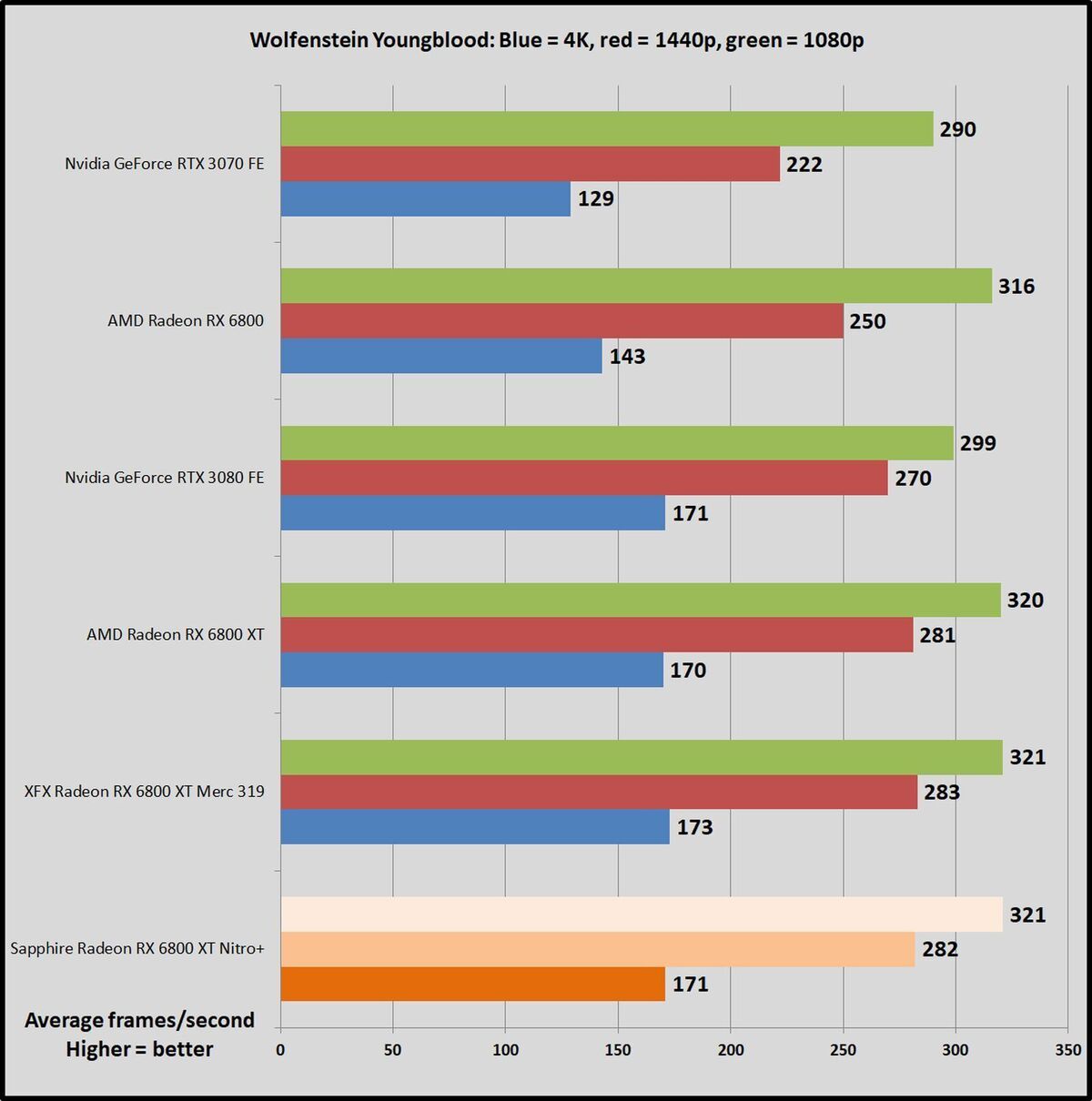 Metro Exodus
One of the best games of 2019, Metro Exodus is one of the best-looking games around, too. The latest version of the 4A Engine provides incredibly luscious, ultra-detailed visuals, with one of the most stunning real-time ray tracing implementations released yet. We test in DirectX 12 mode with ray tracing, Hairworks, and DLSS disabled for our basic benchmarks.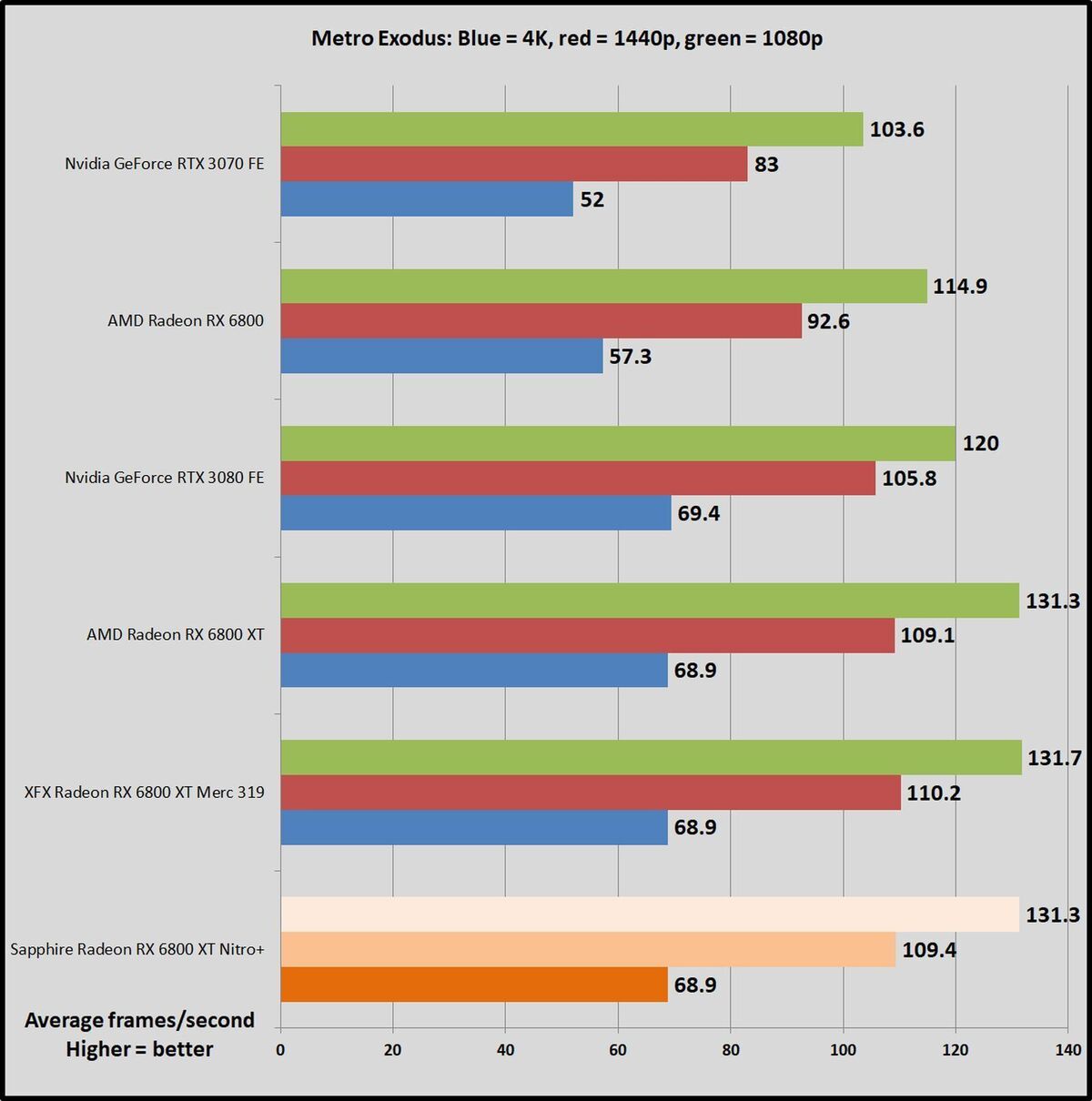 Borderlands 3
Borderlands is back! Gearbox's game defaults to DX12, so we do as well. It gives us a glimpse at the ultra-popular Unreal Engine 4's performance in a traditional shooter.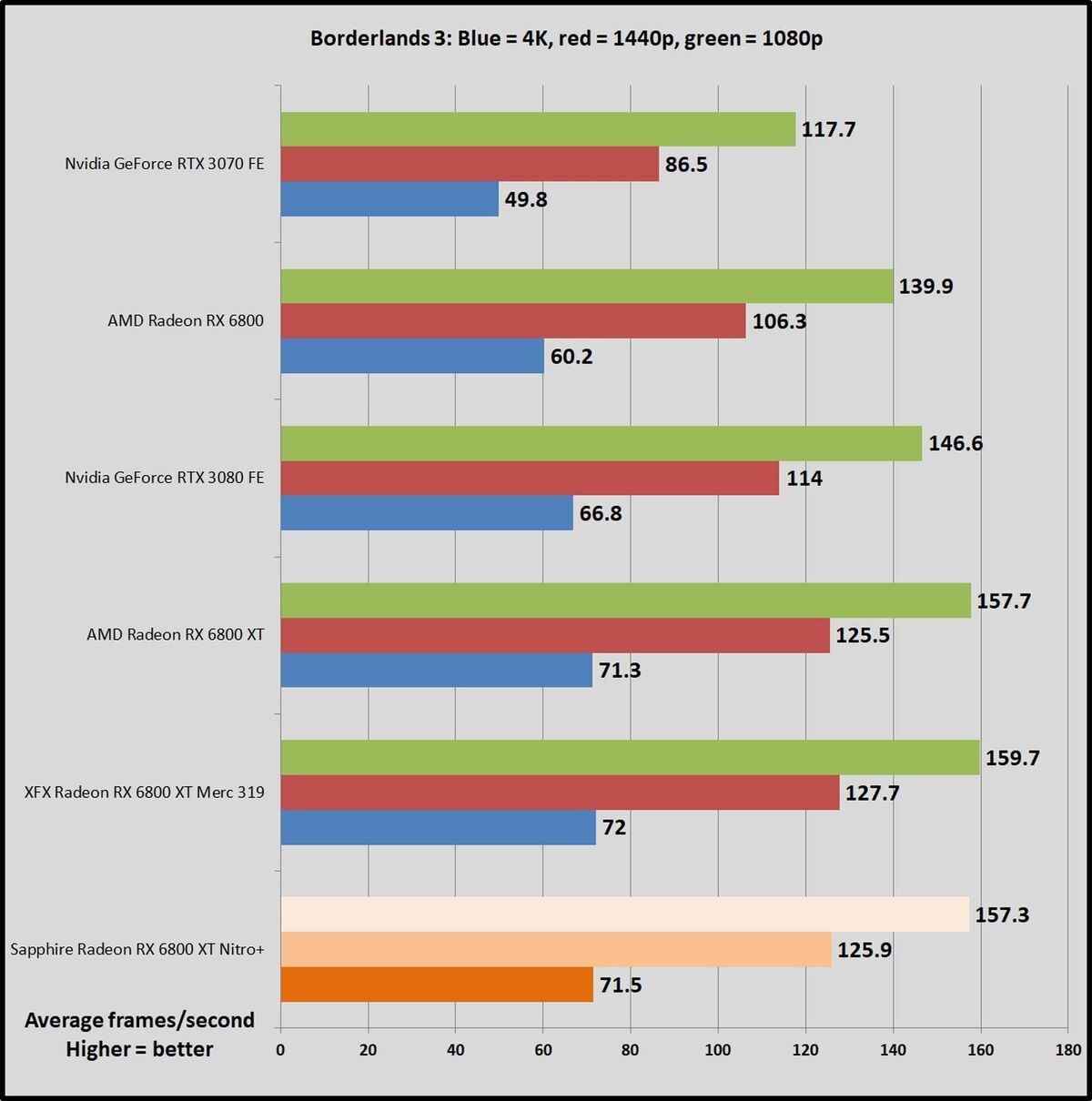 Strange Brigade
Strange Brigade is a cooperative third-person shooter where a team of adventurers blasts through hordes of mythological enemies. It's a technological showcase, built around the next-gen Vulkan and DirectX 12 technologies and infused with features like HDR support and the ability to toggle asynchronous compute on and off. It uses Rebellion's custom Azure engine. We test using the Vulkan renderer, which is faster than DX12.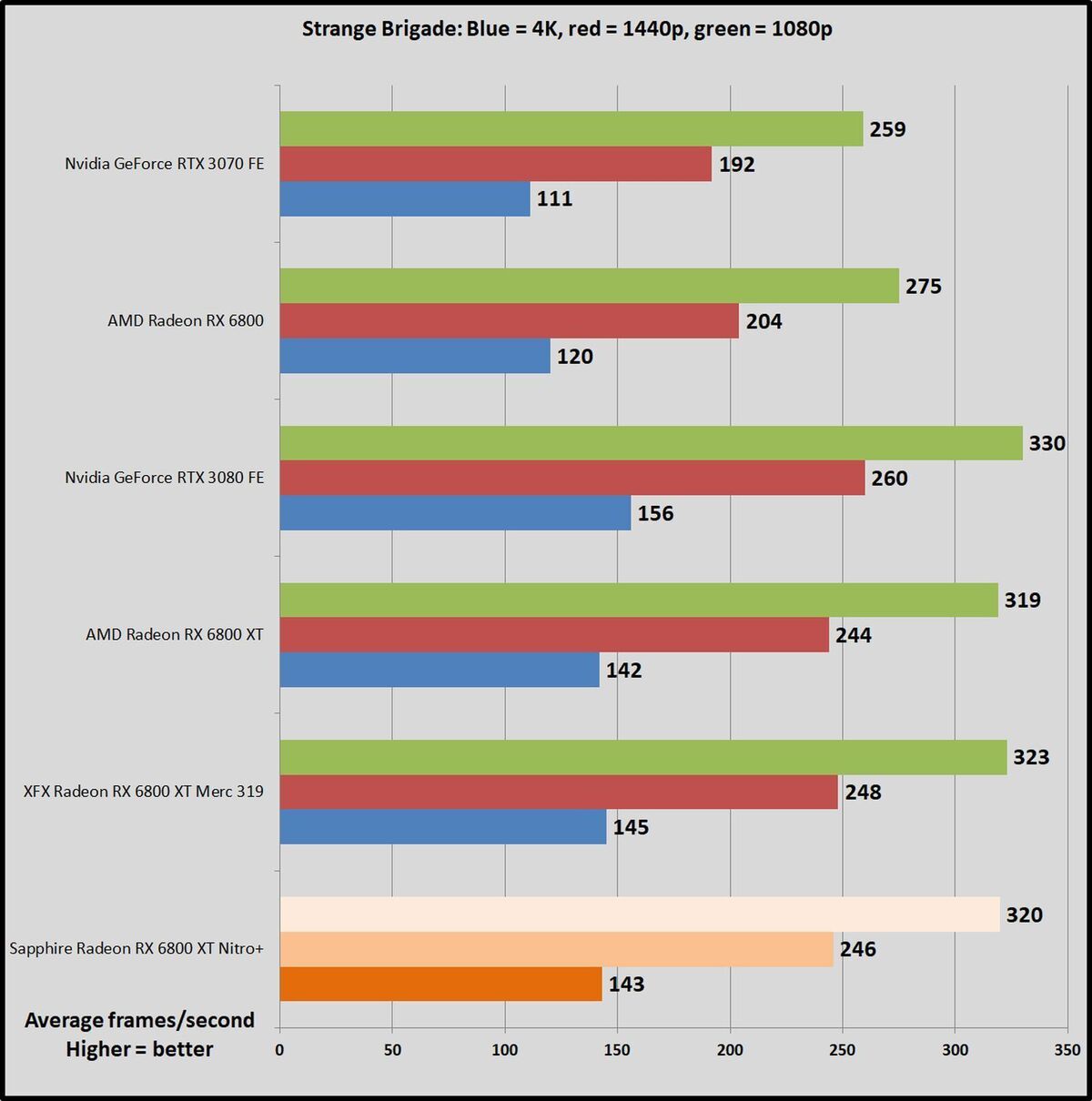 Next page: gaming benchmarks continue
Total War: Troy
The latest game in the popular Total War saga, Troy was given away free for its first 24 hours on the Epic Games Store, moving over 7.5 million copies before it went on proper sale. Total War: Troy is built using a modified version of the Total War: Warhammer 2 engine, and this DX11 title looks stunning for a turn-based strategy game. We test the more intensive battle benchmark.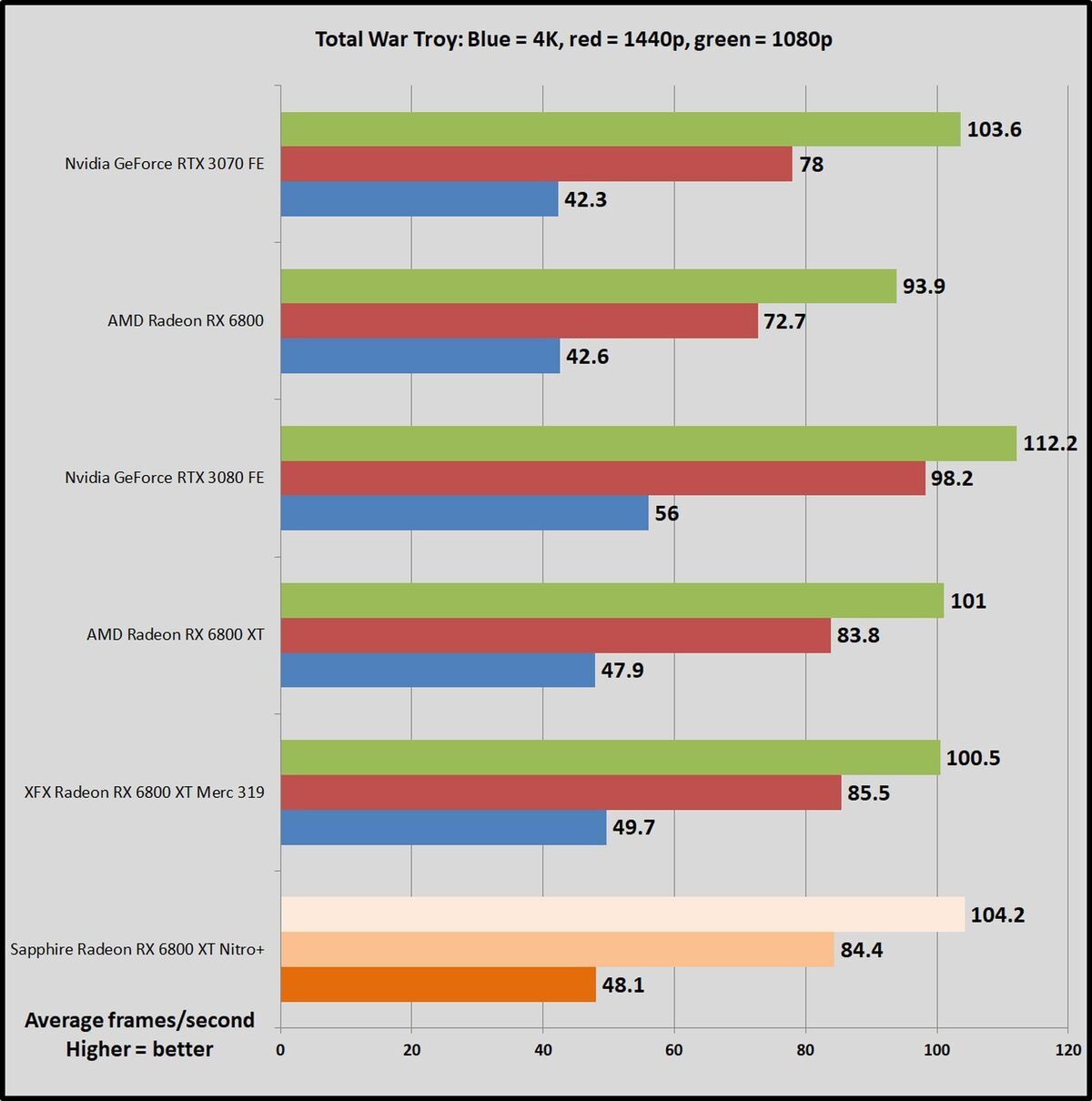 F1 2020
The latest in a long line of successful racing games, F1 2020 is a gem to test, supplying a wide array of both graphical and benchmarking options, making it a much more reliable (and fun) option that the Forza series. It's built on the latest version of Codemasters' buttery-smooth Ego game engine, complete with support for DX12 and Nvidia's DLSS technology. We test two laps on the Australia course, with clear skies on and DLSS off.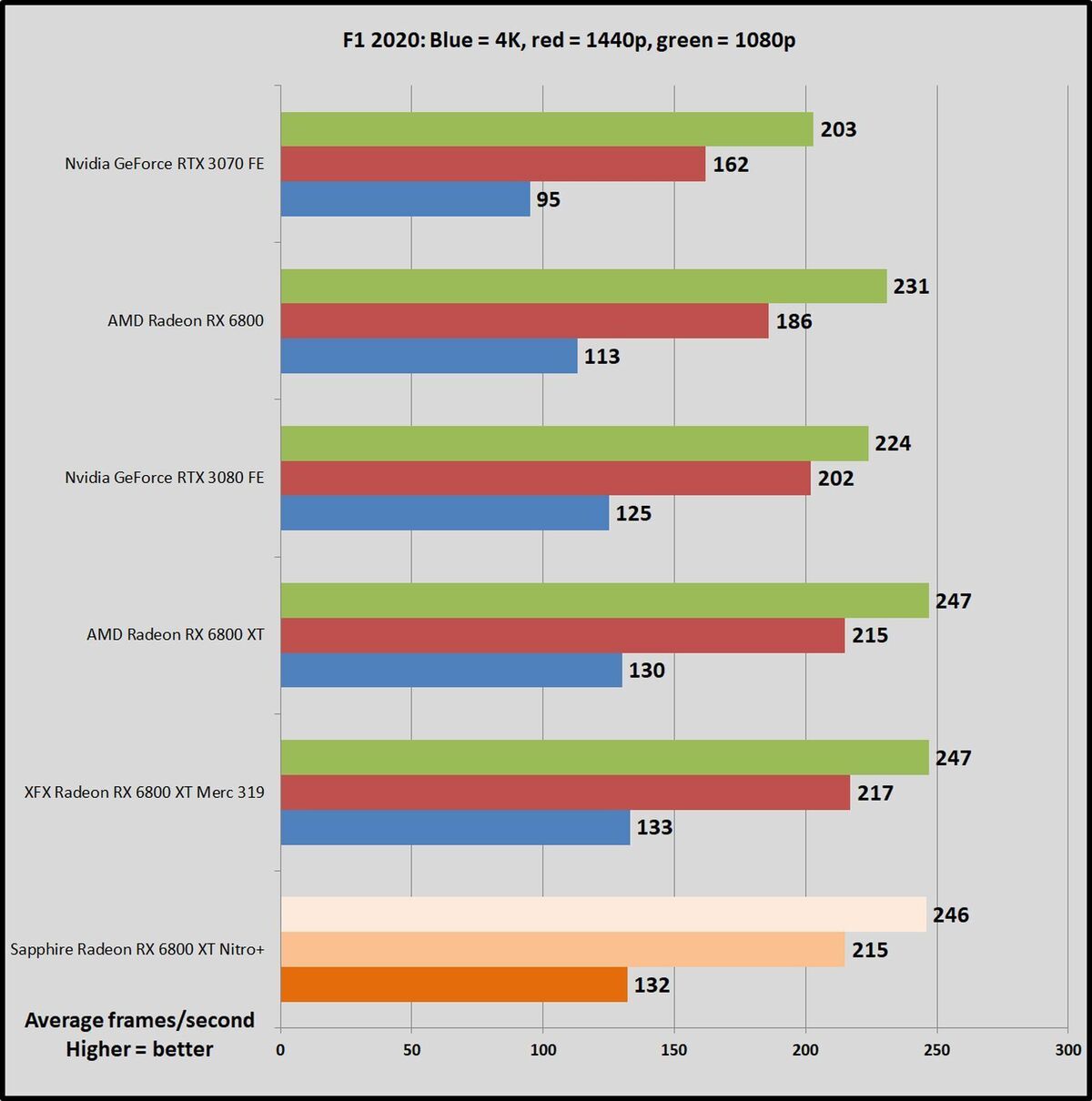 Shadow of the Tomb Raider
Shadow of the Tomb Raider concludes the reboot trilogy, and it's utterly gorgeous. Square Enix optimized this game for DX12, and recommends DX11 only if you're using older hardware or Windows 7, so we test with DX12. Shadow of the Tomb Raider uses an enhanced version of the Foundation engine that also powered Rise of the Tomb Raider and includes optional real-time ray tracing and DLSS features.
Rainbow Six Siege
Like GTA V, Ubisoft's Rainbow Six Siege still dominates the Steam charts years after its launch, and it'll be getting a visual upgrade for the next-gen consoles. The developers have poured a ton of work into the game's AnvilNext engine over the years, eventually rolling out a Vulkan version of the game that we use to test. By default, the game lowers the render scaling to increase frame rates, but we set it to 100 percent to benchmark native rendering performance on graphics cards. Even still, frame rates soar.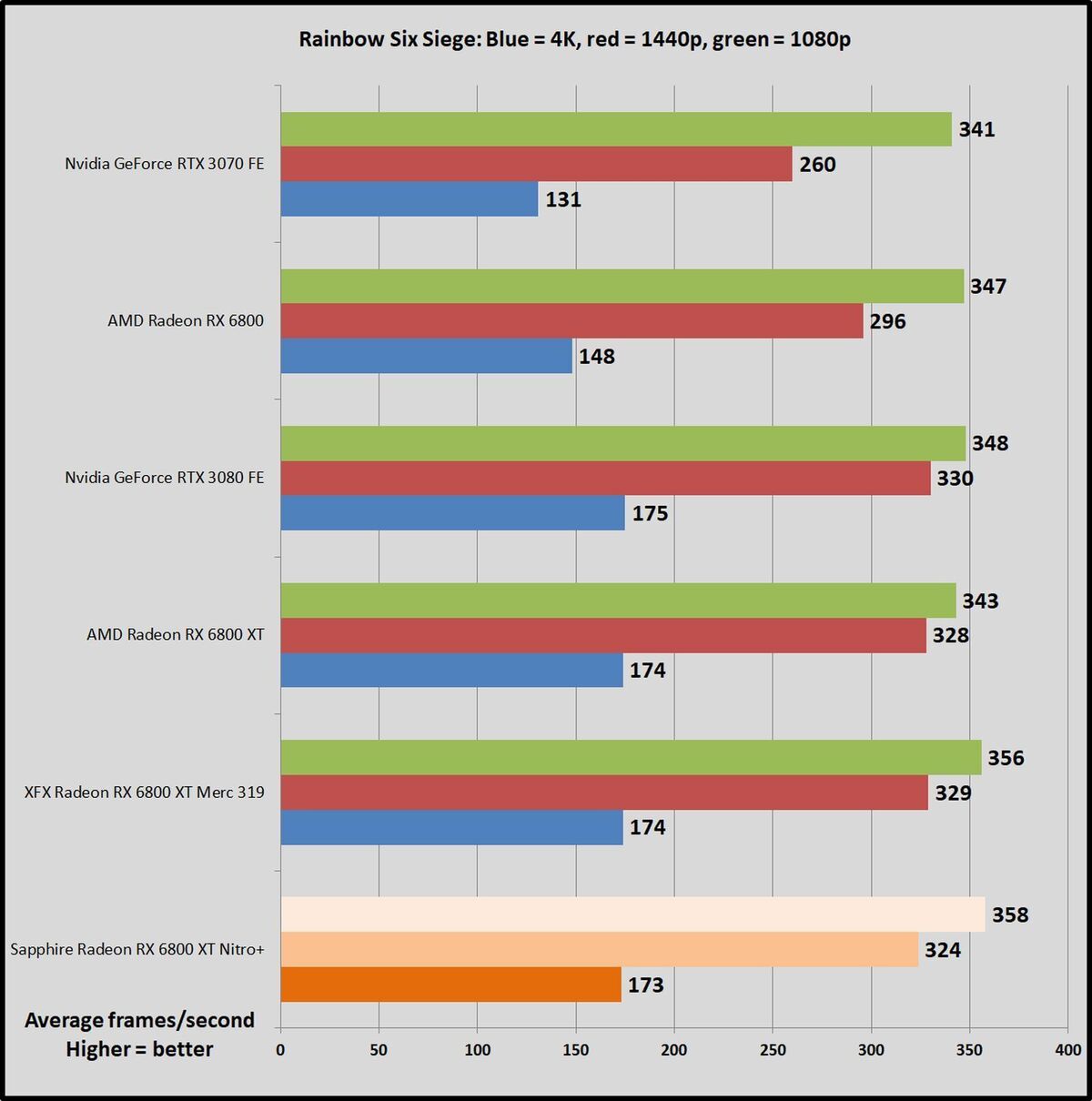 Next page: Trixx Boost performance
Trixx Boost: Slightly lower resolution, much higher performance, just-as-good graphics
Trixx Boost is a feature Sapphire added to last generation's RDNA 1-based Nitro+ RX 5700 XT, configurable using the company's Trixx management software, which also controls the graphics card's lighting effects.
The feature leverages the Radeon Image Sharpening feature AMD debuted alongside the RDNA architecture. Trixx Boost creates custom resolutions just below standard 1080p, 1440p, and 4K, which are then upscaled to fit your display. Radeon Image Sharpening (which works with all major graphics APIs now) cleans away the blurry effects usually associated with image upscaling. When you select the new custom resolutions in your game's graphics options, performance soars, as you'll see below.
It's wicked-smart, and I'm shocked other GPU makers with software suites haven't cribbed it. Honestly, Trixx Boost does nothing you can't do manually with any graphics card by cobbling together custom resolutions in AMD or Nvidia control panels, then turning on AMD or Nvidia's sharpening features. That's a complicated process that entails diving deep into control panel submenus though, limiting it to enthusiasts. Trixx Boost makes it easy, and you can set it up in mere minutes.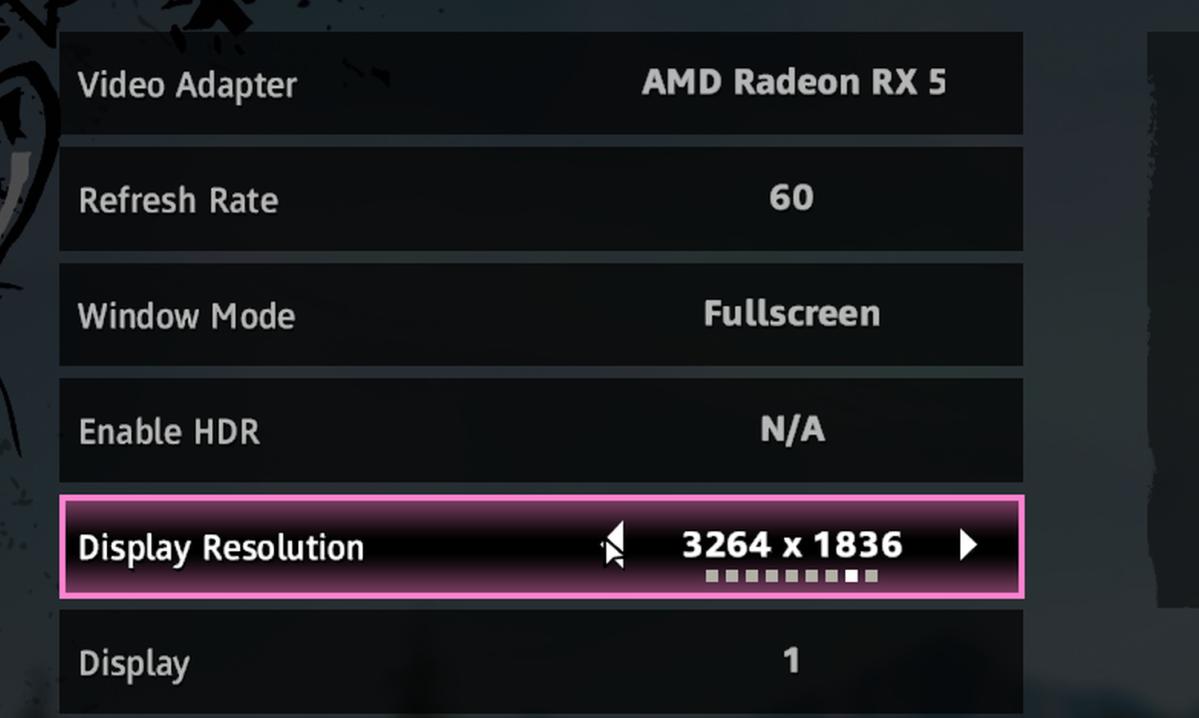 Open the Boost tab in Trixx, use a slider to determine at what percentage of the original resolutions you want the custom resolutions created for—the default is 85 percent, which works great with the 4K and 1440p gameplay this card targets—and click Apply. Your screen will flash a few times. The Trixx Boost interface used to include a button that let you turn on Radeon Image Sharpening right inside Trixx, but we didn't see it with the Nitro+ RX 6800 XT installed. You'll need to head into the global display portion of AMD's Radeon Software and enable it. That makes Trixx Boost slightly less seamless than before, but the setting is easy to find, and you'll need to activate only once for it to work in all games.
After that's done, simply select the new custom resolutions rather than the usual 4K, 1440p, and 1080p options in your game settings and watch frame rates soar. How high? Check out this small sampling of games, taken using the 85-percent default scaling: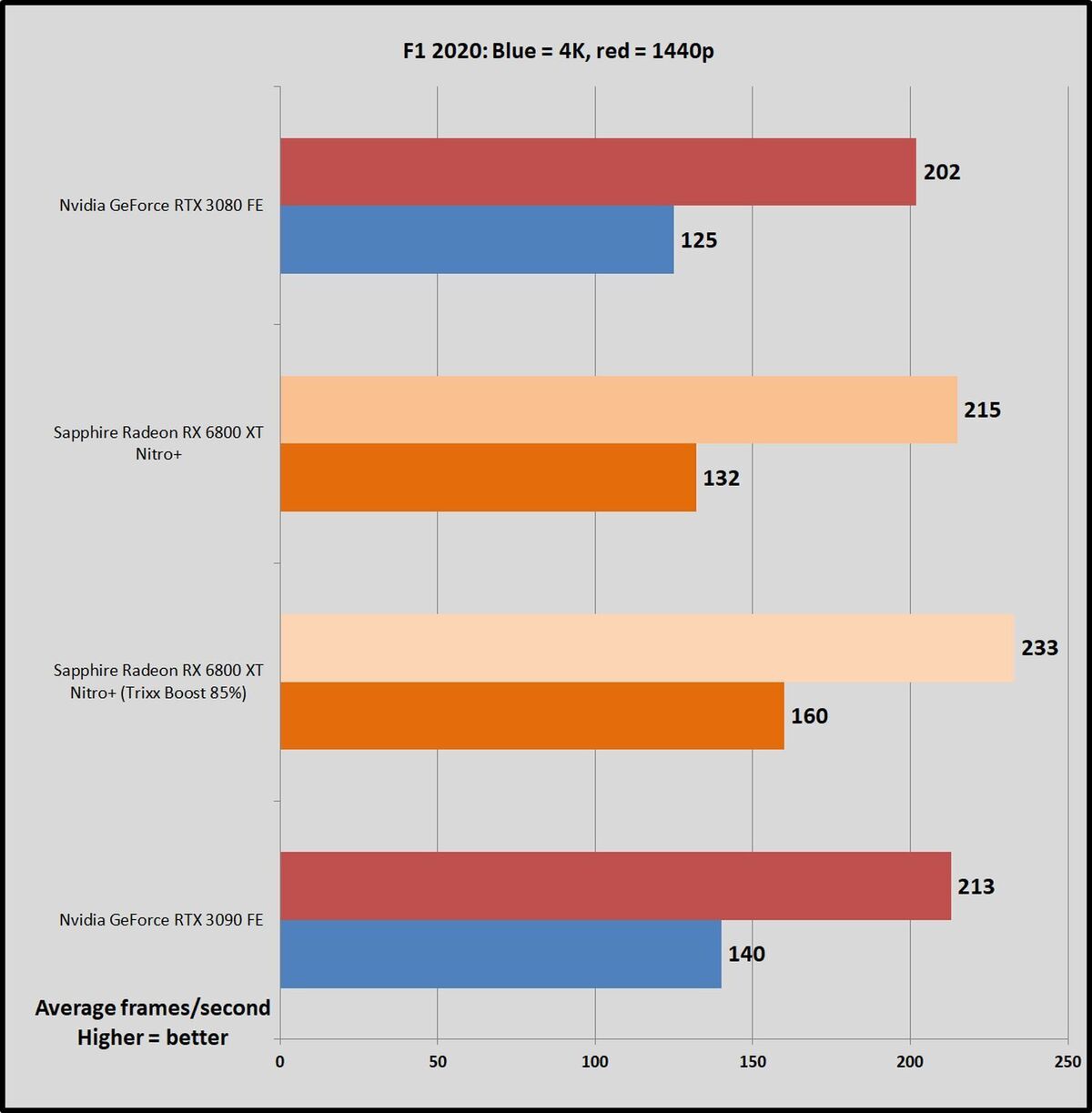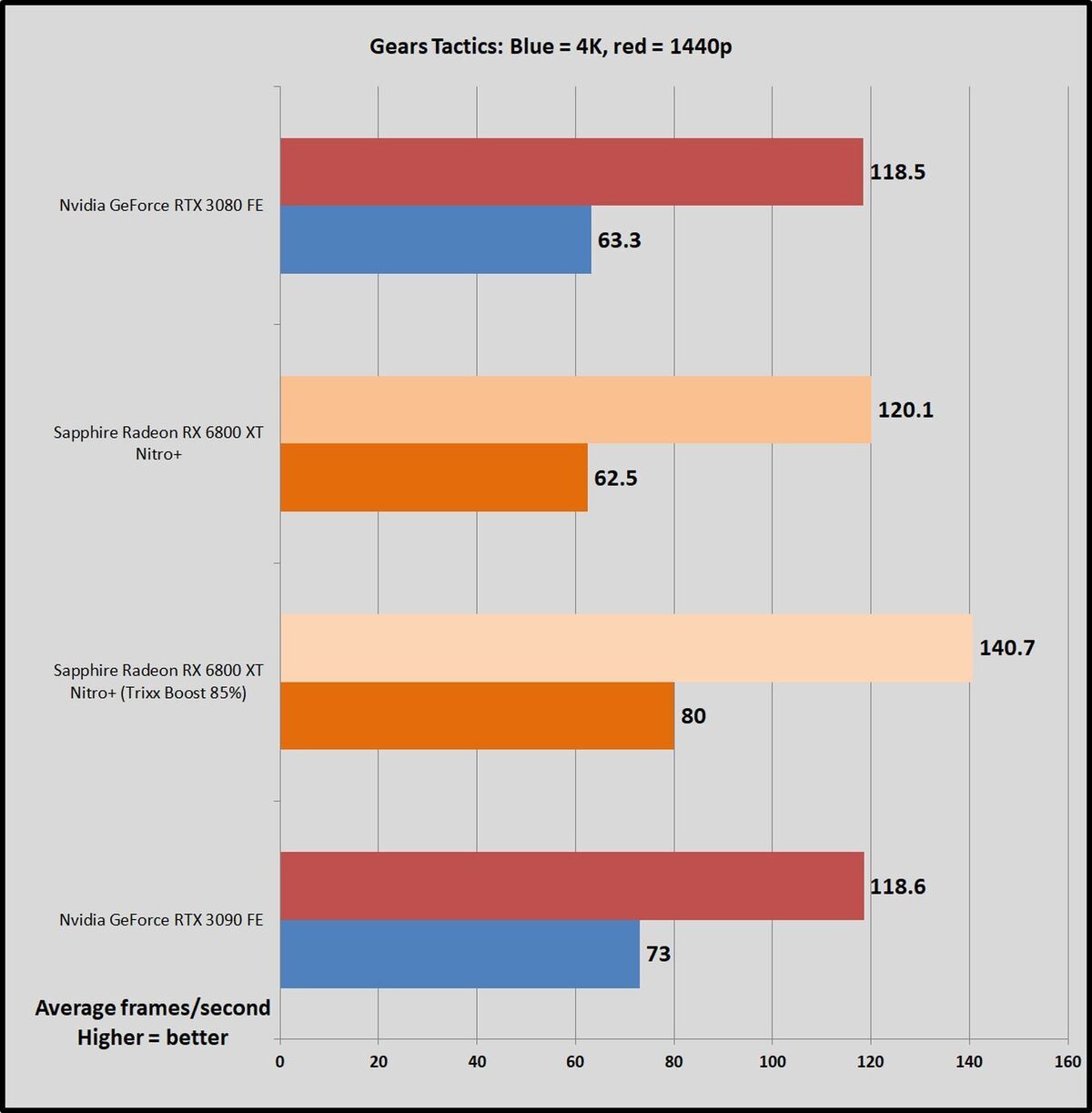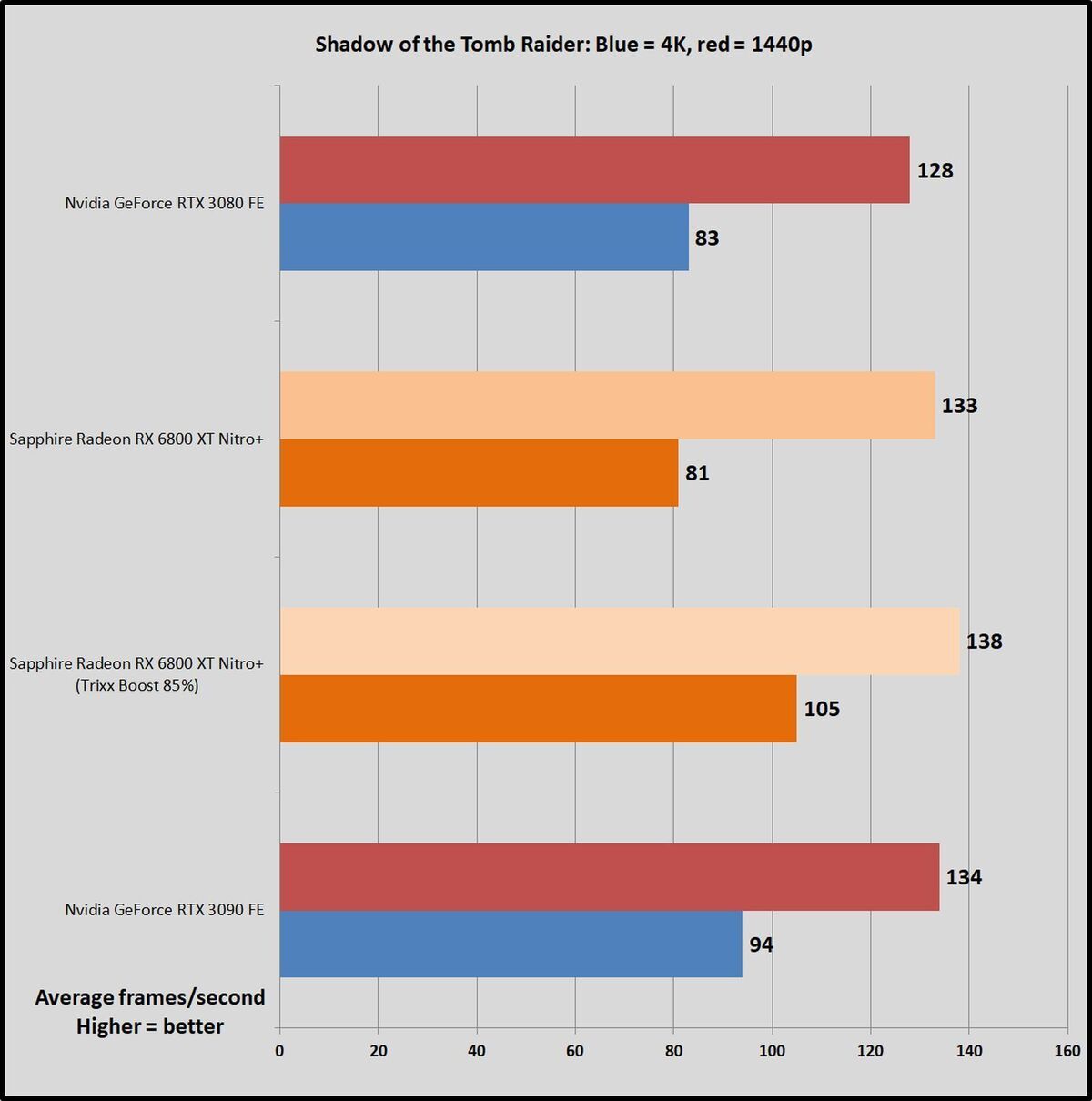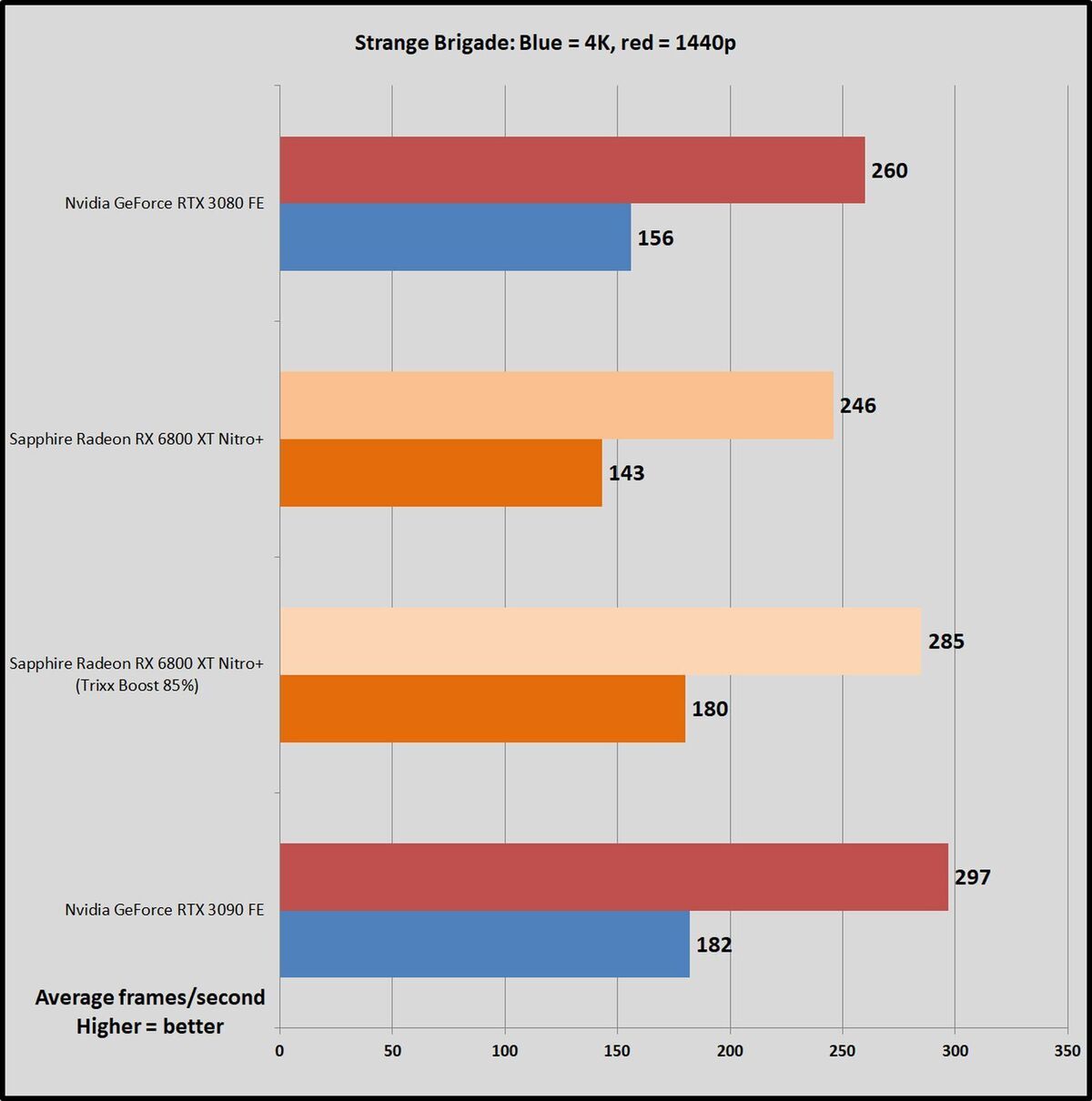 As you can see, activating Trixx Boost turbocharges performance to such lofty heights that Sapphire's Nitro+ Radeon RX 6800 XT topples even the behemoth $1,500 GeForce RTX 3090 in some games. Yes please! The faster frame rates could also help with ray tracing performance, though we didn't have a chance to test that extensively.
If you find the default 85 percent custom resolution scaling too blurry or otherwise compromised—we didn't—you can inch it back up closer to native 100-percent scaling in granular one-percent increments until you find the sweet spot for your eyes. The closer you get to native resolution, the lower the performance gains, however.
Next page: Power, thermals, and noise
Power draw, thermals, and noise
We test power draw by looping the F1 2020 benchmark at 4K for about 20 minutes after we've benchmarked everything else and noting the highest reading on our Watts Up Pro meter, which measures the power consumption of our entire test system. The initial part of the race, where all competing cars are onscreen simultaneously, tends to be the most demanding portion.
This isn't a worst-case test; we removed the Core i7 8700K's overclock and specifically chose a GPU-bound game running at a GPU-bound resolution to gauge performance when the graphics card is sweating hard. If you're playing a game that also hammers the CPU, you could see higher overall system power draws. Consider yourself warned.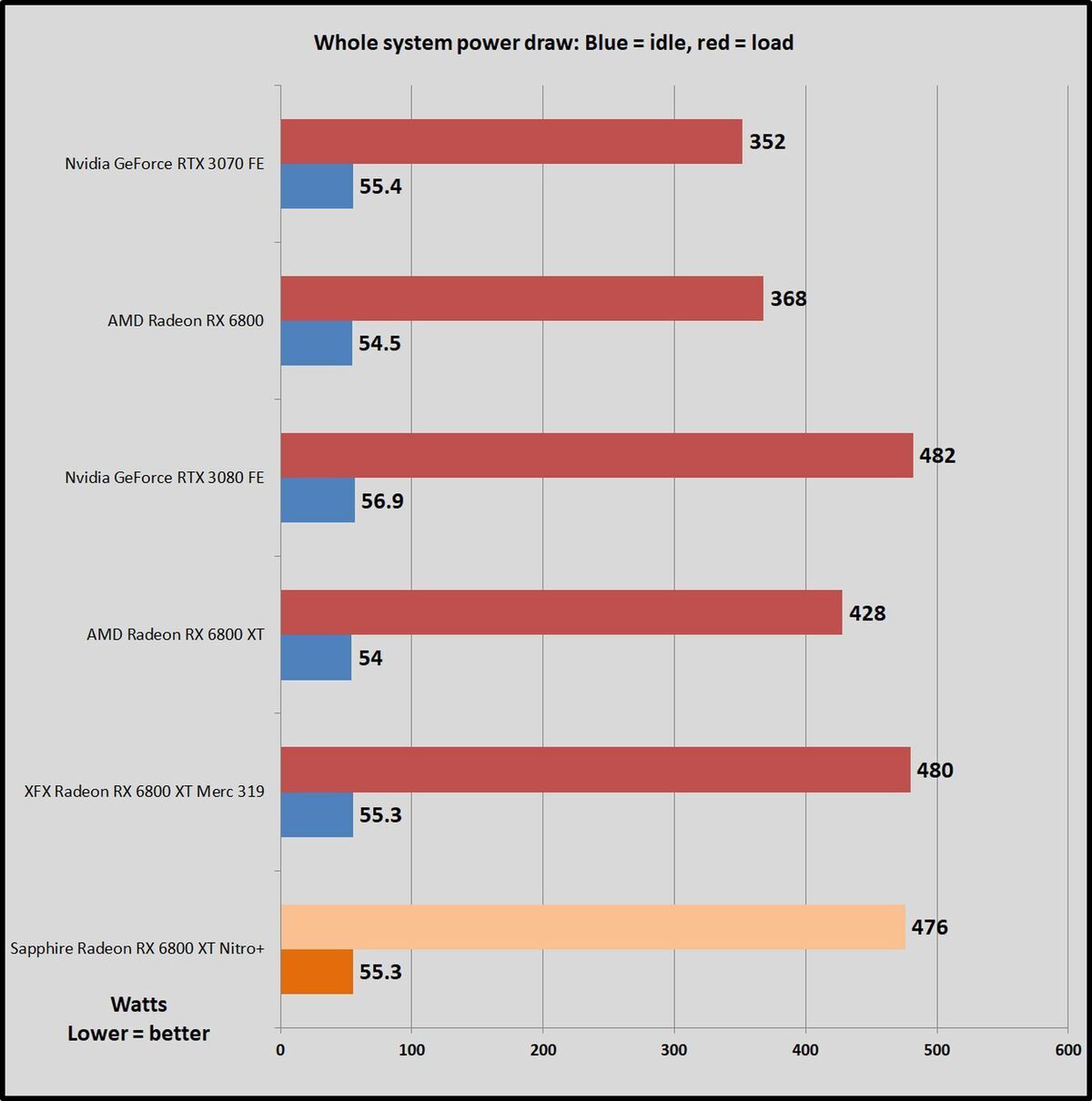 The Sapphire Nitro+'s boosted clock speeds and power limit result in a higher power draw than the reference Radeon RX 6800 XT, as you'd expect. It's on a par with the similarly overclocked XFX Merc 319 and the RTX 3080 Founders Edition, and it draws about 40W less than overclocked custom RTX 3080s like the MSI Gaming X Trio and EVGA FTW3 Ultra.
We test thermals by leaving GPU-Z open during the F1 2020 power draw test, noting the highest maximum temperature at the end.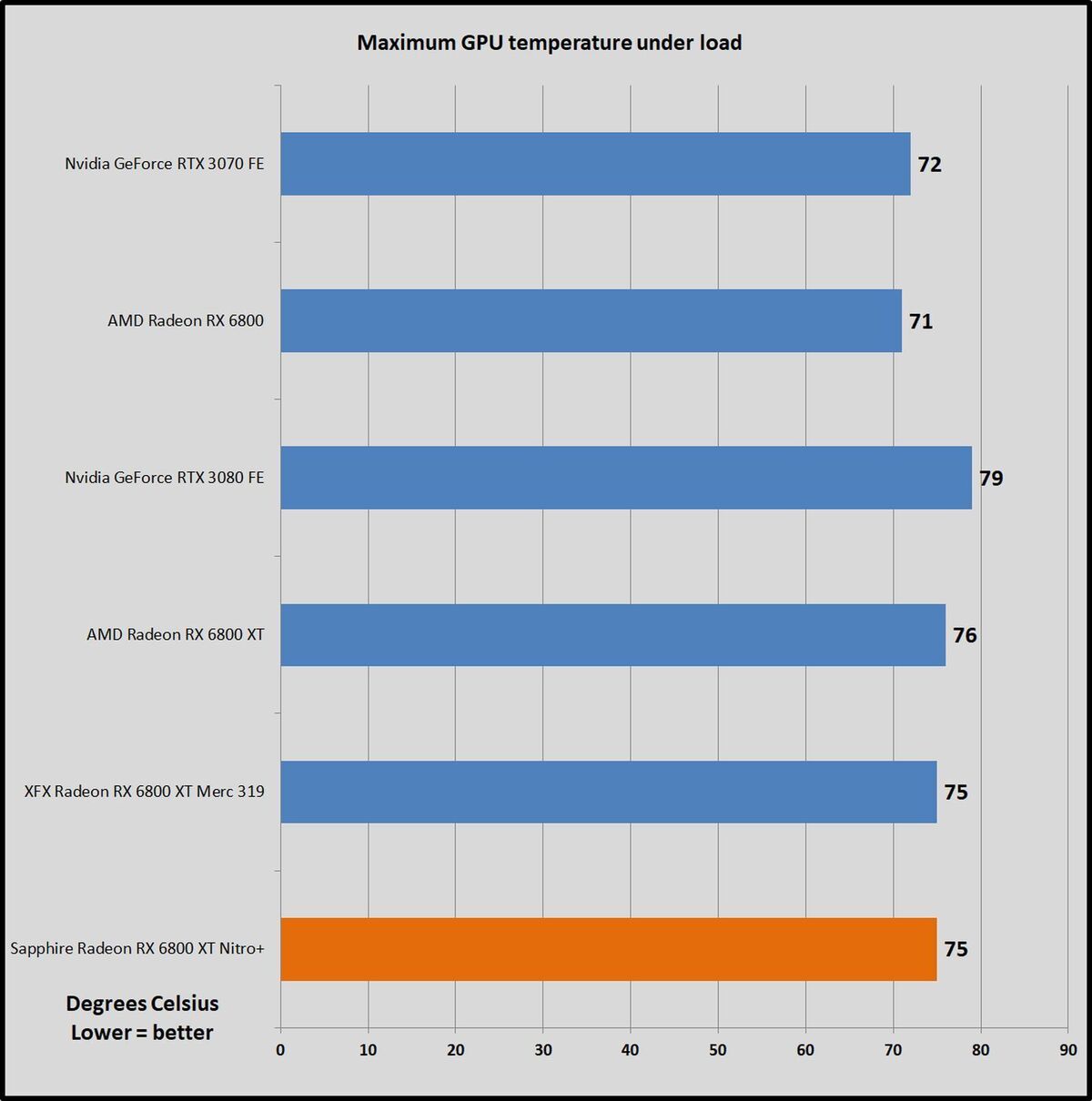 Cooling performance is solid, but not spectacular, with GPU temperatures falling in line with all the graphics cards we've tested in this enthusiast-class segment thus far.
It's not shown on this graph, but Sapphire's tweaks help the Nitro+ keep the overall GPU package much cooler than the reference design. All graphics cards report a core GPU temperature, and that's what we report here. But RDNA-based Radeon graphics cards come with significantly more sensors embedded throughout. AMD uses the hottest spot of any of those to adjust clock speeds as needed—a metric reported as the "GPU junction temperature." This hotspot is significantly cooler in Sapphire's graphics card. While the reference AMD Radeon RX 6800 XT hits a 103-degree-Celsius hotspot temp, the Nitro+ tops out at 96 degrees Celsius. (The XFX Merc 319 hit 93 degrees Celsius.)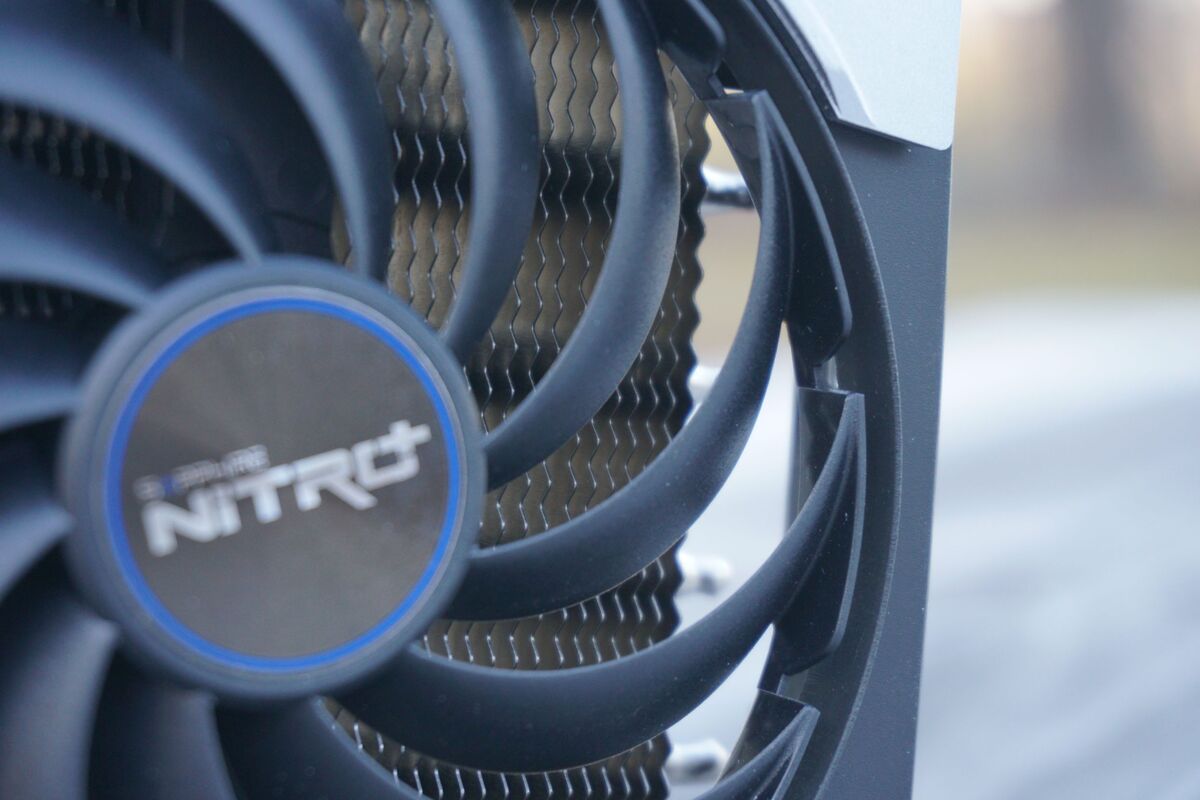 Let's talk about noise for a second, too. Sapphire ships the Nitro+ with the Performance BIOS enabled by default. That raises clock and fan speeds to improve gaming frame rates at the expense of higher noise levels. With the Performance BIOS, the Nitro+ remains comfortably quiet, but no quieter than AMD's hugely improved reference design. As you can see in our gaming benchmarks, however, even the Performance BIOS doesn't get you much extra oomph in raw frame rates.
We highly recommend flipping over to the Quiet BIOS instead. It's noticeably quieter than the stock setting. Some quick benchmarks revealed you lose a negligible amount of performance even with the lower clocks and fan speeds. It's a better user experience overall.
With the Quiet BIOS enabled, the Nitro+ doesn't quite match the XFX Merc 319's inaudible running, but its fan noise is very faint, and XFX's graphics card is one of the most massive we've ever tested.
It's interesting how XFX and Sapphire differed in their BIOS preferences, too. Both offer the exact same speeds on their two BIOS switches, but XFX defaults to the quieter BIOS, while Sapphire opts to push frame rates. The names differ despite the identical behaviors. Sapphire calls its slower BIOS "Quiet" and defaults to the faster "Performance" BIOS; XFX calls its default slower BIOS "Balanced," and you can flip over to the faster "Rage" profile.
Next page: Should you buy the Sapphire Nitro+ RX 6800 XT?
Should you buy the Sapphire Nitro+ RX 6800 XT?
The Sapphire Nitro+ offers a fine custom spin on AMD's Radeon RX 6800 XT. It's cool, quiet, loaded with a hefty 16GB of memory, and trades blows with Nvidia's rival GeForce RTX 3080 offerings in everything but ray-traced games. That makes it a compelling option for 4K and high refresh-rate 1440p gaming, and AMD's architecture pulls ahead of Nvidia's at the lower resolution. (Check out our original AMD Radeon RX 6800-series review for a more comprehensive breakdown of how this GPU stacks up against the RTX 3080.)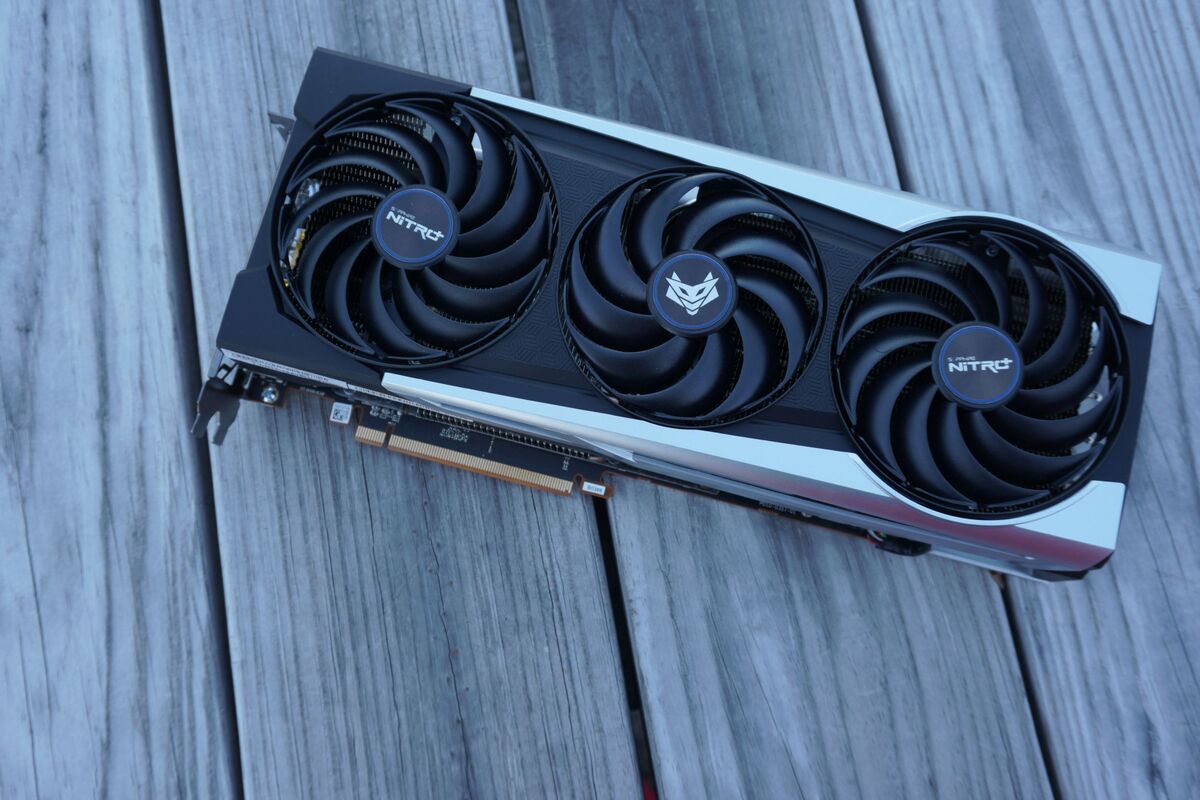 Sapphire's innovative Trixx Boost feature uses intelligent resolution scaling paired with AMD's Radeon Image Sampling to push performance even further, letting it surpass even the $1,500 GeForce RTX 3090 in games when enabled. (If you have a Ryzen 5000 processor, AMD's Smart Access Memory feature can boost performance even more in some games.) You need to download Sapphire's Trixx utility to use it, and enthusiasts could manage the same thing on any graphics card with some tinkering, but Trixx Boost makes it easy. It's a killer feature.
We love the aesthetic of Sapphire's card, and it weighs significantly less than the all-metal designs from XFX and AMD. The backplate's RGB lighting fits nicely, and the dual BIOS switch is always a welcome touch, especially if you plan on using the Nitro+'s beefed-up cooling to push overclocks. Even if you're not, we'd recommend flipping away from the default Performance BIOS over to the secondary Quiet BIOS for a better user experience with scant performance loss. You might also prefer the Nitro+'s alternative output configuration, which swaps out the reference card's USB-C port for an extra DisplayPort.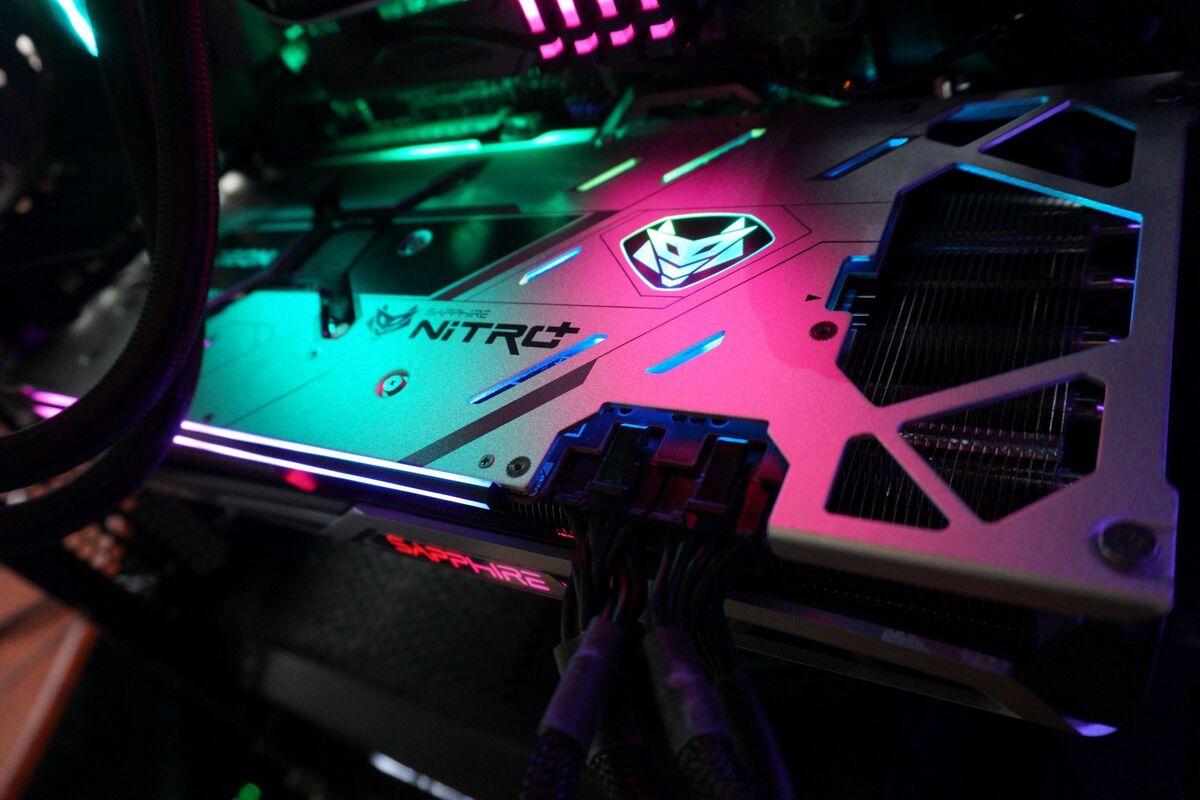 Two things prevent us from rating the Nitro+ RX 6800 XT higher and giving it an Editors' Choice award: the price, and the vastly improved performance of AMD's Radeon RX 6800 XT reference design.
Aesthetics aside, the Sapphire Nitro+ doesn't offer a tangibly different out-of-the-box experience than the reference Radeon RX 6800 XT. Both cards offer virtually identical gaming performance, GPU temperatures, and noise levels (though Sapphire's card keeps components around the GPU cooler). Flipping over to the secondary Quiet BIOS makes the Nitro+ whisper-quiet, but not quite as inaudible as XFX's gargantuan Merc 319. The reference card's hushed tones will be perfectly acceptable to most people.
Mentioned in this article
Radeon RX 6800 XT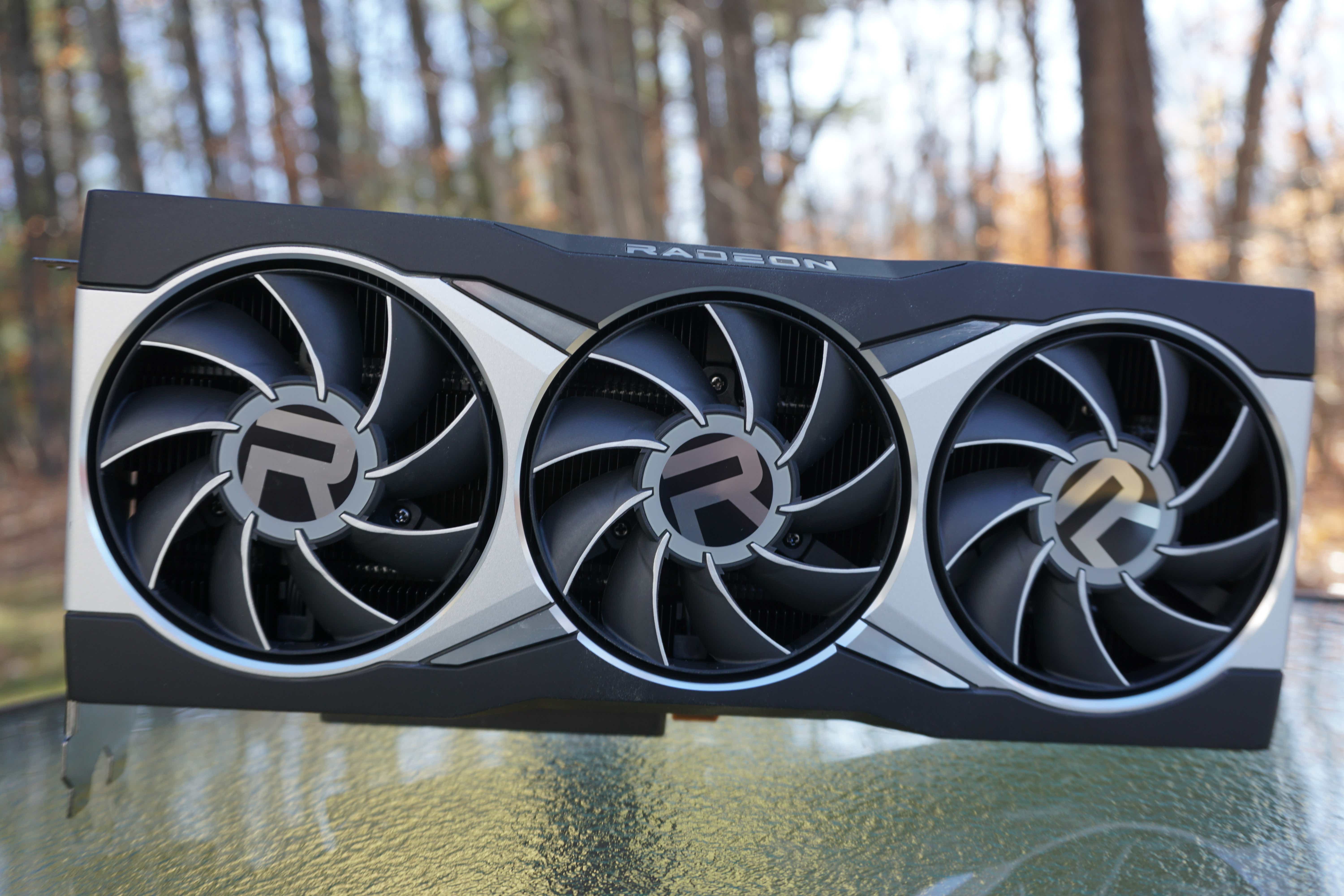 Price When Reviewed:
$650
At $770, the Nitro+ comes in slightly cheaper than some flagship cards we've seen from rival GPU brands, who have been pushing the most hot-rodded custom RX 6800 XT and RTX 3080 models up around $800. Still, Sapphire's gigantic $120 markup over AMD's reference MSRP hurts, and almost completely obliterates the pricing advantage AMD created when it priced the Radeon RX 6800 XT $50 below the GeForce RTX 3080. Last generation's flawless Nitro+ Radeon RX 5700 XT cost only $40 more than the reference 5700 XT and offered much bigger out-of-the-box benefits.
I get why AMD's hardware partners are pricing their cards so high. Radeon finally provides competition for Nvidia's enthusiast-class GPUs, and the pandemic has sent the demand for next-gen graphics cards through the roof. Nevertheless, considering how similar the out-of-the-box experiences are between the excellent $650 reference card and the $770 Nitro+, people who aren't planning to take advantage of this card's specific features and don't plan on overclocking should probably opt for the cheaper model and pocket the extra cash.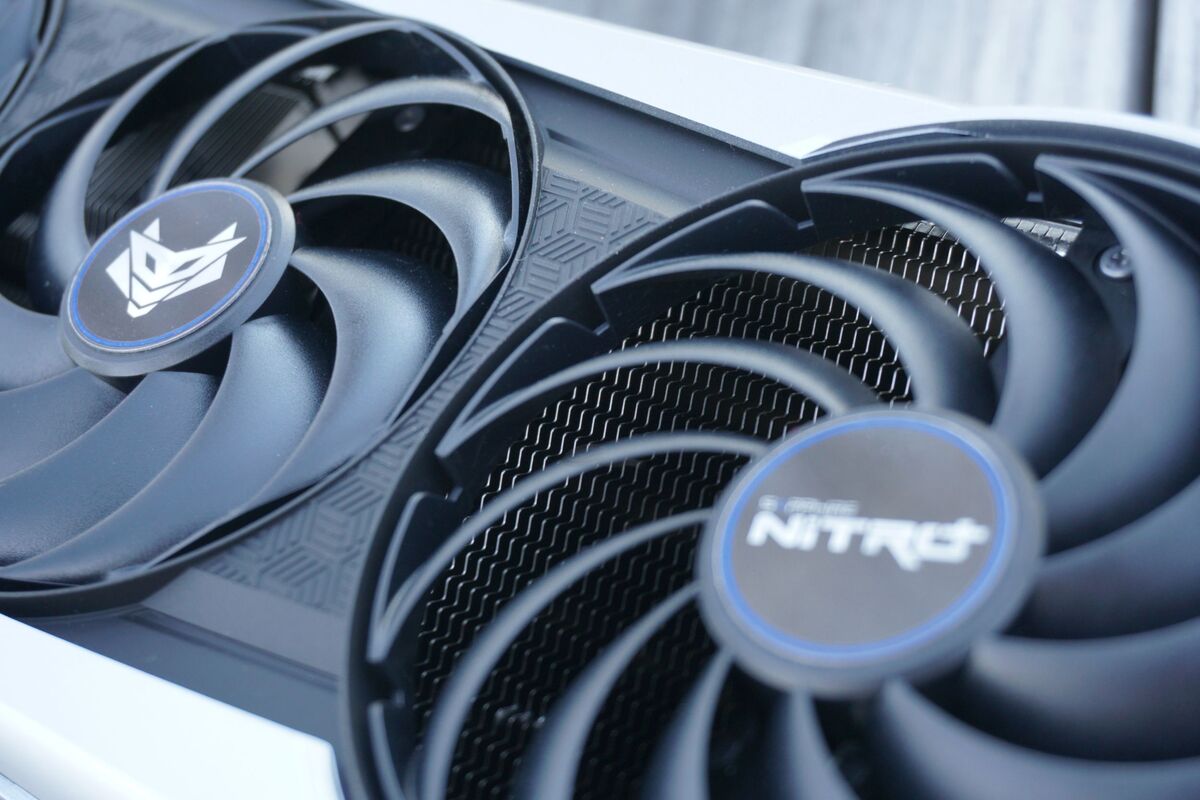 Don't get me wrong though: The Sapphire Nitro+ is a fantastic graphics card with top-notch performance, excellent cooling, and a superb software trick. You'll love it if you buy it, especially if you use the Quiet BIOS and turn on Trixx Boost, or if you're an overclocking enthusiast. We'd recommend the Nitro+ in a heartbeat if the recommended pricing weren't so incredibly steep—a concern that also prevented us from awarding the dead-silent, but even more expensive XFX Merc 319.
Of course, demand is so high that every next-gen graphics card that hits the streets sells out instantly, so this hand-wringing is a bit academic. All we can do as reviewers is talk about how things should be if stocks became plentiful and scalpers stopped hawking GPUs for outrageous prices.
Best Prices Today: Nitro+ Radeon RX 6800 XT