At a Glance
Expert's Rating
Pros
Easy-to-use interface
Independently verified no-log policy
Seriously impressive server spread
Cons
Lacks some common features such as multi-hop and double VPN
Server speeds are hit-or-miss, especially in Asia
Our Verdict
CyberGhost VPN continues to be a solid VPN. The speeds are (mostly) good, the interface is easy to use, and the latest no-log policy audit is a major plus. It may lack some power-user features common among competitors, but those looking for a simple VPN with tons of servers will find a lot to like here.
Best Prices Today: CyberGhost
CyberGhost VPN in brief:
P2P allowed: Yes
Simultaneous device connections: 7
Business location: Romania
Number of servers: 9,000+
Number of country locations: 110+
Cost: $12.99 per month, or $56.94 for a two year subscription
Based in Romania, CyberGhost is owned by its parent company, UK-based security-services conglomerate Kape Technologies. The service itself has seen enormous growth in recent years and is now firmly entrenched as one of the leading VPN providers.
It offers solid VPN features including seven simultaneous device connections, relatively good speeds, and a great server spread. In fact, boasting an absolutely colossal number of servers, sitting at over 9,000, it dwarfs most of its competitors in this area. In the past, we were impressed with CyberGhost and took the service for another spin to see how it stacks up in an increasingly competitive VPN market.
Further reading: See our roundup of the best VPNs to learn about competing products.
CyberGhost VPN features and services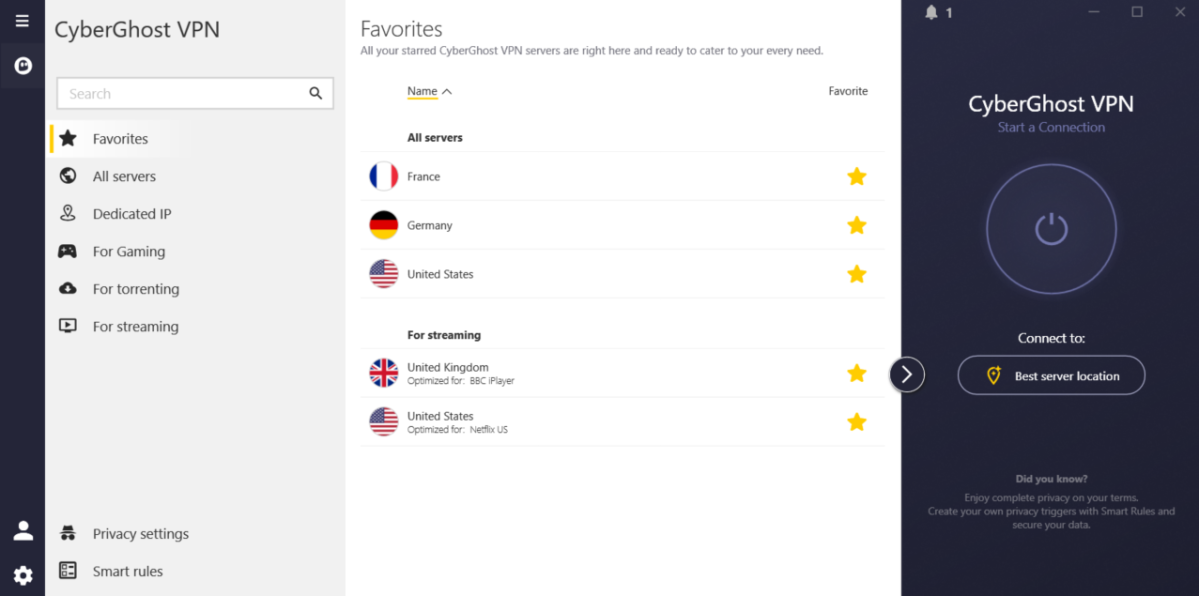 Sam Singleton
The CyberGhost Windows app has an easy-to-use interface that's pleasantly simple and straightforward. On the left rail you have options for My Account and Settings. To the right of that you have all of the different server options. These include menu items for Favorites, All Servers, For Gaming, For Torrenting, and For Streaming servers.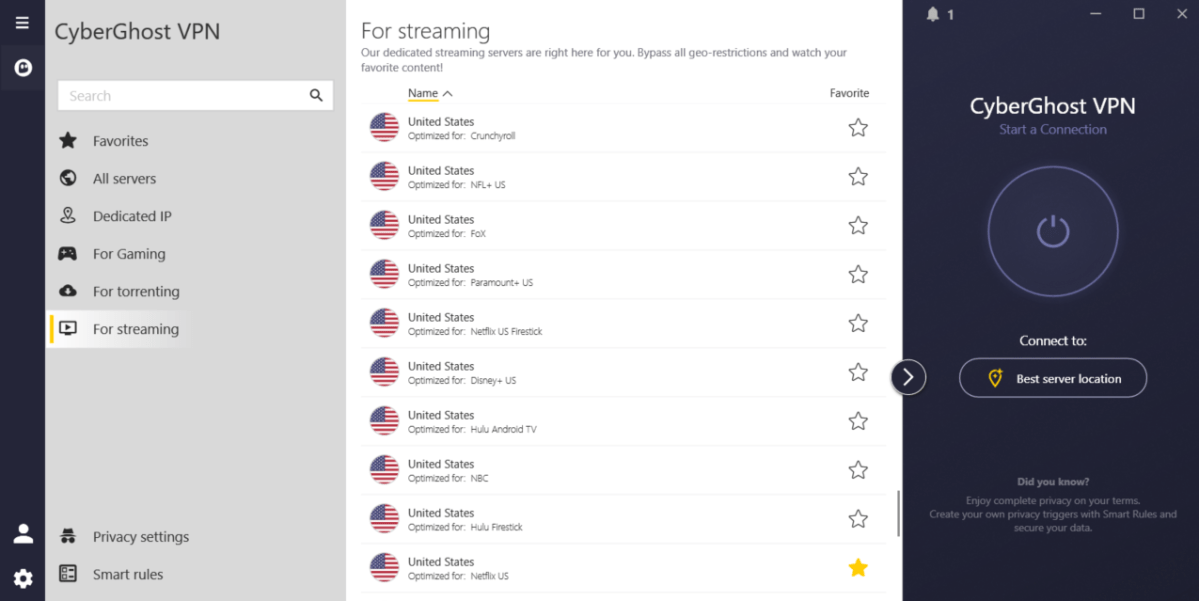 Sam Singleton
Many of these server options come from CyberGhost's rather unique legacy as a VPN that offers servers based on use rather than location. While these options are all pretty self-explanatory, the For streaming section is noteworthy. Each server listed in this menu is optimized for a specific service and CyberGhost supports unblocking for more than 35 services. For just the U.S. alone this includes Amazon Prime, Fox, HBO Max, Sling TV, Hulu, PeacockTV, Netflix, and others. When you're going overseas, or you'd like to access an overseas service from the U.S., CyberGhost should have you covered.
Under the server menu you'll find Privacy settings and Smart rules. The first has just a few basic features such as preventing DNS leaks, an automatic kill switch option, and a blocker option for domains that are known to serve ads, trackers, and malware.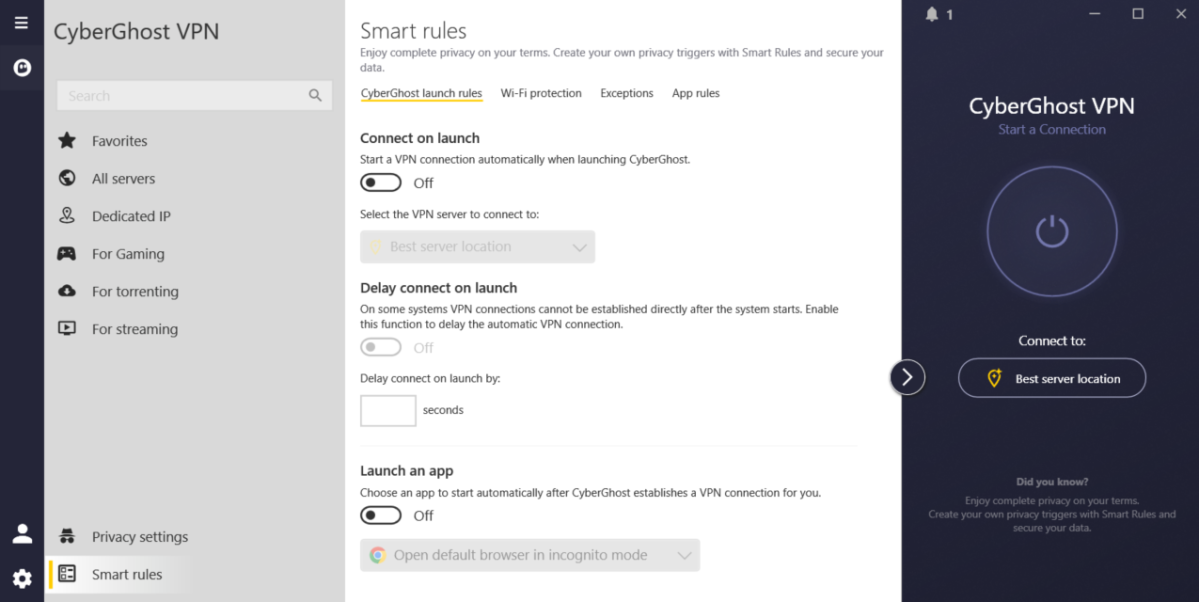 Sam Singleton
While the service doesn't offer a wide variety of tools for power users, the Smart rules section does offer a few areas to tweak. Here you can set launch rules for the app, whitelist certain websites so they bypass the VPN, and also choose if you would like the VPN to automatically connect when you open a specific desktop app.
These are all handy, but other top VPN providers such as NordVPN and ProtonVPN offer even more features which can be considerably useful. Things such as double-VPN, multi-hop connections, and traffic routing through the Tor anonymization network are offered by competitors but lacking with CyberGhost.
When you choose an option from the server tabs, you'll find a list of all the servers available, which you can sort alphabetically by name, distance from your home IP address, and any favorite servers you've chosen. This is where CyberGhost shines. It offers a dizzying number of server locations—more than 9,000. That's more than pretty much any of the other top VPN companies. The abundance of choice here means you have more options to choose servers that suit your needs whether that be location or speed or something else.
While connected to any of its servers, you're able to clearly see the server's IP address and location, data downloaded and uploaded while connected, the protocol being used, and the time duration of the connection. All of this information is displayed in a very clear and tidy manner. While this may seem like a minor detail, some other VPN providers bury this pertinent information deep down in the settings or side menus.
How is CyberGhost VPN's performance?
During our testing we rated connection speeds across CyberGhost's servers in five different countries all around the world and then compared them to our baseline internet speed. CyberGhost server speeds were pretty good, although it didn't fall into our top five fastest VPNs. Across all locations tested, the speeds averaged just over 47 percent of the base download speed and a much more impressive 95 percent of the base upload speed.
That doesn't appear great at first glance, but take those averages with a grain of salt. We saw significantly different speed averages across regions. For example, of the servers we tested, those located in Asia were particularly slow while the European servers we tested were much faster. This may boil down to the likelihood that CyberGhost employs more virtual VPN servers in Asia than in its home continent of Europe, but either way it's something to be aware of if you're traveling or living in these countries.
In regards to streaming, CyberGhost's speeds shouldn't necessarily be a worry. During our testing, even connected to slower servers, most content streamed without a hitch. And not just with the recommended streaming servers, even while using other servers we never came across an issue accessing content on major streaming sites. This is another reason why CyberGhost is a great VPN for those looking to bypass geo-restrictions or stream while out of the country.
CyberGhost VPN security and privacy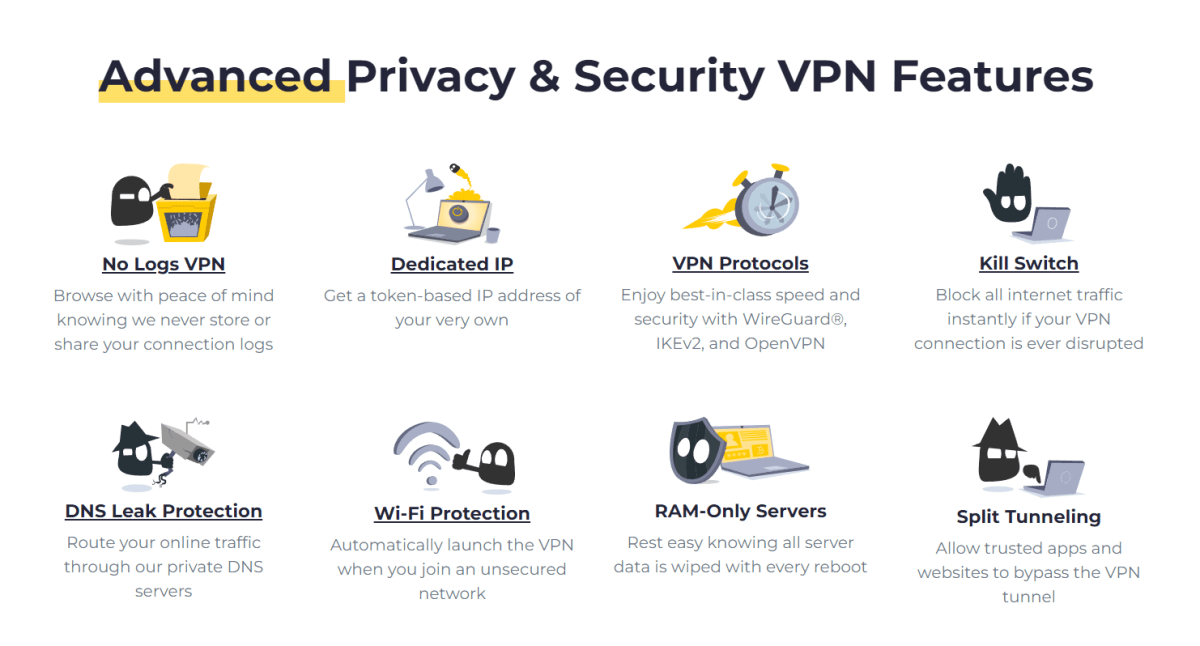 CyberGhost
CyberGhost uses the industry-standard AES 256-bit encryption, which is currently uncrackable, so you can rest assured that your connections will be safe.
It also provides WireGuard, IKEv2, and OpenVPN protocols. WireGuard will likely be your best bet in most circumstances as it's newer and generally known to be faster and more secure. IKEv2 and OpenVPN protocols are older, but still have their uses. IKEv2, for example, has wide compatibility and is generally a good option should you want to use CyberGhost on your mobile device as well.
As mentioned previously, there is also the option to turn on an automatic kill switch, which will sever your connection to the internet should your VPN drop out for any reason. It's a nice feature to have to ensure your actual address is never revealed should there be VPN issues. During our testing, CyberGhost's kill switch triggered successfully when the VPN lost connection.
As for privacy, CyberGhost lays it all out in its privacy policy. The basics are pretty straightforward. Right at the top the company says it doesn't track browsing history or traffic. It also says it doesn't store connection logs or timestamps, your IP address, or session durations.
It does, however, collect data on connection attempts including the time they happened, country of origin, and the CyberGhost software version. It also tracks successful connections. CyberGhost says this information is sent to a third-party who collects the information in aggregate. The company says it uses this information to maintain its service and none of the data collected contains personally identifying features.
To further back up its claim of privacy, CyberGhost had its no-logs policy confirmed via an audit by Deloitte in September of 2022. We always like to see a company that takes steps like this to increase transparency and foster trust among its user base.
When signing up for CyberGhost you'll need to supply an email address and password, and payment is accepted via credit card, GPay, PayPal, or Bitcoin.
Is CyberGhost VPN worth it?
CyberGhost is, as always, a top-notch VPN. This is especially true for the average user who just wants to maintain their privacy and security while browsing online. The service has good enough speeds and the interface is well designed and easy to use. It also supports a wide range of streaming services all over the world, and it ultimately makes the right privacy promises (and backs them up too).
Admittedly, the service does lack some tools such as multi-hop and double VPN that are available through competitors. And if you're a power user who is dead set on optimizing and tweaking your connections then you may want to look elsewhere. But for the vast majority of VPN users, CyberGhost is a VPN service worthy of your hard-earned money.
Editor's note: Because online services are often iterative, gaining new features and performance improvements over time, this review is subject to change in order to accurately reflect the current state of the service. Any changes to text or our final review verdict will be noted at the top of this article.
Best Prices Today: CyberGhost