At a Glance
Expert's Rating
Pros
Intel Xe Max has great performance in Deep Link creative apps
Very thin, lightweight, and affordable for a creation-focused laptop
Thunderbolt 4 port offers advanced display and storage options
Cons
A surprising amount of bloatware, and some spawn pop-up ads
An SD card reader and a more color-accurate display would be nice
Intel Deep Link technology is still in infancy, with hit-or-miss app and feature support
Our Verdict
The Acer Swift 3X is an ultraportable, affordable, and competently designed laptop for creators—a combination you don't see often. Intel's Xe Max GPU unlocks strikingly good performance but only in specific creation workloads. If your work apps support Intel's Deep Link software, you'll love this.
Best Prices Today: Acer Swift 3X
The Acer Swift 3X builds upon an already-strong foundation by adding a dash of Intel's special sauce.
Our review of last year's Intel-based Acer Swift 3 was torn. "How do you rate a laptop that you really enjoyed using, yet whose performance is otherwise disappointingly weak?" we mused at the beginning. The eminently portable Swift 3 ticked all the boxes that made for a great notebook but lagged far behind its rivals in raw horsepower.
Enter the Acer Swift 3X. Moving from Intel's 10th-gen Core processors to the latest 11th-gen Tiger Lake offerings alone provides a significant speed boost, but the 'X' in the name hints at the true star of this show. The Swift 3X is the first Acer laptop with Intel's new Iris Xe Max discrete graphics chip inside, complete with "Deep Link" software tricks that lets it join forces—sometimes—with Tiger Lake's integrated Xe graphics to boost performance in productivity tasks. It's also the first Intel Iris Xe Max laptop to cross our test bench.
So does that 'X' mark the sweet spot for content creators on the go? It very much depends on your particular workloads. But there's no doubt that this is a competently designed laptop, and when Intel's Deep Link can stretch its legs, the results can leave even Nvidia RTX GPUs in the dust.
This review is part of our ongoing roundup of the best laptops. Go there for information on competing products and how we tested them.
Acer Swift 3X specs and features
Before we get into that, though, let's take a look at the laptop's loadout.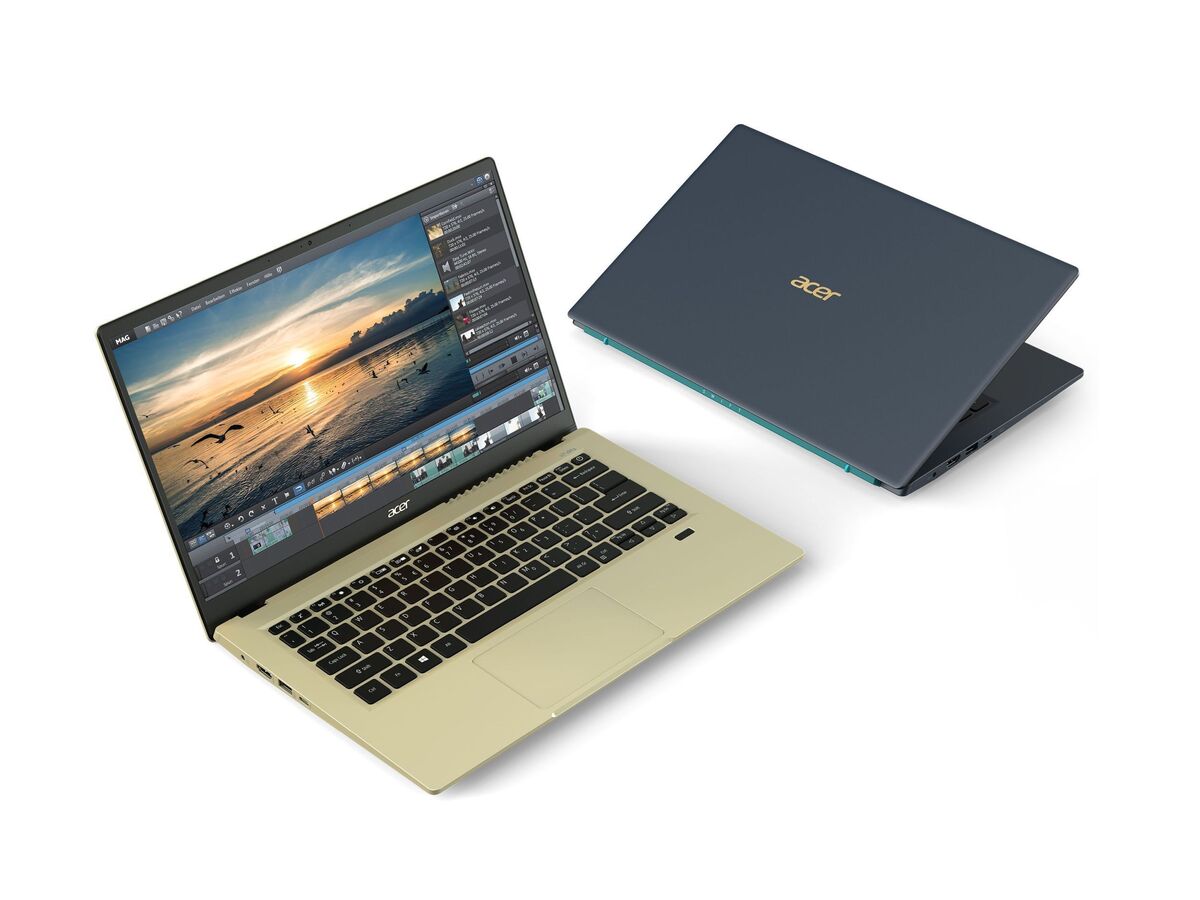 Acer offers two different Swift 3X configurations with Iris Xe Max. A more affordable model ($900 on Amazon) combines Intel's Core i5-1135G7 quad-core processor, which tops out at 4.2GHz clock speeds, with 8GB of GDDR4X memory and a 512GB SSD. The model we're testing (the poetically named SF314-510G-767Y, $1,200 on Amazon) bumps that up to a faster 4.7GHz Intel Core i7-1165G7, and doubles the memory and storage. It feels like a steal if you can put the extra hardware to good use.
Display: 14-inch 1920×1080 IPS 16:9 panel with 72% NTSC color gamut, 300 nits of brightness
Processor: Intel Core i7-1165G7
Graphics: Intel Iris Xe Max discrete GPU with 4GB of LPDDR4X memory; integrated Iris Xe graphics in processor
Memory: 16GB dual-channel LPDDR4X
Storage: 1TB PCIe NVMe SSD
Ports: 1 USB-C 3.2 gen 2 with Thunderbolt 4, DisplayPort, and USB charging; 2 USB-A 3.2 Gen 1 ports; full-sized HDMI 2.0; 3.5mm jack for headset/mic; Kensington lock; power
Security: Fingerprint reader (Windows Hello); Kensington lock
Camera: 720p (user-facing, with SHDR)
Battery: 58.7Wh (reported), 58.5Wh (actual)
Wireless: WiFi 6 (Intel AX201 802.11ax dual band, 2×2 MU-MIMO); Bluetooth 5.1
Operating system: Windows 10 Home
Dimensions (inches): 12.71 x 8.35 x 0.71
Weight: 3.02 pounds
Color: Steam Blue (reviewed) or Safari Gold
Price: $1,200 at Amazon
Acer Swift 3X design impressions
On the whole, the Acer Swift 3X nails the vibe it's going for. This is a small, light, affordable, and long-lasting laptop targeting on-the-go content creators.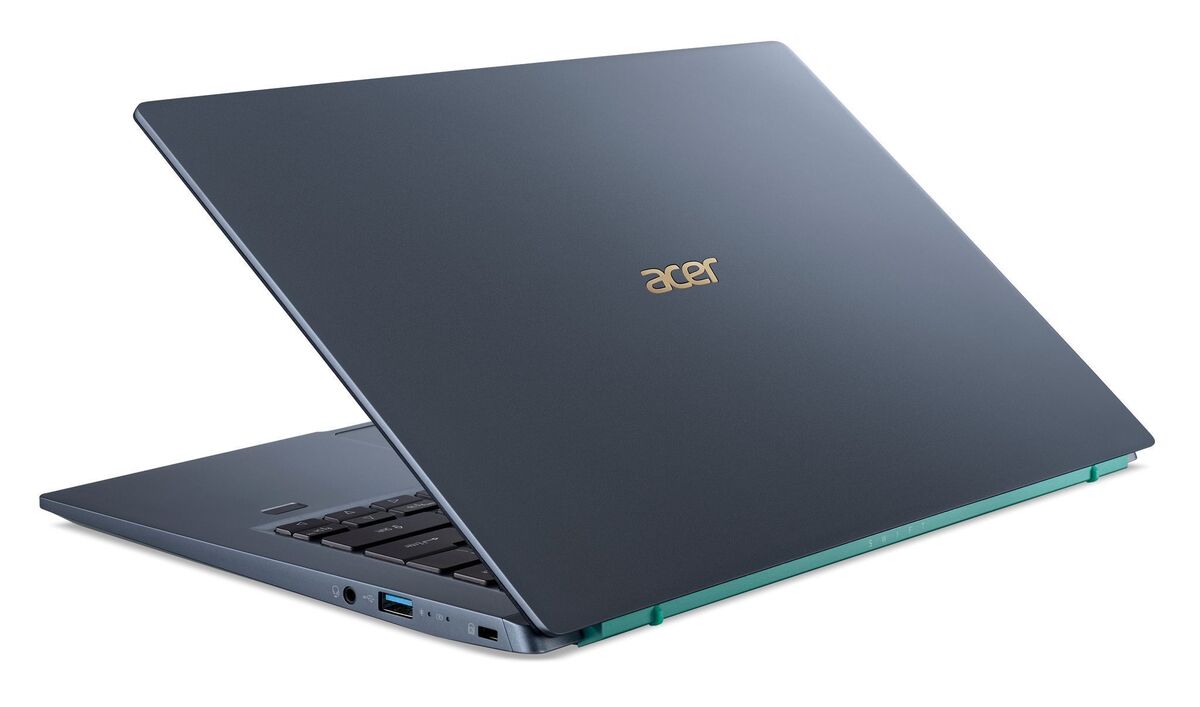 Those characteristics have rarely melded before, as content creation laptops have typically cost and weighed more due to their need for discrete graphics chips. The Iris Xe Max is a discrete GPU, but it's basically identical to the integrated Xe graphics in Intel's Tiger Lake chips. The Xe Max, however, is split out and paired with 4GB of its own low-power LPDDR4X memory, rather than the usual higher-power GDDR5 or GDDR6. That upgrade, though somewhat modest, means Xe Max can be used in smaller, cheaper laptops like the Swift 3X. We'll dive deeper into the capabilities of Intel's discrete GPU and Deep Link technology later.
The 14-inch, 1080p IPS display shines at 300 nits and is technically a step back from the glorious 2256×1504, 400-nit panel in last year's Swift 3, but the shift to standard 1080p makes sense. The humble Iris Xe Max would have trouble driving games at the higher resolution, while the reduction in both pixel count and brightness helps propel the Swift 3X's battery life to an impressive 12-plus hours, as you'll see later.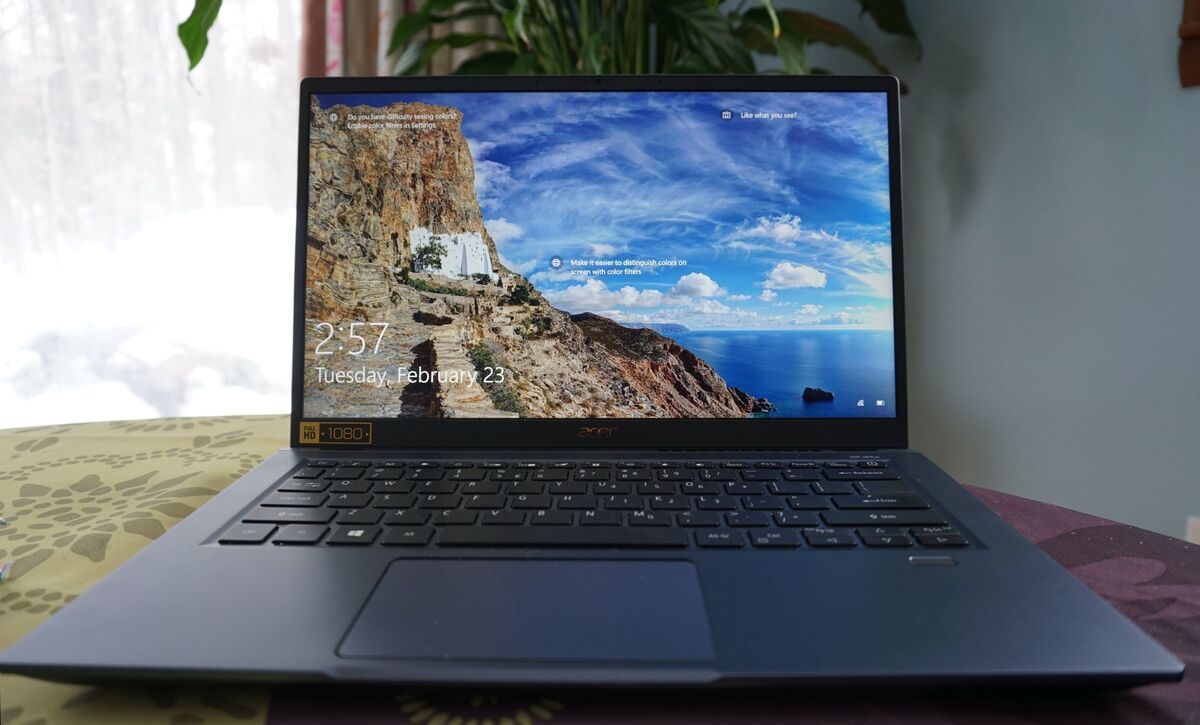 The Swift 3X's IPS screen is best described as competent. It looks good, and it's definitely better than the cheap TN panels found in many chunky gaming laptops in this price range. It looks good. The one bummer is its support for just 72% of the NTSC color gamut in a notebook pitched toward content creators. Contrast levels are merely average as well, giving the screen a somewhat muted look. You get nearly full sRGB support, but Acer missed an opportunity to help bolster the Swift 3X's strengths here by offering greater color accuracy. Of course, that would have likely increased costs as well, which would eat into a key advantage for this laptop.
Our other tiny complaint revolves around the connectivity. Acer does a decent job here. Beyond the standard USB and audio ports, Wi-Fi 6 and Bluetooth 5.1 offer ample wireless capabilities, a full-sized HDMI connection will prove welcome for creators hooking up to external monitors, and the Thunderbolt 4-capable USB-C connection provides all sort of flexibility with add-on devices (including DisplayPort monitors). But again, since this laptop wants to woo creators, it would've been fantastic to see an onboard SD card slot, even though it's hard to cram so many ports into a notebook this small.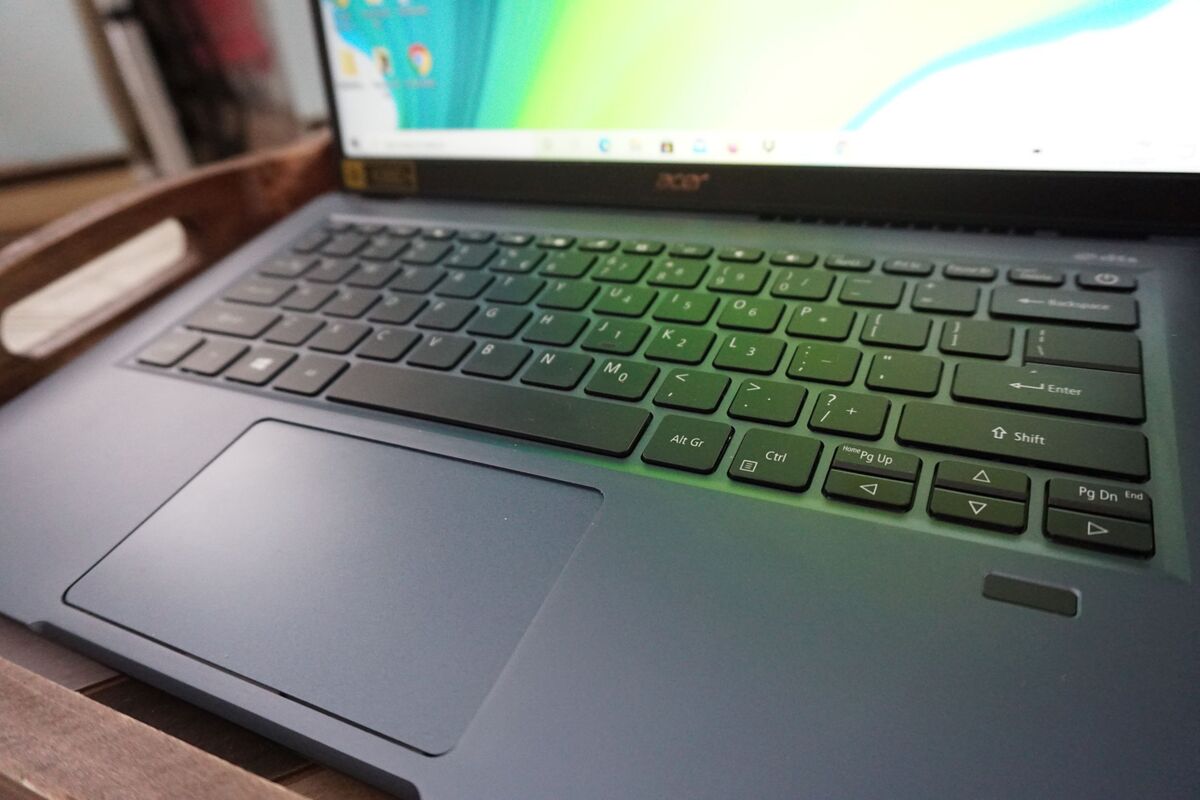 Other than those nitpicks we have no real gripes. The backlit keyboard, like the display, is competent, with a comfortable design and decent key travel. The same goes for the precision trackpad. It feels good and stays out of your way—exactly what you want in a laptop for work. The speakers and 720p webcam are similarly fine. That's a lot more than most laptops can say.
It's the overall package that shines. The aluminum chassis and palm rest look good and feels sturdy. At just 3.02 pounds, the 0.7-inch-thick laptop can be tucked under your arm, while the incredible battery life means you can use it all workday long without shackling yourself to a wall outlet. The combination of Modern Standby and the Swift 3X's fast fingerprint reader means you'll never need to wait for the computer to wake up. Just open the lid, and you'll be ready to rock in a second. Paired with the other solid design choices, the Acer Swift 3X is a joy to use, full stop.
Brimming with bloatware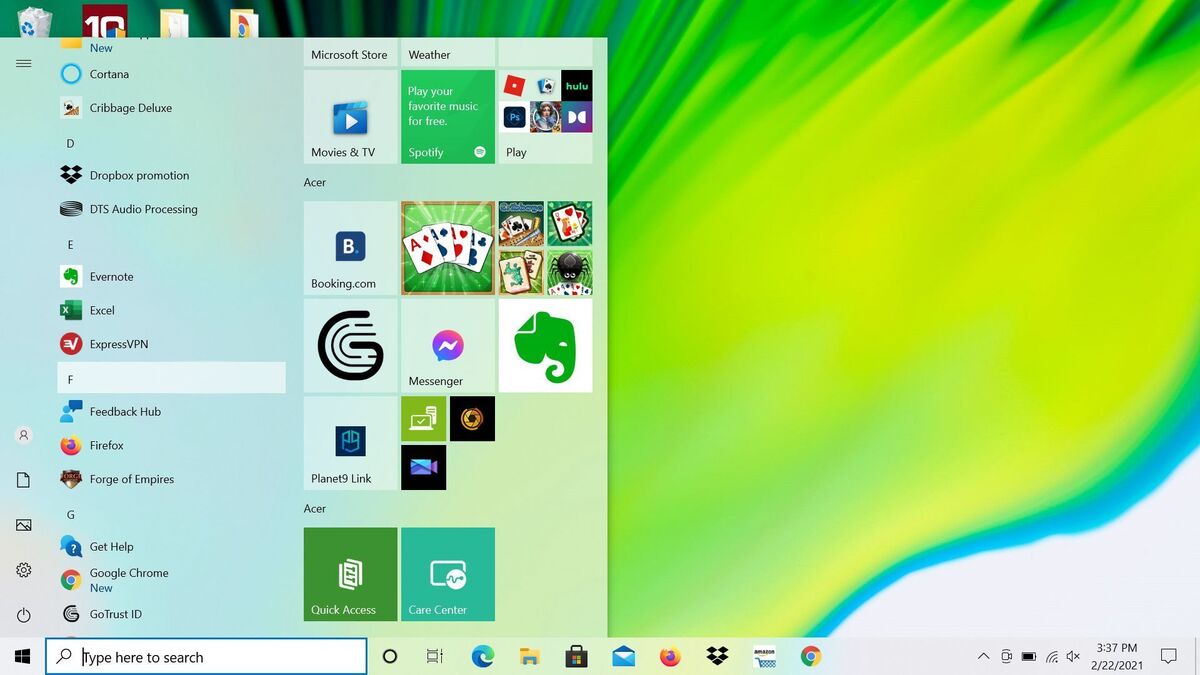 Well, once you square away the bloatware. Acer absolutely stuffs this system with it. You'll find a Norton Antivirus trial installed by default. Apps for Dropbox, Firefox, and Amazon are already pinned to the Windows taskbar. Yet more lurks inside your Start Menu, including apps for Booking.com, Facebook Messenger, and Evernote. Very annoyingly, a link to the Planet9 webpage automatically starts downloading software, ExpressVPN, and a lot of games.
Worse, Norton and the games pop up advertisement notifications from time to time—"Play Forge of Empires and receive $10 in in-game credits," and whatnot. Ick.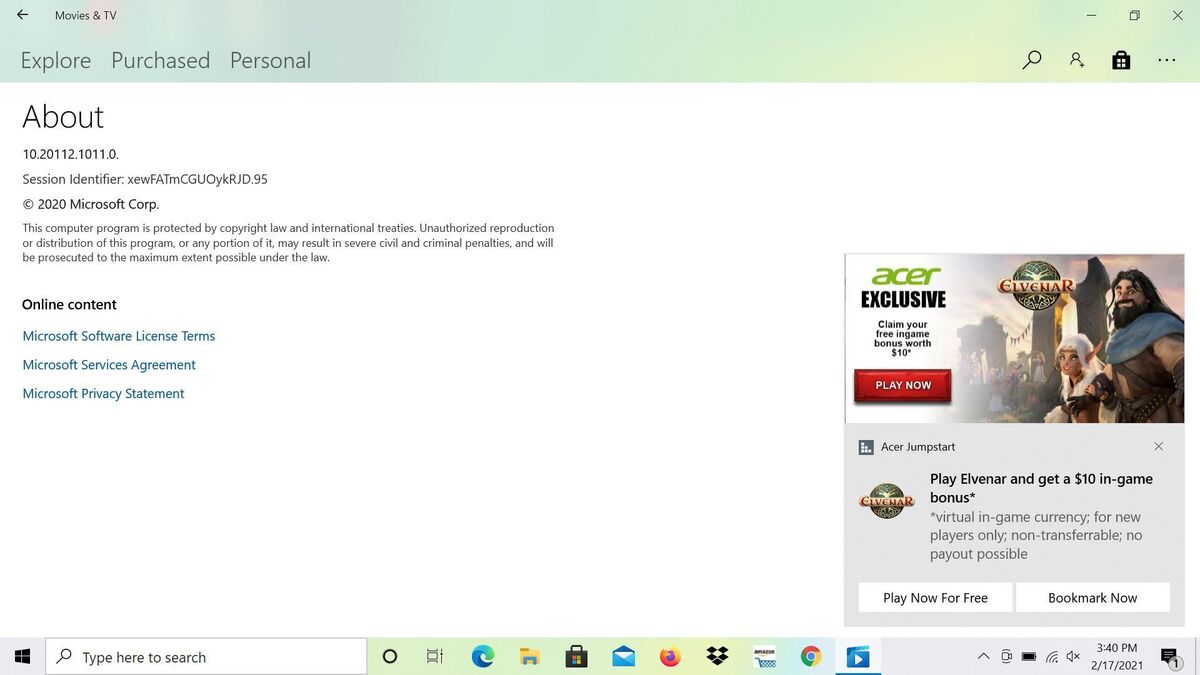 All that bloatware no doubt helps the Swift 3X hit its affordable midrange price tag, but it also detracts from the experience of using the laptop—and at $1,200, this thing ain't exactly cheap to begin with. Spend a few minutes deleting it all if you buy this laptop to save yourself some frustration.
And hey, Acer: If you're going to shovel bloatware into a laptop intended for creative pros, at least select partners that don't bombard your users with nagging ad pop-ups.
Laptops we're comparing
Enough bloatware-busting. It's time to see how the Acer Swift 3X handles.
Before we dig into the benchmarks, these are the laptops we'll be comparing Acer's $1,200 notebook against, and why we included each in our charts:
We test each laptop using the out-of-box power configuration set by the manufacturer. In the Swift 3X's case, that's the middle-of-the-road "Better Performance," which splits the difference between efficiency and maximum power. We'll only include data from a given laptop when it's relevant to the testing scenario at hand, and only if we have the data available—we test gaming and standard laptops with slightly different barrages of benchmarks.
Let's dig in, starting with the star of the show.
Next page: Intel Xe Max deep dive
Why Intel's Iris Xe Max matters
You'll only want the Acer Swift 3X if you can take advantage of the unique capabilities of Intel's just-arrived Iris Xe Max discrete GPU. That included the accompanying Deep Link software, which forges a deep tie between Iris Xe Max and the integrated Xe graphics found on Intel's Core i7 processor.
One immediate benefit is Intel's Dynamic Power Share feature. Most laptops with discrete graphics allocate a certain portion of the notebook's power to the GPU, even if it's not being used. That means the CPU's maximum performance is never truly unleashed.
Because Intel created both the CPU and the GPU(s) in the Swift 3X, it can shift resources as needed, just like AMD's rival Smart Shift technology. Dynamic Power Share diverts full power to the CPU when your GPU is twiddling its thumbs. Intel claims a Xe Max system can deliver up to 1.2X the CPU performance of a laptop that uses Nvidia or AMD graphics, thanks to Dynamic Power Share. That advantage is driven home in the CPU benchmarks we'll cover later. More power means more performance. Tiger Lake roars in the Swift 3X.
But you buy an Iris Xe Max laptop for its graphical capabilities. Intel doesn't pitch the GPU as a gaming chip; instead, it positions Xe Max as an Nvidia MX350 rival that provides more oomph during content creation tasks. The Xe graphics integrated in the Core i7 chip comes with the same basic hardware configuration as the discrete Xe Max GPU—each has 96 execution units. Deep Link lets the chips work in concert to speed up AI and video encoding tasks.
Usually, if a laptop has a discrete GPU, it uses only that discrete GPU or an integrated GPU for a given task—not both at the same time. Deep Link changes things, and it rocks when you can use it.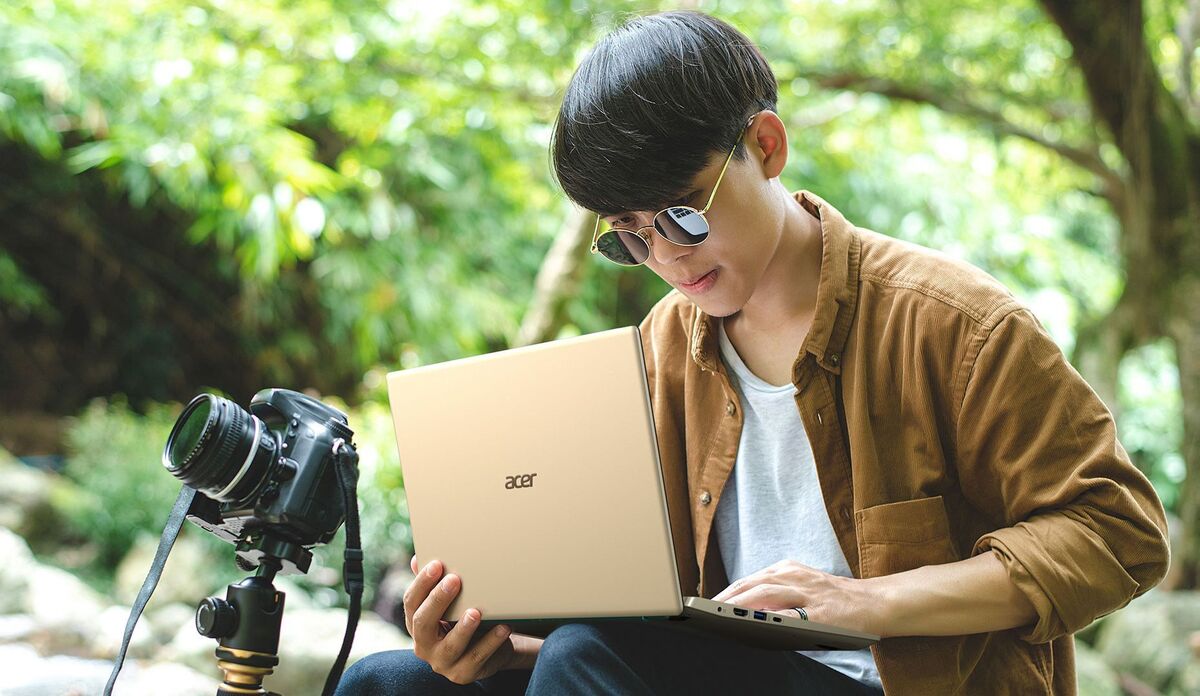 Intel provided Deep Link testing scenarios that showcase what an Iris Xe Max system can do. It's impressive, even when compared against a pricier HP Envy 15 with a much more powerful GeForce RTX 2060. We tested both scenarios below using Intel-supplied workloads, but we tweaked some encoding settings on the HP Envy 15's benchmarks to optimize for best performance on Nvidia's GPU (using NVENC instead of Intel's Quick Sync, for instance).
Intel is proud of the "DL Boost" DP4A deep learning capabilities unlocked in its graphics chips, and Topaz's Gigapixel AI photo upscaling software leverages it very well. Better yet, Deep Link lets the program tap into the encoding capabilities of both Xe GPUs at the same time. The test below measures how long it took to convert a batch of 20 low-resolution images to 4K resolution.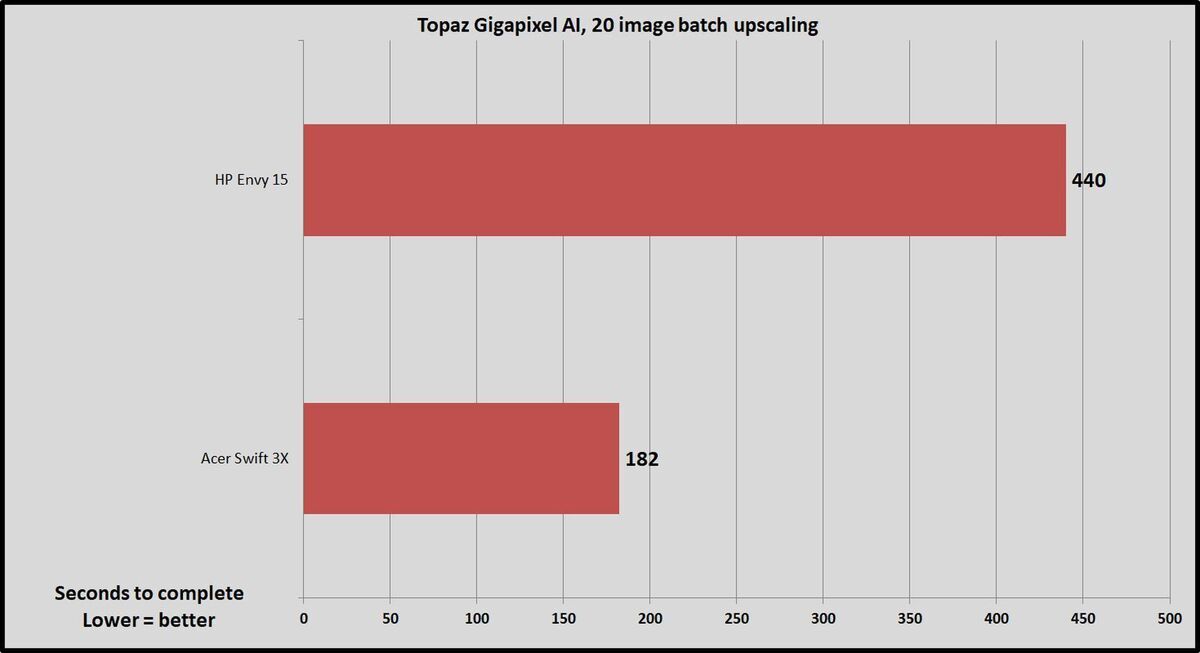 This is very much a scenario that puts Intel's technology in the best light, but that's what we're looking for in our initial Xe Max evaluation, and photo upscaling is a very relatable real-world workload for AI. The Swift 3X absolutely crushes the RTX 2060 inside the HP Envy 15, taking well under half the time to upscale the entire batch of images.
The popular media encoder HandBrake also supports Deep Link's Hyper Encode feature in alpha form via its nightly builds. We downloaded the nightly build on February 15 to test it. Intel's test here converts a batch of ten 4K videos to 1080p HEVC videos. Because the Swift 3X includes two Quick Sync-capable Intel GPUs (discrete and integrated), we set the "Number of simultaneous encodes" option in HandBrake's advanced settings to two, up from the default one. As you can see below, that supercharges the conversion time versus encoding just a single video in the queue. (The HP Envy 15's RTX 2060 performed identically with either option selected, because it relies only on the single GPU.)
Another quick programming note: Intel's Quick Sync defaults to converting videos at the same frame rate as their source videos. Nvidia's NVENC defaults to a 60-frames-per-second rate. We've included results for the HP Envy 15 encoding the videos with both settings in the results below. Either way, the Swift 3X is the far and away winner, even before you activate Deep Link. Like with Gigapixel AI, this test measures total conversion time in minutes, so lower numbers are better.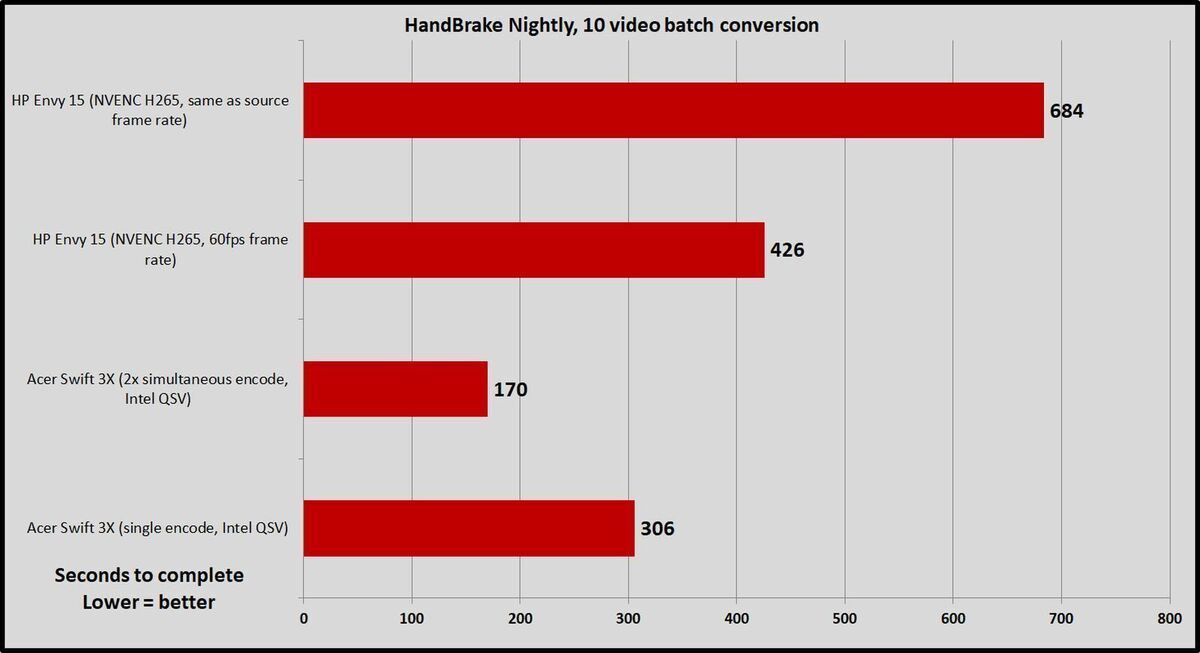 Holy moly. If your workflow revolves around converting large batches of videos, the Xe Max-packing Swift 3X rocks.
But you need to think hard about whether you can actually put Intel's Iris Xe Max to work. Deep Link is a new technology that works in only a handful of applications at the moment, and even then, not always in official release form yet (witness the HandBrake nightly). The list currently includes HandBrake, Topaz Gigapixel AI, Adobe Lightroom Classic, OBS, and XSplit, along with some Asian-focused software. Intel also touts Deep Link's performance in ML Perf deep learning workloads, and Deep Link now works with Blender's Cycles, albeit only in prerelease form. In the future, Intel says Deep Link will also work with CyberLink and Magix, two more popular video creation tools.
That's a killer starting lineup for creators, but future promises are doing a lot of heavy lifting. That said, future updates could also make the Deep Link Hyper Encode feature much more useful. Currently, the Xe tag-team inside the Acer Swift 3X can utilize its Quick Sync speedup only for batch encodes, with the integrated and discrete GPUs each taking on their own tasks, albeit at the same time. Intel hopes to roll out the ability to dedicate both Xe GPUs on a single video conversion sometime in the first half of 2021, breaking the stream into separate "Groups of Pictures" for each encoder to handle before recombining them into a single output video. That could be a truly killer feature for Xe Max laptops—if it rolls out as quickly as intended, if applications get rapid updates to support it, and if the feature works as intended out of the gate.
Intel maintains a massive army of software developers and invested a lot of resources into creating its first discrete GPUs in decades, so we expect all those things to happen in due time. That said, we generally advise against buying pricey hardware based on what it can do today, as future promises don't always materialize. Make sure you can put Deep Link to good work now before you invest in the Acer Swift 3X.
Fortunately, the Intel Iris Xe Max delivers a good showing in driving today's graphics workloads, as long as you keep in mind that it's an affordable solution. 3DMark's Time Spy and Sky Diver benchmarks compare the visual prowess of a GPU, with Time Spy targeting gaming-grade hardware and Sky Diver evaluating more modest gear.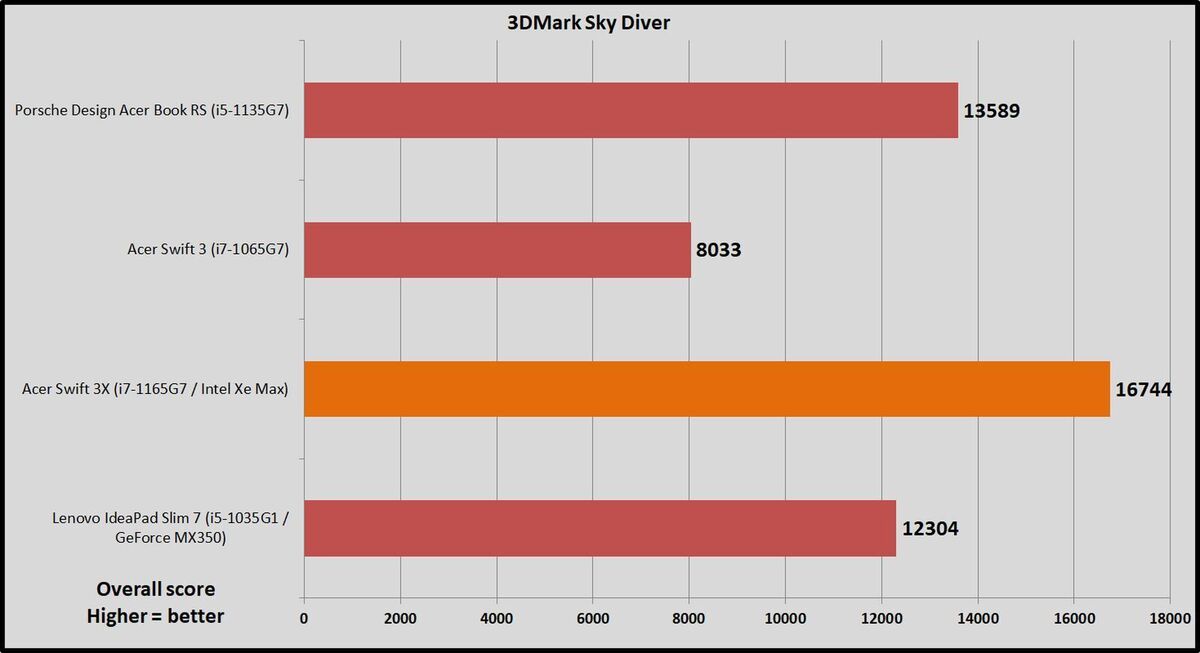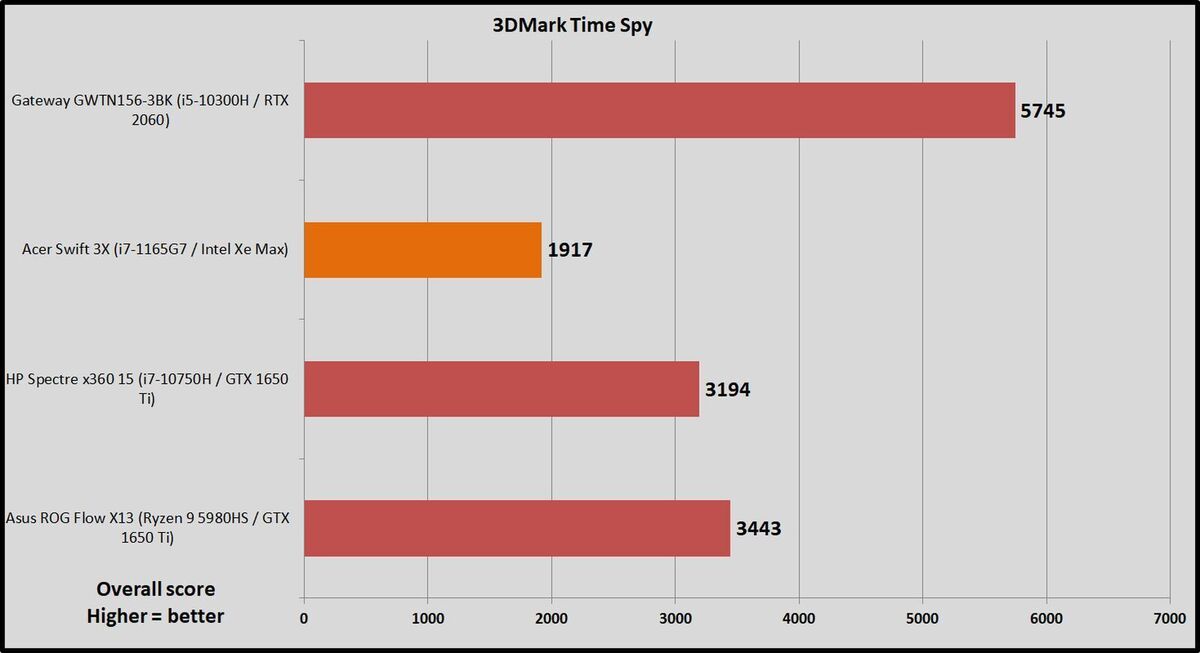 As you can see above, the Swift 3X's discrete Xe Max GPU can't come close to hanging with proper GeForce chips in larger laptops when it comes to Time Spy, but it wallops on the integrated graphics you find in most ultraportable laptops, as well as Nvidia's rival entry-level MX350.
The Iris Xe Max also performs modestly in our gaming tests, which run Rise of the Tomb Raider and Middle-earth: Shadow of Mordor (two older games) at Ultra settings at 1080p resolution. The games run faster on Xe Max than the 30fps targeted on last-gen consoles, but proper GeForce gaming GPUs again leave Intel's chip lagging far behind. The vastly cheaper (and vastly larger) Gateway laptop with a full-blown RTX 2060 inside easily tops all comers here, but it's a completely different class of notebook. We included it just to illustrate the performance differences between these types of devices. Note that we did not test Shadow of Mordor on the Asus ROG Flow X13, so that result is listed as a zero below.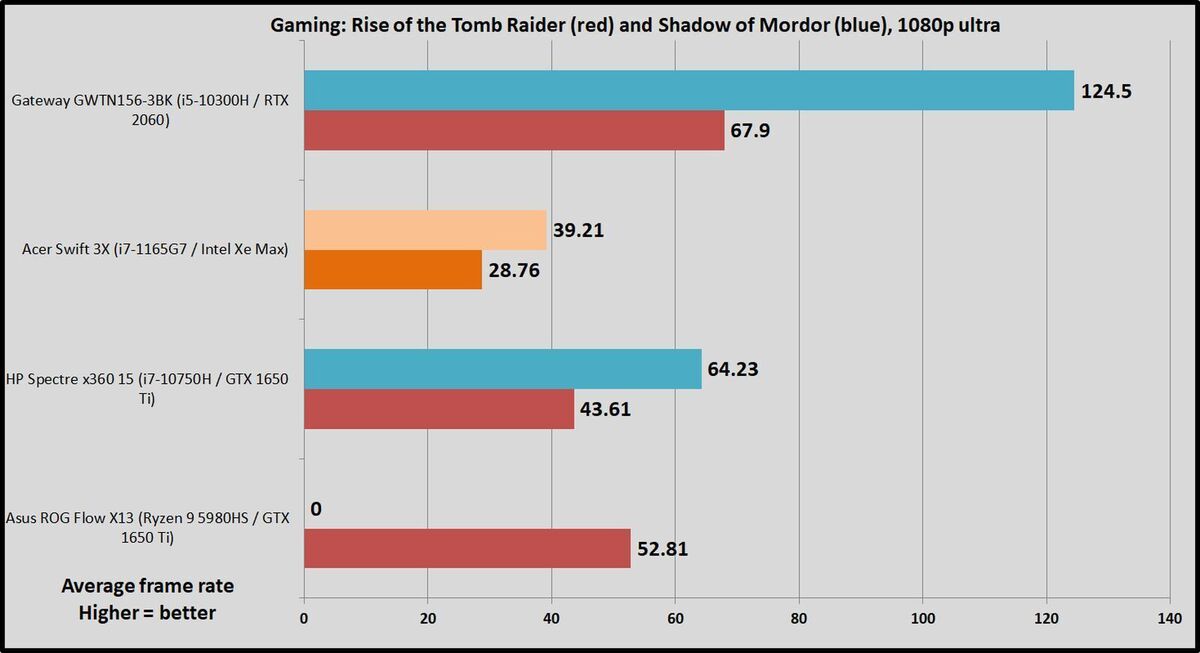 Remember that the Iris Xe Max isn't built for Ultra-quality gaming though! It's an affordable, low-power GPU primarily focused on speeding up media encoding. That said, Xe Max still delivers plenty of play-time oomph if you don't mind dialing back the graphics settings.
We benchmarked the Swift 3X across a few games at their Medium and Lowest graphics presets at 1080p. Each one cleared the 30-fps to 45-fps mark we consider playable with everything dialed down. F1 2020 and Rise of the Tomb Raider come close to that standard even with Medium settings, but they suffer from frame time dips that can sometimes pull the average down around the 20-fps range, which yanks you out of being immersed. Stick to lower settings in intense games, or drop the resolution to 720p, and most should play just fine.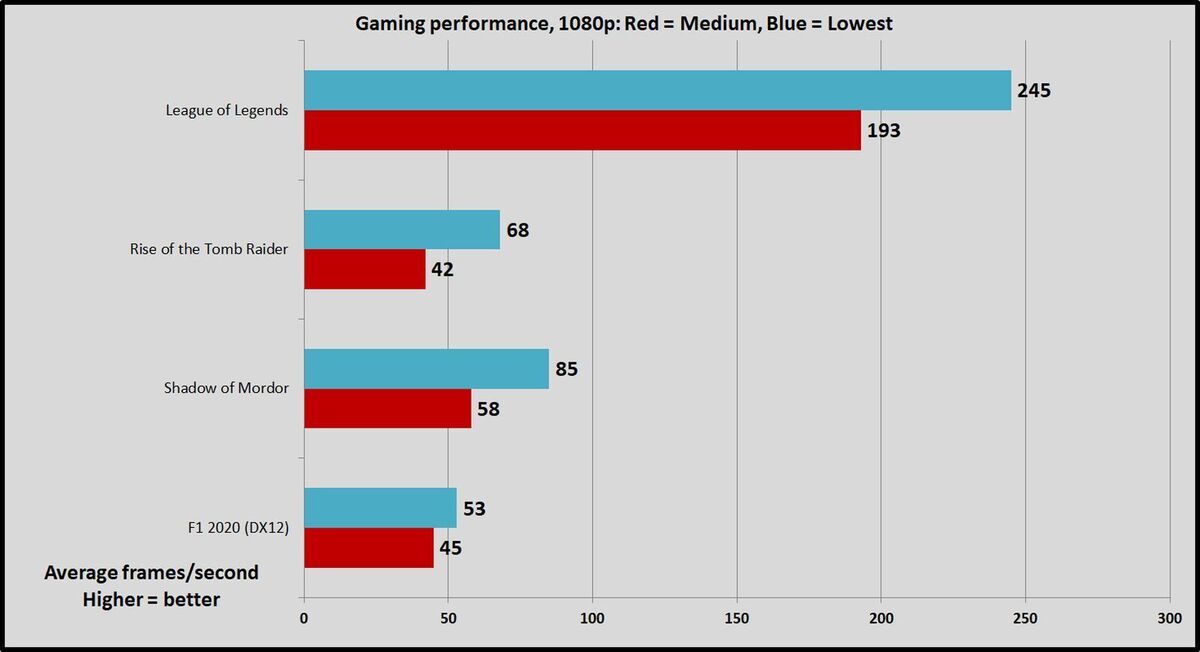 Not all of them, though. While I managed to get most games I tried working on the Swift 3X, including an array of esports and retro-styled games that ran even better than results you see above, both Horizon Zero Dawn and Wolfenstein Youngblood refused to run. Wolfenstein wouldn't load at all, while the screen went dark in Horizon Zero Dawn whenever I tried to run the benchmark. Some games also think the laptop's full resolution is 720p during the initial setup, though they quickly realize it's a 1080p panel once you change the setting in-game. Chalk these weird quirks up to Xe Max's young drivers, perhaps.
It's also worth noting that the Swift 3X's fans definitely kick up when you're stressing both the CPU and GPU with games. They're somewhat loud, but the tone isn't unpleasant, so it's not an annoyance when you're gaming with no headset on. There's no whiny, high-pitched noise like you find with some notebooks.
Next page: More benchmarks, bottom line
CPU and system benchmarks
So Iris Xe Max mostly impresses as Intel's first discrete GPU in decades. Does the company's 11th-gen Tiger Lake Core processor follow suit? Spoiler: Yep.
First up: Cinebench R15. This older benchmark tasks the CPU with rendering a 3D image in real time. Because the duration of this test is so short, processors with higher boost clock speeds tend to perform better. The single-thread results show peak performance on singular tasks, while the multi-threaded results reveal how well the chip's entire phalanx of cores works together. Chips with more cores and threads obviously perform faster. Higher scores are better for Cinebench.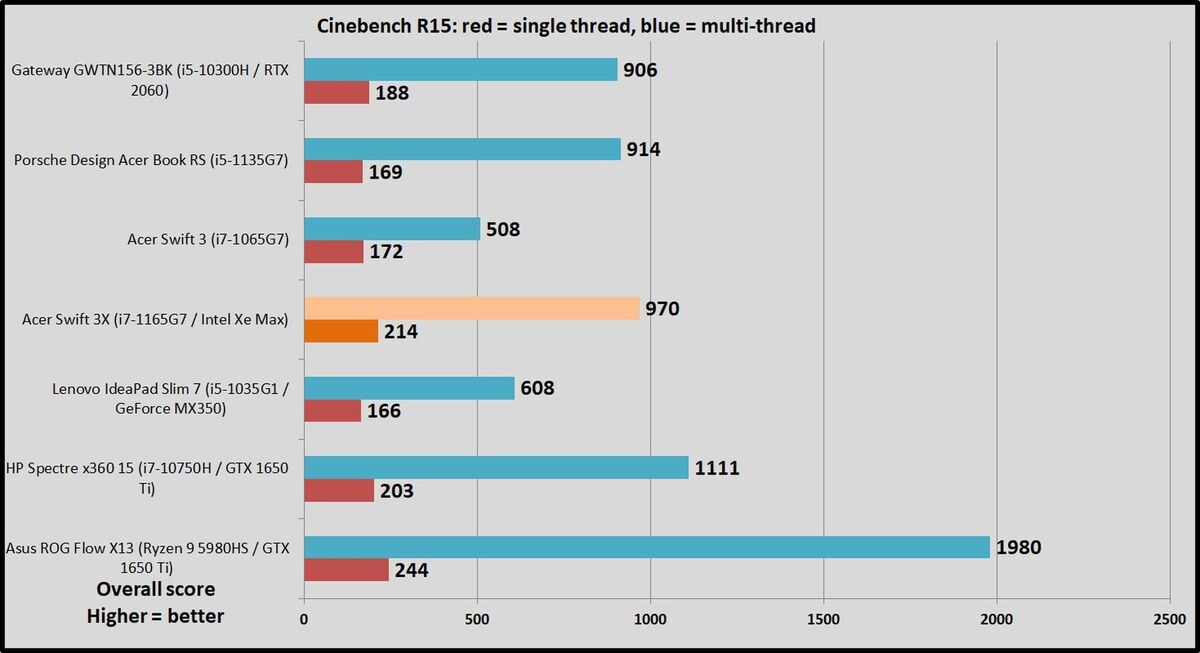 Nothing compares to the beastly 8-core Ryzen 9 5980HS in the Asus ROG Flow X13, but that's to be expected. The Tiger Lake chip inside the Acer Swift 3X bests all comers in single-threaded performance otherwise though—including the powerful 10th-gen H-class gaming chip in the HP Spectre x360 15. Heck, even though the Swift 3X packs two fewer cores and four fewer threads than the Spectre, it still almost manages to catch up in multi-threaded performance. The 11th-gen chip in the Swift 3X also demolishes its direct predecessor in last year's Swift 3. Tiger Lake was a massive advancement for Intel, and Deep Link's new Dynamic Power Share feature plays into this as well. Cinebench doesn't touch the GPU, so the Swift 3X can devote full power to the processor.
Cinebench R20 is a newer version of the test, using the 3D modelling application found in Maxon's Cinema4D software. It lasts longer than R15, so overall system design starts to play a bigger role in the results here. Chips with high burst speeds don't hold quite as much of an advantage. The results are also scored differently.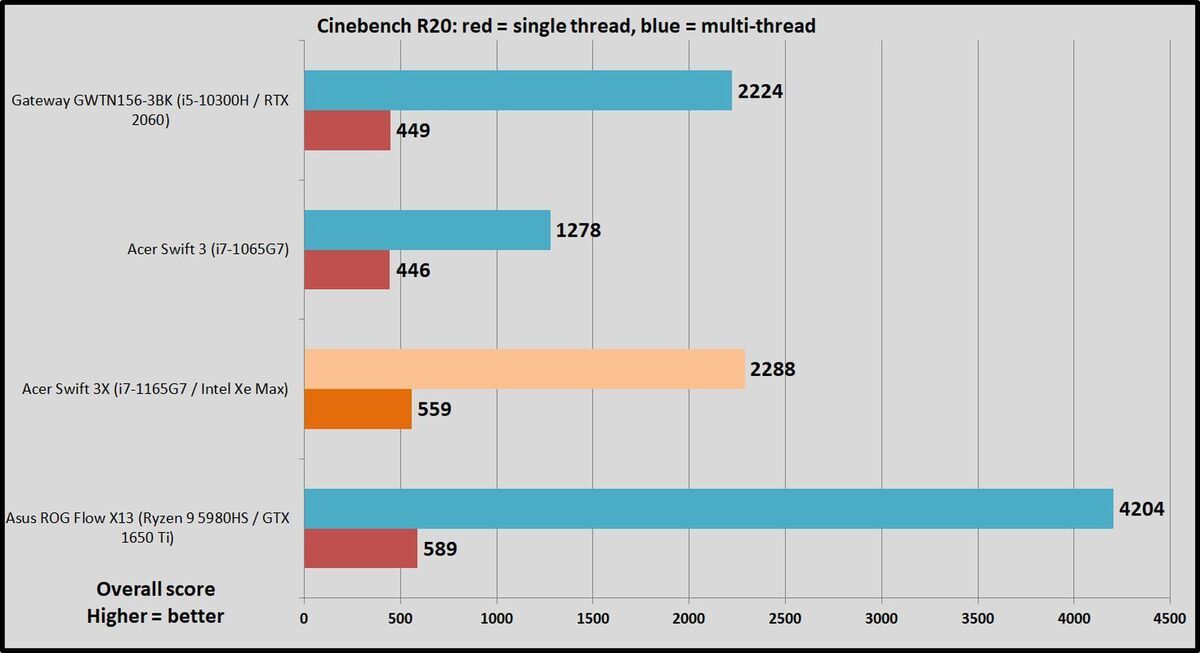 The Ryzen 9 chip dominates once more, but the Swift 3X holds its own with a chunky gaming laptop and once again wallops its predecessor, the Swift 3 with a 10th-gen CPU. Our previous performance concerns have definitely been alleviated.
If Cinebench R15 is a sprint, HandBrake is a marathon, putting sharp focus on a CPU's performance over time as well as a laptop's overall cooling potential. We use version 0.99 of the free HandBrake utility to transcode a 30GB MKV file to a format suitable for Android tablets. Even the most monstrous processors take nearly half an hour to complete the task, while more modest hardware can take closer to an hour. The results below show total rendering time in seconds, so lower scores are better.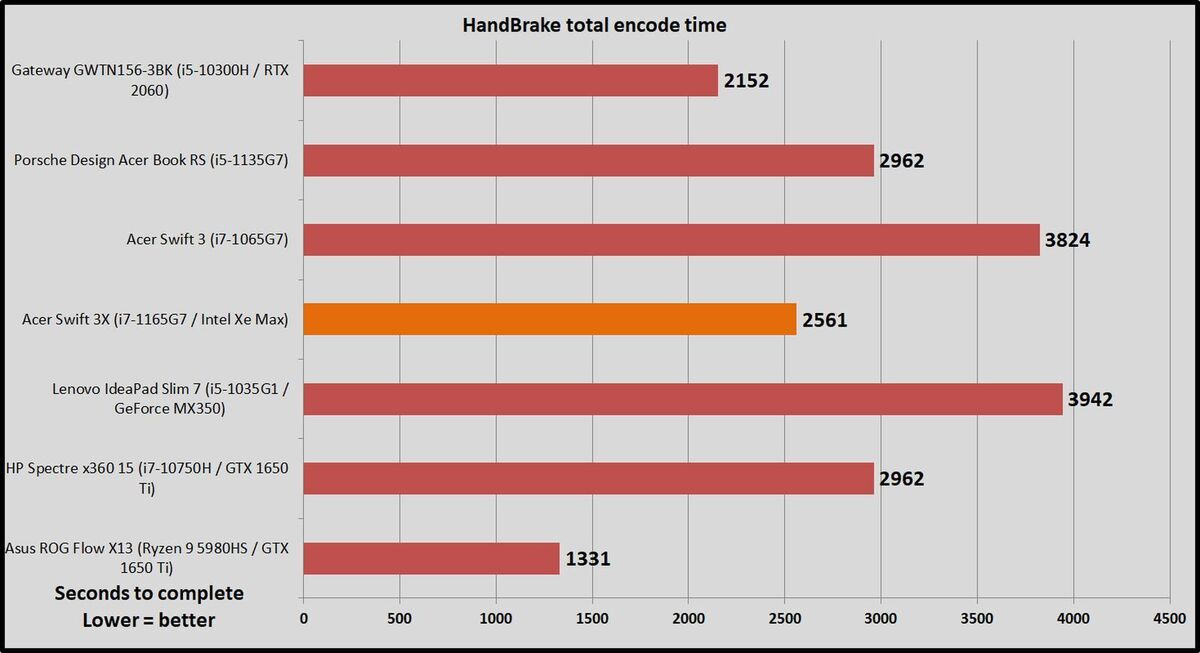 Yes, the monstrous ROG Flow X13 wins again—no surprise there. It's amazing what that three-pound laptop pulls off. But the equally tiny Swift 3X once again delivers stellar results here, handily besting the other Intel-based ultraportables and hanging tough with the chunky Gateway laptop once again. It finishes the task over 21 minutes faster than last year's Swift 3. Dang.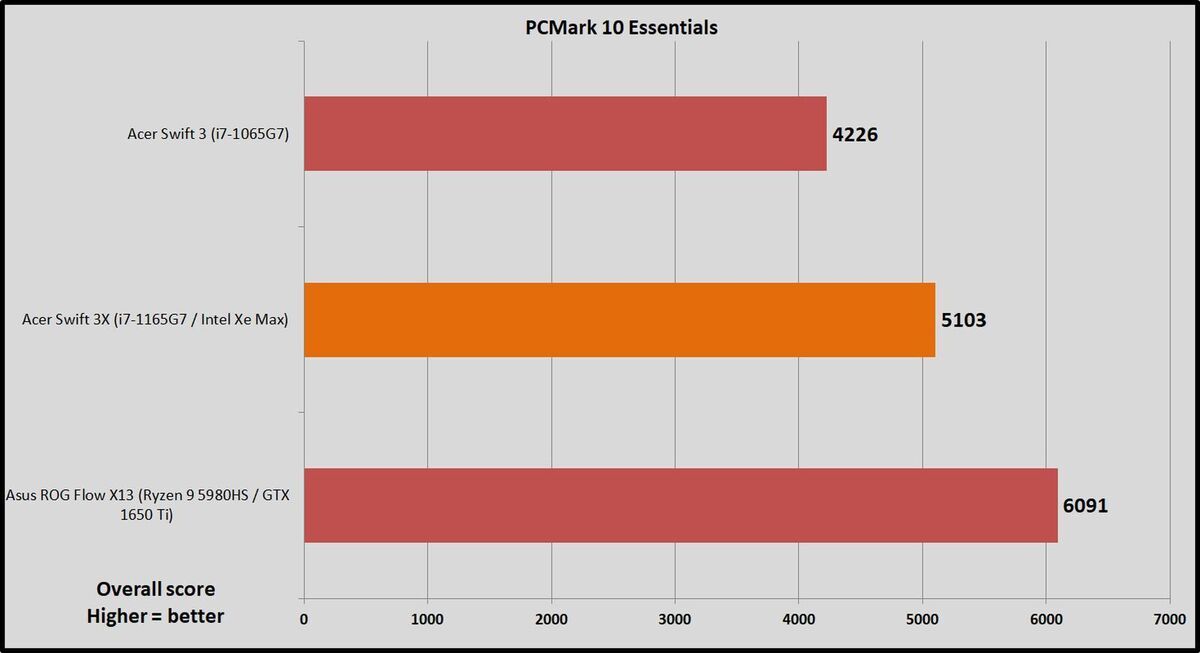 Moving past the pure CPU tests, PCMark 10 simulates such day-to-day desktop duties as web browsing, word processing, spreadsheet tinkering, video chat, and playing games. Higher scores are better. We've only recently switched to testing PCMark 10 instead of PCMark 8, so our comparative results are limited. In any case, the Swift 3X with its 11th-gen Core i7 hums through the test much more efficiently than the Swift 3's 10th-gen chip.
Finally, we test battery life on laptops by looping a 4K video using the stock Windows Movies & TV app. We set screen brightness to about 250 nits and dial down the volume to 50 percent, with headphones plugged in. Results are measured in minutes, and higher scores are better.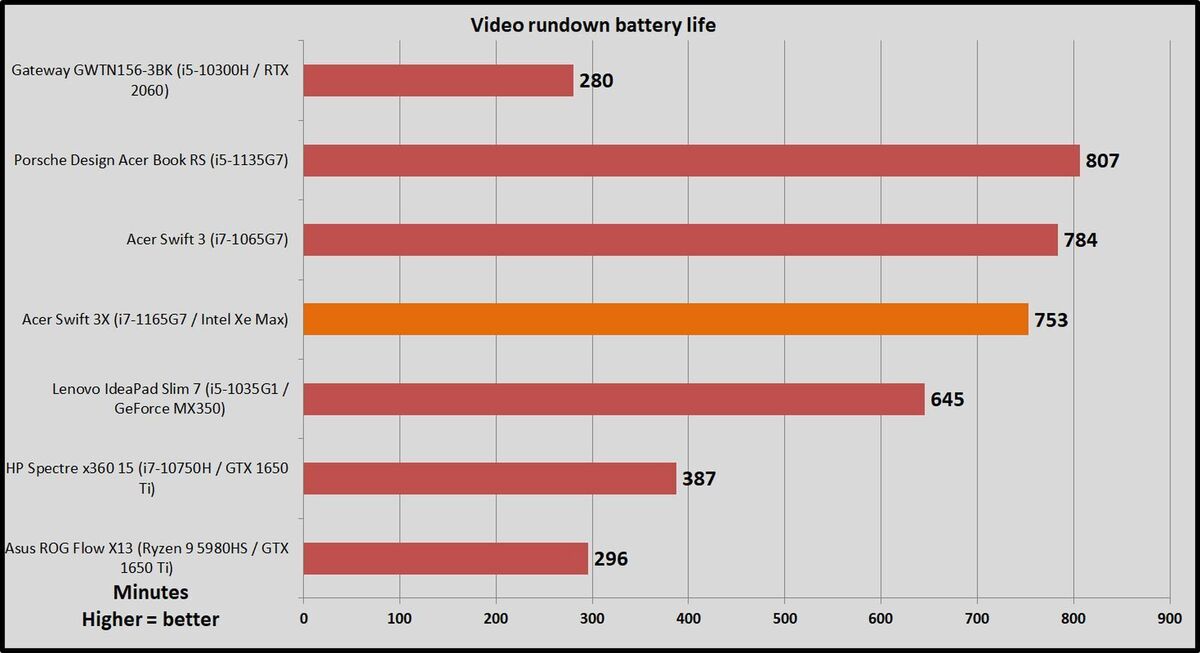 Not only is the Acer Swift 3X surprisingly potent, it's also incredibly long-lasting, playing our test video for a little over 12.5 hours before giving up the ghost. More strenuous workloads would eat into that endurance faster—especially gaming or content creation—but if you're sticking to basic tasks, the tiny Swift 3X should have no problem lasting through your workday.
This test shows the drawback of using the monstrous Ryzen 9 chip in the Asus ROG Flow X13. That laptop dies well before the other ultraportables here, and it barely lasts longer than the big Gateway gaming laptop with an RTX 2060 inside.
Bottom line
The $1,200 Acer Swift 3X truly surprised and impressed me. Our only real gripe with last year's Swift 3 was with its performance. The Swift 3X's combination of discrete Intel Xe Max graphics and an 11th-gen Tiger Lake processor puts that concern to rest. This tiny laptop is fast. It's also, slender, light, and long-lasting on battery. We wish the notebook had a more color-accurate screen and an SD card slot to play up its creation focus, but those are more nitpicks than deal-breakers.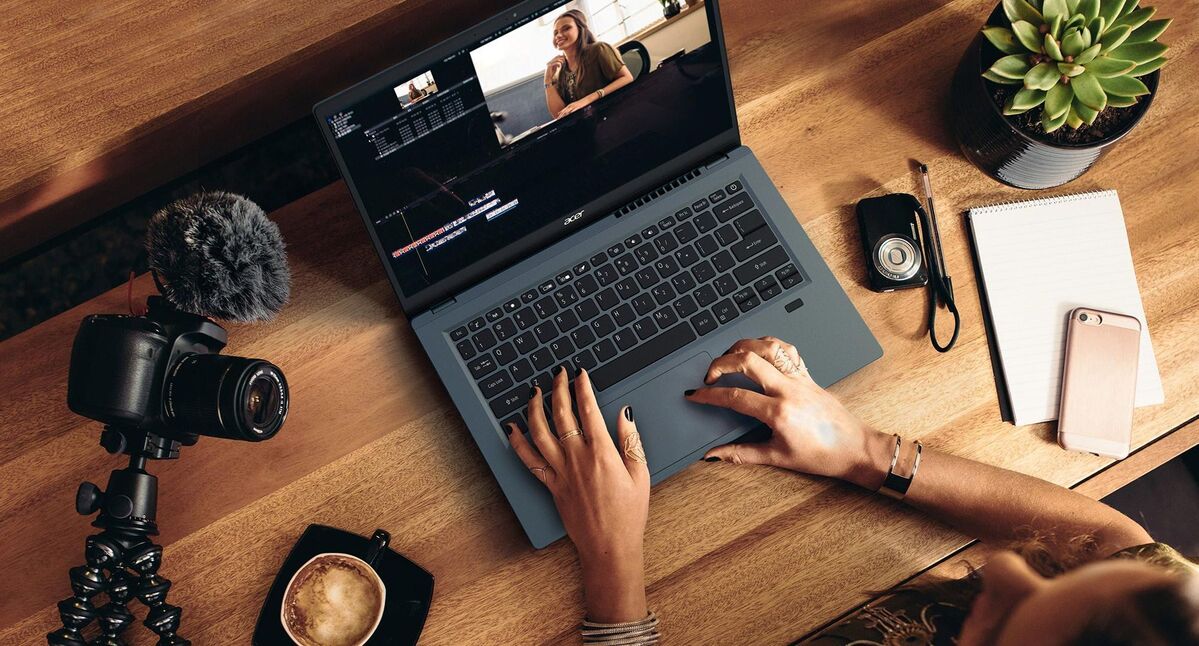 The Xe Max discrete graphics tremendously improves performance in creative applications that leverage Intel's Deep Link technology, but that software's still in its early days. Be sure you can put the Acer Swift 3X to work today rather than counting on potential for tomorrow.
Sure, there are alternatives, at least on paper. If you're on a budget, the entry-level $900 Acer Swift 3X comes with an Intel Xe Max discrete GPU and Deep Link capabilities, but it drops to a Core i5 CPU and half the SSD and RAM capacity. The $900 Acer Swift 3 SF313-53-78UG has the same Core i7-1165G7 with integrated Xe graphics as the Swift 3X for $300 less, but no Xe Max and Deep Link, and less SSD and RAM as well. If you need higher-powered CPU or GPU capabilities for more general content creation tasks—like editing videos rather than just encoding them—and don't mind a bigger, thicker notebook to achieve that, you have several other options around this price range.
Nothing else really offers the same capabilities in as small a package as the Swift 3X, though. This is a highly specialized laptop that should become more versatile as Intel shores up Deep Link. Intel's fresh discrete GPU push is off to an intriguing start, and the Swift 3X is a worthy ambassador!
Best Prices Today: Acer Swift 3X