At a Glance
Expert's Rating
Pros
Great 1440p and 1080p gaming performance
12GB of memory bolstered by Infinity Cache
Smart Access Memory unlocks higher performance when paired with Ryzen 5000
Cool, quiet, and attractive cooler design
Should fit in most systems due to standard dimensions
Cons
Price is too high versus GeForce rivals
Poor ray tracing performance
No answer to Nvidia's DLSS
Our Verdict
AMD's Radeon RX 6700 XT graphics card is a good graphics card for 1440p and 1080p gaming. It doesn't handle ray tracing well, however, and comes with a too-high price that makes a lot of business sense in today's environment.
Best Prices Today: Radeon RX 6700 XT
"There are no bad products, only bad prices." That well-worn adage, attributed to Anandtech founder Anand Shimpi, kept popping into my head as I reviewed AMD's Radeon RX 6700 XT. This is a barn-burning graphics card for 1440p and 1080p gaming, but at $479 the price is far too high—at least in theory.
In reality, graphics cards have been almost impossible to find thanks to a crushing mixture of supply shortages, insane demand for all gaming hardware, logistics woes, tariffs, and the mania swirling around the booming Ethereum cryptocurrency. Newly stocked graphics cards sell out instantly at proper retailers and go for hundreds of dollars over MSRP at resale sites like Ebay and Craigslist. Even used two- and three-generation-old GPUs are being scooped for more than their launch prices new many, many years ago. Things are so bad that Nvidia recently revived the ancient GTX 1050 Ti—an entry-level graphics card that first launched in 2016.
All those extra profits go to retailers, scalpers, and AMD board partners like MSI and Sapphire though, rather than AMD itself. Pricing the Radeon RX 6700 XT at $479 allows the company to get in on the action, and the card will no doubt sell for more than this on the streets anyway. Because AMD is suffering through a manufacturing logjam at chip foundry TSMC—the Xbox Series X, PlayStation 5, Ryzen 5000 desktop and mobile processors, and Radeon RX 6000-series are all built on TSMC's 7nm process—being able to sell its GPUs for more gives the company additional incentive to churn out graphics cards during a time when there's nowhere near enough graphics cards available to satisfy gamers.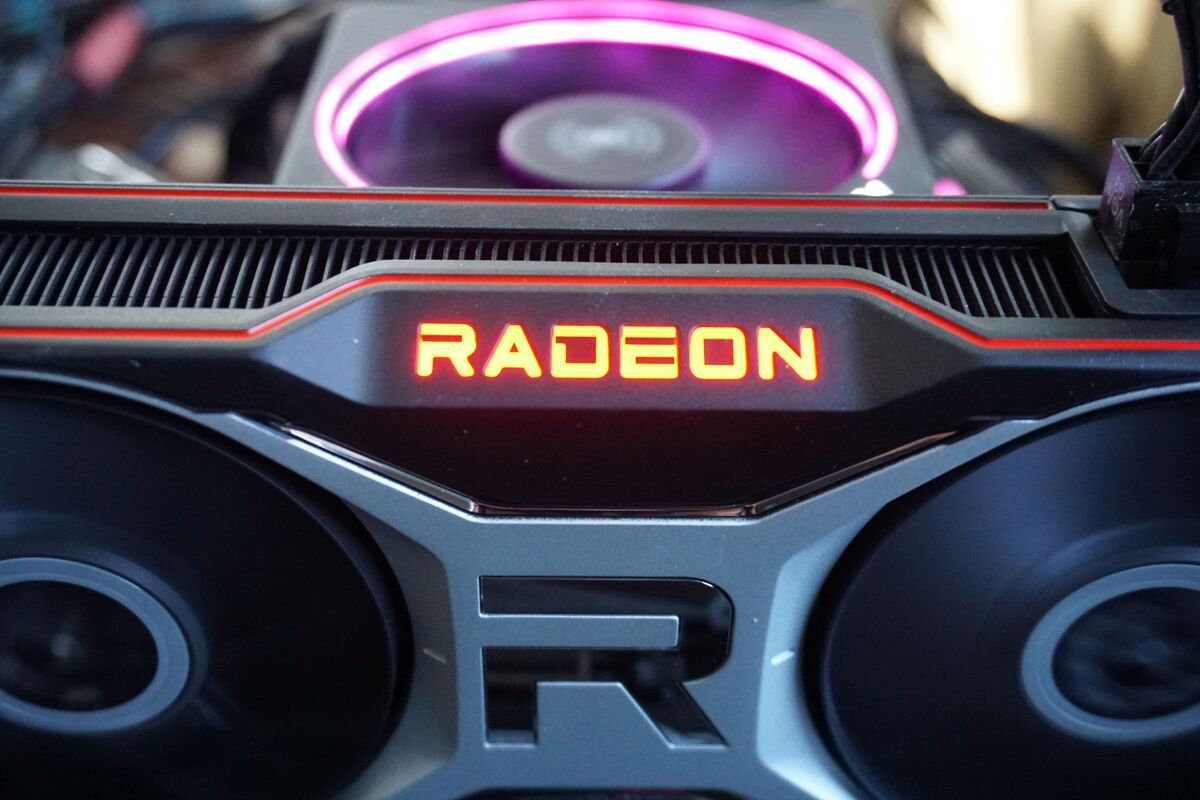 That's a good thing. The bad news? The $479 Radeon RX 6700 XT performs closer to the $400 GeForce RTX 3060 Ti than the $500 RTX 3070 (though AMD's Smart Access Memory can provide a massive boost in some games) and it isn't anywhere near as strong as Nvidia's cards when it comes to ray tracing. When the dust settles around the current graphics card shortage the price would need to drop at least $100 to be truly compelling. (It's worth noting that its Radeon RX 5700 XT predecessor debuted at $400.) If you can find the Radeon RX 6700 XT for MSRP it might be worth considering in today's ludicrous market, however, especially if you need to upgrade now and don't want to simply stream your games via Nvidia's PC-friendly GeForce Now service until everything calms down.
Now that the stage has been set, let's dive into AMD's $479 Radeon RX 6700 XT reference card, which will periodically be available at no markup on AMD.com. Custom cards from AMD partners like Sapphire, XFX, Asus, and MSI also hit the streets today but cost much more. We'll have reviews of custom RX 6700 XTs coming soon.
If you want a high-level look at our impressions before wading through pages of explanatory text and benchmark graphs, be sure to check out our companion synopsis, 5 key things you need to know about the Radeon RX 6700 XT.
Radeon RX 6700 XT specs, features, and price
The previously launched Radeon RX 6800-series and Radeon RX 6900 XT were built using "Big Navi," the largest GPU built on AMD's fantastic new RDNA 2 architecture. The Radeon RX 6700 XT's "Navi 22" chip is much smaller, featuring half as many compute units and stream processors as its bigger sibling. Here's how they compare: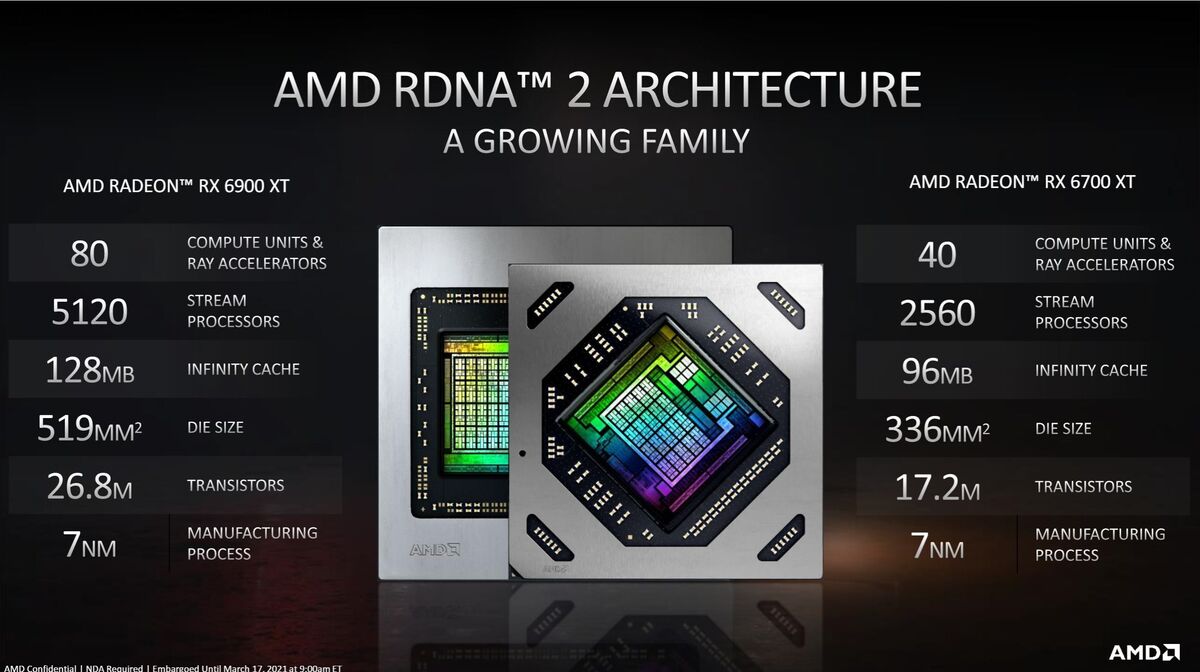 Meanwhile, with 40 compute units, this new GPU is a direct replacement for the Radeon RX 5700 XT, which served as the flagship for AMD's first-gen RDNA architecture. Seeing how it holds up in our performance benchmarks will be insightful. For now, here's how the Radeon RX 6700 XT's tech specs hold up against the Radeon RX 5700 XT's: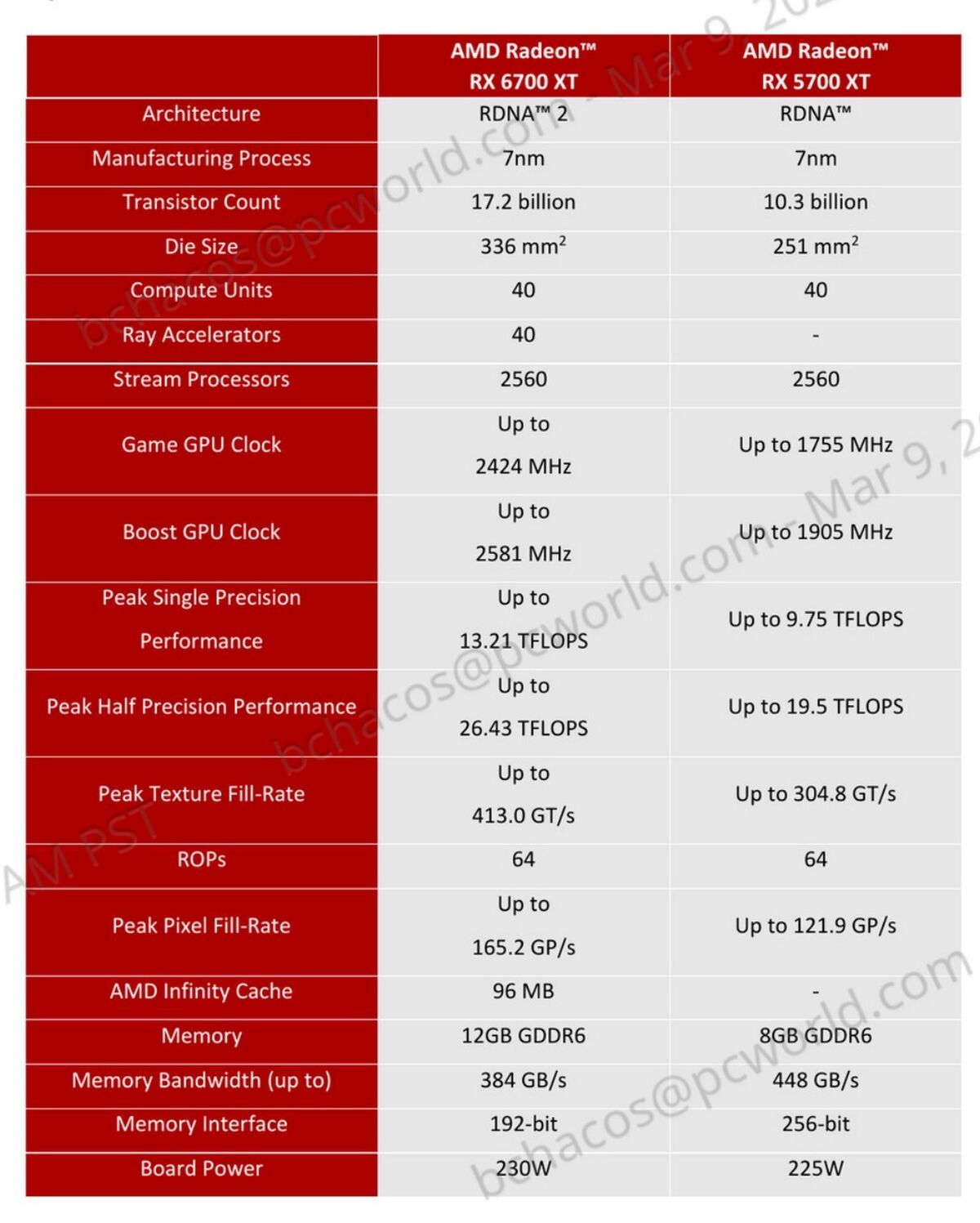 Hot damn, this GPU is fast. The Radeon RX 6700 XT features a ludicrous Game Clock—AMD's term for expected speeds while gaming—of 2,424MHz, roughly 700MHz faster than its predecessor, and the card actually hit those speeds on our testbed. That helps the graphics card perform over 30 percent faster than the RX 5700 XT in some games, as you'll see later.
Check out that die size, though. The Radeon RX 6700 XT's GPU is substantially larger than the Radeon RX 5700 XT's. AMD beefed up RDNA 2 with all sorts of advanced new features, most notably ray accelerators and the innovative Infinity Cache. We'll cover them briefly below, but our RDNA 2 architecture deep dive goes into fair greater detail.
Each RDNA 2 compute unit includes a single ray accelerator that helps process real-time ray tracing workloads, which allows the cutting-edge lighting effects to run on AMD GPUs for the first time. Crucially, however, AMD doesn't currently offer a rival feature to Nvidia's DLSS, which uses dedicated hardware and machine learning to improve performance and claw back many of the frames lost to ray tracing's significant performance hit. AMD is working on a more open alternative dubbed "Fidelity FX Super Resolution" but it isn't available yet, nor has it even been explained in detail. The lack of a DLSS alternative mostly limits Radeon RX 6000-series GPUs to 1080p resolution with ray tracing enabled—a bummer when the Radeon RX 6700 XT costs nearly $500 and targets 1440p gaming.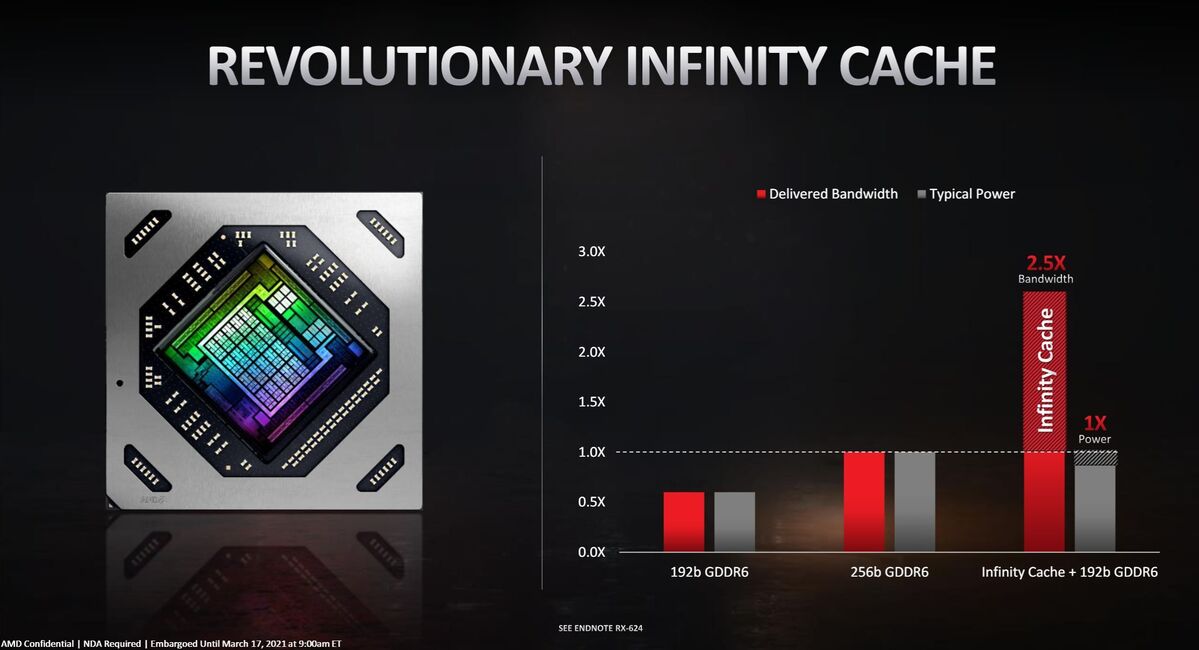 Speaking of 1440p gaming, AMD outfitted the Radeon RX 6700 XT with an ample 12GB of GDDR6 memory over a tiny 192-bit bus. That should be plenty of overhead for the foreseeable future, and AMD's VRAM generosity forced Nvidia follow its lead with the (also overpriced) RTX 3060. AMD gets by with such a constrained bus because of RDNA 2's radical Infinity Cache. The Infinity Cache provides a large amount of on-die L3 cache that's been heavily optimized for gaming workloads, which lets the Radeon RX 6700 XT keep most of the working data for any given frame on-die. This avoids the need to send signals all the way across the chip package to the onboard memory in many cases, especially because the cache holds a lot of temporal and spatial data that can be reused in subsequent frames. AMD claims the Radeon RX 6700 XT's memory setup delivers up to 2.5X the performance of a standard VRAM configuration with a wider 256-bit bus. Remarkable stuff indeed.
The Radeon RX 6700 XT ships with 96MB of Infinity Cache. That's smaller than the 128MB found in pricier AMD GPUs, but the Radeon RX 6800-series and 6900 XT target 4K gaming. Product manager Nish Neelalojanan told press that the "hit rate" for the RX 6700 XT's Infinity Cache at 1440p is similar to what the faster GPUs see at 4K resolution.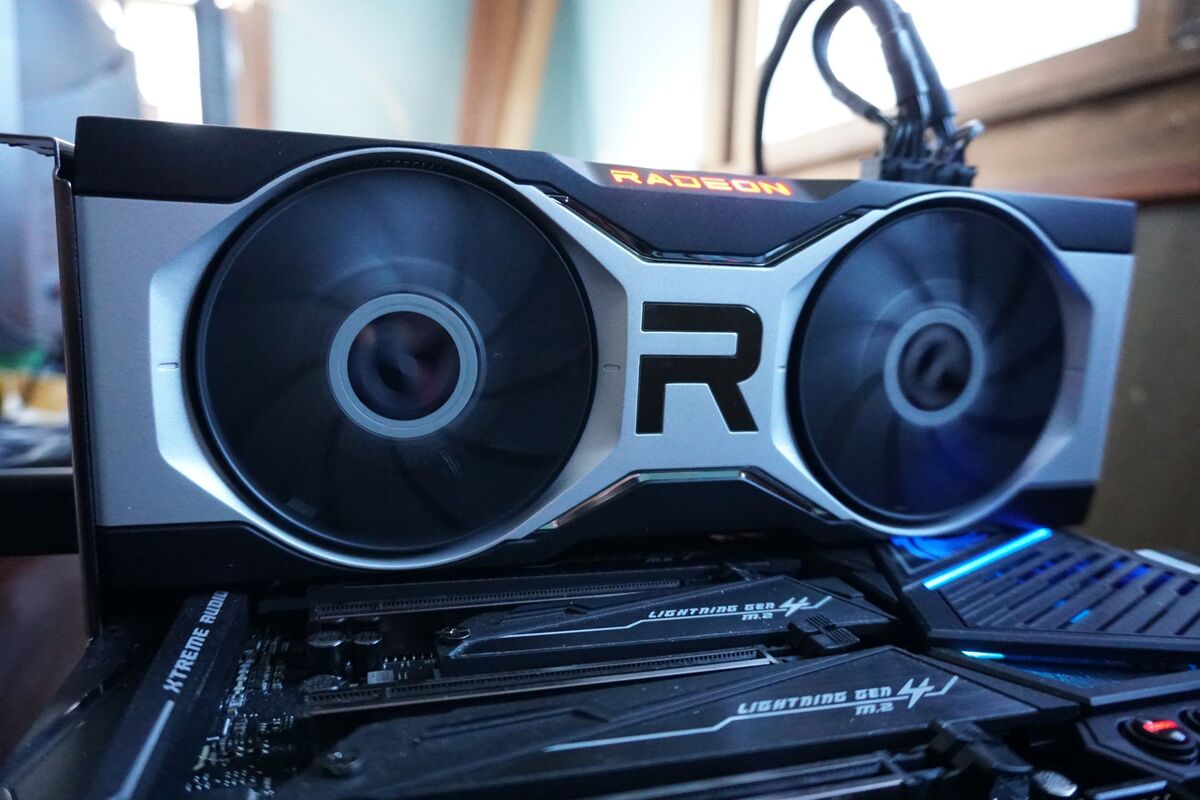 Nvidia recently made waves by introducing a mining limiter to the RTX 3060 (though the company regrettably has since shipped drivers that disable it). AMD says it has no plan to limit mining performance via software tricks, but the Infinity Cache setup makes the Radeon RX 6700 XT inherently less appealing for Ethereum mining. The Ethereum dataset is bigger than 4GB, so it won't fit onto the ultra-fast Infinity Cache, and mining the cryptocurrency is most efficient on graphics cards with more memory bandwidth. Since AMD went with a meager 192-bit memory bus thanks to the Infinity Cache's capabilities, the Radeon RX 6700 XT should be much slower at mining than Nvidia alternatives. Early leaks say it falls behind even the RX 5700 XT for Ethereum mining. Good!
The Radeon RX 6700 XT also supports AMD's killer Smart Access Memory feature, which can provide higher frame rates in some scenarios when you pair the graphics card with a compatible CPU and motherboard. AMD seems to be foisting a big part of the RX 6700 XT's value proposition on this still-limited feature. We tested our entire games suite a second time with Smart Access Memory active and will devote an entire section to its performance later, after our standard benchmarks.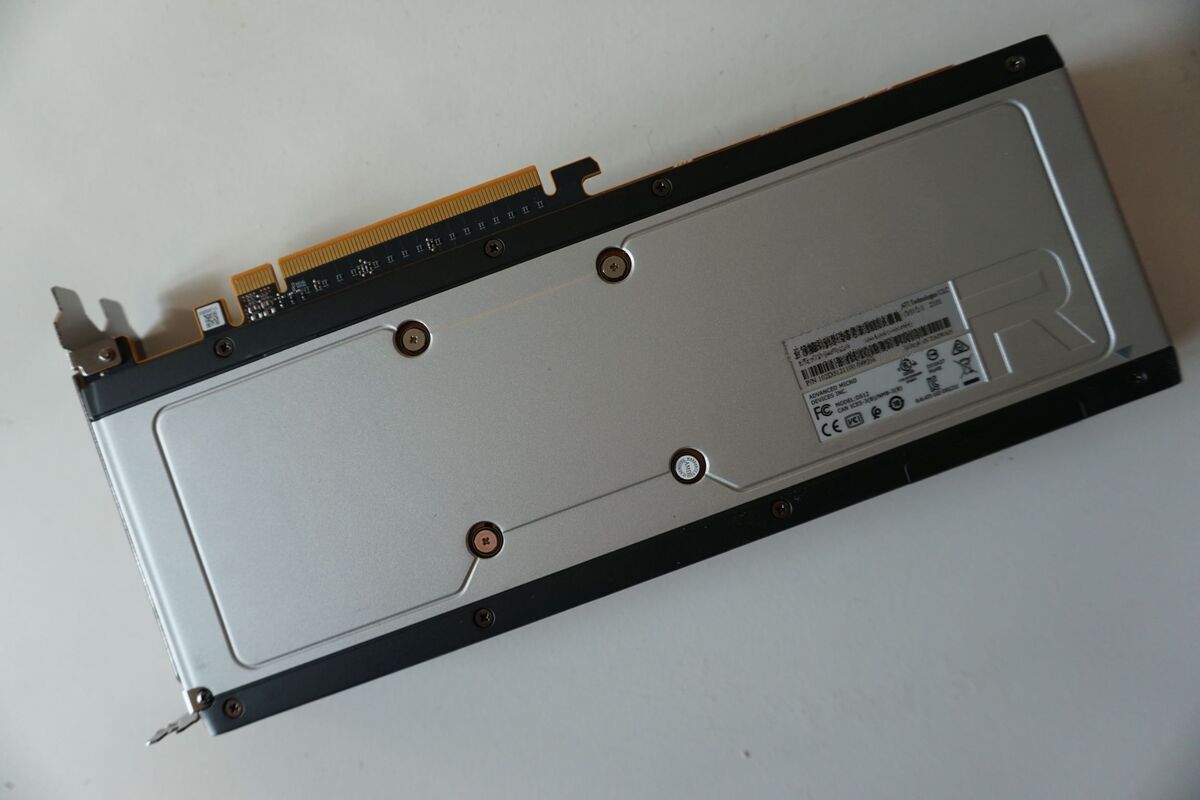 Design-wise, the Radeon RX 6700 XT reflects AMD's newfound aesthetic and functionality for reference cards. This generation, the company switched away from its notorious blower-style reference cooler for a more common axial fan design that runs much cooler and quieter. It's a big improvement, especially for traditional single-GPU gaming rigs. The reference card should have no problem fitting into almost any system thanks to its dual-slot design and standard length. Its look largely matches the Radeon RX 6800-series's vibe, with an attractive silver-and-black metal aesthetic and illuminated 'Radeon' logo on the edge.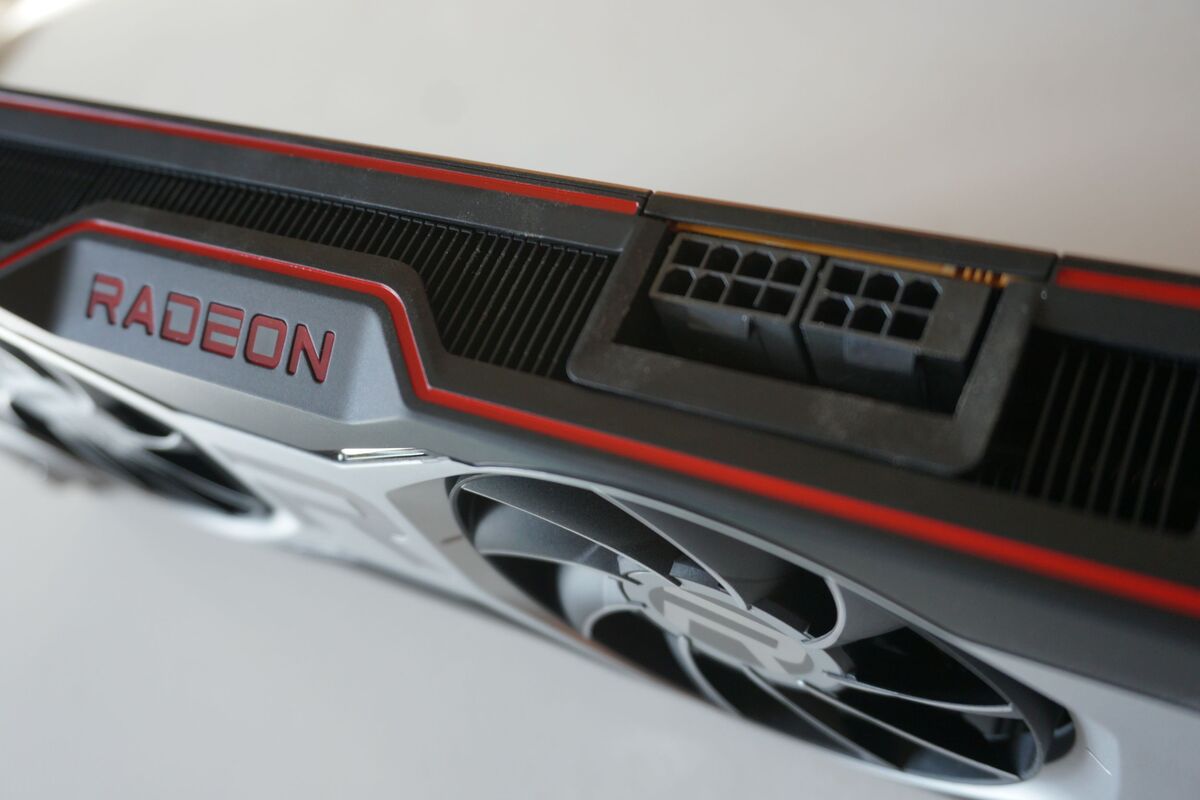 It's not an exact twin, though. The Radeon RX 6700 XT reference card includes two axial fans in its shroud, replacing the third with a big 'R' logo, and it only requires an 8-pin and a 6-pin power connector rather than dual 8-pins like Big Navi cards. Notably, despite the sky-high clock speeds and fancy new RDNA 2 features, the Radeon RX 6700 XT requires just 230 watts of power, a mere 5 watts more than last-gen's 5700 XT. AMD is justifiably proud of the power efficiency improvements in RDNA 2.

AMD's Radeon RX 6700 XT comes with an HDMI 2.1 port and a trio of DisplayPorts. Like other RX 6000-series GPUs, it supports all of RDNA 2's various features, including AV1 video decoding, DirectX 12 Ultimate features, an improved version of Radeon Boost that wraps in Variable Rate Shading, Radeon Anti-Lag across all major DX APIs, FreeSync display support, AMD Link streaming to other devices, and much more. It does not support Rage Mode, however—a one-click setting that jacks up the power limit and fan speed on the Radeon RX 6800 XT and 6900 XT. The robust Radeon Settings app includes both manual and automatic performance tuning controls so you can perform those tweaks on your own though.
But enough chit-chat and existential woe. Let's get benchmarking.
Next page: Our test system, benchmarks begin
Our test system
We've recently migrated to a new AMD Ryzen 5000-series test rig to be able to benchmark the effect of PCIe 4.0 support on modern GPUs, as well as the performance-boosting AMD Smart Access Memory and Nvidia Resizable BAR features (which are both based on the same underlying PCIe standard). Currently, we're testing it on an open bench with AMD's Wraith Max air cooler. In the future, we'll both moving the setup into a case and adding an NZXT Kraken liquid cooler to the mix. Most of the hardware was provided by the manufacturers, but we purchased the storage ourselves.
AMD Ryzen 9 5900X, stock settings
AMD Wraith Max cooler
MSI Godlike X570 motherboard
32GB G.Skill Trident Z Neo DDR4 3800 memory
EVGA 1200W SuperNova P2 power supply
We're comparing the $479 Radeon RX 6700 XT against the step-up $580 Radeon RX 6800, of course, as well as last generation's $400 Radeon RX 5700 XT. Because a big part of AMD's claimed value proposition for the 6700 XT revolves around its fantastic Smart Access Memory feature, which boosts performance when the GPU is paired with a compatible CPU and motherboard, we've included performance results for the card with SAM active as well. Its uplift ranges from meh to marvelous.
Mentioned in this article
GeForce RTX 3060 Ti FTW3 Ultra
Price When Reviewed:
$450
On the Nvidia front, we've included results for the $500 GeForce RTX 3070 Founders Edition and reference-spec'd $330 EVGA RTX 3060 XC Black Gaming. We unfortunately had to lean on the premium, overclocked EVGA FTW3 Ultra for our results of the ostensibly $400 RTX 3060 Ti, because our Founders Edition card wasn't immediately available for testing.
We test a variety of games spanning various engines, genres, vendor sponsorships (Nvidia, AMD, and Intel), and graphics APIs (DirectX 11, DX12, and Vulkan). Each game is tested using its in-game benchmark at the highest possible graphics presets unless otherwise noted, with VSync, frame rate caps, real-time ray tracing or DLSS effects, and FreeSync/G-Sync disabled, along with any other vendor-specific technologies like FidelityFX tools or Nvidia Reflex. We've also enabled temporal anti-aliasing (TAA) to push these cards to their limits. We run each benchmark at least three times and list the average result for each test.
After our standard benchmark results, we're also including separate sections dedicated to ray tracing and Smart Access Memory performance. We're sticking to 1440p and 1080p resolution today. AMD designed the RX 6700 XT for 1440p gaming, and while we benchmarked 4K results on the card, it isn't able to hit 60 fps in many modern titles without visual compromises.
Gaming performance benchmarks
Watch Dogs: Legion
Watch Dogs: Legion is one of the first games to debut on next-gen consoles. Ubisoft upgraded its Disrupt engine to include cutting-edge features like real-time ray tracing and Nvidia's DLSS. We disable those effects for this testing, but Legion remains a strenuous game even on high-end hardware with its optional high-resolution texture pack installed. The game allocates more than 8GB of memory even at 1440p. Oof.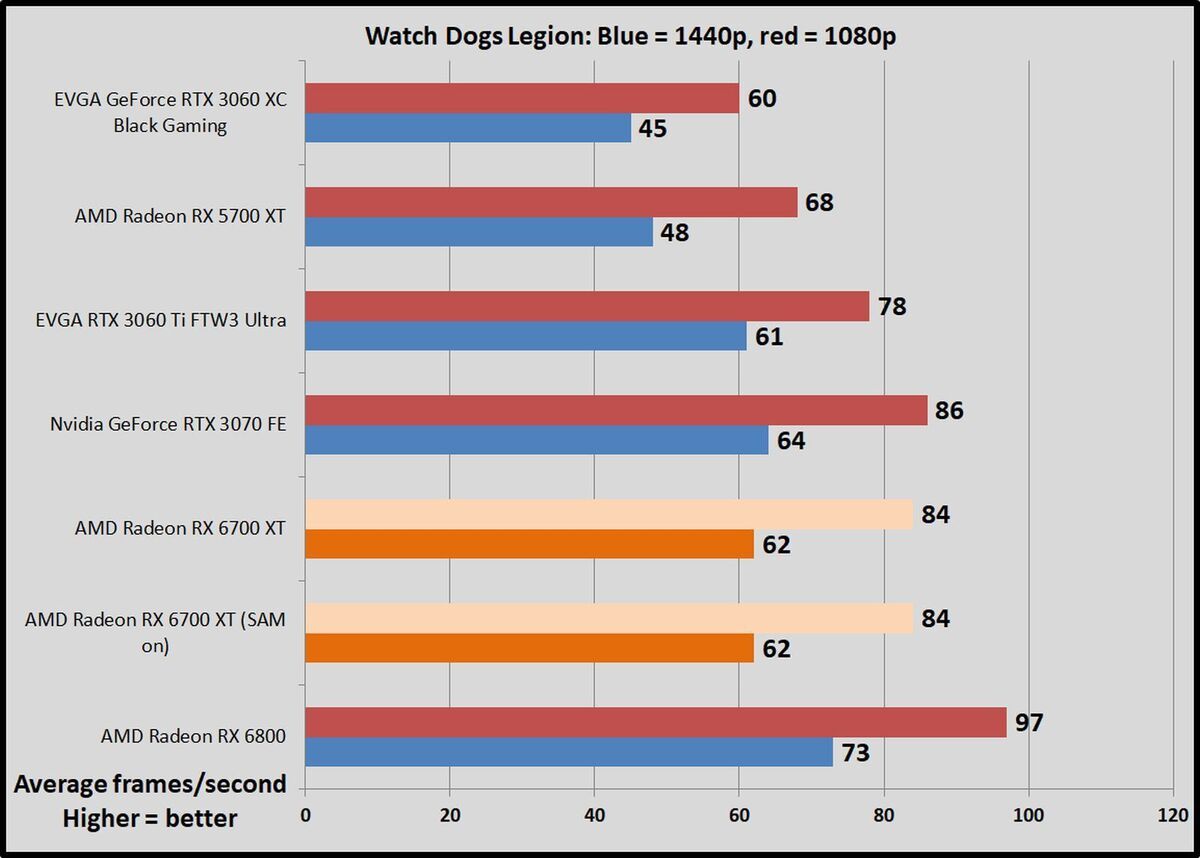 Horizon Zero Dawn
Yep, PlayStation exclusives are coming to the PC now. Horizon Zero Dawn runs on Guerrilla Games' Decima engine, the same engine that powers Death Stranding.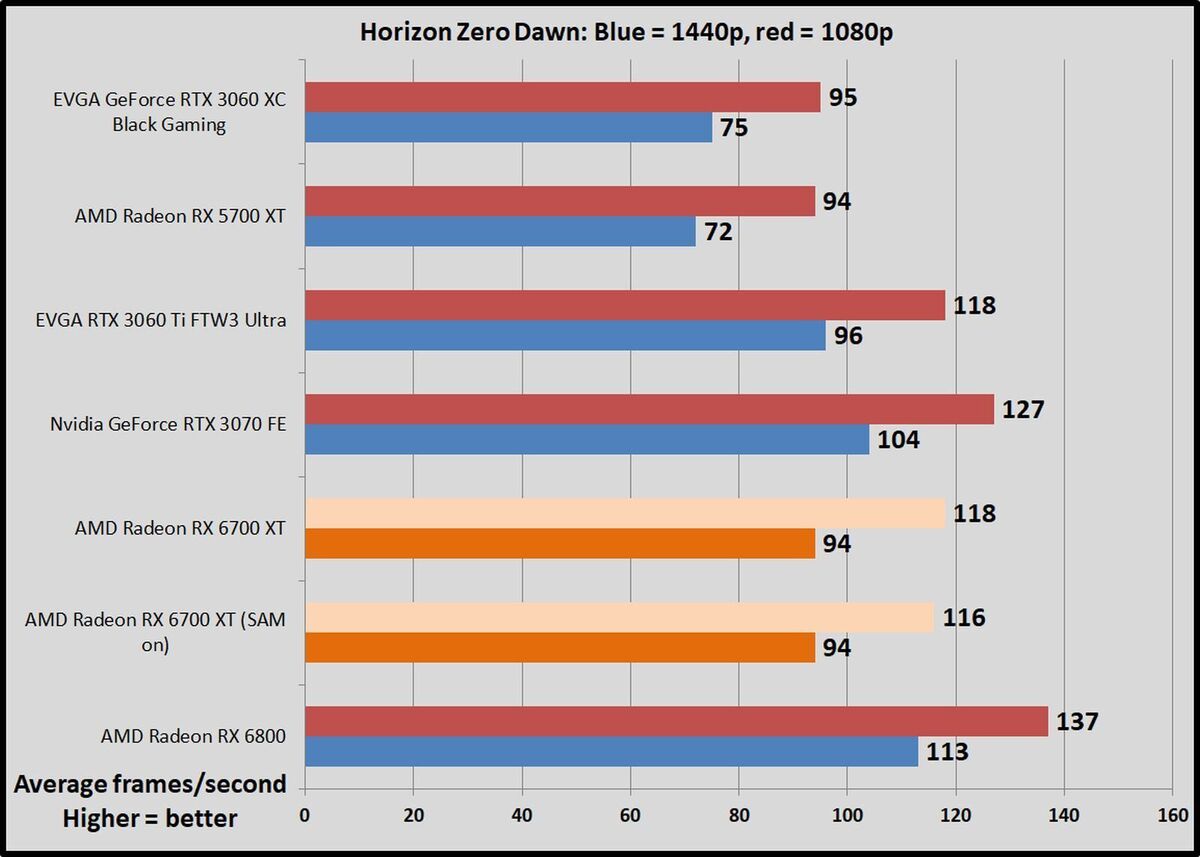 Next page: gaming benchmarks continue
Gears Tactics
Gears Tactics puts it own brutal, fast-paced spin on the XCOM-like genre. This Unreal Engine 4-powered game was built from the ground up for DirectX 12, and we love being able to work a tactics-style game into our benchmarking suite. Better yet, the game comes with a plethora of graphics options for PC snobs. More games should devote such loving care to explaining what flipping all these visual knobs mean.
You can't use the presets to benchmark Gears Tactics, as it intelligently scales to work best on your installed hardware, meaning that "Ultra" on one graphics card can load different settings than "Ultra" on a weaker card. We manually set all options to their highest possible settings.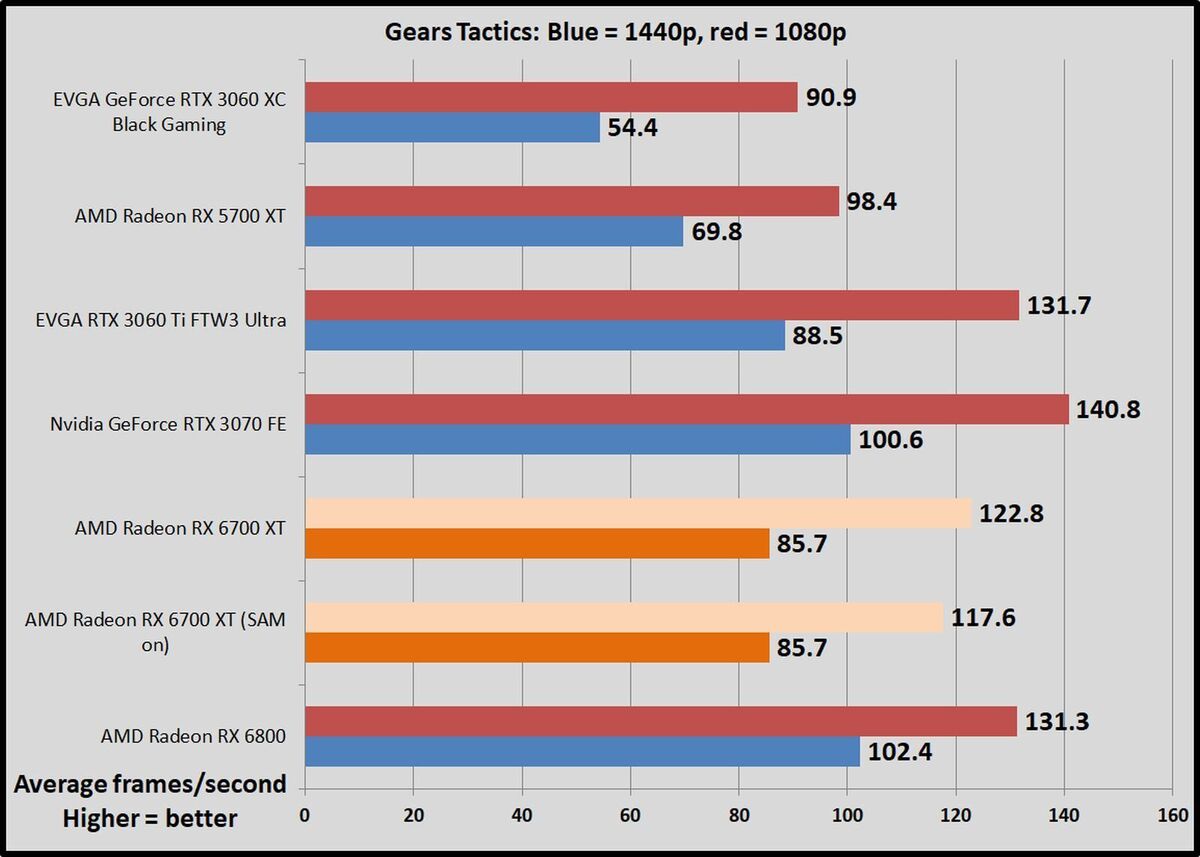 Wolfenstein: Youngblood
Wolfenstein: Youngblood is more fun when you can play cooperatively with a buddy, but it's a fearless experiment—and an absolute technical showcase. Running on the Vulkan API, Youngblood achieves blistering frame rates, and it supports all sorts of cutting-edge technologies like ray tracing, DLSS 2.0, HDR, GPU culling, asynchronous computing, and Nvidia's Content Adaptive Shading. The game includes a built-in benchmark with two different scenes; we tested Lab X.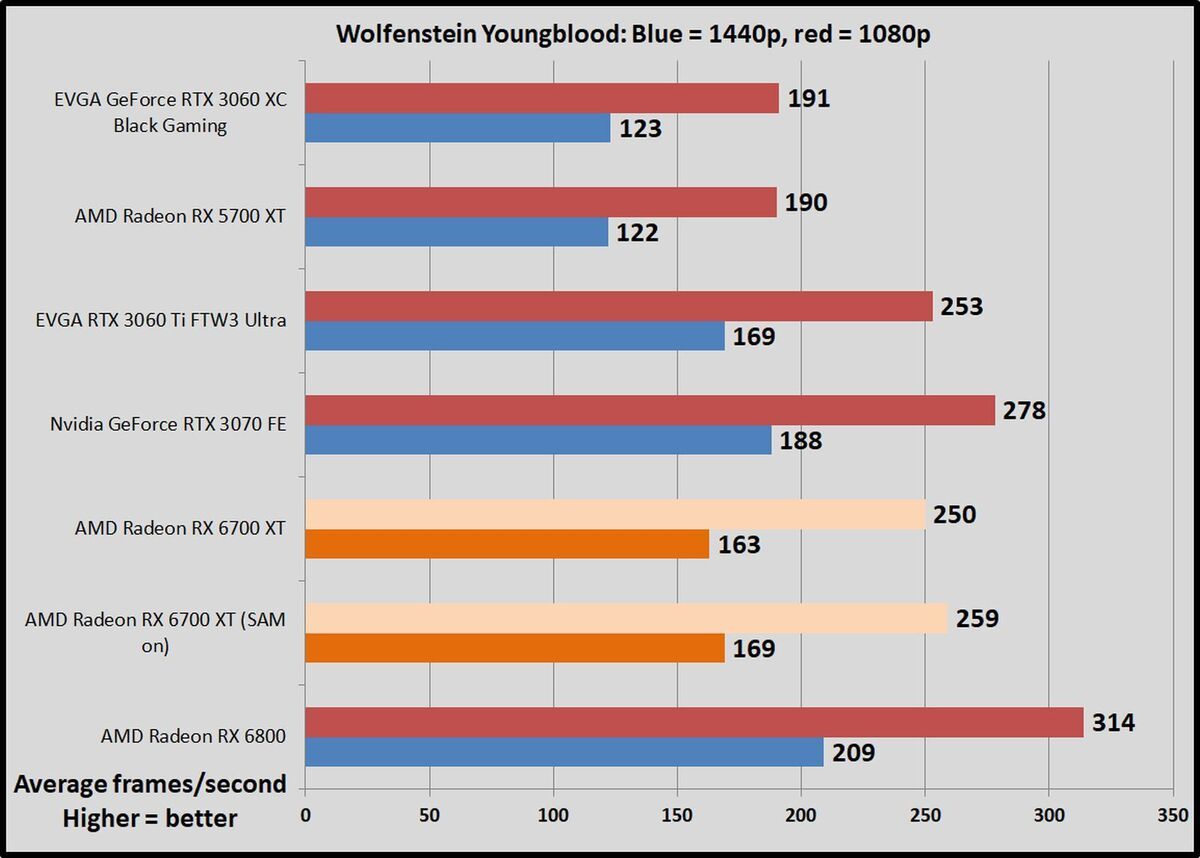 Metro Exodus
One of the best games of 2019, Metro Exodus remains one of the best-looking games around, too. The latest version of the 4A Engine provides incredibly luscious, ultra-detailed visuals, with one of the most stunning real-time ray tracing implementations released yet. The Extreme graphics preset we benchmark can melt even the most powerful modern hardware, as you'll see below, though the game's Ultra and High presets still look good at much higher frame rates.
We test in DirectX 12 mode with ray tracing, Hairworks, and DLSS disabled.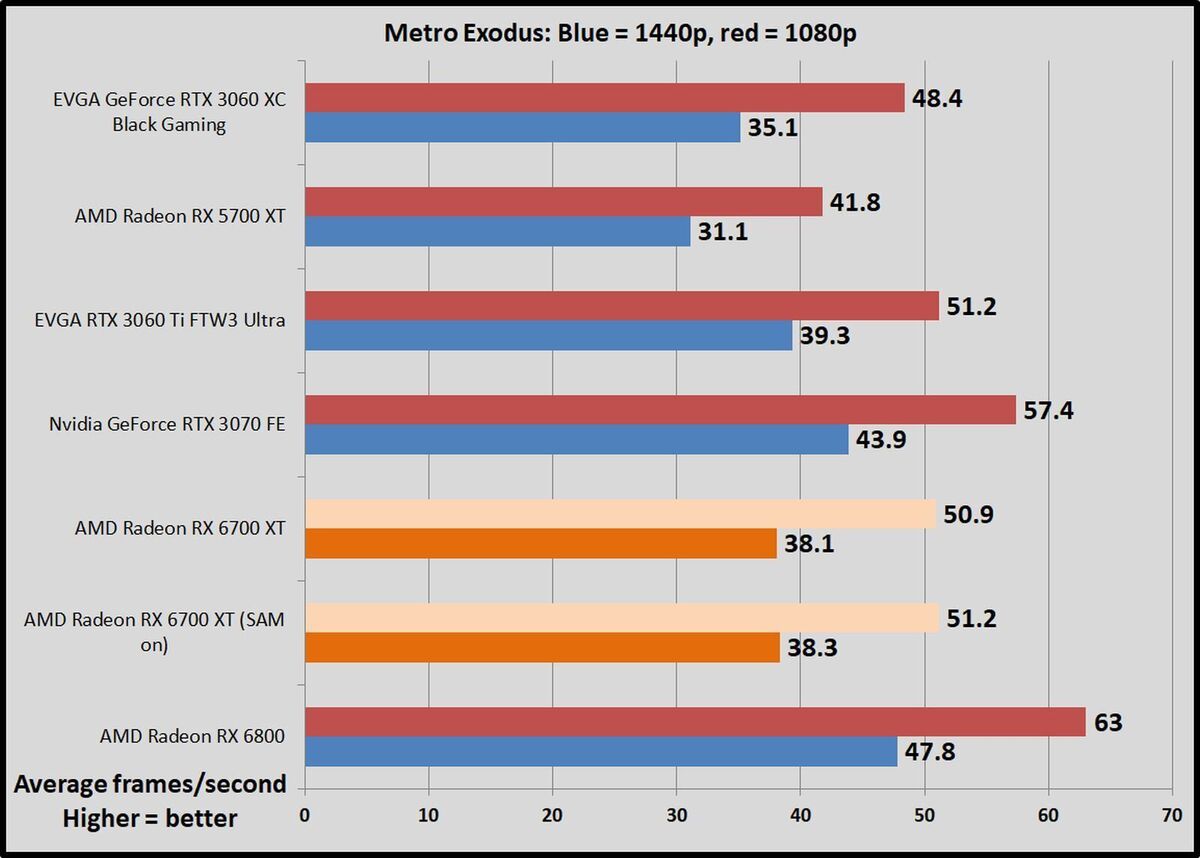 Borderlands 3
Borderlands is back! Gearbox's game defaults to DX12, so we do as well. It gives us a glimpse at the ultra-popular Unreal Engine 4's performance in a traditional shooter. This game tends to favor AMD hardware.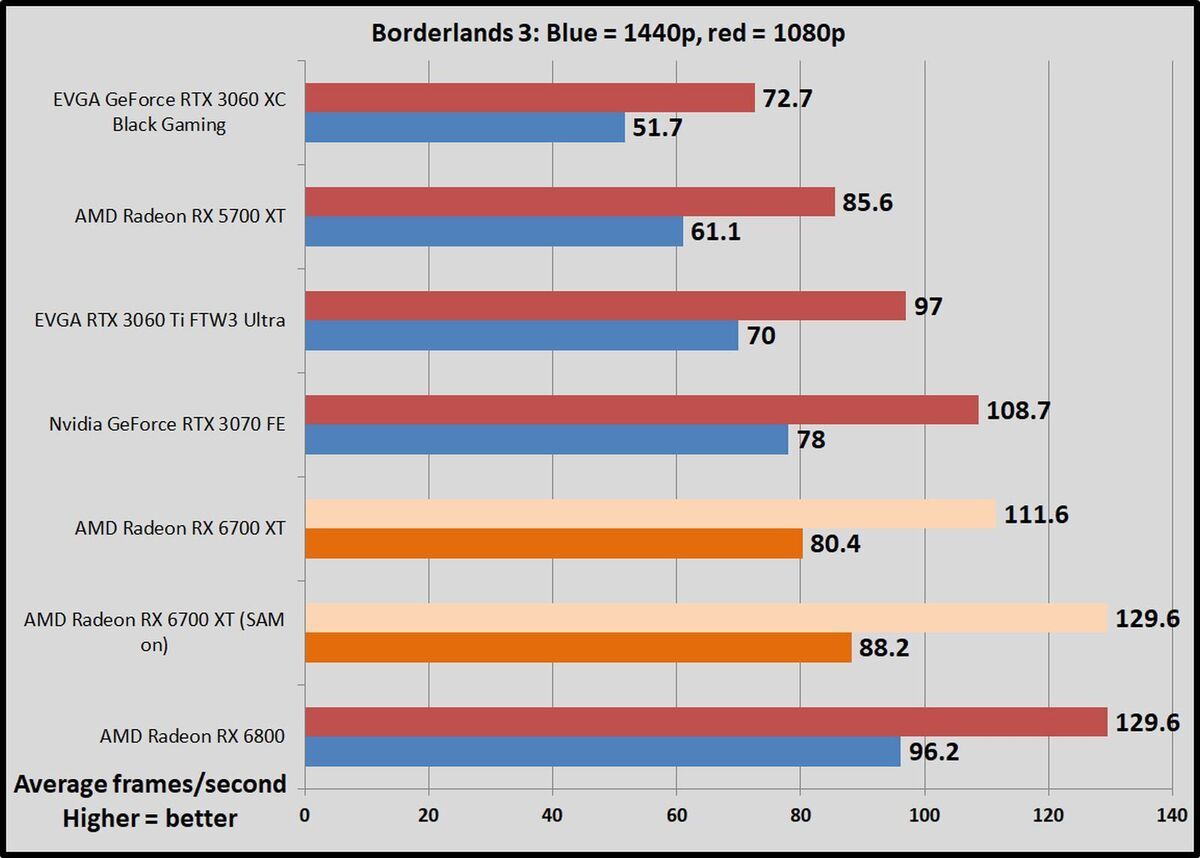 Strange Brigade
Strange Brigade is a cooperative third-person shooter where a team of adventurers blasts through hordes of mythological enemies. It's a technological showcase, built around the next-gen Vulkan and DirectX 12 technologies and infused with features like HDR support and the ability to toggle asynchronous compute on and off. It uses Rebellion's custom Azure engine. We test using the Vulkan renderer, which is faster than DX12.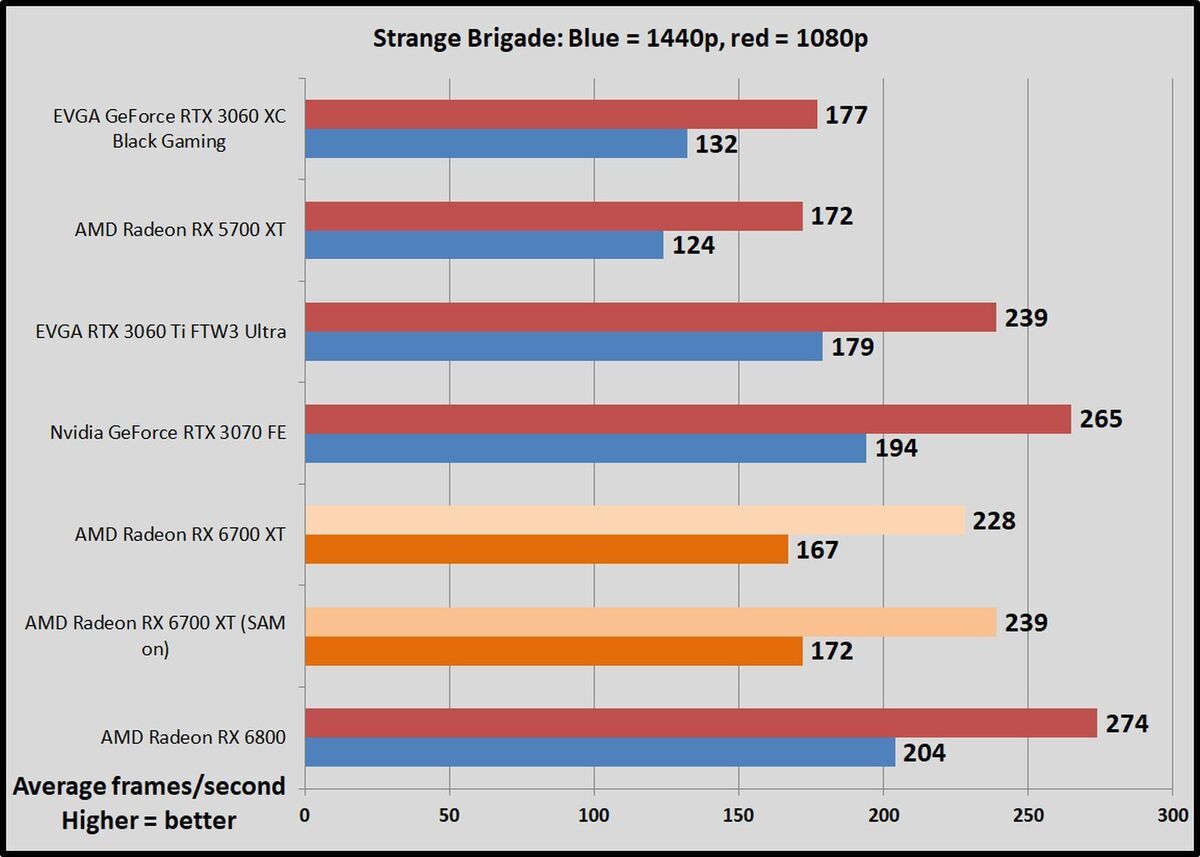 Next page: gaming benchmarks continue
Total War: Troy
The latest game in the popular Total War saga, Troy was given away free for its first 24 hours on the Epic Games Store, moving over 7.5 million copies before it went on proper sale. Total War: Troy is built using a modified version of the Total War: Warhammer 2 engine, and this DX11 title looks stunning for a turn-based strategy game. We test the more intensive battle benchmark.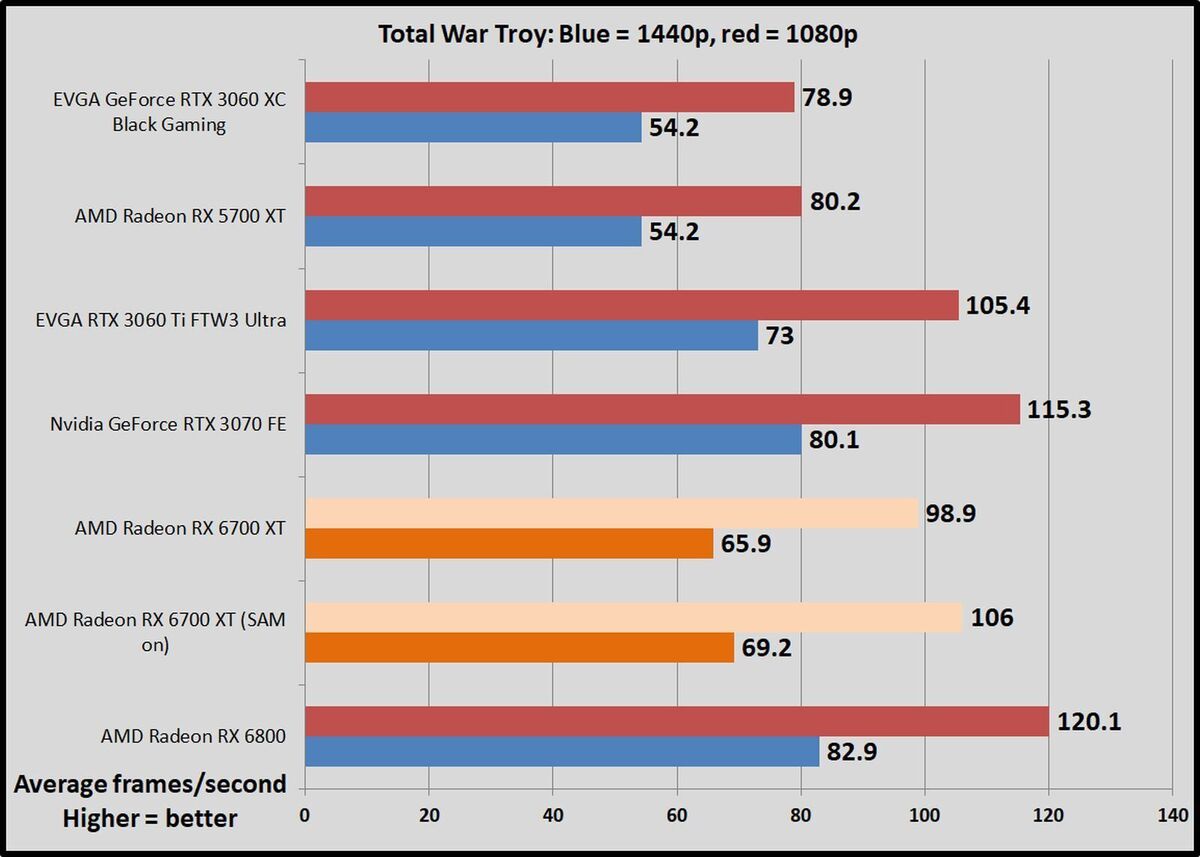 F1 2020
The latest in a long line of successful racing games, F1 2020 is a gem to test, supplying a wide array of both graphical and benchmarking options, making it a much more reliable (and fun) option that the Forza series. It's built on the latest version of Codemasters' buttery-smooth Ego game engine, complete with support for DX12 and Nvidia's DLSS technology. We test two laps on the Australia course, with clear skies on and DLSS off.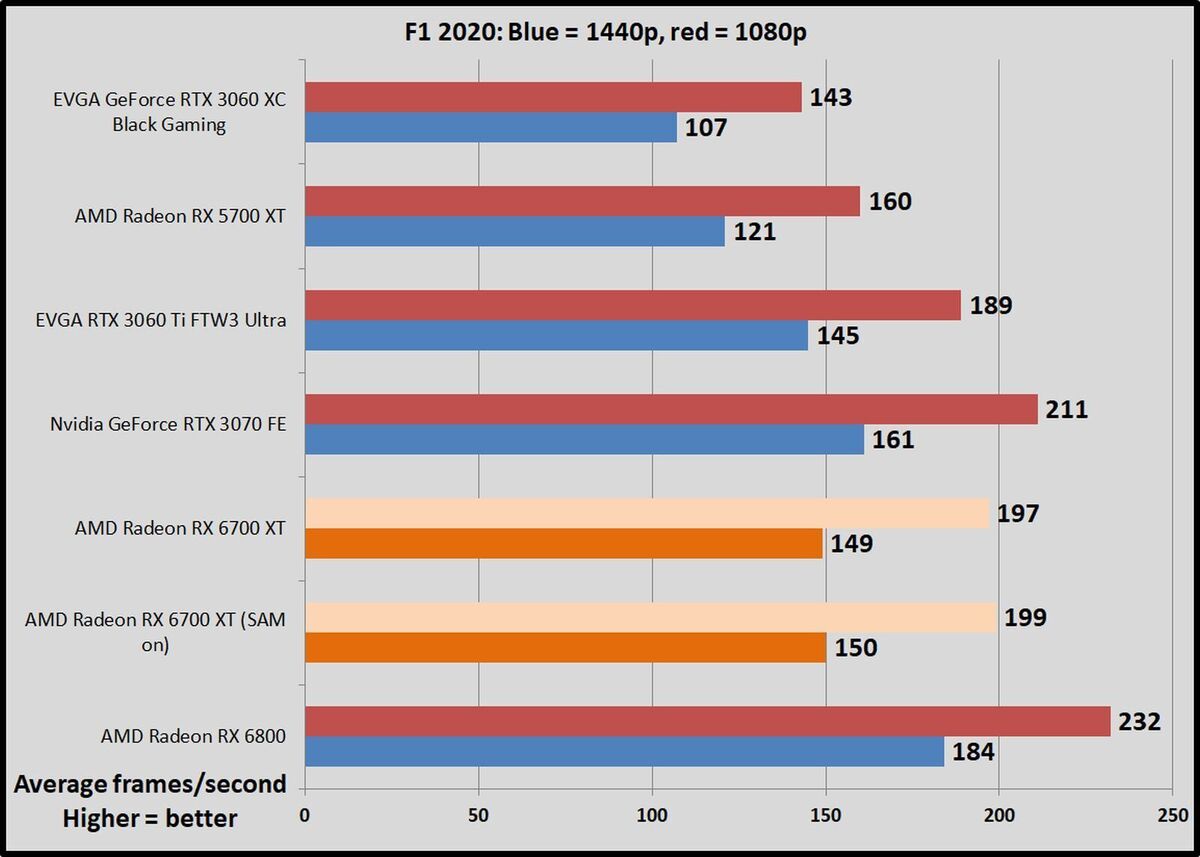 Shadow of the Tomb Raider
Shadow of the Tomb Raider concludes the reboot trilogy, and it's still utterly gorgeous a couple of years after its debut. Square Enix optimized this game for DX12 and recommends DX11 only if you're using older hardware or Windows 7, so we test with DX12. Shadow of the Tomb Raider uses an enhanced version of the Foundation engine that also powered Rise of the Tomb Raider and includes optional real-time ray tracing and DLSS features.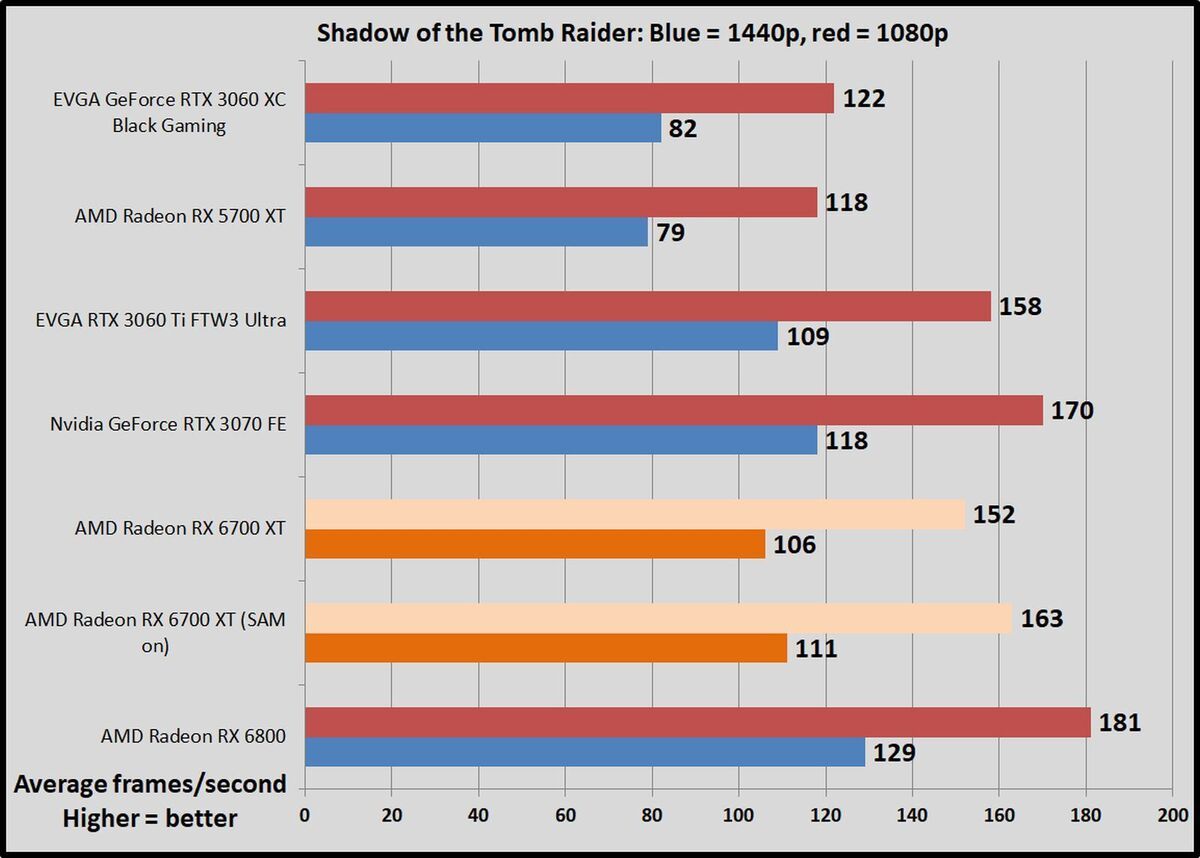 Rainbow Six Siege
Rainbow Six Siege still dominates the Steam charts years after its launch, and Ubisoft supports it with frequent updates and events. The developers have poured a ton of work into the game's AnvilNext engine over the years, eventually rolling out a Vulkan version of the game that we use to test. By default, the game lowers the render scaling to increase frame rates, but we set it to 100 percent to benchmark native rendering performance on graphics cards. Even still, frame rates soar.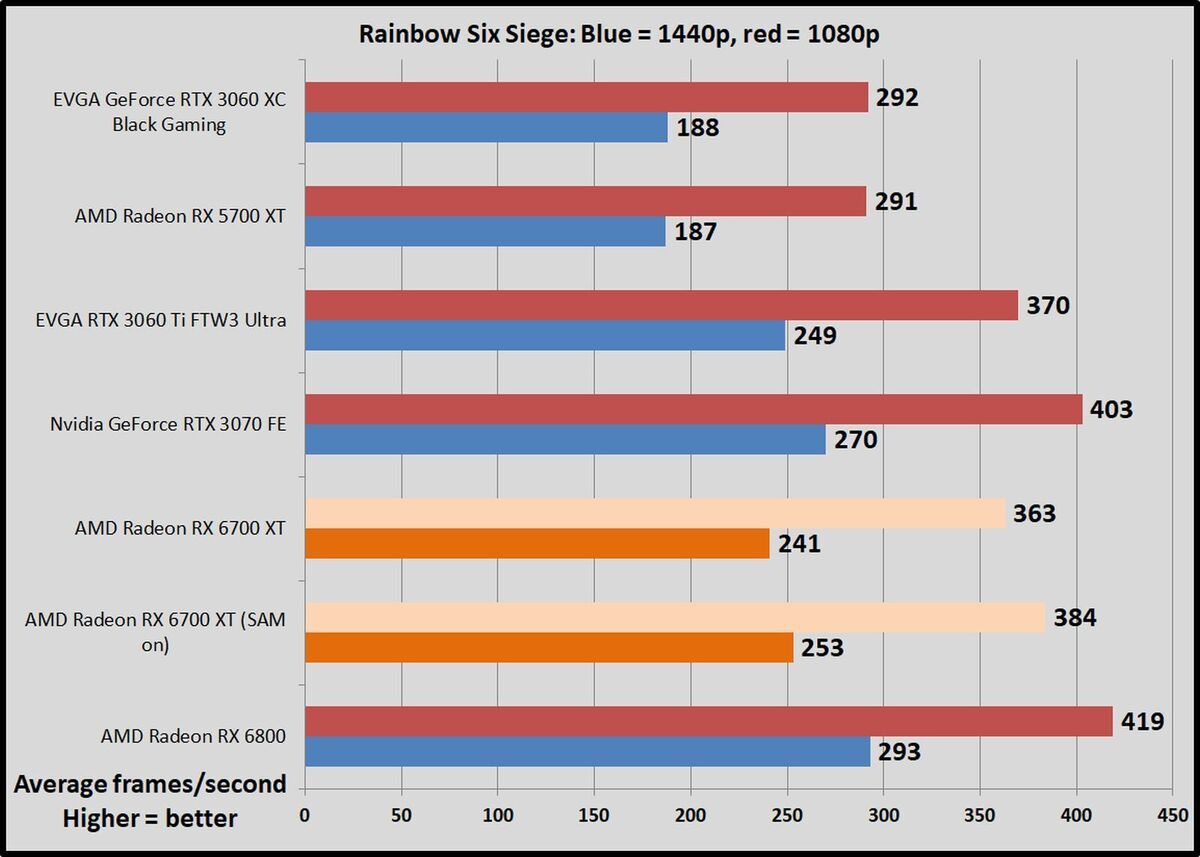 Next page: Smart Access Memory performance
Smart Access Memory performance
We tested our entire games suite with AMD's Smart Access Memory feature both on and off. It's a killer new technology that requires some technical explanation.
Smart Access Memory, introduced for AMD's Radeon RX 6000-series and Ryzen 5000-series processors, gives the CPU full access to the GPU's memory, rather than limiting it to the usual 256MB chunks. That unrestricted access to the data channel can improve gaming performance. The technology is built upon the PCIe standard's optional Resizable BAR feature, which allowed Nvidia and Intel to follow in AMD's footsteps by activating Resizable BAR via BIOS updates on their hardware.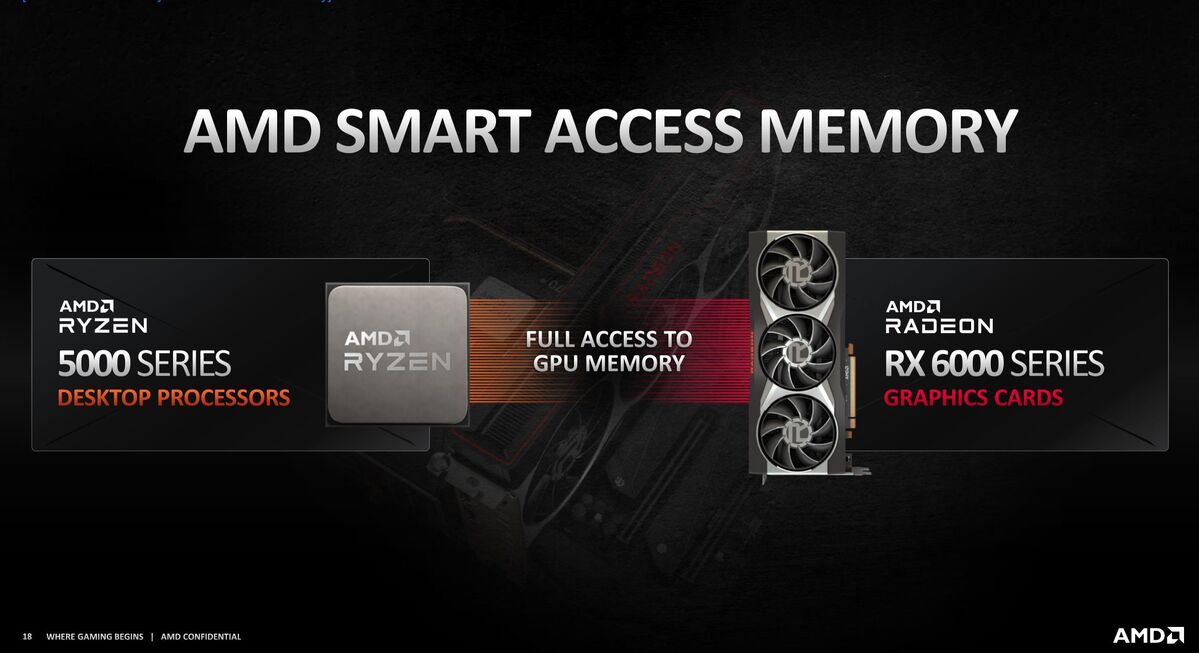 Smart Access Memory can't be used by everyone, though. You need a Ryzen 5000-series processor and a compatible X570 or B550 motherboard that has had its BIOS updated to support AMD's AGESA 1.1.0.0 firmware or newer, along with a current version of Radeon Software (which you need to run the Radeon RX 6000-series anyway) and a 64-bit operating system. Soon, BIOS updates will bring SAM to Ryzen 3000-series processors as well. Several modern Intel motherboards have rolled out BIOS updates with Resizable BAR support for 10th-gen Core processors, though support varies from vendor to vendor and even board to board. AMD tells me that "Radeon RX 6000-series GPUs will work on any resizable BAR-enabled CPU," so the increased performance you see below for the RX 6700 XT should also work on compatible Intel systems.
Compatibility keeps expanding, but most people won't have SAM-capable gaming systems yet, especially with how difficult it's been to obtain Ryzen 5000 processors in today's market.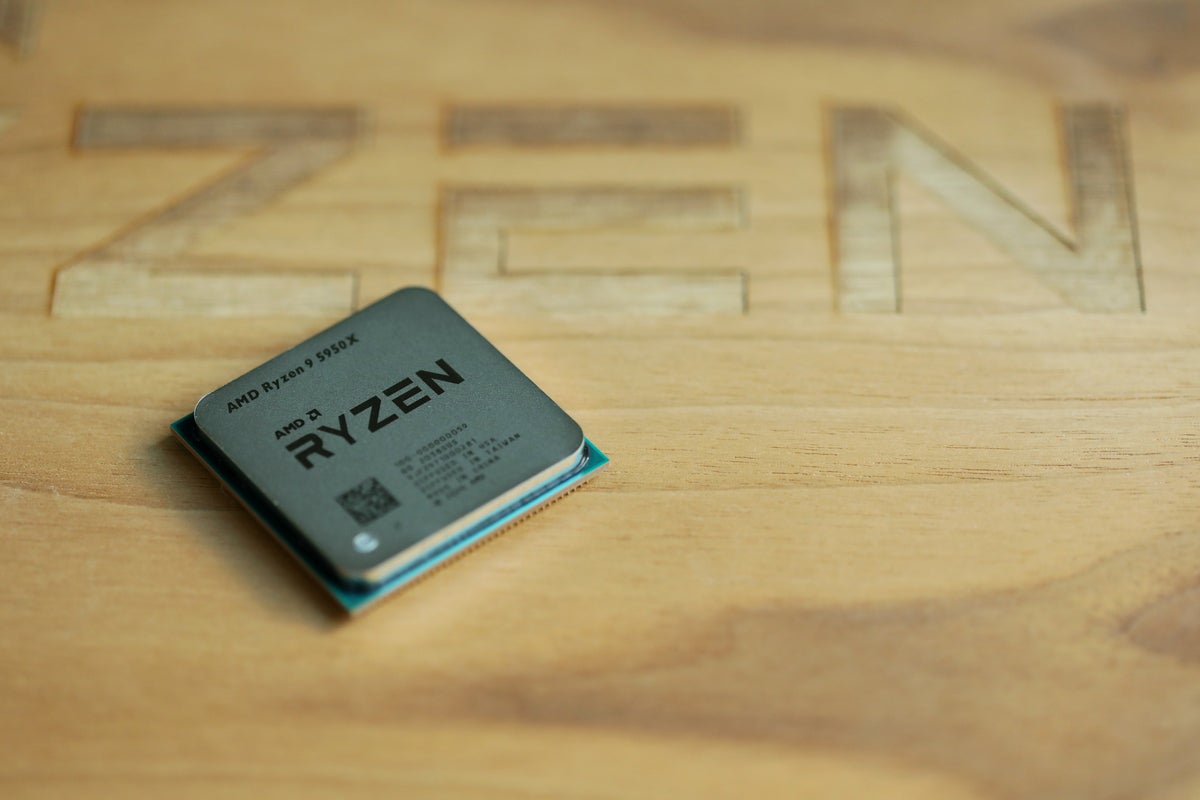 For now, compatible motherboards also won't enable Smart Access Memory by default. You need to dive into your BIOS's advanced settings and activate both "Above 4G Decoding" and "Re-size BAR support" to coax it into working. AMD expects AM4 motherboard makers to turn on Smart Access Memory by default soon, however, and it's expected to become standard on Intel's next-gen Rocket Lake-S 11th-gen hardware as well.
Mentioned in this article
AMD Ryzen 5 5600X
Price When Reviewed:
$299
The performance uplift from Smart Access Memory/Resizable BAR varies from GPU to GPU, game to game, resolution to resolution, and even depending on the graphics preset you're using. The 1440p results for the Radeon RX 6700 XT below don't map exactly to the gains and losses we saw with the beastly $1,000 Radeon RX 6900 XT with SAM enabled, for example. It's variable enough that Nvidia limited the RTX 3060, the first GeForce GPU with Resizable BAR support, to only eight whitelisted games out of the gate.
AMD, on the other hand, lets Smart Access Memory do its work with any game, even though it may result in a very minor performance hit in rare circumstances. "AMD has focused on maximizing performance for gamers with Smart Access Memory," a company spokesperson told me when asked about the difference. "With AMD and the broader industry embracing ReBAR on modern platforms, we're focused on enabling as many gamers as possible to take advantage of the extra performance on offer with Radeon + Ryzen and similar platforms." The results below show that it's probably worth it for most people.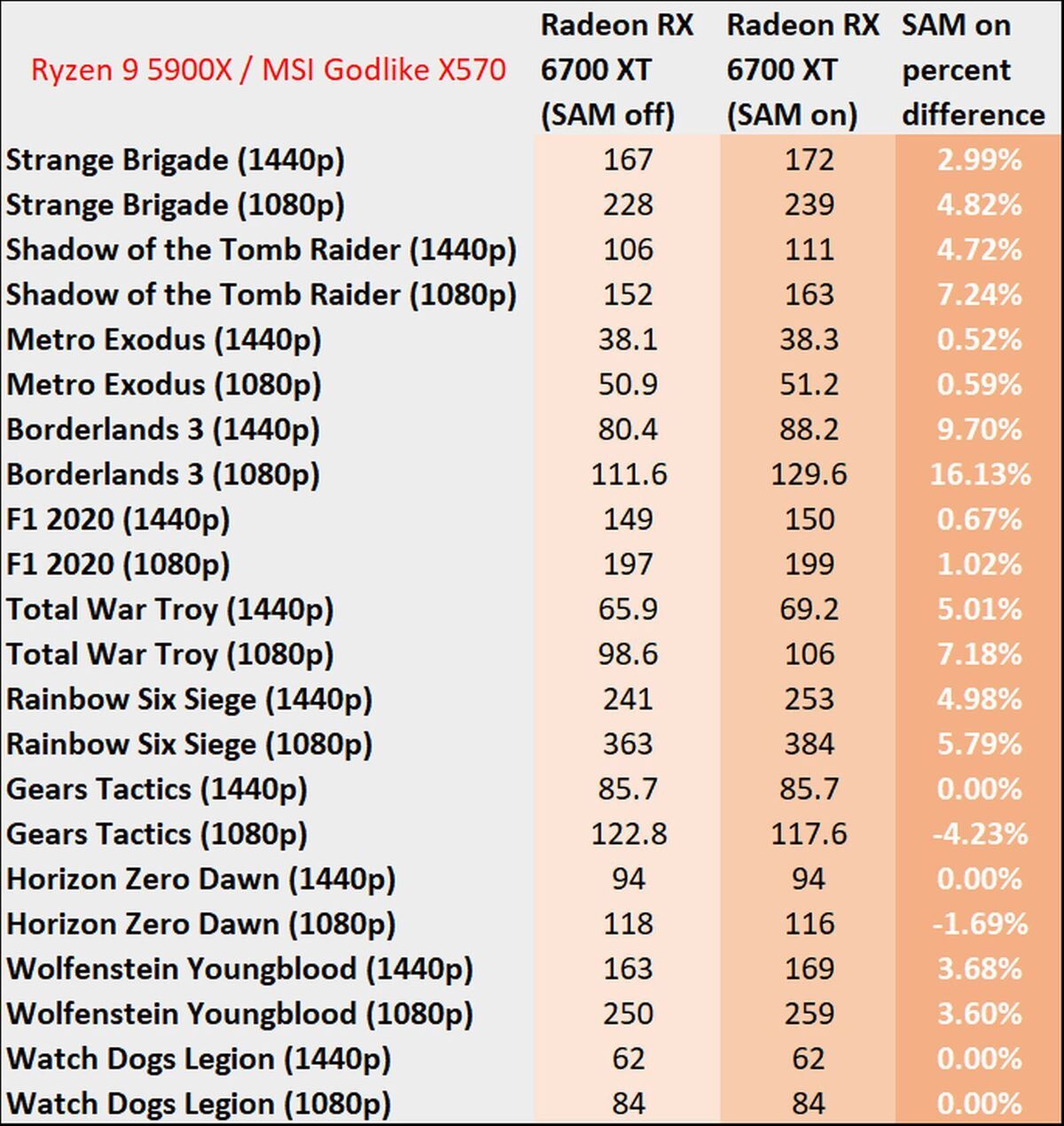 As you can see, Smart Access Memory provides extra performance across most of the board, but the significance varies wildly. Some games see little extra oomph; Borderlands adores SAM, showing much higher performance with it active; and Gears Tactics and Horizon Zero Dawn actually lose a few frames with the feature active, though only at 1080p resolution. SAM's extra boost is enough to propel the 6700 XT past the RTX 3070 in some scenarios where it otherwise loses by a hair, and help it pull ahead of the RTX 3060 Ti in many games. But on the whole, it doesn't change the overall performance picture aside from in a handful of highly reactive titles.
Next page: Ray tracing performance
Ray tracing performance
We also benchmarked the Radeon RX 6700 XT in a handful of titles that support cutting-edge real-time ray tracing effects. While the newer Radeon RX 6000-series GPUs now support ray tracing, older AMD models don't, so you won't find the 5700 XT in the chart below.
Nvidia holds a key advantage in ray-traced games thanks to its Deep Learning Super Sampling technology (DLSS), which leverages AI tensor cores embedded in RTX GPUs to render games internally at a lower resolution, then upsize them to your desired resolution, using machine learning to fill in the gaps. DLSS 2.0 works like black magic and gives Nvidia a strong lead in ray tracing performance.
Without a DLSS-like feature, you usually can't run ray-traced games above 1080p resolution on Radeon RX 6000-series cards, and that includes the Radeon RX 6700 XT—a major bummer in a GPU that will set you back at least $479. AMD has teased a future DLSS rival dubbed "FidelityFX Super Resolution," with promises that it'll be more open and work on the next-gen consoles as well. It's all words and promises for now though, as AMD didn't divulge any new information about Super Resolution for the 6700 XT's launch.
The Nvidia GPUs we included below all support DLSS, and we've shown three results for each card: native performance with ray tracing off, native performance with ray tracing on, and performance when both ray tracing and DLSS are active. The Radeon GPUs show a zero in the DLSS listing, because they don't currently offer a similar feature.
We plan to expand our ray-traced game suite soon, but for now we're giving Watch Dogs: Legion, Metro: Exodus and Shadow of the Tomb Raider a whirl to put the capabilities to the test, with ray tracing options set to Ultra in each title. Legion packs ray-traced reflections, Tomb Raider includes ray-traced shadows, and Metro features more strenuous (and mood-enhancing) ray-traced global illumination.
Let's kick things off with Shadow of the Tomb Raider's ray-traced shadows, which is a less intensive application for the feature. The game includes the first-generation version of DLSS, which doesn't support 1080p resolution, so we've stuck to raw ray tracing performance only there.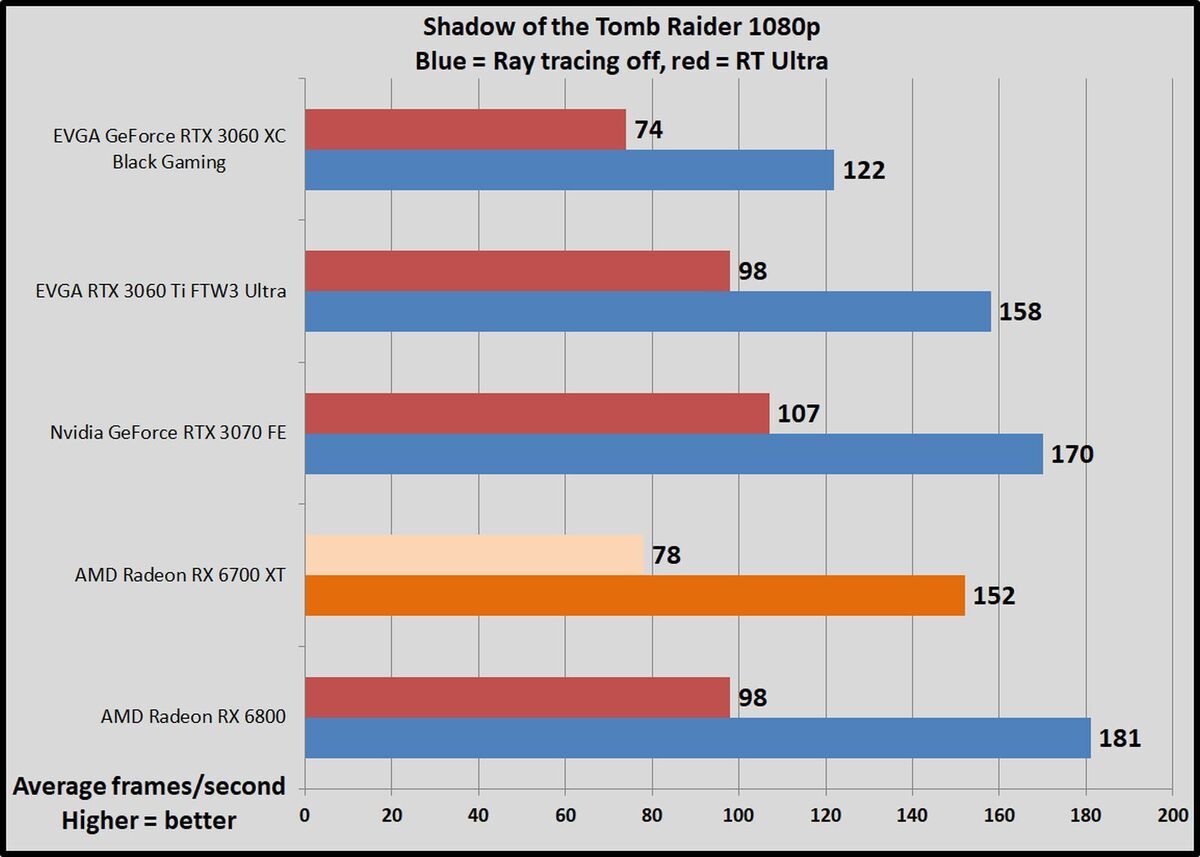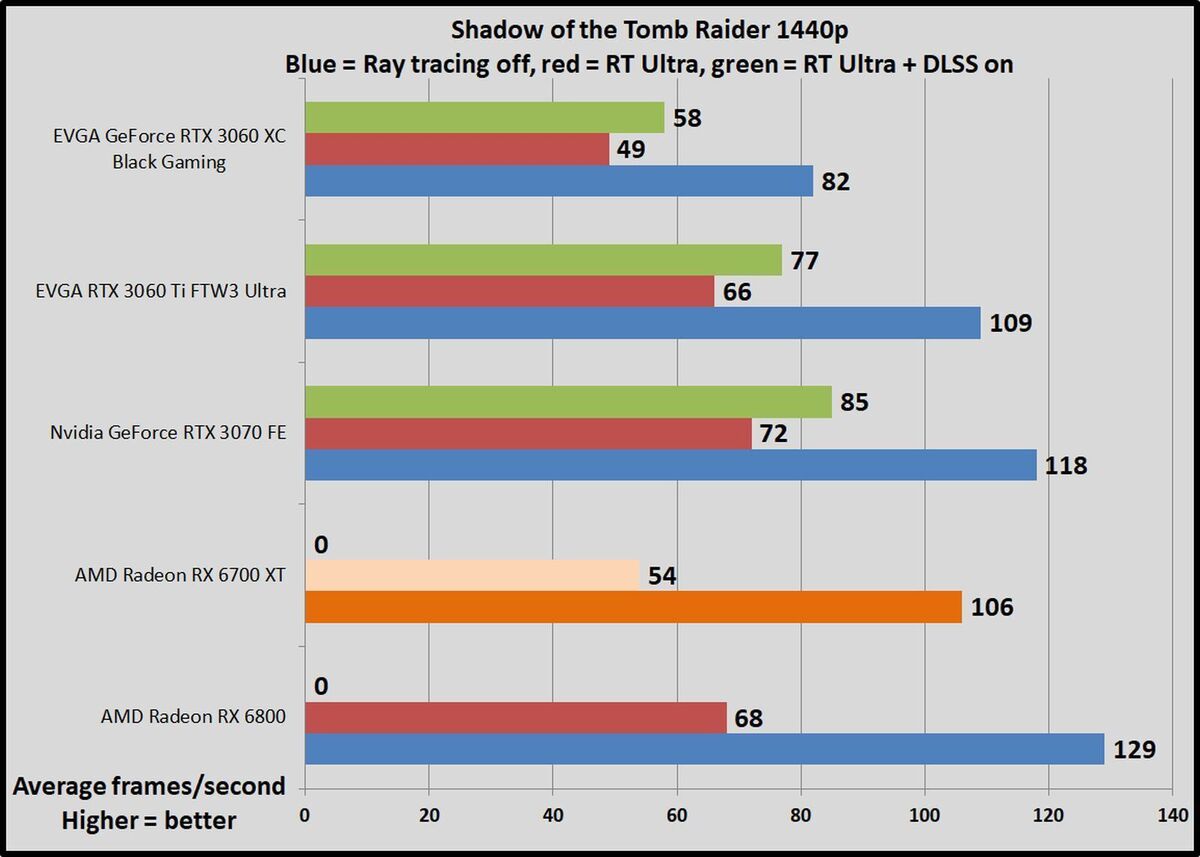 Metro: Exodus uses ray tracing for global illumination. It also uses DLSS 1.0 and doesn't support the upscaling feature at 1080p, so we've only included raw ray tracing performance on that chart. We test using the demanding Extreme graphics preset; dropping to lower fidelity would improve performance to more playable levels at 1080p resolution.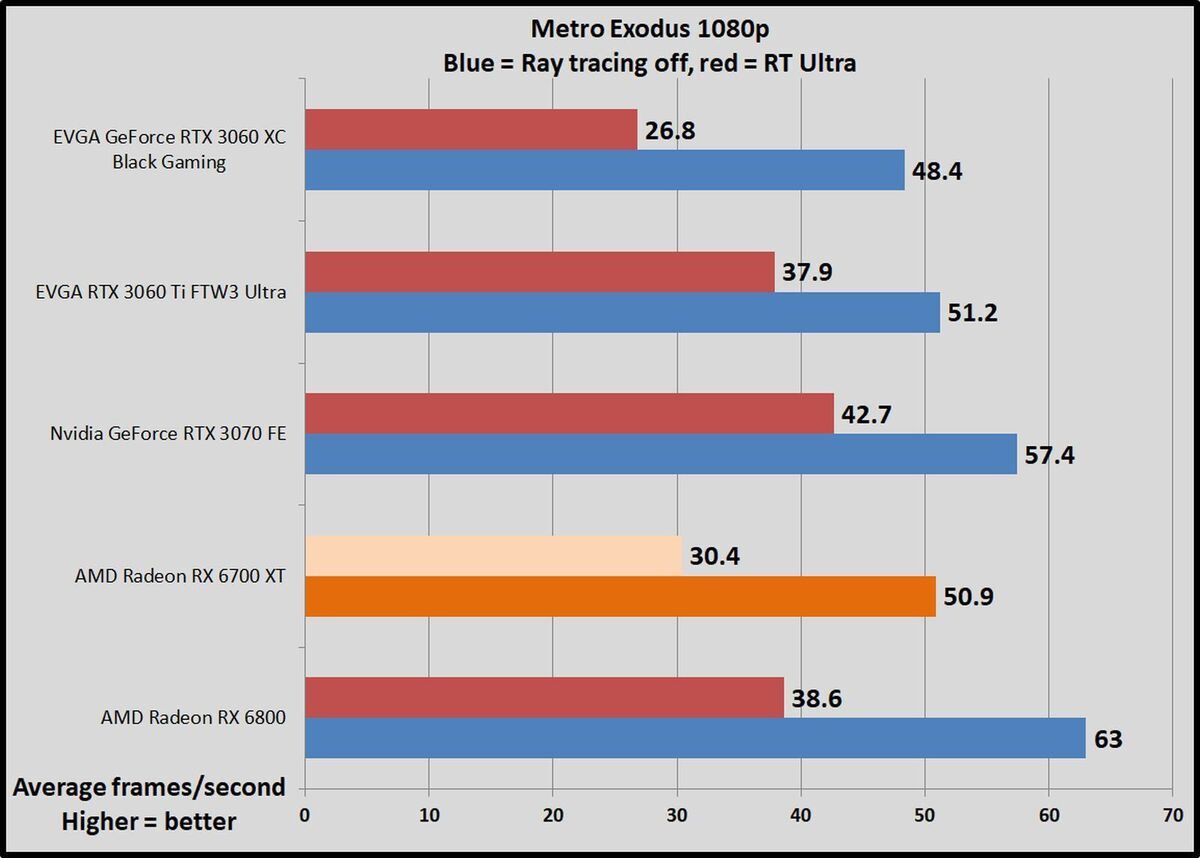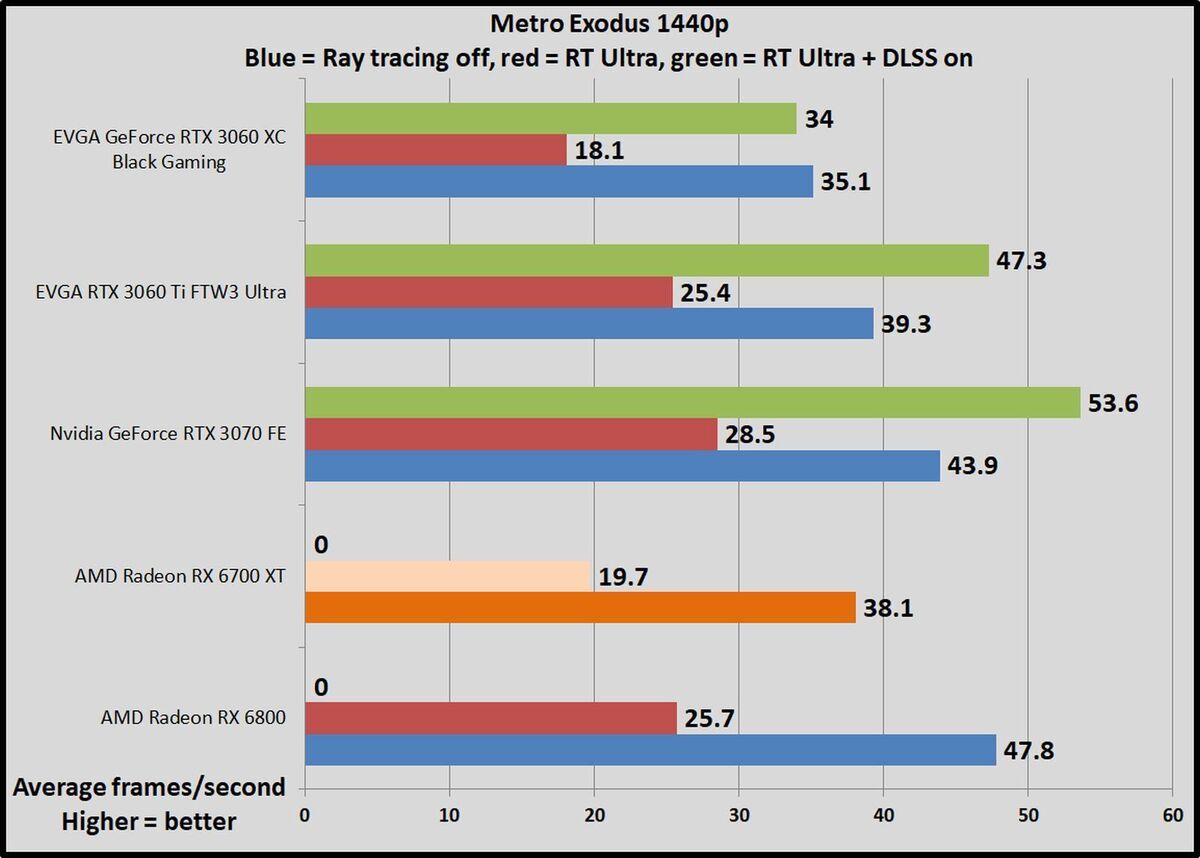 Watch Dogs: Legion hammers your system regardless of whether you have ray tracing on, at least with the high-resolution texture pack installed. Activating the ray-traced reflections exacerbates the issue. Unlike Tomb Raider and Metro, Watch Dogs uses the faster, better DLSS 2.0 technology. We test it with DLSS Balanced mode active. Balanced lets you hit higher frame rates than the Quality mode, but the even faster Performance mode starts to introduce visual differences you can notice in some scenes. Balanced hits the sweet spot.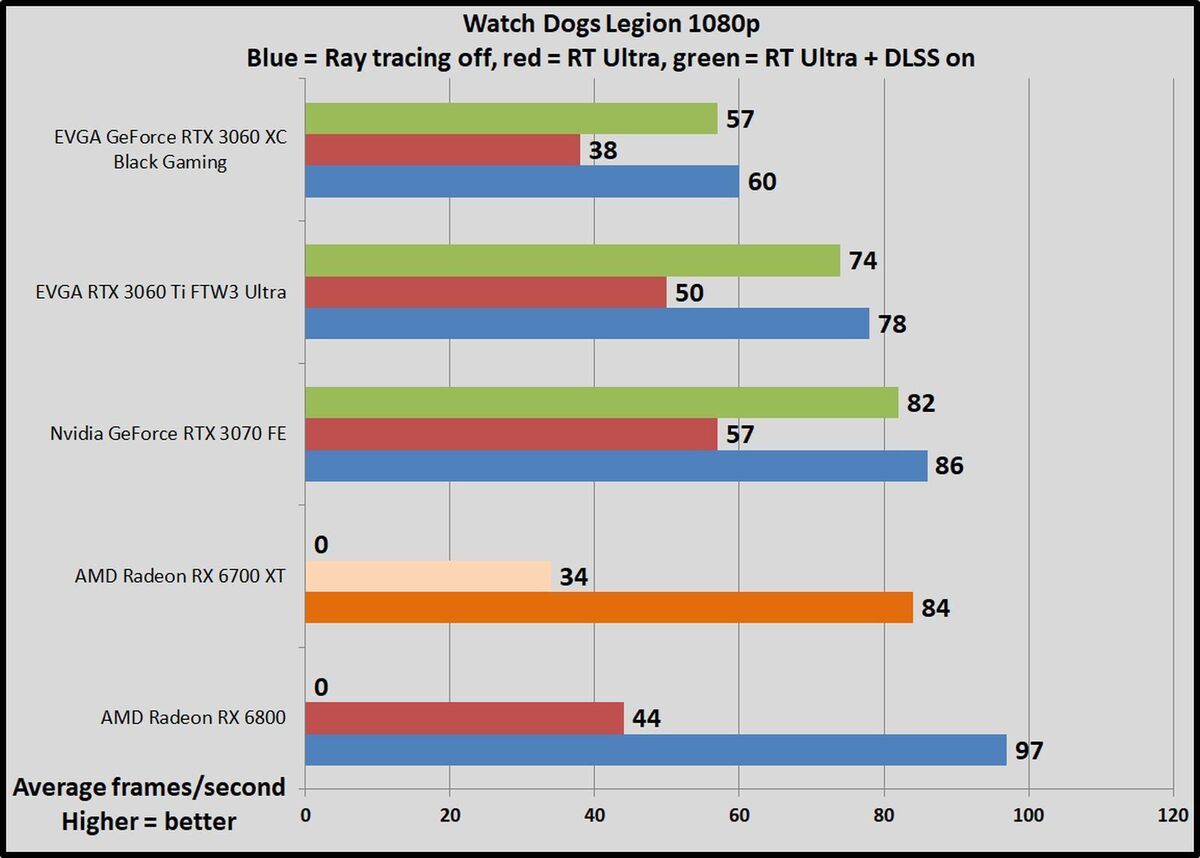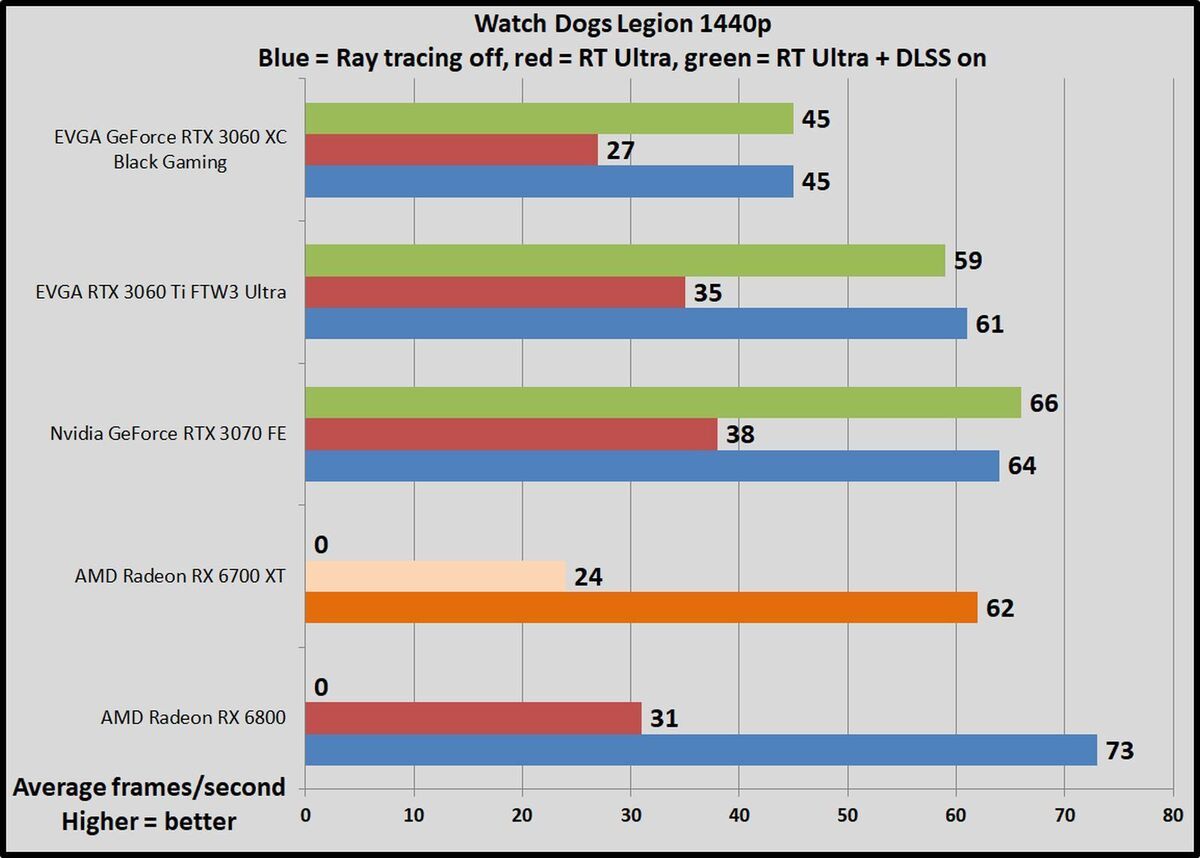 No surprises here overall. Nvidia's DLSS and second-gen ray tracing hardware holds a firm advantage over AMD's debut incarnation. AMD's performance is also hurt by the greatly reduced number of ray accelerators in the 6700 XT compared to pricier Radeon options. You'll likely need to drop the quality level of both ray tracing features and overall fidelity to hit 60 fps on Radeon GPUs with the cutting-edge lighting feature active, even at 1080p resolution.
Next page: Power, thermals, and noise
Power draw, thermals, and noise
We test power draw by looping the F1 2020 benchmark at 4K for about 20 minutes after we've benchmarked everything else and noting the highest reading on our Watts Up Pro meter, which measures the power consumption of our entire test system. The initial part of the race, where all competing cars are onscreen simultaneously, tends to be the most demanding portion.
This isn't a worst-case test; this is a GPU-bound game running at a GPU-bound resolution to gauge performance when the graphics card is sweating hard. If you're playing a game that also hammers the CPU, you could see higher overall system power draws. Consider yourself warned.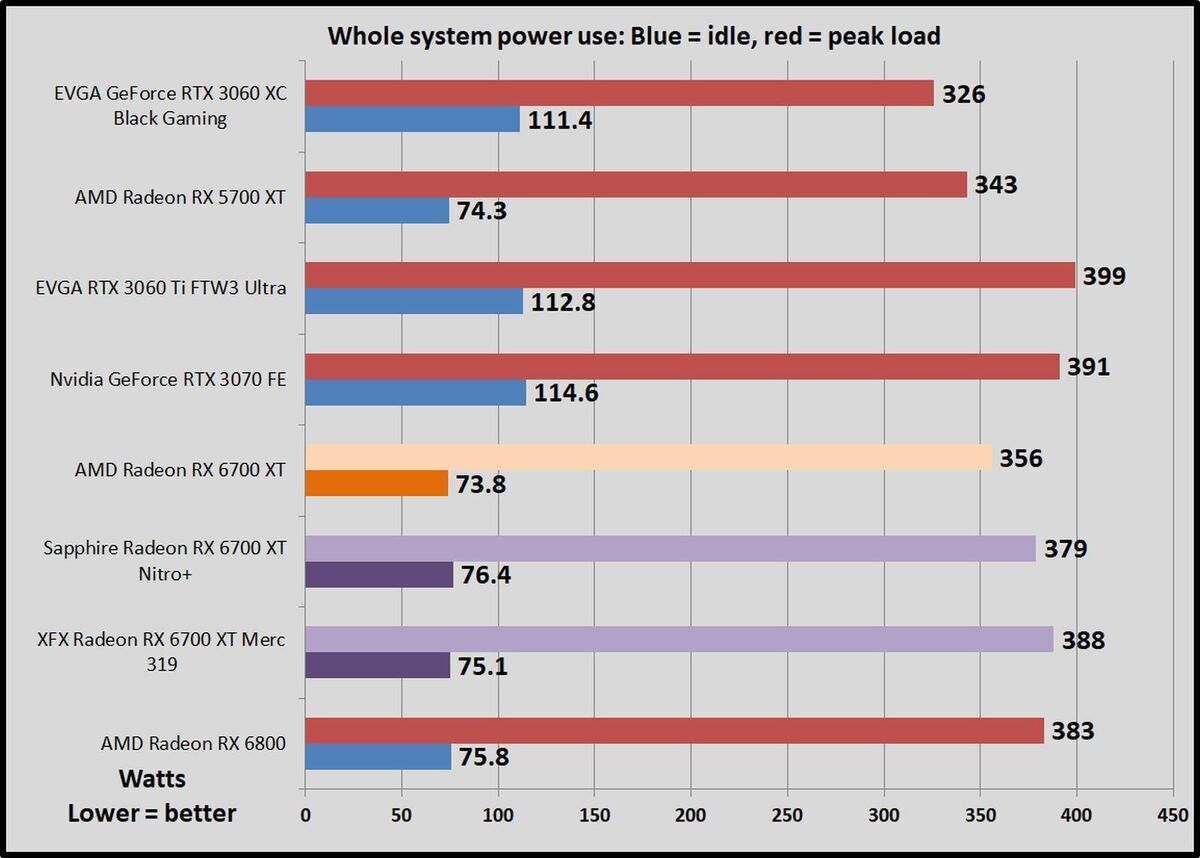 Nvidia GPUs prevent our computer from fully going into idle in the five minutes of downtime we use for this test, though it does so after a longer duration. That's new to this Ryzen 5900X platform; we didn't see it on our old Intel-based testbeds, nor with AMD Radeon graphics cards installed. We'll have to change our methodology going forward and poke around the behavior to understand it more fully.
Even under load, the Radeon RX 6700 XT manages to draw less power than the RTX 3060 Ti and 3070 it competes against. It's also comparable to the Radeon RX 5700 XT's power draw despite being much faster. Bravo, RDNA 2.
We test thermals by leaving GPU-Z open during the F1 2020 power draw test, noting the highest maximum temperature at the end.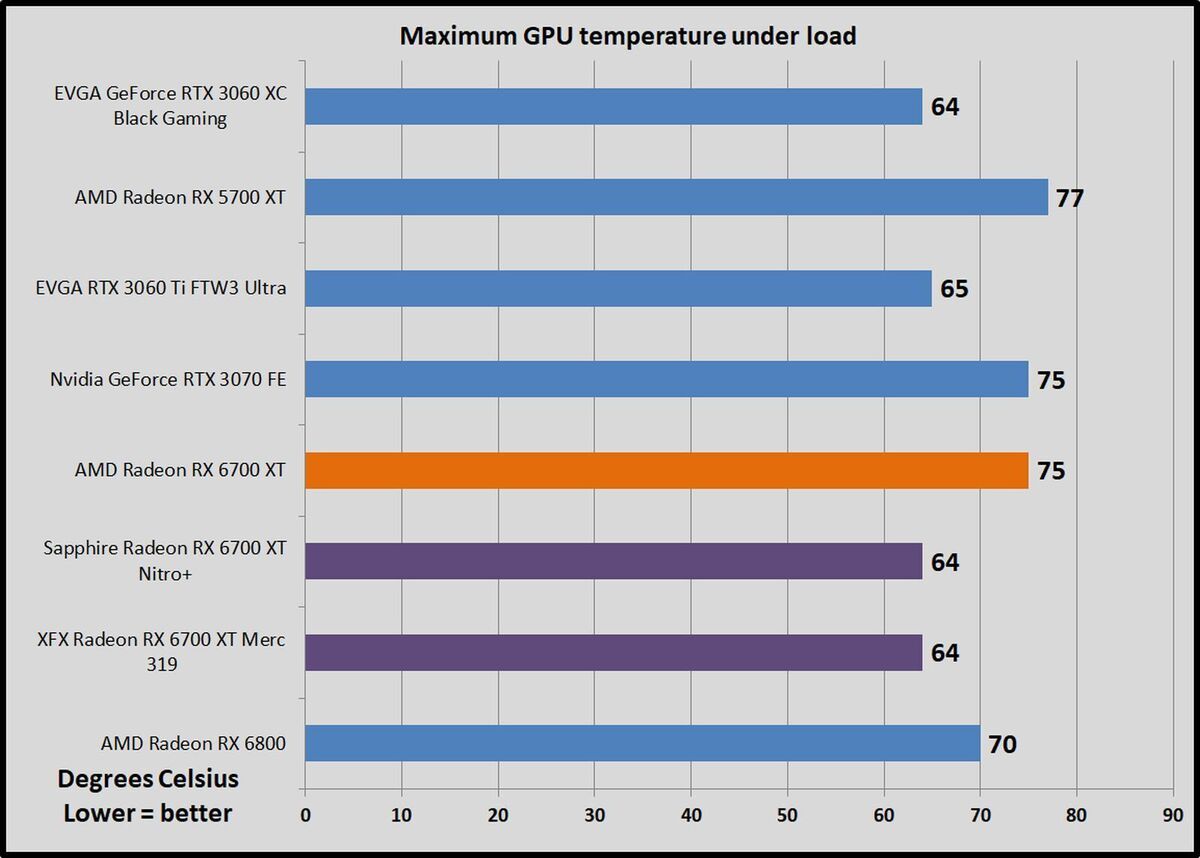 The Radeon RX 6700 XT loses a bit of cooling prowess compared to the RX 6800, probably because it sports one fan fewer. Nonetheless, its 75-degree-Celsius result is perfectly acceptable, and cool enough to push custom cards to step up their own game. It's very quiet, though not totally inaudible. Our review sample exhibits some light coil whine in scenes with exceptionally high frame rates—mostly title screens, though also in high-fps games like Strange Brigade at 1080p. The noise is light enough that it may not be heard in a case, however, and we don't consider it a major detriment, especially considering that any individual graphics card could wind up with some degree of coil whine.
All in all, AMD's new reference card design continues to impress.
Next page: Should you buy the Radeon RX 6700 XT?
Should you buy the Radeon RX 6700 XT?
You probably shouldn't buy any graphics card right now, as I said in our GeForce RTX 3060 review. Prices are just plain ridonkulous. I'd recommend most people sit on the sidelines and stream their PC games via Nvidia's GeForce Now service until the dust settles.
AMD definitely priced the Radeon RX 6700 XT for the times.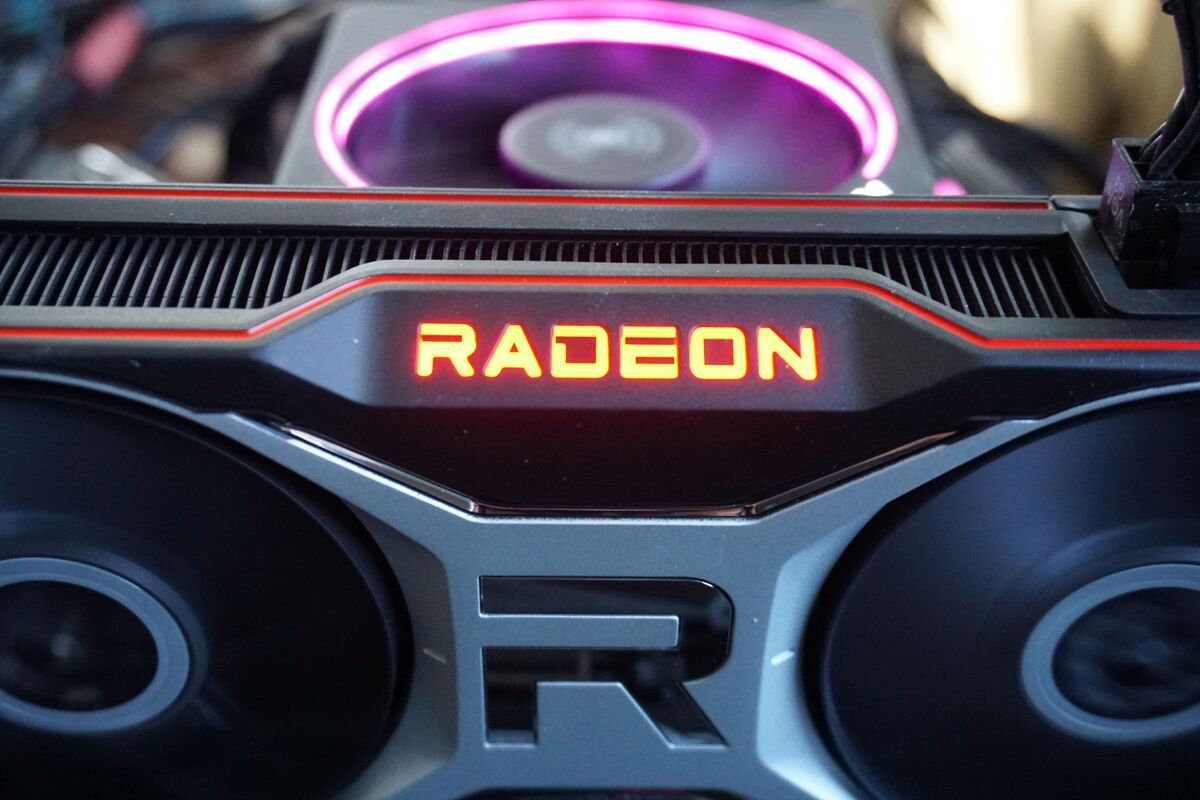 This $479-MSRP graphics card competes more directly against the $400 GeForce RTX 3060 Ti than the $500 RTX 3070 that's closer in price. Flipping on AMD's killer Smart Access Memory feature (or Resizable BAR on compatible Intel platforms) helps it surpass the RTX 3060 Ti more consistently and even beat the RTX 3070 in some titles. However, most gamers aren't likely to have the cutting-edge CPUs and motherboards needed for Smart Access Memory yet. Nvidia also says BIOS updates that activate Resizable BAR across the RTX 30-series lineup will appear by the end of March, potentially erasing the RX 6700 XT's advantage.
Considering that the Radeon RX 6700 XT is a 1440p graphics card that can only play ray-traced games at 1080p with lower fidelity settings due to its lack of a DLSS rival, I'd have liked to see AMD consider SAM a counter-balance to the RTX 3060 Ti's ray tracing chops and price this at least $80 lower, even with its memory capacity advantage.
The Radeon RX 6800-series and 6900 XT's larger 16GB buffer truly give it an edge over Nvidia's pricier GPUs at 4K resolution, but the smaller 8GB memory buffers in the RTX 3060 and 3070 still hold up just fine for 1440p gaming. Some games are already bumping against that barrier though, so AMD's decision to go with 12GB of GDDR6 is welcome nonetheless.
Pricing the Radeon RX 6700 XT so high makes all sorts of business sense in today's mad reality, as I explained in the introduction. Doing so lets AMD and its partners cash in on the sky-high prices that graphics cards are going for today, rather than leaving the riches to retailers and scalpers. It doesn't bode as well for review scores, however.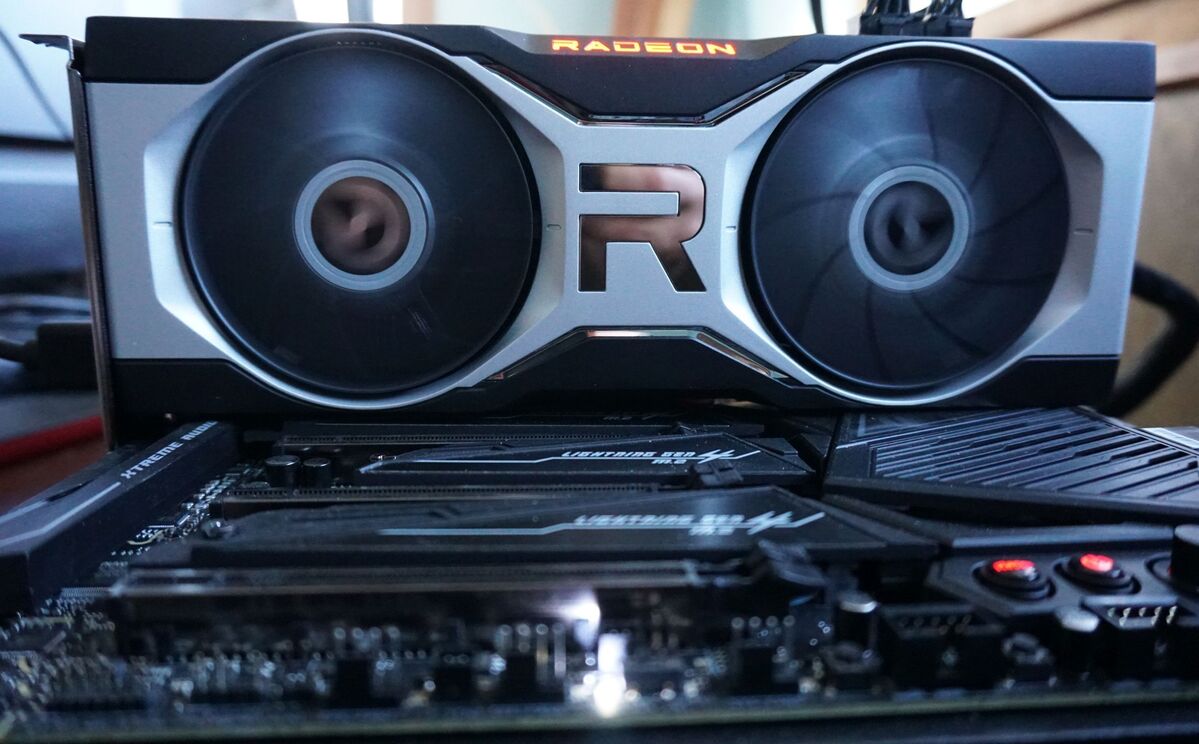 In a sane world, I'd have liked to see the Radeon RX 6700 XT come in at $400 to match the RTX 3060 Ti (and last generation's RX 5700 XT). On paper, Nvidia's GPU is a much better value—but in reality, it's going for over $800 or more on Ebay. On paper, paying $479 for the Radeon RX 6700 XT doesn't make sense—but in reality, you'll wind up paying much more than that to acquire one of these graphics cards unless you're lucky enough to land on a gone-in-seconds stock drop on AMD's website. Still, the suggested pricing set by vendors like AMD draws a line in the sand that reflects their intentions. We would've liked this GPU much more with a $400 MSRP.
If you're flush with stimulus cash and don't mind overpaying to get your game on right now, the Radeon RX 6700 XT is a great card for 1440p and high-refresh-rate 1080p gaming, as long as you don't mind its inferior ray tracing performance. Definitely turn on Smart Access Memory if you're able. Cross your fingers that you're able to find this reference model at MSRP though. It's cool and quiet enough, and the custom cards launching alongside AMD's board on March 18 aren't tangibly faster out of the box despite sporting even higher price tags and power limits.
Stay tuned for a few custom RX 6700 XT reviews in the coming days.
Best Prices Today: Radeon RX 6700 XT