At a Glance
Expert's Rating
Pros
Great 1440p and 1080p gaming performance
Trixx Boost can make performance significantly faster
12GB of memory bolstered by Infinity Cache
Exceptional design: Very cool, whisper quite, and attractive
Luxurious extras like ARGB header and triple-BIOS switch
Cons
No DLSS-like feature means AMD's ray tracing performance is lackluster
Price is high, but will be much higher on the street during global GPU shortage
Our Verdict
The Sapphire Nitro+ Radeon RX 6700 XT delivers exceptional 1440p and high refresh rate 1080p gaming with no compromises other than ray tracing performance. It's silent, cool, and looks great, with Sapphire's optional Trixx Boost utility capable of pushing frame rates significantly higher. We aren't taking price into consideration given market conditions during a pandemic-driven global GPU shortage.
Best Prices Today: Nitro+ Radeon RX 6700 XT
The Radeon RX 6700 XT hits the streets today, and it's a fantastic graphics card for 1440p and high refresh rate 1080p gaming. But in an unusual twist, AMD's darn good reference version of the RX 6700 XT isn't your only option available on day one. While the Radeon RX 6800-series and flagship RX 6900 XT initially released in reference form with custom models following weeks later, AMD partners like Sapphire, XFX, and Asus can ship their bespoke 6700 XT versions at the same time as the reference card for this launch.
Enter the Sapphire Nitro+ Radeon RX 6700 XT.
This graphics card isn't cheap. At $579, it costs $100 more than AMD's already expensive reference model, and understandably so (as we explained in our initial Radeon RX 6700 XT review). Worse, you'll probably wind up paying hundreds more in real life unless you're lucky enough to catch the initial stock drop at a retailer. That's a tough pill to swallow, but the Nitro+ makes a strong bid for being the most worthwhile version of the Radeon RX 6700 XT after a couple of easy tweaks. Its dead-silent, ice-cold custom cooler design delivers an outstanding user experience even under full load, while the company's flat-out excellent Trixx Boost software can help the Nitro+ RX 6700 XT pump out frames nearly as fast as the Radeon RX 6800—a graphics card that costs a whole lot more. Yes, even scalped.
Let's dig in.
Sapphire Nitro+ RX 6700 XT specs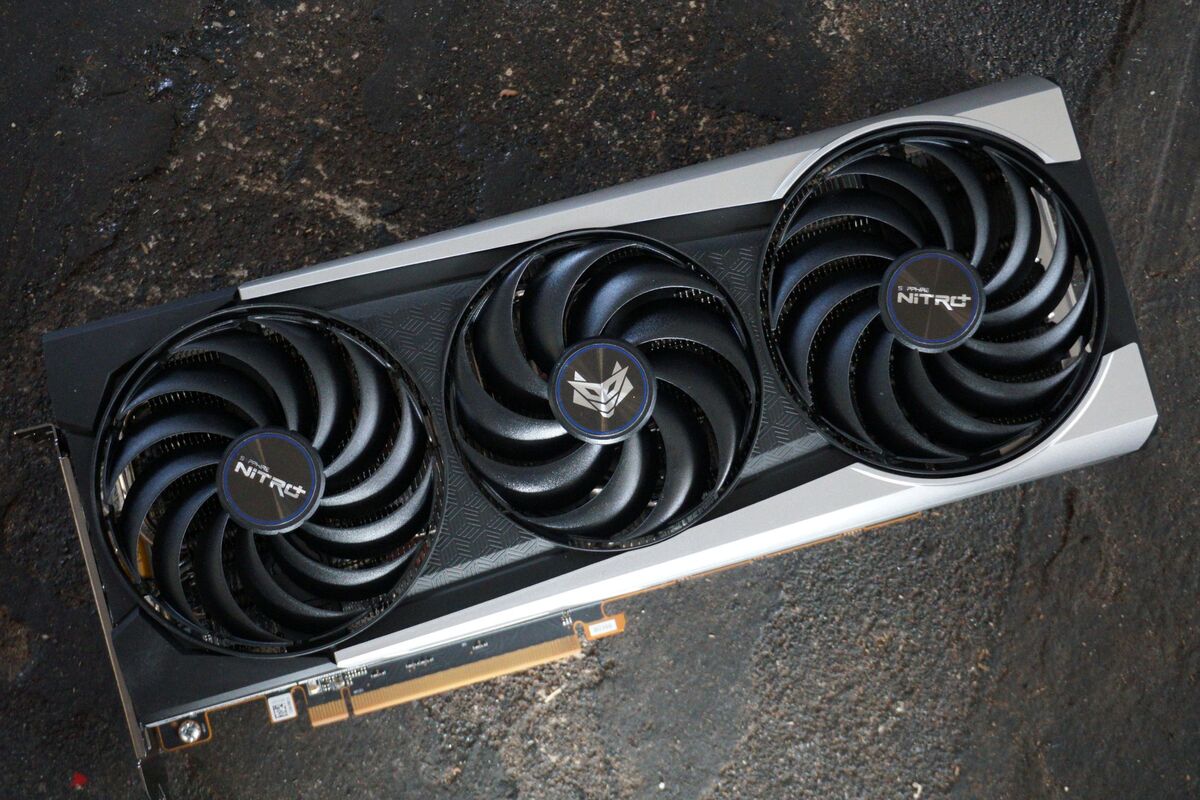 The Sapphire Nitro+ is built around the same "Navi 22" GPU as all Radeon RX 6700 XT models. That means it includes screaming-fast clock speeds, support for Smart Access Memory and real-time ray tracing, access to all of AMD's modern Radeon Software features, and an ample 12GB of GDDR6 memory bolstered by 96MB of ultra-fast on-die Infinity Cache.
For a deeper look at the best new features found in the Radeon RX 6000-series, be sure to check out our RDNA 2 deep dive. (RDNA 2 is the name of the energy-efficient graphics architecture powering AMD's latest GPUs.) Here's a refresher on the Radeon RX 6700 XT's specific technical details next to the RX 5700 XT it's replacing: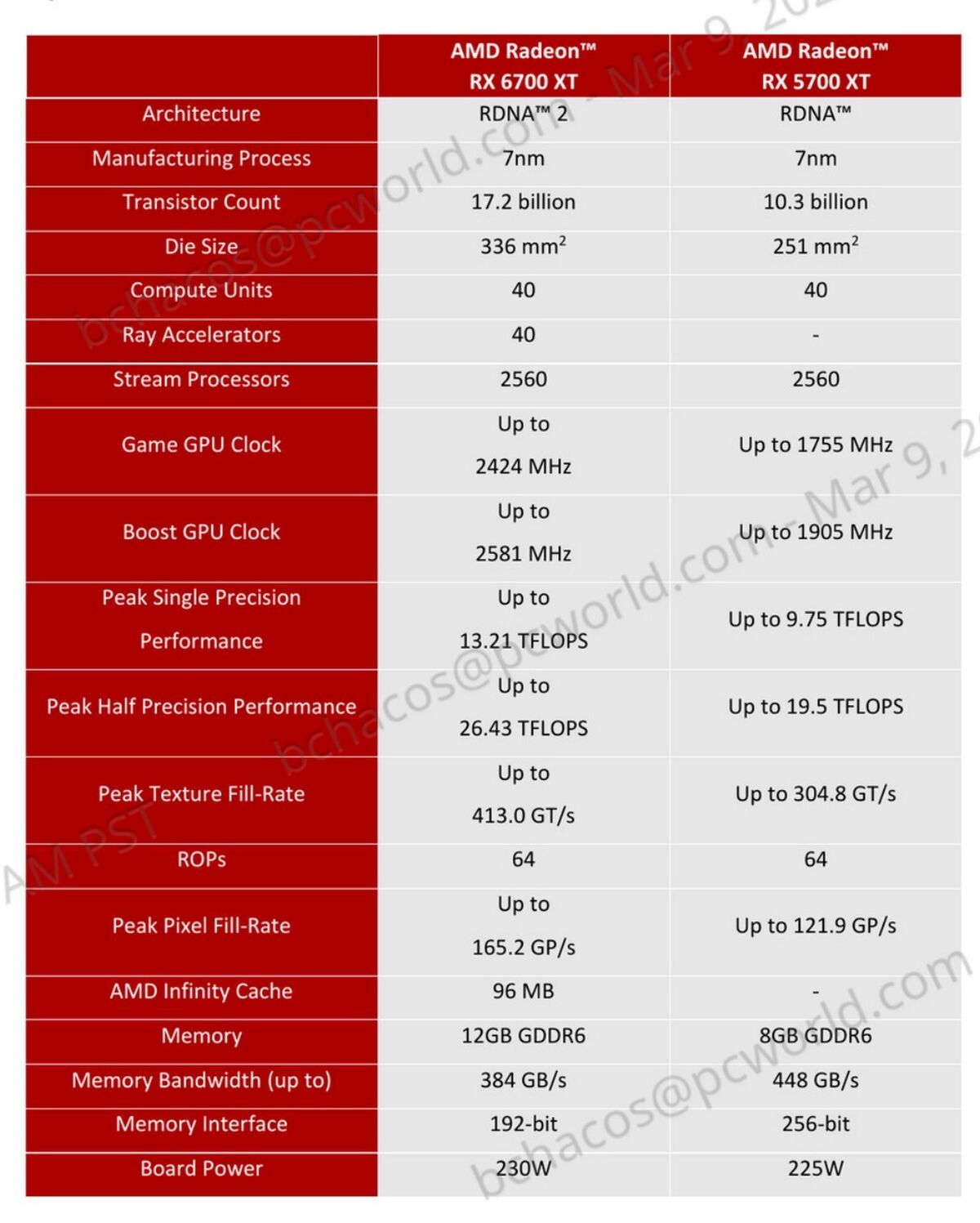 And here's a Sapphire-supplied rundown of the Nitro+'s own specifications, which largely align with the reference models but include a few key differences, as well as additional details about the card's physical dimensions and extra features: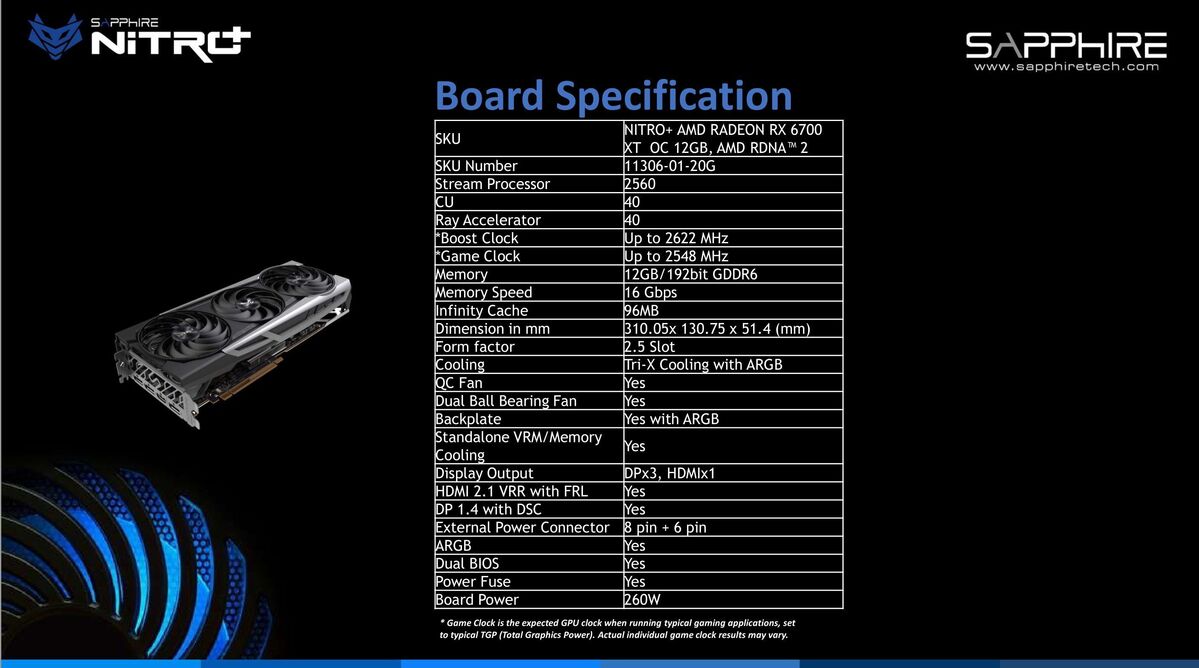 Most notably, Sapphire's graphics card runs faster than the reference version, at least on paper. AMD's "Game Clock" spec lists the estimated clock speed that the GPU will run at during gaming workloads, and the stock 2,424MHz speed listed wound up being accurate in our tests with F1 2020. Sapphire's spec sheet says the Nitro+ boosts up to 2,548MHz while gaming, and we indeed witnessed it holding at 2,524MHz to 2,536MHz under a long, looped F1 2020 run. The higher clocks didn't make a practical difference in frame rates, as you'll see in our benchmarks later, but it speaks to the efficacy of the Nitro+'s design.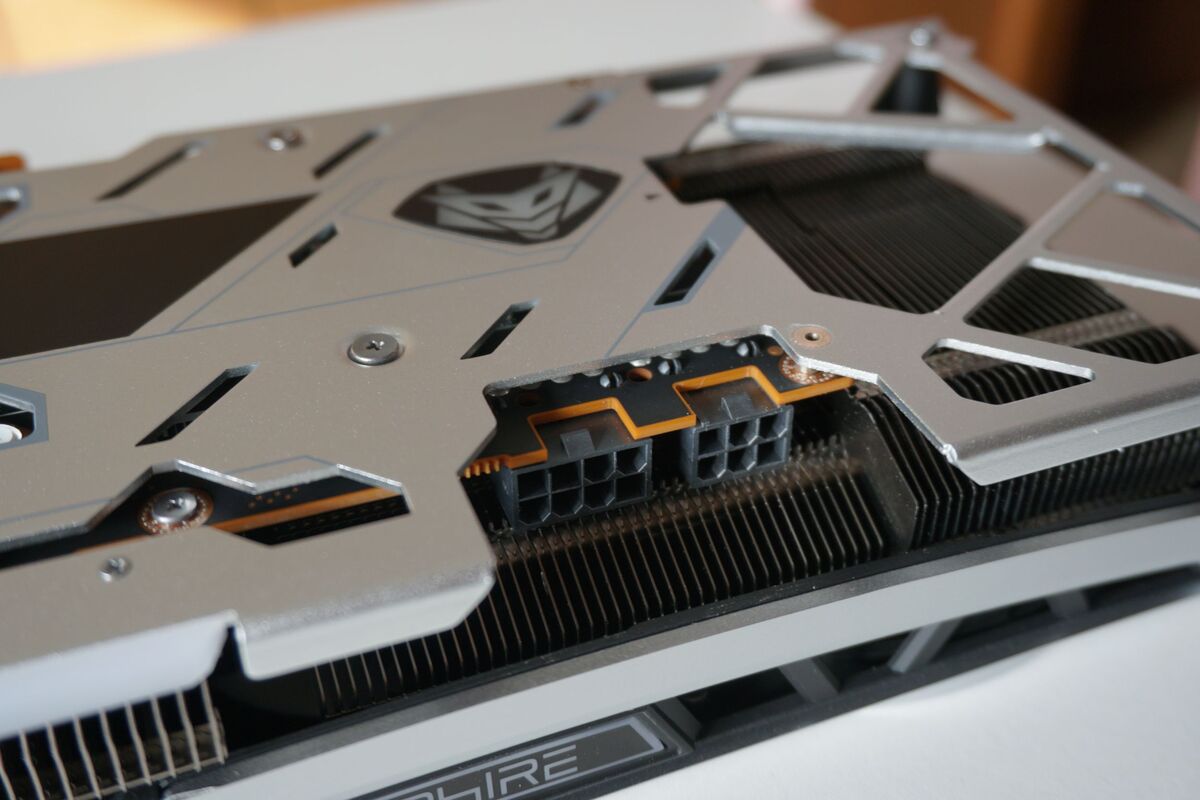 Higher clocks also require more power. The Nitro+ draws 260 watts of total board power, compared to 230 watts for the reference design. You shouldn't worry about that slight uptick.
Sapphire Nitro+ RX 6700 XT design and features
But the real reason to spend more for a hot-rod custom graphics card like the Sapphire Nitro+ RX 6700 XT is for its custom cooling and special-sauce software.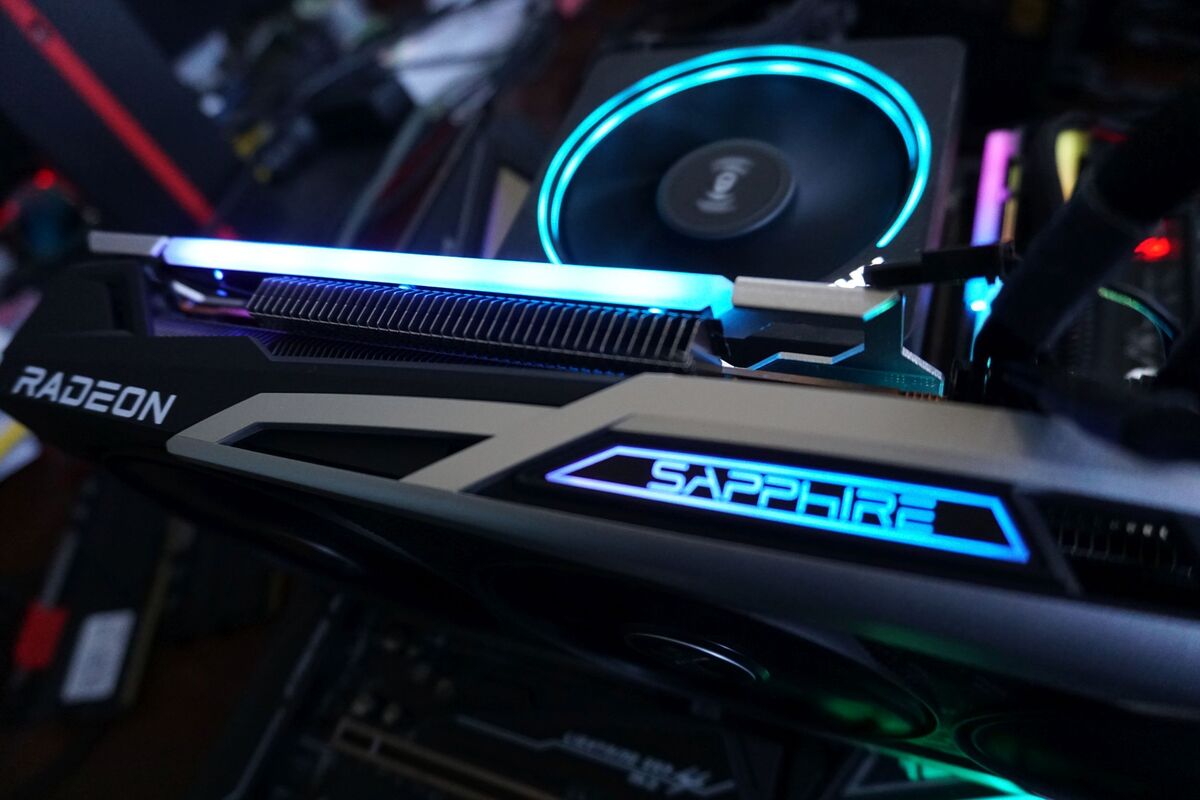 Sapphire's 6700 XT brings back the new cooler design introduced with the Sapphire Nitro+ RX 6800 XT, but with a few minor tweaks. The card still sports the same cyberpunk-esque black-and-silver design, with gorgeous RGB lights illuminating the logo on the backplate, the long light bar on the edge of the backplate, and the Sapphire name on the side of the card. That lighting bleeds through the small cutouts spaced across the metal backplate, a nice aesthetic touch.
The shroud itself includes a trio of "hybrid fans" that merge characteristics from both axial and blower-style fans, improving airflow and air pressure compared to yesteryear's axial fans while keeping noise levels low. Each fan comes loaded with 12 of the slim, swooping blades, set shallower than you normally see.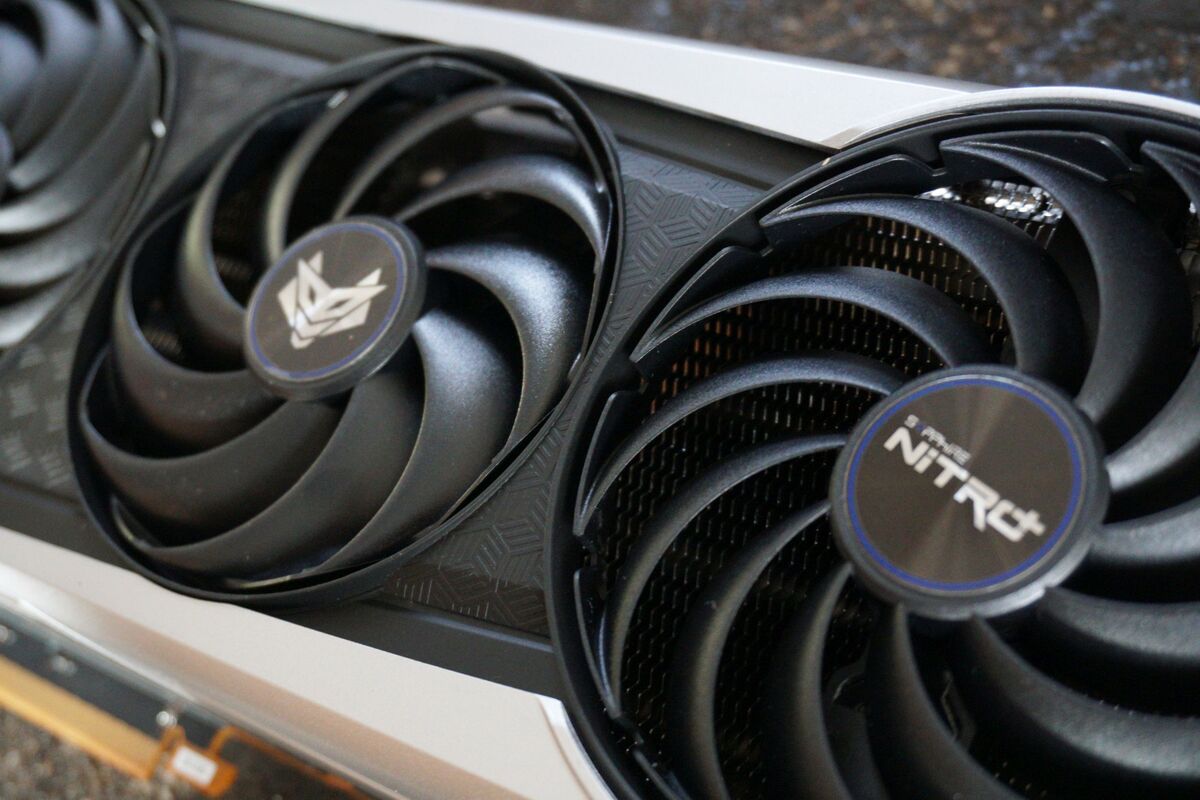 Under the plastic shroud, Sapphire improved the Nitro+'s cooling capabilities with some significant alterations for this generation. Here's what we said about the Nitro+ 6800 XT's interior, which still holds true for this version of the Nitro+:
"The Nitro+'s heat sink runs the card's full 12.2-inch length, featuring a new wavy fin design that Sapphire claims helps to cut down on wind noise. The metal over the GPU itself tapers down with a V-shaped notch to "accelerate and centralize" the airflow around the chip, per Sapphire. Sapphire also included a standalone metal cooler with its own heat sinks and heatpipe for the memory, voltage regulators, and chokes. Taming temperatures on those components always helps, but it should prove especially welcome during overclocking attempts."
Spoiler alert: Sapphire's fancy new Nitro+ cooling is frighteningly effective when applied to the Radeon RX 6700 XT, as you'll see later. It looks damned good in your system too.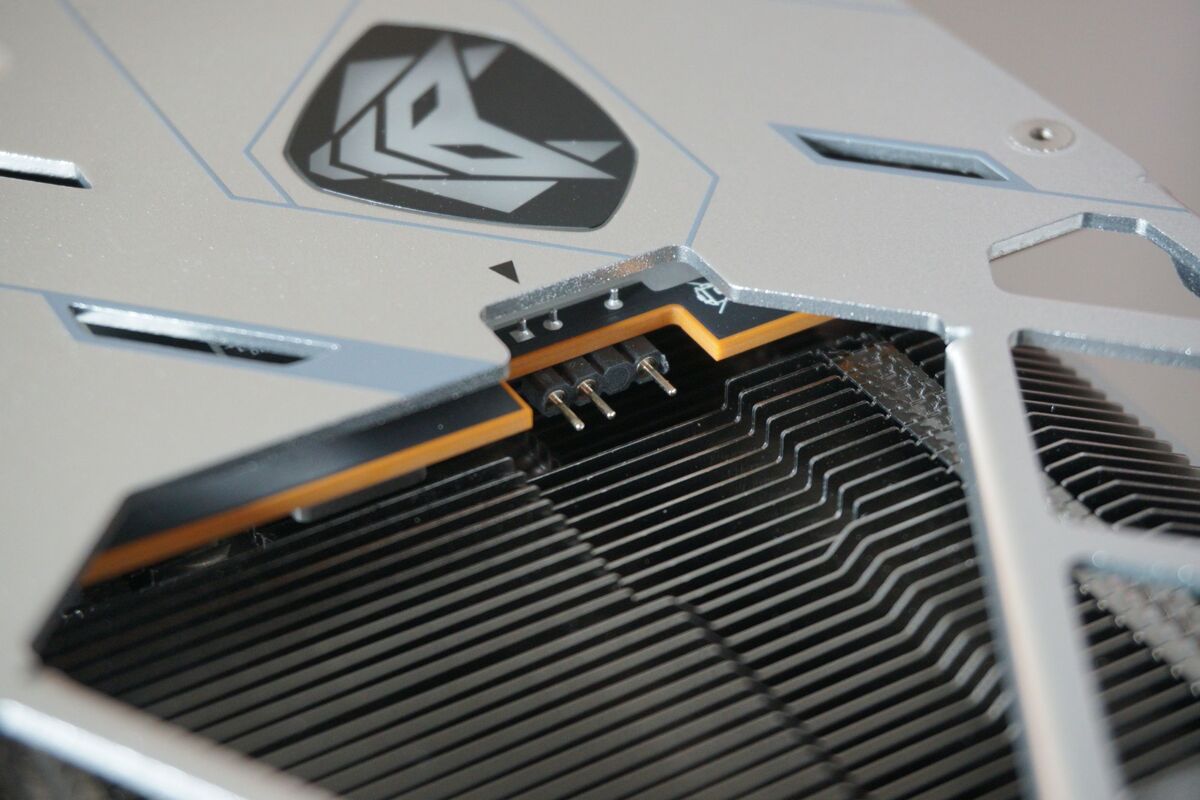 Sapphire also outfits the Nitro+ 6700 XT with an ARB header at the tail end of its PCB, allowing you to synchronize your graphics card and motherboard lighting—a great feature we're starting to see more often on premium boards like this. Keep it up.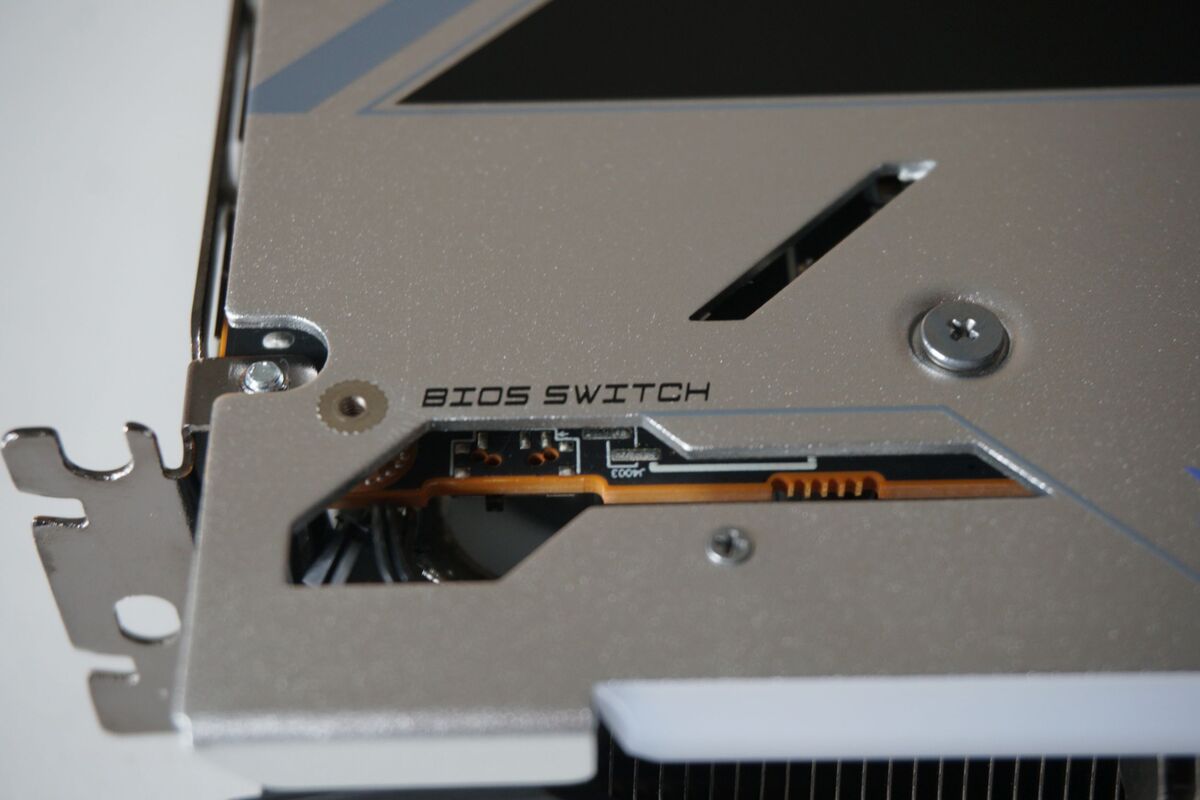 The Sapphire Nitro+ also includes a physical BIOS switch, and even it offers more functionality than usual. Most custom GPUs offer a dual BIOS switch, but the Nitro+ includes three toggles. The rightmost "Performance Mode" BIOS runs at the full 2,548MHz Game Clock speeds and boosts the card's power limit to 211 watts, while the middle "Quiet Mode" switch dials those slightly back to 2,433MHz and 186 watts to run even quieter and cooler. The leftmost option, on the other hand, enables the ability to swap between Performance and Quiet modes using Sapphire's Trixx software rather than having to physically open your case and toggling the BIOS switch over—a very handy and very practical feature indeed.
The only downside is where it's positioned. The Sapphire Nitro+ RX 6700 XT is a big graphics card, measuring 3 slots thick and 12.2 inches long, and it's wider than usual too. Sapphire's BIOS switch is set back along the edge of the board's PCB, and the shroud extends around and in front of the tiny toggle. You'll probably need to stick a pen or something in there to actually be able to move it. I recommend leaving it set to its Performance Mode default (which is already virtually silent) or using the Trixx software for BIOS management instead.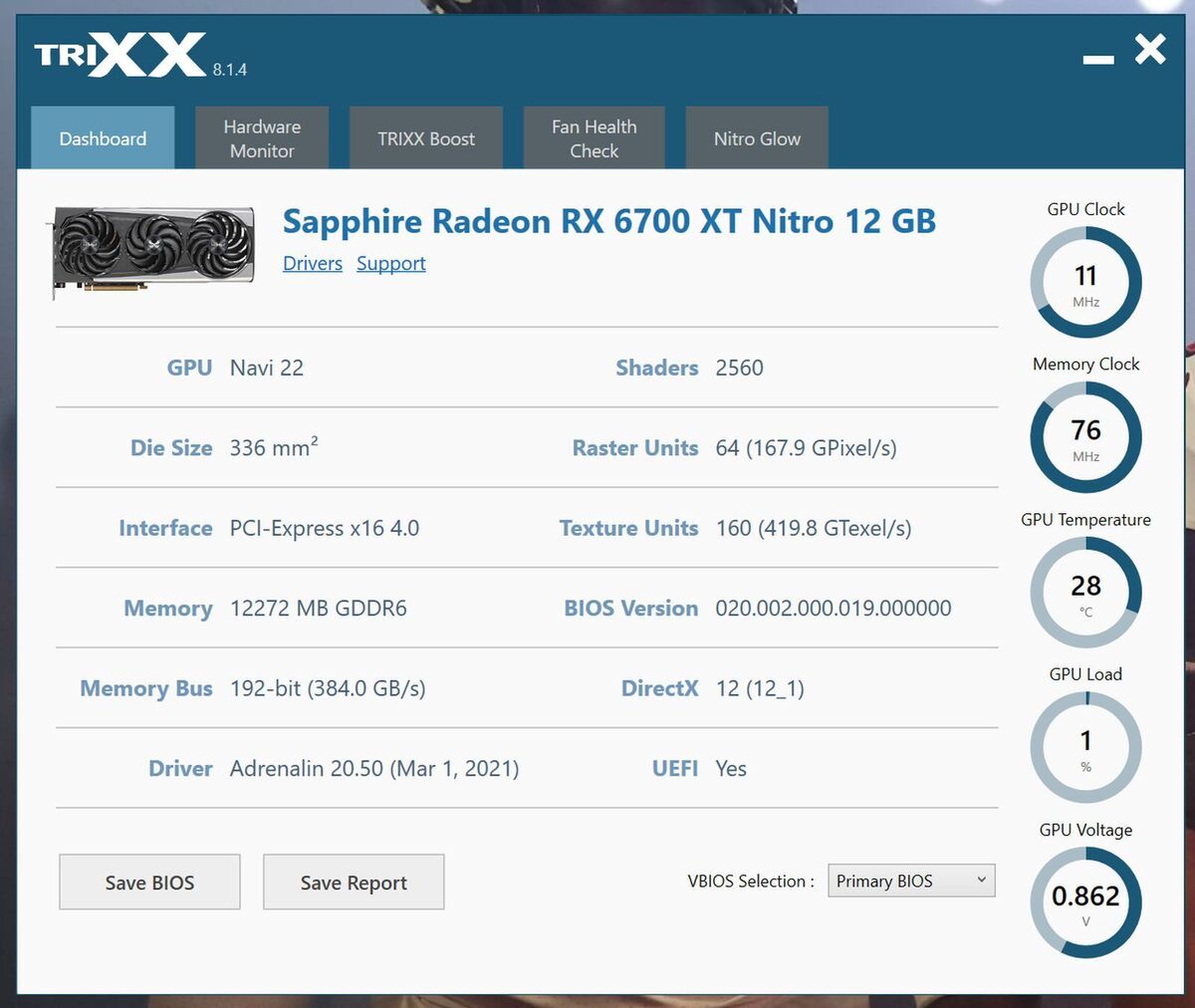 Speaking of Trixx, Sapphire has refined it over the years into a truly useful piece of graphics card management software, earning it a spot next to EVGA's Precision X1 and MSI's Afterburner. You'll definitely want to install it from here if you pick up the Nitro+. Trixx includes an overview of your card's hardware, a Nitro Glow tab that manages the onboard RGB lighting, and a Fan Health Check that can warn you if your blades are on the verge of giving out.
But the most important feature is Trixx Boost. Like the triple BIOS switch, this is a Sapphire innovation with killer practical application. Trixx Boost slightly lowers the resolution of your output image, then cleans up the picture using AMD's awesome Radeon Image Sharpening feature. The end result? Massively faster performance in games with little or no image quality degradation at 1440p resolution. Trixx Boost is so important to the Sapphire Nitro+ RX 6700 XT's value proposition that we'll cover its performance in its own section after our standard benchmarks.
Now let's get to those.
Next page: Our test system, benchmarks begin
Our test system
We're in the process of moving to a new AMD Ryzen 5000-series test rig to be able to benchmark the effect of PCIe 4.0 support on modern GPUs, as well as the performance-boosting AMD Smart Access Memory and Nvidia Resizable BAR features (which are both based on the same underlying PCIe standard). Currently, we're testing it on an open bench with AMD's Wraith Max air cooler; in the future, we'll be moving the setup into a case and adding an NZXT Kraken liquid cooler to the mix. Most of the hardware was provided by the manufacturers, but we purchased the storage ourselves.
AMD Ryzen 5900X, stock settings
AMD Wraith Max cooler
MSI Godlike X570 motherboard
32GB G.Skill Trident Z Neo DDR4 3800 memory
EVGA 1200W SuperNova P2 power supply ($352 on Amazon)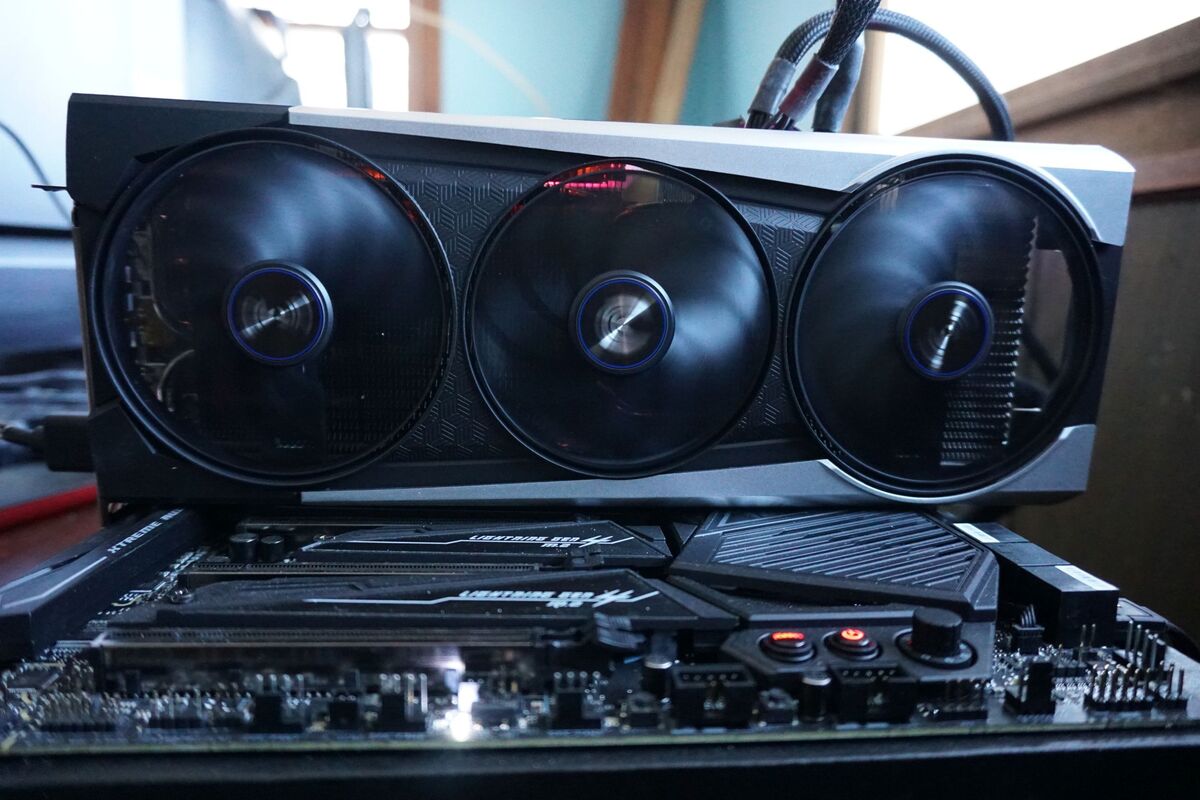 We're comparing the $580 Sapphire Nitro+ against the $480 reference version of the Radeon RX 6700 XT, of course, as well as the step-up $580 Radeon RX 6800 and last-generation's $400 Radeon RX 5700 XT. On the Nvidia front, we've included results for the $500 GeForce RTX 3070 Founders Edition and reference-spec'd $330 EVGA RTX 3060 XC Black Gaming. We unfortunately had to lean on the premium, overclocked EVGA FTW3 Ultra for our results of the ostensibly $400 RTX 3060 Ti because our Founders Edition card wasn't immediately available for testing.
This review will stick to standard gaming benchmarks at 1440p and 1080p resolution, the target audience for the RX 6700 XT. It's not a great 4K gaming option. If you want to see how well it handles real-time ray tracing and the performance uplift possible with Smart Access Memory, be sure to check out our original Radeon RX 6700 XT reference card review, which contains detailed information about those extra features.
We test a variety of games spanning various engines, genres, vendor sponsorships (Nvidia, AMD, and Intel), and graphics APIs (DirectX 11, DX12, and Vulkan). Each game is tested using its in-game benchmark at the highest possible graphics presets unless otherwise noted, with VSync, frame rate caps, real-time ray tracing or DLSS effects, and FreeSync/G-Sync disabled, along with any other vendor-specific technologies like FidelityFX tools or Nvidia Reflex. We've also enabled temporal anti-aliasing (TAA) to push these cards to their limits. We run each benchmark at least three times and list the average result for each test.
We tested all graphics cards with their manufacturer-set default BIOS—Performance Mode, in the case of the Nitro+.
Gaming performance benchmarks
Watch Dogs: Legion
Watch Dogs: Legion is one of the first games to debut on next-gen consoles. Ubisoft upgraded its Disrupt engine to include cutting-edge features like real-time ray tracing and Nvidia's DLSS. We disable those effects for this testing, but Legion remains a strenuous game even on high-end hardware with its optional high-resolution texture pack installed. No card can maintain a 60-frames-per-second average with Ultra graphics options enabled, and the game allocates more than 8GB of memory even at 1440p. Oof.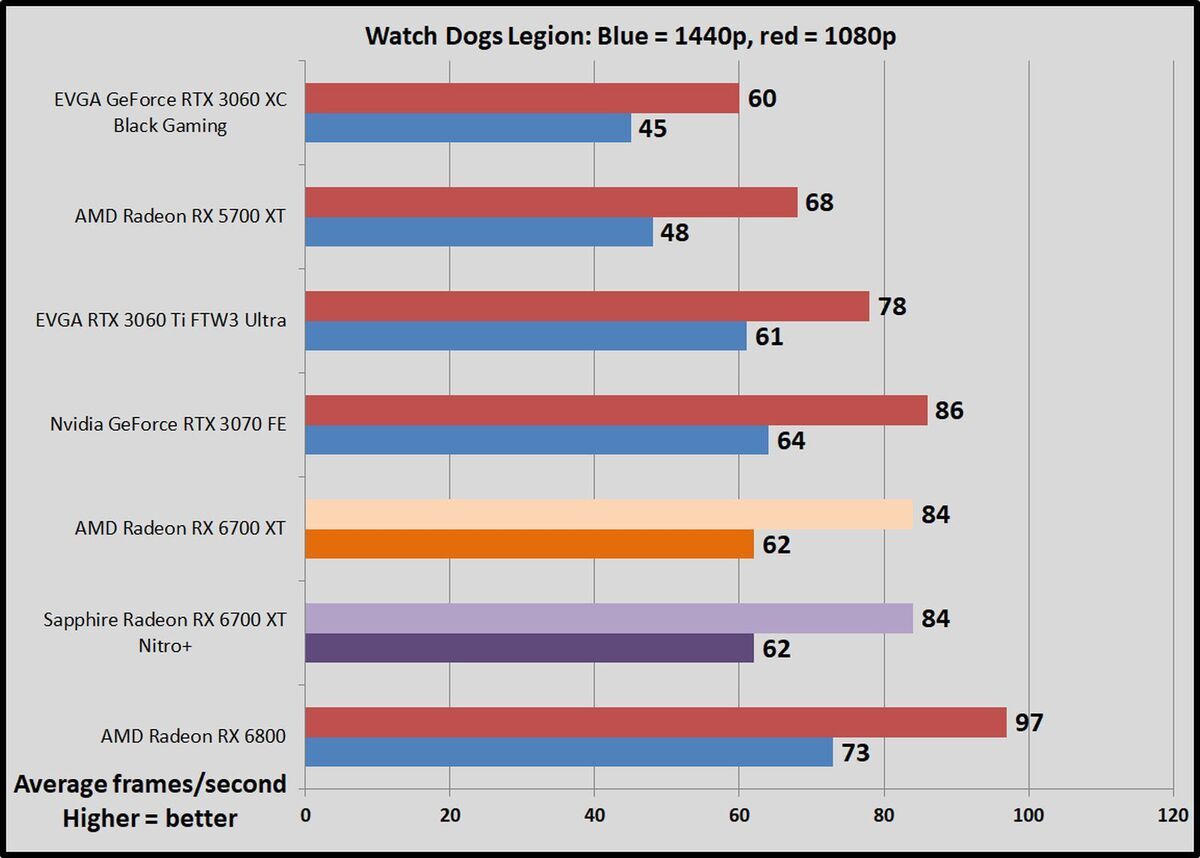 Horizon Zero Dawn
Yep, PlayStation exclusives are coming to the PC now. Horizon Zero Dawn runs on Guerrilla Games' Decima engine, the same engine that powers Death Stranding.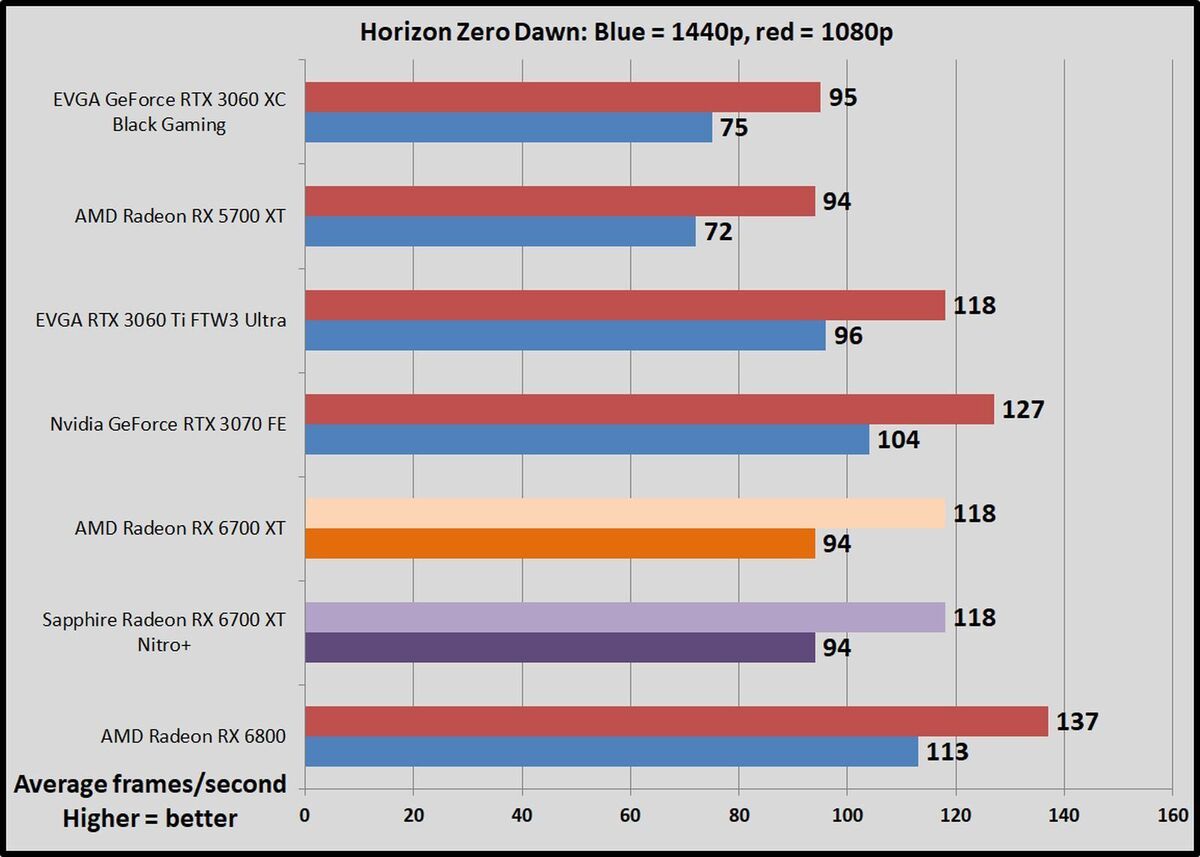 Next page: gaming benchmarks continue
Gears Tactics
Gears Tactics puts it own brutal, fast-paced spin on the XCOM-like genre. This Unreal Engine 4-powered game was built from the ground up for DirectX 12, and we love being able to work a tactics-style game into our benchmarking suite. Better yet, the game comes with a plethora of graphics options for PC snobs. More games should devote such loving care to explaining what flipping all these visual knobs mean.
You can't use the presets to benchmark Gears Tactics, as it intelligently scales to work best on your installed hardware, meaning that "Ultra" on one graphics card can load different settings than "Ultra" on a weaker card. We manually set all options to their highest possible settings.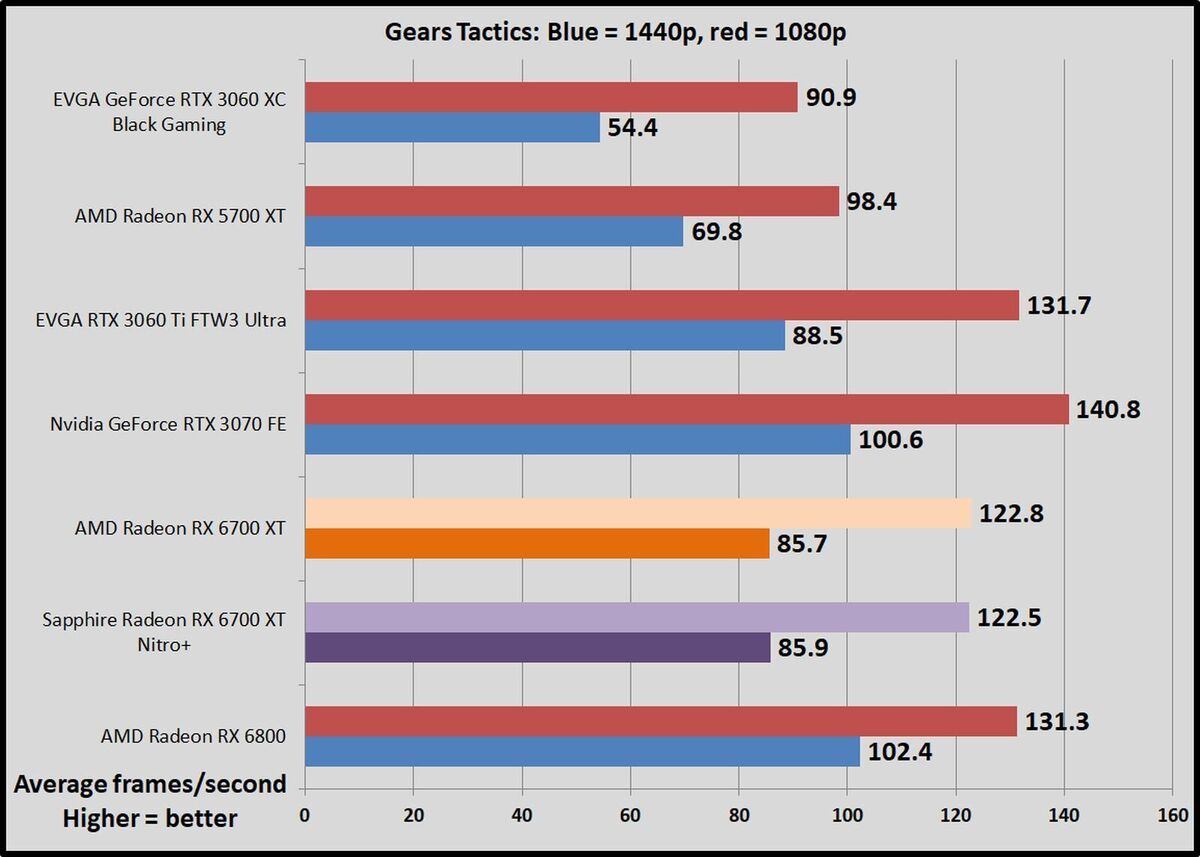 Wolfenstein: Youngblood
Wolfenstein: Youngblood is more fun when you can play cooperatively with a buddy, but it's a fearless experiment—and an absolute technical showcase. Running on the Vulkan API, Youngblood achieves blistering frame rates, and it supports all sorts of cutting-edge technologies like ray tracing, DLSS 2.0, HDR, GPU culling, asynchronous computing, and Nvidia's Content Adaptive Shading. The game includes a built-in benchmark with two different scenes; we tested Riverside.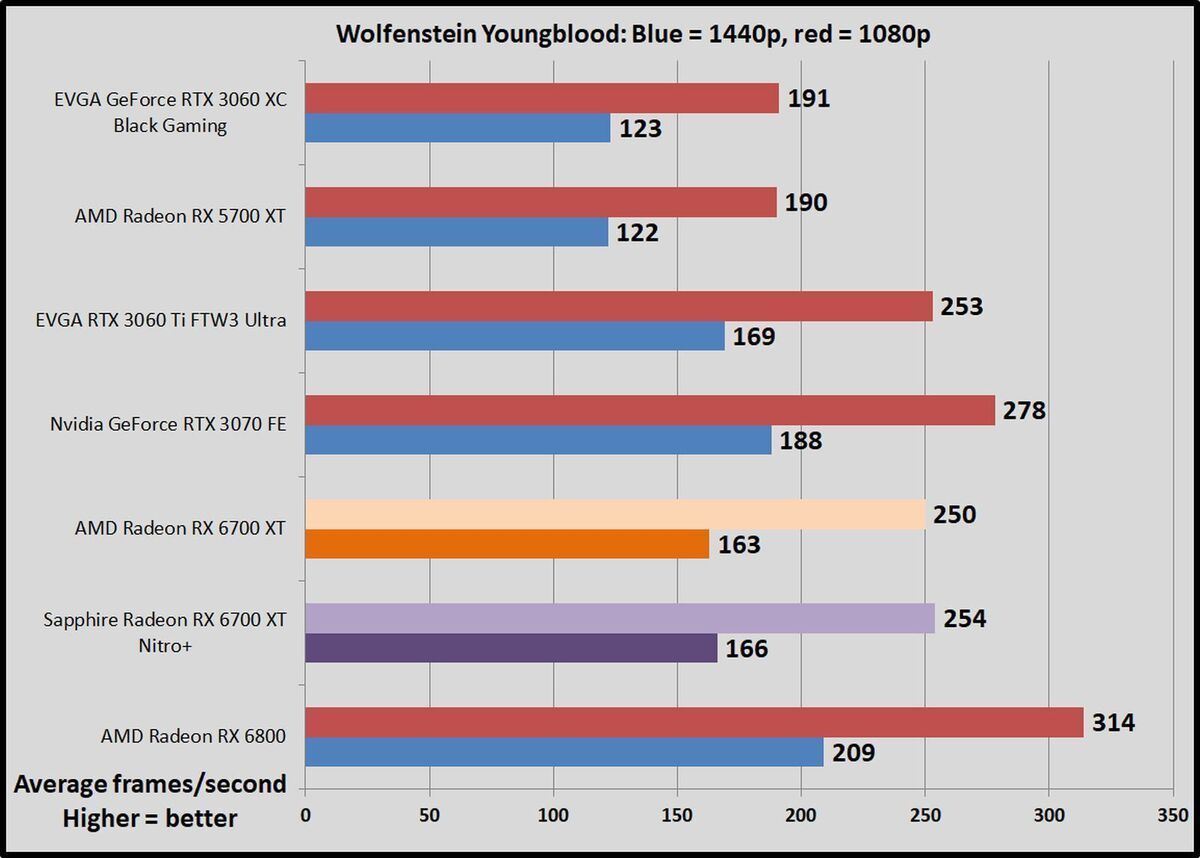 Metro Exodus
One of the best games of 2019, Metro Exodus remains one of the best-looking games around, too. The latest version of the 4A Engine provides incredibly luscious, ultra-detailed visuals, with one of the most stunning real-time ray tracing implementations released yet. The Extreme graphics preset we benchmark can melt even the most powerful modern hardware, as you'll see below, though the game's Ultra and High presets still look good at much higher frame rates.
We test in DirectX 12 mode with ray tracing, Hairworks, and DLSS disabled.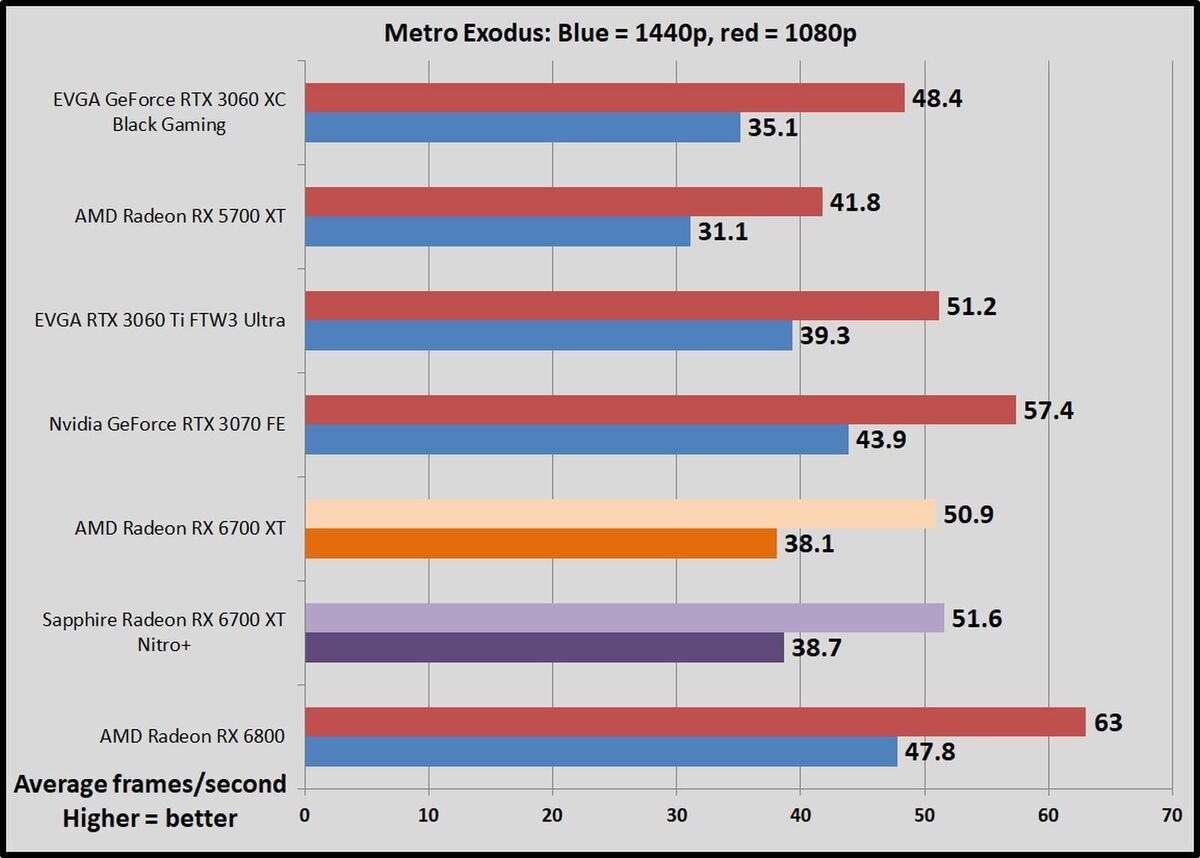 Borderlands 3
Borderlands is back! Gearbox's game defaults to DX12, so we do as well. It gives us a glimpse at the ultra-popular Unreal Engine 4's performance in a traditional shooter. This game tends to favor AMD hardware.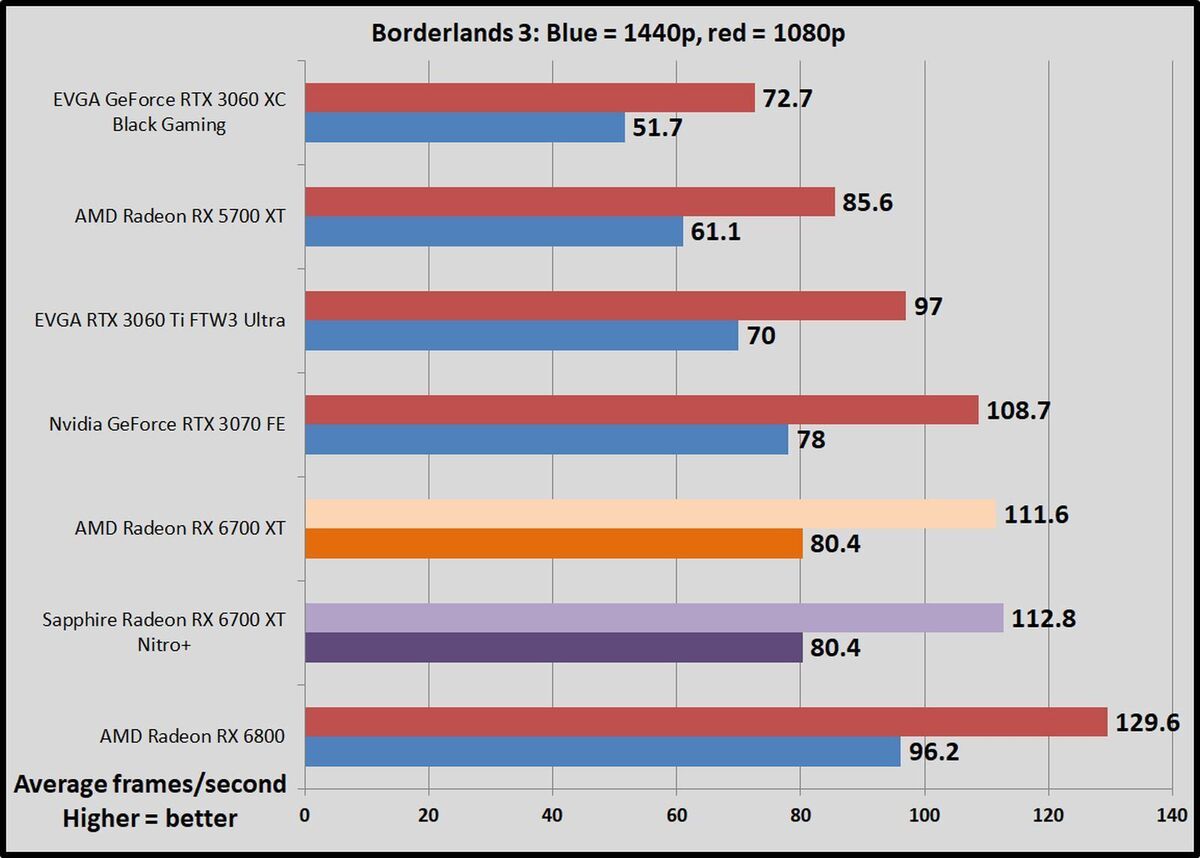 Strange Brigade
Strange Brigade is a cooperative third-person shooter where a team of adventurers blasts through hordes of mythological enemies. It's a technological showcase, built around the next-gen Vulkan and DirectX 12 technologies and infused with features like HDR support and the ability to toggle asynchronous compute on and off. It uses Rebellion's custom Azure engine. We test using the Vulkan renderer, which is faster than DX12.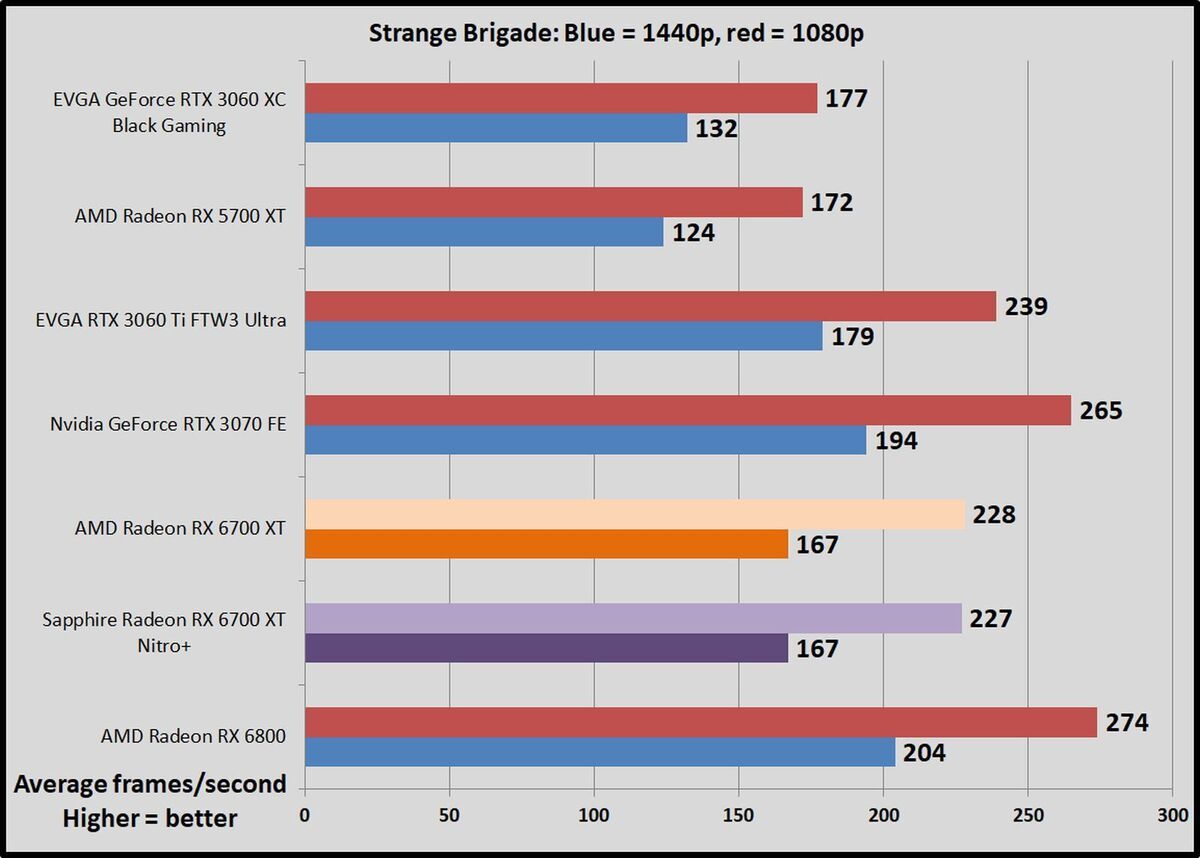 Next page: gaming benchmarks continue
Total War: Troy
The latest game in the popular Total War saga, Troy was given away free for its first 24 hours on the Epic Games Store, moving over 7.5 million copies before it went on proper sale. Total War: Troy is built using a modified version of the Total War: Warhammer 2 engine, and this DX11 title looks stunning for a turn-based strategy game. We test the more intensive battle benchmark.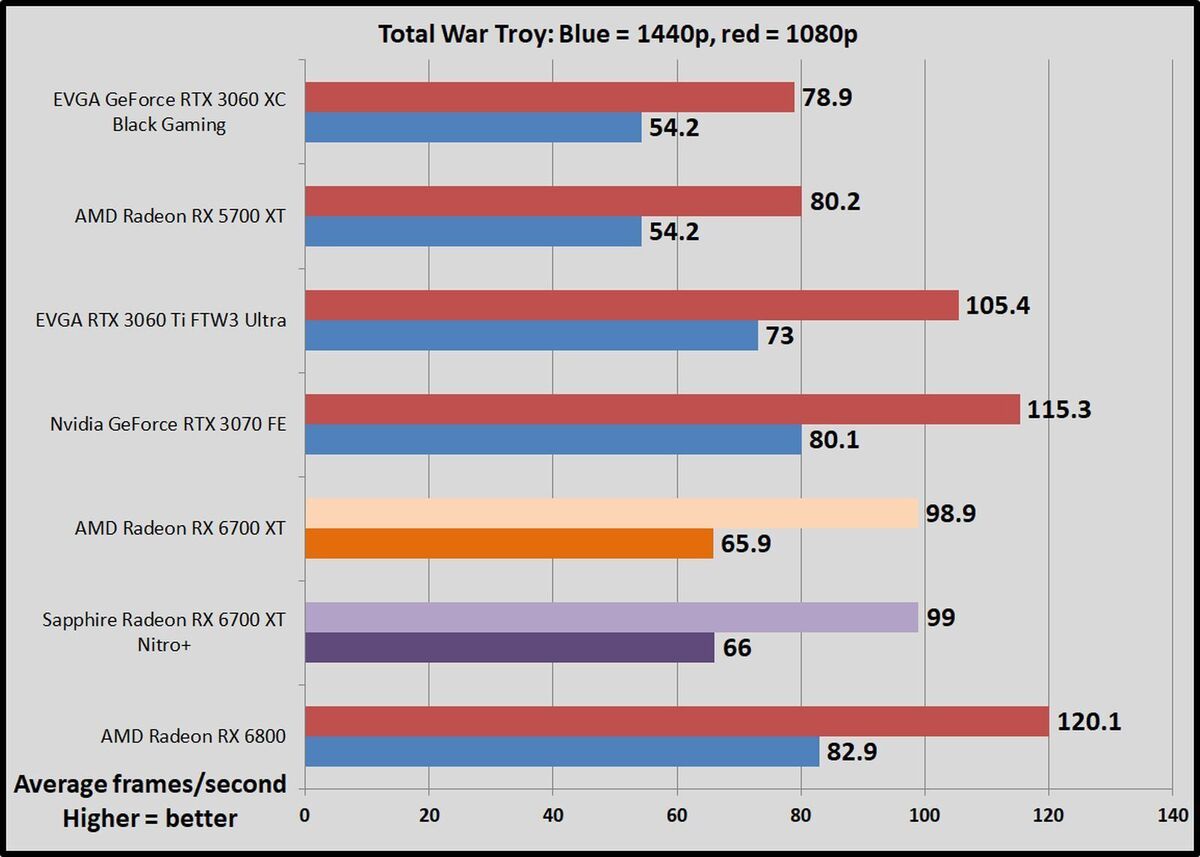 F1 2020
The latest in a long line of successful racing games, F1 2020 is a gem to test, supplying a wide array of both graphical and benchmarking options, making it a much more reliable (and fun) option that the Forza series. It's built on the latest version of Codemasters' buttery-smooth Ego game engine, complete with support for DX12 and Nvidia's DLSS technology. We test two laps on the Australia course, with clear skies on and DLSS off.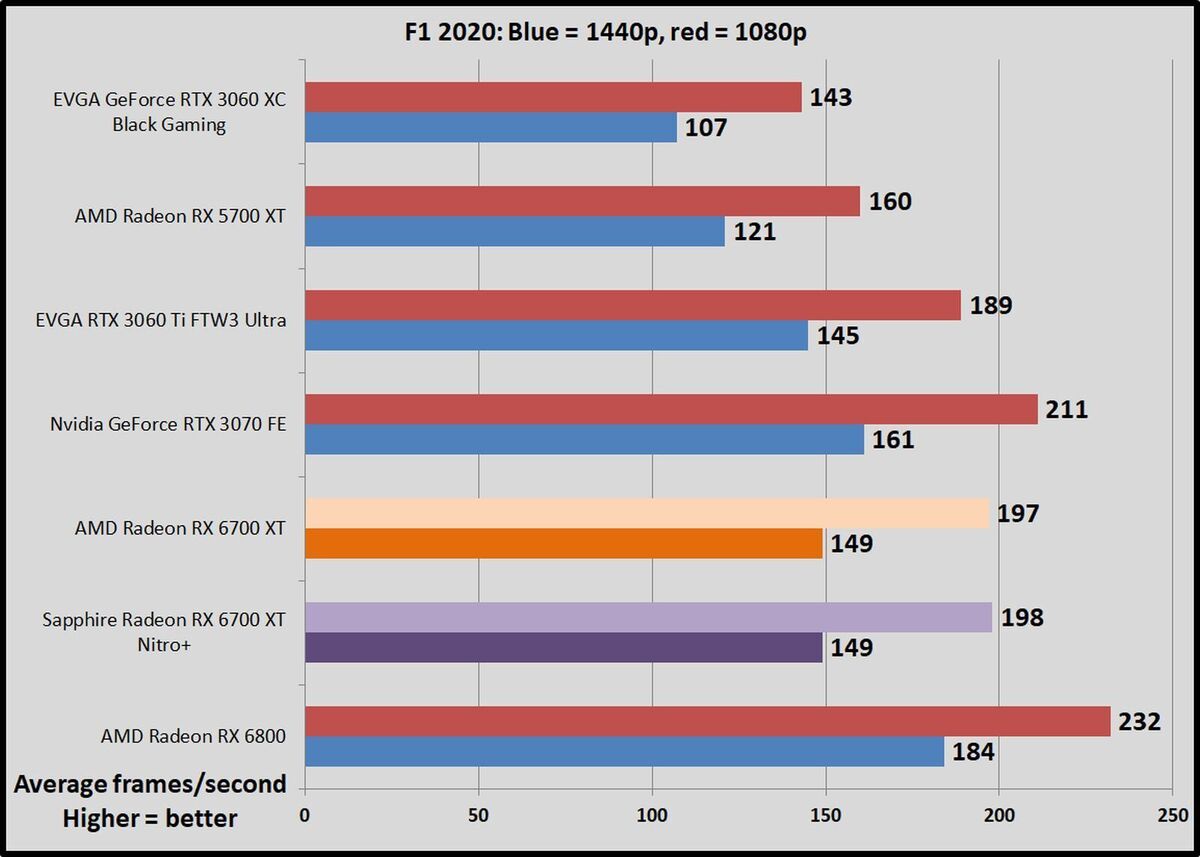 Shadow of the Tomb Raider
Shadow of the Tomb Raider concludes the reboot trilogy, and it's still utterly gorgeous a couple of years after its debut. Square Enix optimized this game for DX12 and recommends DX11 only if you're using older hardware or Windows 7, so we test with DX12. Shadow of the Tomb Raider uses an enhanced version of the Foundation engine that also powered Rise of the Tomb Raider and includes optional real-time ray tracing and DLSS features.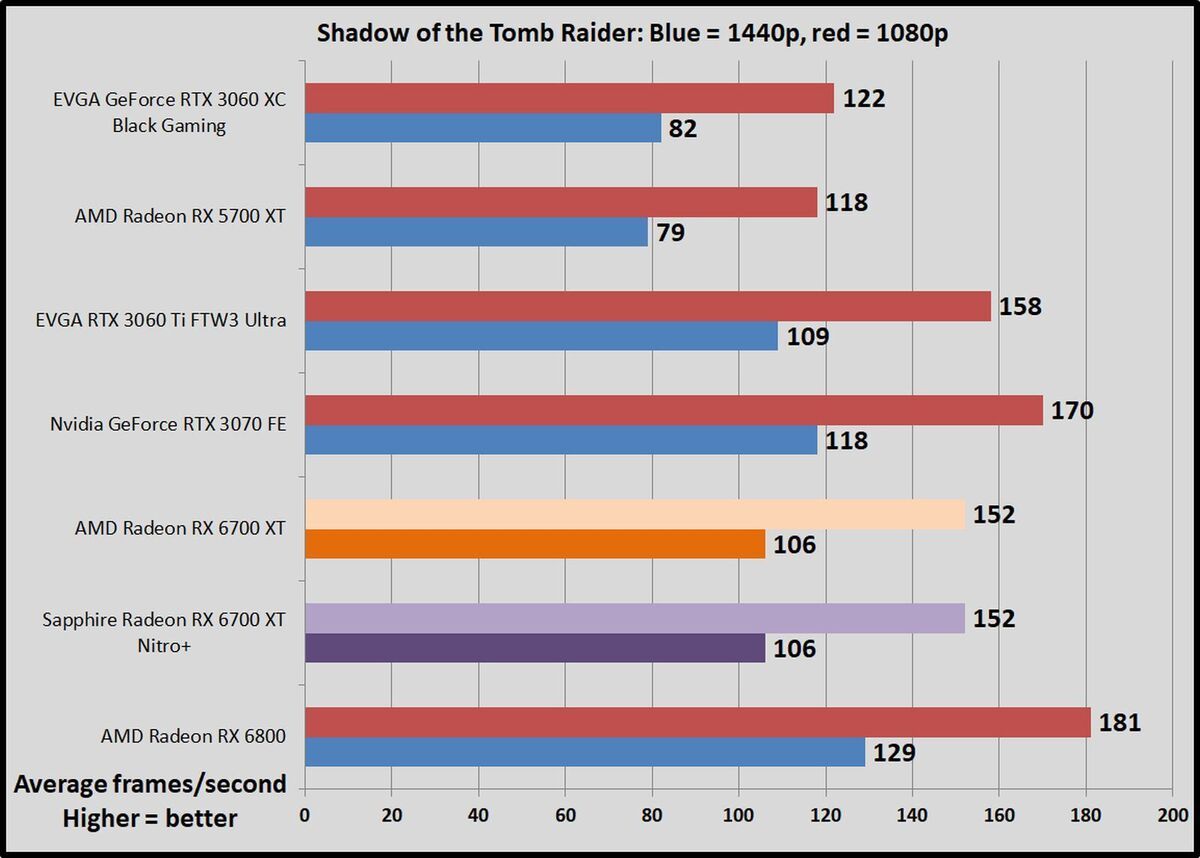 Rainbow Six Siege
Rainbow Six Siege still dominates the Steam charts years after its launch, and Ubisoft supports it with frequent updates and events. The developers have poured a ton of work into the game's AnvilNext engine over the years, eventually rolling out a Vulkan version of the game that we use to test. By default, the game lowers the render scaling to increase frame rates, but we set it to 100 percent to benchmark native rendering performance on graphics cards. Even still, frame rates soar.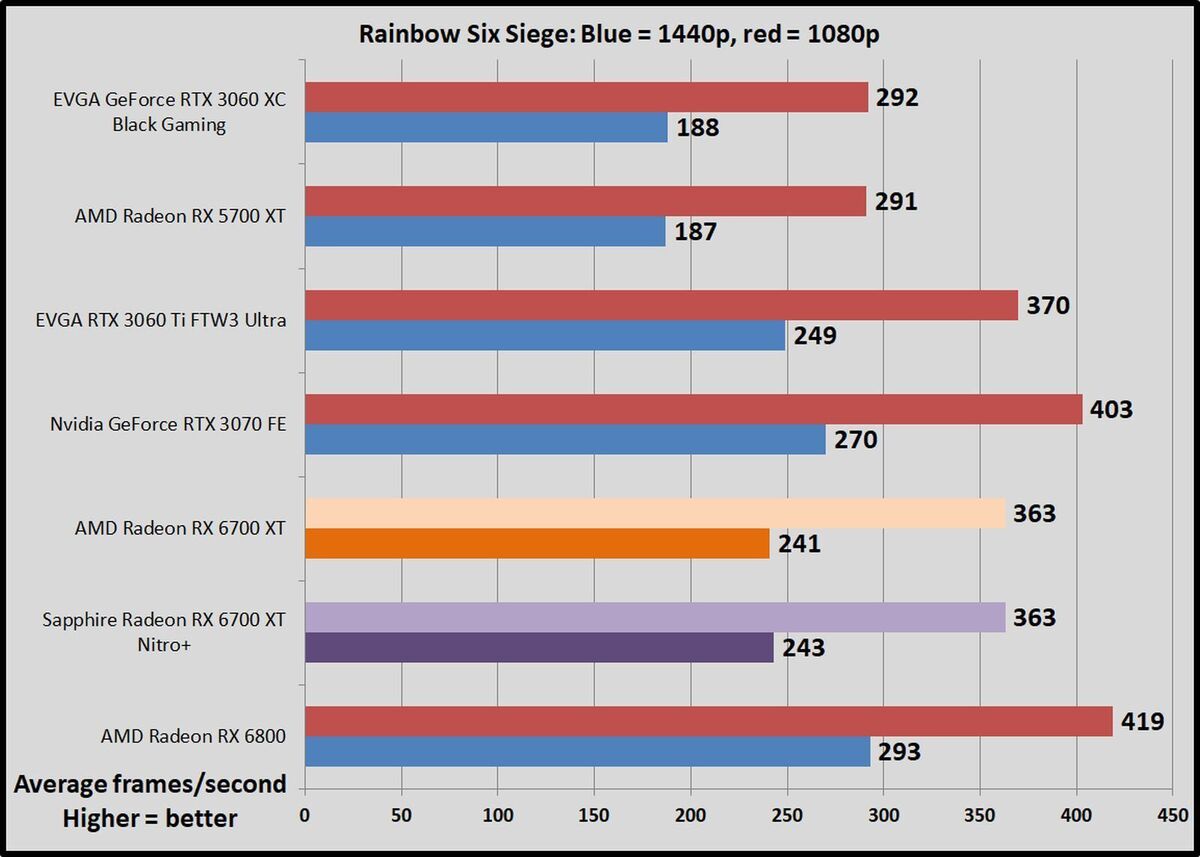 Next page: Trixx Boost performance
Trixx Boost performance: Wow!
Trixx Boost is a feature Sapphire added to last generation's RDNA 1-based Nitro+ RX 5700 XT, configurable using the company's Trixx management software that also controls the graphics card's lighting effects.
The feature leverages the Radeon Image Sharpening feature AMD debuted alongside the RDNA architecture. Trixx Boost creates custom resolutions just below standard 1080p, 1440p, and 4K, which are then upscaled to fit your display. Radeon Image Sharpening (which works with all major graphics APIs now) cleans away the blurry effects usually associated with image upscaling. When you select the new custom resolutions in your game's graphics options, performance soars, as you'll see in our benchmarks further down.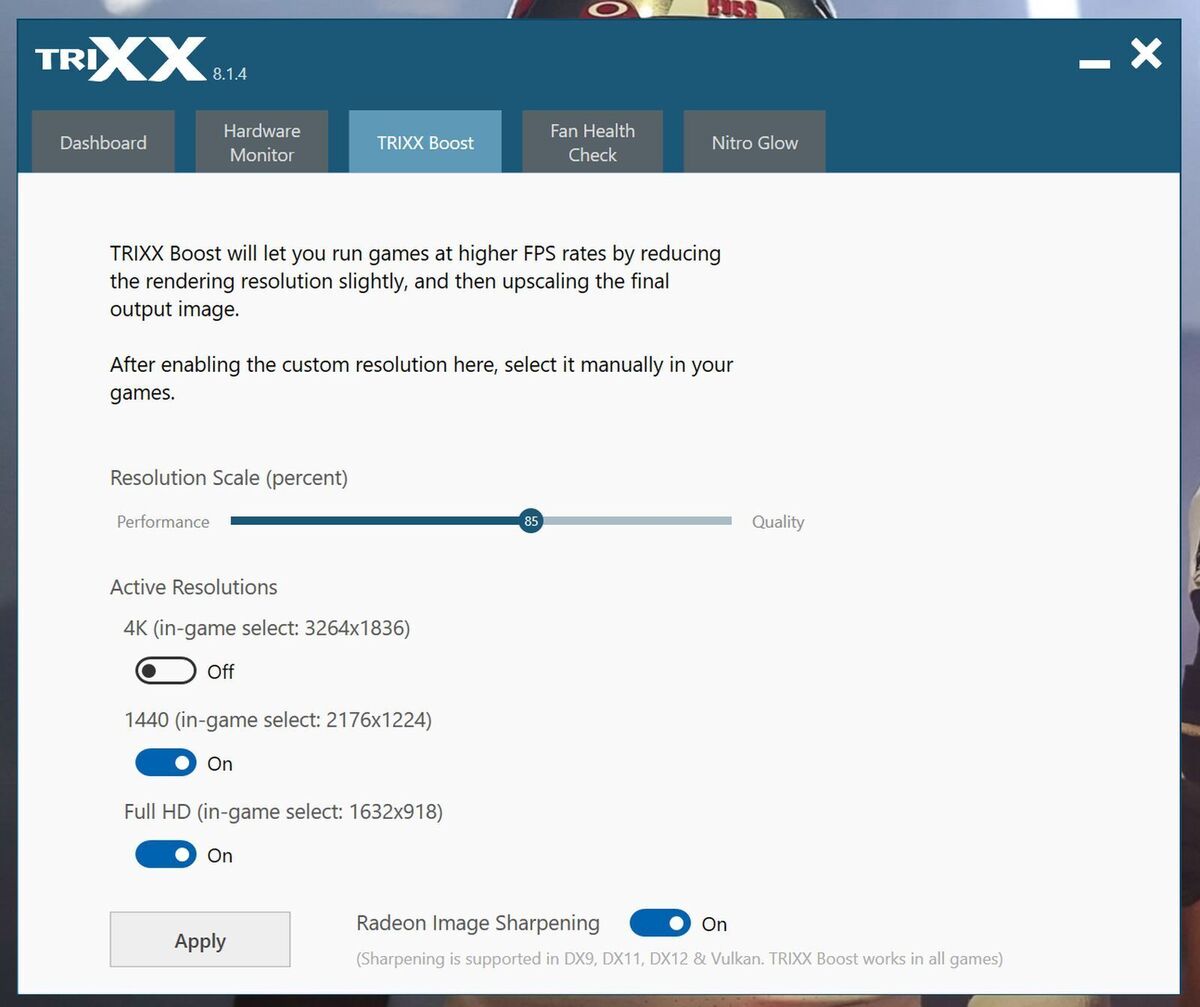 It's wicked-smart, and I'm shocked other GPU makers with software suites haven't cribbed it. Honestly, Trixx Boost does nothing you can't do manually with any graphics card by cobbling together custom resolutions in AMD or Nvidia control panels, then turning on AMD or Nvidia's sharpening features. That's a complicated process that entails diving deep into control panel submenus though, limiting it to enthusiasts. Trixx Boost makes it easy, and you can set it up in mere minutes.
Open the Boost tab in Trixx, use a slider to determine at what percentage of the original resolutions you want the custom resolutions created for—the default is 85 percent, which works great with the 1440p gameplay this card targets—then toggle on Radeon Image Sharpening and click Apply. Your screen will flash a few times.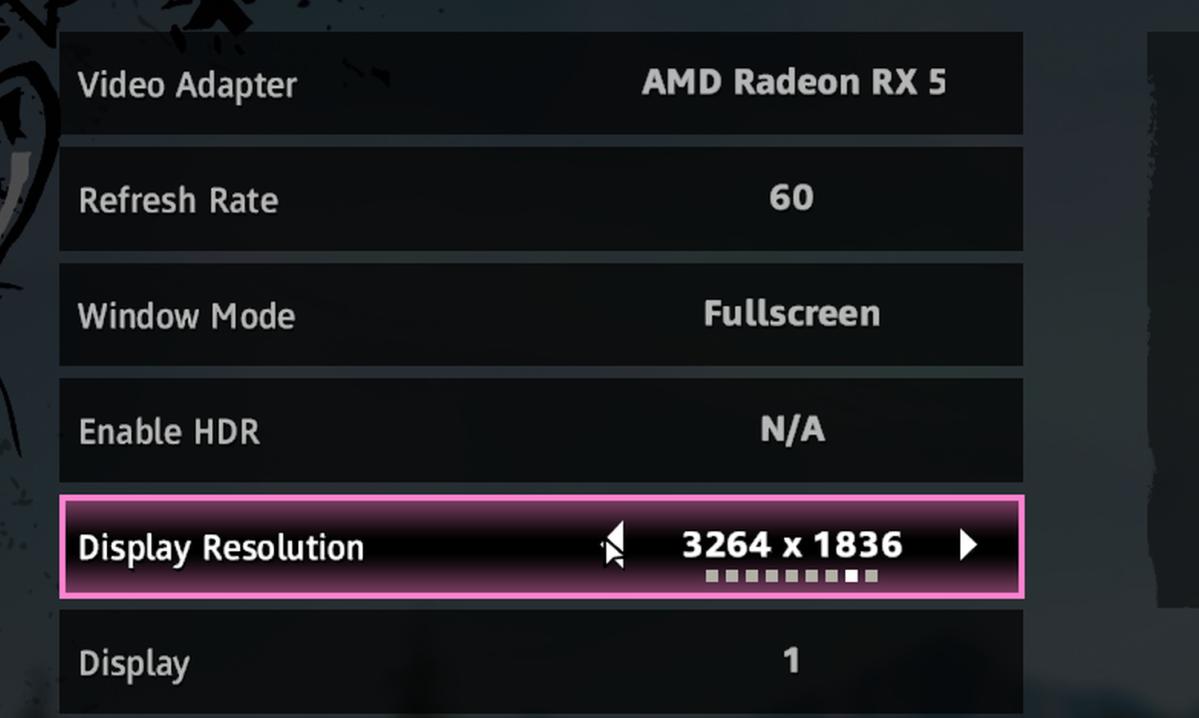 After that's done, simply select the new custom resolutions rather than the usual 4K, 1440p, and 1080p options in your game settings and watch frame rates soar.
How high? On a par with the step-up Radeon RX 6800 that costs $100 more than the RX 6700 XT. Hot damn. Check out the 1440p and 1080p results: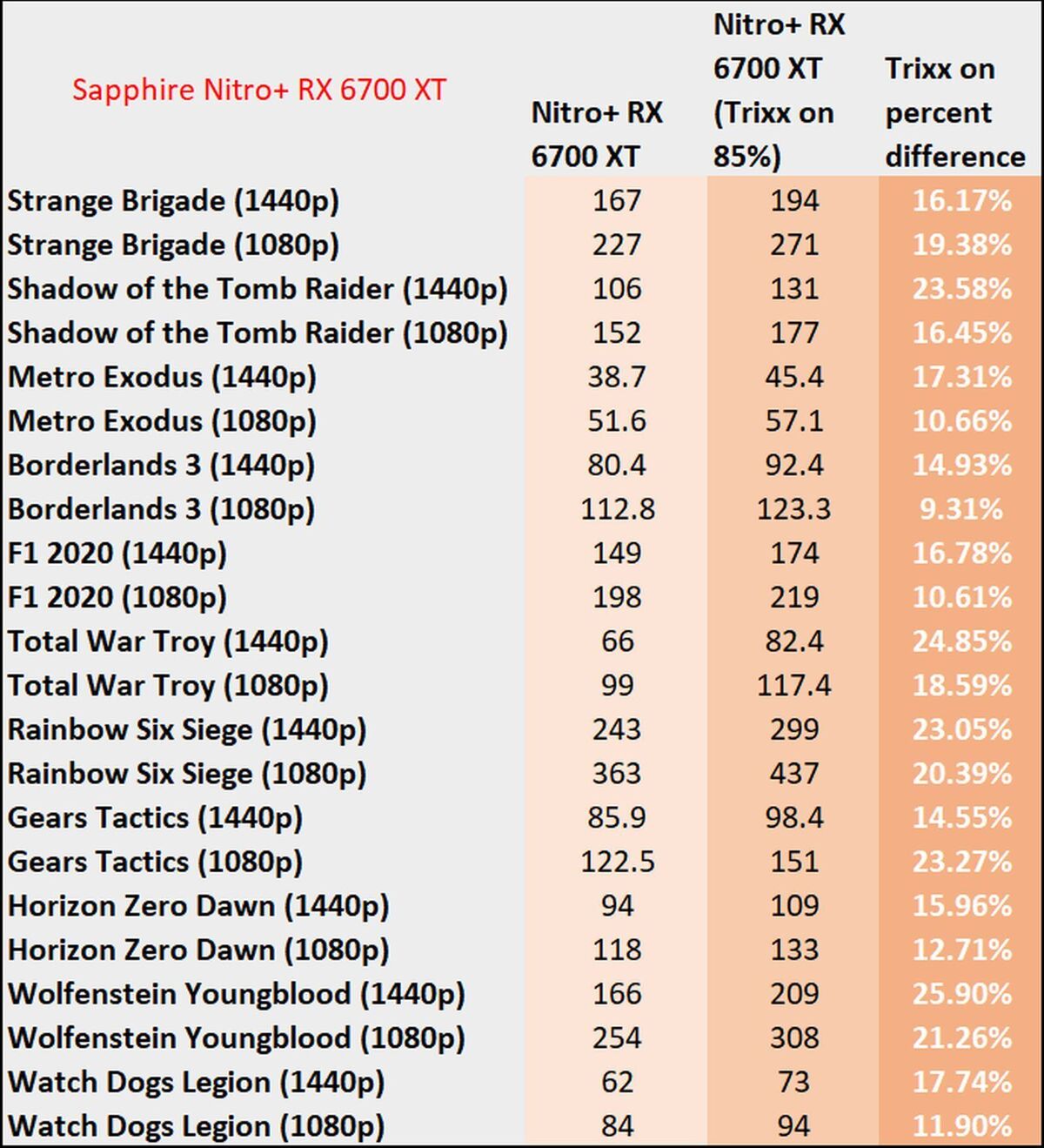 If you find the default 85-percent custom resolution scaling too blurry or otherwise compromised, you can inch it back up closer to native 100-percent scaling in granular one-percent increments until you find the sweet spot for your eyes. The closer you get to native resolution, the lower the performance gains, however.
By our eyes, the 85-percent scaling is perfect for 1440p resolution, greatly enhancing frame rates with little to no loss in visual fidelity—only a slightly softer look in menus and other static screens at times. It's too aggressive for 1080p gameplay, though. The reduced 85-percent resolution for that works out to 1632×918, and it's far too closed-in and blurry for our tastes, with noticeable aliasing jaggies in places. Some games also display letterboxes at the Trixx-defined resolution. If you're playing at 1080p try setting the custom resolution to 90 or 95 percent instead, and go with whatever looks good by your eyes.
Next page: Power, thermals, and noise
Power draw, thermals, and noise
We test power draw by looping the F1 2020 benchmark at 4K for about 20 minutes after we've benchmarked everything else and noting the highest reading on our Watts Up Pro meter, which measures the power consumption of our entire test system. The initial part of the race, where all competing cars are onscreen simultaneously, tends to be the most demanding portion.
This isn't a worst-case test; this is a GPU-bound game running at a GPU-bound resolution to gauge performance when the graphics card is sweating hard. If you're playing a game that also hammers the CPU, you could see higher overall system power draws. Consider yourself warned.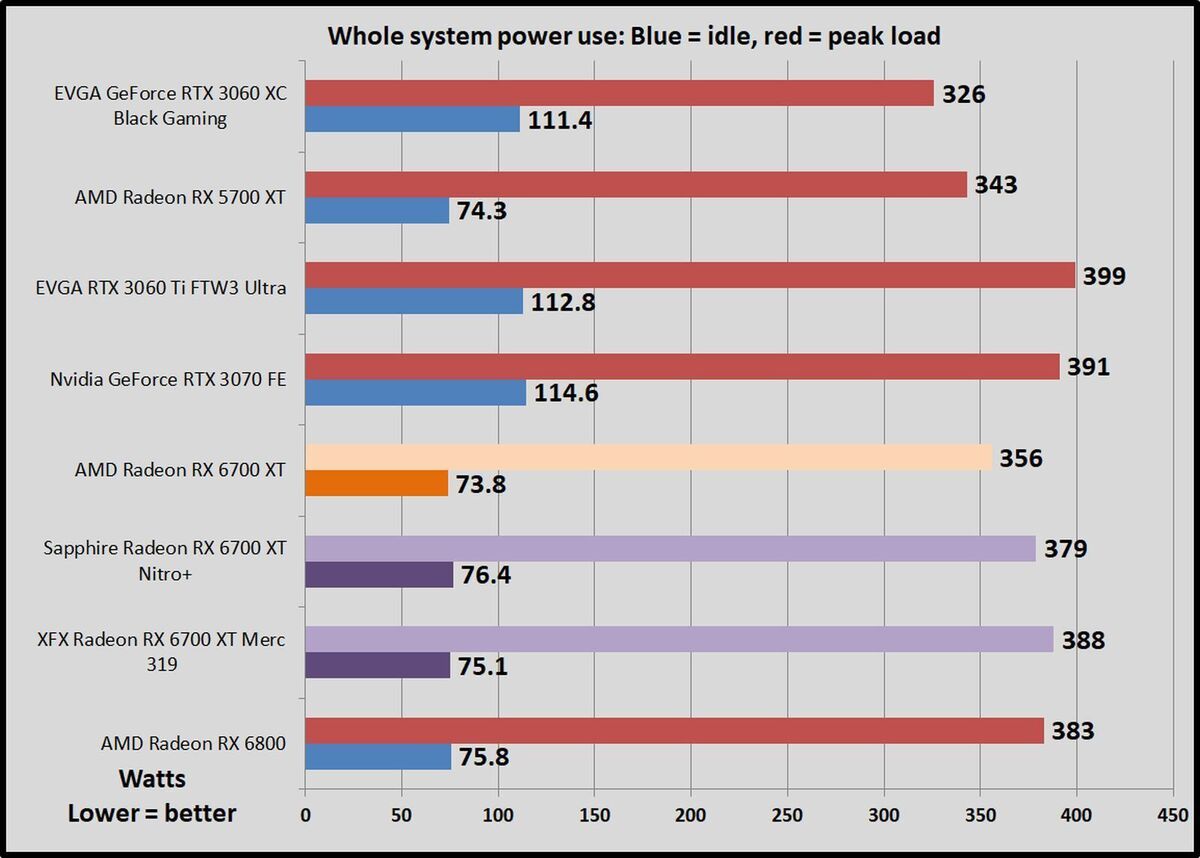 Nvidia GPUs prevent our computer from fully going into idle in the five minutes of downtime we use for this test, though it does so after a longer duration. That's new to this Ryzen 5900X platform; we didn't see it on our old Intel-based testbeds, nor with AMD Radeon graphics cards installed. We'll have to change our methodology going forward and poke around the behavior to understand it more fully.
The Sapphire Nitro+ draws slightly more energy than the reference Radeon RX 6700 XT, but that's to be expected given its higher power limit, faster clocks, and abundant RGB lighting. This hot rod still draws less power than the RTX 3070 and even an overclocked RTX 3060 Ti, however, which shows just how power-efficient AMD's new RDNA 2 architecture is.
We test thermals by leaving GPU-Z open during the F1 2020 power draw test, noting the highest maximum temperature at the end.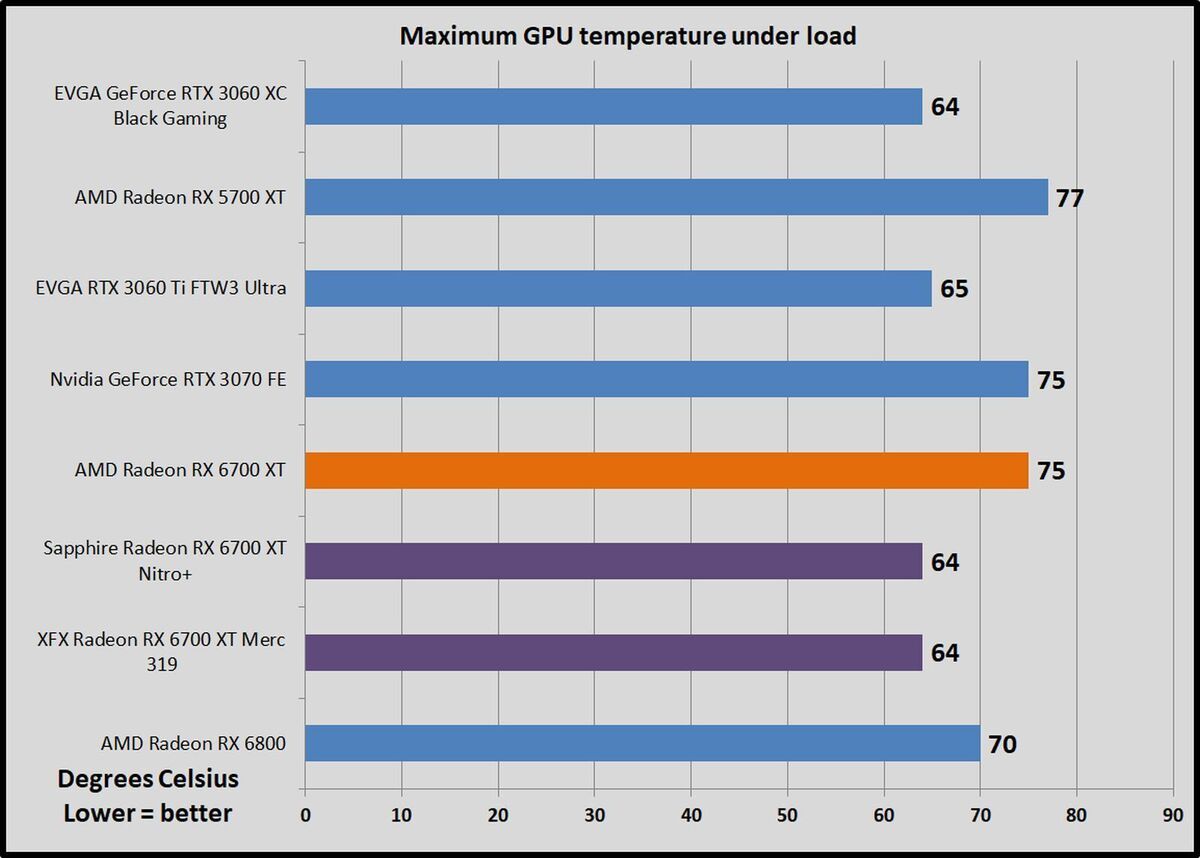 The Nitro+'s beefed-up custom cooling design delivers, and how. Sapphire's card runs over 10 degrees cooler than AMD's reference board while running in near silence—and that's with its default Performance Mode BIOS. Enough said. The Quiet Mode BIOS offers actual silence, but the Performance Mode is quiet enough that most people should stick to its faster speeds.
Should you buy the Sapphire Nitro+ RX 6700 XT?
Most people should avoid buying any graphics card right now. Thanks to a crushing mixture of supply shortages, insane demand for all gaming hardware during the pandemic, logistics woes, tariffs, and the mania swirling around the booming Ethereum cryptocurrency, graphics cards sell out instantly at retail and tend to be available only for hundreds of dollars more at resale sites like Ebay and Craigslist. I'd recommend most people sit on the sidelines and stream their PC games via Nvidia's GeForce Now service until the dust settles.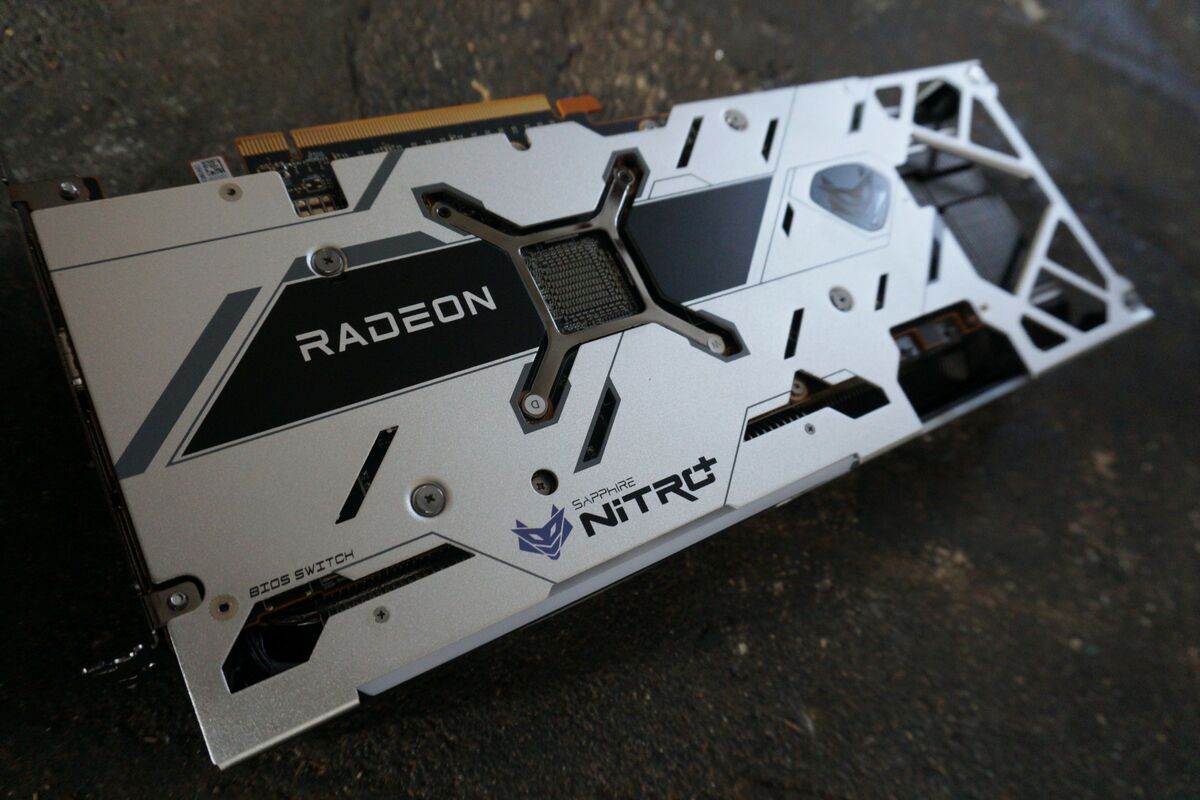 All that said, if you're bored at home and have a wad of stimulus cash or unspent vacation earnings in your bank account, the Sapphire Nitro+ Radeon RX 6700 XT is a fantastic graphics card for ultra-quality 1440p and high-refresh-rate 1080p gaming (though AMD's GPU struggles with ray traced games). It looks fantastic and runs in frigid silence.
Better yet, Trixx Boost makes it a much more worthwhile purchase than rival RX 6700 XT options, especially in today's crazy GPU market. While the Nitro+'s factory overclock doesn't provide any practical speed advantage over the reference RX 6700 XT, flipping on Trixx Boost immediately elevates the card's 1440p gaming performance to the level of the Radeon RX 6800. Hell yes. Sapphire's robust custom cooler also provides plenty of headroom if you want to try pushing things even further via manual overclocking. The Nitro+'s handy triple-BIOS switch is available as a backup if things go awry.
In a sane world, the reference RX 6700 XT is priced $100 too high for what it offers (hence its lower 3-star rating) and Sapphire's Nitro+ adds another $100 on top of that. But in today's crazy reality, Trixx Boost and an exceptional cooler likely makes this one of the best options available. If you're going to spend double to grab a graphics card, this should be on your short list until graphics card prices regain their sanity. It's great. Just be sure to install Trixx!
Best Prices Today: Nitro+ Radeon RX 6700 XT