Intel's 11th-gen Rocket Lake-S CPU is a star athlete on farewell tour. The 14nm process at the heart of this chip is very much like that player who, with hair graying and multi-season records and clutch wins distant memories, has probably hung on just a little too long. There are no more buzzer beaters or overtime games. Just an early out to watch the playoffs on television with everyone else.
Still, the heart of any champion always has some fight. Its arch nemesis, AMD's Ryzen 9 5900X, may be the stronger chip for many tasks. Despite its weak knees, the old 14nm process shows it still has a few moves left in Rocket Lake.
There's a lot to cover, so if you want to jump to a specific section, use our links below:
What is 11th-gen Rocket Lake?
Thanks to endless leaks, almost everything you need to know about Rocket Lake-S is already out there. The gist is that Rocket Lake is the last lap for Intel's aging 14nm manufacturing process, first introduced in 2014—yes, seven years ago. But while prior generations built on 14nm, from 6th-gen Skylake to 10th-gen Comet Lake, were mostly iterative designs, the 11th-gen Rocket Lake will be based on the newer cores used in its 10th-gen and 11th-gen laptop CPUs.
The key difference between the laptop and desktop Rocket Lake versions is the process. Intel's most advanced 10nm FinFET process stays on laptops, while the veteran 14nm rides one last time for its desktop chip. We are testing the desktop chip in this review.
When you mash together two different generations of chip design, there are inevitably compromises. The first is core count, which actually decreases from 10 cores to 8 cores on the Core i9. The second is in power consumption—which is eyebrow-raising to see in action.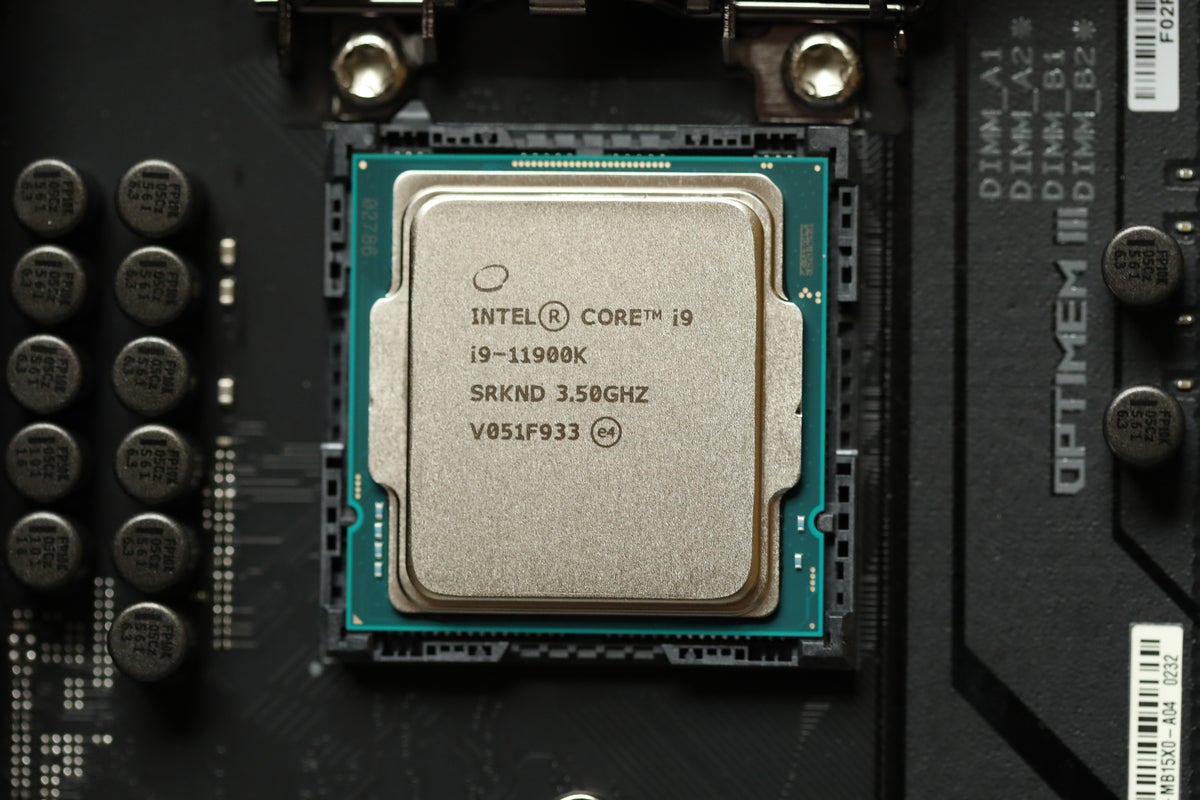 Core i9-11900K performance: How we tested
We tested Rocket Lake-S, specifically the 8-core Core i9-11900K, against its 10th-gen predecessor and its arch-rival: AMD's flagship 12-core Ryzen 9 5900X. What follows are the test configurations:
Intel 11th-gen 8-core Core i9-11900K with an MSRP of $540 in an Asus Maximus XII Extreme Z490 motherboard with 32GB of dual-rank, dual-channel DDR4/3600 Corsair Dominator RAM, Samsung 960 Pro M.2 NVMe SSD, GeForce RTX 2080 Ti Founders Edition, and Kraken X62 cooler.
Intel 10th-gen 10-core Core i9-10900K with an MSRP of $500 in an Asus Maximus XIII Hero Z590 motherboard with 32GB of dual-rank, dual-channel DDR4/3600 Corsair Dominator RAM, Corsair MP600 PCIe 4.0 NVMe SSD, GeForce RTX 2080 Ti Founders Edition, and Kraken X62 cooler.
AMD 12-core Ryzen 9 5900X with an MSRP of $550 in an MSI X570 MEG Godlike motherboard with 32GB of dual-rank, dual-channel DDR4/3600 Corsair Dominator RAM, Corsair MP600 PCIe 4.0 M.2 NVMe SSD, GeForce RTX 2080 Ti Founders Edition, and Kraken X62 cooler.
We loaded XMP and AMP profiles for all of the test configurations, manually locked the Kraken CLC cooler at 100-percent fan speeds, and also let the Intel motherboards run in auto for MCE. For the Rocket Lake system, we enabled Intel's new Adaptive Boost Technology, which attempts to run the cores at their maximum clock speeds.
All three of the test configurations used a GeForce RTX 2080 Ti Founders Edition card. With PCIe 4.0 finally arriving for Intel, however, we swapped the card out for an Asus GeForce RTX 3080 TUF card with its manual switch set to "performance" for the gaming tests.
We opted to leave off Nvidia and Intel's Resizable BAR option for both Intel boards. The MSI X570 MEG Godlike does not appear to support the feature yet, so we felt leaving it off would level the playing field for a feature that will start to come to more AMD-based boards as well.
All of the testing was done using the same version of Windows 10 2H20, and with the latest drivers and BIOSes available for the motherboards.
Finally, power testing was conducted using identical Corsair HX1000 80 Plus Platinum PSUs. We'll explain in detail how we looked at power consumption of Rocket Lake in the power section below.
Due to new OS versions, BIOSes, GPU drivers, and the limited space of our current global situation, we've focused our testing on only these three key chips. This narrows the scope, but it does at least deliver fresh results rather than recycling of prior tests.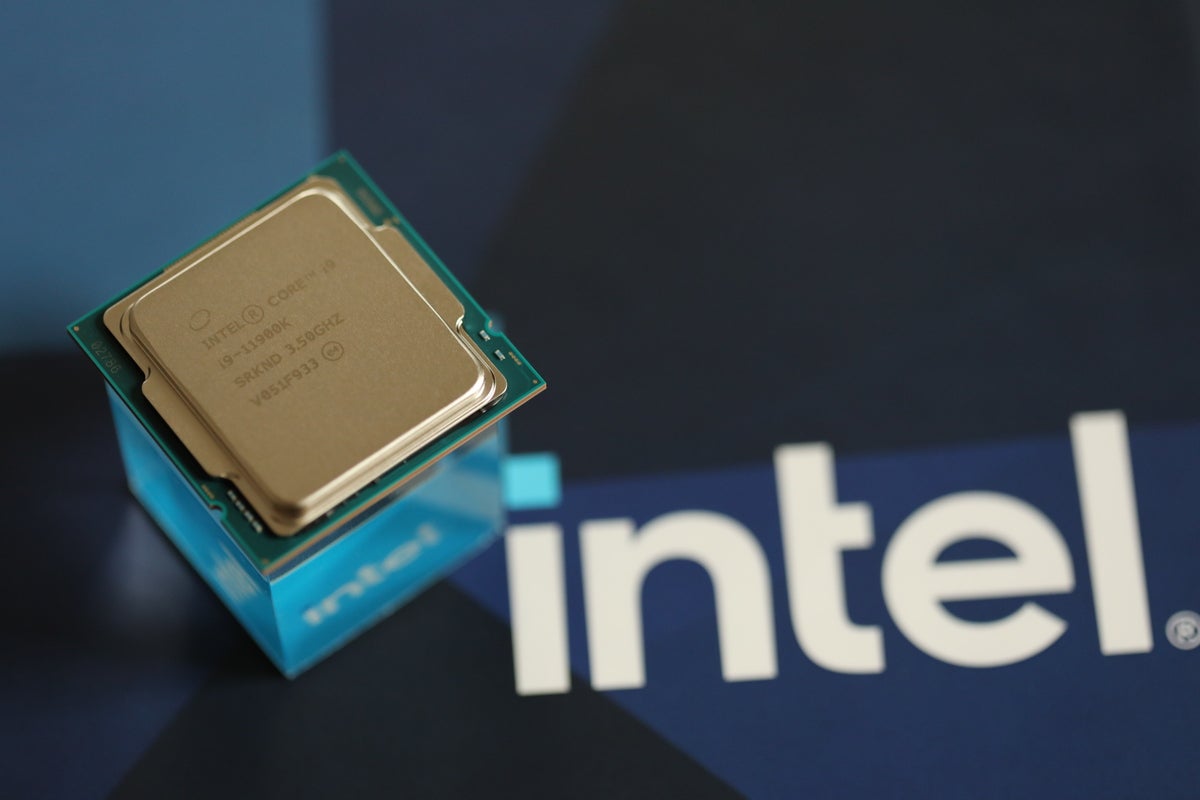 Core i9-11900K performance: Rendering
We'll kick this off in an area that Intel hasn't discussed much: 3D modelling. The vast majority of 3D modelling used to create those amazing cinematic visual effects you see in movies today run faster on systems with more cores. Serious professionals will likely use a beefier CPU such as a Ryzen Threadripper or Xeon Platinum, but a dabbler, or a freelance VFX artist on a budget, may be looking at these "lower-end" premium consumer chips.
The first result below is Maxon's Cinebench R20, a popular modelling benchmark built on the same engine the company uses in its Cinema4D commercial project. Cinema4D is also licensed out and used in Adobe Premiere, After Effects, and other popular video tools.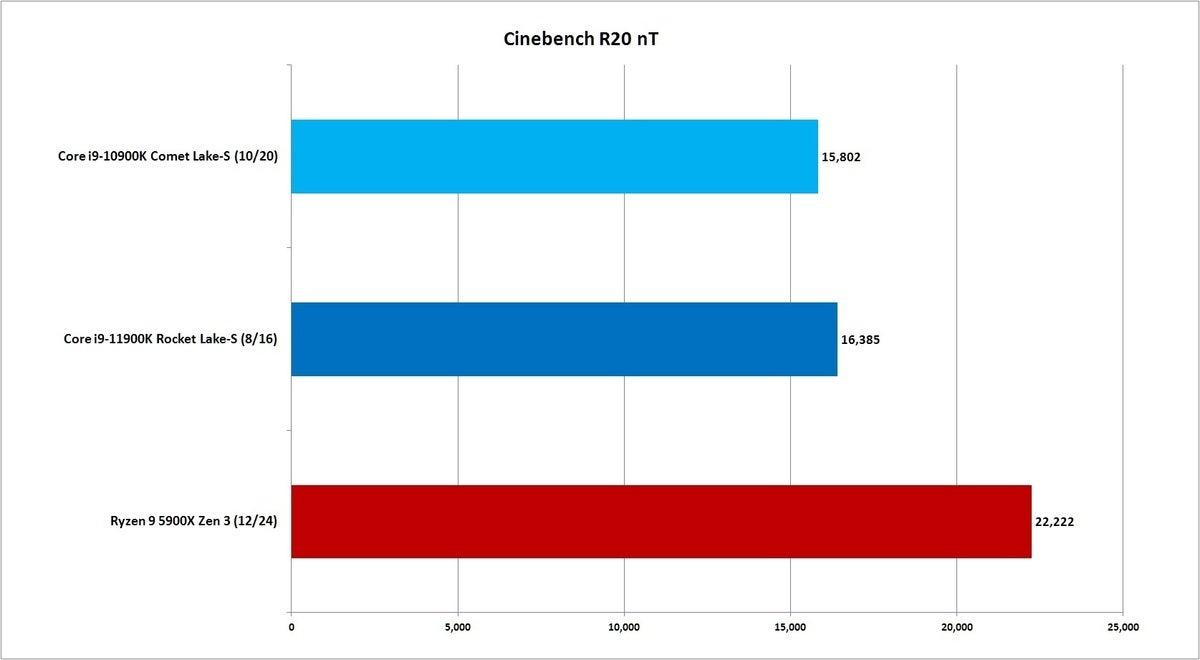 The 12-core Ryzen 9 5900X easily outpaces the 8-core Core i9-11900K to the tune of about 36 percent more performance. That's not good. But look at the performance of the 11th-gen Core i9-11900K versus the 10th-gen Core i9-10900K. Remember: Cinebench R20 loves CPU cores, but the 11th-gen Rocket Lake chip is an 8-core chip that's actually slightly faster in this test than the 10-core, 10th-gen chip. It shows that the newer Cypress Cove cores are indeed much improved.
Cinebench R20's engine uses AVX, which can depress clock speeds on Intel's older core designs. Not all rendering engines, however, use AVX or newer instruction sets of the CPUs. POV-Ray, for example, was designed in the days of the Commodore Amiga, but it has been loyally maintained for more modern computers. As with Cinebench, more cores yield more performancein POV-Ray—and the 12-core Ryzen 9 5900X wins decisively.
This is also one of the few times when the older 10-core Core i9-10900K outruns the 8-core Core i9-11900K. That doesn't look good, but the real question is whether your workload more closely aligns with Cinebench's commercial engine, which is licensed for use in Adobe and other products, or the free POV-Ray.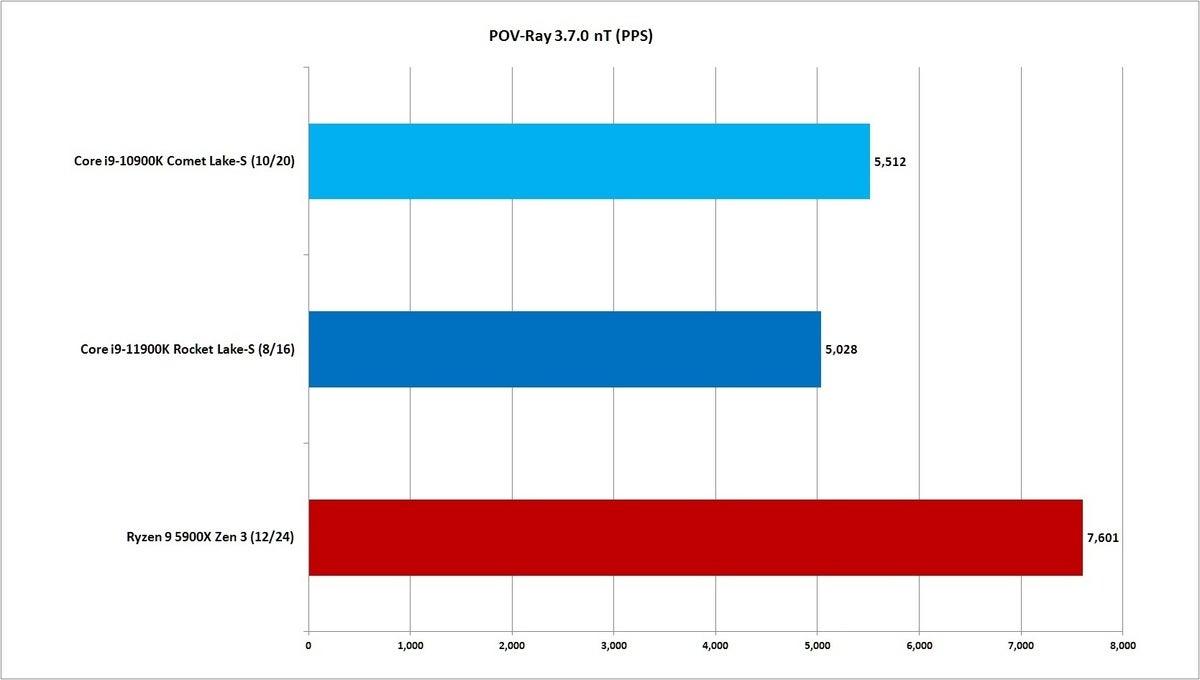 Another instance where 10th-gen beats 11th-gen is in Chaos Group's Corona Renderer 1.3. This is an unbiased renderer, which essentially means it takes no shortcuts in rendering a scene. The results again put the older 10th-gen chip ahead of the 11th gen.
It's important to note, however, that Corona Benchmark 1.3 was released in 2016. The newest version—it's up to 6 now—may actually favor the 11th gen's newer design. Of course, you could just buy a Ryzen instead and not worry about it.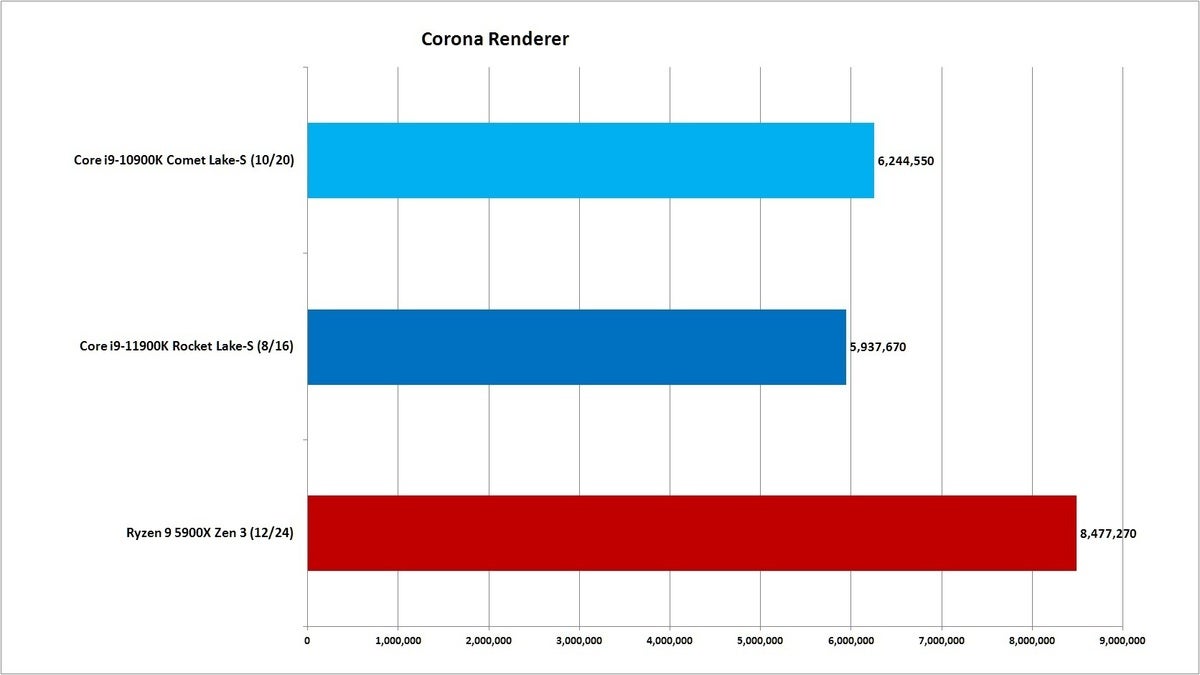 Our next benchmark is the open-source Blender 2.92.0 and the default cycles-render engine on Mike Pan's BMW benchmark. There are larger benchmark scenes and more complicated ones, but the results probably won't change much here, with the chips falling in order of Ryzen 9, 11th-gen, and 10th-gen.
Based on these and additional rendering benchmarks we ran, it seems clear that the 8 cores in Rocket Lake's Core i9-11900K will not outpace the 12 cores in Ryzen 9 5900X in tasks that favor more cores. For these tasks, Ryzen 9 wins. It's more of a toss-up between 10th-gen Comet Lake and 11th-gen Rocket Lake, though Rocket Lake wins a bit more often.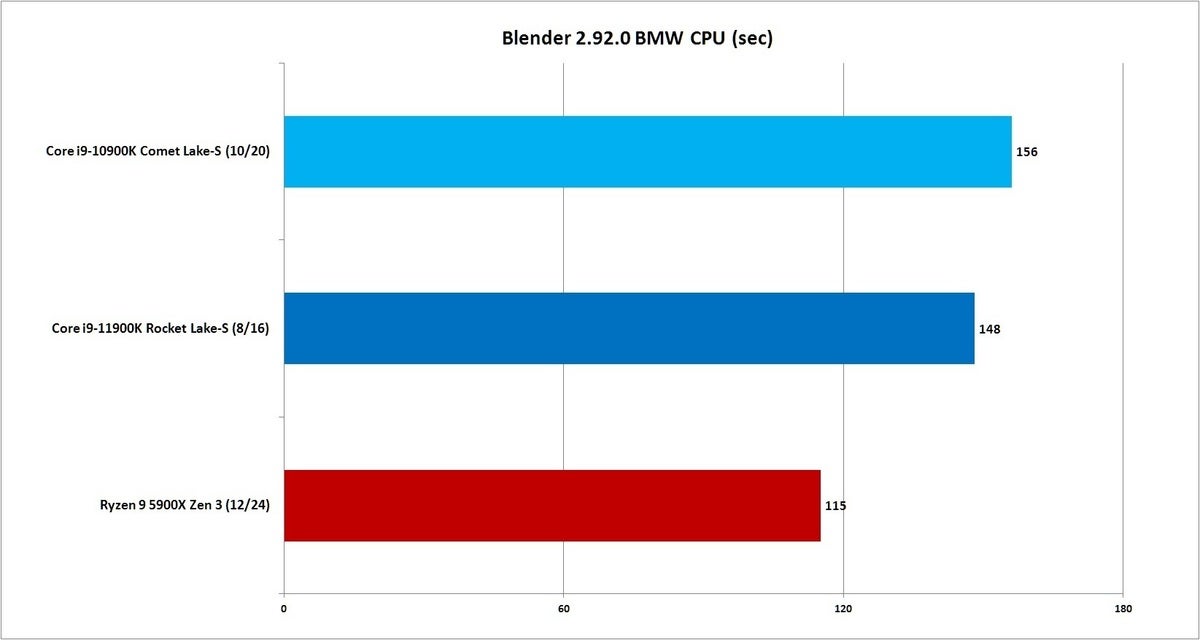 We'll close the 3D rendering section by looking at two of the tests in their single-threaded modes. This is handy to give potential buyers an idea of how strong each core is regardless of how many cores the chip has. Obviously, few will buy a 12-core chip and run rendering on just one core, but it does give you a general way to judge, say, how fast they would be if the core counts were closer, like they are on other models of the chips.
Using Cinebench R20, we can see Intel's 11th-gen Rocket Lake turn in its first technical win by slightly outscoring the Ryzen 9 5900X. Yes, it's really a tie, but when an elderly 14nm process can actually run with a 7nm process, that's not bad.
Of greater use is comparing the 10th-gen to the 11th-gen part. There we see the 11th-gen Rocket Lake outpace the 10th-gen Comet Lake chip by almost 20 percent. That's very impressive performance that even the haters can't deny.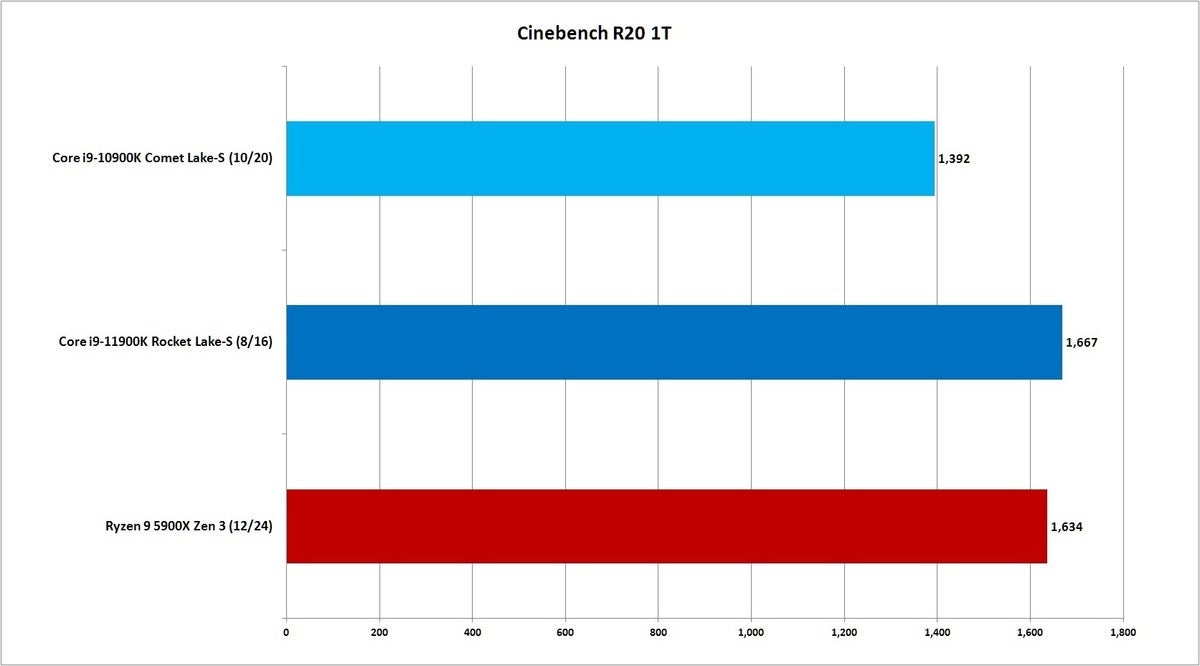 In POV-Ray 3.7.0 on a single thread, you can see the Cypress Cove cores in the 11th gen again pull ahead by a very nice 17 percent against its 10th-gen predecessor, and finish in a statistical dead heat with Ryzen 9 5900X. That's a solid win for the 11th-gen Rocket Lake.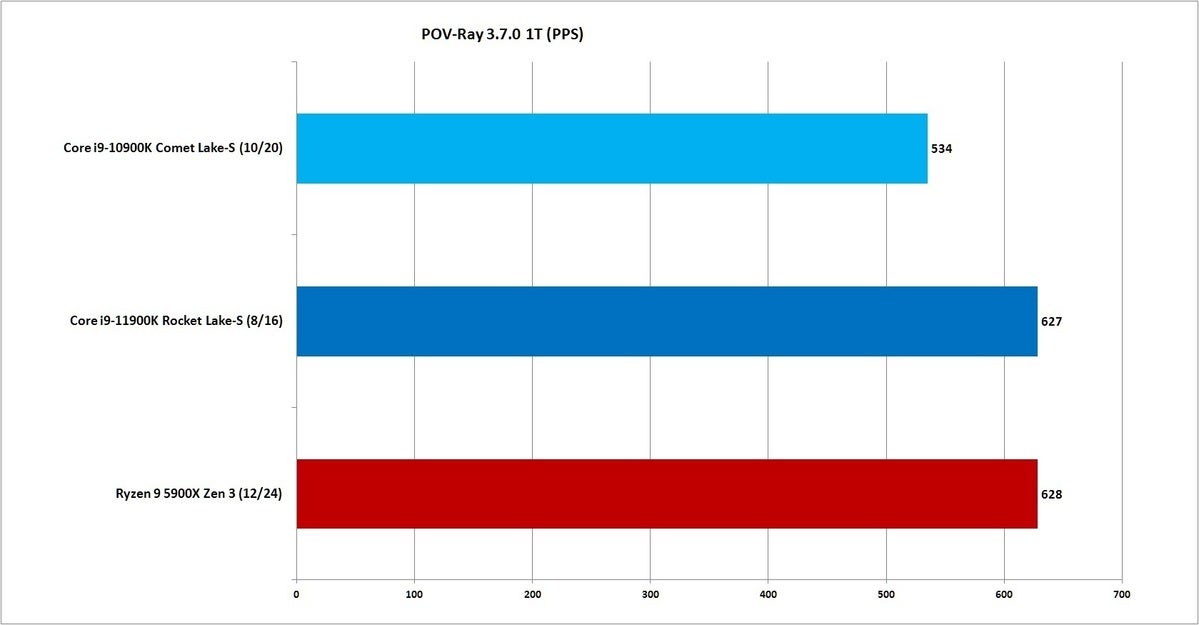 Keep reading for more performance numbers, starting with encryption.
Core i9-11900K performance: Encryption and Compression
CPU-intensive tasks aren't just about rendering performance, so we also look at encryption and compression performance. First up, we use the open-source VeraCrypt 1.24's built-in benchmark to look at AES performance. We use a larger 1GB buffer size to stress the systems.
The surprise "winner" is the older 10th-gen Comet Lake chip, but the only thing Intel probably cares about is how the 11th-gen Rocket Lake scoots across the finish line, about 5 percent faster than the Ryzen 9 chip.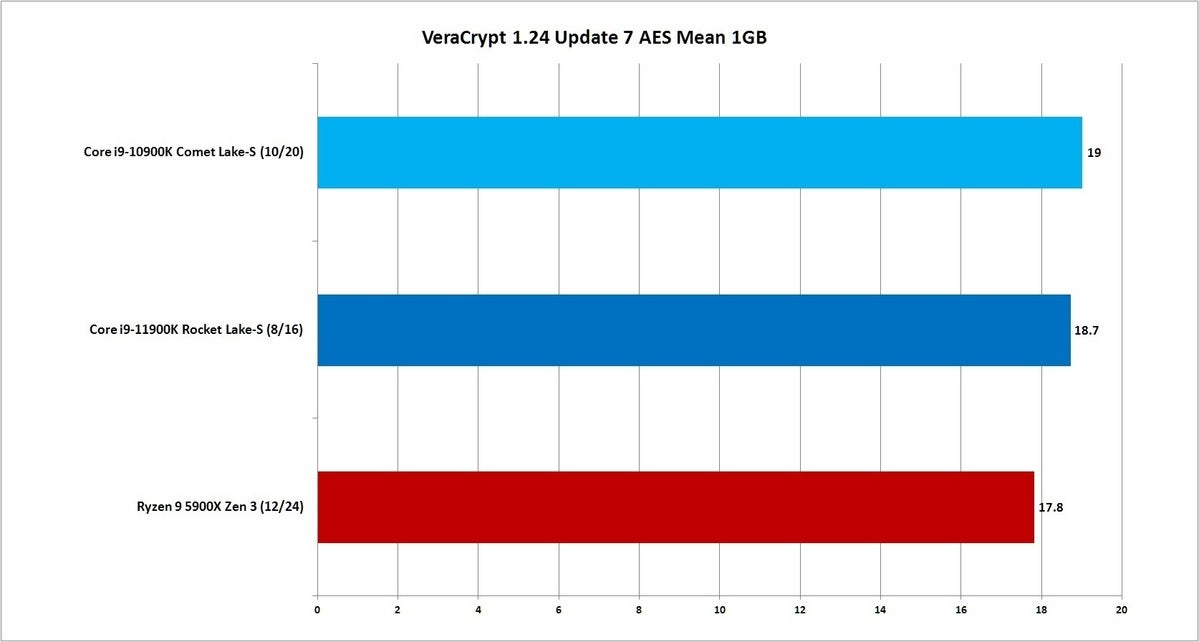 To get a second opinion, we tap Primate Lab's popular but sometimes controversial GeekBench test. The benchmark mixes in about a dozen or two different short loops to measure performance and then produces a final score for all, plus detailed benchmark data.
We can see GeekBench 5 supports hardware acceleration for AES and SHA-1 (both of which were developed by Intel). All three CPUs here support AES in hardware, but only the 11th-gen Rocket Lake and Ryzen 9 support SHA-1 in hardware.
The good news for 8-core Rocket Lake is it still has that 5-percent lead over the 12-core Ryzen 9, even in the multi-core results (yellow bar below). Unlike VeraCrypt, where the 10th-gen Intel chip wins, the 8-core 11th-gen chip actually opens up a 19-percent lead over its 10-core predecessor.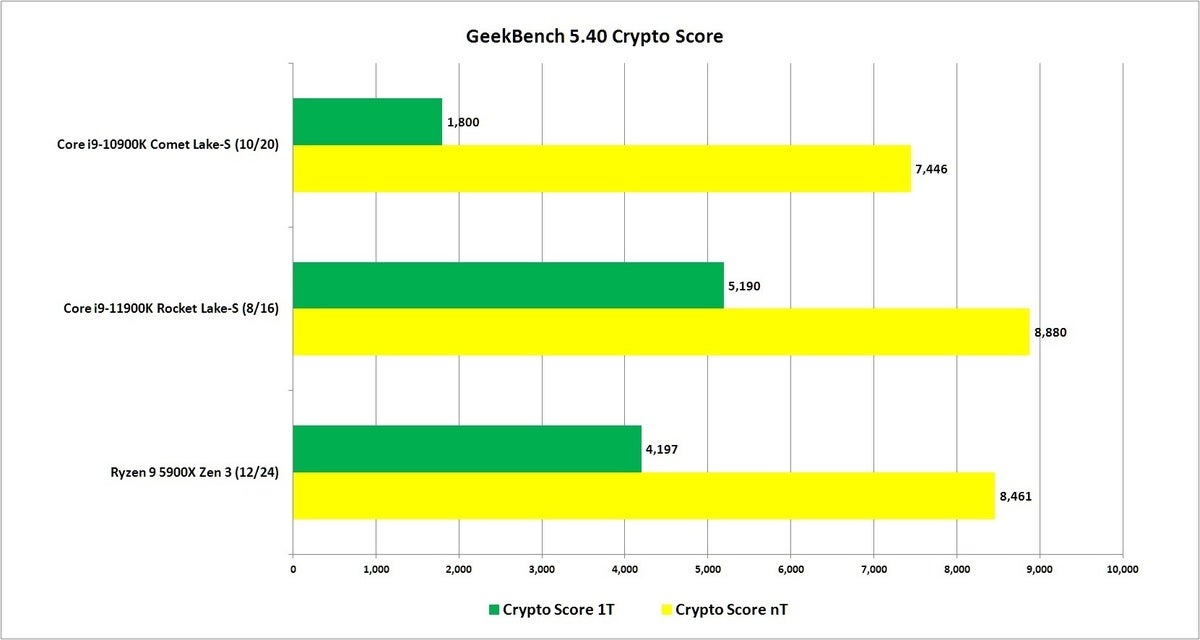 In single-core performance (green bar above), the 11th-gen Rocket Lake actually widens the lead over Ryzen 9 to an impressive 24 percent. Against the older 10th-gen part, it's a stunning 188 percent faster. Ryzen 9 crushes the 10th-gen Comet Lake to the tune of 133 percent in single-threaded AES performance as well. So AES-NI and SHA-1 benefit both the AMD and Intel latest generations.
For our compression tests, we used the free and popular 7-Zip 19.00. When all cores are used, the winner in decompress (green bar below) by a very large margin is the 12-core Ryzen 9. In second place is the 10-core 10th-gen Comet Lake-S, which puts a decent 8-percent gap in decompress performance ahead of the newer 11th gen.
In the compress side (yellow bar below), 7Zip favors RAM latency, cache performance, and out-of-order performance. The performance gap narrows, but Ryzen still wins.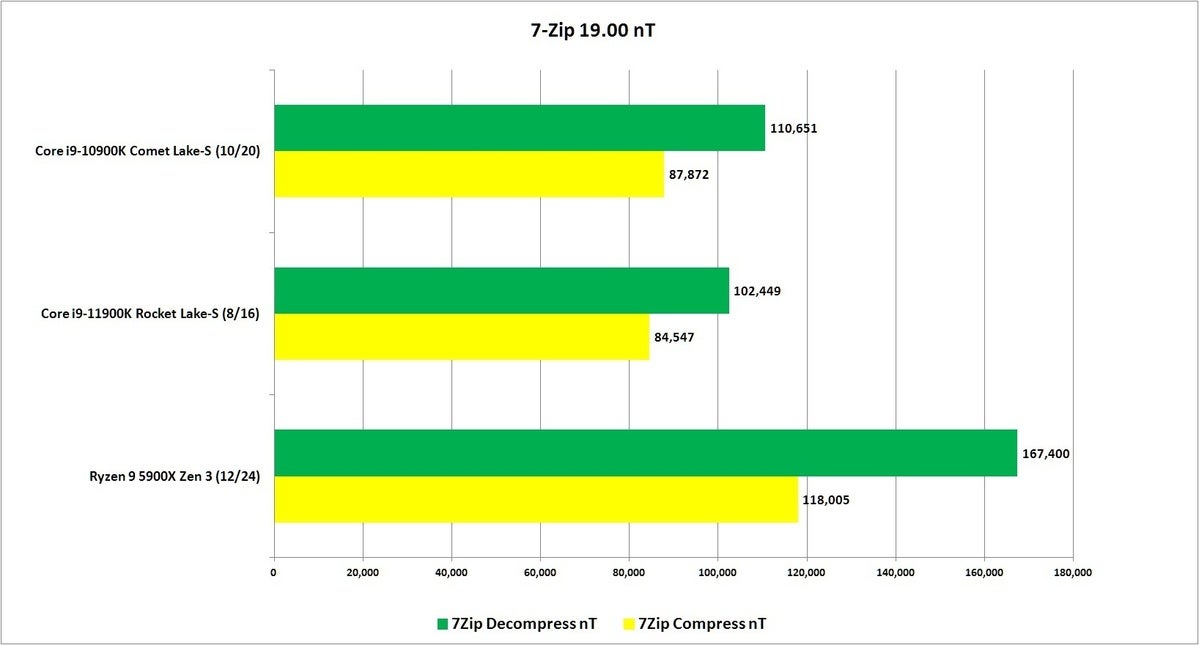 Looking at all three using a single thread (see chart below), Ryzen 9 wins again. Without the core-count advantage, however, the Zen 3 chip yields about a 10-percent advantage in the integer-heavy decompress (green bar below), compared to the 63-percent win when all 12 cores are running.
It really turns into a three-way race when looking at the compression side (yellow bar below), which puts the Ryzen 9 and 11th gen chip in a statistical dead heat. The older 10th-gen Intel chip is only 6 percent slower than its newer relative.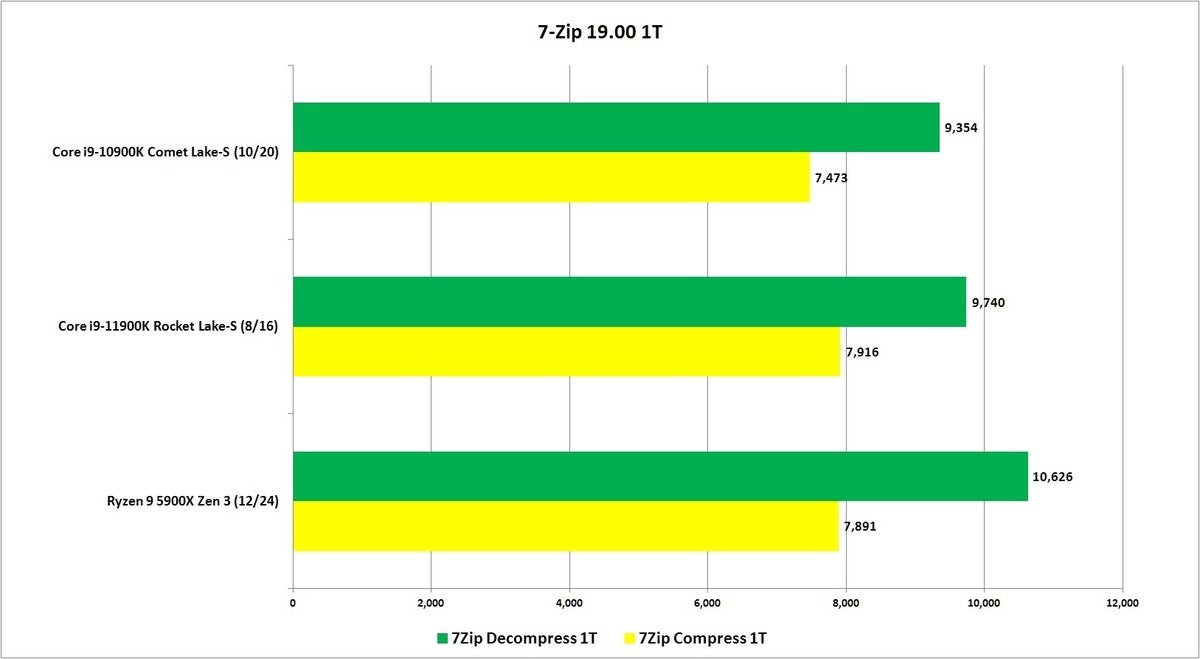 Our final compression test uses RARLab's WinRar 6.01 and its built-in test. We generally prefer the price of 7-Zip (free), but we were interested in this test because up until the Zen 3-based Ryzen came along, WinRAR was not kind to AMD chips. The tables have turned: Ryzen 9 5900X wins, and the 11th-gen Core i9-11900K loses to its 10-core ancestor by a healthy amount in multi-thread performance.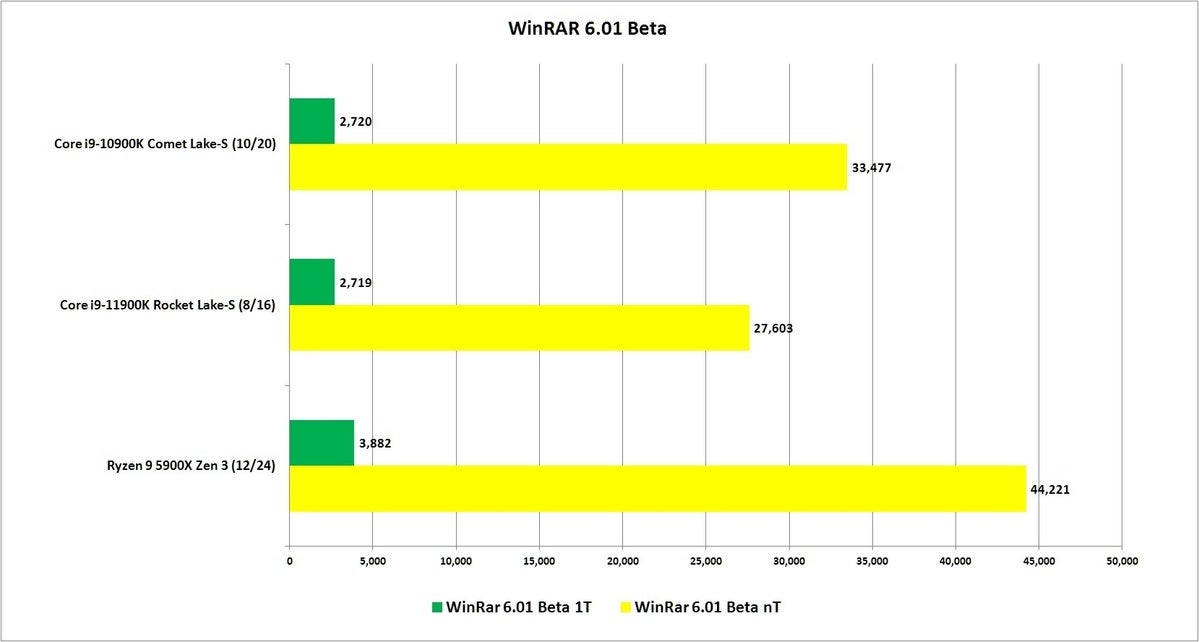 Core i9-11900K performance: Productivity
Moving into more practical tests, we used UL's PCMark 10 to look at the performance of the CPUs on mainstream tasks such as document editing and browsing the web. PCMark Essentials looks at app start-up, web browsing, and video conferencing; Productivity looks at text editing and spreadsheets; and Content Creation examines photo, video and rendering and visualization. In this mode, the test uses mostly open-source applications such as Gimp, Firefox, Chromium, ImageMagick, LibreOffice, and POV-Ray to compute the results.
Ryzen 9 wins overall, but it trades blows with the 11th-gen Rocket Lake chip. The 11th-gen chip is overall about 5 percent faster than the older 10th-gen chip, a nod to the newer cores.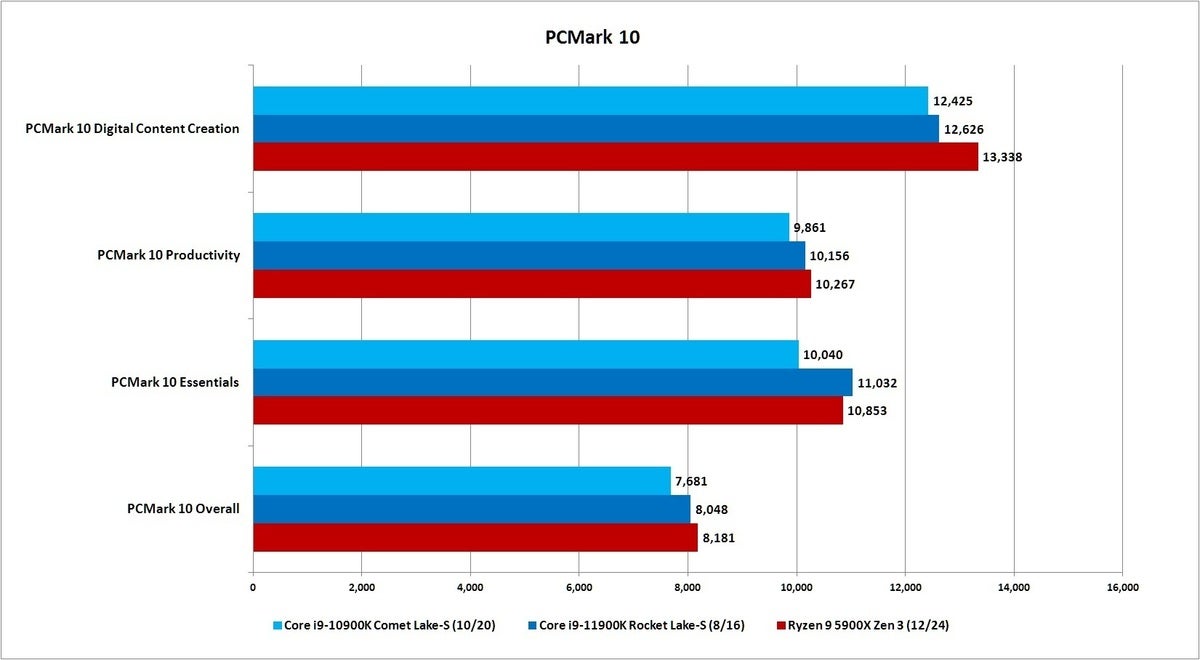 Core i9-11900K performance: Adobe applications
Next up, a look at applications with more weight: Adobe's Photoshop, Premiere, and Lightroom Classic.
Our first test uses UL's Procyon Photo Editing benchmark, which runs Adobe Photoshop and Lightroom Classic through a series of tasks. The overall winner is Ryzen 9, but its 4.4-percent lead over the Rocket Lake chip is a little close for comfort. Diving into the subscores, Ryzen 9 takes a decent 11-percent lead in "batch processing," while Rocket Lake ekes out 2.6-percent advantage in the image retouch section.
Against the older 10th-gen chip, it's all win for Rocket Lake. It posts a 13-percent lead in overall score, a 6-percent advantage in batch processing, and a whopping 22-percent lead in image retouch performance.
Both of these wins against the older chip are significant, because most of the batch processing advantage we've seen for Ryzen is due to core count. That the 8-core Intel chip is faster than the 10-core Intel chip in batch processing is nothing to scoff at. Image retouch performance favors the newer cores as well. Clearly if you run Adobe Lightroom Classic and Photoshop, having those newer cores are better (than Intel's older chips anyway.)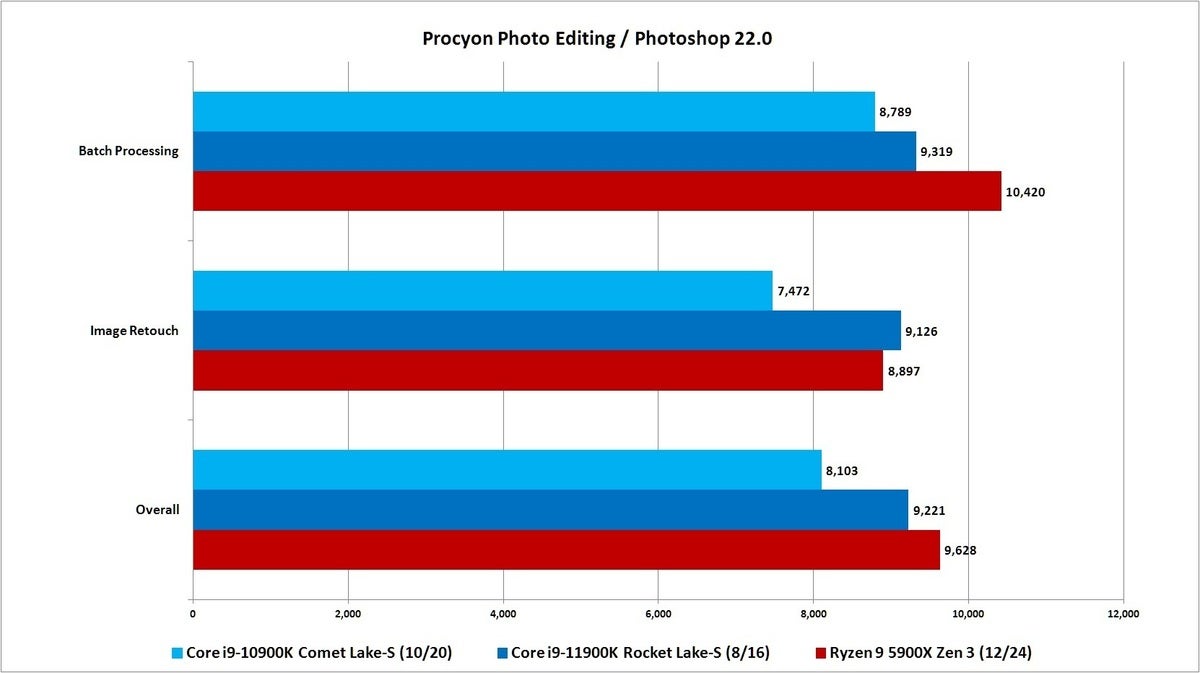 Puget System's PugetBench has made a name for itself by finding ways to test components for its customers. It's also made its test scripts available to the public. Ryzen 9 leads the pack, but that 11th-gen Rocket Lake part is practically tied, with its overall score just 2 percent slower. The older 10th-gen chip is a solid third. While some might have hoped Rocket Lake would retake its lead here against AMD, we think it's a decent showing for the new chip.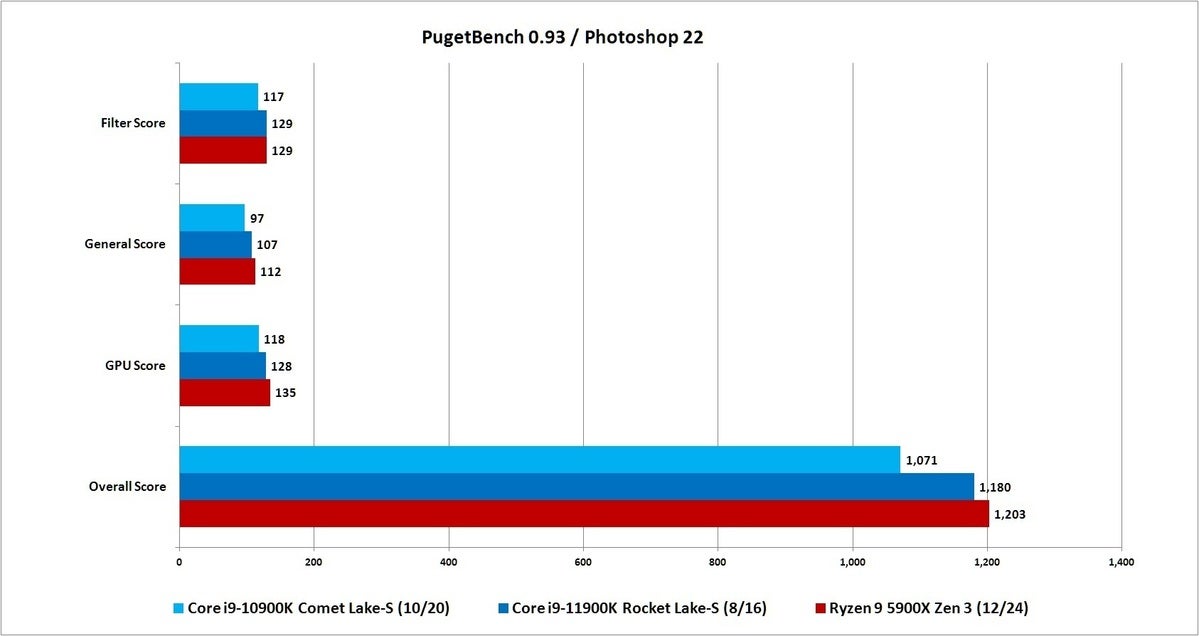 PugetBench for Lightroom somewhat mirrors the results we saw with Procyon, but the test heavily focuses on RAW processing using Sony, Canon and Nikon files, as well as exporting those files. Puget Systems treats the passive score as the export—when you just walk away from your computer or look at your smartphone for 10 minutes while it grinds. The Active Score measures how fast the application switches between the library module and developer module, as well as scrolling through the images. The 11th-gen Rocket Lake chip has a small 2.9-percent advantage that translates to a slightly snappier feel compared to Ryzen 9. Batch processing heavily favors the 12-core Ryzen, with a 39-percent advantage.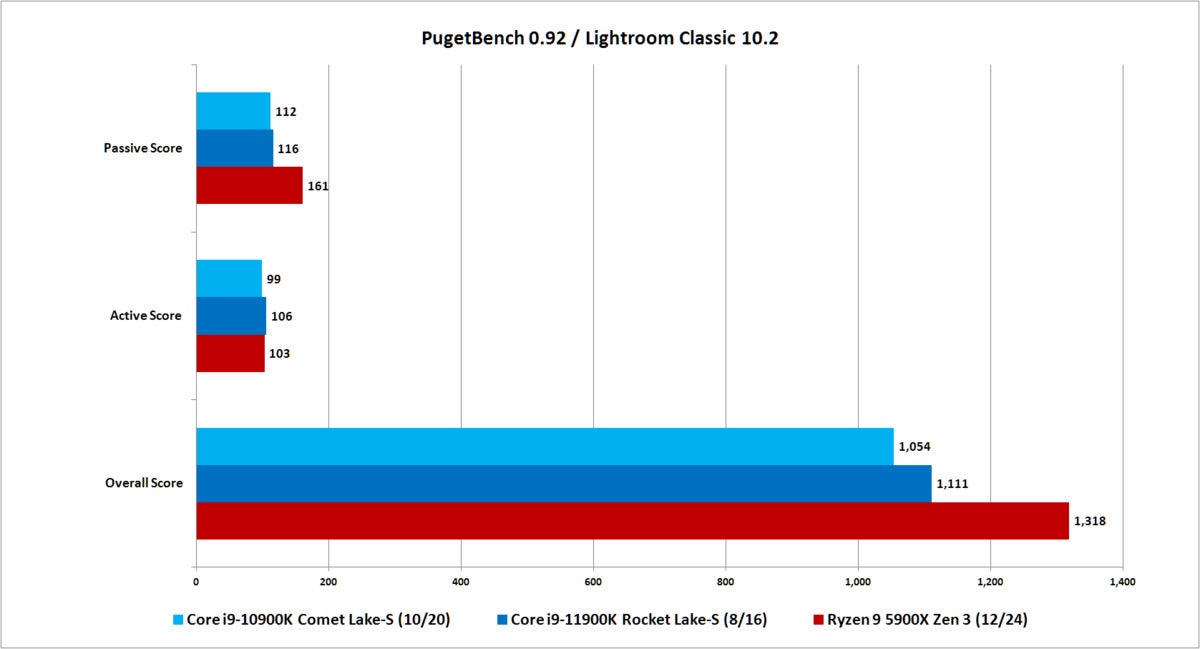 UL's Procyon benchmark uses Adobe Premiere Pro to measure video editing performance. It's mostly an export, with color correction and other effects applied to 4K file formats before exporting to H.264 and HEVC in different resolutions. Ryzen still wins by a sliver–just 3.2 percent–over 11th-gen Rocket Lake, which in turn enjoys a decent 8-percent lead over its 10th-gen cousin.
All three are closer than you might expect, but it also goes to show you how much Premiere Pro and file exports lean so heavily on the GPU today. Because all three tests were tested with the same GeForce RTX 2080 Ti card, the path Procyon takes is perhaps less dependent on CPU than Intel and AMD would like. Nvidia, however, is probably all smiles.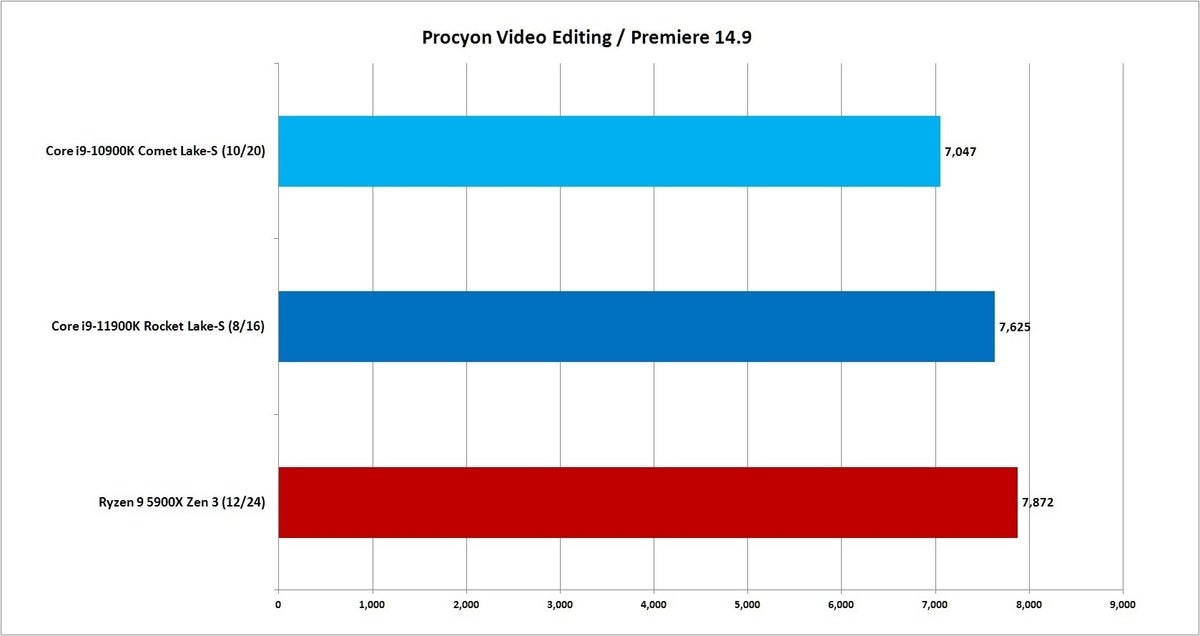 We take another look at Premiere performance using Puget System's PugetBench. We omitted the GPU score, because they all scored the same (72). PugetBench's path appears to lean a little more on the CPU than Procyon, as we see the Ryzen 9 with an 8.4-percent lead over the 11th-gen chip. Ryzen again flexes in the export score, where the AMD chip has an 11-percent advantage. The newer cores also make Rocket Lake just slightly faster than its 10-core predecessor.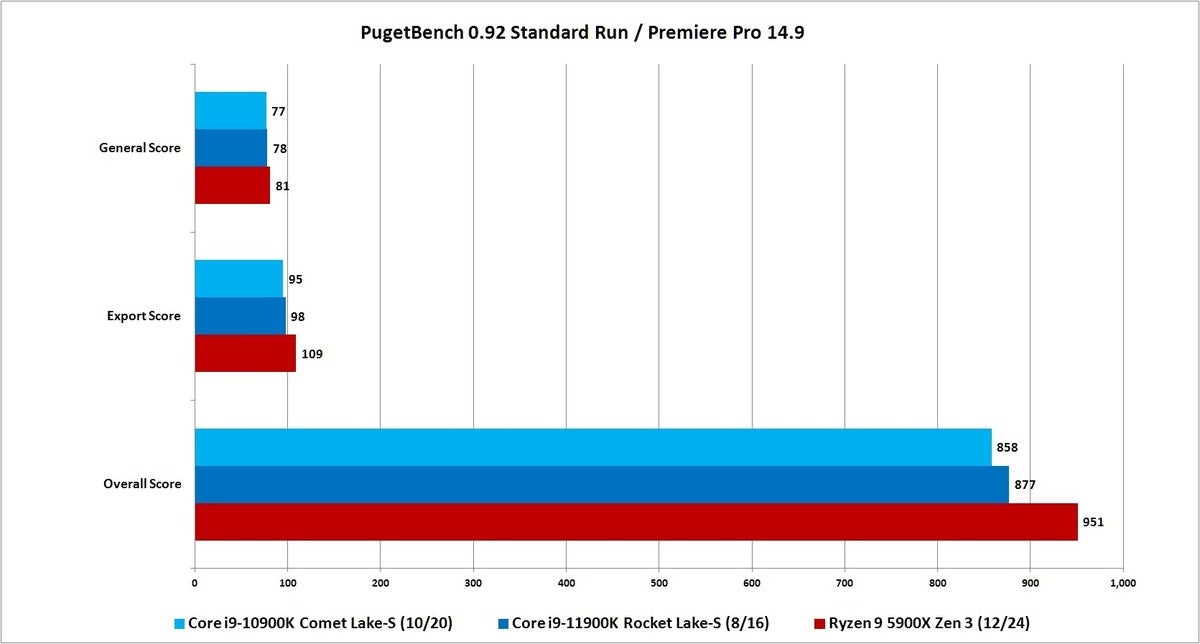 Because video editing is so heavily dependent upon encoding, we also reach for the popular and free HandBrake encoder, which we use to convert the open-source 4K Tears of Steel video using the HEVC/H.265 preset for 1080p at 30 fps. For this test, we use the latest daily build of HandBrake (20121032201).
As with most encoders, more cores matter. No surprise: The Ryzen 9 coasts to another victory here, taking about 21 percent less time to complete the CPU-based encode. Of course, it helps if the cores are better cores, so even though the 10th-gen Intel chip has 10 cores to the 11th-gen Intel chip's 8, the latter actually completes its run about 13 percent sooner.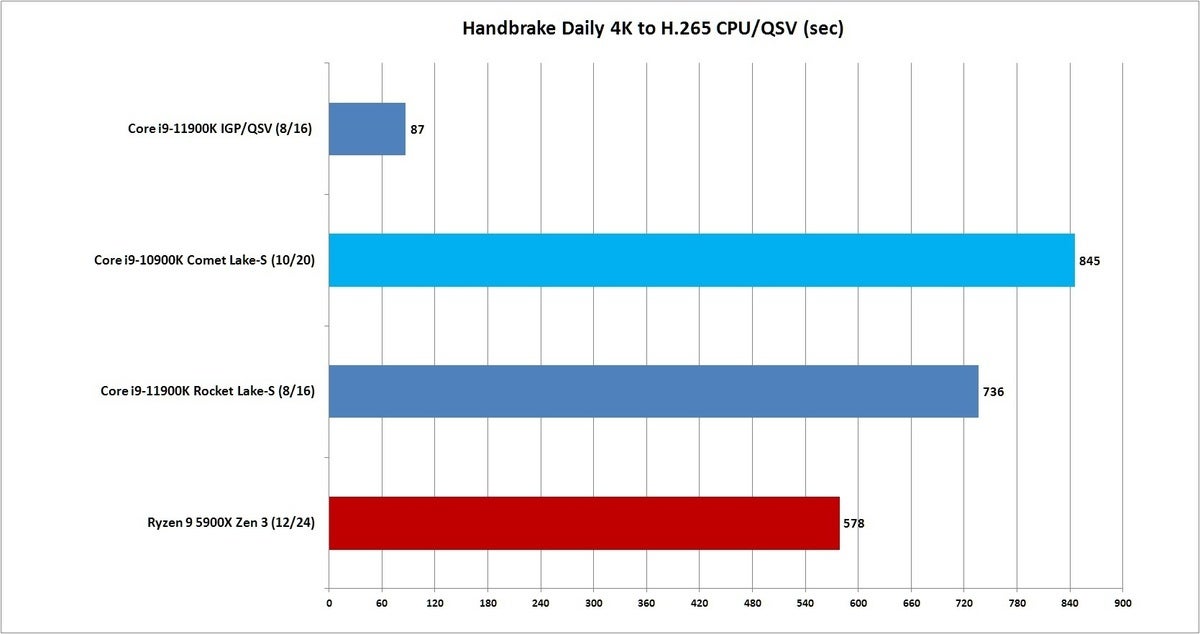 We'll also point out the tiny stubby bar thing at the top of the chart above. That's the time it takes HandBrake to encode the same job using the 11th-gen Rocket Lake CPU's integrated graphics core media encoder, known as QuickSync. Yes, that's 87 seconds to finish something the 12-core Ryzen 9 5900X takes 578 seconds to finish. (The Z490 motherboard we used for testing the 10th-gen Comet Lake-S unfortunately did not have an HDMI port and did not allow us to activate the IGP on the chip to compare.)
Many might argue that with a fast GPU, few will do encodes using QuickSync. The chart below shows results on the same encoding job, but using the GeForce RTX 2080 Ti Founders Edition with each CPU. Moving from CPU-based encoding to GPU-based results in pretty massive performance increases. But interestingly, the CPU still matters. The 11th-gen Core i9-11900K actually finishes on top, 4.4 percent faster than Ryzen 9 and 14 percent faster than the older 10th-gen Comet Lake chip. And look: The Xe-derived cores in 11th-gen Rocket Lake offer a 42-percent advantage over the once-mighty GeForce RTX 2080 Ti FE.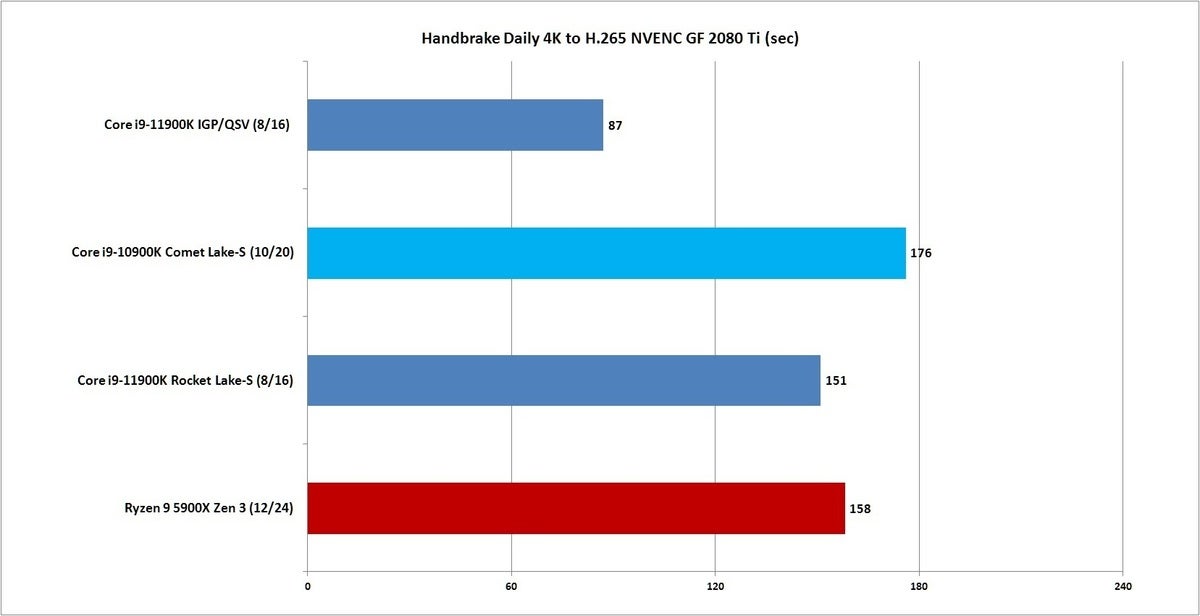 The performance numbers keep coming! AI applications are next.
Core i9-11900K performance: AI applications
Before we get into the gaming performance we did want to delve into the new-fangled area of AI and Machine Learning performance. With the 11th-gen Rocket Lake part, Intel introduces AVX512 and DL Boost support on its first consumer desktop CPU. We're also finally seeing applications where AI matters.
The first one we use is Topaz Labs GigaPixel AI 5.4.5. The app uses AI-based models to upsample images far more intelligently than previous upsampling methods. For our test, we use a 10.2MP picture of a Lockheed P-38 Lighting (a World War II-era fighter plane) shot on a Canon EOS 1D Mk IIn in 2010, and increase the resolution by 6X.
Run purely on the CPUs, the results were pretty disappointing. We've seen Intel's laptop CPU, the 11th-gen Tiger Lake, clean up against Ryzen 4000, older Intel chips, and even Apple's vaunted M1 by huge margins using Gigapixel AI. But as you know, the 11th-gen laptop CPU uses the most advanced technology Intel has right now.
The 11th-gen desktop Rocket Lake is using Intel's oldest technology, and it shows. The Ryzen 9 is about 8 percent faster than the Rocket Lake, which can't even outpace its 10th-gen ancestor.
One problem with using a real application is it's not clear what part of Intel's byzantine DL Boost features it's leveraging. We enabled the chip's IGP, which uses more DL Boost, and re-ran the test. Rocket Lake finally vanquishes the Ryzen 9 by about 9.6 percent, which is solid. But coming off the stupid performance advantage its cousin has on laptops, color us disappointed.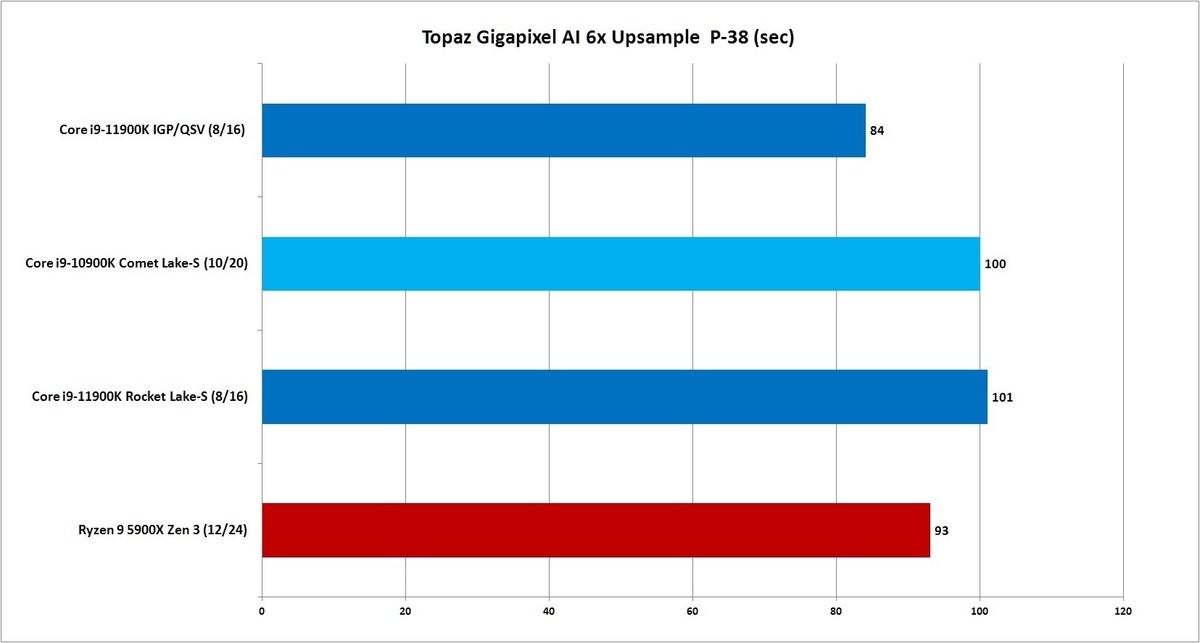 Our second-look at AI performance uses Topaz Lab's Video Enhance AI 2.0. This app uses machine learning models to clean up or upsample video frame-by-frame. We take a 91-second, 720p video shot on a Kodak Flip-style video camera in 2008 and simply task Video Enhance AI to remove noise, compression and artifacts. The end result is pretty amazing, but using just the CPU, it's a multi-hour process for all three chips. The 11th-gen Rocket Lake chip has a decent 9-percent advantage over the Ryzen 9.
Watch what happens, though, when we enable the IGP cores on Rocket Lake: a 210 percent reduction in the time taken. That's more along the lines of what we were expecting.
One word of advice, though: Just use your fast GPU. Using the GeForce RTX 2080 Ti FE, processing time drops to 350 seconds on the Rocket Lake chip and 372 seconds on the Ryzen 9.
Core i9-11900K performance: Gaming
Our last performance test might be a bit of a letdown, but we probably shouldn't be too surprised. Coming into this, Intel has claimed an advantage in gaming but it wasn't exactly huge. At CES the company claimed about a single-digit advantage, then increased it to low double digits in Total War: Three Kingdoms and Microsoft Flight Simulator. After running the three chips through more than eight different games, the battle between Ryzen 9 and 11th-gen Core i9 clearly depends very much on which ones you play. The 11th-gen Rocket Lake enjoys a small advantage in Gears Tactics, for example, and Far Cry New Dawn. Other games such as Ashes of the Singularity: Escalation, Red Dead Redemption 2, and Horizon Zero Dawn saw both dead even. Ryzen 9 took a small advantage in other games such as Counter Strike: Global Operations and Shadows of the Tomb Raider.
Remember, we ran the gaming tests on Rocket Lake with an Asus GeForce RTX 3080 TUF GPU running in PCIe 4.0 mode. We're pretty sure once you increase the resolution to 1440p, a wide aspect ratio, or 4K, the performance gaps will narrow even more. What matters is that Intel's 11th-gen chip is generally faster than its 10th-gen ancestor by decent margins. While Ryzen 5000 has generally led Intel's older 10th-gen chip in gaming, the 11th-gen Core at least puts Intel back into the conversation.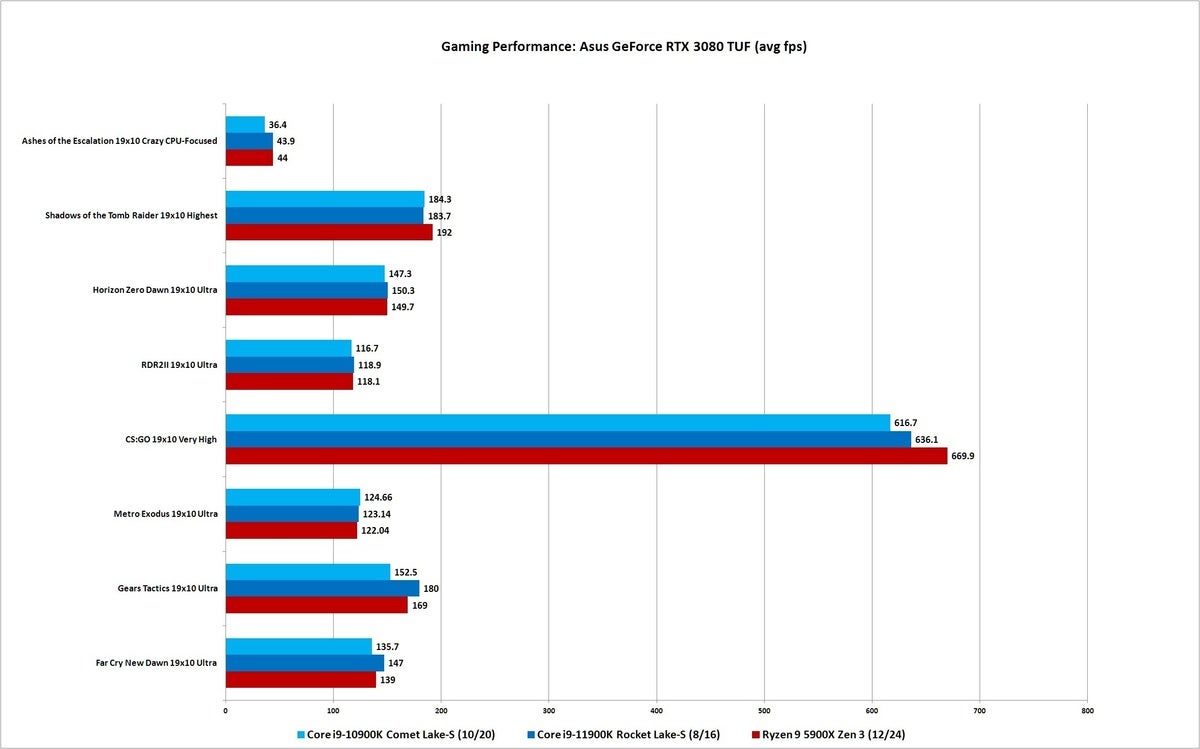 Rocket Lake Power Consumption
We don't typically delve too far into power consumption on desktop parts, but we had to address Rocket Lake's reputation for consuming a lot of power. To find out how bad it was, we measured the total power the systems used with the CPU, 32GB of RAM, motherboard, GeForce RTX 2080 Ti FE, M.2 SSDs and Kraken X62 coolers with fans manually set to 100 percent. The power was measured at the socket, because that's how people pay for electricity. The power consumption was recorded simultaneously, with both systems controlled by the identical mouse and keyboard.
We ran Cinebench R20 using all of the cores, which you can see on the far left side of the chart, and then we ran Cinebench R20 using from 1 thread to the maximum amount of threads each CPU has.
The upshot is that the 11th-gen Rocket Lake indeed consumes a lot of power—nearly 61 percent more during an all-core load. On much lighter loads, the difference narrows to 10 to 20 percent.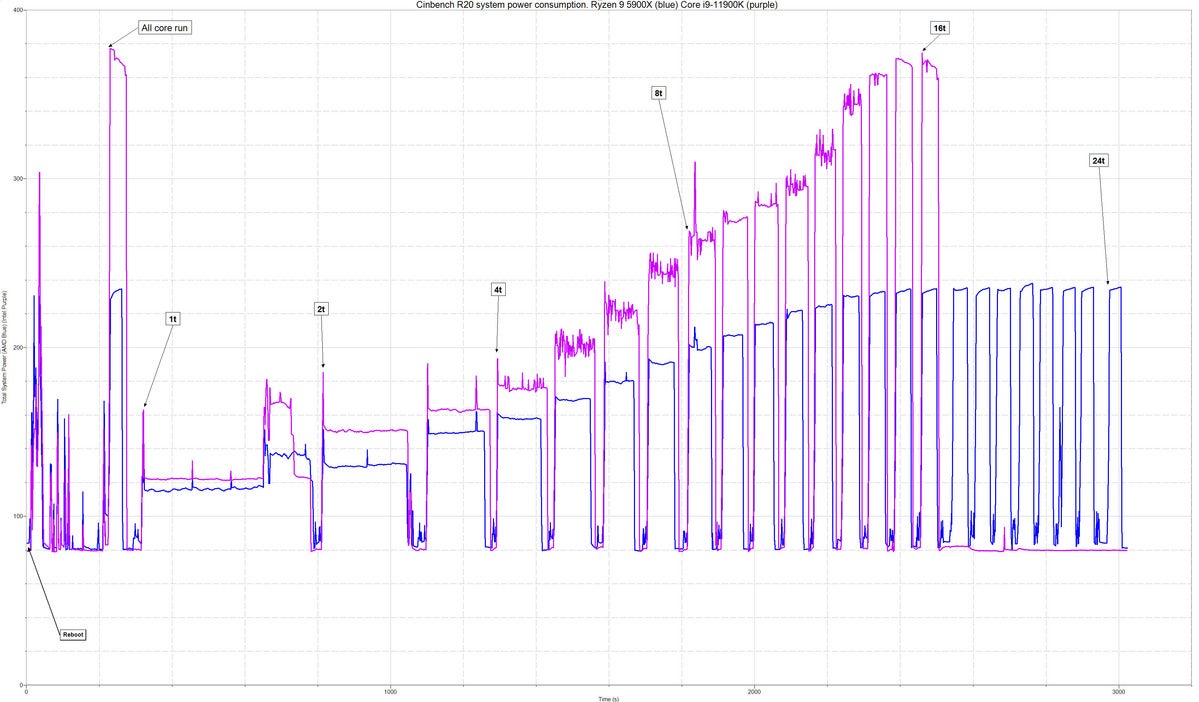 Rocket Lake Conclusion
There's an old saying that when life gives you lemons, you make lemonade. That's largely what Intel has had to do with Rocket Lake: Use its tried-and-true (and old) 14nm process to make desktop chips, while saving its most efficient 10nm chips for laptops and servers.
The good news is that 11th-gen Rocket Lake's Cypress Cove cores are indeed an improvement and generally outperform the cores on the 10th-gen Comet Lake chip it replaces. But Intel's latest top-end Core i9 still cannot compete with its AMD rival on multi-threaded work.
in the pecking order of choices based on the suggested retail prices of $550 for the Core i9-11900K and Ryzen 9 5900X, and $488 for the Core i9-10900K, our first choice would be AMD's Ryzen 9 5900X, and our second choice, the Core i9-11900K for the improved cores, better performance, and PCIe 4.0 support.
Anyone who pays attention knows that's not the world we live in. The Ryzen 9 5900X hasn't been seen anywhere near its suggested price of $550 practically since its introduction. The CPU regularly goes for $800 to $900 when it's available. The 11th-gen Core i9 will largely compete with other Intel chips such as the Core i9-10900K, which has come back to earth and sells currently for about $450. Although it still can't seem to make very many 12-core Ryzen 9 5900X chips, AMD has started to pump out enough 8-core Ryzen 7 5800X chips to actually sell them for their list price of $450 for the first time since launch.
The question for many is whether the extra $100 for the 11th gen Core i9-11900K is worth it over the 10th gen Core i9-10900K and the Ryzen 7 5800X. That's a tough call. The 11th gen chip is the fastest of the three, but it just may not be worth the extra $100. Those same value buyers, may actually want to skip the Ryzen 7 5800X and Core i9-10900K entirely for the 10-core Core i9-10850K, which we've seen for $390 or occasionally even $330.
So where does that leave the Core i9-11900K? It's faster than the competition, but also pricier and far more power-hungry. So yes, we'll politely clap for all the wins the 14nm has pulled off before, but we aren't too sad that this is the last game.