Everyone can see that AMD Ryzen 5000 CPUs are enjoying a dynastic run of greatness. In our review of desktop Ryzen 5000 chips, they obliterated Intel's desktop Core CPUs turning them overnight into good value chips. The same could be said of AMD's Ryzen 5000 H-class chips in larger gaming laptops, which also outclassed the equivalent Intel CPUs.
The last win AMD is trying to notch won't be so easy. Unlike Intel-based desktops and larger gaming laptops, which are powered by older and slower 14nm chips, the thin-and-light category of sub-three-pound laptops actually feature Intel's most advanced CPUs: Its 11th-gen Tiger Lake. Built on its 10nm FinFET process using its newest cores and its best integrated graphics, Intel's Tiger Lake CPUs won't be the pushovers its 14nm siblings are. But when you're on a roll like Ryzen 5000, it's hard to see AMD coming up short. So sit back to see if Ryzen can make it three in a row.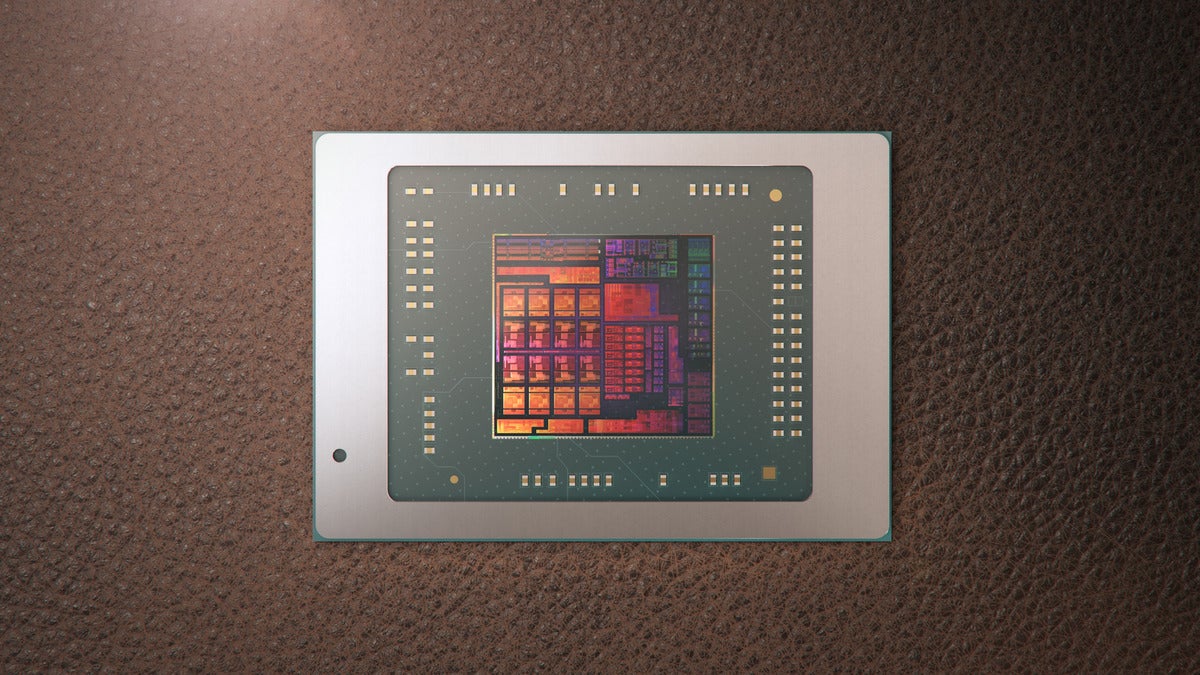 What is Ryzen 7 5800U?
Our review of the Ryzen 9 5980HS CPU. goes into detail about the Ryzen 5000 family. They are, for the most part, the same CPUs in core count and microarchitecture design. What sets the Ryzen 7 5800U apart from a Ryzen 9 5980HS, -H or -HX chip is simply how hot it's allowed to run. While an H-class CPU might run at 45 watts and higher, most U-class chips have to fit into a 15-watt envelope.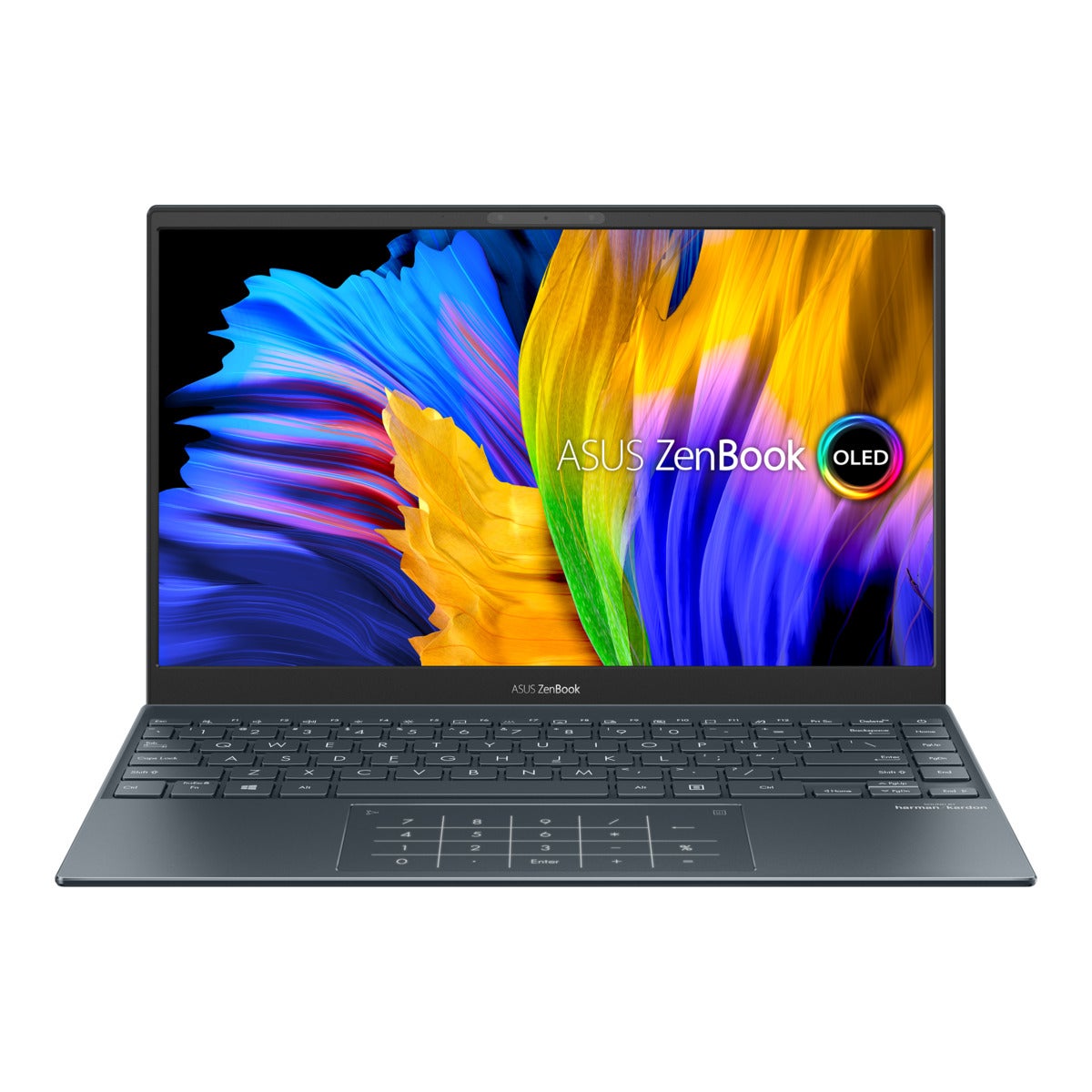 How we tested
Our test laptop is the Asus ZenBook UM325Remove non-product link. It features an eight-core Ryzen 7 5800U, Radeon graphics, 16GB of LPDDR4X/4267, a 1TB PCIe 3.0 SSD, and a 13.3-inch FHD OLED screen. It weighs 2.6 pounds.
For our PC comparisons, we decided to pick laptops that are similar in size and weight:
MSI's Prestige 14 Evo

Remove non-product link

is equipped with a four-core, 11th-gen Core i7-1185G7 with Iris Xe graphics, 16GB of LPDDR4X/4267 memory, a 512GB PCIe Gen 4 SSD, and a 14-inch FHD screen. It weighs 2.7 pounds.
Lenovo's Yoga Slim 7 has an eight-core Ryzen 4800U with Radeon graphics, 16GB of LPDDR4X/4267 memory, a 512GB PCIe 3.0 SSD, a 14-inch FHD, and lap weight of 3.1 pounds.
Dell XPS 13 7390 has a six-core 10th-gen Core i7-10710U, UHD Graphics, 16GB LPDDR3/2667, a 512GB PCIe 3.0 SSD, 13.3-inch 4K screen, and lap weight of 2.8 pounds.
Dell XPS 13 2-in-1 7390 has a four-core 10th-gen Core i7-1065G7, Iris Plus 940 graphics, 16GB of LPDDR3/3777, 512GB PCIe 3.0 SSD, 13.4-inch FHD+ screen, and lap weight of 2.9 pounds.
Limitations of laptop testing
When you look at the performance charts below, remember that laptops aren't as apples-to-apples comparable as desktops. While we believe the laptops here yield generally representative performance for each CPU, you cannot separate the CPU from the motherboard and cooling system attached to it, nor the individual PC maker's recipe for how to run that chip. That basically means you'll get some laptops with the same CPU that might be slightly faster, or slightly slower.
3D Rendering Performance
We'll kick off our performance testing with Maxon's popular Cinebench R20. Based on the engine from its commercial Cinema4D, it's a quick and easy way to gauge performance of a CPU using all of its cores and threads while rendering a 3D scene.
Intel is no fan of Cinebench, arguing that it's of little value to look at 3D performance when so few people would do that on a sub-three-pound laptop. It's a fair point, but we find it valuable to gauge multi-core performance. We'd also argue that newer CPUs may finally make such tasks feasible on smaller laptops.
It's also obvious who's in front here: The 8-core Ryzen 7 5800U chalks up a hefty 58-percent advantage over the 4-core Core i7-1185G7. It's not the only 8-core chip in front though, the older Ryzen 7 4800U in he Lenovo Slim 7 actually has a decent, if not knock-your-socks-off, 12.6-percent improvement compared to the ZenBook's Ryzen 7.
We'll take this moment to mention that one variable not recorded here is fan noise which is the most obtrusive part of each laptop's cooling system. The Slim 7 gets loud (but certainly not as loud as the Prestige 14) under heavy louds. The ZenBook, however, tends to skew to being very, very quiet.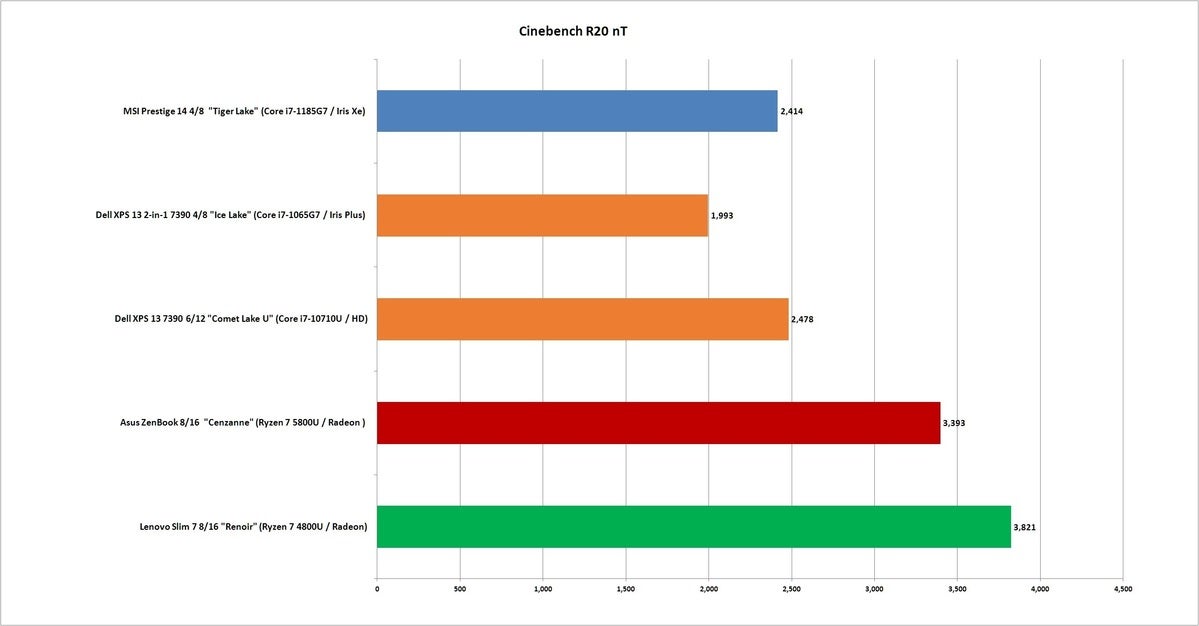 As we noted before, very few users actually run multi-threaded applications, where an 8-core chip pays its biggest dividends. Most tasks and applications on the PC are still single-threaded, so we also run Cinebench R20 in that mode to gauge how the CPUs perform under a heavy, but single-threaded load.
The overall winner here is Intel's Core i7-1185G7, which edges out the new Ryzen 7 5800U by about five percent. Both are clearly head and shoulders above their predecessors, so if you want the snappiest lightly threaded response, either Ryzen 5000 CPU or Intel 11th-gen will do.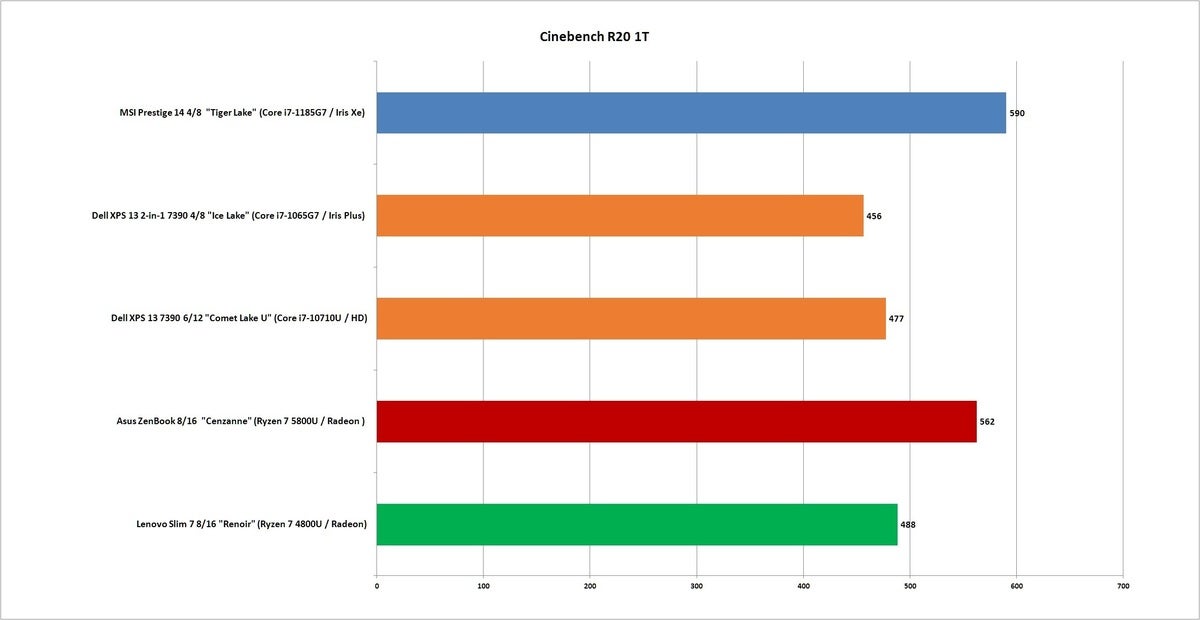 We could run another five 3D modelling applications, but we don't need to do that to tell us that if you need a laptop to give you more more multi-core performance, you simply want one with more cores in it. You can see that clearly in the last 3D modelling result we show you: V-Ray Next 4.10 which puts the Ryzen 7 5800U 48 percent ahead of the Core i7-11857. Put a fork in it, because it's done in this department.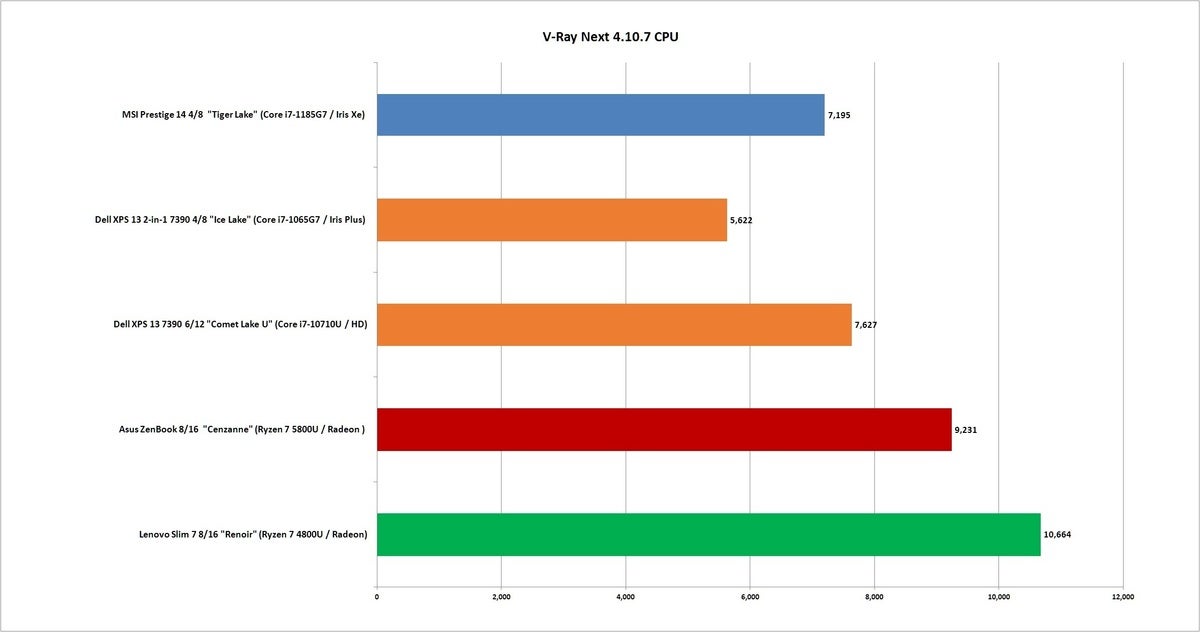 Video Encoding Performance
Moving onto a more common multi-core task, namely a video transcode, we use an older version of the free HandBrake utility to convert a 30GB 1080p video file for Android tablet use. This task favors more cores, and because it takes so long to complete, laptops with better cooling tend to do better as well.
The winner here is actually the Lenovo Slim 7 and its 7-core Ryzen 7 4800U, but we can call its 5.7-percent edge a virtual tie. Why didn't the newer Ryzen 7 5800U prevail? We suspect what we're seeing here is a result of the cooling subsystem of both Ryzen laptops at play. The ZenBook just doesn't get that loud, which tells us Asus may not crank the fans as hard as the Lenovo Slim 7 does.
What's more important for AMD, though, is it continues to rule tasks that want more cores. The 8-core Ryzen 7 5800U finishes the encode 32 percent faster than the Core i7-1185G7.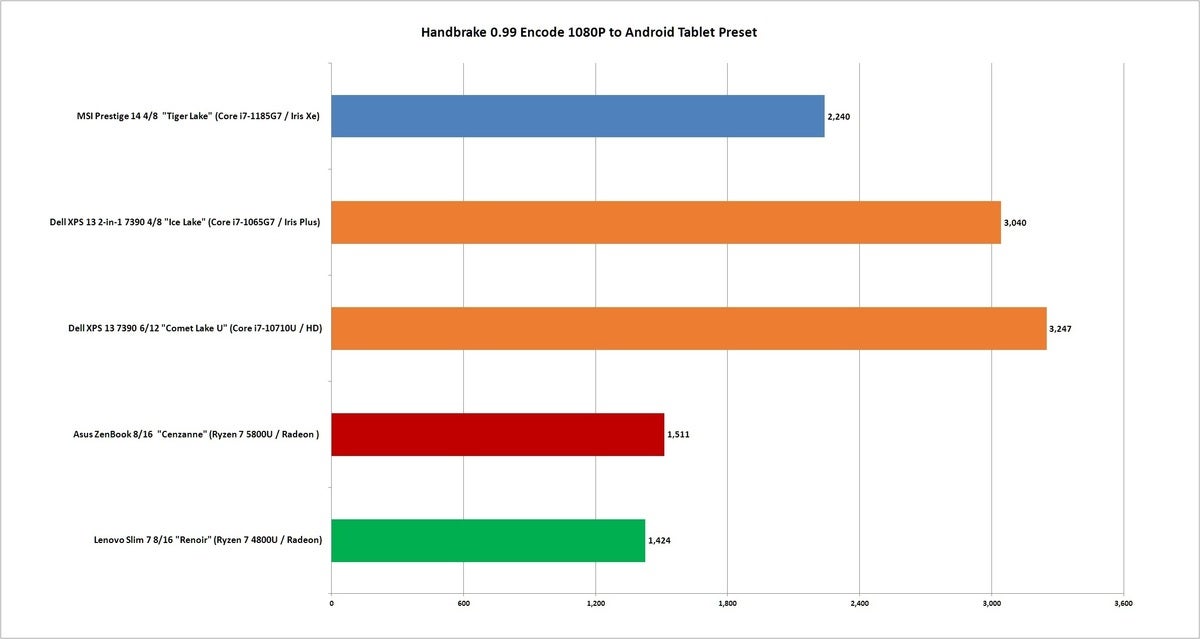 There's an argument that CPU-encodes always yield the best output, but for most people, using the chip's integrated hardware media encoders in the GPU is the way to go. To measure both laptops, we installed the latest final public version 1.3.3 of HandBrake, and then had both encode the open-source 4K Tears of Steel video using the HEVC codec to 1080p resolution at 60 fps. For the Intel CPU, we used QuickSync, and for the AMD CPU we use VCE.
Both make quick work of the task, but the winner is the Ryzen 7 5800U, which crosses the finish line 15 percent sooner than the Core i7-1185G7. The one variable we don't consider here is the output quality between them, but that's for another story.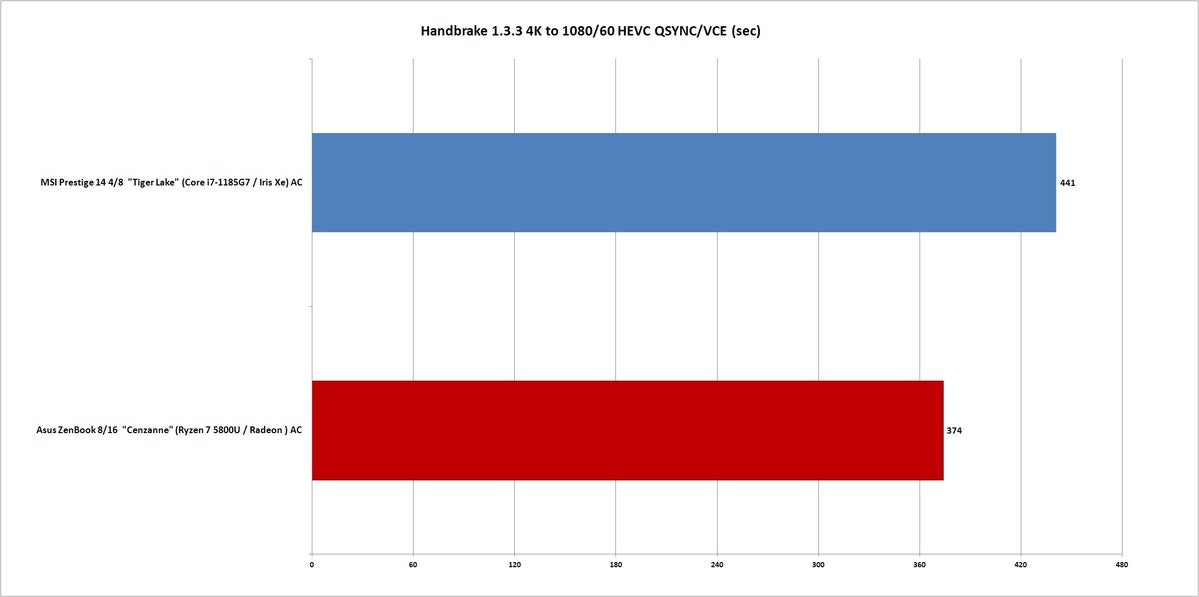 Office and Adobe Application Performance
One argument that Intel has made (and we largely agree with) is most people use very light laptops for doing very mundane things—not running 3D modelling or encoding hours and hours of video.
Nothing says 'mundane' like the Microsoft Office chores that fill the day for many office drones. For that task, we used PCMark 10 Applications, which runs Microsoft Word, Excel, PowerPoint, and Edge through scripted tasks.
This is a test where the 11th-gen Intel CPU outshines AMD's previous Ryzen 7 4800U by a compelling 18 percent. With the improved IPC efficiency of the Ryzen 7 5800U we now find AMD slightly ahead—about 6 percent faster than the 11th gen Core i7-1185G7 chip. It's pretty much up a toss-up, but when you consider past performance, this is a big win for AMD.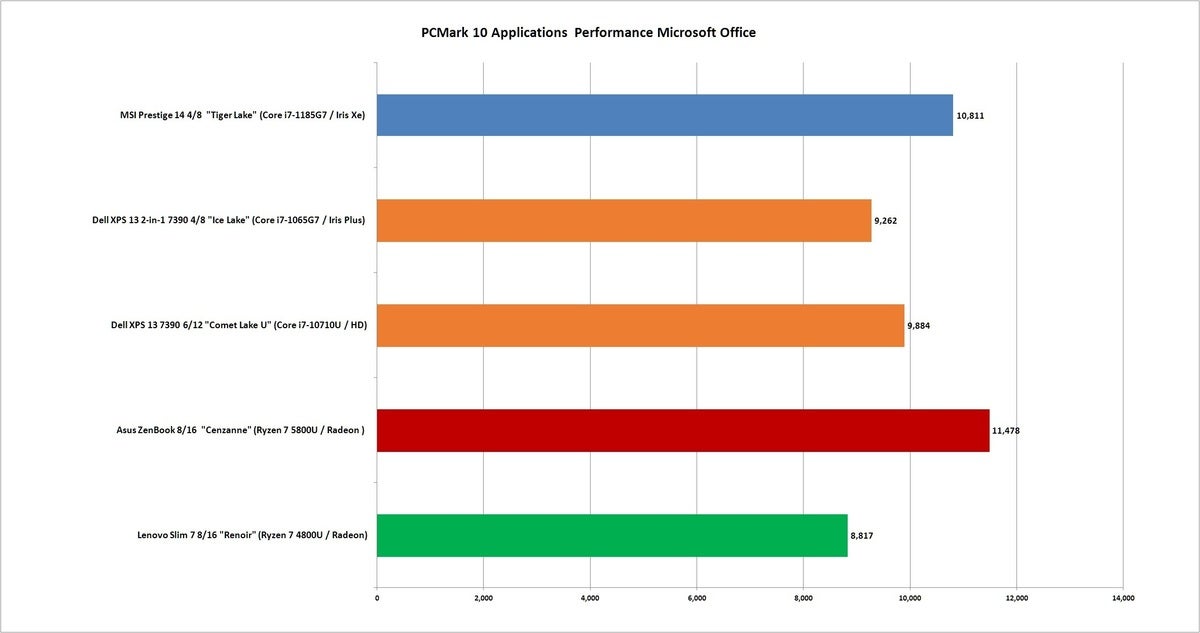 Before we move on from boring old Office, we do want to touch on a problem Intel has taken pains to cite: Ryzen performance drops off the cliff when the laptop's on battery. To test that claim, we re-ran PCMark 10 Applications with the two newest laptops plugged in, and then on battery with the Windows 10 power performance slider set to "better battery." The darker colors in the chart indicate the AC performance, while the brighter, lighter colors indicating DC performance.
You can see the Core i7-1185G7, takes about a 30-percent haircut on battery, while the Ryzen 7 5800U takes a 48-percent hit. There's more to be said on this topic later on, but it's worth noting how the battery life of this Ryzen laptop suffers. So maybe Intel has a point here.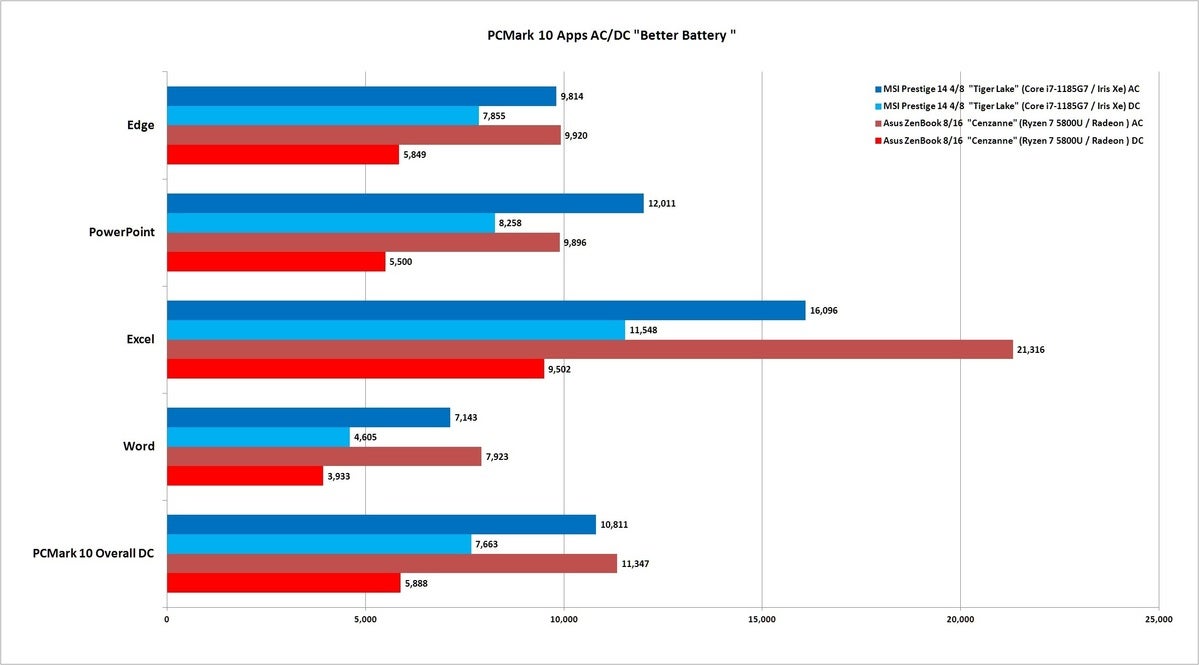 Moving on to the other popular suite of applications you actually enjoy using, we use UL Procyon to measure performance of the Ryzen 7 5800U and Core i7-1185G7 in Adobe Photoshop 22.3, and Lightroom Classic 10.2. We only have results for the top two laptops here because we wanted to use the latest versions of Photoshop and Lightroom Classic available to us. We feel that's important, because processor and compiler optimizations matter.
You should know both applications are intense, but they don't always use all of the CPU cores. The GPU, as well as the ability to maintain high clocks, and vendor optimizations matter.
Although that red AMD bar is longer, we're looking at mostly a tie here, with the overall score differing by only 2 percent.
If you were an Intel fan, you'd say despite the eight cores in that Ryzen, the four-core Core i7 does just as well in this popular and strenuous task. If you were an AMD fan, you'd say that despite the very high clock speeds of the Core i7 and optimization that tend to favor Intel, it's basically a tie. And you still get those extra cores.
If you have no skin in the game: You should basically know both are very good chips to have for Photoshop and Lightroom.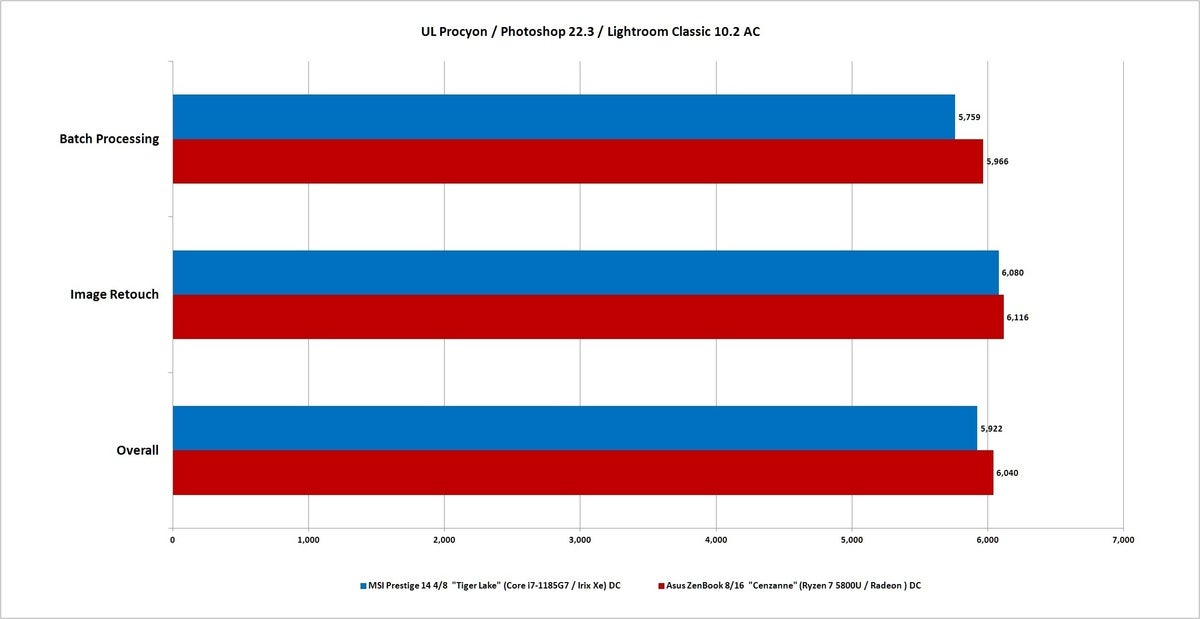 One issue with a sprawling suite such as Adobe Creative Cloud is that different tasks may favor one chip, while another may favor the other. To get a second opinion on Photoshop performance, we also run PugetBench 0.93, a test made by workstation maker Puget Systems to help advise its customers on what hardware to.
PugetBench also agrees . We see about a 2 percent separation between both chips. Basically, you can't lose with either again.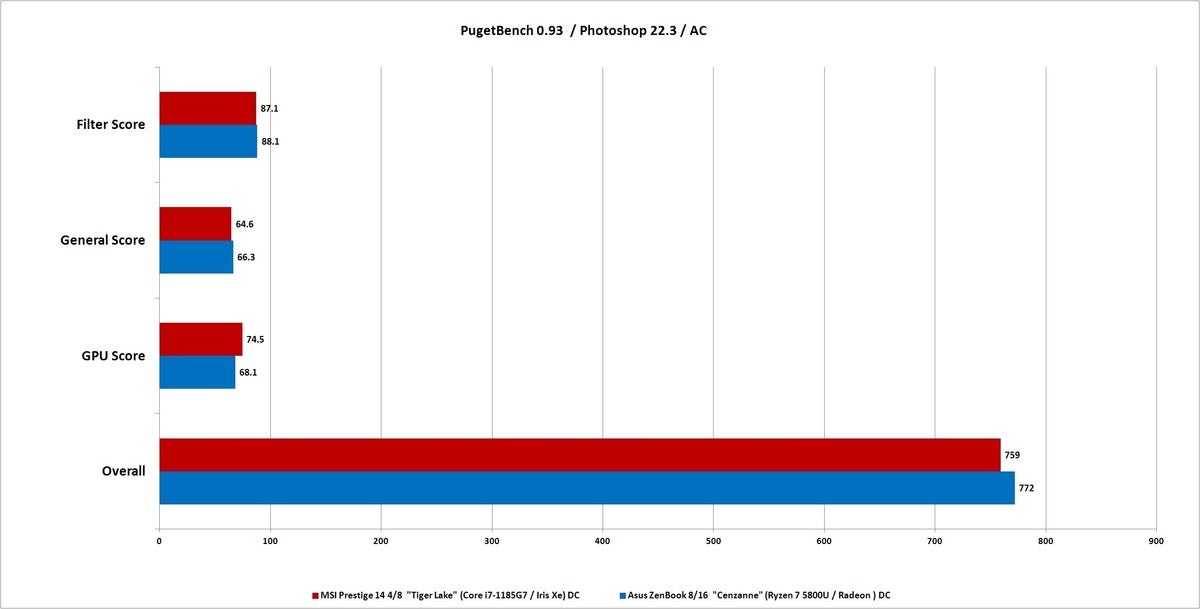 We'll close off our Adobe testing with UL Procyon Video test which measures a computer's performance using Adobe Premiere to add several effects to a video while exporting it several different ways.
The winner? Intel's Core i7-1185G7 by a decent 16.5 percent.. As we said above, these sprawling suites perform differently based on what you actually do, and optimizations for Intel CPUs do indeed yield real benefits which you're seeing here. So win, at least, in Procyon Video, goes to Tiger Lake. We do know certain tasks in Premiere can push it back to AMD but this one goes to Intel.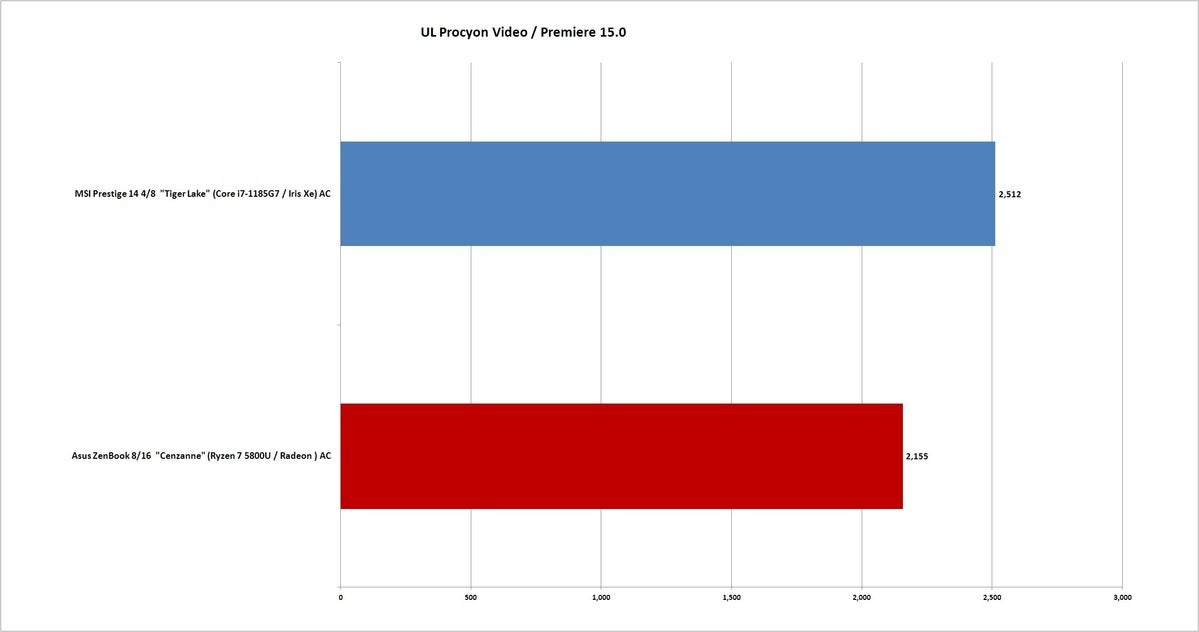 We know you're here for gaming performance, so keep reading to see all the charts.
Gaming Performance
A lot of the performance tests so far have really seen the Ryzen 7 5800U romp or match Intel's best CPU. One area where the Core i7 gets pay back though is graphics performance. Most people see that expressed in gaming where you can see the Iris Xe in the Core i7-1185G7 romp all over the Ryzen 7 5800U. In 3DMark Time Spy's GPU test which focuses solely on graphics performance, the Core i7 has a 37-percent advantage.
You can also see 3DMark leaves the Ryzen 7 5800U tied with the Ryzen 7 4800U. That's because for the most part, AMD reuses the same Vega-based cores of the previous generation's chip.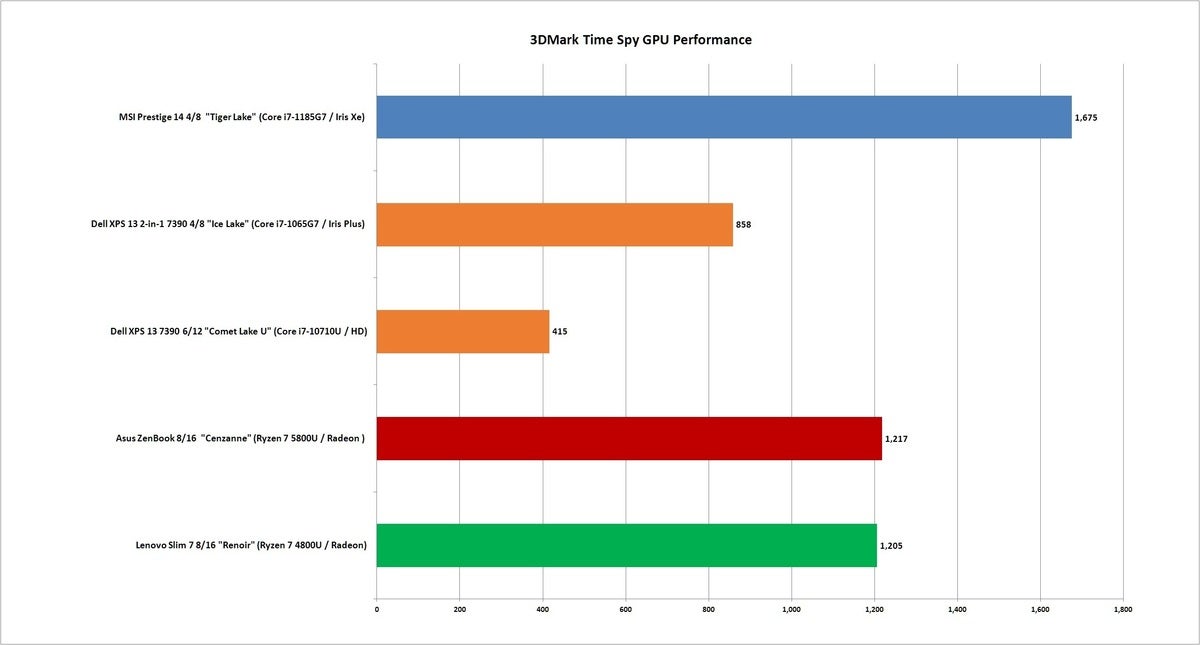 3DMark also includes a CPU-focused gaming using a gaming physics test. Typically more cores matter hereplay and we see both Ryzen's do quite well. One thing we want to point out is the vast majority of games, especially those you'd play on integrated graphics ever really use all those cores, so this particular test may not really match the real ,world.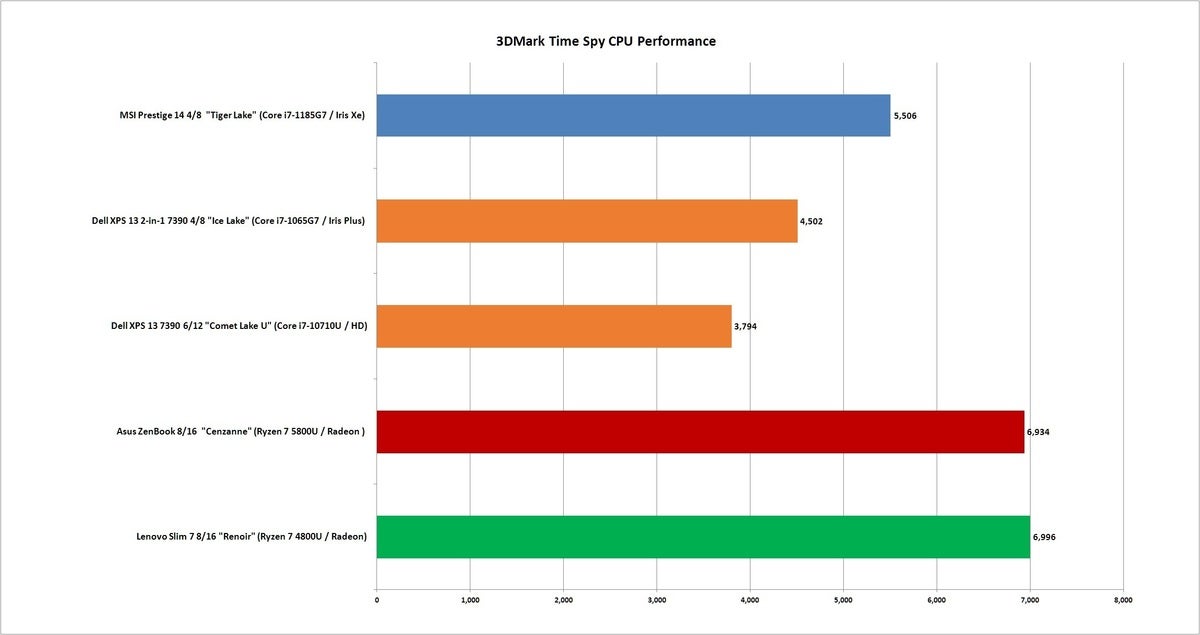 To see how the chips handle actual gaming we first run Far Cry New Dawn set to 1920×1080 resolution and the "Normal" Preset. It's another hefty win for Iris Xe in the Core i7-1185G7, with frame rates about 39 percent ahead of the new Ryzen 7 chip.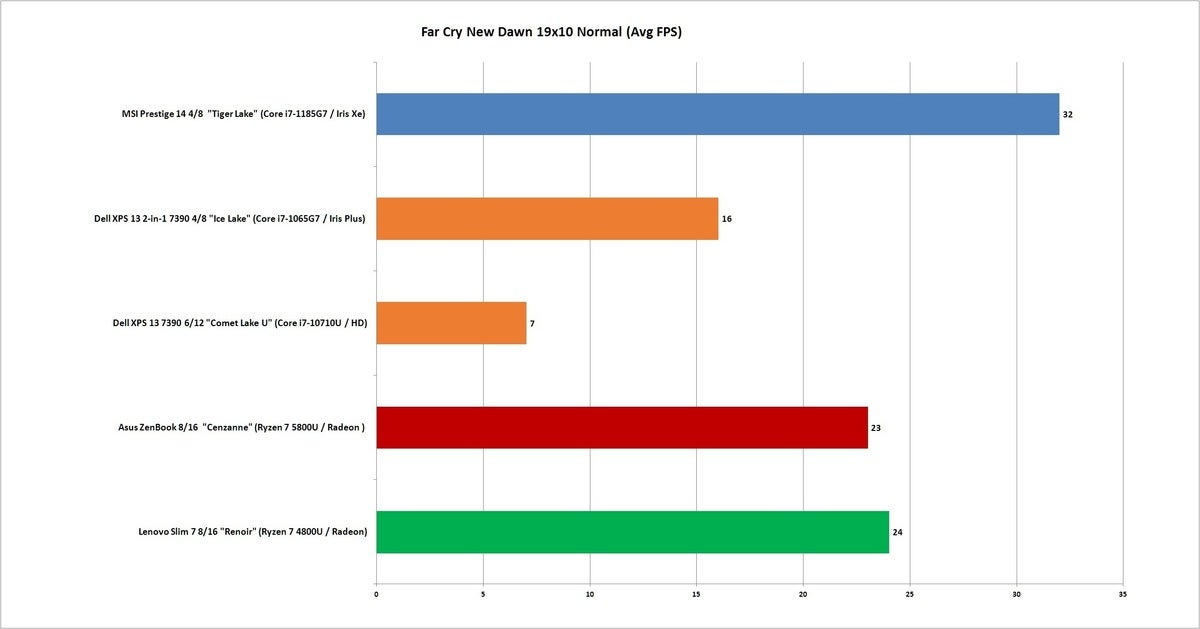 Next up is Metro Exodus set to 1920×1080 and using the "Normal" preset. The Core i7 is again ahead by about by 19 percent. When you're looking at 20 fps vs. 17, it's not really that much to crow about. Still, Iris Xe is no joke.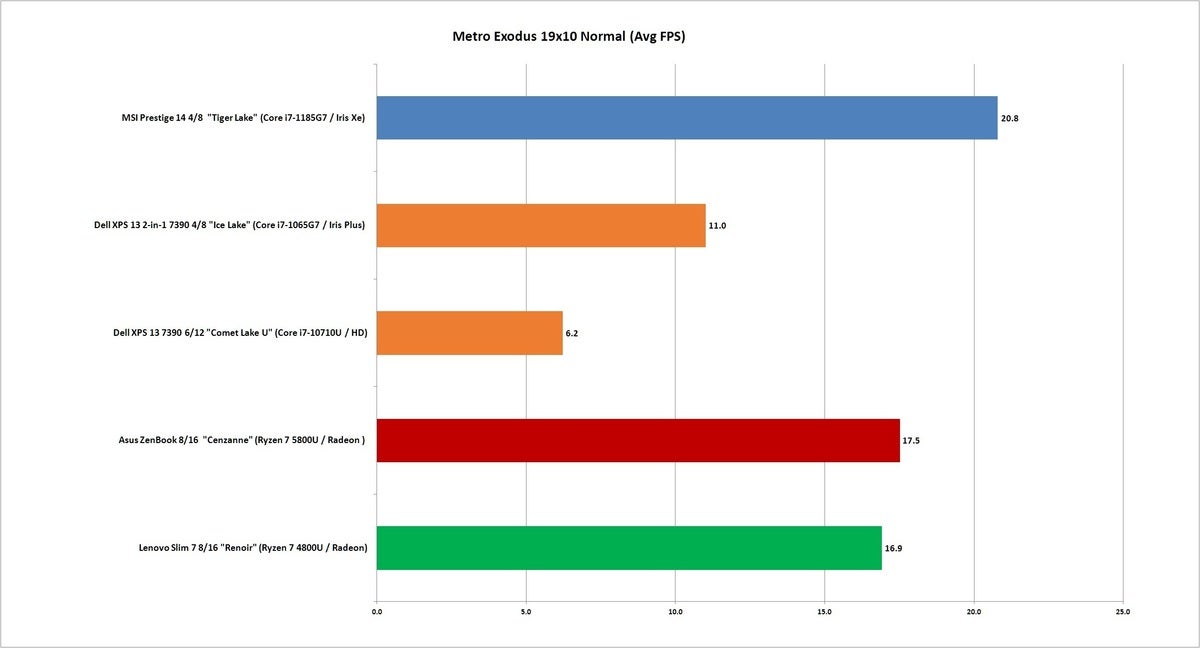 The Core i7-1185G7 and Iris Xe chalks up a nice hefty advantage in Deus Ex: Mankind Divided set to 1920×1080 and its Medium preset. Here, the Intel chip is running about 47 percent faster than the Vega graphics in the Ryzen 7 5800U.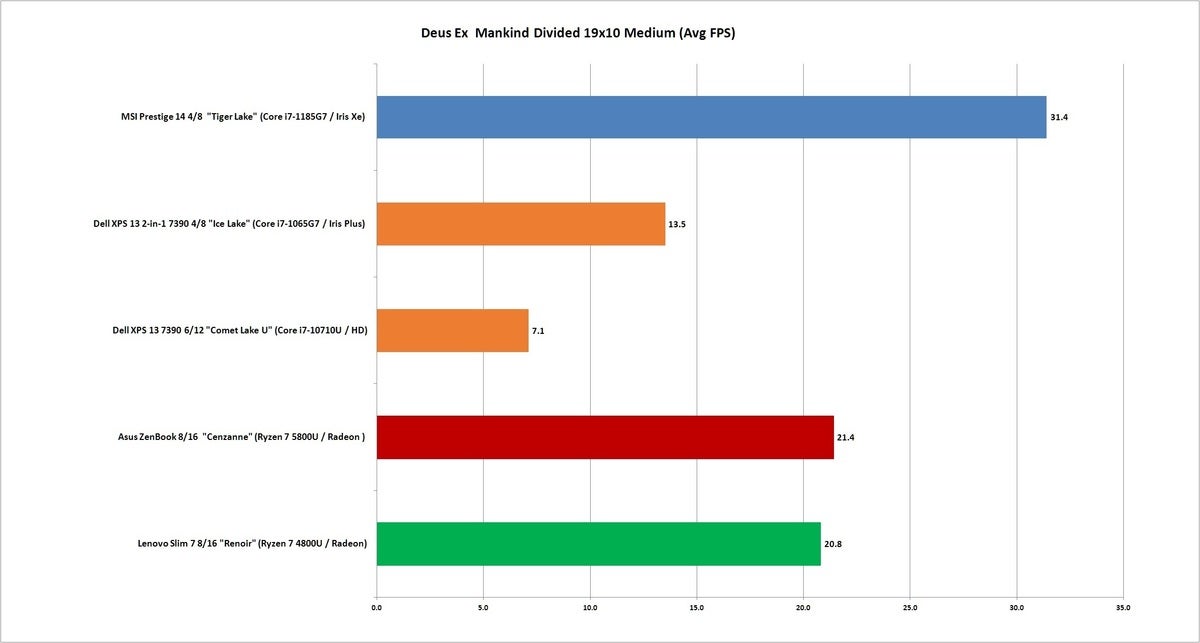 Most games tend not to use very many CPU cores, but Ashes of the Singularity: Escalation is another matter. While it won't use 64 cores for gaming, more cores generally helps. We ran Ashes at 1920×1080 resolution using the low-quality presetWe picked the CPU-focused preset which uses more game units on the screen.
The Core i7 is still the winner, but the older Ryzen 7 4800U actually is the CPU that comes the closest. Oddly, the Ryzen 7 5800U just does not do well here which is a bit confusing to us. We'll take another look at this, but it may be better thermals of the Lenovo Slim 7 vs. the Asus ZenBook are at play here as expected both to be very similar.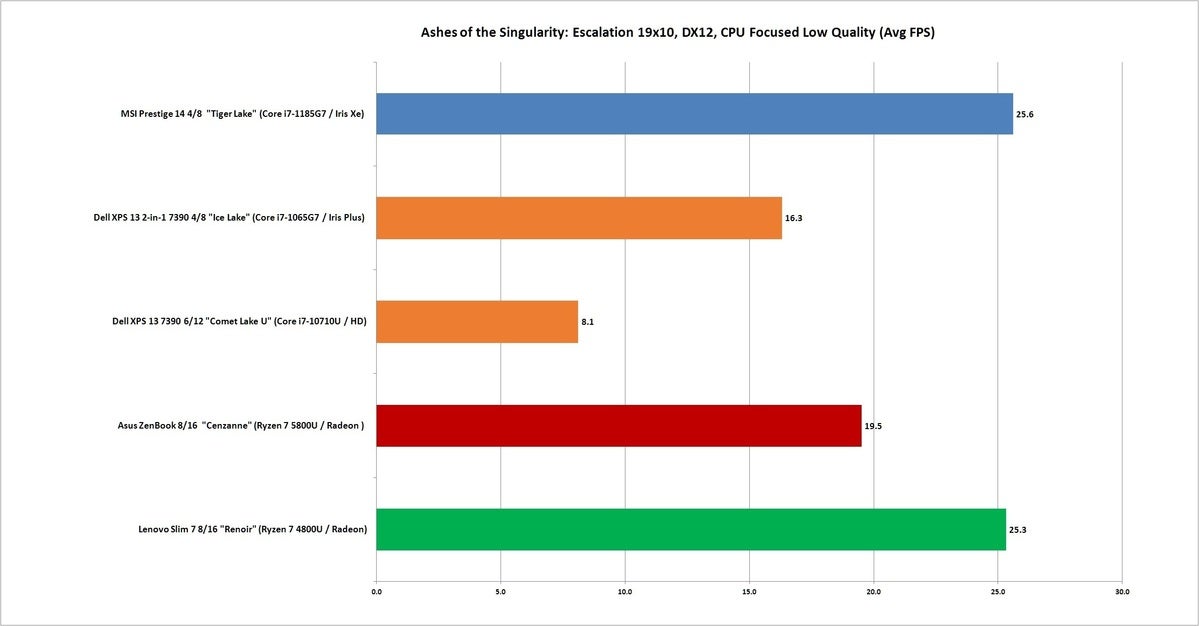 Our last gaming test uses the popular Counter Strike: Global Operations set to 1920×1080 and the high preset. The game has tended to favor AMD CPUs lately and here we see it's mostly a tie with the Ryzen 7 5800U but 3 percent faster. The older Ryzen 7 4800U actually has about a 7 percent advantage which again makes us think the thermals of the Asus ZenBook could be responsible.
The good news is we have three laptops with integrated graphics that can all hit that magic 60-fps frame rate in a game you'd actually want to play.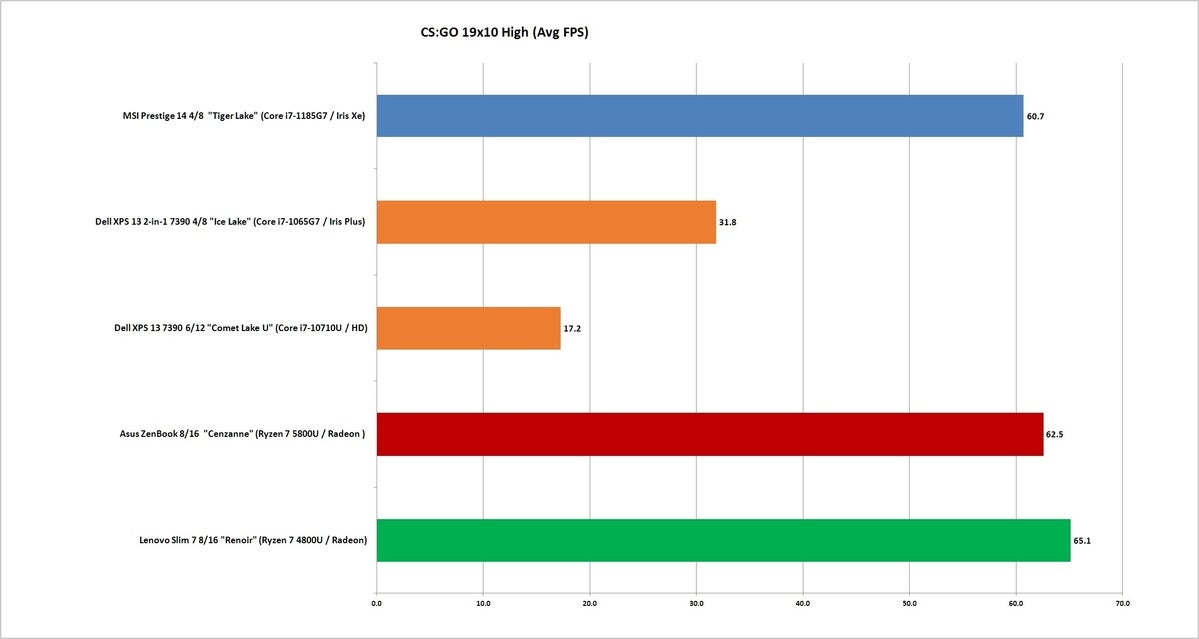 We'll include results from LuxMark 3.1 run on each laptop's GPU. The big winner for OpenCL performance here is the Core i7-1185G7.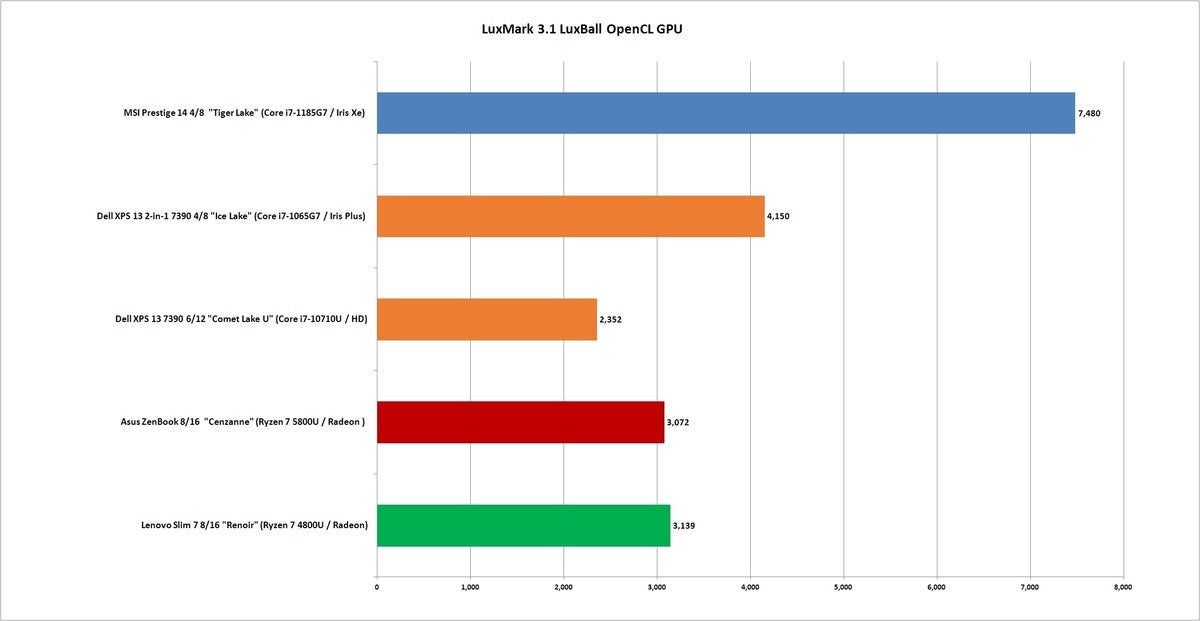 AI Performance
We'll wrap up our CPU testing in the brave new world of AI performance. First up, we use Topaz Lab's Gigapixel AI to increase the resolution of a picture by 6X using the CPU rather than the GPU for the task. Gigapixel AI can take advantage of Intel's DL Boost. which helps the Core i7-1185G7 finish the job about 68 percent faster than the Ryzen 7 5800U. The new Ryzen should pat itself on the back for its performance, which finishes the conversion in 38 percent less time than the older Ryzen 7 4800U.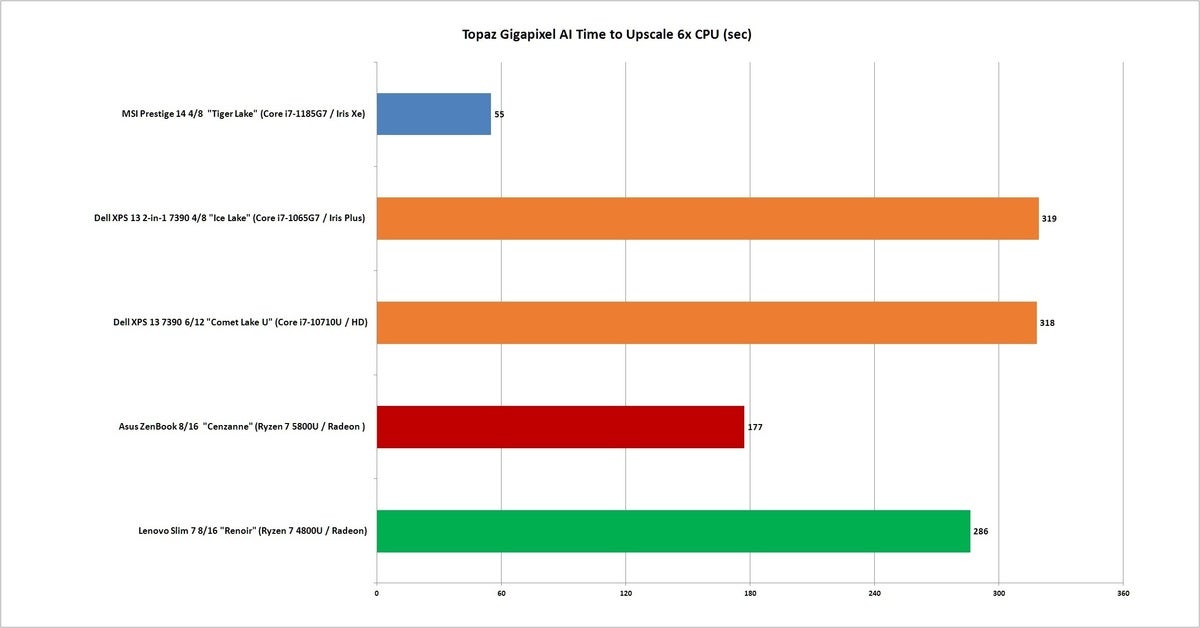 Much of the consumer applications for AI today is in imaging, so we also run the laptops through Nero's AI Photo Tagger. The application uses AI to analyze and tag photos for you. We tasked each laptop with analyzing 4,200 photos using AI Photo Tagger. The total time each laptop spent analyzing the photos using AI is presented.
While AI performance is still fairly niche, adoption is trending upward. Generally we find that a faster GPU and Intel's newest cores tend to run the table here.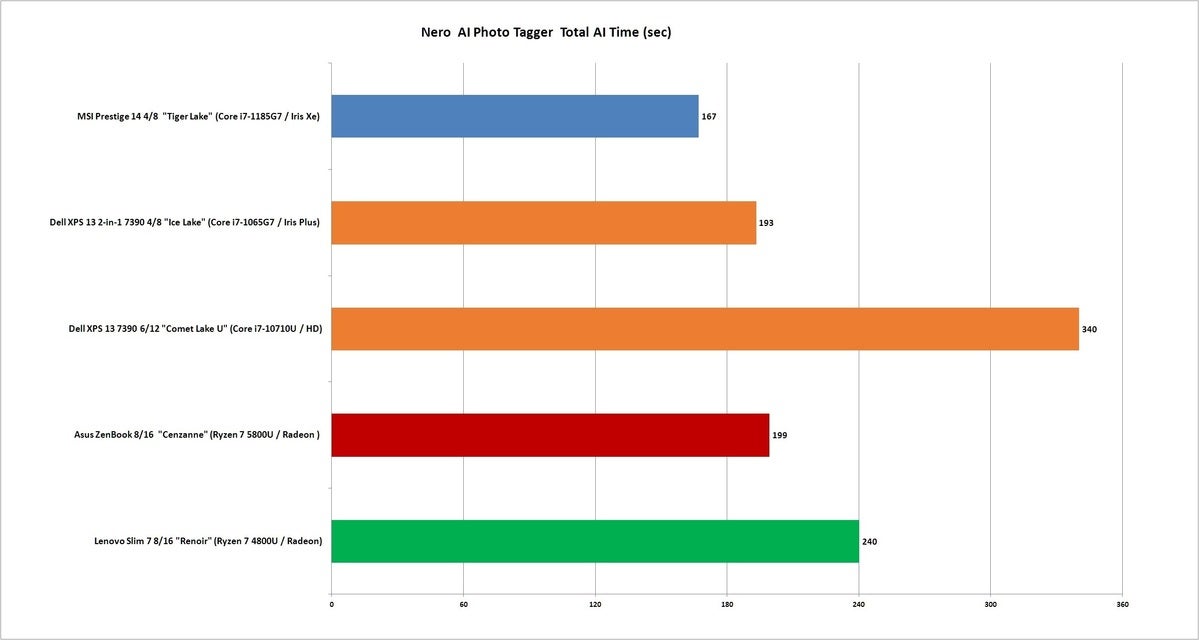 Battery life
If comparing performance across laptops can be treacherous, comparing battery life on those CPUs is downright impossible. Every laptop is built differently, and everything from the test to the display settings to the performance settings can muddy the waters.
Still, the main question you want to know is whether Ryzen 7 5800U is a power hog. We run our standard 4K Tears of Steel video with the laptop set to airplane mode. We connect earbuds at 50-percent volume (to reduce the laptop speaker power consumption) and at a relatively bright 250 nits to 260 nits. We also use Microsoft's Movies & TV player, which is among the most efficient available.
The main takeaway is that battery life for AMD's newest Ryzen 7 5800U can be pretty darn good, but it largely depends on the individual laptop. The Asus ZenBook, with its OLED and large 65-watt-hour battery, basically gave us in excess of 12 of hours of video rundown time.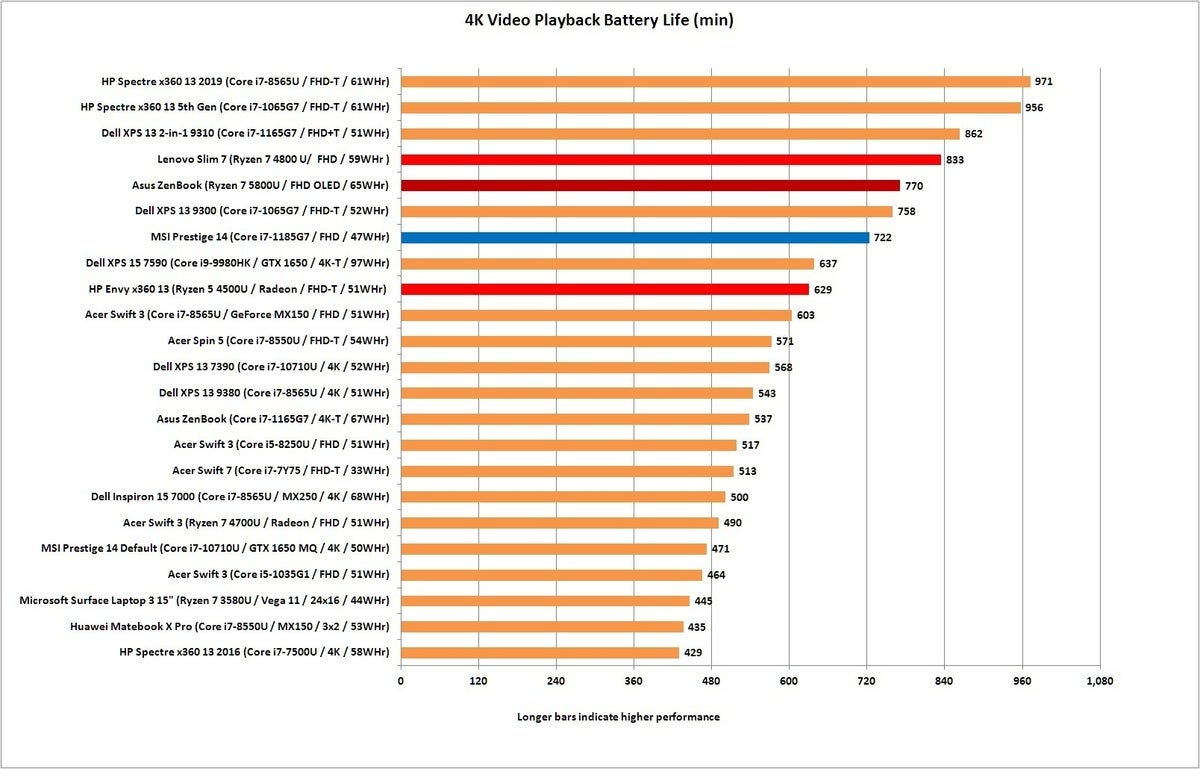 We'll close all of this out by looking at the strengths of the Ryzen 7 5800U per thread. This helps us visualize generally how fast the CPU can be depending on how heavy of a task is thrown at it. To do that, we run Cinebench R15 using an increasing numbers of threads, all the way to the maximum amount of threads the CPU has. The chart shows the percent increase against the Core i7-1185G7.
No surprise, the new Ryzen 7 5800U simply rocks the Tiger Lake chip in all but the lightly threaded tasks. It's pretty neat to see how fast the Ryzen 7 5800U is on right side where you use all those CPU cores and threads, while Core i7-1185G7 holds its own on the very left side of the chart.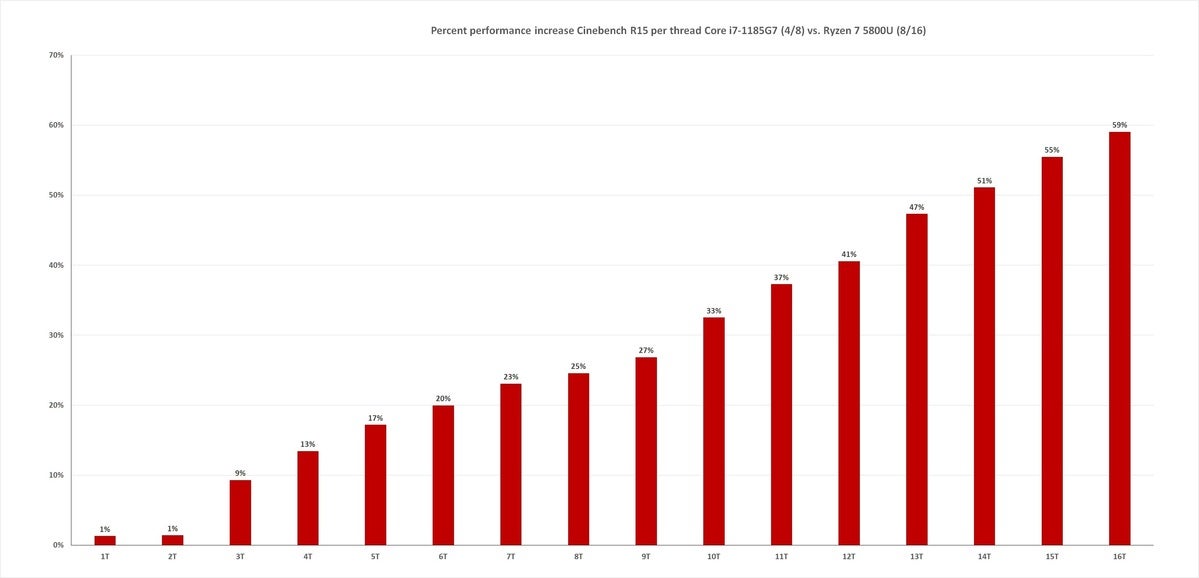 Perhaps even more impressive is to take the Ryzen 7 5800U and compare it to Intel's current 8-core 10th gen Core i7-10870H chip in the Gigabyte Aorus 17G . Unlike the 11th-gen Core i7-1185G7 chip that's built on a 10nm FinFET process, the 10th gen is built on Intel's elderly 14nm process, which runs hotter. It also uses Intel's older Comet Lake cores, which simply aren't as efficient as Tiger Lake's "Willow Cove" cores.
While the 11th gen Core i7-1185G7 actually does fairly well on the left side of that chart, the 10th gen Core i7-10870H is simply underwater the whole time. The Core i7-10870H doesn't actually gain an upper hand until the multi-core load gets heavy enough to overwhelm the cooling of the tiny Asus laptop. This is particularly impressive because the Aorus 17G is a big, thick 17-inch gaming laptop that weighs 6 pounds vs. the 2.6- pound Asus. That's just a big wow.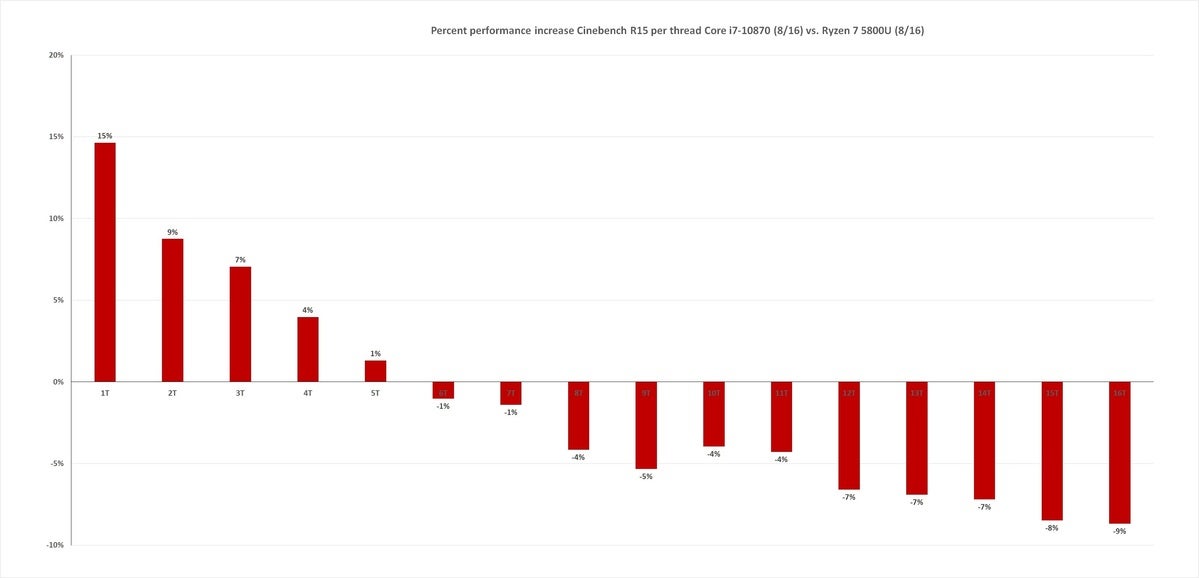 Conclusion
As expected, Intel was never going to be the push-over in thin-and-light laptops the way it was in gaming laptops and desktops for Ryzen 5000. While we'd have a hard time recommending an Intel CPU over an AMD CPU in desktops (except you can actually buy the Intel CPUs), in the mobile space we're far more hesitant to declare a "winner."
Instead, it very much comes down to how you use your laptop and what CPUs is the best for your needs.
We definitely declare the Ryzen 5000 the winner for anyone who needs more cores. That much is known, as the math says eight cores is more than four cores.
For general application use and image editing, Ryzen has a slight edge, but we'd call it mostly a toss-up. The argument you'd make for Ryzen, is you can have awesome application performance—and you can more cores too! That's pretty compelling and would push most to Ryzen.
The 11th-gen Tiger Lake chip, however, gets the nod for gaming performance. While the Ryzen 5000 isn't bad, the Iris Xe graphics clearly put it ahead.
If there were a "winner" it would be consumers, because you can now pick the best processor for what you do on your PC rather than simply taking what Intel has to offer and that's it.
Correction: A previous version of this story inadvertently reversed results for the Ryzen 7 4800U and Ryzen 7 5800U in Cinebench R20. PCWorld regrets the error.