Whoa folks—don't head for the parking lot because this ball game ain't over yet. Sure, you've been watching Intel's older 10th-gen H-class CPUs get blasted off the mound all afternoon by Team Ryzen, but the coach just gave the signal and Intel's new rookie star is warming up in bullpen: the 11th-gen "Tiger Lake H" processors for gaming and creative laptops.
Unlike the once great, but should-have-retired-two-seasons-ago 10th-gen Comet Lake chips, Tiger Lake H features truly new cores and is built on Intel's most advanced 10nm "Super Fin" technology.
You can read more about Tiger Lake H's processor lineup here, and dig into all the new 11th-gen laptops announced so far, but rather than yakety yak, let's find out just how fast the new 11th-gen chip is.
How (and what) we tested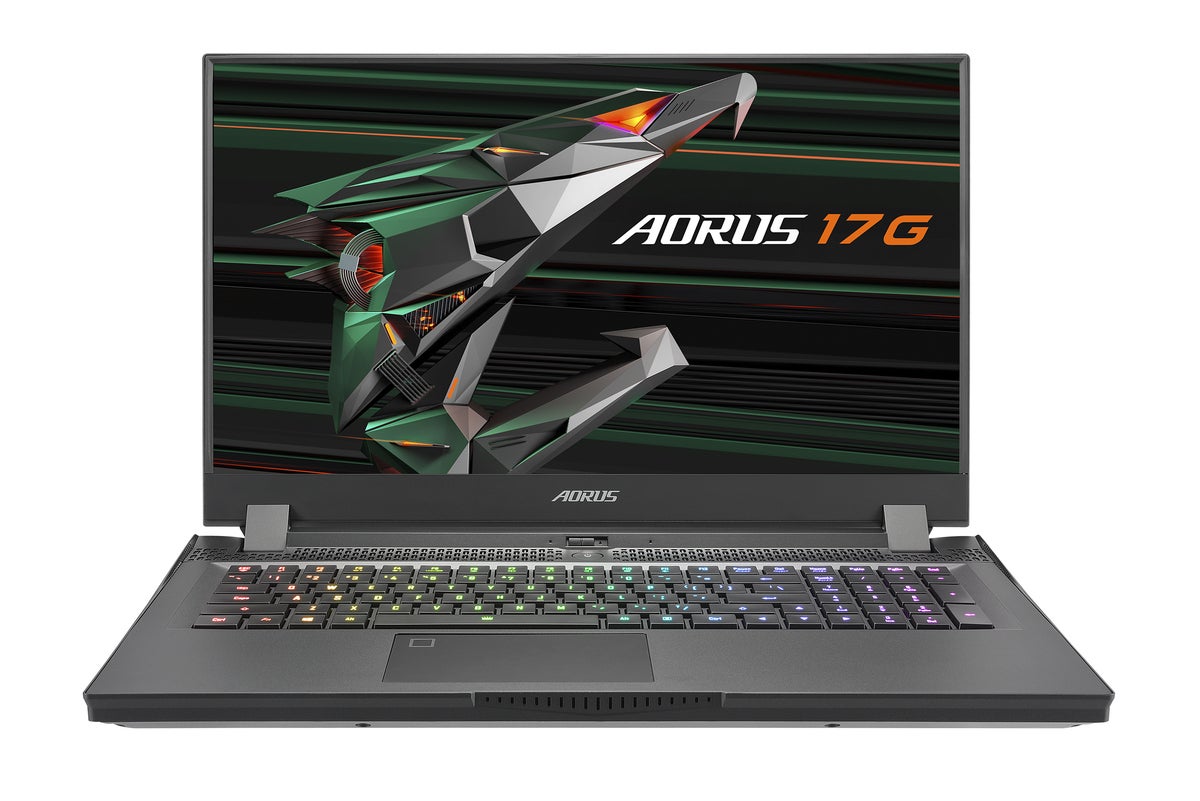 To do that we got our hands on Gigabyte's new Aorus 17G laptop. On the outside, it's mostly the same as the previous 10th-gen-based model, but the Aorus 17G we're testing today features the 8-core, 11th-gen Core i7-11800H CPU inside. It packs the same GeForce RTX 3080 Laptop GPU with a TGP of 105 watts as the previous version, but it's hooked up to the 11th-gen Tiger Lake via PCIe Gen. 4, rather than the slower Gen. 3 connection used by Intel's older CPU. The 11th-gen chip has enough spare PCIe lanes that Gigabyte pairs that GPU with a speedy 1TB Samsung PM9A1 on the Gen 4 bus too. Finally, unlike with the previous Core i7 model, Gigabyte uses 32GB of DDR4/3200 memory instead of DDR4/2933—an odd limitation of the last processor. You can see the plentiful PCIe lanes Intel has put into the Tiger Lake H below.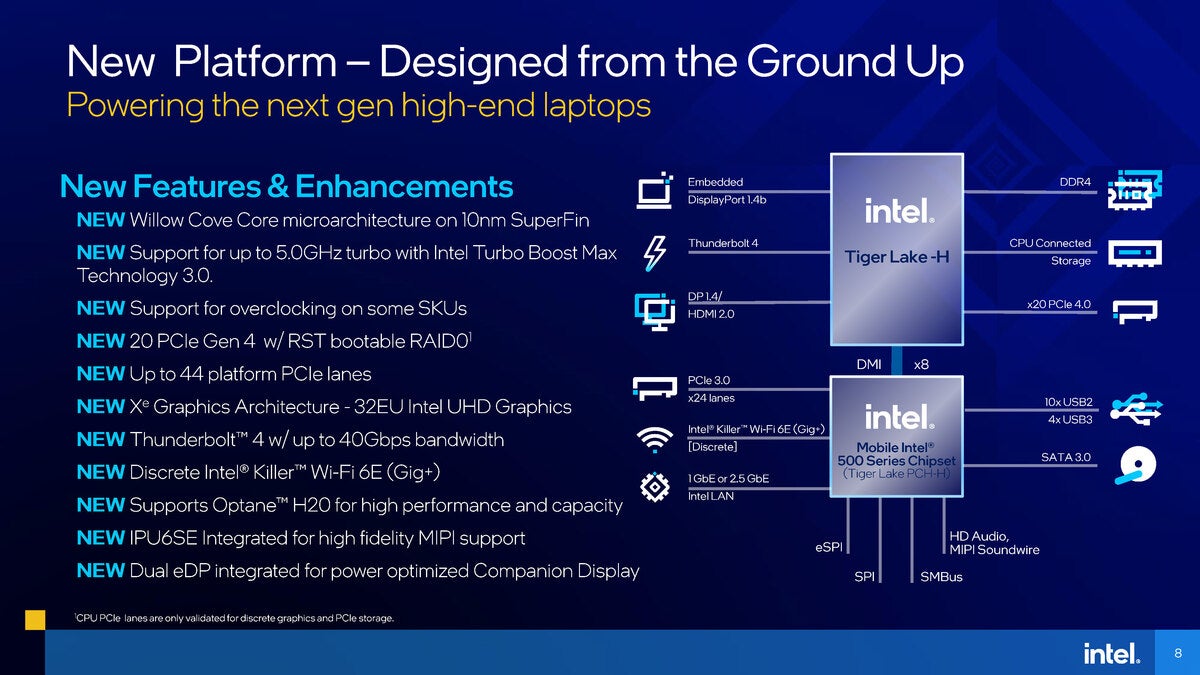 For comparison laptops, we sought only 8-core CPUs configurations—no 6-core or 4-core laptops allowed.
Asus ROG Zephyrus G14 with Ryzen 9 4800HS, GeForce RTX 2060 Max-Q and 16GB of DDR4/3200. It has a 14-inch screen and weight of 3.6 pounds.
Asus ROG Flow X13 with Ryzen 9 5980HS, GeForce GTX 1650 Max-Q, 32GB of LPDDR4X/4266. It has a 13-inch screen and weight of 3 pounds.
Asus ROG Strix G17 with Ryzen 9 5900X, GeForce RTX 3080 Laptop GPU with a TGP of 130 watts and 32GB of DDR4/3200. It has a 17.3-inch screen and weight of 6 pounds.
Gigabyte Aorus 17G with Core i7-10870H, GeForce RTX 3080 Laptop GPU with a TGP of 105 watts and 32GB of DDR4/2933. It has a 17.3-inch screen weight of 6.1 pounds.
Dell XPS 17 9700 with Core i7-10875H, GeForce RTX 2060 Max-Q and 32GB of DDR4/3200. It has a 17-inch screen and a weight of 4.6 pounds.
All of the laptops are running Windows 10 2H02 19042.928 as well as the latest drivers and BIOSes available directly from the manufacturers. While we have tested each laptop's different power state in their own individual reviews, today we're sticking only to the laptops highest sane performance plan and fan settings available. By sane, we mean the settings most people would run—not 100 percent fan speeds. For the Asus laptops, that's the laptop's Turbo setting, while the Dell was tested in its Ultra Performance mode, and the pair of Gigabyte laptops were set to Boost for the 10th-gen and either its Creator or Gaming Mode for the 11th-gen version. The fan profile for the Gigabyte notebooks were set to Gaming for all testing.
Before we get too far into the numbers, we do want to warn you that today's comparison sticks mostly to CPU performance rather than gaming performance. That's because we ran into a driver issue on the 11th-gen-based Aorus 17G. It became stuck on one of Nvidia's Studio Drivers (which revolve around optimizations in content creation apps) instead of an Nvidia Game Ready driver. We're working to solve the issue with Nvidia and Gigabyte and will run our gaming results once we have all three of the 3080 laptops running on the same gaming driver.
A word about weight
In the charts below, you'll notice we included the total weight of the laptop along with the CPU model. That's because size and weight matter a lot in notebooks, and especially gaming notebooks. A larger laptop means you can have more cooling, which means you can have generally better performance.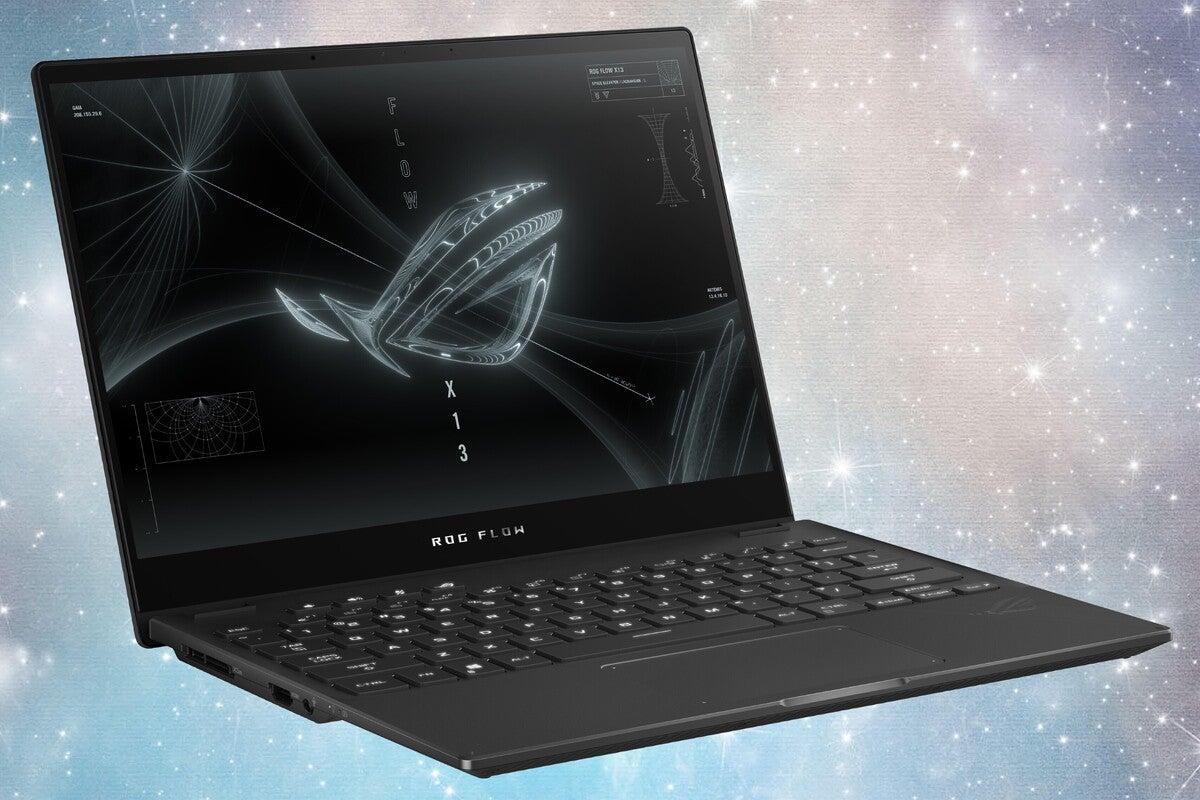 For example, the older Dell XPS 17 9700 is about 4.6 pounds and ultra-thin. Despite wielding a 10th-gen chip with higher model number, it actually tends to trail the 6.1 pound Aorus 17G with its beefier 6.1 pound chassis. It also goes without saying that you should also be really impressed by the Asus Flow X13 and its Ryzen 9 5980 in these benchmarks because it often trades blows with the new 11th-gen Core i7-11800H in the 6.1 pound new Aorus 17G while weighing as little as a MacBook Pro M1.
The final point we want to make is that most of the big laptops here don't just offer bigger CPU performance, they also offer far more graphics punch with their higher-end GeForce RTX 3080 Laptop GPUs. The cooling in those bulkier builds can handle more GPU firepower too.
3D modeling performance
We'll kick this off where we typically do: 3D modeling performance using Maxon's popular Cinebench R20 benchmark. It's based on the same engine used in the company's Cinema4D software that's sold both standalone and integrated into apps like Adobe Premiere Pro and After Effects.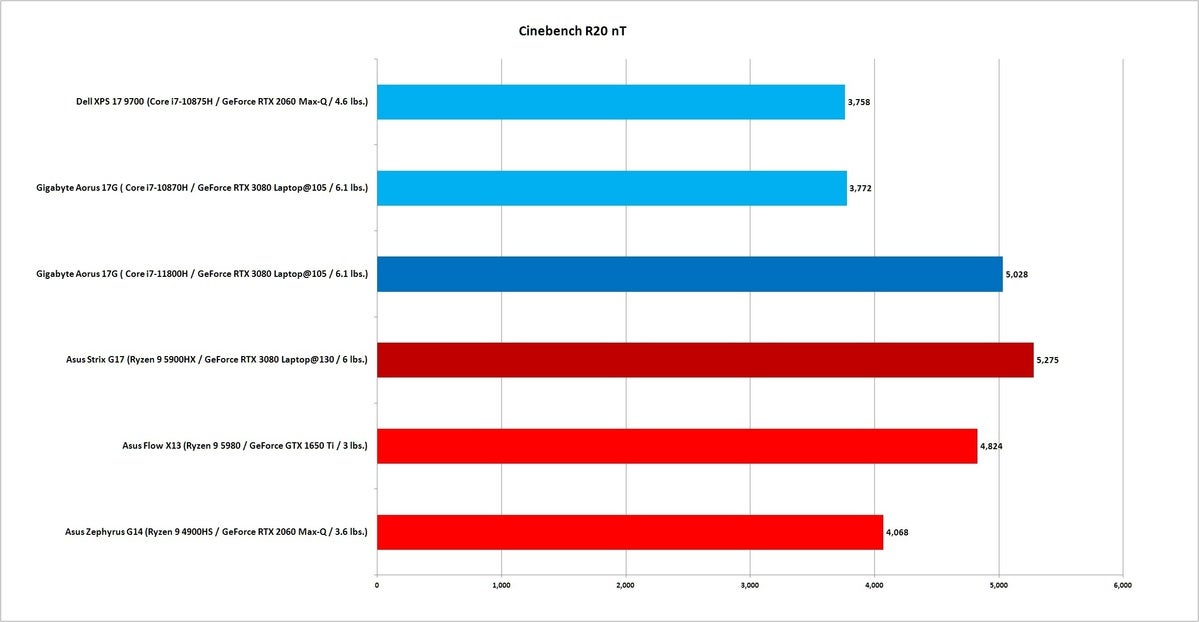 Modelling typically loves more cores and faster cores, and you can see the weakness of Intel's 10th-gen 14nm CPUs in the light blue bars below. Even a year-old Ryzen 4000 CPU in a laptop that's much, much lighter than the the 10th-gen laptops is faster.
The good news though, is the 11th-gen Core i7-11800H is breathing down the neck of the Ryzen 9 4900HX. No, it's not faster, but remember that this is a Core i7 versus a Ryzen 9 part.
Next we move on to the open-source Blender 2.92 which is incredibly popular with indie movies as well as hobbyists due to its cost: Free. Free doesn't mean bad though and Blender has a huge following. We use the Barbershop scene for our workload, which is more intensive than the standard BMW scene we've used before. The result again puts that monstrous Ryzen 9 5900HX with a decent lead but that 11th-gen Core i7-11800H isn't doing too shabby—especially when you look at the performance of the older 10th-gen CPUs which finish last.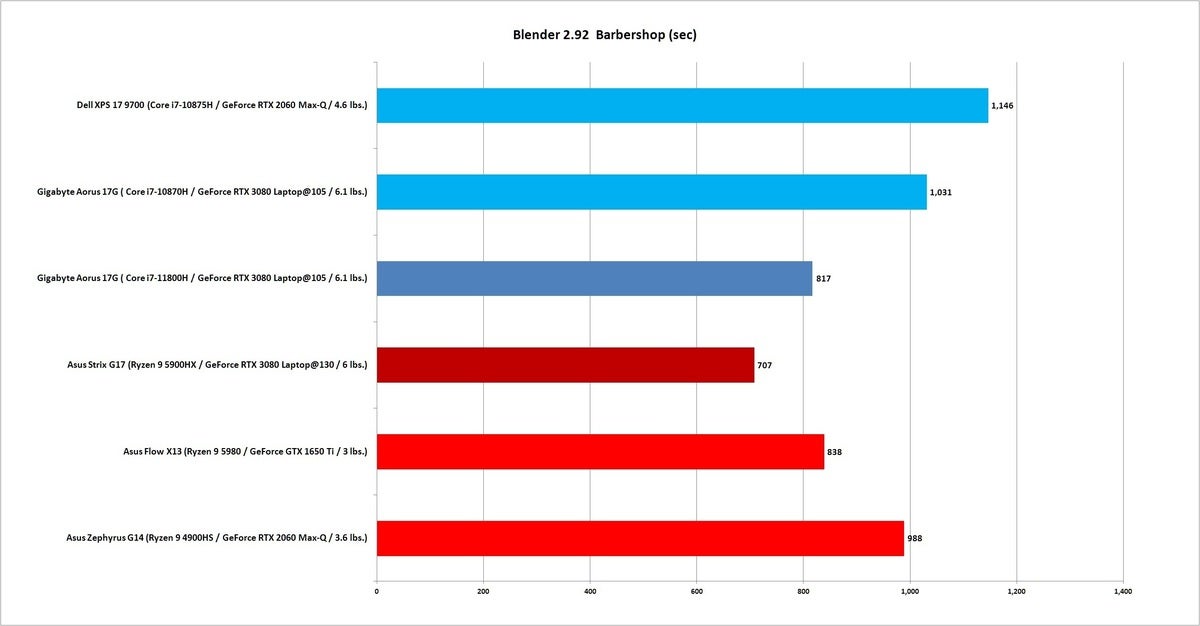 Next up we use the Chaos Group's new V-Ray 5 benchmark in CPU rendering mode to get yet one more look at the multi-core performance of these 8-core laptops. The new 11th-gen Core i7-11800H is the surprise winner (albeit not by much). It crosses the finish line a hair faster than the Ryzen 9 5900HX chip. That's good news for Tiger Lake H and once again before someone points this out: This is the Core i7 chip, not the higher-clocked Core i9 version.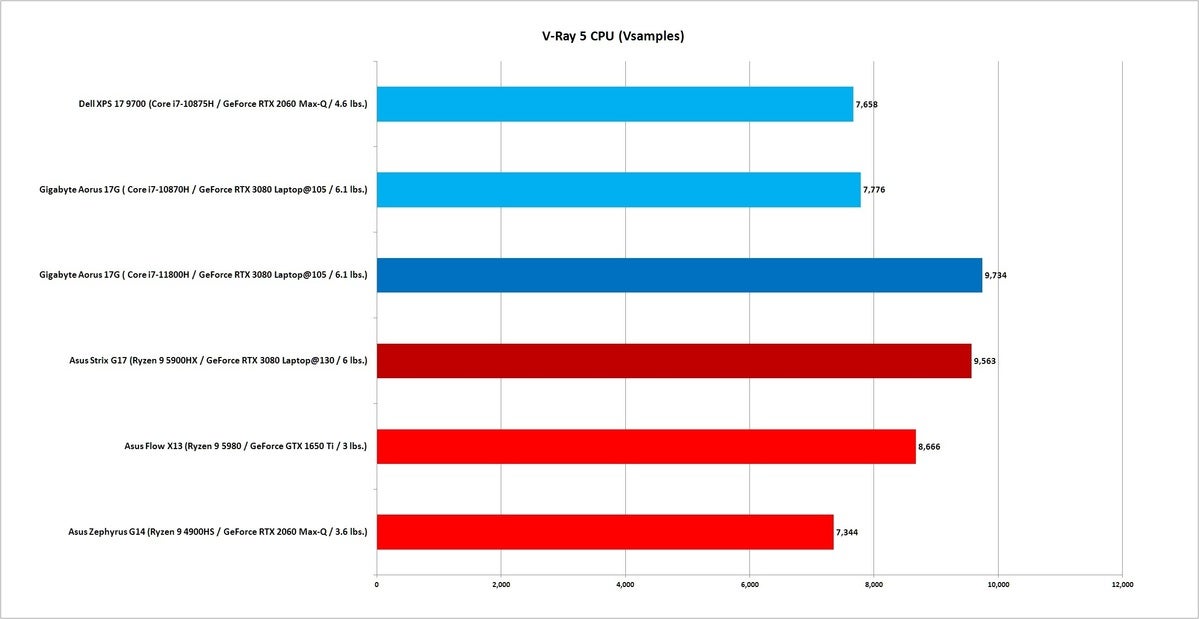 Our next test is POV-Ray, a ray tracing application that can render scenes based on text-based descriptions. The application actually dates back to the Amiga in the 1980s but has dutifully been supported and still sees service. Unlike the previous modelling tests, the Ryzen 9 5900HX opens up a hefty 21 percent advantage over the Core i7-11800H chip. Still, 11th-gen does offer noticeable improvements over 10th-gen.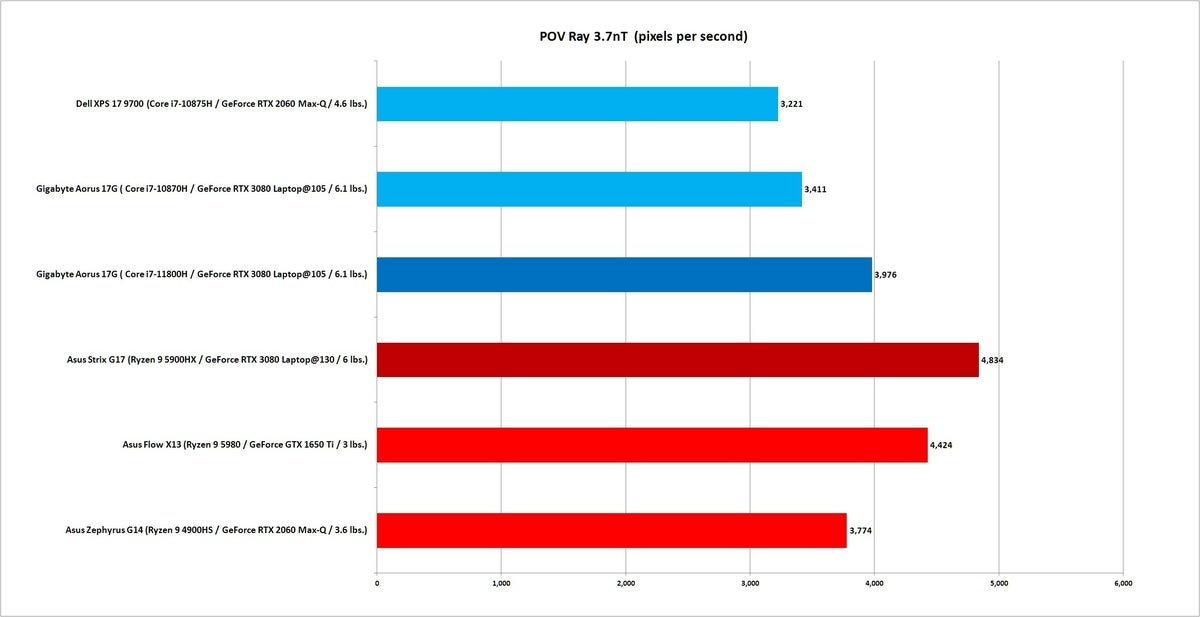 We'll close our modelling tests by looking at single-threaded performance. First up is POV-Ray 3.7, which actually puts the Ryzen 9 5900HX behind its sibling, the Ryzen 9 5980HS. That's a bit of a surprise considering the HX is the unlocked, overclockable part in a 6 pound laptop while the Ryzen 9 5980HS is in a smaller 3 pound laptop. But the power dissipation of the CPUs come down considerably while running single-threaded and the lighter laptops are simply less constrained in these scenarios. The higher boost clocks of the Ryzen 9 5980HS might just be what it takes to come out on top here. It also aids Intel's 10th-gen parts, which largely make too much heat when under all-core loads. This single-thread test lets them finally beat that pesky Ryzen 9 4800HS.
Intel's new 11th-gen chip definitely offers up an improvement, but this is an area where the Core i9 version would definitely get you more performance.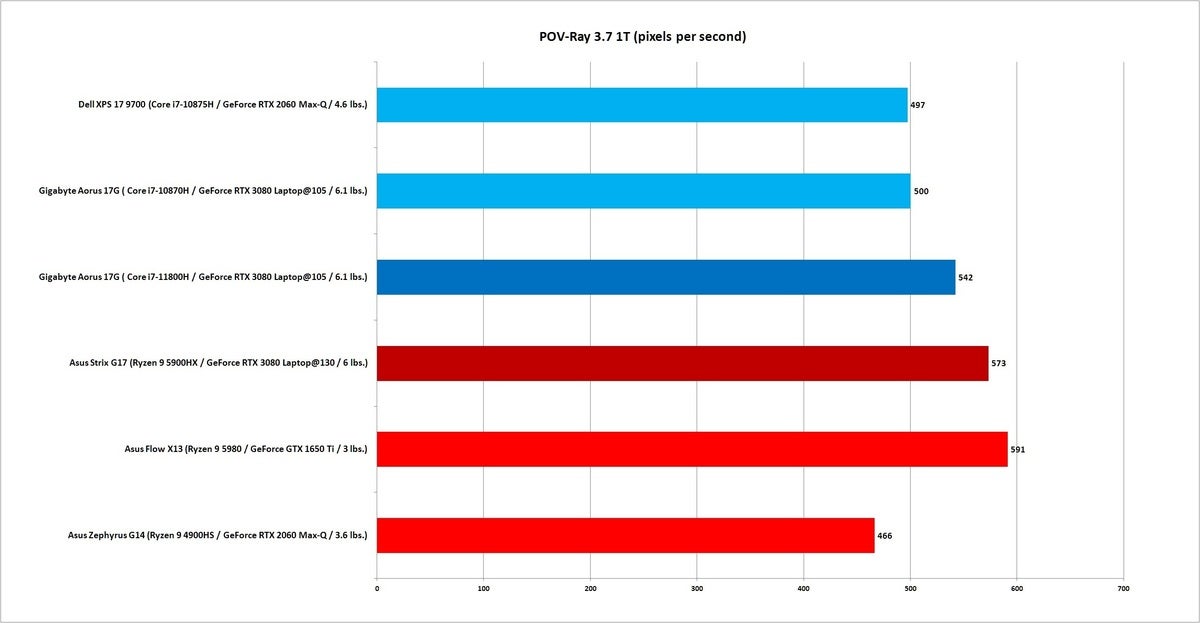 We'll close out with Cinebench R20 using a single-thread. This really shows you that we have a race here. The Core i7-11800H noses by the mighty Ryzen 9 5900HX and pushes right up against the Ryzen 9 5980HS.
O, Core i9-11980HK, where art though?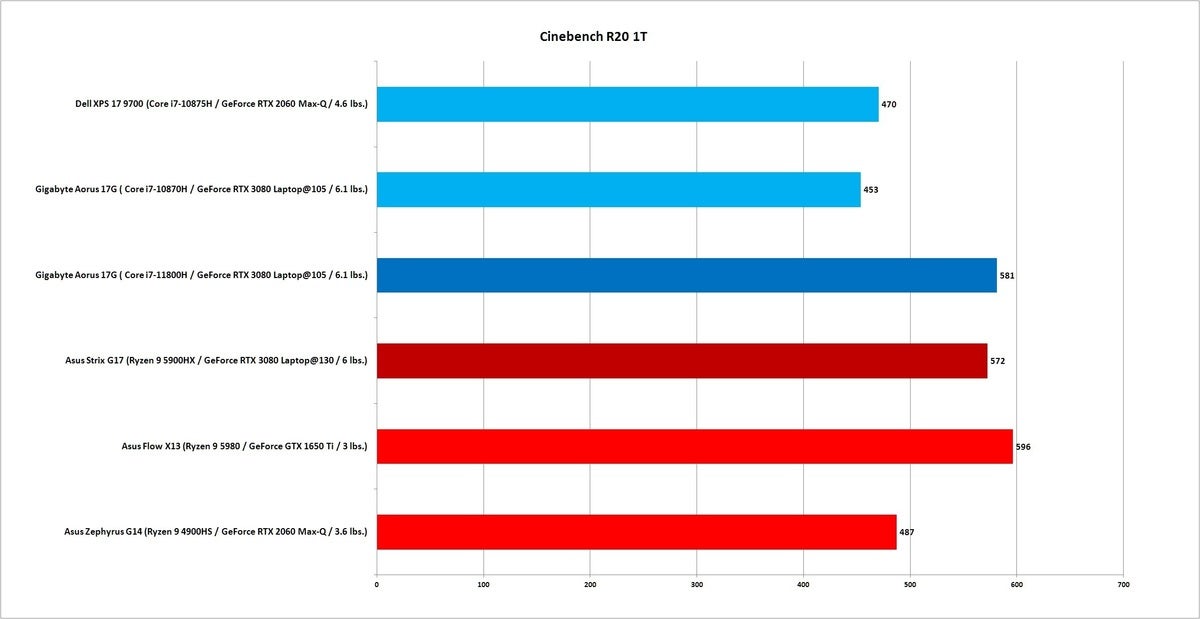 Next page: More performance tests, conclusion
Encoding Performance
We'll leave the land of 3D modelling for another intense task people typically buy 8-core laptops for: Video encoding. First up is Handbrake 1.3.3. We're converting a 4K open source Tears of Steel video to a 1080p, 30 frames per second file using the the HEVC/H.264 CODEC. We measure the time it takes to complete job because that's what will annoy you the most.
Handbrake, like many advanced encoders, loves fast CPU cores. The winner here is the Ryzen 9 5900HX, taking about 9 percent less time to finish than the 11th-gen Core i7-11800H. Again, that's fairly decent multi-core performance for Intel's latest processor, especially when compared to the 10th-gen Core i7-10870H in the older Aorus 17G. The 11th-gen chip finishes the encode about 23 percent faster.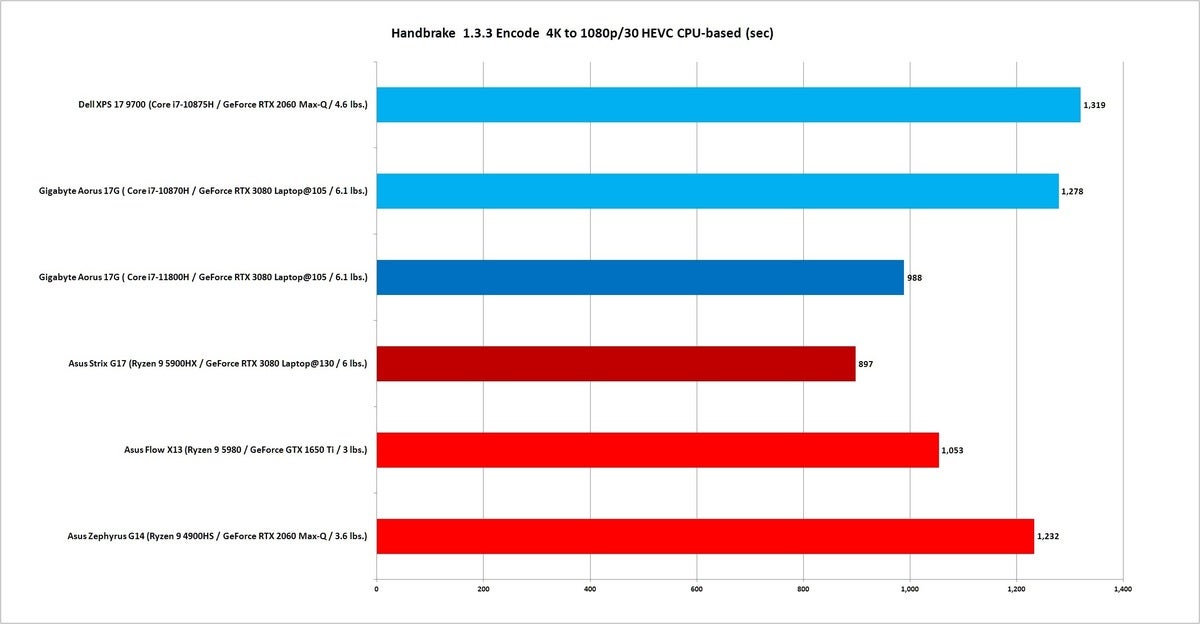 Both the Intel and AMD CPUs feature integrated graphics with dedicated hardware encoding support. Intel's is called QuickSync while AMD's is called VCE. Hardware-accelerated encoding generally provides much faster performance, but can come at the cost of visual quality. To find out which chip rules, we ran the same test as above but using the dedicated encoders.
For Intel, it's a good uptick, with the newer media encoder yielding a very large improvement over the previous encoder in the 10th-gen chips. We're a little puzzled over AMD's results. Both of the Ryzen 9 5000 chips should offer very similar performance, but the Ryzen 9 4800HS actually wins. All three of the laptop's update utilities were showing the latest drivers available so we're at a bit of a loss. We did try to manually update the Asus Strix 17G using AMD's updating tool but that nearly corrupted the OS in the process. The short story? Stay tuned.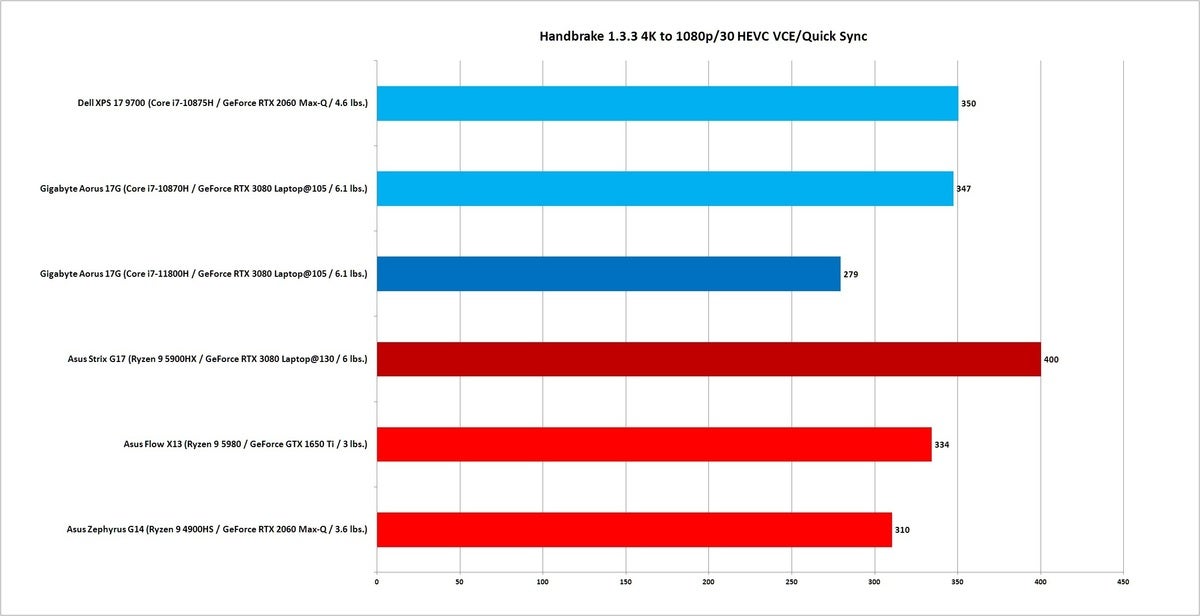 Content creation
Next, we'll move onto practical applications that hordes of people buy expensive 8-core laptops for: Adobe products.
Our first test uses UL's Procyon, which scripts Adobe Premiere Pro 15.1 to export four different 1080p and 4K videos with some effects applied. Because Adobe products can tap the GPU for work, we ran all of our tests with the discrete GPU off, which meant all of the work was done by the CPU cores, the CPU's integrated graphics cores, or the CPU's embedded hardware encoder.
The winner (by about 7 percent) is the Ryzen 9 5900HX, with the Ryzen 9 5980HS just behind. Don't feel too bad about that bronze medal, Intel. The Core i7-11800H is a hefty 35 percent faster than the Core i7-10870H in the older Aorus 17G. And once again: How would the 11th-gen Core i9 fare?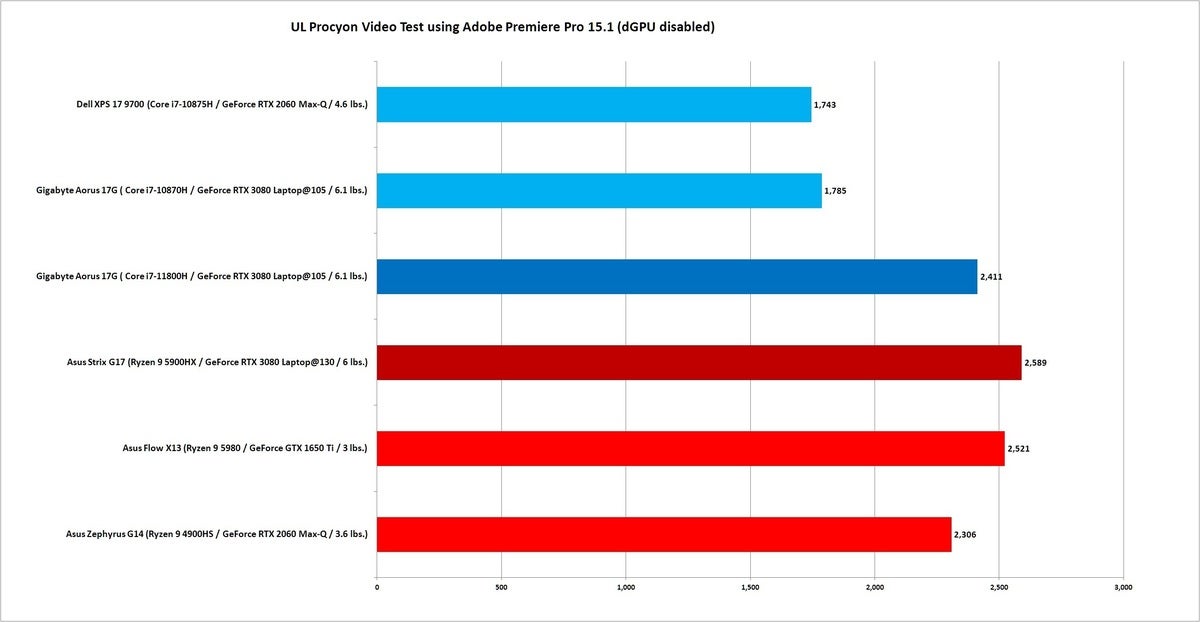 Moving from Adobe Premiere Pro performance to Adobe Photoshop and Adobe Lightroom Classic, we tell Procyon to run the laptops through several scripted runs measuring multiple aspects of the programs. Photoshop and Lightroom Classic are harder to run than browsing or Office, but many of the tasks tap only a few cores, or are optimized for the new instruction sets in the CPUs. Like our previous test, we leave the discrete graphics disabled as both programs can use the GeForce GPUs inside.
The Ryzen 9 5900HX is the technical winner but it's really a squeaker, as it's just 3 percent faster than the 11th-gen Core i7. Intel's latest chip again posts a very decent performance advantage over the 10th-gen CPUs, to the tune of 19 percent.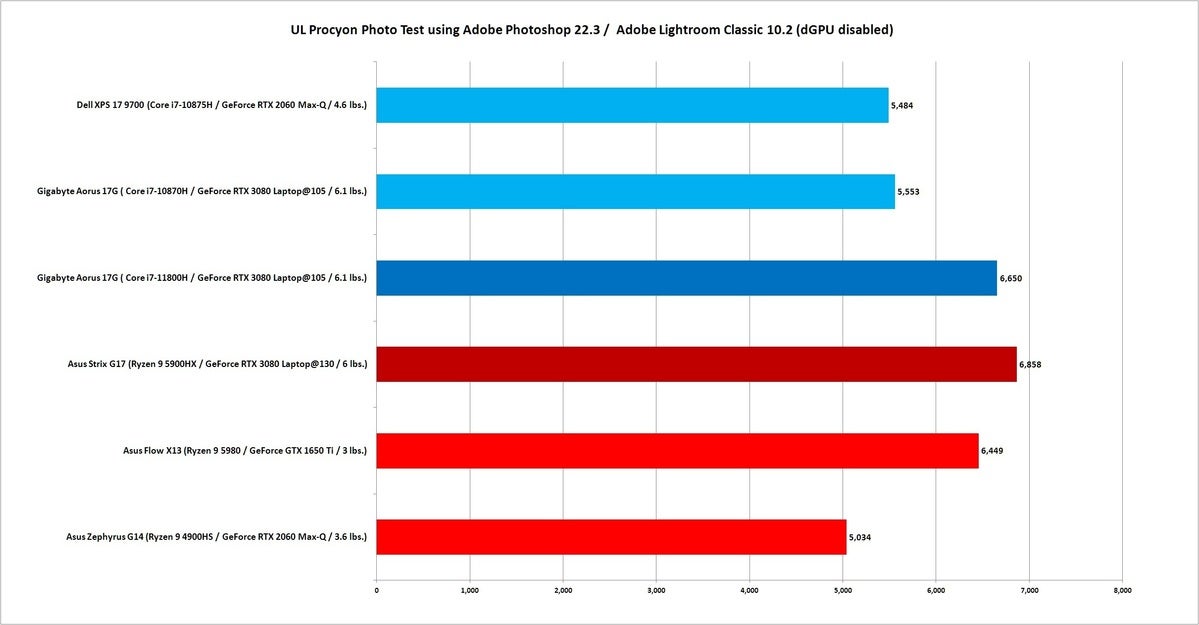 Office and browser performance
Stepping back a notch, we wanted to look at performance in more mundane work such as Microsoft Office 365 and browsing. For Office, we use UL's PCMark 10 Applications test, which runs Word, Excel, PowerPoint and Edge through various scripts to measure common everyday workloads. We hit a snag where the benchmark failed its Microsoft Edge run, so we can't report an overall score, but it produced results for the stuff that matters: Word, Excel and PowerPoint. Both the 11th-gen chip in the new Aorus 17G and the Ryzen 9 take CPU the technical win, but we think it's mostly a tie.
We didn't think there would that much of a difference in such "boring" work but surprise surprise: The 11th-gen processor aces the 10th-gen by 17 percent in Excel and a whopping 25 percent in PowerPoint, with Word a wash. (Who pushes Microsoft Word that hard anway?) Still, we'd declare the Core i7-11800H to be a pretty decent winner over the 10th-gen chip it's replacing, and a Core i7 breathing on the neck of a Ryzen 9 5900HX is something to be proud of.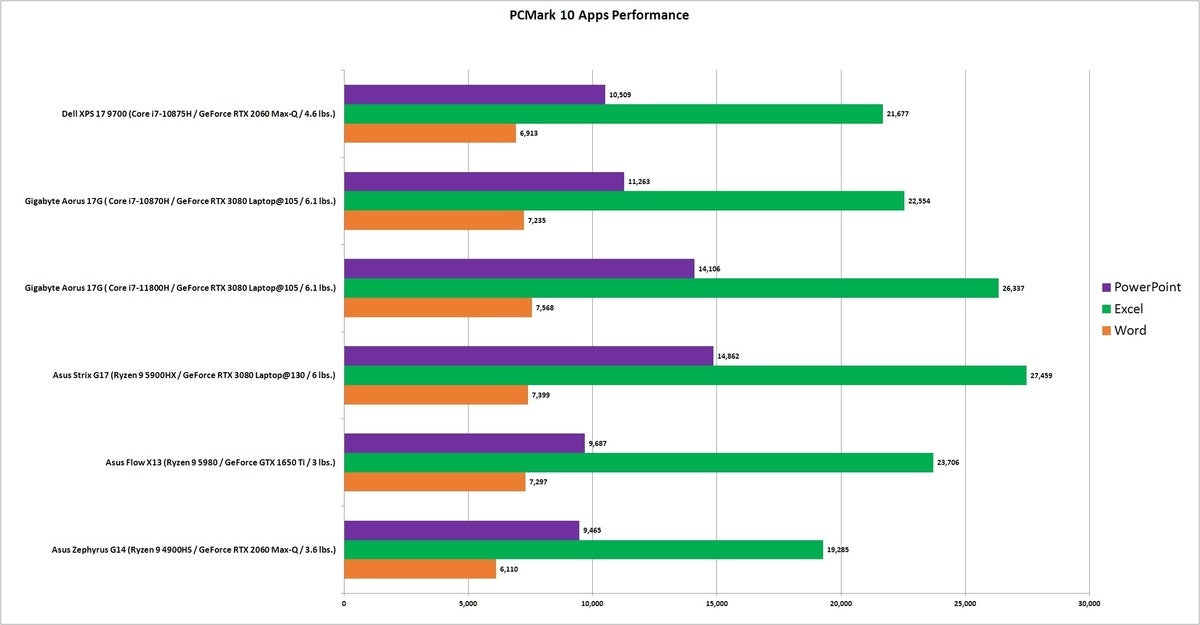 Since our Edge tests failed, we decided to at least look at browsing performance of the laptops using Google Chrome 90 as the base. First up is Principled Technologies' WebXPRT 3, which measures performance running HTML5 and JavaScript applications such as photo enhancement, stock option picking, and an online homework task. It can be used to measure browser performance but also yields system-level performance insights if all of the machines are running the same browser.
The overall winner is the Ryzen 9 5900HX but it's only 4 percent faster than the Core i7-11800H. Compared to the 10th-gen chip, the 11th-gen model delivers a decent 13 percent higher score.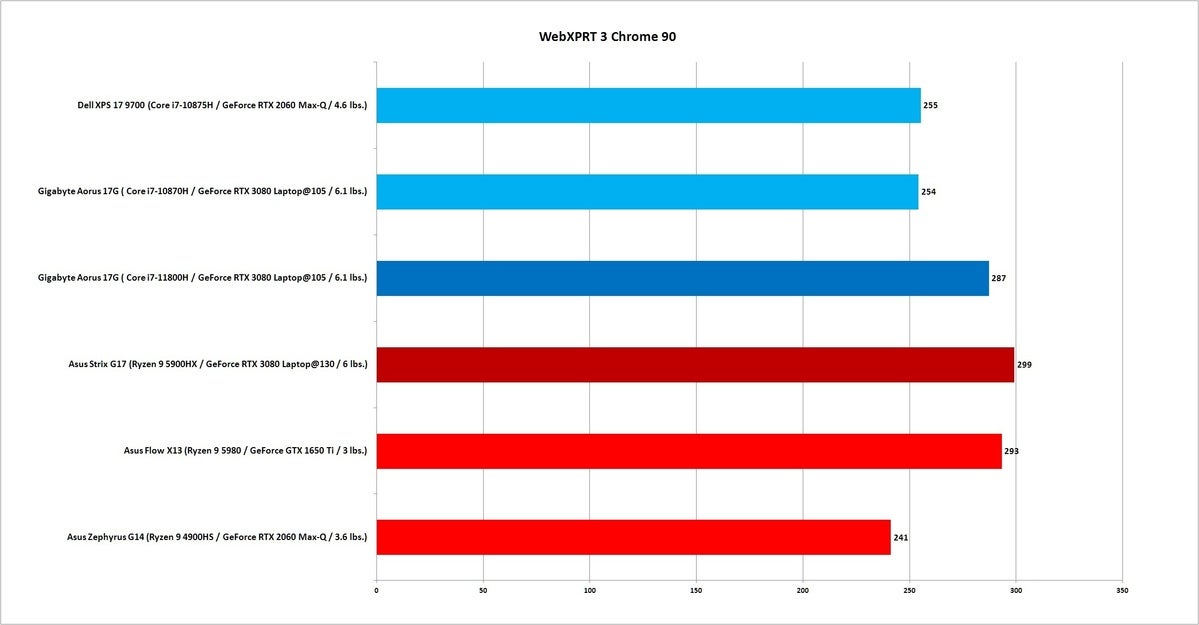 Up next is JetStream 2. This benchmark measures JavaScript and WebAssembly performance and is rooted very much in Apple's WebKit. It's pretty much a three-way tie between 11th-gen and the two Ryzen 5000 chips, with Intel's latest outpacing its 10th-gen predecessors by a solid 18 percent.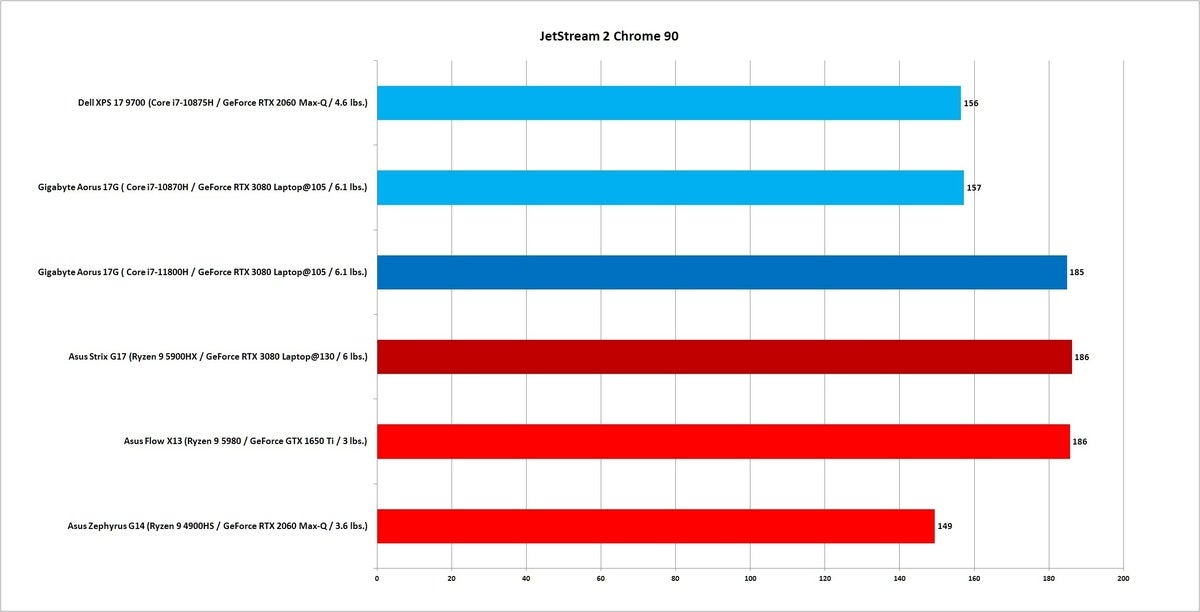 Last up is another Apple-based, WebKit-rooted benchmark called Speedometer 2.0. This measures JavaScript and WebAssembly performance again. The 11th-gen Core i7 ekes out about a 3 percent win over the Ryzen 9 5900HX but also a very impressive 22 percent win over the older 10th-gen Core i7 CPUs.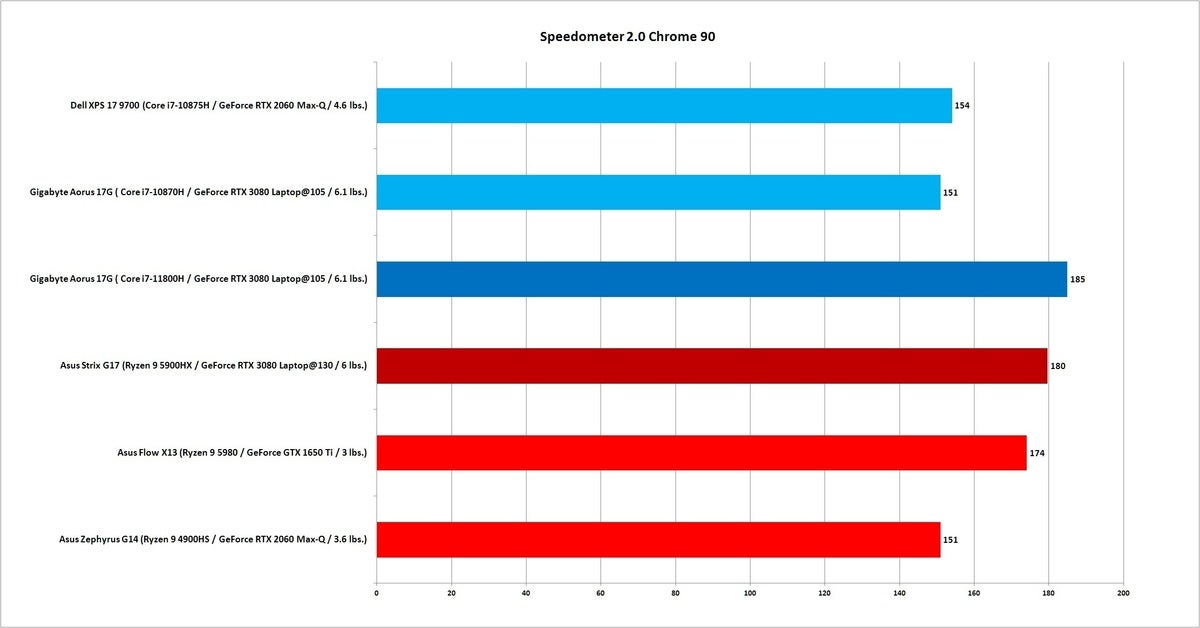 AI performance
We'll close out with the brave new world of PC-based AI work. AI for consumers has been a pretty abstract long-hair book topic but clearly its most promising practical use for now is helping to accelerate image processing. Our first test is Topaz Lab's Gigapixel AI. This benchmark uses AI-trained models to make better image enlargements than more conventional (and far dumber) algorithms.
We start with a picture of a US Navy F-18 Hornet taken at an air show with an 8.2MP Canon EOS 1D Mk IIn camera more than a decade ago. Viewed from 2021, 8.2MP sounds pretty pathetic, so we task Gigapixel AI 5.5.1 with increasing the image by 6x and time the result. Gigapixel AI can run on a GPU or CPU, so we pick the CPU. Gigapixel AI supports Intel's OpenVINO technology.
The winner shouldn't surprise anyone as Intel has pushed AVX-512 support—even to the detriment of its own chips, some would say—for years now. The technology was found in Intel's Skylake-X products, its 10th-gen Ice Lake CPUs, and its mainstream-focused 11th-gen Tiger Lake U chips, and now makes it way into these more powerful 11th-gen Tiger Lake H CPUs. The dividends are pretty sizeable. The Core i7-11800H finishes the job 42 percent faster than the Ryzen 9 5980HS, which oddly ends up losing to the Ryzen 9 4800HS. We're again at odds to explain the mismatched performance of the Ryzen CPUs. Further investigation needs to be done as to why the results are so scattered, but we can say GigaPixel AI is on a development fast track. It feels like updated versions drop every other week.
We feel more confident in the performance difference between the 10th-gen and 11th-gen chips though. Tiger Lake churns through the job 22 percent faster.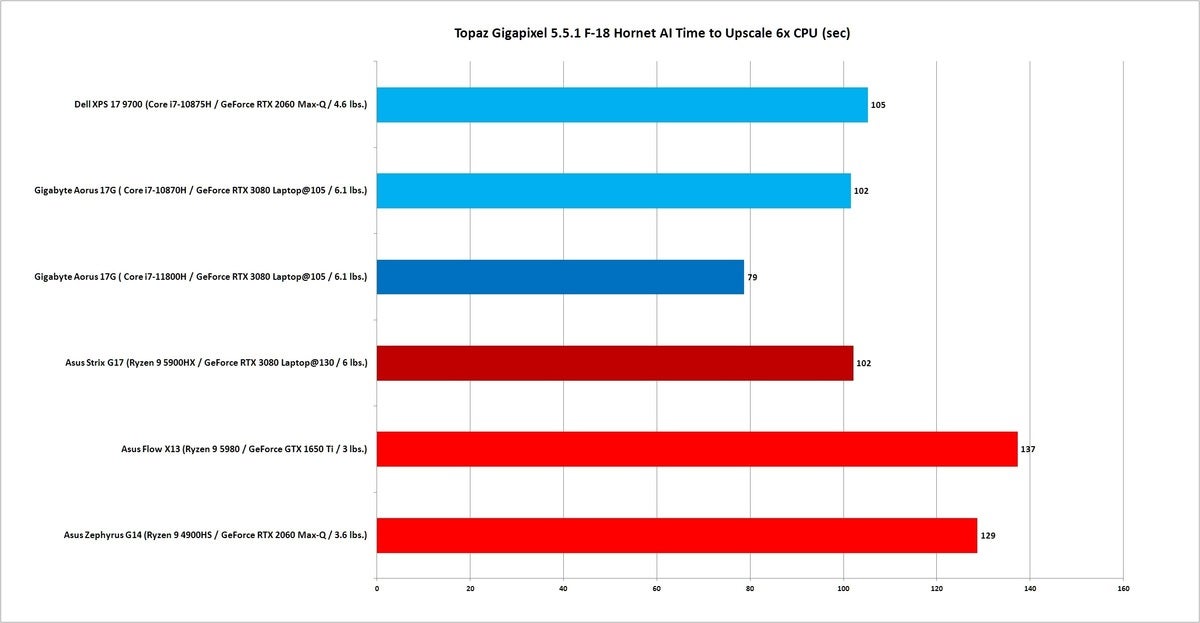 Our final AI task is the new Nero Score benchmark. We've previously used Nero AI Photo Tagger which was initially a free proof-of-concept that used AI models to sort and analyze photos. If it found what it thought was a bike, it would classify the image as a bike for you. Sure, your phone might already do that now for new pictures, but if you're sitting on tens of thousands of images you shot, no one's going to sort or tag them for you. Until now anyway.
Rather than the actual AI Photo Tagger (which is no longer free for newer versions) Nero Score is based on an updated core that quickly measures how fast a CPU can use AI to analyze 50 small pictures three times. This is actually better than trying to use AI Photo Tagger since it likely all fits into memory and would thus be less influenced by the speed of the drive it's reading from.
Nero Score is based on Intel's OpenVINO toolkit and—shocker—a CPU with AVX-512 support yields big, big wins here. We're looking at 50 percent more performance over the Ryzen 9 5900HX from the Core i7-11800H. Intel's latest chip is also a massive 78 percent faster than the 10th-gen Core i7-10870H.
If you really believe this new fangled consumer AI stuff is going places, this is a big (and predictable) win for the Tiger Lake H.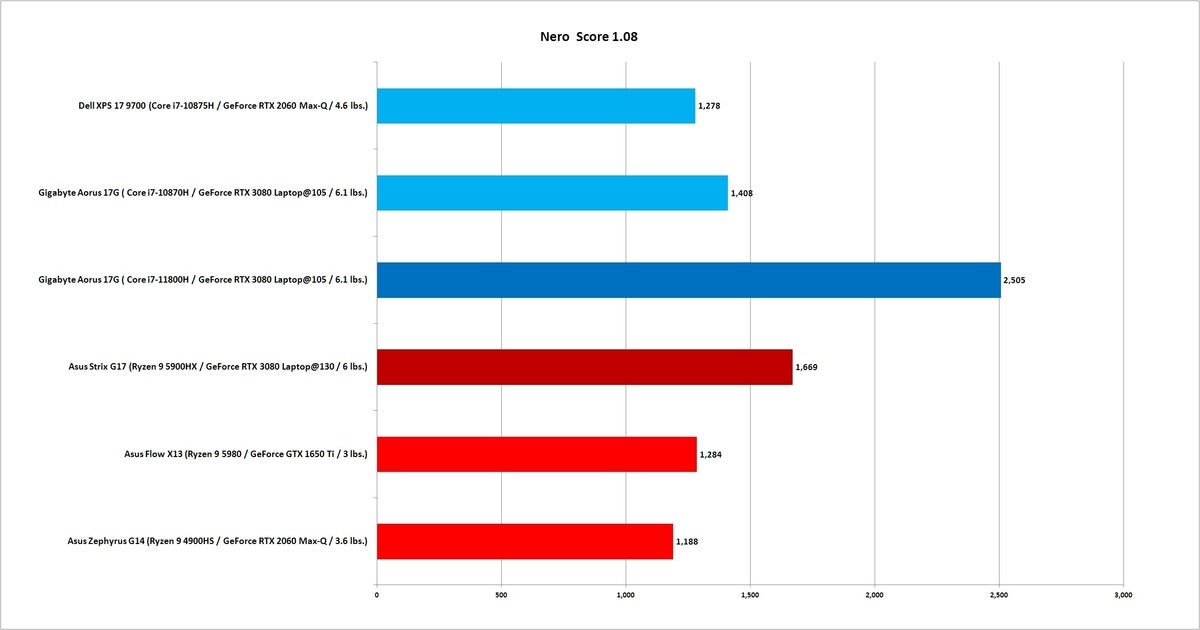 Gaming performance
As we said earlier, gaming performance is essentially TBD since we could only run the Nvidia Studio Driver on our laptop. Studio Drivers are optimized around content creation updates rather than improving gaming performance like the company's Game Ready drivers, so testing with a Studio Driver installed could ery well depress the results for Intel's 11th-gen chip. That technical hiccup adds to the difficulty of trying to compare a Ryzen 9 laptop with a 130 watt GeForce RTX 3080 Laptop GPU to a pair of Intel Core i7 laptops with 105 watt GeForce RTX 3080 Laptop GPUs.
There are a few a few tidbits we don't think will move much though. The first is 3DMark's Time Spy CPU test. It measures CPU physics using a real-world engine. You can see the Ryzen and 11th-gen chip are basically tied while the Core i7-11800H outpaces the 10th-gen chip by about 9 percent. The test doesn't always represent real-world gaming though so don't rely on it too much.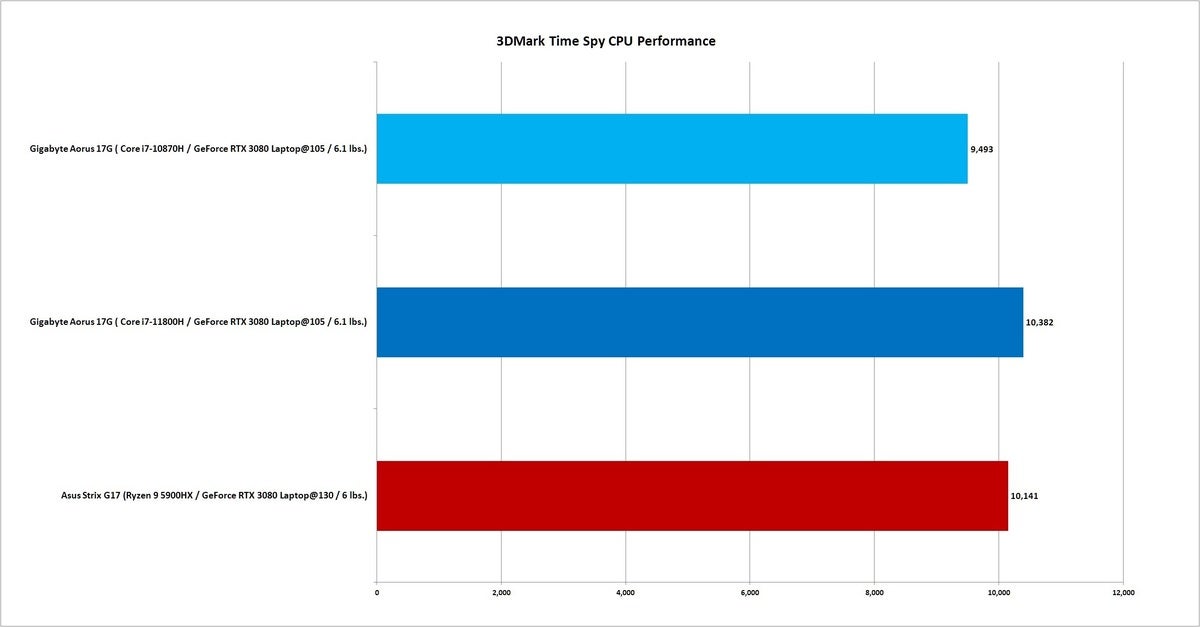 We know you're hungry for any signs of gaming performance so this one is probably fine (even though the 11th-gen's 3080 might be at a disadvantage). The incredibly popular Counter Strike: Global Offensive is such a light load these days that it's very CPU bound. On the desktop side of things, we've seen Ryzen 5000 eat Intel's lunch here partly thanks to its giant cache. But the laptop Ryzen 5000 chips don't have that big fat cache, and in a reversal, the Tiger Lake H chip does. That may contribute to the Tiger Lake's huge 23 percent advantage over both the Ryzen 9 and 10th-gen CPU.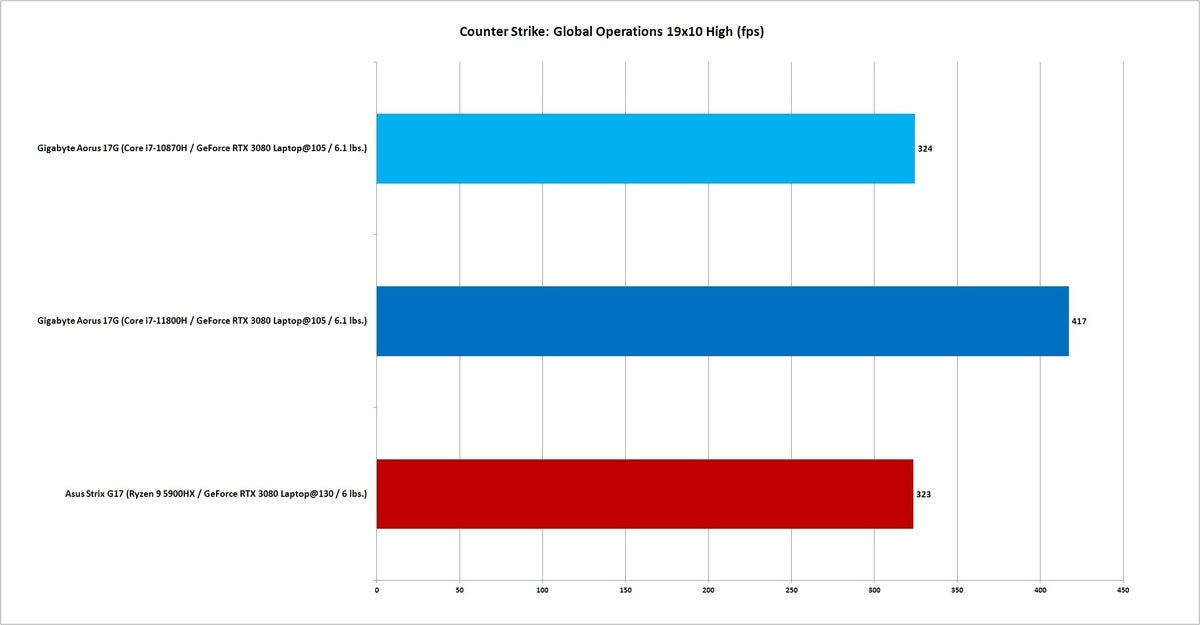 The final result we'll show you—3Dmark's PCIe bandwidth test—is a direct result of the design of Tiger Lake H and its newfound PCIe Gen 4 support. Again, the results of this test are unlikely to move even with the Nvidia driver differences. but you can see the Core i7-11800H indeed has a gargantuan 172 percent PCIe bandwidth advantage over the Ryzen 9 with its limited 8 lanes of Gen 3 PCIe, as well as a 44 percent advantage over the 16 lanes of Gen 3 in the 10th-gen chip.
Does that really matter? Well, we're not so sure. Most games, even the newest ones, rarely flex the PCIe bandwidth needs, so while this massive win for Tiger Lake may be cool to whistle at, the practical upside is far, far less.
Conclusion: Welcome back to the game, Intel
As you'd expect from the reigning champ and one of the historic greats, AMD's powerful Ryzen 9 chips don't ever back down in this slugfest. But after a brutally long rebuilding season, it's clear that Intel's new Tiger Lake H is a real contender. Even though the Core i7 doesn't clearly win many contests here, it's so damned close that it'd be difficult to bet against the upcoming 11th-gen Core i9 offering.
As we've been saying: We got us ball game, folks.