If you think Nvidia's GeForce has long had a lock on desktop GPUs, it's nothing less than Fort Knox on gaming laptops, where it simply dominates all. That could change, however, with AMD's new RDNA2-based Radeon RX 6000 GPUs, which promise solid competition to the high-flying GeForce chips.
To find out just how well AMD's new GPU and CPU do, we took the new Asus ROG Strix G15 Advantage Edition around the block. If you're looking for more CPU tests, we recommend that you read our review of Intel's 11th-gen Tiger Lake H, where we look at the same CPU used in the G15.
What's different in the ROG Strix G15 Advantage Edition is obviously the GPU: AMD's Radeon RX 6800M, which features 40 compute units, 12GB of GDDR6 RAM, and 96MB of Infinity Cache on a 192-bit memory interface—and finally, real competition in gaming laptops.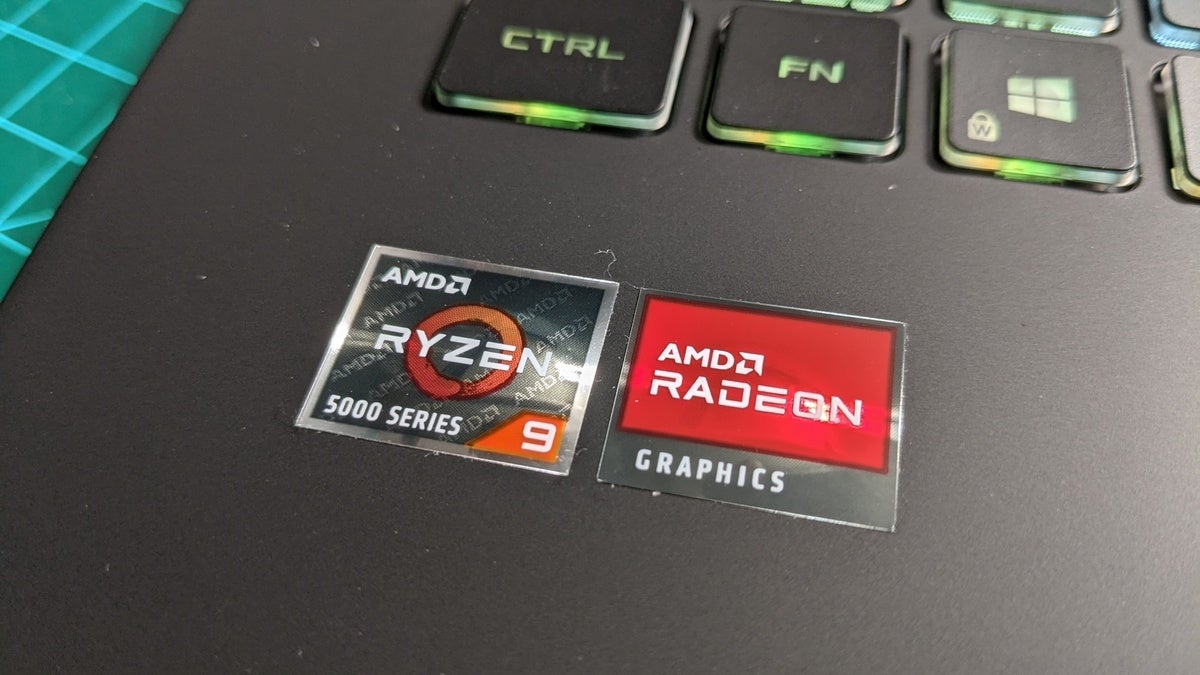 How we tested
For the gaming tests we confined our tests to three nicely outfitted laptops that would fall into the "performance" category of gaming laptops. They aren't sumo-wrestler beefy, but neither are they marathon-runner stringy:
Gigabyte Aorus 17G with Intel 8-core Core i7-10870H, Nvidia GeForce RTX 3080 Laptop GPU with a TGP of 105 watts, and 16GB of GDDR6 RAM. The laptop also features 32GB of DDR4/2933 in dual-channel mode and a 1TB NVMe SSD, along with a 300Hz, 17.3-inch FHD screen. The laptop weighs about 6.1 pounds and is powered by a 230-watt power brick.
Asus ROG Strix G17 with 8-core AMD Ryzen 9 5900HX, Nvidia GeForce RTX 3080 Laptop GPU with a TGP of 130 watts, and 16GB of GDDR6 RAM. The laptop features 32GB of DDR4/3200 in dual-channel mode and a 1TB NVMe SSD, along with a 360Hz, 17.3-inch FHD screen. The laptop weighs about 6 pounds and is powered by a 240-watt power brick.
Asus ROG Strix G15 Advantage Edition with 8-core AMD Ryzen 9 5900HX and AMD Radeon RX 6800M with 12GB of GDDR6 RAM. The laptop also features 16GB of DDR4/3200 in dual-channel mode, and a 512GB NVMe SSD. It weighs 5 pounds and is powered by a 280-watt power brick. AMD spec's the Radeon RX 6800M at 145+ Watts but let's just say it clearly could use more.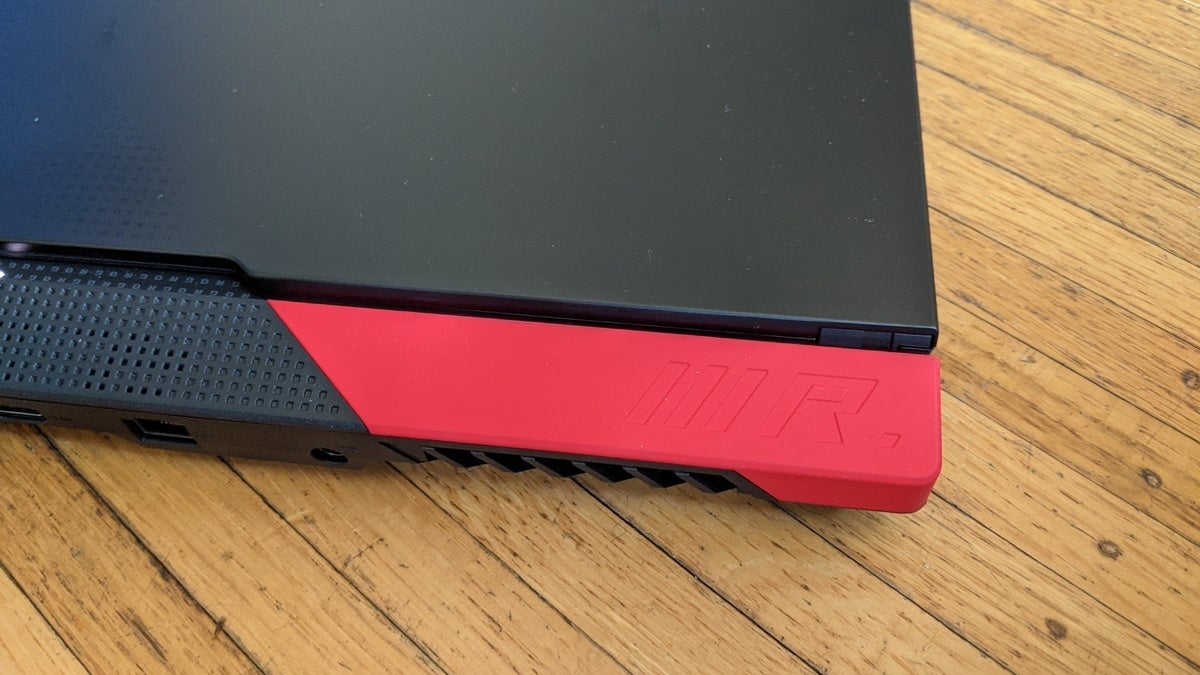 Synthetic Performance
We'll kick this off with UL's popular synthetic 3DMark benchmark, which measures DirectX12 graphics performance. Although not an actual game, it's a very reliable and very repeatable test. The scores also break down both the overall performance, which slightly factors in the CPU physics performance as well as pure GPU performance. For the charts below, the bars that are solid red indicate an all-AMD laptop, which is the Ryzen 9 5900HX and the Radeon RX 6800M. Bars with red and green indicate a Ryzen CPU with a Nvidia GPU, while a blue-and-green bar indicates an Intel CPU and Nvidia GPU.
The overall score for 3DMark Time Spy puts the ROG Strix G15 Advantage Edition with its all-AMD components in a pretty good spot, right between the other two laptops. That's a solid win even if it doesn't come out on top, since neither of the two GeForce RTX 3080 Laptops-based units are slouches.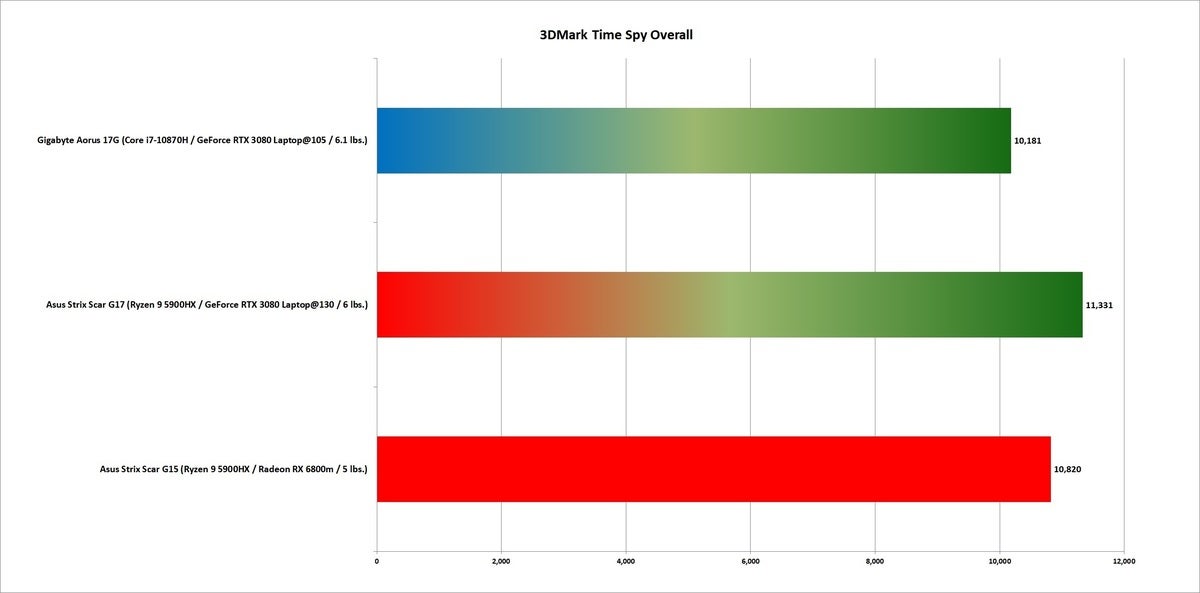 Digging into pure GPU performance, we see the Radeon RX 6800M separated by just 3 percent from the 130-watt GeForce RTX 3080 Laptop GPU. With the GeForce RTX 3080 Laptop at a more relaxed 105 watts, the Radeon RX 6800M actually outpaces it by about 8.9 percent.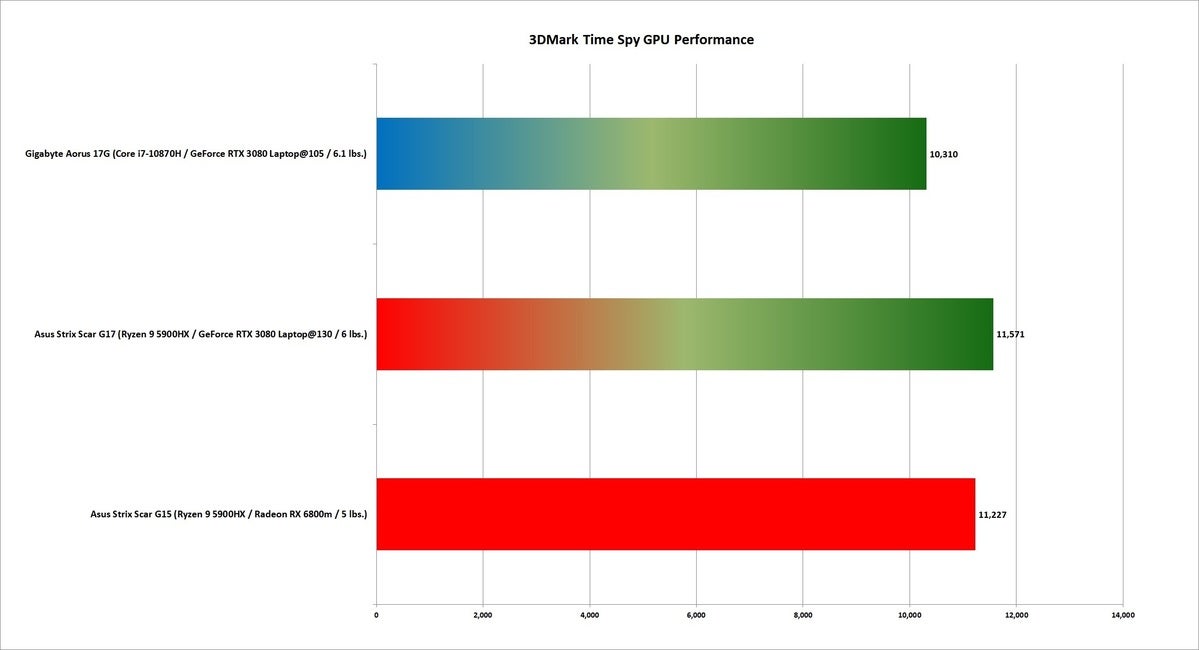 Ray tracing performance is the brave new world of gaming. It can greatly reduce the amount of work game developers have to do for better lighting and reflections, but it's computationally expensive. While Nvidia has dedicated cores in its 20-series and 30-series GPUs for ray tracing, AMD uses its existing shader cores along with a dedicated ray accelerator unit—one for each CU.
AMD is still playing catch-up with Nvidia which jumped in with both feet with its 20-series GeForce cards. You can see the impact in 3DMark's Port Royal, which uses Microsoft's DirectX Raytracing to measure reflection and shadow performance. The Radeon RX 6800M is at a 21-percent deficit against the 130-watt GeForce RTX 3080, and is 13 percent slower than the 105-watt GeForce RTX 3080.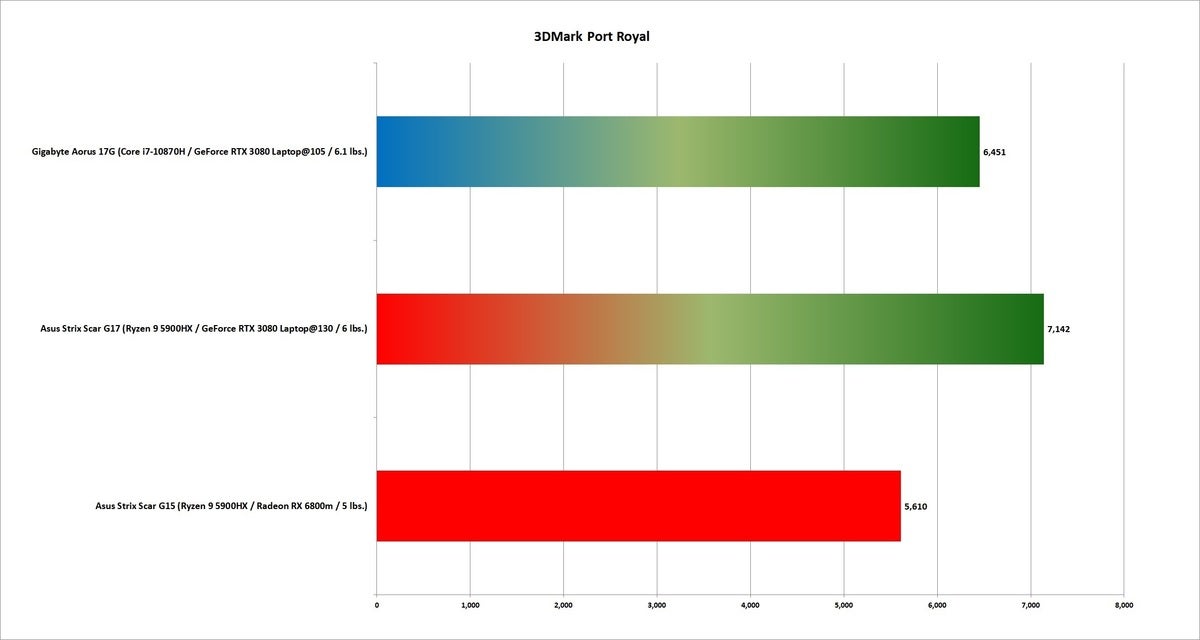 The story gets even worse for AMD as you increase the difficulty of the ray tracing. While Port Royal used DXR for just shadows and reflections, the newer 3DMark DirectX has since added a DirectX Raytracing test that is a "pure" ray tracing test. That means rather than use DXR for just lighting and shadows, the entire scene is ray-traced. With this much harsher (and perhaps unrealistic) test, the GeForce RTX 3080 Laptops come out 145 percent and 122 percent faster than the Radeon RX 6800M. That's a crushing performance difference.
We say "unrealistic" because pure ray-traced modern games, and hardware with performance you'd want to play at, are likely years away still. Yes, it's pretty amazing to see an entirely ray-traced Quake II RTX running, but that game came out in 1997.
Still, ray tracing is, and has been, the Achilles heel for Radeon on desktops, and it's the same in laptops.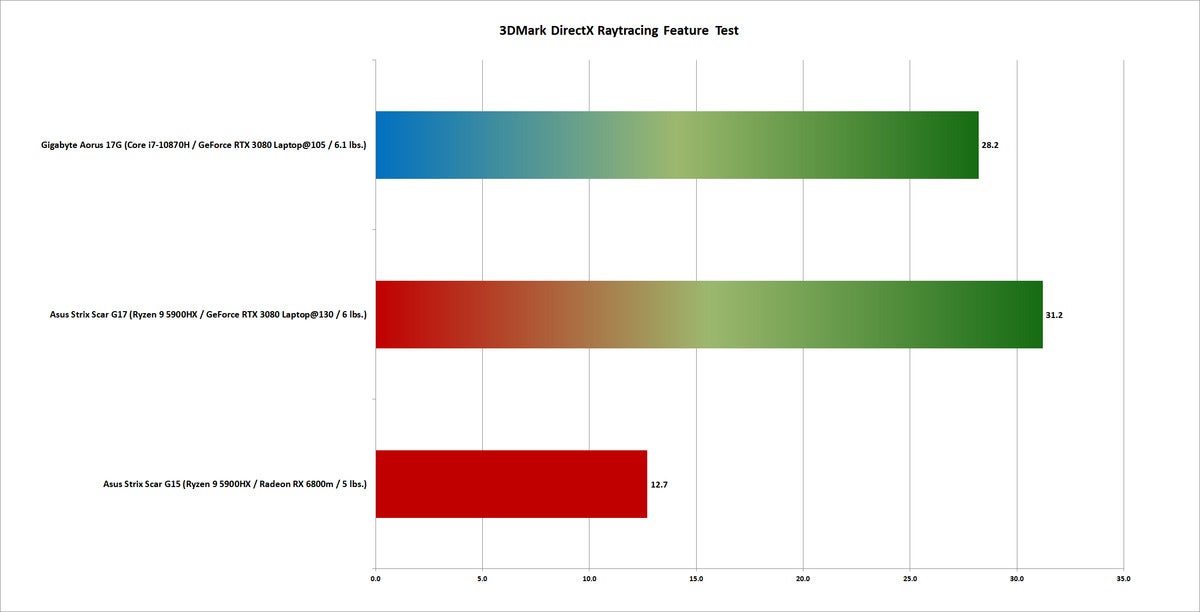 One last test from 3DMark we should show you is the PCIe bandwidth test. This measures the amount of data that can be passed across the PCIe bus between the GPU and CPU. Although the desktop CPUs feature PCIe 4.0, the laptop versions don't. The laptop Ryzen CPUs also feature fewer lanes, with the PCIe 3.0 capped at x8 versus the x16 of Intel CPUs. With both GeForce RTX 30-series and Radeon RX 6800 featuring 16 lanes of PCIe 4.0, 3DMark's PCIe feature test shows you that bandwidth cap in technicolor. Our chart doesn't even include Intel's latest 11th-gen Tiger Lake H CPUs, which feature 16 lanes of PCIe 4.0 and push 20GBps.
The good news for AMD is that it's still very difficult to find modern games that use that much bandwidth. How long that holds isn't known, but for most people playing today's games, it's not a big deal—just something to be aware of for the future.
Gaming Performance
If you've had enough of the synthetic results, we'll cut to the actual gaming performance. For these initial tests, we opted to disable DXR. We did this because the overwhelming amount of PC games still don't use it, and there's more value for most users in seeing conventional gaming performance.
If, however, you think ray tracing is the future you want to bet on, we'd recommend that you simply stop reading and jump aboard the GeForce train, because in the here and now, Nvidia's early bet gives it a major advantage.
Although AMD and Nvidia are pushing their top GPUs as best suited for 1440p gaming, the vast majority of gaming laptops today are actually 1080p, using high refresh rates of 144Hz, 240Hz, 300Hz, or 360Hz. Because you can't play at a higher resolution than the one in your laptop (unless you're using an external display), all of our testing was conducted at the native resolution of the laptops: 1080p.
The first game result is from Shadow of the Tomb Raider set to its highest preset. Even with ray tracing disabled, both the GeForce chips lead the way by 9 percent and 13 percent, respectively. The Radeon RX 6800M comes up close behind.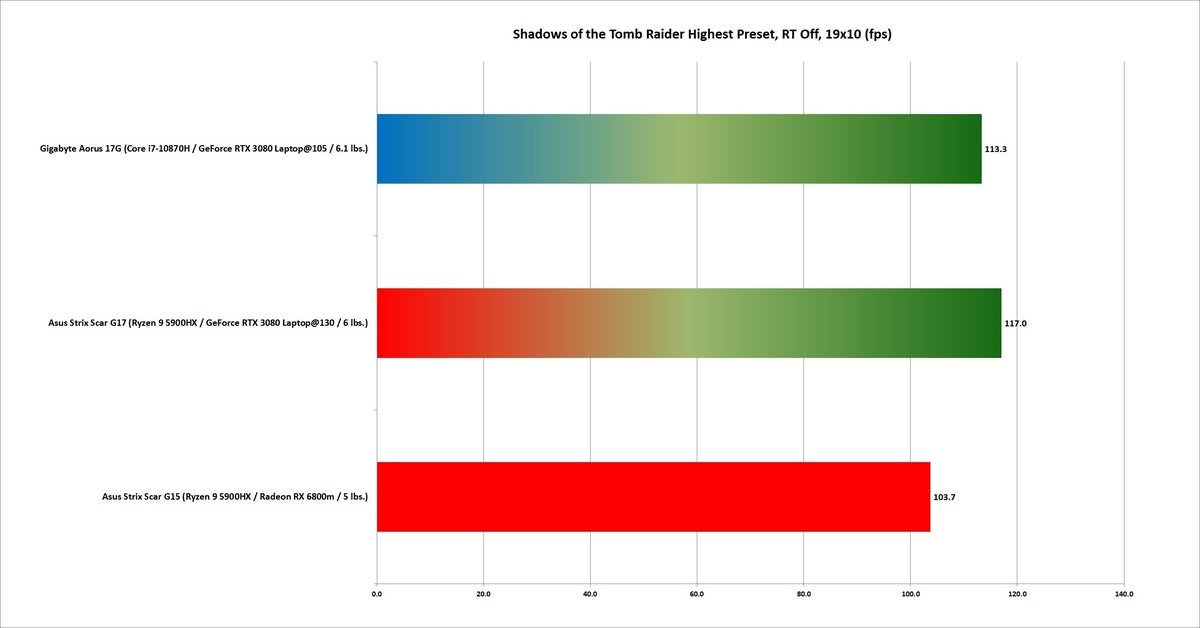 Moving on to Metro Exodus and using the Extreme preset, we actually see the Radeon RX 6800M pull dead-even with the 105-watt GeForce RTX 3080 in the Intel 10th-gen laptop, while the 130-watt GeForce RTX 3080 paired with the same Ryzen 9 5900HX is about 10.5 percent faster. Again, Radeon RX 6800M doesn't win, but being in the neighborhood of Nvidia's top GPU is nothing to scoff at.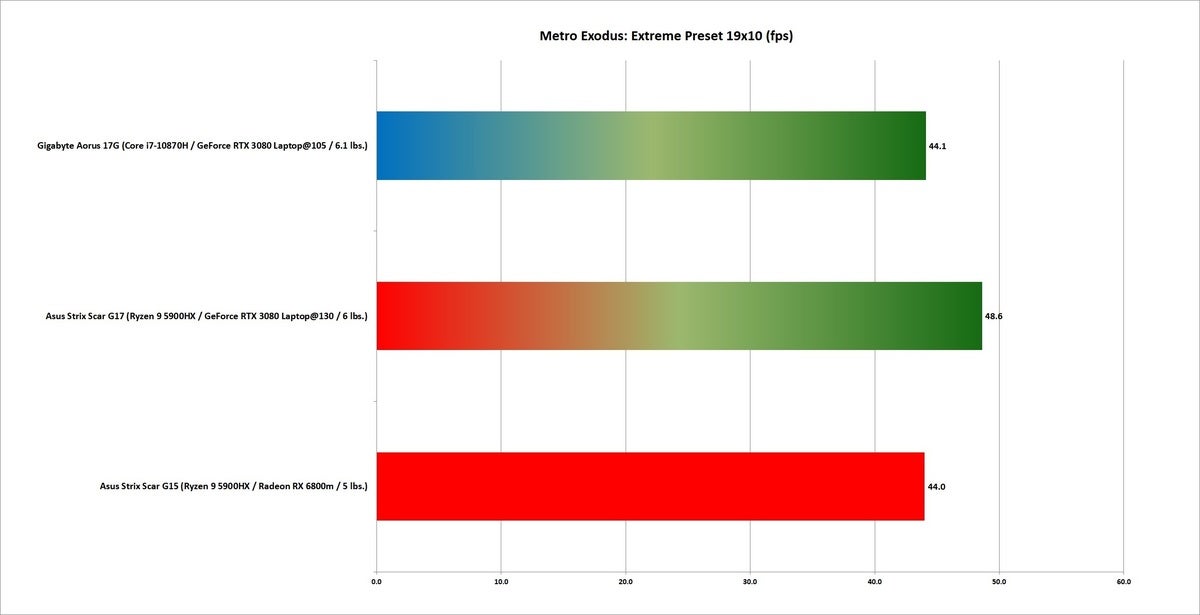 We did indeed see incidents where Team Red pulled ahead. Red Dead Redemption 2, for example, saw the Radeon RX 6800M about 7.5 percent ahead of the 130-watt GeForce RTX 3080 Laptop paired with the same Ryzen 9, and 17 percent faster than the 105 watt GeForce RTX 3080 Laptop with its 10th-gen Intel CPU.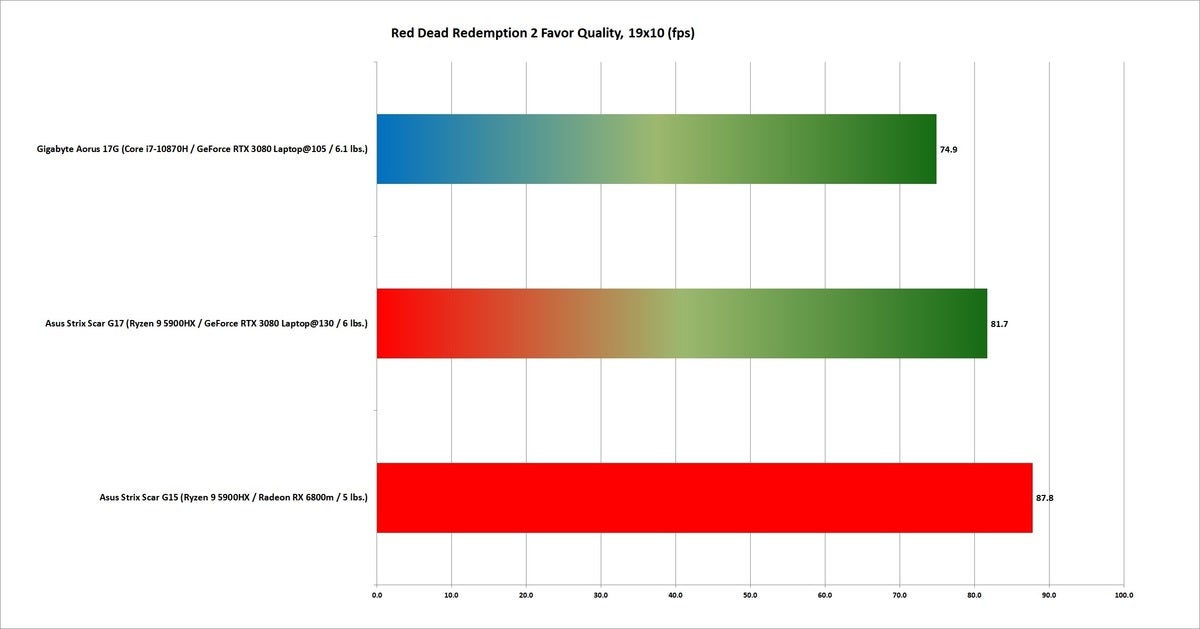 Up next is Horizon Zero Dawn set to high quality. We again see the Radeon RX 6800M sandwiched between both GeForce RTX 3080s, which we again regard as a solid performance.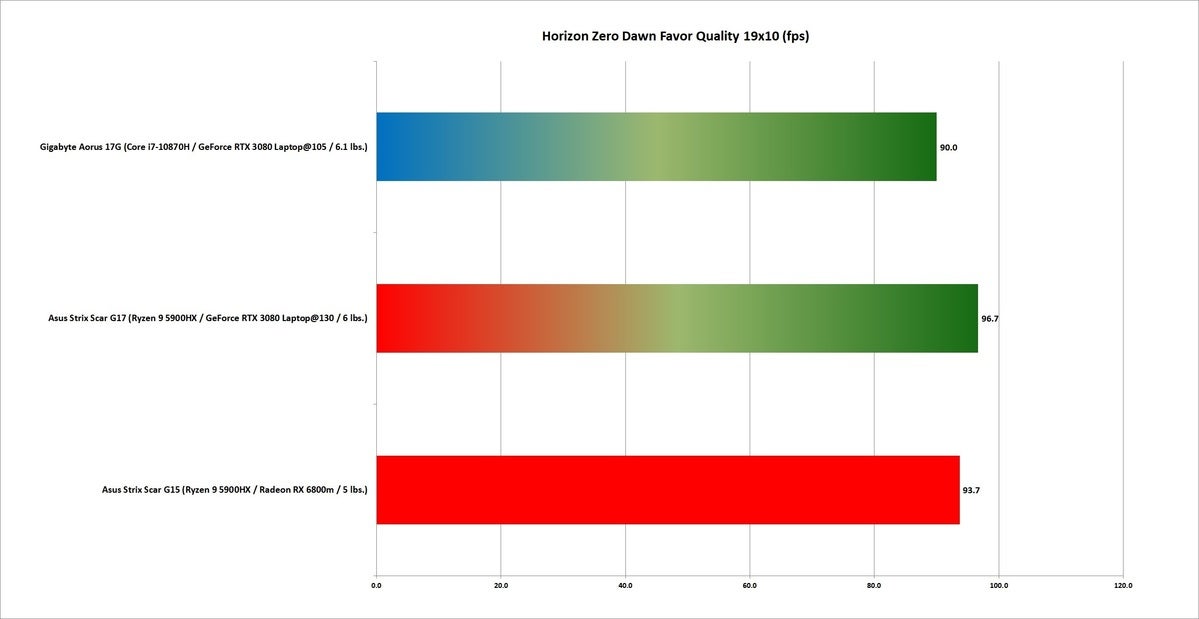 The next game is Far Cry New Dawn, which actually sees the 105-watt GeForce RTX 3080 with the 10th-gen Intel CPU leading the pack. The Nvidia/Intel combo, in fact, is a decent 14.5 percent faster than both Ryzen-based laptops. Why? Although most games tend to be very GPU-focused, the Far Cry series has tended to run better on Intel-based CPUs. On the desktop Ryzen 5000 that's no longer really true, but the laptop Ryzen version is not quite the same formula, and we see the Intel advantage crop up again.
Even if the CPU is a significant factor here, the fact that we have both Asus ROG Strix laptops using the same Ryzen 9 5900HX is perhaps the better comparison. When both are using the same Ryzen 9, we actually see a very competitive race between GeForce and Radeon.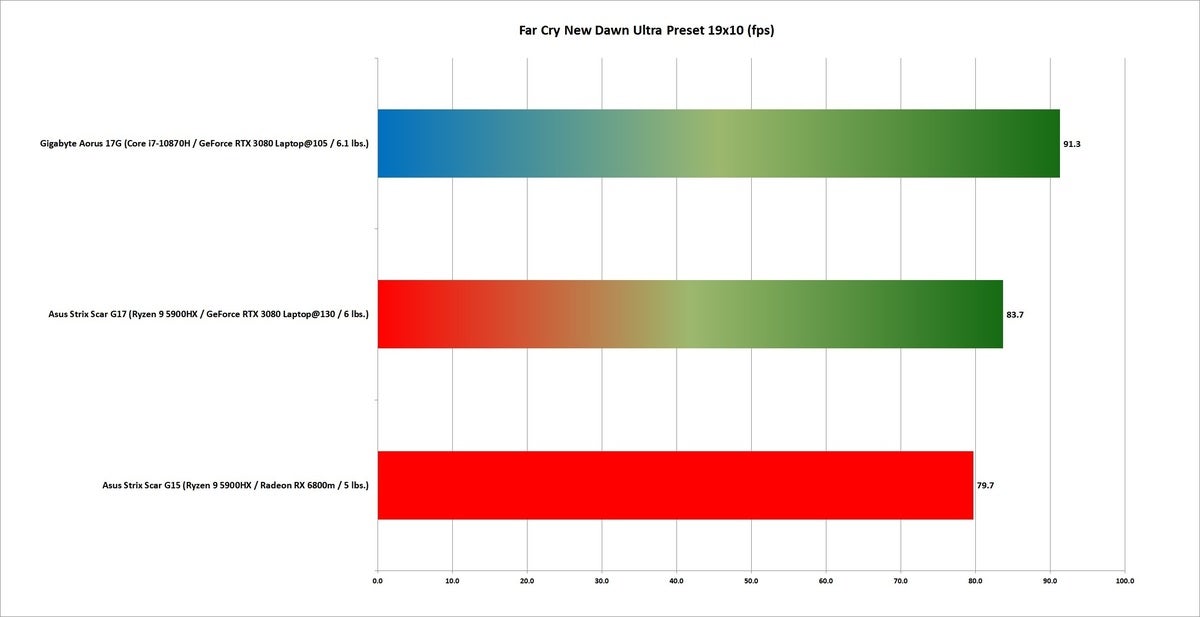 Keep reading for more gmaing benchmarks.
Moving on to "eSports"-class games that don't tend to be as graphically intense, we start with the immensely popular Counter Strike: Global Operations. Both GeForce RTX 3080's actually end up being mostly a wash despite the different CPUs and the different-wattage GPUs. Even though both Asus ROG Strix laptops use the same CPU, the one with the GeForce GPU spits out 35 percent more frames per second compared to the one with Radeon RX 6800M.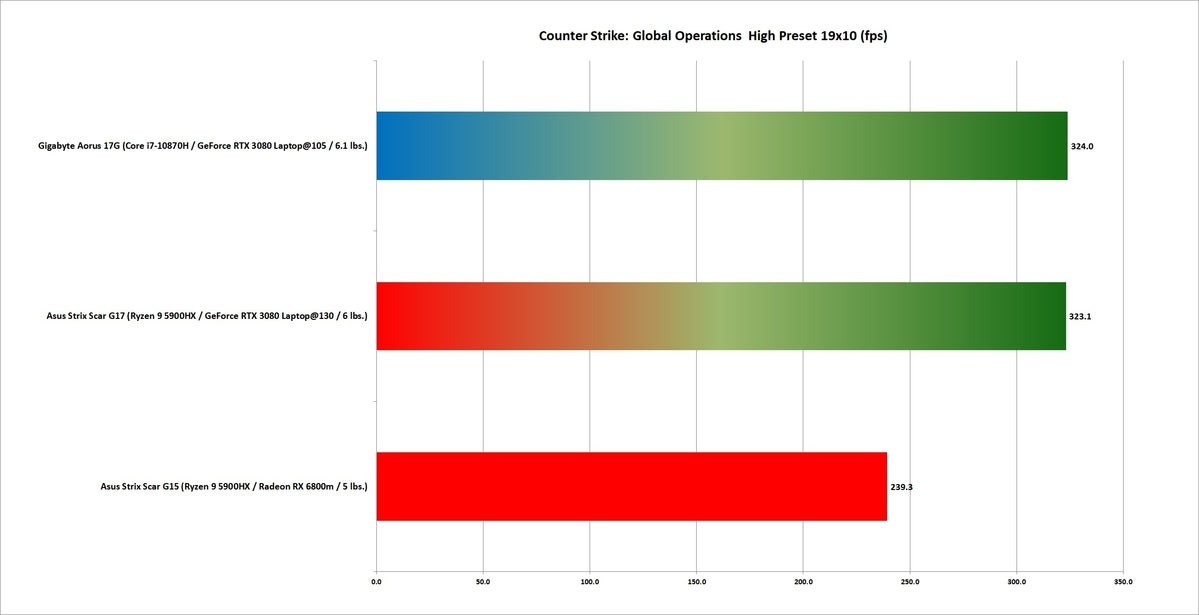 Tom Clancy's Rainbow Six Siege is another graphically light, but immensely popular eSports game. The Radeon RX6800M keeps up better than it did in Counter Strike, but it's still clearly in third place, with the GeForce units 9.5 percent and 13.7 percent faster, respectively.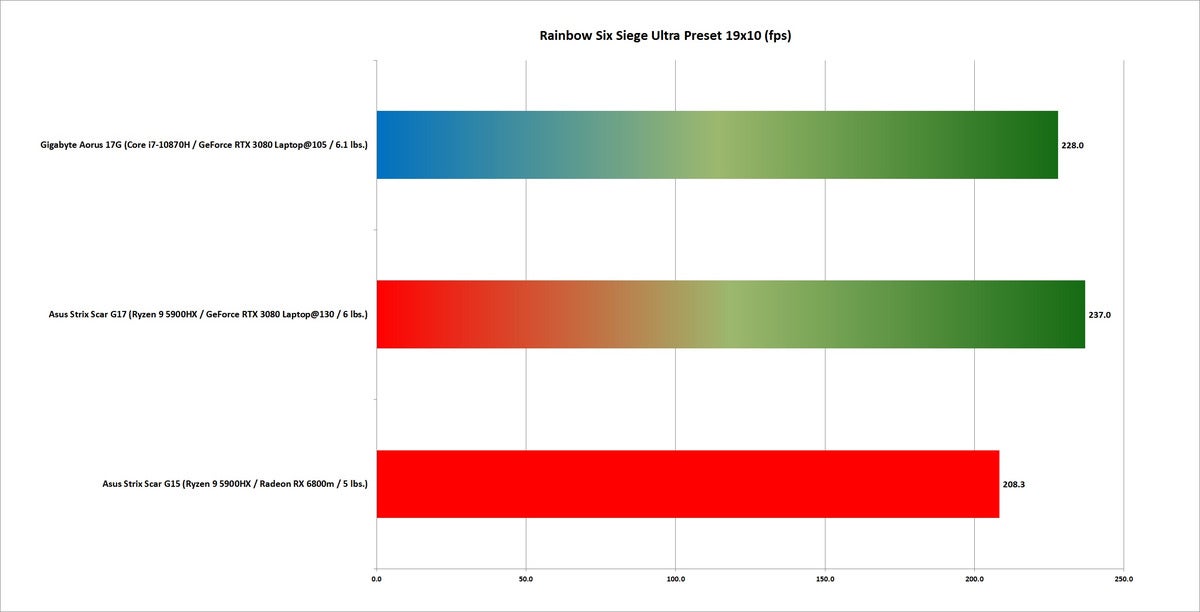 We'll close out the gaming benchmarks with a score from Strange Brigade, which we run using its Ultra preset and the Vulkan API. Unfortunately, the Ryzen/GeForce laptop refused to run the game. We can see from the Intel/GeForce laptop that GeForce still holds the lead, but Ryzen/Radeon is breathing down its neck.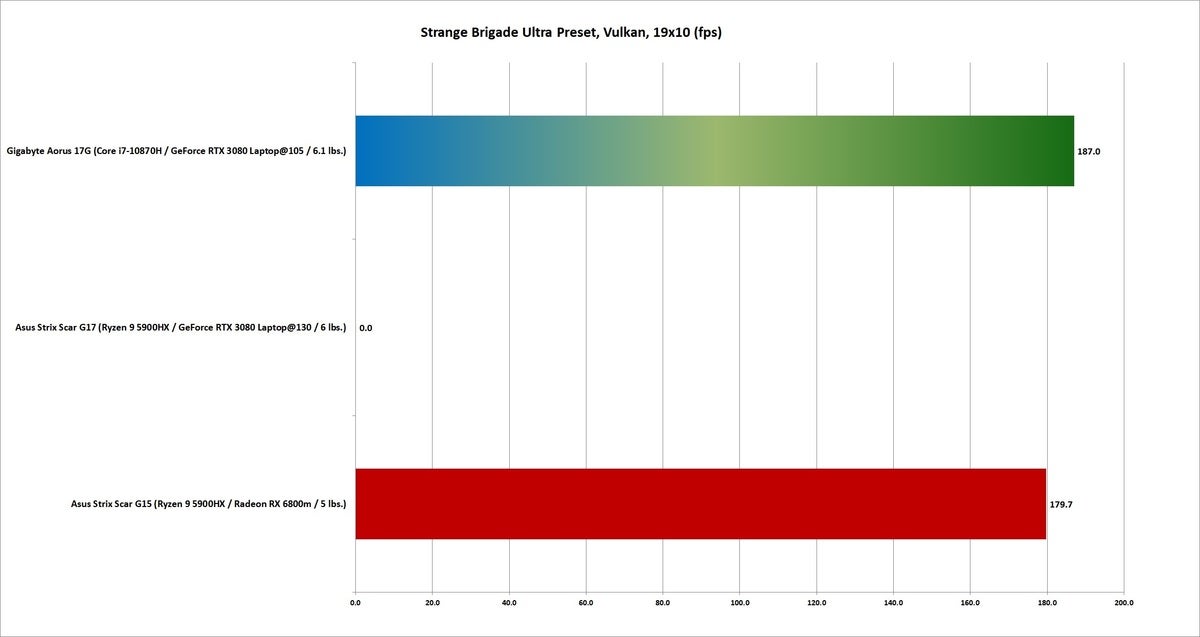 Content Creation and Compute Performance
While these big gaming laptops are often purchased for gaming, a high-performance GPU can help with applications as well. For the following content-creation and computer performance tests, we'll include scores from older and lower-end GPUs such as the GeForce GTX 1650, GeForce RTX 2060 Max-Q, and GeForce RTX 3060 Laptop in the results. Like the charts above, bars that mix blue and green indicate Intel and Nvidia; charts that use red and green indicate AMD and Nvidia; while an all-red bar indicates all-AMD.
Our first result is the popular Geekbench 5.4.1 test. The OpenCL test measures GPU performance on such tasks as particle physics, fast fourier transform, Gaussian blur, and face detection techniques.
The big winners are the GeForce RTX 3080 Laptop GPUs, which have a sizeable lead over the Radeon RX 6800M. Although we don't have a GeForce RTX 3070 Laptop result, we'd guess it would match or outperform the Radeon, as the GeForce RTX 3060 Laptop is looking right over its shoulder.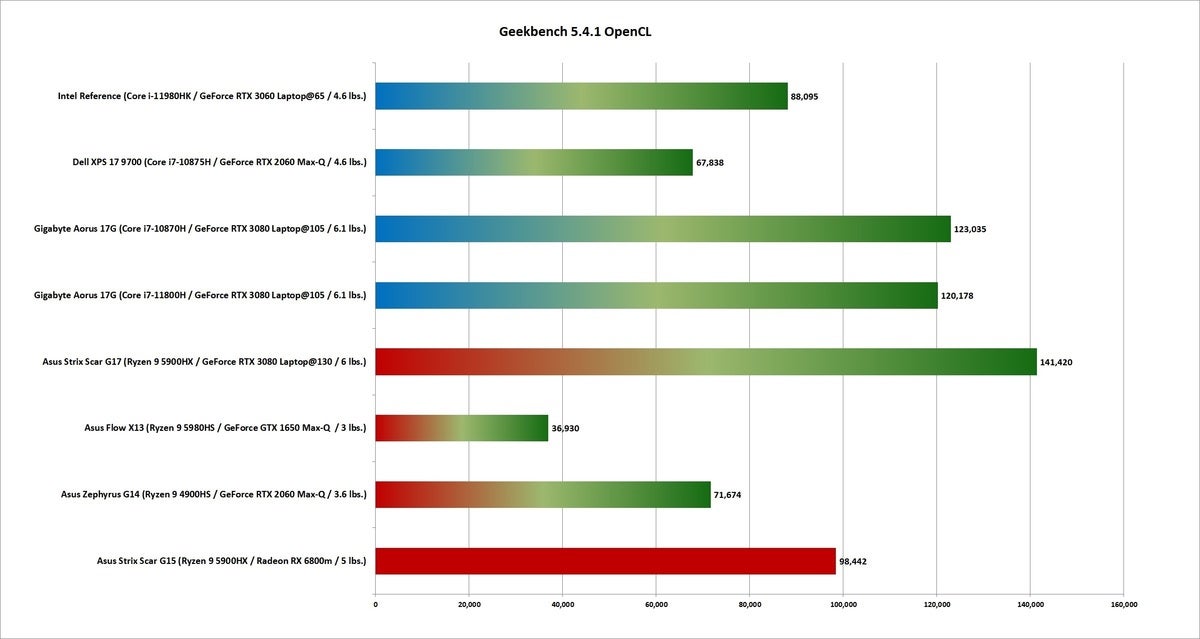 Our next test uses UL's Procyon benchmark, which measures the performance of Adobe Premiere Pro while exporting a video project with various effects applied. Unlike the previous OpenCL test, Adobe Premiere Pro 15.1 is greatly influenced by the CPU. That makes the overall winner the newest Gigabyte Aorus 17G, with its 11th-gen Core i7-11800H and 105-watt GeForce RTX 3080 Laptop GPU.
If you're looking for a more direct comparison that reduces the CPU influence over the score, that would be the Asus ROG Strix G17 and the ROG Strix G15, which both use the same Ryzen 9 5900HX but differ in GPUs. That gives the 130-watt GeForce RTX 3080 Laptop a healthy 18.5-percent performance advantage against the Radeon RX 6800M.
We'd guess some of that performance gap comes from NVidia's early involvement with Adobe and GPU acceleration of its products.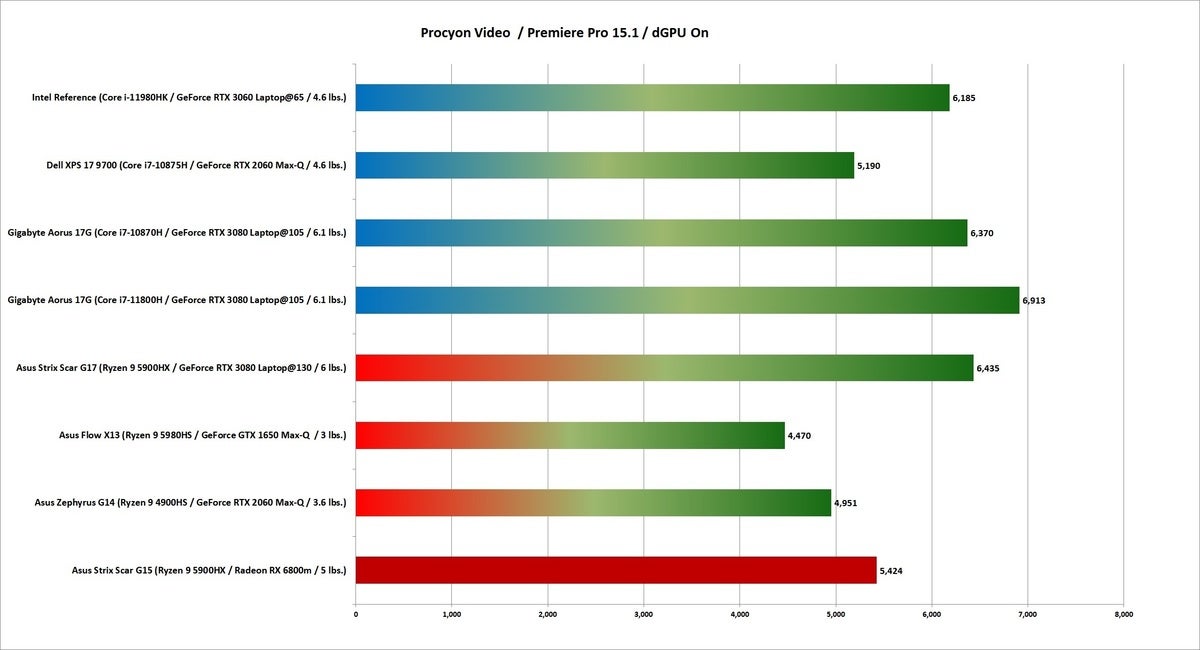 Our final content creation test switches gears to photo editing, using Adobe Photoshop and Adobe Lightroom Classic and a set of scripted runs from Procyon. Both applications are very dependent on CPU performance but can see a boost from a fast GPU. The overall winner is Intel's Core i9-11980HK paired with a GeForce RTX 3060 Laptop GPU. It just edges out the Core i7-11800H paired with a GeForce RTX 3080 Laptop. Tiger Lake H is no joke, folks.
Just to highlight the CPU's impact, notice that although both of the Gigabyte Aorus 17G laptops use the same GPU with the same rated wattage, the older 10th-gen Core i7 handily loses to the newer 11th-gen Core i7-11800H Tiger Lake H.
But what about the Ryzen/Radeon combo? If you're trying to hone in on the Radeon's performance against the GeForce in Adobe Photoshop and Lightroom Classic, look again to the ROG Strix G17 and the ROG Strix G15, which use the same Ryzen 9 CPUs. The GeForce-based laptop comes in at 15.6 percent faster than the Radeon-based laptop.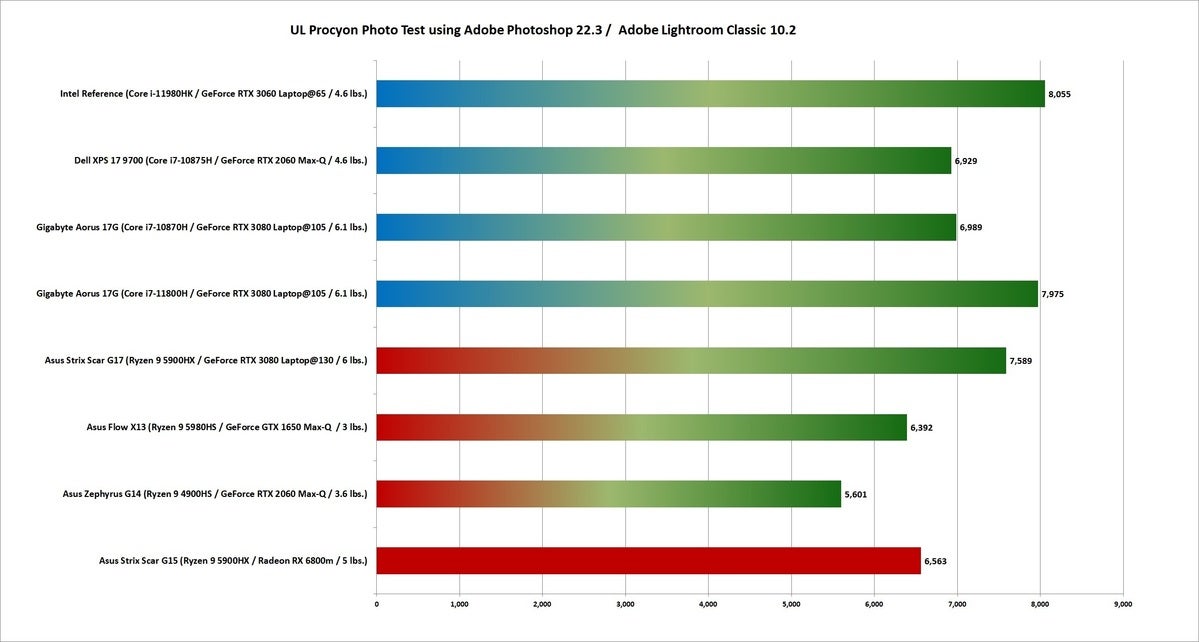 Power consumption
Overall, we think the Radeon RX 6800M shows off very well in gaming, with the results slotting right around, or better than, a 105-watt GeForce RTX 3080 Laptop GPU. One issue we're certain Nvidia would take with that interpretation is the wide range of wattage of the GeForce cards, from 80 watts to 150 watts or more. We know Nvidia will say a 130-watt GeForce vs. a '145+'-watt Radeon isn't fair.
That's a good point, because despite the innocent-sounding '145+,' we found that number to be very conservative. For example, pushing it with the the power stress test Furmark, the Radeon would bump its head on 185 watts. To try to get a bead on just how they compare, we took both the Ryzen 9-based Strix laptops and simultaneously measured the amount of power consumed at the socket while running 3DMark Time Spy Extreme. This is probably the most realistic comparison, because you pay for the power you use, not the power just your GPU uses.
During our tests we disabled all of the RGB and set both of the screens to their minimum brightness of a barely visible 12 nits. Both laptop's batteries were full as well, so there was no additional power going to recharge the batteries.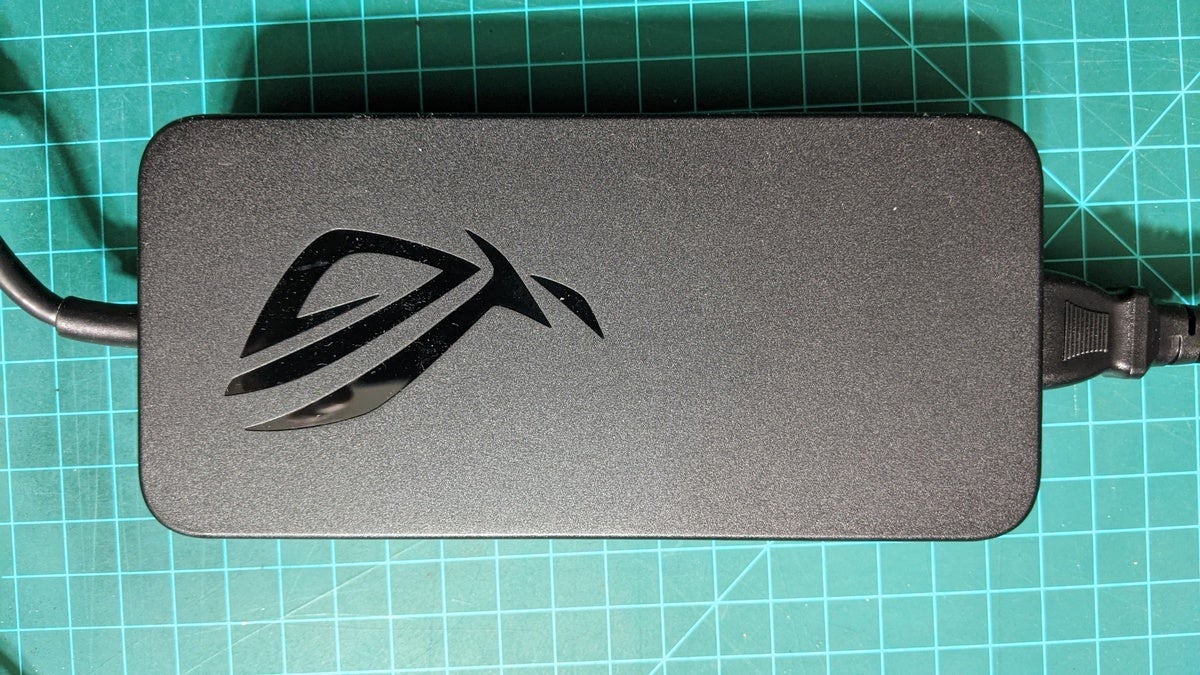 As you can see below, the (red line) Ryzen 9 / Radeon RX 6800M consumes considerably more power than the (green line) Ryzen 9 / GeForce RTX 3080 Laptop duo. This shouldn't be a deal-breaker for most, but the GeForce RTX 3080 Laptop is easily winning the power efficiency battle on laptops, a reversal from the desktop.
The test actually shows two GPU-focused tests (the first two humps), and then a CPU-focused test (the last hump), using more cores at the end. The last hump could potentially be a ray of sunshine. That's because we would have expected both of the laptops to settle down closer in power consumption on a CPU-focused test.
We suspect AMD's SmartShift is at play. Smart Shift works directly between AMD CPUs and AMD GPUs and lets both intelligently gauge load in real time, then shift the thermal and power budget where needed.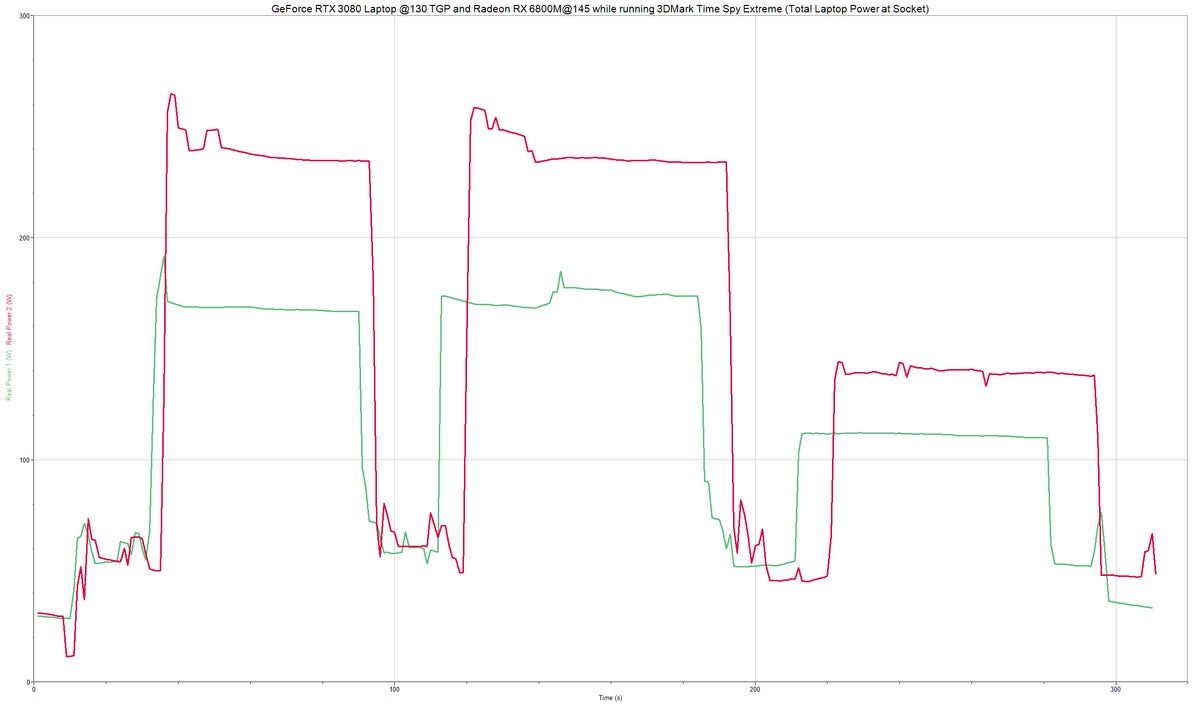 To give you an idea of how SmartShift works, we ran 3DMark Time Spy on the ROG Strix G15 and monitored the shifting in real time. For the GPU load during the run, the SmartShift's change was fairly small, only about 3 percent to 5 percent going to the GPU. You can see this is in the graphic below, where the graph on the left side moves up the X axis to indicate a power shift toward the GPU.

As you saw previously, 3DMark first runs a GPU-intensive test and then shifts to a CPU-intensive test designed to measure CPU-based game physics performance. During the CPU portion, we now see a very sizeable 29-percent shift. You can see it in the screen cap below, where it moves down the X-axis to indicate a shift to the CPU.
We should say in a handful of games we looked at, SmartShift didn't offer up the same dramatic changes, even though we expected it to, so we'll continue to investigate. But we are still nonetheless impressed by what could come of AMD's SmartShift.

Conclusion
We'll break this down into the four areas you should be concerned about before buying your next performance laptop.
The first is ray tracing performance. Despite its rocky start with Nvidia's original GeForce RTX 20-series, ray tracing is becoming increasingly important to PC gaming. Still, the vast majority of games people play today do not support those advanced features, and the shift will be gradual. Even the games that do support ray tracing let you switch off that support and will fall back to conventional modes. As we said previously, if you buy into that bright, shiny, reflective future, then Nvidia's GeForce line is the best option.
The next area is content creation and compute performance. Although we don't think Geekbench is the final word on compute performance, the advantage appears to go to GeForce. GeForce also gets the nod for content creation in Adobe products, which is the suite preferred by most occupants of Planet Earth. The Radeon RX 6800M performs respectably, but content creators may want to lean green.
If all this doesn't sound great, we'll bring up perhaps one of the most important drivers of gaming laptops: actual games. There, Radeon RX 6800M solidly trades punches with the lighter-wattage GeForce RTX 3080 Laptop GPUs. Yes, a GeForce RTX 3080 at its 150-watt configuration would likely be even faster, but Radeon RX 6800M's performance is still in the neighborhood in many of the games we tested. Consider this combined with the last area that may matter the most: value.
The Asus ROG Strix G15 Advantage Edition you see here is expected to sell for a very aggressive price of $1,650. Sure, there's just 16GB of RAM and a moderately sized 512GB SSD, but that pricing falls right into the neighborhood of gaming laptops with GeForce RTX 3060 or stripped-down GeForce RTX 3070 laptops—many of which have slower CPUs or lower-end displays. Our full review of the ROG Strix G15 is still in the works, but from what we've seen, we'd snap one up at this price, which may very well represent how AMD shakes this whole thing up.
So you can see why despite its power-hungry nature and soft areas against GeForce, the Radeon RX 6800M indeed poses a real threat to Nvidia's iron-fist lock on gaming laptops.