At a Glance
Expert's Rating
Pros
Excellent 4K and 1440p gaming
12GB of high-speed GDDR6X memory
Best-in-class ray tracing, DLSS 2.0
Nvidia software: Reflex, G-Sync, Shadowplay, Broadcast, RTX IO, DLSS
Founders Edition design is gorgeous and effective
PCIe 4.0, Resizable BAR, and Nvidia Lite Hash Rate tech
Cons
Big price increase vs. prior xx80 Ti models
Proprietary 12-pin power connector requires ugly adapter
Actual price, availability in doubt due to GPU shortage
Founders Edition design isn't as effective as on other RTX 30 models, and lacks extra features
Our Verdict
Nvidia's GeForce RTX 3080 Ti is essentially an RTX 3090 in all but name (and memory capacity). It's an exceptional graphics card for 4K gaming with no major weak links, but the Founders Edition cooler isn't quite as impressive in this form and still needs an ugly power adapter. Actual price and availability remain a concern during the crippling worldwide GPU shortage.
Best Prices Today: GeForce RTX 3080 Ti Founders Edition
After months of endless leaks and rumors—many inaccurate—Nvidia's $1,200 GeForce RTX 3080 Ti is finally here, and it's an absolute monster. GeForce's new "gaming flagship," as Nvidia calls it, blazes through games almost as quickly as the ferocious GeForce RTX 3090. By halving the amount of ultra-fast GDDR6X memory to 12GB, this graphics card still packs more than enough VRAM to game at 4K resolution while clocking in at $300 less (though you'll no doubt wind up paying more on the street, because graphics card pricing is insane right now).
It's not all addition through subtraction, though. The GeForce RTX 3080 Ti weaves in performance-boosting PCIe Resizable BAR support in select titles, which Nvidia debuted after the launch of the original RTX 3080 in response to AMD's rival Smart Access Memory. You'll find Nvidia's new "Lite Hash Rate" technology enabled as well, which cripples the card's cryptocurrency mining performance. The RTX 3080 Ti also leverages Nvidia's suite of truly killer software features, such as DLSS 2.0, the latency-reducing Nvidia Reflex API for esports games, Nvidia Broadcast's AI-powered tools for streamers and video producers, the always-excellent NVENC encoder, and more.
This is the GeForce card that deep-pocketed gamers should buy, not the RTX 3090. But does Nvidia's latest and (almost) greatest GPU pack enough of a punch to render AMD's $1,000 Radeon RX 6900 XT obsolete? Let's take Nvidia's own GeForce RTX 3080 Ti Founders Edition to the test bench.
GeForce RTX 3080 Ti specs, features, and design
When you take a peek at the spec sheet it's easy to see why the GeForce RTX 3080 Ti hits so hard. Under the hood, this GPU has much more in common with Nvidia's work-hard, play-hard 3090 than the $700 RTX 3080 that shares its name. Nvidia says it's also up to 1.5X faster than the RTX 2080 Ti that this card replaces.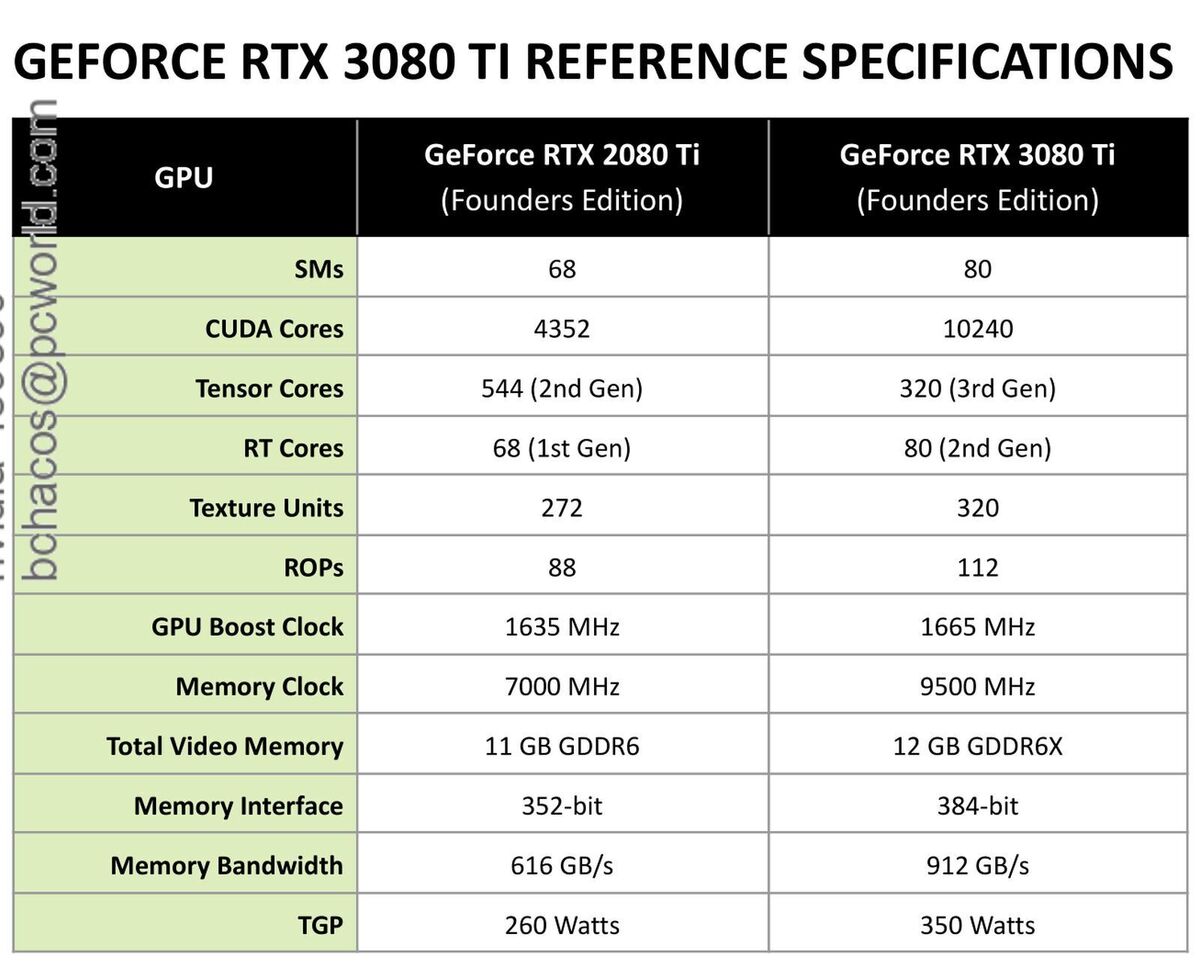 Because this "Ti" refresh builds upon the Nvidia Ampere GPUs that came before it in the RTX 30-series lineup, we won't wade too deeply into details here, sticking largely to major differences. Our GeForce RTX 3080 review gets into Ampere's nitty-gritty enhancements and tweaks.
The most important thing to look at is the CUDA core count, as that's a key indicator of performance for Nvidia's graphics cards. With a whopping 10,240 cores, the GeForce RTX 3080 Ti isn't much of a cut-down GPU—the RTX 3090 has 10,496. By contrast, the RTX 3080 wields 8,704 CUDA cores. That alone should clue you in to how powerful the new 3080 Ti is. Our benchmarks will show it leaving the vanilla 3080 in the dust and landing right next to the 3090 in raw gaming performance.
And make no mistake: This is a proper gaming card, not a work/play hybrid like the RTX 3090. While that beast comes outfitted with a gargantuan 24GB of cutting-edge GDDR6X memory, the RTX 3080 Ti comes with a more gaming-appropriate 12GB over the same wide 384-bit bus. That gives the GPU a blistering 912GB/s of memory bandwidth, just behind the 3090's 936GBps pace—more than enough for high-resolution gaming, especially when paired with so much memory capacity. The vanilla RTX 3080 offers a much lower (but fine!) 760GBps with its 10GB of GDDR6X and 320-bit bus.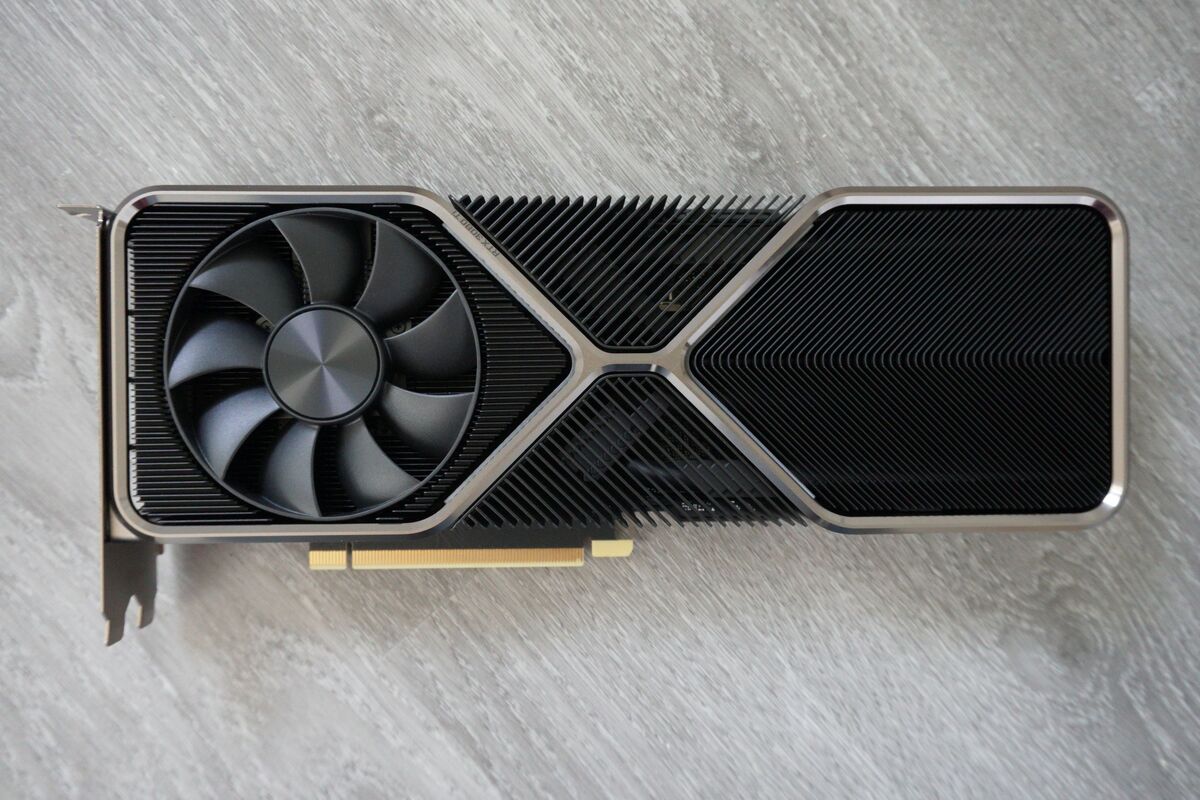 AMD's rival Radeon RX 6900 XT, on the other hand, packs in more raw capacity—16GB—but of the slower GDDR6 variety across a smaller 256-bit bus, so it only has an effectively memory bandwidth of 512GBps. That's a bit deceiving though, as AMD's RDNA 2 architecture includes a very high bandwidth "Infinity Cache" right on the GPU die itself that can handle many frame buffer tasks without needing to access the graphics card's memory. Nvidia's cards lack a similar feature and rely on the raw power of GDDR6X over a wider bus. In practice, however, all of these high-end GeForce and Radeon cards deliver plenty of bandwidth and performance for 4K gaming.
The GeForce RTX 3080 Ti Founders Edition physically resembles its vanilla 3080 FE counterpart more than the 3090, however. All RTX 30-series Founders Edition cards sport the same fundamental (and radical) design, with a "push-pull" configuration that features a blower-style fan at the rear paired with a second fan that pulls air through the card to exhaust heat upward into your case, where your CPU cooler and case fans can deal with it. (No, that doesn't make your CPU run hotter.)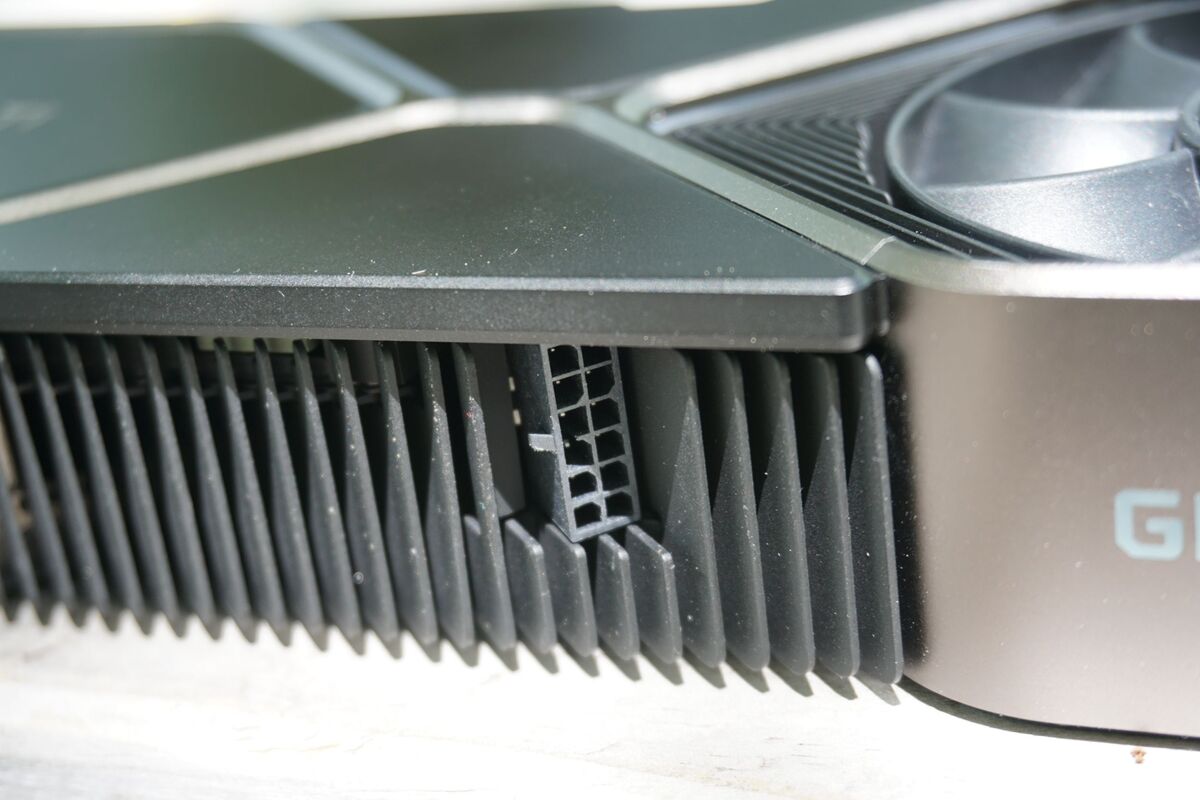 They also include Nvidia's new 12-pin power connector—an adapter to plug into a pair of traditional 8-pin connectors is found in the box—and a shroud design that's absolutely bristling with thick metal fins that effectively turn the entire graphics card into a heat sink. It's gorgeous.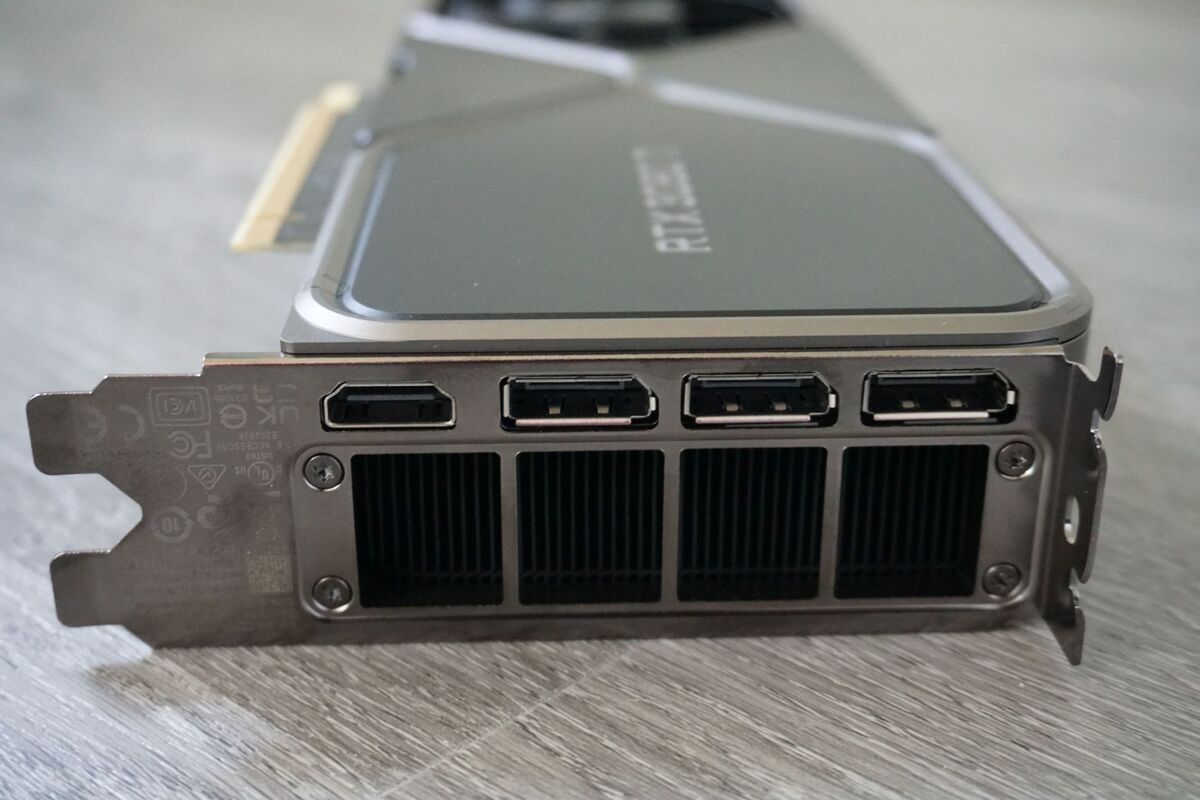 You'll also find an HDMI 2.1 connection and a trio of DisplayPorts, each capable of handling 4K video feeds with ease. You won't find extra features such as customizable RGB lighting, fan headers, or a dual-BIOS switch on FE cards, however.
Nvidia differentiates the RTX 3080 Ti from the RTX 3090 here as well, and potentially tossed its board partners a bone in the process. The Ti's cooler comes in the same two-slot design as the original RTX 3080. Nvidia expanded the RTX 3090 to a chonky three-slot thickness, which fantastically tamed the monstrous GPU. Cramming the RTX 3080 Ti—which, again, is just a hair less powerful than the 3090—into the 3080's dual-slot design results in higher temperatures than we see in either of the non-Ti models, and unlike the 3090, you can faintly hear the 3080 Ti working under full load. It's still a fine cooler, and a good one at that, but if you want the best, you'll still need to spring for the flagship—or for a premium third-party custom 3080 Ti with a beefier body and more cooling and power management technology inside.

Speaking of which, the GeForce RTX 3080 Ti also includes Nvidia's "Lite Hash Rate" technology, which halves the effectiveness of mining the Ethereum cryptocurrency in half in a bid to free up GeForce stock for PC gamers during this unprecedented GPU shortage. The LHR tech is being built into all new GeForce GPUs except the 3090, as that luxury-priced graphics card is already intended to dominate at tasks that can make you money rather than simply amuse. Rumors ahead of the RTX 3080 Ti's reveal whispered that Nvidia's Founders Edition model specifically lacks the LHR limiter, but that's not true. The FE card's mining efficiency is just as nerfed as it is for third-party RTX 3080 Tis by the likes of EVGA, Asus, MSI, and so on.
Beyond that, the GeForce RTX 3080 Ti includes everything you get with all RTX 30-series GPUs: Best-in-class ray tracing, DLSS 2.0, Nvidia Reflex's awesome latency lowering capabilities, the best-in-class NVENC encoder for streaming and video creation, and so on.
But enough chit-chat. Let's get into how the GeForce RTX 3080 Ti compares against not just Nvidia's other GPUs, but AMD's shockingly potent Radeon RX 6900 XT.
Next page: Our test system, benchmarks begin
Our test system
We're using our new AMD Ryzen 5000-series test rig to be able to benchmark the effect of PCIe 4.0 support on modern GPUs, as well as the performance-boosting AMD Smart Access Memory and Nvidia Resizable BAR features (which are both based on the same underlying PCIe standard) in spin-off evaluations. Currently, we're testing it on an open bench with AMD's Wraith Max air cooler; in the future, we'll both be moving the setup into a case and adding an NZXT Kraken liquid cooler to the mix. Most of the hardware was provided by the manufacturers, but we purchased the storage ourselves.
AMD Ryzen 5900X, stock settings
AMD Wraith Max cooler
MSI Godlike X570 motherboard
32GB G.Skill Trident Z Neo DDR4 3800 memory
EVGA 1200W SuperNova P2 power supply ($352 on Amazon)
We're comparing the $1,200 GeForce RTX 3080 Ti against Nvidia's Founders Edition models of the $1,500 RTX 3090 and $700 RTX 3080, of course, as well as AMD's rival $1,000 Radeon RX 6900 XT. Time constraints caused by this GPU's launch during Computex on a holiday weekend prevented us from testing additional cards like the Radeon RX 6800 XT or last generation's RTX 2080 Ti, alas, and we weren't able to test Resizable BAR or ray tracing performance either. That said, because the 3080 Ti is essentially a 3090 with less memory, its ray tracing and DLSS performance should be nearly identical to that card's. You can see how the comparison GPUs all handle ray tracing in our Radeon RX 6900 XT review.
Mentioned in this article
Radeon RX 6900 XT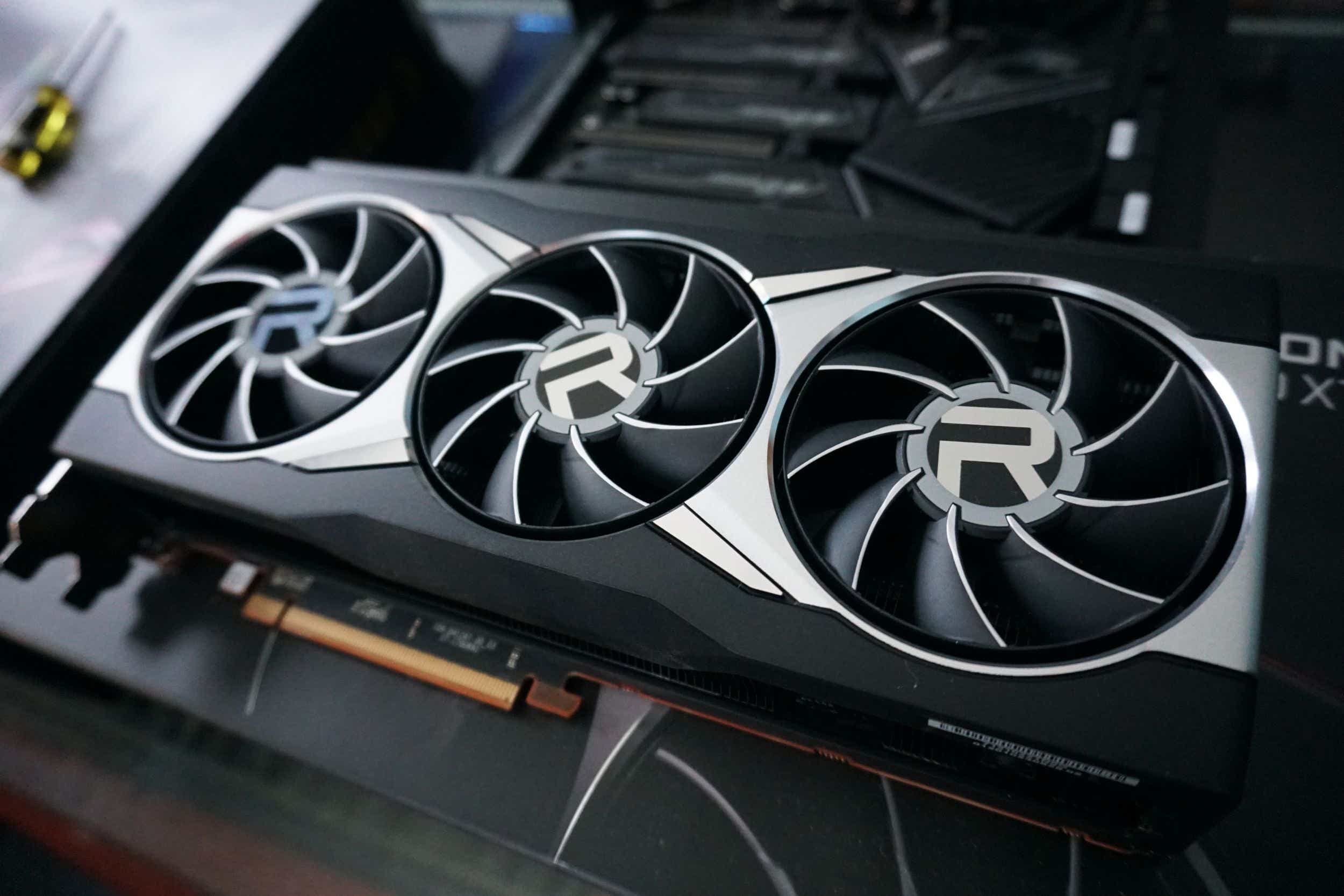 Price When Reviewed:
$1000
This evaluation focuses purely on traditional gaming benchmarks. We test a variety of games spanning various engines, genres, vendor sponsorships (Nvidia, AMD, and Intel), and graphics APIs (DirectX 11, DX12, and Vulkan). Each game is tested using its in-game benchmark at the highest possible graphics presets unless otherwise noted, with VSync, frame rate caps, real-time ray tracing or DLSS effects, and FreeSync/G-Sync disabled, along with any other vendor-specific technologies like FidelityFX tools or Nvidia Reflex. We've also enabled temporal anti-aliasing (TAA) to push these cards to their limits. We run each benchmark at least three times and list the average result for each test.
Spoiler alert: The RTX 3080 Ti is only a hair slower than the 3090, and matches or beats the high-end Radeon in all games except a few that strongly favor AMD's architecture. Because of that we're going to present these benchmark charts but save our wrap-up commentary for the end.
Gaming performance benchmarks
Watch Dogs: Legion
Watch Dogs: Legion is one of the first games to debut on next-gen consoles. Ubisoft upgraded its Disrupt engine to include cutting-edge features like real-time ray tracing and Nvidia's DLSS. We disable those effects for this testing, but Legion remains a strenuous game even on high-end hardware with its optional high-resolution texture pack installed. Few cards can maintain a 60-frames-per-second average with Ultra graphics options enabled, and the game allocates more than 8GB of memory even at 1440p. Oof.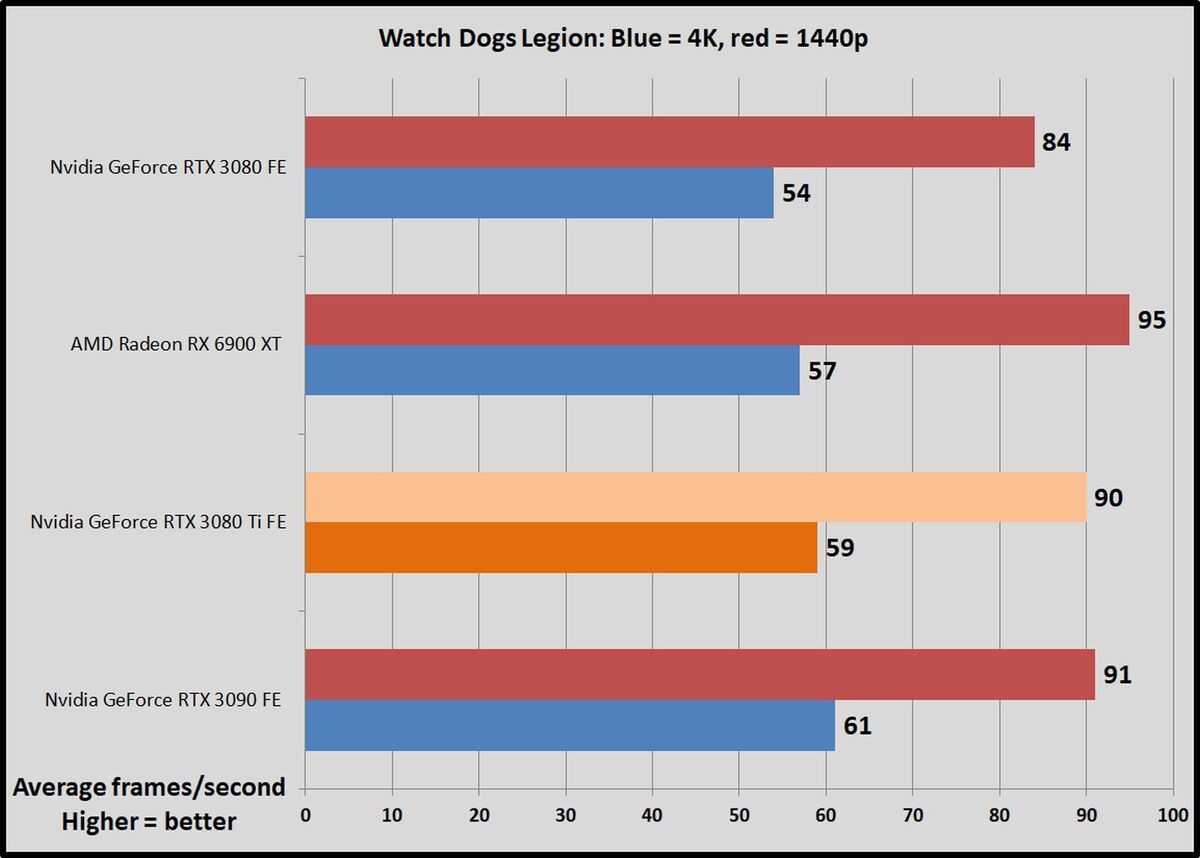 Horizon Zero Dawn
Yep, PlayStation exclusives are coming to the PC now. Horizon Zero Dawn runs on Guerrilla Games' Decima engine, the same engine that powers Death Stranding.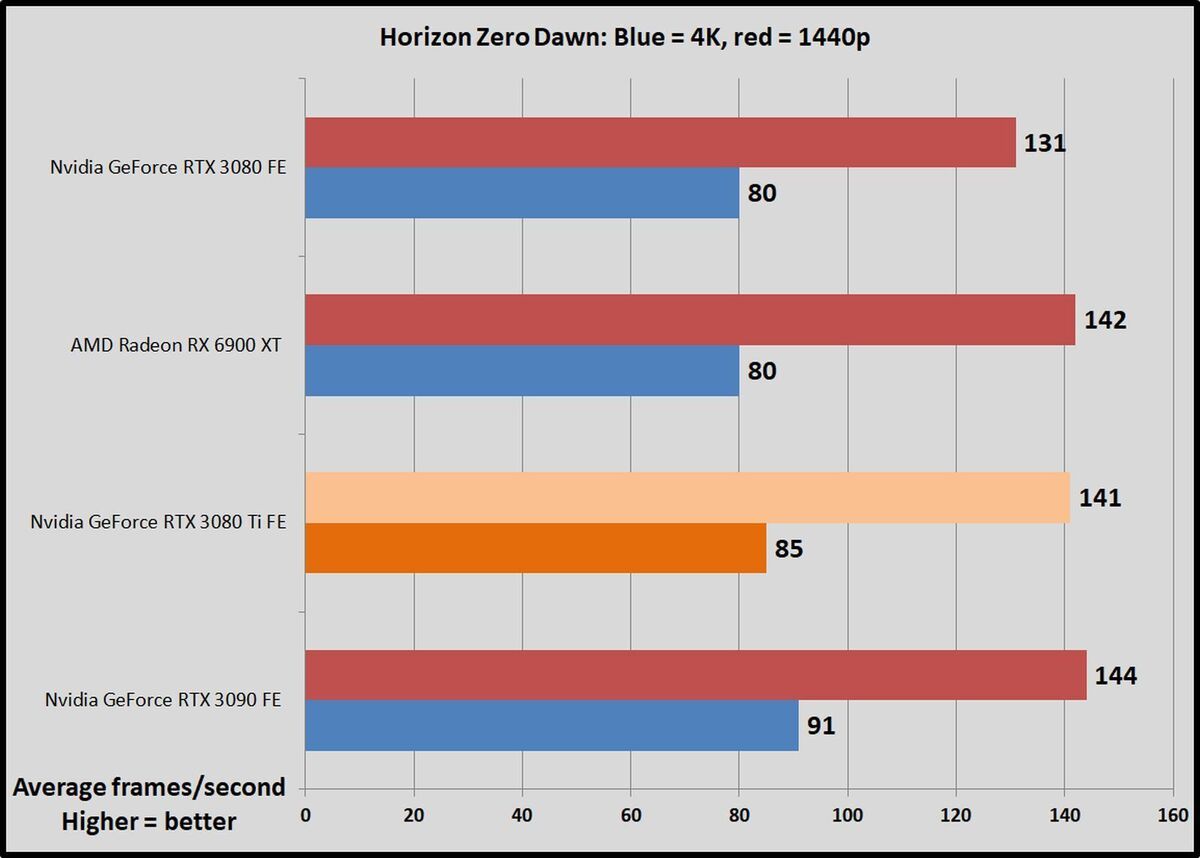 Next page: gaming benchmarks continue
Gears Tactics
Gears Tactics puts it own brutal, fast-paced spin on the XCOM-like genre. This Unreal Engine 4-powered game was built from the ground up for DirectX 12, and we love being able to work a tactics-style game into our benchmarking suite. Better yet, the game comes with a plethora of graphics options for PC snobs. More games should devote such loving care to explaining what flipping all these visual knobs mean.
You can't use the presets to benchmark Gears Tactics, as it intelligently scales to work best on your installed hardware, meaning that "Ultra" on one graphics card can load different settings than "Ultra" on a weaker card. We manually set all options to their highest possible settings.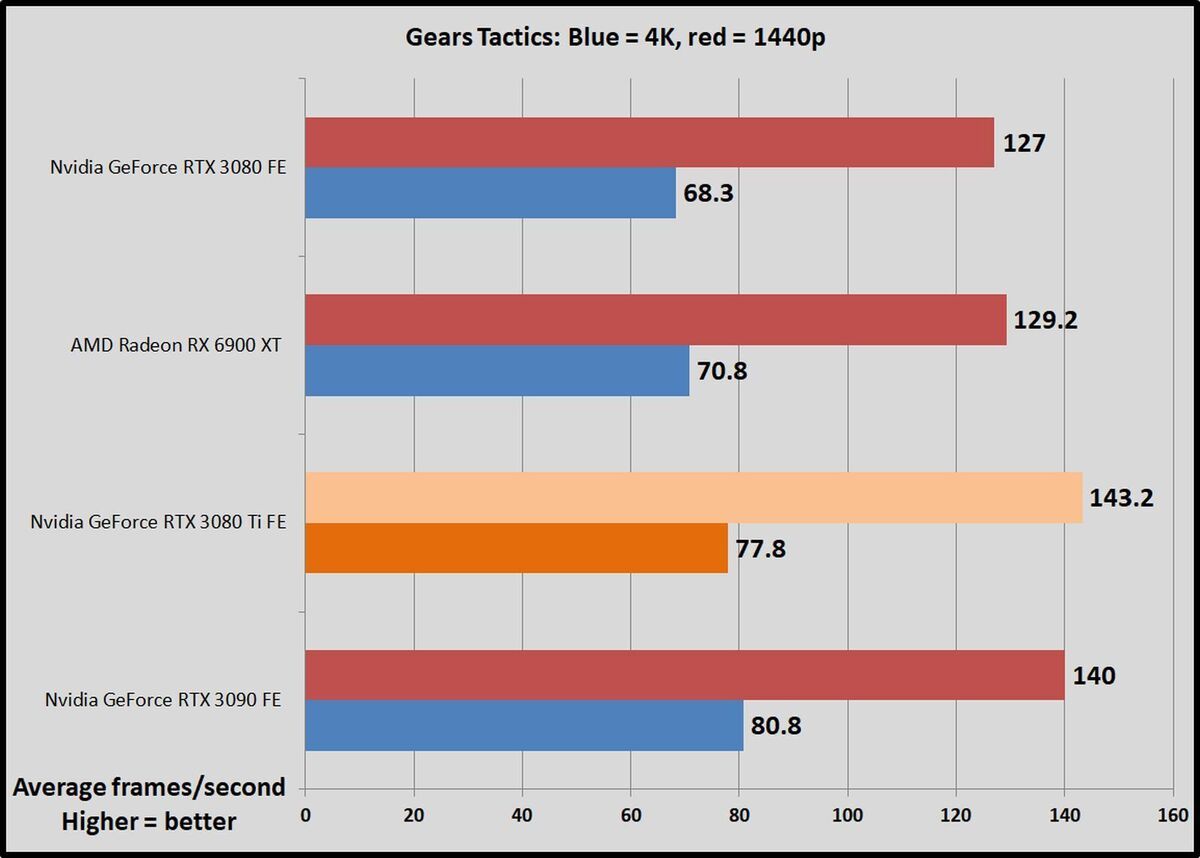 Wolfenstein: Youngblood
Wolfenstein: Youngblood is more fun when you can play cooperatively with a buddy, but it's a fearless experiment—and an absolute technical showcase. Running on the Vulkan API, Youngblood achieves blistering frame rates, and it supports all sorts of cutting-edge technologies like ray tracing, DLSS 2.0, HDR, GPU culling, asynchronous computing, and Nvidia's Content Adaptive Shading. The game includes a built-in benchmark with two different scenes; we tested Riverside.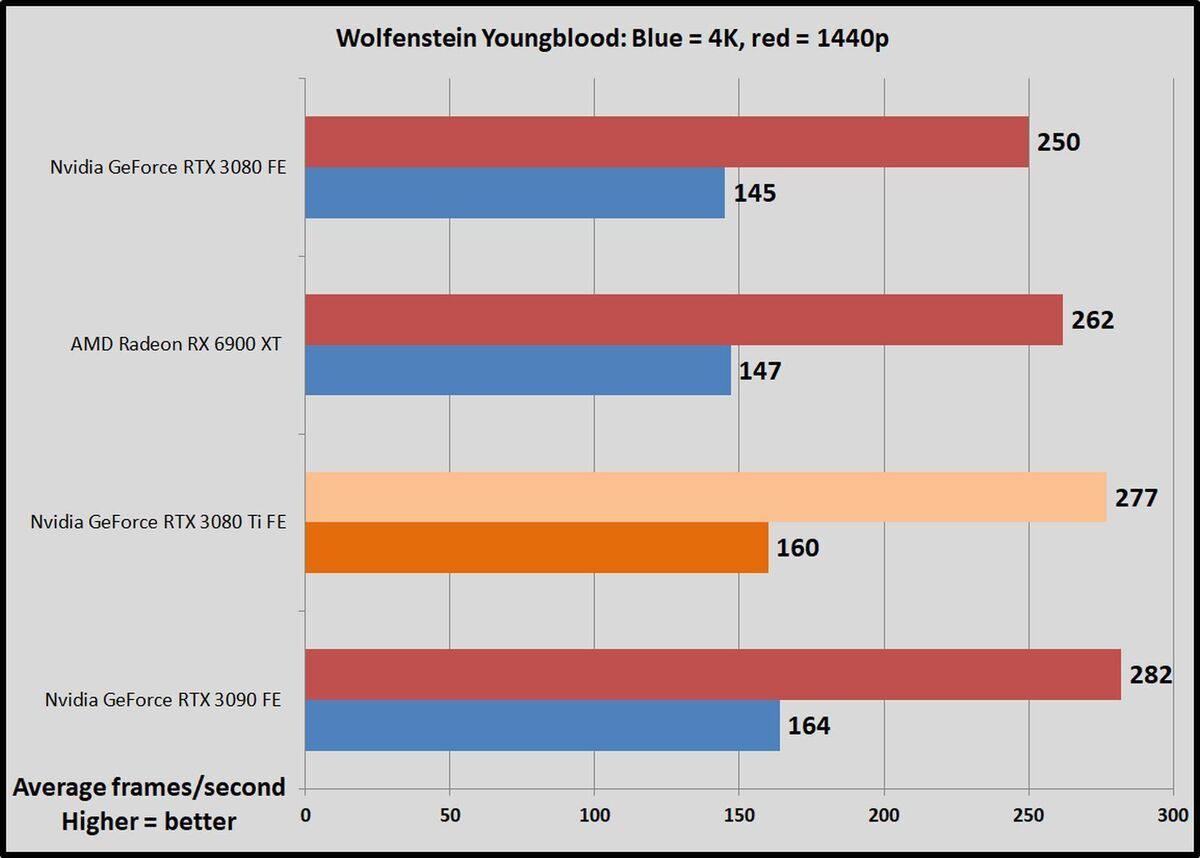 Metro Exodus
One of the best games of 2019, Metro Exodus remains one of the best-looking games around, too. The latest version of the 4A Engine provides incredibly luscious, ultra-detailed visuals, with one of the most stunning real-time ray tracing implementations released yet. The Extreme graphics preset we benchmark can melt even the most powerful modern hardware, as you'll see below, though the game's Ultra and High presets still look good at much higher frame rates.
We test in DirectX 12 mode with ray tracing, Hairworks, and DLSS disabled.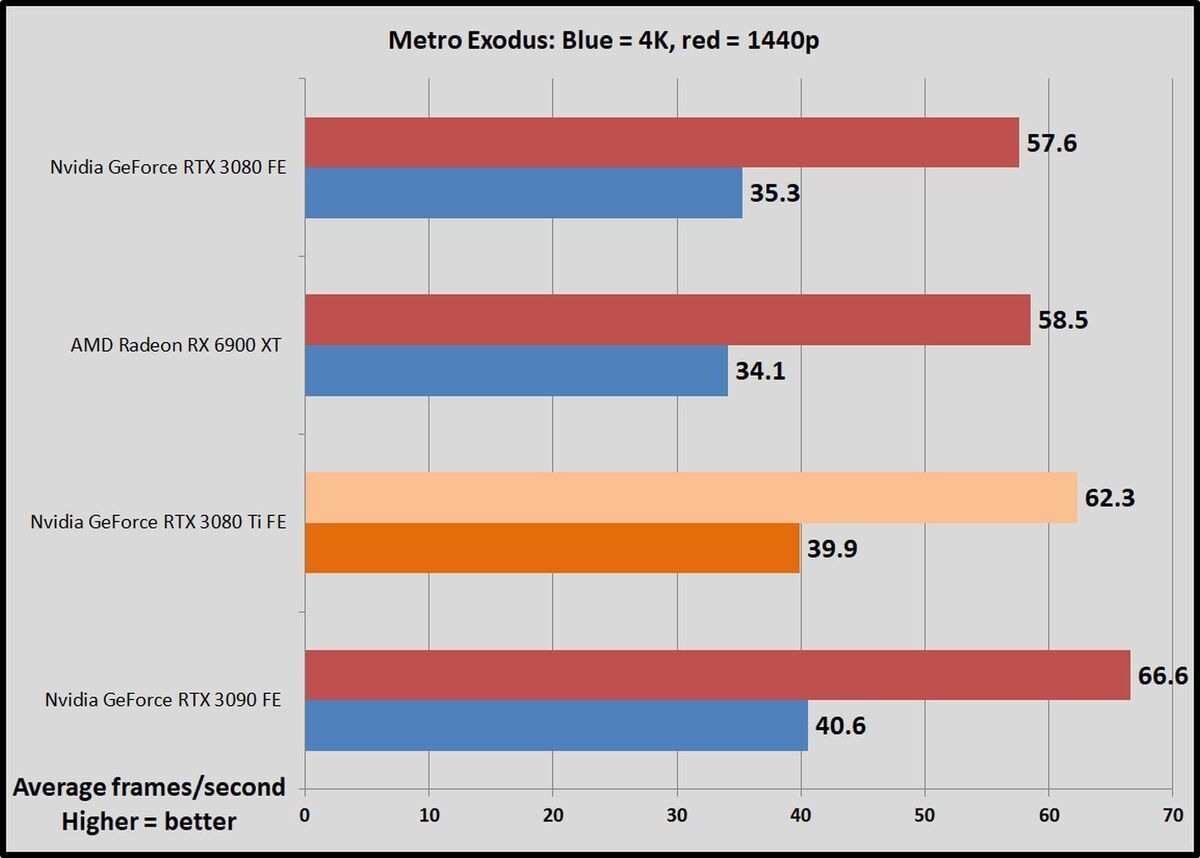 Borderlands 3
Borderlands is back! Gearbox's game defaults to DX12, so we do as well. It gives us a glimpse at the ultra-popular Unreal Engine 4's performance in a traditional shooter. This game tends to favor AMD hardware.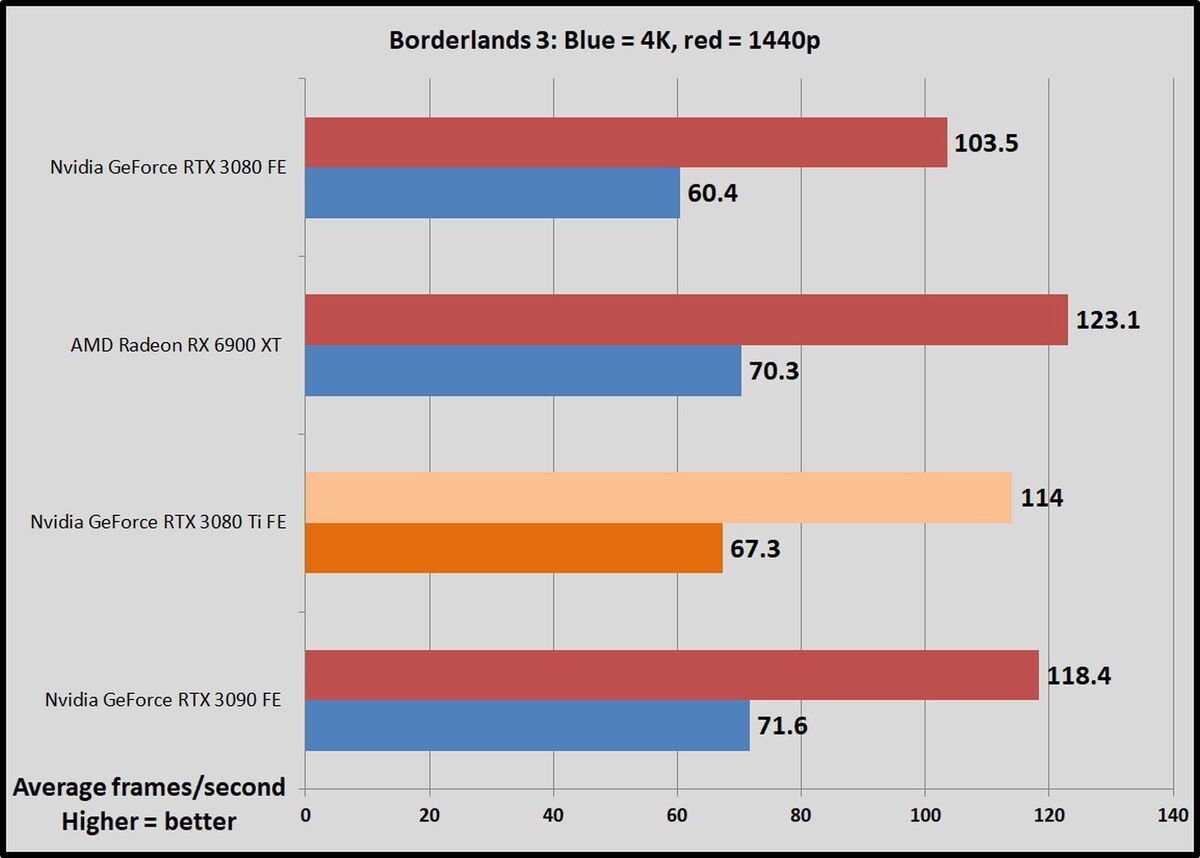 Strange Brigade
Strange Brigade is a cooperative third-person shooter where a team of adventurers blasts through hordes of mythological enemies. It's a technological showcase, built around the next-gen Vulkan and DirectX 12 technologies and infused with features like HDR support and the ability to toggle asynchronous compute on and off. It uses Rebellion's custom Azure engine. We test using the Vulkan renderer, which is faster than DX12.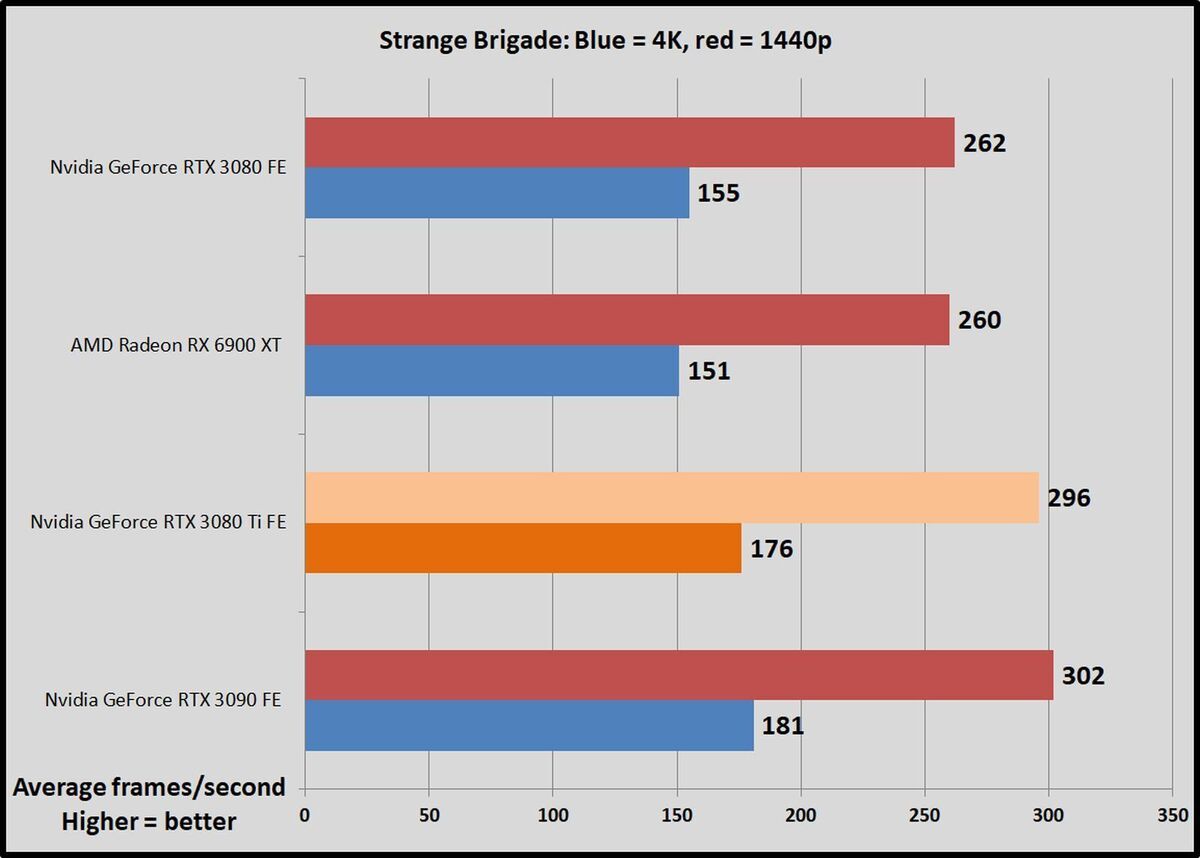 Next page: gaming benchmarks continue
Total War: Troy
The latest game in the popular Total War saga, Troy was given away free for its first 24 hours on the Epic Games Store, moving over 7.5 million copies before it went on proper sale. Total War: Troy is built using a modified version of the Total War: Warhammer 2 engine, and this DX11 title looks stunning for a turn-based strategy game. We test the more intensive battle benchmark.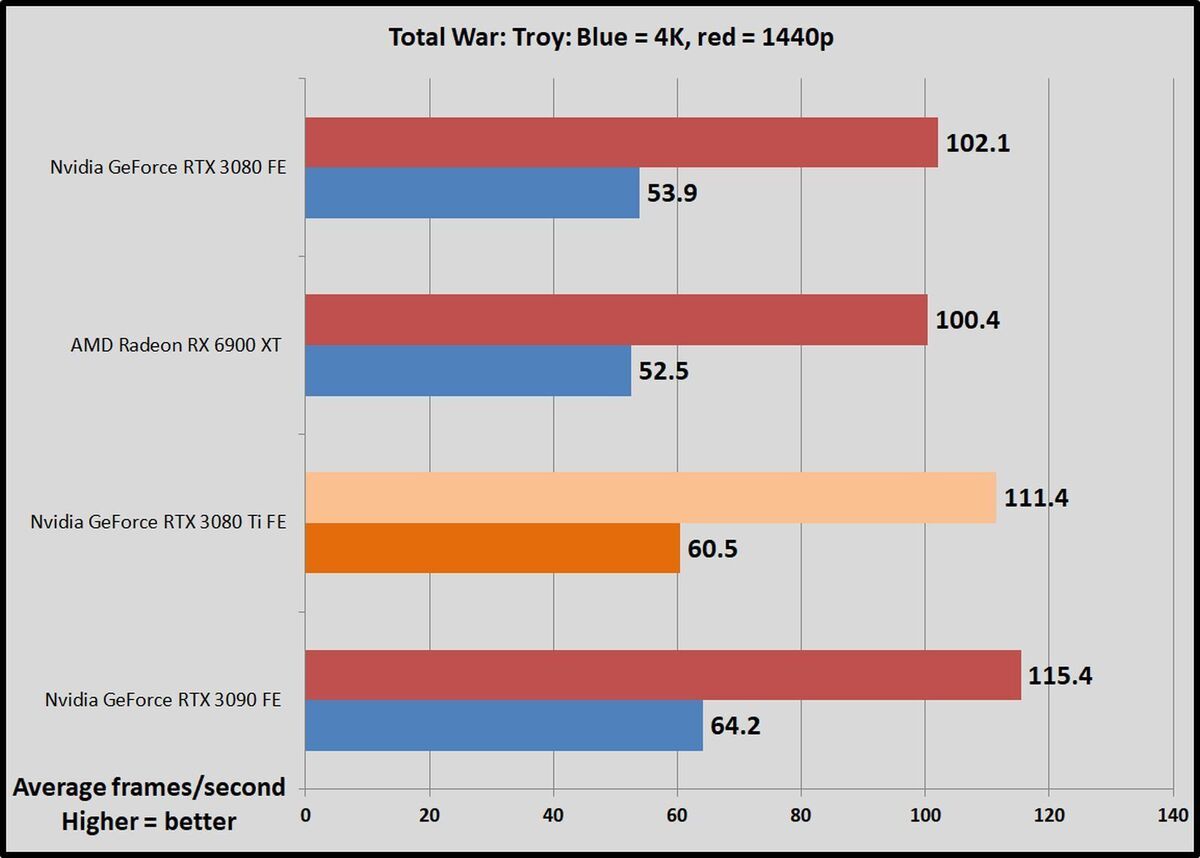 F1 2020
The latest in a long line of successful racing games, F1 2020 is a gem to test, supplying a wide array of both graphical and benchmarking options, making it a much more reliable (and fun) option that the Forza series. It's built on the latest version of Codemasters' buttery-smooth Ego game engine, complete with support for DX12 and Nvidia's DLSS technology. We test two laps on the Australia course, with clear skies on and DLSS off.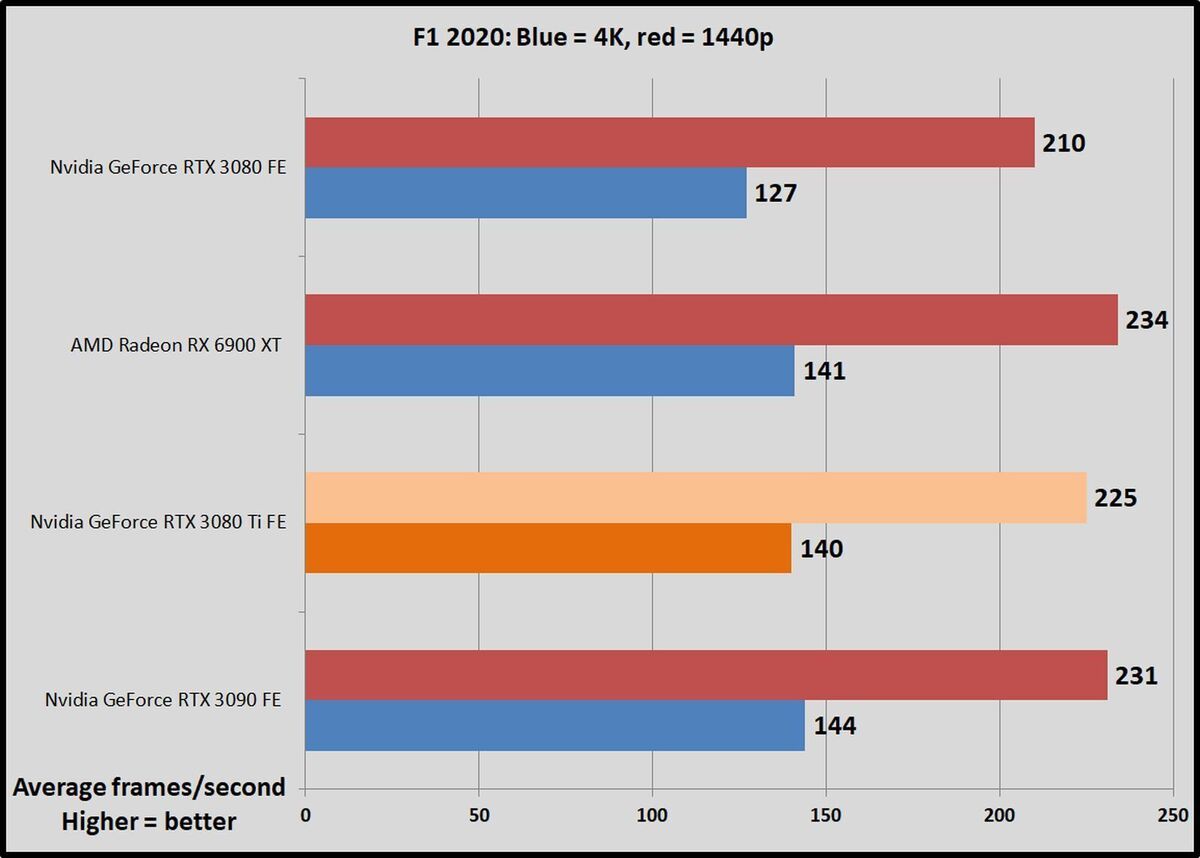 Shadow of the Tomb Raider
Shadow of the Tomb Raider concludes the reboot trilogy, and it's still utterly gorgeous a couple of years after its debut. Square Enix optimized this game for DX12 and recommends DX11 only if you're using older hardware or Windows 7, so we test with DX12. Shadow of the Tomb Raider uses an enhanced version of the Foundation engine that also powered Rise of the Tomb Raider and includes optional real-time ray tracing and DLSS features.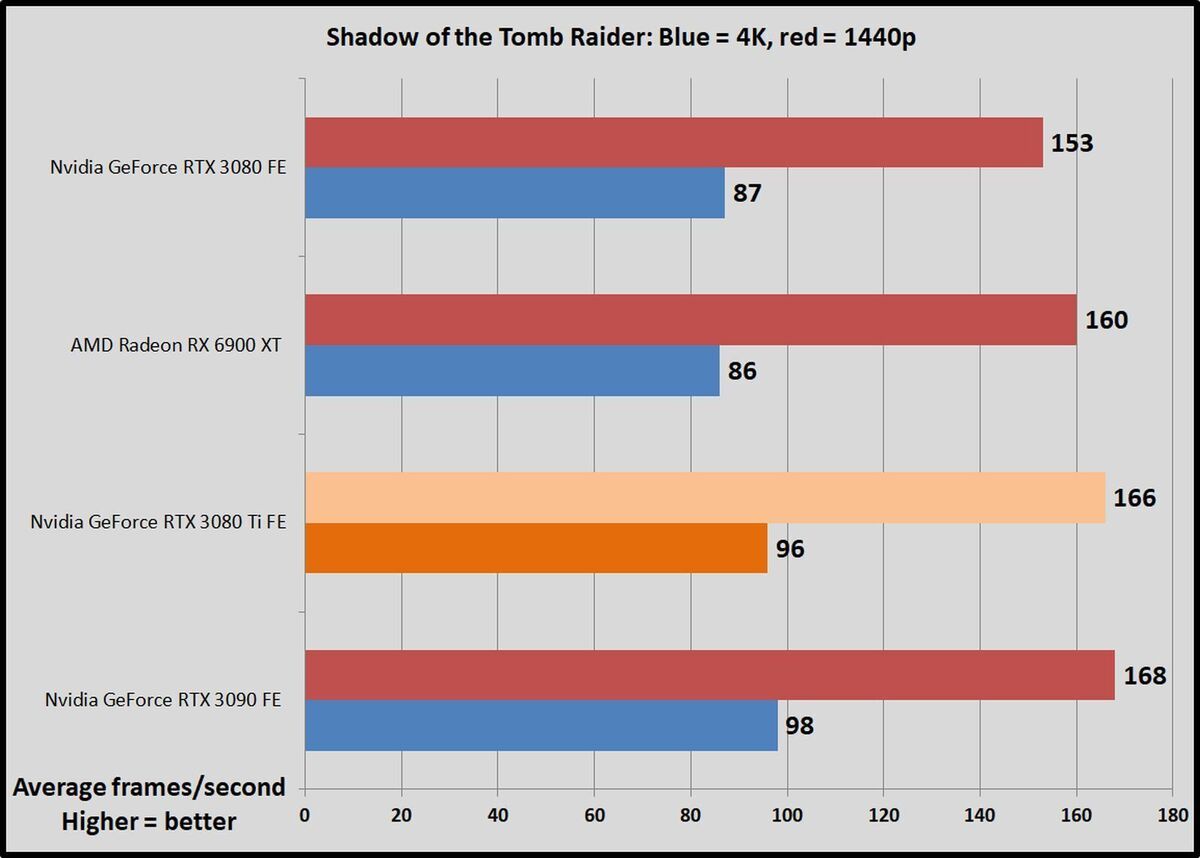 Rainbow Six Siege
Rainbow Six Siege still dominates the Steam charts years after its launch, and Ubisoft supports it with frequent updates and events. The developers have poured a ton of work into the game's AnvilNext engine over the years, eventually rolling out a Vulkan version of the game that we use to test. By default, the game lowers the render scaling to increase frame rates, but we set it to 100 percent to benchmark native rendering performance on graphics cards. Even still, frame rates soar.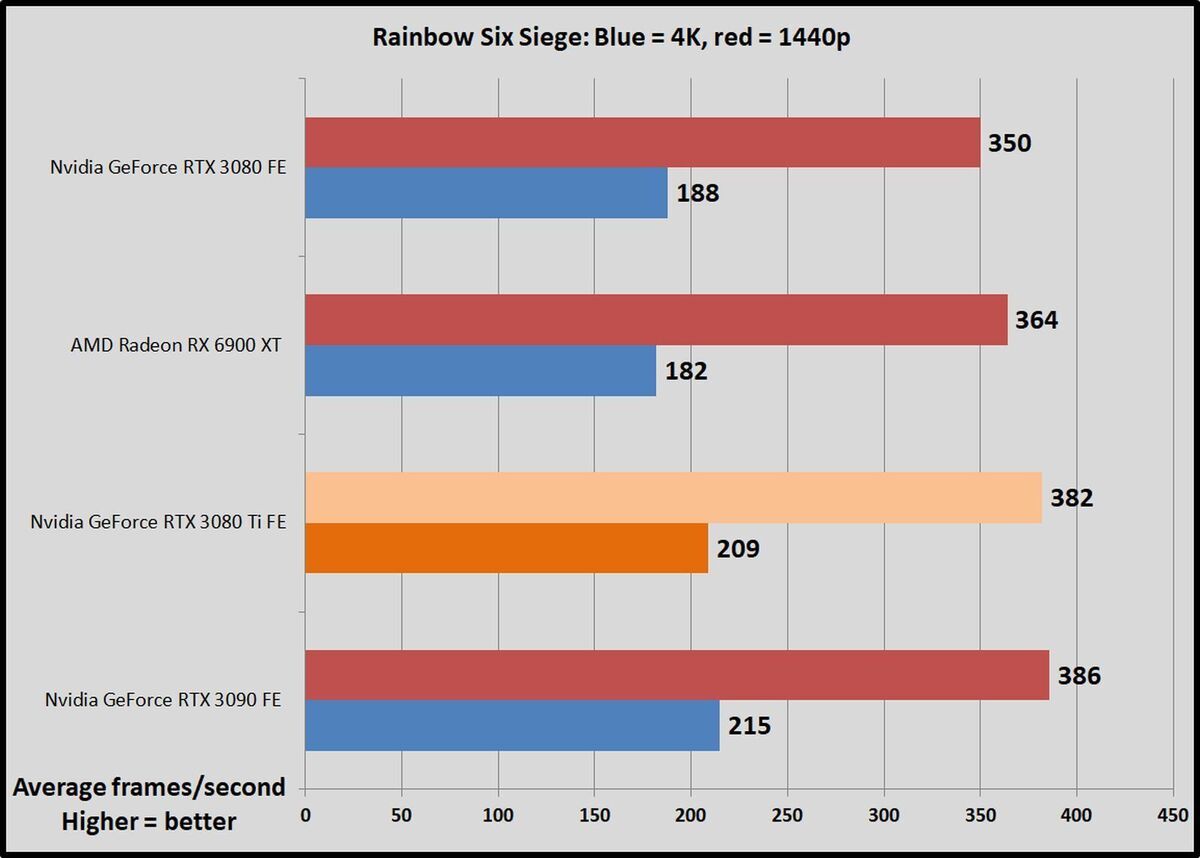 Next page: Power, thermals, and noise
Power draw, thermals, and noise
We test power draw by looping the F1 2020 benchmark at 4K for about 20 minutes after we've benchmarked everything else and noting the highest reading on our Watts Up Pro meter, which measures the power consumption of our entire test system. The initial part of the race, where all competing cars are onscreen simultaneously, tends to be the most demanding portion.
This isn't a worst-case test; this is a GPU-bound game running at a GPU-bound resolution to gauge performance when the graphics card is sweating hard. If you're playing a game that also hammers the CPU, you could see higher overall system power draws. Consider yourself warned.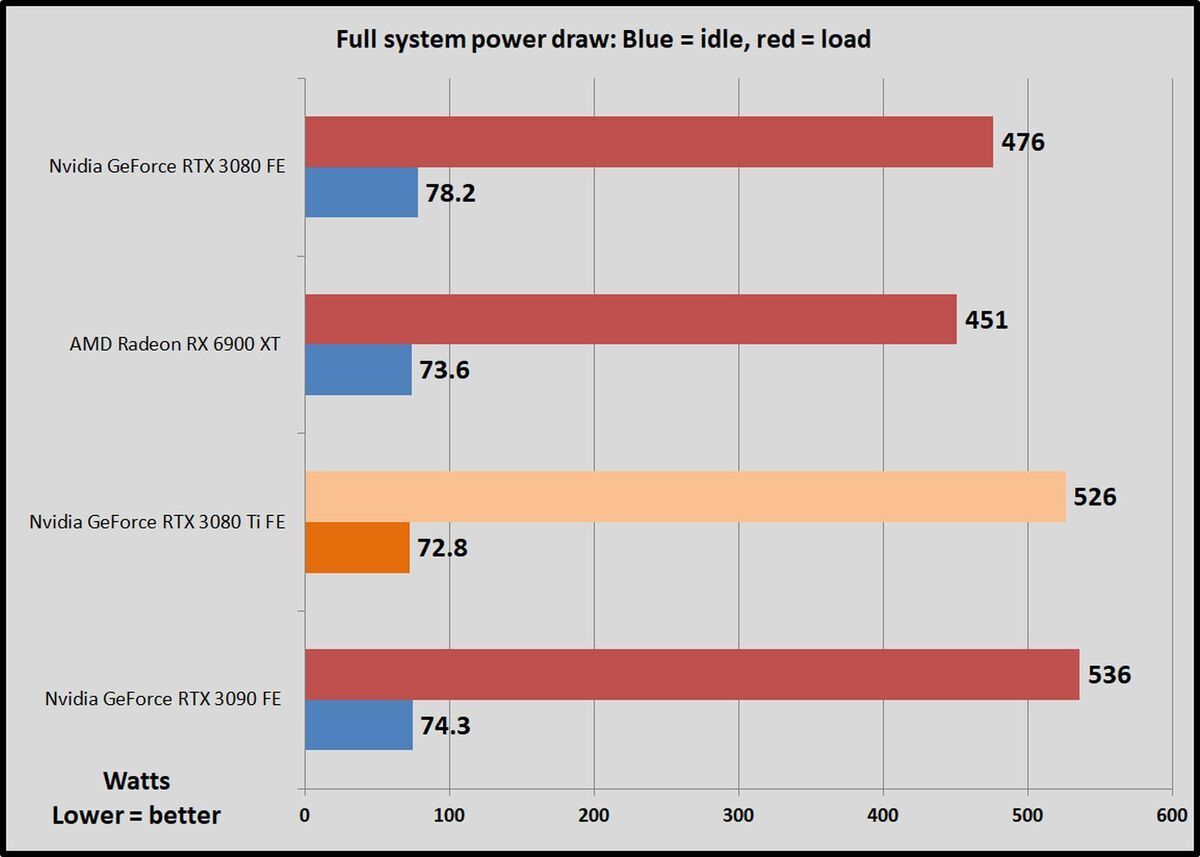 RTX 3090-like performance means RTX 3090-like power draws. Like other Nvidia Ampere GPUs, the RTX 3080 Ti draws a staggering amount of power, due in part to the high energy needs of that blazing-fast GDDR6X memory that provides so much bandwidth. AMD's Radeon RX 6900 XT and its standard GDDR6 memory draws significantly less power—even less than the non-Ti 3080!
We test thermals by leaving GPU-Z open during the F1 2020 power draw test, noting the highest maximum temperature at the end.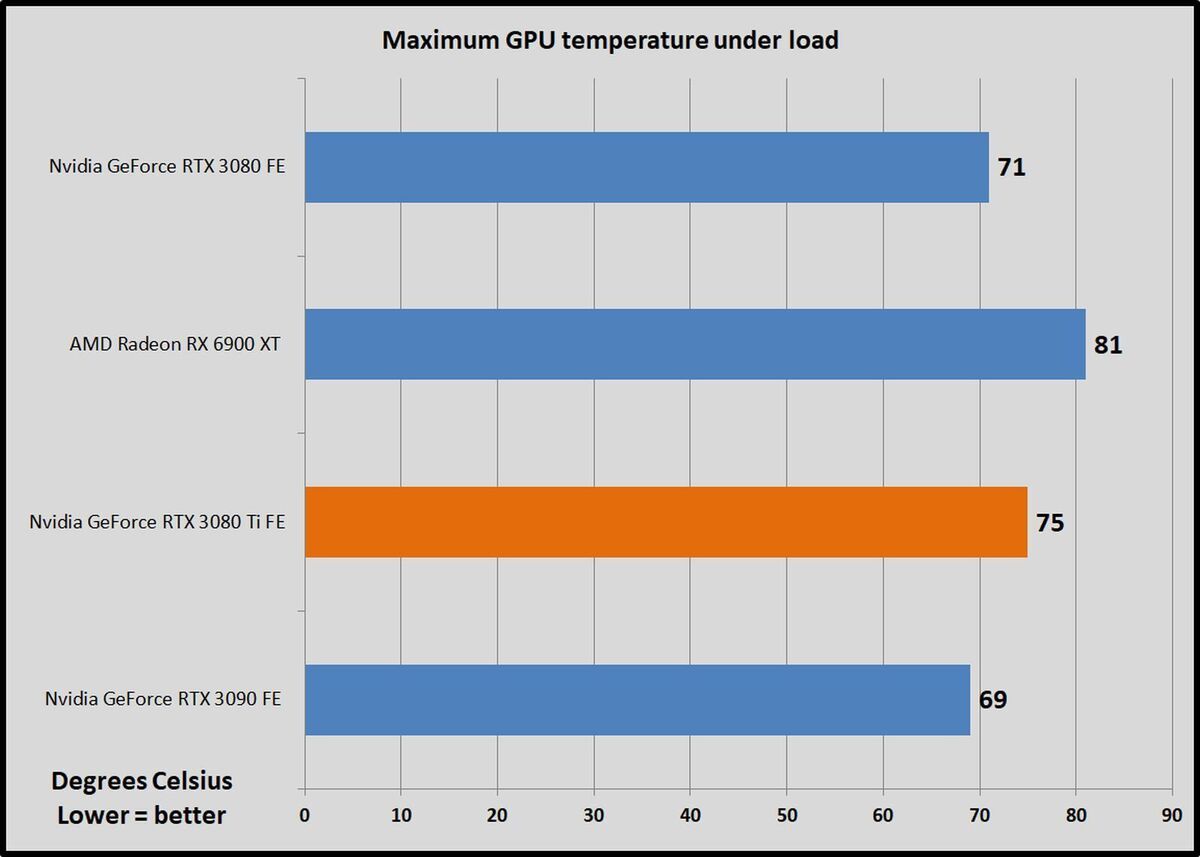 Nvidia's radical new cooler still delivers a very good experience—AMD's standard triple-fan reference card runs hotter by several degrees. But opting for a dual-slot design makes the 3080 Ti Founders Edition less exceptional cooling-wise than the other high-end members of the RTX 30-series family. Nvidia tamed the 3090 with a massive triple-slot cooler for wondrous results. Shoving nearly the same GPU into the vanilla 3080's dual-slot design means the Ti model runs a bit hotter and slightly noisier than its siblings. Custom boards will have plenty of room to improve things with bulkier configurations.
That said, the Founders Edition provides a good overall experience: 75 degrees Celsius is a fine temperature for a GPU. While you can hear the 3080 Ti FE's fans blowing during gameplay, they aren't loud by any means. Nvidia's engineers did good with this design.
Next page: Should you buy the GeForce RTX 3080 Ti?
Should you buy the GeForce RTX 3080 Ti?
You probably shouldn't buy any graphics card right now, as I said in our GeForce RTX 3060 and Radeon RX 6700 XT reviews. Prices are just plain ridonkulous. I'd recommend most people sit on the sidelines and stream their PC games via Nvidia's GeForce Now service until the dust settles. While this card ostensibly costs $1,200, I'd expect the RTX 3080 Ti to go for two grand or more until the crippling GPU shortage ends.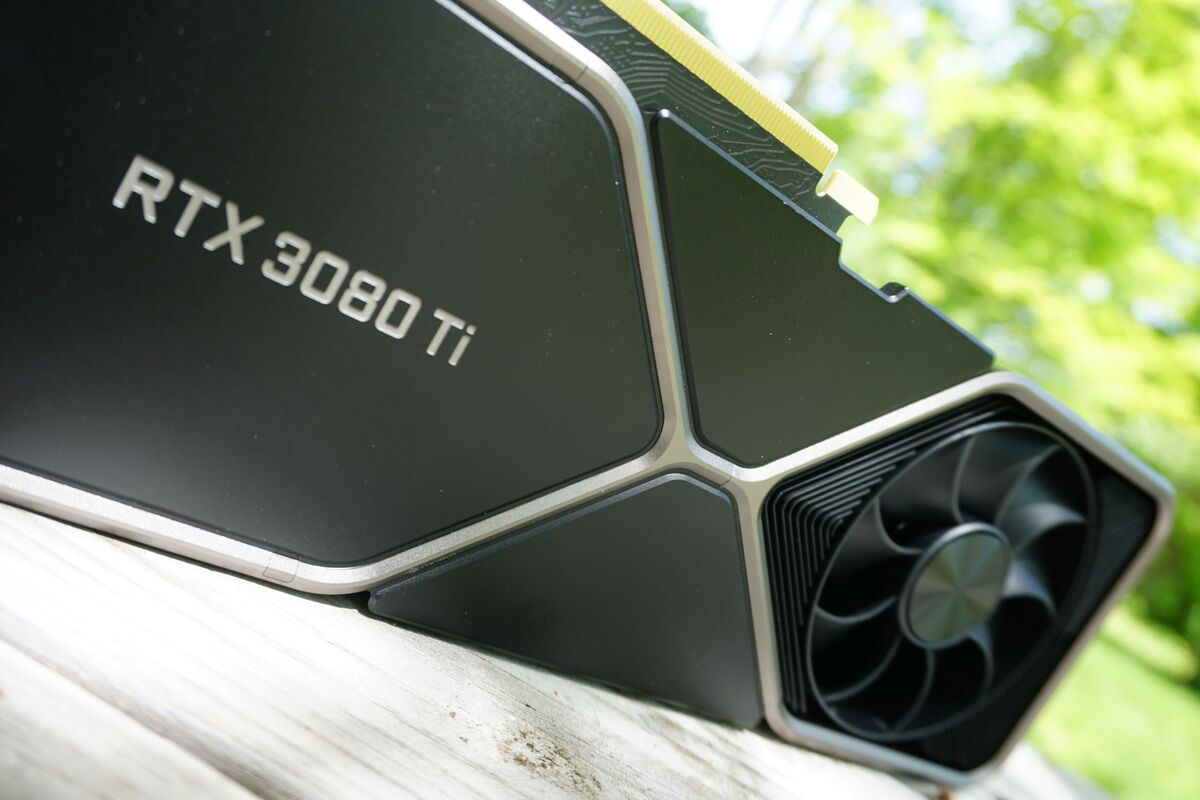 It's also worth mentioning that the price for Ti-grade cards continues creeping upward. Most RTX 2080 Ti offerings started at the same $1,200 as Nvidia's Founders Edition model, sure, but that GPU actually carried a baseline retail price of $999—and yes, some custom cards actually cost that. Meanwhile the GTX 1080 Ti that Nvidia hopes you upgrade from launched at "just" $700 in 2017. If you do move from the 1080 Ti to the 3080 Ti, and you're able to find one at its MSRP, you're still spending $500 more out of the gate.
Mentioned in this article
Nvidia GeForce RTX 3090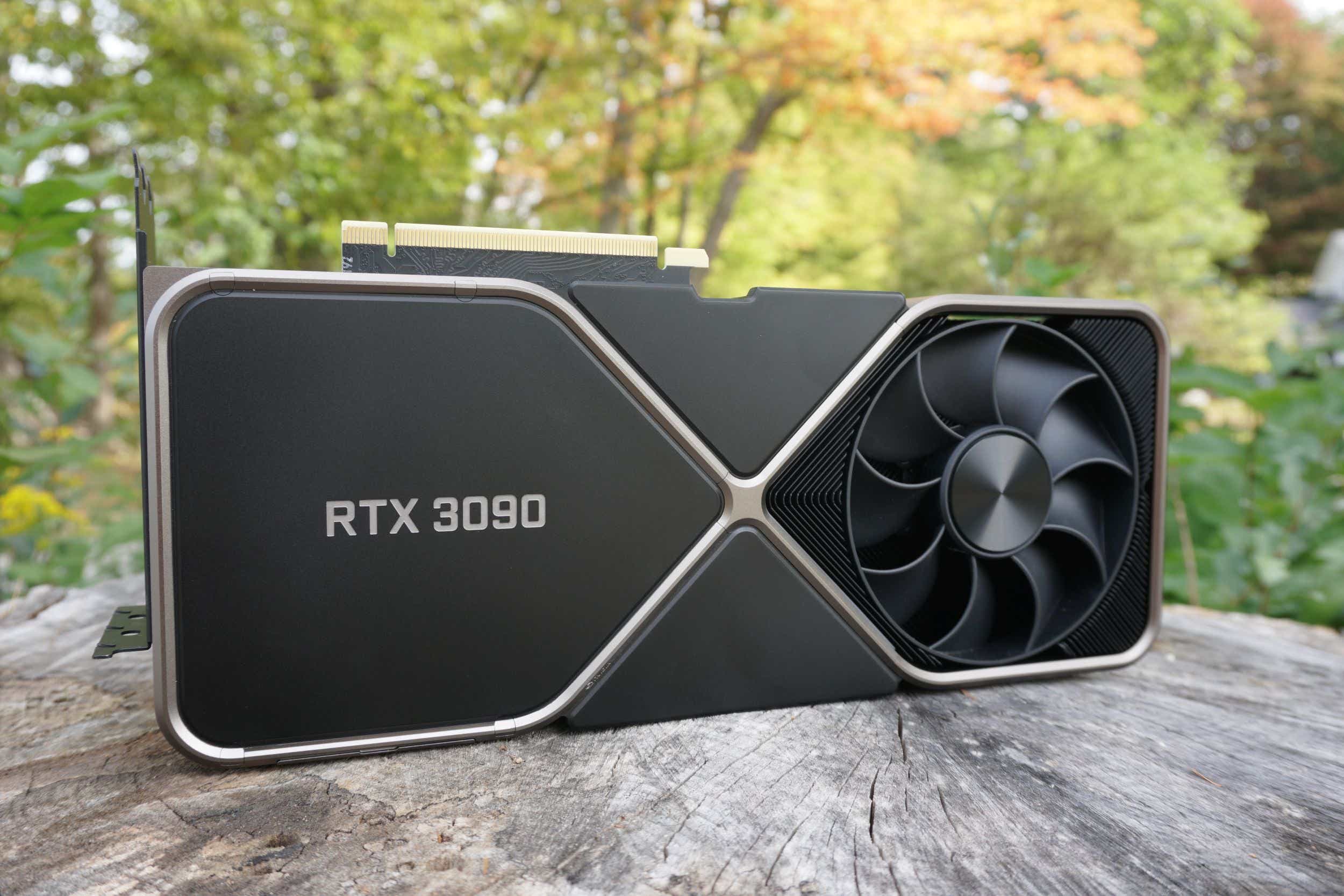 Price When Reviewed:
$1499
All that said, the GeForce RTX 3080 Ti is essentially a 3090 with half the VRAM for $300 less. That makes it much more compelling for gaming, as the 3090's 24GB was overkill unless you're performing content creation. The extra 2GB of capacity over the vanilla RTX 3080 makes this feel like a better option for long-term 4K gaming. AMD's Radeon RX 6900 XT has 16GB, but of the slower (but still fine) GDDR6 variety.
I'd personally prefer the GeForce RTX 3080 Ti Founders Edition over the Radeon RX 6900 XT thanks to its faster 4K gaming performance overall. AMD earns a few additional victories at 1440p thanks to its Infinity Cache, and even the 3080 TI's deep arsenal of Nvidia features like DLSS, Broadcast, Reflex, Shadowplay, NVENC, and so on doesn't render AMD's Radeon flagship obsolete. If Nvidia priced it at $1,000 (which I think would be a much better MSRP), however, the Radeon rival would be a much harder sell. Pricing it at $1,200 leaves ample room for every high-end card released thus far. There are still reasons to go with the Radeon as well as the RTX 3080 and 3090.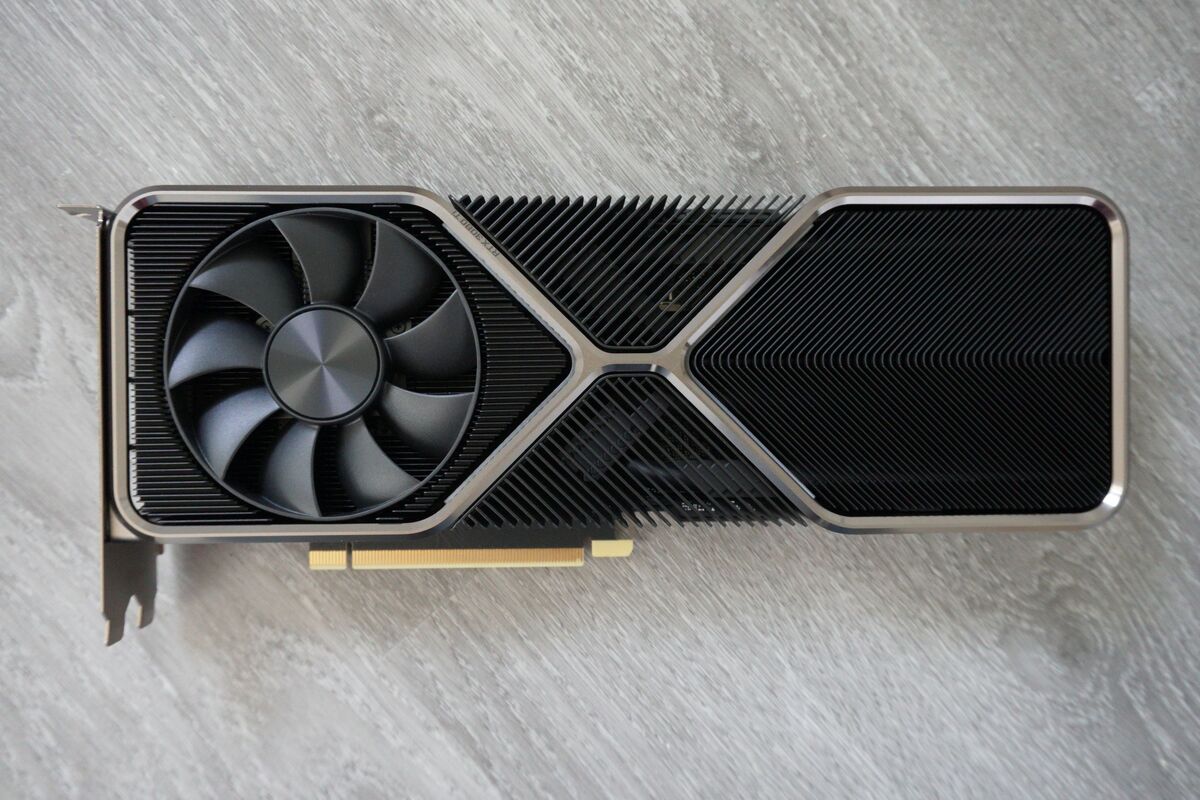 Of course, this is all academic while graphics cards cost so much due to a mixture of sky-high demand and a crippling chip shortage. Hopefully the new "Lite Hash Rate" technology Nvidia is working into all newly built GPUs except the RTX 3090 will motivate professional cryptominers to skip over the high-priced RTX 3080 Ti. It's a lot harder to justify such a large expense when you're mining Ethereum at half the rate you should be.
Bottom line? The GeForce RTX 3080 Ti is a monster GPU worthy of being called a gaming flagship—something the 3090 couldn't claim thanks to its massive memory buffer, high price, and content creation focus, and something the 3080 couldn't claim thanks to its somewhat skimpy 10GB of VRAM. The dual-slot Founders Edition design isn't as impressive as the FE coolers on those other cards, but it still does an admirable job. Unlike its other RTX 30-series cousins, the GeForce RTX 3080 Ti has no weak links (aside from the ugly 12-pin cable adapter and high price).
If you're looking to drop four figures on a graphics card that can power no-compromises 4K experiences, Nvidia's RTX 3080 Ti is well worth the money. But if money is an object, the $700 GeForce RTX 3080 and $650 Radeon RX 6800 XT also deliver very, very good 60-fps+ 4K gaming experiences for significantly less money…when you can find them. In today's wild world, all of these GPUs will set you back four figures.
Best Prices Today: GeForce RTX 3080 Ti Founders Edition