At a Glance
Expert's Rating
Pros
Excellent 4K and 1440p gaming
Huge factory overclock
As fast as RTX 3090, sometimes faster
12GB of high-speed GDDR6X memory
Loaded with overclocking-friendly features
Fan and RGB headers, striking RGB lights
Precision X1 software is superb
Cons
Staggering power draw
Massive size, 3x power pins limits some PC compatibility
EVGA's fantastic cooler delivers merely very good heat, noise results due to sky-high power draw
Very expensive (more so on the street), low availability
Our Verdict
The EVGA GeForce RTX 3080 Ti FTW3 Ultra is an ultra-fast, power-chugging graphics card built to ride the bleeding-edge of performance—if you can afford it. Overclocking enthusiasts and gamers who refuse to sacrifice a single frame will love it, but most people would be better off with a more affordable option.
Price When Reviewed
$1399
Best Prices Today: EVGA GeForce RTX 3080 Ti FTW3 Ultra
The new GeForce RTX 3080 Ti is basically a 3090, but for gamers, we said in our review of Nvidia's Founders Edition model. The GPU inside is barely cut-down, and while the RTX 3080 Ti gets half the memory of its bigger sibling, 12GB of GDDR6X is capable of handling even the most extreme 4K gaming workloads. It's just the thinnest of hairs slower than the 3090 in games. "This is the GeForce card that deep-pocketed gamers should buy," we said.
If you're looking for a suitable hot rod to house that screaming-fast GPU, look no further than EVGA's RTX 3080 Ti FTW3 Ultra. This massive, feature-laden flagship tames the RTX 3080 Ti in ways that Nvidia's dual-slot Founders Edition simply can't. The FE card is almost as fast as the GeForce RTX 3090, yes. But the EVGA FTW3 Ultra is just as fast as an RTX 3090 thanks to its hefty overclock and abundant cooling. At $1,400, you're paying a $200 premium for the extra ferocity on top of the 3080 Ti's sky-high base price. Viewed through another lens, the EVGA RTX 3080 Ti FTW3 Ultra is an extremely high-quality custom graphics card that goes toe-to-toe with baseline RTX 3090 models for $100 less.
You know, if graphics card prices weren't outrageously inflated even more right now. This card is selling for between $1,700 and $1,900 on Ebay at the time of writing this review. Sigh. Regardless, the FTW3 Ultra rocks. Let's dig in.
EVGA GeForce RTX 3080 Ti FTW3 Ultra specs, design, and features
The EVGA GeForce RTX 3080 Ti FTW3 Ultra holds no surprises. It features the same core GPU as every Nvidia RTX 3080 Ti, but tames it with the company's spectacular high-end FTW3 custom cooling and design, which we've already fallen in love with in the Ultra versions of the EVGA RTX 3080 FTW3 and RTX 3070 FTW3. This is a spectacular graphics card.
Let's kick things off with a refresher on the RTX 3080 Ti's central specifications, compared to its direct predecessor: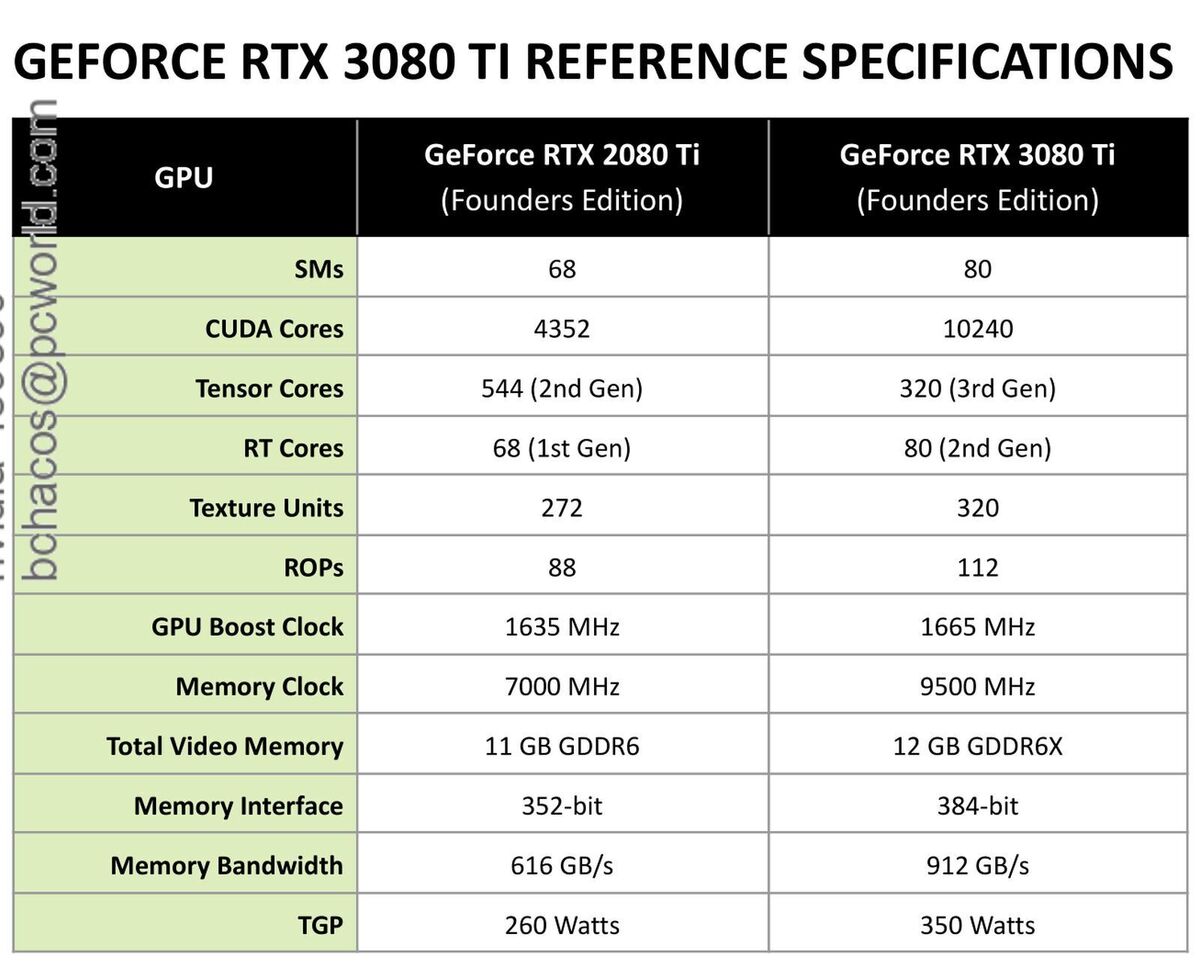 …and then take a peek at EVGA's specification sheet for the FTW3 Ultra specifically: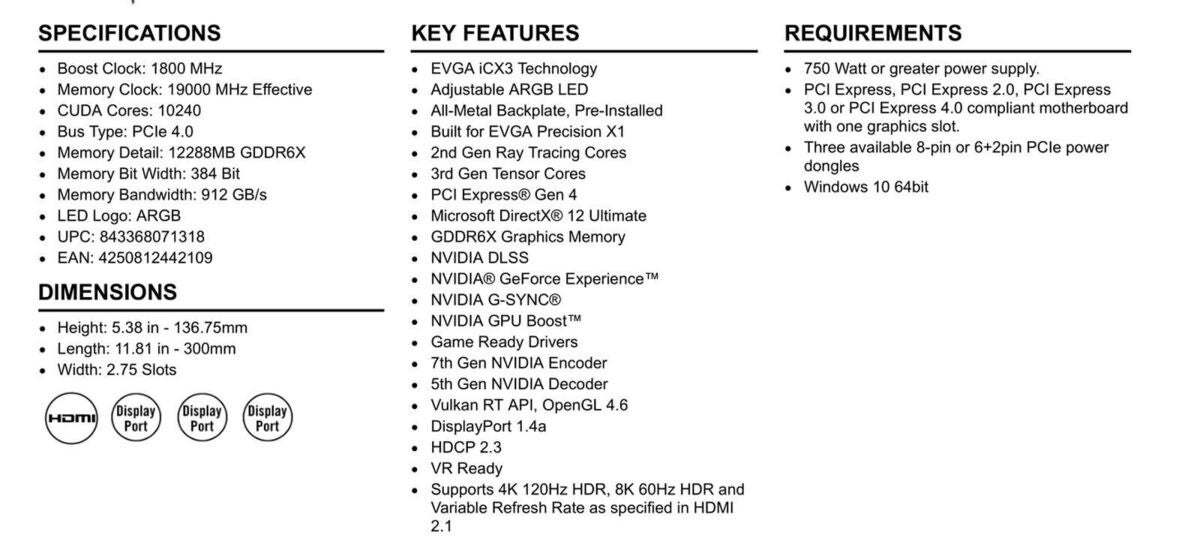 Most of the details align perfectly, as you'd expect. You find the same number of CUDA, ray tracing, and tensor cores in both the FTW3 Ultra and the Nvidia Founders Edition model, along with the same 12GB of ultra-fast GDDR6X memory that can handle any gaming tasks thrown at it with ease. (We covered GDDR6X's advancements and Nvidia's new "Ampere" GPU design in-depth in our original GeForce RTX 3080 FE review.) Both also feature the new "Lite Hash Rate" anti-mining technology that nerfs the production of Ethereum cryptocoins on every freshly made Nvidia GeForce GPU besides the RTX 3090.
There's one massive difference between Nvidia and EVGA's cards: clock speeds. While the GPU used in Nvidia's Founders Edition model stuck to reference 1.67GHz boost speeds, EVGA pushed clocks all the way up to 1.8GHz in the ferocious FTW3 Ultra. Interestingly, EVGA still calls for the same 750-watt power supply required for the Founders Edition. As you'll see in our power benchmarks later, the faster speeds result in significantly higher energy usage for this card—well more than even the RTX 3090 draws. Plan on choosing a bigger power supply just to be safe. The FTW3 Ultra requires a trio of 8-pin power connectors, up from the Founders Edition's duo, to drive even more power into the card during overclocking attempts.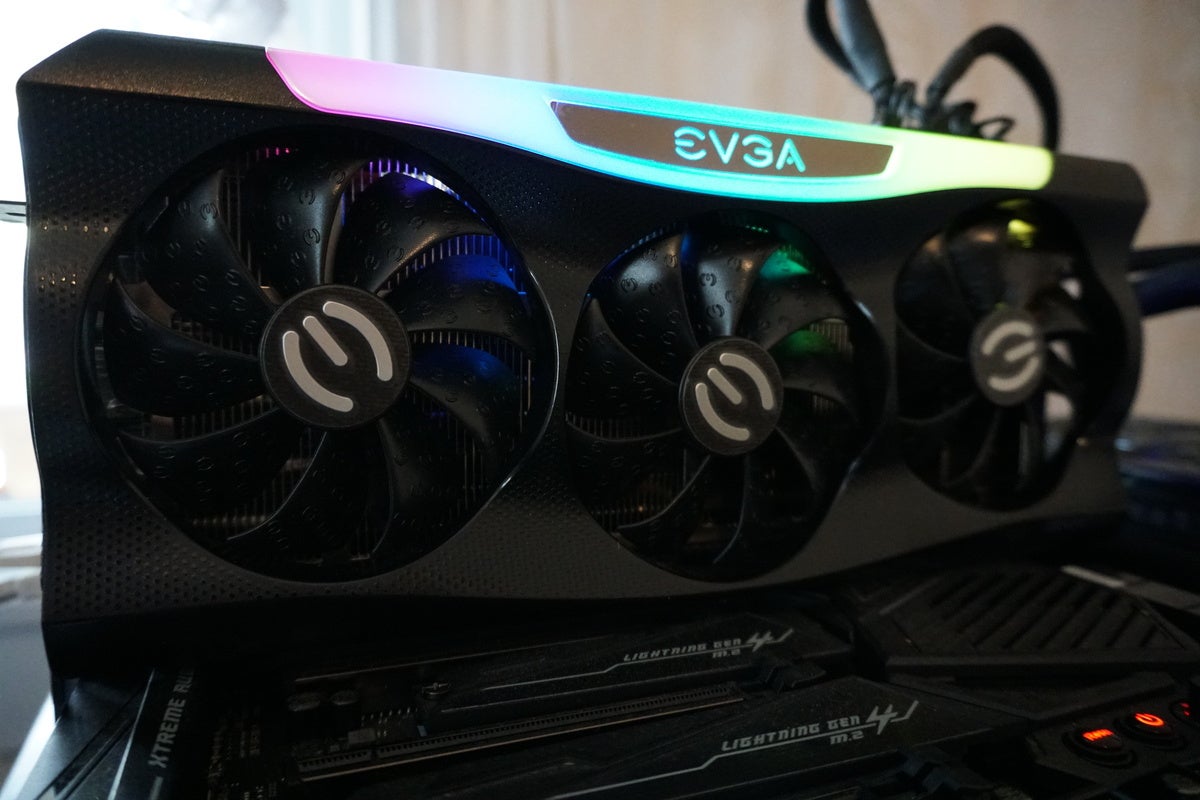 Not that you need to overclock it. EVGA pushes this already-powerful GPU so hard that even the extravagant FTW3 Ultra custom cooler can barely contain it. While the 3070 and 3080 versions of the FTW3 Ultra ran much cooler and quieter than their Nvidia Founders Edition counterparts, the RTX 3080 Ti FTW3 Ultra actually runs a bit warmer than the FE despite its heftier three-slot design and abundant fans. It sounds about the same in action.
Don't let that dissuade you from the card, though. The FTW3 Ultra cooler remains fantastic; EVGA is simply using it to push the RTX 3080 Ti beyond even the RTX 3090's performance. Driving that home, while some custom cards include a "Quiet" BIOS switch as an alternative, EVGA instead equipped the FTW3 Ultra's secondary BIOS with an "OC" profile that disables the card's idle fan stop feature and raises fan speeds to give you extra overclocking headroom.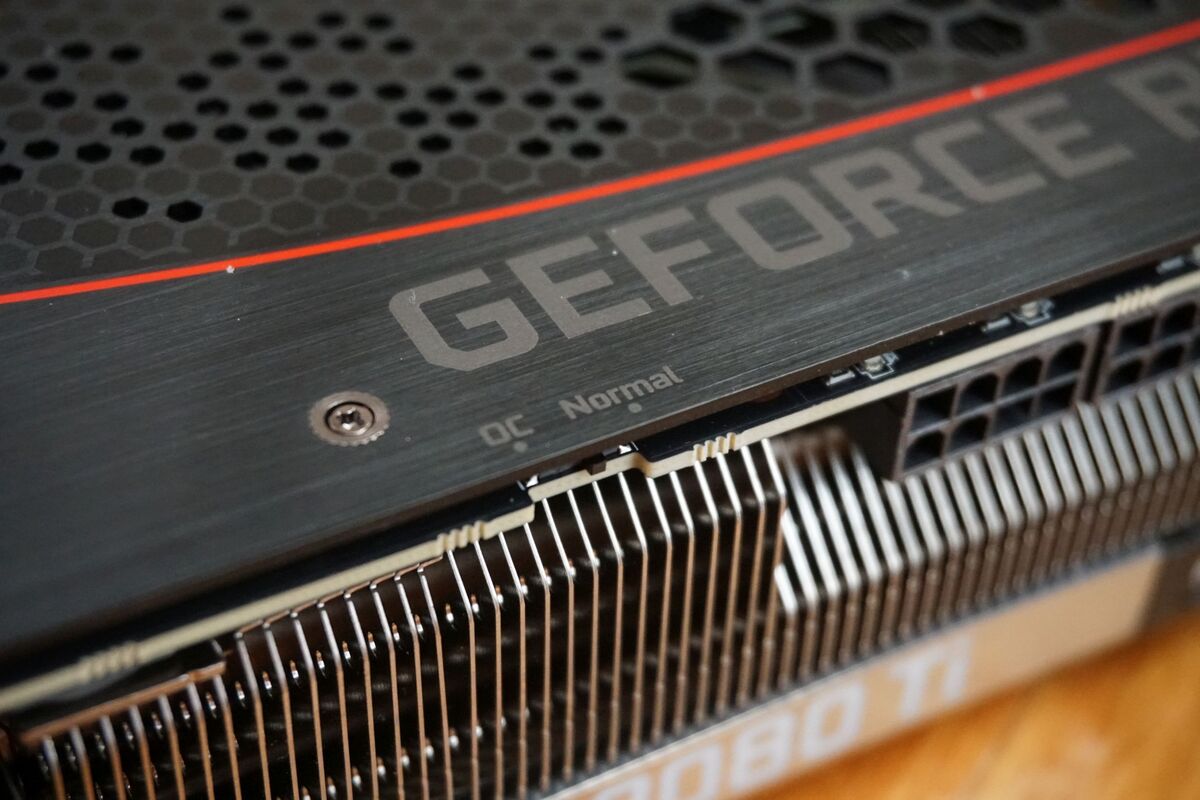 The company's GPU management software, Precision X1, remains best-in-class. It lets tinkerers push performance even further with granular overclocking features and the ability to raise the power limit even further. Precision X1 also lets you tap into the not one, not two, but nine "iCX3" sensors that EVGA embedded throughout the card, letting you see temperature readings for different parts of your GPU, memory, and voltage regulation systems. It remains a killer exclusive feature for graphics card nerds and can help you keep an even closer eye on your overclocking endeavors.
Speaking of which, EVGA's entire high-end cooling design revolves around iCX now. Here's an excerpt from our RTX 3080 FTW3 Ultra review; the technical details remain applicable for the 3080 Ti FTW3, too.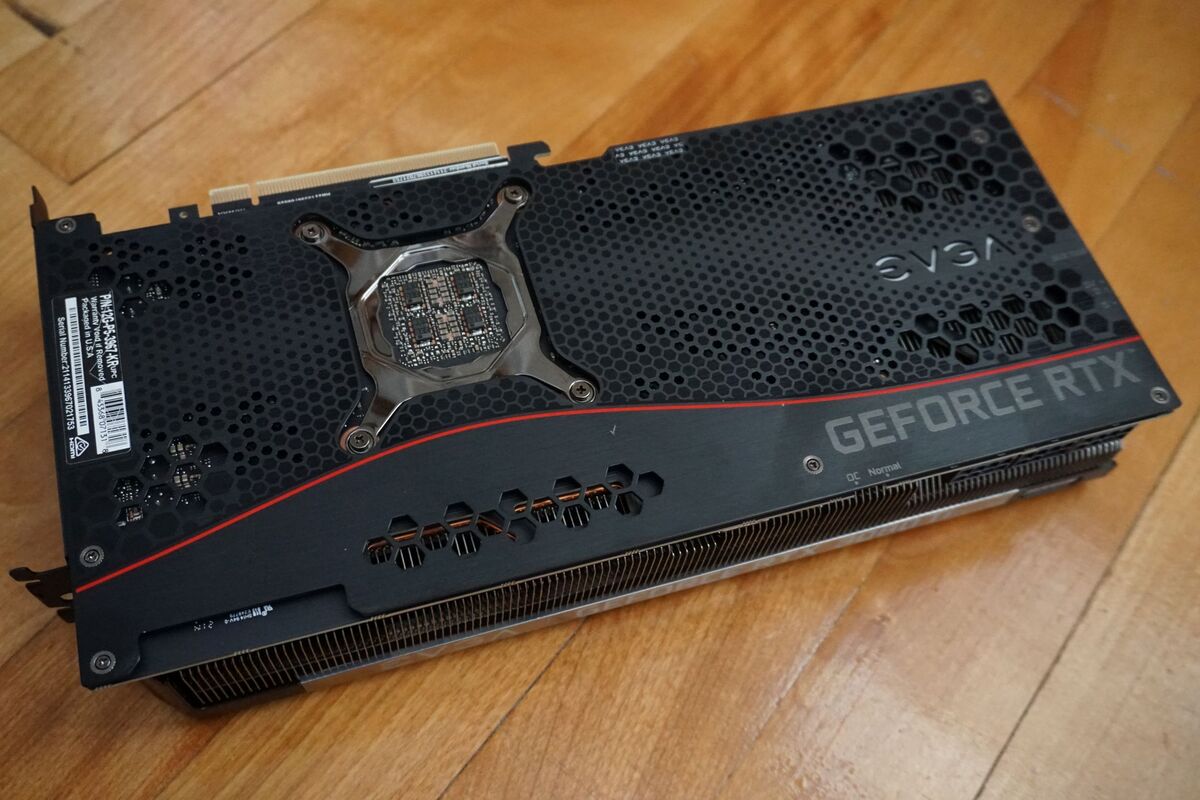 "The RTX 3080 [Ti] FTW3 Ultra features three large second-generation "HDB" fans in its wavy shroud. Their asynchronous control lets each fan respond independently to the actual temperature conditions inside your card, pulling data from those iCX sensors. Better yet, they won't spin whatsoever if your GPU temperatures are under 55 degrees Celsius, so you'll enjoy silent, passively cooled operation during standard desktop usage. EVGA also offset the center fan by 10mm, which the company claims helps to "increase the direct airflow area by 16 percent."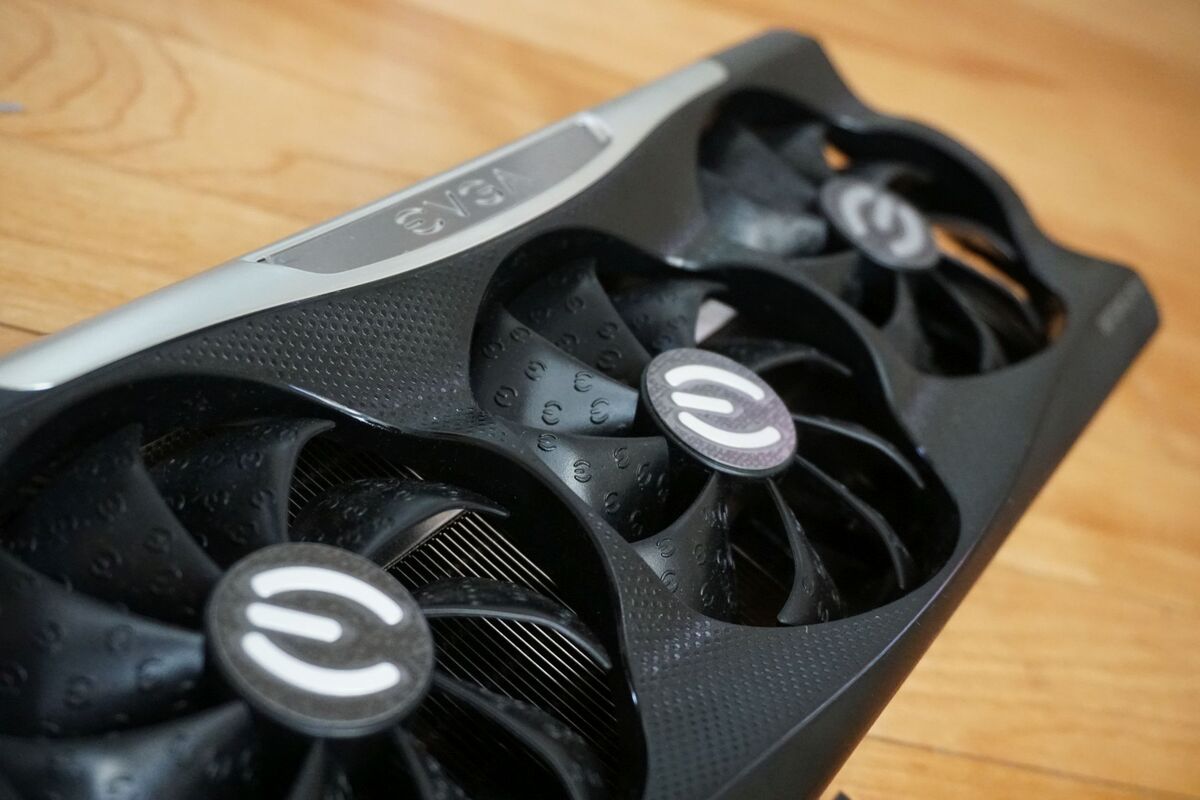 "There's indeed plenty of metal for that air to cool. EVGA slapped an absolutely massive heatsink on this triple-slot card. It's infused with "180-degree" semi-circular heatpipes that EVGA says increases contact area by 65 percent, and bolstered by a large, unified copper block helping to keep both the GPU and memory cool. EVGA says it redesigned the heatsink to allow air to move more freely throughout, then matched that with cut-outs in the custom PCB and aluminum backplate to let air flow through the card (perhaps in a nod to the Founders Edition's unique flow-through design)."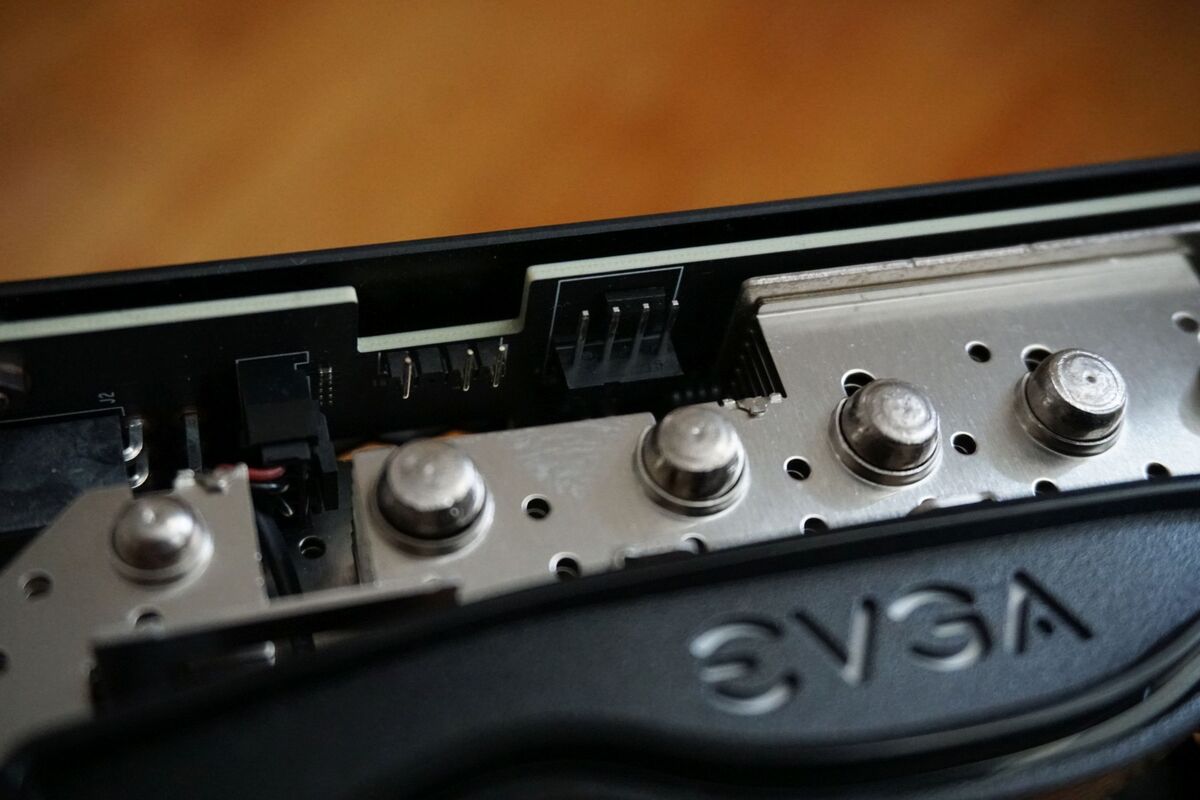 "…EVGA also equipped the FTW3 Ultra with a PWM fan header on the end of the card. You can plug one of your case's PWM fans into it and have the fan be intelligently controlled by the graphics card's temperature directly, rather than by your motherboard. Cards like the similarly high-end Asus ROG Strix have offered this before, and it proves especially handy if you use your card to control a front case fan pointed directly at the GPU. Next to the fan header, you'll find an ARGB header that you can plug into your motherboard to tie it together with your graphics card's chosen lighting."
Considering the iCX sensors, dual-BIOS switch, ARGB and PWM headers, and (of course) abundant customizable lighting embedded in the card's shroud, the EVGA GeForce RTX 3080 Ti FTW3 Ultra includes pretty much every luxurious extra you could ask for—a very good thing in a $1,400+ graphics card.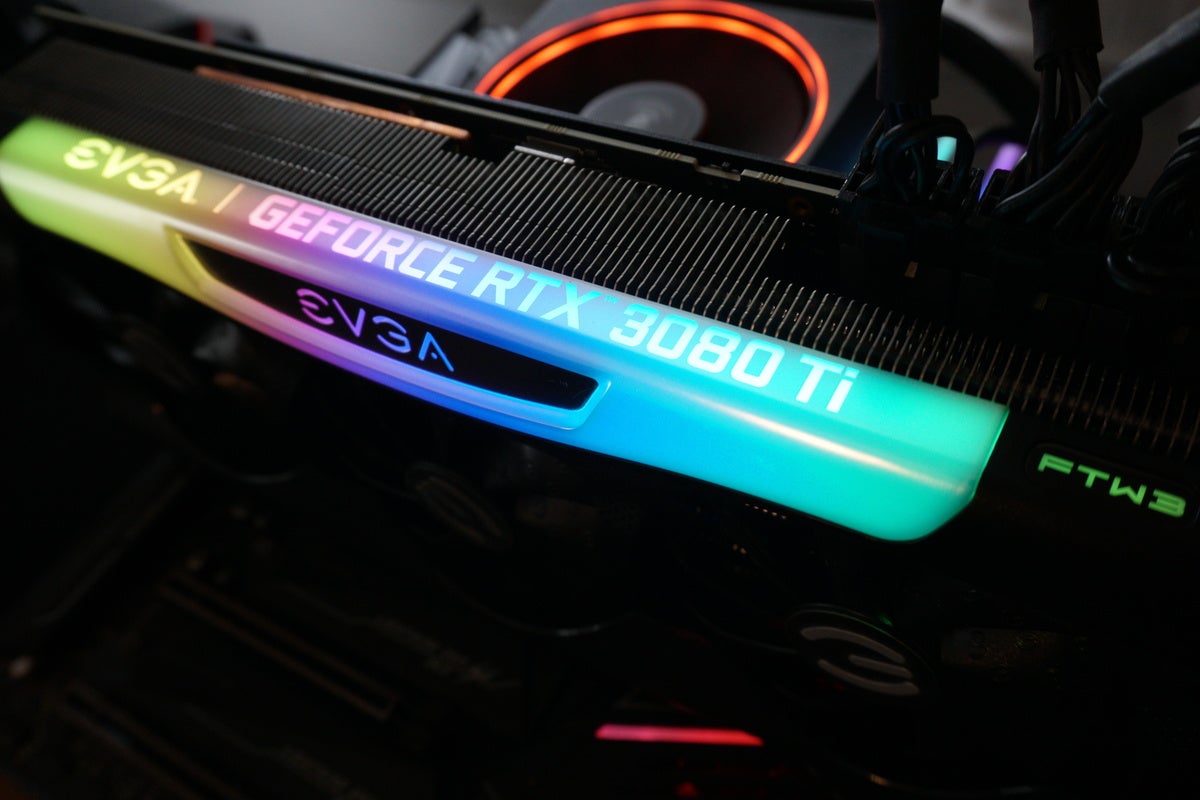 But just how fast can it go with all that heavy metal? Let's take it to the test bench.
Next page: Our test system, benchmarks begin
Our test system
We're using our new AMD Ryzen 5000-series test rig to benchmark the EVGA RTX 3080 Ti FTW3 Ultra. Currently, we're testing it on an open bench with AMD's Wraith Max air cooler. In the future, we'll be moving the setup into a case and adding an NZXT Kraken liquid cooler to the mix. Most of the hardware was provided by the manufacturers, but we purchased the storage ourselves.
AMD Ryzen 5900X, stock settings
AMD Wraith Max cooler
MSI Godlike X570 motherboard
32GB G.Skill Trident Z Neo DDR4 3800 memory
EVGA 1200W SuperNova P2 power supply ($352 on Amazon)
We're comparing the $1,400 EVGA GeForce RTX 3080 Ti FTW3 Ultra against the Nvidia's Founders Edition models of the $1,500 RTX 3090, $1,200 RTX 3080 Ti, and $700 RTX 3080, of course, as well as AMD's rival $1,000 Radeon RX 6900 XT.
Mentioned in this article
Nvidia GeForce RTX 3090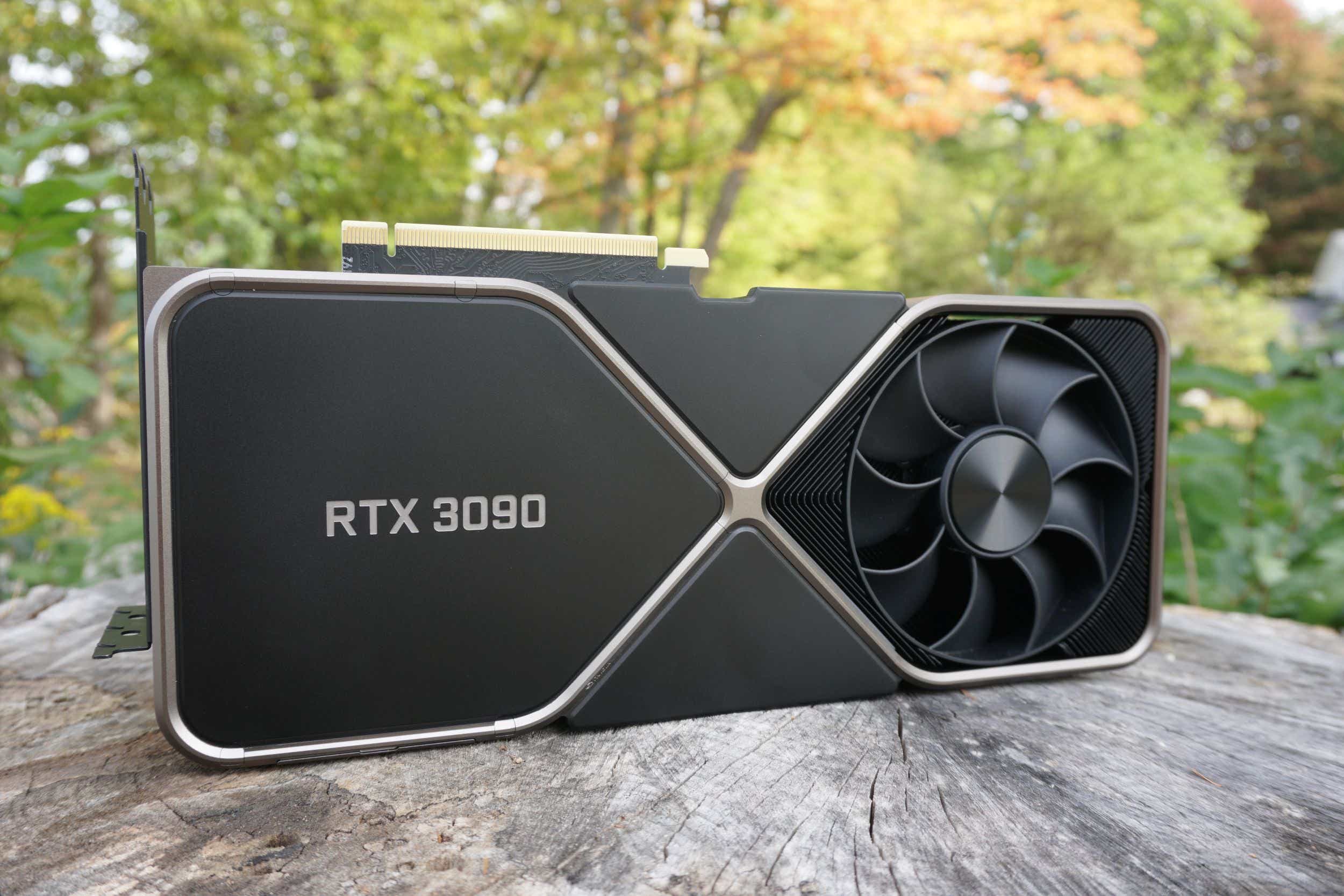 Price When Reviewed:
$1499
Time constraints prevented us from testing Resizable BAR or ray tracing performance. That said, because the 3080 Ti is essentially a 3090 with less memory, its ray tracing and DLSS performance should be very near identical to that card's. You can see how the comparison GPUs all handle ray tracing in our Radeon RX 6900 XT review.
This evaluation focuses purely on traditional gaming benchmarks. We test a variety of games spanning various engines, genres, vendor sponsorships (Nvidia, AMD, and Intel), and graphics APIs (DirectX 11, DX12, and Vulkan). Each game is tested using its in-game benchmark at the highest possible graphics presets unless otherwise noted, with VSync, frame rate caps, real-time ray tracing or DLSS effects, and FreeSync/G-Sync disabled, along with any other vendor-specific technologies like FidelityFX tools or Nvidia Reflex. We've also enabled temporal anti-aliasing (TAA) to push these cards to their limits. We run each benchmark at least three times and list the average result for each test.
Because the RTX 3080 Ti is a known quantity at this point, we'll leave all commentary for the end. But pay close attention to where the FTW3 Ultra falls in these charts. While the RTX 3090, 3080 Ti FE, and 3080 Ti FTW3 Ultra all deliver roughly similar results, there are several scenarios where EVGA's card meets or even beats the flagship 3090. Wowza. You couldn't say that about Nvidia's 3080 Ti Founders Edition.
Gaming performance benchmarks
Watch Dogs: Legion
Watch Dogs: Legion is one of the first games to debut on next-gen consoles. Ubisoft upgraded its Disrupt engine to include cutting-edge features like real-time ray tracing and Nvidia's DLSS. We disable those effects for this testing, but Legion remains a strenuous game even on high-end hardware with its optional high-resolution texture pack installed. No card can maintain a 60-frames-per-second average with Ultra graphics options enabled, and the game allocates more than 8GB of memory even at 1440p. Oof.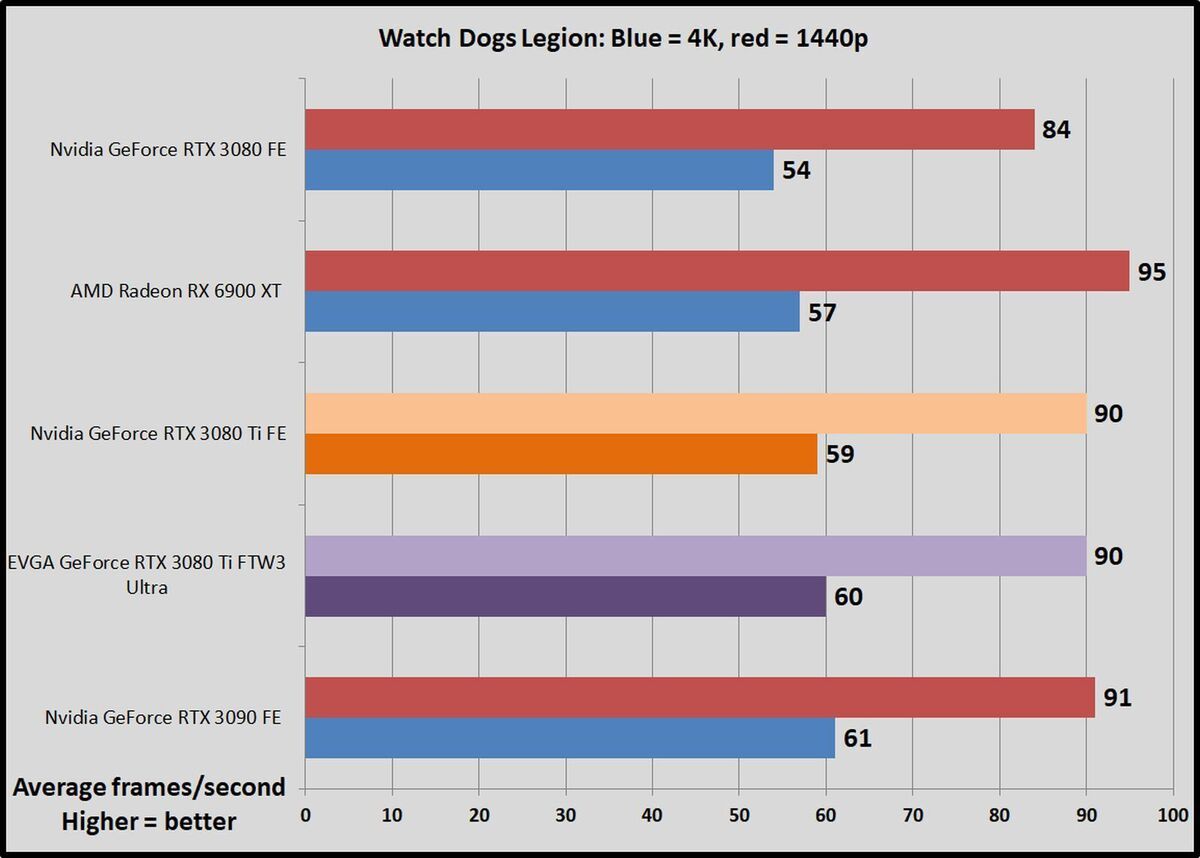 Horizon Zero Dawn
Yep, PlayStation exclusives are coming to the PC now. Horizon Zero Dawn runs on Guerrilla Games' Decima engine, the same engine that powers Death Stranding.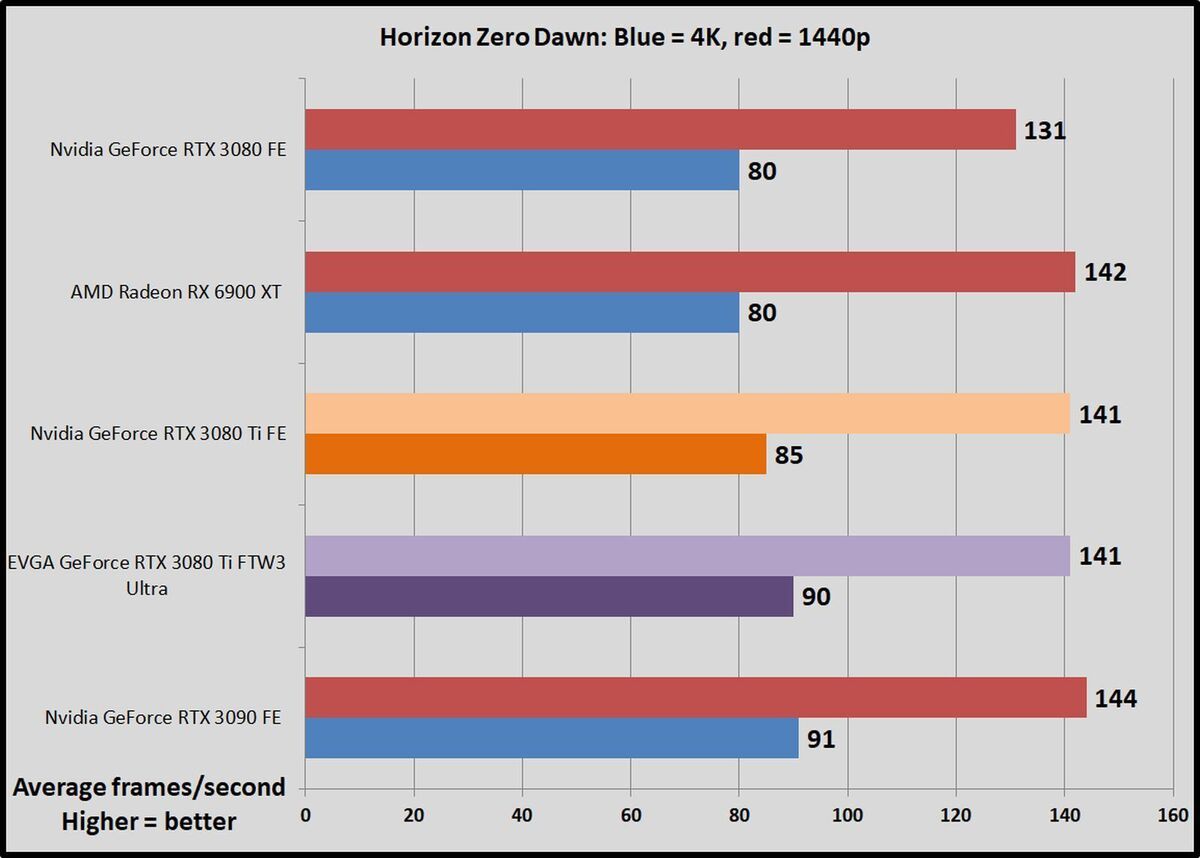 Next page: gaming benchmarks continue
Gears Tactics
Gears Tactics puts it own brutal, fast-paced spin on the XCOM-like genre. This Unreal Engine 4-powered game was built from the ground up for DirectX 12, and we love being able to work a tactics-style game into our benchmarking suite. Better yet, the game comes with a plethora of graphics options for PC snobs. More games should devote such loving care to explaining what flipping all these visual knobs mean.
You can't use the presets to benchmark Gears Tactics, as it intelligently scales to work best on your installed hardware, meaning that "Ultra" on one graphics card can load different settings than "Ultra" on a weaker card. We manually set all options to their highest possible settings.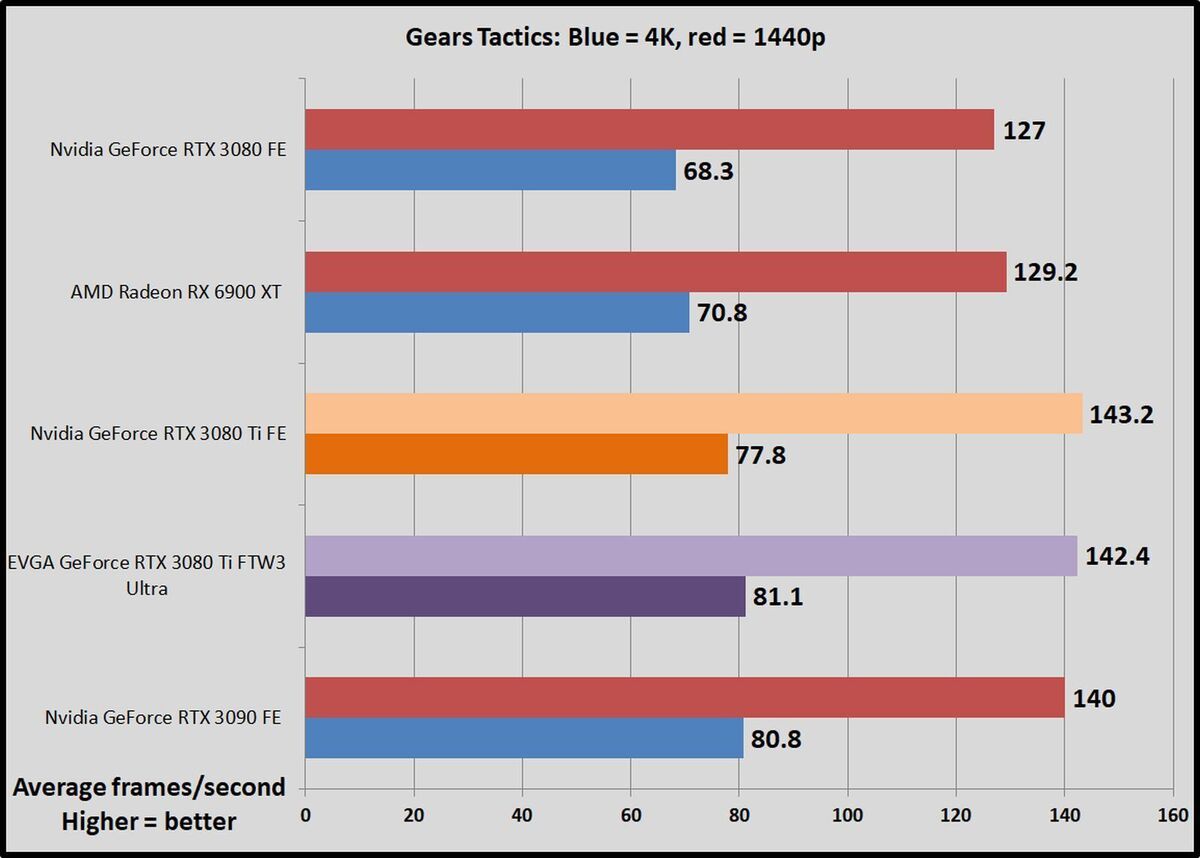 Wolfenstein: Youngblood
Wolfenstein: Youngblood is more fun when you can play cooperatively with a buddy, but it's a fearless experiment—and an absolute technical showcase. Running on the Vulkan API, Youngblood achieves blistering frame rates, and it supports all sorts of cutting-edge technologies like ray tracing, DLSS 2.0, HDR, GPU culling, asynchronous computing, and Nvidia's Content Adaptive Shading. The game includes a built-in benchmark with two different scenes; we test Riverside.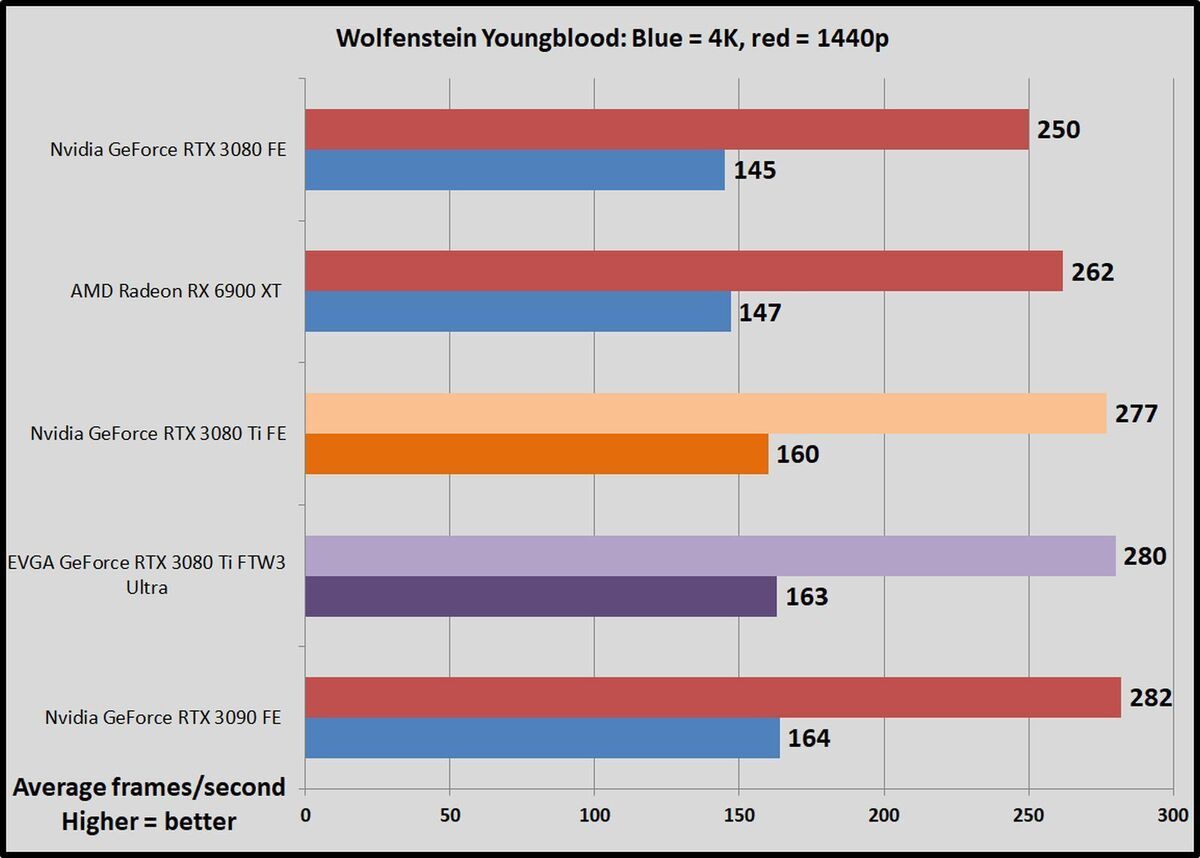 Metro Exodus
One of the best games of 2019, Metro Exodus remains one of the best-looking games around, too. The latest version of the 4A Engine provides incredibly luscious, ultra-detailed visuals, with one of the most stunning real-time ray tracing implementations released yet. The Extreme graphics preset we benchmark can melt even the most powerful modern hardware, as you'll see below, though the game's Ultra and High presets still look good at much higher frame rates.
We test in DirectX 12 mode with ray tracing, Hairworks, and DLSS disabled.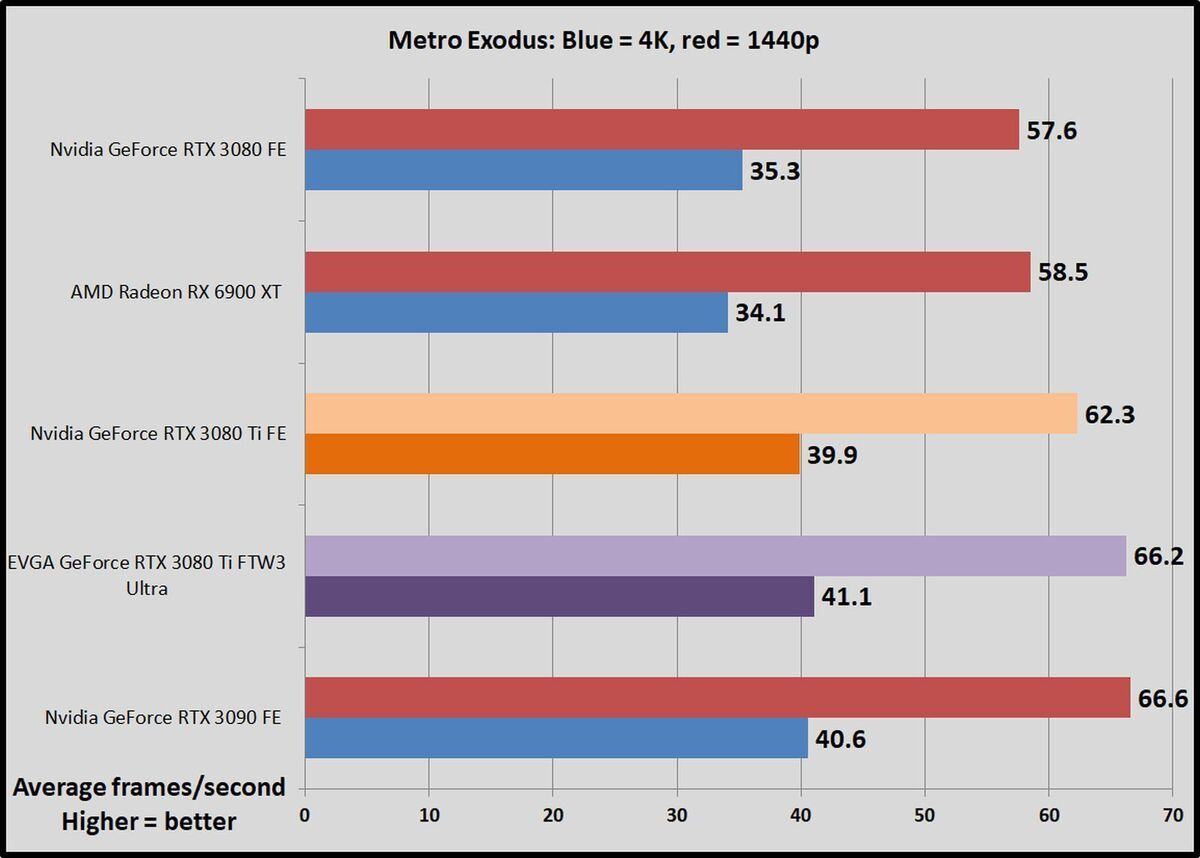 Borderlands 3
Borderlands is back! Gearbox's game defaults to DX12, so we do as well. It gives us a glimpse at the ultra-popular Unreal Engine 4's performance in a traditional shooter. This game tends to favor AMD hardware.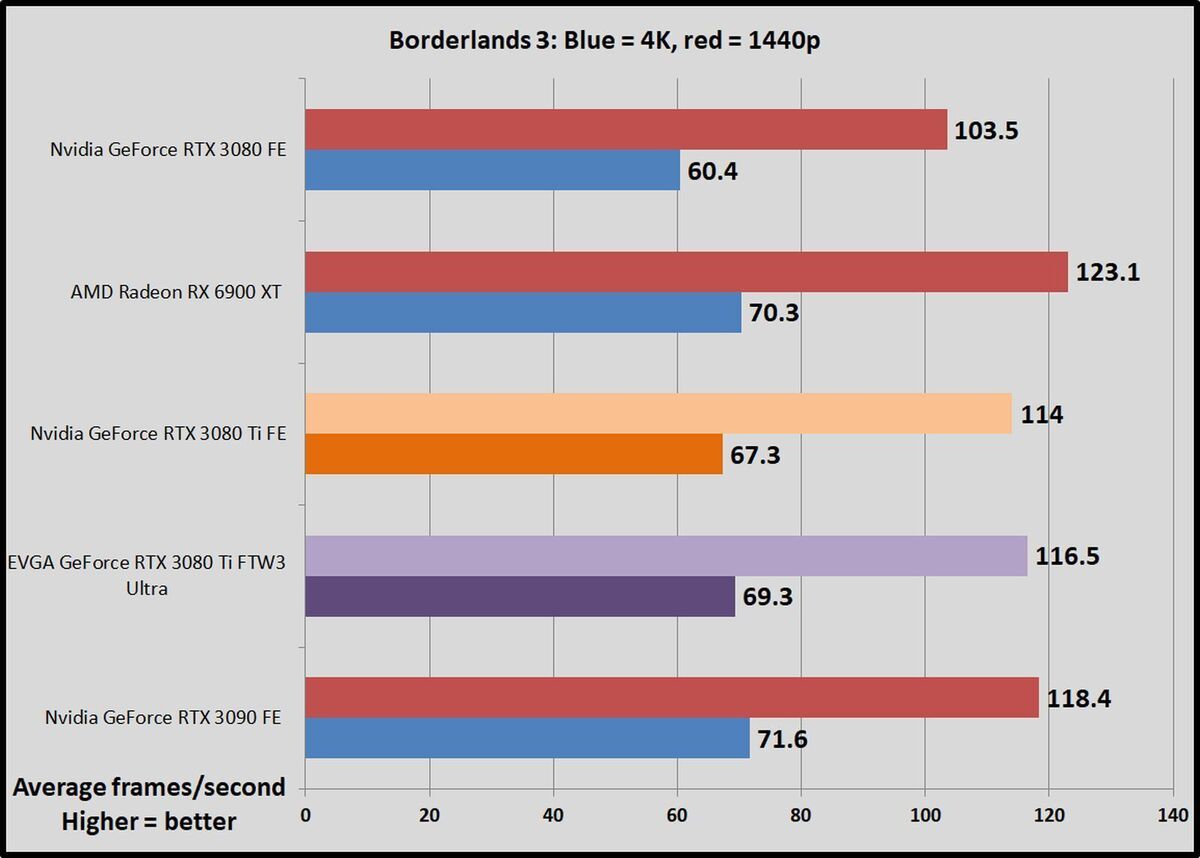 Strange Brigade
Strange Brigade is a cooperative third-person shooter where a team of adventurers blasts through hordes of mythological enemies. It's a technological showcase, built around the next-gen Vulkan and DirectX 12 technologies and infused with features like HDR support and the ability to toggle asynchronous compute on and off. It uses Rebellion's custom Azure engine. We test using the Vulkan renderer, which is faster than DX12.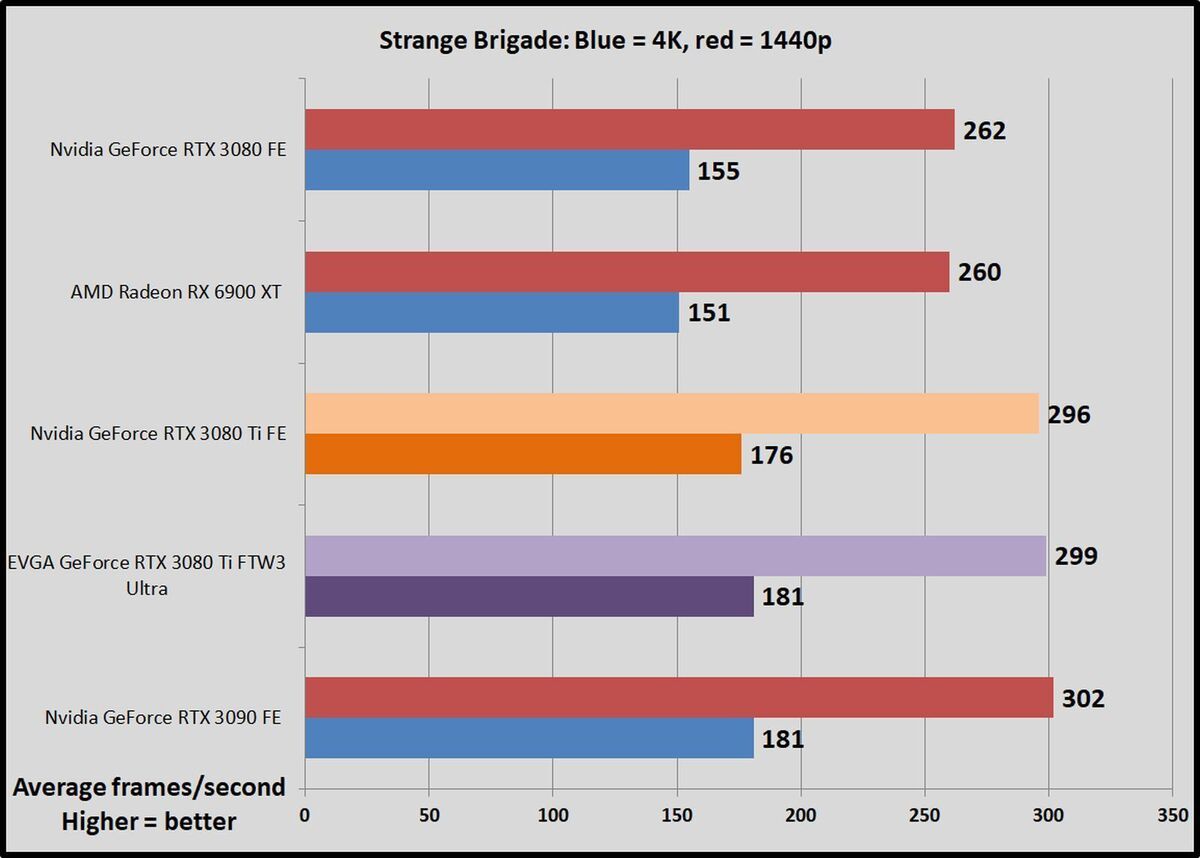 Next page: gaming benchmarks continue
Total War: Troy
The latest game in the popular Total War saga, Troy was given away free for its first 24 hours on the Epic Games Store, moving over 7.5 million copies before it went on proper sale. Total War: Troy is built using a modified version of the Total War: Warhammer 2 engine, and this DX11 title looks stunning for a turn-based strategy game. We test the more intensive battle benchmark.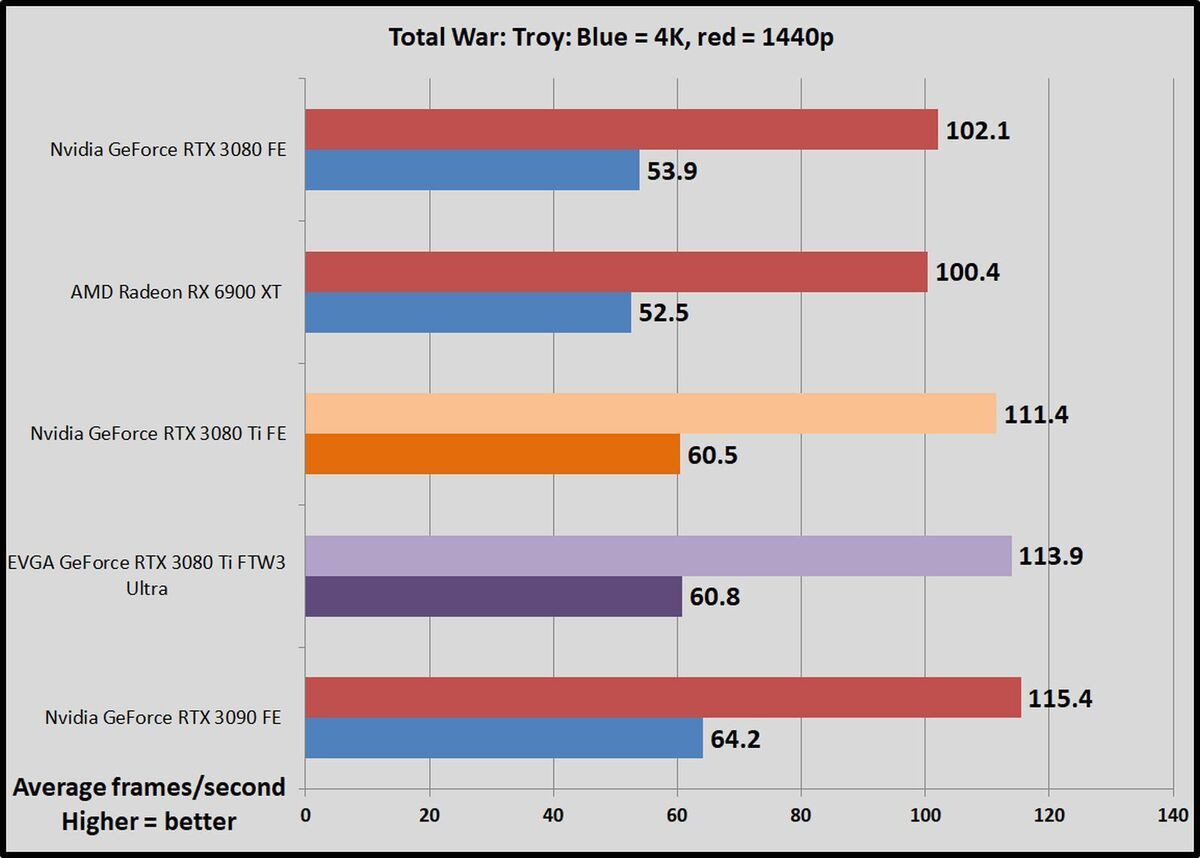 F1 2020
The latest in a long line of successful racing games, F1 2020 is a gem to test, supplying a wide array of both graphical and benchmarking options, making it a much more reliable (and fun) option that the Forza series. It's built on the latest version of Codemasters' buttery-smooth Ego game engine, complete with support for DX12 and Nvidia's DLSS technology. We test two laps on the Australia course, with clear skies on and DLSS off.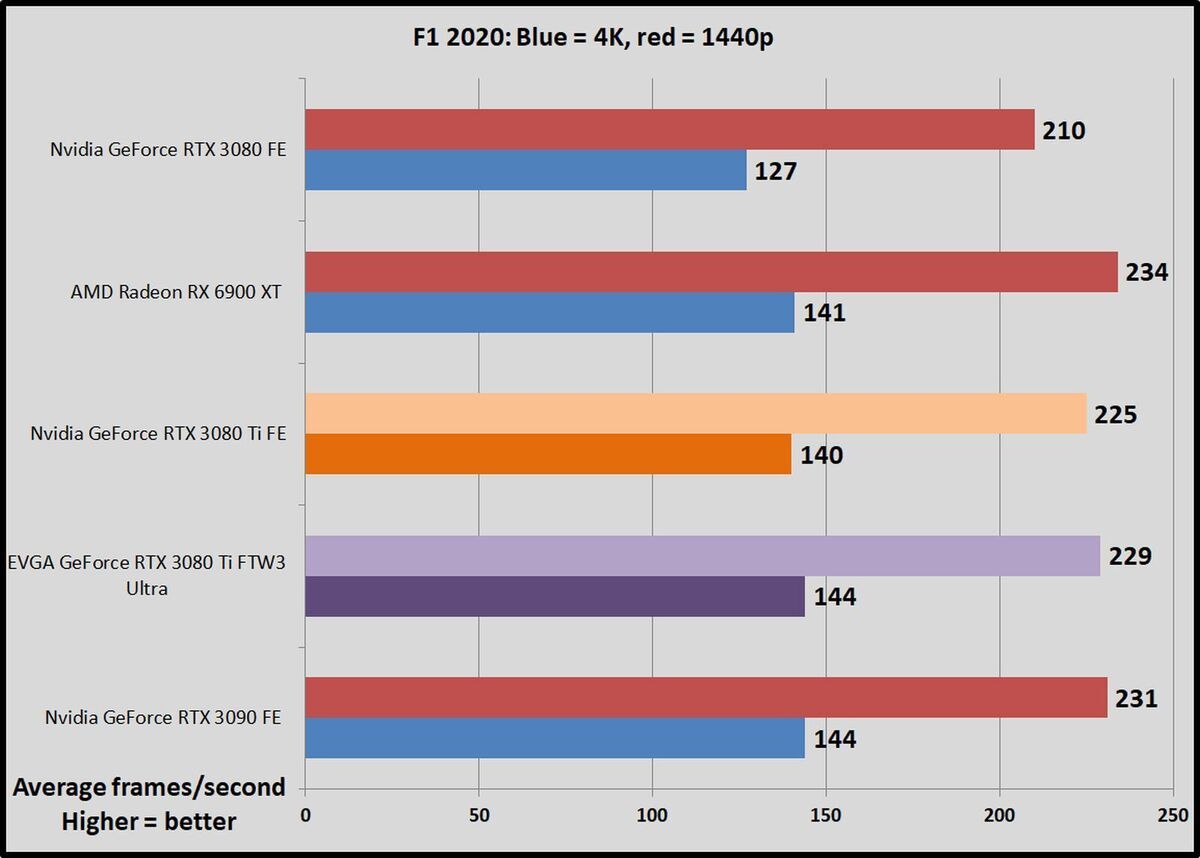 Shadow of the Tomb Raider
Shadow of the Tomb Raider concludes the reboot trilogy, and it's still utterly gorgeous a couple of years after its debut. Square Enix optimized this game for DX12 and recommends DX11 only if you're using older hardware or Windows 7, so we test with DX12. Shadow of the Tomb Raider uses an enhanced version of the Foundation engine that also powered Rise of the Tomb Raider and includes optional real-time ray tracing and DLSS features.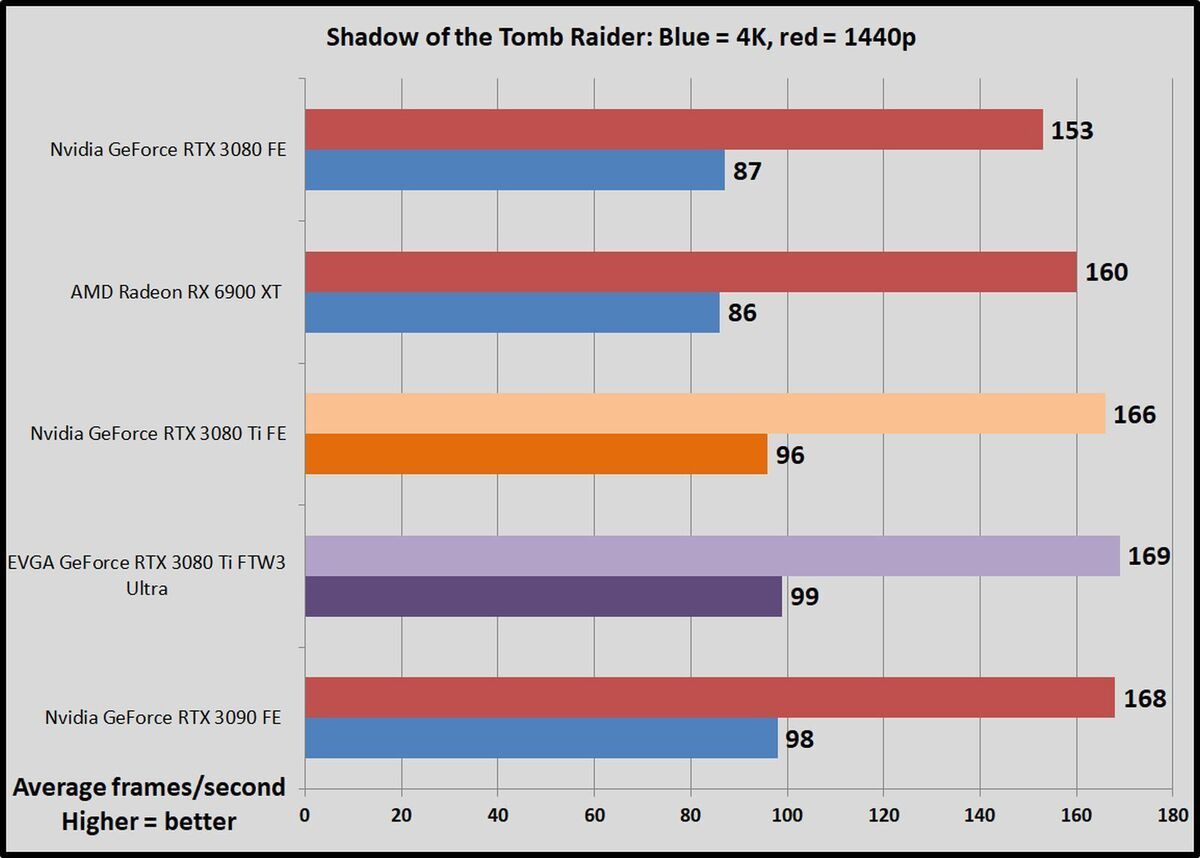 Rainbow Six Siege
Rainbow Six Siege still dominates the Steam charts years after its launch, and Ubisoft supports it with frequent updates and events. The developers have poured a ton of work into the game's AnvilNext engine over the years, eventually rolling out a Vulkan version of the game that we use to test. By default, the game lowers the render scaling to increase frame rates, but we set it to 100 percent to benchmark native rendering performance on graphics cards. Even still, frame rates soar.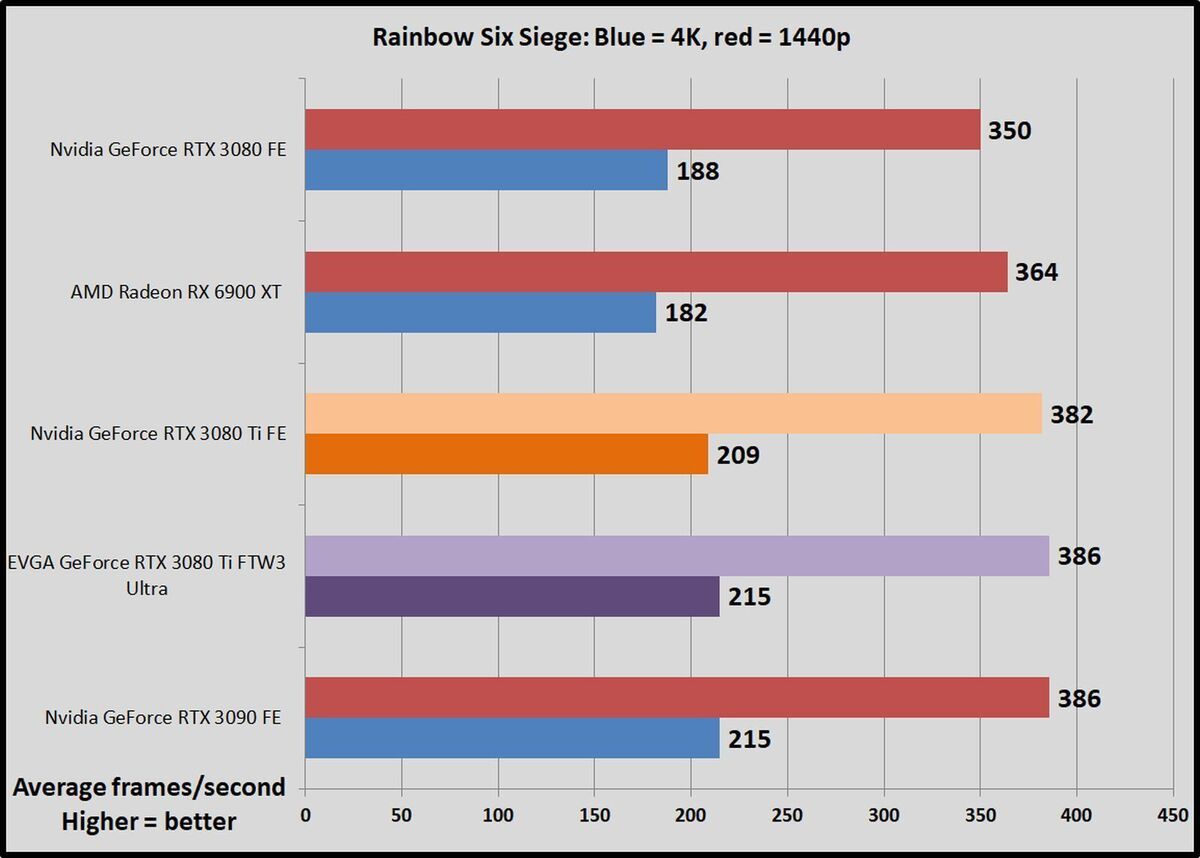 Next page: Power, thermals, and noise
Power draw, thermals, and noise
We test power draw by looping the F1 2020 benchmark at 4K for about 20 minutes after we've benchmarked everything else and noting the highest reading on our Watts Up Pro meter, which measures the power consumption of our entire test system. The initial part of the race, where all competing cars are onscreen simultaneously, tends to be the most demanding portion.
This isn't a worst-case test; this is a GPU-bound game running at a GPU-bound resolution to gauge performance when the graphics card is sweating hard. If you're playing a game that also hammers the CPU, you could see higher overall system power draws. Consider yourself warned.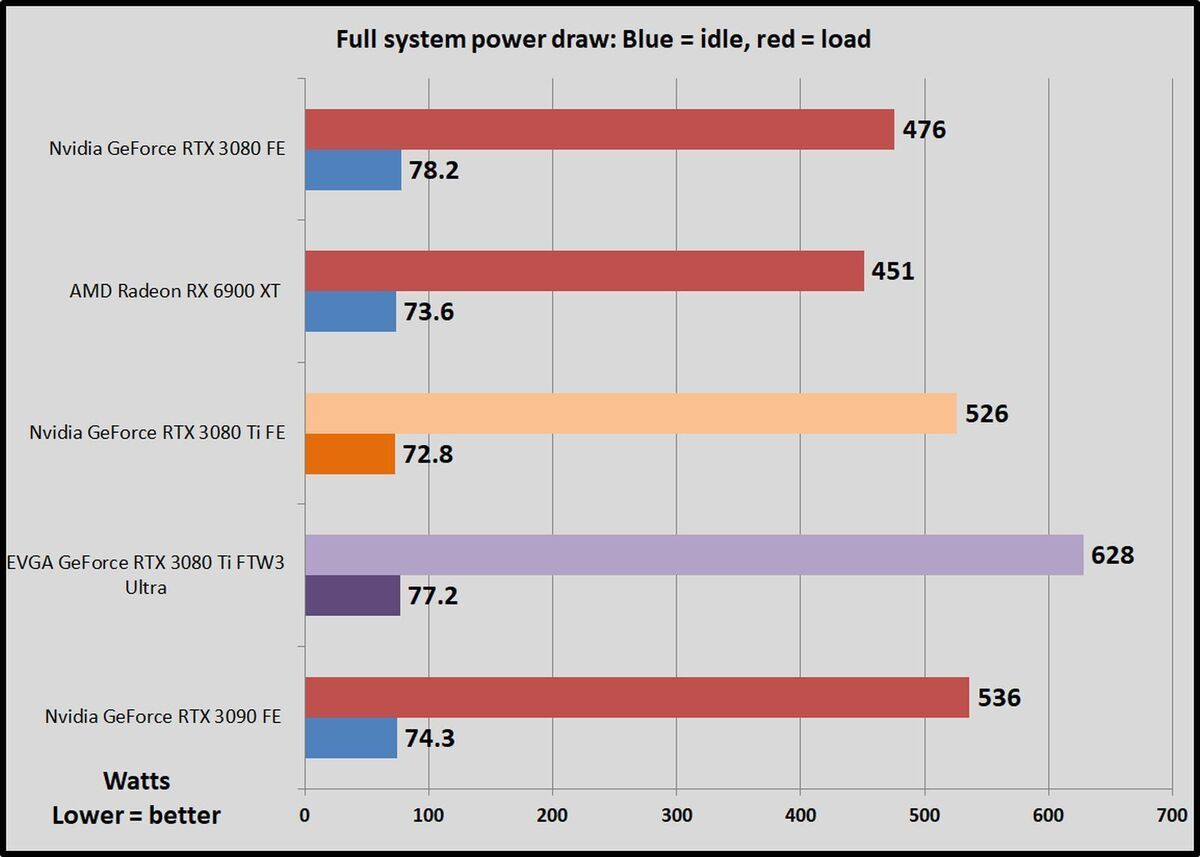 The RTX 3080 Ti and 3090 Founders Edition models draw similar power levels, which makes sense, as the RTX 3080 Ti's reference specs essentially make it a faster-clocked 3090 with half the GDDR6X memory. But putting the pedal to the metal to surpass the 3090 requires significantly more juice. The FTW3 Ultra consumes 100 watts more power under load than both of Nvidia's cards. Oof. That said, if you're investing in an ultra-fast, built-for-overclocking hot rod of a GPU like this, power levels probably aren't your primary concern. EVGA was wise to throw efficiency concerns out the window in my opinion.
We test thermals by leaving GPU-Z open during the F1 2020 power draw test, noting the highest maximum temperature at the end.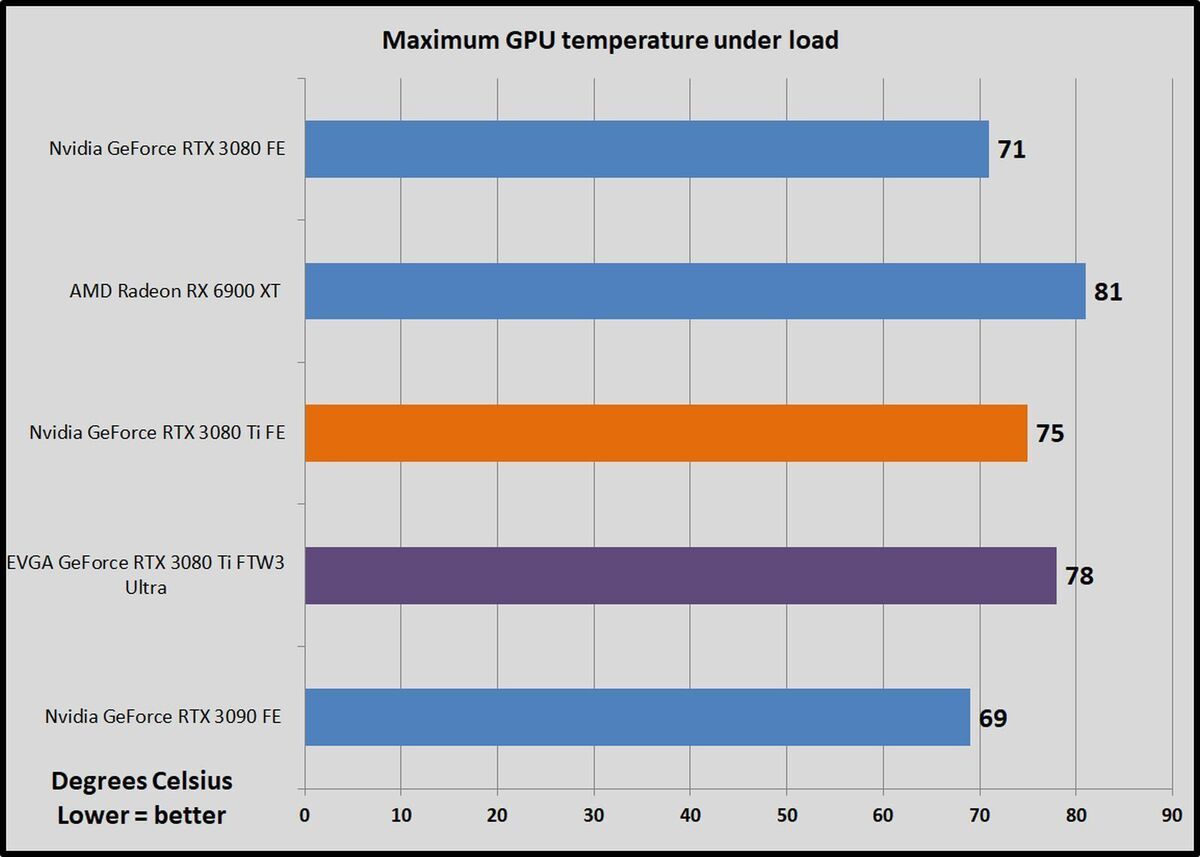 Here's the counterpoint to that: Sucking down a lot more power throws off a lot more heat too. EVGA's massive, fantastic custom cooling solution keeps the FTW3 Ultra on a par with the RTX 3080 Ti Founders Edition in heat and noise even with its massive overclock. That means very good, but not great, results here. If you wanted a quieter, cooler custom RTX 3080 Ti, you could no doubt find one—but it wouldn't push performance as hard as the FTW3 Ultra. Pick your poison.
Next page: Should you buy the EVGA RTX 3080 Ti FTW3 Ultra?
Should you buy the EVGA RTX 3080 Ti FTW3 Ultra?
We've said it in every graphics card review we've published this year, and we'll say it again: You probably shouldn't buy any graphics card right now. Prices are slowly starting to come down, but nevertheless remain flat-out ludicrous during the crippling GPU shortage. I'd recommend most people sit on the sidelines and stream their PC games via Nvidia's GeForce Now service until the dust settles. While this card ostensibly costs $1,400—already a princely sum—it's going for $1,700 to $1,900 on the streets. That's more than Young Brad's first several hooptie cars combined.
The 3080 non-Ti FTW3 Ultra
GeForce RTX 3080 FTW3 Ultra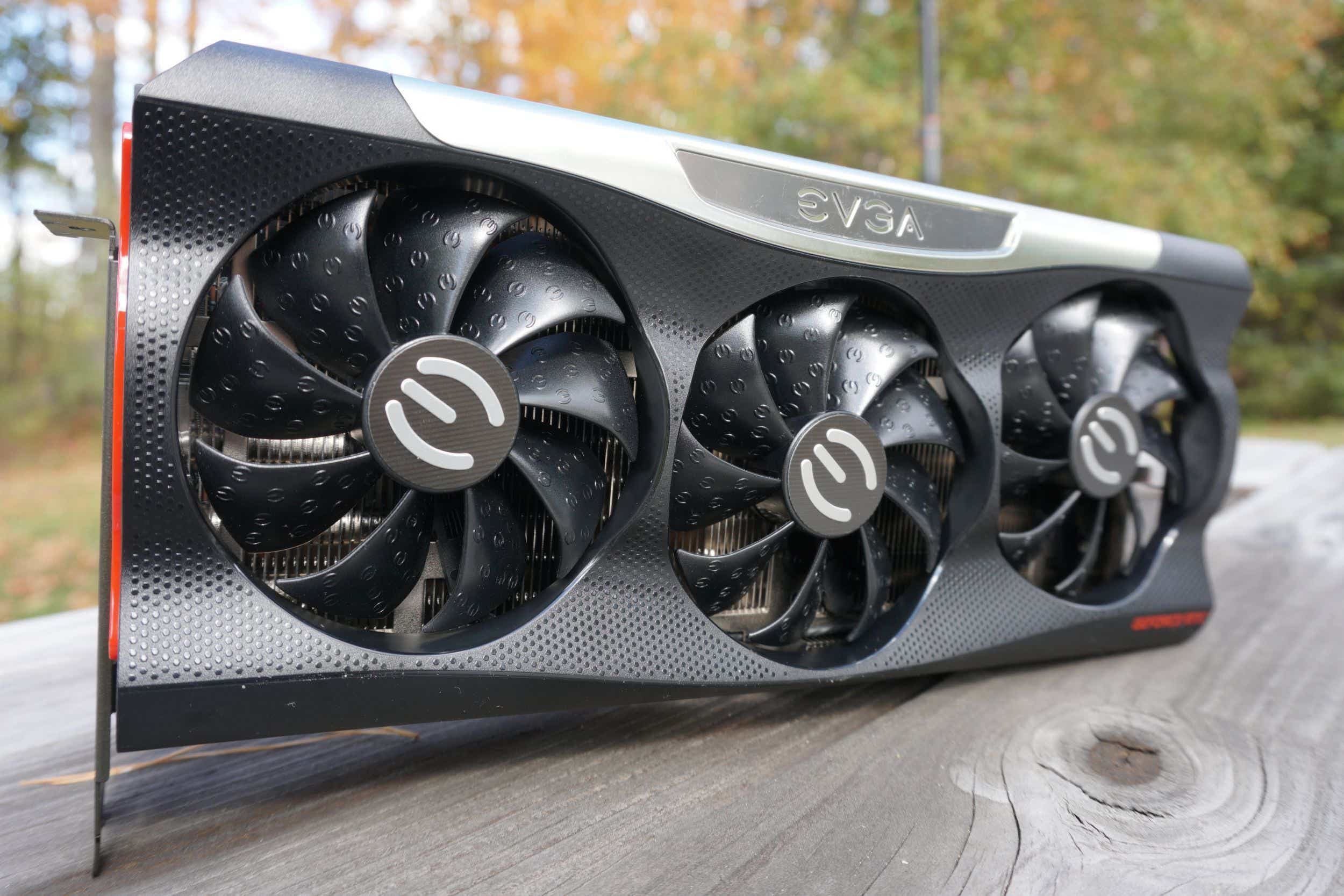 Price When Reviewed:
$810
Most people don't need this level of firepower, either. The non-Ti GeForce RTX 3080 delivers exceptional 4K and 1440p gaming performance for (ostensibly, again) half the price of the FTW3 Ultra. You're paying twice as much for frame rates that are only 10 to 15 percent faster. Price-to-performance becomes seriously out of wack up here at the luxurious end of graphics cards.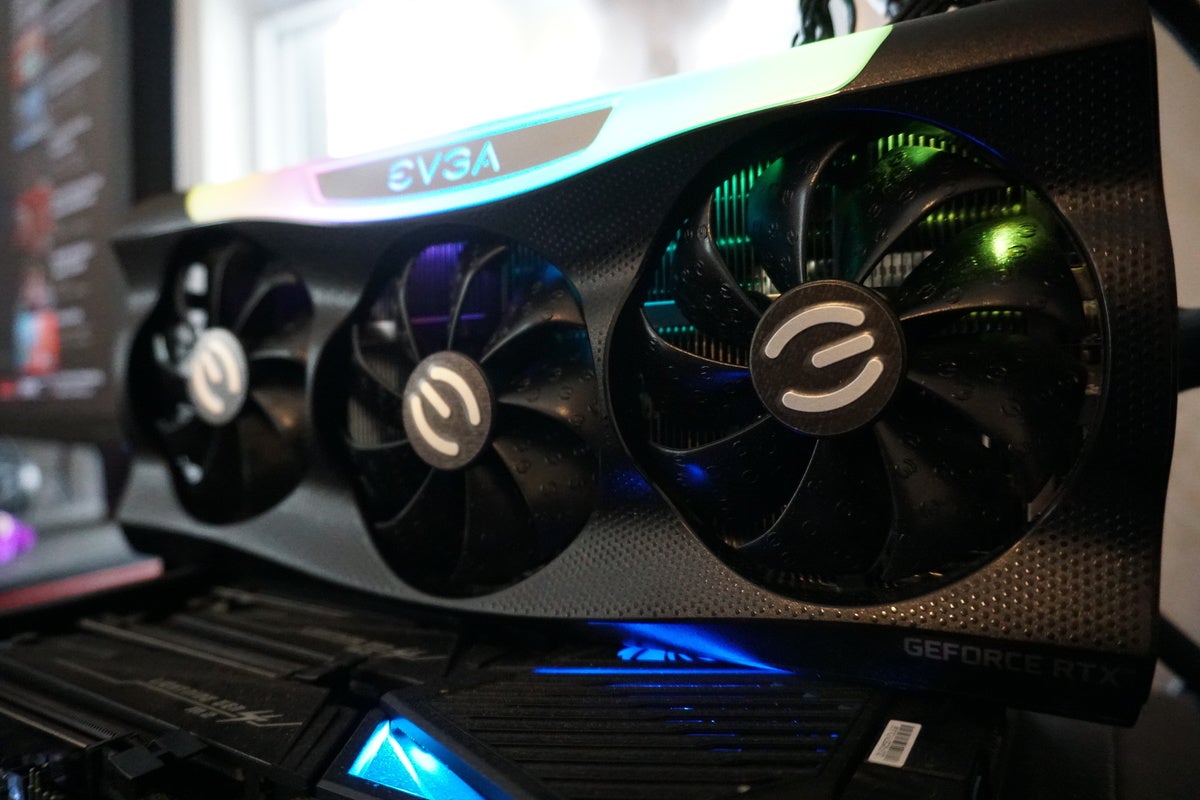 All that said—and it needs to be said—Bugattis exist for a reason. Some people simply demand peak performance, price be damned. If you're a gamer with deep pockets and a thirst for pure speed, the EVGA GeForce RTX 3080 Ti FTW3 Ultra was built to quench it. This ultra-luxe graphics card meets or beats the RTX 3090's gaming performance out of the box for $100 less than the flagship's baseline price, but it comes absolutely loaded with thoughtful extra features—like the iCX sensors, dual-BIOS switch, ARGB and PWM headers, and Precison X1 software—that can help overclockers push the hardware to peak performance with ease. To that end, EVGA loaded the FTW3 Ultra with a generous 400W power limit—50W more than the Nvidia Founders Edition. You can manually increase it by another 50W for even more headroom. Now you're playing with power!
Driving the pedal to the metal comes with some tradeoffs. The FTW3 Ultra is physically massive, draws a truly staggering amount of power, and its heat and noise levels are simply good, not exceptional. But muscle cars always guzzle gas and run hot to achieve their impressive performance, and EVGA's graphics card is no different. Those potential "drawbacks" aren't drawbacks whatsoever for the sort of person who would buy this card.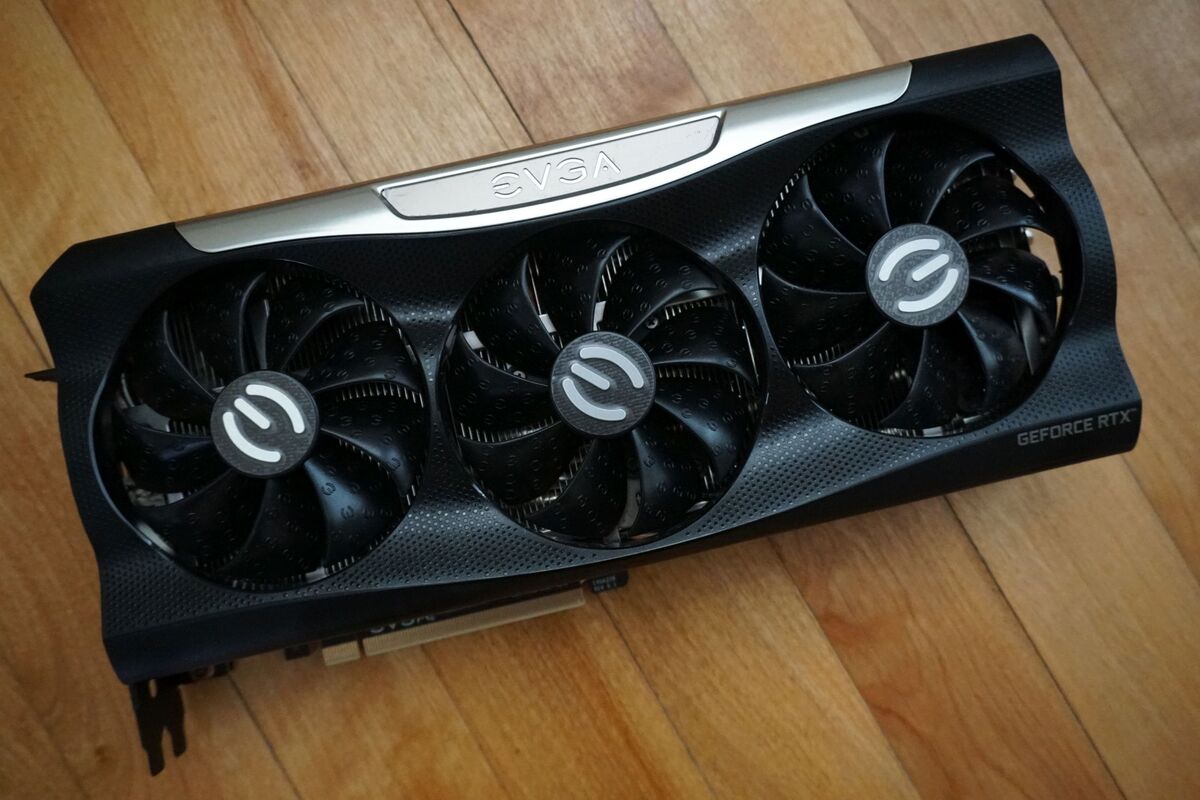 It's also worth noting that EVGA's customer service reputation is nothing short of stellar. The company drove that home with its behavior around the RTX 30-series launch, creating the industry's first queue system for graphics card buyers and eradicating the red "lips" elements on the ends of its GPUs that proved aesthetically divisive. Stellar customer service should be a given when you're buying hardware this high-end, but that's sadly not often the case.
The EVGA GeForce RTX 3080 Ti FTW3 Ultra isn't for everyone—far from it. But if you're on the hunt for pure power and love to tinker with your hardware to crank the horsepower to the bleeding edge of possible performance, it'll be hard to find a more complete and compelling graphics card than this. Highly recommended…if you fall into that spirited 1 percent.
Best Prices Today: EVGA GeForce RTX 3080 Ti FTW3 Ultra