At a Glance
Expert's Rating
Pros
Excellent fast 1080p gaming
Very power efficient
Asus ROG Strix cooler is phenomenal
AMD features like FSR, Radeon Boost, Smart Access Memory can make it faster
Cons
Very, very high MSRP for a 1080p card
1440p performance isn't as impressive due to memory setup
Ray tracing lags behind Nvidia's performance
Our Verdict
AMD tuned the Radeon RX 6600 XT for ultra-fast 1080p gaming and it shines in that regard, but slower 1440p performance and a sky-high price hold it back from full praise. The custom cooling design of the Asus ROG Strix model we used for this review is phenomenally frigid.
AMD promised the Radeon RX 6600 XT would deliver "epic" 1080p gaming, and the company's latest graphics card delivers that in spades. This RDNA 2-powered GPU doesn't just blow past the Radeon RX 5600 XT it's replacing, it also skirts by the Radeon RX 5700 XT—a graphics card not one but two tiers higher than the 5600 XT was. Impressive stuff. The Radeon RX 6600 XT will absolutely scream when paired with a high refresh-rate monitor.
On the other hand, that lead diminishes more than you might expect when you bump up the resolution to 1440p. That's due to some key tweaks introduced in the Radeon RX 6600 XT's memory subsystem and its implementation of AMD's radical new Infinity Cache. You also can't ignore the sticker price: The Radeon RX 6600 XT carries a suggested price tag of $379, a full $100 more than the 5600 XT was and just $20 shy of the cost of the Radeon RX 5700 XT (and Nvidia's fantastic GeForce RTX 3060 Ti). Yes, we're in the midst of a crippling GPU shortage. This graphics card will no doubt both cost more and sell out instantly on the streets.
Add it all up and the Radeon RX 6600 XT is a good graphics card with some complicated caveats. Let's dig in, with the help of the Asus ROG Strix Radeon RX 6600 XT, a premium custom model with an incredibly luxe $550 price tag that's probably more reflective of what you'll see in the real world.
Radeon RX 6600 XT specs, features, and price
The Radeon RX 6600 XT is built on AMD's new RDNA 2 architecture, specifically the "Navi 23" GPU that's considerably smaller in size than the Navi 22 and 21 GPUs found in step-up cards like the Radeon RX 6700 XT and flagship 6900 XT. That matters for several technical reasons, but practically, smaller die sizes mean AMD can squeeze more out from each silicon wafer it manufactures. More GPU dies mean more graphics cards hitting the streets—stellar news during a shortage.
Here's a quick look at how the $379 Radeon RX 6600 XT's reference specifications stack up against both the $279 Radeon RX 5600 XT and $399 Radeon RX 5700 XT from last generation: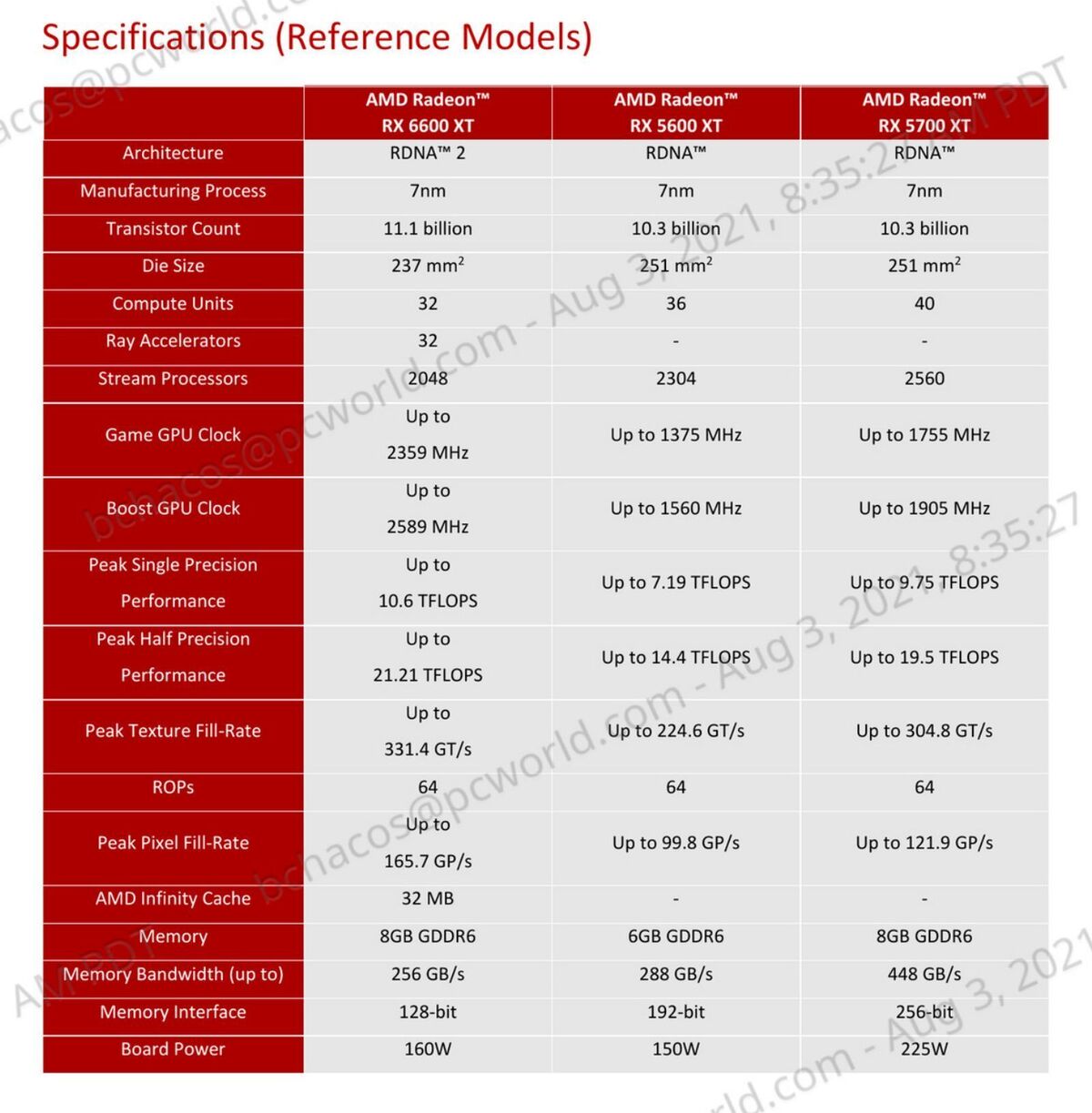 RDNA 2 hits significantly higher clock speeds than its predecessors did. Just witness the "Game Clock" speeds—the average clock speed expected while gaming—for the 5600 XT and 6600 XT. AMD's new card is very nearly 1,000MHz higher. Sweet holy moly. Despite those sky-high speeds, and the addition of 2GB more memory (bringing the total to 8GB), the Radeon RX 6600 XT draws only 10 watts more power than the card it's replacing, a testament to RDNA 2's advances.
Part of the reason AMD's new cards are so power-efficient is the addition of "Infinity Cache," a large blob of L3 memory embedded right within the GPU die. Games tap into it for a lot of memory tasks, which means the GPU doesn't need to send requests "all" the way out to the graphics card's GDDR6 memory. That in turn lets AMD build Radeon RX 6000-series GPUs with smaller memory buses, which helps save power. Think of the memory bus as the highway for memory data: More lanes lets traffic move faster. The Radeon RX 6600 XT features a narrow 128-bit memory bus, versus a 192-bit bus on the older 5600 XT, and a 256-bit bus on the 5700 XT.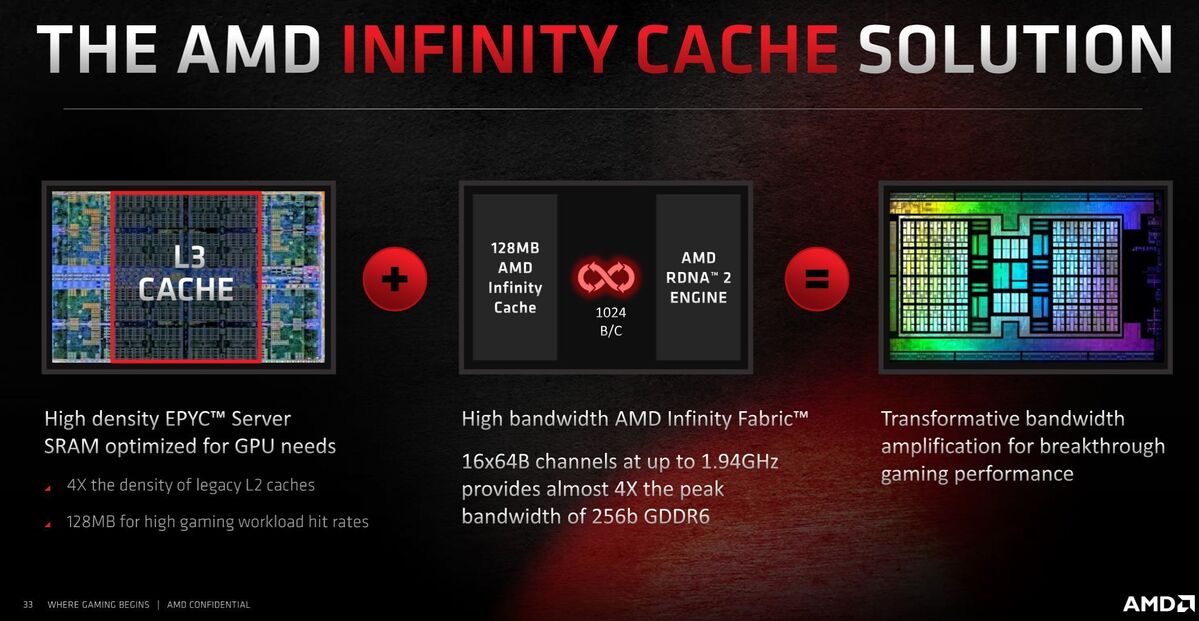 It's not all roses, though. AMD tuned the Radeon RX 6600 XT's Infinity Cache for 1080p gaming, giving it significantly less capacity than its siblings—32MB, versus 96MB on the 1440p-focused Radeon RX 6700 XT and 128GB on AMD's higher-end 4K options. Radeon product manager Nish Neelalojanan told me that the "hit rate" that determines the Infinity Cache's effectiveness is "very similar" in the 6600 XT at 1080p to what the other cards achieve at their targeted resolutions.
But as you'll see in our benchmarks, if you step the resolution up to 1440p, the Infinity Cache's hit rate decreases significantly, meaning the 6600 XT needs instead to rely on the traditional memory system much more. When that happens, the Radeon RX 6600 XT's lead over the older 5700 XT plummets—and sometimes disappears completely. That makes sense: The 5700 XT's much wider bus helps boost it to 448GBps of memory bandwidth, compared to 256GBps on the Radeon RX 6600 XT. (Infinity Cache isn't counted in that—it's much faster.) And bumping up the resolution typically demands more memory in games. But it also means that while the Radeon RX 6600 XT does well enough at 1440p gaming, it shines brightest at high refresh-rate 1080p.
Enough chip geekery. Let's talk about the $550 Asus ROG Strix Radeon RX 6600 XT more specifically.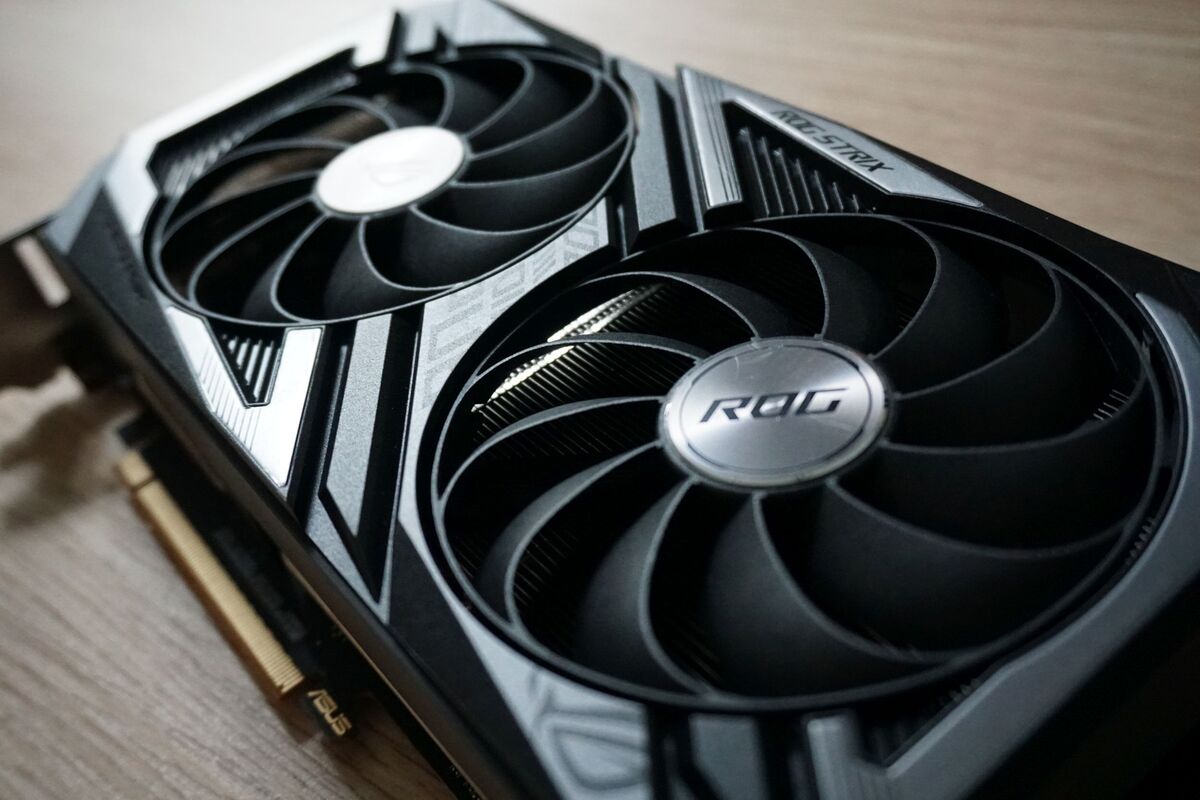 This more mainstream version of Asus's ROG Strix flagship brand doesn't have quite as many bells and whistles as the most premium offerings. The shroud is more plasticky and lacks RGB lighting aside from a logo on the edge. There aren't any FanConnect II headers to integrate a case fan's performance with the GPU's temperature, and it's smaller in general.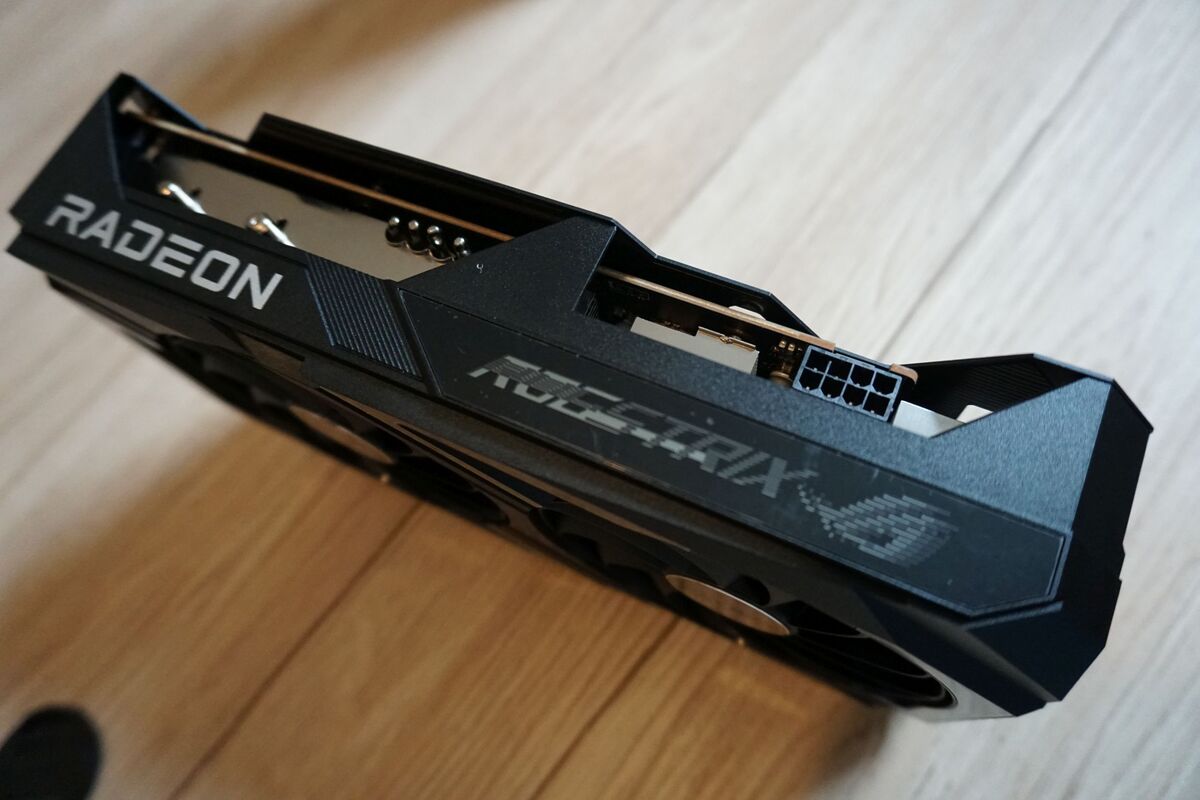 Those sorts of sacrifices are common in more affordable graphics cards, and the ROG Strix Radeon RX 6600 XT's cooling design still impresses. The dual fans feature many steeply swept blades encased in an outer ring. They sit over a heatsink that houses four heatpipes and a large base plate to suck heat away from the GPU and memory modules.
This card may be compact, but it can still tame this more modest Radeon GPU. As you'll see in our benchmark section, the ROG Strix RX 6600 XT delivers absolutely exceptional temperatures, albeit in tandem with noticeable noise levels. Better yet, the card offers a 0db feature that turns the fans off for silent operation when you aren't stressing the GPU under intense gaming loads.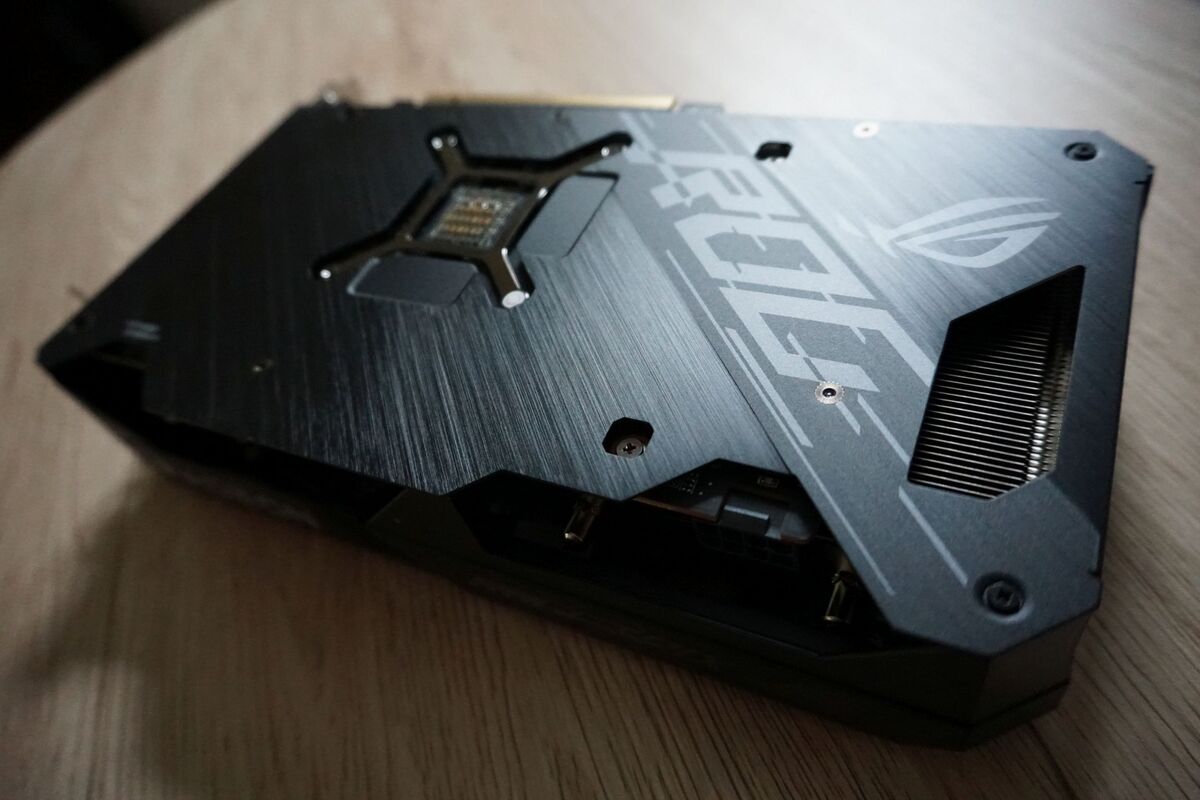 Aesthetically, this looks like a ROG Strix thanks to its harsh, angular shroud design, augmented by futuristically styled text angled across its face. The card features a slick full-length metal backplate that's bare aside from a swooping ROG logo. If you're into the aggressive, almost cyberpunk-ish "gamer" aesthetic, the ROG Strix Radeon RX 6600 XT will look outstanding in your case.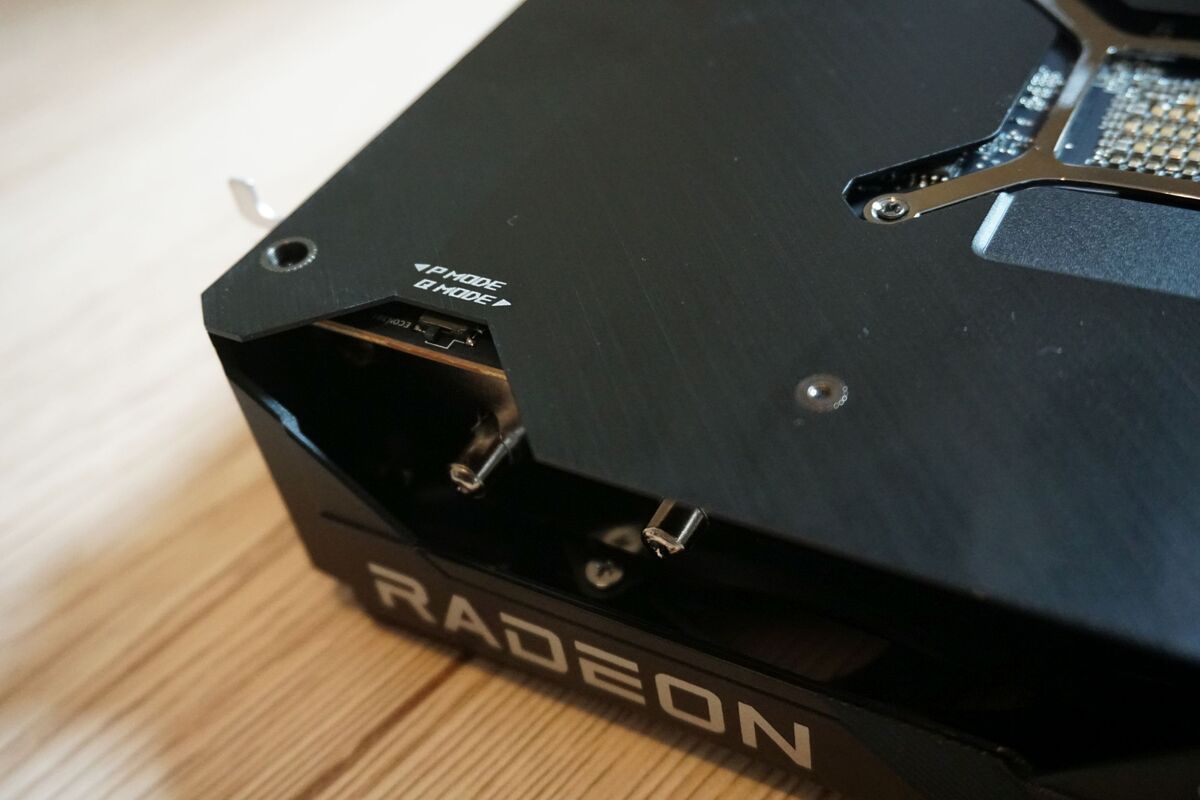 On a more practical level, the card offers a dual BIOS switch—always handy for overclocking endeavors—with preset Performance and Quiet profiles, though the default Performance profile is plenty quiet on its own. Power comes via a single 8-pin connector. Asus outfitted the card with a single HDMI 2.1 connection and a trio of DisplayPorts.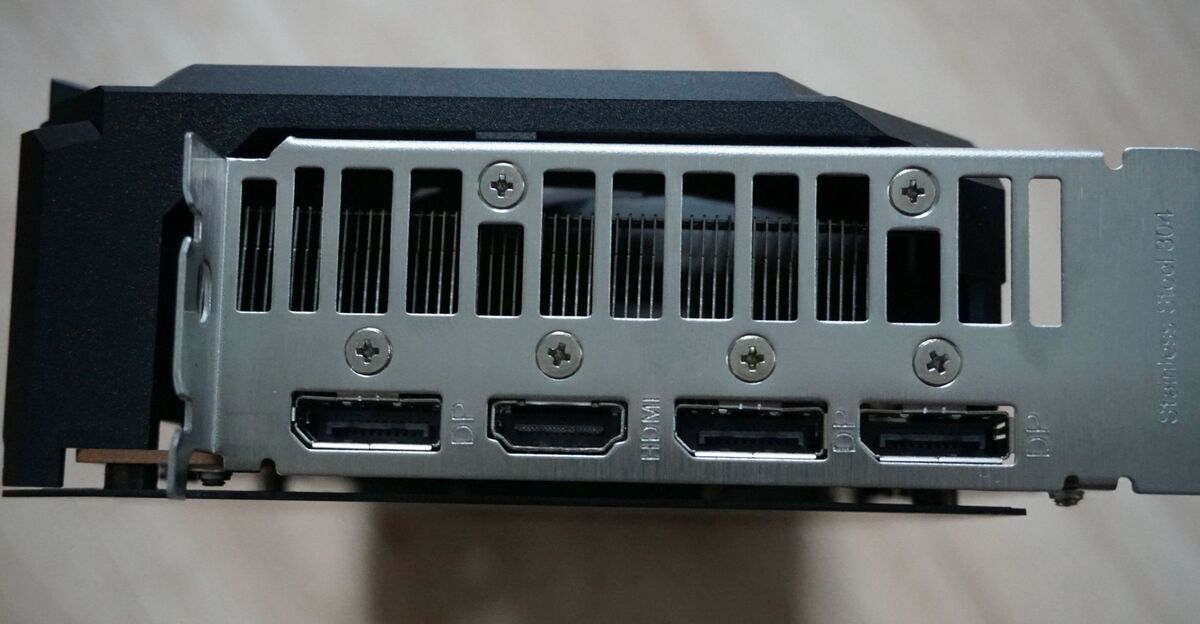 Like other RX 6000-series GPUs, the Radeon RX 6600 XT supports all of RDNA 2's various features, including FidelityFX Super Resolution and Smart Access Memory to boost performance, real-time ray tracing capabilities, AV1 video decoding, DirectX 12 Ultimate goodies, an improved version of Radeon Boost that wraps in Variable Rate Shading, Radeon Anti-Lag across all major DX APIs, FreeSync display support, AMD Link streaming to other devices, and much more. AMD's robust Radeon Settings app includes both manual and automatic performance tuning controls so you can tweak the card to your heart's extent, and Asus offers its own helpful GPU Tweak III software.
Let's get benchmarking.
Next page: Our test system, benchmarks begin
Our test system
Our AMD Ryzen 5000-series test rig can benchmark the effect of PCIe 4.0 support on modern GPUs, as well as the performance-boosting AMD Smart Access Memory and Nvidia Resizable BAR features (which are both based on the same underlying PCIe standard). Currently, we're testing it on an open bench with AMD's Wraith Max air cooler; in the future, we'll add an NZXT Kraken liquid cooler to the mix. Most of the hardware was provided by the manufacturers, but we purchased the storage ourselves.
AMD Ryzen 5900X, stock settings
AMD Wraith Max cooler
MSI Godlike X570 motherboard
32GB G.Skill Trident Z Neo DDR4 3800 memory
EVGA 1200W SuperNova P2 power supply
We're comparing the $379 Radeon RX 6600 XT against the various cards it's replacing, either spiritually or practically: the $279 Radeon RX 5600 XT, the $350 Radeon RX 5700, and the $400 Radeon RX 5700 XT. Because a big part of AMD's value proposition for the 6600 XT revolves around its fantastic Smart Access Memory feature, which boosts frame rates when the GPU is paired with a compatible Ryzen CPU and motherboard, we've included performance results for the card with SAM active as well. Its uplift ranges from meh to marvelous.
Mentioned in this article
GeForce RTX 3060 Ti FTW3 Ultra
Price When Reviewed:
$450
On the Nvidia front, we've included results for the reference-spec'd $330 EVGA RTX 3060 XC Black Gaming that AMD is so keen to compare against the 6600 XT. Because AMD's newcomer costs $380, however, it makes sense to compare it against the $400 GeForce RTX 3060 Ti as well, in the form of EVGA's fearsome FTW3 Ultra. All of these suggested prices are a fraction of what you'll pay for these GPUs in the real world right now, of course, but using suggested pricing helps evaluate graphics cards as they were intended.
We test a variety of games spanning various engines, genres, vendor sponsorships (Nvidia, AMD, and Intel), and graphics APIs (DirectX 11, DX12, and Vulkan). Each game is tested using its in-game benchmark at the highest possible graphics presets unless otherwise noted, with VSync, frame rate caps, real-time ray tracing or DLSS effects, and FreeSync/G-Sync disabled, along with any other vendor-specific technologies like FidelityFX tools or Nvidia Reflex. We've also enabled temporal anti-aliasing (TAA) to push these cards to their limits. We run each benchmark at least three times and list the average result for each test.
Pay close attention to how the Radeon RX 6600 XT compares against Nvidia's GeForce RTX 3060 Ti, which is much faster for just $20 more. Also pay attention to how its performance stacks up against last generation's Radeon RX 5700 XT, which was priced in the same ballpark but featured a wider 256-bit memory bus. The new 6600 XT pulls decently ahead of it in 1080p gaming performance, but that lead dissipates at 1440p, because the 6600 XT features a tiny 128-bit bus paired with a 32MB Infinity Cache solution that was specifically engineered for 1080p resolution. When you bump the resolution up to 1440p, the Radeon RX 6600 XT needs to rely on that much smaller memory bus much more often.
Gaming performance benchmarks
Watch Dogs: Legion
Watch Dogs: Legion is one of the first games to debut on next-gen consoles. Ubisoft upgraded its Disrupt engine to include cutting-edge features like real-time ray tracing and Nvidia's DLSS. We disable those effects for this testing, but Legion remains a strenuous game even on high-end hardware with its optional high-resolution texture pack installed. The game allocates more than 8GB of memory even at 1440p. Oof.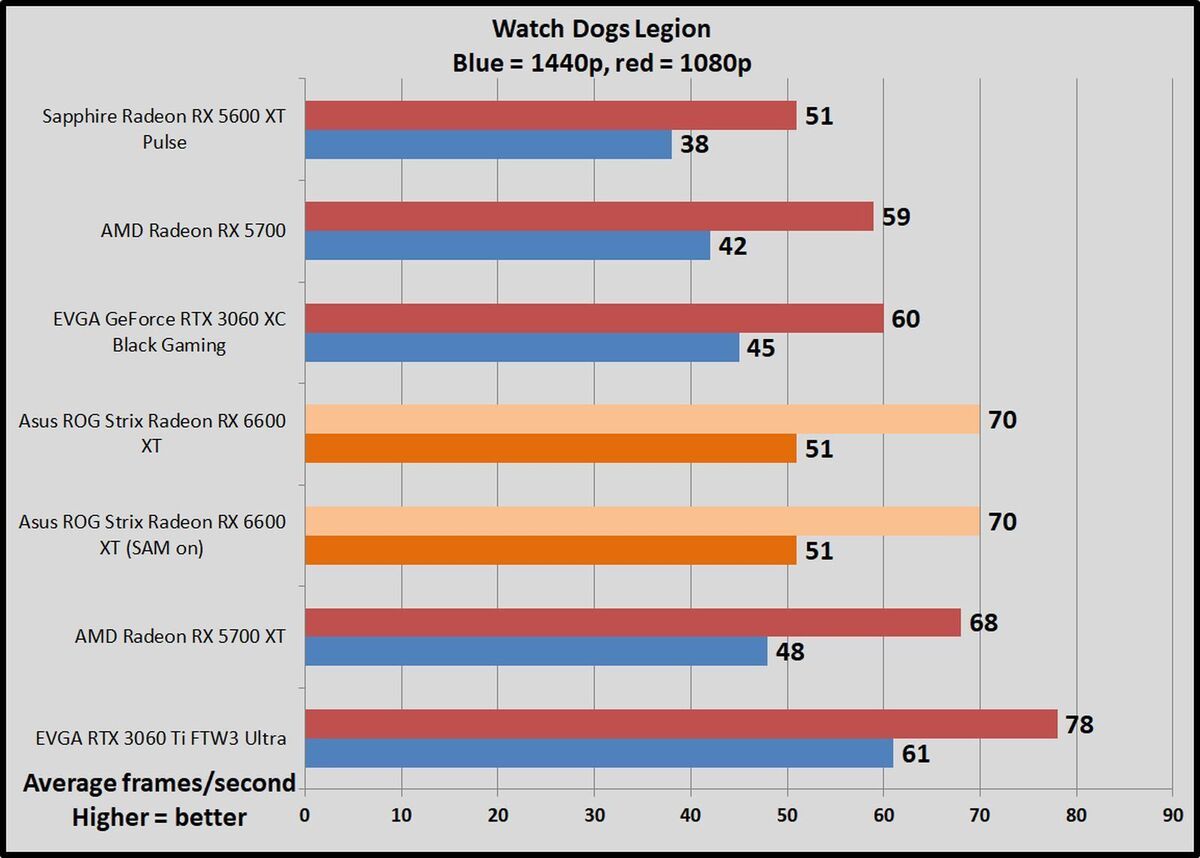 Horizon Zero Dawn
Yep, PlayStation exclusives are coming to the PC now. Horizon Zero Dawn runs on Guerrilla Games' Decima engine, the same engine that powers Death Stranding.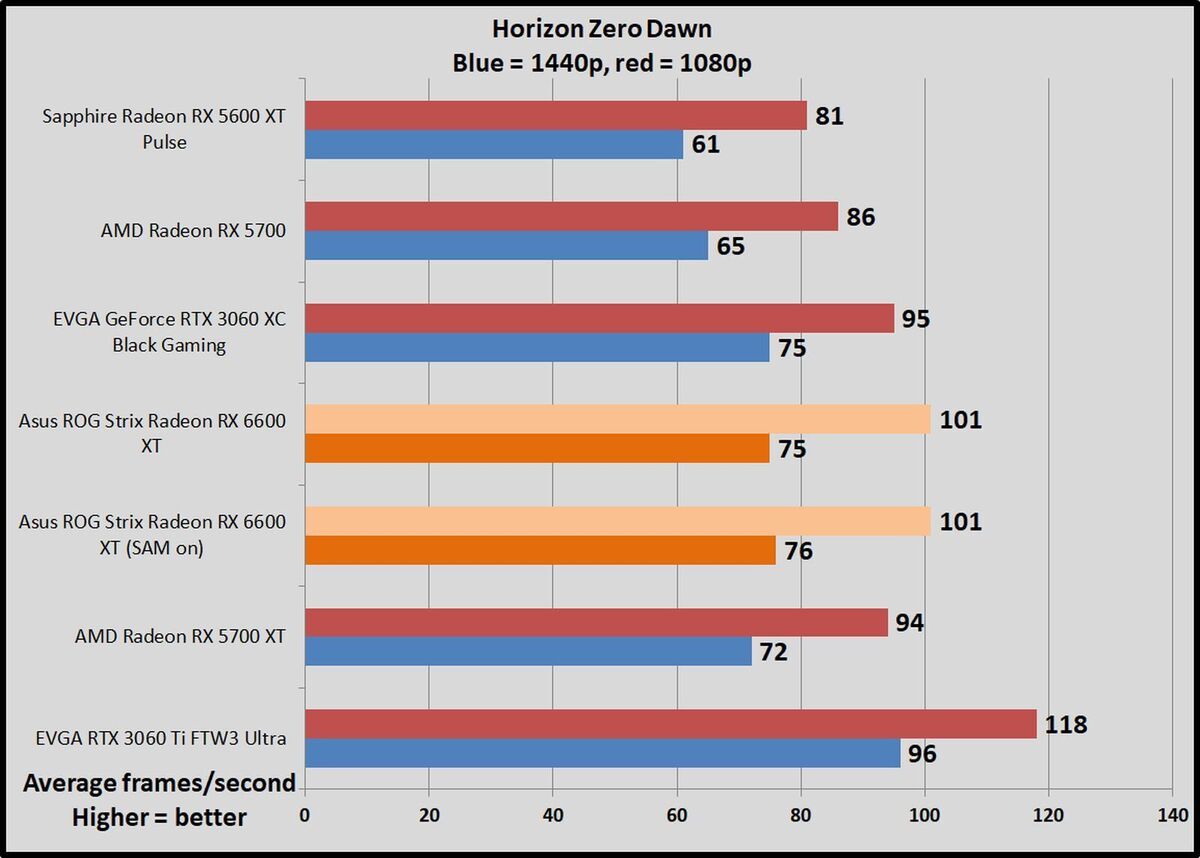 Next page: gaming benchmarks continue
Gears Tactics
Gears Tactics puts it own brutal, fast-paced spin on the XCOM-like genre. This Unreal Engine 4-powered game was built from the ground up for DirectX 12, and we love being able to work a tactics-style game into our benchmarking suite. Better yet, the game comes with a plethora of graphics options for PC snobs. More games should devote such loving care to explaining what flipping all these visual knobs mean.
You can't use the presets to benchmark Gears Tactics, as it intelligently scales to work best on your installed hardware, meaning that "Ultra" on one graphics card can load different settings than "Ultra" on a weaker card. We manually set all options to their highest possible settings.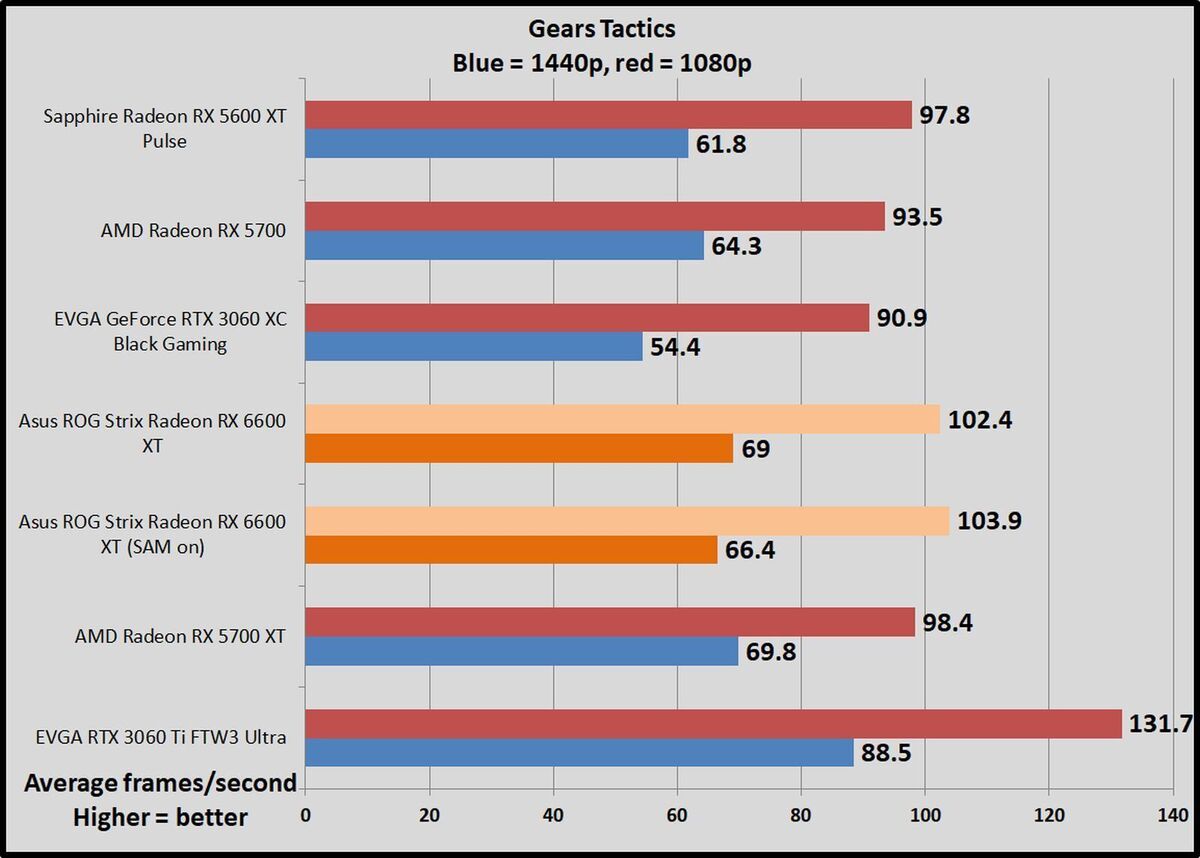 Wolfenstein: Youngblood
Wolfenstein: Youngblood is more fun when you can play cooperatively with a buddy, but it's a fearless experiment—and an absolute technical showcase. Running on the Vulkan API, Youngblood achieves blistering frame rates, and it supports all sorts of cutting-edge technologies like ray tracing, DLSS 2.0, HDR, GPU culling, asynchronous computing, and Nvidia's Content Adaptive Shading. The game includes a built-in benchmark with two different scenes; we tested Riverside.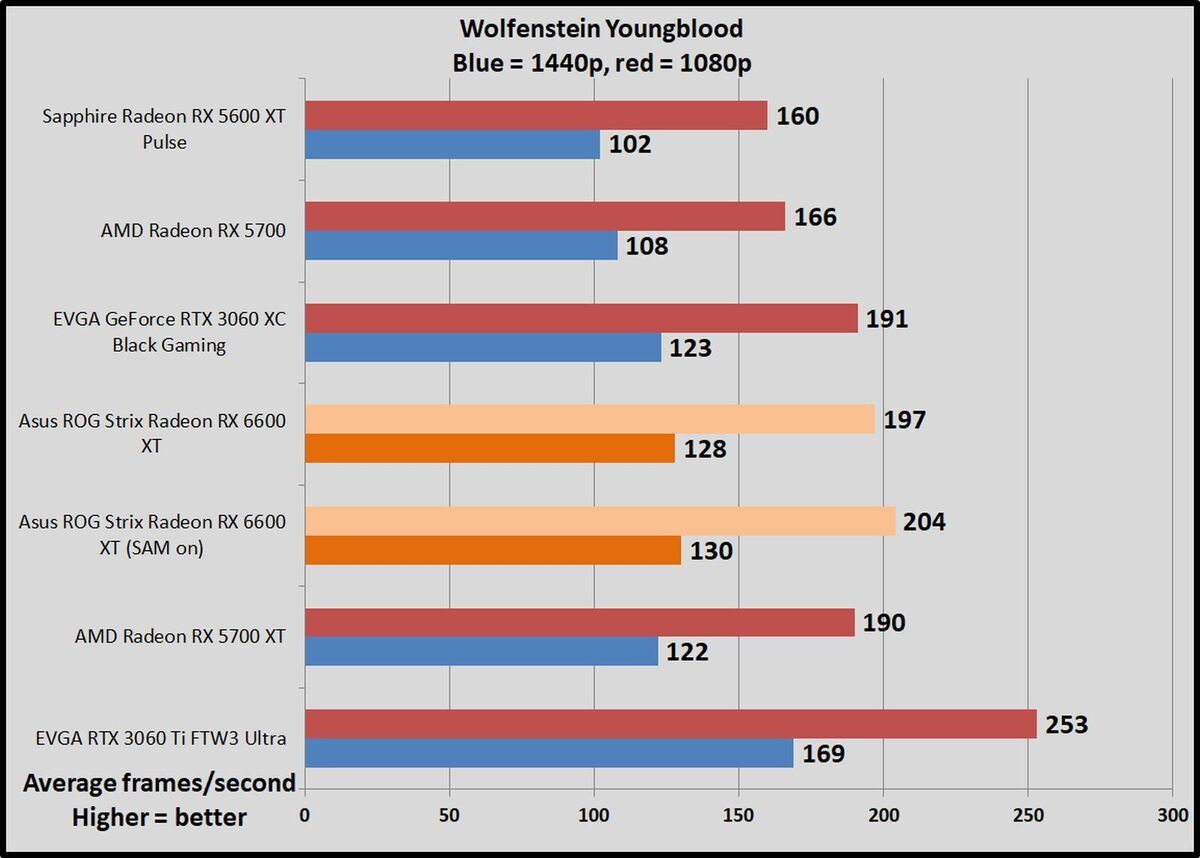 Metro Exodus
One of the best games of 2019, Metro Exodus remains one of the best-looking games around, too. The latest version of the 4A Engine provides incredibly luscious, ultra-detailed visuals, with one of the most stunning real-time ray tracing implementations released yet. The Extreme graphics preset we benchmark can melt even the most powerful modern hardware, as you'll see below, though the game's Ultra and High presets still look good at much higher frame rates.
We test in DirectX 12 mode with ray tracing, Hairworks, and DLSS disabled.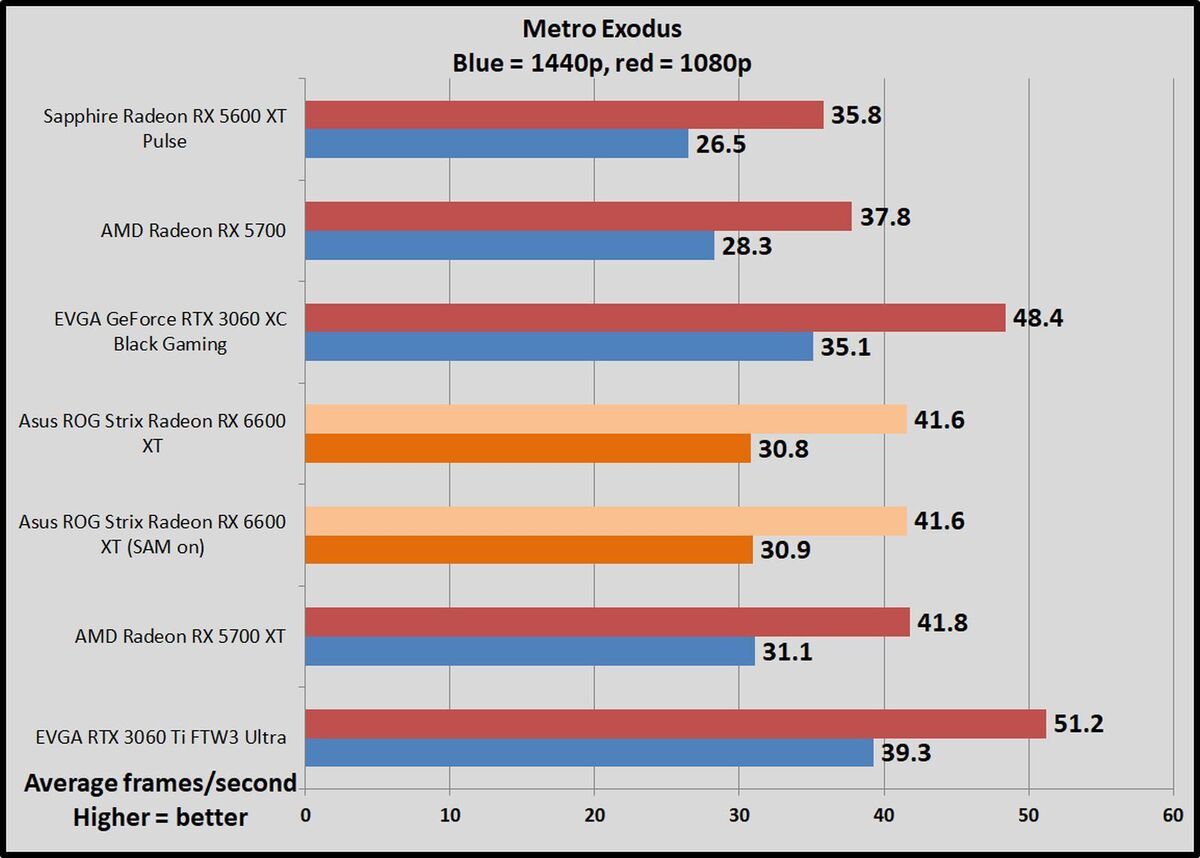 Borderlands 3
Borderlands is back! Gearbox's game defaults to DX12, so we do as well. It gives us a glimpse at the ultra-popular Unreal Engine 4's performance in a traditional shooter. This game tends to favor AMD hardware.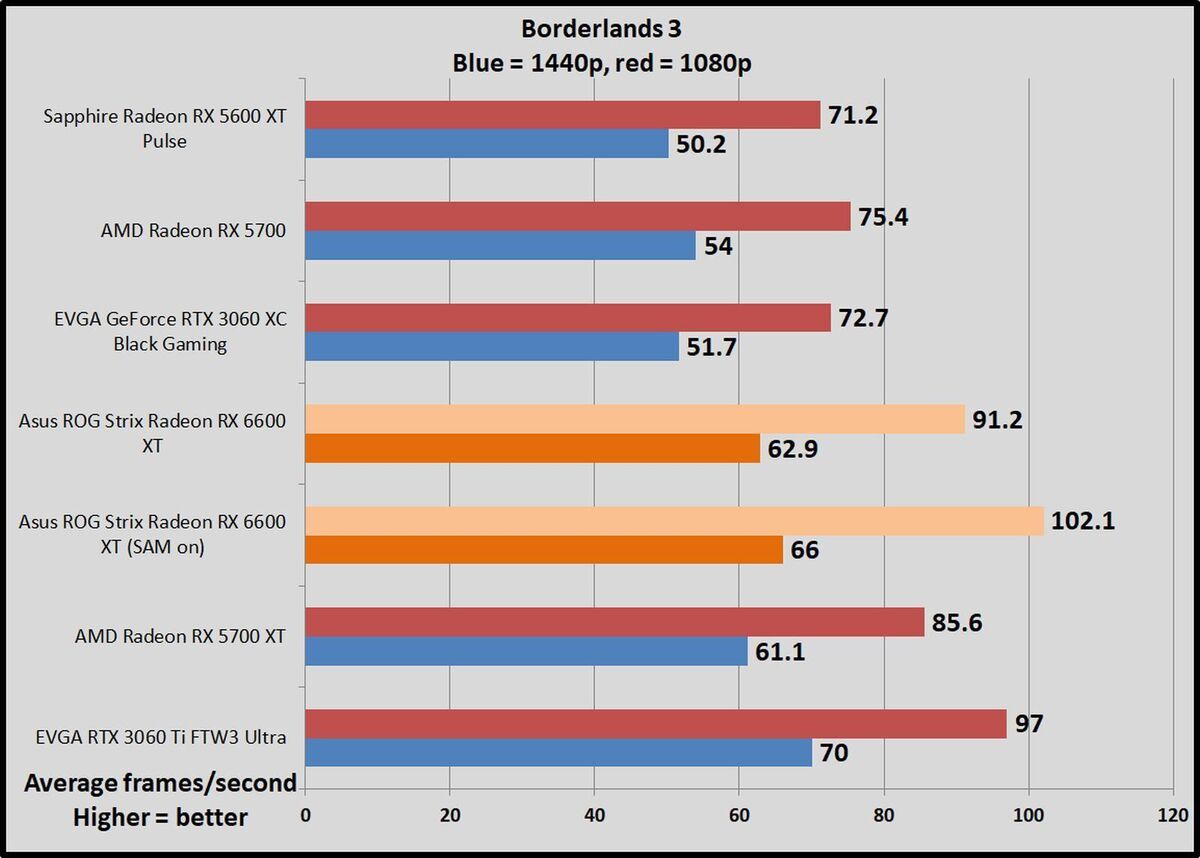 Strange Brigade
Strange Brigade is a cooperative third-person shooter where a team of adventurers blasts through hordes of mythological enemies. It's a technological showcase, built around the next-gen Vulkan and DirectX 12 technologies and infused with features like HDR support and the ability to toggle asynchronous compute on and off. It uses Rebellion's custom Azure engine. We test using the Vulkan renderer, which is faster than DX12.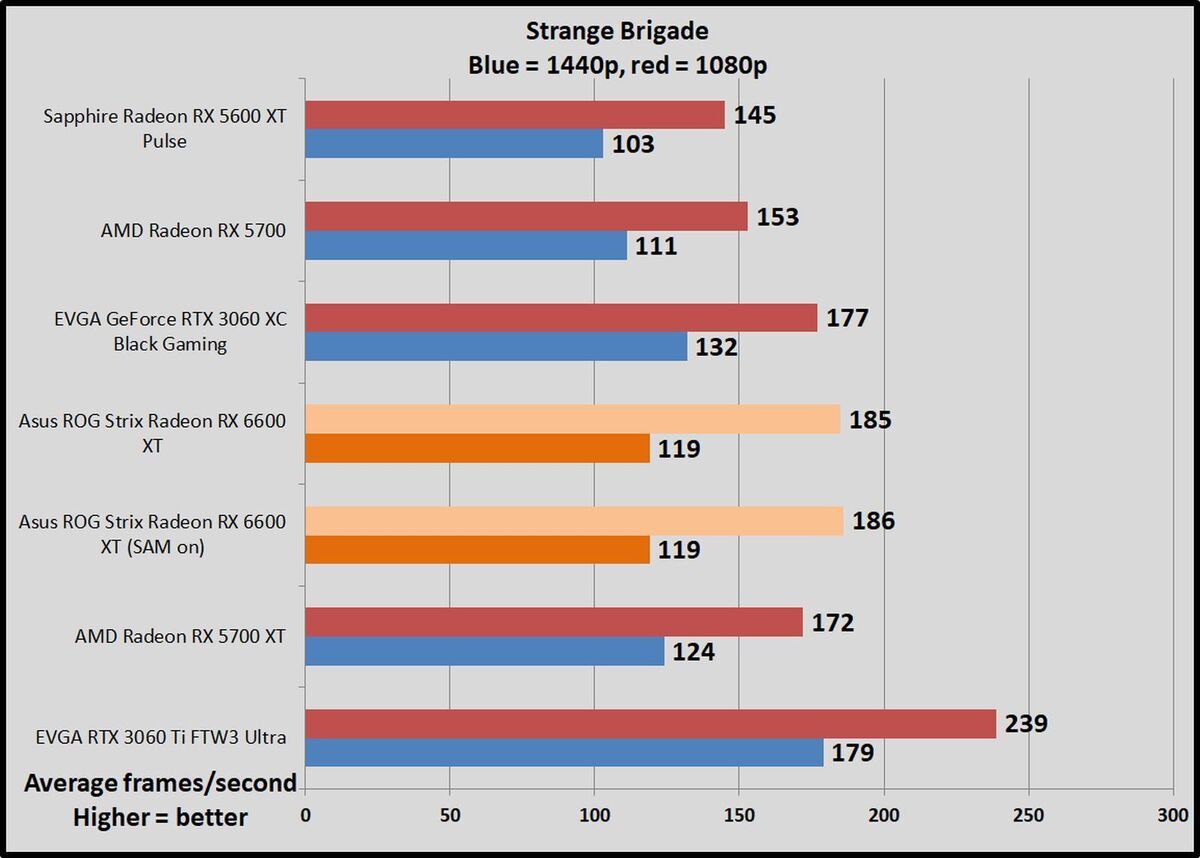 Next page: gaming benchmarks continue
Total War: Troy
The latest game in the popular Total War saga, Troy was given away free for its first 24 hours on the Epic Games Store, moving over 7.5 million copies before it went on proper sale. Total War: Troy is built using a modified version of the Total War: Warhammer 2 engine, and this DX11 title looks stunning for a turn-based strategy game. We test the more intensive battle benchmark.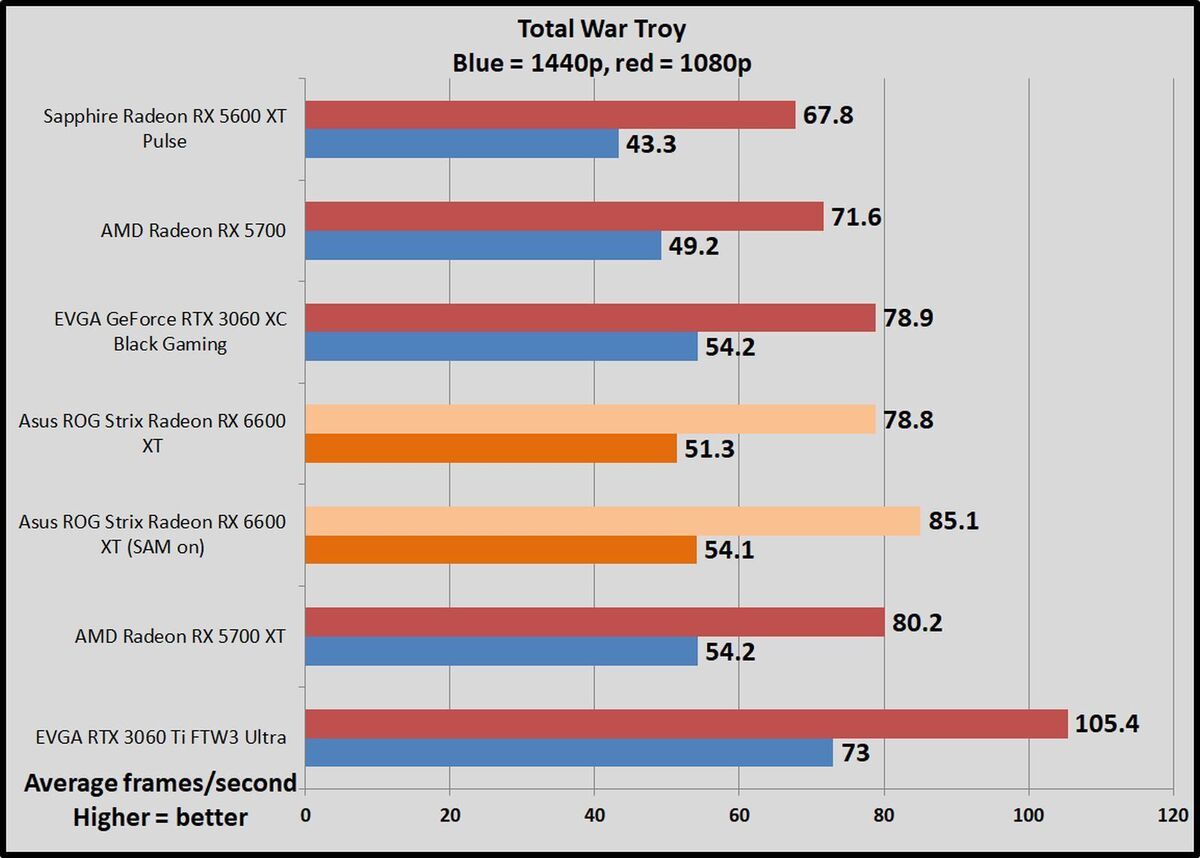 F1 2020
The latest in a long line of successful racing games, F1 2020 is a gem to test, supplying a wide array of both graphical and benchmarking options, making it a much more reliable (and fun) option that the Forza series. It's built on the latest version of Codemasters' buttery-smooth Ego game engine, complete with support for DX12 and Nvidia's DLSS technology. We test two laps on the Australia course, with clear skies on and DLSS off.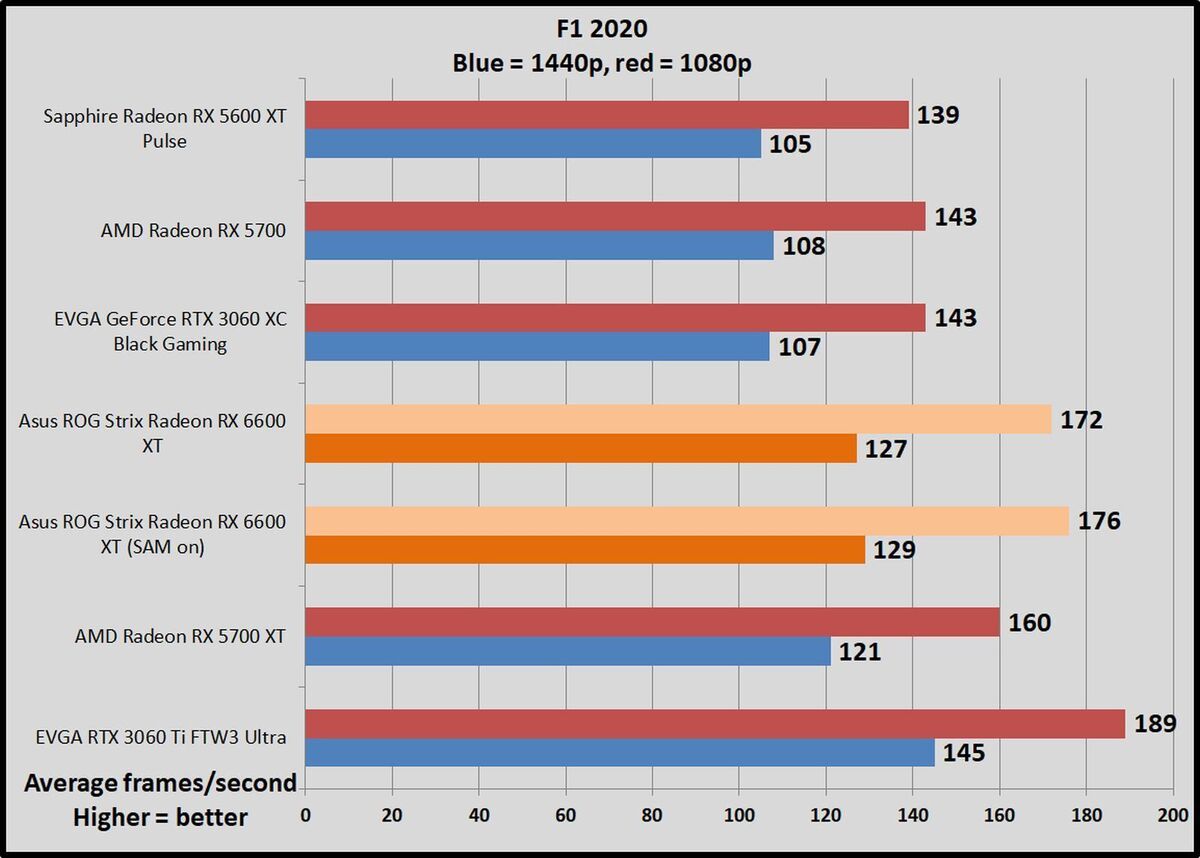 Shadow of the Tomb Raider
Shadow of the Tomb Raider concludes the reboot trilogy, and it's still utterly gorgeous a couple of years after its debut. Square Enix optimized this game for DX12 and recommends DX11 only if you're using older hardware or Windows 7, so we test with DX12. Shadow of the Tomb Raider uses an enhanced version of the Foundation engine that also powered Rise of the Tomb Raider and includes optional real-time ray tracing and DLSS features.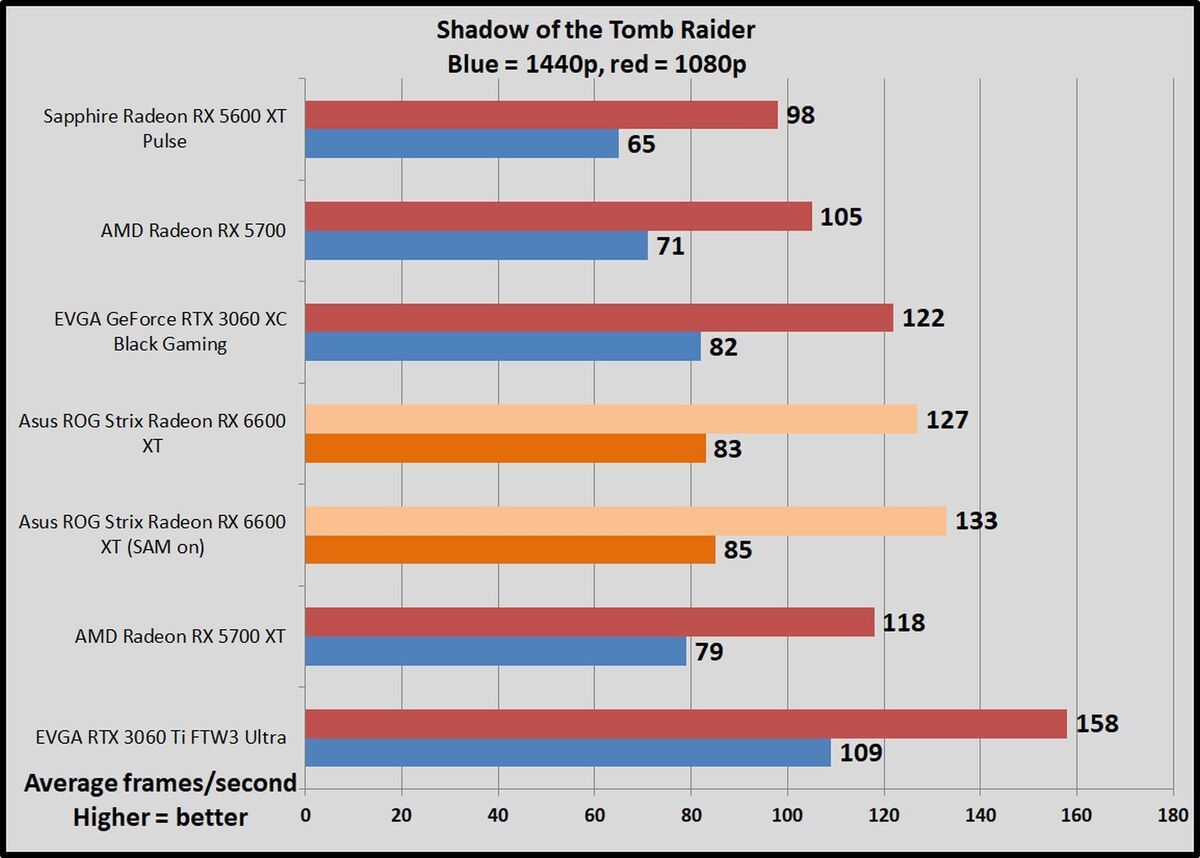 Rainbow Six Siege
Rainbow Six Siege still dominates the Steam charts years after its launch, and Ubisoft supports it with frequent updates and events. The developers have poured a ton of work into the game's AnvilNext engine over the years, eventually rolling out a Vulkan version of the game that we use to test. By default, the game lowers the render scaling to increase frame rates, but we set it to 100 percent to benchmark native rendering performance on graphics cards. Even still, frame rates soar.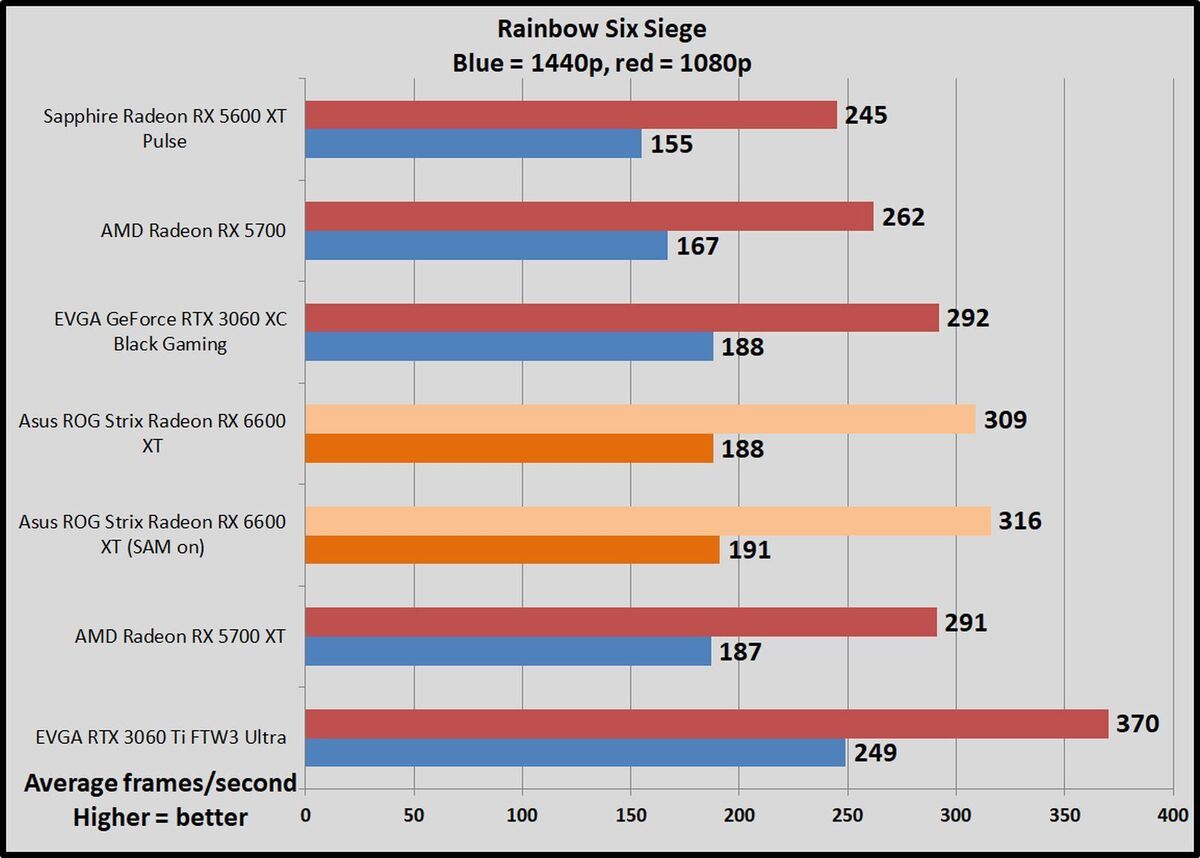 Ray tracing performance
We also tested ray tracing performance in Shadow of the Tomb Raider and Metro Exodus, two games in our suite that support the cutting-edge technology. The tests were conducted without Nvidia's AI-enhance DLSS technology enabled.
Image upsampling technologies like DLSS and AMD's FidelityFX Super Resolution are key to clawing back frames lost to cutting-edge ray tracing effects, increasing performance by rendering visuals internally at a lower resolution before using various tricks to increase the final resolution. The software techniques work in very different ways, however, so testing with them disabled is the only way for an apples-to-apples benchmark except in the ultra-rare games that support both DLSS and FSR, like Marvel's Avengers.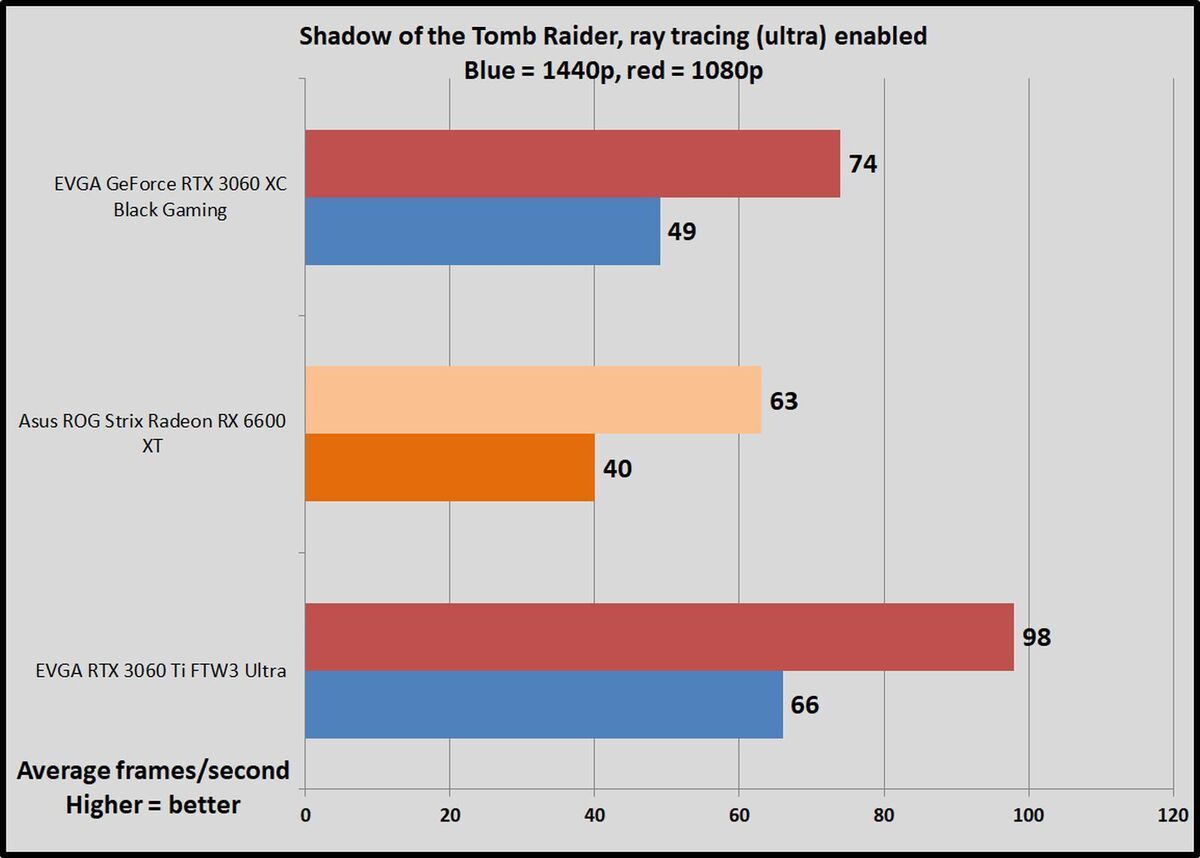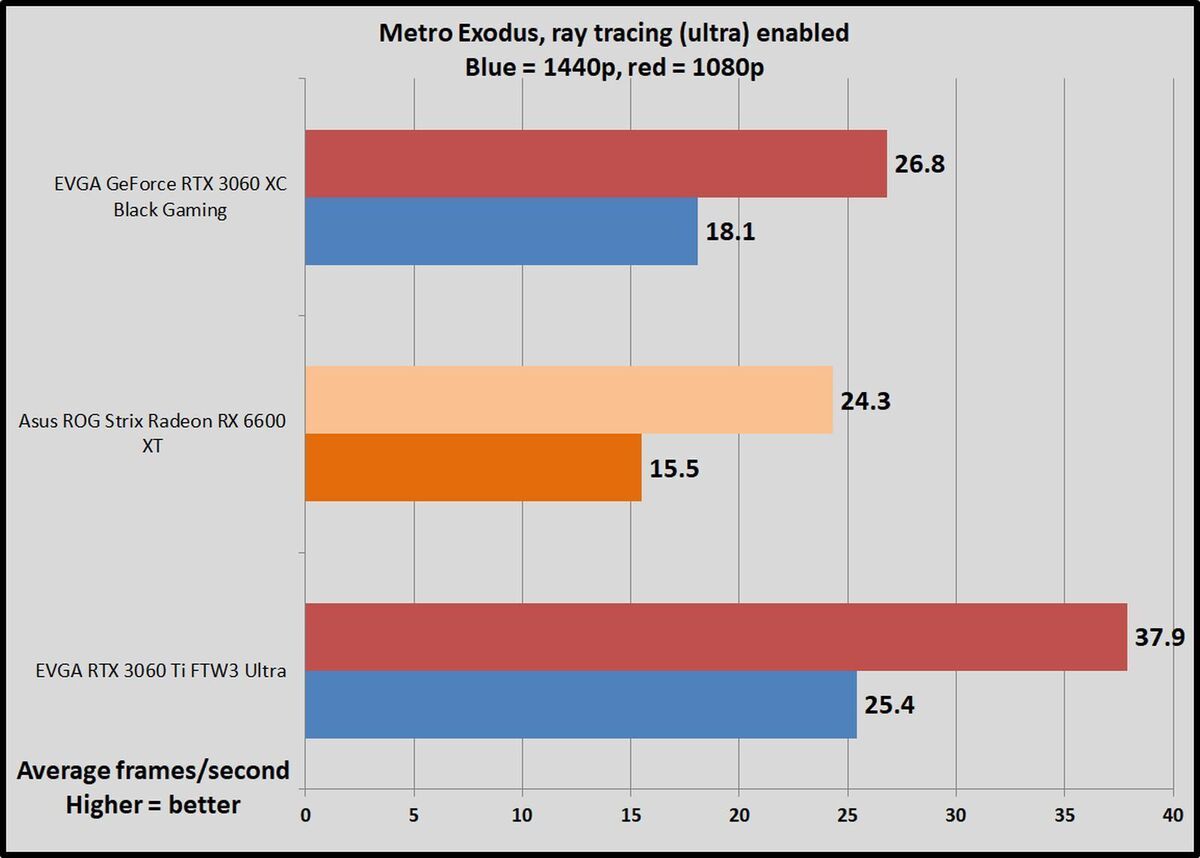 This largely confirms what we already knew from higher-end Radeon and GeForce GPUs. Nvidia's second-generation implementation of ray tracing hardware performs better than AMD's first stab at the technology, though both enable you to play ray-traced games after making some graphics option tweaks (or enabling DLSS/FSR). We hope to test ray tracing performance more in-depth with a wider array of games soon.
Next page: Power, thermals, and noise
Power draw, thermals, and noise
We test power draw by looping the F1 2020 benchmark at 4K for about 20 minutes after we've benchmarked everything else. We note the highest reading on our Watts Up Pro meter, which measures the power consumption of our entire test system. The initial part of the race, where all competing cars are onscreen simultaneously, tends to be the most demanding portion.
This isn't a worst-case test; this is a GPU-bound game running at a GPU-bound resolution to gauge performance when the graphics card is sweating hard. If you're playing a game that also hammers the CPU, you could see higher overall system power draws. Consider yourself warned.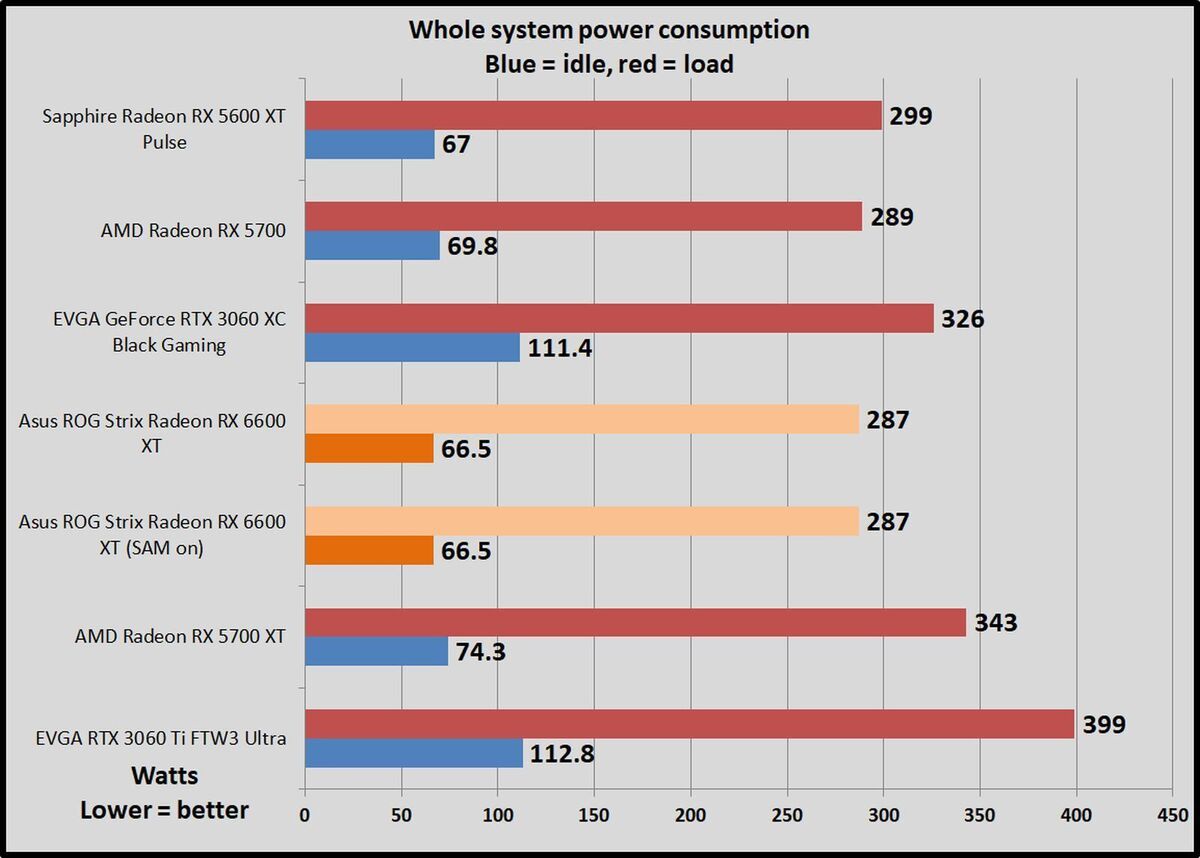 The Radeon RX 6600 XT draws less much power than the GeForce RTX 3060 (and RX 5600 XT) despite being tangibly faster, even in this hot-rod ROG Strix incarnation. And while the RTX 3060 Ti is noticeably faster still, it draws over 100 watts more from the wall than AMD's new GPU. Enough said.
We test thermals by leaving GPU-Z open during the F1 2020 power draw test, noting the highest maximum temperature at the end.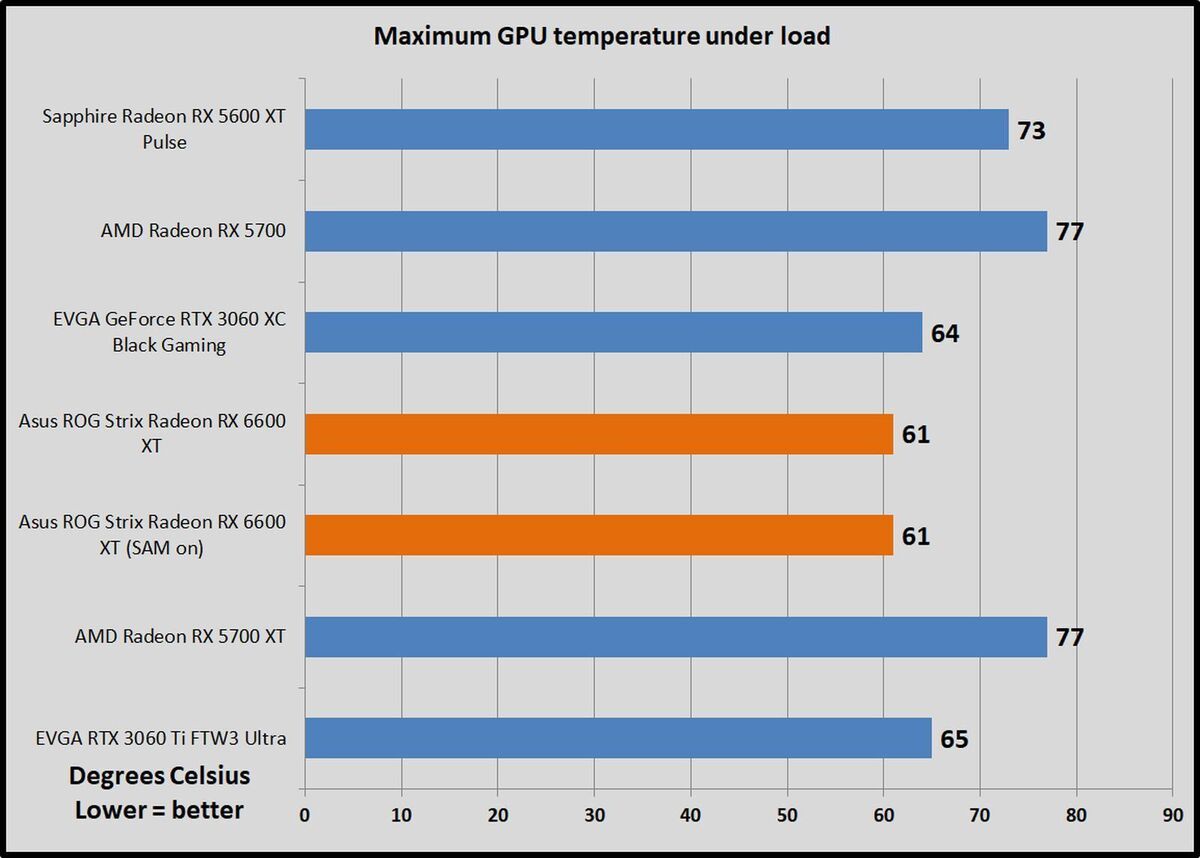 This high-end ROG Strix boasts a fantastically frigid cooling design that runs a bit louder than competing designs around this price point—though it's still far from loud. The RX 6600 XT version of the Strix may be pared down significantly from the higher-end models, but it still burns rubber.
Next page: Should you buy the Radeon RX 6600 XT?
Should you buy the Radeon RX 6600 XT?
You probably shouldn't buy any graphics card right now, as I said in our GeForce RTX 3060 and Radeon RX 6700 XT reviews. Even after some slight relief in recent weeks, prices remain outright ludicrous right now. I'd recommend most people sit on the sidelines and stream their PC games via Nvidia's GeForce Now service until the dust settles. The Radeon RX 6600 XT seals that advice.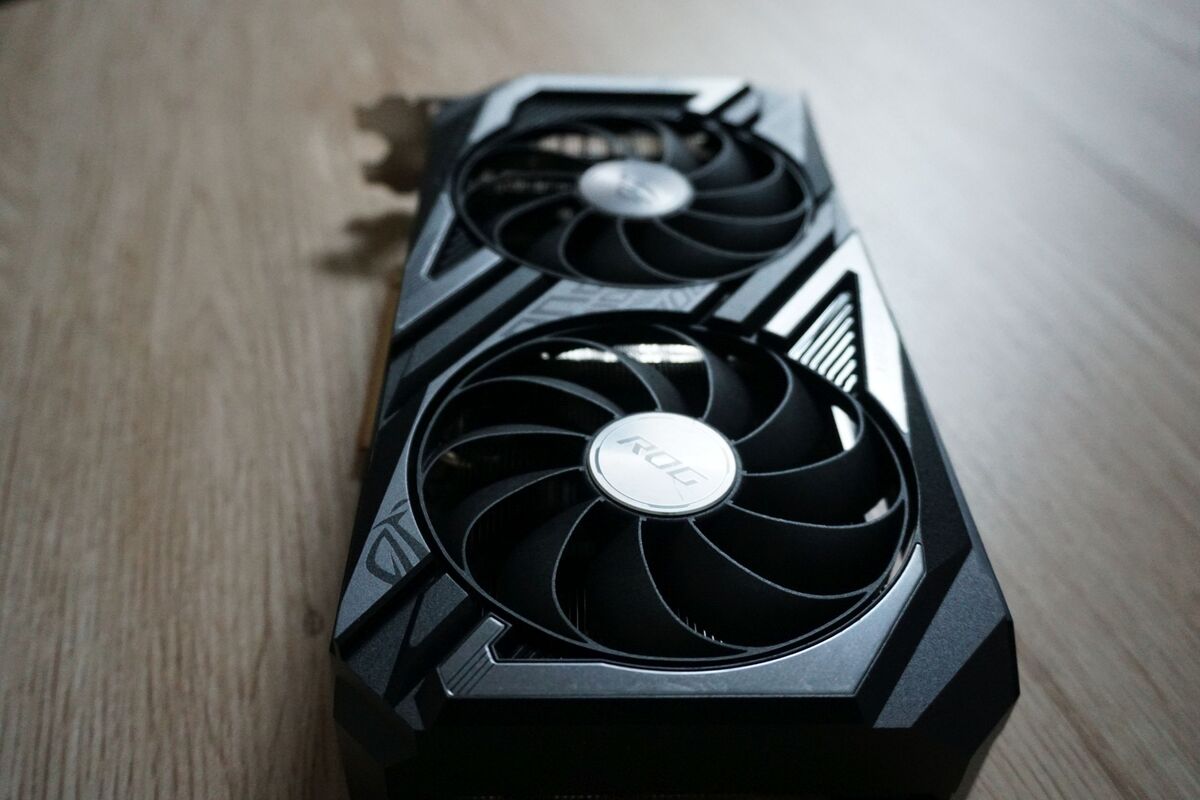 AMD definitely priced its new graphics card in line with the times (and Asus doubled down by charging $170 more than that for this ROG Strix model). Yes, memory prices have doubled in recent months. Yes, chip fabricators are having troubles securing materials to build CPUs and GPUs. Yes, shipping and logistics costs many times more than it used to, as the world struggles to break free from the pandemic's grasp. And yes, the GeForce RTX 3060 that this card handily bests is selling for $700 or more when you can find it, despite ostensibly being a $330 GPU. All of this indicates that the Radeon RX 6600 XT will cost well more than $379 on the street unless you're lucky enough to snag part of the first wave of stock drops when the graphics cards launch on August 11.
Nevertheless, the Radeon RX 6600 XT is a card built for no-compromises 1080p gaming, and paying nearly $400 for that in 2021 hurts. Five years ago, I said that AMD's own Radeon RX 480 "redefined what's possible with a $200 graphics card," thanks to its ability to drive fast 1080p and solid 1440p gaming experiences at a mainstream price point. Now, you need to spend nearly twice that to unlock the same capabilities with the 6600 XT. The pandemic plays a role in that but it sure doesn't feel like progress, even though the Radeon RX 6600 XT offers ray tracing and other features the RX 480 could only dream of.
Make no mistake: This card is indeed built for fast 1080p gaming. Its 32MB Infinity Cache was tuned for the ultra-popular resolution, and the Radeon RX 6600 XT often trots past the older Radeon RX 5700 XT (which cost roughly the same at launch) there. But the lead narrows greatly if you bump the resolution up to 1440p because AMD equipped this card with a narrow 128-bit memory bus in conjunction with Infinity Cache. That helps save power, and the 6600 XT is wonderfully efficient, but it means the card's performance slows at higher resolutions. Two years after the $400 Radeon RX 5700 XT launched, the $380 RX 6600 XT offers essentially the same 1440p performance for essentially the same price. Again: That's a bummer.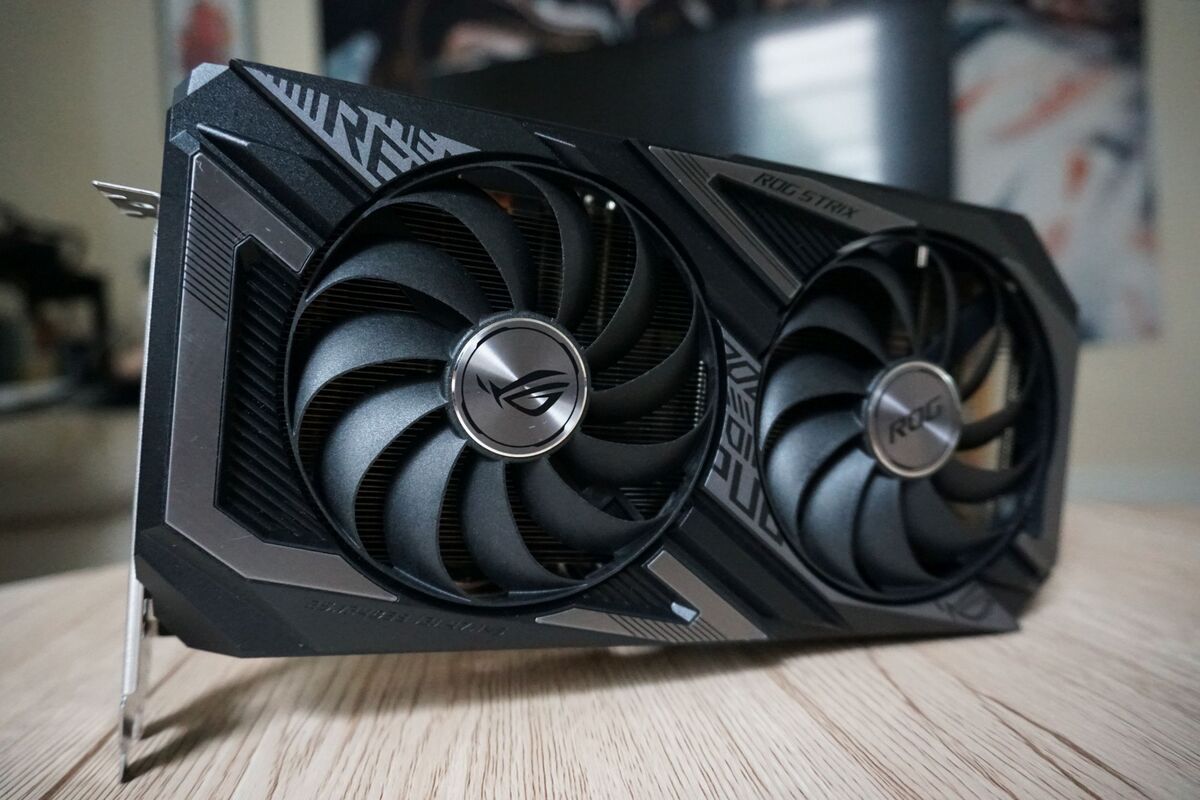 I suspect AMD's suggested pricing reflect current realities more than Nvidia's MSRPs, and Asus's even more so. Nevertheless, Radeon somewhat shot itself in the foot with the Radeon RX 6600 XT's cost. Yes, it's faster than the RTX 3060. But at this price, its true competitor MSRP-wise is the GeForce RTX 3060 Ti, which runs laps around the 6600 XT for just $20 more. Well, in theory: In reality, the RTX 3060 Ti is selling for $800 to $1,000 on Ebay right now. If pricing ever returns to normal, the 3060 Ti would clearly be the superior buy.
That simply won't happen anytime soon, especially given the custom-only nature of this launch. Unlike other RX 6000-series models, AMD won't be offering a reference version of the Radeon RX 6600 XT to help nail down a price floor. You'll only be able to get this GPU from third-party board makers like Asus, Sapphire, and XFX. AMD pledges there will indeed be $379 models available from its partners, but if other GPU releases during the pandemic are any indication, those partners will devote much more effort (and stock) to higher-priced variants that let them squeeze out more profit in today's seller's market.
Along those lines, the $550 Asus ROG Strix Radeon RX 6600 XT we reviewed today is a winner. It's reasonably sized, it runs incredibly cool and quiet enough, and it's equipped with an appealingly aggressive design as well as a dual-BIOS switch. The ROG Strix 6600 XT rocks. I have no complaints about it whatsoever aside from the idea of paying $550 freakin' dollars for a 1080p graphics card. Stay tuned for a few more custom RX 6600 XT reviews in the coming days.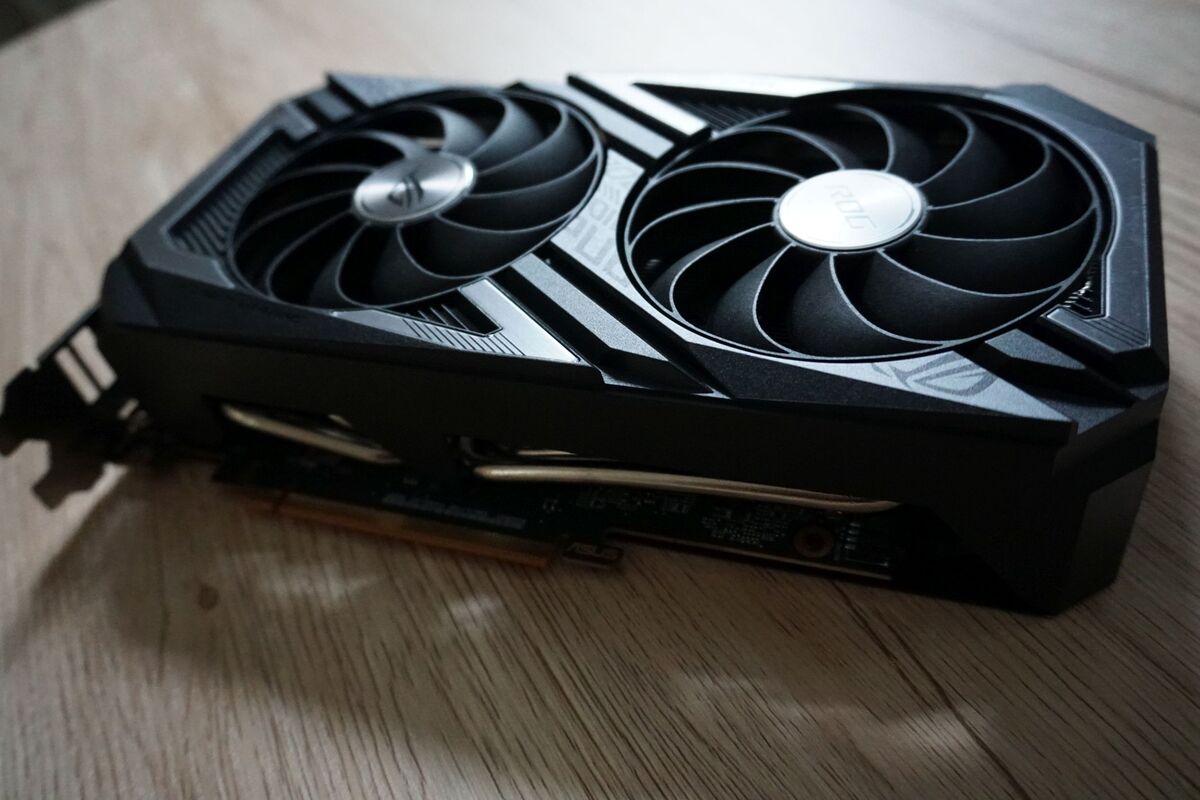 Bottom line? Graphics card pricing is an absolute mess these days. Don't spend $500 or more on a 1080p GPU like this. I wouldn't personally spend the asked-for $379 on a reference-spec'd Radeon RX 6600 XT. Like the RTX 3060, AMD's newest offering is a just-good-enough graphics card in a time where even okay, fine GPUs sell out instantly for staggering amounts. Only consider it if you have deep pockets, no patience, and a high refresh rate 1080p monitor. The Radeon RX 6600 XT is too fast and expensive to consider for 1080p gaming at 60Hz, while its funky memory configuration means the RTX 3060 Ti is a far superior buy for playing at 1440p. (Nvidia's GPU is also much faster at 1080p.)
It'll still sell out instantly though. Pay up if you must, but sit on the sidelines for now if you can. The Radeon RX 6600 XT would've been a spectacular upgrade if it stuck to the Radeon RX 5600 XT's $279 price point. Sadly, that's just not possible in today's world.