At a Glance
Expert's Rating
Pros
Unlimited simultaneous device connections
Works well with Netflix
Built-in extras such as ad tracker and malware blocking
Low price on long-term plans
Cons
Indicators for ping or server load are not readily available
Our Verdict
Surfshark has firmly established itself in the world of VPNs, offering good speeds, unlimited connections, a clean and easy-to-use Windows app, and a wide server spread. It also offers some convenient extra privacy features. All of this is included in an affordable package, making Surfshark a great value VPN option for most people.
Price When Reviewed
From $2.30 per month (charged at $59.76 upfront for 26 months)
Best Prices Today: Surfshark
Surfshark in brief:
P2P allowed: Yes
Simultaneous device connections: Unlimited
Business location: The Netherlands
Number of servers: 3,200+
Number of country locations: 100
Cost: $12.95 per month, or $59.76 for a two year subscription
Surfshark has, in the last few years, catapulted from basic VPN company to one-stop shop for all things personal online-security. The company now offers a top-tier VPN product that continues to improve on itself with each new iteration. And since its merger with NordVPN under the parent company Cyberspace, Surfshark has pushed into developing cutting-edge personal security features via its Nexus technology. This all sounds great, but are all of these features really worth it in a VPN service? We took Surfshark for a spin to find out.
Further reading: See our roundup of the best VPNs to learn about competing products.
Surfshark VPN features and services
When you initially open Surfshark you notice that the interface is clean and simple. On the left rail you have options for VPN, Alert, Antivirus, and Settings. In the middle there is a list of all server locations listed alphabetically by country and on the right there is a button to connect to the chosen server. It's nothing fancy, but the minimalist, straightforward interface was easy and intuitive to both navigate and use.
Surfshark prides itself on the number of servers it provides, which is well over 3,200 across 100 different country locations. There are admittedly a lot of countries that only have one server to connect to, but more popular locations such as the U.S., Canada, and Australia offer multiple server locations spread throughout. In addition to all of these server options, Surfshark allows unlimited simultaneous device connections. This is a big draw since most other VPN providers limit subscribers to five or six simultaneous connections.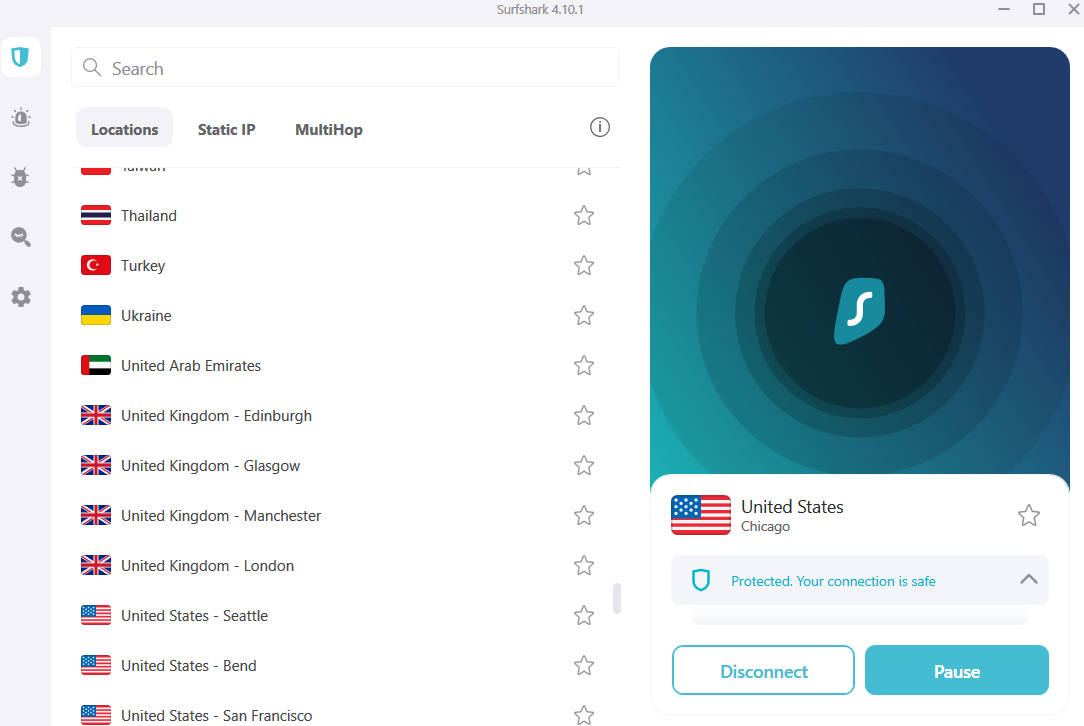 Sam Singleton
On the main screen, above the available servers, you're able to choose between three options: Locations, StaticIP, and MultiHop. Locations is a list of all of the available country servers you can connect to. StaticIP allows you to connect to shared servers with IP addresses that never change. MultiHop allows you to further obfuscate your actual location by routing your traffic through more than one external server. While many VPN services now offer multi-hop connections, Surfshark stands out by allowing the user to not only choose a predetermined route, but also create their own multi-hop route. This is a nifty feature that gives power users and those concerned with privacy more autonomy in securing and optimizing their connections.
Surfshark
Surfshark also provides an ad, tracker, and malware blocker called CleanWeb—though it's not turned on by default. It also offers a split-tunneling feature, which it calls Whitelister, that allows you the option to route apps and websites through the VPN or keep one or the other connected separately. This is a good option for those who wish to keep their web browsing secure via a VPN while keeping online games outside the VPN connection in order to minimize potential latency issues.
Additionally, Surfshark provides a kill-switch function that will automatically disable your internet connection should your VPN connection drop for whatever reason. There is also a feature called NoBorders, enabled by default, which is its own version of obfuscated servers. NoBorders allows users in countries that generally restrict VPN connections to maintain access to Surfshark.
Overall, it's a well-designed app that's easy to navigate, with a good feature set and plenty of useful tools. The only issue we could find with the service in general was the fact that when browsing connections, there's no easy way to find ping times or server-load indicators. We ultimately found this information in the options menu under Speed Test, but this information would be convenient to have listed under each server location.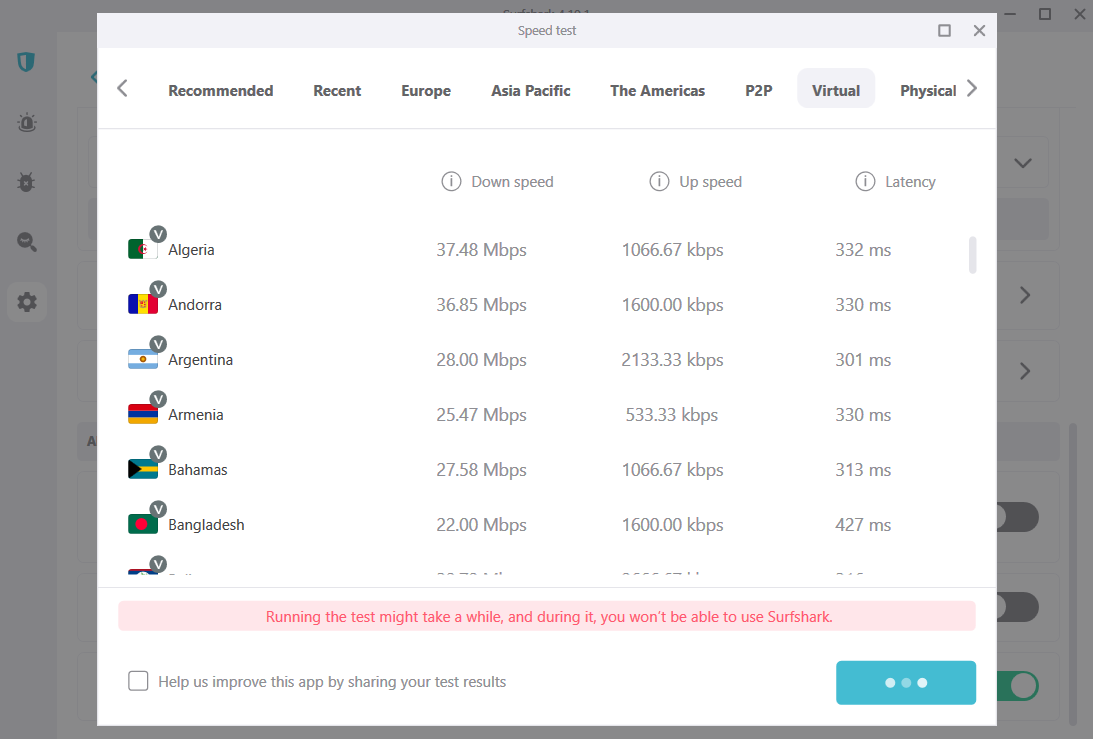 Sam Singleton
Surfshark is also working hard to bring new and innovative ideas to the VPN scene. It's set to roll out its exclusive Nexus VPN network throughout 2023. Nexus is a single network made up of Surfshark VPN servers. There are huge potential security and privacy boosts from this technology. It will allow for rotating IP addresses without disconnecting your active VPN connection, further obfuscating your browsing activity. Nexus will also use a Dynamic MultiHop feature to connect you to the fastest available entry server and exit at any desired location, presumably optimizing connection speeds across the board. As of this writing, only the IP rotator feature is available, with the complete feature set due later this year.
How does Surfshark VPN perform?
During our testing we rated connection speeds across Surfshark's servers in five different countries around the world and then compared them to our baseline internet speed. Surfshark server speeds were solid, if not particularly outstanding. They averaged just over 61 percent of the base download speed and a slightly more impressive 72 percent of the base upload speed. That isn't the best we've seen, but depending on your own home internet, it should be enough to stream HD video without any issues.
For those looking to use the service to bypass location restrictions on streaming websites, our testing showed that Surfshark was overwhelmingly successful. Across every server we tested and for all major streaming services the VPN was able to unblock everything. This included services such as Netflix, Amazon Prime, HBO Max, Hulu, and Disney Plus. That result puts Surfshark among our very best VPNs for streaming Netflix right along with NordVPN and ExpressVPN.
Surfshark VPN security and privacy
Surfshark states that it does not collect any of your online activity, including browsing history, session information, bandwidth used, connection time stamps, network traffic, or IP addresses. This no-logs policy claim was verified by the company Deloitte during an independent audit of Surfshark at the end of 2022. These are exactly the steps users should expect from a top VPN company and it goes a long way towards backing up Surfshark's privacy claims.
The service also keeps privacy in mind during setup. When signing up for a Surfshark subscription you only need to supply an email address. Furthermore, the company accepts payments via credit cards, PayPal, Google Pay, and various cryptocurrencies.
One thing of note is that Surfshark has moved its headquarters from the British Virgin Islands to the Netherlands in recent years. This shouldn't be too much of a concern as the Netherlands' data retention laws are generally privacy-friendly. However, the Netherlands is still subject to Nine Eyes jurisdiction, which means that the government can force Surfshark to share certain information about customers.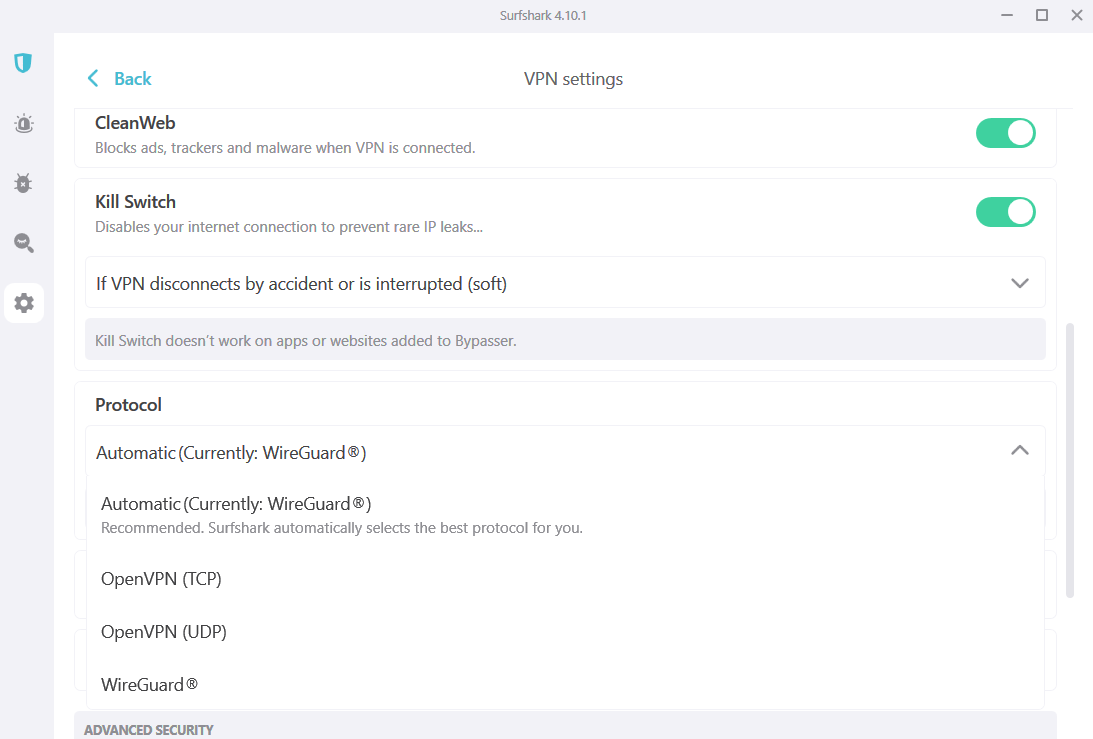 Sam Singleton
In regards to security, Surfshark uses standard AES 256-bit encryption. It also offers options for several VPN protocols including OpenVPN, WireGuard, IKEv2—depending on your operating system.
Is Surfshark VPN worth it?
Surfshark offers unlimited device connections, good speeds, compatibility with major streaming services, and an impressive number of country connections. The Windows app is well designed and easy enough to understand. It also has some nice extras such as ad, tracker, and malware blocking as well as split-tunneling and multi-hop.
With all of these great features, Surfshark is a solid all-around VPN service. If you opt for the two-year contract you're also getting all of this for a bargain price. And with the future addition of its Nexus network, Surfshark stands to potentially overtake its main competitors in the market. Overall, whether it's getting around region blocks or just enjoying a more private and secure browsing experience, Surfshark remains one of our favorites.
Editor's note: Because online services are often iterative, gaining new features and performance improvements over time, this review is subject to change in order to accurately reflect the current state of the service. Any changes to text or our final review verdict will be noted at the top of this article.
Best Prices Today: Surfshark