At a Glance
Expert's Rating
Pros
Best-in-class performance
Battery life that equals a Qualcomm Snapdragon PC
Compact, yet with a 14-inch screen
Cons
Nearly $3,000 as reviewed
Our Verdict
Dell's Latitude 7400 2-in-1 offers leading-edge performance and true all-day battery life, all within a compact (though pricey!) business notebook.
Best Prices Today: Dell Latitude 7400 2-in-1
If you've been wondering about whether a long-life Qualcomm Snapdragon PC is for you, Dell would like a word. Dell's new 14-inch Latitude 7400 2-in-1 achieves a simply incredible 18 hours of battery life using a powerful Intel 8th-gen Whiskey Lake processor. It also offers a full complement of ports and a slightly gimmicky feature called ExpressSign-in (yes, it's really spelled that way).
As our review shows, Dell has designed a stylish business notebook optimized for life on the road. It's also optimized for IT rather than personal budgets, as our review unit clocked in at a whopping $2,800. But if you want a business laptop with all-day battery life and performance, the Dell Latitude 7400 2-in-1 delivers.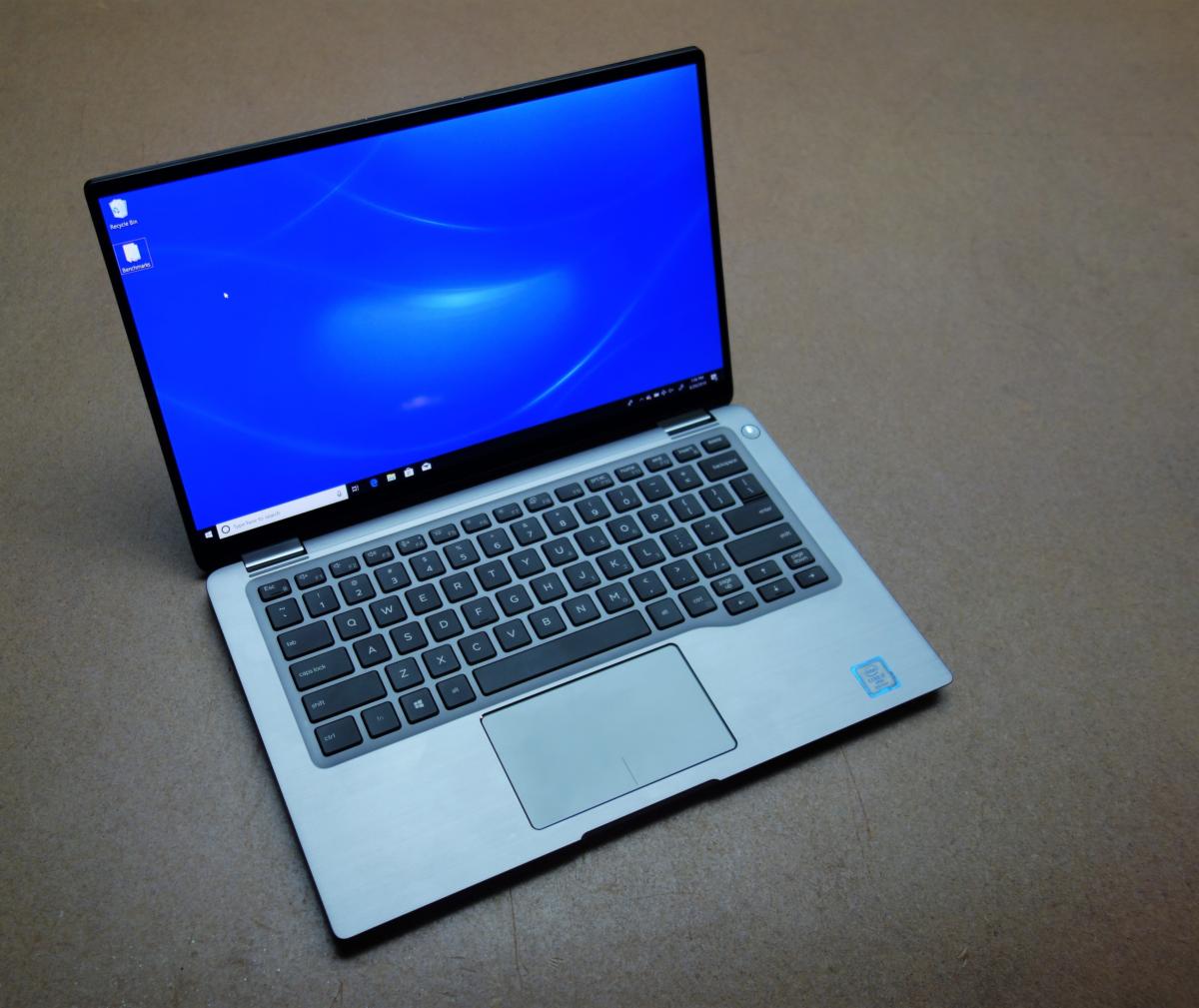 Dell Latitude 7400 2-in-1 basic specs
Other than a surprisingly subpar webcam, Dell's Latitude 7400 2-in-1 is optimized for the road warrior: A compact form factor, 1080p display, and a massive battery mean you'll be able to work for hours.
Display: 14-inch (1080p) touch
Processor: Intel 1.9GHz Core i7-8665U vPro (Whiskey Lake)
Graphics: Intel UHD 620
Memory: 8GB-16GB LPDDR3 (16GB as tested)
Storage: 128GB-2TB NVMe class 40 SSD (512GB as tested)
Ports: Two USB 3.1 Gen 2 Type-C (Thunderbolt 3, Power Delivery/DisplayPort); Two USB 3.1 Gen 1 Type-A; HDMI 1.4; microSD; optional microSIM WWAN
Camera: 720p HD Camera (user-facing); Windows Hello capable
Battery: 52Wh, 78Wh (78Wh as tested)
Wireless: 802.11ac (2×2); Bluetooth
Operating system: Windows 10 Pro
Dimensions: 12.59 x 7.87 x 0.59 inches
Weight: 3.30 pounds, 4.08 pounds with charger (measured)
Color: Aluminum
Options: Fingerprint sensor inside power button; contact smartcard reader

Price: $2,802 (Dell.com) as configured; starts at $1,599
A robust, yet chunky build
The Dell Latitude 7400 2-in-1 invades the long-battery-life territory defined by Lenovo and Qualcomm's power-sipping Snapdragon through sheer brute force. Almost the entirety of our review unit was defined by its massive 78-watt-hour battery, more than twice the capacity of some competing laptops. That, and a power-sipping display, serves as the Intel ecosystem's answer to what Qualcomm and its partners promise.
Dell touts the Latitude 7400 as the world's most compact 14-inch commercial 2-in-1, and that's probably accurate. What that means, however, is that the Latitude 7400 is decidedly chunky, with a few more millimeters of Z-height than a thin-and-light design. Dell uses this to its advantage, however, by including a full cadre of ports.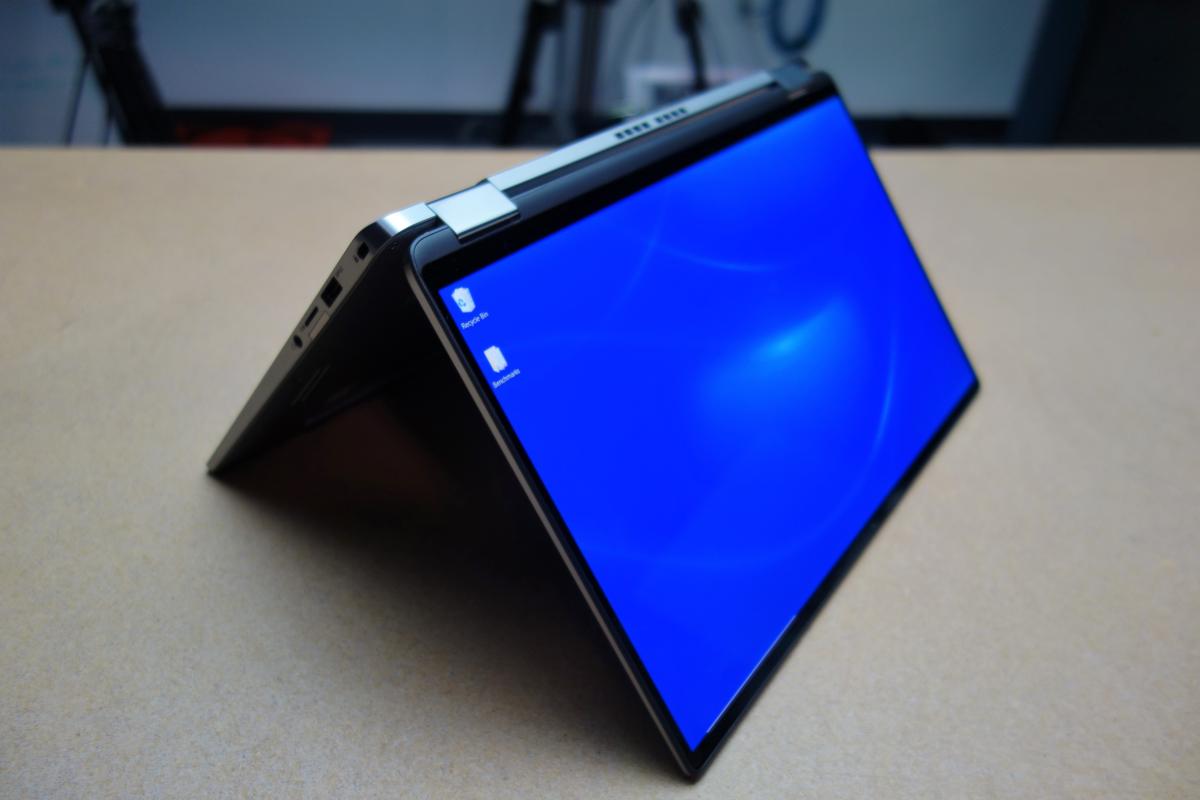 The Latitude 7400's 3.3-pound heft, while not svelte, weighs less than expected. It's also fair to say that the 78Wh battery option will allow you to leave the charger at home in most cases, which would otherwise bring the total travel weight to 4.08 pounds.
Dell's Latitude 7400 certainly doesn't look like the stereotypical function-over-form business notebook. The silvery aluminum exterior offers a bit more style. More and more notebook vendors of this generation are trimming the bezels to streamline their products, and the 7400 is no exception: The side bezels are just 0.4mm thick, with a bit more space (0.6mm) allocated to the top bezel to accommodate the webcam.
The Latitude 7400's display also emphasizes battery life, with a conventional 1080p display that's protected by Gorilla Glass 5. Not only does the Latitude's display use extremely low power, the amount of light it emits is limited: Dell rates it at 300 nits, though ours emitted a maximum of 284 nits. While that's not enough to combat outdoor glare in the summer sun, we plopped the Latitude 7400 next to a well-lit window and tapped away without issue. We didn't measure its color accuracy, but after comparing it to several other displays, it matched up well with a Microsoft Surface Book 2.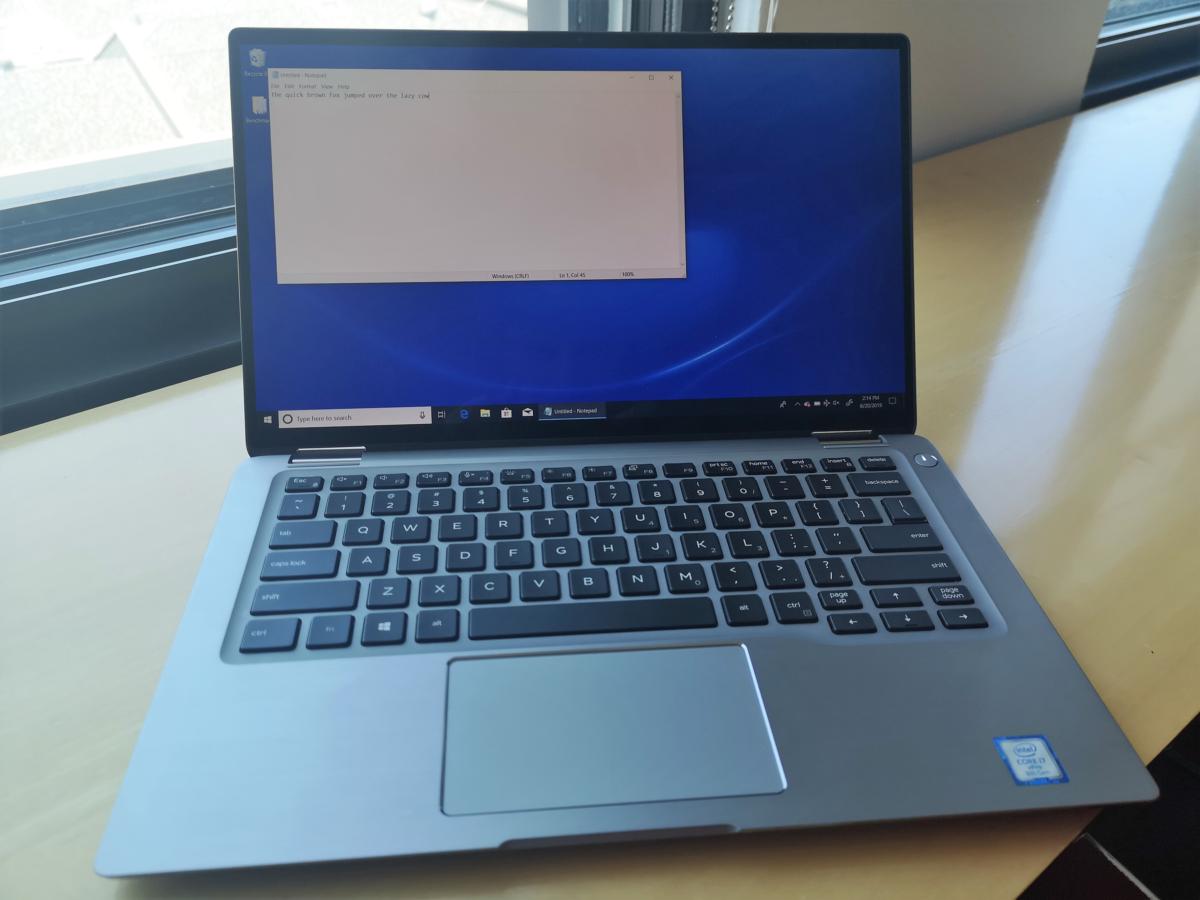 All told, the combination of slim bezels and the compact 14-inch display mean that the chassis measures just 12.59 inches wide by 7.87 inches deep by up to 0.59 inches thick. We didn't try it on an airplane tray table, but it should fit just fine. That additional thickness also lends Dell's Latitude 7400 2-in-1 absolute stability, with no detectable flex whatsoever.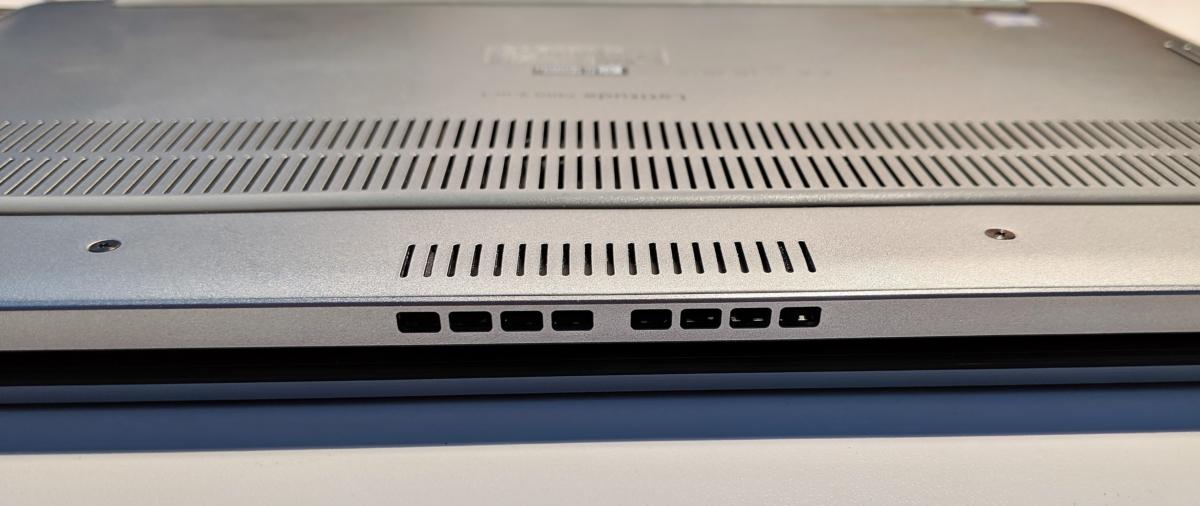 Dell put equal care into the Latitude's aural ergonomics, too. Dell ships its Power Manager utility inside the Latitude 7400, with options for the default Optimized setting, plus "Cool," "Quiet," and "Ultra Performance." I found the default Optimized setting rarely turned on the system fan even while running benchmarks. Enabling Performance Mode increases the clock speed and runs the fan more frequently, yet fan noise was exceptionally quiet and unobtrusive to the point that I had to cock an ear to even detect it in the IDG offices. In the quiet of a home office the dearth of fan noise allowed me to hear a slight, intermittent staticky buzz that louder PCs would have drowned out.
Dell's ExpressSign-in: A convenient gimmick
Dell touts the Latitude 7400 2-in-1 as "the only PC that senses your presence," with a technology the company calls ExpressSign-in. If configured with Windows Hello, ExpressSign-in will lock your PC automatically when you walk away. But it will also detect you when you approach, then use Windows Hello to log you in.
The technology uses a sensor package to determine when there's no one nearby, then automatically locks your PC. Windows already does something somewhat similar (if enabled via Windows settings): If you pair a phone via Bluetooth, Windows can lock you out automatically once your phone goes out of range. However, Bluetooth's range can be long enough that Dynamic Lock doesn't activate until you're farther away.
ExpressSign-in isn't that much better. It automatically turns off your PC within three minutes if it can't detect anyone in range. (In testing, it took 1 minute, 3 seconds in an empty office.) If someone wanders by and triggers the sensors before then—poof! your PC is back on, unlocked. Manually locking your PC is more effective, though you can always forget.
ExpressSign-in's complementary "wake on approach" technology is somewhat gimmicky: As you (or anyone else) nears, sensors detect your approach and ready Windows Hello for immediate login. (Otherwise, you'd have to tap the spacebar or power button, like a savage.) I love Windows Hello, but ExpressSign-in is the PC's equivalent of waving your foot under an SUV's bumper to raise the back hatch. Do you need it? Probably not, though it's fun and convenient.
You expect a good keyboard in a business laptop, but good sound? Keep reading to find out more.
A solid typing experience
Like many people, my day-to-day work is performed upon a laptop keyboard, where I prefer comfortably spacious keys and medium key travel. While the Latitude 7400's keys are a bit small for my taste, I found the laptop's keys pleasingly springy.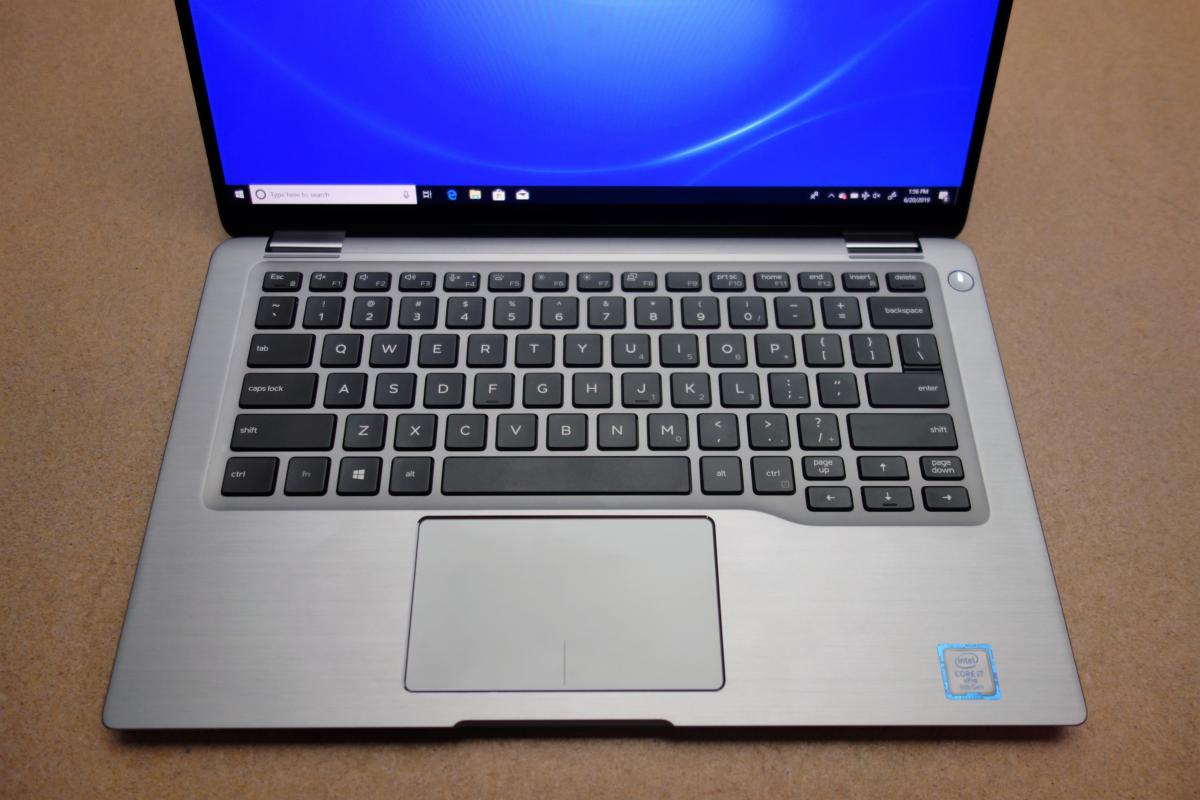 Dell's keyboard layout is pretty standard, using the conventional "cross" of arrow keys in the lower right-hand corner, with the Print Screen, Home, End, Insert and Delete keys left for the function keys in the upper row. Of note is a key to disable the mic—a personal concern of mine—with a small LED to alert you when that particular function is active. Each key is backlit, with a two-step gradation: on, brighter, and off.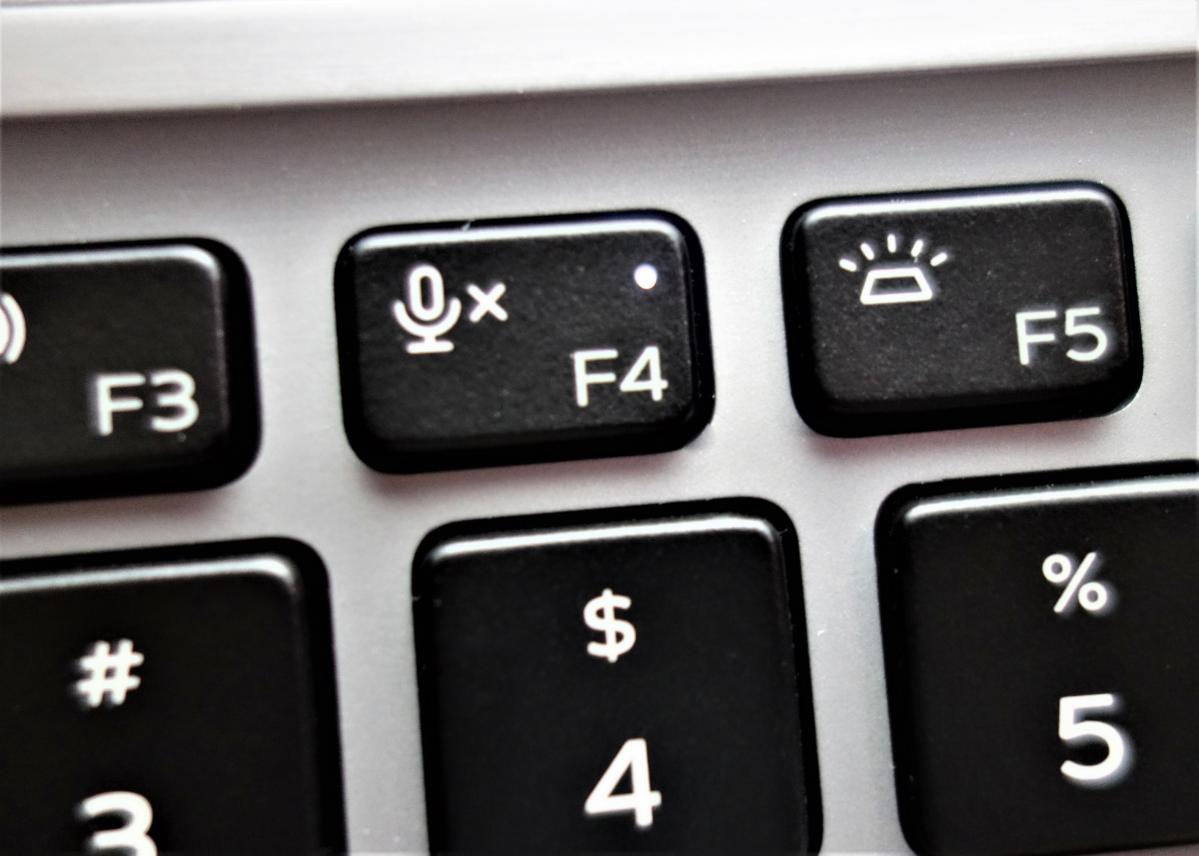 The Latitude 7400's precision touchpad is a bit small because of the compact chassis. Clickable throughout all but a fingerbreadth at the top of the trackpad, it proved both smooth and comfortable to use. I performed a number of two-, three-, and four-finger gestures easily.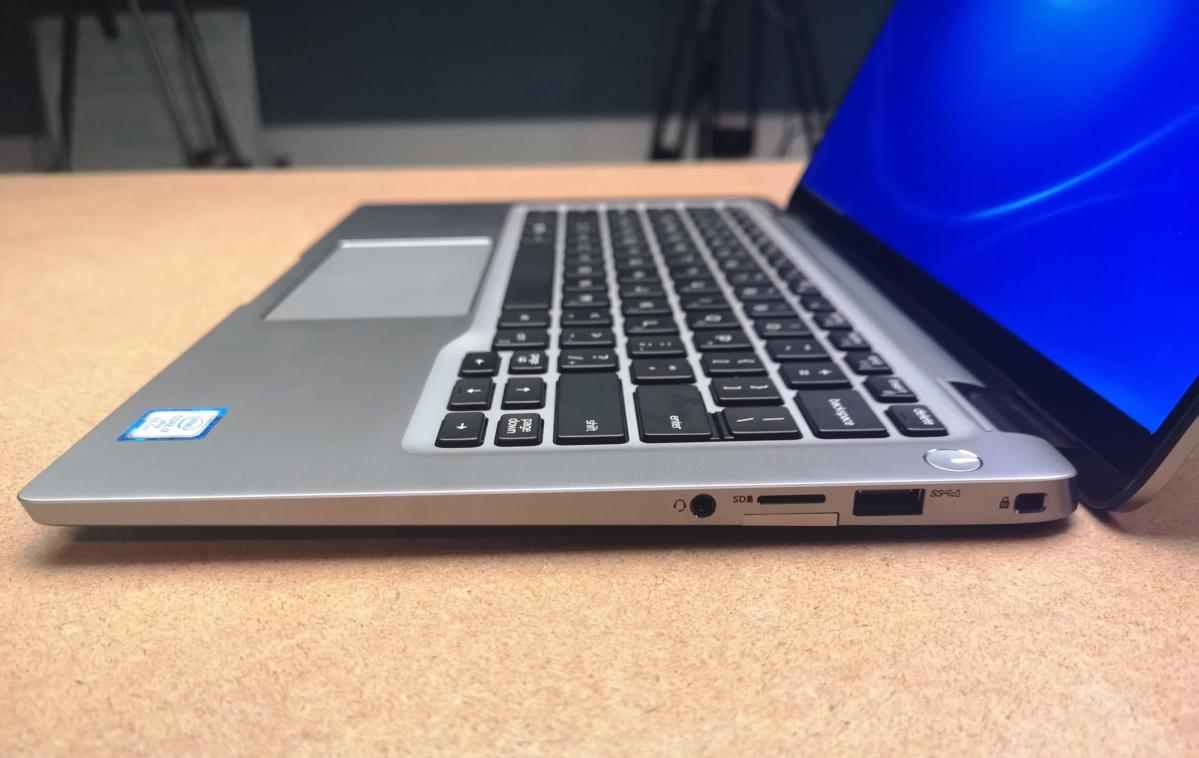 As you can see in the spec list above, the Latitude 7400 2-in-1 ships with a generous selection of ports. Though our review unit didn't include either, the Latitude 7400 can be configured with a fingerprint reader embedded in the power button, as well as a smartcard contact reader within the chassis. Instead, the webcam doubles as a Windows Hello biometric login, and includes infrared sensing. There's no privacy shutter, however, though many competing notebooks now include this feature.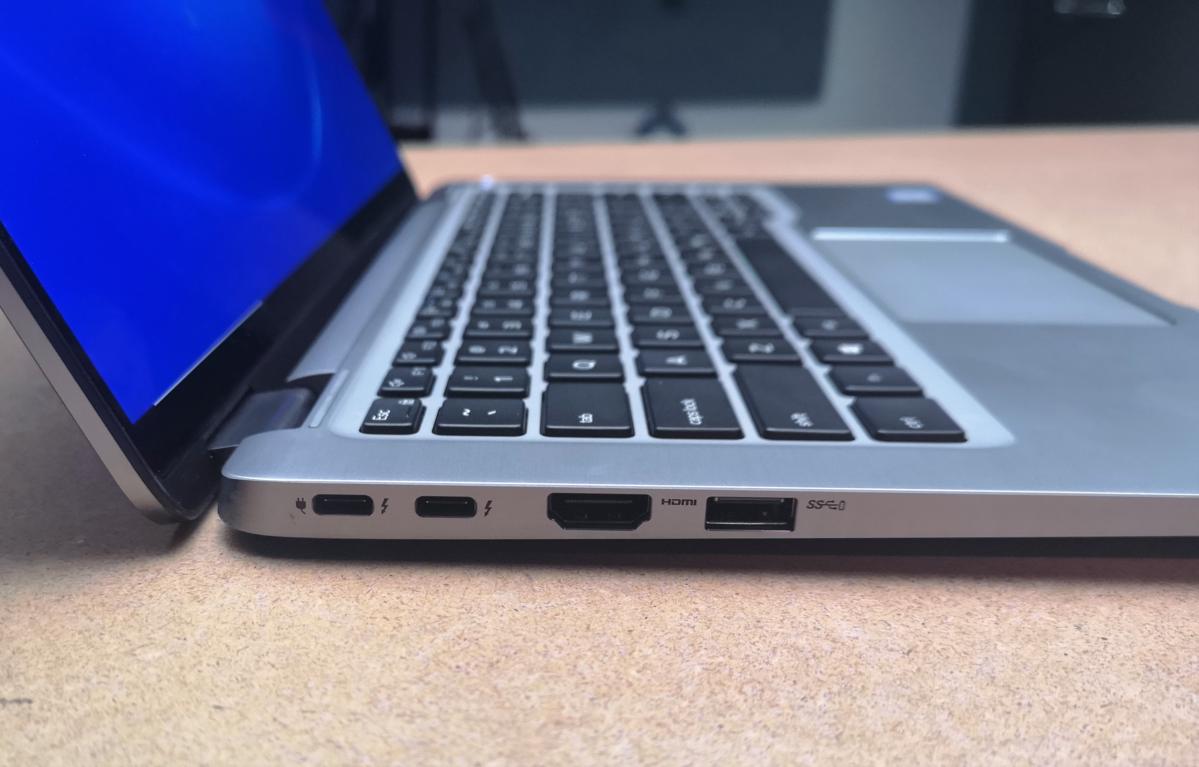 If you buy the Latitude 7 400 2-in-1, consider investing in a dedicated webcam for your monitor. Images taken with the webcam (0.9MP still images, 720p video) were fuzzy, and areas of the image were overexposed, even with HDR capabilities turned on. I'd like to see a bit more attention paid to the webcam inside a notebook designed for business users.
Consumer-quality speakers
Though Dell designed the Latitude 7400 2-in-1 for business users, its audio is comparable to, or better than, what you may find on a consumer laptop. That's thanks to the MaxxAudioPro by Waves enhancement technology, which serves as both a graphic equalizer and a positional sound feature.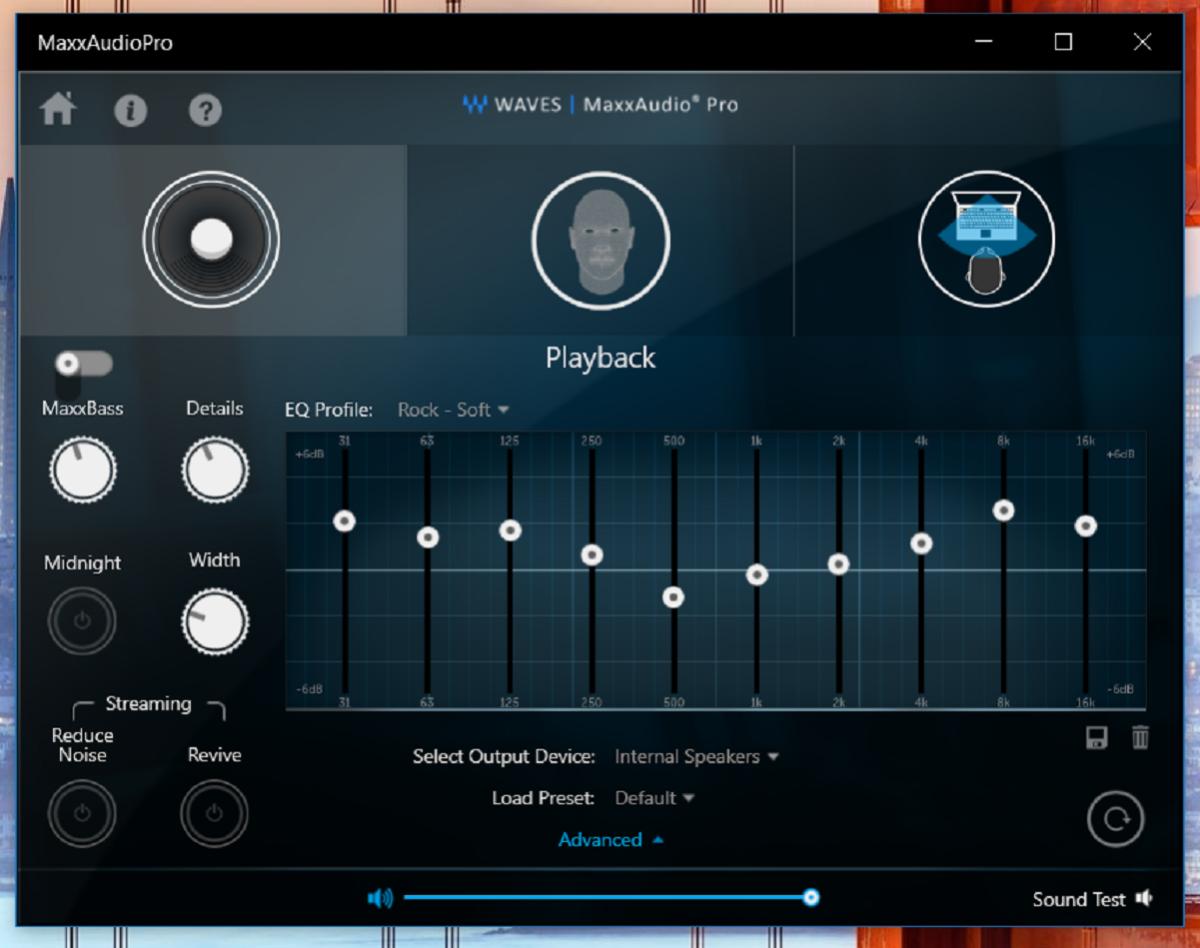 Turning on the MaxxAudioPro equalizer, along with its MaxBass technology, boosts the low-end audio to a pleasing level that evens out the listening experience from lows to highs. Additional features like Width widen the stereo experience using just the laptop's speakers. Though PCWorld hasn't performed a side-by-side comparison to evaluate one audio-enhancement technology compared to another, some form of audio enhancement goes a long way to improve the typical laptop audio experience, and MaxxAudioPro offers one of the most sophisticated feature sets available.
With headphones in, MaxxAudioPro also provides the option to turn on the nx positional audio, which uses the Latitude 7400's user-facing webcam to track your head's position and route the sound accordingly. Turn your head to your left, and Waves routes more audio to your right headphone speaker, and vice versa. In all, the nx technology generates the illusion that the audio is coming directly from the screen—a nifty trick, though one you can live without.
In all, I only found two things I didn't like about Dell's MaxxAudioPro experience. By default, the software asks you to specify what sort of headphones you plugged in: true headphones, earbuds, or over-the-ear earbuds. That gets old, though you can opt out. The Waves MaxxAudioPro nx technology also refuses to work with UWP apps, which excludes both the Microsoft Store Netflix app as well as any audio played back within Microsoft Edge. Though nx may be a bit of a gimmick, the restrictions are annoying.
Add-ons and accessories
Dell's Latitude 7400 2-in-1 ships with the usual contingent of Windows bloatware, along with three Dell-branded utilities: Dell Command | Update, its utility for updating the BIOS and drivers; Dell Digital Delivery, a digital software storefront, and Dell Power Manager.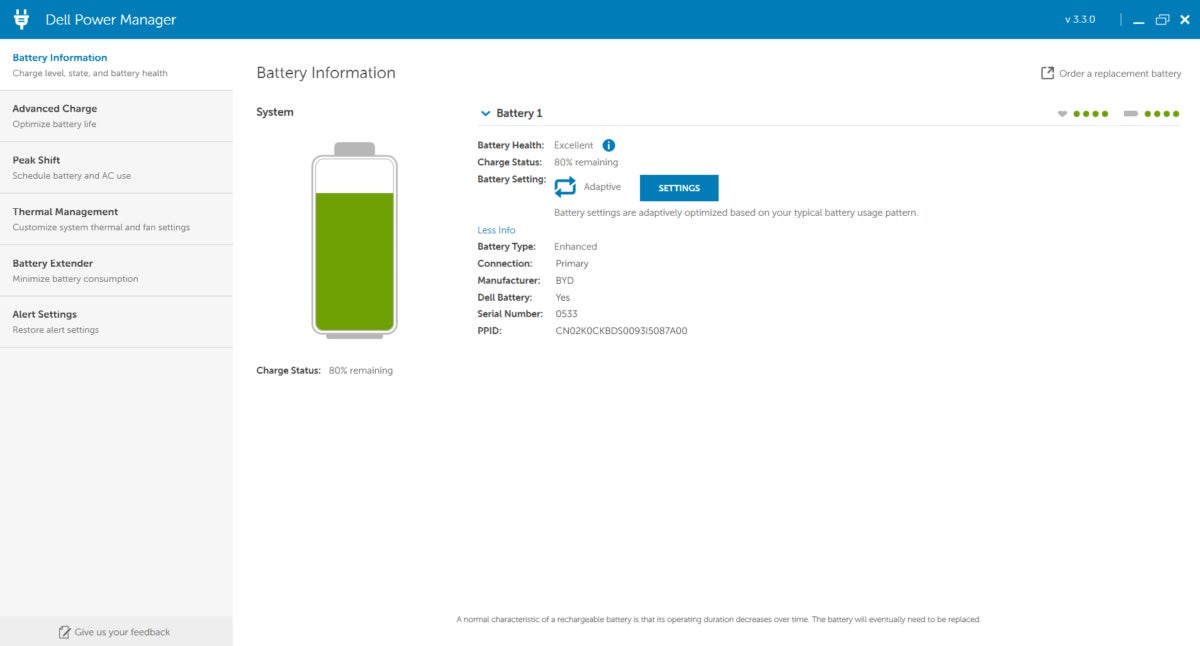 The latter utility is a fantastically well-thought-out app with provisions for managing the laptop's power consumption, monitoring and controlling the charge status, and even maximizing the longevity of the battery. Another provision even allows your laptop to run on battery power during certain predefined periods to minimize the load on the power grid. The only thing I'd like to see is the number of charge cycles that the battery has been subjected to. Otherwise, Dell Power Manager stands out as an example of what an OEM app should be.
As many PC makers now do, there's an available ecosystem of accessories that you can also purchase. Dell shipped three to us to review:
The $84.99 Dell PN579X Premium Active pen;
The $43.99 Dell WM527 Premier Wireless Mouse;
And the $329.99 WD19TB Dell Thunderbolt DockRemove non-product link.
Dell's PN579X active pen registers 4,096 levels of pressure sensitivity, with a 240Hz report rate. Though the Latitude 7400 2-in-1 doesn't include a dedicated holster to stash the pen, both sides of the 7400 are magnetized to grip the pen when not in use. There's also a lanyard in the box, as well as a SIM removal tool.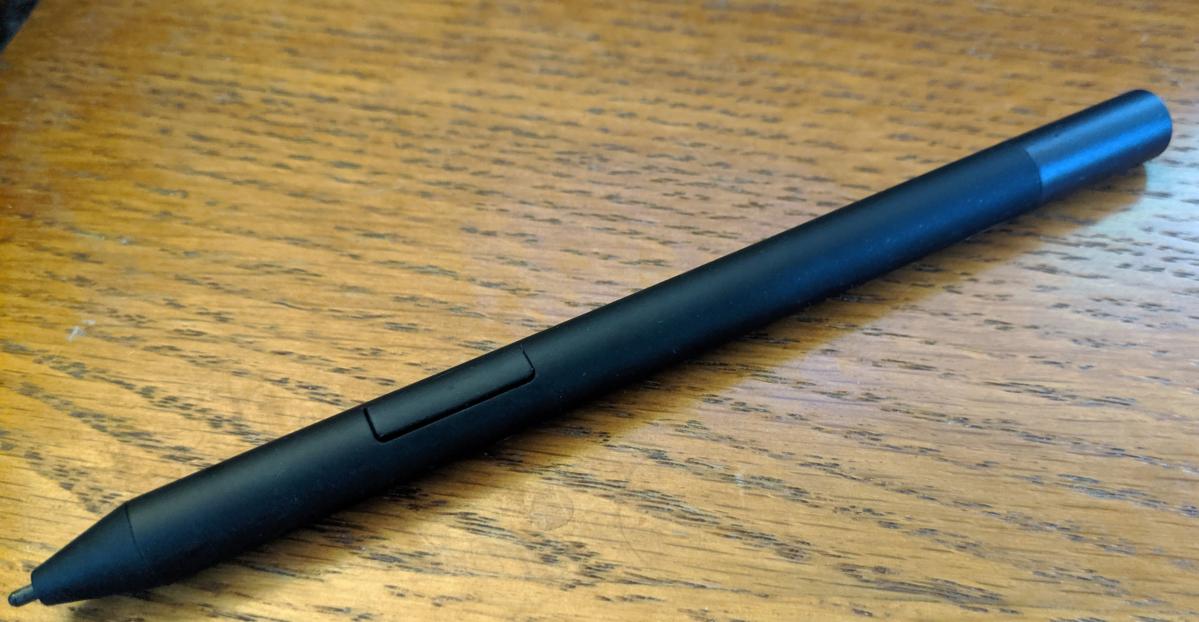 While the PN579X does offer tilt support, it wasn't functional on the Latitude 7400. It's an odd pen, too: The top-mounted shortcut button serves as an app launcher, configurable within Windows, but there's no erasure capability. The only way to "erase" e-ink is to slightly depress the top of the barrel-mounted button. Otherwise, though, the e-ink latency was minimal.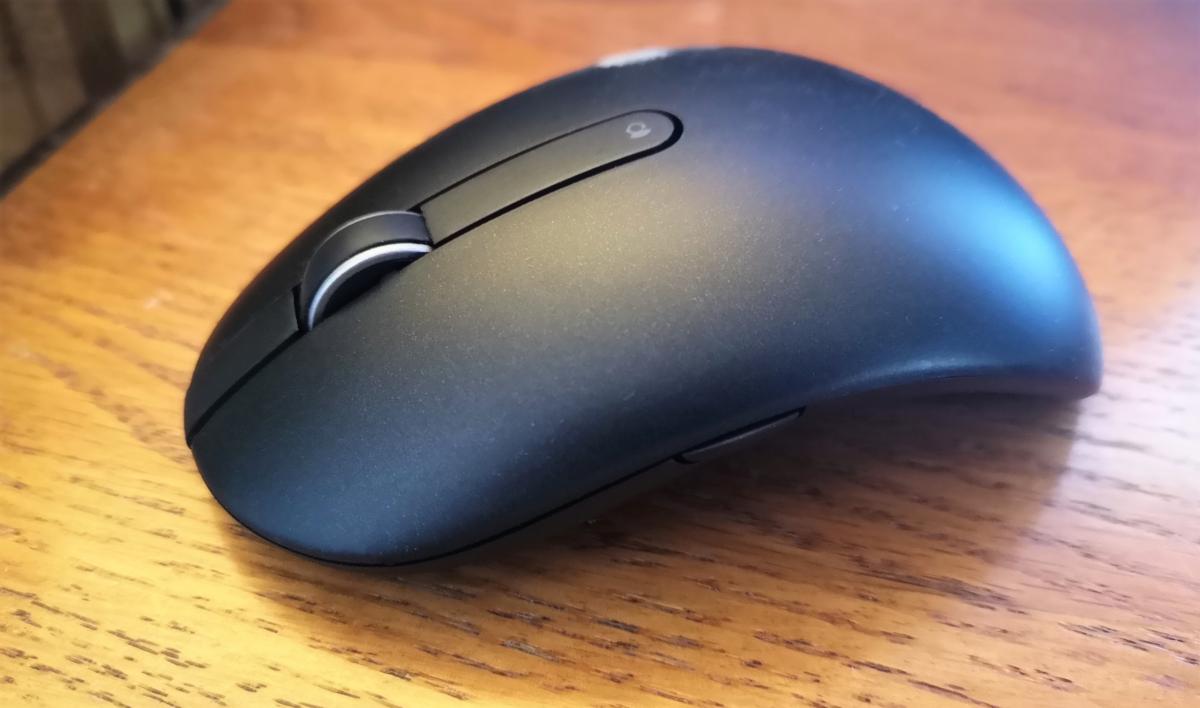 Dell'S WM527 is essentially a Microsoft arc mouse, though with a thumbwheel and without the ability to fold flat. A mouse that balances fore and aft rather than with a solid base sort of creeps me out, but it's truly ambidextrous, with a side-mounted button on either side. You can connect either via Bluetooth or with an included wireless dongle. It runs on a pair of AA batteries.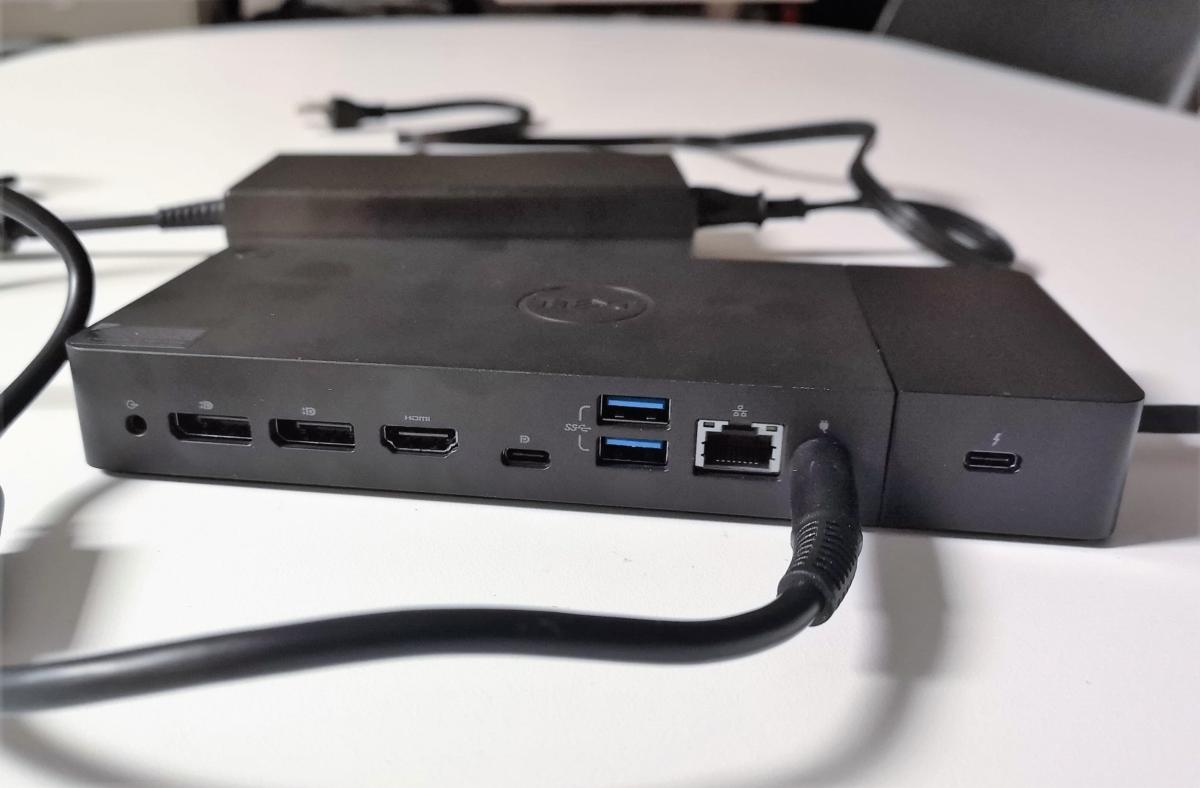 Dell's WD19TB Thunderbolt dock, meanwhile, demands a sizable portion of your desk for the expansion ports it offers. Weighing 1.29 pounds, the dock requires a footprint of 8.1 x 3.5 inches. Though the Latitude 7400 supplies a number of ports, the WD19TB provides many more: a pair of DisplayPort connectors, an HDMI connector, two USB-C 3.1 Gen 2 ports, 1 more generic USB-C port, and a Thunderbolt 3 (USB-C) connector, too. Unfortunately, you'll need to figure out which is which, as they're marked with somewhat cryptic glyphs (an "SS10," a DisplayPort "D" and a lightning bolt) that don't quite make clear what should be plugged into what. There are also three USB 3.1 Gen 1 Type – connectors, Gigabit ethernet, and a 3.5mm mic/headphone jack.
Keep reading to see the amazing performance and 18 hours of battery life.
Top-notch performance and battery life
The Dell Latitude 7400 2-in-1 proves you don't have to sacrifice performance for long battery life. While our review unit topped the heap in some tests, it finished no lower than the middle of the pack in others. It also delivered the best graphics performance we've seen outside of a dedicated GPU. The selling point, however, was the battery life, which exactly matched that of a Snapdragon 850-powered tablet, the Samsung Galaxy Book 2, while providing the performance of notebooks powered by Intel Core microprocessors.
We test using a mix of synthetic and real-world benchmarks. The latter category loads apps like GIMP and OpenOffice to simulate real-world workloads. These latter tests are based on PCMark 8, which use a battery of different apps grouped into three benchmarks: PCMark 8 Work, Home and Creative.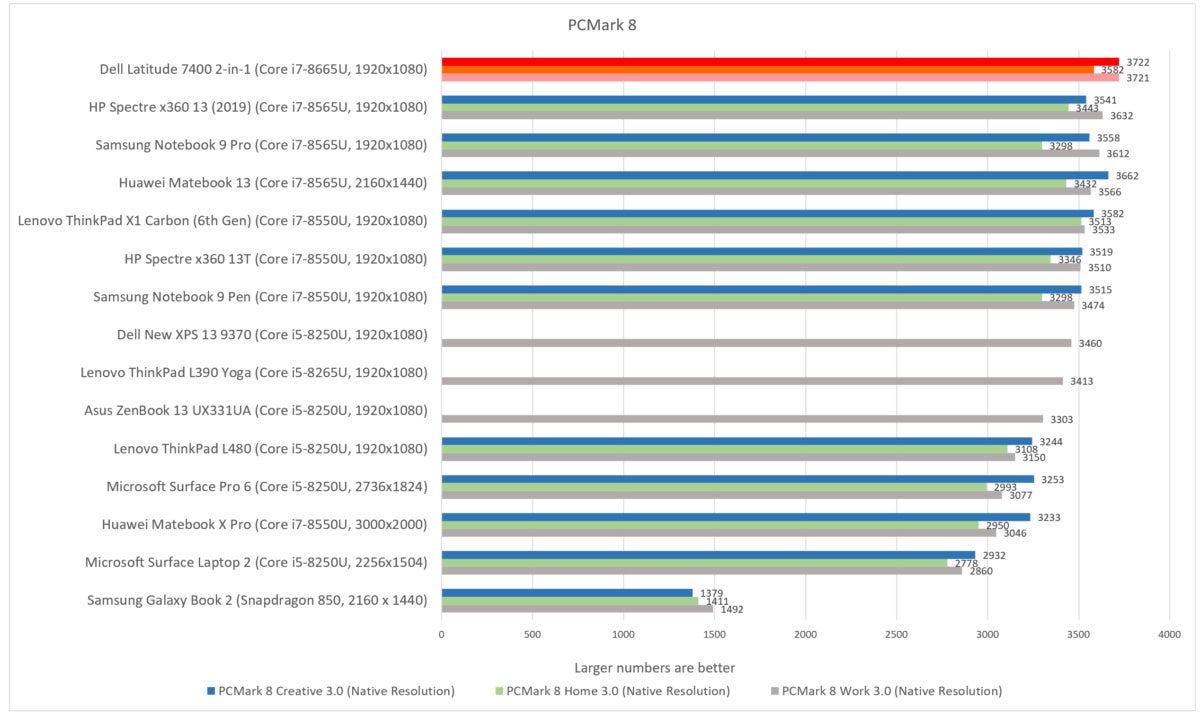 While Work emphasizes office tasks such as video calls, spreadsheets, and word processing, the Home test begins steering the workloads toward web browsing and light gaming. The Creative workloads are typically the most processor-intensive, leaning harder on GPU-intensive tasks like gaming, as well as photo and video editing. For a business notebook, the Latitude 7400's performance delivered stellar performance right out of the gate.
PCMark 10 reworks all three benchmarks for the modern era. Again, typical office tasks like video calls play a role, but heavy-duty image manipulation using the GIMP image-editing tool as well as more subtle metrics like app startup times and GPU-stressing physics tests also appear. PCMark 10 recently debuted, so our archive of benchmarks isn't as comprehensive as it is for PCMark 8. In this modern benchmark the Latitude 7400 still does well.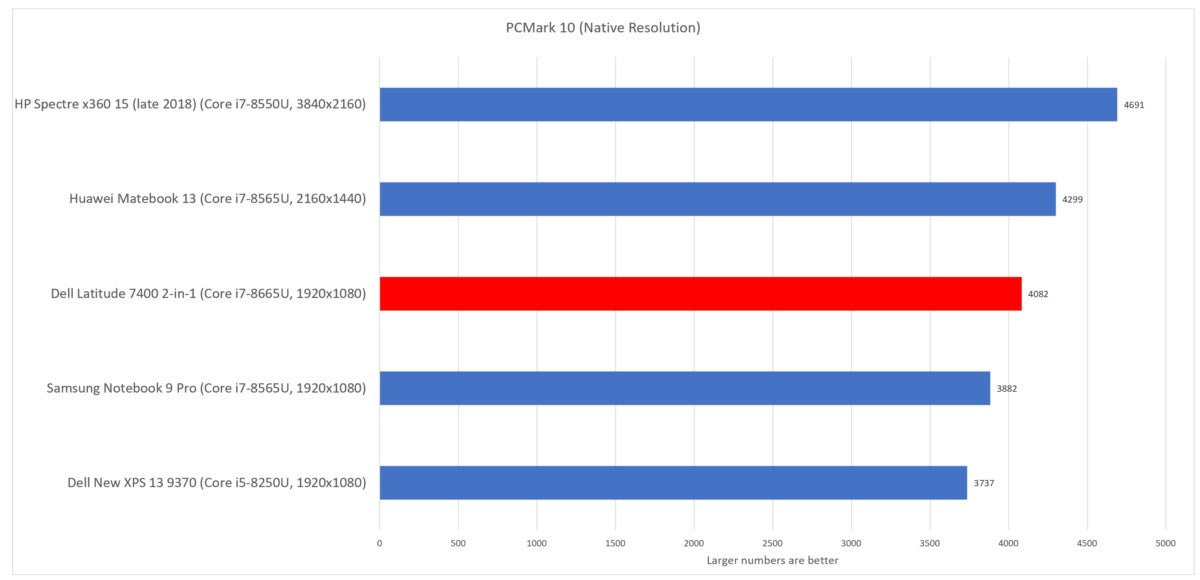 We also stress the laptop processor in two ways: via Cinebench, a Maxon-developed benchmark "sprint" that asks every CPU core and thread to render a scene as quickly as possible, and HandBrake, an open-source tool used to convert a Hollywood movie into a format that can be played back on an Android tablet. First up is Handbrake, where the Latitude 7400 2-in-1 is nearly the fastest at completing this real-world task.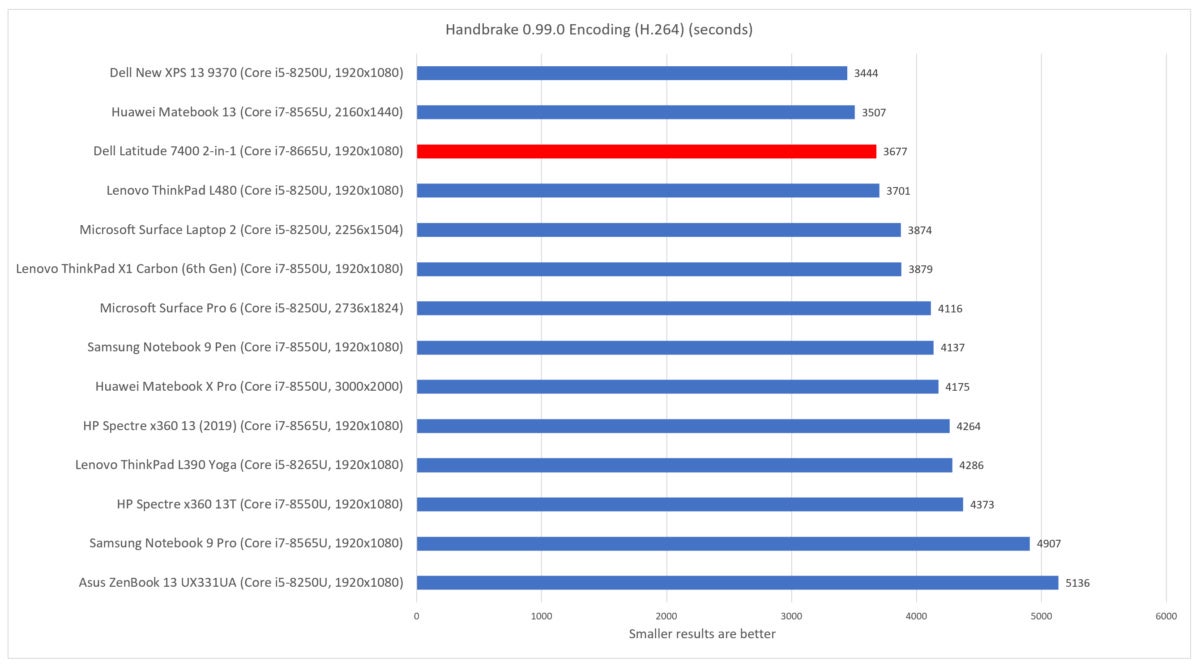 Cinebench stresses all of the cores over a short period, using either R15 (a simpler scene) or R20 (a more complex scene). We test with both, though we have a larger database of scores from the older test. We were a little surprised to see the Latitude 7400 finish midway down, given its performance elsewhere. We've just shown the R15 results here. One note: turning on the Ultra Performance mode within Power Manager didn't make a difference in the PCMark or 3DMark tests, but it did here: performance jumped 8 percent, to 612.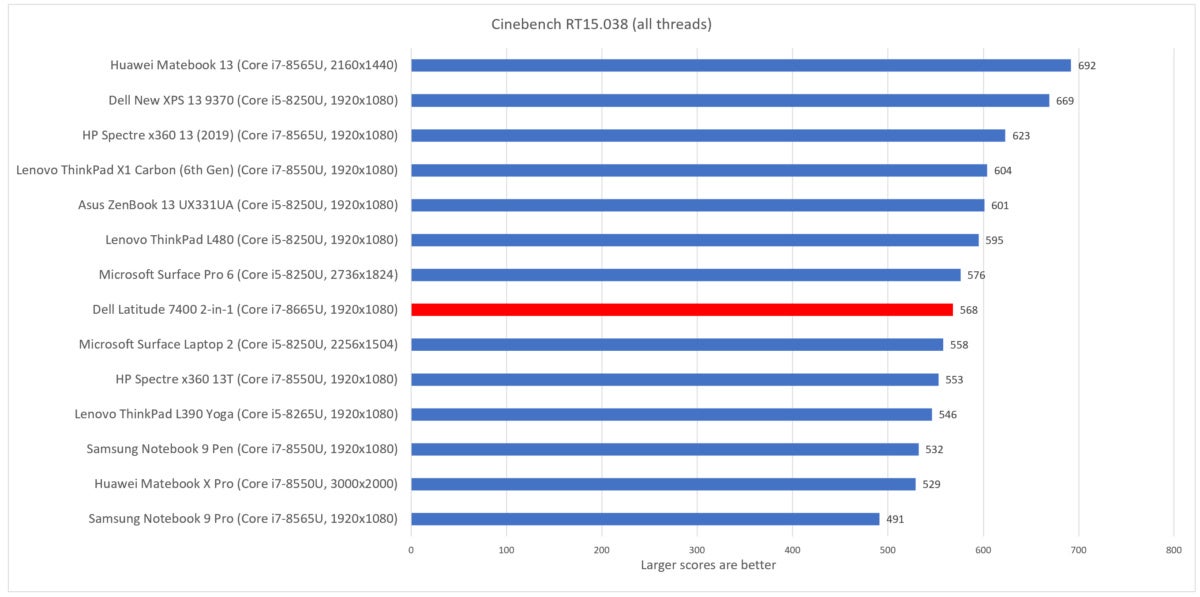 Finally, we return to 3DMark to test the integrated GPU using the Sky Diver test. You'll see many desktop GPUs use more advanced tests, but the laptops and tablets tend to deliver scores on the Sky Diver benchmark that are more indicative of the sort of performance you'll receive on simpler, older games. While you could try playing some of the latest 3D games on a device like the Latitude 7400 2-in-1, the sheer complexity of the scenes they render would likely bring this laptop's low-end MX150 GPU to its knees, unless the game's resolution and image quality are dialed down to extremely low levels. Still, the Latitude 7400 outperforms everything that doesn't use a dedicated GPU.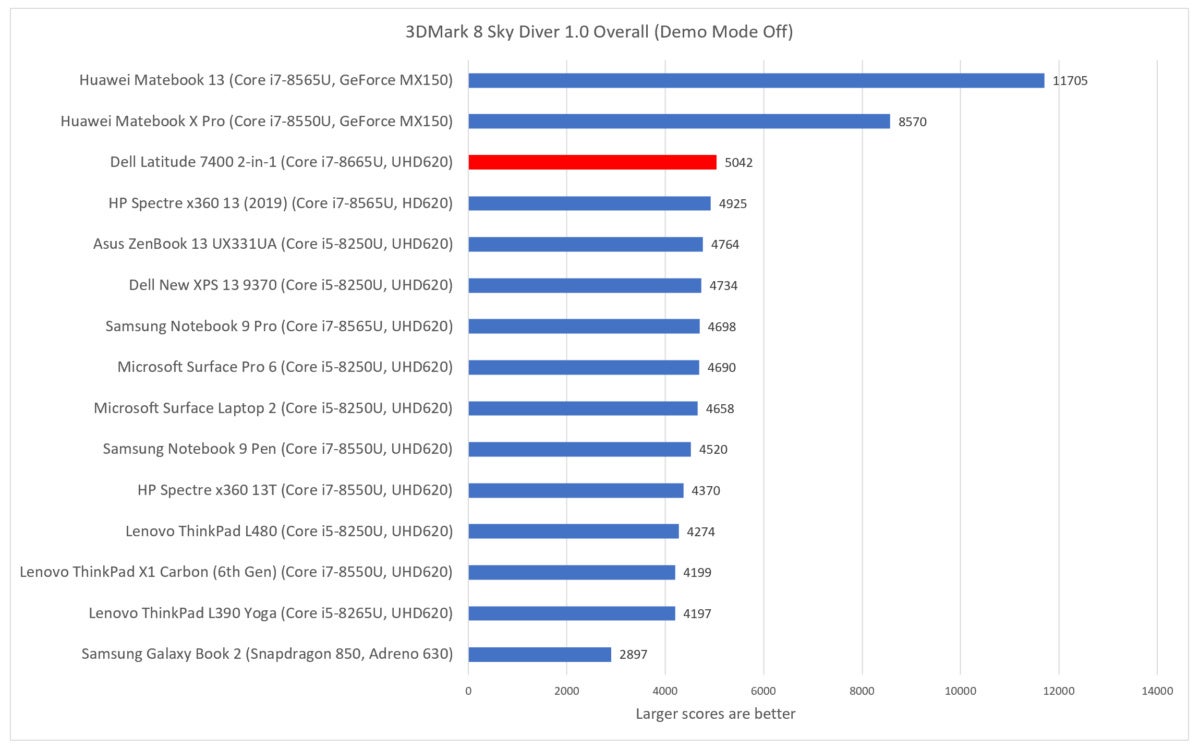 The piece de resistance, of course, is the Latitude 7400's battery life. Because of its massive 78Wh battery, we didn't have much doubt that it could deliver on its promises of all-day battery life. And boy, does it: With a battery life north of 18 hours, the Dell Latitude 7400 is a perfect choice for a transcontinental or transpacific flight, say from San Francisco to Taipei, or from London to Los Angeles. It just keeps chugging away, even with display brightness dialed up to our standardized levels. We loop a 4K movie over and over until the battery expires. It requires a weekend and more just for a satisfactory number of repetitions.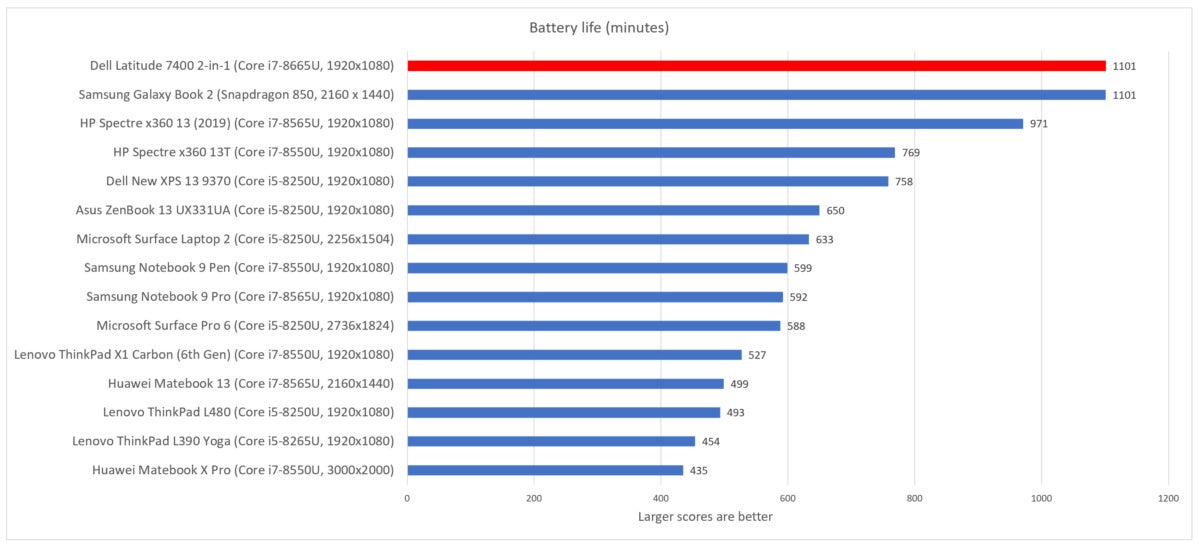 We should note that within Dell's power-management software lies an option to extend the battery life even more, through a process that lowers the display brightness, switches off the keyboard backlight, and clocks down the CPU. We couldn't discern any effect here, in part because we dialed the display brightness back up to our standardized levels. But with an 18-hour "standard" battery life, who's counting?
Conclusion: A must-have business laptop
Though more airlines are including power plugs, the real test of a laptop is running from appointment to appointment, without any promise of a laptop charger in sight. That's been the case for buying a Qualcomm Snapdragon PC—more so than performance, which has suffered somewhat from how the processor interprets instructions. Qualcomm promises that its upcoming Snapdragon 8cx fixes those flaws.
We can wait. The Dell Inspiron 7400 2-in-1 delivers right here and right now. The marriage of top-notch performance and 18-plus hours of battery life merits our Editor's Choice award. It's a struggle to find a caveat: the weight? The 1080p display? The lack of an integrated GPU? Yes, you'll pay through the nose for this ultrapremium business PC. But it's the whole package, and worth fitting into your IT budget if you can.
Correction: Our review unit shipped with a 512GB SSD inside, not 256GB as originally stated. Dell offers up to a 2TB SSD NVMe option and the price begins at $1,599.
Best Prices Today: Dell Latitude 7400 2-in-1