At a Glance
Expert's Rating
Pros
Excellent 1440p performance on par with the RTX 2070
More, faster memory than before
Superb Founders Edition design
Cons
$50 more expensive than RTX 2060
Ray traced games picking up steam, but still relatively rare
Our Verdict
The Founders Edition of the Nvidia GeForce RTX 2060 Super delivers much better performance and a vastly improved memory configuration than its non-Super cousin, for a minimal price increase.
Best Prices Today: GeForce RTX 2060 Super Founders Edition
Nvidia promised something Super is coming well over a month ago, and on Tuesday, it finally delivered. Spoiler alert: The wait was worth it.
The $399 GeForce RTX 2060 Super and $499 GeForce RTX 2070 Super pack fresh graphics chips and other improvements that help propel speeds far beyond their non-Super namesakes, shoring up weaknesses found in the original RTX 2060 and effectively shifting the entire RTX 20-series product stack up a performance tier—all for at or near the same price as before.
These Ti-upgrades-by-another-name kick a whole lot of ass, and that's with an even more powerful GeForce RTX 2080 Super variant waiting in the wings for a July 23 launch. The GeForce RTX 2060 Super and 2070 Super will launch on July 9, a week from now, in both the Nvidia Founders Edition models we're reviewing today as well as customized versions by board makers like EVGA, Asus, and Gigabyte.
The timing's no coincidence. AMD's long-awaited Radeon RX 5700 and 5700 XT are scheduled to release on July 7 with all sorts of cutting-edge technologies, from PCIe 4.0 to an all-new "RDNA" graphics architecture to 7nm transistors. AMD showed its duo knocking off the non-Super RTX 2060 and 2070 in early teasers, and priced its cards to take on Nvidia's entry-level ray tracing options.
Are the Super upgrades super enough to spoil Radeon's big day? Let's find out.
Specs, features, and price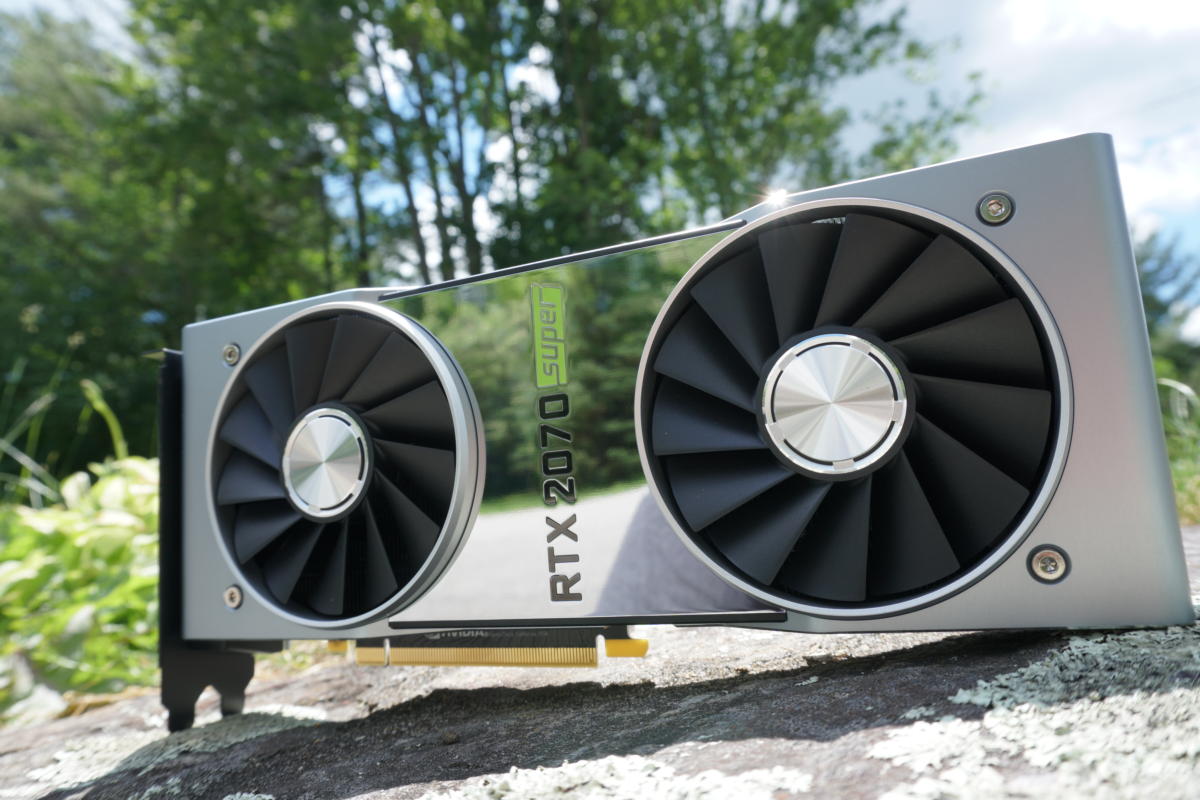 Nvidia equipped all its Super variants with bigger, badder GPUs, and in the case of the GeForce RTX 2060 Super, a more robust memory configuration as well. The original $350 GeForce RTX 2060 will remain available, though Nvidia expects the new Super variants to replace the vanilla RTX 2070 and 2080 in the market. Our coverage of the Nvidia Super and FrameView benchmarking tool releases details how the rejiggered RTX 20-series product stack will look heading into the summer.
Before we dive into things, let's hit you with the specs. Here's how the GeForce RTX 2060 Super compares against the GTX 1060 and the RTX 2060 non-Super (click to enlarge):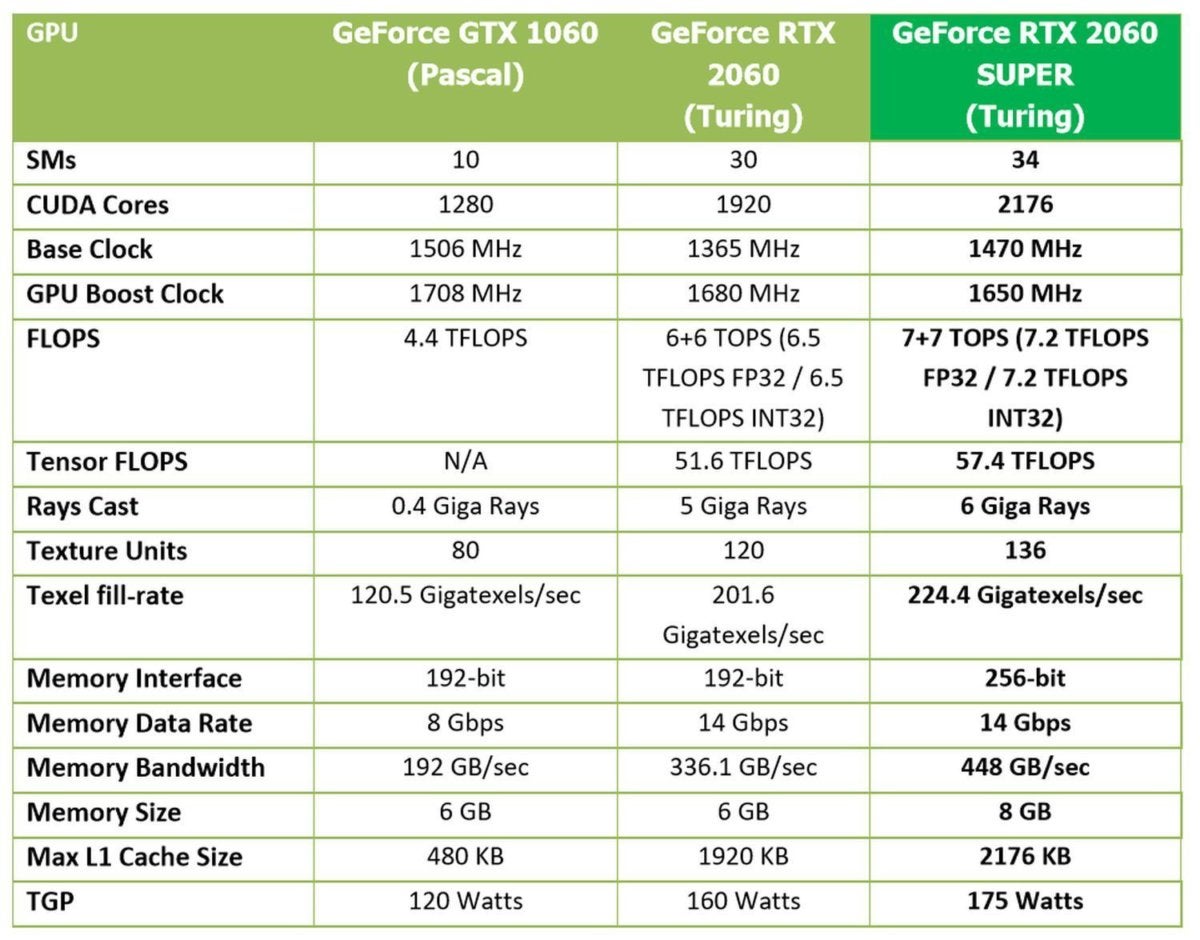 And here's how the GeForce RTX 2070 Super compares against the GTX 1070 and the RTX 2070 non-Super (click to enlarge):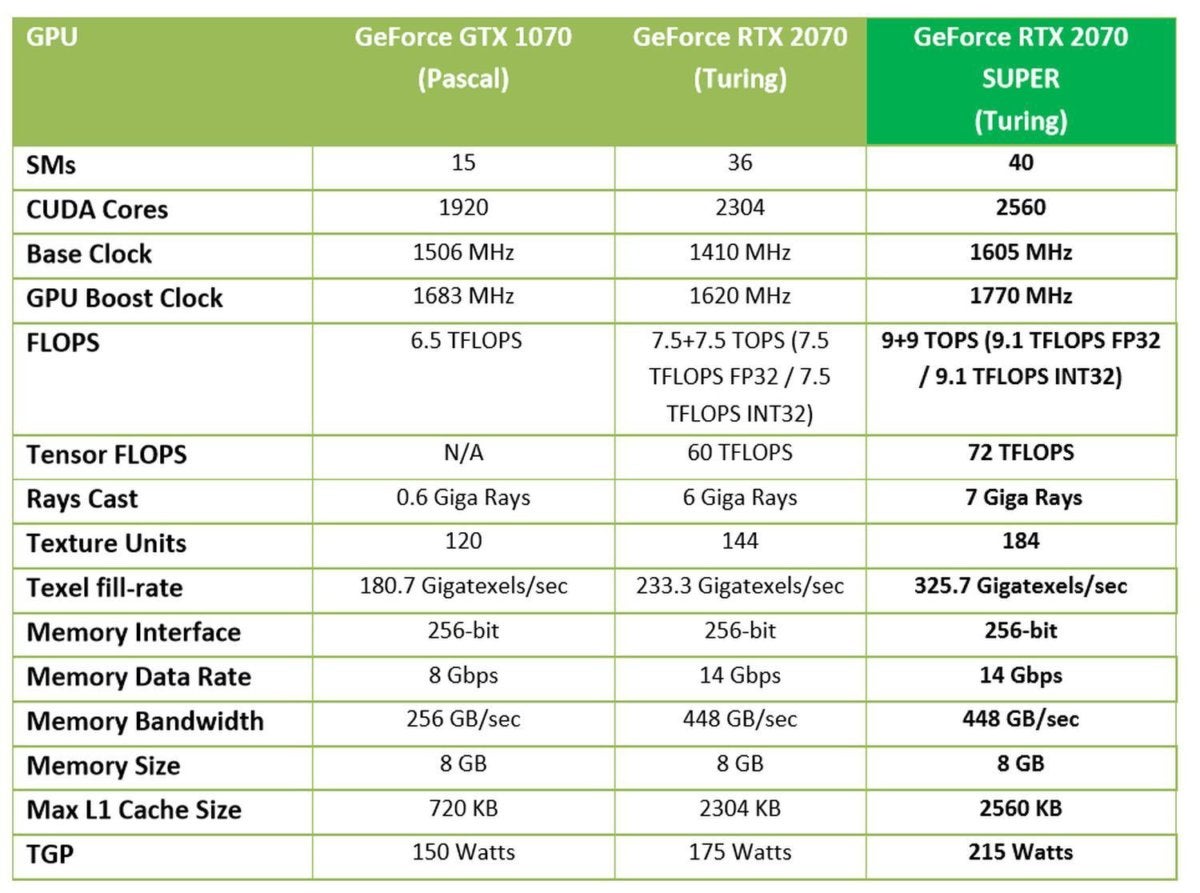 Finally, here's a deeper glance under the hood of each of the two new GPUs (click to enlarge):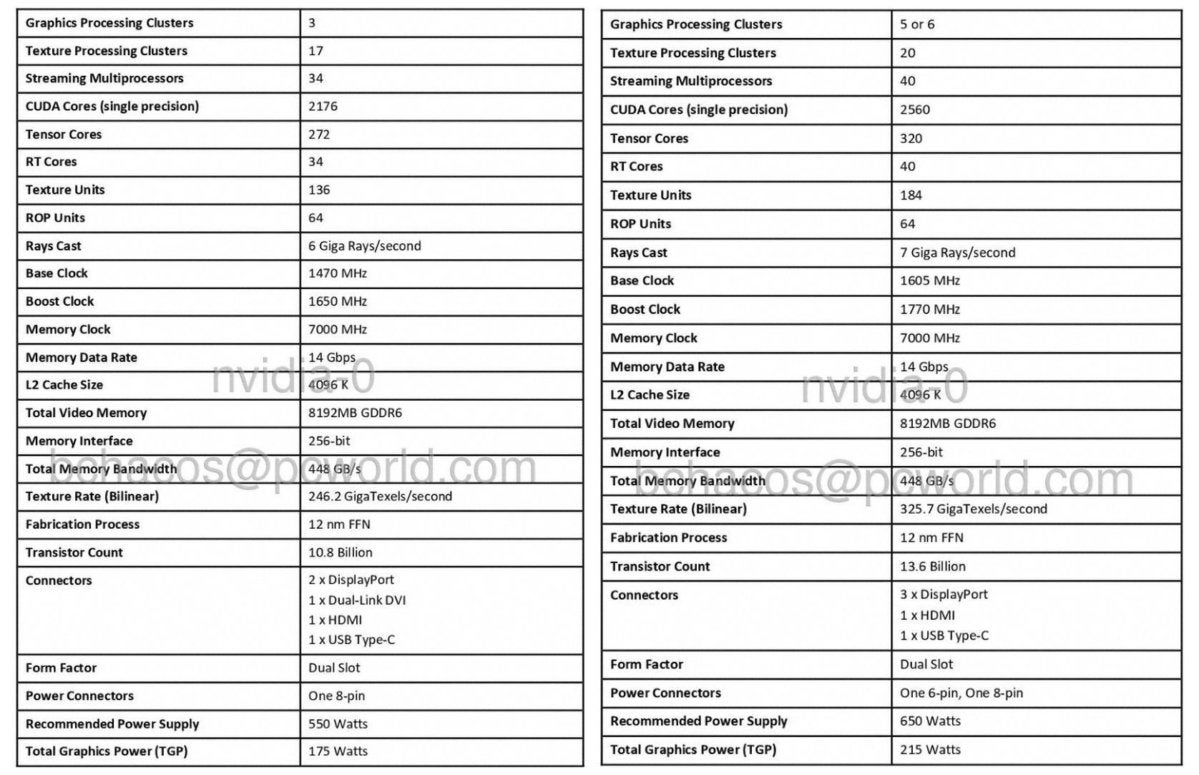 Let's start with the $399 GeForce RTX 2060 Super, which received a more substantial upgrade. Nvidia stuffed the card with an upgraded version of the TU106 GPU found in the original, bestowing it with four additional Streaming Multiprocessors that ratchet up performance in traditional gaming and real-time ray tracing tasks alike. Better yet, while the vanilla RTX 2060 came with 6GB of GDDR6 VRAM and a 192-bit memory bus—an underwhelming combo for a $350 GPU—the RTX 2060 Super bumps that up to a full 8GB capacity across a broader 256-bit bus. The combination increases overall memory bandwidth to 448GB/second in the RTX 2060 Super, a 112GB/s increase over the non-Super. Yes please!
The improvements are enough to boost the GeForce RTX 2060 Super's performance to roughly the same level as the original RTX 2070, as you'll see in our benchmarks. That's a heck of an upgrade for the extra $50.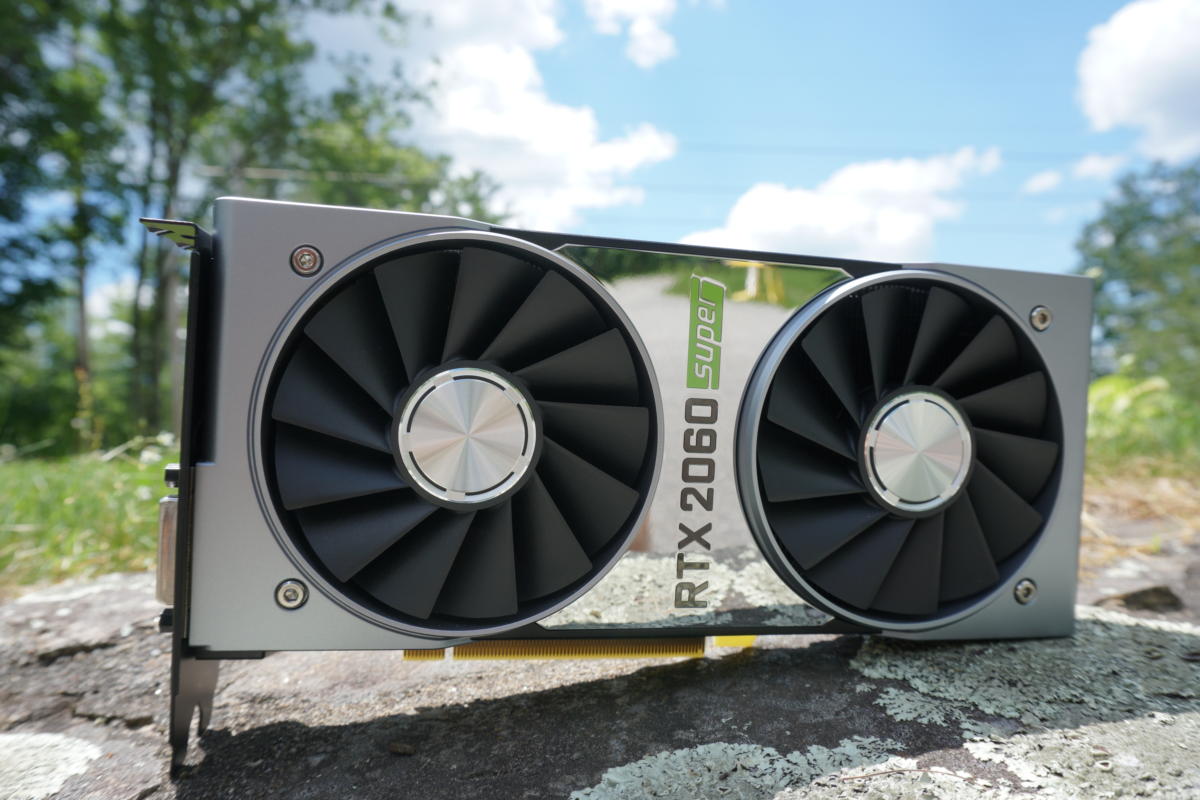 The $499 GeForce RTX 2070 Super, on the other hand, achieves its gains by graduating to a whole new GPU family under the hood. While the original RTX 2070 rocked the TU106 processor also found in the RTX 2060, the Super upgrades to a cut-down variant of the more powerful TU104 GPU that originated in the $699 GeForce RTX 2080. Don't let that "cut-down" fool you: Like the RTX 2060 Super, the RTX 2070 Super includes more streaming multiprocessors, CUDA cores, and dedicated ray tracing hardware than its vanilla namesake. The GeForce RTX 2070 Super doesn't quite close the performance gap with the RTX 2080, but it comes awfully damned close—and for $200 less.
The Super variants include substantially higher base clock speeds than before, and the RTX 2070 Super gets a whopping 150MHz boost clock bump, too.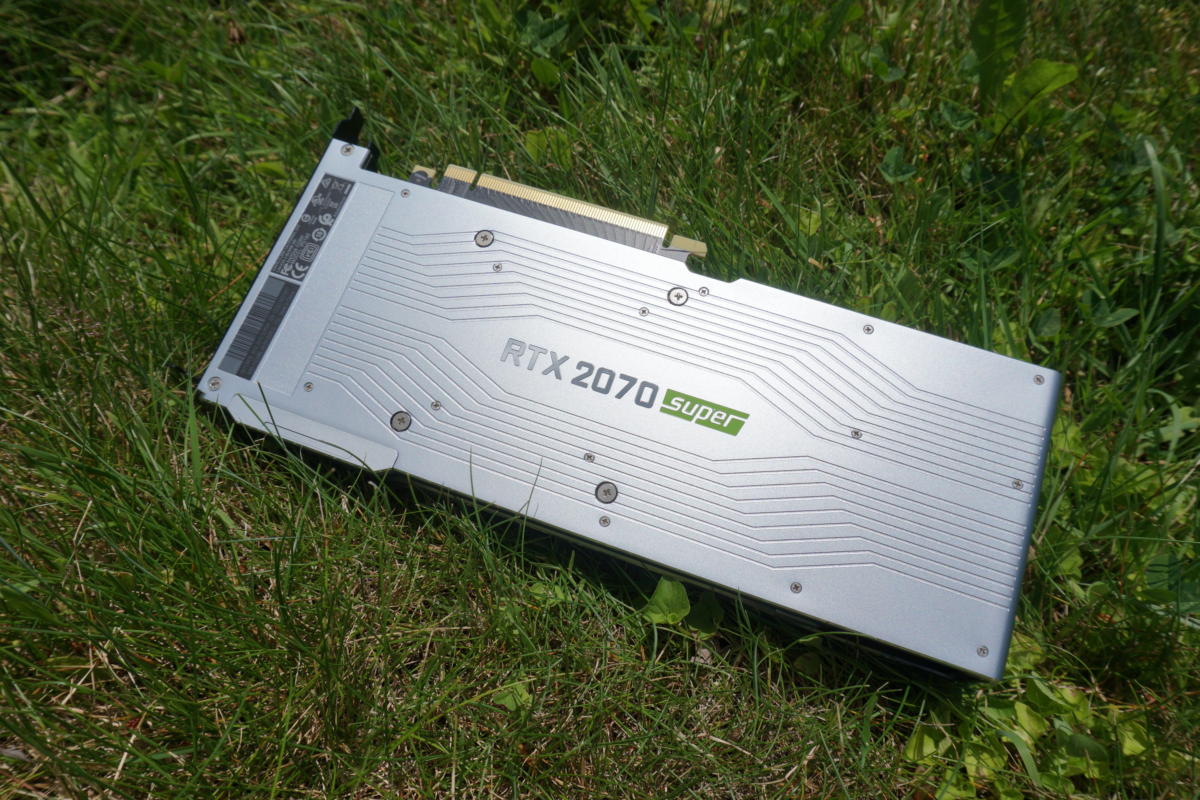 The extra oomph doesn't come free, though. Both Super versions consume more power than their cousins, especially the RTX 2070 Super. While the RTX 2060 Super sticks to the same small form factor and single 8-pin power connection as the original, the RTX 2070 Super's requirements blossomed to match the increased performance. The formerly tiny Founders Edition version has expanded to standard length, and now demands a 6-pin and an 8-pin connector on the side edge of the board, rather than a single 8-pin connector on the rear. It's a small price to pay for the faster speeds, but still worth noting.
The move to the TU104 GPU also affects the RTX 2070 Super's port selection. While Founders Edition cards based on TU106, including both RTX 2060 models and the original RTX 2070, include a DVI connection, the TU104-based RTX 2070 Super drops that for an extra DisplayPort, matching the RTX 2080's configuration. (Both Supers also come with an additional pair of DisplayPorts, HDMI, and a VirtualLink USB-C connection.)
There's another perk to the GPU upgrade: Nvidia didn't include SLI connectors on the original RTX 2070, but added it to the GeForce RTX 2070 Super Founders Edition. (It's still missing on the RTX 2060 Super.)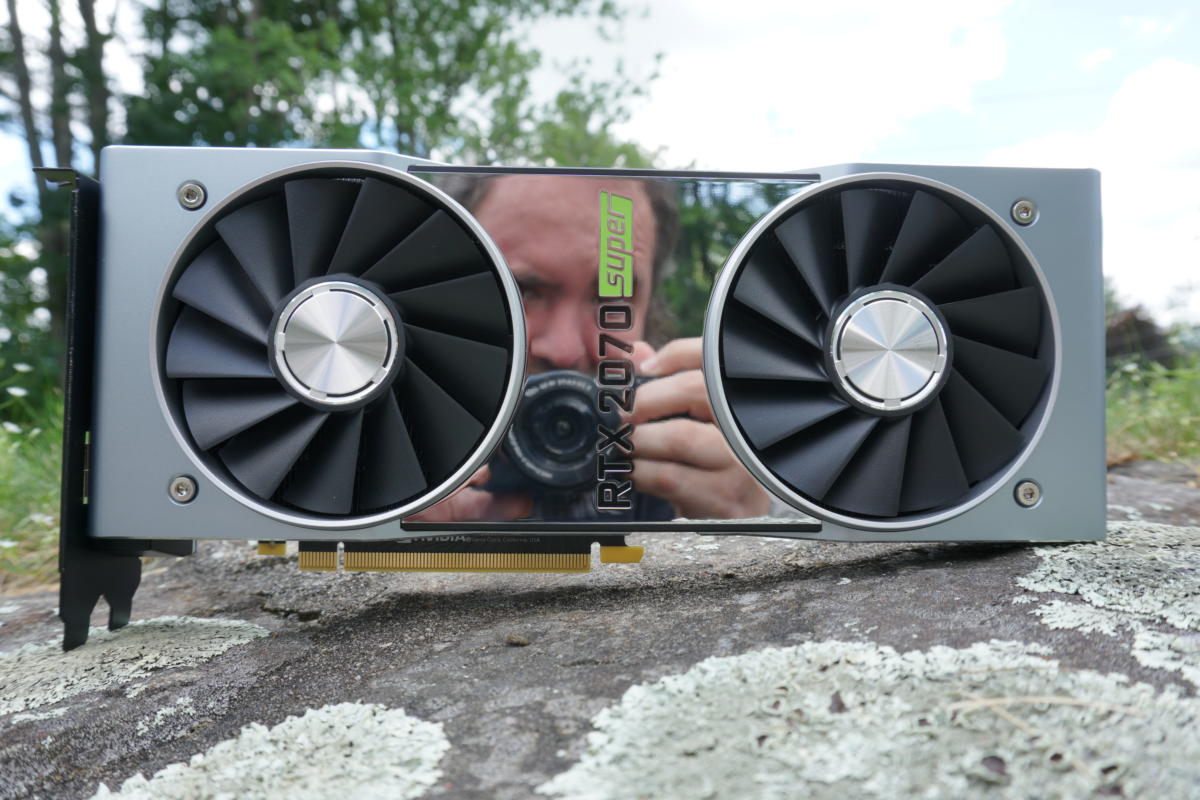 Speaking of the Founders Edition models, Nvidia stuck to the same basic all-metal, dual-axial fan design introduced with the RTX 20-series, but with one notable change: The area between the fans is shined to a mirror polish now, instead of being jet black. It's striking, and perfect for nerdy artistic selfies, but you won't see the shroud inside a standard PC case unless you mount your graphics card vertically.
As mentioned before, Nvidia equipped the Supers with more dedicated ray tracing hardware than before.Company representatives pushed the ray tracing angle hard in briefings with the press, citing numerous blockbuster game franchises that have announced real-time ray tracing support.
Metro Exodus is the current gold standard, with ray tracing substantially changing the look and feel of the game, but Shadow of the Tomb Raider, Battlefield V, Assetto Corsa, and Quake II RTX also support the technology. Ray tracing got a huge vote of confidence at E3 2019 as well, with Cyberpunk 2077, Call Of Duty: Modern Warfare, Doom Eternal, Wolfenstein: Youngblood, Vampire: The Masquerade—Bloodlines 2, Remedy's Control, and Watch Dogs: Legion confirmed to include the technology. Most of those cracked our favorite games of E3 2019.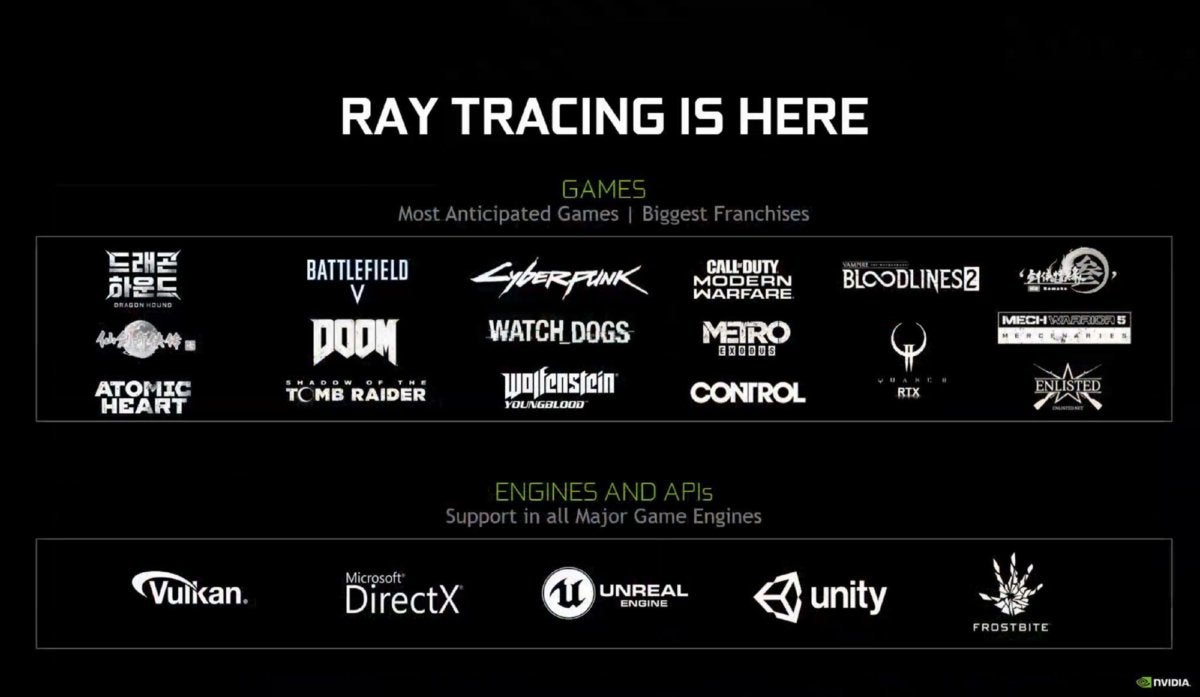 Several smaller titles also plan to bake in real-time ray tracing now that all the major game engines support it. Ray tracing is still niche, but it's truly revolutionary and picking up speed with the arrival of hardware capable of running the ultra-intensive tasks.
While the AMD-powered next-gen Xbox Project Scarlett and PlayStation 5 will include ray tracing hardware in some form, current Radeon graphics cards do not, nor will the upcoming Radeon RX 5700 and 5700 XT. To press its technological advantage, Nvidia's bundling free copies of a pair of ray-traced games—Control and Wolfenstein: Youngblood—with all RTX Super sales when these cards hit the streets later this month. Youngblood is scheduled to launch on July 26, and Control at the end of August.
Now, to answer the real question: Just how super are these? Let's head to the test bench.
Next page: Our test system, benchmarks begin
Our test system
Our dedicated graphics card test system is packed with some of the fastest complementary components available to put any potential performance bottlenecks squarely on the GPU. Most of the hardware was provided by the manufacturers, but we purchased the cooler and storage ourselves.
We're comparing the $399 GeForce RTX 2060 Super and $499 RTX 2070 Super Founders Edition cards against the Founders Edition models of Nvidia's original RTX 20-series lineup: The $350 RTX 260, $600 RTX 2070, $800 RTX 2080, and $1,200 RTX 2080 Ti. Note that aside from the RTX 2060, all other non-Super Founders Edition cards come overclocked and more expensive than reference models for each respective GPU.
Mentioned in this article
GeForce RTX 2080 Ti Founders Edition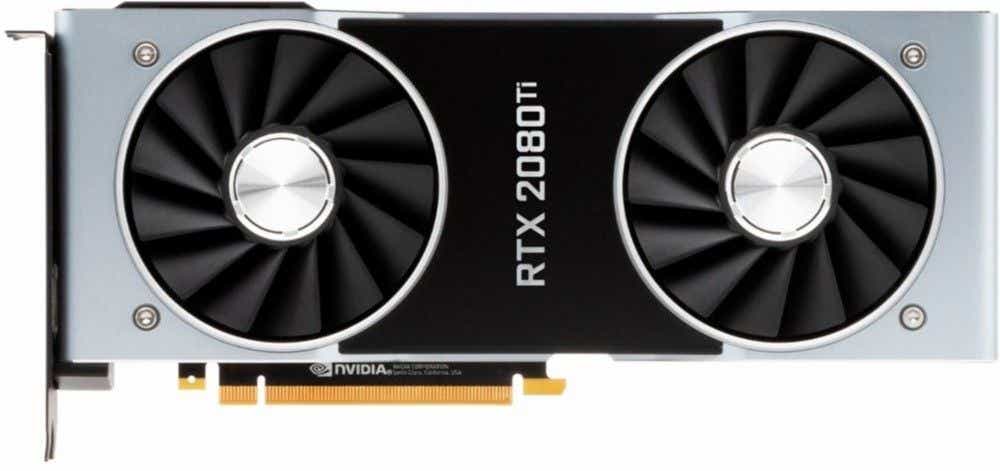 Price When Reviewed:
$1199.99
We also tested AMD's comparable Radeon options: the $700 Radeon VII, $500 Vega 64, and $400 Vega 56. All prices cited are launch MSRP. You can often find these cards cheaper on the streets these days, particularly the Radeon Vega options as AMD partners clear stock ahead of the impending Radeon RX 5700 and 5700 XT launch.
Each game is tested using its in-game benchmark at the highest possible graphics presets, with VSync, frame rate caps, and all GPU vendor-specific technologies—like AMD TressFX, Nvidia GameWorks options, and FreeSync/G-Sync—disabled, and temporal anti-aliasing (TAA) enabled to push these high-end cards to their limits. If anything differs from that, we'll mention it. We run each benchmark at least three times and list the average result for each test.
We've added a couple of new games to our testing suite (Division 2, Far Cry: New Dawn) and removed a handful of others (Rainbow Six Siege, Far Cry 5, Ashes of the Singularity: Escalation, Middle-earth: Shadow of War). We're hoping to add Metro Exodus to the mix in future reviews but were unable to do so for this one due to severe time constraints.
Gaming performance benchmarks
Division 2
Let's start with the latest games. The Division 2 is one of the best looter-shooters ever created, and the luscious visuals generated by Ubisoft's Snowdrop engine make it even easier to get lost in post-apocalyptic Washington D.C. The built-in benchmark cycles through four "zones" to test an array of environments, and we test with the DirectX 12 renderer enabled. It provides better performance across-the-board than the DX11 renderer, but requires Windows 10.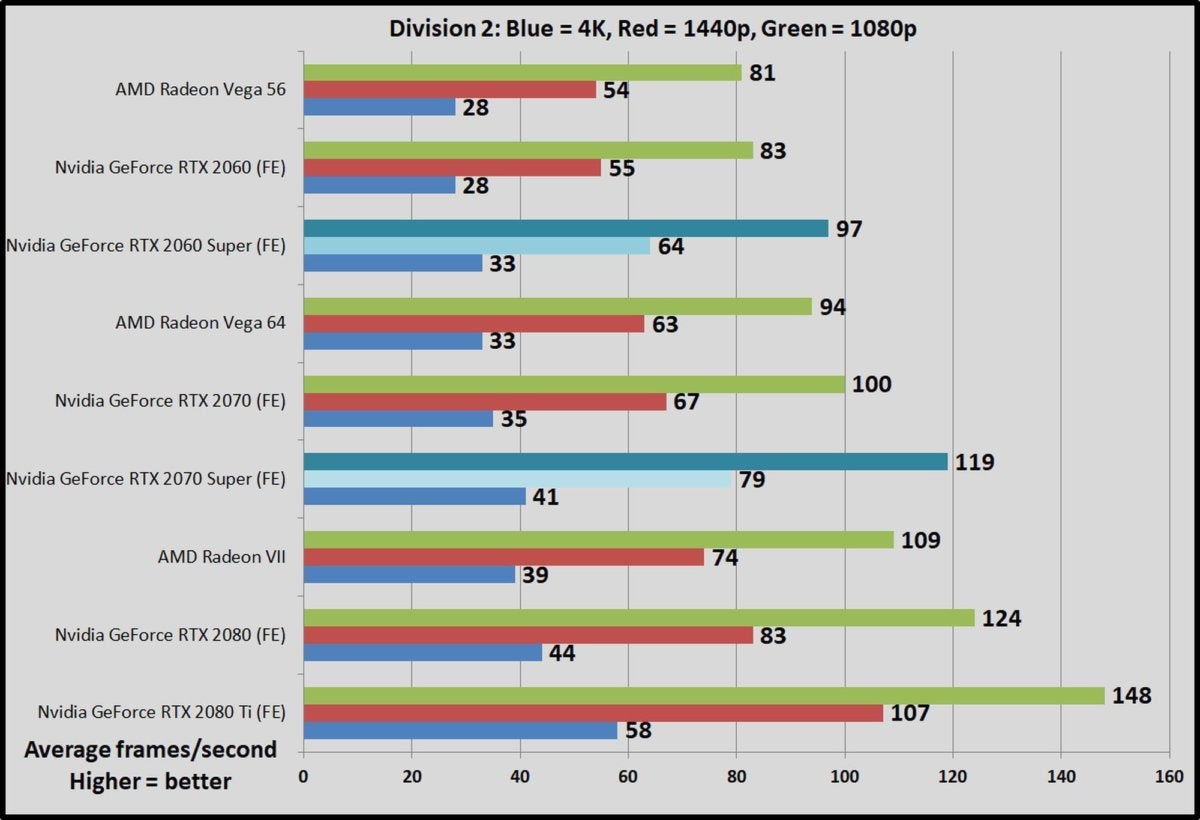 This game's Ultra preset makes graphics card weep, with not even the vaunted GeForce RTX 2080 Ti hitting a 60 frames-per-second average. As Nvidia promised, the RTX 2060 Super is effectively tied with the original RTX 2070's performance, while the RTX 2070 Super lands within spitting distance of the RTX 2080. And RIP Radeon VII? The $499 GeForce RTX 2070 Super surpasses AMD's $699 flagship at every resolution tested.
Far Cry: New Dawn
Another Ubisoft title, Far Cry: New Dawn drags Far Cry 5's wonderful gameplay into a post-apocalyptic future of its own, though this vision is a lot more bombastic—and pink—than The Division 2's bleak setting. The game runs on the latest version of the long-running Dunia engine, and it's slightly more strenuous than Far Cry 5's built-in benchmark.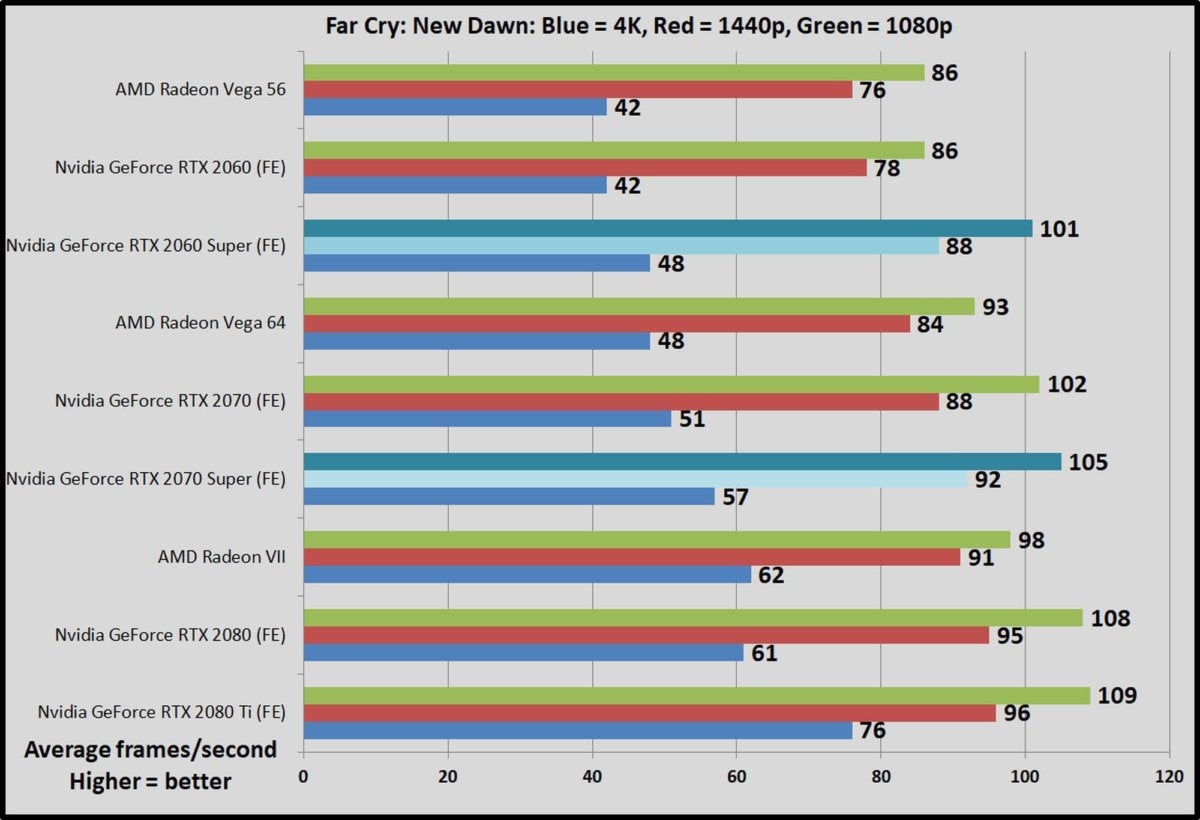 Although we start to see frame rates stall as the game becomes increasingly CPU-bound at lower resolutions with the most-ultra powerful graphics cards, the same trends continue as before: The Super duo kicks a lot more butt than their predecessors do, and the Radeon VII succumbs to the might of a graphics card that costs $200 less.
Next page: Gaming benchmarks continue
Strange Brigade
Strange Brigade ($50 on Humble) is a cooperative third-person shooter where a team of adventurers blasts through hordes of mythological enemies. It's a technological showcase, built around the next-gen Vulkan and DirectX 12 technologies and infused with features like HDR support and the ability to toggle asynchronous compute on and off. It uses Rebellion's custom Azure engine. We test the DX12 renderer with async compute off.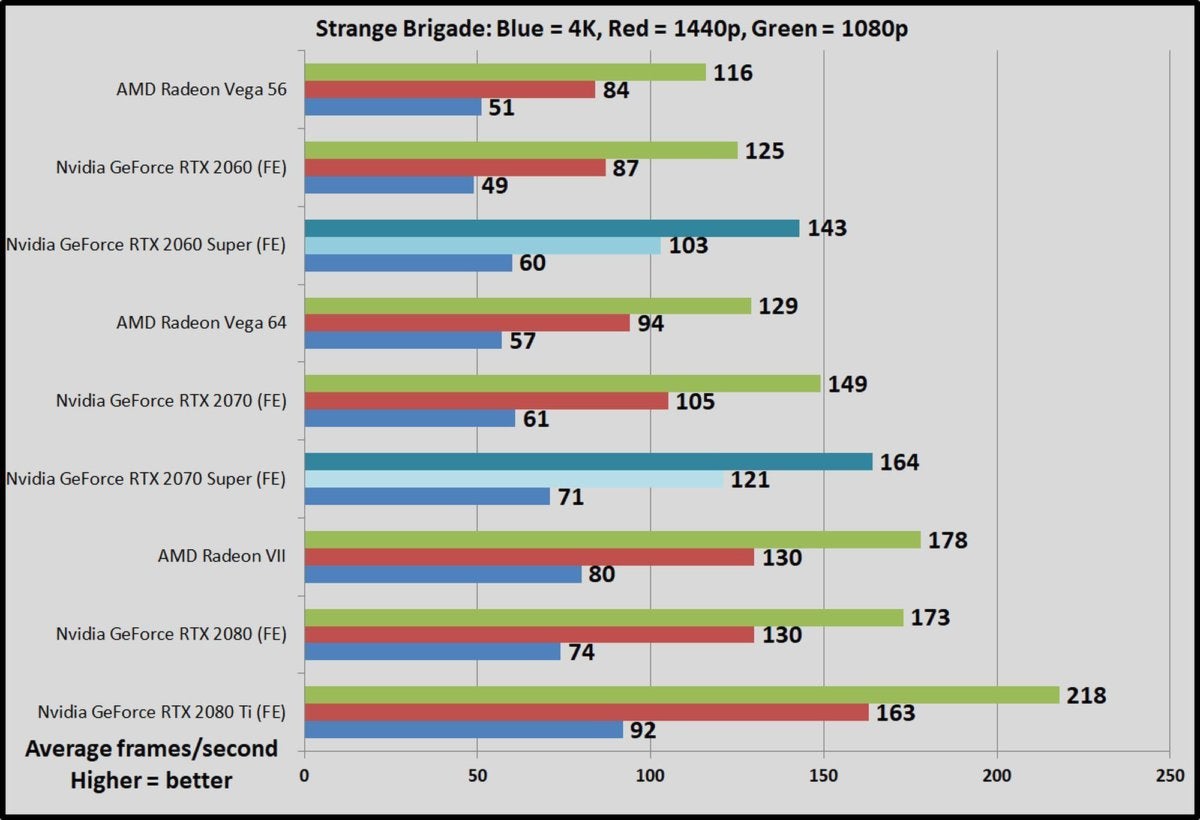 This game adores Radeon's architecture, and the Radeon VII manages to stave off the GeForce RTX 2070 Super for once—barely. But the $399 GeForce RTX 2060 Super blows well past its own namesake as well as the Radeon RX Vega 64.
Shadow of the Tomb Raider
Shadow of the Tomb Raider ($60 on Humble) concludes the reboot trilogy, and it's utterly gorgeous. Square Enix optimized this game for DX12, and recommends DX11 only if you're using older hardware or Windows 7, so we test with that. Shadow of the Tomb Raider uses an enhanced version of the Foundation engine that also powered Rise of the Tomb Raider.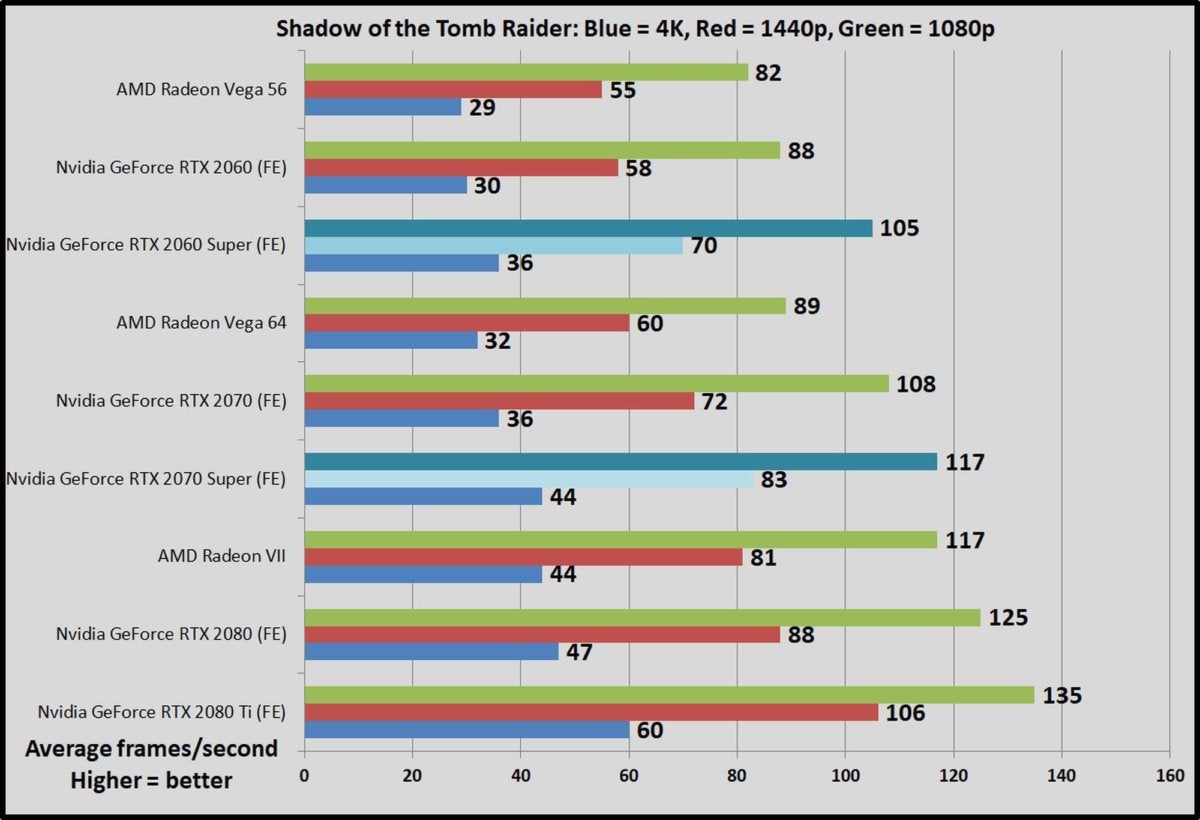 No surprises here, aside from how hard the new Supers curb-stomp the competition (including their non-Super cousins). Vega 56 isn't even in the same weight class.
Ghost Recon Wildlands
Move over, Crysis. If you crank all the graphics options up to 11, like we do for these tests, Ghost Recon Wildlands ($50 on Humble) and its AnvilNext 2.0 engine absolutely melt GPUs, even with a sequel due later this year. It's by far the most strenuous game in our suite, even with newer stunners like Division 2 in the mix. Ghost Recon Wildlands prefers Nvidia's GPU architecture in general.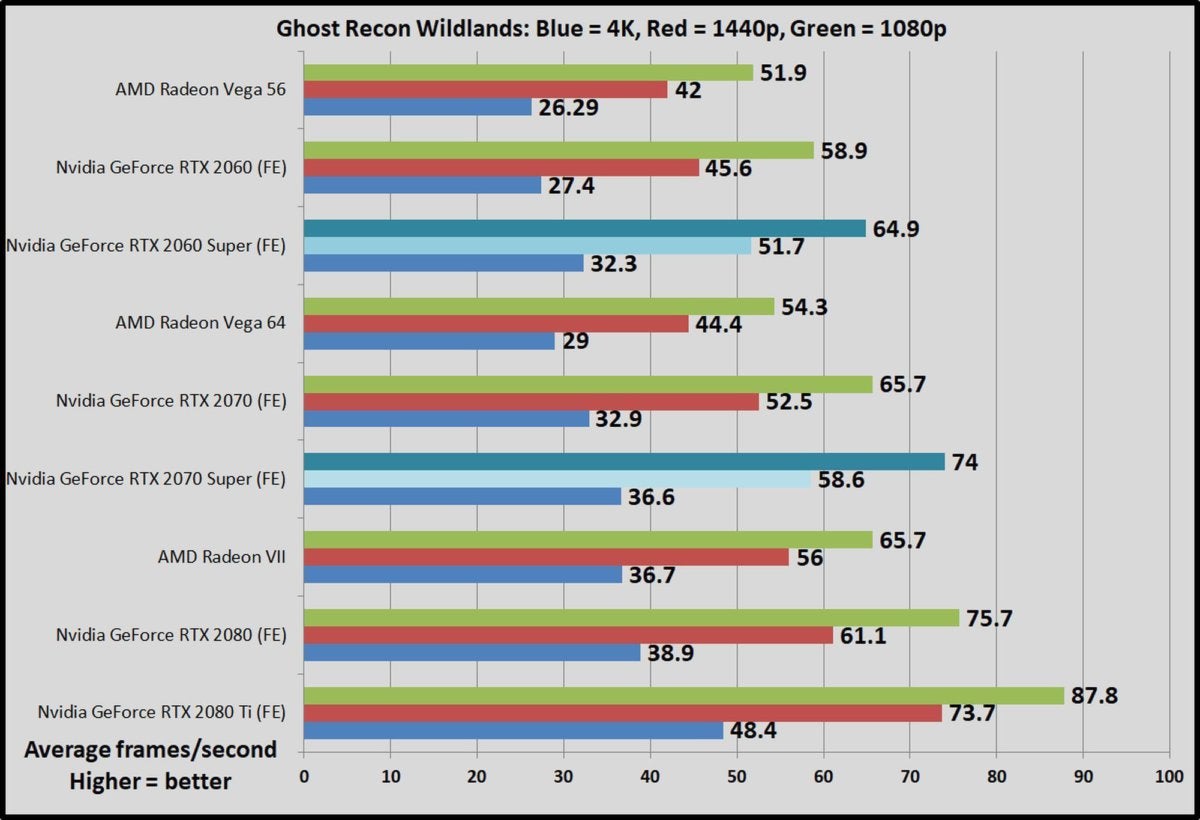 Again, everything goes as expected—and as Nvidia promised. The GeForce RTX 2060 Super and RTX 2070 Super effectively shift the RTX GPU stack up a performance notch, leaving older RTX options and the Radeon cards looking obsolete at their current prices.
F1 2018
The latest in a long line of successful games, F1 2018 ($60 on Humble) is a gem to test, supplying a wide array of both graphical and benchmarking options—making it a much more reliable (and fun) option that the Forza series. It's built on the fourth version of Codemasters' buttery-smooth Ego game engine. We test two laps on the Australia course, with clear skies.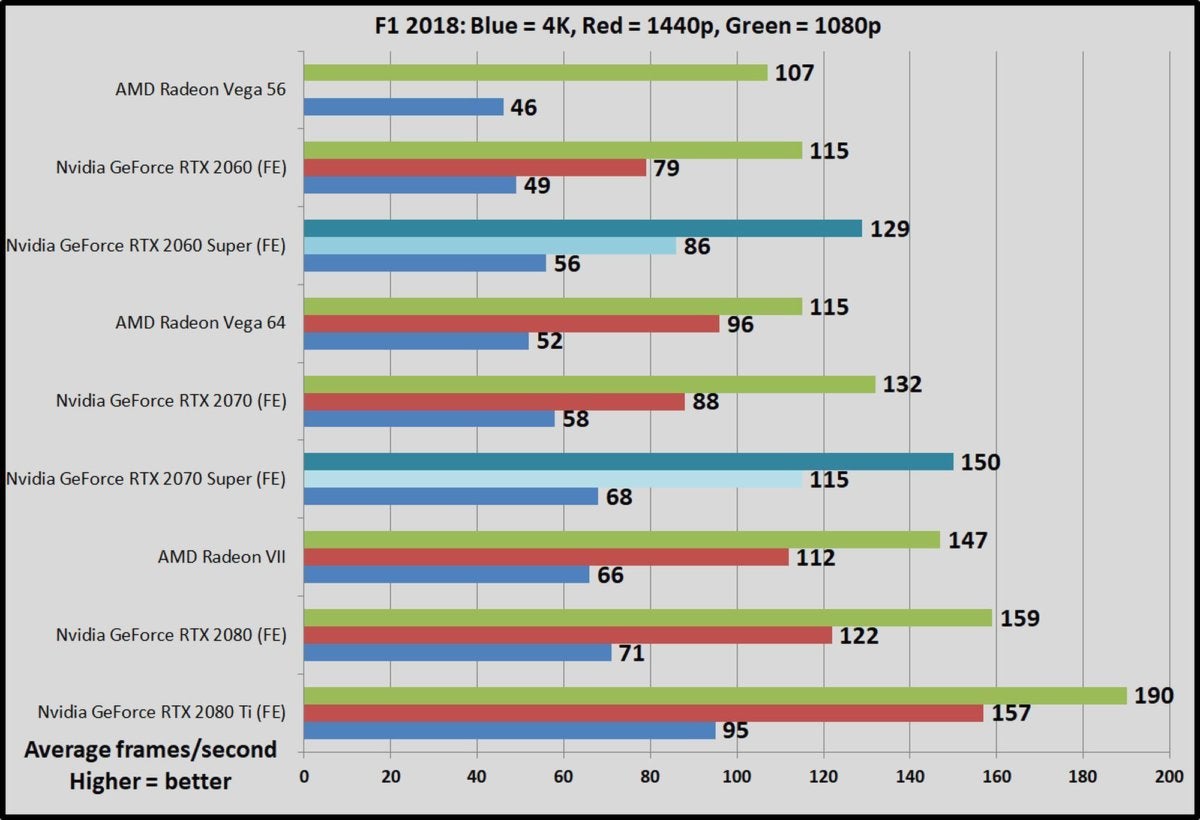 There's a bit more of a gap between the RTX 2080 and RTX 2070 Super here by the raw numbers, but they're delivering the same essential performance in the real world. Same with the Radeon VII. But again, the RTX 2070 Super is $200 cheaper.
Next page: Gaming benchmarks continue, ray tracing performance
GTA V
We're going to wrap things up with a game that isn't really a visual barn-burner, but still tops the Steam charts day in and day out. We test Grand Theft Auto V ($30 on Humble) with all options turned to Very High, all Advanced Graphics options except extended shadows enabled, and FXAA. GTA V runs on the RAGE engine and has received substantial updates since its initial launch.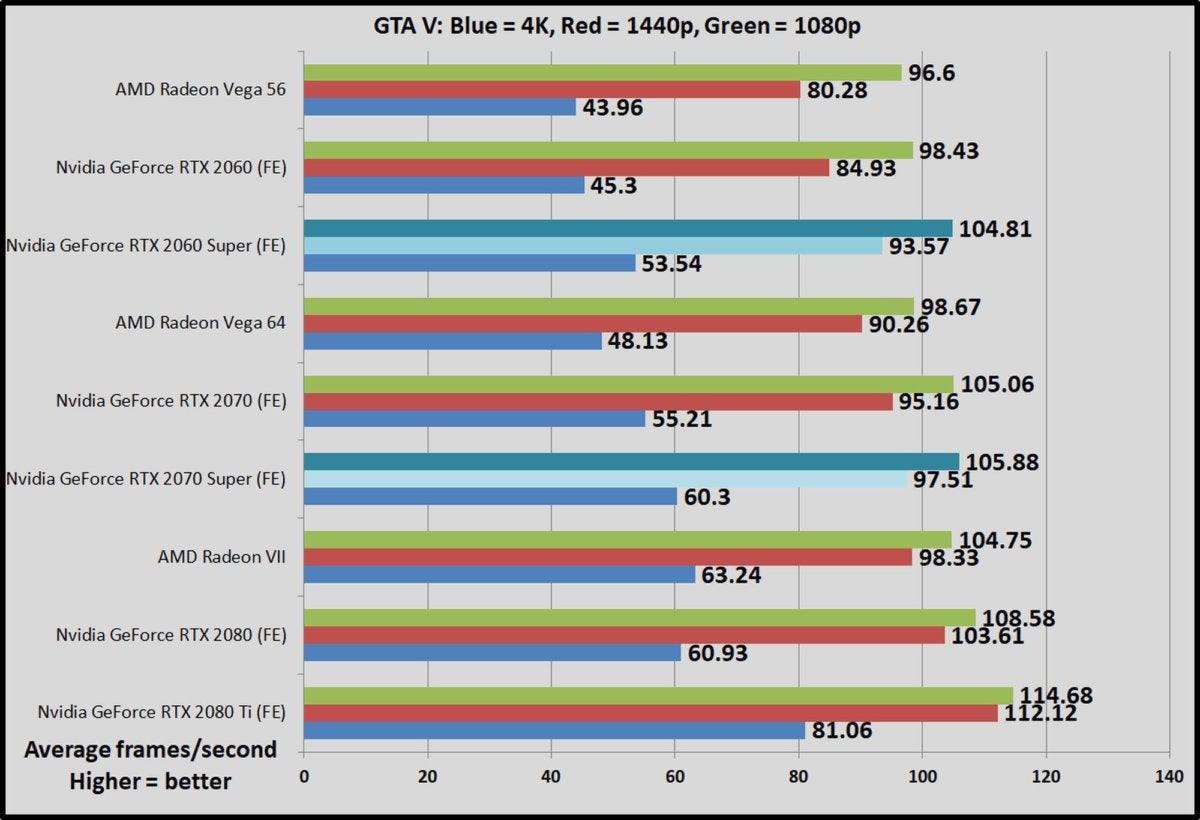 Once again, the Super duo takes on all comers, and that goes doubly so for similarly priced competition. If you play at 1080p resolution, however, all of these cards deliver a comparable gaming experience because GTA V stalls out just north of 100 fps in our current high-end testing setup.
Shadow of the Tomb Raider ray tracing performance
Nvidia crammed more dedicated real-time ray tracing hardware into the Super GPUs, so we wanted to put that to the test, too.
Shadow of the Tomb Raider supports ray traced shadows, and it doesn't insta-murder your frame rate, especially when paired with Nvidia's Deep-Learning Super Sampling (DLSS) technology. DLSS uses the dedicated tensor cores in RTX GPUs to use AI to perform supersampling with a lower performance hit, reclaiming some of the frame rate lost by enabling real-time ray tracing. If you want to know more nitty-gritty details, be sure to check out our deep-dive into the Nvidia Turing GPU architecture. It's fascinating stuff.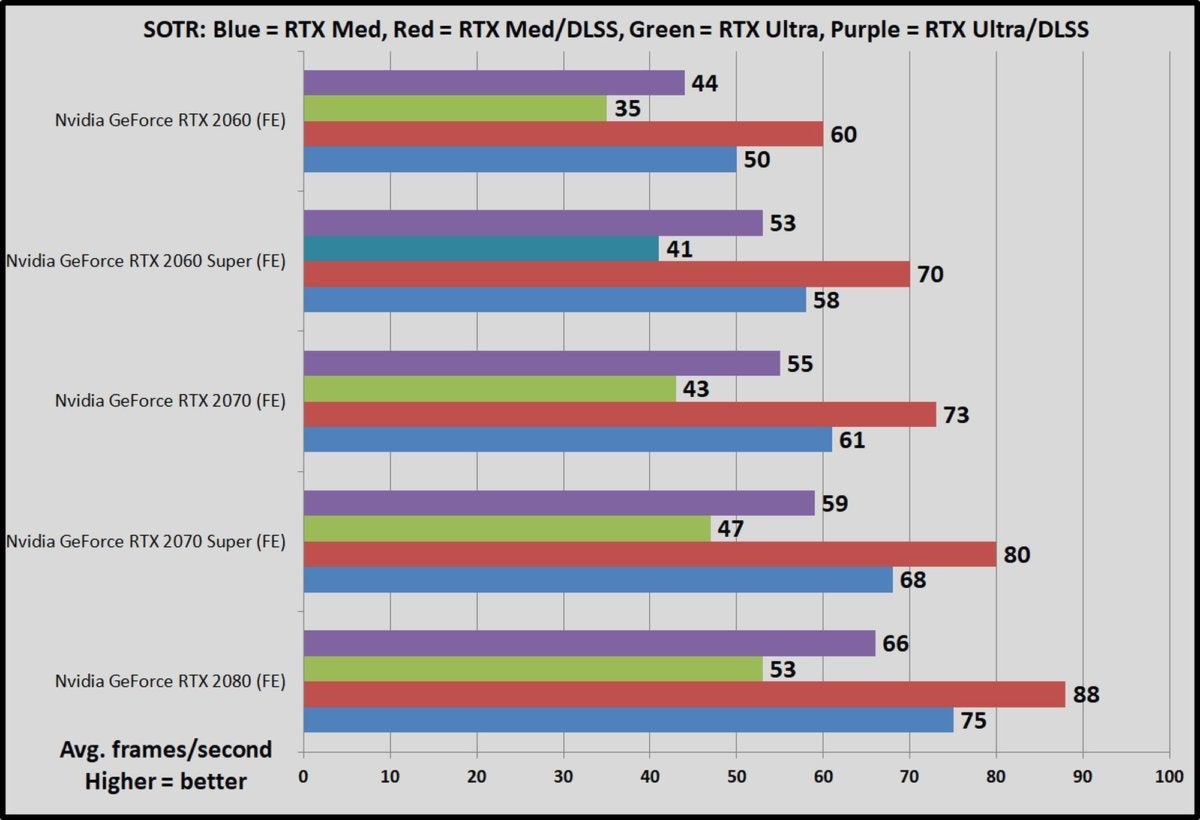 We tested ray tracing performance with RTX Shadows set to both Medium and Ultra settings, and DLSS on and off for each, using the game's built-in benchmark. Resolution was set to 2560×1440 for all runs. Radeon cards lack dedicated ray tracing hardware and cannot enable these options, so we didn't benchmark any of AMD's offerings.
If you're interested in ray tracing, you'll definitely want to invest in the Super versions of these cards.
Of particular note: Though real-time ray tracing sometimes gets slammed by enthusiasts for its performance cost, enabling ray-traced shadows at Medium quality with DLSS in tow results in frame rates identical to running the game without ray tracing enabled. Not too shabby! Nvidia and its partners have been putting a lot of work into RTX technology implementations. In Shadow of the Tomb Raider, you can find some areas of fine detail that are slightly blurrier with DLSS enabled if you look hard enough, but the visual boost from the real-time shadows is well worth it in my opinion.
Next page: Power draw, thermals, and noise
Power draw, thermals, and noise
We also tested the GeForce RTX 2060 Super and RTX 2070 Super using 3DMark's highly respected Fire Strike synthetic benchmark. Fire Strike runs at 1080p, Fire Strike Extreme runs at 1440p, and Fire Strike Ultra runs at 4K resolution. All render the same scene, but with more intense graphical effects as you move up the scale, so that Extreme and Ultra flavors stress GPUs even more. We record the graphics score to eliminate variance from the CPU.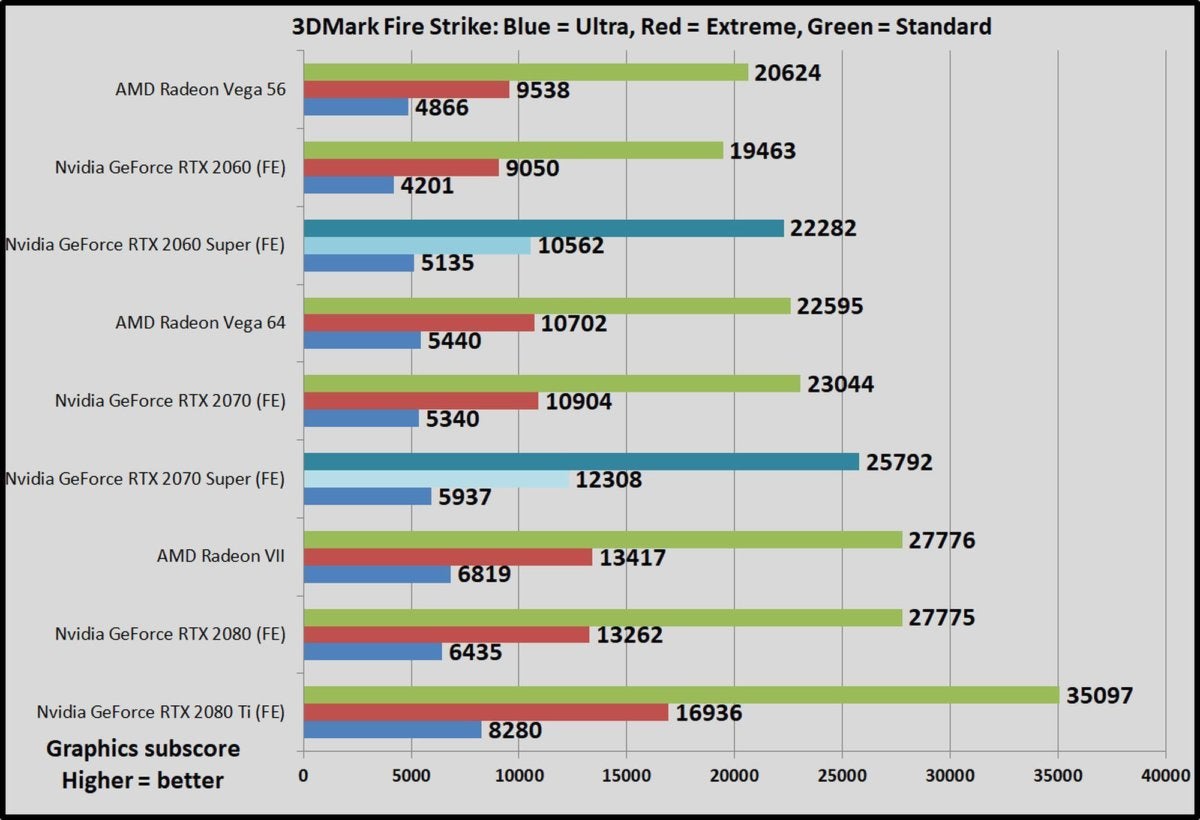 This is why synthetic benchmarks are good for general comparisons and for providing a level playing field in overclocking competitions, but can't be fully relied upon. Fire Strike shows the RTX 2060 Super and RTX 2070 Super lagging behind the Vega 64 and Radeon VII, respectively, but that simply isn't true in real-world game benchmarks.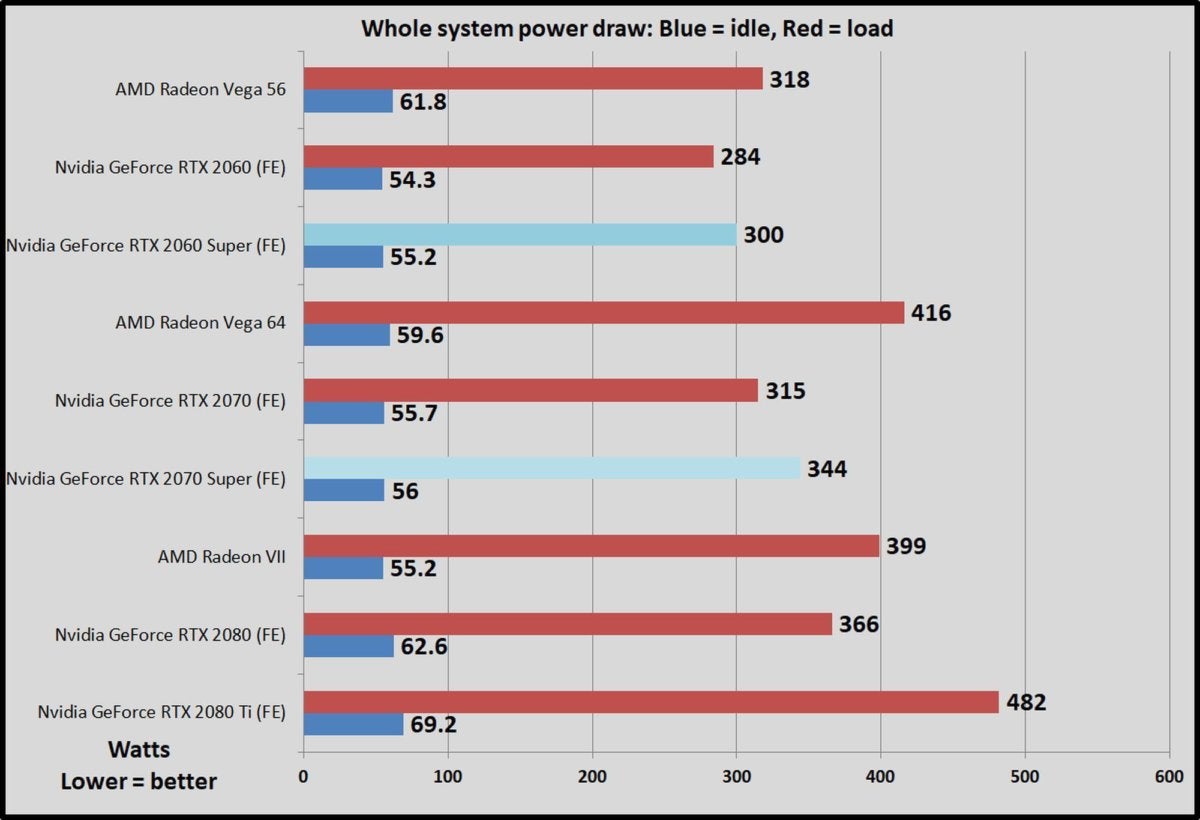 We test power draw by looping the F1 2018 benchmark for about 20 minutes after we've benchmarked everything else, and noting the highest reading on our Watts Up Pro meter. The initial part of the race, where all competing cars are onscreen simultaneously, tends to be the most demanding portion.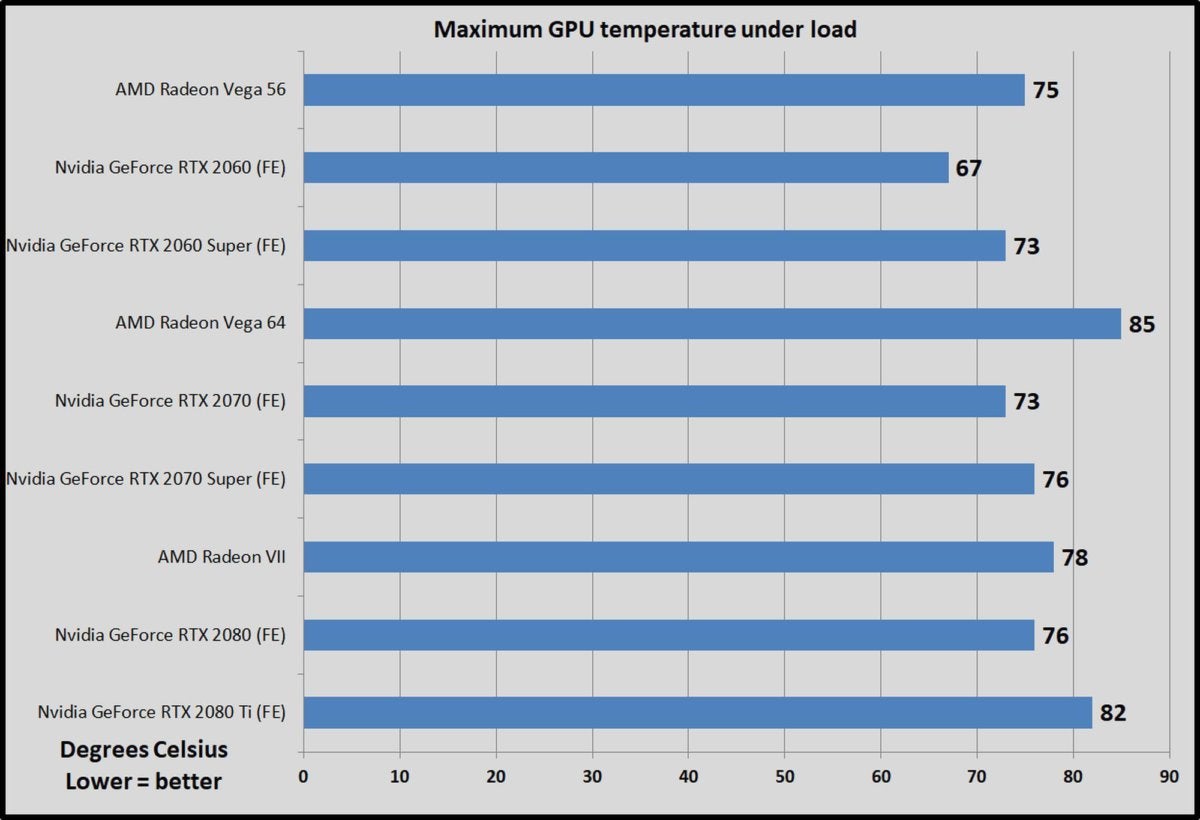 We test thermals by leaving HWInfo's sensor monitoring tool open during the F1 2018 five-lap power draw test, noting the highest maximum temperature at the end.
Unsurprisingly, the Super cards consume more power and throw off more heat than their namesakes. Instead, they're comparable to the pricier GPUs that the Super cards are replacing in the RTX 20-series product stack. Makes sense!
Next page: Should you buy the GeForce RTX 2060 and 2070 Super?
Should you buy the GeForce RTX 2060 and 2070 Super?
Yes, especially if you game at 1440p resolution or want ultra-fast refresh rates at 1080p. But wait a week!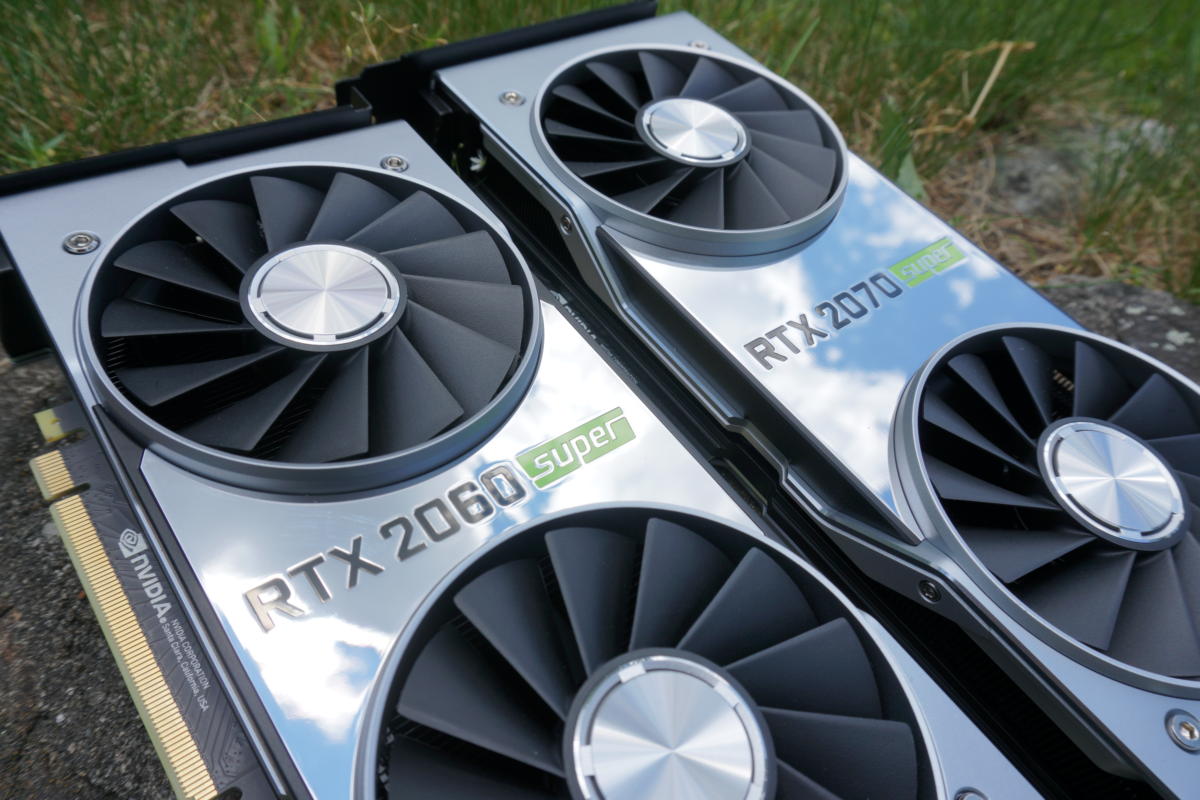 The $399 GeForce RTX 2060 Super and $499 RTX 2070 Super redefine the current GPU landscape, delivering substantially more power at or near the same price as before. They obliterate the value proposition of all cousins and competitors in their path, rendering the non-Super versions of the RTX 2070 and 2080 as well as all of AMD's high-end Vega-based cards obsolete. There's still an argument to be made for the $699 Radeon VII's massive 16GB of HBM2 memory being worthwhile for content creation tasks, but when it comes to gaming, the $499 GeForce RTX 2070 Super trades blows for a whole lot less—and it does ray tracing.
The original GeForce RTX 2060 is still hanging around for $350. It's a solid card in its own right, but it'd be more compelling paired with a $25 or $50 price cut. As-is, it's well worth saving your pennies for an extra week or three to get the RTX 2060 Super's vastly improved performance and more fully fleshed-out memory system for $50 more. Nvidia says the Founders Edition versions of the Super cards we tested today will be available at MSRP on July 9.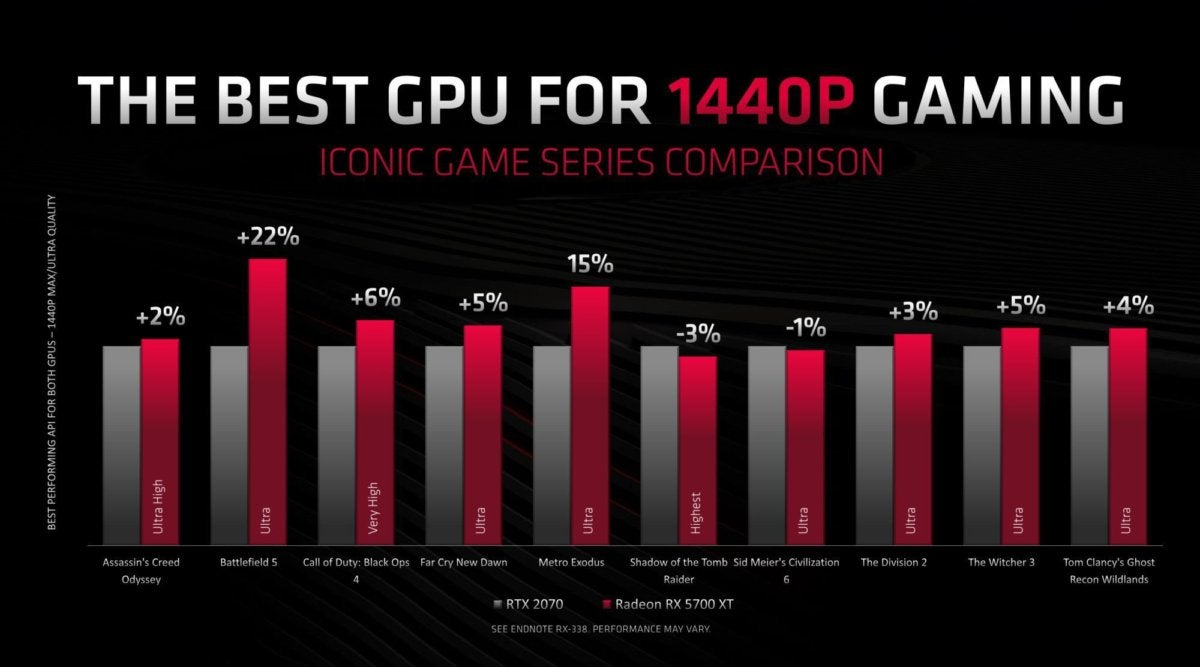 The stage is set, then, for the hotly anticipated launch of AMD's $380 Radeon RX 5700 and $450 Radeon RX 5700 XT on July 7. They'll be the first mainstream graphics cards built using the 7nm process technology, the first graphics cards equipped with the cutting-edge PCIe 4.0 interface, and the first graphics cards powered by AMD's new "RDNA" GPU architecture. The company's E3 showcase demonstrated the Radeon RX 5700 toppling the GeForce RTX 2060 across a spectrum of games at 1440p, and the RX 5700 XT more narrowly beating the RTX 2070.
Can AMD's forward-thinking (but ray tracing-less) tandem triumph over these much more ferocious RTX Super GPUs though? Anything's possible with a completely revamped architecture. Given what AMD showed at E3, it seems unlikely. But we've been waiting for Navi for a long time. We'll learn what the Radeon RX 5700 is made of in five short days.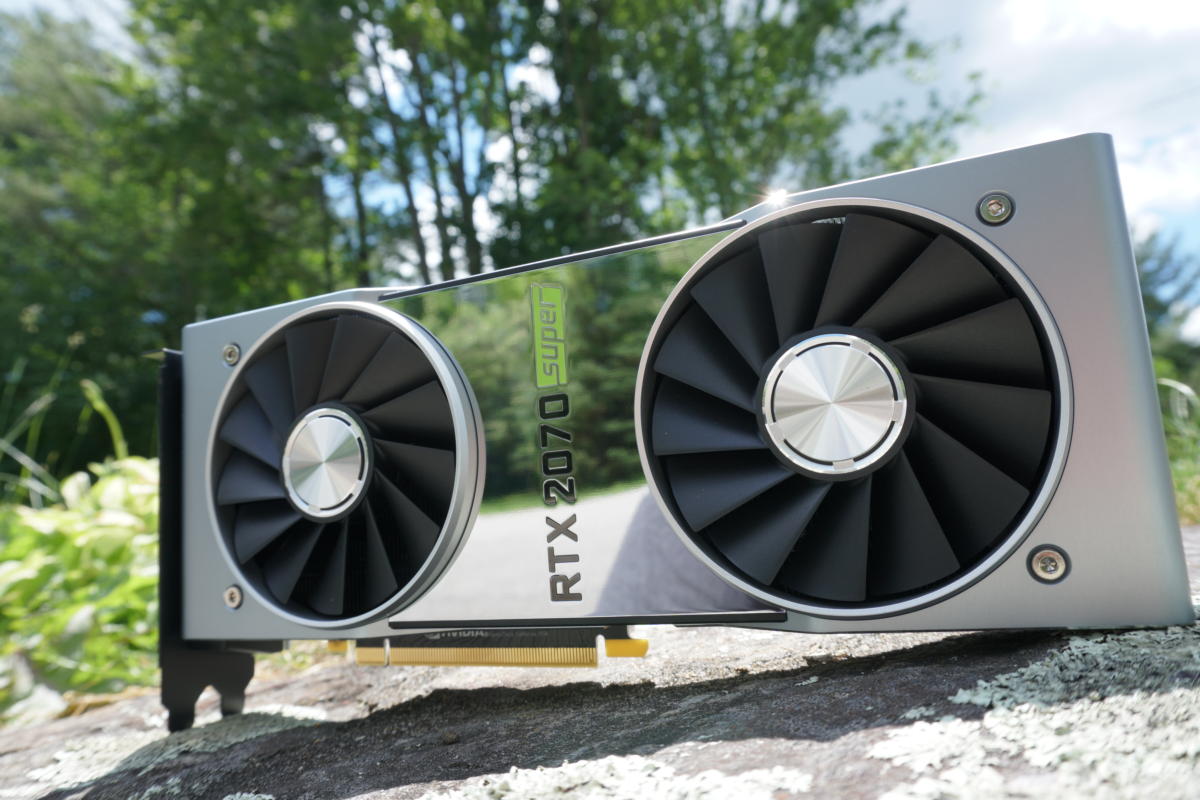 Nvidia may have ruined Radeon's big day—or AMD's major architectural overhaul could blow our minds. Today, however, there's no doubt that Nvidia's surprise reveal of the GeForce RTX 2060 Super and GeForce RTX 2070 Super shakes up the status quo for every high-end graphics south of the monstrous GeForce RTX 2080 Ti.
Nvidia's RTX Super graphics cards kick ass, take names, and come highly recommended. We'll see if that holds true a week from now. It's an exciting time to be a PC gamer!
Best Prices Today: GeForce RTX 2060 Super Founders Edition