At a Glance
Expert's Rating
Pros
Excellent 1440p and good 4K gaming performance
Supports real-time ray tracing and DLSS
Nvidia's metallic Founders Edition design is gorgeous
Fastest GDDR6 memory available
Supports multi-GPU SLI configurations
Cons
Not much faster than original RTX 2080
Ray traced games picking up steam, but still relatively rare
RTX 2070 Super serves same basic needs at much lower price
Our Verdict
The Nvidia GeForce RTX 2080 Super Founders Edition is the second most-powerful GPU ever released and great for 4K or ultra-fast 1440p gaming, but this modest upgrade loses its unique value proposition in the new-look RTX Super lineup.
Best Prices Today: GeForce RTX 2080 Super Founders Edition
Nvidia's $700 GeForce RTX 2080 Super is the second-fastest graphics card ever released, a screaming piece of kit that chews through games even at 4K resolution. You'd be very happy buying it. But it just doesn't feel as, well, super as its lower-priced siblings.
The GeForce RTX 2060 Super and 2070 Super burst onto the scene early in July and changed the entire high-end graphics card landscape, rendering several other GPUs instantly obsolete. The $400 RTX 2060 Super delivered performance on par with the original $500 RTX 2070, while the new $500 RTX 2070 Super came within spitting distance of the original $700 RTX 2080. It wasn't enough to kill AMD's Radeon revival, but the first two Nvidia Super GPUs lived up to their name.
The GeForce RTX 2080 Super? It's a little bit faster than its vanilla namesake—but only by a hair. The beastly GeForce RTX 2080 Ti has nothing to fear.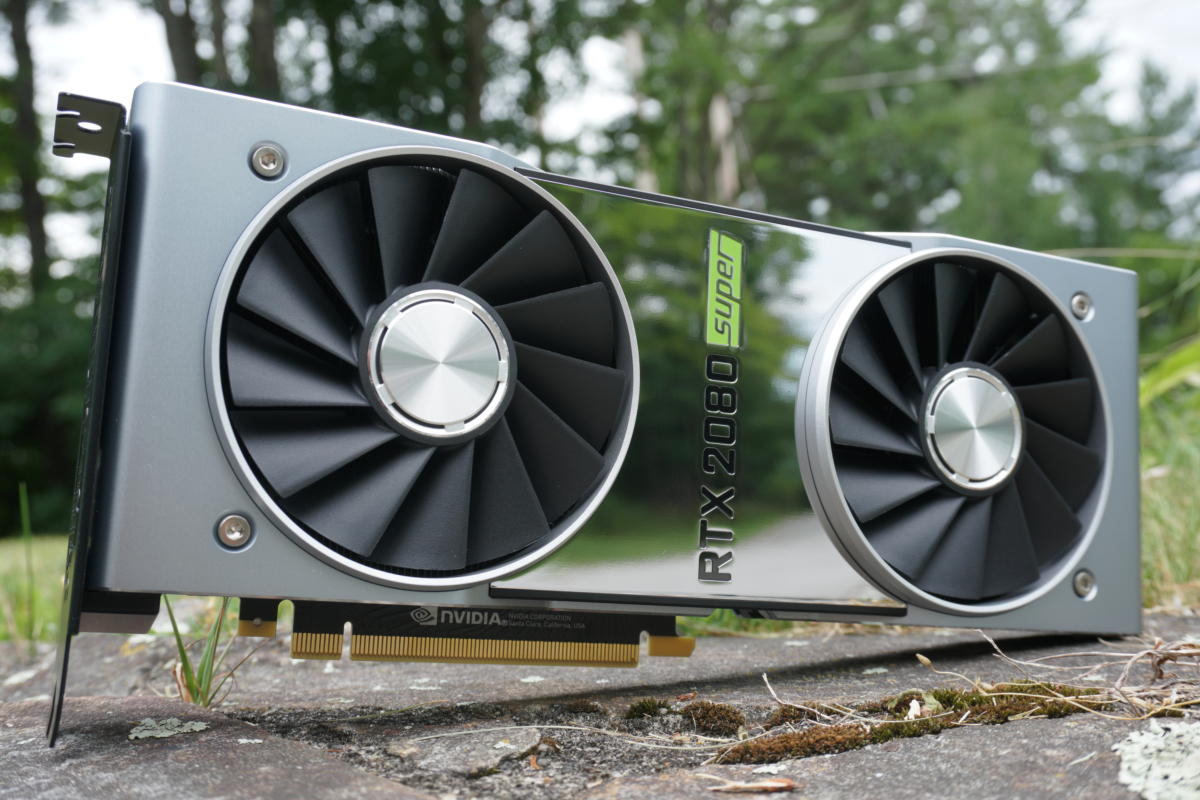 GeForce RTX 2080 Super: Specs and features
The GeForce RTX 2080 Super Founders Edition we're testing today sticks to reference speeds and will set you back $699, Nvidia's MSRP for this GPU. That's in contrast to the original RTX 2080 FE, which commanded a $100 price premium over MSRP and included a mild overclock. Customized versions of the RTX 2080 Super will also be available today by Nvidia board partners like EVGA, Asus, and Gigabyte.
Speaking of reference specs, let's look at the core GPU itself. Here's how the GeForce RTX 2080 Super stacks up against the original RTX 2080 and the last-gen GTX 1080: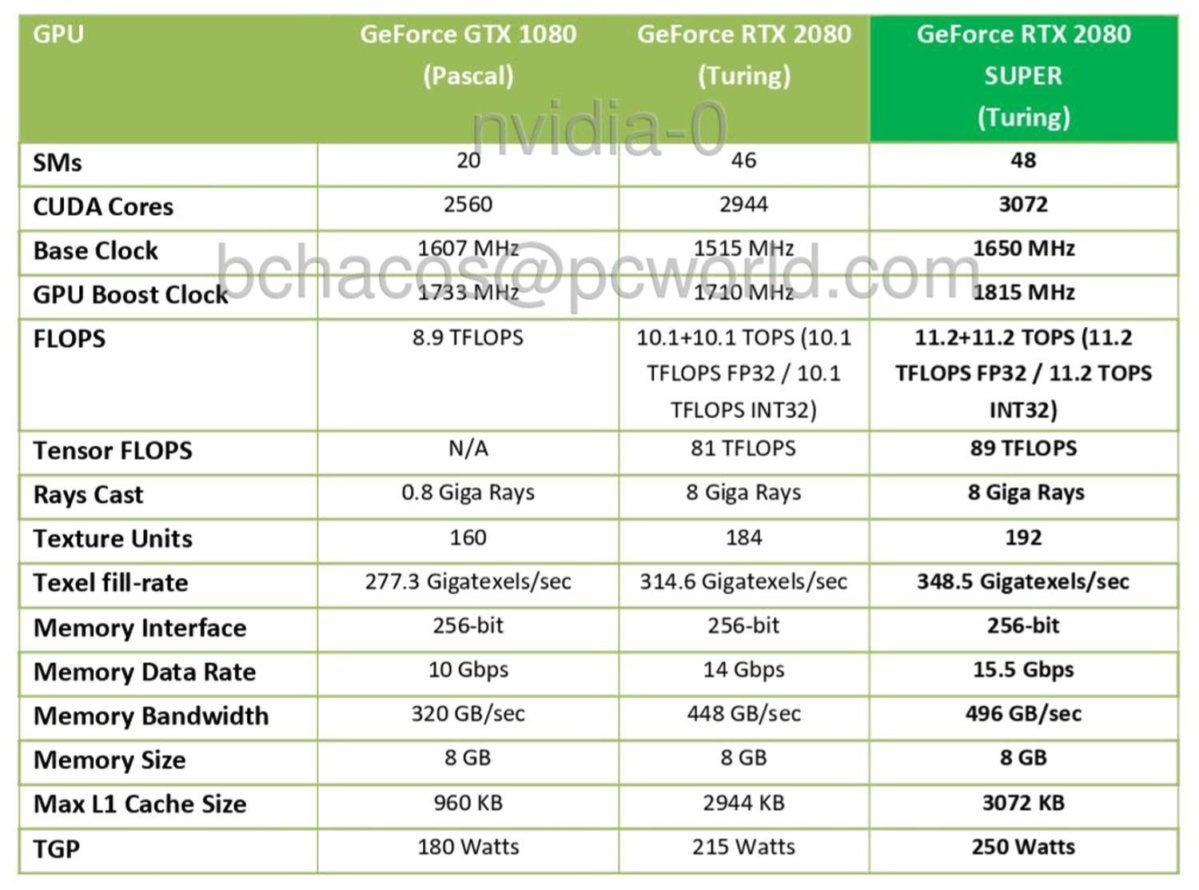 The GeForce RTX 2080 Super is in a slightly different situation than the other Super cards. While the RTX 2060 Super shifted to a more fully enabled version of the TU106 GPU to achieve its higher performance, and the RTX 2070 Super made the leap from TU106 to a cut-down version of the more potent TU104 GPU found in the original RTX 2080, that original RTX 2080 already deployed a mostly maxed-out version of TU104. Nvidia decided against shifting the 2080 Super up to a cut-down version of the mammoth TU102 GPU found in the RTX 2080 Ti. It's instead using a full-fat version of TU104 with 48 streaming multiprocessors, up from 46 SMs in the original. For comparison, the RTX 2060 and 2070 Super models added four SMs each to achieve their large performance jumps.
Adding more cores isn't the only tool in Nvidia's arsenal. The GeForce RTX 2080 Super is the first consumer graphics card to ship with GDDR6 memory clocked at a speedy 15.5Gb/s instead of the standard 14Gbps. That boosts the overall memory bandwidth from the 448GB/s available in other GeForce RTX and Radeon RX 5700 GPUs all the way to 496GB/s, which can help boost performance in some scenarios. The company also increased clock speeds across the board with the RTX 2080 Super.
Nvidia says the cumulative tweaks help the RTX 2080 Super perform up to 10 percent faster than the original RTX 2080, and that it's about 6 percent faster on average. The reference-spec RTX 2080 Super Founders Edition runs about 5 percent faster than the original slightly overclocked RTX 2080 FE for $100 less, Nvidia says. Our independent testing confirms mild gains.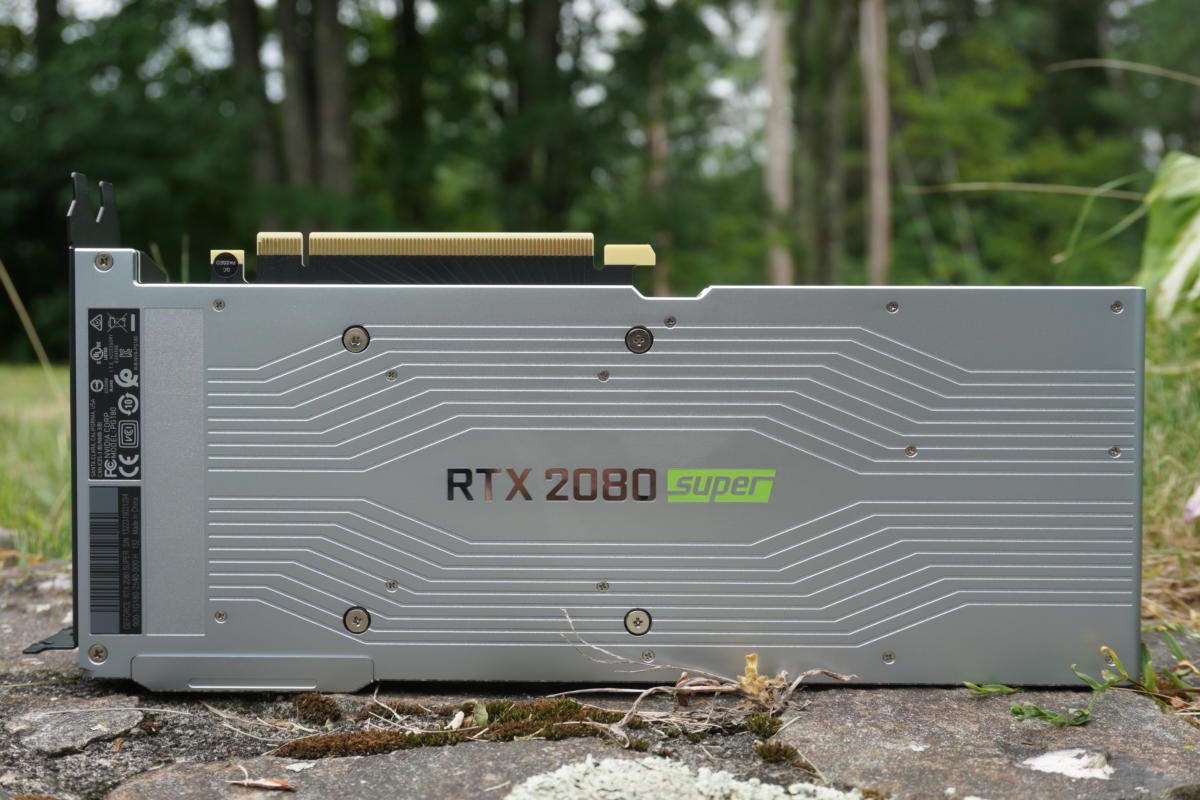 The GeForce RTX 2080 Super Founders Edition sticks to the same metal-clad cooler design as the original, though the area between its dual-axial fans have a mirror-polished instead of jet-black finish. It's drop-dead gorgeous. The port layout remains the same as well, with three DisplayPorts and single HDMI and USB-C VirtualLink connections.
While the card needs the same 8-pin and 6-pin power connections as the original version, the power requirements have gone up to accommodate the extra oomph. Nvidia rates the RTX 2080 Super FE's total board power at 250 watts, compared to the vanilla RTX 2080's 215W. You can also run this card in a multi-GPU SLI setup.
Of course, the RTX 2080 Super comes loaded with tensor and RT cores dedicated to real-time ray tracing and AI-enhanced anti-aliasing, which you can learn all about in our Turing GPU deep-dive. To flex those muscles, Nvidia's tossing in free copies of Wolfenstein: Youngblood and Remedy's Control with every RTX 20-series purchase, for a limited time. Both games take advantage of those cutting-edge technologies, and after a slow start, ray tracing is finally gaining traction.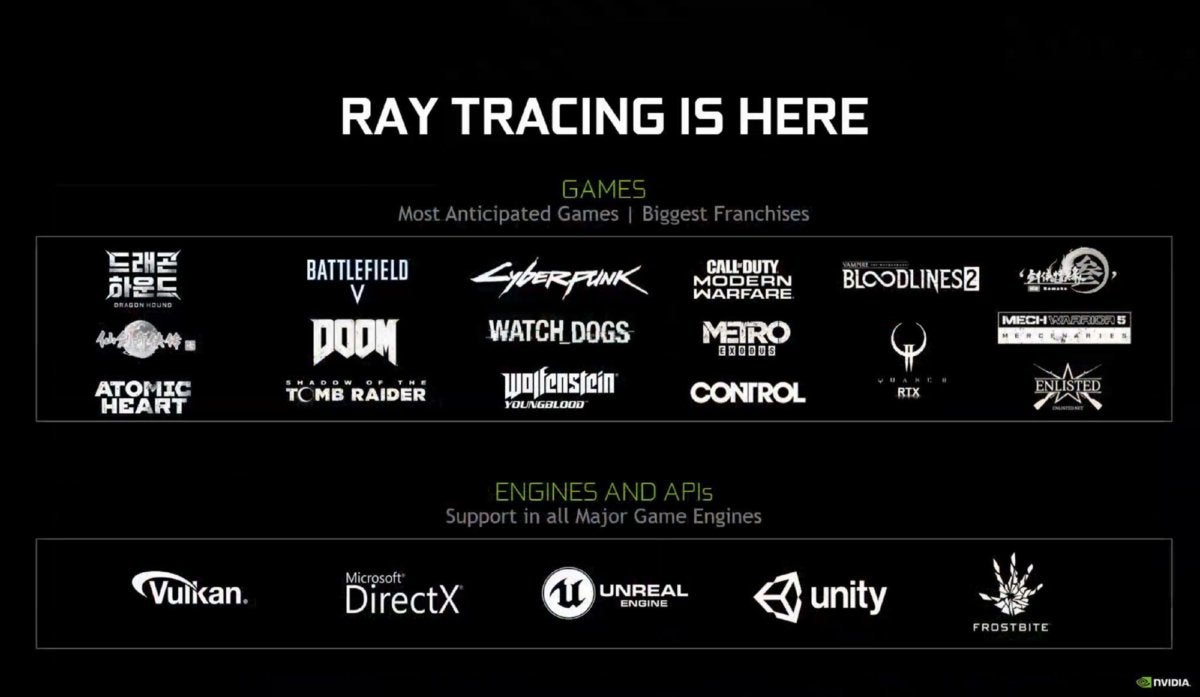 Metro Exodus is the current gold standard, with ray tracing substantially changing the look and feel of the game, but Shadow of the Tomb Raider, Battlefield V, Assetto Corsa, and Quake II RTX also support the technology. Ray tracing got a huge vote of confidence at E3 2019 as well, with Cyberpunk 2077, Call Of Duty: Modern Warfare, Doom Eternal, Wolfenstein: Youngblood, Vampire: The Masquerade—Bloodlines 2, Remedy's Control, and Watch Dogs: Legion confirmed to include the technology. Most of those cracked our favorite games of E3 2019.
Several smaller titles also plan to bake in real-time ray tracing now that all the major game engines support it. Ray tracing is still niche, but it's truly revolutionary and picking up speed with the arrival of hardware capable of running the ultra-intensive tasks.
That's everything you need to know about the GeForce RTX 2080 Super Founders Edition. On to the test bench!
Next page: Our test system, benchmarks begin
Our test system
Our dedicated graphics card test system is packed with some of the fastest complementary components available to put any potential performance bottlenecks squarely on the GPU. Most of the hardware was provided by the manufacturers, but we purchased the cooler and storage ourselves.
Mentioned in this article
Radeon RX 5700 XT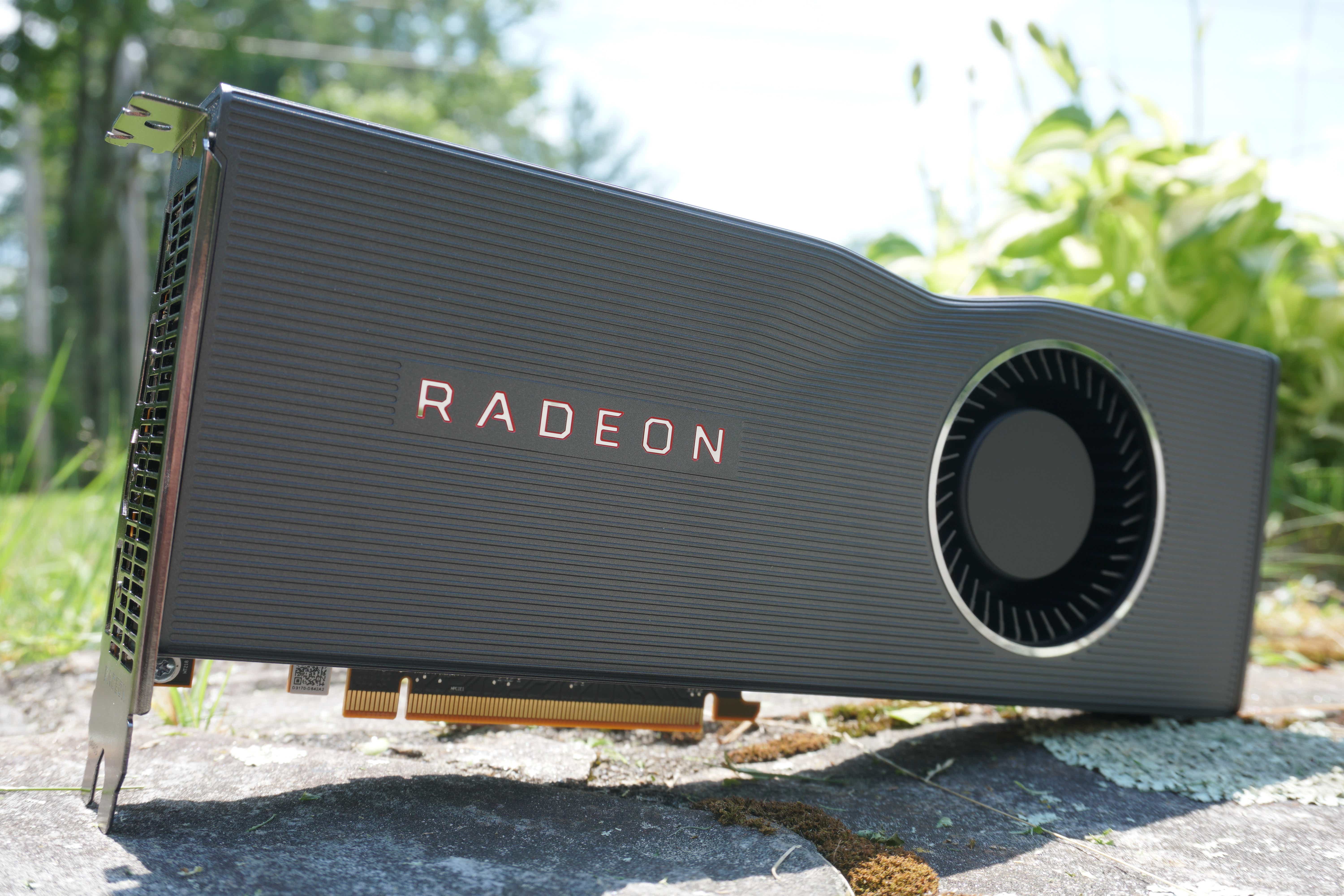 We're comparing the $700 GeForce RTX 2080 Super Founders Edition against Nvidia's Founders Edition models of the $1,200 GeForce RTX 2080 Ti, $800 RTX 2080, and $600 RTX 2070. These original FE models came with slight overclocks and significant price premiums, though the original RTX 2070 and 2080 are now being killed off with the Super series' arrival. We're also including the Founders Edition versions of the $400 RTX 2060 Super and $500 RTX 2070 Super, which (like the RTX 2080 Super) stick to stock specs and MSRP pricing. Finally, AMD's rival $700 Radeon VII and $400 Radeon RX 5700 XT are also included in the comparison.
All prices cited are launch MSRP; you can often find these cards cheaper on the streets these days.
Each game is tested using its in-game benchmark at the highest possible graphics presets, with VSync, frame rate caps, and all GPU vendor-specific technologies—like AMD TressFX, Nvidia GameWorks options, and FreeSync/G-Sync—disabled, and temporal anti-aliasing (TAA) enabled to push these high-end cards to their limits. If anything differs from that, we'll mention it. We run each benchmark at least three times and list the average result for each test.
Because the GeForce RTX 2080 Super is just a slightly faster RTX 2080 at its core, we're going to skip our usual commentary after each benchmark and let the testing speak for itself.
Gaming performance benchmarks
Division 2
Let's start with the latest games. The Division 2 is one of the best looter-shooters ever created. The luscious visuals generated by Ubisoft's Snowdrop engine make it even easier to get lost in post-apocalyptic Washington D.C. The built-in benchmark cycles through four "zones" to test an array of environments. We test with the DirectX 12 renderer enabled. It provides better performance across-the-board than the DX11 renderer, but requires Windows 10.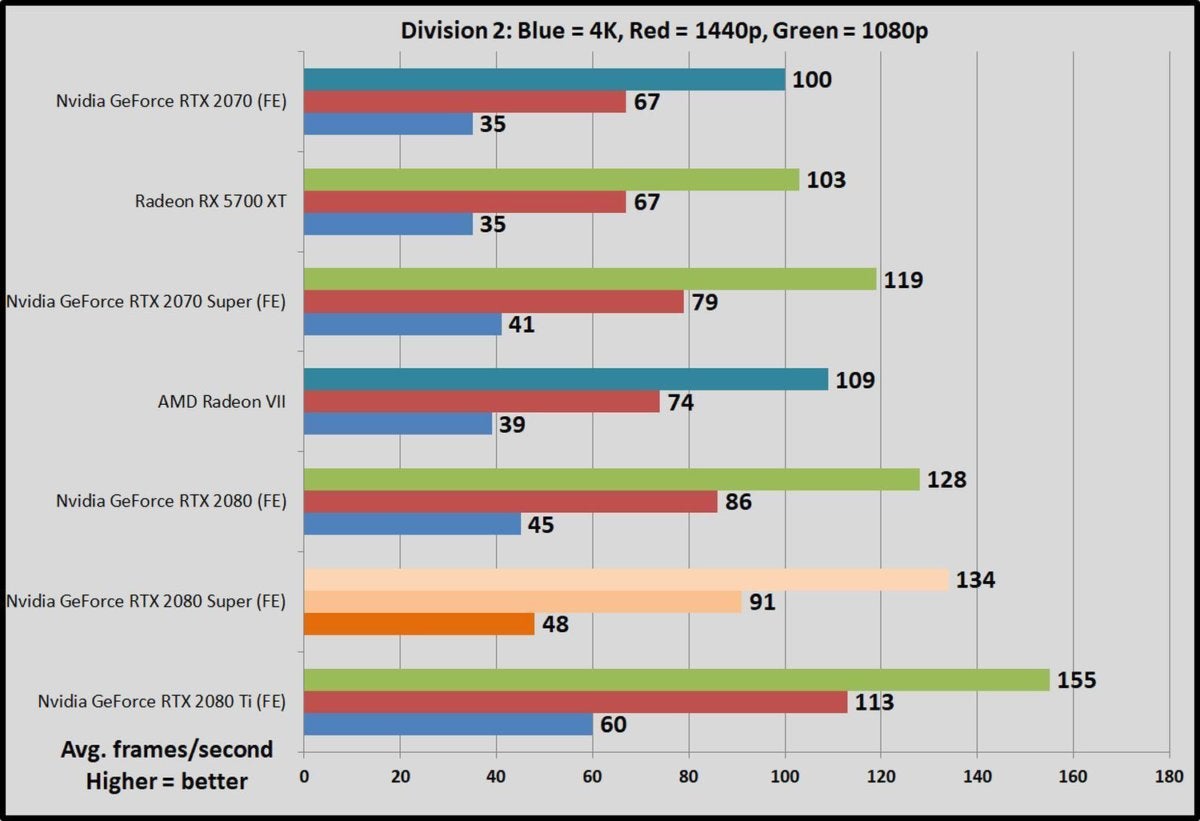 Far Cry: New Dawn
Another Ubisoft title, Far Cry: New Dawn drags Far Cry 5's wonderful gameplay into a post-apocalyptic future of its own, though this vision is a lot more bombastic—and pink—than The Division 2's bleak setting. The game runs on the latest version of the long-running Dunia engine, and it's slightly more strenuous than Far Cry 5's built-in benchmark.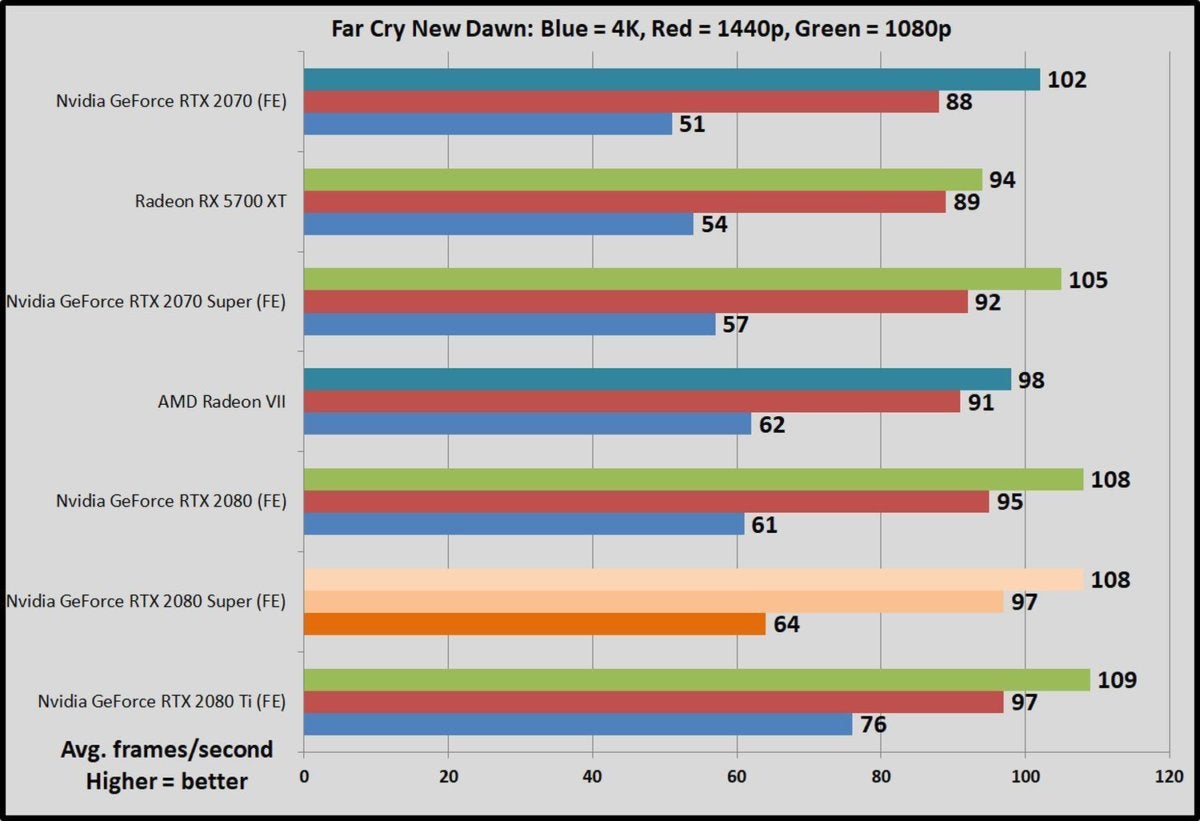 Next page: Gaming benchmarks continue
Strange Brigade
Strange Brigade ($50 on Humble) is a cooperative third-person shooter where a team of adventurers blasts through hordes of mythological enemies. It's a technological showcase, built around the next-gen Vulkan and DirectX 12 technologies and infused with features like HDR support and the ability to toggle asynchronous compute on and off. It uses Rebellion's custom Azure engine. We test the DX12 renderer with async compute off.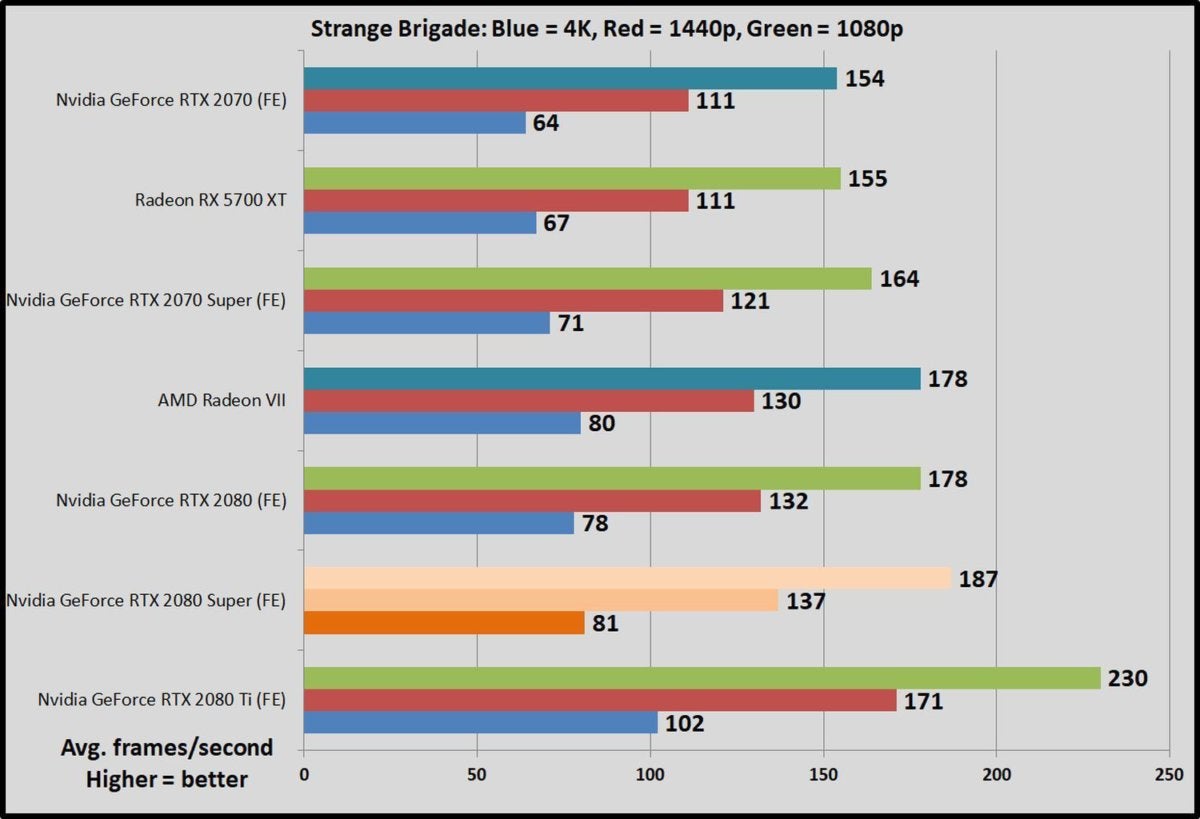 Shadow of the Tomb Raider
Shadow of the Tomb Raider ($60 on Humble) concludes the reboot trilogy, and it's utterly gorgeous. Square Enix optimized this game for DX12, and recommends DX11 only if you're using older hardware or Windows 7, so we test with that. Shadow of the Tomb Raider uses an enhanced version of the Foundation engine that also powered Rise of the Tomb Raider.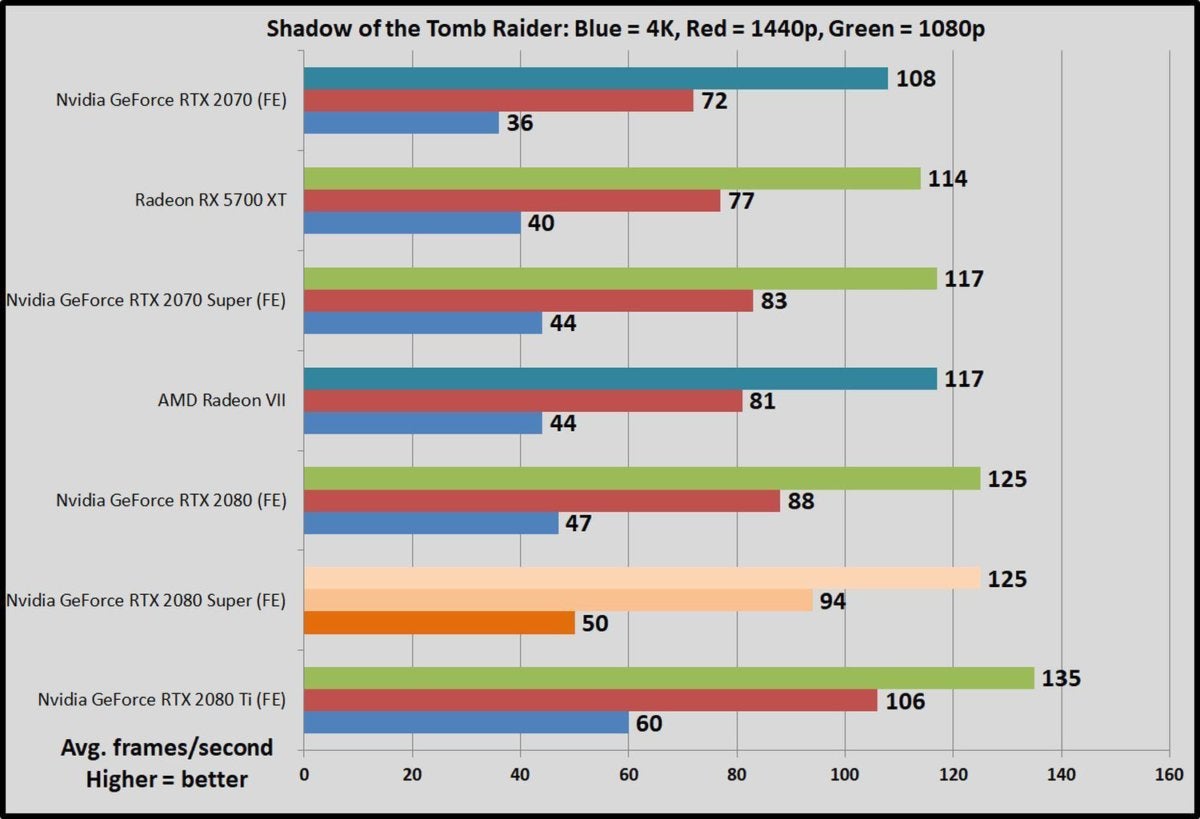 Ghost Recon Wildlands
Move over, Crysis. If you crank all the graphics options up to 11, like we do for these tests, Ghost Recon Wildlands ($50 on Humble) and its AnvilNext 2.0 engine absolutely melt GPUs, even with a sequel due later this year. It's by far the most strenuous game in our suite, even with newer stunners like Division 2 in the mix.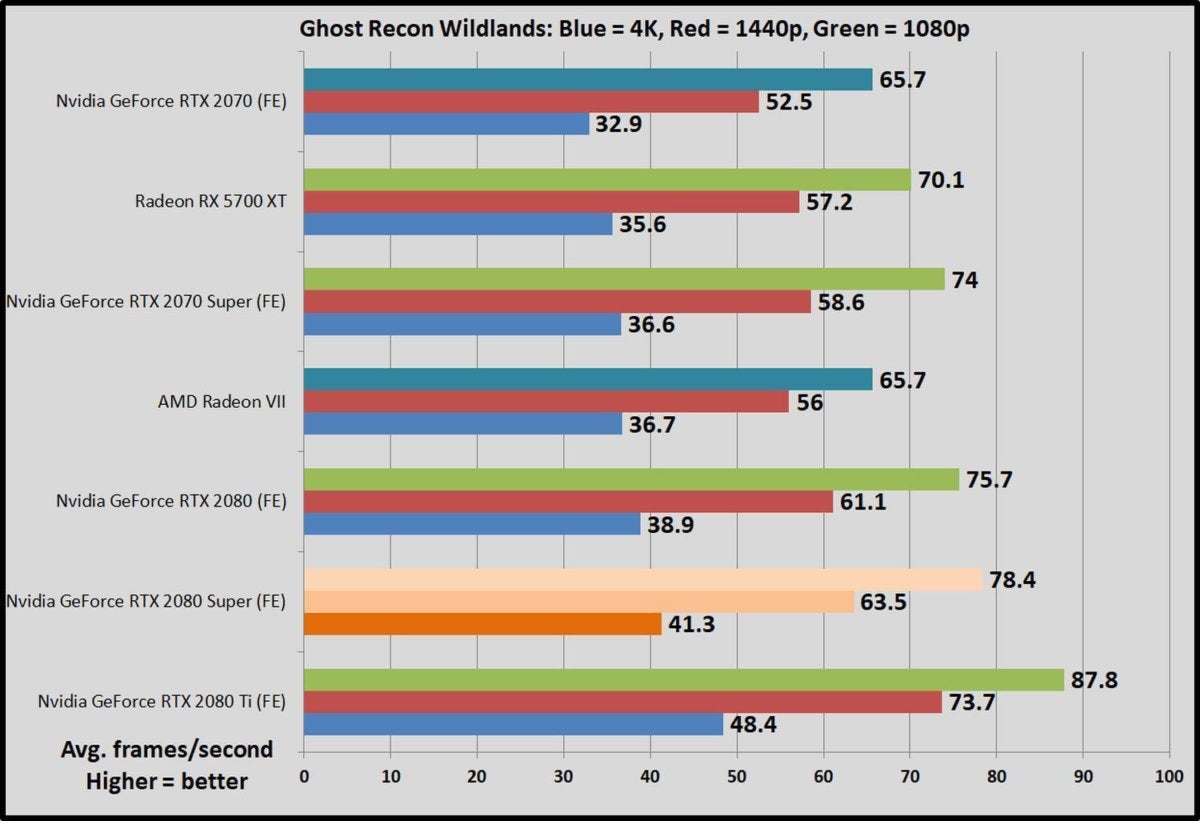 F1 2018
The latest in a long line of successful games, F1 2018 ($60 on Humble) is a gem to test, supplying a wide array of both graphical and benchmarking options—making it a much more reliable (and fun) option that the Forza series. It's built on the fourth version of Codemasters' buttery-smooth Ego game engine. We test two laps on the Australia course, with clear skies.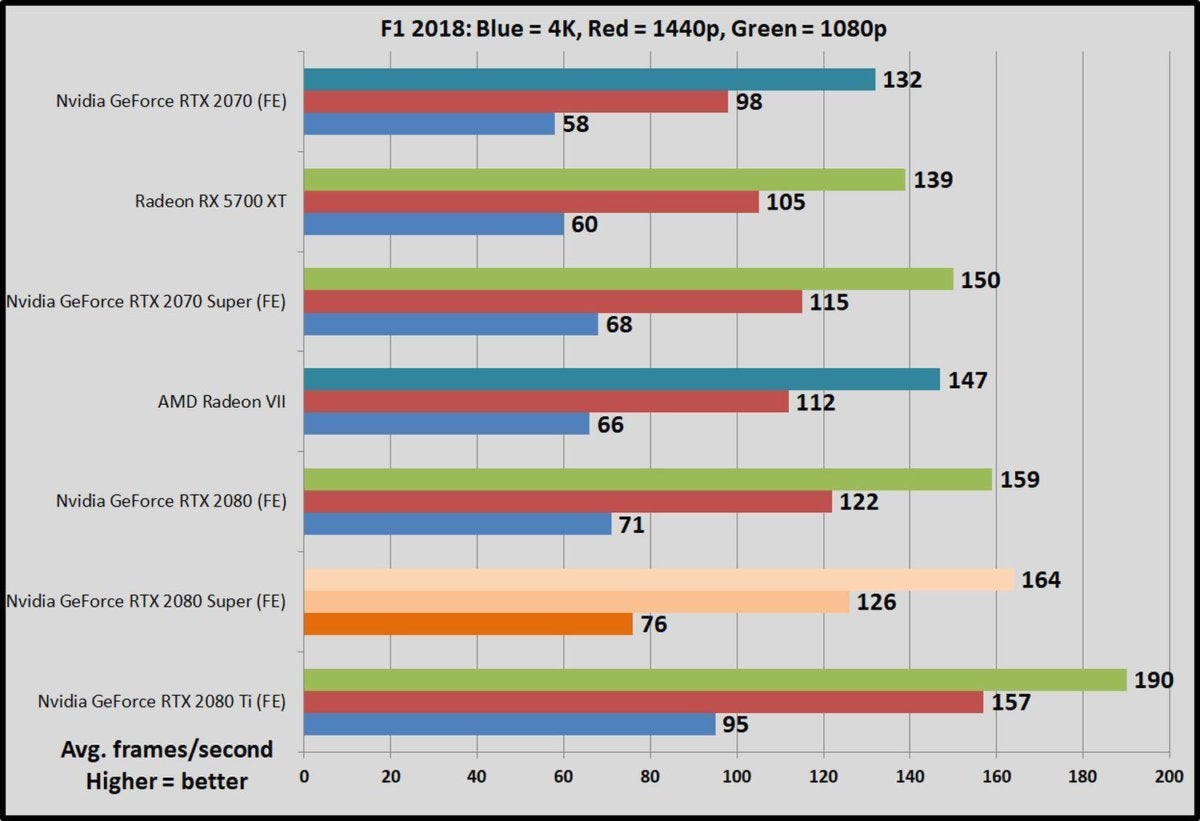 Next page: Gaming and ray tracing benchmarks
GTA V
We're going to wrap things up with a game that isn't really a visual barn-burner, but still tops the Steam charts day in and day out. We test Grand Theft Auto V ($30 on Humble) with all options turned to Very High, all Advanced Graphics options except extended shadows enabled, and FXAA. GTA V runs on the RAGE engine and has received substantial updates since its initial launch.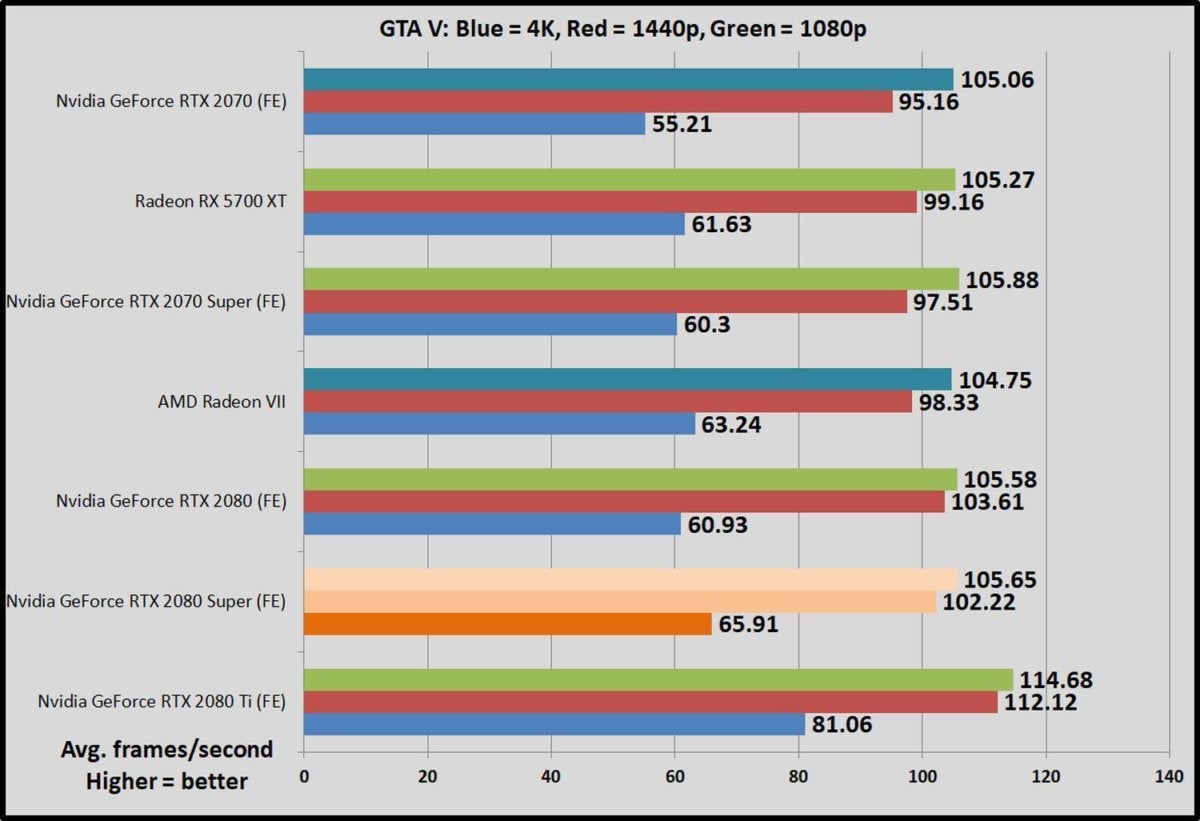 Real-time ray tracing performance
Nvidia crammed more dedicated real-time ray tracing hardware into the Super GPUs, so we wanted to put that to the test, too.
Shadow of the Tomb Raider supports ray traced shadows, and it doesn't instantly tank your frame rate, especially when paired with Nvidia's Deep-Learning Super Sampling (DLSS) technology. DLSS uses the dedicated tensor cores in RTX GPUs to use AI to perform supersampling with a lower performance hit, reclaiming some of the frame rate lost by enabling real-time ray tracing. If you want to know more nitty-gritty details, be sure to check out our deep-dive into the Nvidia Turing GPU architecture. It's fascinating stuff.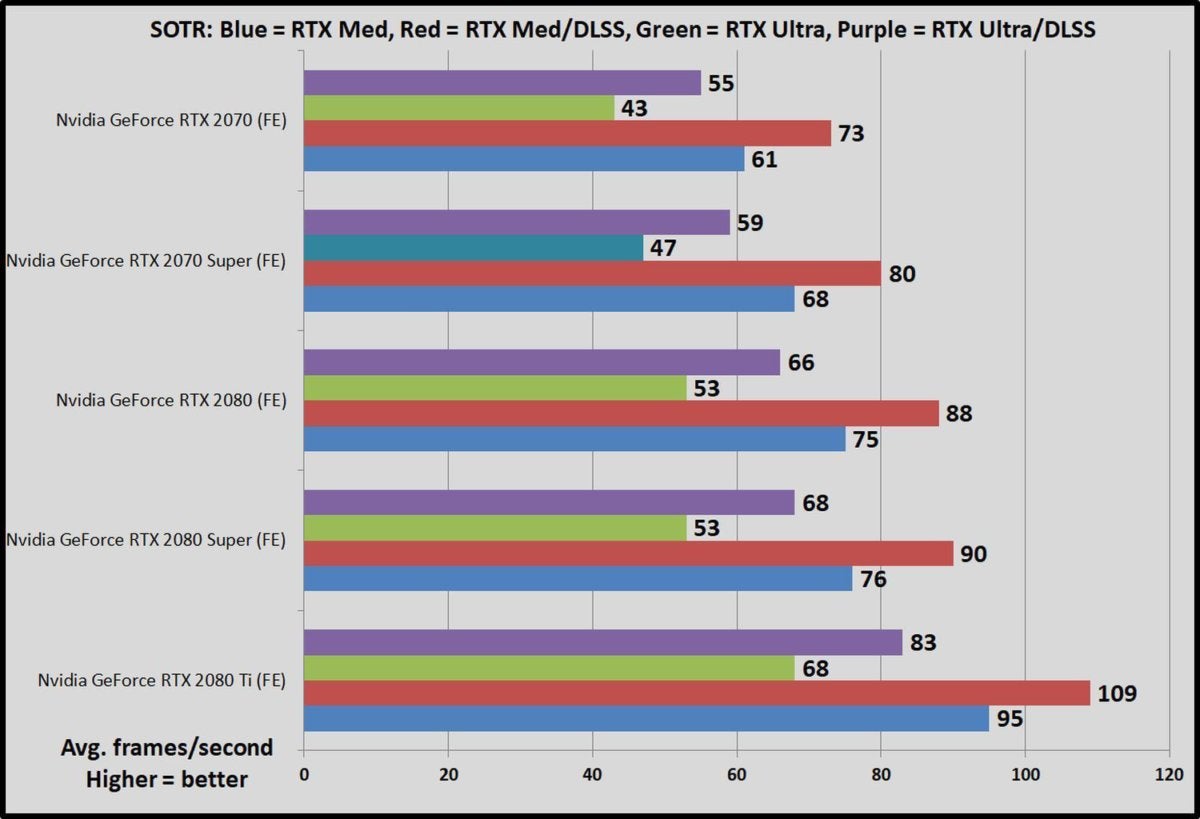 We tested ray tracing performance with RTX Shadows set to both Medium and Ultra settings, and DLSS on and off for each, using the game's built-in benchmark. Resolution was set to 2560×1440 for all runs. Radeon cards lack dedicated ray tracing hardware and cannot enable these options, so we didn't benchmark any of AMD's offerings.
The RTX 2080 Super doesn't provide much of a boost over the vanilla RTX 2080, but it is noticeably faster than the RTX 2070 Super in real-time ray tracing performance.
Next page: Power draw, thermals, and synthetic benchmarks
Power draw, thermals, and synthetics
We also tested the GeForce RTX 2080 Super Founders Edition using 3DMark's highly respected Fire Strike synthetic benchmark. Fire Strike runs at 1080p, Fire Strike Extreme runs at 1440p, and Fire Strike Ultra runs at 4K resolution. All render the same scene, but with more intense graphical effects as you move up the scale, so that Extreme and Ultra flavors stress GPUs even more. We record the graphics score to eliminate variance from the CPU.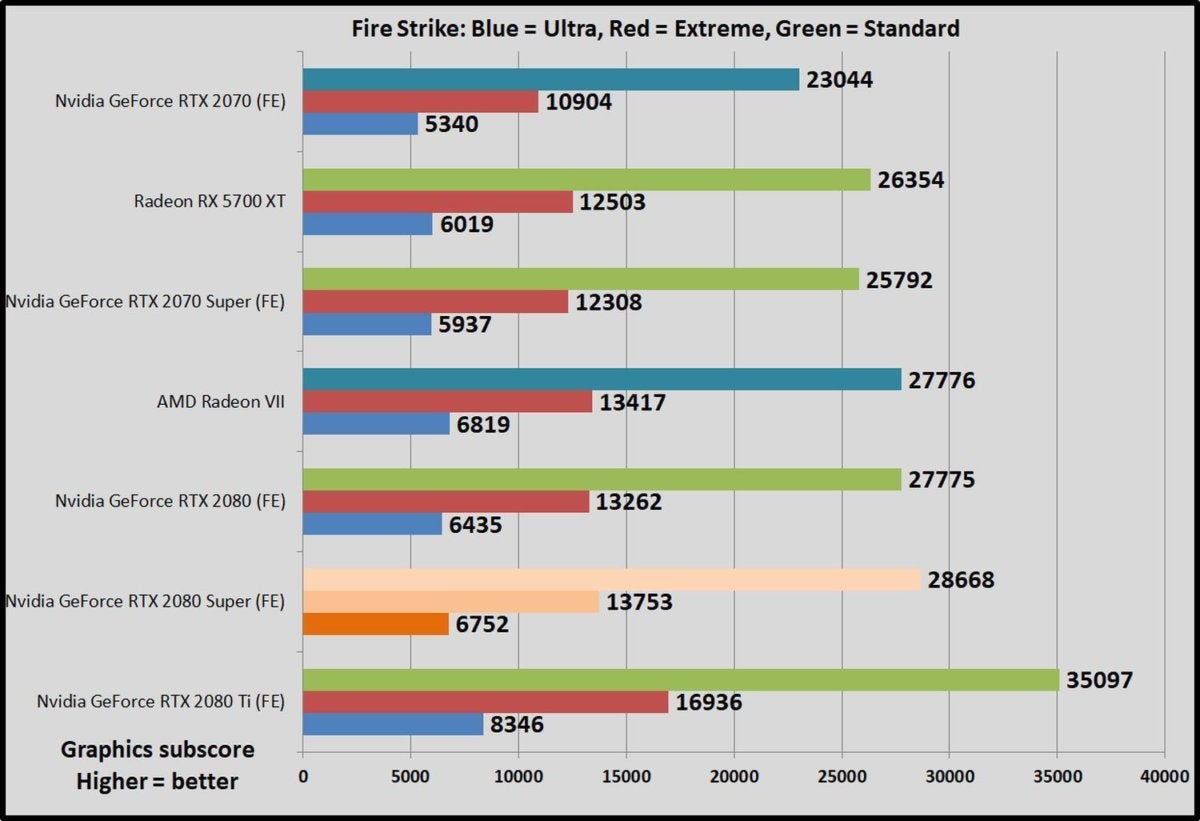 We test thermals by leaving either AMD's Wattman (for Radeon GPUs) or EVGA's Precision X1 (for GeForce GPUs) open during the F1 2018 five-lap power draw test, noting the highest maximum temperature at the end.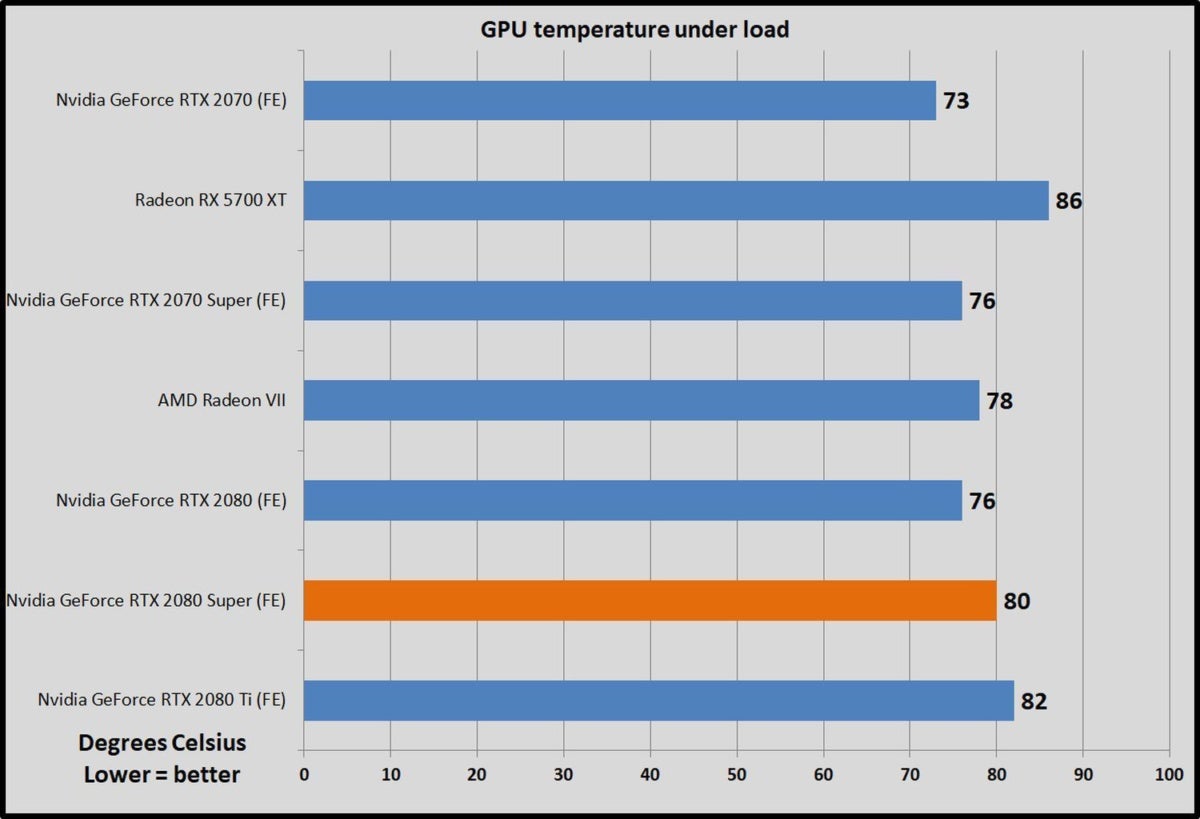 We test power draw by looping the F1 2018 benchmark for about 20 minutes after we've benchmarked everything else, and noting the highest reading on our Watts Up Pro meter. The initial part of the race, where all competing cars are onscreen simultaneously, tends to be the most demanding portion.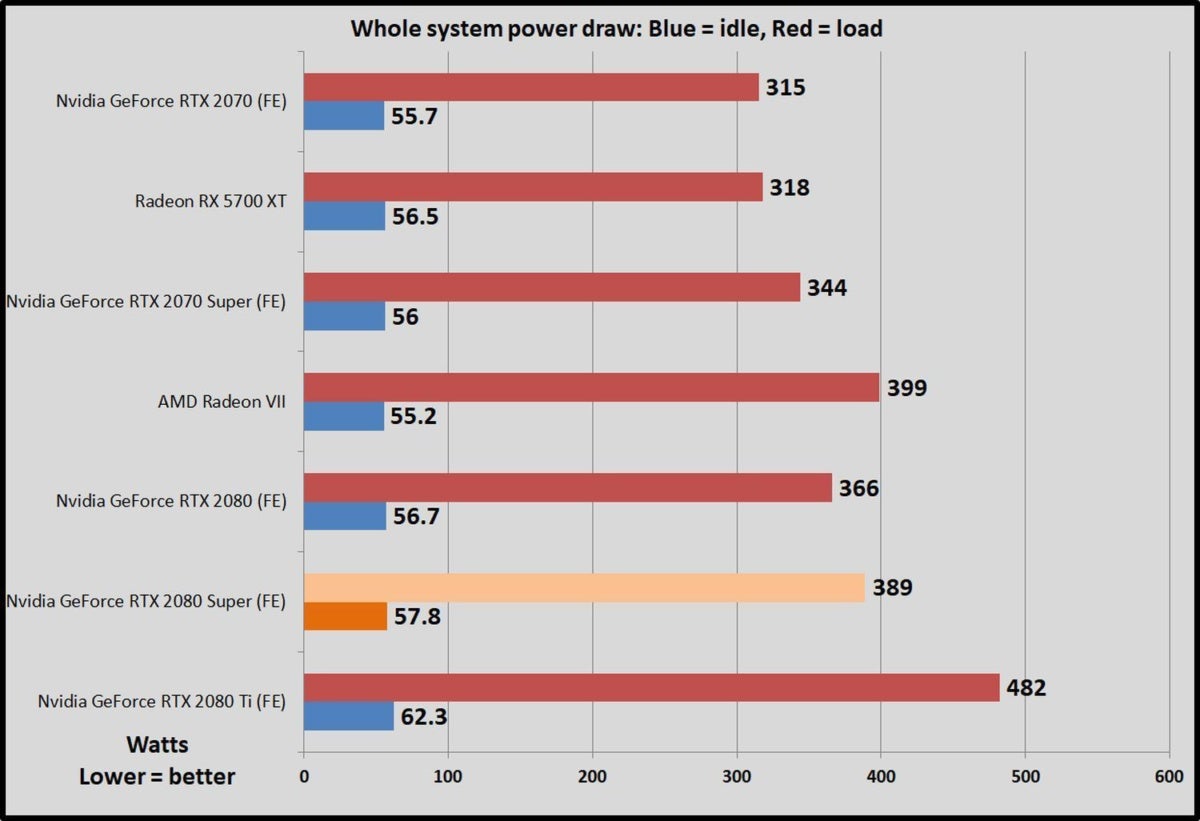 Unsurprisingly, the more powerful, faster-clocked RTX 2080 Super draws more power and runs hotter than its vanilla namesake. The dual-axial cooler design finds a comfortable middle ground: It's not quiet, but it's also not annoyingly loud. Custom cooler designs should bring the overall temperatures down quite a bit.
Next page: Should you buy the GeForce RTX 2080 Super?
Should you buy the GeForce RTX 2080 Super?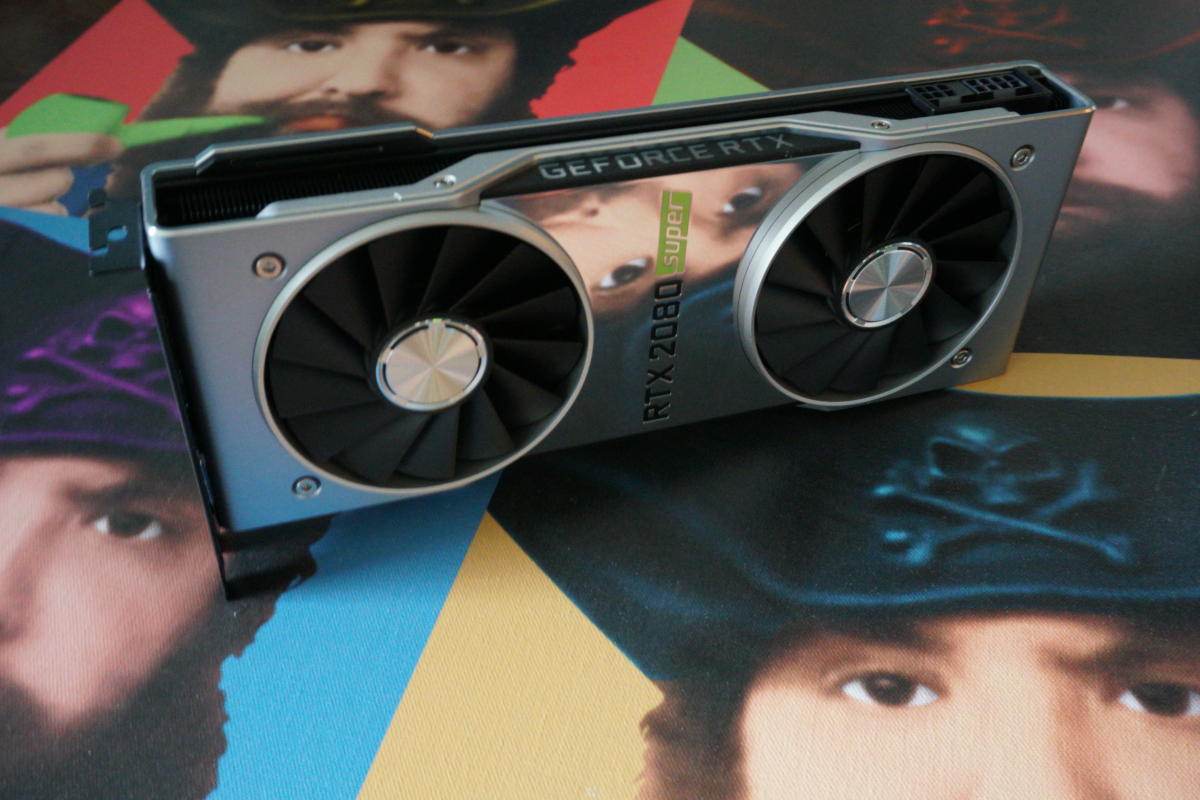 If you want to play games with as few visual compromises as possible at 4K resolution, or at high refresh rates at 1440p resolution, and can't justify spending four figures on a monstrous GeForce RTX 2080 Ti, the $700 GeForce RTX 2080 Super Founders Edition is worth considering.
$200 cheaper, just a little slower
GeForce RTX 2070 Super Founders Edition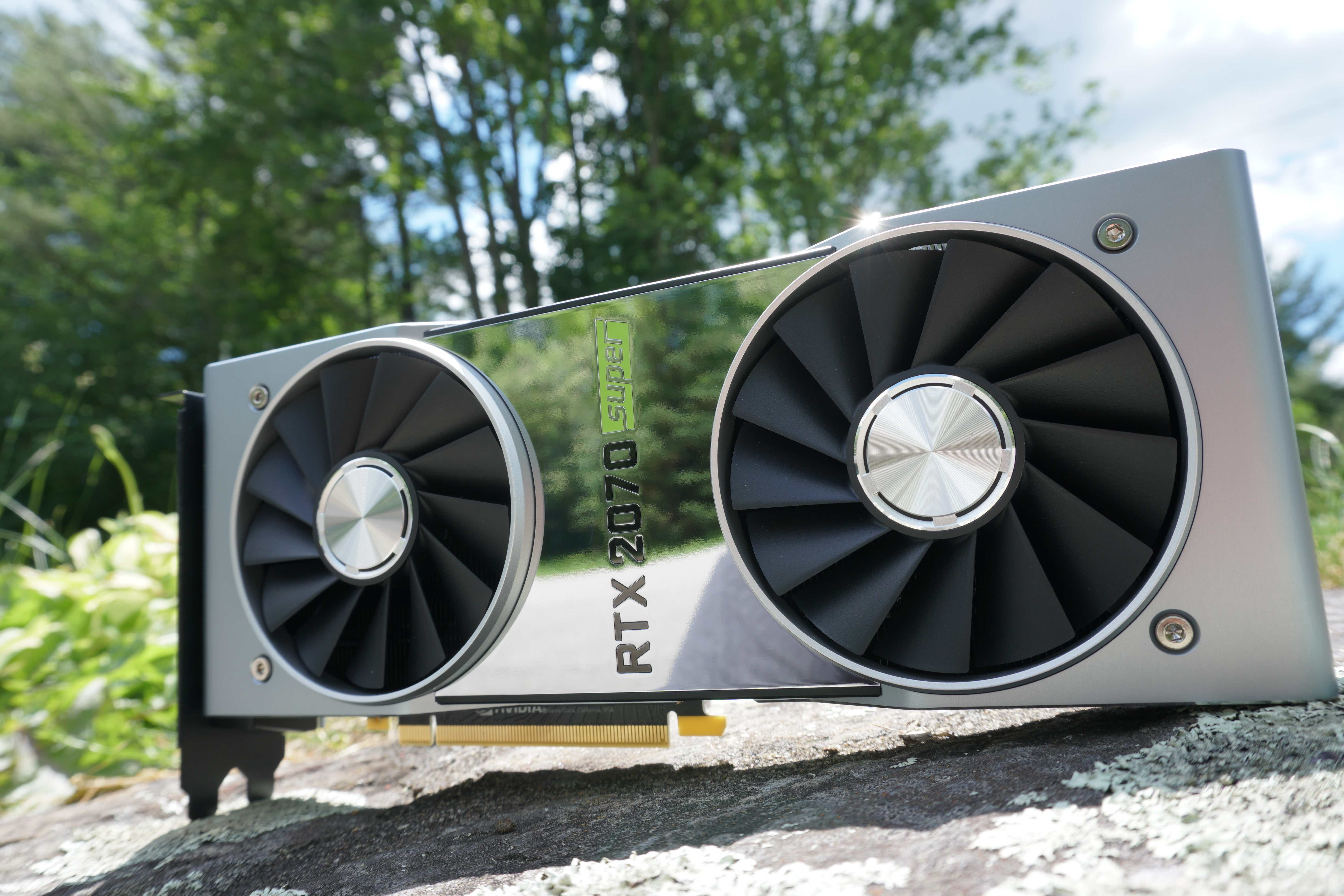 The $500 GeForce RTX 2070 Super might be a better value option, though. It's $200 cheaper, but only about 12 percent slower. That's nothing to sneeze at, but crucially, spending that extra $200 on the GeForce RTX 2080 Super doesn't enable any new experiences. Both graphics cards are great for 4K/60 if you shift some visual options down from Ultra, and both graphics cards excel at fast, no-compromises 1440p gaming. The pricier card just performs those tasks a little bit faster. That extra oomph makes the RTX 2080 Super a better option for 4K gaming if you can spare the extra cash, though.
Nvidia's need to compete against AMD's impressive Radeon RX 5700 series in the $350 to $500 price range puts the RTX 2080 Super in a tough spot. There was a noticeable performance gap between the original $500 RTX 2070 and $700 RTX 2080 that gave the latter room to shine with a unique performance proposition. Now, the 2070 Super is slightly slower than the original 2080, and the 2080 Super is slightly faster. The rejiggered lineup is good for gamers on a (high) budget but does no favors for the Super-fied TU104 flagship.
The somewhat lackluster RTX 2080 Super update cements the GeForce RTX 2080 Ti's position at the top of the GeForce product stack. Nvidia's flagship GPU is expensive, but it's your only option for 4K/60 gaming with few if any visual compromises, or high refresh-rate 4K gaming if you don't mind keeping graphics settings at high. It's a monster, and the RTX 2080 Super can't come close to touching its performance.
Don't buy the original RTX 2070 or 2080 at this point unless you find them at super-steep discounts.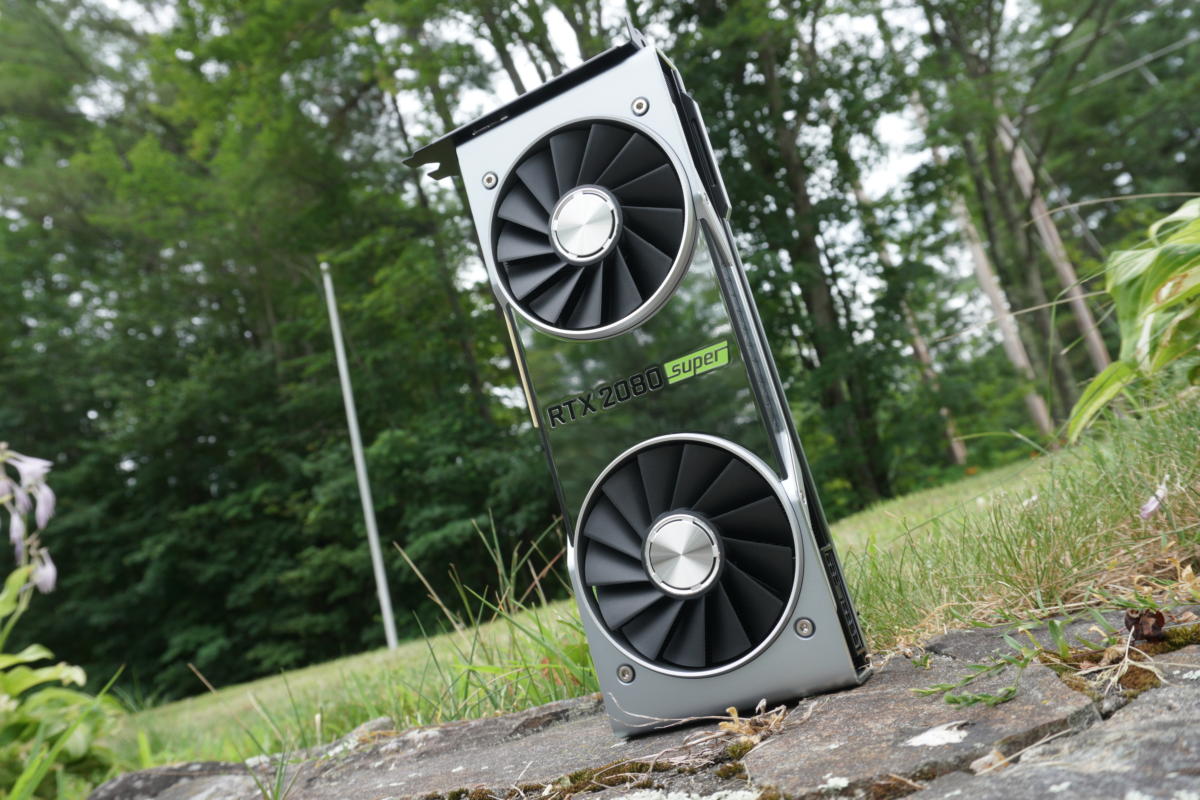 Bottom line: The $700 GeForce RTX 2080 Super Founders Edition is a great graphics card, but it isn't a home run like Nvidia's lower-priced Super options, despite being the second most powerful consumer GPU ever released. Notably, AMD offers no competition in this price range, which may have played into Nvidia's decision not to bump the RTX 2080 Super up to a cut-down version of the RTX 2080 Ti's GPU for a bigger performance leap. But with this release, Nvidia's enthusiast lineup is locked in for the rest of the year. AMD's new RDNA graphics architecture has plenty of room to expand beyond the RX 5700 into more potent variants.
Did Nvidia just leave the door open for AMD to reclaim victory over an enthusiast-class GeForce GPU for the first time in a long time with the RTX 2080 Super's mild upgrade? The rest of 2019 could be interesting indeed for graphics card nerds.
Best Prices Today: GeForce RTX 2080 Super Founders Edition