At a Glance
Expert's Rating
Pros
Excellent gaming performance
Cooler and quieter than reference designs
Trixx Boost software uses upscaling for great FPS gains
Dual-BIOS for performance or acoustic focus
PCIe 4.0 compatible
Cons
Plastic shroud
No dedicated ray tracing hardware
Trixx Boost feature not available at launch
Our Verdict
The Radeon RX 5700 already provided stunning value for 1440p gamers. Sapphire's custom Pulse RX 5700 builds atop that for just $9 more, and pushes performance even further with its excellent Trixx Boost upscaling.
Best Prices Today: Pulse Radeon RX 5700
AMD promised that custom Radeon RX 5700 graphics cards would arrive in mid-August, and as of Monday, they're here. The wait was worth it.
Sapphire's kicking things off with its budget-friendly Pulse lineup. Like its predecessors, it offers some nice features and solid cooler designs at prices that won't break the bank. But one of Sapphire's most intriguing additions has nothing to do with hardware. We're highly impressed by the new performance-enhancing, resolution-tweaking "Trixx Boost" feature in the company's Trixx software suite, which leverages AMD's Radeon Image Sharpening technology to great effect for everyday gamers.
Both the $359 Sapphire Pulse Radeon RX 5700 and $409 Sapphire Pulse RX 5700 XT go on sale today, with each commanding a mere nine dollar price premium over AMD's Radeon RX 5700 series reference models. Now that's some killer value. This is no paper launch either; Sapphire representatives told me that the cards will be "on shelf in good quantity" on August 12.
We received the more affordable Sapphire Pulse RX 5700 for testing, and to give away the ending, it delivers a whole lot of bang for your buck. This is a superb 1440p gaming option. Let's take it for a whirl!
Sapphire Pulse RX 5700: Specs and features
The Pulse is powered by the same core GPU found in AMD's reference models, Check out our original Radeon RX 5700 and 5700 XT review for a deep dive on its technical details, like ROP and transistor counts, and an overview of AMD's new RDNA graphics architecture.
Here's a more practical breakdown of the Sapphire Pulse RX 5700 and 5700 XT's capabilities for gamers: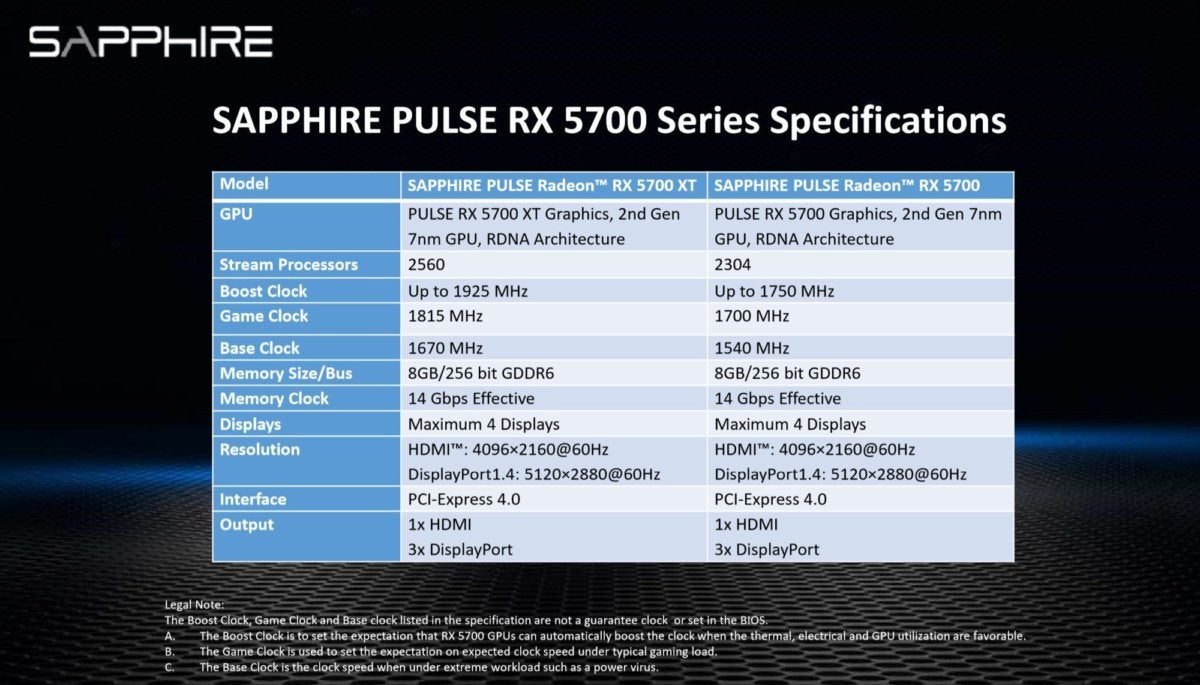 Mentioned in this article
AMD Ryzen 5 3600X 6-Core, 12-Thread CPU
Price When Reviewed:
$249.00
The card includes niceties new to the Radeon RX 5700 series, including 8GB of blazing-fast GDDR6 memory over a 256-bit bus, and cutting-edge PCIe 4.0 functionality if you're running one of AMD's excellent Ryzen 3000 processors in an X570 motherboard. PCIe 4.0 speeds are better suited to creative workloads, though.
For gamers, Sapphire bolstered the Pulse cards with mild overclocks. (The company's no doubt saving beefier tunings for more capable Nitro-branded versions of the RX 5700 in the future.) The Pulse RX 5700 offers Base and Game Clock speeds of 1,540MHz and 1,700MHz, respectively, compared to the slower 1,465MHz and 1,625MHz reference speeds.
"Game clock" is new AMD terminology for the expected clock speeds you'll see in gaming workloads, and equivalent to Nvidia's Boost clock ratings. AMD's Boost clock speeds are the maximum peak speed achievable in brief bursts, typically in non-gaming scenarios. We confirmed Sapphire's card indeed hovered between 1,690MHz and 1,700MHz in gaming benchmarks.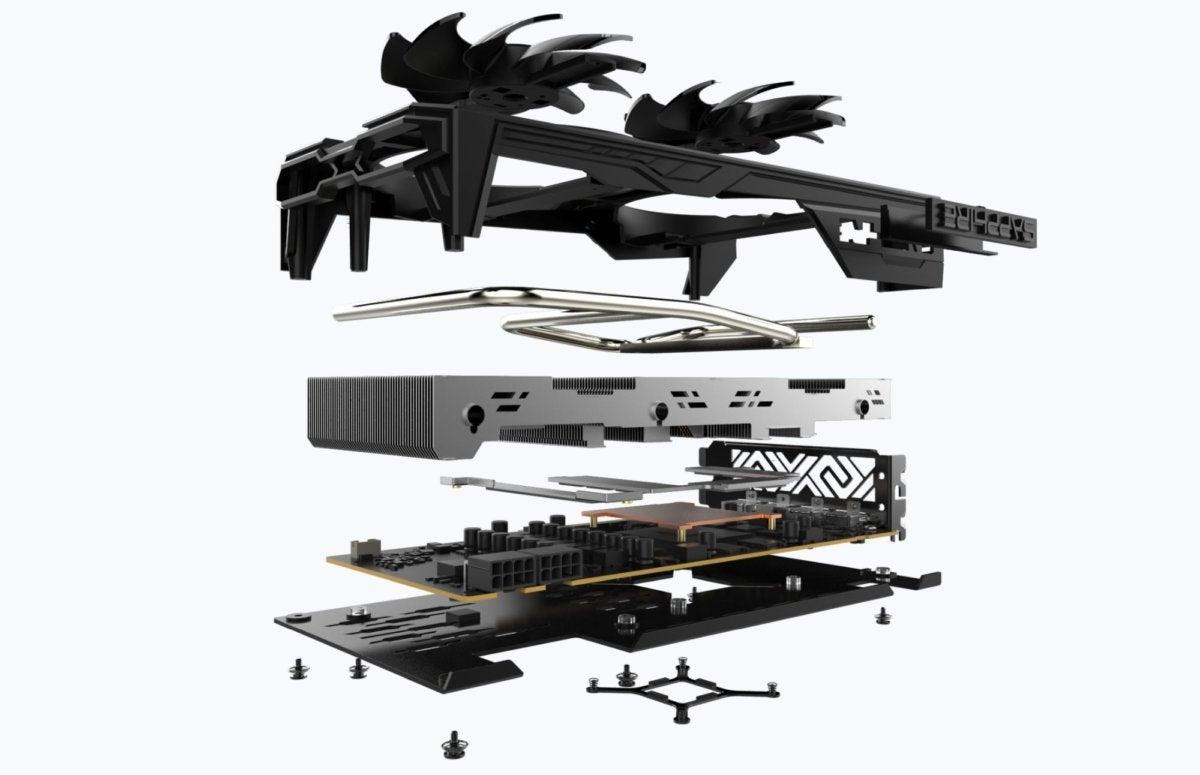 The real value lays in the card design. While the first wave of Radeon RX 5700 offerings all stuck to the reference model's ho-hum (but vastly improved) blower-style cooling, which uses a single fan to expel hot air out of the back of your system, the Sapphire Pulse RX 5700 deploys a more common dual-axial fan design. Dual-axial designs run cooler and quieter than blower-style options, but dump the hot air back into your system, relying on your case fans to circulate the heat out.
Sapphire equipped the Pulse Radeon RX 5700 with larger-than-usual 95mm fans atop a full-length heatsink. Larger fans can run quieter than standard-sized ones, but they push the width of the card about an inch past the norm. Be mindful of that if you're hoping to cram the Pulse into a space-constrained mini-ITX case. It shouldn't be an issue in typical tower cases.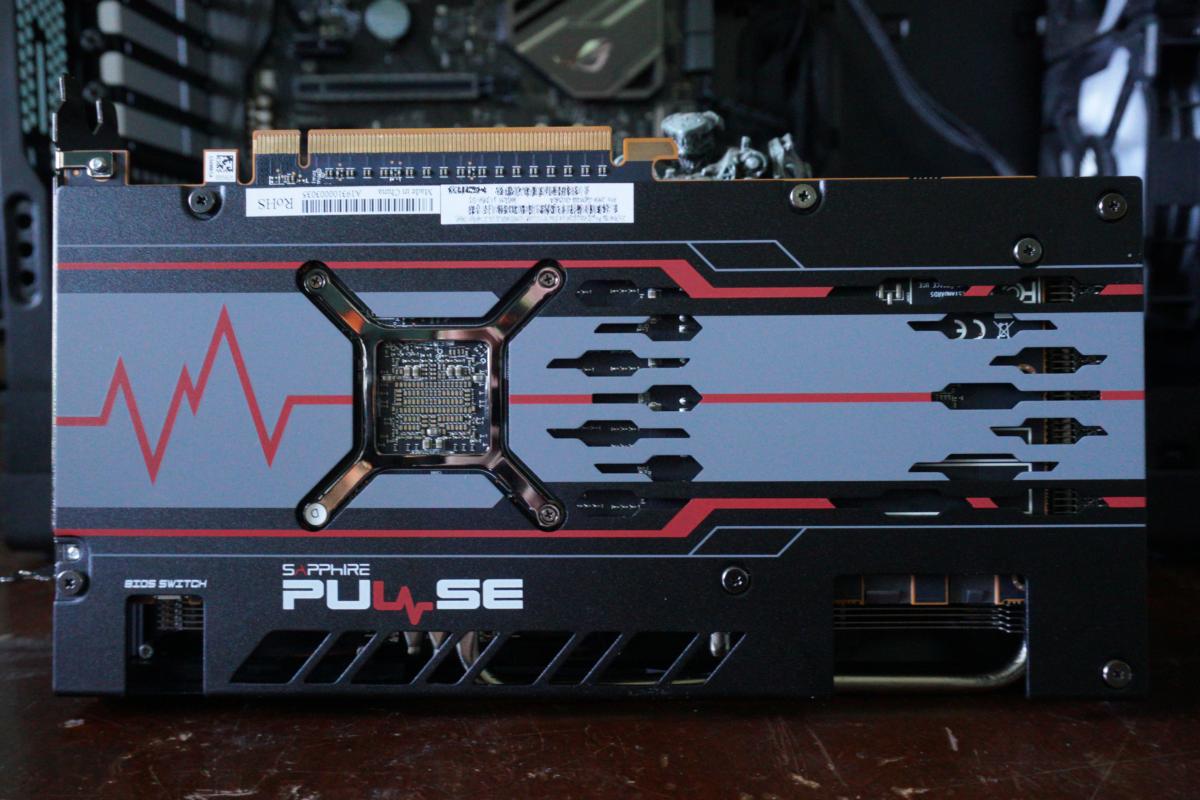 The Sapphire Pulse makes much less noise than RX 5700 reference cards. You can reduce the volume even further, though, by activating the card's secondary "Silent" profile via a physical dual-BIOS switch on the outer edge of the card. Doing so makes the card run much quieter but drops the GPU speeds to 1,465MHz Base / 1,625MHz Game clocks. The (very) slight drop in performance might be worth the acoustic improvement to your ears, though.
The focus on thermals continues under the hood. The Sapphire Pulse RX 5700 packs dedicated VRM and memory cooling to keep temperatures low, with a conductivity pad over the VRMs transferring heat to the graphics card's full-length metal backplate—a nice extra to find on a card that costs just $9 more than reference designs. The 12-layer PCB includes 7+1+2 phase digital power and fuse protection against power surges, while the plastic shroud includes the Sapphire name in glowing red letters. A metal or firmer plastic shroud would be welcome, but again: Sapphire's only charging $9 more for all these extras, and the card looks just fine in your case.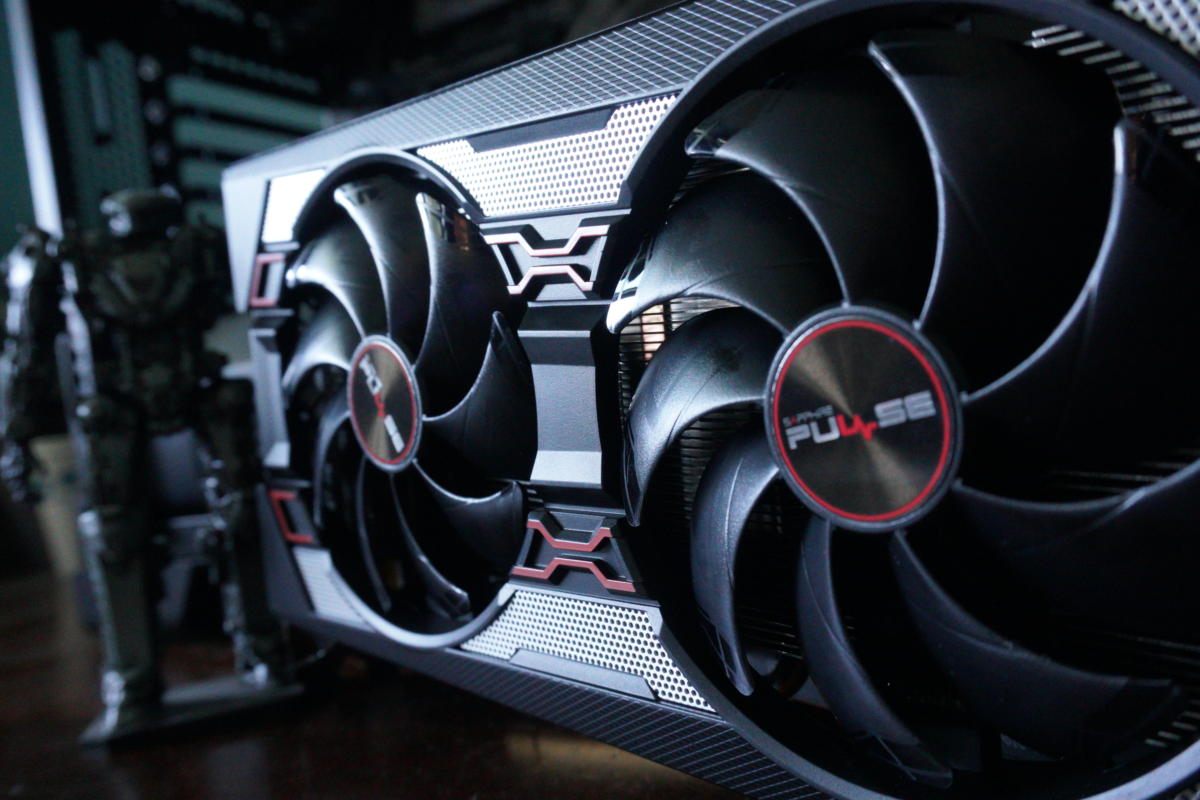 Connection-wise, the Sapphire Pulse RX 5700 packs a single HDMI port and a trio of DisplayPorts.
Soon, Sapphire will release an updated version of its Trixx overclocking and monitoring software that includes a new feature dubbed Trixx Boost. Boost creates custom display resolutions slightly under the standard monitor resolution for a noticeable performance boost, then uses AMD's new Radeon Image Sharpening to minimize the visual impact. It's great—but we'll dive into that in a separate section after the standard performance benchmarks.
Next page: Our testing setup, gaming benchmarks begin
Our test system
Our dedicated graphics card test system is packed with some of the fastest complementary components available, to put any potential performance bottlenecks squarely on the GPU. Most of the hardware was provided by the manufacturers, but we purchased the cooler and storage ourselves.
Mentioned in this article
Radeon RX 5700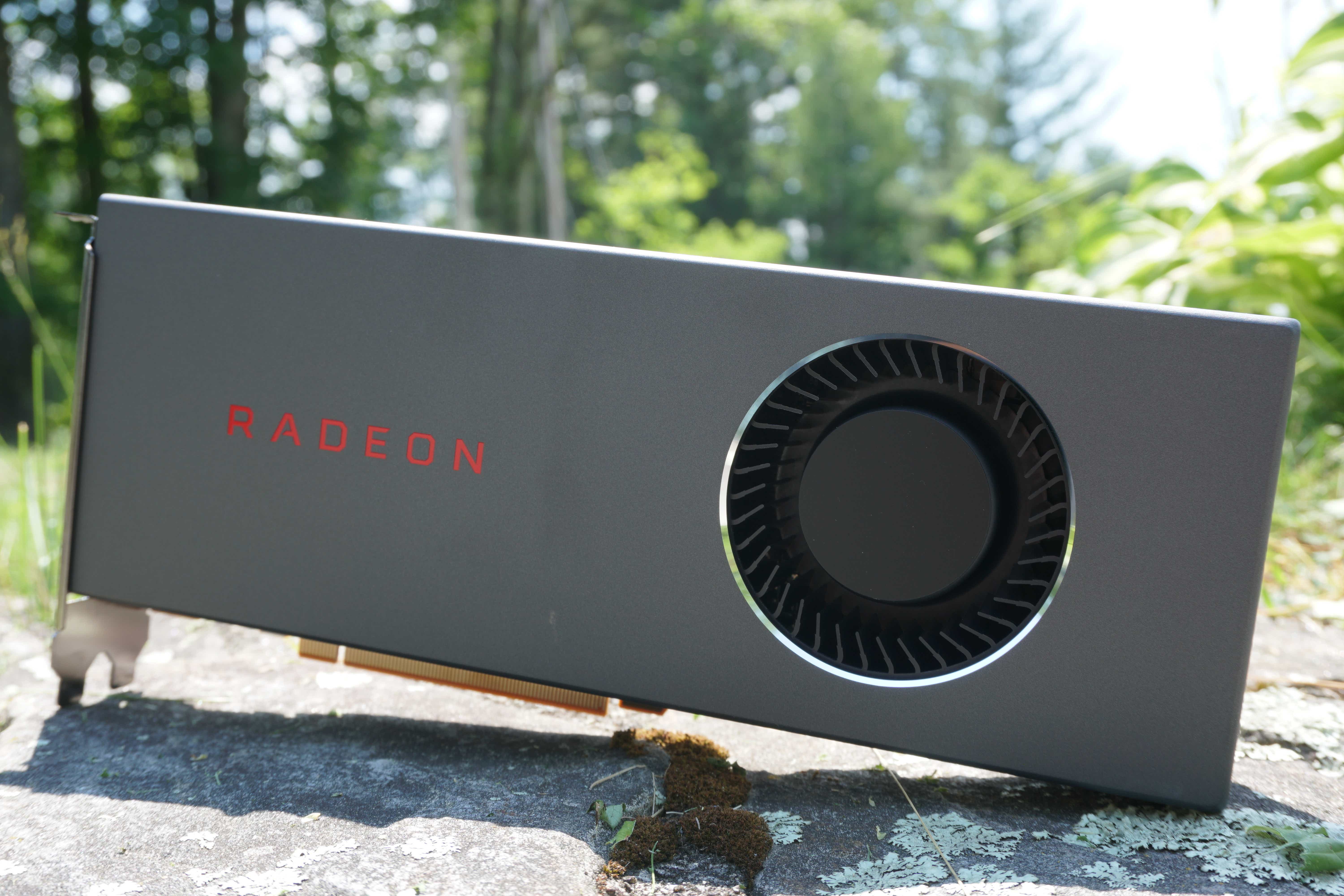 Price When Reviewed:
$350
We're comparing the $359 Sapphire Pulse RX 5700 against AMD's $350 Radeon RX 5700 and $400 Radeon RX 5700 XT reference models, as well as Nvidia's $350 GeForce RTX 2060, $400 GeForce RTX 2060 Super, and $500 GeForce RTX 2070 Super. If you want to see how AMD's new GPUs stack up against a wider range of cards, be sure to check out our original Radeon RX 5700 series review. (Spoiler: They're great options, and the $350 Radeon RX 5700 won an Editors' Choice award.)
All prices cited are launch MSRP; you can sometimes find these cards cheaper on the streets.
Each game is tested using its in-game benchmark at the highest possible graphics presets, with VSync, frame rate caps, and all GPU vendor-specific technologies—like AMD TressFX, Nvidia GameWorks options, and FreeSync/G-Sync—disabled, and temporal anti-aliasing (TAA) enabled to push these high-end cards to their limits. If anything differs from that, we'll mention it. We run each benchmark at least three times and list the average result for each test.
Because the Sapphire Pulse is just a slightly faster Radeon RX 5700 at its core, we're going to skip our usual commentary after each benchmark and let the testing speak for itself, aside from in the Trixx Boost and thermals sections.
Gaming performance benchmarks
Division 2
Let's start with the latest games. The Division 2 is one of the best looter-shooters ever created, and the luscious visuals generated by Ubisoft's Snowdrop engine make it even easier to get lost in post-apocalyptic Washington D.C. The built-in benchmark cycles through four "zones" to test an array of environments, and we test with the DirectX 12 renderer enabled. It provides better performance across-the-board than the DX11 renderer, but requires Windows 10.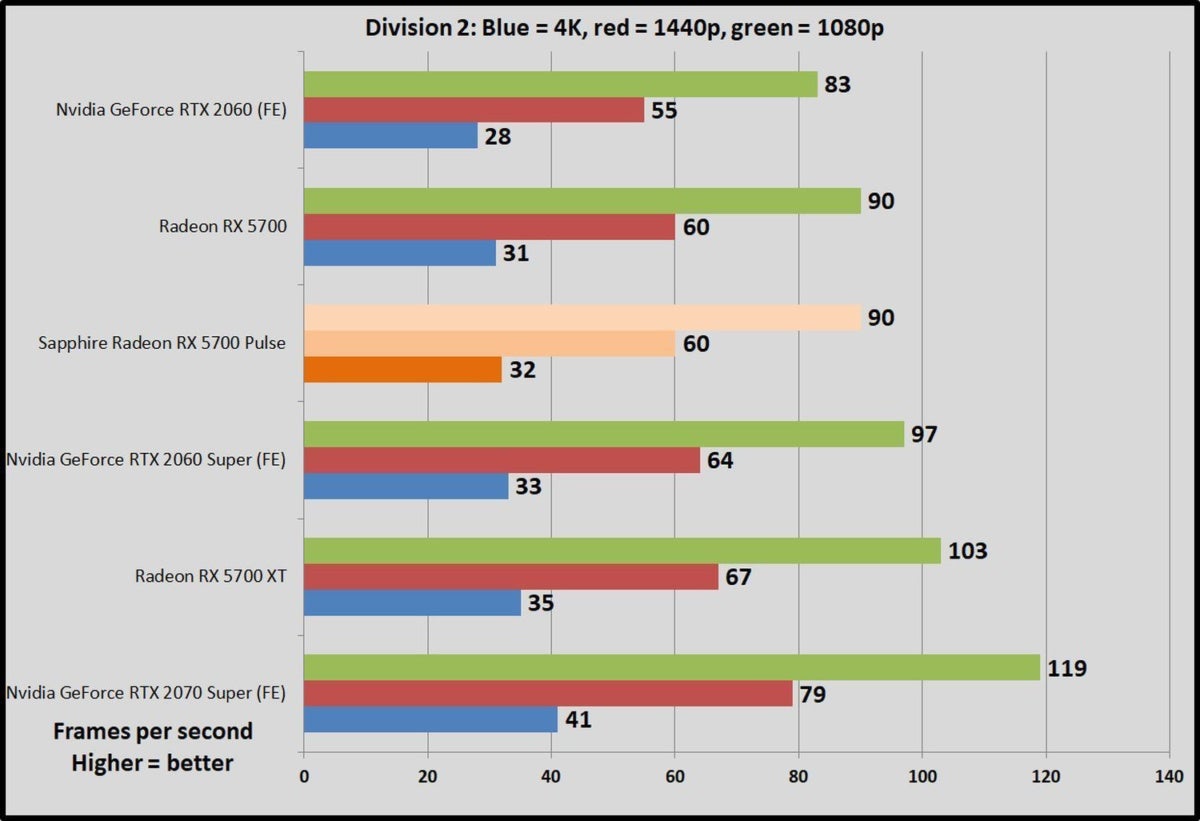 Far Cry: New Dawn
Another Ubisoft title, Far Cry: New Dawn drags Far Cry 5's wonderful gameplay into a post-apocalyptic future of its own, though this vision is a lot more bombastic—and pink—than The Division 2's bleak setting. The game runs on the latest version of the long-running Dunia engine, and it's slightly more strenuous than Far Cry 5's built-in benchmark.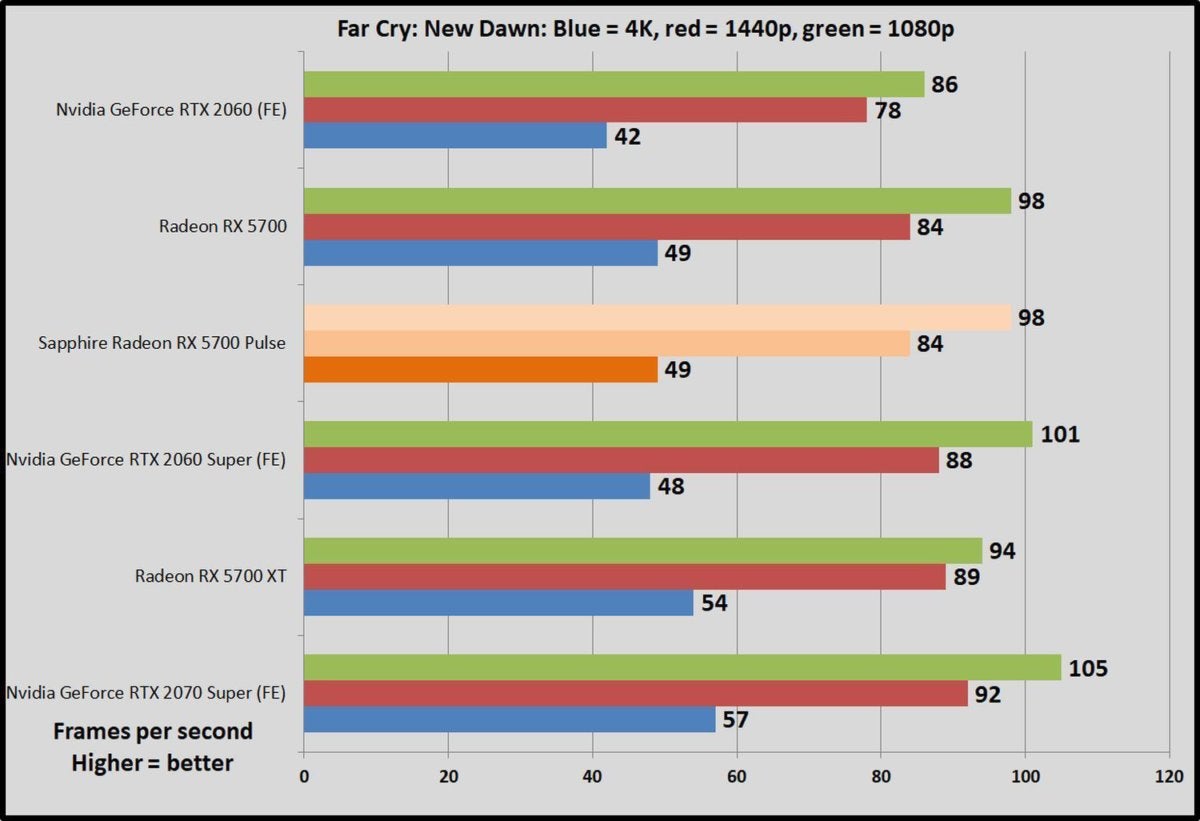 Strange Brigade
Strange Brigade ($50 on Humble) is a cooperative third-person shooter where a team of adventurers blasts through hordes of mythological enemies. It's a technological showcase, built around the next-gen Vulkan and DirectX 12 technologies and infused with features like HDR support and the ability to toggle asynchronous compute on and off. It uses Rebellion's custom Azure engine. We test the DX12 renderer with async compute off.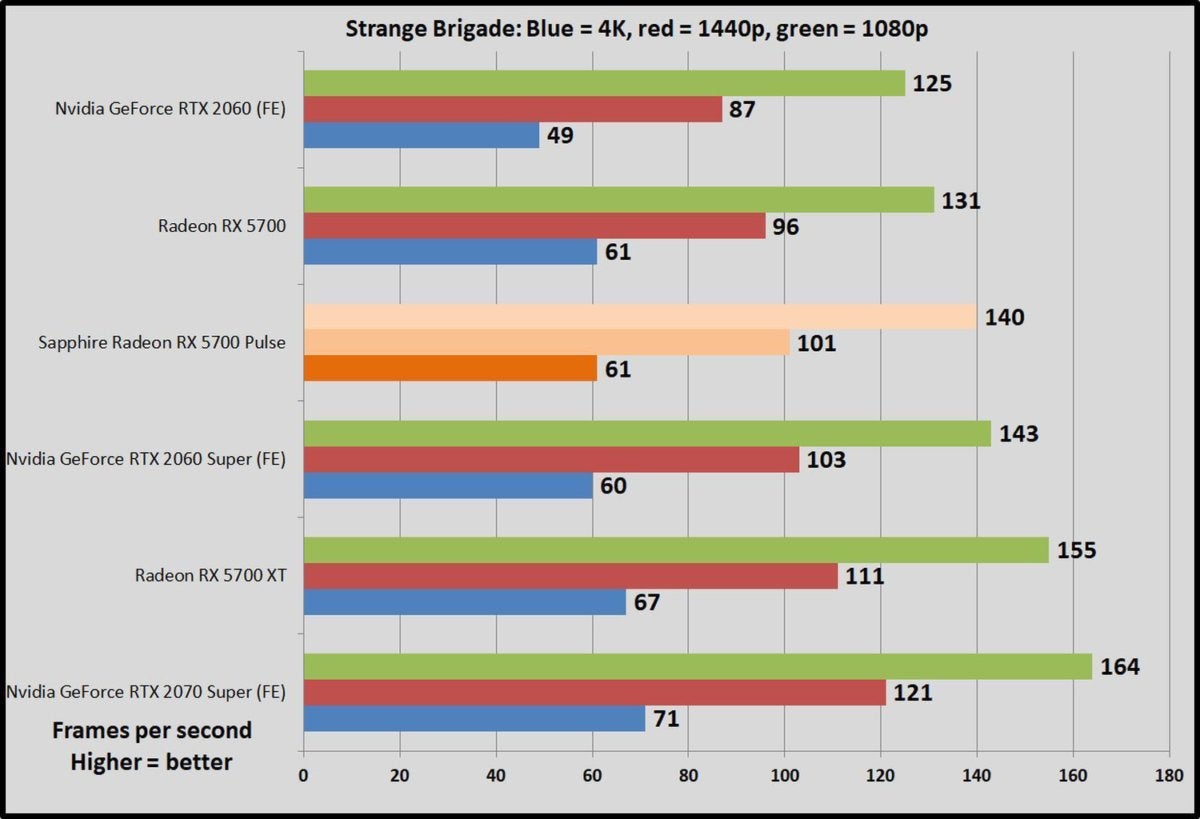 Next page: Gaming benchmarks continue
Shadow of the Tomb Raider
Shadow of the Tomb Raider ($60 on Humble) concludes the reboot trilogy, and it's utterly gorgeous. Square Enix optimized this game for DX12, and recommends DX11 only if you're using older hardware or Windows 7, so we test with that. Shadow of the Tomb Raider uses an enhanced version of the Foundation engine that also powered Rise of the Tomb Raider.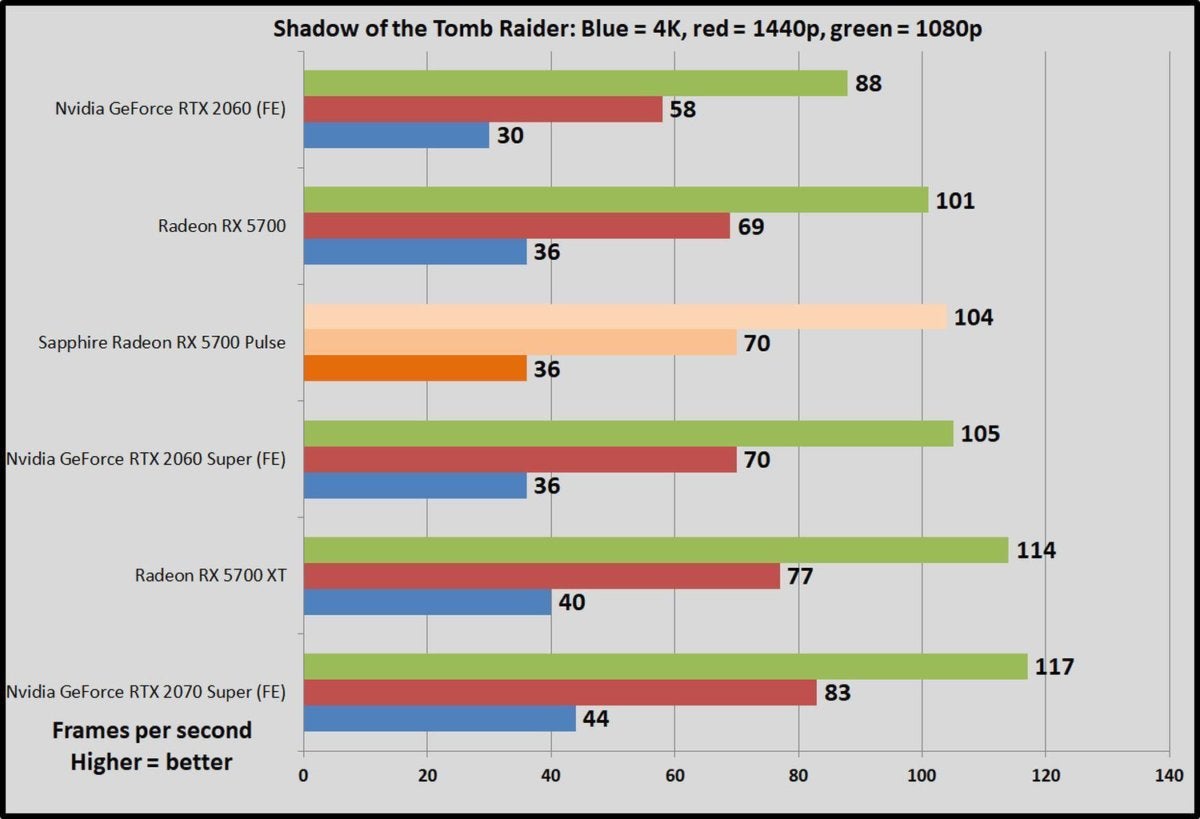 Ghost Recon Wildlands
Move over, Crysis. If you crank all the graphics options up to 11, like we do for these tests, Ghost Recon Wildlands ($50 on Humble) and its AnvilNext 2.0 engine absolutely melt GPUs, even with a sequel due later this year. It's by far the most strenuous game in our suite, even with newer stunners like Division 2 in the mix.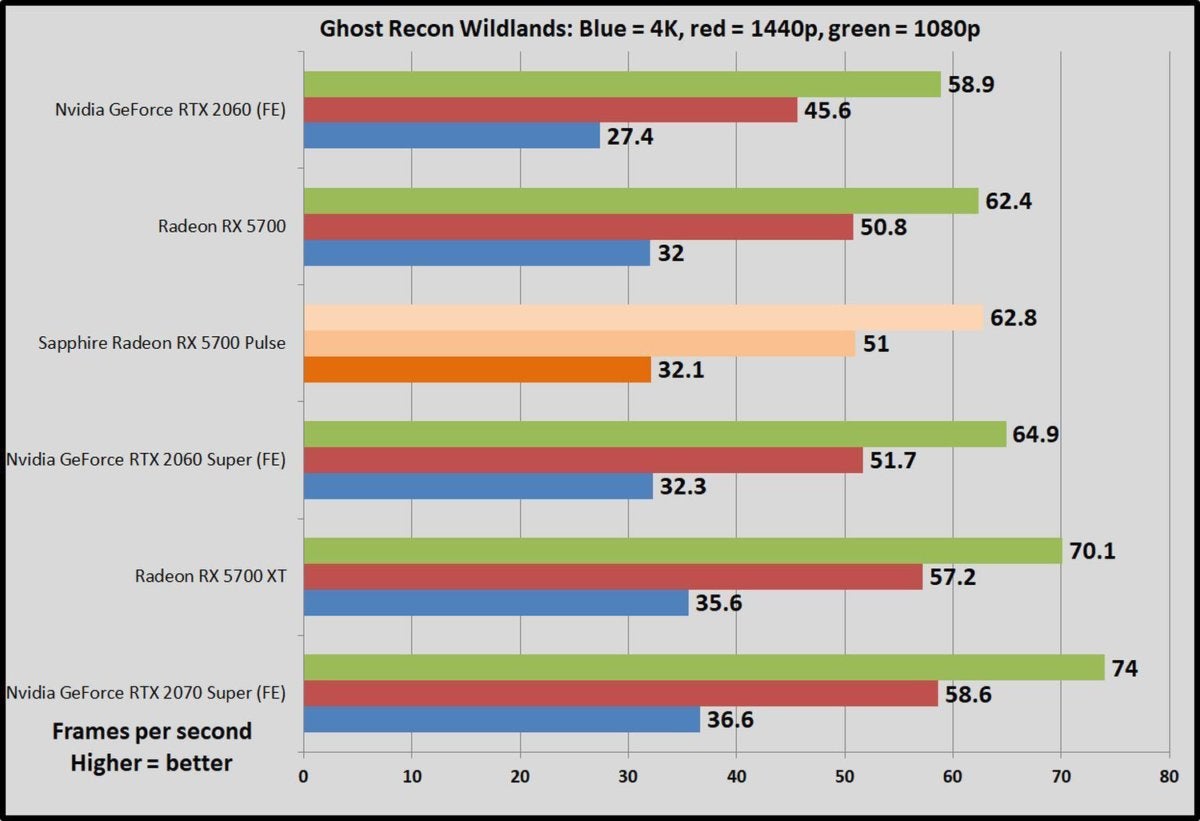 F1 2018
The latest in a long line of successful games, F1 2018 ($60 on Humble) is a gem to test, supplying a wide array of both graphical and benchmarking options—making it a much more reliable (and fun) option that the Forza series. It's built on the fourth version of Codemasters' buttery-smooth Ego game engine. We test two laps on the Australia course, with clear skies.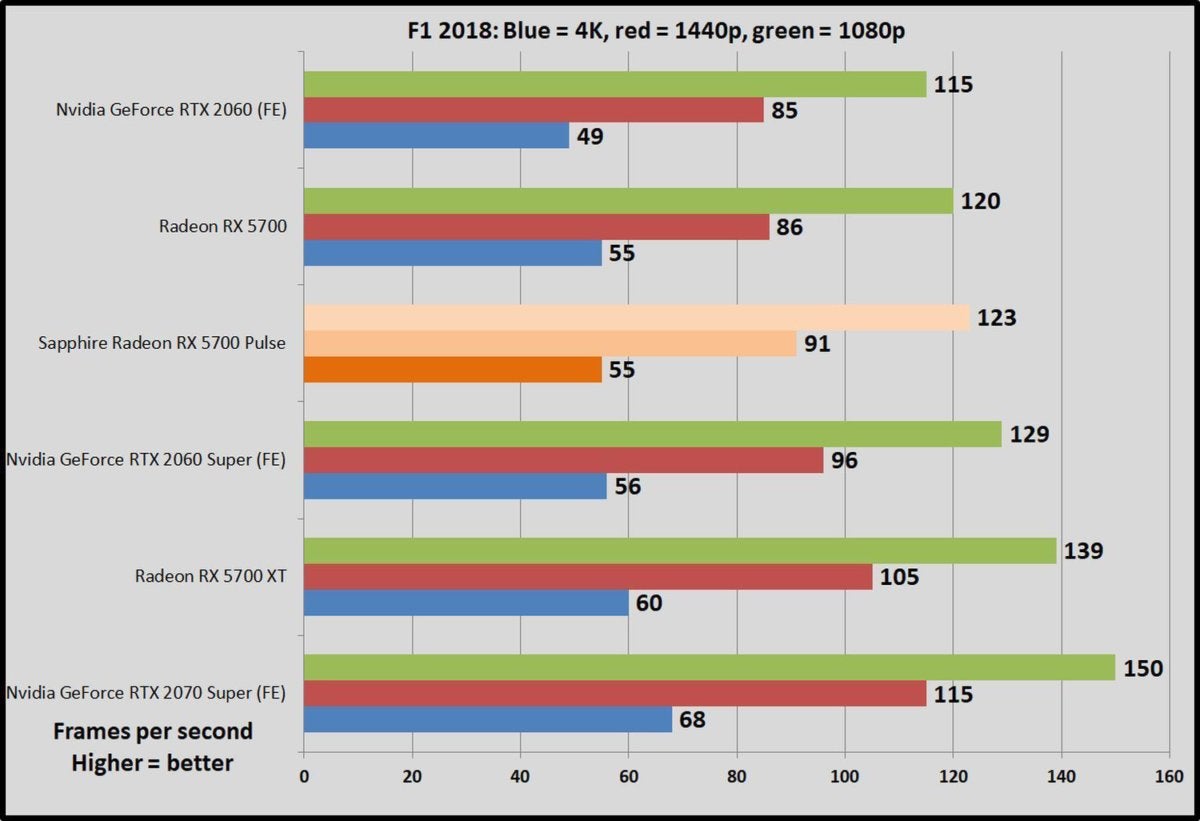 GTA V
We're going to wrap things up with a game that isn't really a visual barn-burner, but still tops the Steam charts day in and day out. We test Grand Theft Auto V ($30 on Humble) with all options turned to Very High, all Advanced Graphics options except extended shadows enabled, and FXAA. GTA V runs on the RAGE engine and has received substantial updates since its initial launch.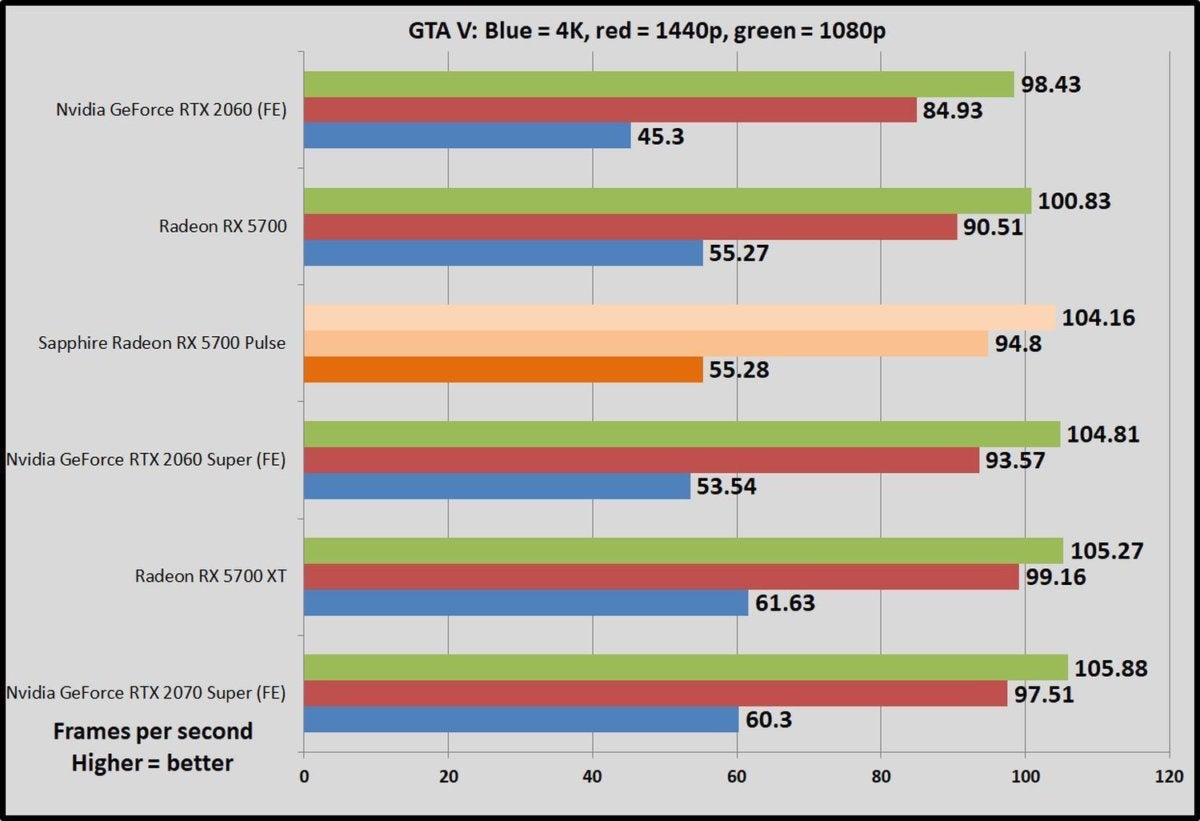 Next page: Trixx Boost tested
Trixx Boost: Slightly lower resolution, much faster performance
Sapphire's releasing an updated version of its Trixx overclocking and monitoring software to accompany their new generation of Radeon graphics cards, revolving around an awesome new feature dubbed "Trixx Boost." The new version of Trixx isn't expected to be available until early September, as Sapphire's putting the finishing touches on it, but the core Boost functionality was provided to reviewers for testing.
I love it.
Trixx Boost essentially creates new display resolutions that you can select in-game, slightly less pixel-packed than the most common gaming resolutions: 4K, 1440p, and 1080p. The small dip in overall resolution greatly enhances gaming frame rates. Sapphire's tool allows you to activate AMD's superb new Radeon Image Sharpening technology to restore what little visual fidelity is lost at virtually no performance impact. The final image is virtually indistinguishable from rendering at native resolution, but it runs at higher speeds.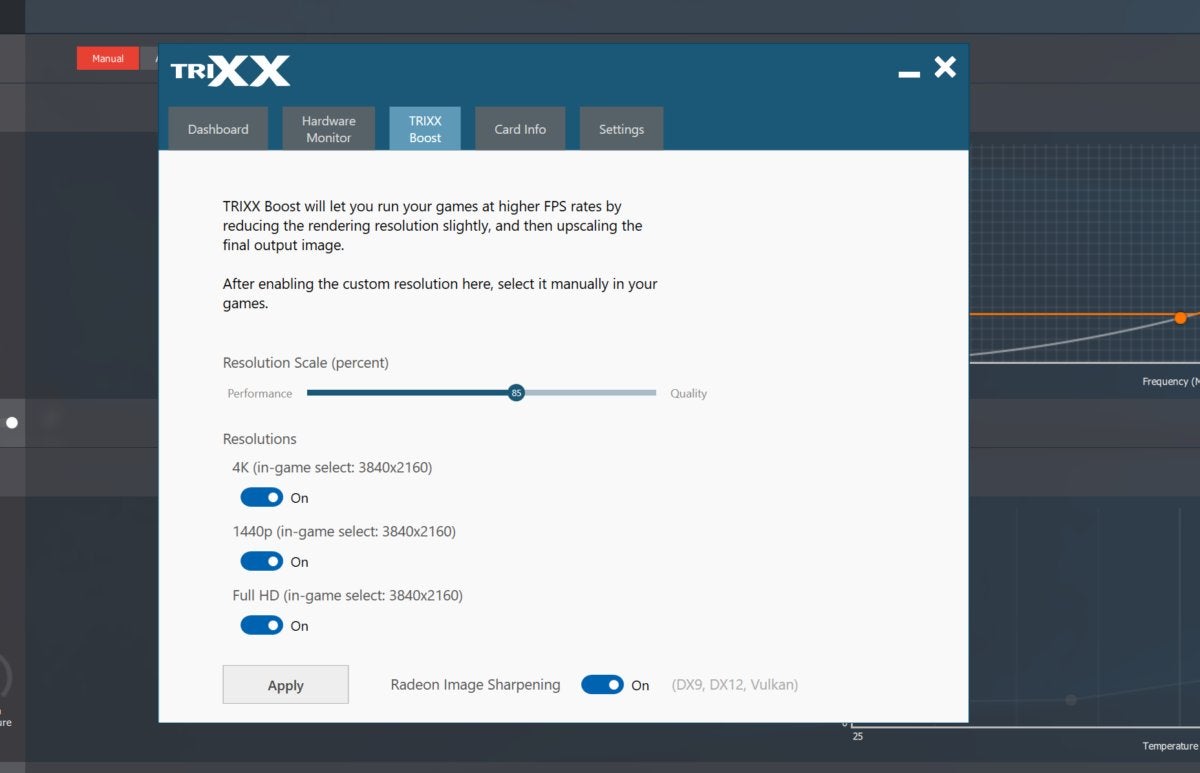 Sapphire says Trixx Boost should work with older GPUs as well, though only the Radeon RX 5700 series currently supports Radeon Image Sharpening. RIS also only works in DX9, DX12, and Vulkan games—crucially, DX11 (a.k.a. the most commonly used game renderer) isn't supported yet. Testing Trixx Boost in Far Cry: New Dawn, a DX11 game, shows next to no visual impact. Boost is the real star here; RIS is just the cherry on top when it's available.
Entering the Boost tab of Trixx reveals the tool's straightforward settings. You use a slider to determine at what percentage of the original resolution you want the Boost resolutions created. By default, it was set to 85 percent, which I used for testing. You then decide which common gaming resolutions you want Boost variants for—you could create just one for your most-used resolution or enable the whole 4K/1440p/1080p stack—and choose whether to enable Radeon Image Sharpening. Once you're done, click Apply. Your screen will flash and flicker for a few seconds while the Pulse GPU creates the new resolutions.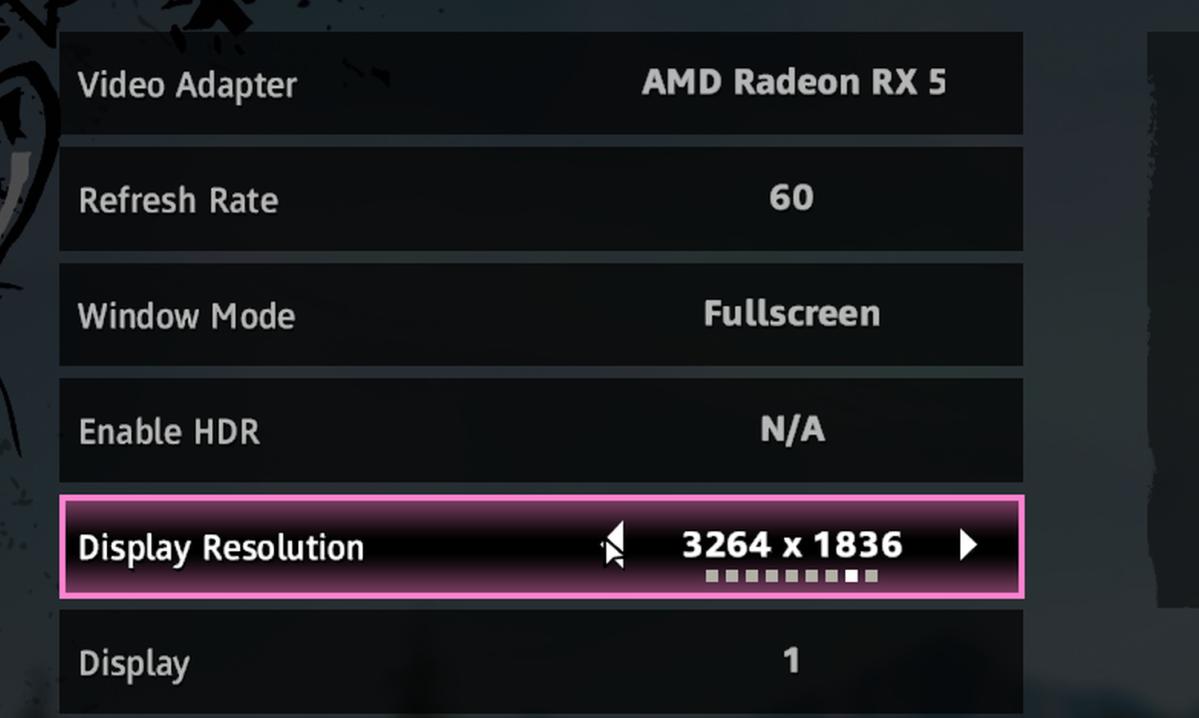 All that's left to do after that is to select the new Boost resolution manually in your games. As you can see in the image above, with Trixx Boost to 85 percent, it created a display resolution of 3264×1836 to use as an alternative to the standard 3840×2160 "4K" resolution. Both the standard resolutions as well as the Boost resolutions appear as options, so be sure to select the correct one to get Boost's advantages.
What an advantage it is. Here are the performance results running the following games at 1440p (the Radeon RX 5700's sweet spot) at standard 1440p resolution; at the Boost-created 2304×1296 resolution; and finally, at the Boost-created resolution with a mild overclock quickly created by AMD's Radeon Wattman tool applied, to show what's possible with under five minutes of menu tinkering. The core clock was boosted to 1,830MHz, and the memory clock to 930MHz.
Just look at these results!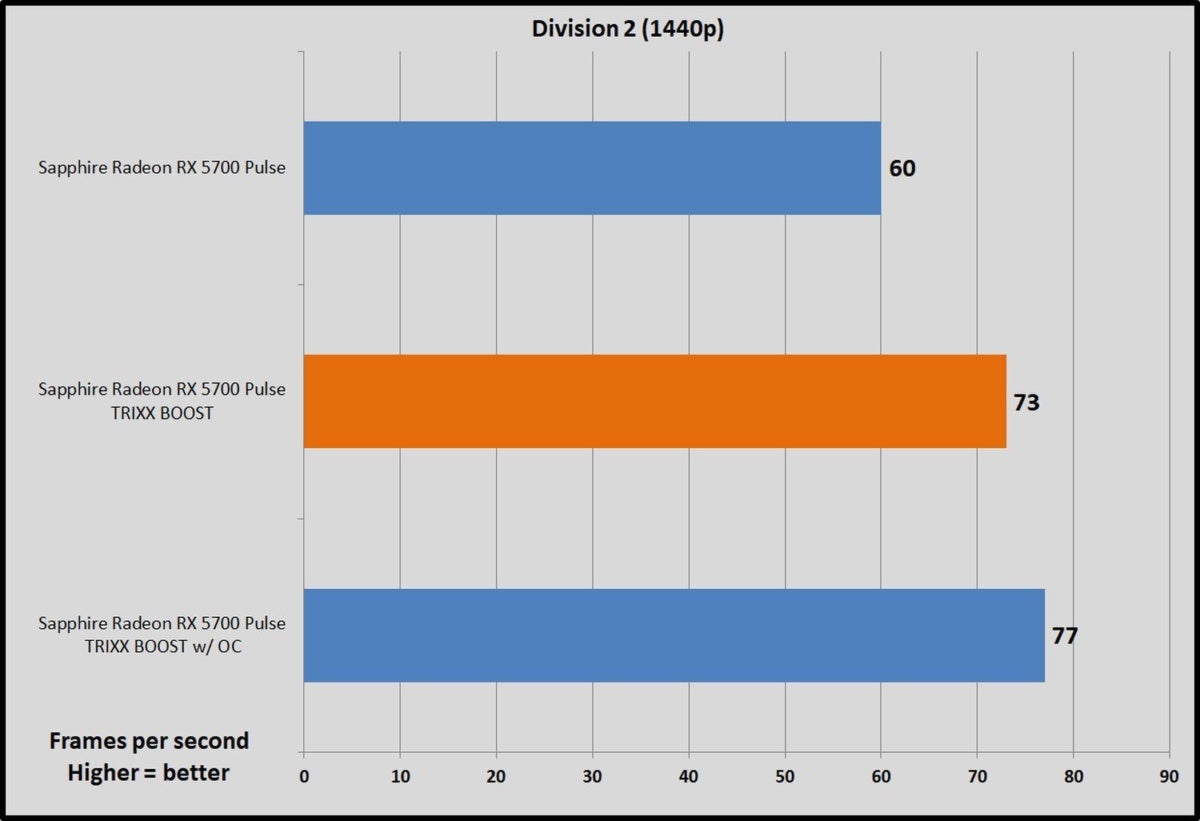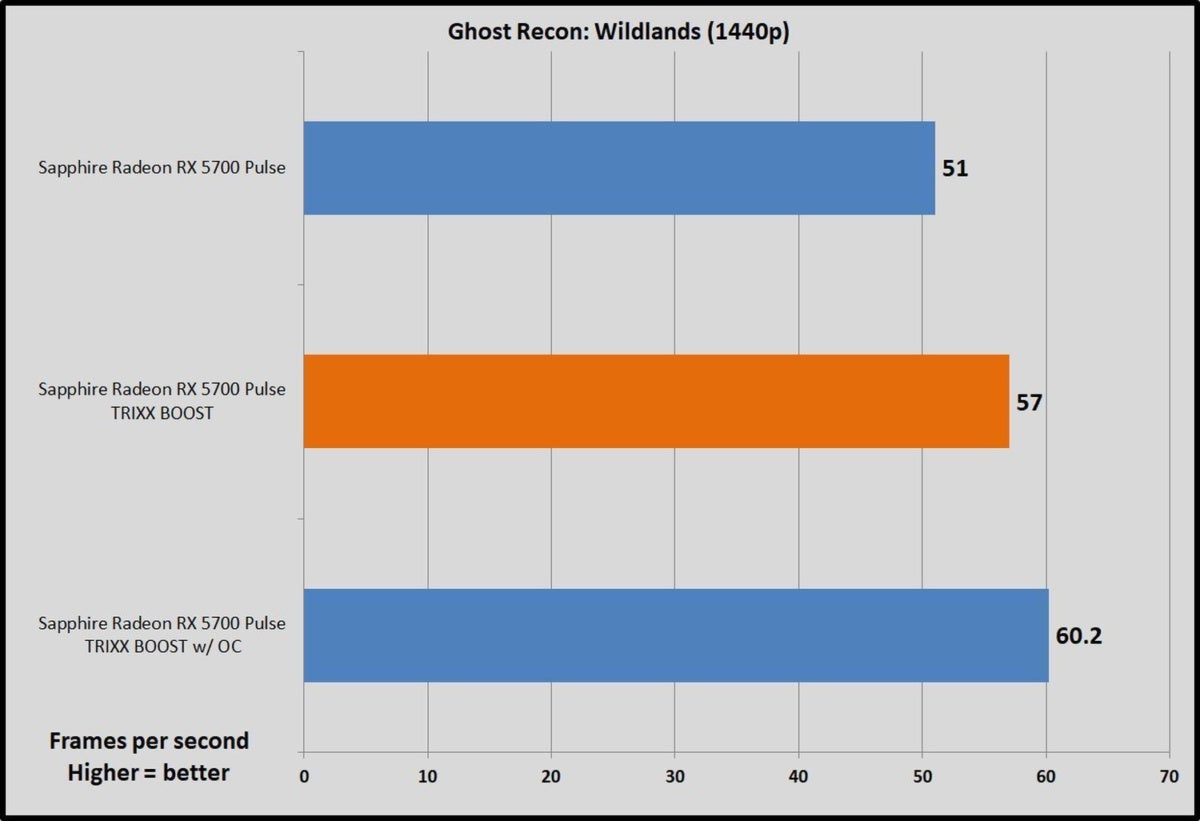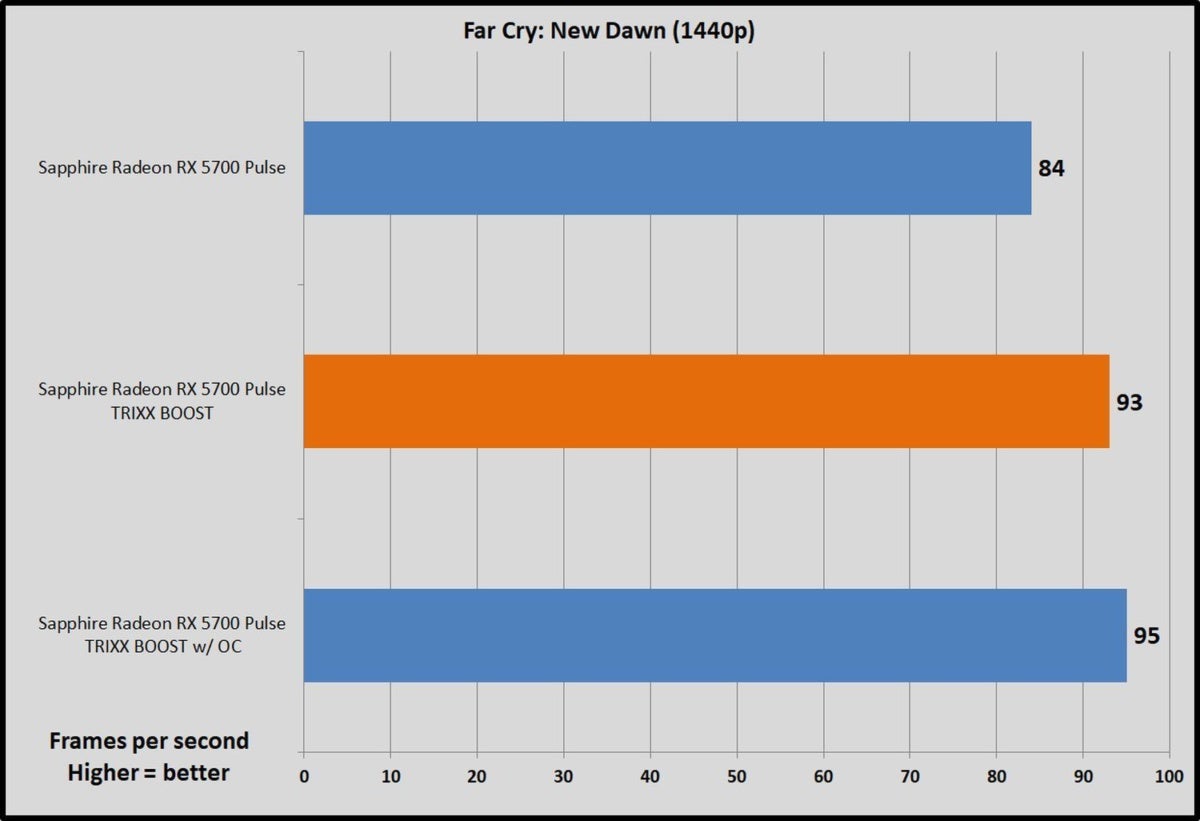 For comparison, Nvidia's $350 GeForce RTX 2060 Founders Edition hit 45.6 frames per second in Ghost Recon: Wildlands at 1440p; 78 fps in Far Cry; and 55 fps in Division 2. The Sapphire Pulse RX 5700 far exceeds those speeds with Trixx Boost enabled, especially after the quick and dirty auto-overclock. With Boost and the overclock in place, these results actually rival those of the $500 GeForce RTX 2070 Super, and pushes Far Cry into a CPU bottleneck. Hot damn. Plus, because Trixx Boost renders games at a slightly lower resolution than standard, it doesn't result in increased energy draw or higher temperatures. (That's obviously not true if you overclock the GPU as well.)
These tricks aren't unique, to be clear. You can create custom resolutions for the same effect using other software options. But few people outside of enthusiasts ever bother with those more hardcore tools. Trixx Boost makes it so quick, easy, and painless to achieve noticeably faster speeds with minimal visual impact, it's a joy. This is a big feather in Sapphire's cap.
That's not to say Trixx Boost is perfect. I'd like to see widescreen resolution options rolled in as well, and for Sapphire to integrate Radeon Wattman's one-click auto-overclocking into Trixx as well for a noob-friendly performance boost. (The software supports overclocking, but only in manual form, which requires more trial-and-error and time.) But this is a stellar first step, a smart spin on the industry's newfound infatuation with upscaling for more performance. I suspect other GPU makers may find "inspiration" from Trixx Boost soon.
Next page: Power, thermals, and synthetics
Power draw, thermals, and synthetics
We also tested the Sapphire Pulse RX 5700 using 3DMark's highly respected Fire Strike synthetic benchmark. Fire Strike runs at 1080p, Fire Strike Extreme runs at 1440p, and Fire Strike Ultra runs at 4K resolution. All render the same scene, but with more intense graphical effects as you move up the scale, so that Extreme and Ultra flavors stress GPUs even more. We record the graphics score to eliminate variance from the CPU.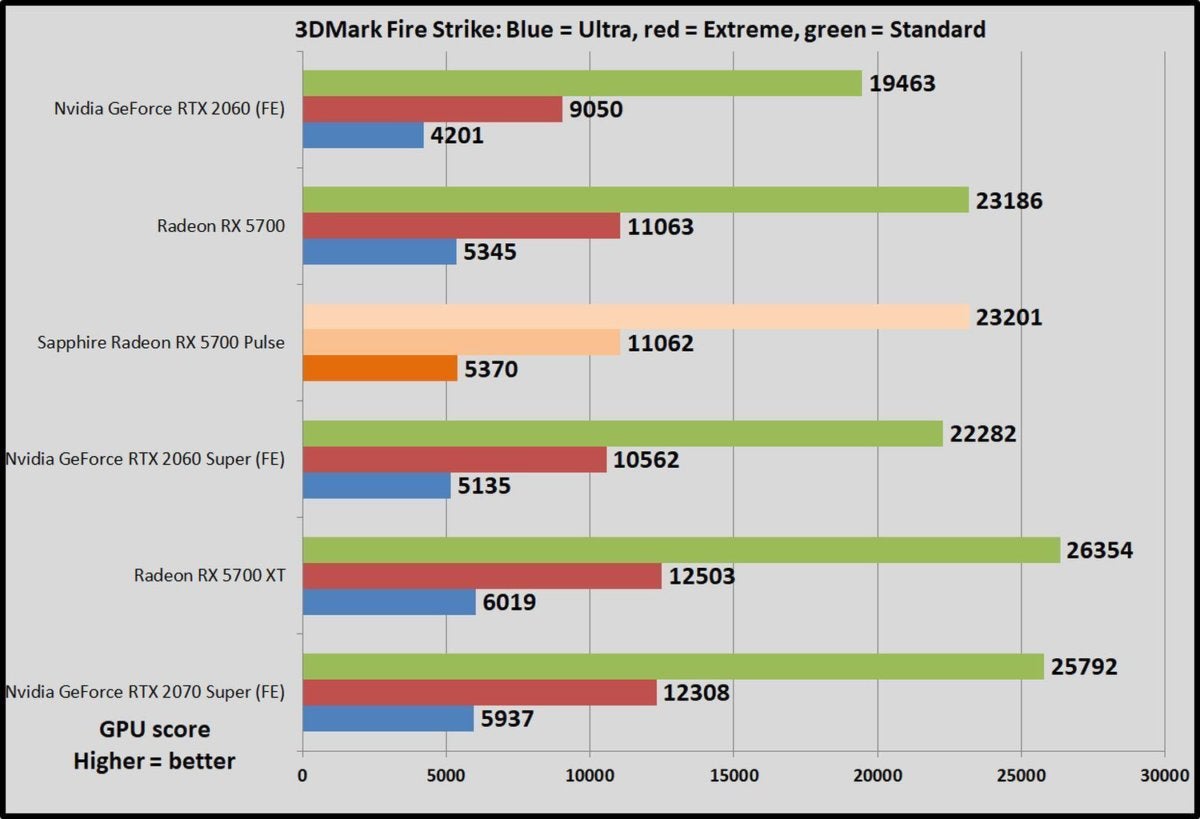 We test thermals by leaving either AMD's Wattman (for Radeon GPUs) or EVGA's Precision X1 (for GeForce GPUs) open during the F1 2018 five-lap power draw test, noting the highest maximum temperature at the end.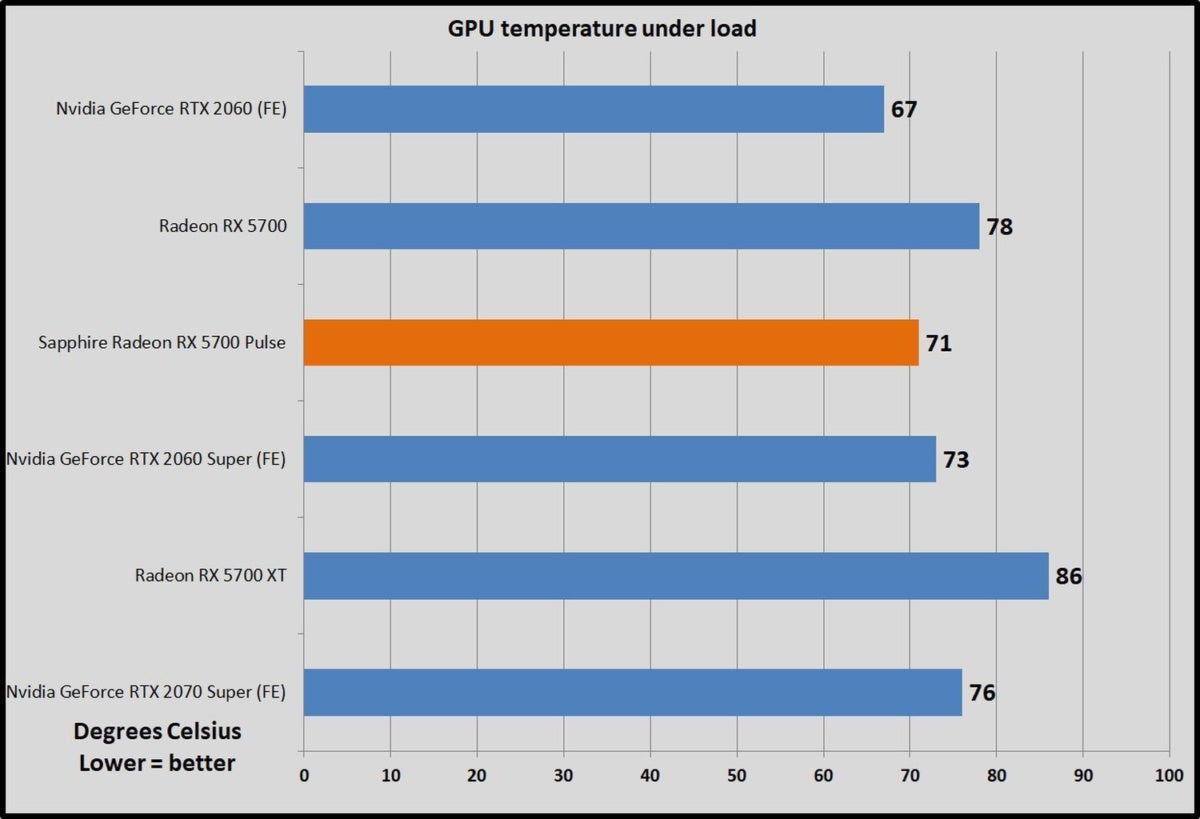 We test power draw by looping the F1 2018 benchmark for about 20 minutes after we've benchmarked everything else, and noting the highest reading on our Watts Up Pro meter. The initial part of the race, where all competing cars are onscreen simultaneously, tends to be the most demanding portion.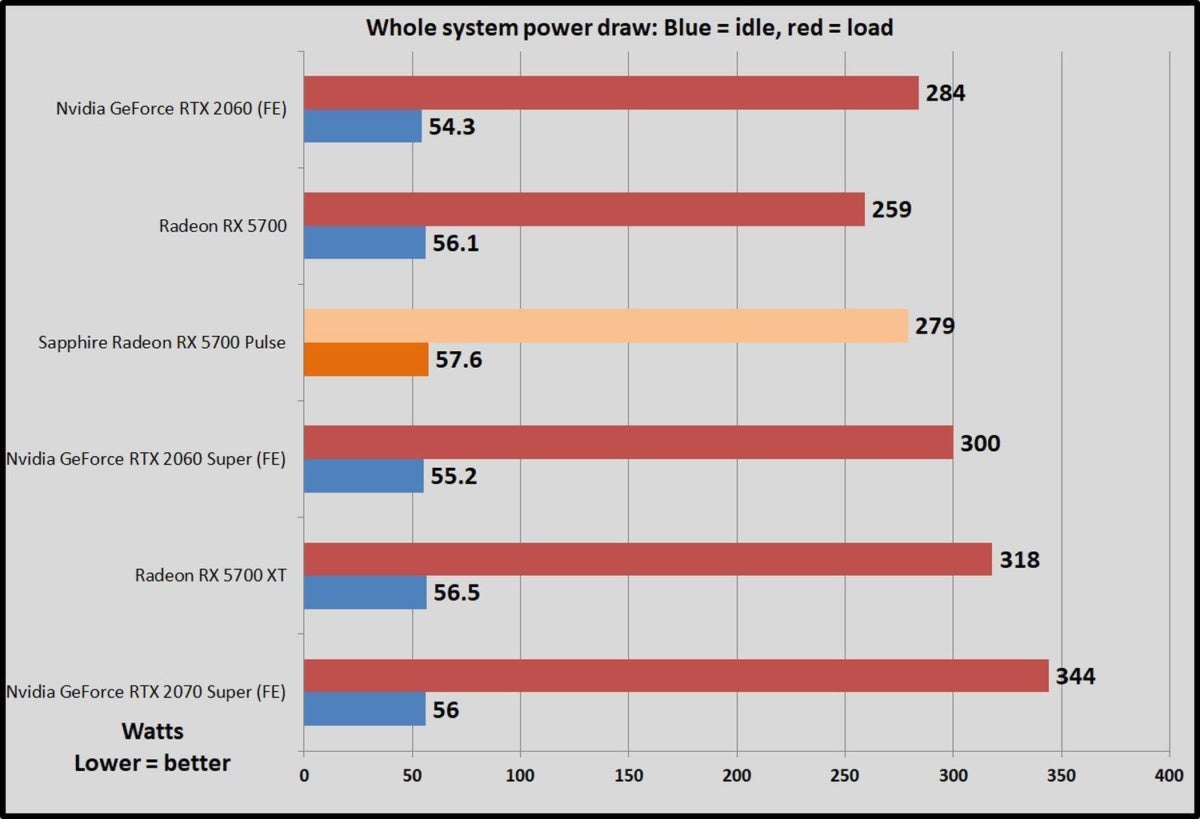 No surprises here. The slightly overclocked Sapphire Pulse draws slightly more power than the reference Radeon RX 5700, while its dual-axial cooler provides much better cooling. It's also significantly quieter even in Performance mode. Not bad for an extra nine dollars! And while we covered this in more detail in our original Radeon RX 5700 review, it's worth highlighting again that AMD's new RDNA architecture on the 7nm manufacturing process has managed to pull ahead of Nvidia's vaunted power efficiency, delivering more performance at less peak power.
Next page: Should you buy the Sapphire Pulse RX 5700?
Should you buy the Sapphire Pulse RX 5700?
Yes. Definitely.
The reference Radeon RX 5700 earned 4.5 stars, our Editors' Choice award, and our recommendation as the best 1440p graphics card for most people on the back of its GeForce RTX 2060-beating performance and stellar value. The Sapphire Pulse Radeon RX 5700 is only slightly faster than the reference card in out-of-the-box performance, but the greatly enhanced cooler, dual-BIOS switch, metal backplate, and beefed-up internal components easily justify the card's itty-bitty $9 markup. Nine. Dollars.
There's no reason to buy a Radeon RX 5700 reference design anymore unless you need the blower-style fan for a small form factor system, full stop.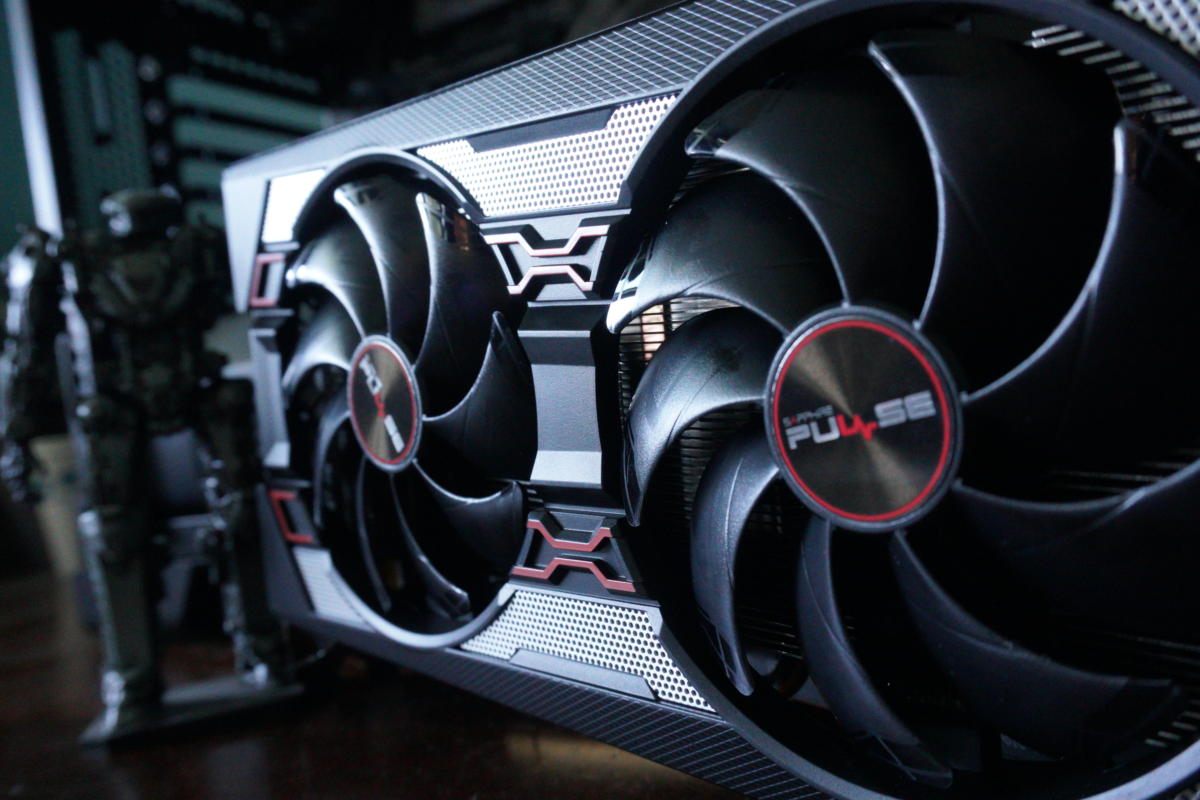 The $359 Sapphire Pulse RX 5700 is faster than the similarly priced GeForce RTX 2060. Once the company releases its Trixx software upgrade with the new Trixx Boost feature in early September, it should come within spitting distance of the $500 GeForce RTX 2070 Super's performance by pairing a slight, practically unnoticeable resolution downgrade with AMD's superb Radeon Image Sharpening technology. It's a shame Trixx Boost won't be available when Sapphire's graphics card hits the streets today, but if you buy this graphics card, hop on it the moment it becomes available.
Sapphire deserves major props for seizing advantage of the current upscaling trend so effectively—and for making it so easy for gamers to tap into the significant potential performance advantages.
There's no reason to buy the $350 GeForce RTX 2060 over the Sapphire Pulse RX 5700, unless you happen to find one on sale for well under $300 (which can occasionally happen). The only reason to opt for a $400 GeForce RTX 2060 Super over Sapphire's card is if you want to invest in real-time ray tracing, as Nvidia GPUs alone contain hardware devoted to accelerating those tasks. The technology's only available in a handful of games at the moment, though it's coming to several top-tier games (like Cyberpunk 2077 and Doom Eternal) over the next year.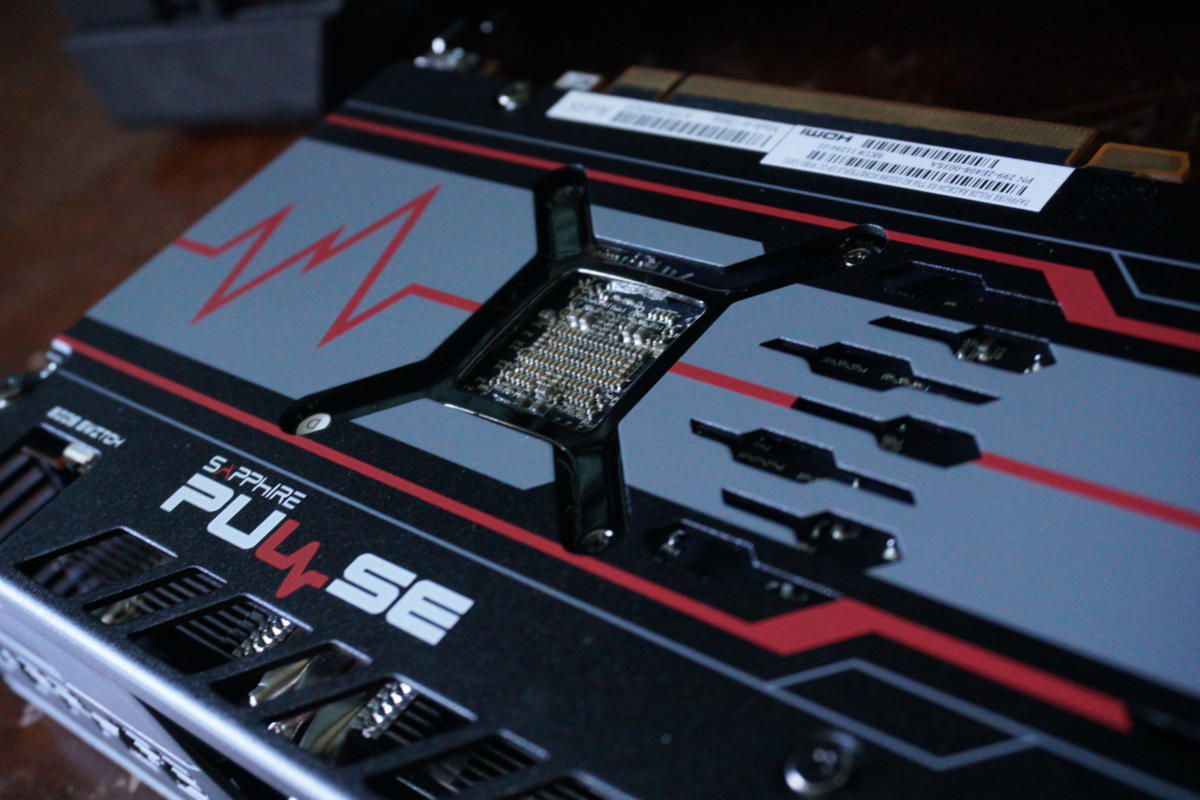 AMD knocked it out of the park with the Radeon RX 5700. Sapphire's budget-friendly spin on it is also a home run, offering several extra features and niceties as well as a much-improved cooling solution for just $9 more. (Nine! Dollars!) More feature-packed custom Radeons are no doubt on the way, but the Sapphire Pulse RX 5700 nails the basics, moves the goal posts forward with Trixx Boost, and easily earns our Editors' Choice award on the back of its outstanding value proposition.
Highly, highly recommended.
Best Prices Today: Pulse Radeon RX 5700