With a near "all-screen" design that barely has a bezel, the Samsung Galaxy Note 10 is one of the prettiest phones we've ever seen, but it's also very fragile. Even if you opt for the smaller model over the monster 6.7-inch version, you're going to want to buy a case for your brand new thousand-dollar handset. We're here to help you pick out one that will fit well, keep it safe, and of course, look good. We'll keep updating this list as we test new cases, but here are our favorite picks so far.
Update 12/26/19: Added cases from Spigen, Speck, and Skinit.
1. ESR Metal Kickstand
Price: $19
Colors: Clear, black
Why we love it: The Note 10+ has such a giant screen, you're going to want to watch movies on it. And when you do, you're going to want to prop it up on something. That's why we love the added kickstand on this ESR case. The clear housing lets your phone shine bright, while the flexible design makes it easy to remove. But the killer feature is the kickstand. We've seen other cases with pop-out kickstands, but ESR's is metal, which is strong enough to hold the phone in either orientation without fear of toppling over. You will, however, need to get used to the small bump created by the kickstand on the otherwise slim case.
2. Otterbox Symmetry Clear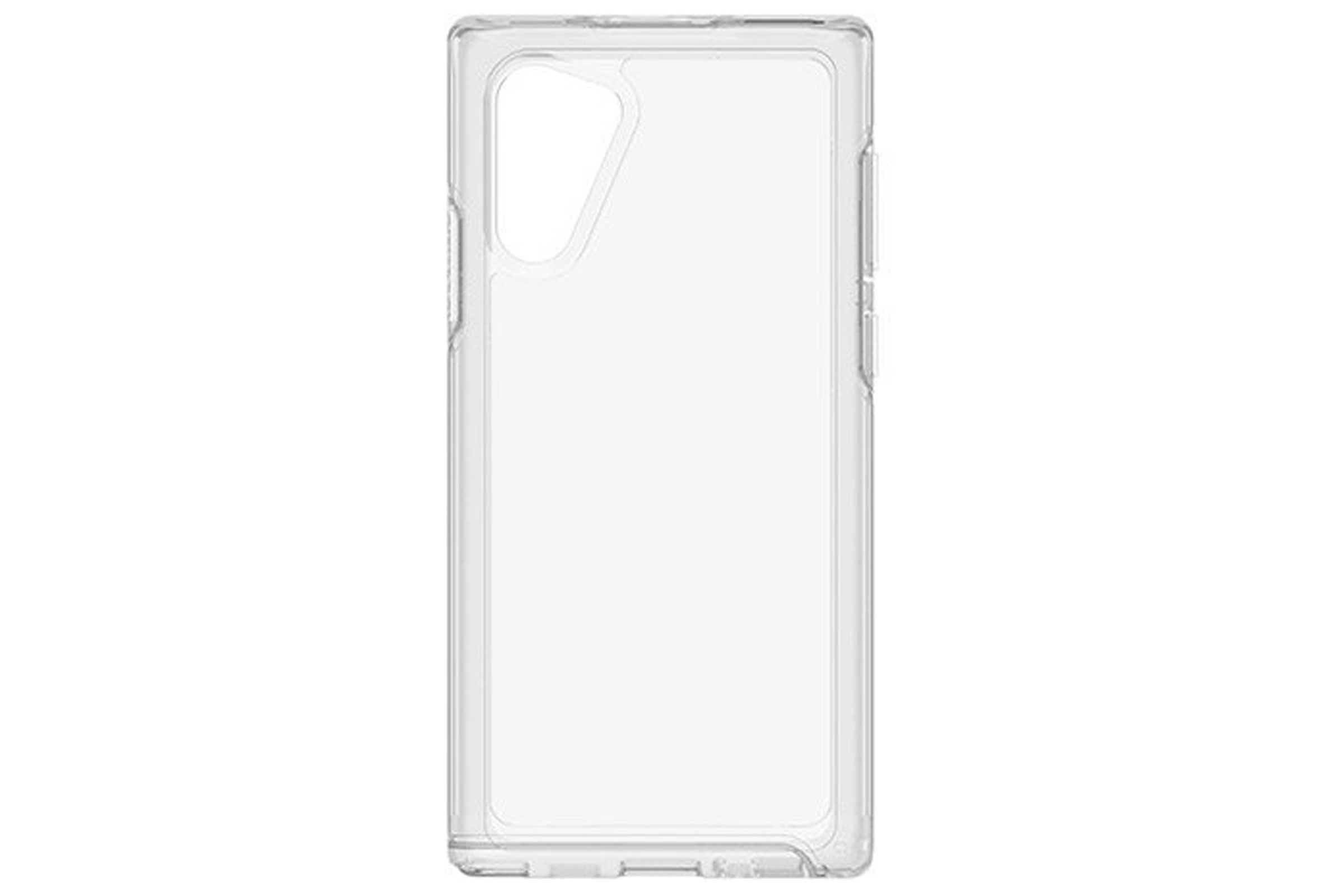 Price: $50
Colors: Clear
Why we love it: The Otterbox Symmetry Series clear case is minimal in design, but not in terms of protection. The entire case is clear, allowing you to show off your Note 10's shiny new colors, and the stiff buttons produce a satisfying and audible click for each press. One thing that threw us off, however, is a soft spot on the right side for the power button—except the power button isn't there anymore. We're hoping it was a hedge on the possibility of a power button, and that Otterbox updates the Symmetry case to match the rest of the case's perimeter in texture and feel. But even with that weird anomaly, it's still a great case.
3. ESR Mimic
Price: $19
Colors: Clear
Why we love it: If there's one thing that's common across all of the cases we test, it's that as soon as we pop one on, we lose the premium look and feel of the Galaxy Note's glass back. The Mimic case from ESR doesn't have that problem. The back of the case is made of tempered glass, which looks like, or shall we say mimics, the back of your Note 10. There's a nice ridge around the back that should minimize scratches when it's lying on a table, while the smooth feel doesn't cheapen the Note 10 in the slightest.
4. UAG Plyo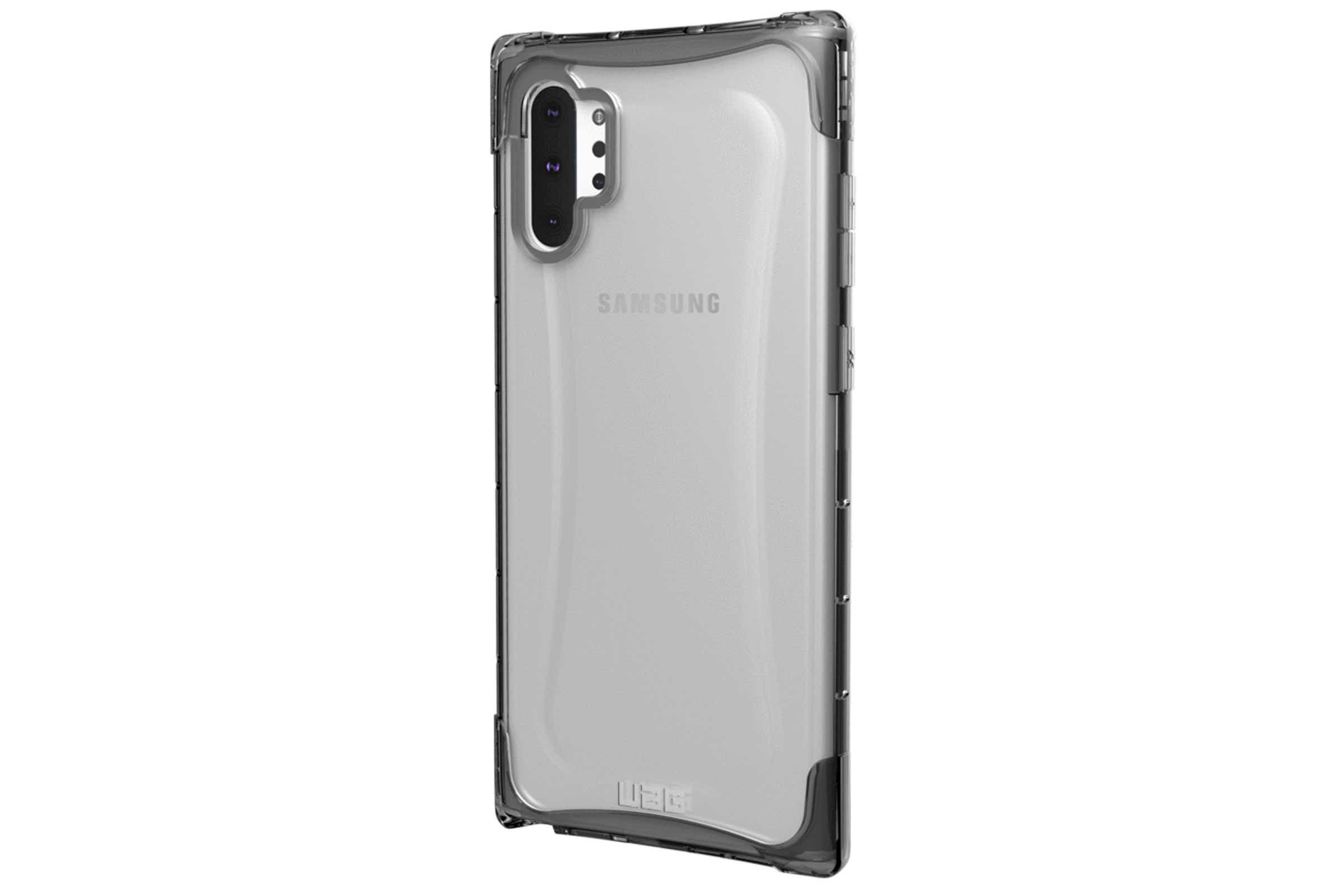 Price: $40
Colors: Clear
Why we love it: You can always count on Urban Armor Gear to deliver sturdy cases that are reasonably priced, and the Plyo case fits that mold. It's mostly clear with grey in each corner. When you look at the back just right, there's a grid of lines that add a neat effect to your phone's color, while also creating a grippy texture. Our only concern about the Plyo case is that the buttons are a little soft and could potentially tear over time, but by then you'll probably be ready for your next Note anyway.
5. Otterbox Commuter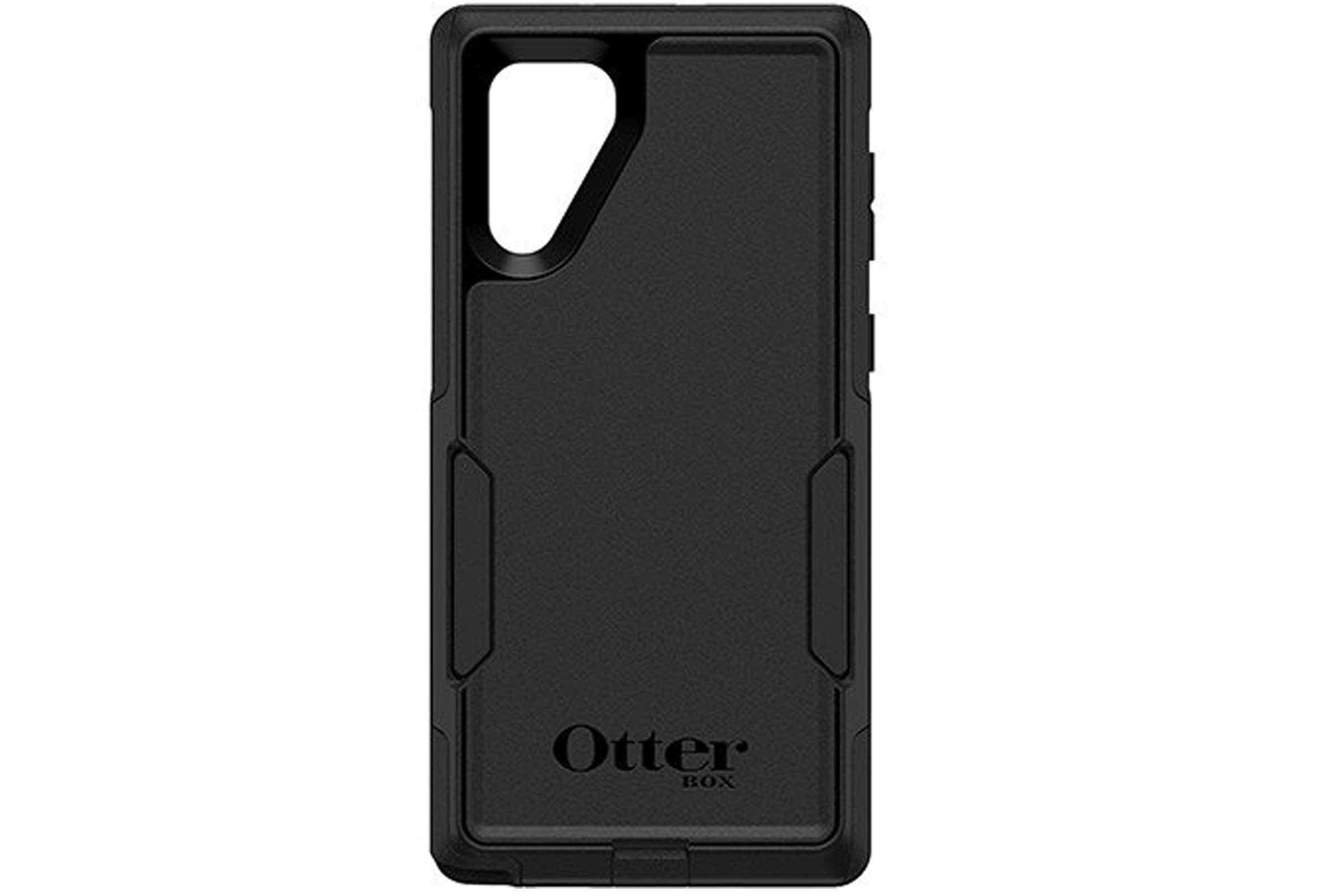 Price: $40
Colors: Black, pink
Why we love it: The Commuter series case consists of a rubber case that hugs your phone and fits snugly into a hard polycarbonate outer shell. Together, the two pieces protect your phone from drops. The Commuter case surprisingly doesn't add a lot of bulk to the Note 10, considering how rugged it is. It's available in classic black, but we really like the "ballet way pink" version of the case, which reminds us of the Not Pink Pixel 3.
6. UAG Plasma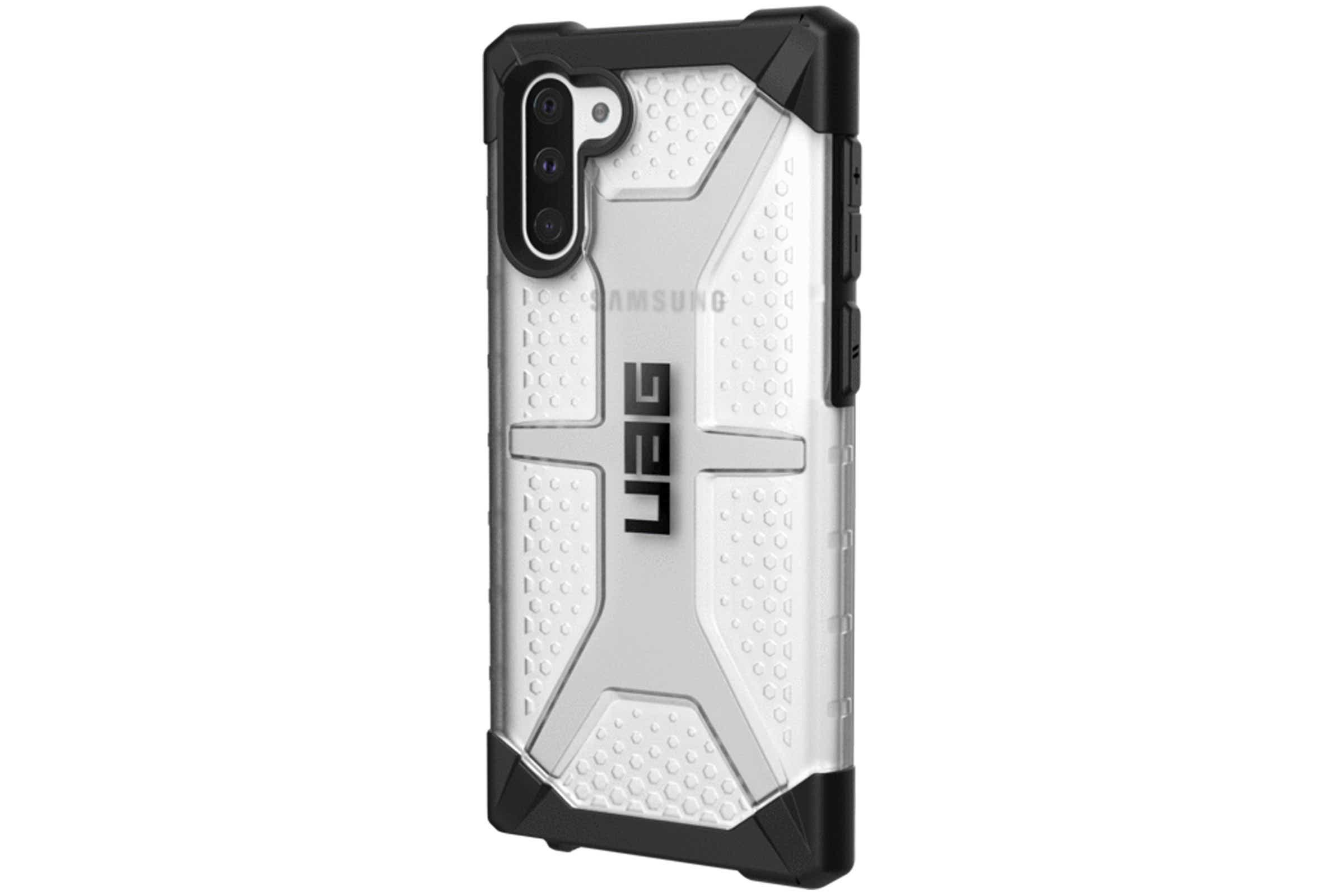 Price: $40
Colors: Ash, ice
Why we love it: The UAG Plasma case is a bit bulkier than the Plyo series, so it'll add slightly more protection to your Note 10. The corners and the rear design have UAG's trademark rugged look. The cool pattern and aggressive bumpers work together to add nice grip and excellent protection for your phone. We particularly like how the oversized buttons make it easier to find and push the power and volume controls, and how just enough of the Note's actual color shines though.
7. ESR Essential Zero
Price: $11
Colors: Clear
Why we love it: If you're looking for a clean and slim clear case, then the ERS Essential Slim is a good place to start. The entire case is soft and flexible, but it still provides a layer of protection from accidental bumps and drops. If we had to pick a drawback, it's that the material feels a little slick to the touch—but certainly less so than a case-less Note 10.
8. Incipio Transform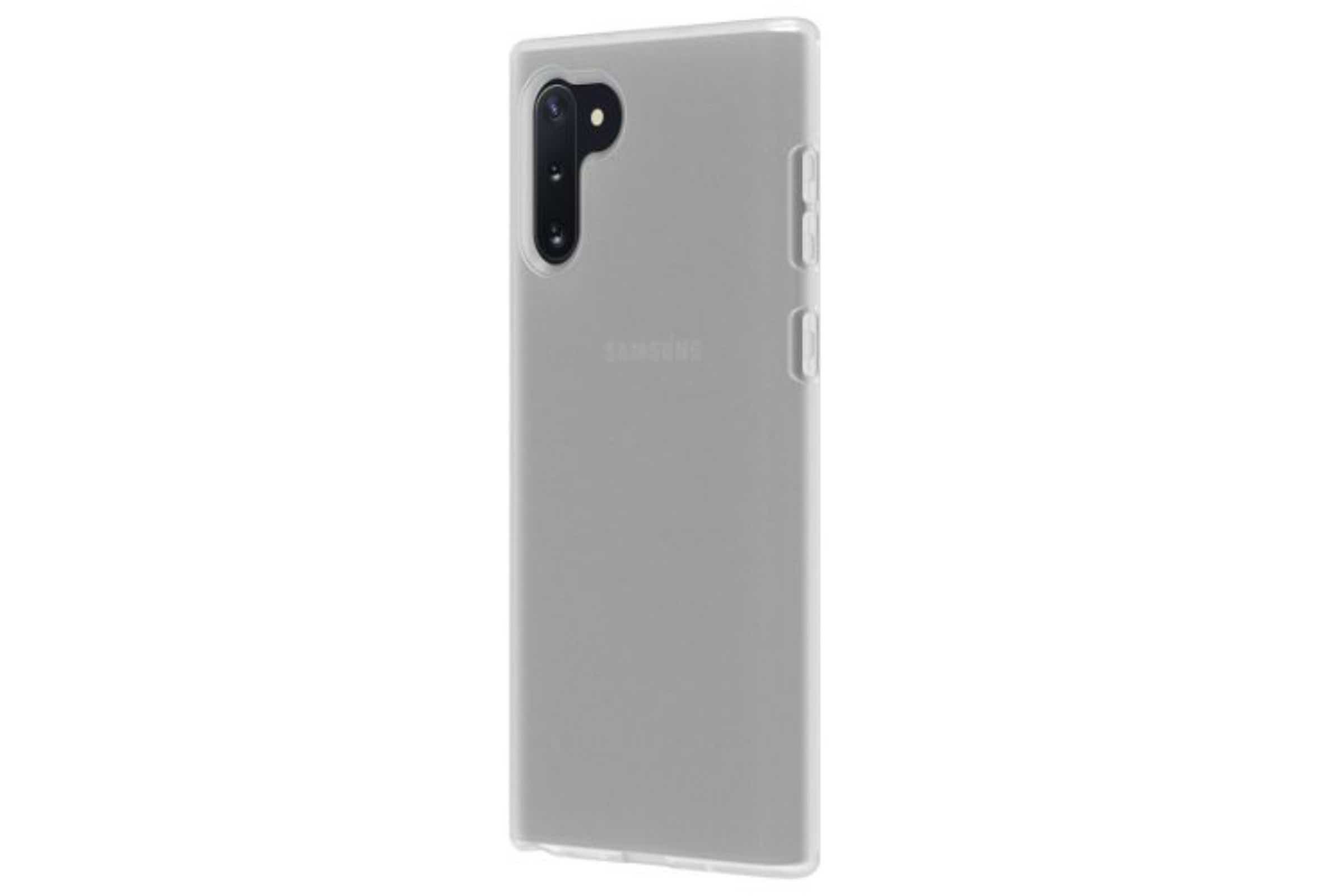 Price: $40
Colors: Smoke, clear
Why we love it: The Incipio Transform case isn't much to look at on its own, but it's thin, lightweight, and looks great when wrapped around a Note 10. The buttons are easy to press, and the case snugly hugs the phone. Bonus: If you spring for the Note 10+ 5G, Incipio promises the case won't interfere with a 5G signal. We can't verify those claims (honestly, we didn't even realize it was a thing), but we can say the Transform case is a great option that adds minimal bulk to your Note.
9. UAG Monarch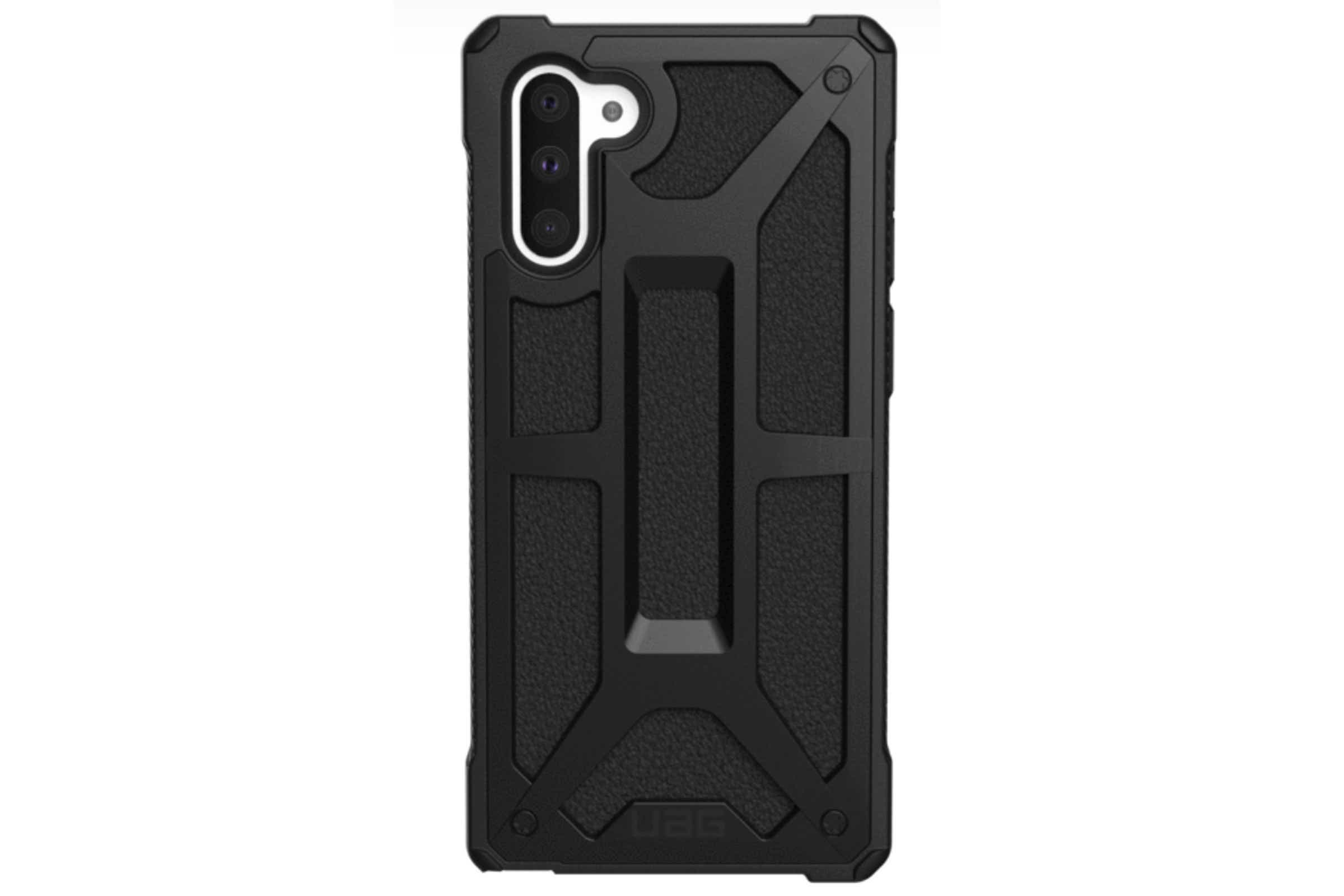 Price: $60
Colors: Black, crimson
Why we love it: While it's slightly bigger than the Plasma, UAG's Monarch case has similarly rugged design cues. Instead of semi-transparent material, there's faux metal and leather. The textured rubber grip on either edge makes it easy to hold onto your Note 10. The buttons are once again oversized, and probably our favorite button setup on Note 10 cases thus far. You can't go wrong with either color, but we really like the red-and-black combination.
10. Gear4 Picadilly
Name: Gear4 Picadilly
Price: $40
Colors: Clear with black, Clear with blue
Why we love it: The Piccadilly case from Gear4 is mostly clear, with either bluish-purple or black bumpers on its sides. The case is sturdy with very little bend to it, so it should be able to handle serious drops. Like the Crystal Palace, it's made of D30, so it feels a little slippery to the touch. But if you want thin, simple, and solid, look no further than the Picadilly.
11. Gear4 Crystal Palace
Name: Gear4 Crystal Palace
Price: $40
Colors: Clear, iridescent
Why we love it: The Crystal Palace is made of the unique D30 material that Gear4 claims is "the thinnest and most advanced protection against knocks and drops." That's why it's usually used in hockey helmets rather than phone cases. The case feels sturdy and a little slick, which might be due to the iridescent sheen that adds an extra bit of rainbow flair that blends nicely with Samsung's new Aura colors.
12. Speck Presidio V-Grip
Name: Speck Presidio V-Grip
Price: $45
Colors: Clear, with black highlights
Why we love it: The Presidio V-Grip is everything you want a clear case to be—times two. First, there are the black, rubber bumpers that encase the phone and protect it from drops with two layers of protection. Second, the clear back makes your phone shine bright like a diamond. The edges of the case provide a surface that's easy to grip, with sturdy buttons that provide a firm click with each press.
13. Spigen Ultra Hybrid
Name: Spigen Ultra Hybrid
Price: $30
Colors: Clear, matte black
Why we love it: The Spigen Ultra Hybrid is a no-frills clear case for your Note 10. It's not overly thin and it has some heft to it, but it's not clunky, either. The edges along the display come down a bit lower than most cases, giving you easy access to the entire screen. As with the Ultra Hybrid S, the buttons are a little thin and small, but all in all, it's an affordable, clear case that will protect your Note 10's good looks.
14. Spigen Ultra Hybrid S
Name: Spigen Ultra Hybrid S
Price: $30
Colors: Clear
Why we love it: Year after year, Spigen churns out quality cases at a lower cost than most of its competitors. The Ultra Hybrid S case is no exception. It's crystal clear so your Note 10's color will shine through but it's plenty protective. There's also a small kickstand on the back of Ultra Hybrid S for watching video in landscape mode. The buttons are a little small for our liking, but it shouldn't take too long to break them in.
15. Tech21 Pure Clear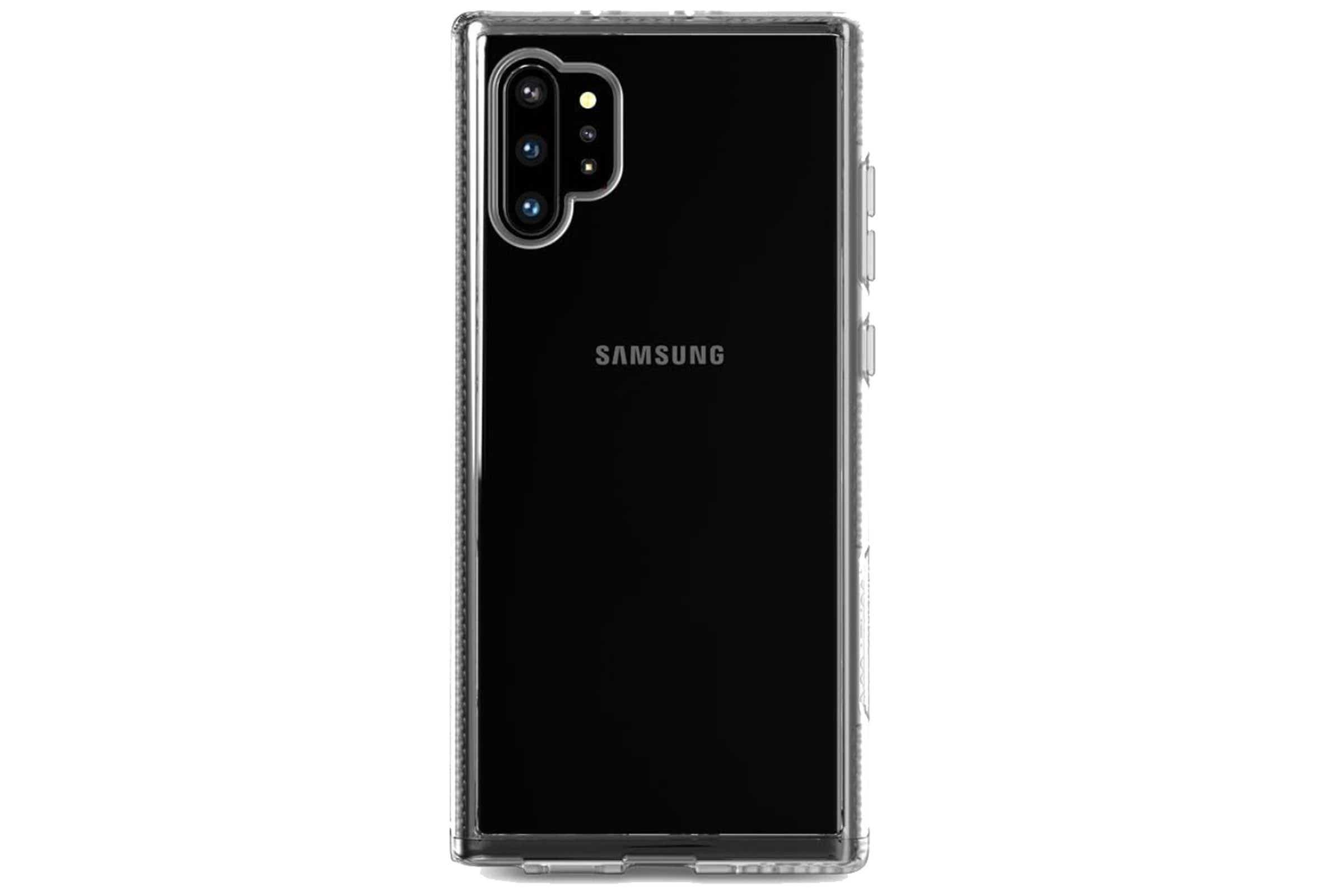 Name: Tech21 Pure Clear
Price: $45
Colors: Clear
Why we love it: Tech21's Pure Clear case is one of the more rugged see-through cases we've tested. There's not a lot of bend to it, and that instills some confidence when it comes to its ability to withstand a drop or four. Tech21 puts the drop limit at 10 feet for the pure clear case, and it supposedly will self-heal minor scratches to the exterior of the case. The rigidity extends to the buttons, but not to an extreme where you'll struggle to adjust the volume or power the phone off. The textured edges of the case break up the otherwise simply smooth aesthetic, which is a nice touch if you like a little pizzazz with your transparency.
16. Kate Spade Protective Hardshell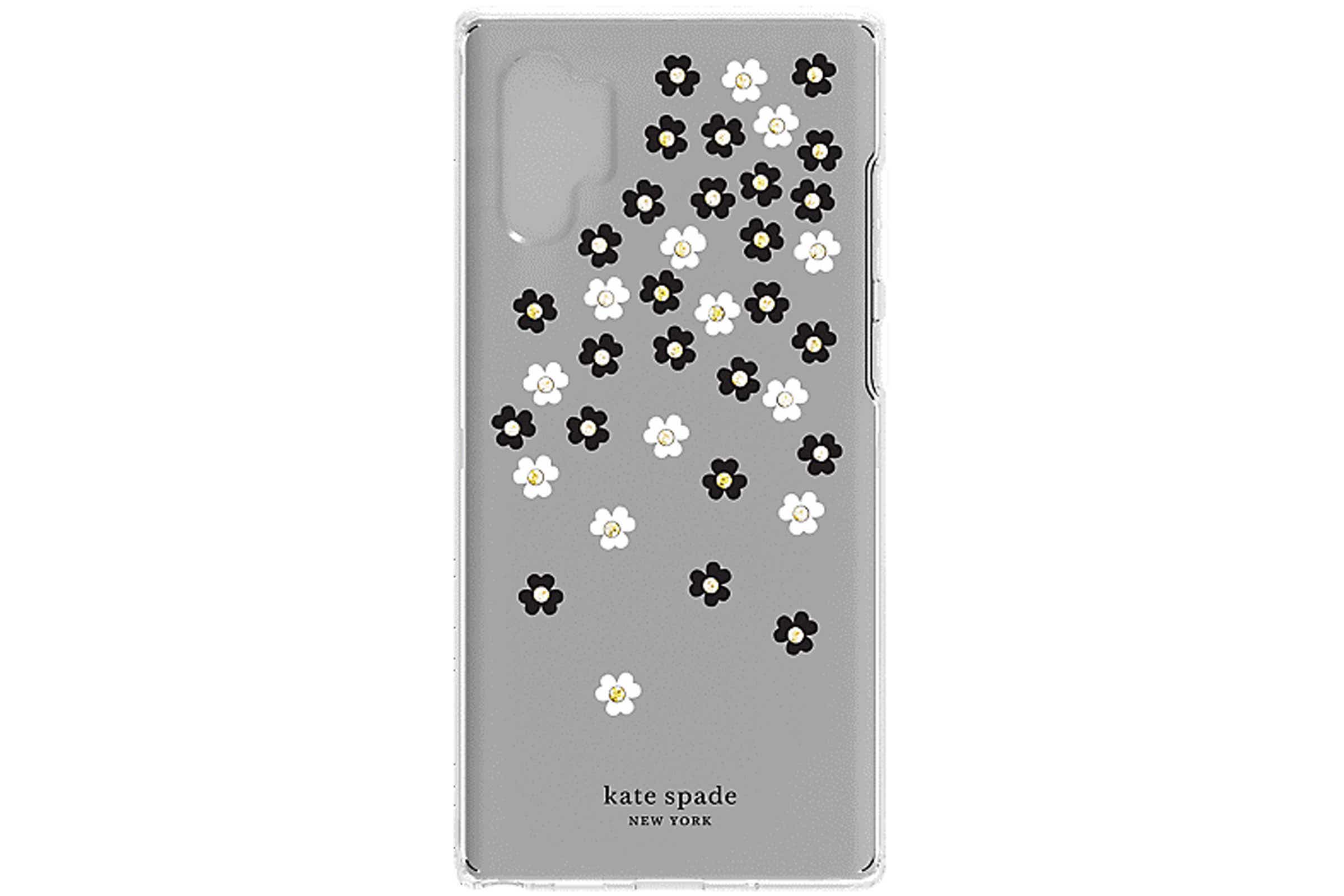 Name: Kate Spade Protective Hardshell
Price: $40
Colors: Gray with scattered flowers
Why we love it: Kate Spade cases have some of the most fashionable designs, and they're surprisingly affordable. This case might not be very colorful, but we love the bit of flair the flower pattern provides. Notably, you can only get this Kate Spade case at Verizon Wireless stores, so the online stock fluctuates, so if you're in the store for one of those BOGO offers, you might want to grab two.
17. Speck Presidio Grip
Price: $45
Colors: Black, gray, blue
Why we love it: Speck's Presidio Grip case is all about holdability. As its name suggests, it's got rubberized ridges on the sides that both add a nice design and give your fingers a natural place to grab the case. It also has cushioned corners to absorb the shock of a fall, while the recessed buttons are still easy to press. It's not flashy or rugged, but if you want a case that's neither too big nor too slick, the Presidio Grip is worth a look.
18. Skinit Pro
Name: Skinit Pro
Price: $40/$45
Colors: Various custom designs
Why we love it: We've always been fans of Skinit's cases, but they're not all that protective. The "Pro" model changes that by combining a rubber liner that hugs your Note 10 with a hard plastic outer shell. You can pick from one of the many custom designs or upload your own photos and artwork on Skinit's website to create your own look for a $5 fee. Aside from the design, the case itself feels solid, if not a little slippery.
19. Skinit Clear
Price: $20/$25
Colors: Various custom designs
Why we love it: Skinit is known for its unique designs and patterns, but if you don't want to hide your Note's color, a clear version is available as well. Like the other cases, you can pick from a lengthy list of pre-made designs or upload your own images for an extra $5. Also like Skinit's other cases, the Clear feels sturdy, though the print on the back gives it a slicker feel than other cases. And since it's printed over the top, the design could crack and peel over time. But all in all, it's one of the coolest clear cases out there.
20. Spigen Liquid Air
Name: Spigen Liquid Air
Price: $20
Colors: Black
Why we love it: Spigen's Liquid Air case has the three things we want in a case: It's thin, lightweight, and inexpensive. And looks good on the Note 10. There's a triangle pattern on the back of the black case that adds some grip to the otherwise smooth exterior. Our only complaint is that the edges on each side of the screen peel back way too easily, meaning dust and debris will eventually get between the phone and the case, so you'll probably want to remove it periodically to keep micro scratches at bay. But otherwise it's a solid case—we only wish it came in more colors than just black.
21. Spigen Thin Fit
Price: $20
Colors: Black, gray
Why we love it: The Spigen Thin Fit case is a simple plastic shell but it's more rugged than it looks, with very little bend or give. It's very thin (thus its name) and hugs the Note 10 fairly tight, with a soft finish that's not slippery, yet feels smooth. There's a wide cutout for the buttons, which looks weird but makes them very easy to press. Most importantly, the Spigen Thin Fit lives up to its name, adding protection against bumps and scratches, and getting out of the way where it's not needed.