At a Glance
Expert's Rating
Pros
Excellent gaming performance
Stunningly gorgeous design
Much cooler and quieter than reference designs
Dual-BIOS switch
Idle fan stop feature for silent desktop use
PCIe 4.0 compatible
Cons
Launch batch needs BIOS update
Slightly louder than other custom options
Very high power consumption
No real-time ray tracing capabilities
Our Verdict
The gorgeous XFX Radeon RX 5700 XT Thicc II Ultra is like a muscle car: High performing, a little loud, extremely impressive, and in need of some slight tinkering for peak performance.
Best Prices Today: Radeon RX 5700 XT Thicc II Ultra
Gamers, start your engines. The $440 XFX Radeon RX 5700 XT Thicc II Ultra is the first custom Radeon RX 5700 XT graphics card we've laid hands on, and it screams.
The Thicc II Ultra evokes XFX's beloved Double Dissipation design, with an ultra-clean, black-and-chrome scheme reminiscent of American muscle cars, and revved-up clock speeds to match. Like any hot rod, though, you'll need to tinker with it a bit for the best performance, and you can hear it purring when you put the pedal to the gaming metal.
It's worth it. The XFX Radeon RX 5700 XT Thicc II Ultra is extremely impressive and extremely fast, pushing AMD's new flagship GPU well past the similarly priced GeForce RTX 2060 Super's performance. With its optimizations, the Thicc II Ultra inches awfully close to the $500 RTX 2070 Super's frame rates. You'll be able to find it at retailers this week, but XFX sent us an early review sample to test. Let's get to it.
XFX Radeon RX 5700 XT Thicc II Ultra: Specs and features
XFX's graphics card puts an overclocked, custom-cooled spin on AMD's Radeon RX 5700 XT's "Navi" GPU.
This generation's Navi chips are chock full of cutting-edge features. They're the first consumer GPUs built using the 7nm manufacturing process, the first GPUs to support the ultra-fast PCIe 4.0 interface (if you pair it with a Ryzen 3000 CPU and an X570 motherboard), and the first GPUs created with AMD's new underlying "RDNA" graphics architecture. The combination of RDNA and 7nm greatly improved the power efficiency of Radeon GPUs, and the RX 5700 series performs much better in games that used to strongly favor Nvidia's GeForce graphics cards. AMD also introduced helpful software tricks like Radeon Image Sharpening to help get better performance out of your hardware, though Navi does not support real-time ray tracing like the GeForce RTX 20-series.
Check out our Radeon RX 5700 and 5700 XT review for the full recap. This review will focus on the XFX Radeon RX 5700 XT Thicc II Ultra's tweaks and performance. Here's a look at the stock specifications for the Radeon RX 5700 series compared to last-generation's Radeon Vega GPUs to get you up to speed: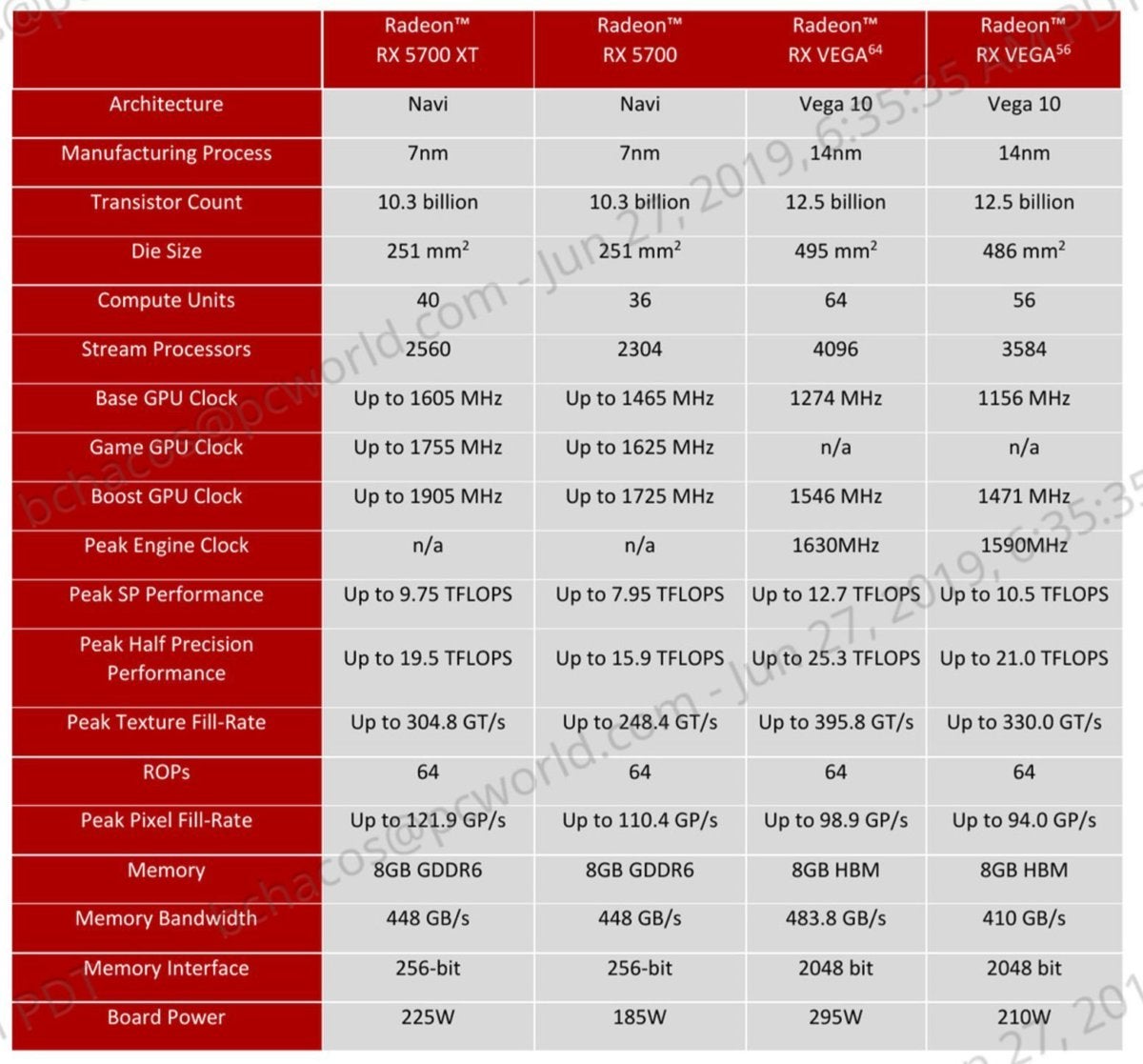 XFX ups the ante by increasing the base clock to 1,730MHz, the game clock to 1,870MHz, and the boost clock to 1,980MHz—at least on paper. In practice, we observed the Thicc II Ultra hovering closer to the full-blown boost speed in most games, as opposed to the game clock it's expected to achieve in typical gaming scenarios. In some scenarios and scenes, it even topped 2,000MHz—no joke. Pushing Navi so hard requires much more power than the Radeon RX 5700 XT reference card, as you'll see later in our review.
It also requires a more substantial cooler.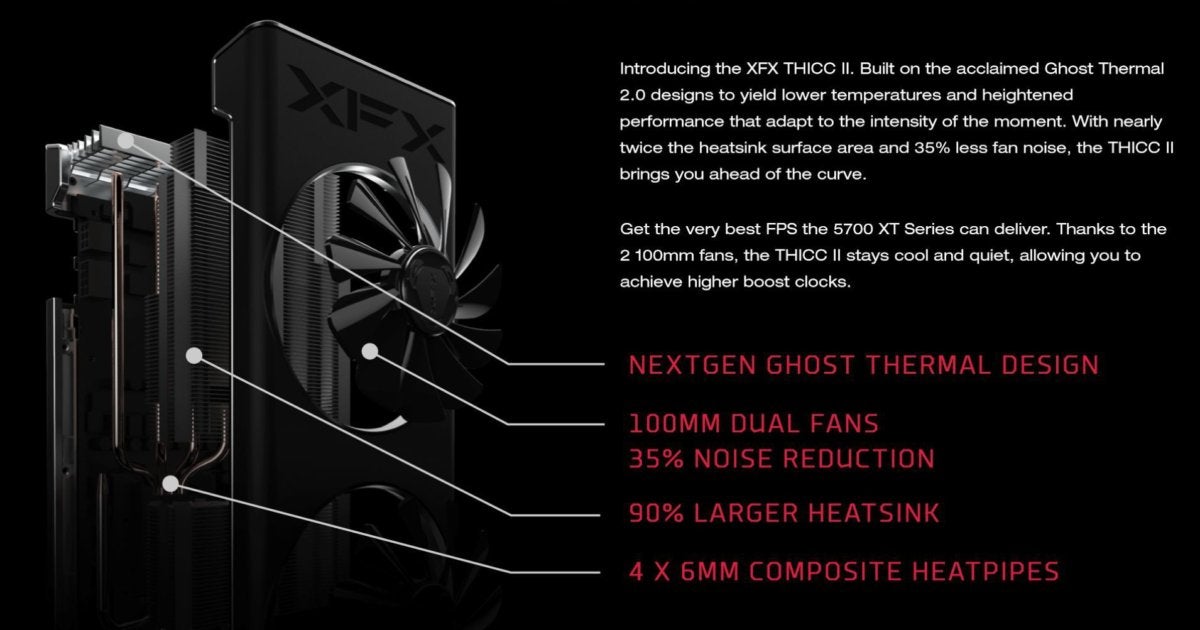 The XFX Radeon RX 5700 XT Thicc II Ultra uses the company's "Ghost Thermal 2.0" design, which sets a pair of large 100mm fans over a thick heatsink bristling with four 6mm composite heat pipes. The fans include idle stop functionality, so they won't kick in until you put the GPU under load. It's silent during normal desktop use.
A single HDMI 2.0b connection and a trio of DisplayPorts make up the output selection. The 2.5-slot graphics card measures 11.5 inches long, so it's not small by any means, though it isn't as unreasonably big as some fully kitted-out custom GPUs. Muscle cars aren't small.
But they are gorgeous. Taste is subjective, but I was always an admirer of the original Double Dissipation design, and the XFX Radeon RX 5700 XT Thicc II Ultra is one of the most beautiful graphics cards I've ever laid eyes on. The card's rocking an ultra-clean, ultra-solid-looking black vibe with chrome accents, going so far as to outfit the end of the card with a chrome grille that enhances the roadster look.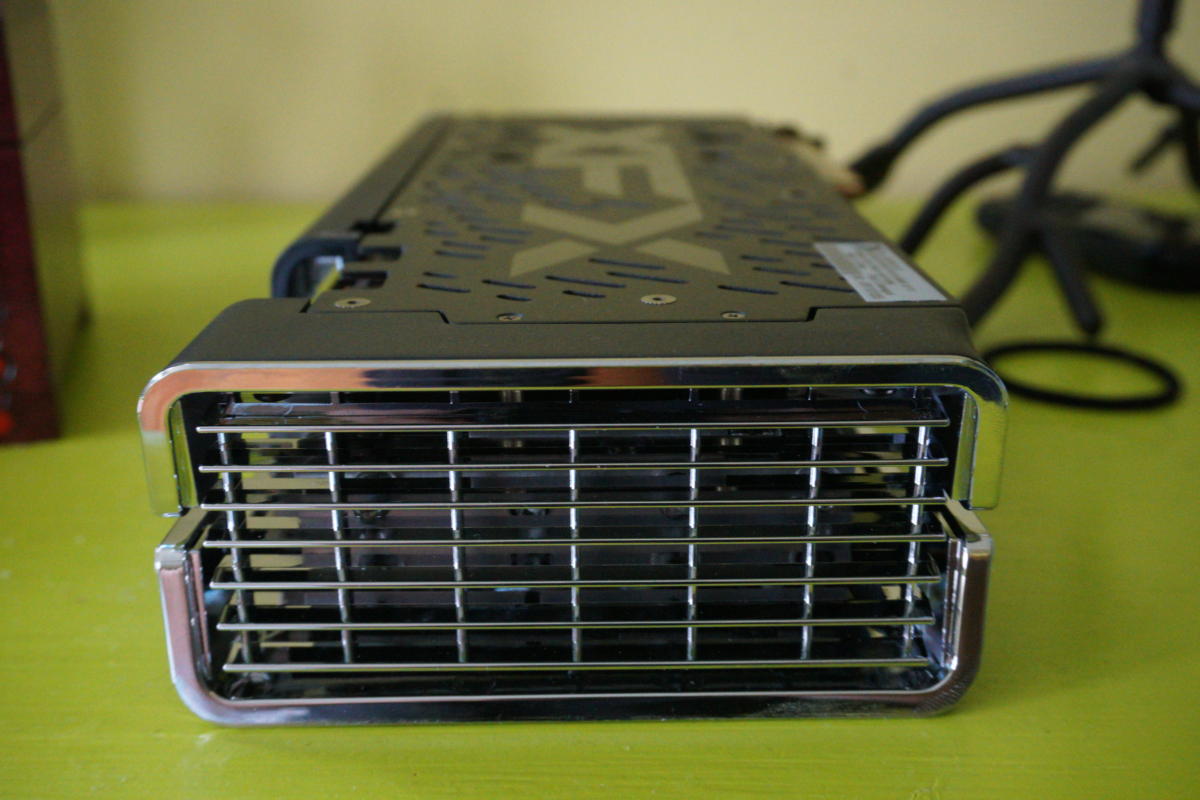 The black plastic shroud wraps the edge of the card, providing a glimpse at the aluminum heatsink underneath, while a metal backplate with the XFX logo on the top of the card completes the stark, sturdy look. You won't find any RGB lighting on this graphics card, though a pair of blue LEDs indicate that you've plugged the 6-pin and 8-pin power connectors correctly into this 210W GPU.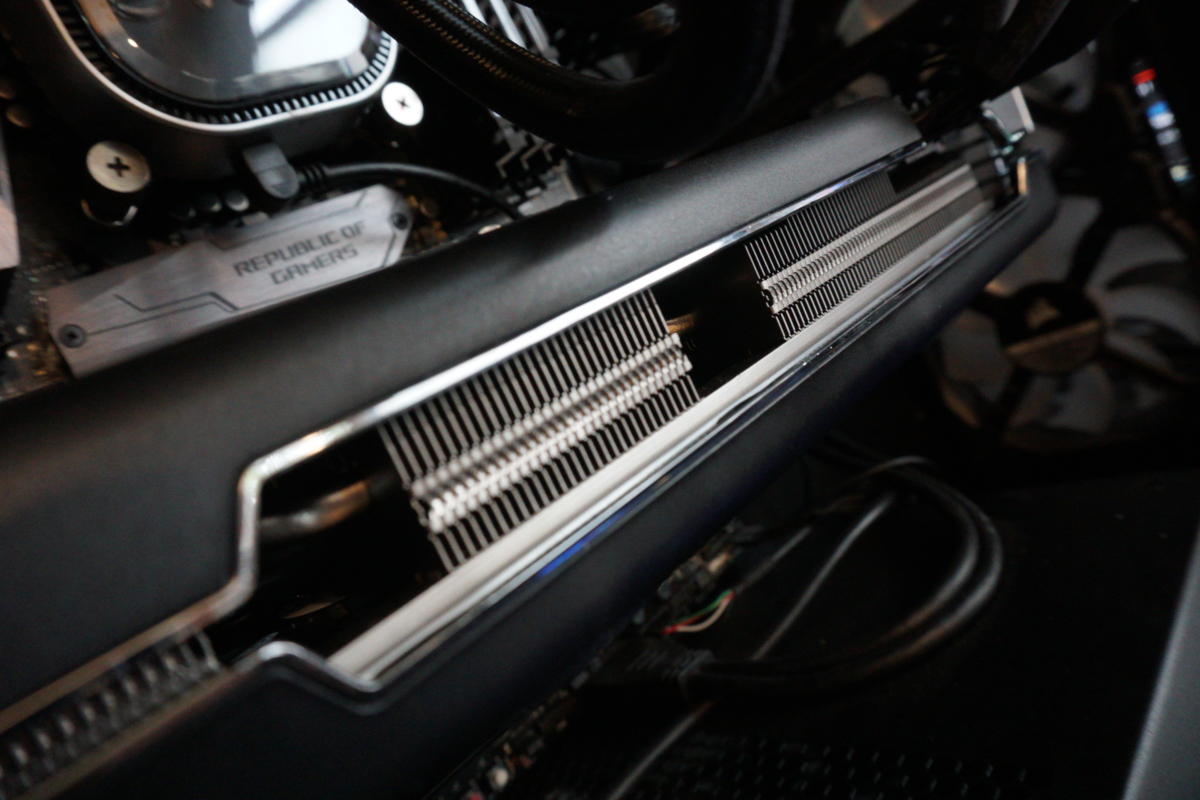 I'm in love with the hardware. But keeping with the muscle car analogy, you need to tweak and tune things to get it running properly—at least if you pick up some of the first Thicc II Ultra cards to hit the streets.
Next page: Some necessary tinkering
Tinkering under the hood: Temporary fan speed woes
Our review sample shipped with a misbehaving primary Performance BIOS. The initial wave of Thicc II Ultra cards to hit store shelves will have the same problem too. Fortunately, there's already a fix available, which we used for this review.
The problems revolved around fan speeds and the idle fan stop feature. Out of the box, logging software tracked the Thicc II Ultra's fans as spinning at over 65,000 rotations per minute (rpm). That's outrageous, as graphics card fans normally run at 2,500 rpm. More outrageous? The software registered those fan speeds while the fans themselves were sitting idle, not spinning at all. Something was clearly wrong here.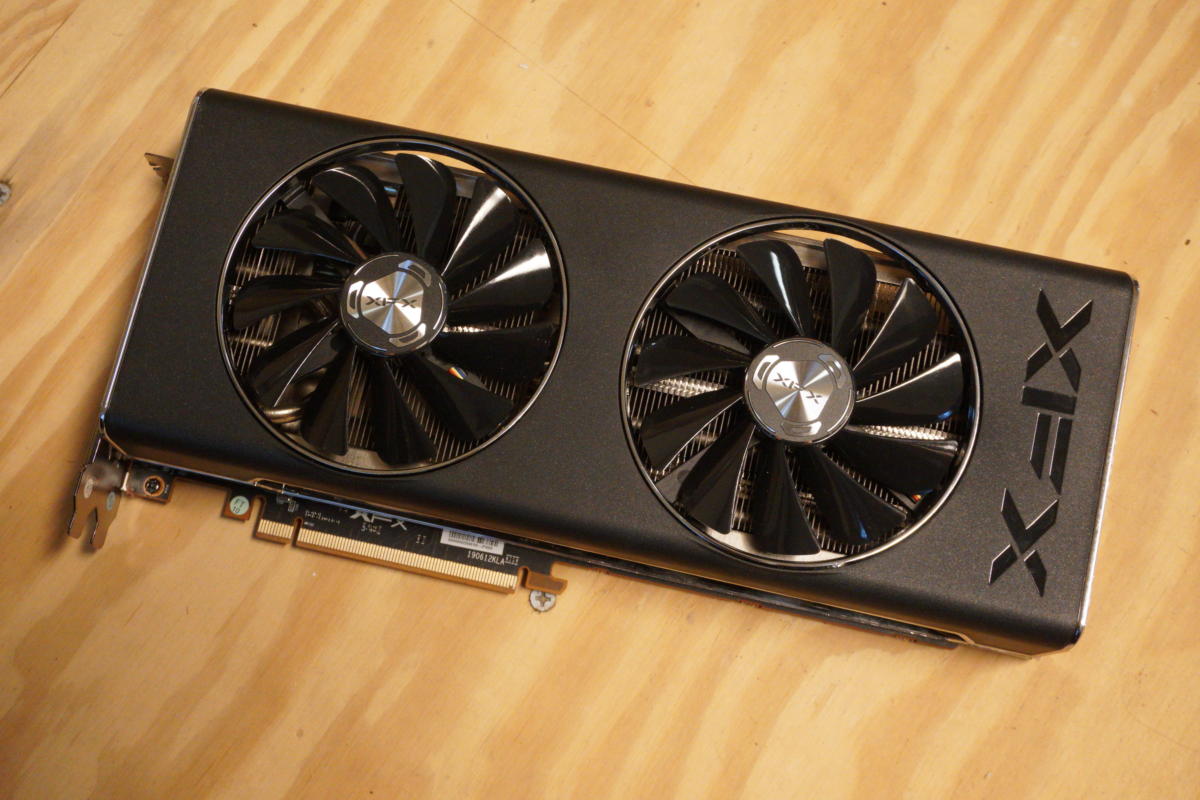 That problem became exacerbated once we booted up some games. Because the software reported the fans as already running at ludicrous speeds, they didn't actually kick in until the core GPU temperature hit a toasty 100 degrees Celsius. That's scorching hot—literally, if you touch the backplate—and it causes severe throttling for a minute or two after you boot up a game, at which point the fans kick in at a screaming-loud 3,200+rpm before slowly throttling down to 2,100rpm over the course of a very noisy few minutes.
Under these conditions, the card drew wild amounts of power. Our entire system sucked down as much energy under load as the monstrous $1,200 GeForce RTX 2080 Ti, in fact.
Steve Walton over at the excellent YouTube channel Hardware Unboxed also received the Thicc II Ultra in for testing, and he reviewed the card using the as-shipped "loud" Performance BIOS. You can see him discuss the fan speed issues starting at the 5:25 mark in the video below. Steve says the noise levels settle down after about six minutes, and won't pop up again if you continue gaming for a long stretch. However, it rears its head again whenever you load the GPU after the fans have sat idle for a while (a.k.a. normal desktop usage).
It's a shame that this occurs, because the Thicc II Ultra is otherwise an outstanding graphics card. Echoing Steve, this behavior isn't acceptable. XFX says it may be a bug with AMD's Powerplay tables causing the issues. That said, you have ways to fix it if you run into the same problem.
First, this card ships with a dual-BIOS switch that swaps between Performance and Quiet BIOS, set to Performance by default. That's the troublesome BIOS. If you switch over to Quiet—you'll need to use a pen or something to reach inside the shroud's cut-out to do so—the card behaves as expected. The Quiet BIOS cranks clock speeds down slightly, however, to the performance level of the $420 XFX Thicc II non-Ultra, so you're leaving an extra $20's worth of potential speed on the table. To be honest, though, the Quiet BIOS isn't that much slower or quieter than the primary Performance BIOS.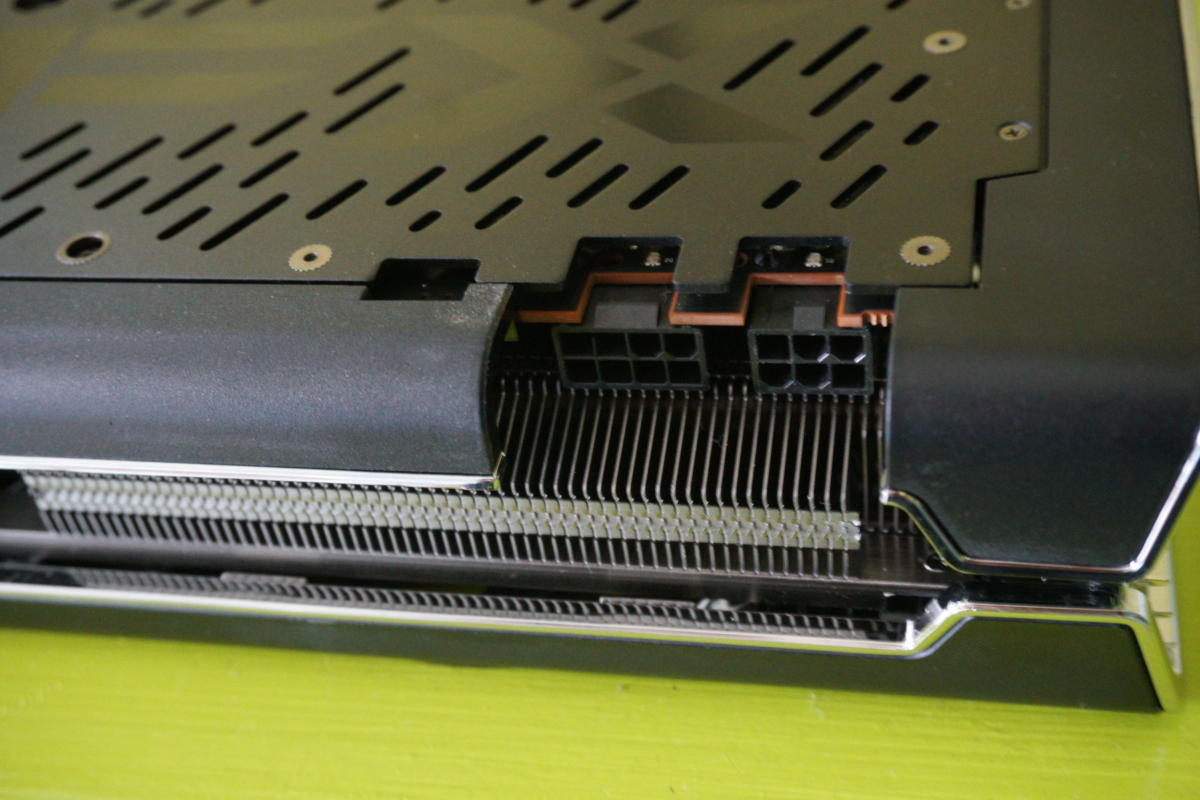 Alternatively, XFX already has a fixed Performance BIOS available, which you could easily install onto your graphics card using the simple and straightforward ATI Flash utility. It's a hassle, but it takes only a few minutes, and it will greatly improve your experience with this graphics card. We recommend installing the new BIOS from XFX's website if you buy this graphics card. You can already find it in the Downloads section on the Radeon RX 5700 XT Thicc II Ultra page.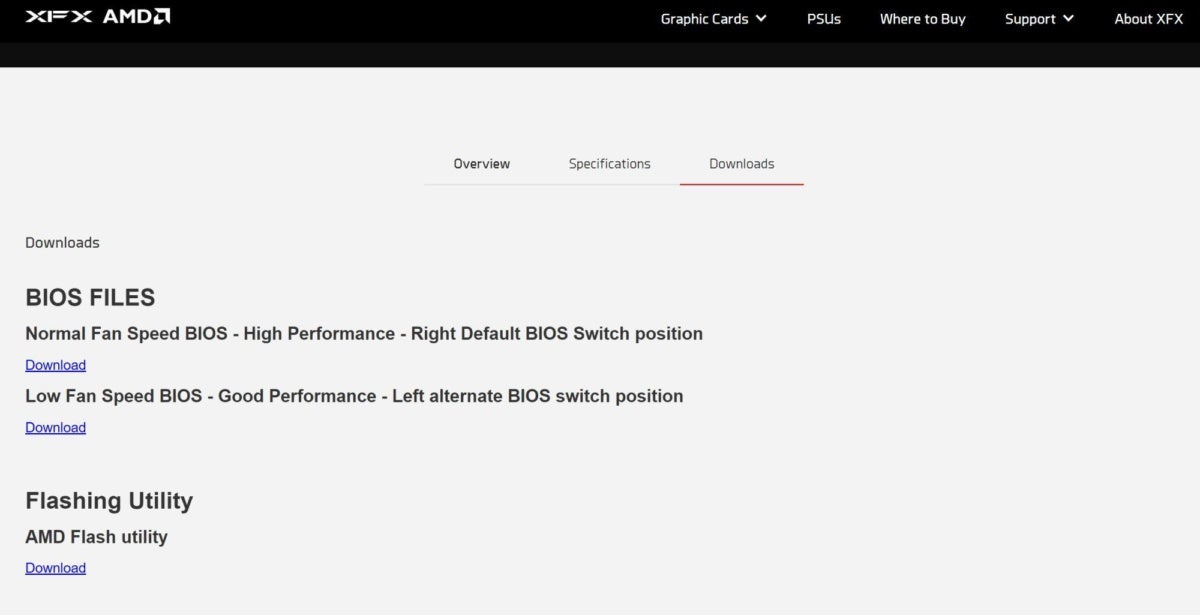 Future shipments will have the fixed BIOS applied out of the box, so the headaches described in this section should apply only to very early adopters. It's a pain, but don't let it turn you off of an otherwise excellent piece of hardware, especially if you're reading this well after the card's early September launch.
Our review was conducted using the new BIOS; refer to the Hardware Unboxed video above if you want to see default out-of-the-box performance for the XFX Radeon RX 5700 XT Thicc II Ultra. I can't help but wonder if something AMD did behind the scenes with its drivers altered the behavior of custom profiles, as Gamers Nexus also noted bizarre fan speed behavior in its review of the PowerColor Radeon RX 5700 Red Dragon. This issue with the XFX card seemingly popped up at the last minute, after Radeon Software Adrenalin 19.9.1 released, when it should have been caught during the quality assurance process. Alas.
Whew. That was a long and highly unusual detail. Onto the test bench!
Next page: Our test system, benchmarks begin
Our test system
Our dedicated graphics card test system is packed with some of the fastest complementary components available to put any potential performance bottlenecks squarely on the GPU. Most of the hardware was provided by the manufacturers, but we purchased the cooler and storage ourselves.
We're comparing the $440 XFX Radeon RX 5700 XT Thicc II Ultra against AMD's $400 reference Radeon RX 5700 XT and its little sibling, the $350 RX 5700, as well as the $400 GeForce RTX 2060 Super Founders Edition and the $500 GeForce RTX 2070 Super Edition, its nearest competitors. For a broader look at how AMD's core GPU stacks up against other cards, be sure to check out our original Radeon RX 5700 series review.
All prices cited are launch MSRP. You can often find reference RX 5700 cards cheaper on the streets these days, while custom RTX Super GPUs tend to sell for more than the (now gone) Founders Edition cards.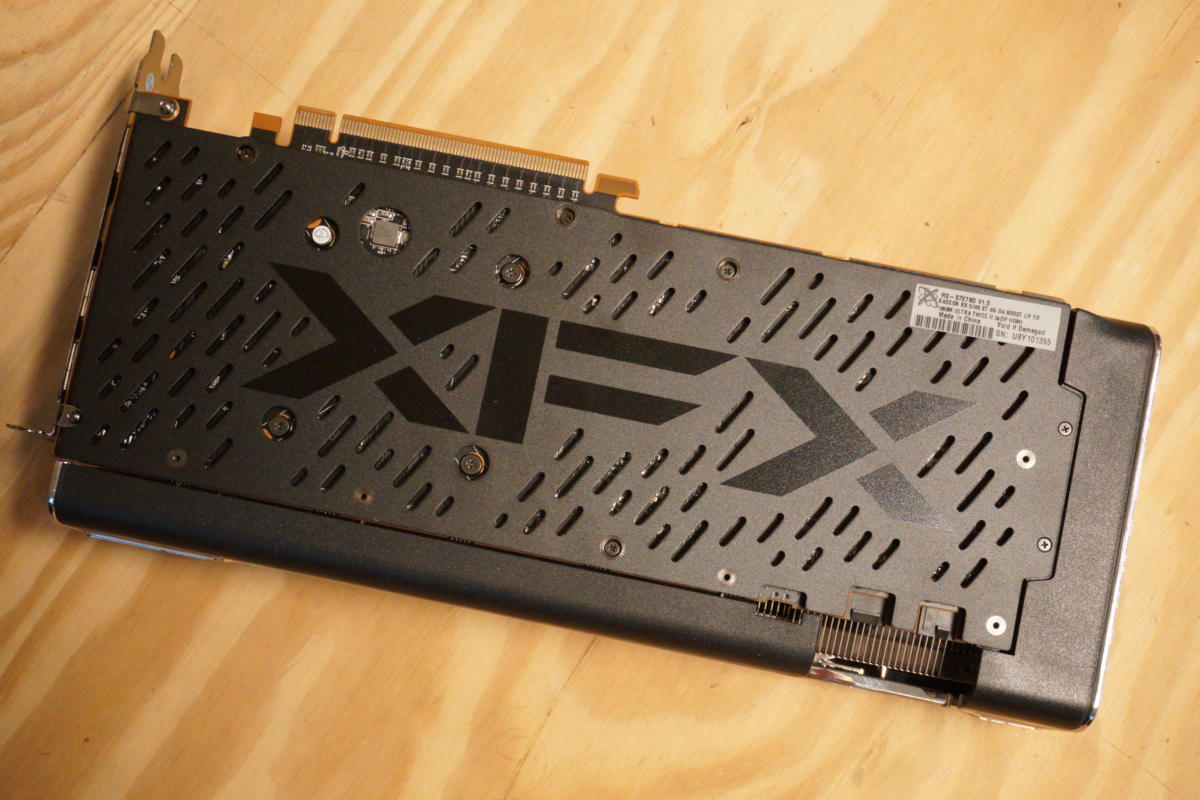 Each game is tested using its in-game benchmark at the highest possible graphics presets, with VSync, frame rate caps, and all GPU vendor-specific technologies—like AMD TressFX, Nvidia GameWorks options, and FreeSync/G-Sync—disabled, and temporal anti-aliasing (TAA) enabled to push these high-end cards to their limits. If anything differs from that, we'll mention it. We run each benchmark at least three times and list the average result for each test. As noted in the previous section, we tested the Thicc II Ultra using the "fixed" Performance BIOS provided by XFX, rather than the wonky profile that shipped with the first wave of shipments.
Because the XFX Thicc II Ultra is a faster Radeon RX 5700 XT at its core, we're going to skip our usual commentary after each gaming benchmark and let the testing speak for itself. We'll provide more analysis during the thermal and noise results, and put a bow on things in our closing recommendations.
Gaming performance benchmarks
Division 2
Let's start with the latest games. The Division 2 is one of the best looter-shooters ever created, and the luscious visuals generated by Ubisoft's Snowdrop engine make it even easier to get lost in post-apocalyptic Washington D.C. The built-in benchmark cycles through four "zones" to test an array of environments, and we test with the DirectX 12 renderer enabled. It provides better performance across the board than the DX11 renderer, but requires Windows 10.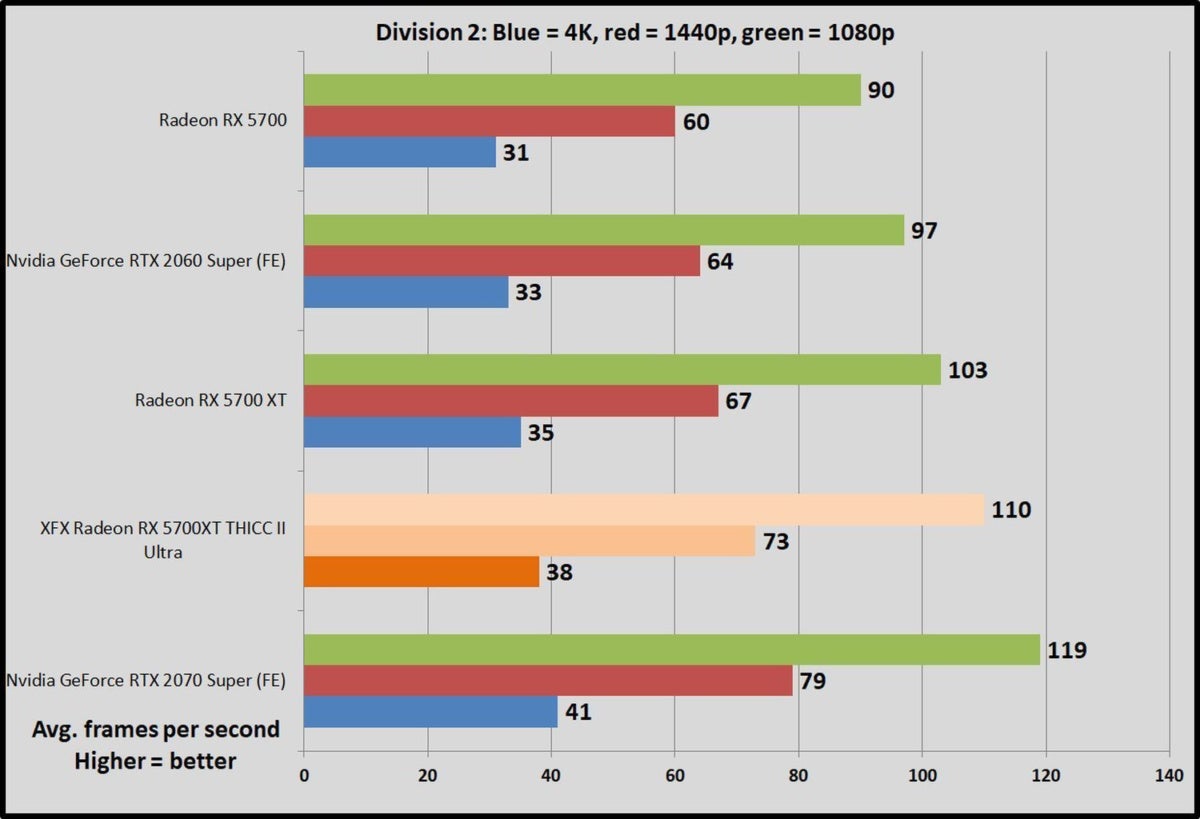 Far Cry: New Dawn
Another Ubisoft title, Far Cry: New Dawn drags Far Cry 5's wonderful gameplay into a post-apocalyptic future of its own, though this vision is a lot more bombastic—and pink—than The Division 2's bleak setting. The game runs on the latest version of the long-running Dunia engine, and it's slightly more strenuous than Far Cry 5's built-in benchmark.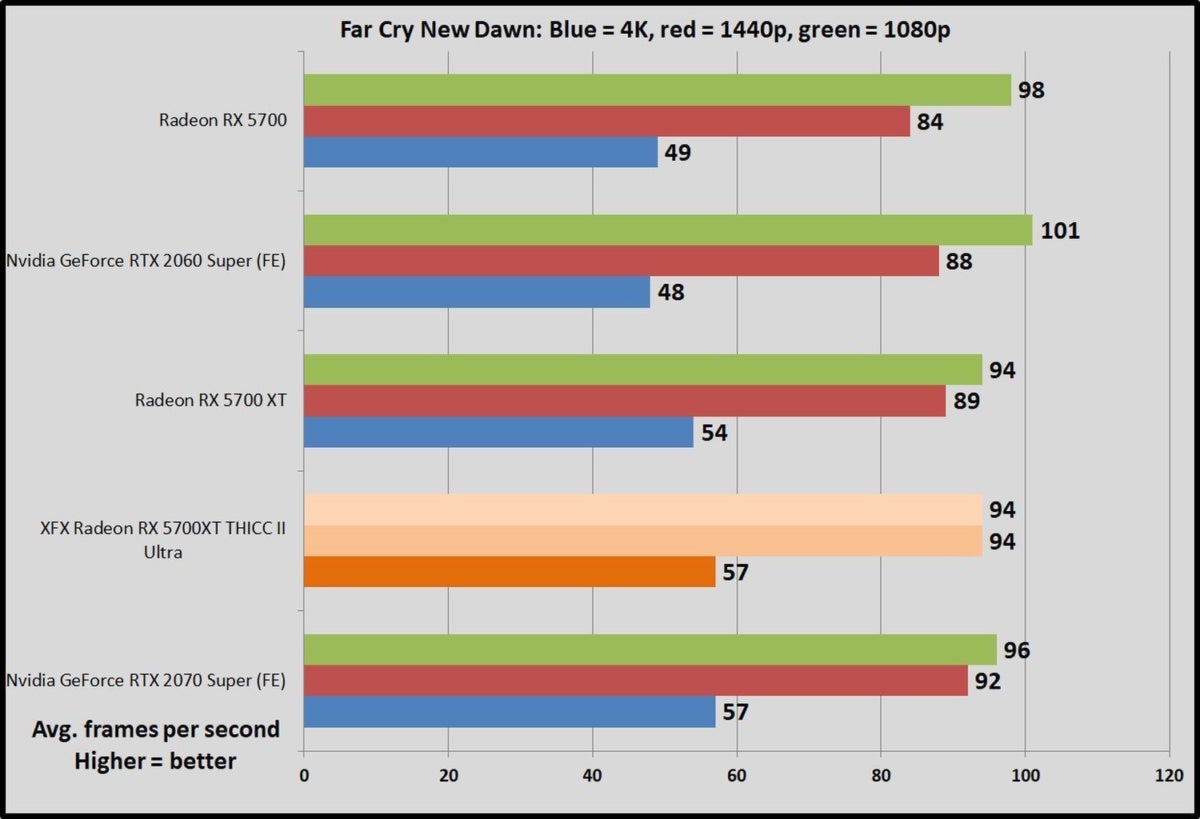 Strange Brigade
Strange Brigade ($50 on Humble) is a cooperative third-person shooter where a team of adventurers blasts through hordes of mythological enemies. It's a technological showcase, built around the next-gen Vulkan and DirectX 12 technologies and infused with features like HDR support and the ability to toggle asynchronous compute on and off. It uses Rebellion's custom Azure engine. We test the DX12 renderer with async compute off.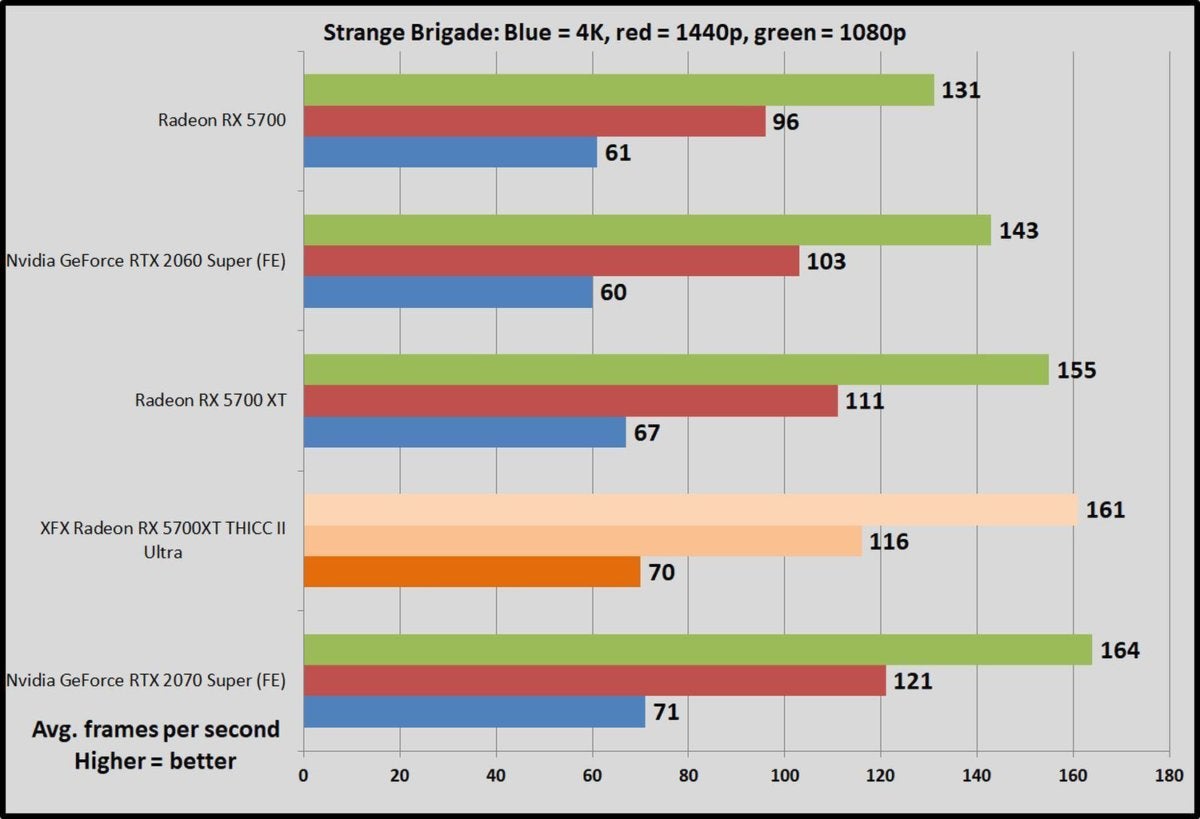 Next page: Gaming benchmarks continue
Shadow of the Tomb Raider
Shadow of the Tomb Raider ($60 on Humble) concludes the reboot trilogy, and it's utterly gorgeous. Square Enix optimized this game for DX12, and recommends DX11 only if you're using older hardware or Windows 7, so we test with that. Shadow of the Tomb Raider uses an enhanced version of the Foundation engine that also powered Rise of the Tomb Raider.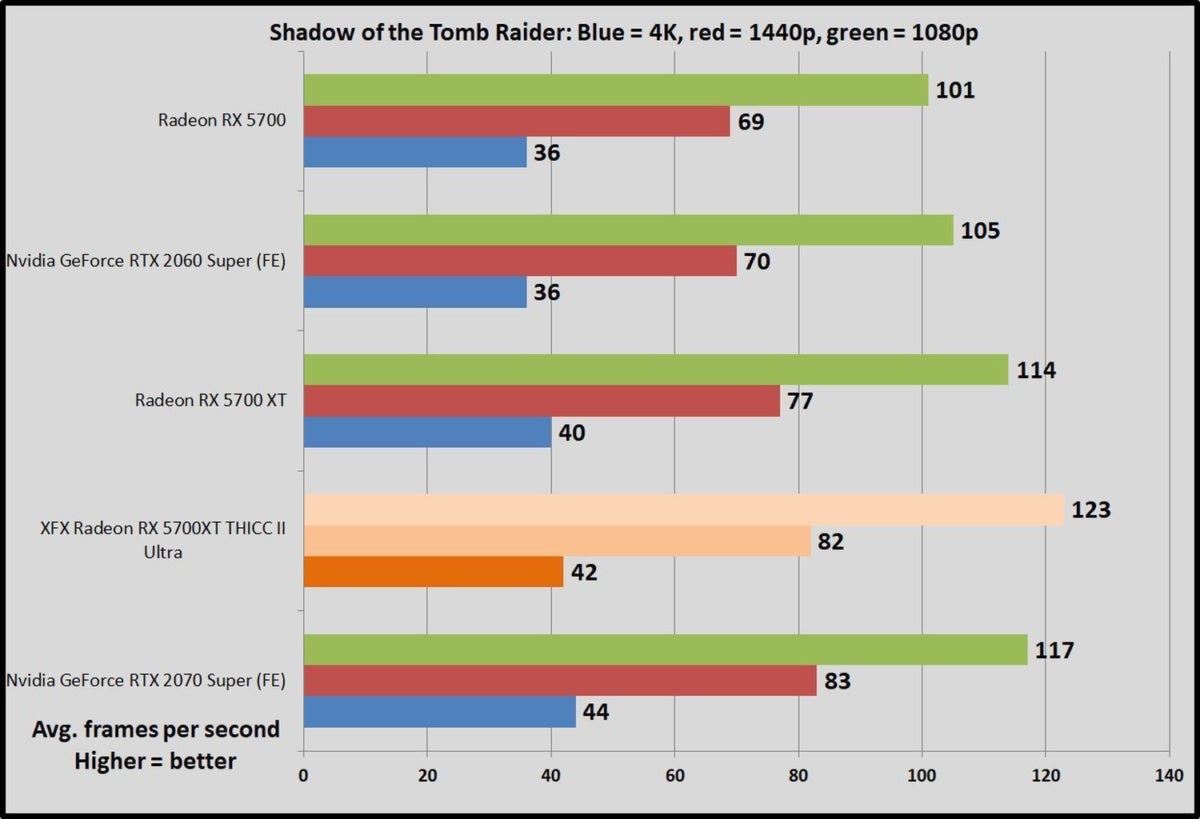 Ghost Recon Wildlands
Move over, Crysis. If you crank all the graphics options up to 11, like we do for these tests, Ghost Recon Wildlands ($50 on Humble) and its AnvilNext 2.0 engine absolutely melt GPUs, even with a sequel due later this year. It's by far the most strenuous game in our suite, even with newer stunners like Division 2 in the mix. We'll probably swap this out with Ghost Recon Breakpoint when it launches later this year.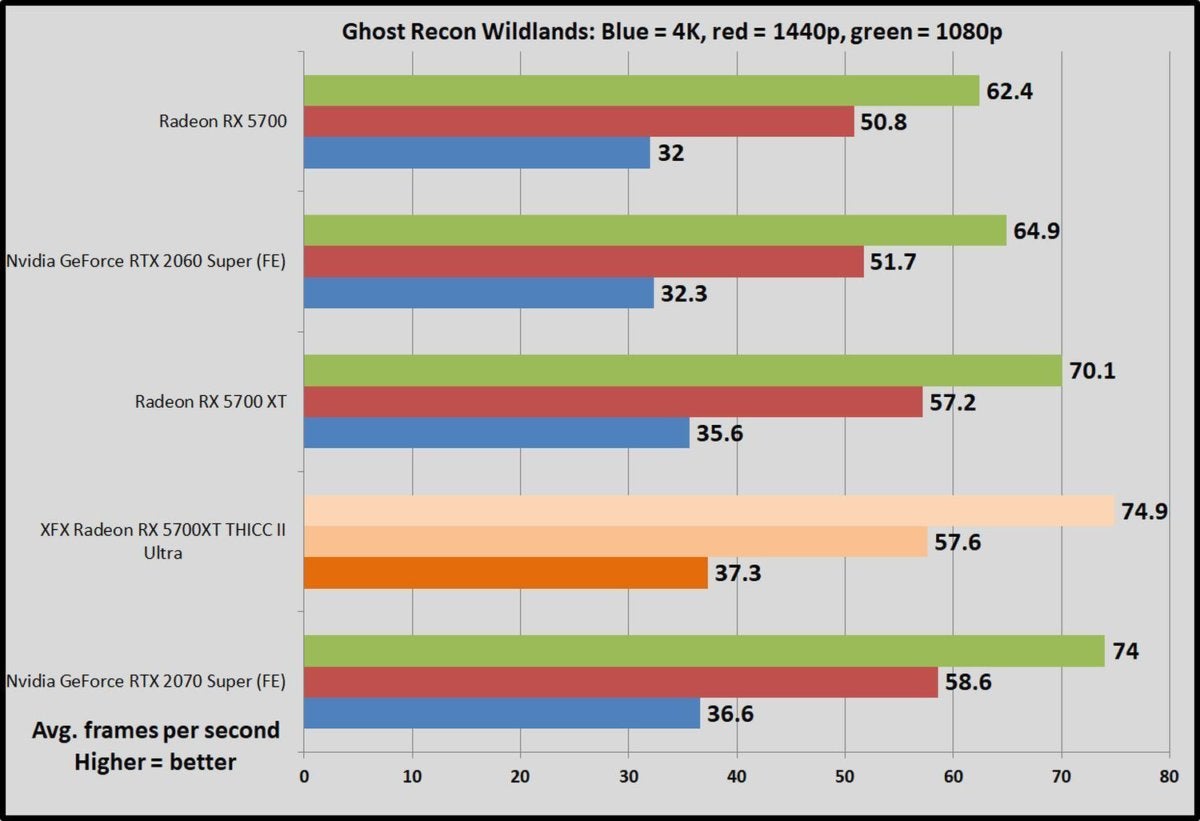 F1 2018
The latest in a long line of successful games, F1 2018 ($60 on Humble) is a gem to test, supplying a wide array of both graphical and benchmarking options—making it a much more reliable (and fun) option than the Forza series. It's built on the fourth version of Codemasters' buttery-smooth Ego game engine. We test two laps on the Australia course, with clear skies.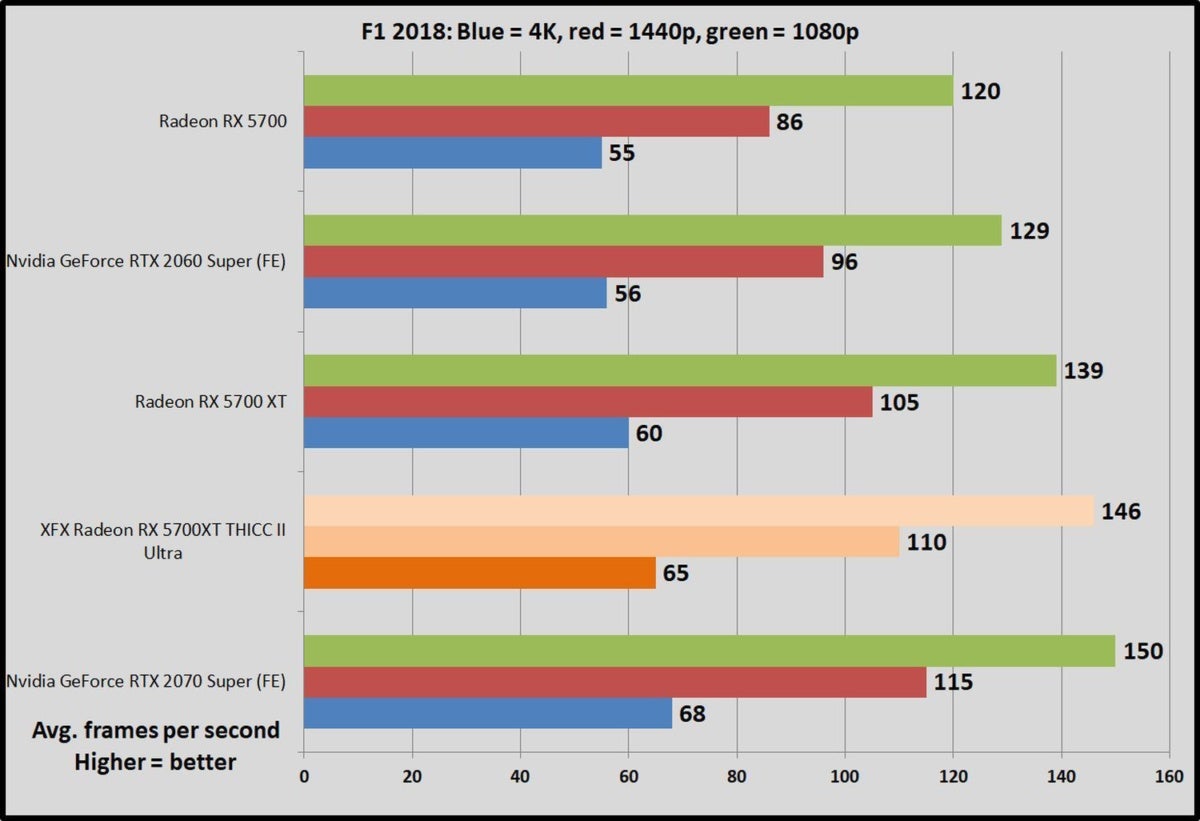 GTA V
We're going to wrap things up with a game that isn't really a visual barn-burner, but still tops the Steam charts day in and day out. We test Grand Theft Auto V ($30 on Humble) with all options turned to Very High, all Advanced Graphics options except extended shadows enabled, and FXAA. GTA V runs on the RAGE engine and has received substantial updates since its initial launch.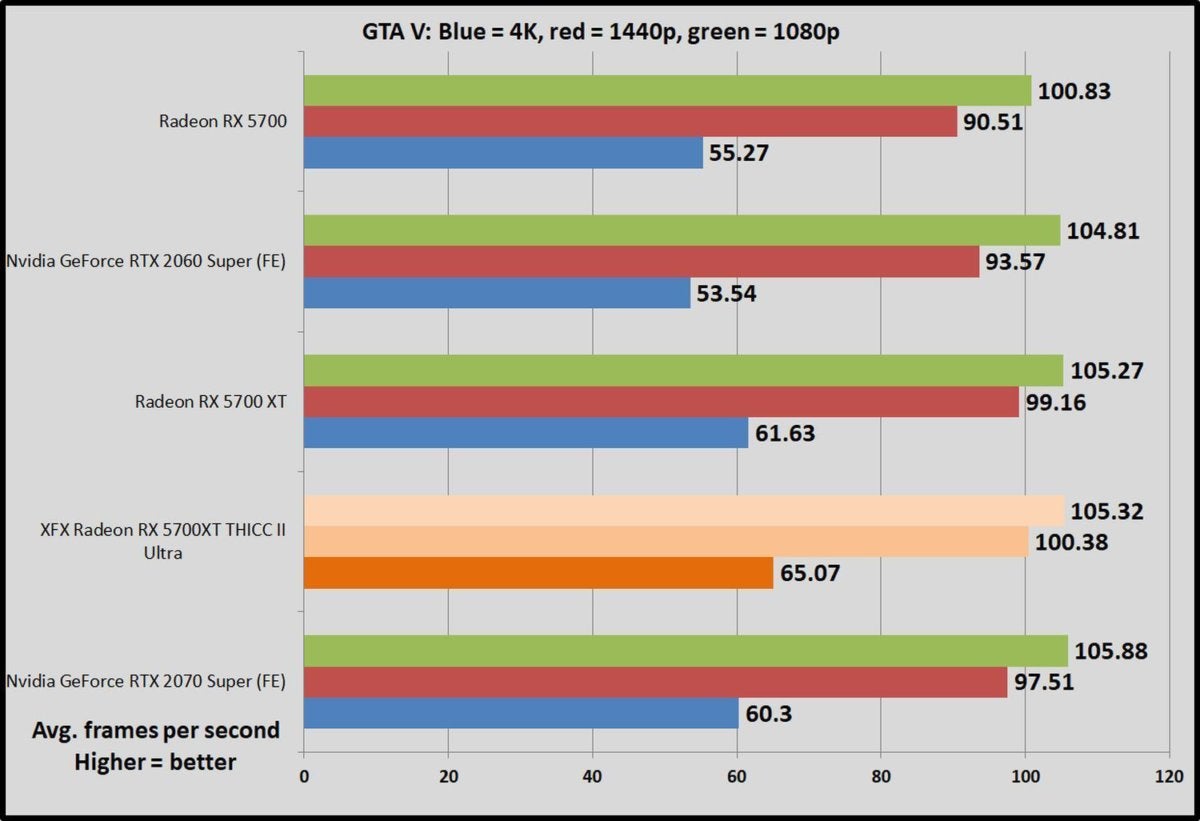 Next page: Synthetics, power, heat
Power draw, thermals, and noise
We also tested the XFX Radeon RX 5700 XT Thicc II Ultra using 3DMark's Fire Strike synthetic benchmark. Fire Strike runs at 1080p, Fire Strike Extreme runs at 1440p, and Fire Strike Ultra runs at 4K resolution. All render the same scene, but with more intense graphical effects as you move up the scale, so that Extreme and Ultra flavors stress GPUs even more. We record the graphics score to eliminate variance from the CPU.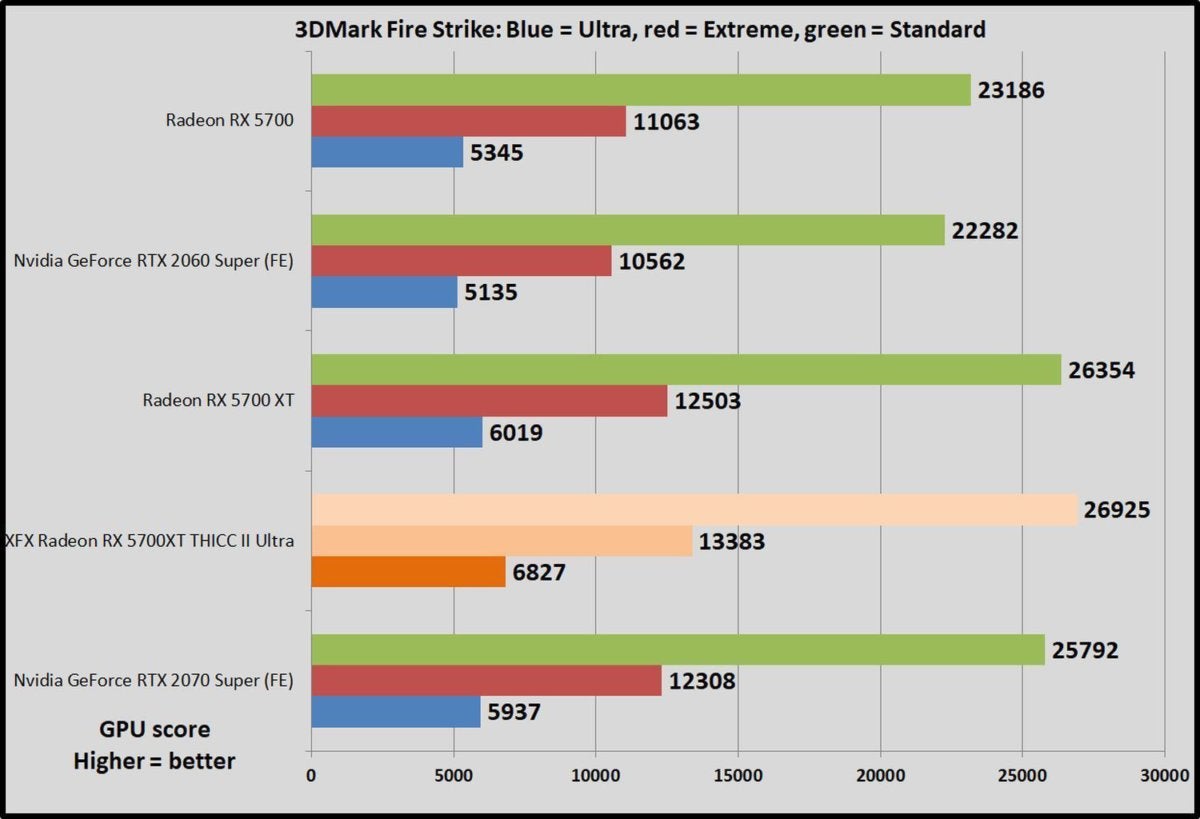 Fire Strike performance doesn't seem to correlate with real-world games performance very strongly anymore, as these results would put it ahead of the more powerful $700 GeForce RTX 2080 Super—which it definitely isn't. We'll probably switch to another synthetic benchmark soon.
We test power draw by looping the F1 2018 benchmark for about 20 minutes after we've benchmarked everything else, and noting the highest reading on our Watts Up Pro meter. The initial part of the race, where all competing cars are onscreen simultaneously, tends to be the most demanding portion.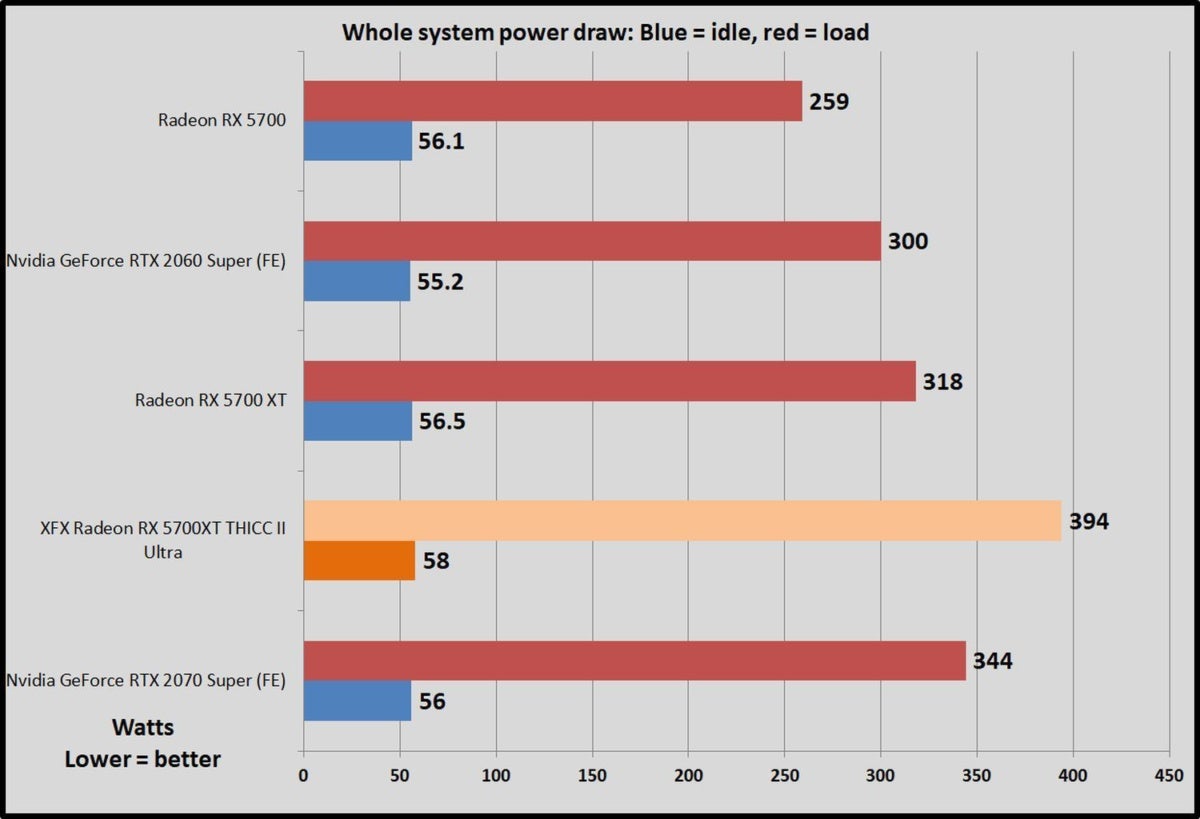 Pushing Navi to such high clock speeds definitely stresses its efficiency. While the reference RX 5700 XT delivers energy efficiency on a par with, or slightly better than, Nvidia's rival RTX GPUs, the ramped-up clock speeds in the XFX Thicc II Ultra suck down a lot more power—even more than the previously mentioned RTX 2080 Super, which is in an entirely different performance class.
And while the results aren't included here because we used XFX's fixed Performance BIOS, if you try using the as-shipped Performance BIOS with fan speed woes, the power draw goes up significantly—to the same levels as the monstrous $1,200 GeForce RTX 2080 Ti. Download that new BIOS pronto if you buy one of the first wave of this card.
All that said, the 394W this card draws isn't unreasonable, but a side effect of drawing that much power is having to dissipate the heat. We test thermals by leaving either AMD's Wattman (for Radeon GPUs) or EVGA's Precision X1 (for GeForce GPUs) open during the F1 2018 five-lap power draw test, noting the highest maximum temperature at the end.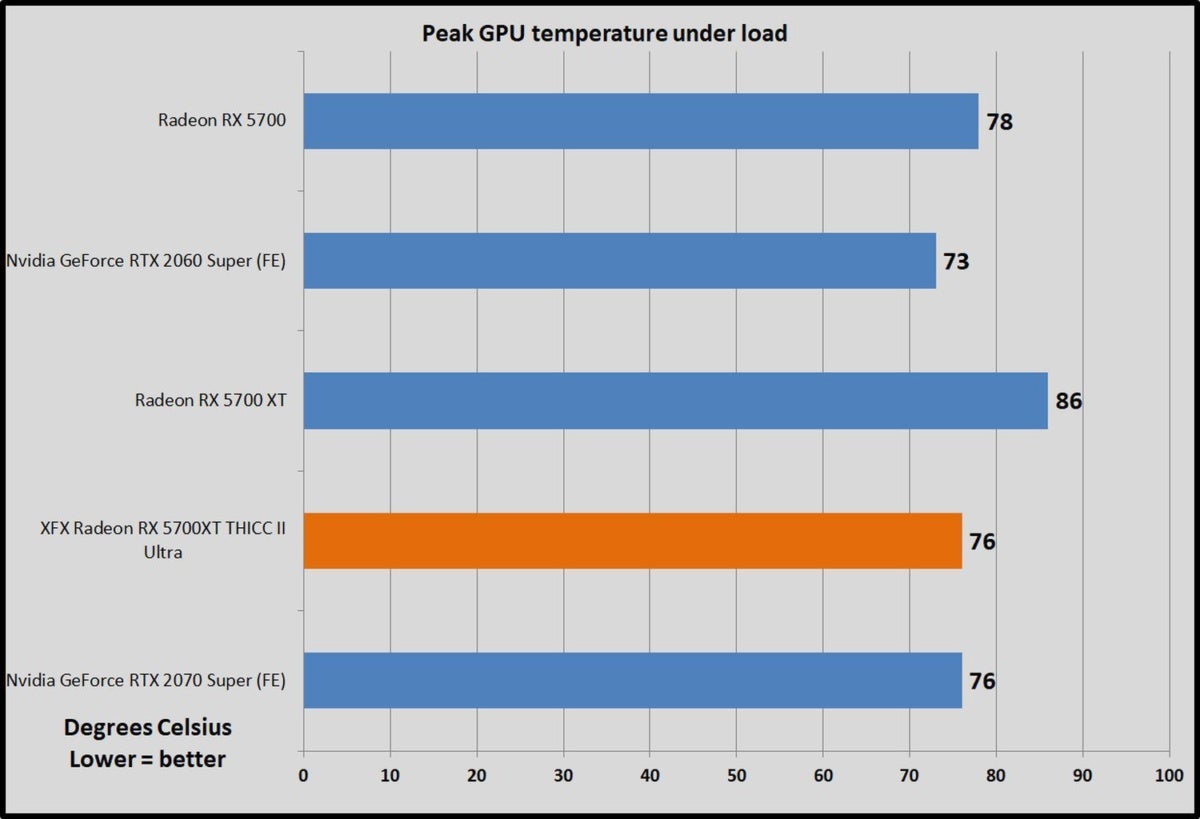 XFX's Thicc II Ultra is a lot chillier than AMD's blower-style reference cooler, and subjectively, much quieter as well. But this isn't the quietest card I've ever tested. Even with the fixed Performance BIOS, the fan speeds tend to hover at 2,100rpm to 2,300rpm under load, which is a lot faster than many competing custom designs. It's no doubt needed to keep the heat from that high power draw in check, and thus allow the Thicc II Ultra to boost to such high performance levels, but XFX clearly leans toward cooler temperatures than lower noise levels.
The card isn't unpleasant to be around though, unlike the notoriously bad Radeon Vega reference coolers. And we actually love the idle fan stop feature (common on high-end custom cards). Utter silence during standard desktop usage is delightful.
Next page: Should you buy the XFX Radeon RX 5700 XT Thicc II Ultra?
Should you buy the XFX Radeon RX 5700 XT Thicc II Ultra?
It's a shame about the launch batch BIOS woes, but don't sleep on the XFX Radeon RX 5700 XT Thicc II Ultra. This is a high-performing, extremely gorgeous graphics card that chews through 1440p gaming or high refresh rate 1080p gaming without fail.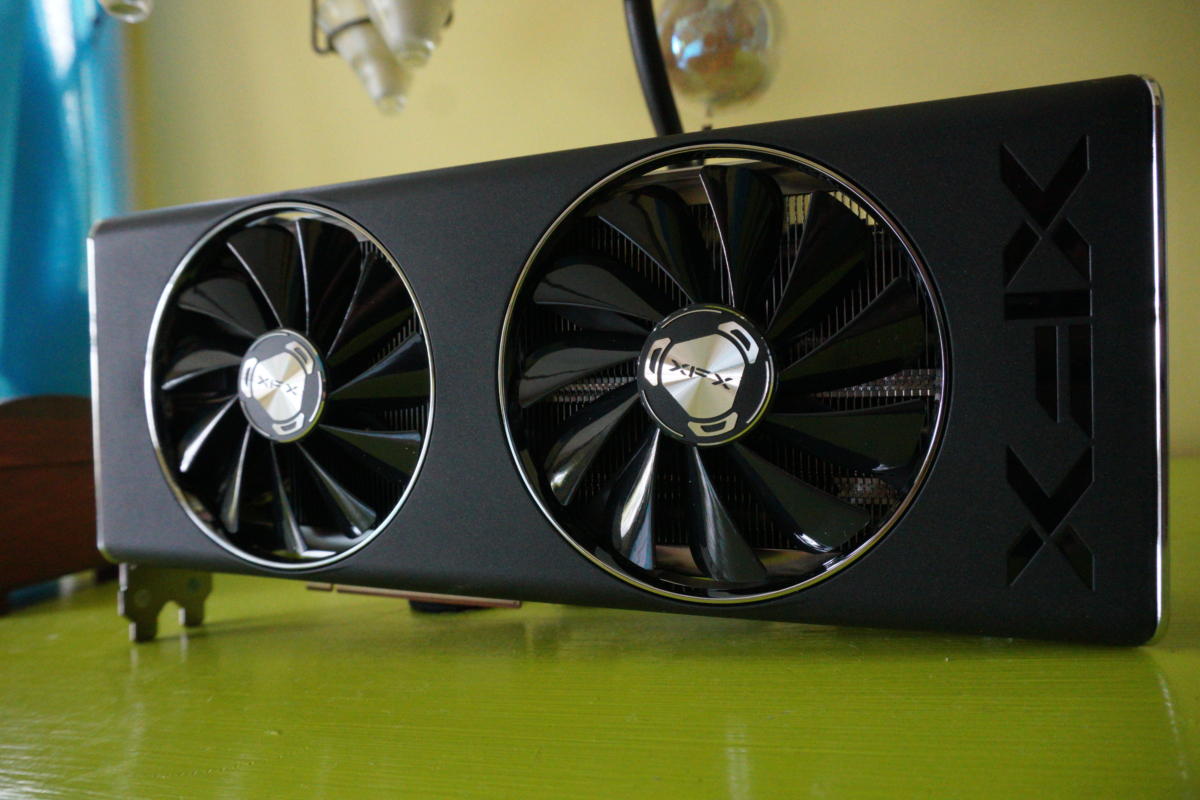 XFX leans hard on AMD's Navi GPU to crank performance. Across our testing suite, the Thicc II Ultra is an average of 4.6 percent faster than the reference RX 5700 XT at 1440p resolution, and even more so in DirectX 12 games—it's 9 percent faster in Division 2, for example, and 6.5 percent faster in Shadow of the Tomb Raider. It blows past the $400 GeForce RTX 2060 Super and lands within spitting distance of the $500+ RTX 2070 Super—sometimes it's faster. Pair it with a FreeSync variable refresh rate monitor and you'll have one hell of a gaming setup, though like all Radeon GPUs, it lacks real-time ray tracing capabilities. That cutting-edge lighting technology is still in its infancy, however.
And hot damn, this graphics card is gorgeous—perhaps my favorite ever. I can't state that strongly enough. Taste is subjective, and the "Thicc" branding is pretty cringey, but the Thicc II Ultra lives up to it. The cooler on this plus-sized card is a big improvement over the reference RX 5700 XT's blower-style fan.
Pushing Navi this hard has its drawbacks, though. The Thicc II Ultra draws significantly more power than the reference model and Nvidia's GeForce rivals. Taming the heat that fierce power draw generates requires the fans to spin at high speeds, which makes the card a bit louder than many custom designs. Neither is egregious enough to diminish my affection for this beast of a graphics card though, and the added noise somewhat adds to the hot rod feel, weirdly enough. Your mileage may vary.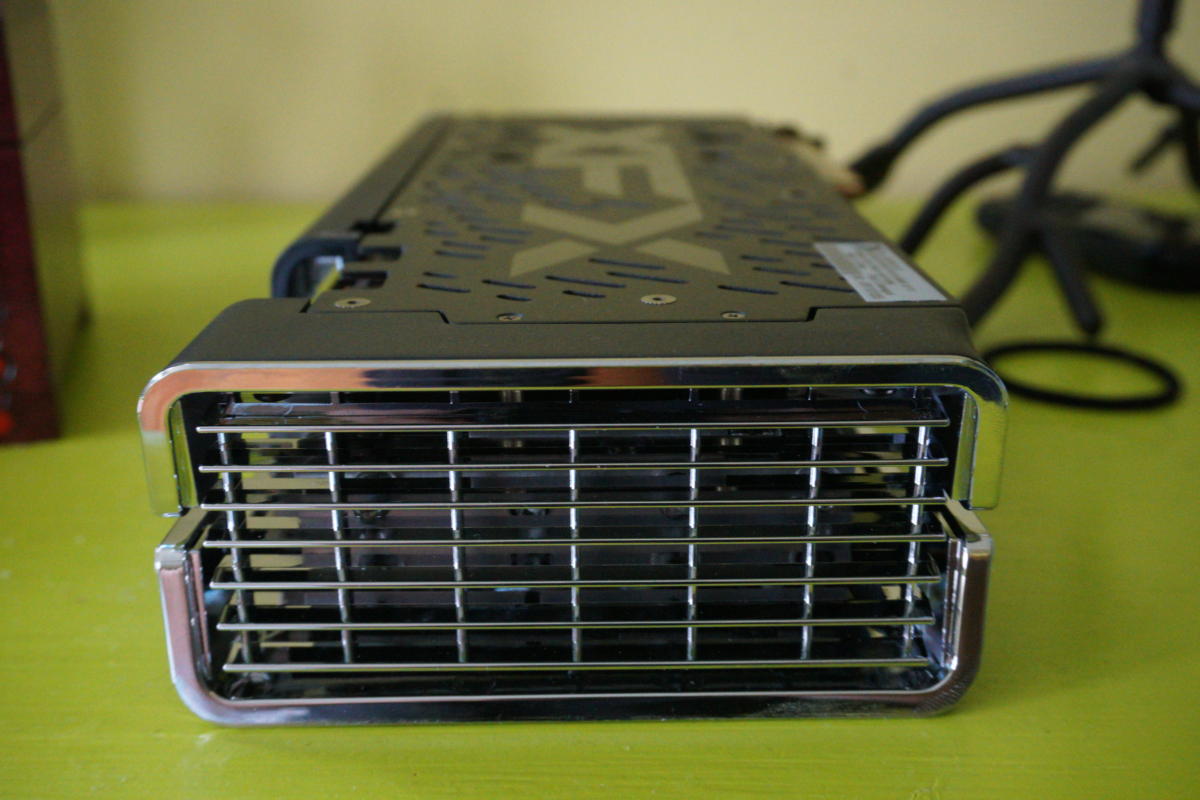 The fan speed problems with the first wave of cards to hit the shelves is a major issue, and one that directly affects both quality of life and in-game performance. XFX has already fixed the issue via a BIOS update available on the Thicc II Ultra's page, and representatives told me that all cards coming from the factory now have the adjusted BIOS preinstalled, so these issues should only affect very early adopters. That said, if you buy this card and discover it suffers from the flaw, be sure to install that BIOS ASAP. It sounds scary, but it isn't. The process is painless and takes only a few minutes.
Bottom line: Even with the quibbles, XFX achieved exactly what it set out to do here. The $440 XFX Radeon RX 5700 XT Thicc II Ultra is a captivating, high-performance muscle car of a graphics card, complete with a chromed-out grille and a gentle roar when it puts the pedal to the metal. The power draw, slightly high fan noise, and soon-to-be-alleviated fan speed issues in the launch batch forces us to dock it a half-point in the final rating and prevent us from giving the Thicc II Ultra an Editors' Choice award. Nevertheless, it's highly recommended, even though you might need to tinker under the hood in true hot rod-like fashion to get the card running at peak potential. It's slightly flawed but mighty fine.
I think the XFX Radeon RX 5700 XT Thicc II Ultra might hold a special place in my heart for a while.
Best Prices Today: Radeon RX 5700 XT Thicc II Ultra