At a Glance
Expert's Rating
Pros
Excellent gaming performance
Trixx Boost software uses smart downscaling for great FPS gains
Extremely cool and quiet
Gorgeous physical design
Thoughtful hardware and software features
Cons
No dedicated ray tracing hardware
Physically large card might not fit in some systems
Our Verdict
The Sapphire Nitro+ Radeon RX 5700 XT delivers excellent performance that's pushed even further with some smart software tricks, and the graphics card's hardware design is so thoughtful it's virtually flawless. We can't think of anything we'd change.
It's been a long time coming, but the custom Radeon RX 5700 XT series graphics cards are finally starting to flow. Today we're taking a look at the $440 Sapphire Nitro+ Radeon RX 5700 XT, built around the more powerful version of AMD's two "Navi" GPUs and Sapphire's flagship Nitro+ custom design.
The wait for these pieces of heavier-duty custom kit was worth it. Just last week, we reviewed XFX's rival Radeon RX 5700 XT Thicc II Ultra, falling in love with its gorgeous design, evoking classic muscle cars. Like a true hot rod, it was beautiful and fast, but also ran a little loud and needed some tinkering for peak performance. It was slightly imperfect but wholly impressive.
The Sapphire Nitro+ Radeon RX 5700 XT is nearly flawless. It's hard to envision a more complete enthusiast-class custom design than this. And with the help of some ingenious software tricks, Sapphire can even catapult the Nitro+'s performance into a whole other class, putting it toe-to-toe with Nvidia's fearsome GeForce RTX 2080 Super and RTX 2080 Ti for hundreds of dollars less. Let's go!
Sapphire Nitro+ Radeon RX 5700 XT: Specs, price, and features
Sapphire's graphics card puts an overclocked, highly customized spin on AMD's Radeon RX 5700 XT's "Navi" GPU, then pushes even further with some clever software tricks and optional upgrades.
This generation's Navi chips are chock full of cutting-edge features: They're the first consumer GPUs built using the 7nm manufacturing process, the first GPUs to support the ultra-fast PCI 4.0 interface (if you pair it with a Ryzen 3000 CPU and an X570 motherboard), and the first GPUs created with AMD's new underlying "RDNA" graphics architecture. The combination of RDNA and 7nm greatly improved the power efficiency of Radeon GPUs, and the RX 5700 series performs much better in games that used to strongly favor Nvidia's GeForce graphics cards. AMD also introduced helpful software tricks like Radeon Image Sharpening to help get better performance out of your hardware—which Sapphire leverages to great effect with its Trixx Boost software—though Navi does not support real-time ray tracing like the GeForce RTX 20-series.
This review focuses on the Sapphire Nitro+ Radeon RX 5700 XT's bespoke tweaks and overall performance. Here's a look at the stock specifications for the Radeon RX 5700 series compared to last generation's Radeon Vega GPUs to get you up to speed: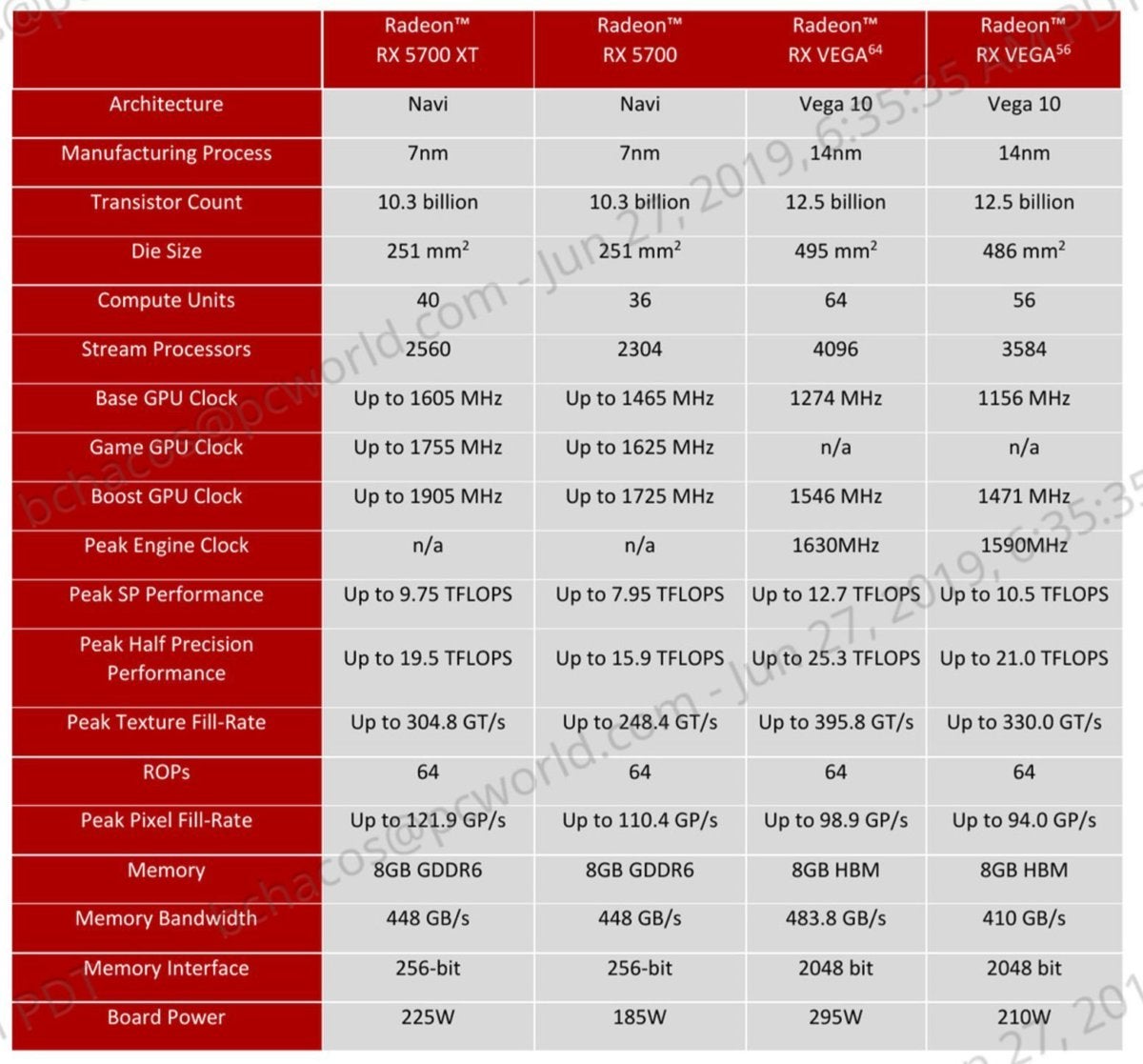 And here's a look at the Sapphire Nitro+'s own specifications: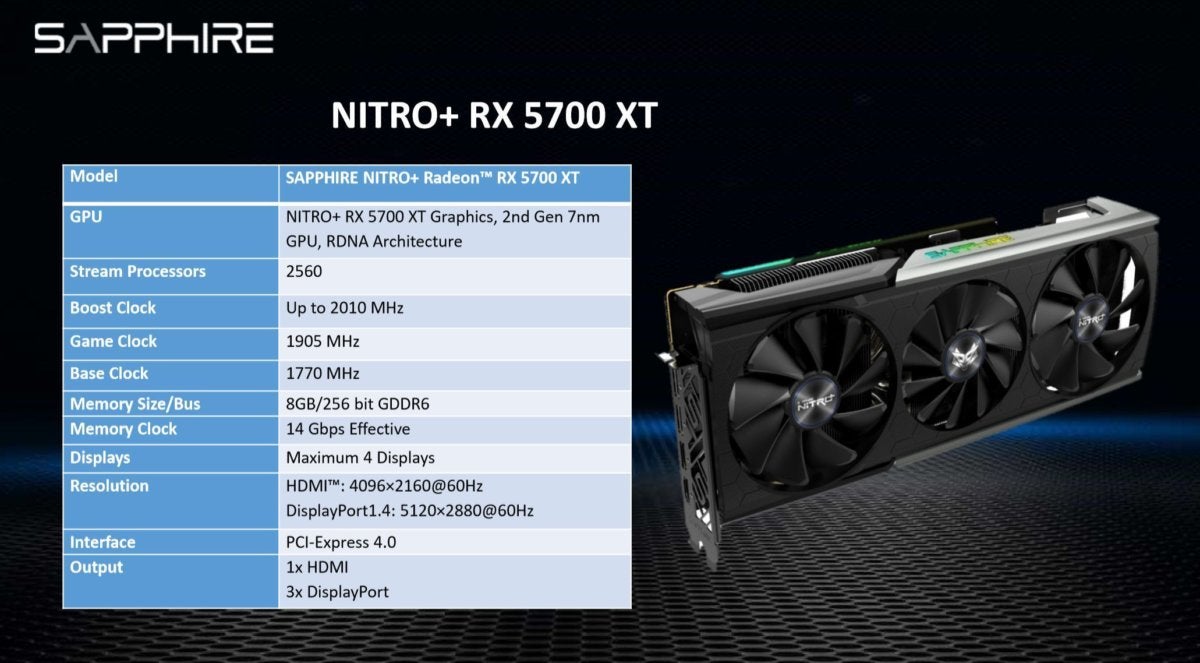 When it comes to back-of-the-box stats, the Sapphire Nitro+'s biggest change comes in clock speeds, providing a huge jump in raw frequencies. The Nitro+'s base clock speed is faster than the reference RX 5700 XT's Game clock speed, which is the expected minimum clock speed you can expect to see in gaming workloads. The Nitro+'s rated Game clock lands north of 1,900MHz, and in practice, we saw it boosting even higher in games. This thing is fast—and the company's innovative "Trixx Boost" software feature can push it to blazing new heights if you're willing to accept a tiny resolution drop. More on that after our gaming benchmarks later.
Coaxing so much performance out of AMD's "Navi" GPUs isn't easy. Sapphire bumped the power connectors from the reference card's 6-pin and 8-pin configuration to two 8-pin connectors, and outfitted the Nitro+ with the company's highest-end custom cooling solution, dubbed Tri-X.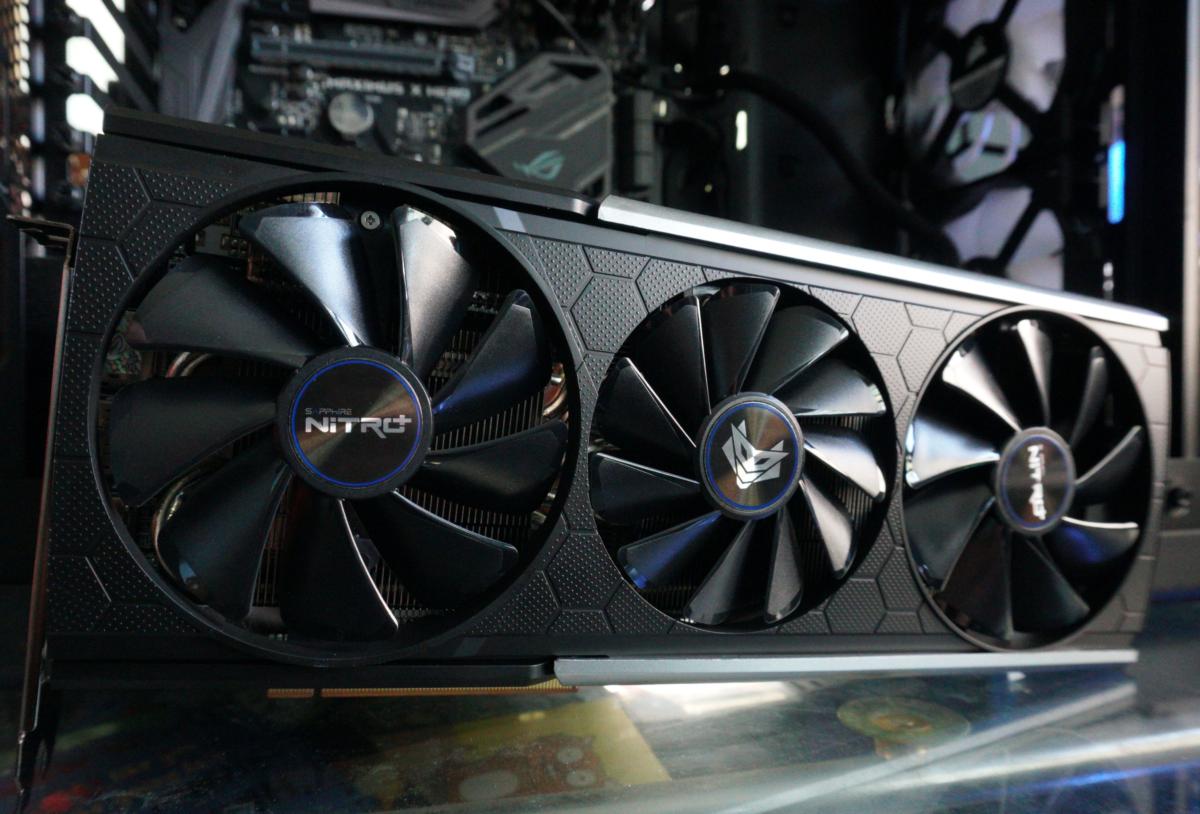 Tri-X embeds a trio of fans in the card's sleek silver and black aluminum shroud. The two larger outer fans rotate normally, while the smaller inside fan spins in the opposite direction "to boost wind flow beneath the fans." Sapphire claims that system, paired with the tunneled curve of the fans themselves, increases "the convection of airflow to ensure that Tri-X cooling is a low temperature and low noise cooling solution." In our tests, the claim proved true, as the Nitro+ runs far chillier than the reference design and stays quiet under load, with fan speeds never topping 1,800rpm. For comparison, the XFX Thicc II Ultra's more audible fans spin at 2,100rpm to 2,300rpm.
New for the Radeon RX 5700 series Nitro+ models, Sapphire now offers upgradeable ARGB fans, augmenting the fan health monitoring and "Nitro Glow" RGB control features it's been building in the company's Trixx Software. The upgrade kit costs $30 and includes a pair of 95mm fans and a smaller 87mm inside fan. All you need to do unscrew the existing fans, then slip in the new ones.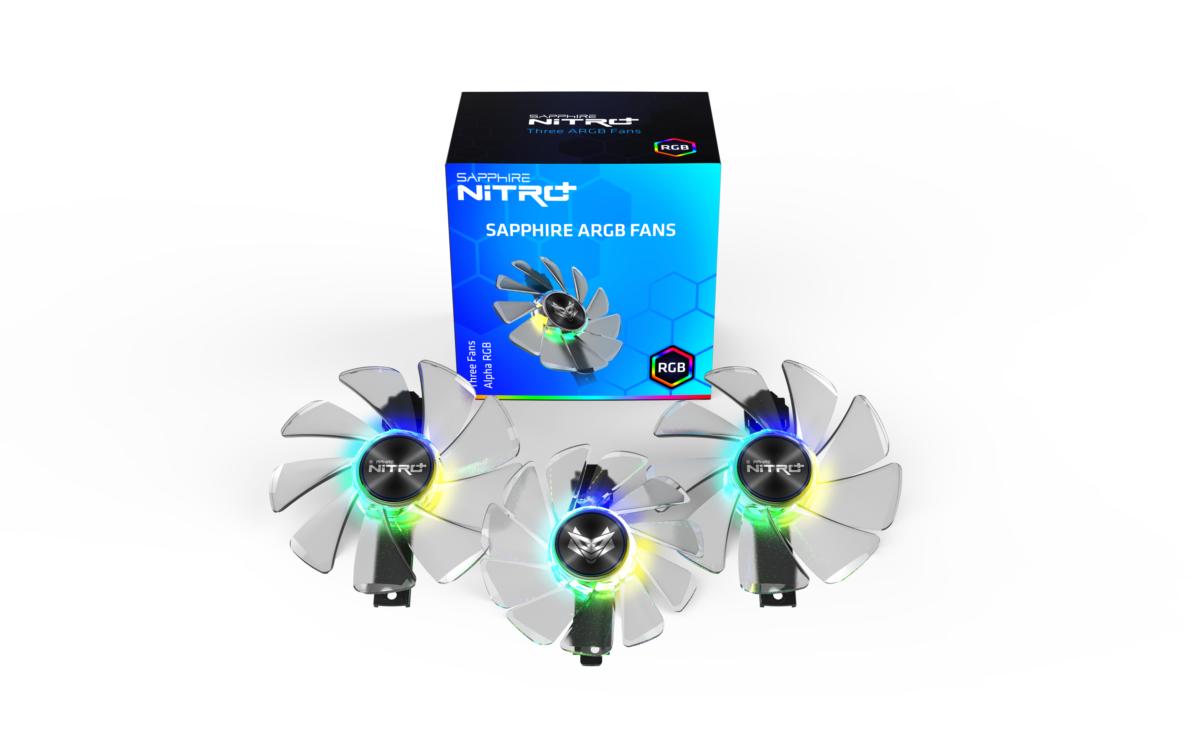 Customizable lighting is a big focus for the Nitro+. You'll find the standard RGB LEDs embedded in the Sapphire logo on the side of the card, but Sapphire also added a slew of RGB lights to the edge and in the logo on the metallic backplate of the card, which glow in a stunning shifting rainbow pattern by default. If you'd prefer to synchronize the RGB lighting with your motherboard's, Sapphire added an addressable 3-pin header in the tail of the card. After plugging it into a RGB header on your motherboard you can select to have your motherboard software control the graphics card's RGBs inside of Trixx.
Premium touches like this are what set the Nitro+ line apart from Sapphire's more budget-oriented GPUs like the superb Pulse Radeon RX 5700.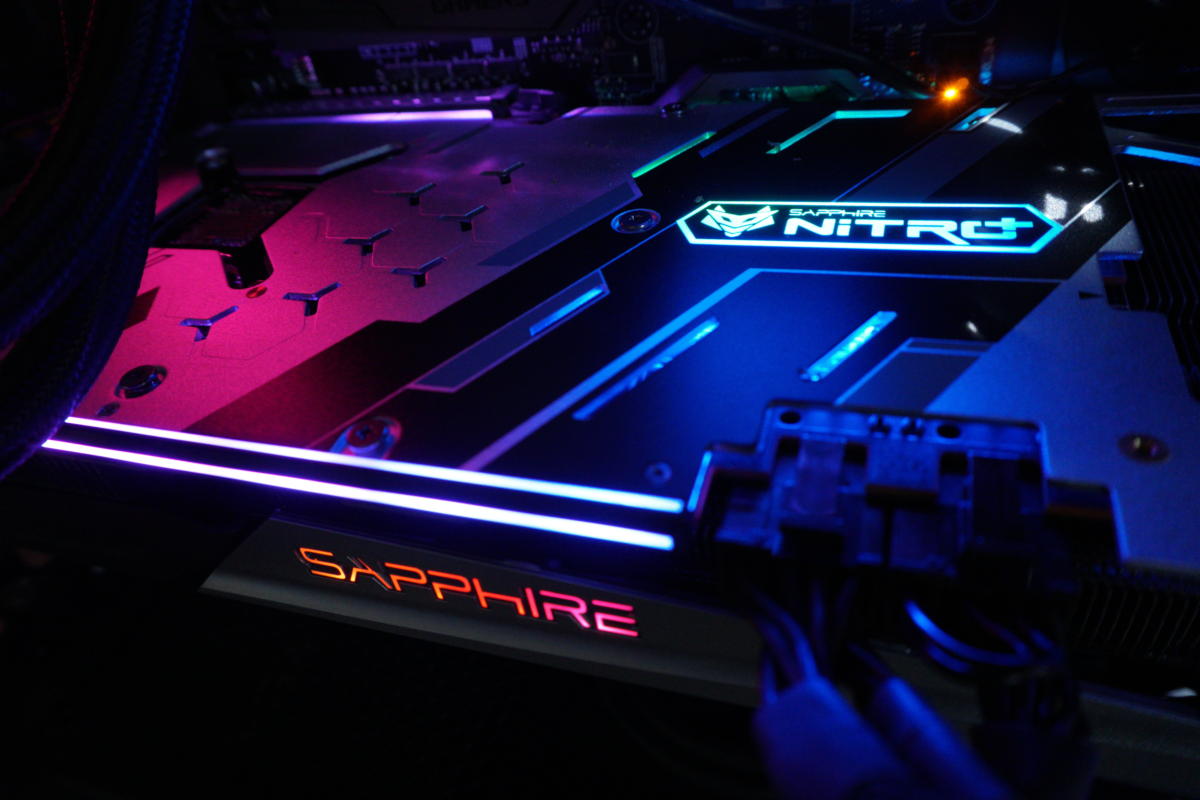 Sapphire's design isn't all flash, though. This is a foot-long graphics card, thanks to a massive full-length heatsink augmented by four full-length heat pipes underneath the silver shroud. More than full-length, actually, as the fin stack extends beyond the Nitro+'s PCB and backplate. Sapphire further beefed out the card with dedicated VRM and memory cooling, fuse protection, cooler and more power-efficient black diamond chokes, and 7+1+2-phase digital power delivery for better potential overclocking performance. The Nitro+ comes fully loaded.
Another nice touch: Sapphire goes beyond the dual-BIOS switch that's somewhat common among higher-end custom cards, adding a third setting. The first two do what you'd expect, shifting between the default high-performance mode and a secondary profile that sacrifices some speed for lower acoustics. But the third is interesting: It allows you to control which of those two BIOS profiles you're using within Sapphire's Trixx software, negating the need to pry open your case's side panel and manually flip a switch.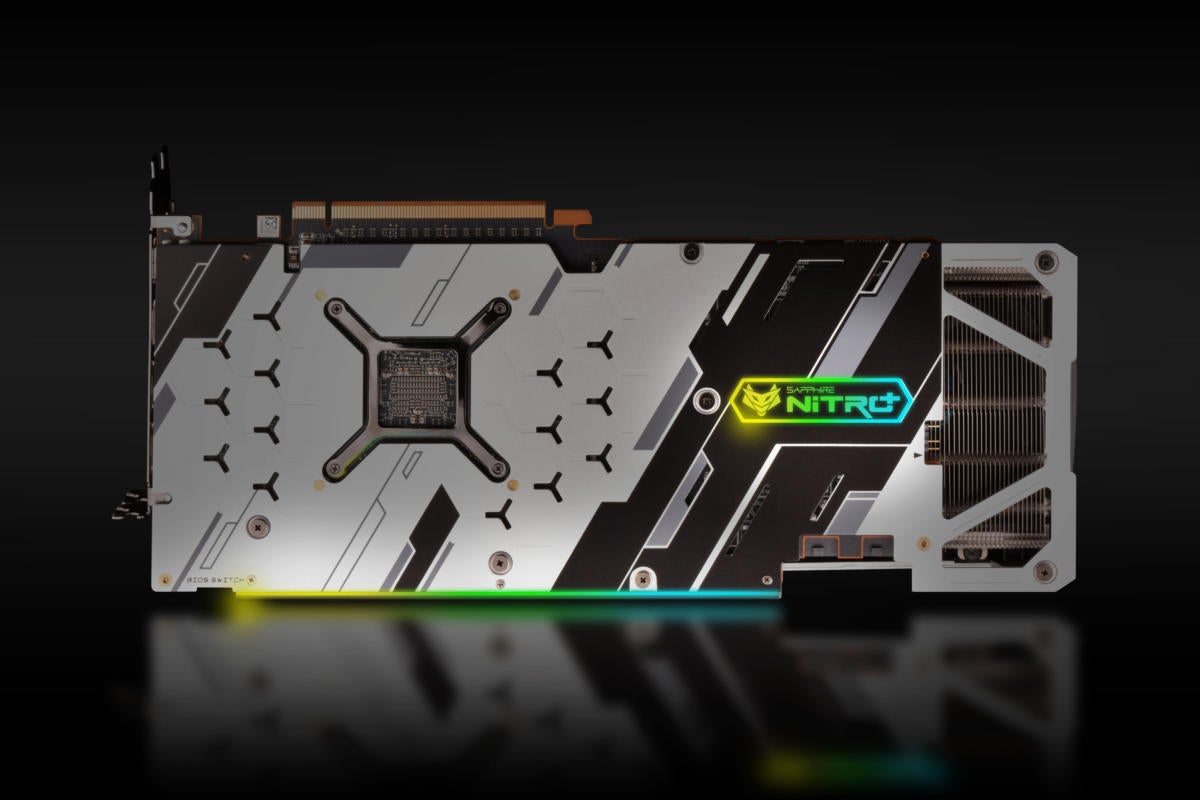 Simple? Sure. But I love to see quality-of-life improvements like this, and it emphasizes how much extra utility Sapphire managed to squeeze intro Trixx for this new Radeon generation—spearheaded by the performance-enhancing Trixx Boost feature. Let's take this to the test bench!
Next page: Our test system, gaming benchmarks begin
Our test system
Our dedicated graphics card test system is packed with some of the fastest complementary components available, to put any potential performance bottlenecks squarely on the GPU. Most of the hardware was provided by the manufacturers, but we purchased the cooler and storage ourselves.
We're comparing the $440 Sapphire Nitro+ Radeon RX 5700 XT against the similarly priced $440 XFX Radeon RX 5700 XT Thicc II Ultra. We're also pitting it against AMD's $350 reference Radeon RX 5700, the $400 reference Radeon RX 5700 XT, the $400 GeForce RTX 2060 Super Founders Edition, and the $500 GeForce RTX 2070 Super Edition. Its nearest competitors, basically. For a broader look at how AMD's core GPU stacks up against other cards, be sure to check out our original Radeon RX 5700 series review.
Every card was tested with their default BIOS if multiple BIOS options were available. Both the Nitro+ and XFX's Thicc II Ultra default to high performance over lower acoustics.
Mentioned in this article
Radeon RX 5700 XT Thicc II Ultra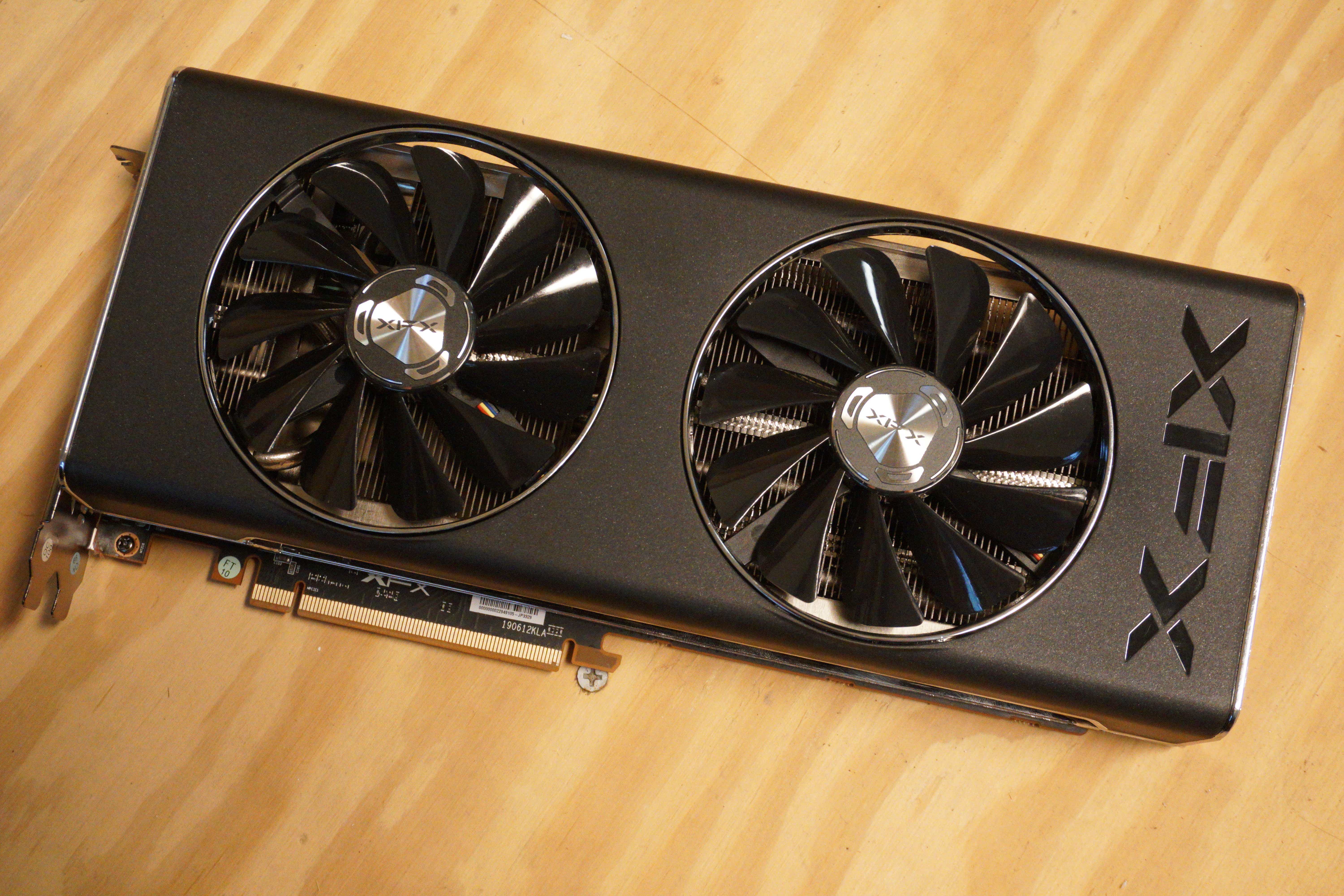 Price When Reviewed:
$450
All prices cited are launch MSRP. You can often find reference RX 5700 cards cheaper on the streets these days, while custom RTX Super GPUs tend to sell for more than the (now-gone) Founders Edition cards.
Each game is tested using its in-game benchmark at the highest possible graphics presets, with VSync, frame rate caps, and all GPU vendor-specific technologies—like AMD TressFX, Nvidia GameWorks options, and FreeSync/G-Sync—disabled, and temporal anti-aliasing (TAA) enabled to push these high-end cards to their limits. If anything differs from that, we'll mention it. We run each benchmark at least three times and list the average result for each test.
Because the Sapphire Nitro+ is a faster Radeon RX 5700 XT at its core, we're going to skip our usual commentary after each gaming benchmark and let the testing speak for itself. We'll provide more analysis during the thermal and noise results and put a bow on things in our closing recommendations.
Gaming performance benchmarks
Division 2
Let's start with the latest games. The Division 2 is one of the best looter-shooters ever created. The luscious visuals generated by Ubisoft's Snowdrop engine make it even easier to get lost in post-apocalyptic Washington D.C. The built-in benchmark cycles through four "zones" to test an array of environments. We test with the DirectX 12 renderer enabled. It provides better performance across the board than the DX11 renderer, but it requires Windows 10.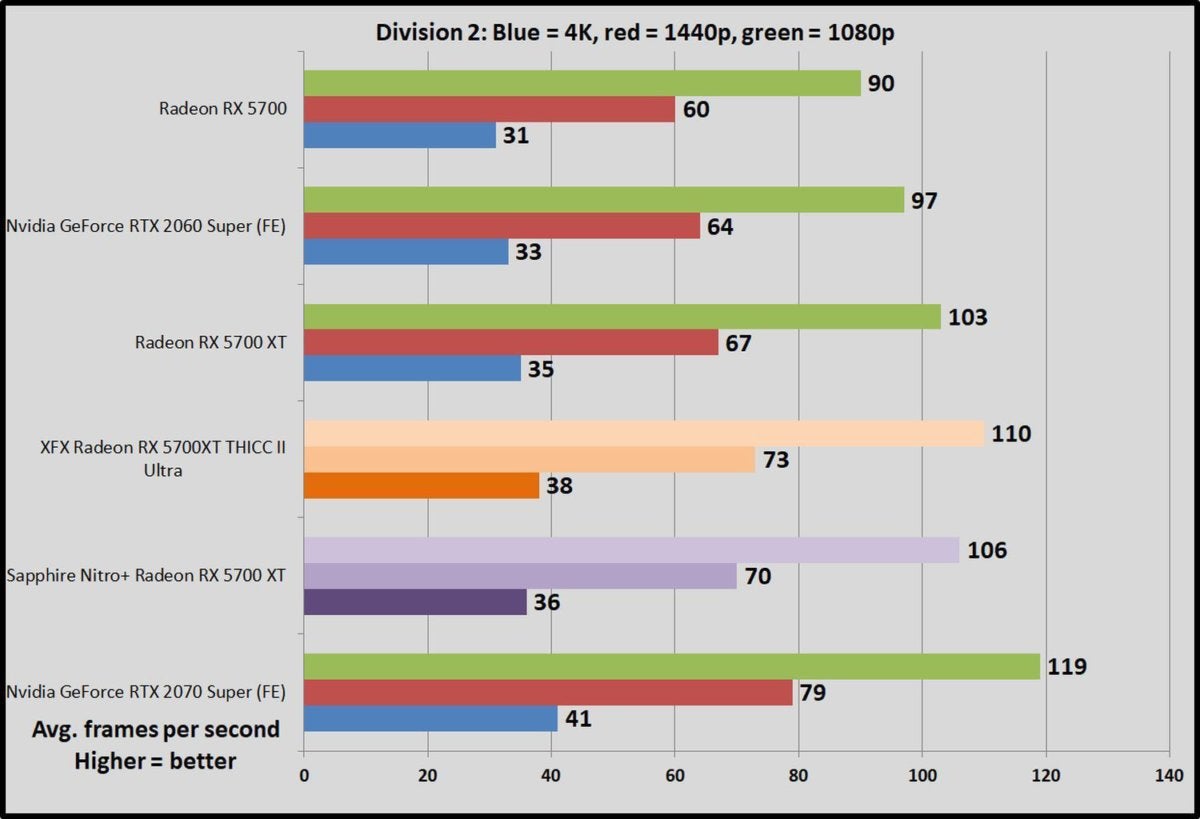 Far Cry: New Dawn
Another Ubisoft title, Far Cry: New Dawn drags Far Cry 5's wonderful gameplay into a post-apocalyptic future of its own, though this vision is a lot more bombastic—and pink—than The Division 2's bleak setting. The game runs on the latest version of the long-running Dunia engine, and it's slightly more strenuous than Far Cry 5's built-in benchmark.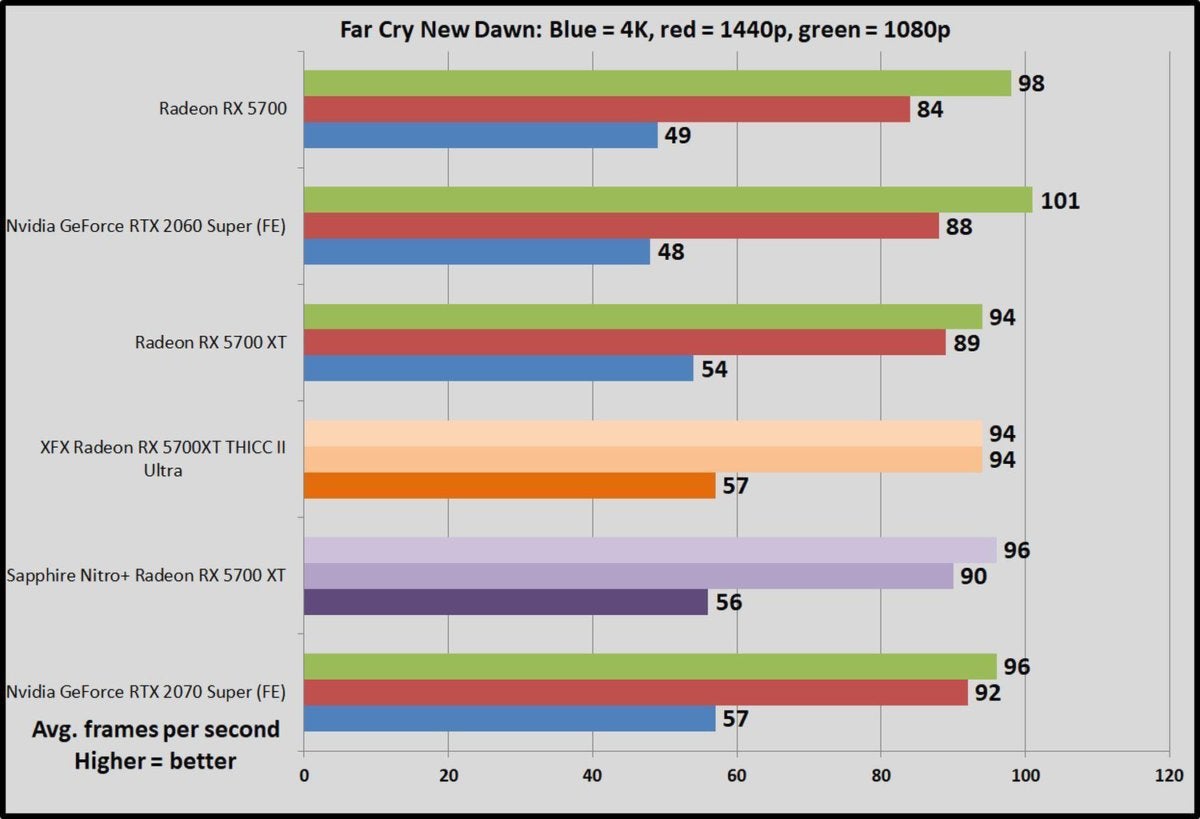 Strange Brigade
Strange Brigade ($50 on Humble) is a cooperative third-person shooter where a team of adventurers blasts through hordes of mythological enemies. It's a technological showcase, built around the next-gen Vulkan and DirectX 12 technologies and infused with features like HDR support and the ability to toggle asynchronous compute on and off. It uses Rebellion's custom Azure engine. We test the DX12 renderer with async compute off.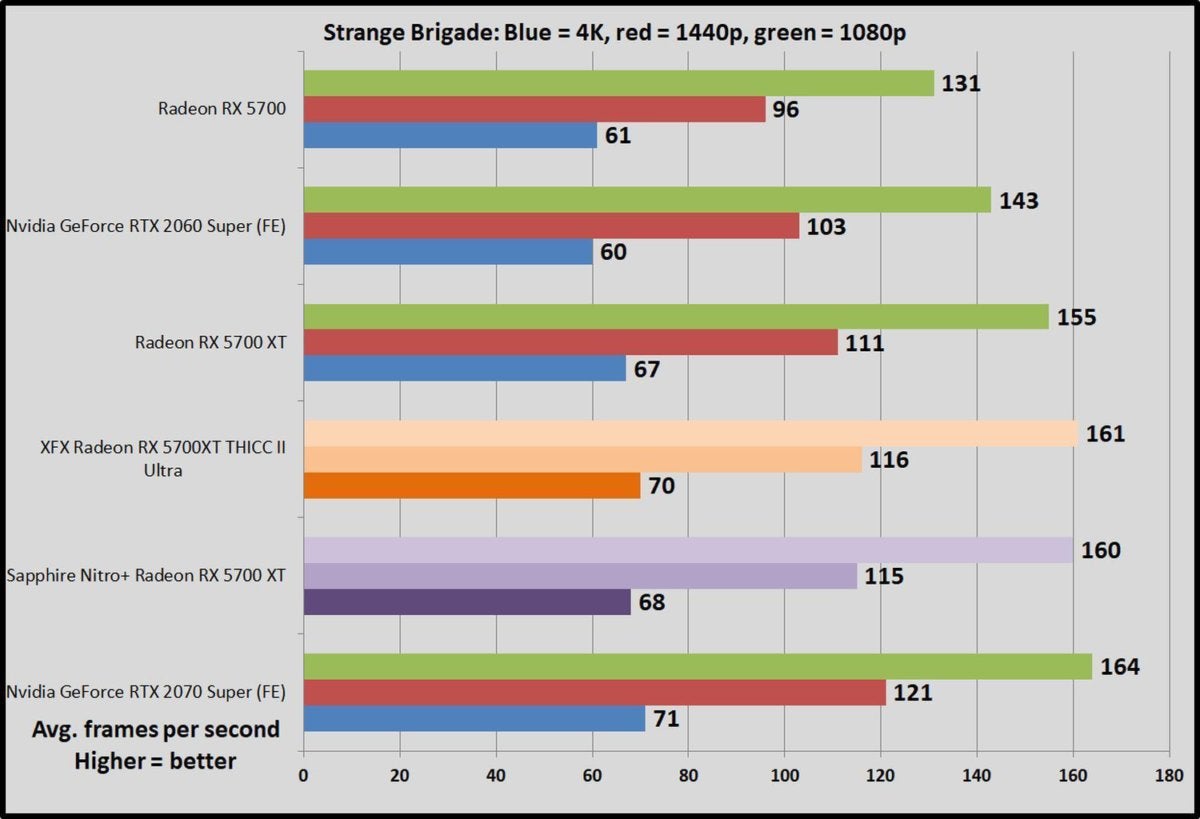 Next page: Gaming benchmarks continue
Shadow of the Tomb Raider
Shadow of the Tomb Raider ($60 on Humble) concludes the reboot trilogy, and it's utterly gorgeous. Square Enix optimized this game for DX12, and recommends DX11 only if you're using older hardware or Windows 7, so we test with that. Shadow of the Tomb Raider uses an enhanced version of the Foundation engine that also powered Rise of the Tomb Raider.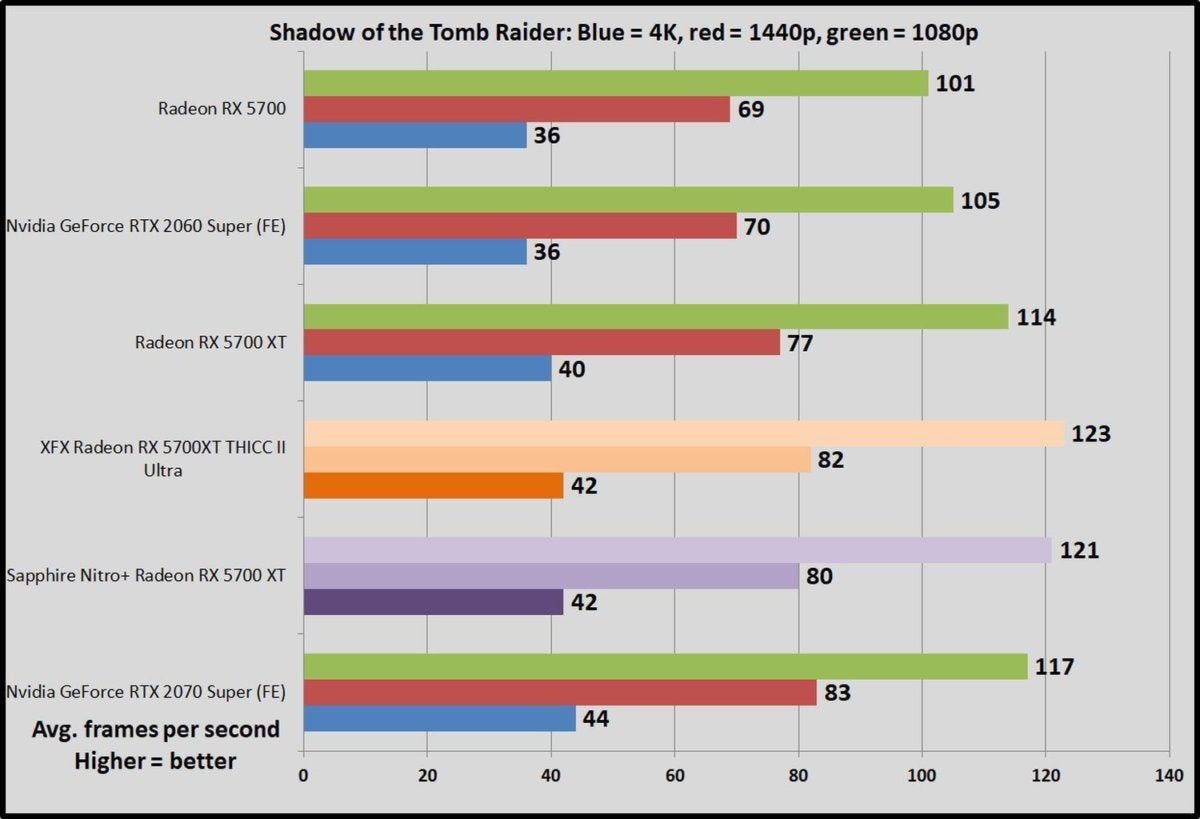 Ghost Recon Wildlands
Move over, Crysis. If you crank all the graphics options up to 11, like we do for these tests, Ghost Recon Wildlands ($50 on Humble) and its AnvilNext 2.0 engine absolutely melt GPUs, even with a sequel due later this year. It's by far the most strenuous game in our suite, even with newer stunners like Division 2 in the mix. We'll probably swap this out with Ghost Recon Breakpoint when it launches later this year.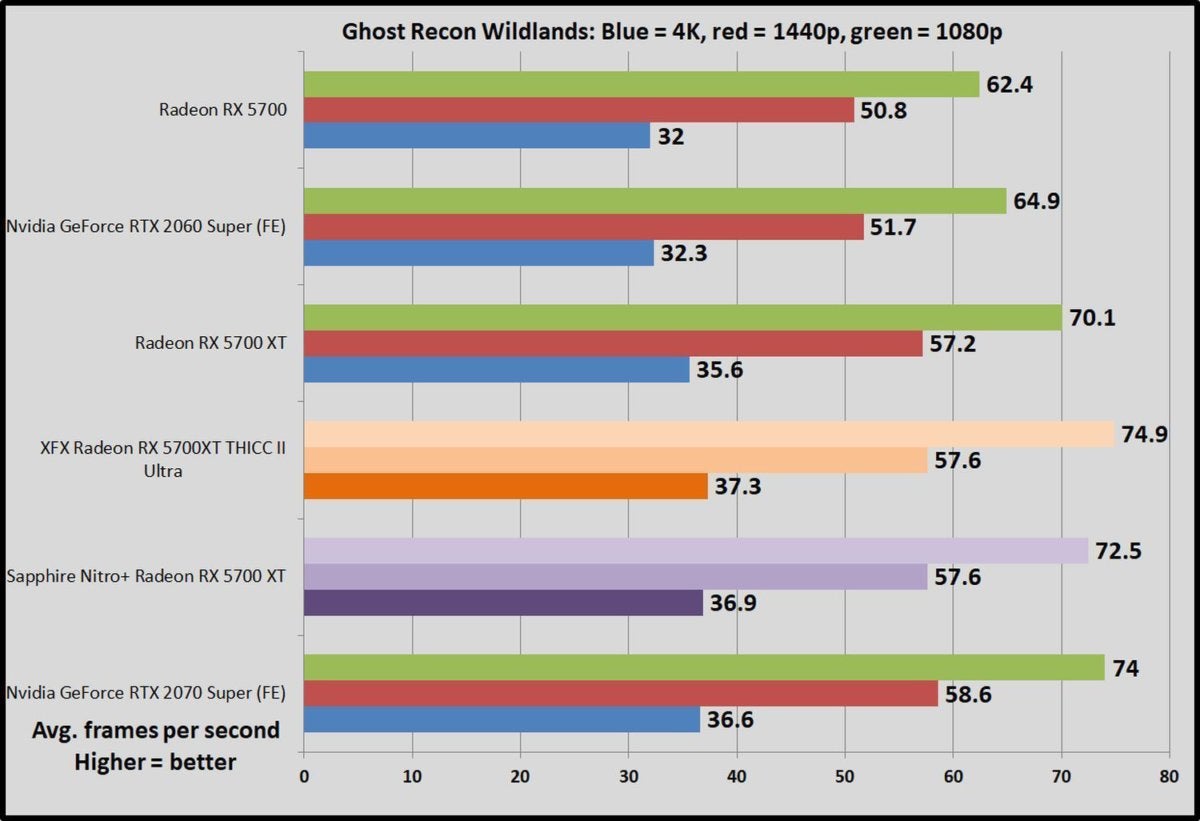 F1 2018
The latest in a long line of successful games, F1 2018 ($60 on Humble) is a gem to test, supplying a wide array of both graphical and benchmarking options—making it a much more reliable (and fun) option that the Forza series. It's built on the fourth version of Codemasters' buttery-smooth Ego game engine. We test two laps on the Australia course, with clear skies.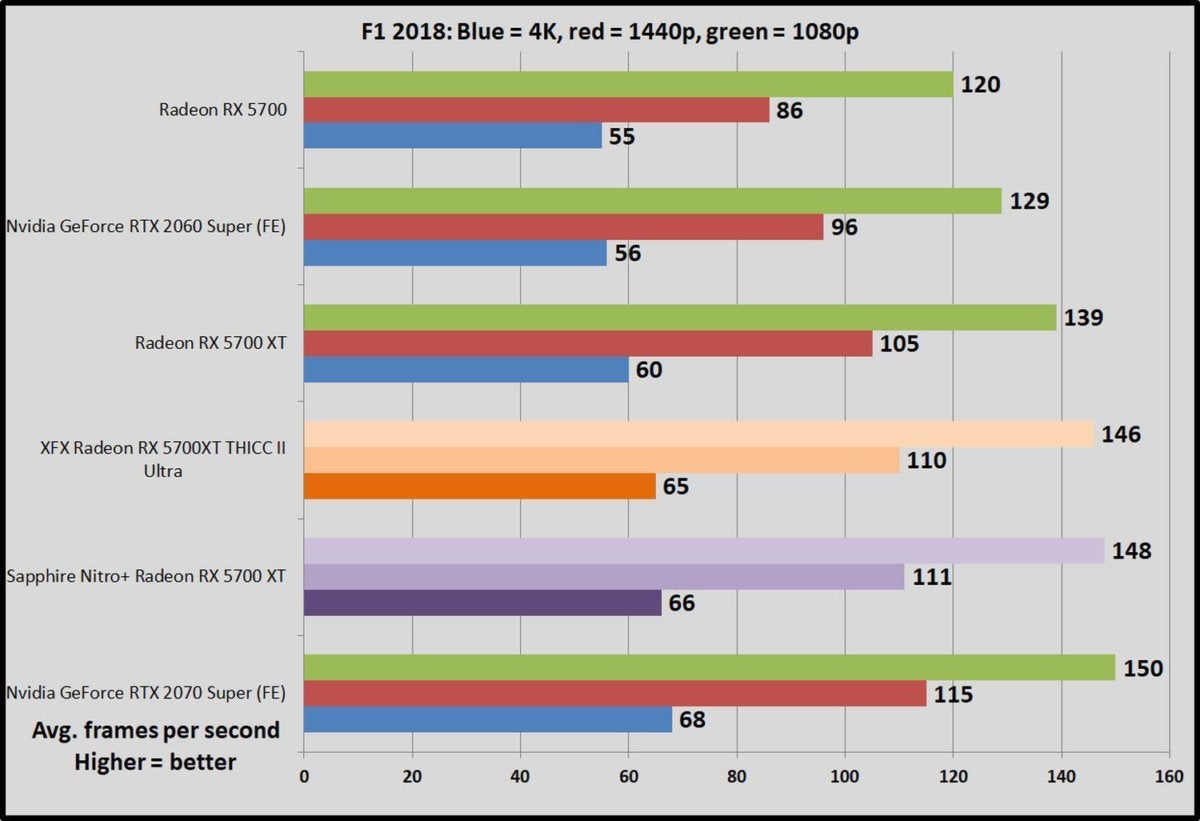 GTA V
We're going to wrap things up with a game that isn't really a visual barn-burner, but still tops the Steam charts day in and day out. We test Grand Theft Auto V ($30 on Humble) with all options turned to Very High, all Advanced Graphics options except extended shadows enabled, and FXAA. GTA V runs on the RAGE engine and has received substantial updates since its initial launch.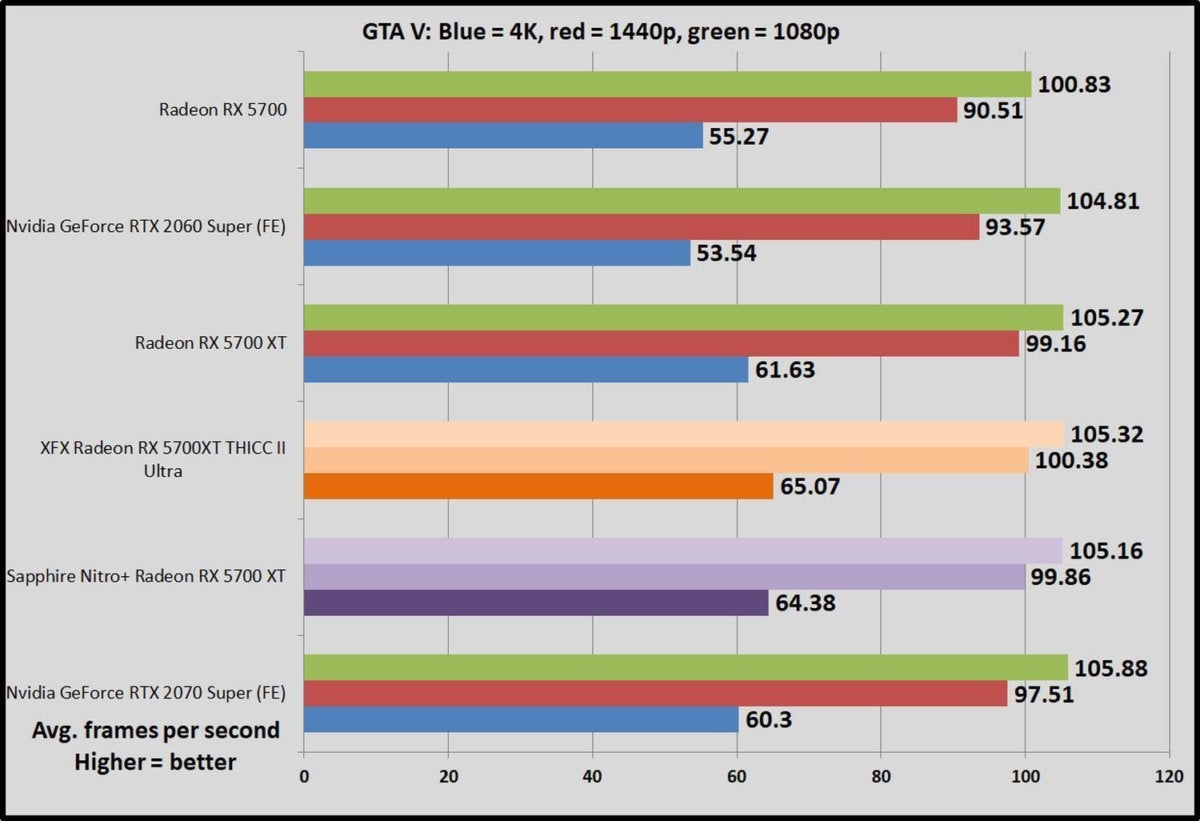 Next page: Trixx Boost's bonkers performance enhancements
Trixx Boost: Slightly lower resolution, much faster performance
Sapphire is rolling out a greatly enhanced version of its Trixx overclocking and monitoring software to accompany the Nitro+'s launch, revolving around an awesome new feature dubbed "Trixx Boost." As I said when I tested a preview version for the Sapphire Pulse Radeon RX 5700 review, Trixx Boost is wonderful, full stop.
Sapphire provided a beta version for Nitro+ reviewers to test, but you don't have to take my word on how it performs. The new version of Trixx is available now. Most of the following text is pulled from my earlier preview, as it still behaves the same.
Trixx Boost essentially creates bespoke, configurable new display resolutions that you can select in-game, slightly less pixel-packed than the most common gaming resolutions: 4K, 1440p, and 1080p. The small dip in overall resolution greatly enhances gaming frame rates. Sapphire's tool allows you to activate AMD's superb new Radeon Image Sharpening technology to restore what little visual fidelity is lost at virtually no performance impact. The final image is virtually indistinguishable from rendering at native resolution, but it runs at much higher speeds.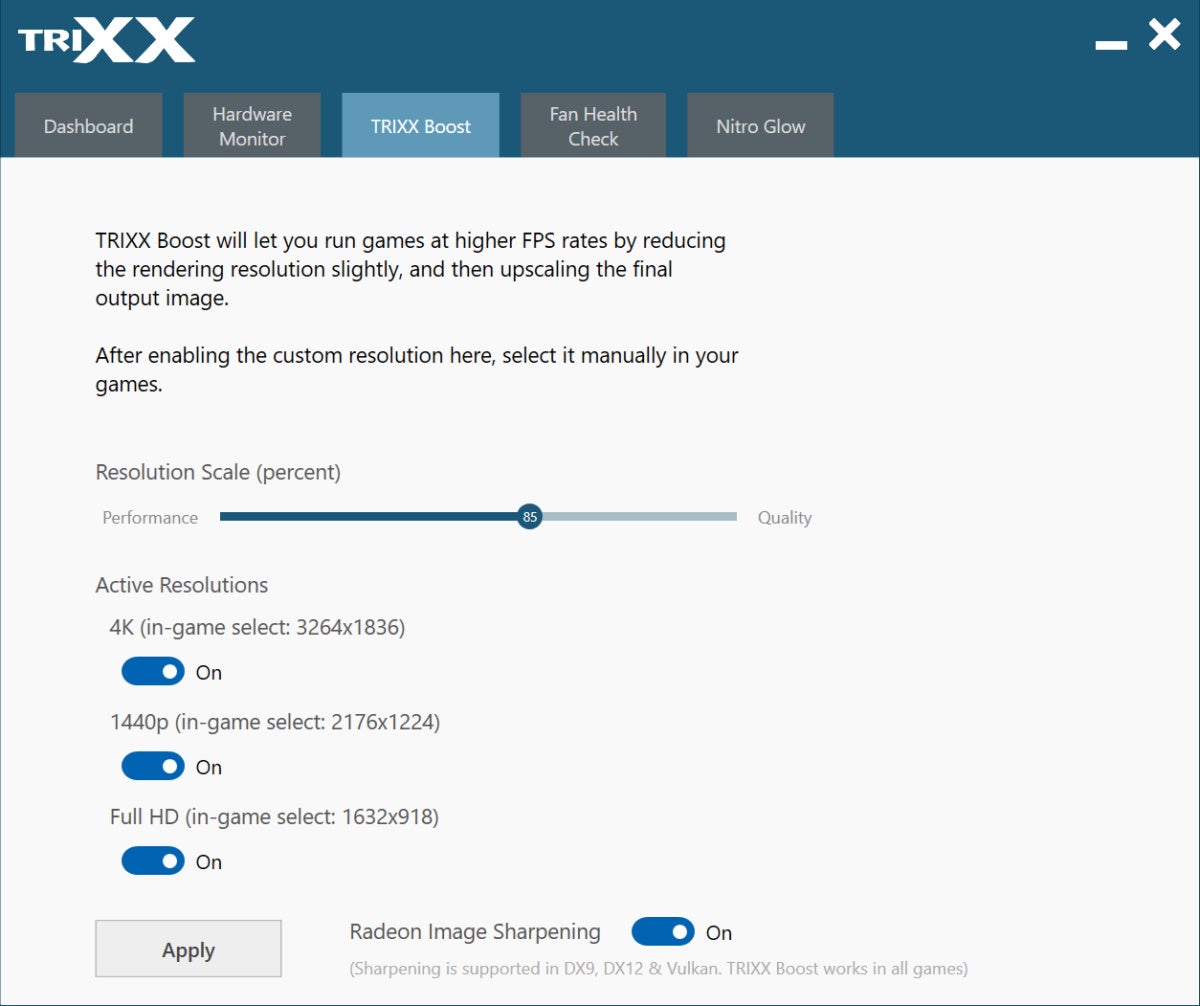 Sapphire says Trixx Boost should work with older GPUs as well, and AMD recently added Radeon Image Sharpening support to the Radeon RX 470, 480, 570, 580, and 590. However, RIS works only in DX9, DX12, and Vulkan games. Vrucially, DX11 (a.k.a. the most commonly used game renderer) isn't supported yet, and you can't use it in DX9 games for non-Navi GPUs.
All that said, testing Trixx Boost in Far Cry: New Dawn, a DX11 game, shows next to no visual impact. Boost is the real star here, and works in all games. RIS is just the cherry on top when it's available.
Entering the Boost tab of Trixx reveals the tool's straightforward settings. You use a slider to determine at what percentage of the original resolution you want the Boost resolutions created. By default, it was set to 85 percent, which I used for testing. You then decide which common gaming resolutions will get Boost variants. You could create just one for your most-used resolution or enable the whole 4K/1440p/1080p stack—and choose whether to enable Radeon Image Sharpening. Once you're done, click Apply. Your screen will flash and flicker for a few seconds while the Pulse GPU creates the new resolutions.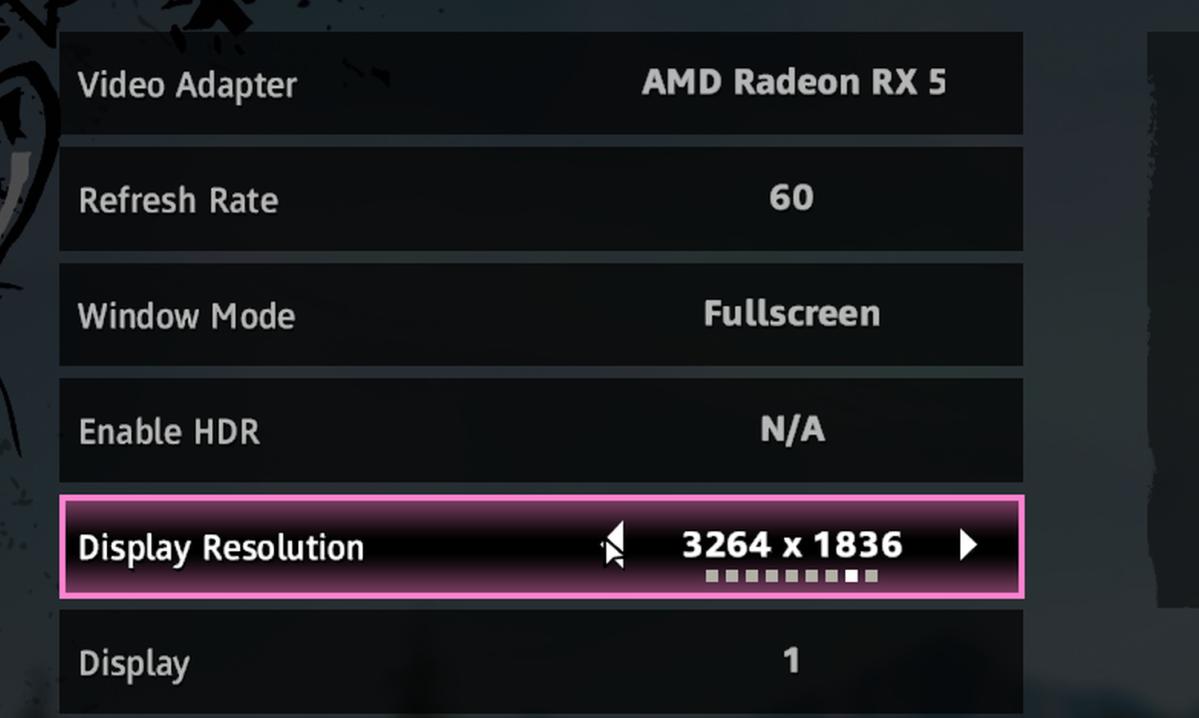 All that's left to do after that is to select the new Boost resolution manually in your games. As you can see in the image above, with Trixx Boost set to 85 percent, it created a display resolution of 3264×1836 to use as an alternative to the standard 3840×2160 "4K" resolution. Both the standard resolutions as well as the Boost resolutions appear as options, so be sure to select the correct one to get Boost's advantages.
What an advantage it is. Here are the performance results running the following games at standard 1440p and 4K resolutions, and at the Boost-created 2304×1296 and 3264×1836 resolutions. Just look at the results!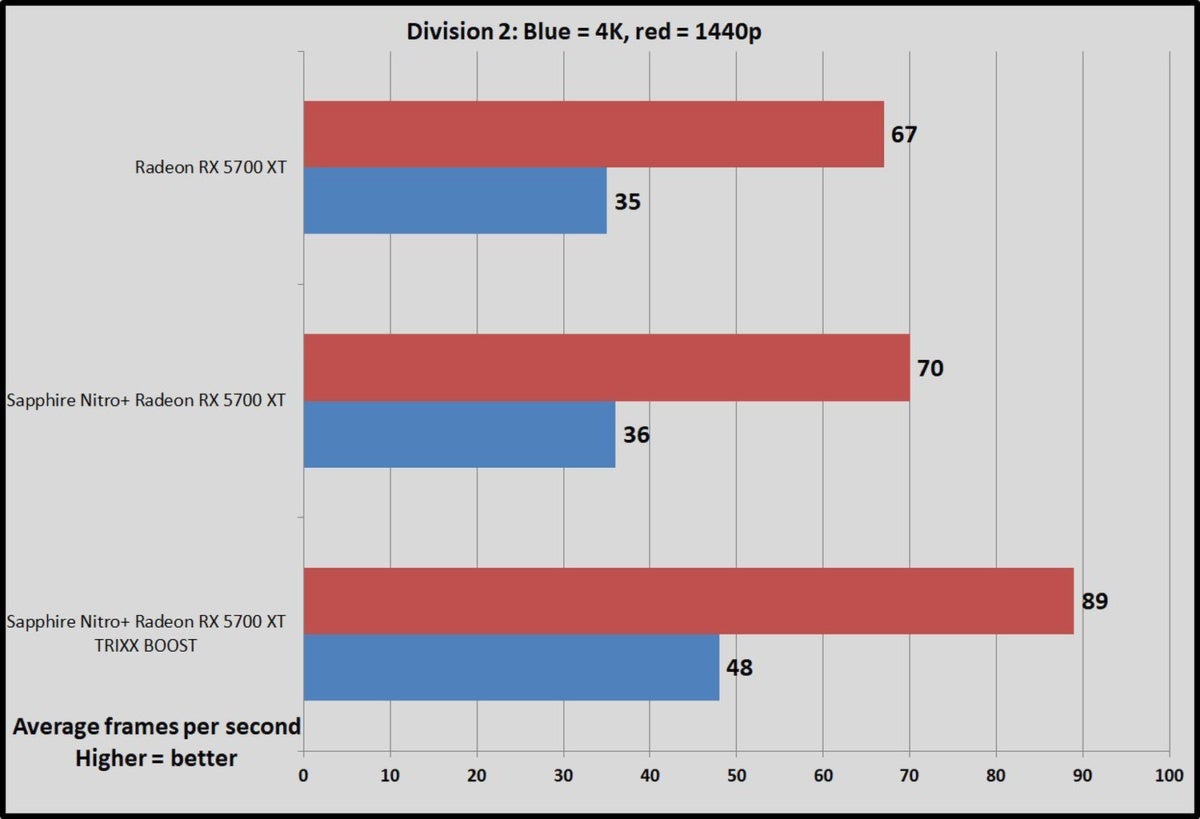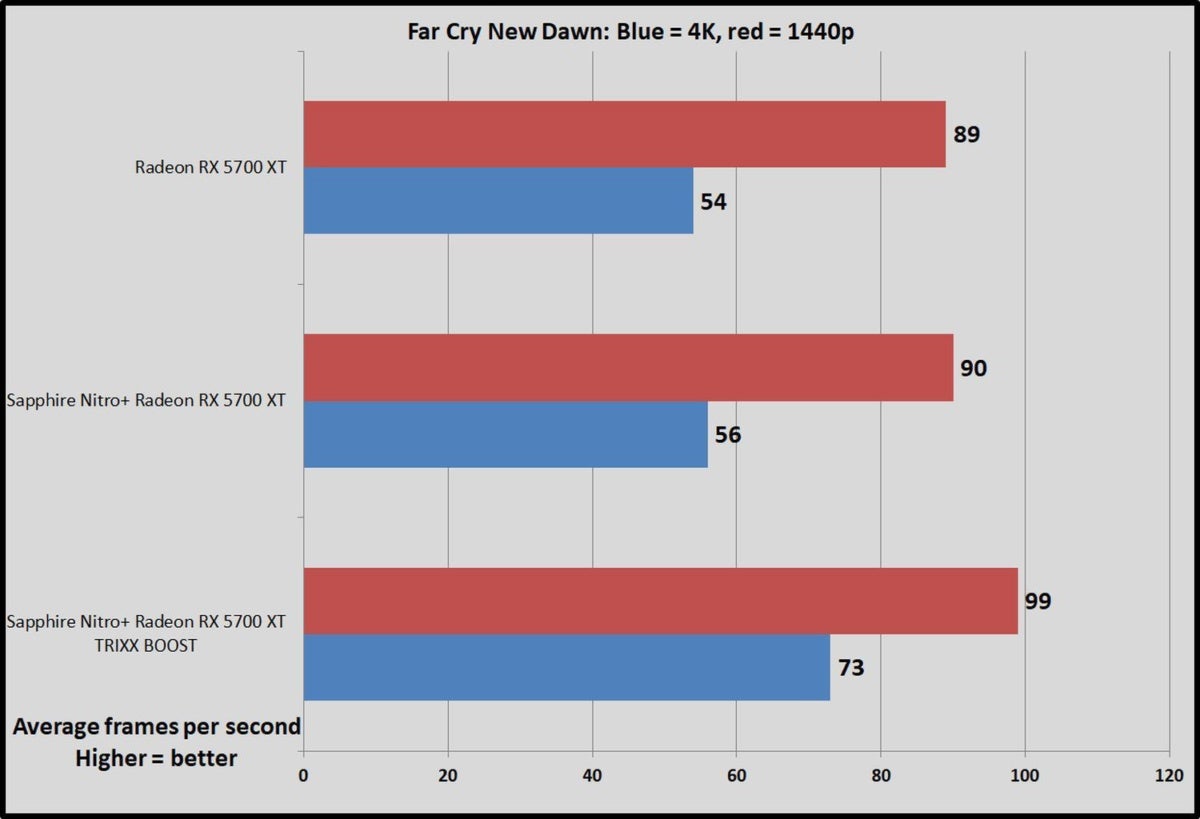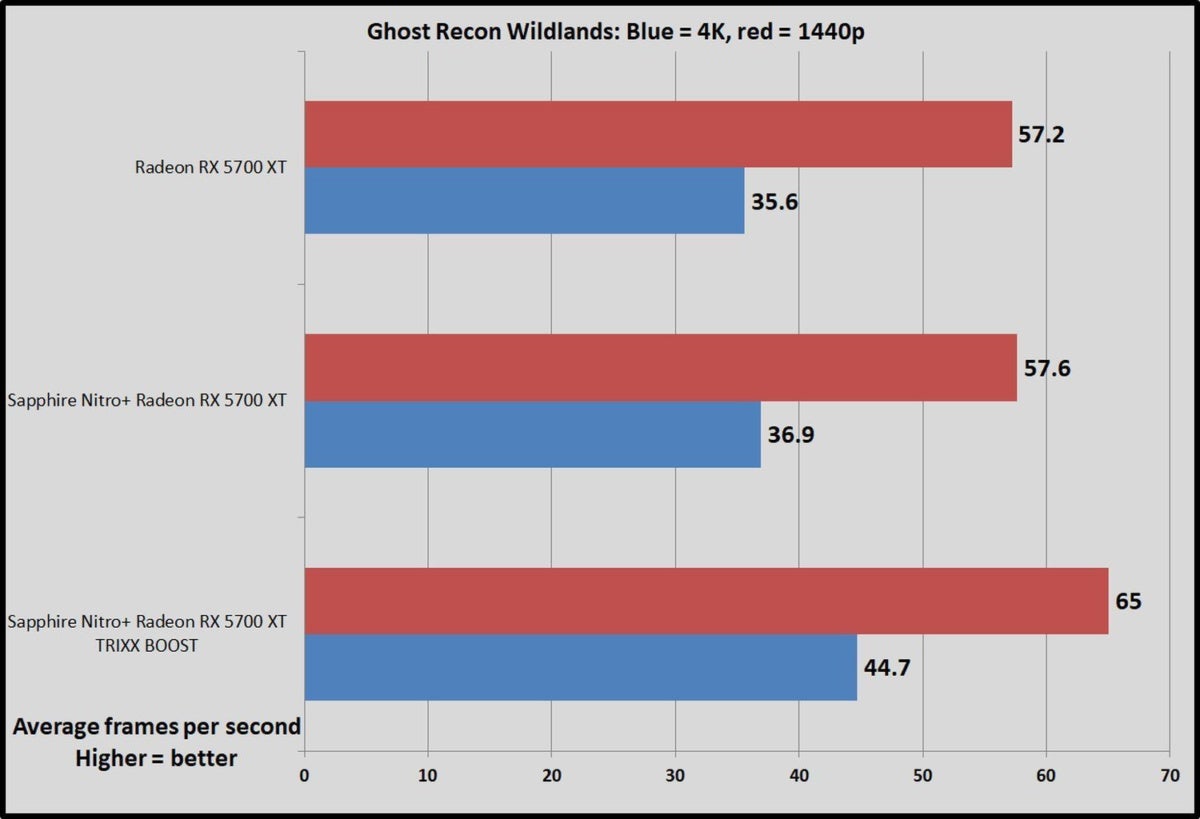 With Trixx Boost active, the $440 Sapphire Nitro+ Radeon RX 5700 XT hits the same frame rates as the $700 GeForce RTX 2080 Super Founders Edition at 1440p resolution. At 4K, the Nitro+ surpasses it, coming damned near the performance of the monstrous $1,200 GeForce RTX 2080 Ti in Ghost Recon Wildlands and Far Cry New Dawn. (It ties the RTX 2080 Super in Division 2 at 4K.) You could presumably push performance even further if you spent five minutes in AMD's Radeon Settings app using Wattman's one-click auto-overclocking tools.
Holy. Crap. If you buy the Sapphire Nitro+, go download Trixx and activate Trixx Boost pronto.
These tricks aren't unique, to be clear. You can create custom resolutions for the same effect using other software options. But few people outside of enthusiasts ever bother with those niche hardcore tools. Trixx Boost makes it so quick, easy, and painless to achieve noticeably faster speeds with minimal visual impact, it's a joy. This is a big feather in Sapphire's cap.
That's not to say Trixx Boost is perfect. I'd like to see widescreen resolution options rolled in as well, and for Sapphire to integrate Radeon Wattman's one-click auto-overclocking for a noob-friendly performance boost. (The software supports overclocking, but only in manual form, which requires more trial-and-error and time.) But this is a stellar first step, a smart spin on the industry's newfound infatuation with upscaling for more performance. I suspect other GPU makers may find "inspiration" from Trixx Boost soon.
Next page: Power, thermals, and noise
Power draw, thermals, and noise
We also tested the Sapphire Nitro+ Radeon RX 5700 XT using 3DMark's highly respected Fire Strike synthetic benchmark. Fire Strike runs at 1080p, Fire Strike Extreme runs at 1440p, and Fire Strike Ultra runs at 4K resolution. All render the same scene, but with more intense graphical effects as you move up the scale, so that Extreme and Ultra flavors stress GPUs even more. We record the graphics score to eliminate variance from the CPU.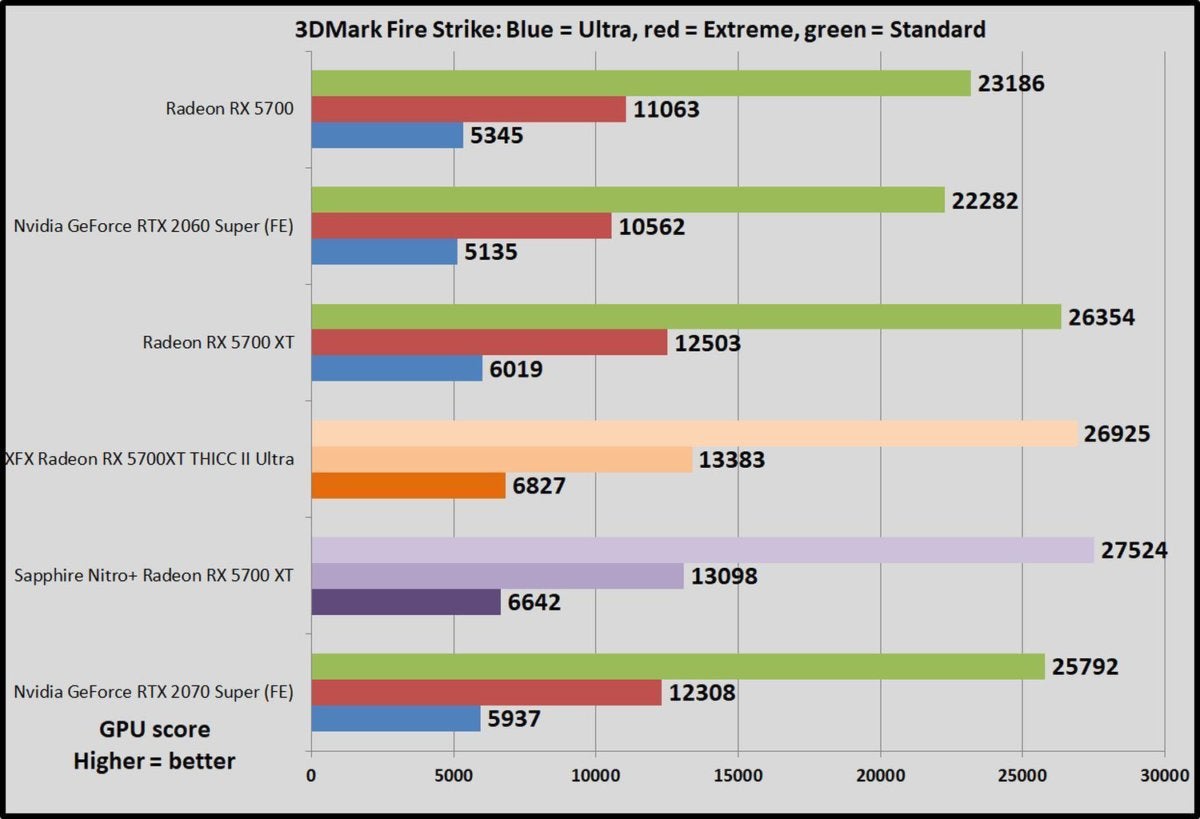 Fire Strike performance doesn't seem to correlate with real-world games performance very strongly anymore, as these results would put it roughly in line with the much more powerful $700 GeForce RTX 2080 Super—which it definitely isn't. We'll probably switch to another synthetic benchmark soon.
We test power draw by looping the F1 2018 benchmark for about 20 minutes after we've benchmarked everything else and noting the highest reading on our Watts Up Pro meter. The initial part of the race, where all competing cars are onscreen simultaneously, tends to be the most demanding portion.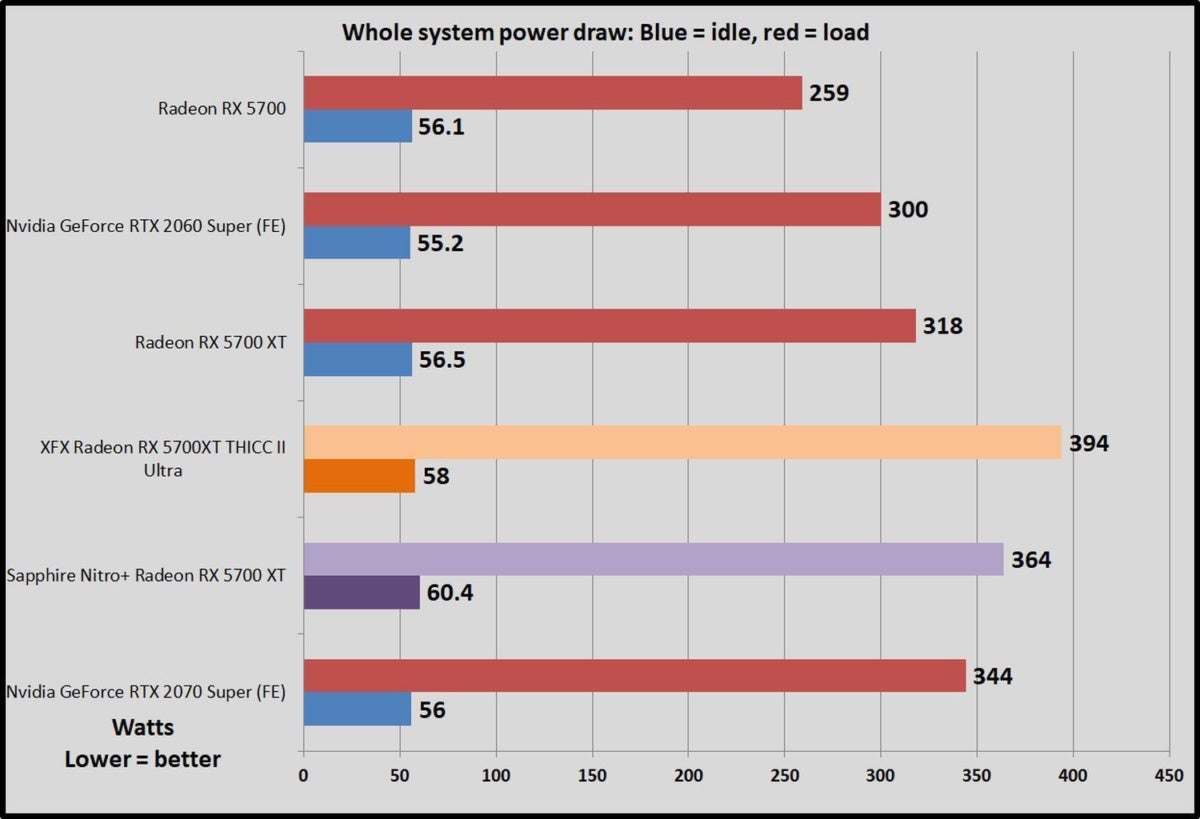 The overclocked, triple-fan, RGB illuminated Sapphire Nitro+ draws more power than the reference Radeon RX 5700 XT, as you'd expect. But AMD's new Navi GPUs are significantly more power efficient than previous Radeon chips, and they're now competitive with Nvidia's vaunted power efficiency. Comparing the Nitro+ with the slightly higher clocked XFX Thicc II Ultra shows how hard it is to squeeze more performance out of Navi, though. The XFX is barely faster than the Nitro+ in games—just a few frames here and there—but the Thicc II Ultra sucks down a lot more power despite having one less fan and no RGB lighting whatsoever.
We test thermals by leaving either AMD's Wattman (for Radeon GPUs) or EVGA's Precision X1 (for GeForce GPUs) open during the F1 2018 five-lap power draw test, noting the highest maximum temperature (in Celsius) at the end.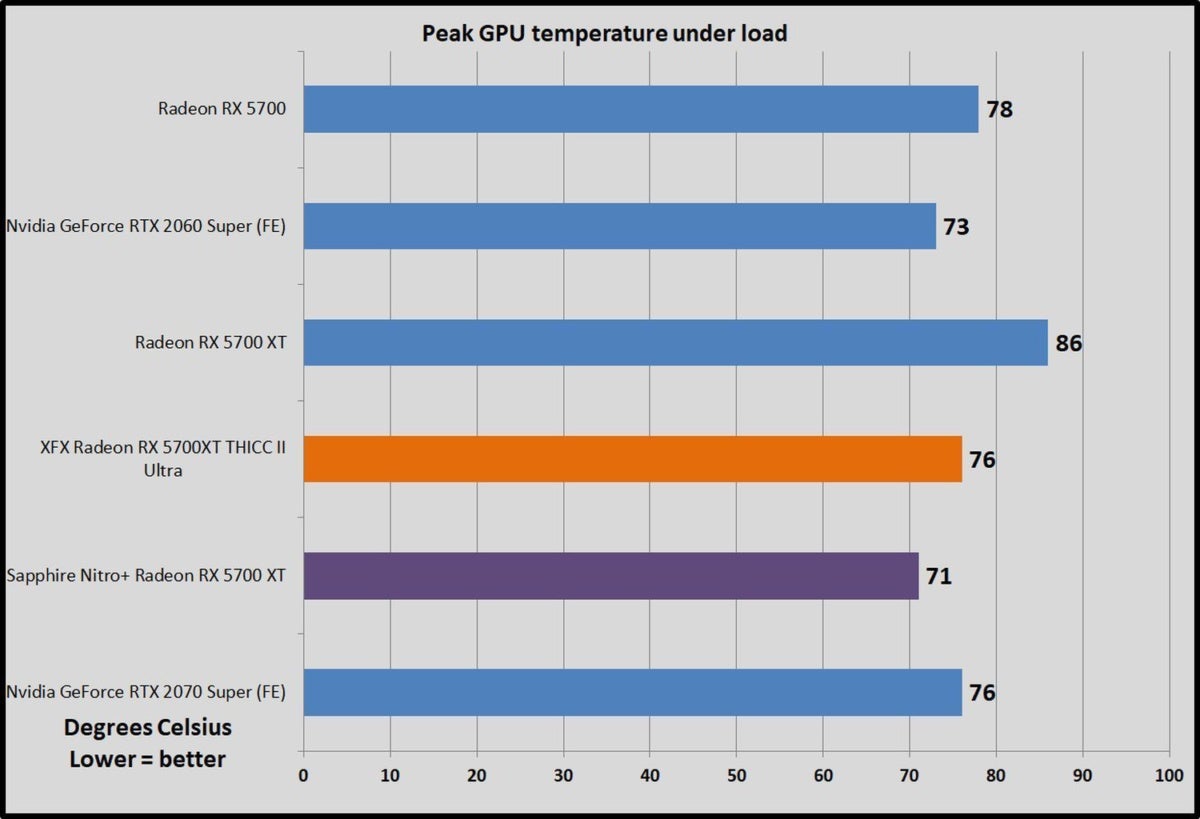 The Sapphire Nitro+ is cool as a cucumber and quiet as a mouse, even in its default high-performance configuration. No complaints whatsoever. Sapphire's card provides a much better quality of life than the reference RX 5700 XT's hot, loud blower-style cooler. The faster clock speeds bite the XFX Thicc II Ultra yet again, as it runs hotter and louder in order to tame Navi at higher frequencies. Its dual fans spin between 2,100rpm and 2,300rpm under load. The Nitro+'s trio of fans never top 1,800rpm and still manage to keep it 5 degrees cooler. Sapphire found the sweet spot, it seems.
Next page: Should you buy the Sapphire Nitro+ Radeon RX 5700?
Should you buy the Sapphire Nitro+ Radeon RX 5700 XT?
Oh lord, yes.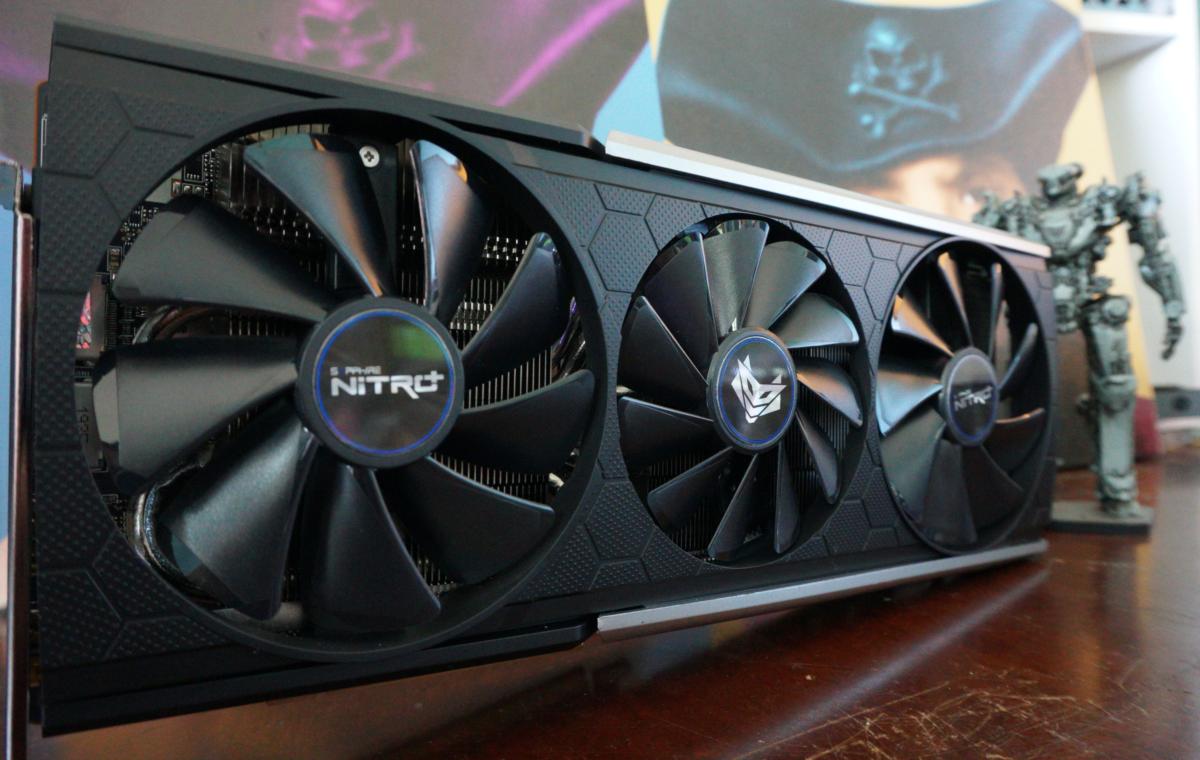 The Radeon RX 5700 XT is a killer graphics card for 1440p gaming, and Sapphire's $440 overclocked Nitro+ delivers frame rates well beyond similarly priced GeForce RTX 2060 Supers and within spitting distance of the $500 GeForce RTX 2070 Super Founders Edition. Activating the wonderful Trixx Boost feature in Sapphire's Trixx software sends frame rates skyrocketing to (or past) even the $700 RTX 2080 Super's performance levels with minimal visual impact, for hundreds of dollars less. Trixx Boost can even turn this into a surprisingly decent 4K gaming card.
Boost is just part of Sapphire's superb new updated Trixx software, which also lets you check your card's fan health, overclock your graphics card, see your system configuration, and manage the gorgeous RGB LED implementation on the Nitro+.
If you really love flashy lights, you can buy an optional $30 set of ARGB fans for the Nitro+—though they'll be hard to see in a standard case, pointing down—or assign their control to your motherboard's software with the help of a 3-pin RGB header at the end of the card. Sapphire also outfitted the Nitro+ was a triple-BIOS switch loaded with two different fan profiles and the option to handle switching between them in Trixx itself, negating the need to ever open your case.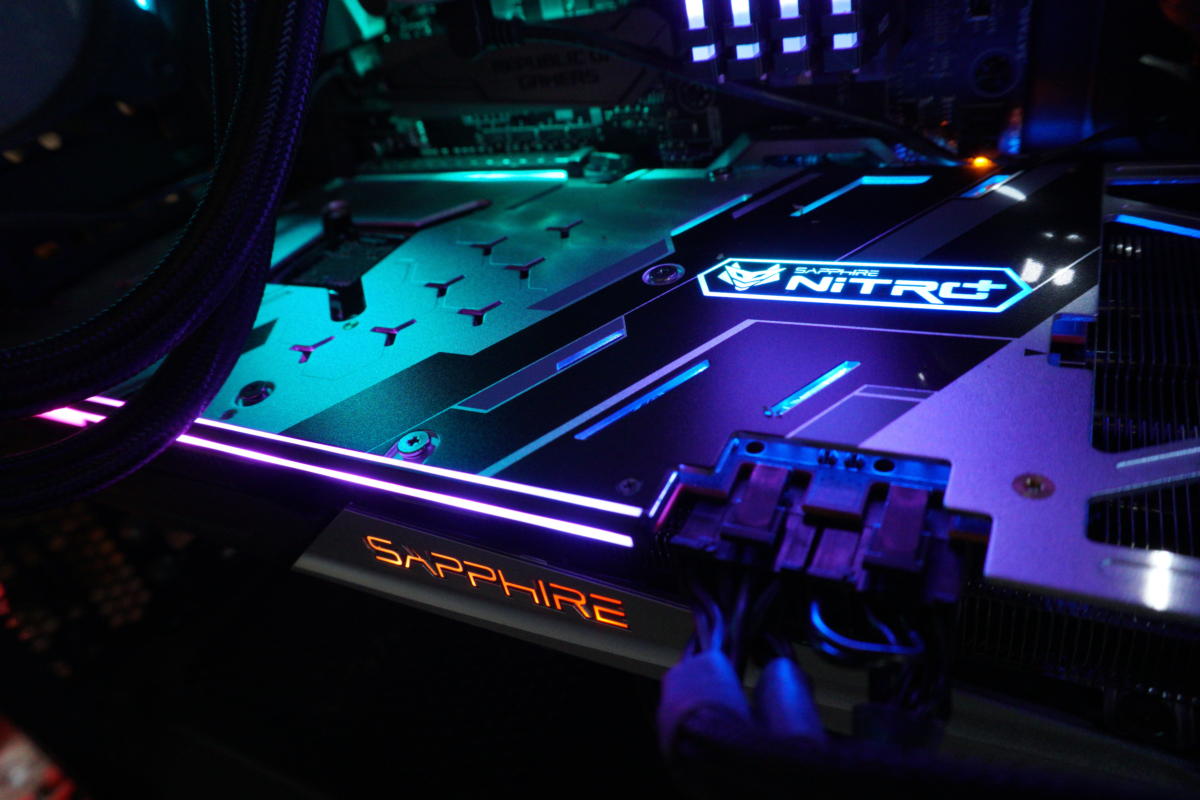 The aluminum-clad Sapphire Nitro+ Radeon RX 5700 XT stays a cool 71 degrees Celsius even under heavy loads, beating the rival $440 XFX Thicc II Ultra by 5 degrees and dipping far below the reference RX 5700 XT's 86-degree temperatures. Better yet, it stays quiet throughout, with the fans never topping 1,800rpm.
Everything about this card feels perfectly considered, and it's virtually perfect as a result. The only possible drawbacks are out of Sapphire's control, and they aren't really drawbacks.
First, Radeon graphics cards don't support real-time ray tracing like GeForce RTX 20-series GPUs offer—but in return, they offer you more traditional gaming performance for your money. The Nitro+ routinely outperforms the GeForce RTX 2060 by double-digit percentages. And while ray tracing is picking up steam and looks incredibly impressive in the right games, only a small handful of titles support the cutting-edge lighting technology at this point. Second, the Nitro+ is a big card, measuring a full foot long and a bit over two slots deep. That's necessary for a card this powerful to run so cool and quiet though.
Bottom line: I can't think of any single thing that Sapphire could do to make this card more impressive. The Sapphire Nitro+ Radeon RX 5700 XT is essentially flawless, incredibly powerful, and very highly recommended. Sapphire's enhancements more than justify the $40 price premium over the reference Radeon RX 5700 XT. If you use Trixx Boost to supercharge your frame rates with clever software tricks, you could even consider the Nitro+ one hell of a value. Bravo.