At a Glance
Expert's Rating
Pros
Excellent 1080p gaming performance
Runs cool and quiet
Backplate, RGB, and idle fan stop features
No price premium
Cons
Only 1 HDMI and DisplayPort
Few extra features
Wide and thick physical design
Our Verdict
This is a great graphics card for 1080p gaming. Swapping out the GTX 1660's GDDR5 memory for much faster GDDR6 gives the Nvidia GeForce GTX 1660 Super a sizable performance boost, while the Asus Dual EVO OC's design runs cool and quiet with some nice extras. There's no price premium either.
Best Prices Today: Dual GeForce GTX 1660 Super EVO OC
Nvidia revealed the GeForce GTX 1650 Super and GTX 1660 Super on Tuesday, Super-fying its GTX GPUs. And unlike AMD, which tipped its Radeon RX 5500 series hand long before the cards will actually launch in late November, Nvidia's striking fast. The GTX 1660 Super's hitting store shelves today in the form of custom models by Nvidia's board partners.
The GPU at the heart of the $229 GTX 1660 Super remains unchanged. The only major difference comes in the form of amped-up 14Gbps GDDR6 memory, which replaces the last-gen (and far slower) GDDR5 memory found in the original GTX 1660.
The vanilla GTX 1660 is our favorite graphics card for 1080p gaming. Is the big boost in memory speed alone enough to catapult the new GeForce GTX 1660 Super beyond its namesake and justify the card's $10 price premium?
Oh my, yes. This is one Super upgrade indeed. The Asus Dual GeForce GTX 1660 Super EVO OC we're reviewing today sticks to the new GPU's $229 suggested pricing but pushes closer to the performance of the $280 GTX 1660 Ti than the original $220 GTX 1660. Let's dig in.
Nvidia GeForce GTX 1660 Super: Price, specs, and features
Again, the core GPU at the heart of the GeForce GTX 1660 Super remains identical to that of the vanilla GTX 1660. It features the same number of CUDA cores, clocked at the same speed, using Nvidia's same 12nm Turing GPU architecture optimized for modern game instructions, and so on. The GTX 16-series GPUs don't have dedicated real-time ray tracing hardware, however. You'll need to move up to the pricier GeForce RTX 20-series graphics cards for those capabilities.
Here's how the GeForce GTX 1660 Super compares to its two GTX 1660 siblings, as well as the prior-gen GTX 1060 at the hardware level: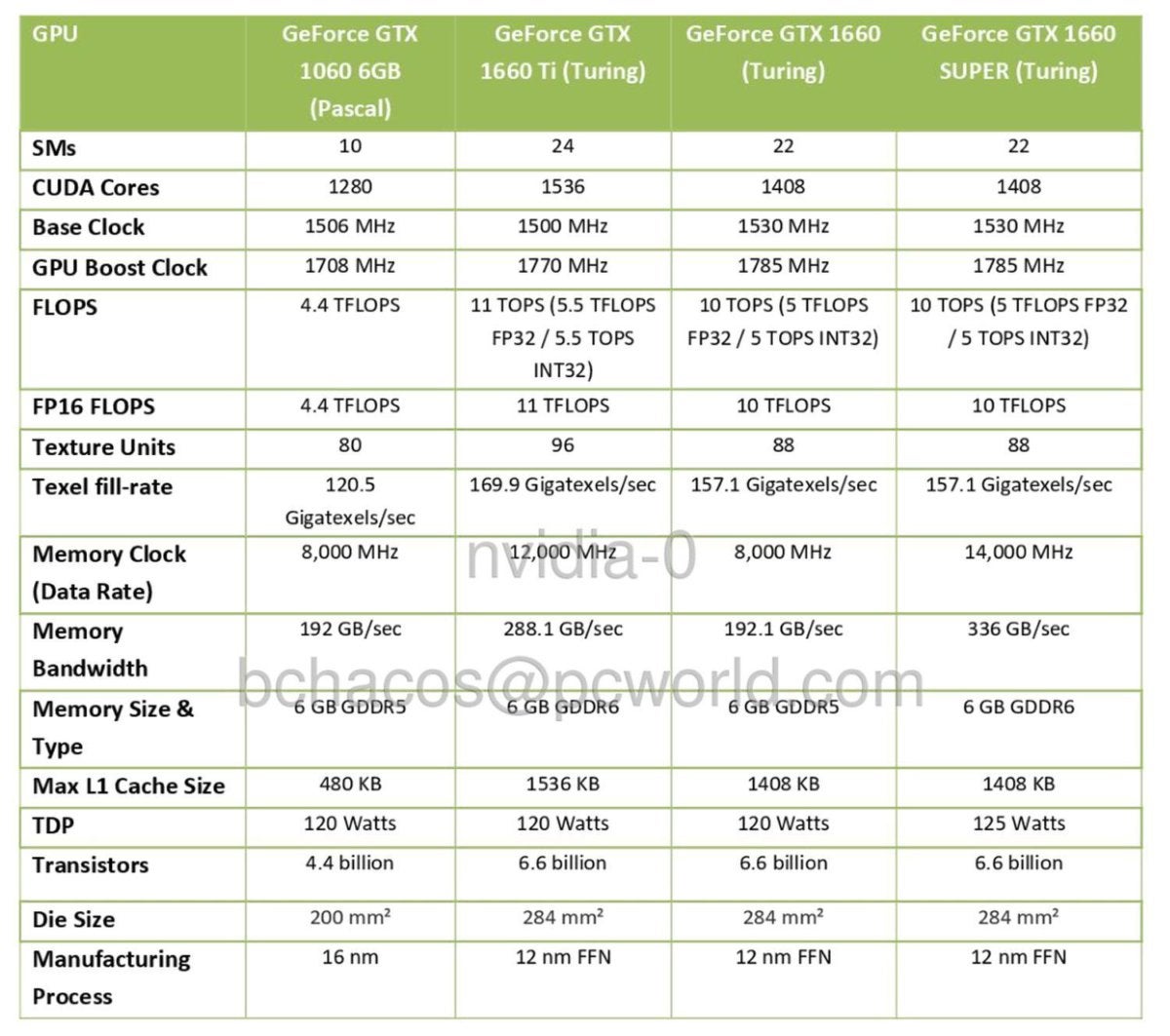 As you can see, the GeForce GTX 1660 Super's 14Gbps GDDR6 memory is even faster than the 12Gbps GDDR6 in the more expensive GTX 1660 Ti, giving it a sizeable advantage in overall memory bandwidth. Meanwhile, the new Super leaves the original GTX 1660 eating dust, delivering an absolutely ludicrous 75 percent more memory bandwidth. Holy moly. The supercharged memory winds up making a big difference in gaming performance, as you'll see later, though it also bumps the power requirements up by (a measly) five watts.
The original GTX 1660 will still be sticking around at a lower price. Nvidia declined to provide an official price change announcement, but if you peek around online retailers, you'll find loads of original GTX 1660 cards selling for around $200 to $210 after rebate. Expect the new price to hover around there unless AMD's nebulous Radeon RX 5500 series winds up forcing further discounts.
Nvidia isn't offering Founders Edition versions of the GTX 1660 Super, leaving it up to board partners to supply the market. We're testing the Asus Dual GeForce GTX 1660 Super EVO OC, which manages to squeeze in some welcome extra features despite sticking to the GTX 1660's suggested $229 starting price.
Here's a high-level look at its specs: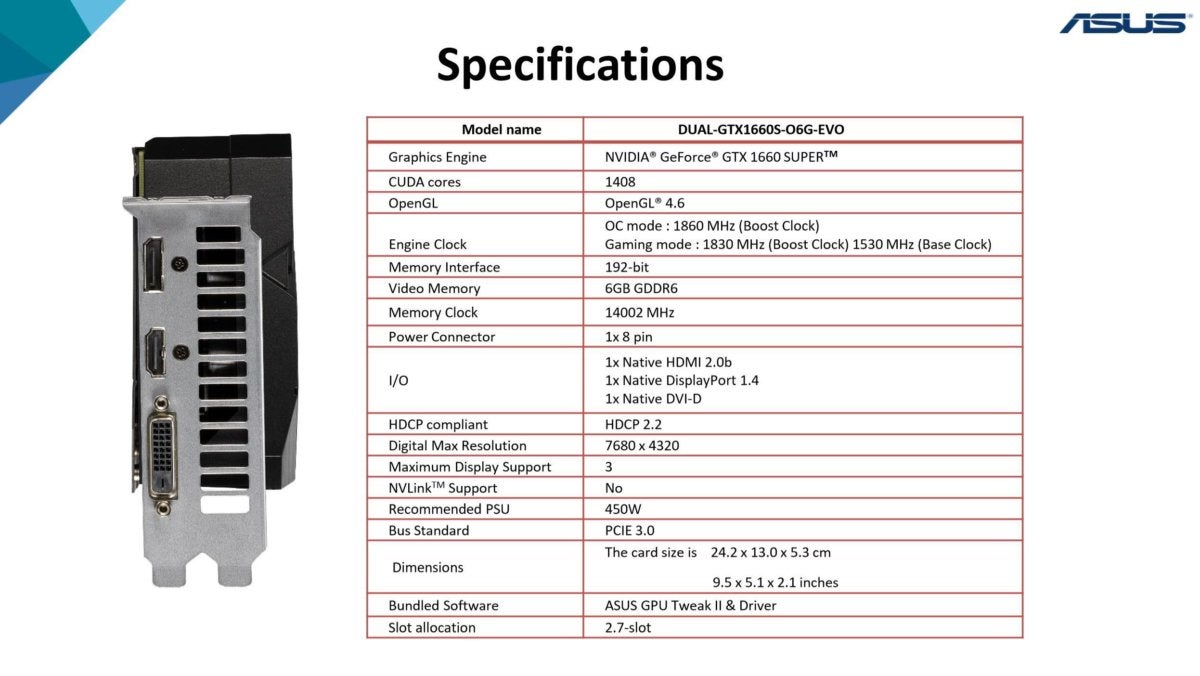 Asus gives the Dual a factory overclock, bumping the boost clock used during gaming from the GTX 1660 Super's 1,785MHz stock speed up to 1,830MHz out of the box, or 1,860MHz if you install the company's GPU Tweak II software and activate OC Mode.
The Dual GeForce GTX 1660 Super EVO OC also sports some physical niceties you don't often see in baseline-priced graphics cards, including a metal backplate and "0dB" fans that don't spin up until the GPU hits temperatures higher than 55 degrees Celsius, giving you a silent desktop experience. You'll need to engage the lower-speed Quiet BIOS mode using the card's physical switch to enable 0dB, though. All-but-obligatory RGB LEDs are present in a understated slanted strip between the GeForce and Asus logos on the edge of the shroud.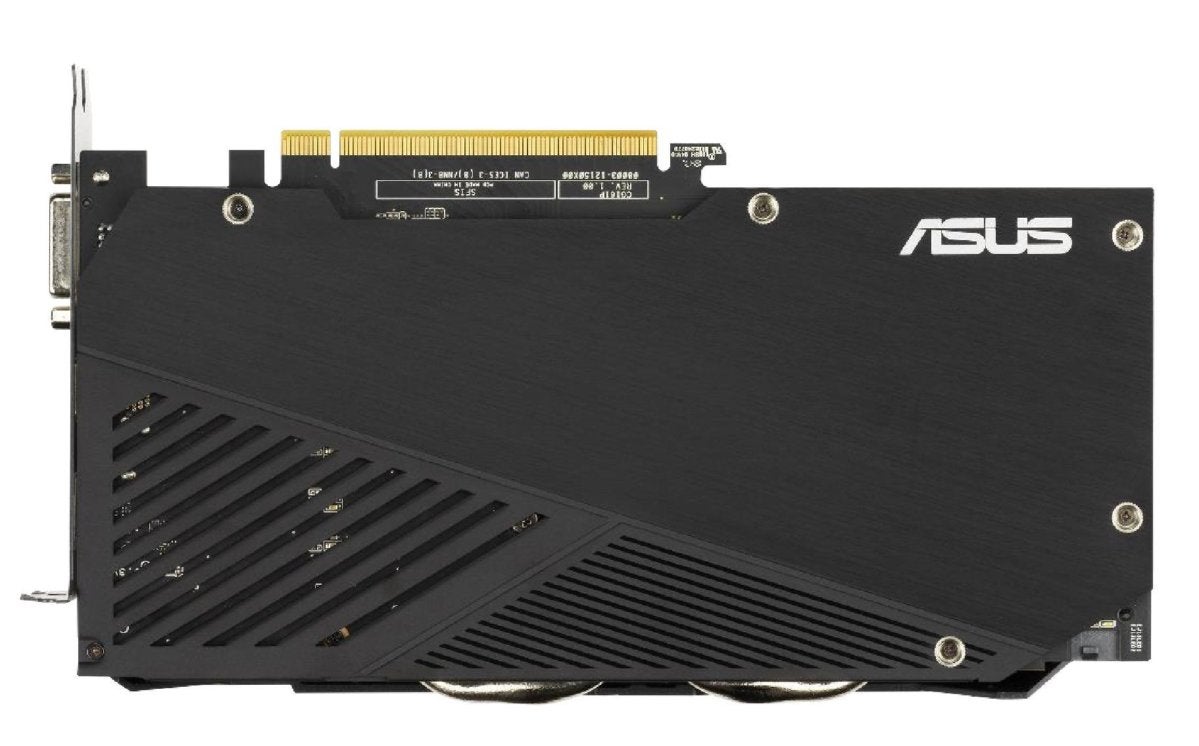 Under the hood, the Dual GTX 1660 Super EVO uses Asus's DirectCU II technology, a fancy branding term for a pair of copper heat pipes that directly contact the GPU itself for better thermal transfer.
Speaking of thermal transfer, this is a fat, wide card—2.7 slots thick—to squeeze in a bigger heatsink under the dual axial fans, which sport a design cribbed from the company's enthusiast-class ROG graphics cards. The bigger the heatsink, the lower the temperatures, and the longer you'll be able to seize advantage of the 0dB Quiet mode. The card's short, though, at just 9.5 inches long. Asus says it qualifies the Dual GTX 1660 Super EVO using a 144-hour validation program that stress-tests the card in 3DMark and several popular e-sports games.
One mild disappointment: Asus only outfitted the Dual with one HDMI connection and one DisplayPort, as well as a legacy DVI port. While people with ancient or ultra-budget displays will no doubt appreciate DVI's inclusion, ditching it for another HDMI or DisplayPort would've been more welcoming for modern setups. If you want to pair a dual-display setup with a virtual reality headset, for example—something that this GPU could certainly handle—you're out of luck. I usually count DVI as a positive, but only if a graphics card already offers several modern display outputs.
The Dual Super EVO isn't the only GTX 1660 Super that Asus is announcing today. The chart below shows the company's entire GTX 1660 Super family, from the entry-level Phoenix all the way up to the flagship ROG Strix.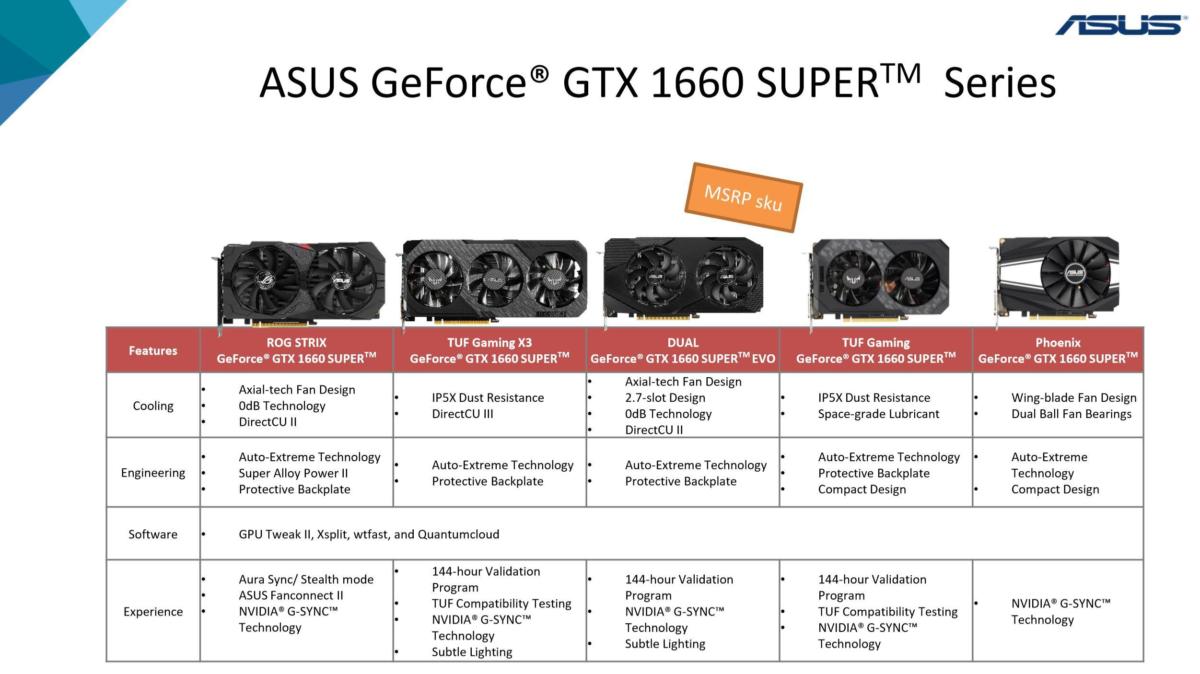 Now to see how this puppy handles!
Next page: Our test system, benchmarking begins
Our test system
Our dedicated graphics card test system is packed with some of the fastest complementary components available to put any potential performance bottlenecks squarely on the GPU. Most of the hardware was provided by the manufacturers, but we purchased the cooler and storage ourselves.
We're comparing the $229 Asus Dual GeForce GTX 1660 Super EVO OC and its GDDR6 memory against EVGA's vanilla GTX 1660 XC Ultra, which uses the same core GPU configuration with slower GDDR5 VRAM. We're also comparing it against the Asus ROG Strix GTX 1660 Ti, which packs a more powerful version of the same GPU and slower-clocked GDDR6, as well as Nvidia's entry-level ray tracing card, the GeForce RTX 2060 Founders Edition. On AMD's side, we're comparing the new GPU against the Asus ROG Strix Radeon RX 580 and XFX Radeon RX 590 Fatboy. These days, you can find Radeon RX 580s going for around $170 to $180, and frequently find Radeon RX 590s on sale for roughly $200.
Mentioned in this article
ROG Strix GeForce GTX 1660 Ti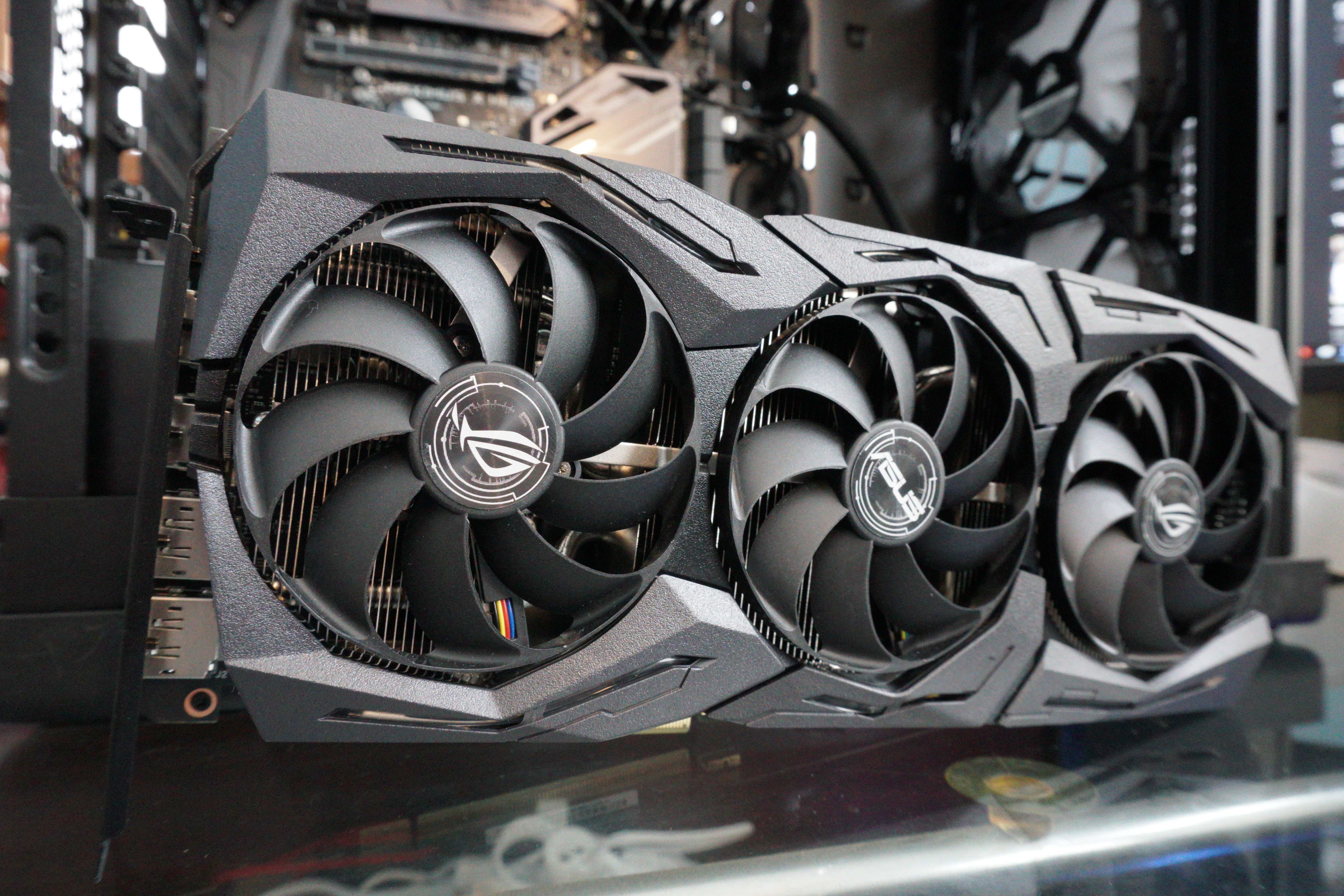 Price When Reviewed:
$329.99
Each game is tested using its in-game benchmark at the highest possible graphics presets, with VSync, frame rate caps, and all GPU vendor-specific technologies—like AMD TressFX, Nvidia GameWorks options, and FreeSync/G-Sync—disabled, and temporal anti-aliasing (TAA) enabled to push these high-end cards to their limits. If anything differs from that, we'll mention it. We run each benchmark at least three times and list the average result for each test.
We tested the Asus Dual GeForce GTX 1660 Super EVO OC in its default performance BIOS mode, rather than the secondary Quiet mode than enables 0dB fans.
Gaming performance benchmarks
Division 2
Let's start with the latest games. The Division 2 is one of the best looter-shooters ever created. The luscious visuals generated by Ubisoft's Snowdrop engine make it even easier to get lost in post-apocalyptic Washington, D.C. The built-in benchmark cycles through four "zones" to test an array of environments. We test with the DirectX 12 renderer enabled. It provides better performance across-the-board than the DX11 renderer, but it requires Windows 10.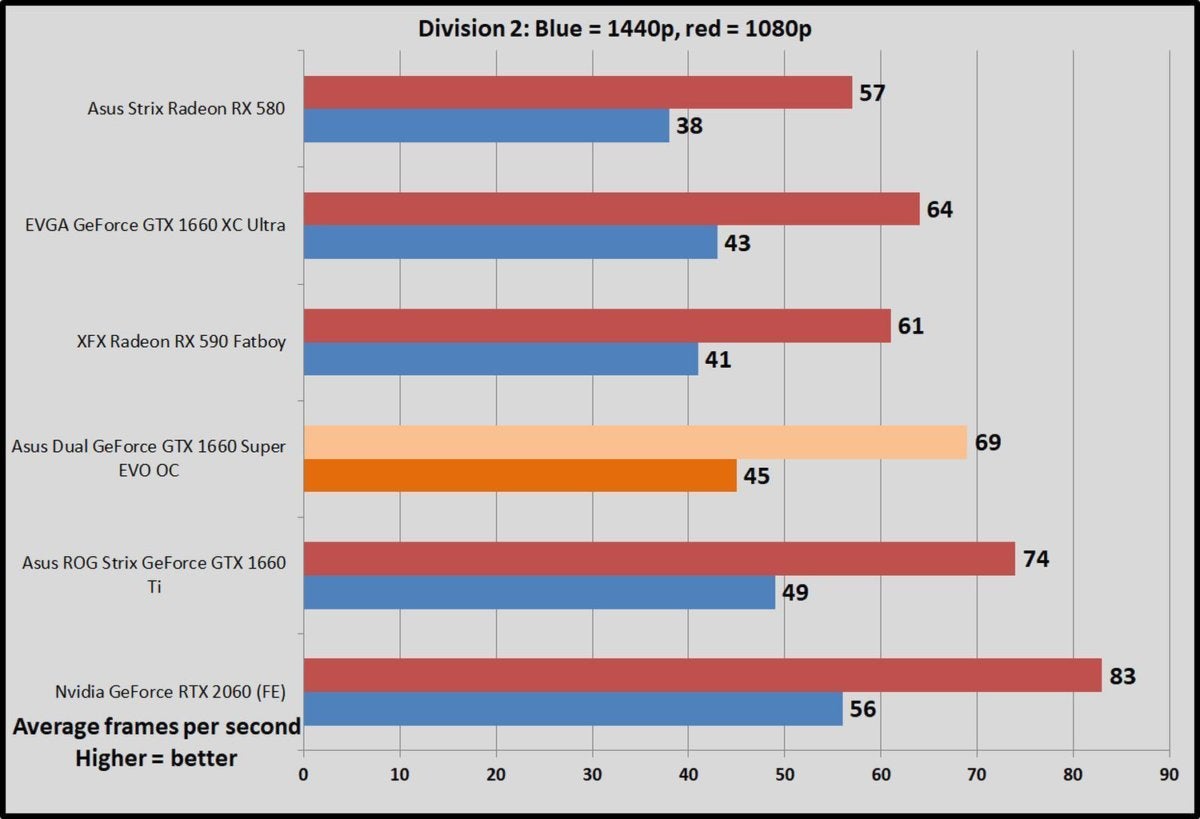 Far Cry: New Dawn
Another Ubisoft title, Far Cry: New Dawn drags Far Cry 5's wonderful gameplay into a post-apocalyptic future of its own, though this vision is a lot more bombastic—and pink—than The Division 2's bleak setting. The game runs on the latest version of the long-running Dunia engine, and it's slightly more strenuous than Far Cry 5's built-in benchmark.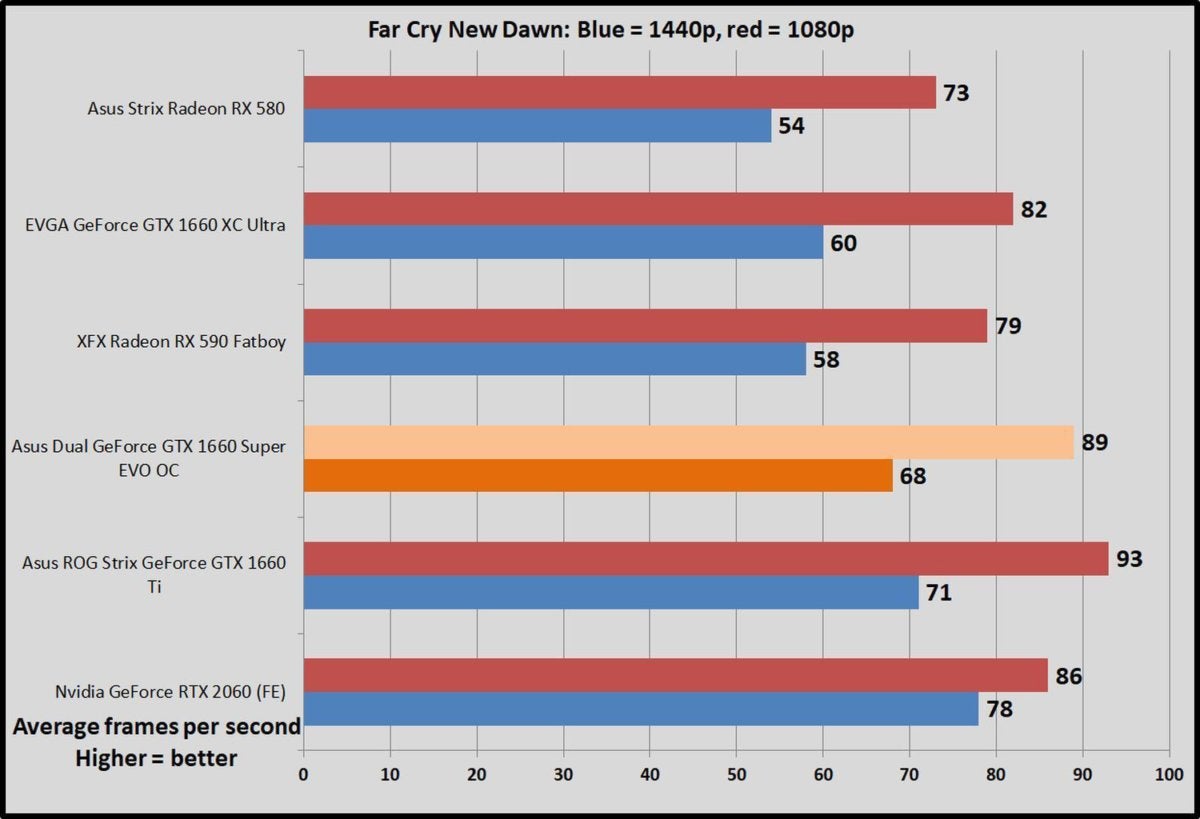 Next page: Gaming benchmarks continue
Strange Brigade
Strange Brigade ($50 on Humble) is a cooperative third-person shooter where a team of adventurers blasts through hordes of mythological enemies. It's a technological showcase, built around the next-gen Vulkan and DirectX 12 technologies and infused with features like HDR support and the ability to toggle asynchronous compute on and off. It uses Rebellion's custom Azure engine. We test the DX12 renderer with async compute off.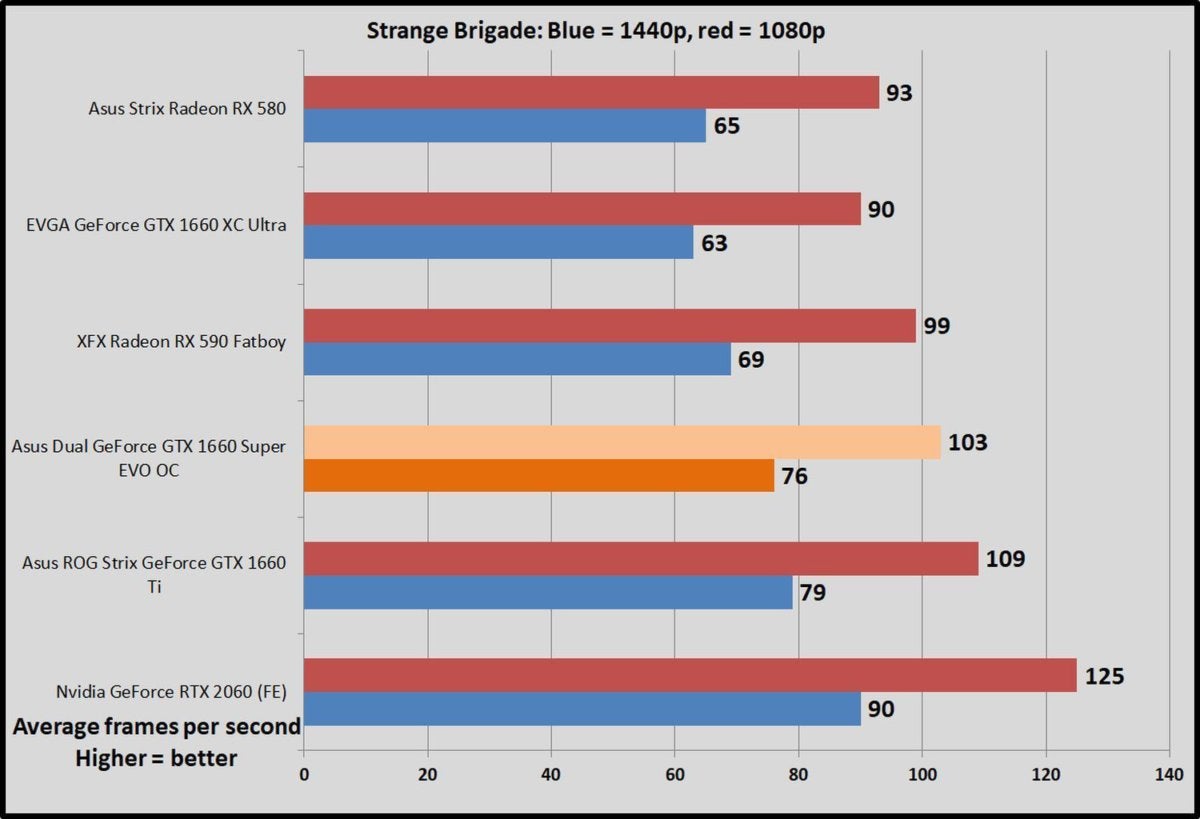 Shadow of the Tomb Raider
Shadow of the Tomb Raider ($60 on Humble) concludes the reboot trilogy, and it's utterly gorgeous. Square Enix optimized this game for DX12, and recommends DX11 only if you're using older hardware or Windows 7, so we test with DX12. Shadow of the Tomb Raider uses an enhanced version of the Foundation engine that also powered Rise of the Tomb Raider.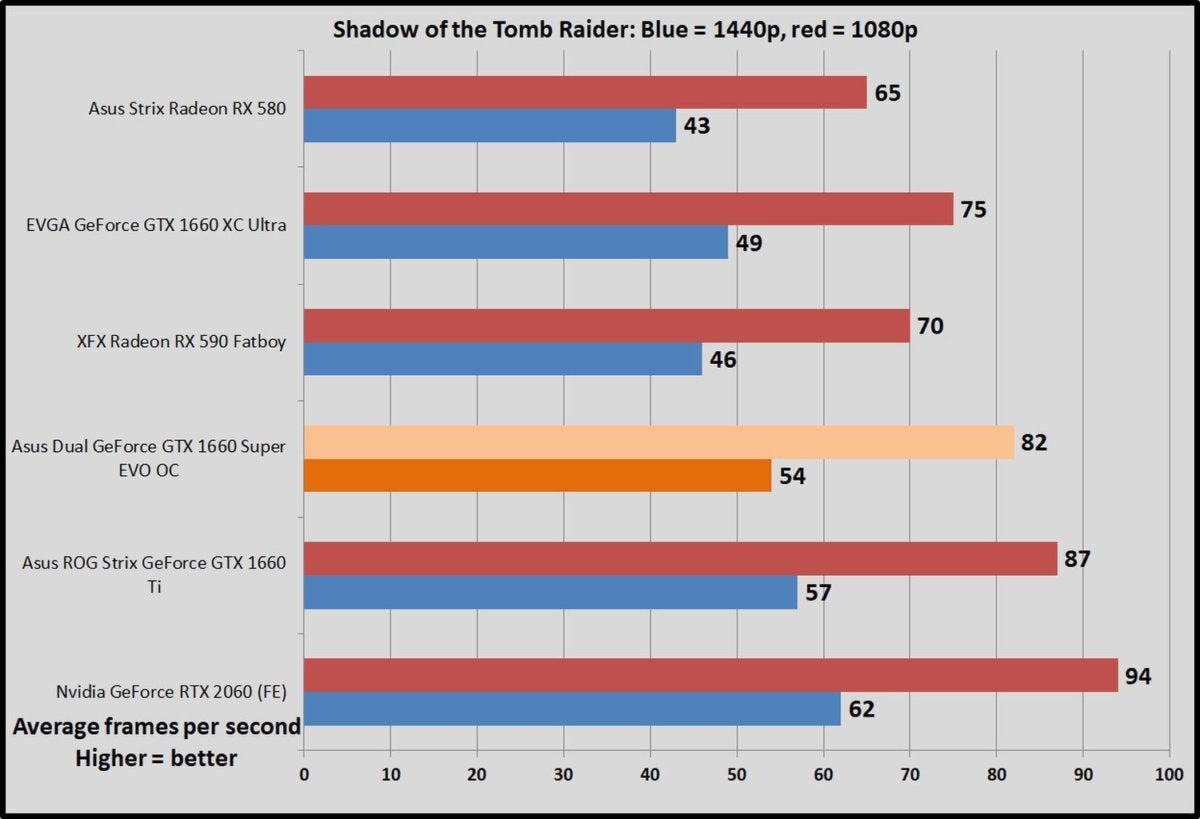 Ghost Recon Wildlands
Move over, Crysis. Ghost Recon Wildlands ($50 on Humble) may already have its Ghost Recon Breakpoint sequel available, but this original still absolutely melts GPUs If you crank all the graphics options up to 11, like we do for these tests.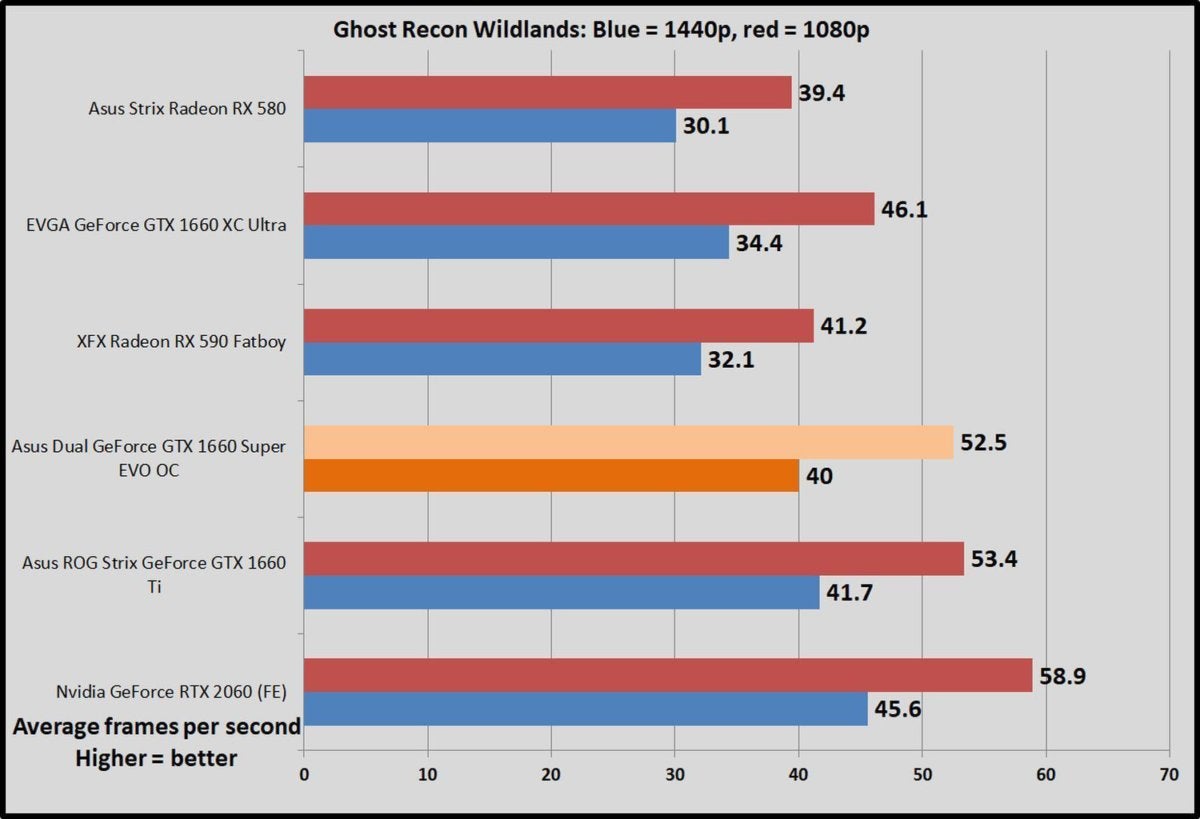 F1 2018
The latest in a long line of successful games, F1 2018 ($60 on Humble) is a gem to test, supplying a wide array of both graphical and benchmarking options—making it a much more reliable (and fun) option than the Forza series. It's built on the fourth version of Codemasters' buttery-smooth Ego game engine. We test two laps on the Australia course, with clear skies.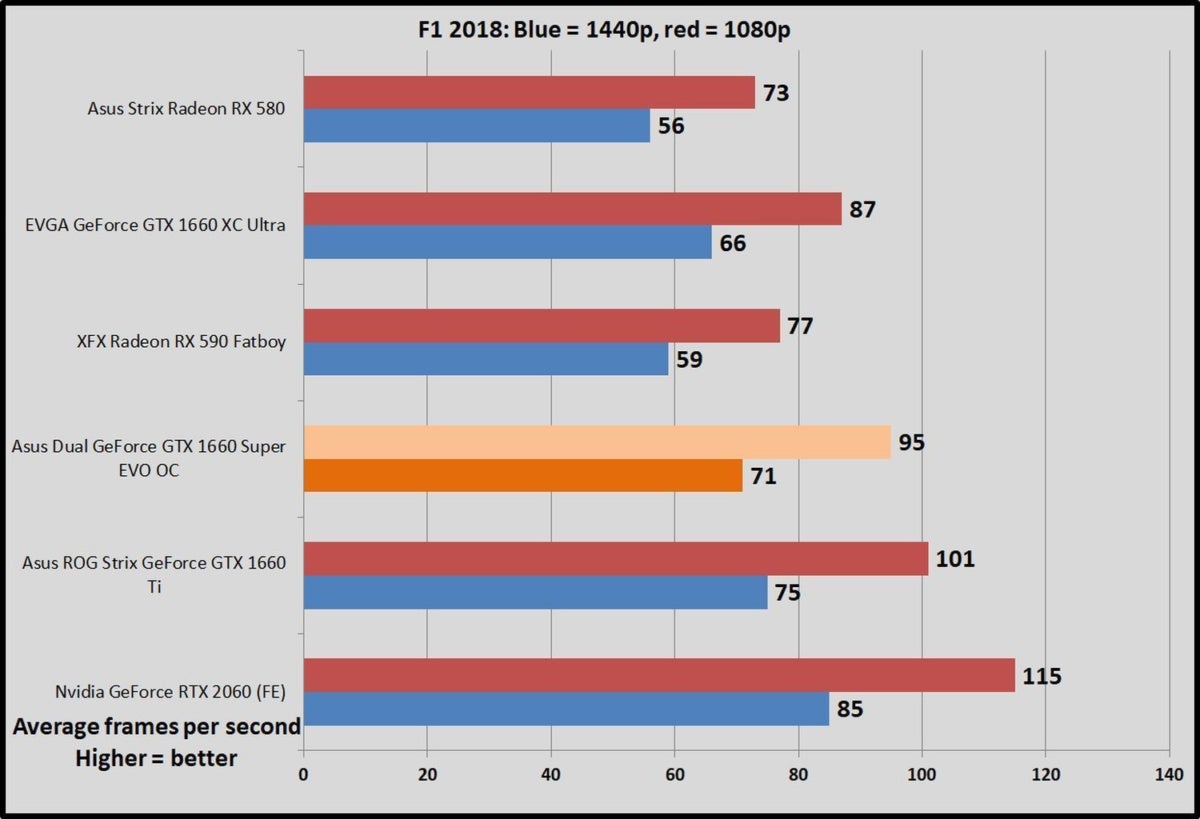 Next page: Gaming, power, and thermal benchmarks
GTA V
We're going to wrap things up with a game that isn't really a visual barn-burner, but still tops the Steam charts day in and day out. We test Grand Theft Auto V ($30 on Humble) with all options turned to Very High, all Advanced Graphics options except extended shadows enabled, and FXAA. GTA V runs on the RAGE engine and has received substantial updates since its initial launch.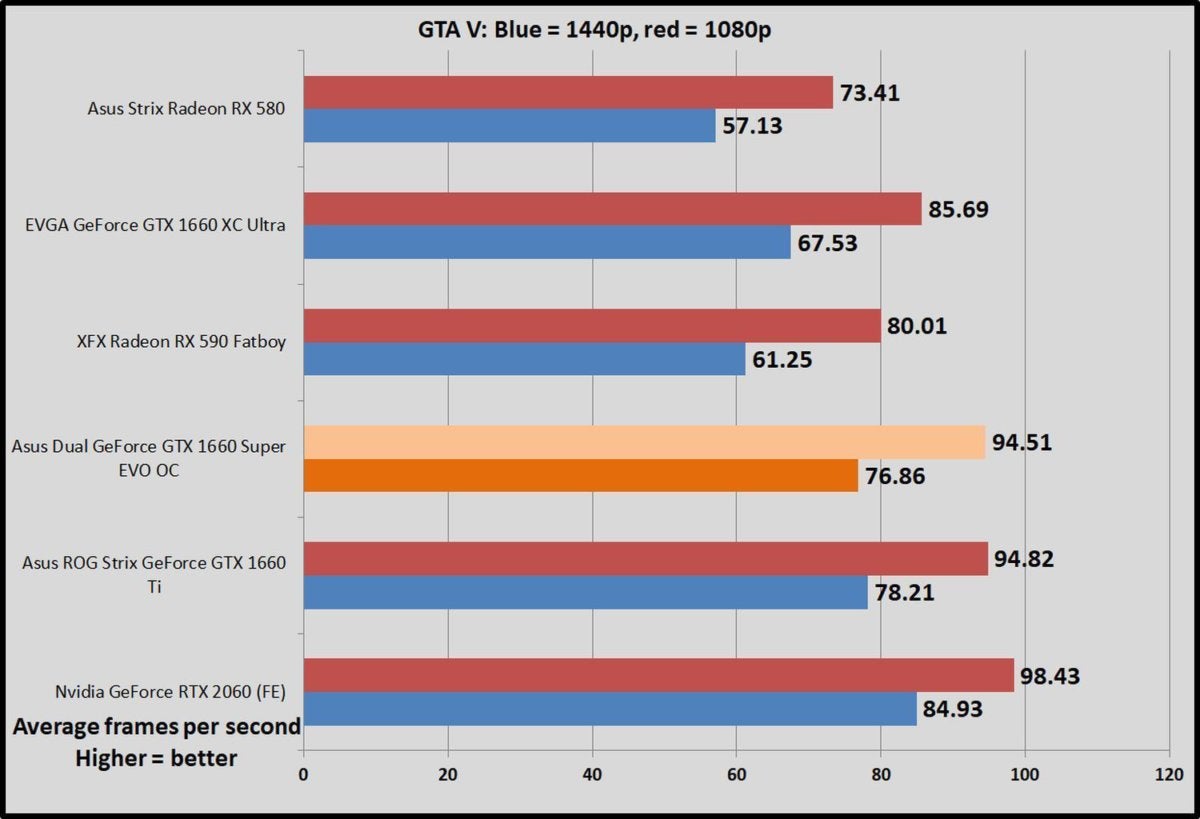 Power draw, thermals, and noise
We test power draw by looping the F1 2018 benchmark for about 20 minutes after we've benchmarked everything else and noting the highest reading on our Watts Up Pro meter. The initial part of the race, where all competing cars are onscreen simultaneously, tends to be the most demanding portion.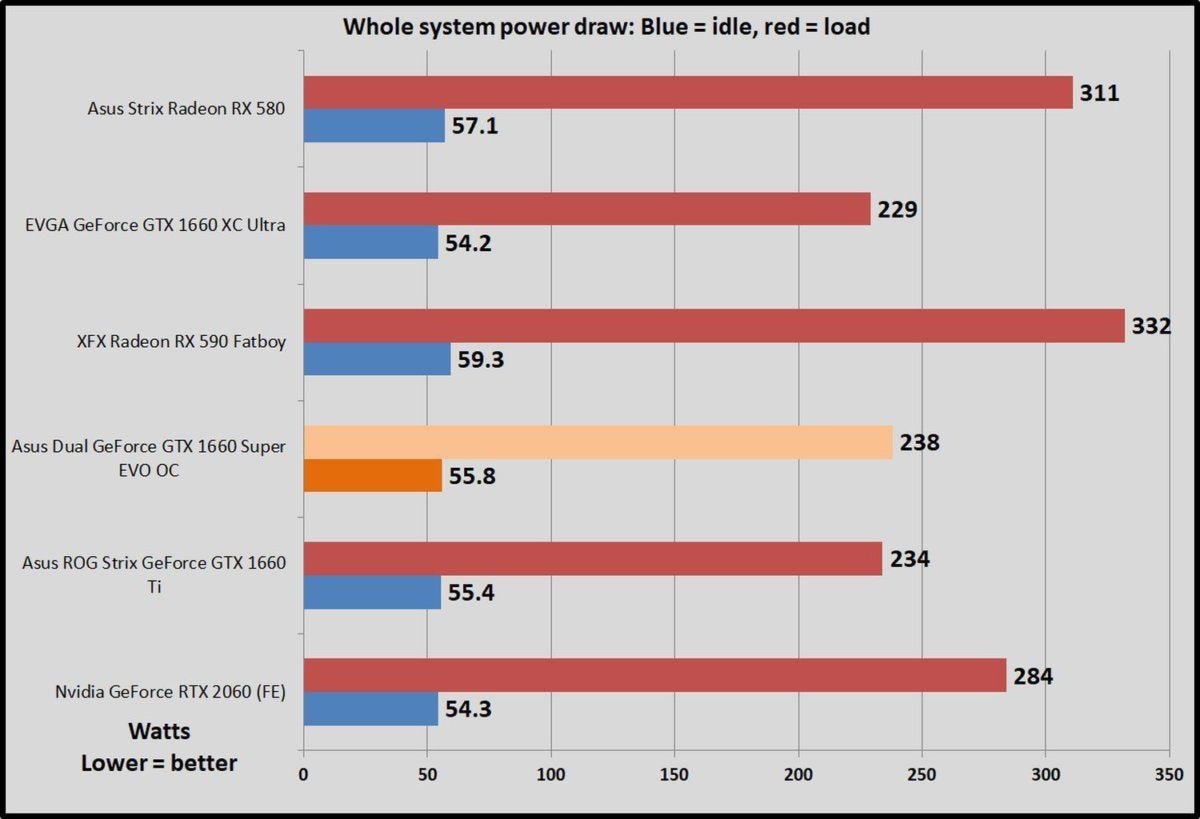 The faster 14Gbps GDDR6 memory makes the Asus Dual GTX 1660 Super EVO OC suck down slightly more power than its GTX 1660 family siblings. It's still significantly more power-efficient than AMD's Radeon duo, which are built around what are essentially 3.5-year-old GPUs.
We test thermals by leaving either AMD's Wattman (for Radeon GPUs) or EVGA's Precision X1 (for GeForce GPUs) open during the F1 2018 five-lap power draw test, noting the highest maximum temperature at the end.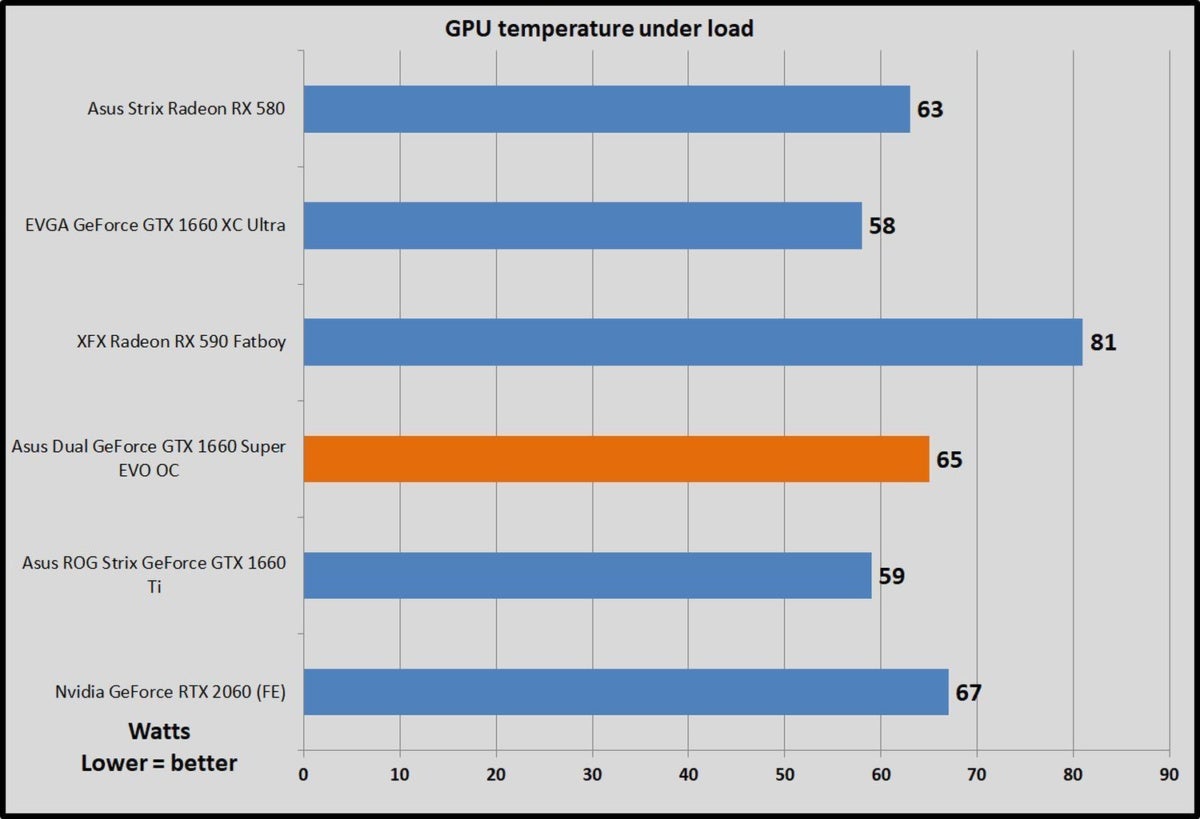 The Asus Dual is a lot faster than AMD's Radeon duo, but the lower power draw helps it keep solid temperatures even without a high-end cooler, like you find on every other custom graphics card in this comparison. The Asus Dual GTX 1660 Super EVO OC's 65-degree maximum under load is plenty chilly, and it runs pretty darn quietly. These are great results for a graphics card priced at Nvidia's suggested pricing rather than a premium, though you "earn" them by way of the Dual's thick, wide design.
Next page: Should you buy the GeForce GTX 1660 Super?
Should you buy the GeForce GTX 1660 Super?
Definitely. This is the new mainstream graphics card to beat for no-compromises 1080p gaming, though AMD's vaguely detailed Radeon RX 5500 series is coming sometime this quarter.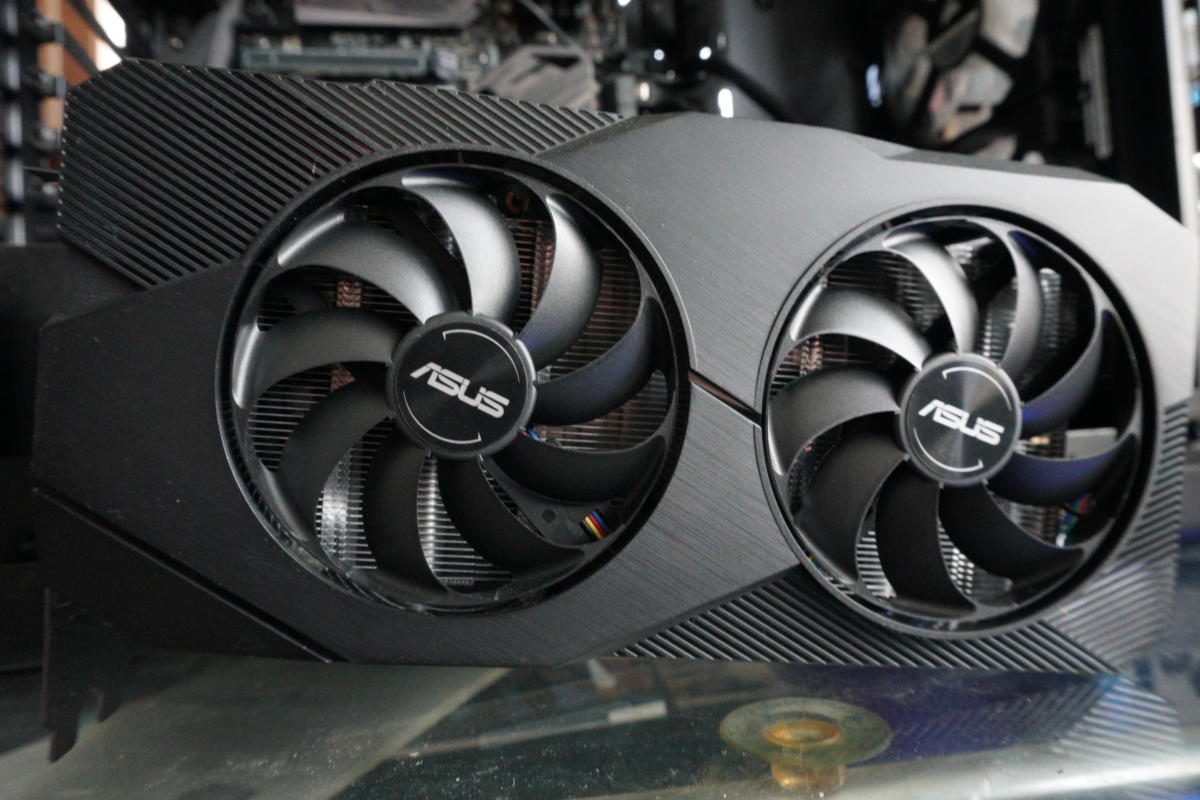 Simply swapping out the GDDR5 memory for 14Gbps GDDR6 memory makes the $229 GTX 1660 Super well over 10 percent faster or more than its namesake, depending on the game, landing it well within striking distance of the more potent $280 GTX 1660 Ti. Not bad for a mere $10 over the vanilla GTX 1660's original MSRP, though that'll be sticking around at an (undisclosed) lower price as well—probably around $200.
Mentioned in this article
GeForce GTX 1660 Ti XC Ultra
Price When Reviewed:
$309.99
The speed bump makes the GTX 1660 Super the likely price-to-performance champion in Nvidia's crowded GTX 1660 family, though the others still have their place. We'll have to see where the original GTX 1660's pricing lands, but it still delivers a solid 1080p/60Hz gaming experience as the cheapest member of the lineup, while the GTX 1660 Ti's extra oomph is worth considering if you're rolling with a high-refresh 100Hz-plus monitor or want to dabble in 1440p gaming from time to time.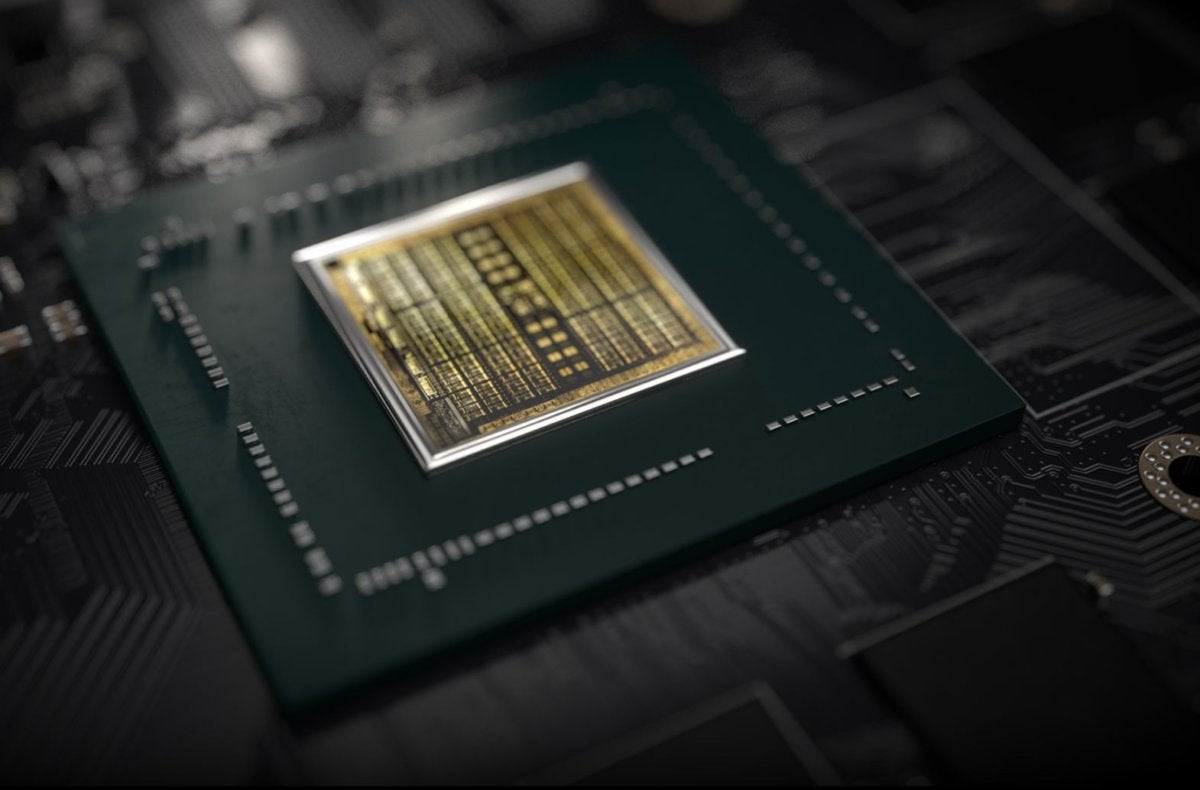 We gave the Sapphire RX 580 Pulse 4/5 stars
Sapphire Radeon RX 580 Pulse
AMD's aging Radeon RX 580 and 590 are only holding on through sheer value proposition, thanks to a mixture of aggressive price cuts and game bundles. Sub-$200 pricing with either Borderlands 3 or Ghost Recon Breakpoint as well as three free months of Microsoft's spectacular Xbox Game Pass for PC delivers a ton of value, but AMD's options draw a lot more power and require more visual compromises than Nvidia's GTX 1660 series.
The Radeons are still solid 1080p gaming options, especially if you don't mind dropping graphics from Ultra to High, but they're built on 3.5-year-old GPUs at their heart, and it's starting to show. The two are so close in performance that if you're going for Radeon's value, the RX 580 is probably the better bet.
We heartily recommend the Asus Dual GeForce GTX 1660 Super EVO OC specifically, assuming the somewhat portly card can fit in your system. Big, fat graphics cards are the modern trend in powerful high-end GPUs, but still not the norm here in the mainstream price range. Fortunately, most mid- and full-tower cases should be able to squeeze it in.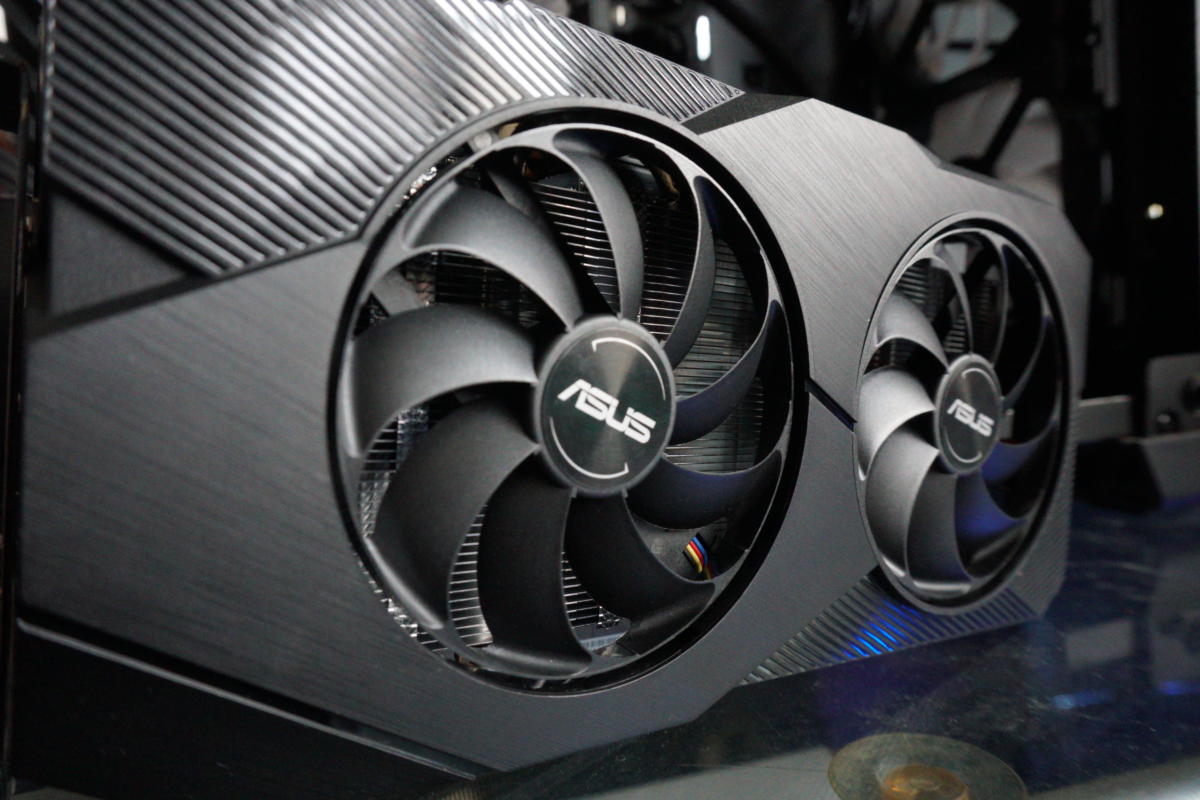 The Dual GTX 1660 Super delivers great performance, cool temperatures, and quiet gaming. That solid core performance is bolstered by some nice extras like an aluminum backplate, an RGB LED strip, a gentle overclock, and an option to keep the fans idle until your GPU hits game-level temperatures. It's exactly what you're looking for in a no-frills mainstream graphics card.
Even better, the price is right. The GTX 1660 Super delivers outstanding value of its own at $229, but if the price starts to creep upwards for custom cards, Nvidia's new GPU starts to get uncomfortably close to the GTX 1660 Ti's cost. Asus's Dual EVO OC sticks to the $229 suggested price and while it's not brimming with extra features, it's hard to envision pricier options delivering much more performance, especially with modern Nvidia software capable of delivering one-click automatic overclocks.
Bottom line: It doesn't redefine the segment like the GeForce RTX 2060 and 2070 Super GPUs did, but upgrading to ultra-fast GDDR6 memory gives the GTX 1660 Super a noticeable and appreciable performance uplift, and the Asus Dual GTX 1660 EVO OC builds on the solid foundation to make a great GPU even better. Say hello to the new no-compromises 1080p gaming champion…though AMD's Radeon RX 5500 series counterpunch will be landing any day now.