Microsoft's Xbox All Access, a monthly subscription that will provide gamers access to Xbox Game Pass Ultimate, now includes an option to jump on board the Xbox Series X and Xbox Series S console.
The price of Microsoft's new Xbox All Access program depends on which console you choose, and it's slightly increased from the Xbox One X generation. Now, you'll pay $34.99 per month for 24 months ($839.76) for an Xbox Series X and 24 months of Microsoft Game Pass Ultimate. Microsoft will charge $24.99 per month for 24 months ($599.76) for an Xbox Series S and 24 months of Game Pass Ultimate. There's also an option for an Xbox One S and 24 months of Game Pass Ultimate for $22.99 per month ($551.76) for 24 months, too.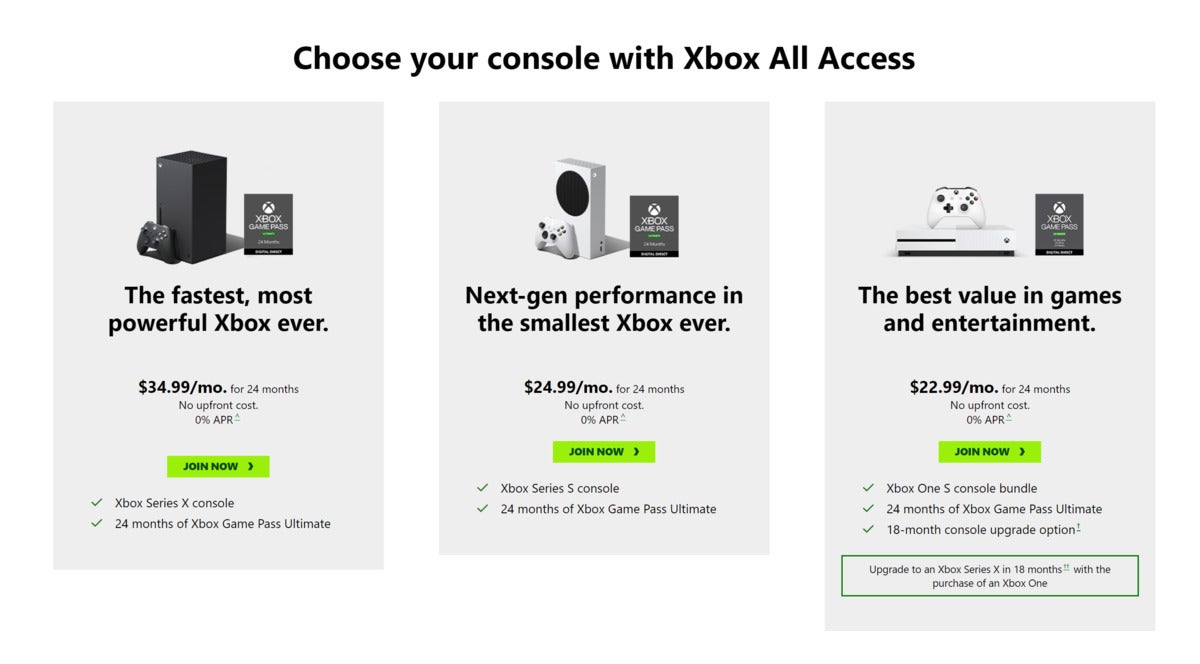 Previously, Microsoft charged $19.99 per month for 24 months ($479.76) for a an all-digital Xbox One S to $30.99 per month for 24 months ($743.76) for an Xbox One X., plus 24 months of Game Pass Ultimate.
Users can also trade in their existing Xbox One-series consoles if they're part of the All Access Plan. Because you will need to swap out the existing Xbox console, that will pose a small inconvenience to U.S. customers: You'll need to hold on to the original Xbox packaging and ship it back to Amazon, via a special package that you'll be sent. You'll also need to send back the console, controller, and power cord in good condition.
There's another small catch: You won't be able to pay for Microsoft Xbox All Access with a credit card. Instead, Citizens Bank will provide credit financing, and you'll need to go through the application process with the Citizens One service, Microsoft said.
Essentially, Xbox All Access is Microsoft's attempt to lock customers into the Xbox game platform (which officially, now straddles the PC and Xbox console) for about two years. It's a bet that you'll believe strongly enough in its upcoming games library to buy in, now and in the future.
Updated on November 11, 2020, with details about the Microsoft Series X.