At a Glance
Expert's Rating
Pros
Excellent 1080p gaming performance
Runs cool and quiet
No price premium
Very short 6.61-inch length for mITX cases
Cons
Only 1 HDMI and DisplayPort
Zero extra features
Our Verdict
The PNY GeForce GTX 1660 Super Single Fan is an ultra-small, very straightforward take on a superb 1080p gaming GPU. It's fast, quiet, cool, and should fit into almost any PC.
Best Prices Today: GeForce GTX 1660 Super Single Fan
Pound for pound, Nvidia's GeForce GTX 1660 Super is the best GPU you can buy for 1080p gaming—and the graphics card we're reviewing today proves that it doesn't even need much weight to push out those blisteringly fast frames. The PNY GTX 1660 Super Single Fan, well, puts a miniscule single-fan spin on Nvidia's newest GPU, making it easy to slip into almost any system. Even better, it sticks to the GeForce GTX 1660 Super's baseline $230 price, rather than inching upwards into GTX 1660 Ti territory.
How does this smaller-statured graphics card compare against the dual-fan (and just as appropriately named) Asus Dual GTX 1660 Super EVO OC we originally reviewed? Let's dig in.
PNY GTX 1660 Super Single Fan: Specs, features and price
As a refresher, the GeForce GTX 1660 Super is a very straightforward upgrade of the vanilla $220 GTX 1660. It sports an identical core GPU configuration—same clock speeds, same CUDA core count, same everything—but swaps out the original's slower GDDR5 memory for ultra-fast 14Mbps GDDR6 VRAM. That one tweak gives the GTX 1660 Super enough extra performance firepower to land within spitting distance of the much pricier $280 GeForce GTX 1660 Ti, which feels a bit superfluous in the wake of this GPU's release.
Here's a look at the core specifications of the entire GeForce GTX 1660 lineup, as well as the last-gen 6GB GeForce GTX 1060. Notice the new GTX 1660 Super's huge memory bandwidth advantage over its siblings: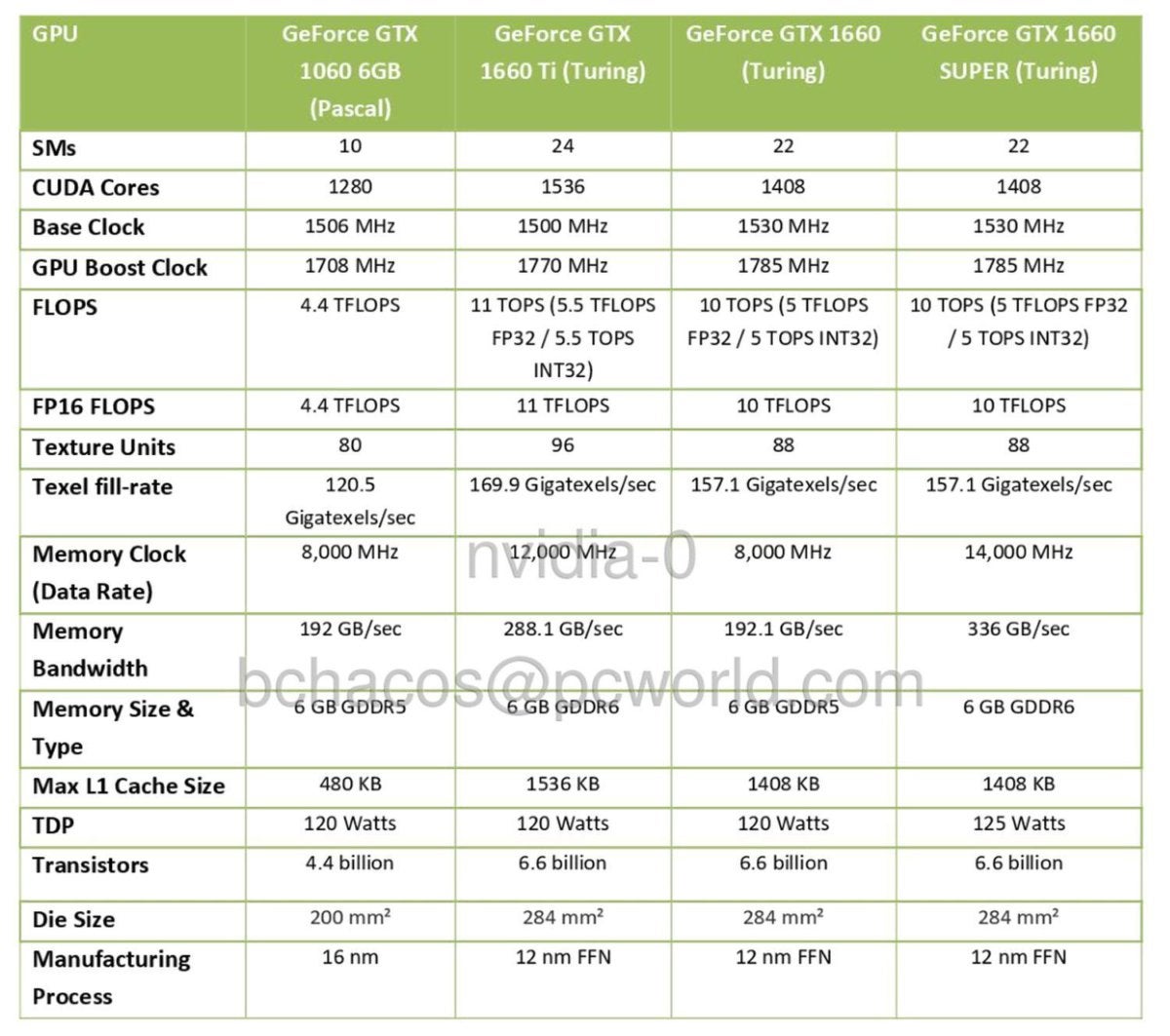 PNY's single-fan offering sticks to the GTX 1660 Super's $230 baseline price, and thus sticks to reference speeds out of the box. You can easily apply an automatic overclock using the Nvidia OC Scanner tool built into many software options (such as PNY's own VelocityX). The GDDR6 memory also sticks to Nvidia's specifications, but it's already plenty fast—faster than the VRAM in the step-up GTX 1660 Ti, even.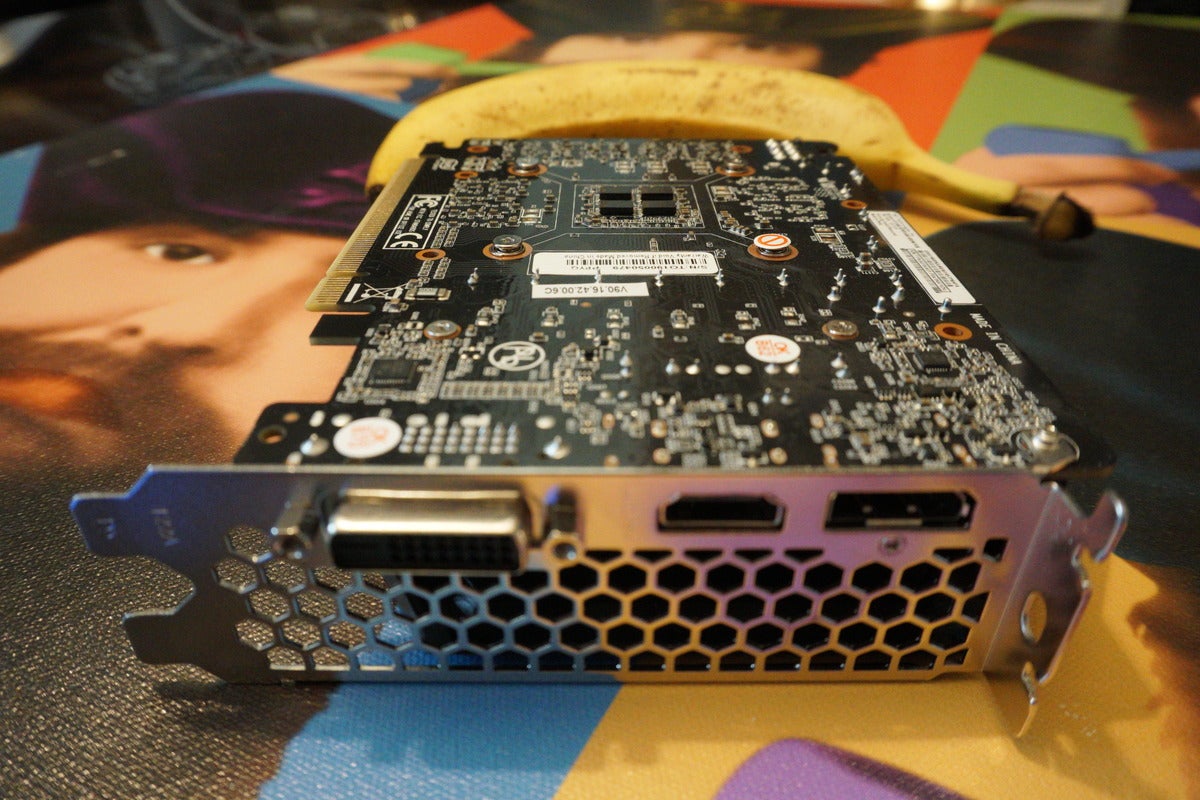 The physical design doesn't include any fancy extras either. You won't find a backplate, a dual BIOS switch, or flashy RGB lights like you do on the Asus Dual EVO OC. The PNY GTX 1660 Super Single Fan is a simple, solidly built graphics card with singular DVI, DisplayPort, and HDMI connections. While people with ancient or ultra-budget displays will no doubt appreciate the inclusion of the legacy DVI port, ditching it for another HDMI or DisplayPort would've been more welcoming for modern setups.
Its most distinguishing characteristic is its diminutive size. PNY's graphics card measures a mere 6.61 inches long, making it ideal for space-constrained mini-ITX builds, though the card remains two slots wide and measures a wee thicker than normal at just shy of 5 inches wide. It's tiny.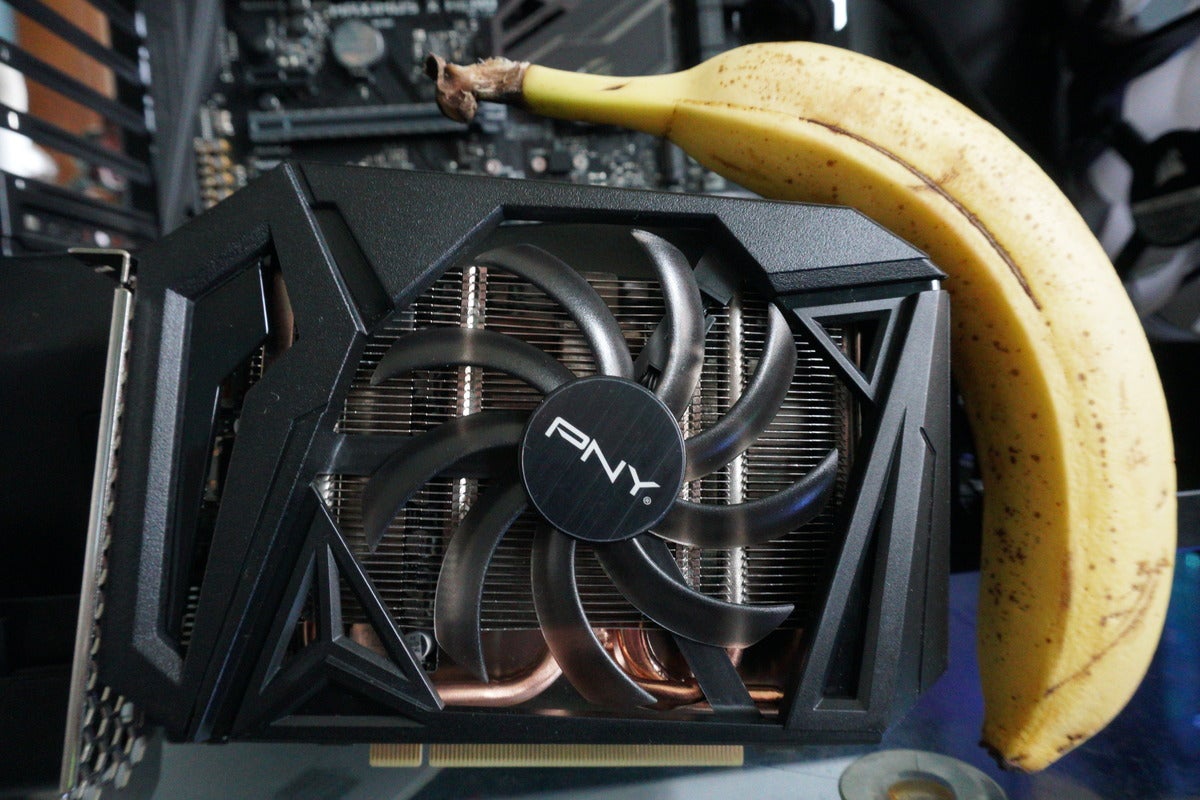 But the PNY GTX 1660 Super Single Fan still packs a big punch. Let's take it to the test bench!
Our test system
Our dedicated graphics card test system is packed with some of the fastest complementary components available to put any potential performance bottlenecks squarely on the GPU. Most of the hardware was provided by the manufacturers, but we purchased the cooler and storage ourselves.
Mentioned in this article
GeForce GTX 1660 Ti XC Ultra
Price When Reviewed:
$309.99
We're comparing the $229 PNY GeForce GTX 1660 Super Single fan against the identically priced Asus Dual GeForce GTX 1660 Super EVO OC to begin. Of course, we're going to pit it against EVGA's vanilla GTX 1660 XC Ultra as well, which uses the same core GPU configuration with slower GDDR5 VRAM. We're also comparing it against the Asus ROG Strix GTX 1660 Ti, which packs a more powerful version of the same GPU and slower-clocked GDDR6, as well as Nvidia's entry-level ray tracing card, the GeForce RTX 2060 Founders Edition.
On AMD's side, we're comparing the new GPU against the Asus ROG Strix Radeon RX 580 and XFX Radeon RX 590 Fatboy. These days, you can find Radeon RX 580s going for around $170 to $180, and frequently find Radeon RX 590s on sale for roughly $200.
Each game is tested using its in-game benchmark at the highest possible graphics presets, with VSync, frame rate caps, and all GPU vendor-specific technologies—like AMD TressFX, Nvidia GameWorks options, and FreeSync/G-Sync—disabled, and temporal anti-aliasing (TAA) enabled to push these high-end cards to their limits. If anything differs from that, we'll mention it. We run each benchmark at least three times and list the average result for each test.
Since we already know where the core GTX 1660 Super GPU falls in terms of performance, pay closer attention to where frame rates for the PNY and Asus variants fall. The very mild overclock on the Asus Dual EVO OC doesn't amount to much of a real world difference—just a frame or two here or there—so we're going to keep commentary to a minimum and let the benchmarks speak for themselves.
Gaming performance benchmarks
Division 2
The Division 2 is one of the best looter-shooters ever created, and the luscious visuals generated by Ubisoft's Snowdrop engine make it even easier to get lost in post-apocalyptic Washington, D.C. The built-in benchmark cycles through four "zones" to test an array of environments, and we test with the DirectX 12 renderer enabled. It provides better performance across-the-board than the DX11 renderer, but requires Windows 10.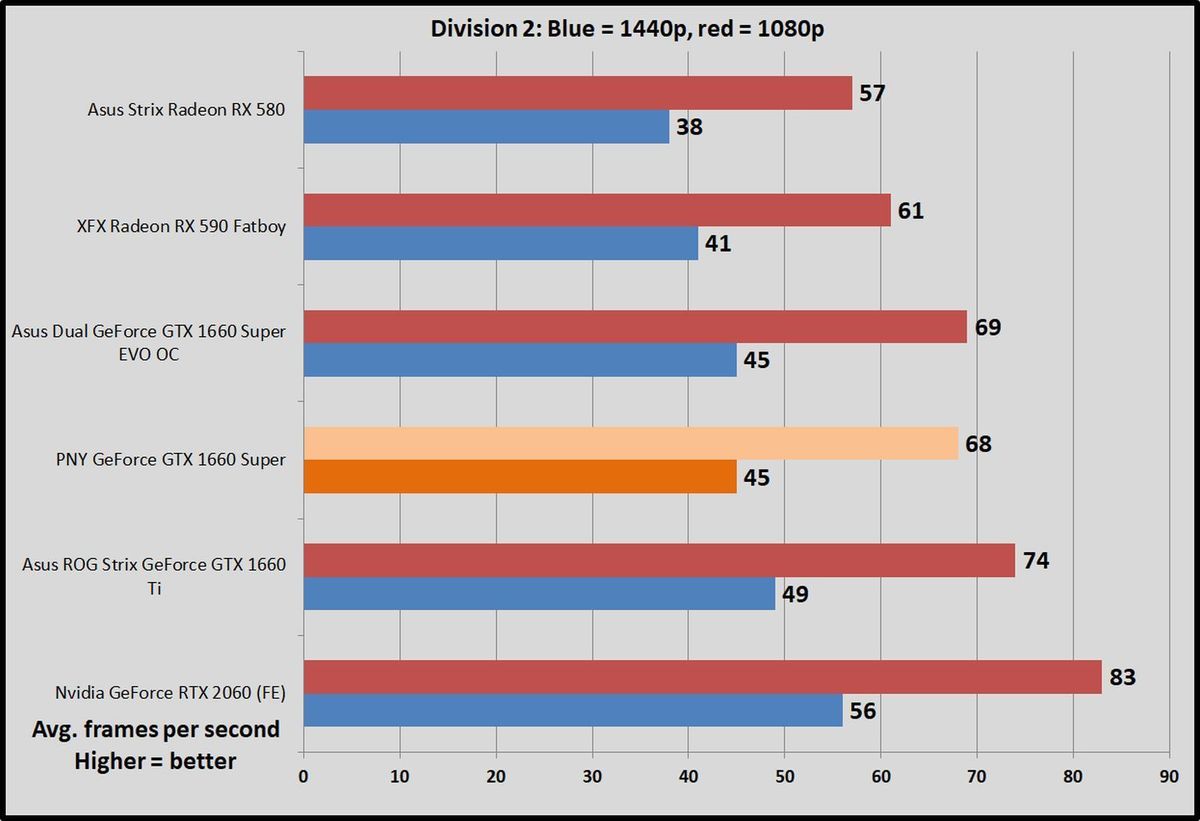 Far Cry: New Dawn
Another Ubisoft title, Far Cry: New Dawn drags Far Cry 5's wonderful gameplay into a post-apocalyptic future of its own, though this vision is a lot more bombastic—and pink—than The Division 2's bleak setting. The game runs on the latest version of the long-running Dunia engine, and it's slightly more strenuous than Far Cry 5's built-in benchmark.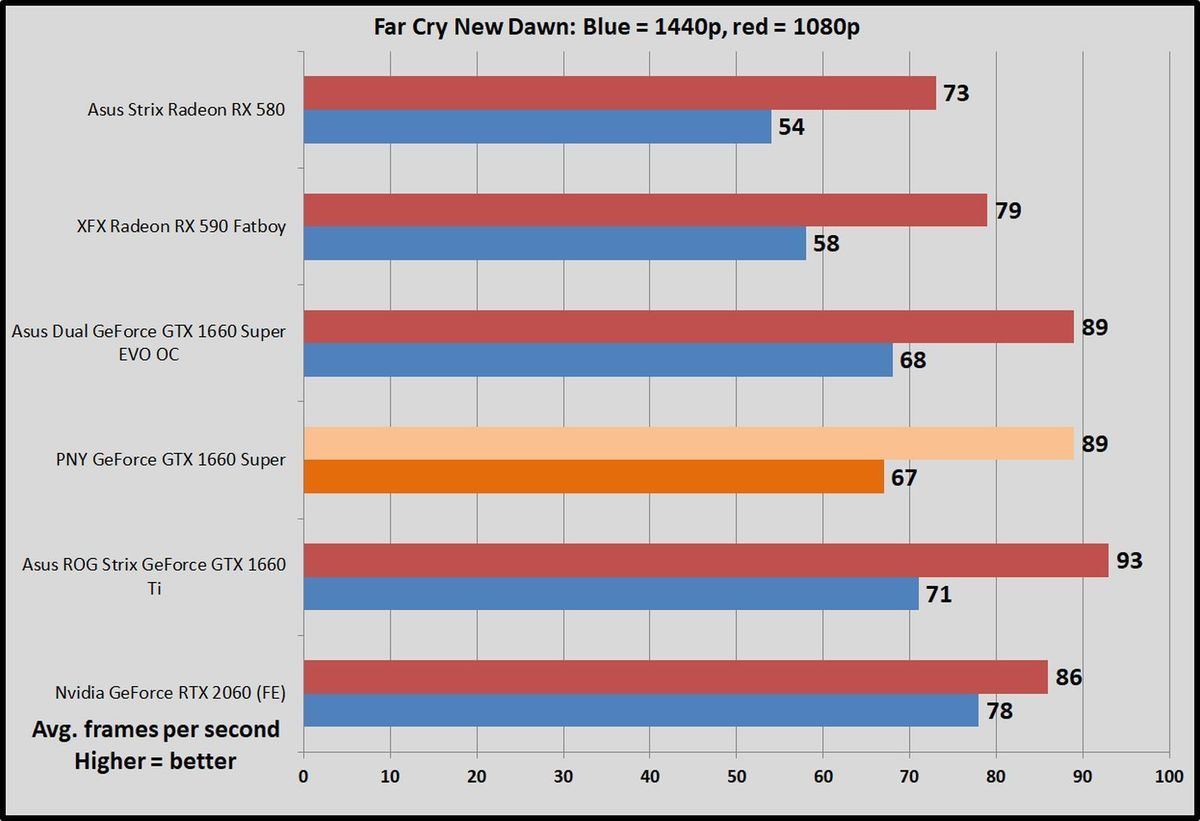 Strange Brigade
Strange Brigade ($50 on Humble) is a cooperative third-person shooter where a team of adventurers blasts through hordes of mythological enemies. It's a technological showcase, built around the next-gen Vulkan and DirectX 12 technologies and infused with features like HDR support and the ability to toggle asynchronous compute on and off. It uses Rebellion's custom Azure engine. We test the DX12 renderer with async compute off.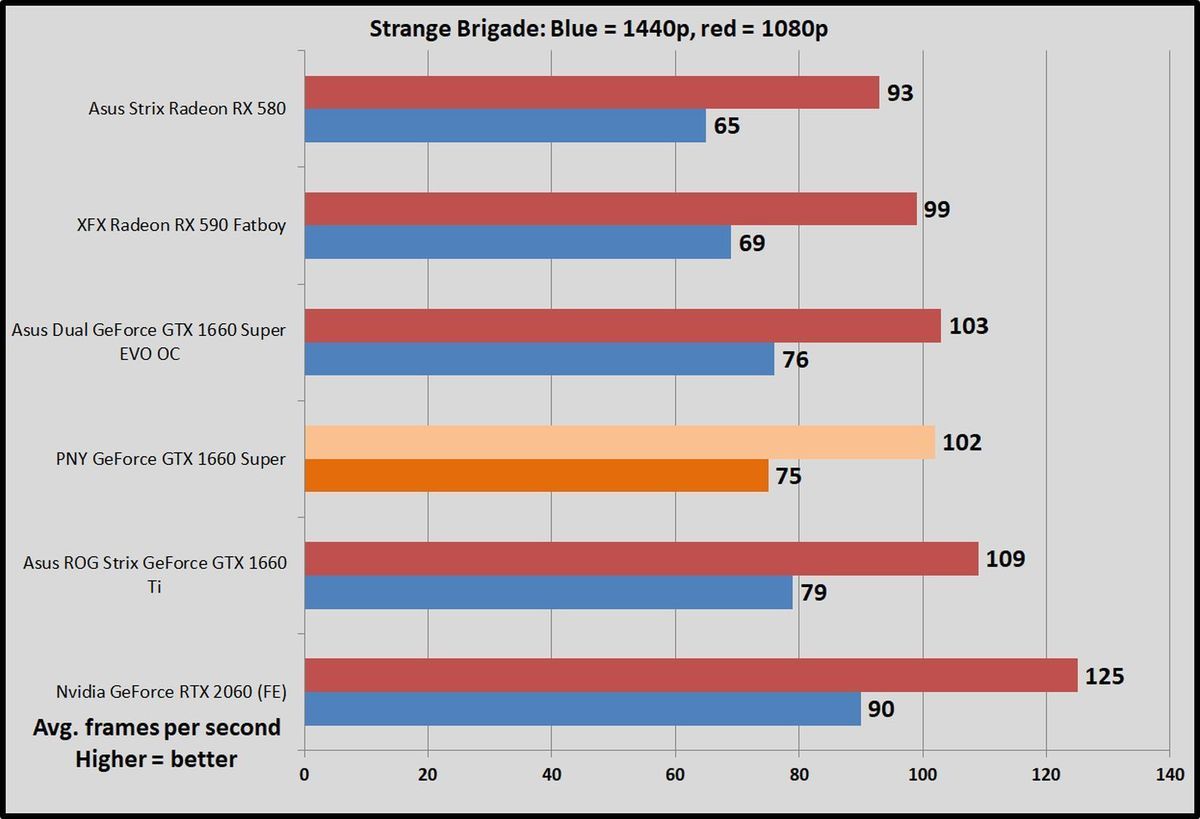 Shadow of the Tomb Raider
Shadow of the Tomb Raider ($60 on Humble) concludes the reboot trilogy, and it's utterly gorgeous. Square Enix optimized this game for DX12, and recommends DX11 only if you're using older hardware or Windows 7, so we test with the former. Shadow of the Tomb Raider uses an enhanced version of the Foundation engine that also powered Rise of the Tomb Raider.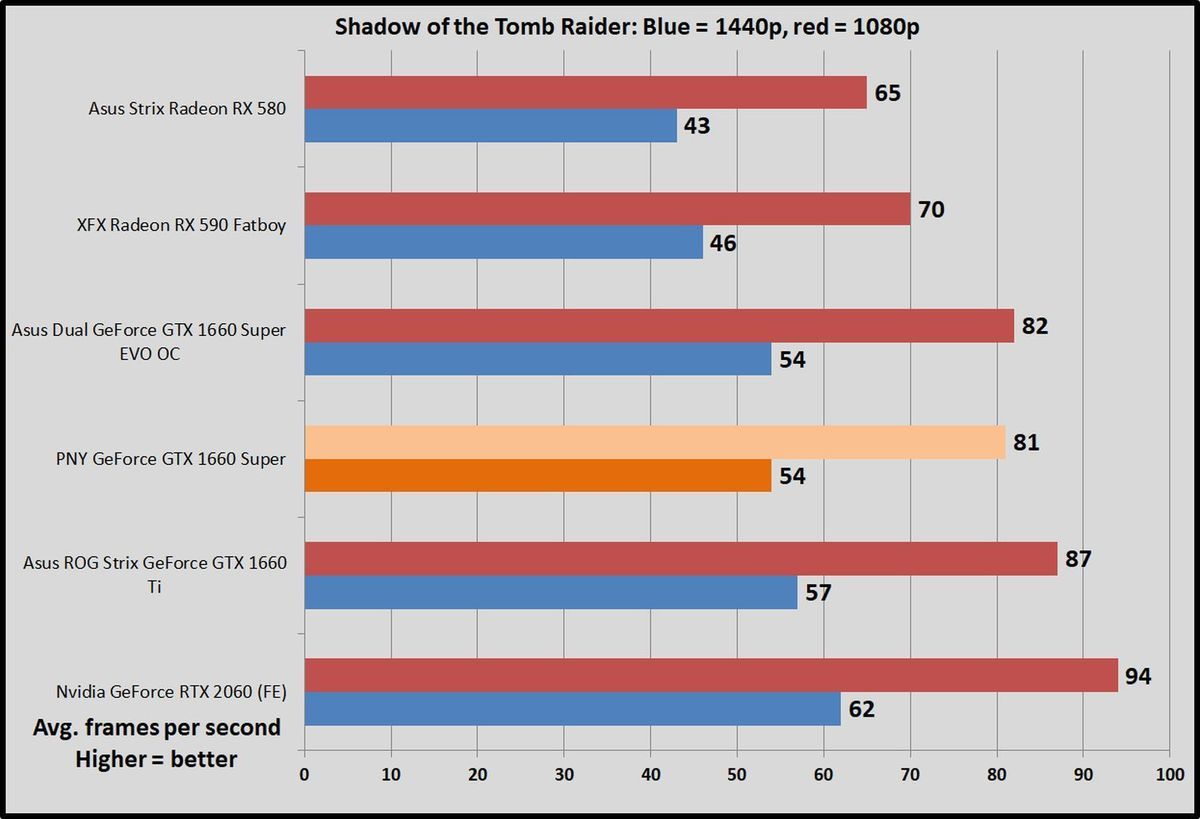 Ghost Recon Wildlands
Move over, Crysis. If you crank all the graphics options up to 11, like we do for these tests, Ghost Recon Wildlands ($50 on Humble) and its AnvilNext 2.0 engine absolutely melt GPUs. It's by far the most strenuous game in our suite, even with newer stunners like Division 2 in the mix. The newer Ghost Recon Breakpoint is now available, but we haven't been able to integrate it fully into our benchmarking suite just yet.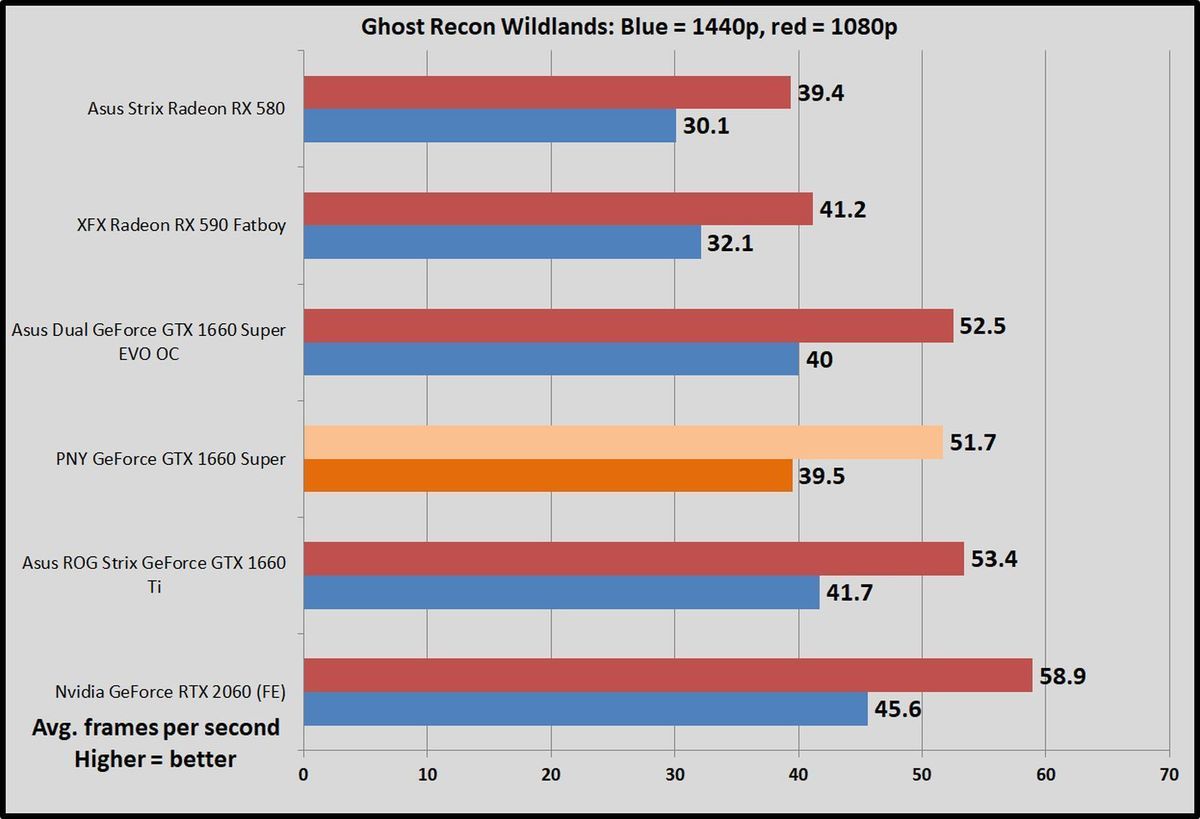 F1 2018
The latest in a long line of successful games, F1 2018 ($60 on Humble) is a gem to test, supplying a wide array of both graphical and benchmarking options—making it a much more reliable (and fun) option that the Forza series. It's built on the fourth version of Codemasters' buttery-smooth Ego game engine. We test two laps on the Australia course, with clear skies.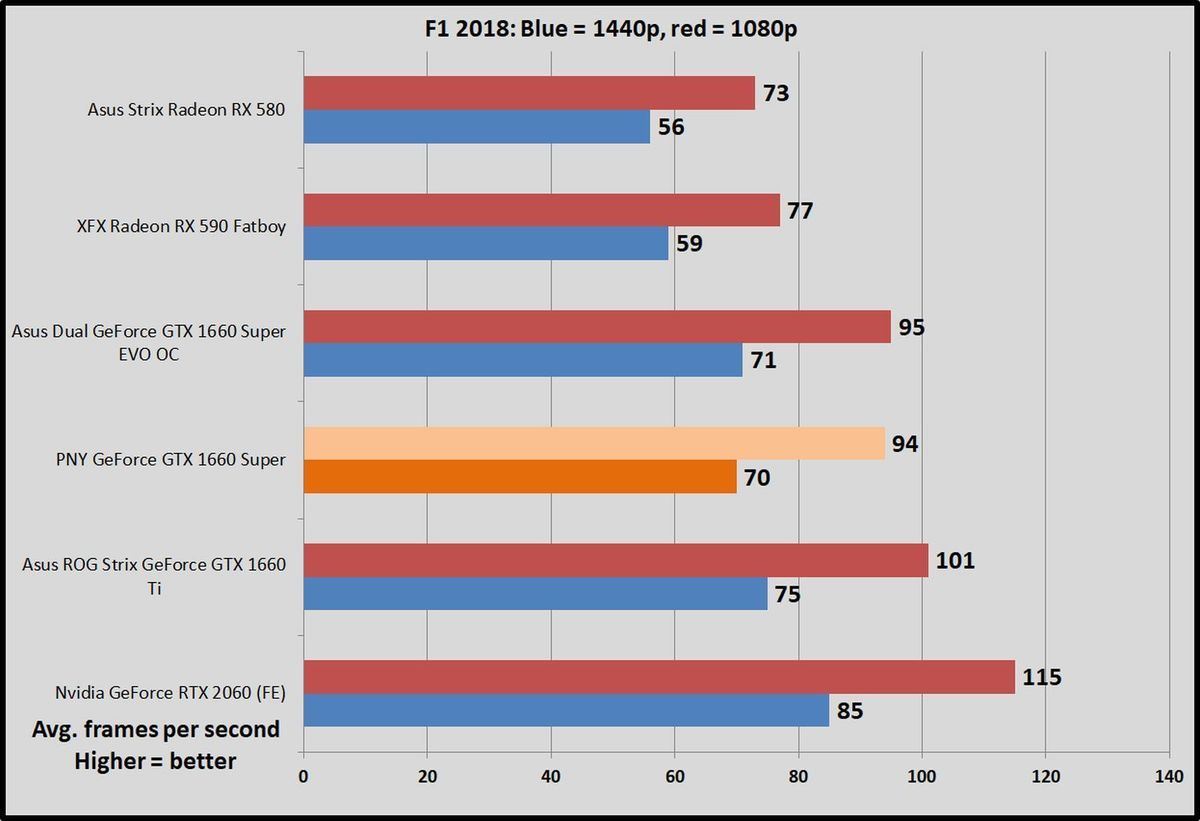 GTA V
We're going to wrap things up with a game that isn't really a visual barn-burner, but still tops the Steam charts day in and day out. We test Grand Theft Auto V ($30 on Humble) with all options turned to Very High, all Advanced Graphics options except extended shadows enabled, and FXAA. GTA V runs on the RAGE engine and has received substantial updates since its initial launch.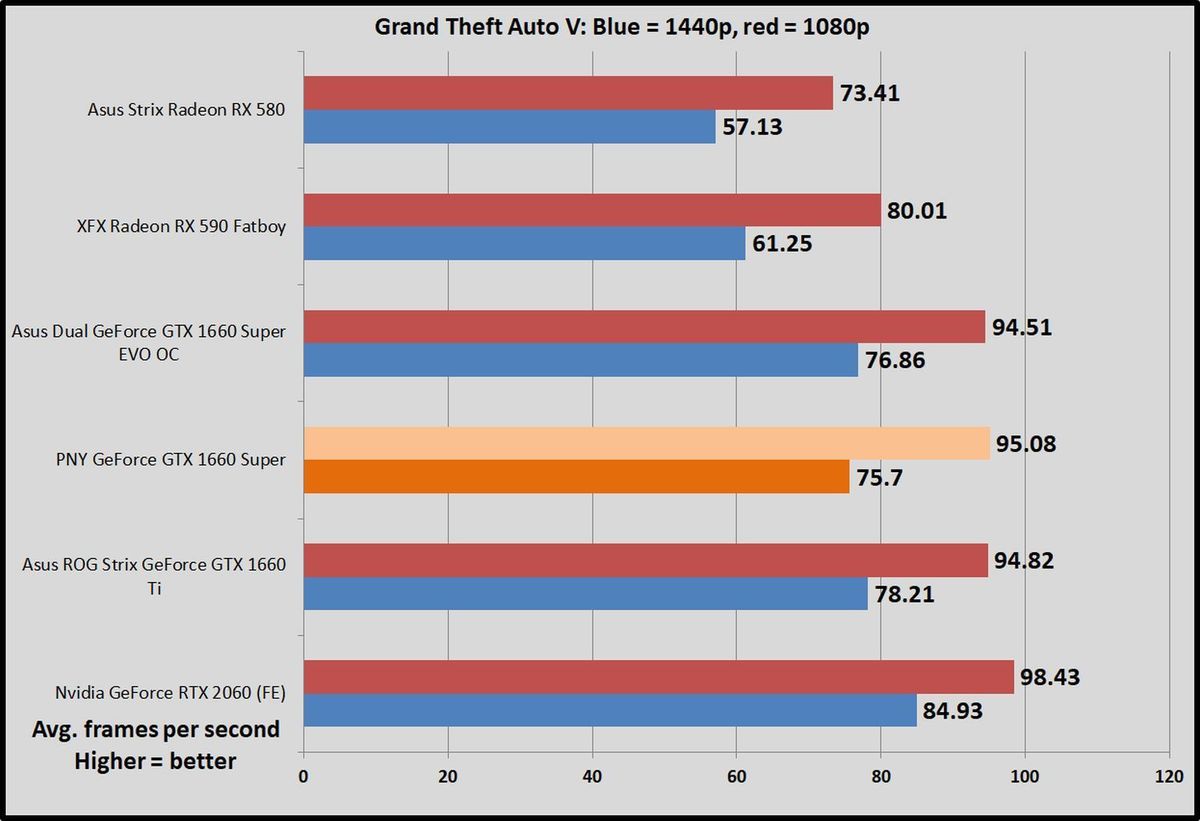 Power draw, thermals, and noise
We test power draw by looping the F1 2018 benchmark for about 20 minutes after we've benchmarked everything else, and noting the highest reading on our Watts Up Pro meter. The initial part of the race, where all competing cars are onscreen simultaneously, tends to be the most demanding portion.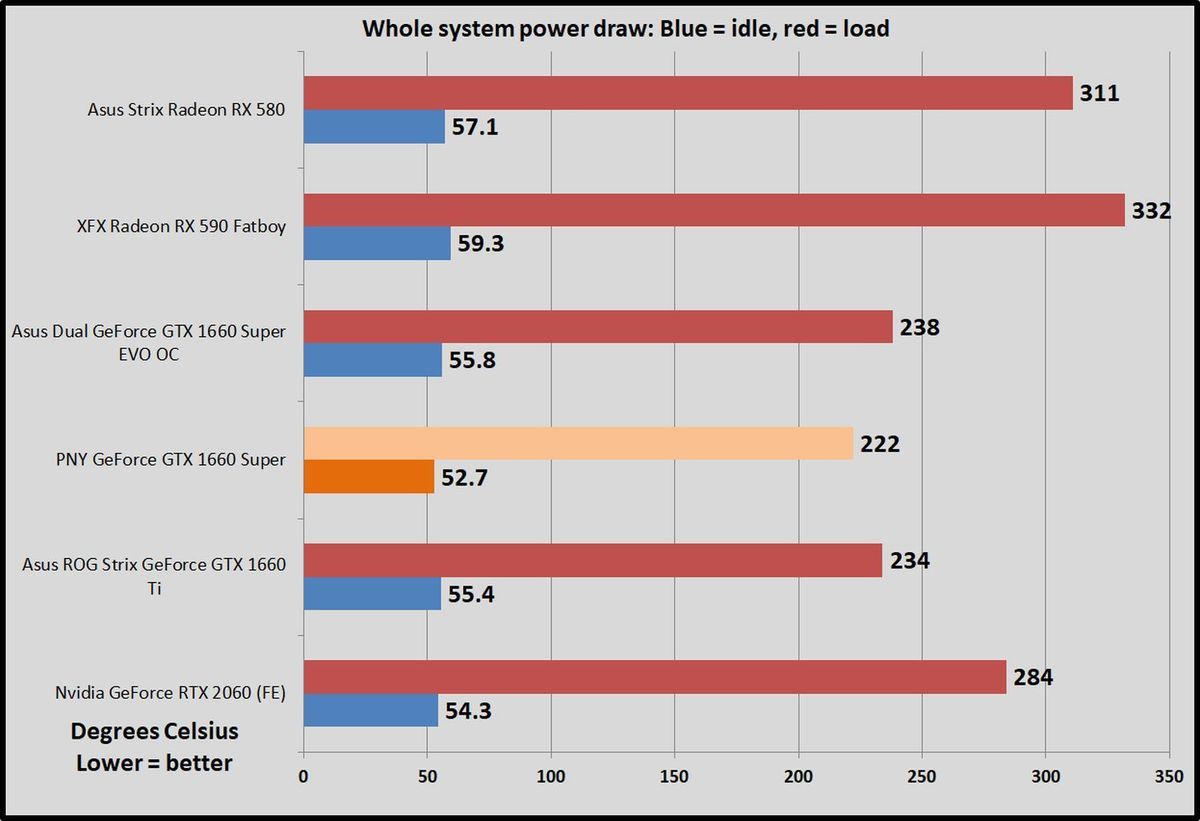 Nvidia's modern GeForce GPUs continue to be much more power-efficient than the aging Radeon RX 570, 580, and 590. Based on what we've seen from the Radeon RX 5700 series, the 1080p-focused Radeon RX 5500 series GPUs launching this quarter should sip power about as prudently as Nvidia's offerings. For now, though, AMD simply can't touch the GeForce GTX 1660 Super's efficiency, even as the GeForce card delivers much faster frame rates. The miniscule single-fan PNY model draws slightly less power than the dual-fan Asus Dual EVO OC.
We test thermals by leaving either AMD's Wattman (for Radeon GPUs) or EVGA's Precision X1 (for GeForce GPUs) open during the F1 2018 five-lap power draw test, noting the highest maximum temperature at the end.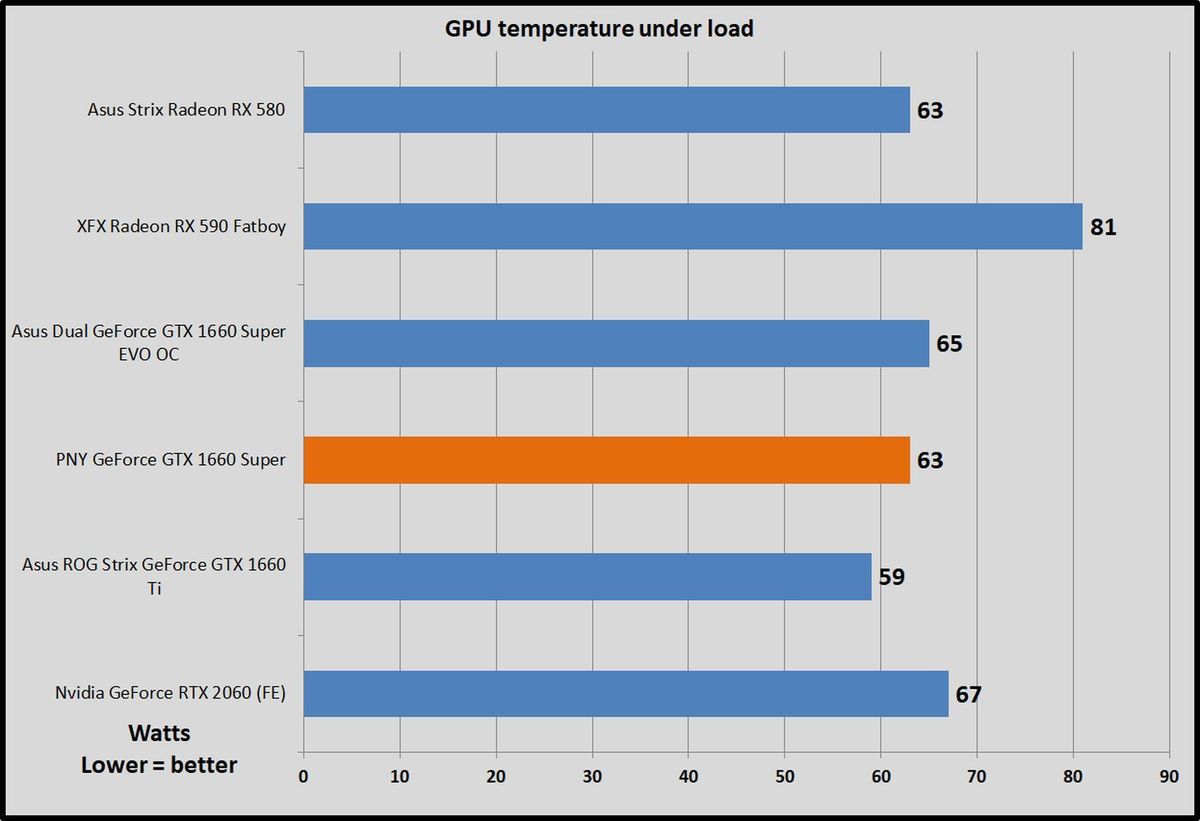 Now this is interesting, albeit on a more academic level: Even with a single fan and a smaller heatsink, the PNY card runs slightly (very slightly) cooler than the Asus Dual GTX 1660 Super EVO OC. Subjectively, it's also very slightly louder in operation, but it's not a raging beast by any means. They both keep nice and quiet.
Should you buy the PNY GeForce GTX 1660 Super Single Fan?
If you're in the market for a GeForce GTX 1660 Super—and again, you should be, as it's the best graphics card you can buy for 1080p gaming—give the PNY GTX 1660 Super Single Fan some serious consideration, especially if you're running a system where longer graphics cards just won't fit. It's fast, cool, quiet, and really small. Better yet, the price is certainly right at Nvidia's $229 baseline for this GPU.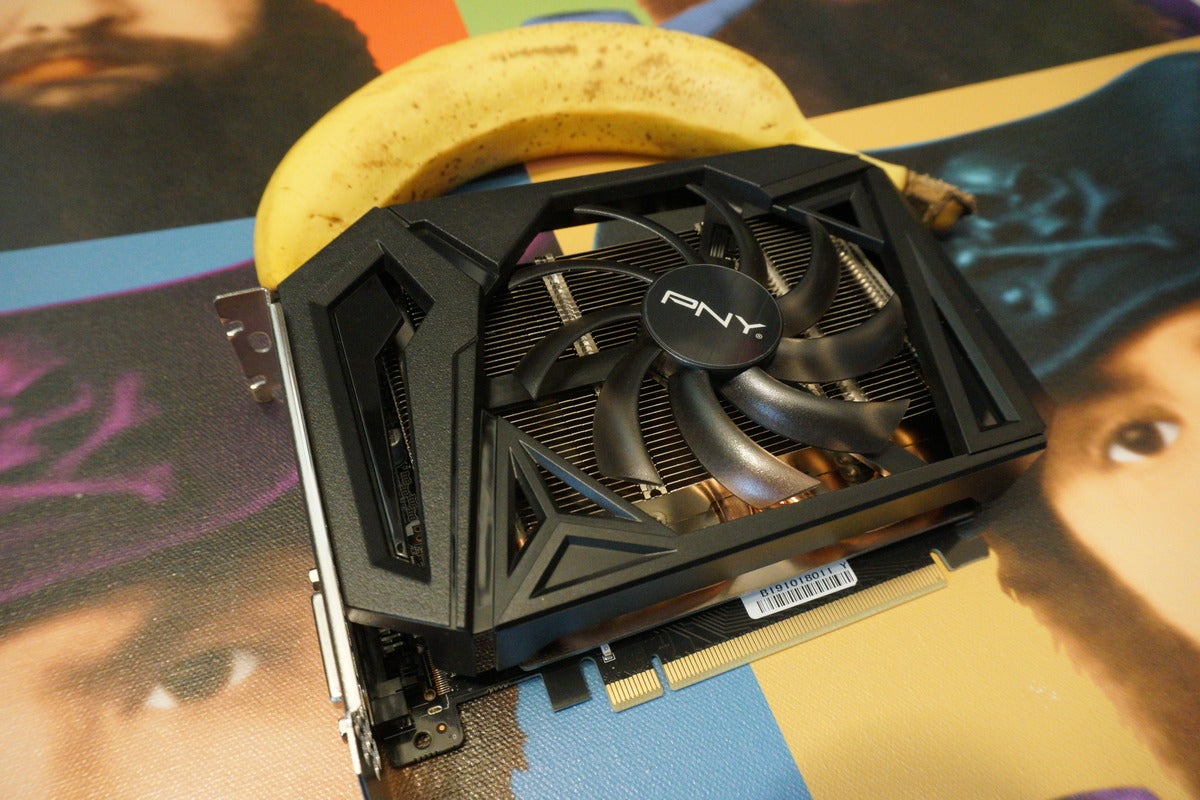 You get zero frills for your money. There's no RGB lighting, no backplate, no BIOS switch, no supplementary fan headers, and a limited (but functional) port selection. That said, while spending more on another custom GTX 1660 Super model can get you those luxurious extras, it isn't likely to get you much more actual gaming performance. If you want a good, straightforward graphics card, the PNY GTX 1660 Super Single Fan is well worth your money.
The identically priced Asus Dual GeForce GTX 1660 Super EVO OC adds a metal backplate and a small illuminated RGB strip on the side of the shroud, but it takes more space in your system. Despite doubling up with a pair of fans, the Asus Dual isn't any faster, quieter, or cooler than the PNY Single Fan. They're both great 1080p gaming options at $229.
On the other hand, current AMD Radeon offerings in this price range deliver outstanding value at their much cheaper price points (with bundled games), but the Radeon RX 570, 580, and 590 simply can't hang with the GTX 1660 Super in terms of pure performance. Be sure to read our guide to the best graphics cards for PC gaming for a broader look at the best options available.
Best Prices Today: GeForce GTX 1660 Super Single Fan