At a Glance
Expert's Rating
Pros
Lightweight and sturdy
Beautiful screen, as usual
An excellent typing experience, though not on your lap
Cons
App compatibility issues and some bugs
Good, though not overly impressive battery life
USB-C ports are late, and lack Thunderbolt
Our Verdict
Microsoft's modernized Surface tablet can't overcome a rash of bugs and average battery life, though the integrated eSIM and cellular slot offer on-the-go connections.
Best Prices Today: Surface Pro X
Microsoft's Surface Pro X was supposed to signal a new chapter for Qualcomm's foray into Windows PCs and tablets, one where battery life was no longer the sole selling point. To its credit, the new, semi-custom Microsoft SQ1 chip (based on the Snapdragon 8cx) delivers improvements in graphics and performance. We also appreciate the appearance of USB-C and a marvelously-engineered pen cubby.
But in a baffling turn of events, the Surface Pro X falls short in battery life. Meanwhile, the app compatibility issues and bugs that are an unfortunate staple of Snapdragon-powered PCs remain. Maybe it can be tolerated in a system like the Samsung Galaxy Book 2, which delivered 18 hours of battery life. But not the Surface Pro X, with a mere 8 to 10 hours. The tired chant of "this is a new architecture, give it some time," doesn't fly anymore. When a bug or another issue pops up—and it probably will—it's painful.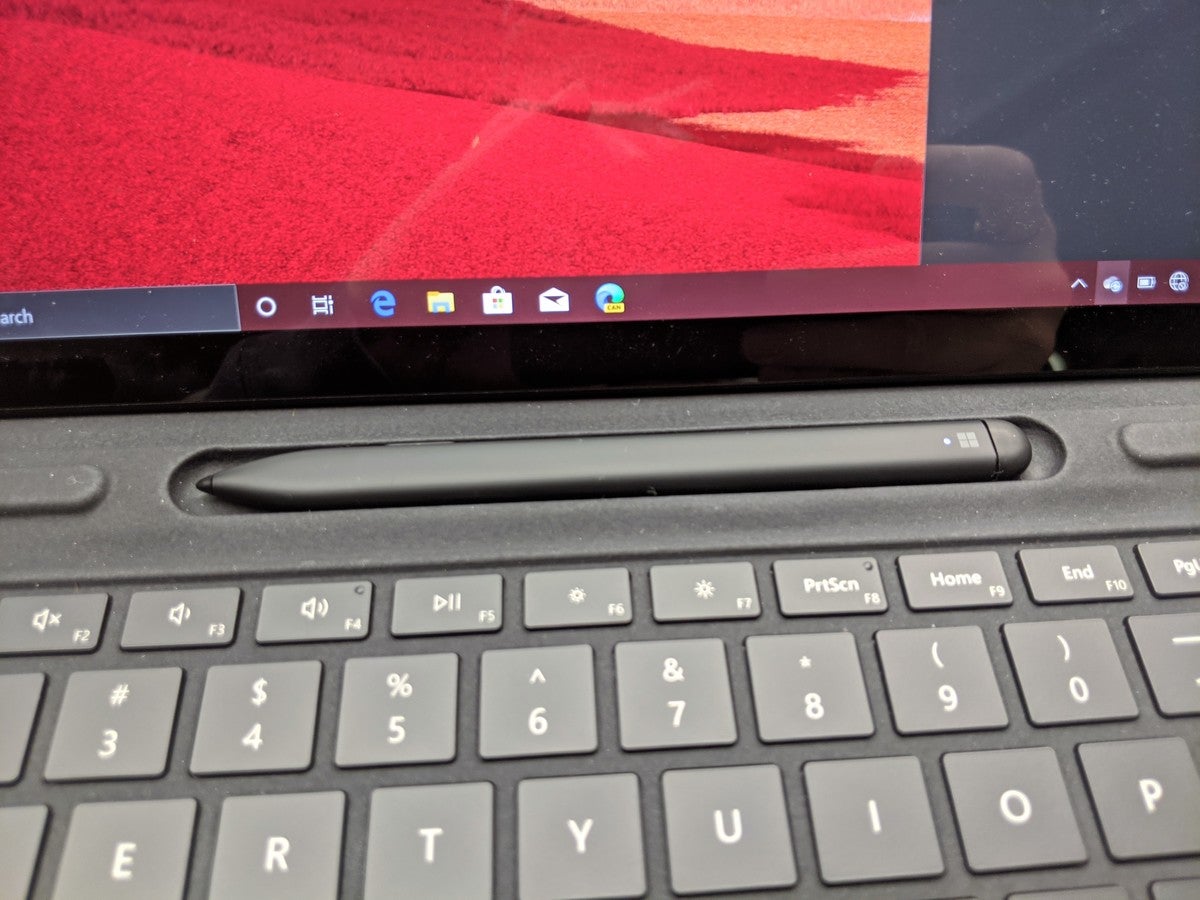 Microsoft Surface Pro X basic specs
Display: 13-inch (2880×1920) PixelSense display, multi-touch
Processor: 3GHz Microsoft SQ1
Graphics: Microsoft SQ1 Adreno 685
Memory: 8GB/16GB (8GB as tested)
Storage: 128GB/256GB/512GB SSD (128GB as tested)
Ports: 2 USB-C, 1 Surface Connect, 1 nanoSIM, Surface keyboard connector
Camera: 5MP/1080p (user facing); 10MP autofocus with 1080p/4K video options
Battery: 38.9Wh (reported)
Wireless: Wi-Fi5/802.11ac; Bluetooth 5; Snapdragon X24 LTE modem with nanoSIM or eSIM
Operating system: Windows 10 Home
Dimensions (inches): 11.3 x 8.2 x 0.28 in.
Weight: 1.72 pounds; 2.37 with keyboard and pen); 2.99 with charger
Color: Black
Optional accessories: Surface Pro X Signature Keyboard with Slim Pen Bundle

Remove non-product link

($270)

Price: $999 to $1,499; $971.49 at Amazon
Surface Pro X: Beautiful physical design
Little has changed from our first impression of the Surface Pro X: It's a Surface Pro tablet, revved up for a new generation of tablet users. Interest in tablets has apparently diminished somewhat, given the lack of third-party Windows tablets we've seen recently. But Microsoft's Surface tablets are known for their sleek, stylish physical designs, and the Surface Pro X lives up to its legacy.
Don't forget, however, that you'll be tacking on an outrageous $270 for just the keyboard (and pen), a virtual necessity. That's the price of a Chromebook or a cheap desktop.
The Slim Pen pen is a delight, though. In a few years, this design detail (first spied in January, in Dell's Inspiron 13 and 15 7000 Black Edition laptops) may be duplicated enough to become ubiquitous, much like tablet kickstands today. But discovering the pen simply can't help elicit the thought: oh, they've finally solved it. It even has a small charging light. I have no idea what the pen's battery life is, because it's essentially always being charged when not in use.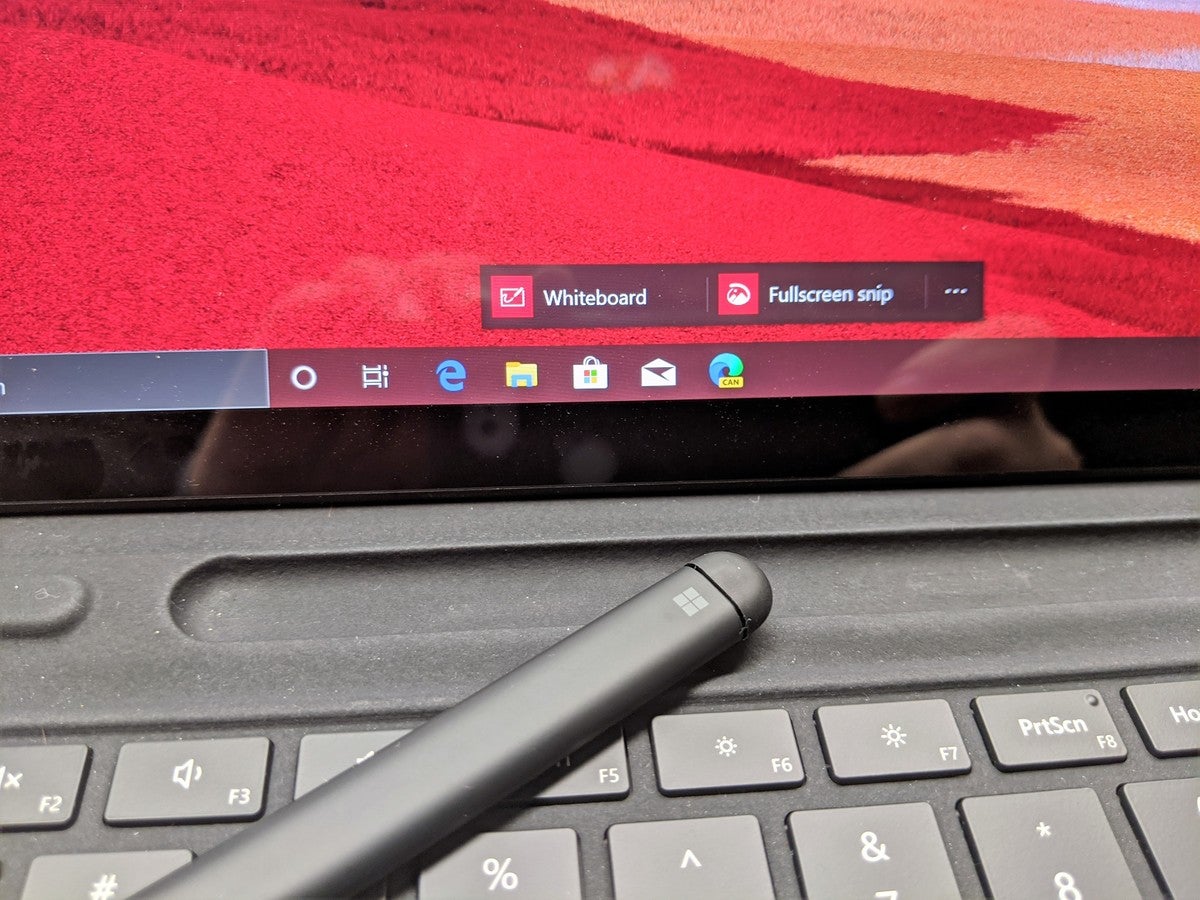 The pen's cubby, in addition to charging the pen, magnetically flips it if you insert it incorrectly. The Windows logo should be up, and the Surface Pro X will rotate it if it's not properly oriented.
Microsoft describes the Surface Pro X chassis design as "signature anodized aluminum with carbon composite fanless thermal cooling," a fancy way of describing how light, sturdy, and cool it all is. I never detected more than just a bit of warmth.
The kickstand reclines not quite to 180 degrees, with just a bit of flex in it for drawing purposes. The kickstand is stiff and supportive across the entire range of motion, giving a lot more ergonomic flexibility than a more traditional clamshell, which generally reclines to about 45 degrees off the horizontal.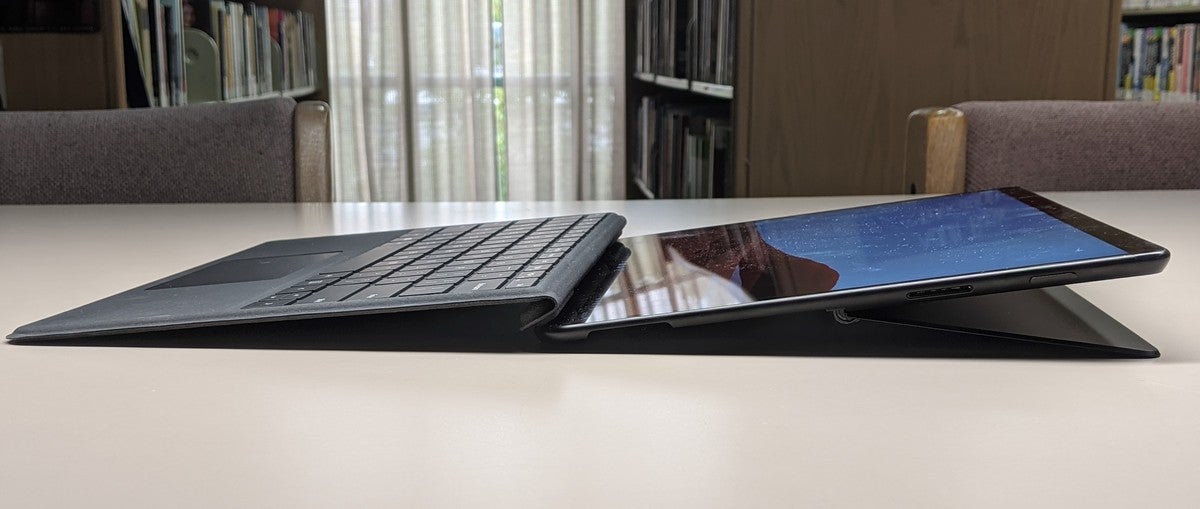 "Lappability" remains a matter of taste. I'm sort of over the "let's work with a tablet on your lap" charade. Yes, it's possible. Yes, the magnetic grip between the Surface Pro X keyboard and the tablet is terrific, and you shouldn't have to worry about cracking it if it tips over your knees. In reality, however, the Surface Pro X works best on a hard table or desk.
Surface Pro X: Display and ports
The Surface Pro X display pumps out a fantastic 448 nits of measured luminosity, meaning it can be used even in the sunshine. (Remember, display brightness also has an adverse effect on battery life.) Two color profiles are supported: Enhanced and sRGB. The slimmed-down bezels allow the Surface Pro X to shoehorn its 13-inch screen into a smaller overall profile. This is the kind of structural revision fans have been asking for. If you're a Surface Dial user, it doesn't support on-screen use, though you can use it as an off-screen, external peripheral.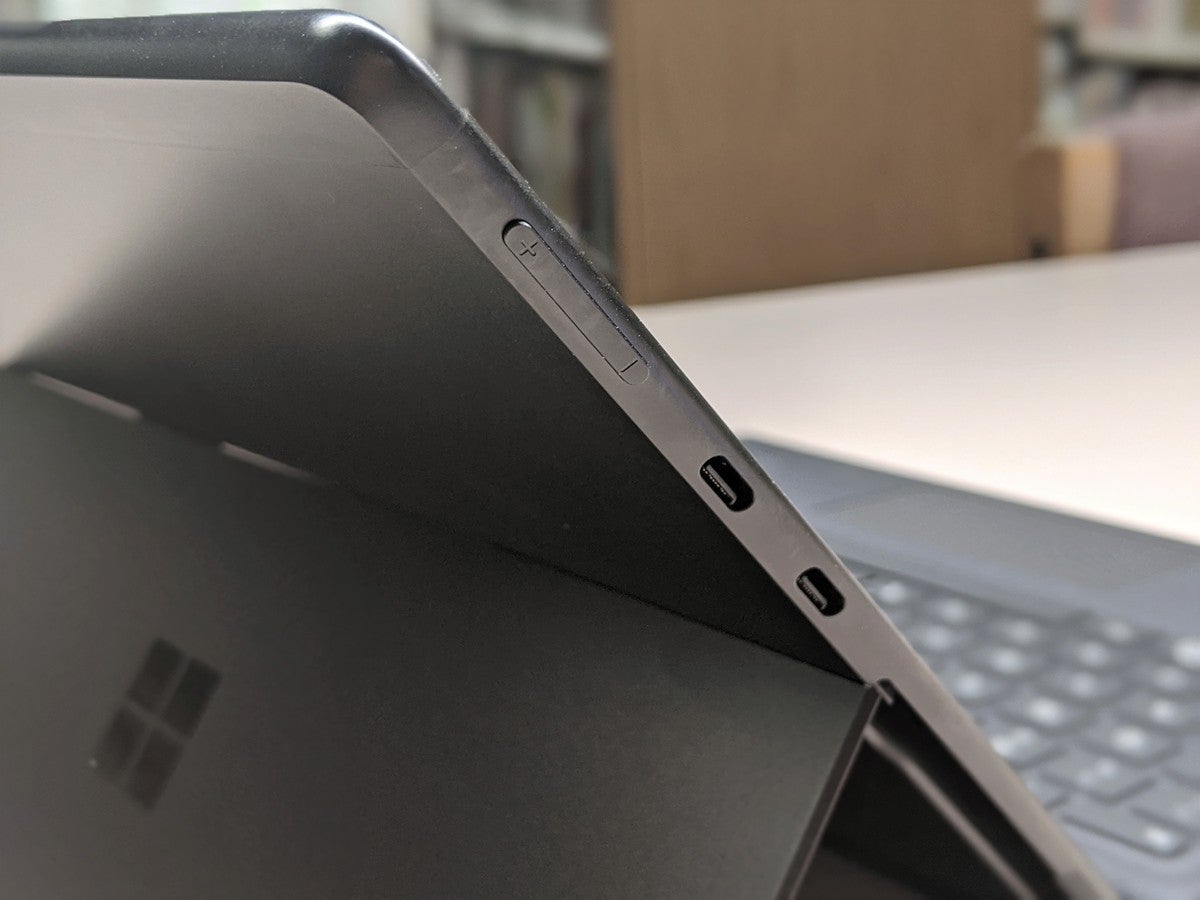 The addition of a pair of USB-C ports brings the Surface Pro X in line with other modern tablet designs. They're not Thunderbolt-powered, however, so your options for connecting an external monitor remain limited. Because the Surface Pro X jettisons USB-A, miniDisplayPort, and microSD, you'll need a USB-C hub to connect legacy devices (a paltry investment after spending over $250 on the keyboard).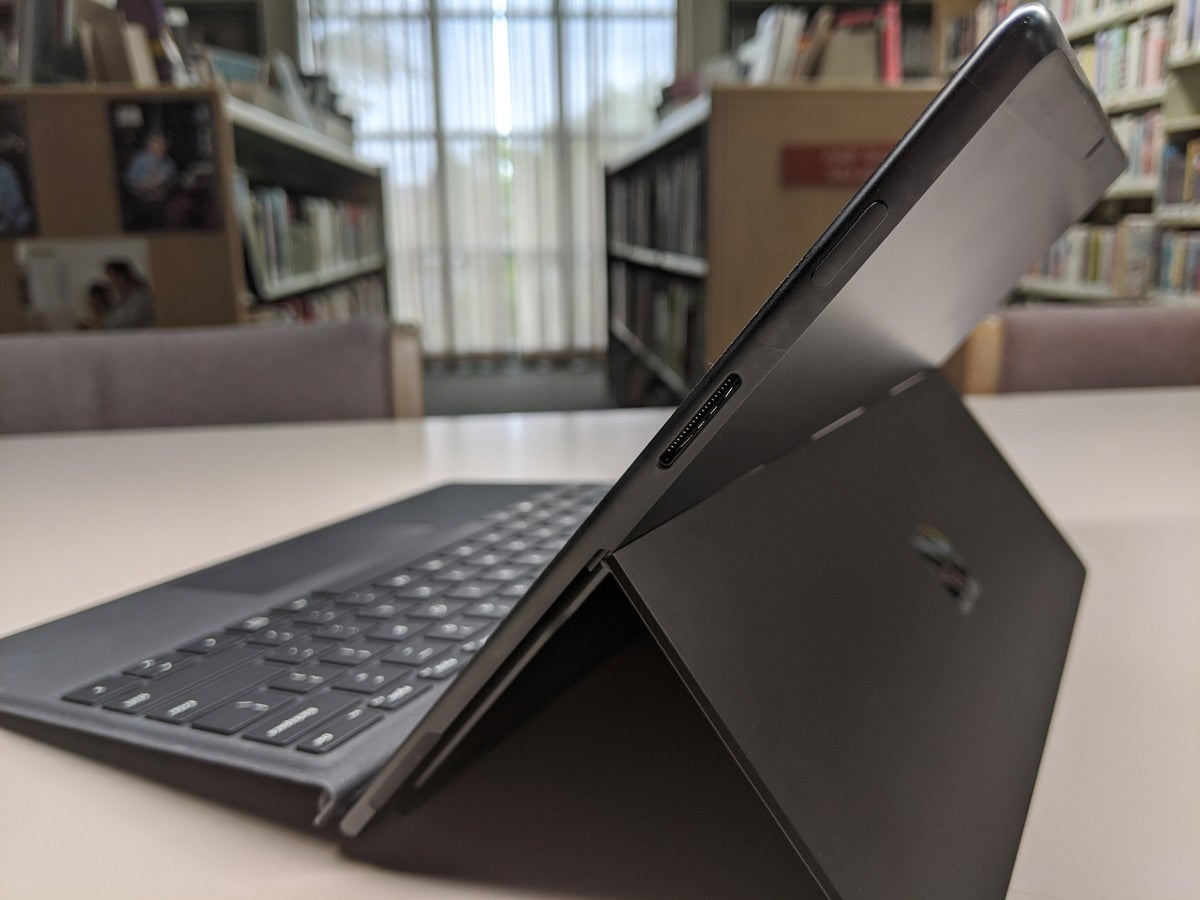 I was able to connect to an external 4K display perfectly well using the Surface Dock, but when I added a second, 1080p display, the 4K display connection became unreliable. (A direct connection to an external display worked fine.) You would think that a company like Microsoft, which owns the operating system and manufactures the hardware, would solve these issues.
On the rear of the Surface Pro X is a rather delightfully engineered panel that can be popped off using a SIM tool. Inside hides a SIM slot, as well as the user-accessible SSD. Microsoft says the removeable SSD is intended for data portability, and you'll have to look long and hard to find compatible SSDs for this small space anyway. A small magnet helps guide the panel back into place, a thoughtful design detail.
That's a good jumping-off point to talk about one of the Surface Pro X's strengths: wireless.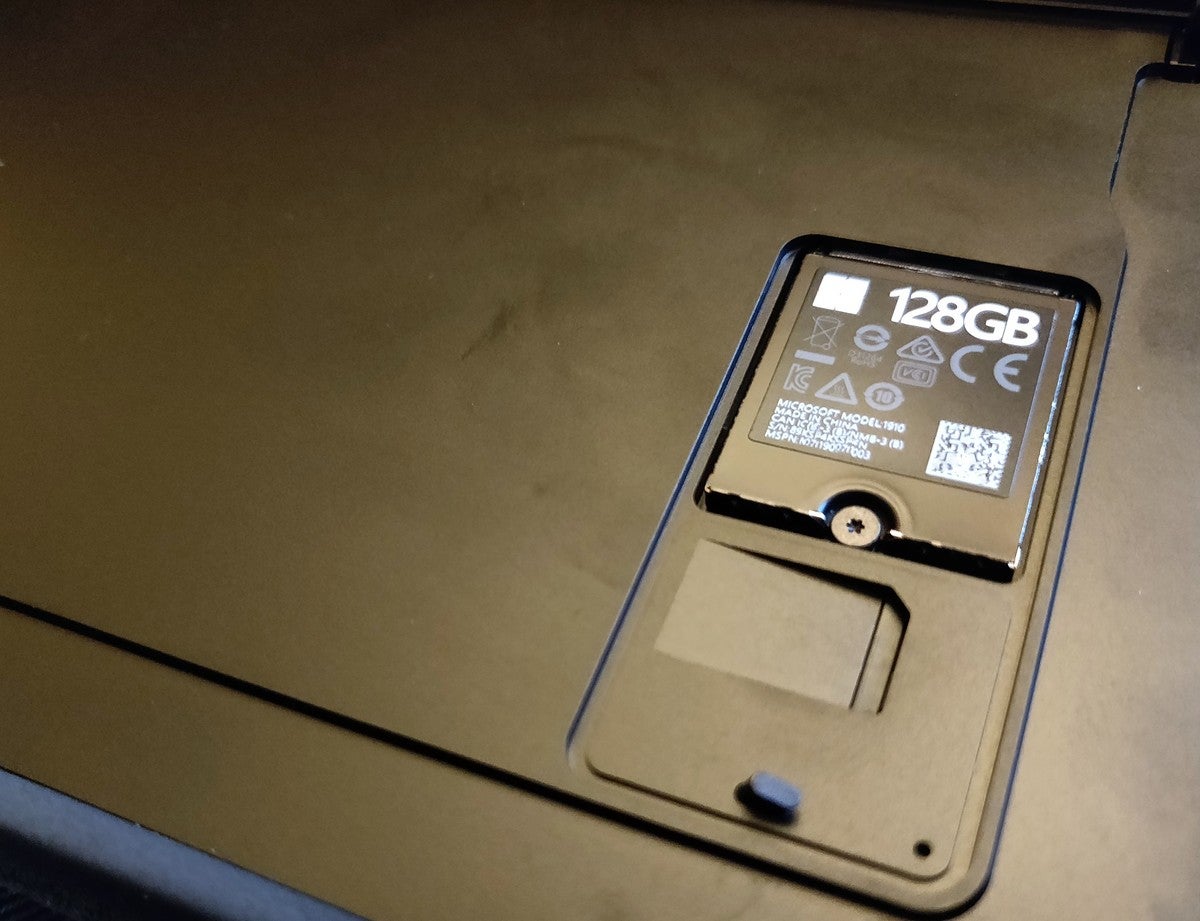 It's no secret that we favor always-on, always-connected PCs, simply because you can do more with a device that can run all day and connect to the Internet. LTE-capable Surface Pro devices tended to follow the original introduction by about six months, but Microsoft has yet to announce an LTE-capable Surface Pro 7. From a connectivity standpoint, the Surface Pro X is it.
The Surface Pro X uses Qualcomm's X24 LTE modem, supporting the major LTE bands used by all four U.S. carriers, as well as the bands used in Asia and Europe. You should be able to connect worldwide.
And it's here that the Surface Pro X shines. Using Microsoft Office or the Web while on the road, with all-day battery life, has been what the Surface lineup should have aspired to begin with. If you ignore the fact that your phone does essentially the same thing, and you can likely tether it to your laptop as well—well, there's something amazingly freeing about carrying around a lightweight, all-day, always-connected device. It's simply peace of mind.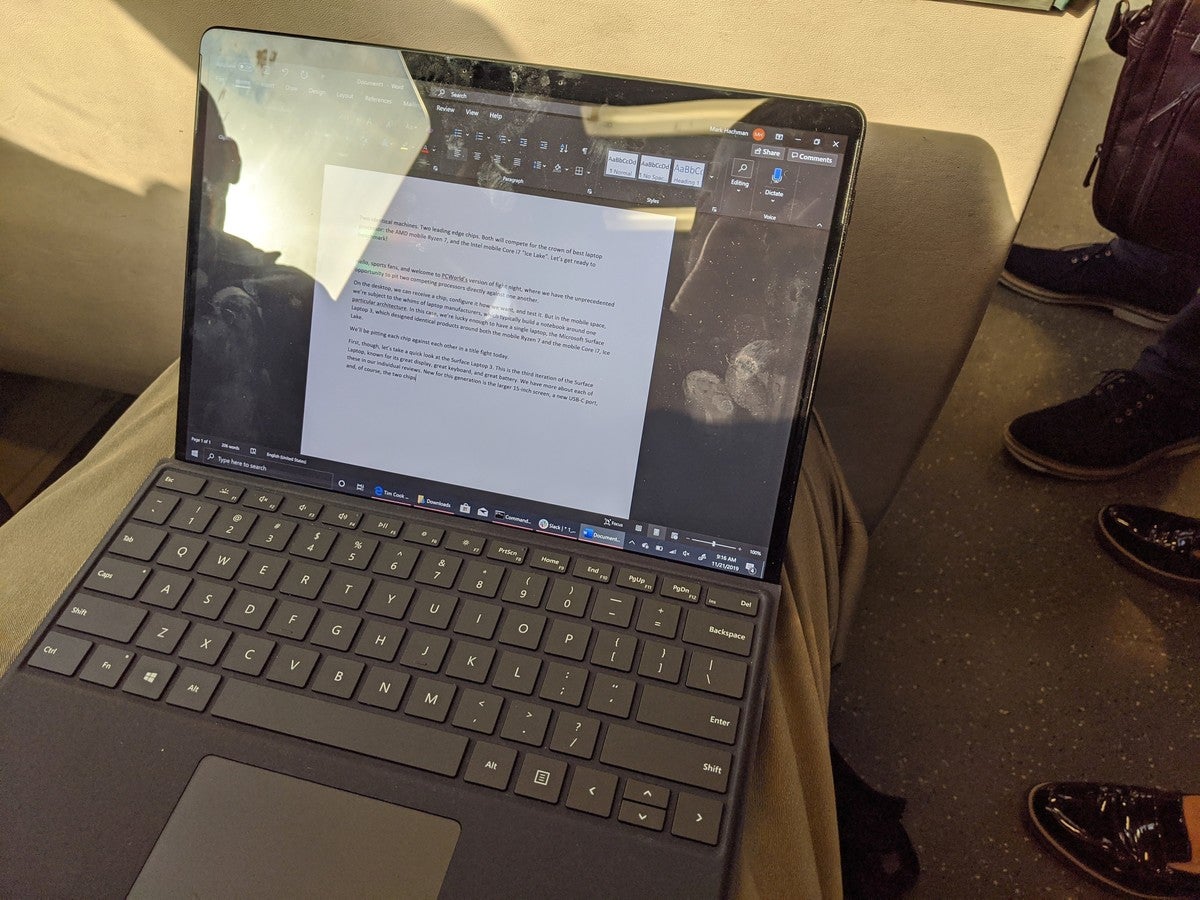 Surface Pro X: Keyboard, speakers and camera
I was surprised to find that I almost enjoyed typing on the Surface Pro X more than our recently-reviewed Surface Laptop 3. Surface Pro keyboard keyboards have always felt a bit looser, dating back to one of my favorites, the Surface Pro 3. While the Surface Laptop 3's keys were a bit on the stiff side, I liked the Surface Pro X keyboard's mix of resiliency and comfort. The precision touchpad is fantastic, clickable up to the very top of the display.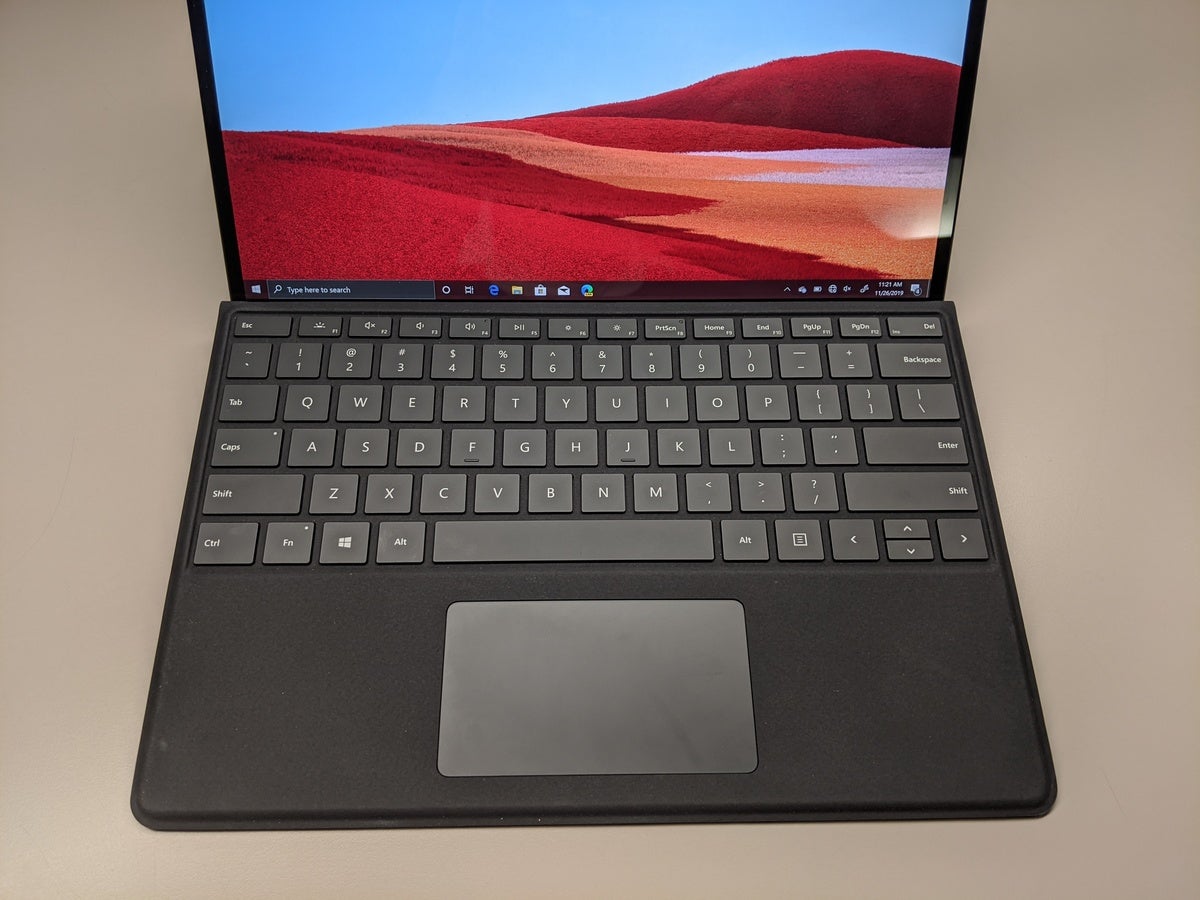 Microsoft has always believed in a bold audio experience. The Surface Pro X continues that tradition, with powerful speakers that belie the tablet's relatively small size. Dolby Audio Premium comes bundled, with its own options for stereo widening and audio equalization. The Surface Pro X falls into the small group of tablets and laptops who you won't mind listening to audio without headphones.
Oh—about those headphones? Microsoft decided to eliminate the headphone jack. You'll have to use either Bluetooth-powered headphones or earbuds, or else buy a USB-C to 3.5-mm dongleRemove non-product link.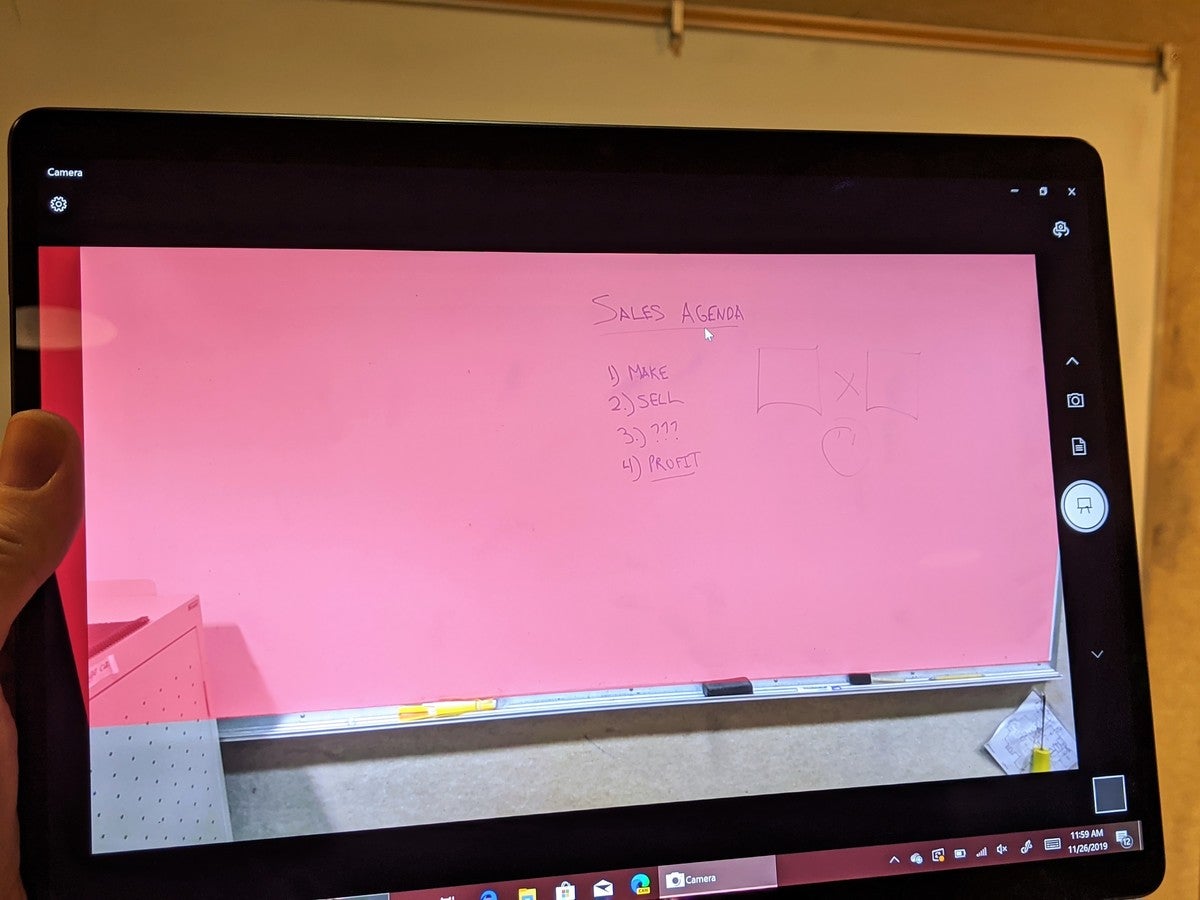 Normally, user-facing cameras are bare-bones 720p models for videoconferencing. Microsoft gives you a 5MP user-facing camera, good enough for 1080p, as well as a surprisingly good 10MP rear camera with HDR and autofocus.
The camera app is integrated with the Microsoft Whiteboard app, which means you can snap a photo of a whiteboard, even at an angle, and the app will translate it into an image which you can edit and mark up. It's a capability that's unique to the tablet—Microsoft's Surface Laptops lack a rear-facing camera for doing this.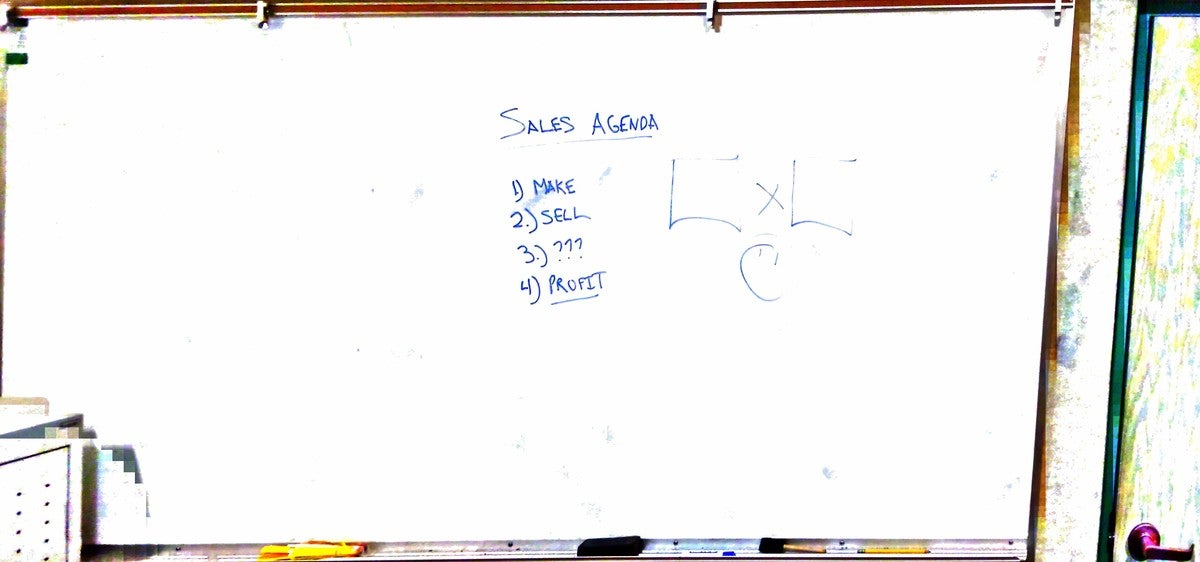 All these features are nice, but what about performance? Keep reading to learn more.
Performance: Real-world use
Living with the Qualcomm-based Surface Pro X is somewhat like living with a Windows 10 S machine: Within the ecosystem of Microsoft apps—Edge, Office, the basic apps like Mail and Calendar—the Surface Pro X feels decently quick. It performed the mainstream tasks that I need to accomplish (web browsing, word processing, video playback, email, and so on) quickly and responsively. Slack (though just the 32-bit version) worked just fine. It's almost immediately responsive as startup, which makes it feel fresh and perky. The beta version of Edge (or Edgeium) is very fast. Adobe's Creative Cloud is heading to the Surface Pro X, but isn't here quite yet.
Once you exit that safe room, though, it's a mixed bag. Pages loaded snappily with both Chrome and Firefox Nightly (supposedly optimized for ARM)—but only after remaining totally blank for a second or two on a fast home broadband connection. Forget about playing games: The Microsoft Store app pushed games like Mah-Jongg at me, and wouldn't run the Xbox beta app. I resigned myself to testing Asphalt 8, about the only game I could run when I've tested previous Qualcomm platforms, too.
Remember, even though the version of Windows 10 on the Surface Pro X is a 64-bit operating system, it won't run a 64-bit app that's been written for the X64 architecture. In fact, there's a whole list of caveats that Microsoft itself has published: Some games won't work (anti-cheating software won't run on ARM), some antivirus apps won't work, and so on. It's a minefield that threatens to blow up what you want to do on an ARM-based machine, and as such requires careful navigation.
In reviewing the Surface Pro X's prices online, I also skimmed some of the Amazon reviews, and I have to agree with this statement: "Only a subset of Windows software will run on this computer, and only a subset of that subset will run at full speed."
Performance: Benchmarks
Because of the limitations of the ARM architecture, we were able to run only a few of our normal suite of benchmarks. We also had to create a new, smaller group of comparable products. We were nevertheless able to bracket the Surface Pro X's performance: It's somewhat less than some of Microsoft's older products that are based on Intel's 7th-gen Core chips.
Our comparison products include the Lenovo Yoga C630, which uses the SQ1's predecessor, the Qualcomm Snapdragon 850; our Editor's Choice-award winning tablet, the Lenovo ThinkPad X1 Tablet (3rd Gen); the Microsoft Surface Go tablet; the first-generation Microsoft Surface Laptop, and the Microsoft Surface Laptop 3 (Core i7). We didn't have a Surface Pro 7 tablet to test, but the Surface Laptop 3 (Core i7) uses the same Ice Lake processor.
For our test suite, we first chose the PCMark 10 Apps benchmark, which restricts testing to the three main Office apps (Word, Excel, and PowerPoint, plus the EdgeHTML version of Microsoft Edge.) It's about as real-world as you can get. Remember, Qualcomm claimed that it could perform as well as a Core i5 with its 8cx in this test. Our results put it a notch lower on the totem pole.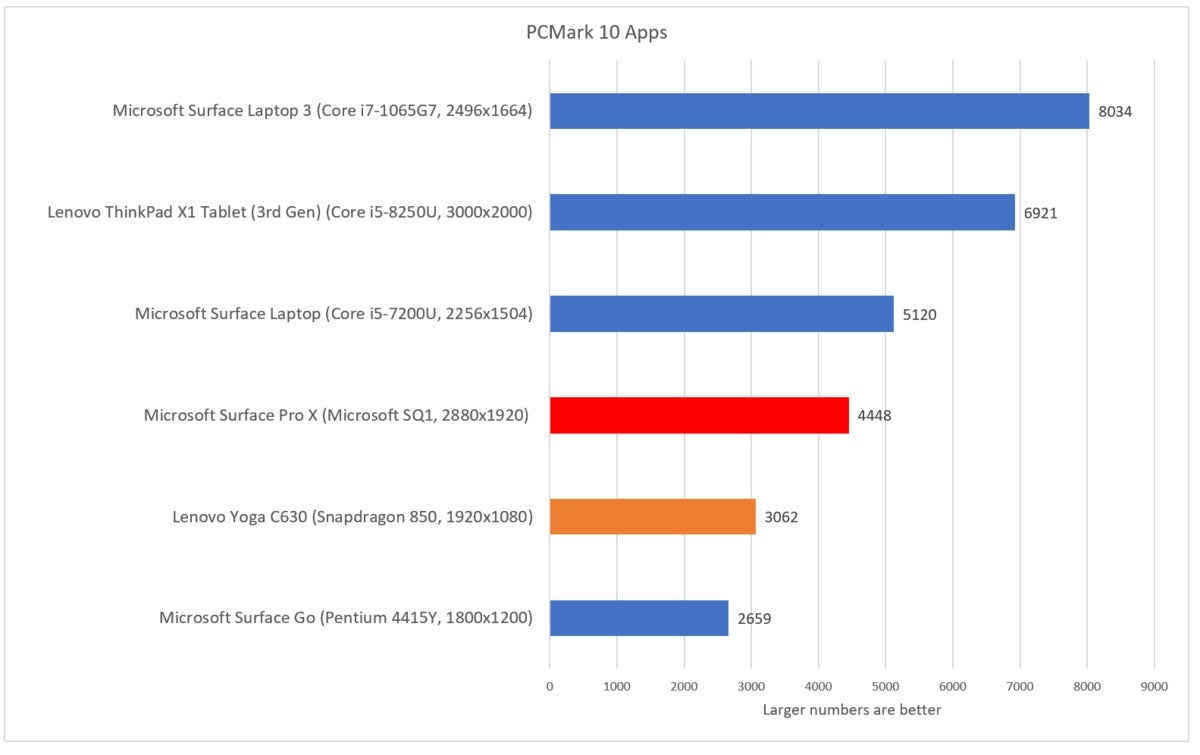 The web-based complement to the PCMark benchmarking suite is WebXPRT 3 by Principled Technologies, which runs a series of JavaScript and HTML benchmarks to determine how well the Surface Pro X will fare in web apps. As with the PCMark test, the Surface Pro X's scores are unremarkable.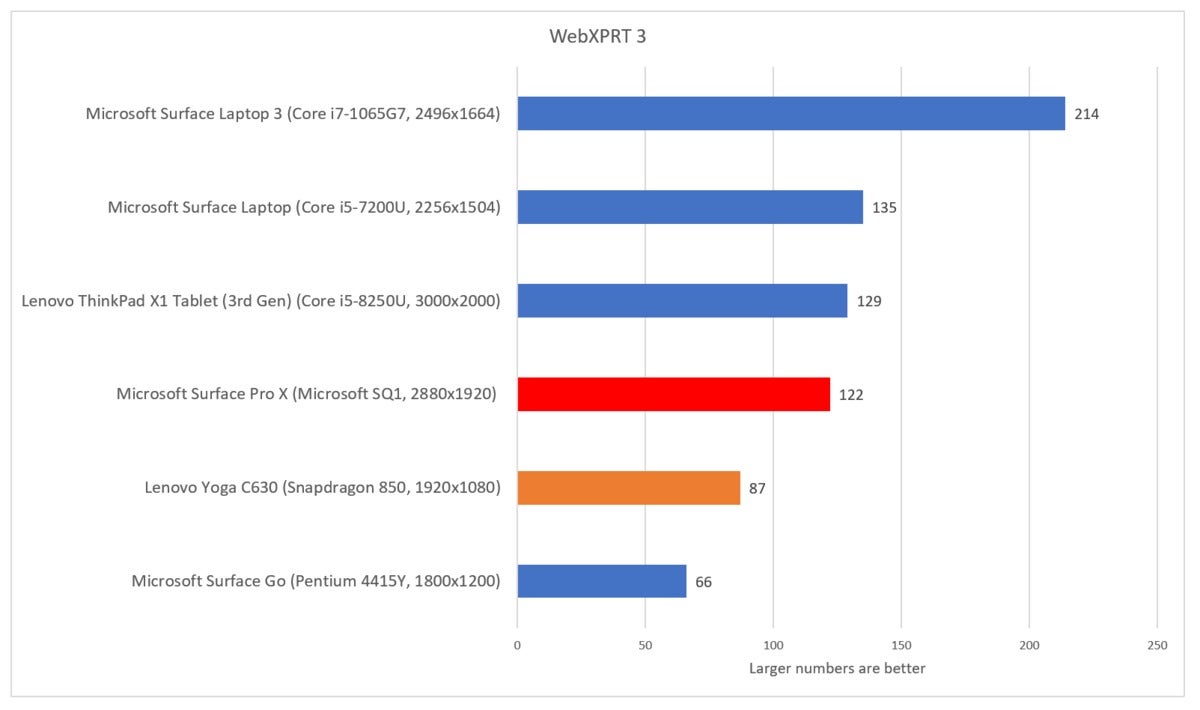 To emphasize multimedia applications, including video editing, photo manipulation, and light gaming, the PCMark 8 Creative benchmark fills the bill. Here, again, the Surface Pro X is outpaced by older, supposedly slower machines.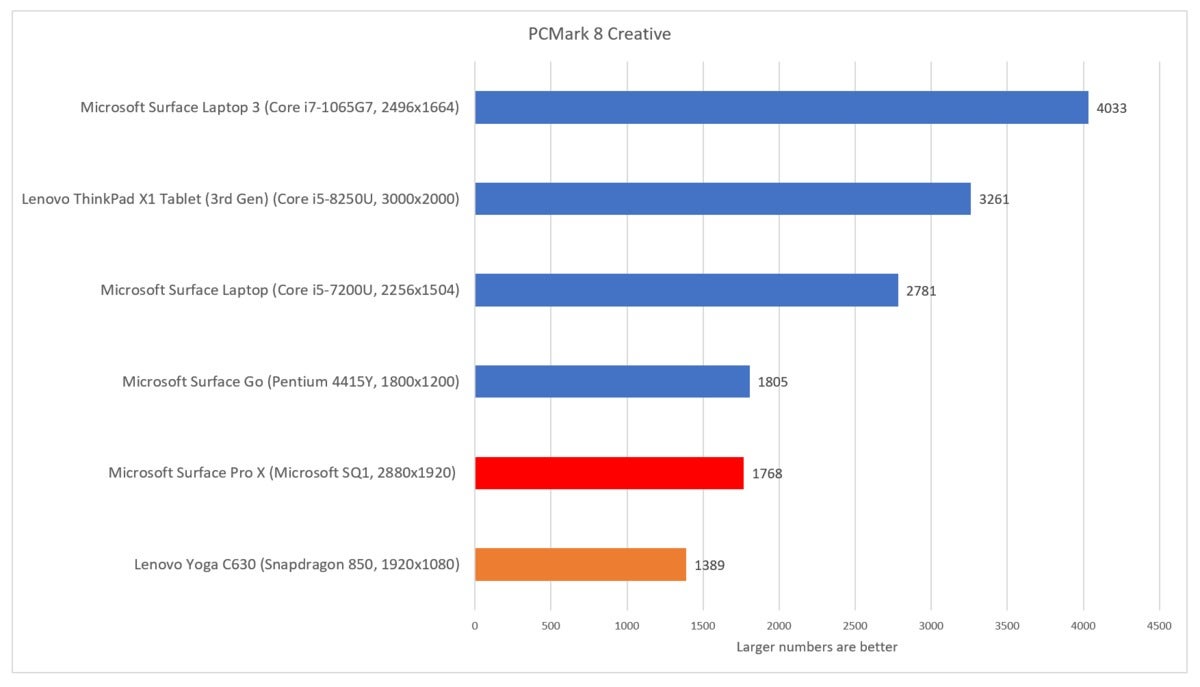 Underwriter Labs made a special version of its 3DMark graphics benchmark for ARM-powered machines, that can be run on both x86 as well as ARM-based systems. This allows us to do some cross-platform benchmarking of the Surface Pro X's integrated Adreno GPU, and compare it to the integrated chips in the Core and Ryzen processors. Here, the Surface Pro X does surprisingly well.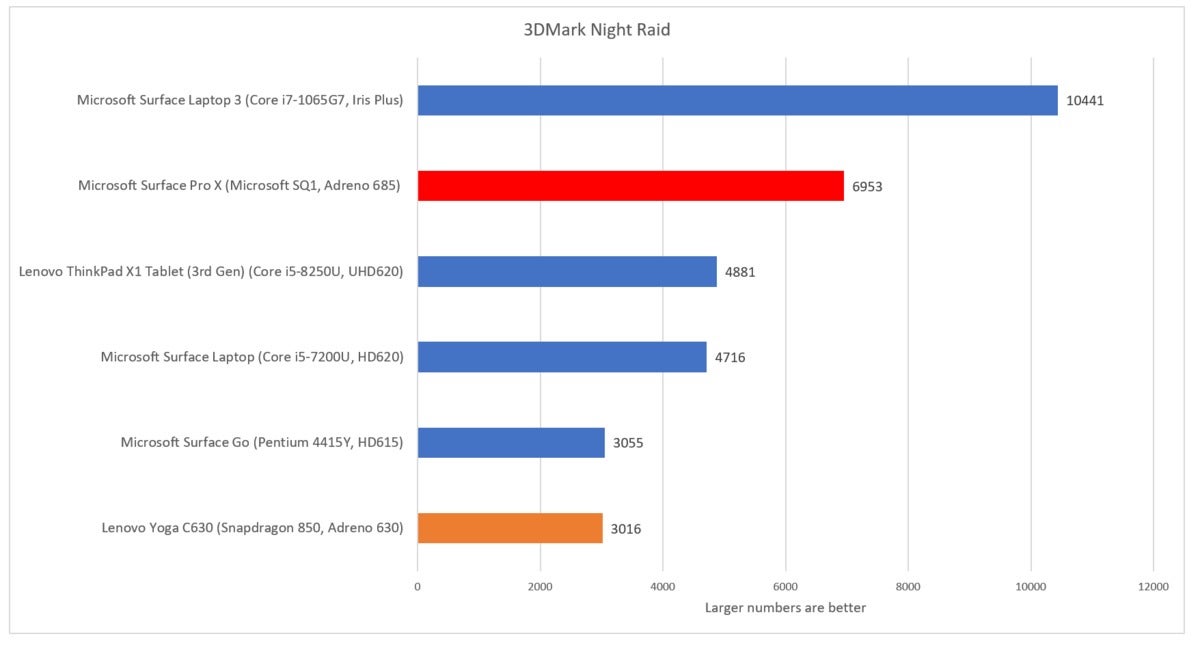 Performance: The battery life boondoggle
Distilling a product down into a single attribute can be a dangerous stereotype. On the other hand, Qualcomm's whole argument for the Snapdragon 8cx or the Microsoft SQ1 has been all-day battery life, with near ubiquitous connectivity. Unfortunately, the Surface Pro X's battery life was all over the map.
Manufacturers have been pushing hard for us to test products in the real world and avoid synthesized use cases. But they aren't repeatable. That's the kicker—we don't know if, or when, an update to Photoshop will impact performance, or by how much. With that said, we do test each product under real-world scenarios, as well as with recorded benchmarks.
In this case, we took four separate approaches. Typically, we loop a 4K video until the battery expires, with earbuds plugged in. This simulates one experience: watching downloaded movies on a transoceanic flight. In this case, because the Surface Pro X lacks a headphone jack, we tried two things: We streamed audio over Bluetooth to a pair of headphones, and separately, we used a USB-C to 3.5-mm dongle to perform the same test.
We tested using PCMark 10's battery test, performing a scripted mix of Office apps and Web browsing. I also used the Surface Pro X in a day's work, working on the Bay Area's BART subway on the way to work, and then on a desktop performing my day's work.
The Surface Pro X's battery life is decent for a tablet or a laptop, but well short of the lofty promises of "25 hours." Yes, the size of the battery matters. So does the fact that the SQ1 is a semi-custom chip that's been tweaked for performance.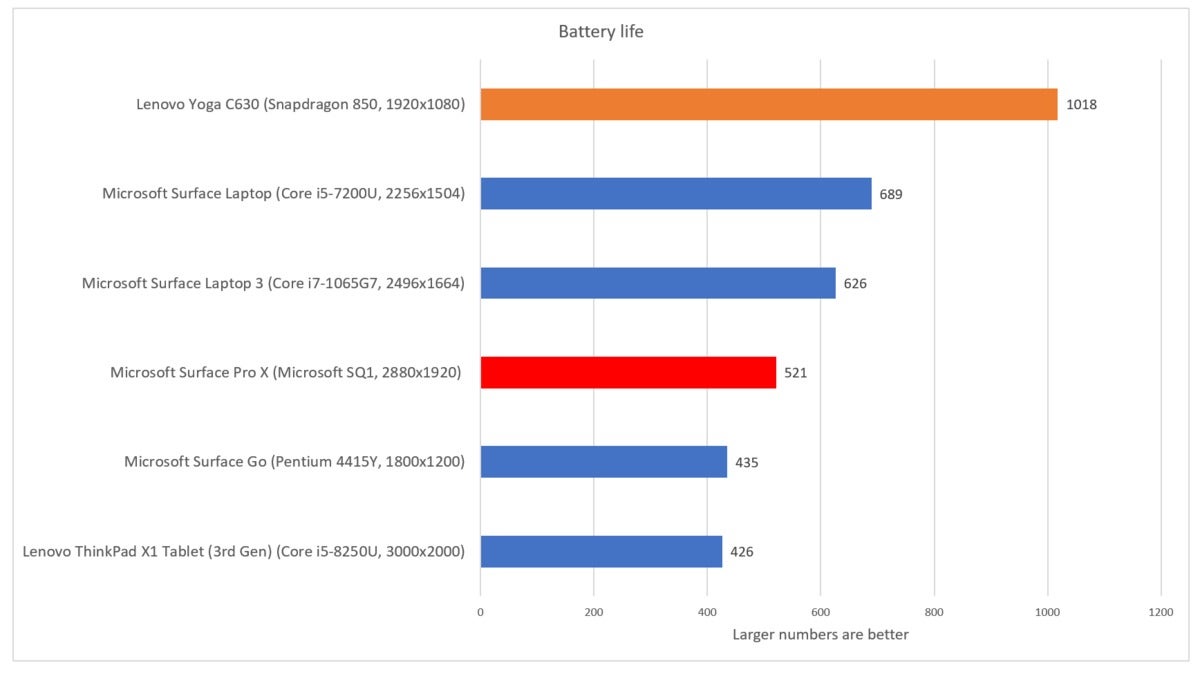 But let's take a look at the numbers. We've used the dongle-streaming number as the most comparable to our other tests.
Streaming over Bluetooth: 445 minutes, or 6 hours, 25 minutes.
Streaming over a USB-C dongle: 521 minutes, or 8 hours, 41 minutes.
PCMark 10's battery test: 503 minutes, or 8 hours, 23 minutes.
Real-world: 346 minutes, or 6 hours, 46 minutes.
That last number was a bit of a shocker, as you would think that'd be the most accurate test of the Surface Pro X's battery life. But my tests simply reflected what I do during an average day: I drove to BART, found a seat on the train, connected via the Surface Pro X's integrated cellular connection, and used Excel, Word, the Mail app, and the built-in Edge client. At work, I remained on cellular.

It's worth noting that I had performed a battery rundown test the night before, so I had only managed to charge it to 72 percent by the time I left. But that meant that I was at 4 percent battery by 12:49 PM, which extrapolated out to under 7 hours of use. Unacceptable.
Surface Pro X: Some of the glitches
Living with the Surface Pro X also forces you to acknowledging that not everything works—a deal-breaker right away for some, especially where apps are concerned. But I was really annoyed to pull out the Surface Pro X, connect it to the tried-and-true Surface Dock—and then discover that the mouse cursor showed up extremely intermittently. (It later fixed itself after an update.) We also use a third-party VPN to connect to our domain, which refused to connect at all either over cellular or ethernet. Then the Microsoft Movies & TV app (which we use for our video rundown battery test) started glitching, starting and stopping over and over. What more gotchas lie in wait?
Conclusion: This is not a Surface "Pro" anything
After years of cookie-cutter upgrades, the Surface Pro X delivers a well-thought-out physical redesign. Again, however—and this is getting tiring by now—app compatibility, performance issues and bugs complicate Microsoft's effort. Calling it an "Edgebook" isn't quite right, because the Surface Pro X runs Office and other Microsoft apps well. But it still feels somewhat short of an actual PC.
One redeeming factor that we haven't touched much upon is the price: $999 for our base model isn't bad…but it's still almost $200 more than the Core i5/8GB/128GB model Microsoft Surface Pro 7Remove non-product link.
We reviewed Lenovo's ThinkPad X1 Tablet (3rd Gen) eighteen months ago, with a 13-inch 2K display, an 8th-gen Core processor, two USB-C ports with Thunderbolt 3, and a nanoSIM slot—and a bundled pen and keyboard. These all match or exceed what the Surface Pro X delivers. The ThinkPad's big letdown was battery life, which the Surface Pro X easily surpasses by about 90 minutes—but it's not even close to the promises of truly all-day battery life, which Qualcomm previously delivered upon in earlier machines like the Asus NovaGo and Samsung Galaxy Book 2.
The question that I hope Microsoft is asking itself is: What compelling reason has it given for customers to buy the Surface Pro X? Always-on connectivity? It's not a unique argument, and one that Intel itself is gunning for. We haven't tested Microsoft's Surface Pro 7, but we'd assume that that's its best tablet, not the Surface Pro X. With this tablet, we can't see why Microsoft would use the term "Pro" at all.
Best Prices Today: Surface Pro X