At a Glance
Expert's Rating
Pros
Great 1080p performance at a great price
Vastly cooler, quiet, and more power-efficient than Radeon GPUs
Loaded with extra features
Terrific ROG Strix model for just $10 price premium
Includes latest Turing NVENC encoder
Fast GDDR6 VRAM
Cons
Doesn't move performance much past aging Radeon RX 580
2.4-slot Strix design is slightly thick
Our Verdict
Nvidia's GeForce GTX 1650 Super is the best budget graphics card you can buy for 1080p gaming, and the custom Asus ROG Strix model is loaded with extras for a mere $10 premium.
Nvidia's $160 GeForce GTX 1650 Super had a super bizarre launch.
Its still-available predecessor, the $150 GTX 1650, skipped the vastly improved Turing NVENC video encoder and got pummeled in performance by AMD's Radeon RX 570, a much cheaper GPU, all to let the card fit into the motherboards with no extra power cabling required. With AMD's next-gen Radeon RX 5500 series looming, Nvidia revealed the drastically turbocharged GTX 1650 Super—but then failed to inform press of pricing or provide drivers for launch day reviews. Those are both extremely unusual moves, ones mirrored in recent history only by Nvidia's attempt to bury reviews of the original lackluster GTX 1650. Because of that, we went so far as to recommend avoiding the new card until reviews surfaced.
Even weirder? The GeForce GTX 1650 Super kicks ass. Nvidia's latest graphics card doesn't drastically redefine the sub-$200 market, but for the first time in years, AMD's aging Polaris-based GPUs are no longer the budget gaming champions. The Radeon RX 580 is finally dead.
Let's dig into the $170 Asus ROG Strix GeForce GTX 1650 Super.
Nvidia GeForce GTX 1650 Super specs, features, and price
Nvidia completely overhauled the Super-fied version of the GTX 1650. It's got a new GPU, a new video encoder, and even blazing-fast new GDDR6 memory. Rather than reinvent the wheel, here's what we said when Nvidia first revealed the GTX 1650 Super alongside the GeForce GTX 1660 Super about a month ago:
"While the original GTX 1650 uses Nvidia's smallest TU117 GPU, the new GTX 1650 Super uses a cut-down version of the larger TU116 GPU found in the GTX 1660 series. It should be significantly more powerful, with 1,280 CUDA cores (compared to the original's 896), higher clock speeds, the aforementioned 4GB of upgraded GDDR6 memory over a 192-bit connection, and well, just more everything.

It also includes Nvidia's newer and much more efficient "Turing" Encoder, after the company received criticism over saddling the original GTX 1650 with its last-gen encoder. "Turing NVENC is up to 15 percent more efficient—requiring 15 percent less bitrate at the same quality level—than previous-generation Pascal NVENC when encoding with H.264, and 25 percent for HEVC," Nvidia's reviewer's guide says. "In other words, you get an instant upgrade in image quality without having to bump up your streaming rate." EposVox, an excellent source for streaming reviews and information, tested Turing NVENC in RTX GPUs and called it "beyond impressive."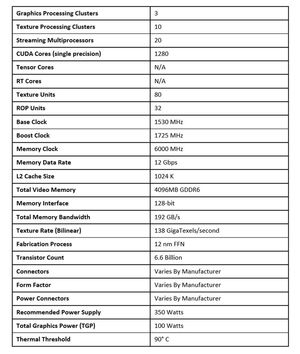 This is a substantial overhaul, in other words. Merely swapping out the original GeForce GTX 1660's slower GDDR5 memory for cutting-edge GDDR6 was enough to give it a solid performance boost, so pairing that with a significant GPU upgrade should help propel the GTX 1650 Super far beyond the vanilla GTX 1650—and it does, as you'll see in our benchmark testing later.
Packing so much more potency into the new-look Super also negates the biggest selling point for the vanilla GTX 1650: The ability to run without any extra power cables. While baseline models of the original 75-watt GeForce GTX 1650 can draw their power from your PC's motherboard alone, making them ideal for turning office machines into easy-peasy gaming rigs, the 100W GTX 1650 Super demands a supplemental six-pin power connector. Most existing gaming rigs and standalone power supplies should easily meet that need, however, and the $150 non-Super GTX 1650 is still sticking around for people who can't manage the extra power connection. (Given how much more powerful the GTX 1650 Super is for just $10 more, we're hoping the original gets a price cut soon.)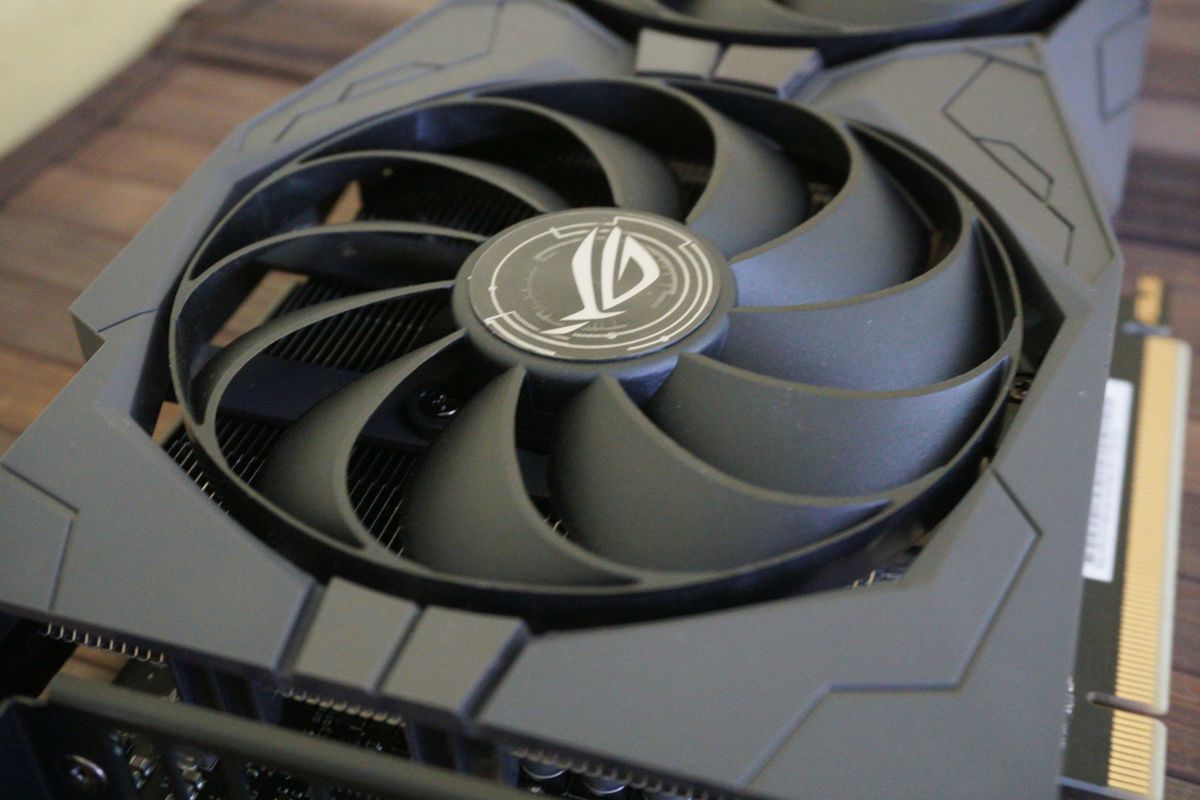 As with the GTX 16-series graphics cards, Nvidia isn't releasing a Founders Edition model, leaving the market to add-in board partners like Asus, EVGA, Gigabyte, and so forth. We're reviewing the $170 Asus ROG Strix GeForce GTX 1650 Super. Even with a mere $10 premium, it's the crown jewel of Asus's GTX 1650 Super lineup, which also includes the $165 GeForce GTX 1650 Super Phoenix Fan Edition and $160 Asus TUF GTX 1650 Super.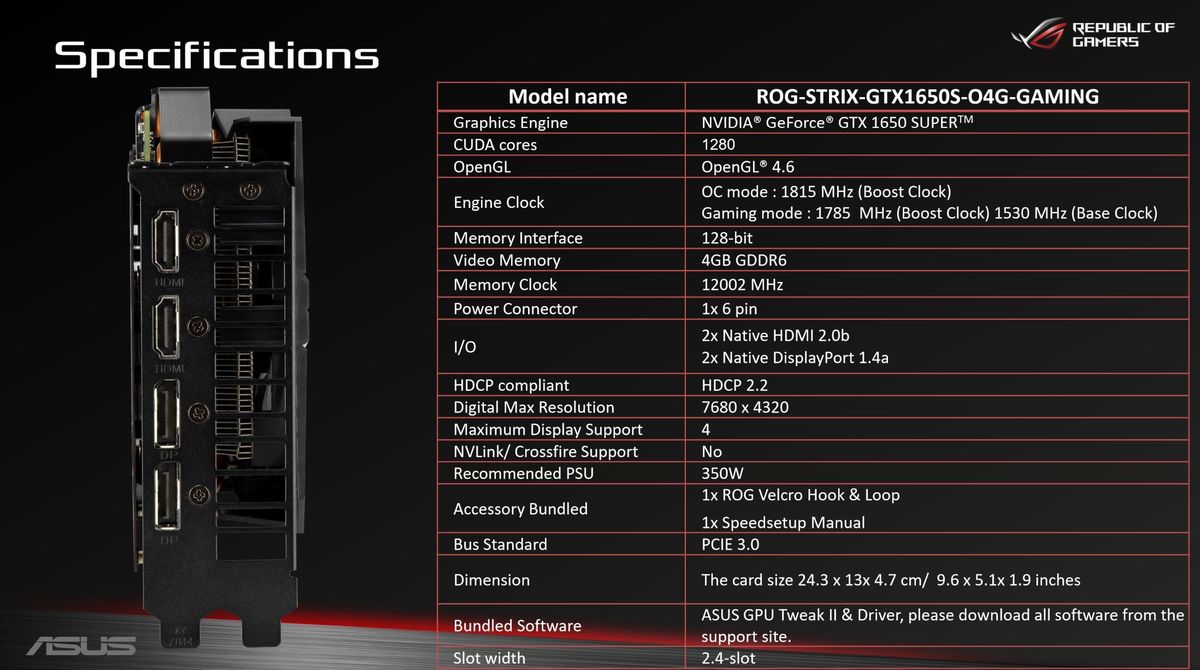 Asus cranked up the ROG Strix's clock speeds. While the reference GTX 1650 Super specifications top out at a 1,725MHz boost clock, the ROG Strix's default Gaming BIOS hits 1,785MHz. If you install the company's GPU Tweak II software, activating OC Mode bumps that all the way up to 1,815MHz. Alternatively, a secondary Quiet BIOS accessible via a physical switch on the card reduces clock speeds by a small amount to decrease fan noise. The faster Gaming profile is damned quiet already, though, so we only recommend the Quiet BIOS option if you're interested in silent desktop usage.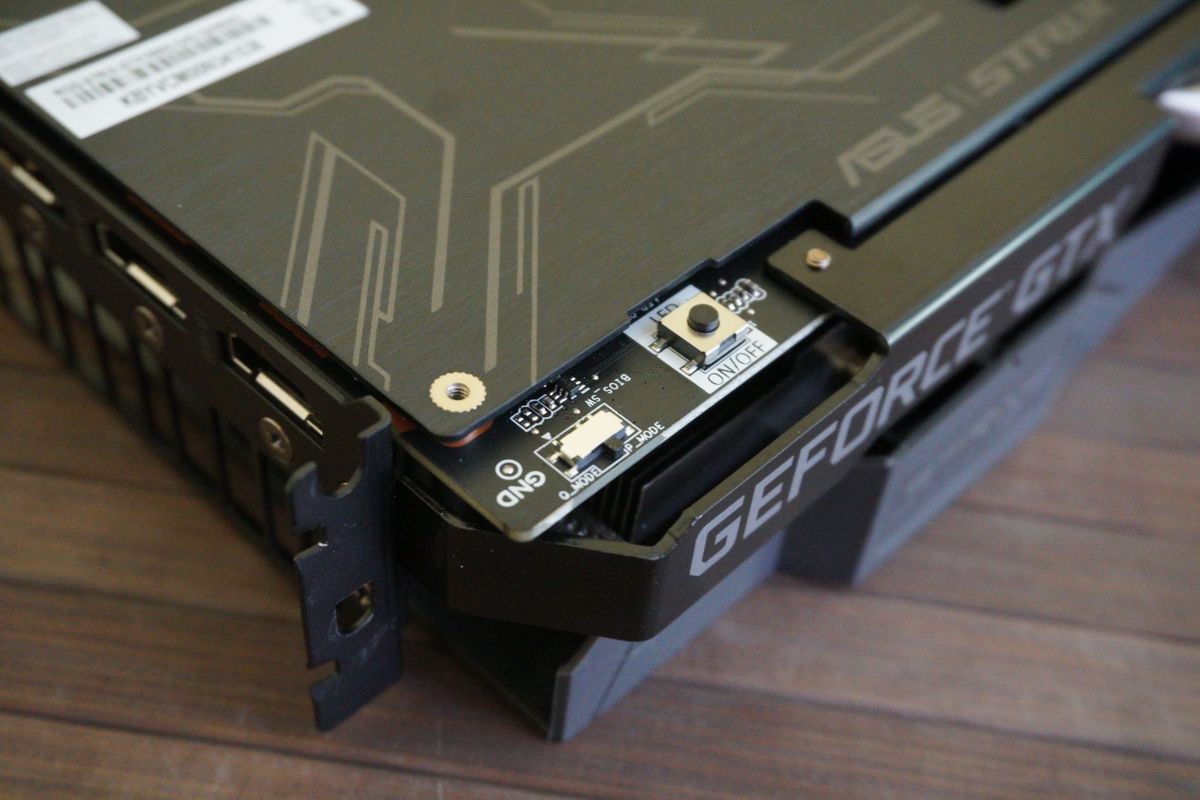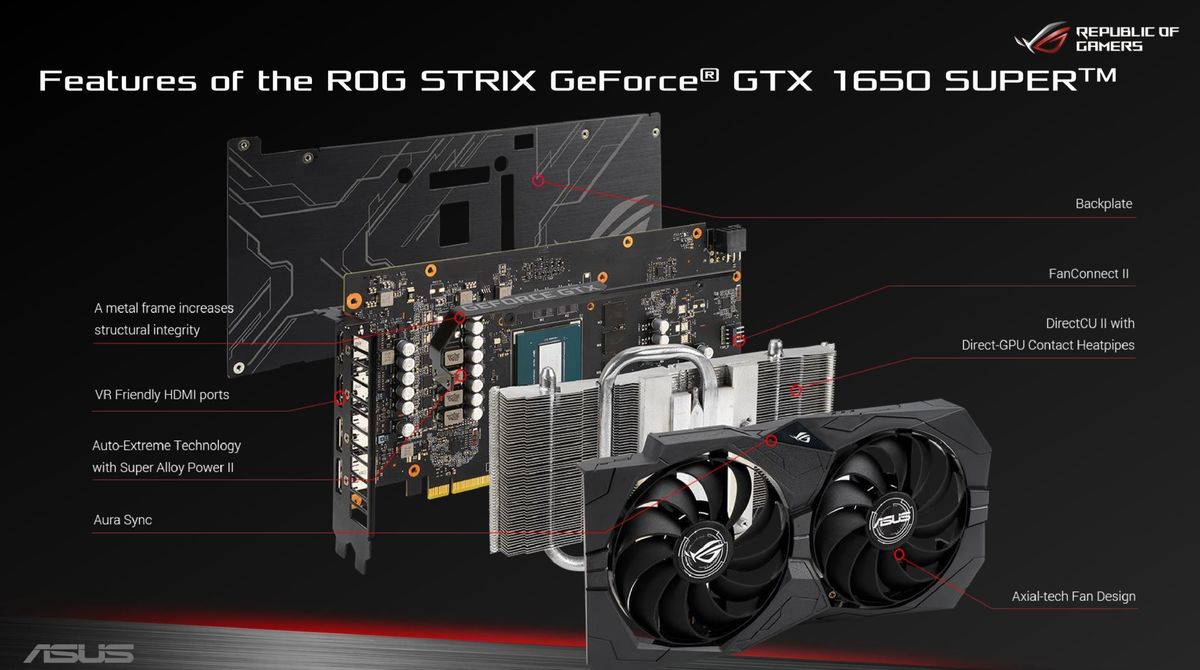 The card's outfitted with the premium design common to the Strix series despite its budget price. Asus built the card with its "Super Alloy Power II" premium components, its superb Direct CU II heatsink with copper heatpipes that come into direct contact with the GPU, and long-bladed dual axial fans. Those fans include 0db technology that keeps them idle until you fire up a strenuous graphics workload and temperatures exceed 55 degrees Celsius, though you'll need to flip over to the Quiet BIOS to activate 0db. It's utterly silent during normal desktop usage and incredibly quiet even under load. An attractive metal backplate, a six-pin power connector, and two each of HDMI and DisplayPorts complete the physical package.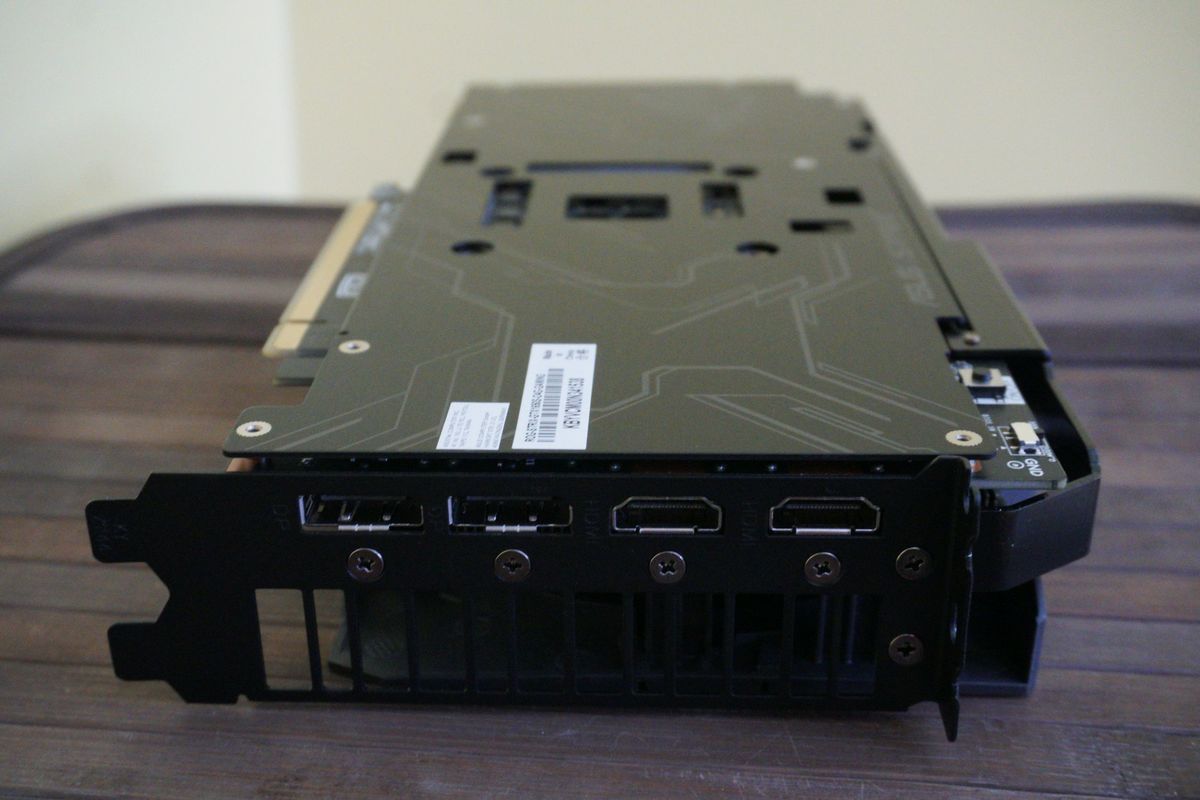 The affordable $170 graphics card even includes several fancy extras. The ROG Strix GeForce GTX 1650 Super includes a Fan Connect II header that lets the GPU's temperature control one of your case fans for more responsive cooling, while RGB lighting accents can be managed via the company's Aura Sync software. If you're rocking an Asus motherboard, too, you can synchronize their RGB elements. Finally, the company's optional GPU Tweak II software provides real-time performance monitoring, thermal controls, and overclocking capabilities, including the one-button OC Mode activation mentioned previously.
It's a hell of a package for just $170. But how does the Asus ROG Strix GeForce GTX 1650 Super game? Let's take it to the test bench.
Our test system
Our dedicated graphics card test system is packed with some of the fastest complementary components available to put any potential performance bottlenecks squarely on the GPU. Most of the hardware was provided by the manufacturers, but we purchased the cooler and storage ourselves.
We're comparing the $170 Asus ROG Strix GeForce GTX 1650 Super against its step-up sibling, the GTX 1660, which can be found for around $200 on the street after an unofficial price cut in the wake of the GTX 1660 Super's launch. We never received an original GTX 1650 for review, so you won't find it included here. It's more interesting to see how the GTX 1650 Super handles versus AMD's aging, but value-packed "Polaris" GPU lineup, which can be found at great prices on the street: The $130ish 4GB Radeon RX 570, $180ish Radeon RX 580, and $200ish Radeon RX 590.
Each game is tested using its in-game benchmark at the highest possible graphics presets, with VSync, frame rate caps, and all GPU vendor-specific technologies—like AMD TressFX, Nvidia GameWorks options, and FreeSync/G-Sync—disabled, and temporal anti-aliasing (TAA) enabled to push these cards to their limits. If anything differs from that, we'll mention it. We run each benchmark at least three times and list the average result for each test. We're including 1440p results as well, but really, the GTX 1650 Super is built for 1080p gaming.
We tested the Asus ROG Strix GTX 1650 Super using its default Gaming BIOS, clocked at 1,785MHz, rather than its secondary Quiet BIOS or the optional OC Mode that requires installing the company's GPU Tweak II software.
Gaming performance benchmarks
Division 2
The Division 2 is one of the best looter-shooters ever created. The luscious visuals generated by Ubisoft's Snowdrop engine make it even easier to get lost in post-apocalyptic Washington, D.C. The built-in benchmark cycles through four "zones" to test an array of environments, and we test with the DirectX 12 renderer enabled. It provides better performance across-the-board than the DX11 renderer, but requires Windows 10.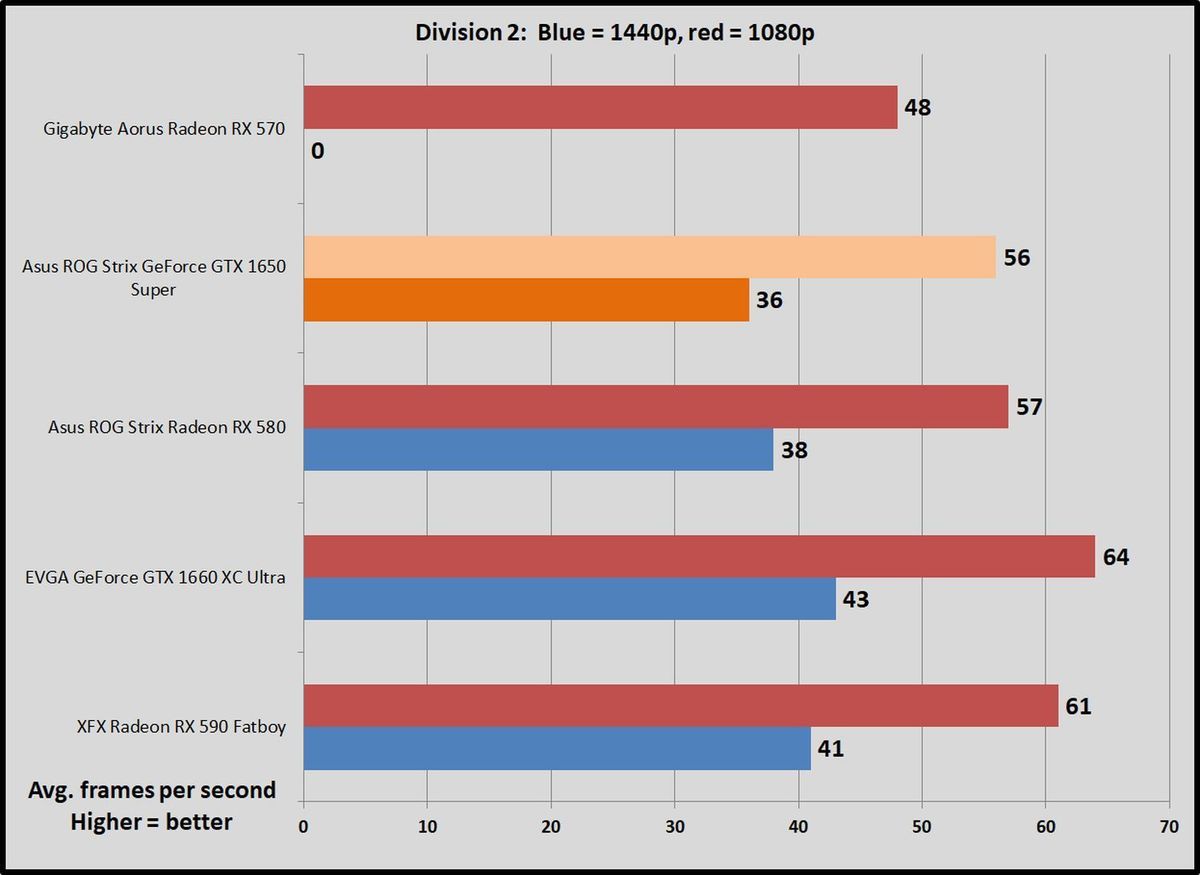 Interesting tidbit: The Radeon RX 570 could barely run the Division 2 benchmark, constantly crashing at 1440p resolution. We suspect it's because of the increased memory demands of DirectX 12, paired with the GPU's slower 4GB of GDDR5 memory. The GTX 1650 Super's GDDR6 memory, on the other hand, blew through the benchmark.
Nvidia's new $160 card performs more on a par with the $180 Radeon RX 580 than the $130 RX 570, and slightly slower than the $200 Radeon RX 590, a result you'll see throughout these tests, except with Strange Brigade. That game tends to heavily favor Radeon GPUs, however.
Far Cry: New Dawn
Another Ubisoft title, Far Cry: New Dawn drags Far Cry 5's wonderful gameplay into a post-apocalyptic future of its own, though this vision is a lot more bombastic—and pink—than The Division 2's bleak setting. The game runs on the latest version of the long-running Dunia engine, and it's slightly more strenuous than Far Cry 5's built-in benchmark.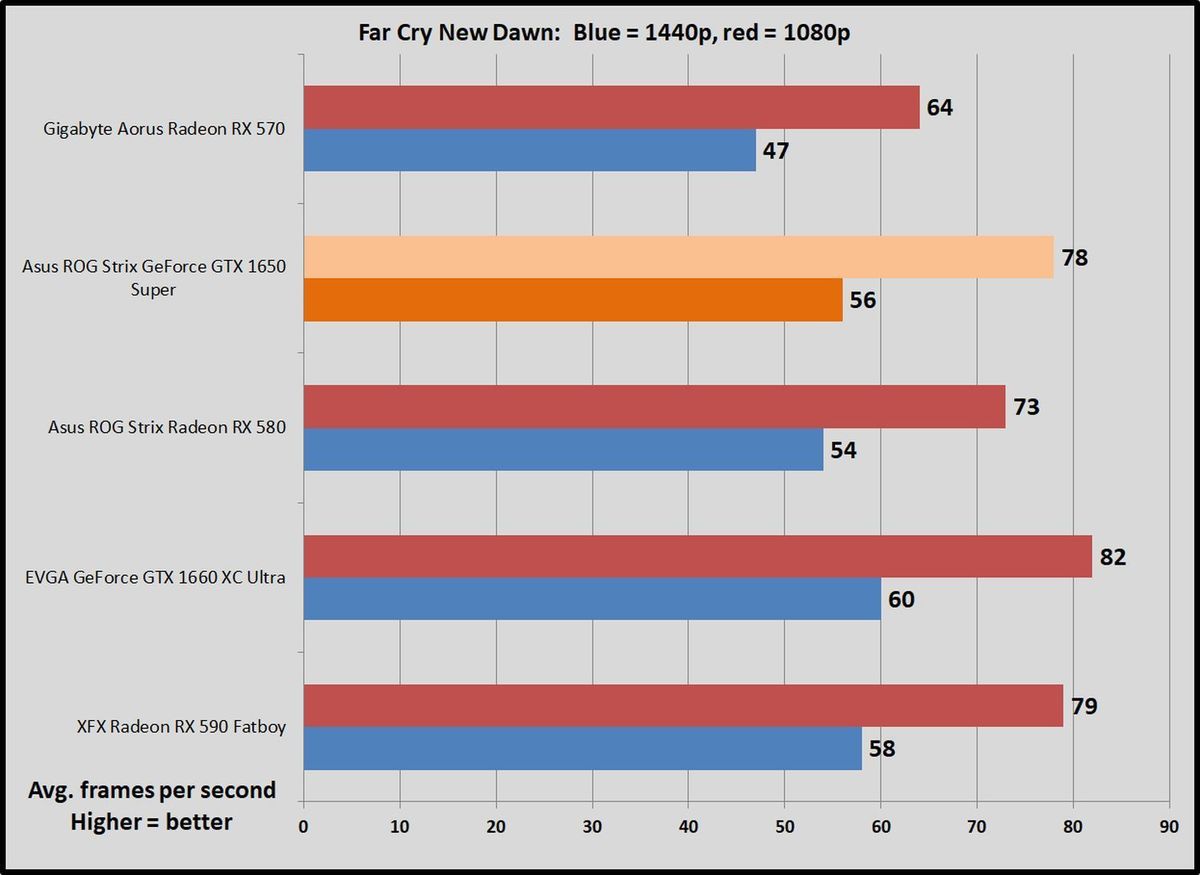 Strange Brigade
Strange Brigade ($50 on Humble) is a cooperative third-person shooter where a team of adventurers blasts through hordes of mythological enemies. It's a technological showcase, built around the next-gen Vulkan and DirectX 12 technologies and infused with features like HDR support and the ability to toggle asynchronous compute on and off. It uses Rebellion's custom Azure engine. We test the DX12 renderer with async compute off.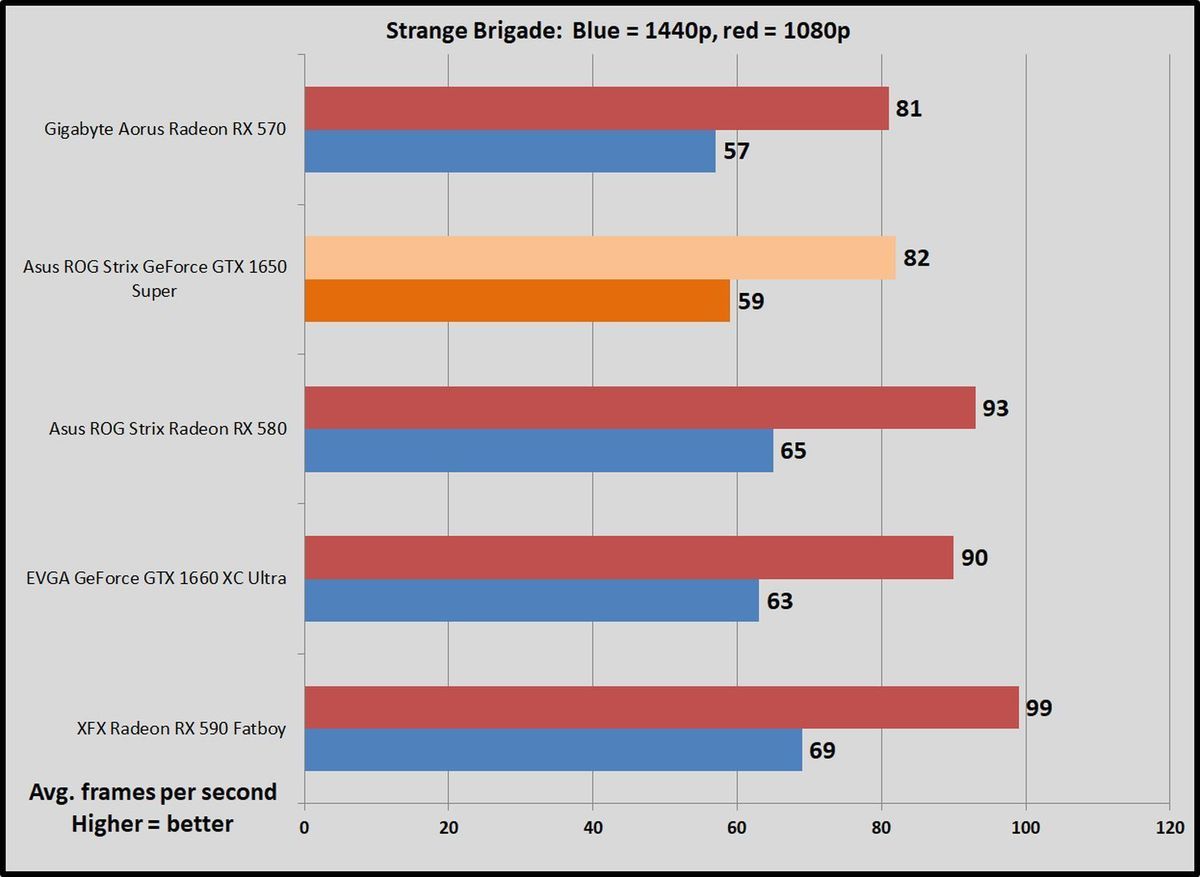 Shadow of the Tomb Raider
Shadow of the Tomb Raider ($60 on Humble) concludes the reboot trilogy, and it's utterly gorgeous. Square Enix optimized this game for DX12, and recommends DX11 only if you're using older hardware or Windows 7, so we test with DX12. Shadow of the Tomb Raider uses an enhanced version of the Foundation engine that also powered Rise of the Tomb Raider.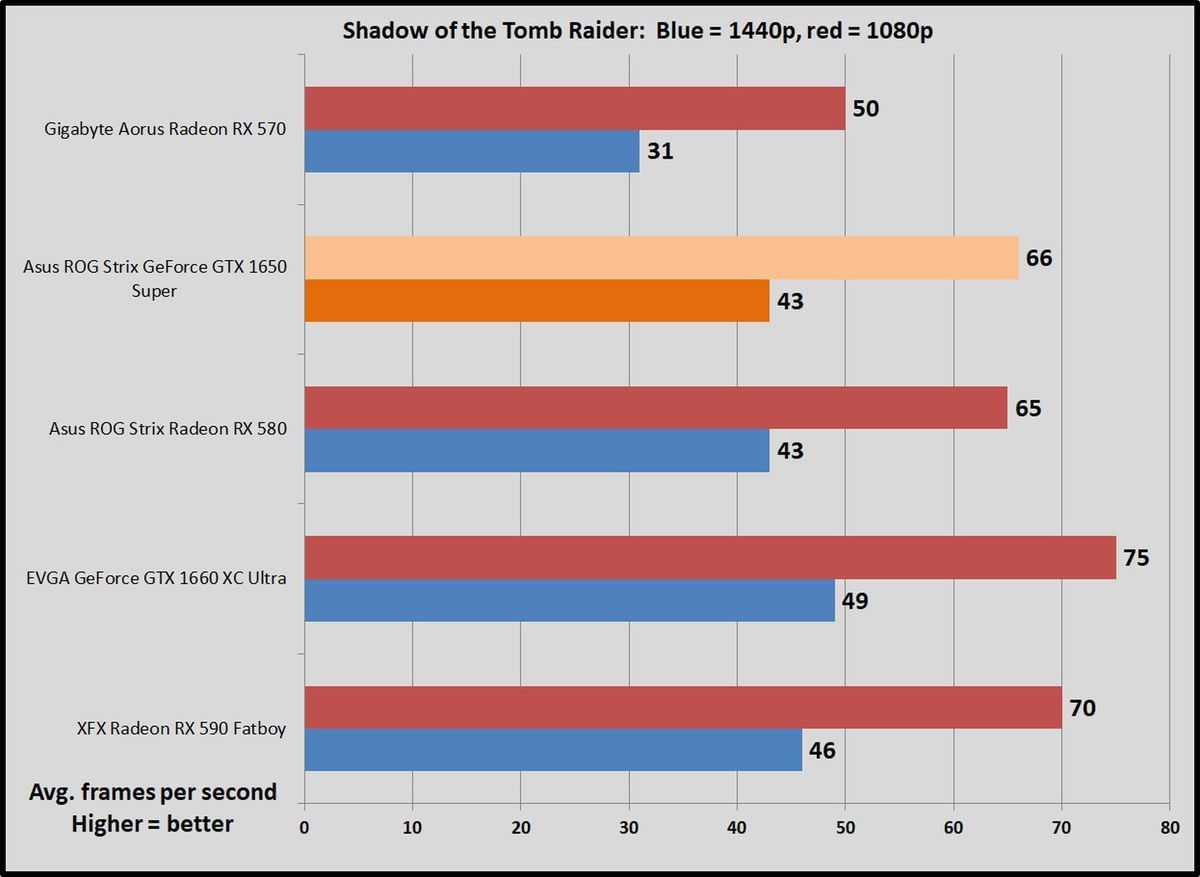 Ghost Recon Wildlands
Move over, Crysis. If you crank all the graphics options up to 11, like we do for these tests, Ghost Recon Wildlands ($50 on Humble) and its AnvilNext 2.0 engine absolutely melt GPUs. It's by far the most strenuous game in our suite, even with newer stunners like Division 2 in the mix. Sequel Ghost Recon Breakpoint recently launched but has been receiving frequent tweaks, so we haven't swapped over to it for our testing yet.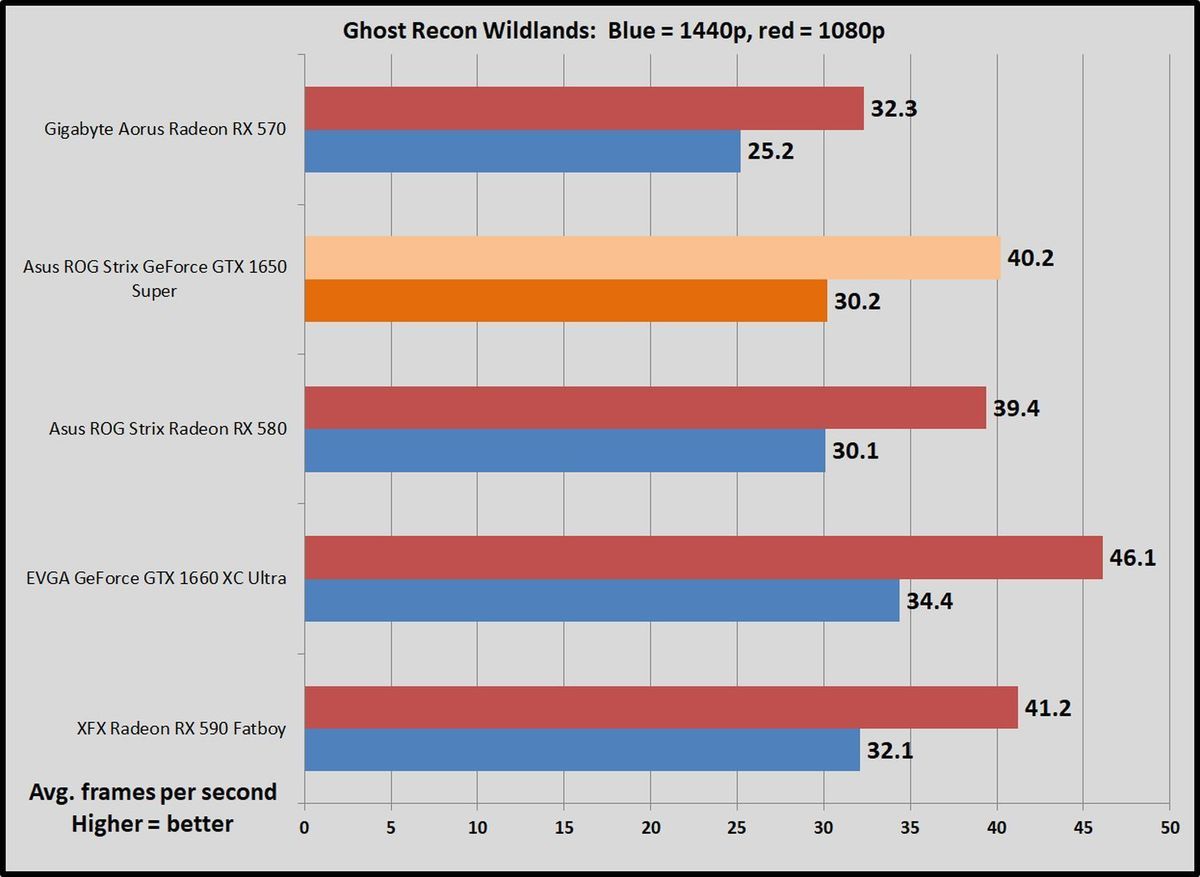 F1 2018
The latest in a long line of successful games, F1 2018 ($60 on Humble) is a gem to test, supplying a wide array of both graphical and benchmarking options—making it a much more reliable (and fun) option that the Forza series. It's built on the fourth version of Codemasters' buttery-smooth Ego game engine. We test two laps on the Australia course, with clear skies.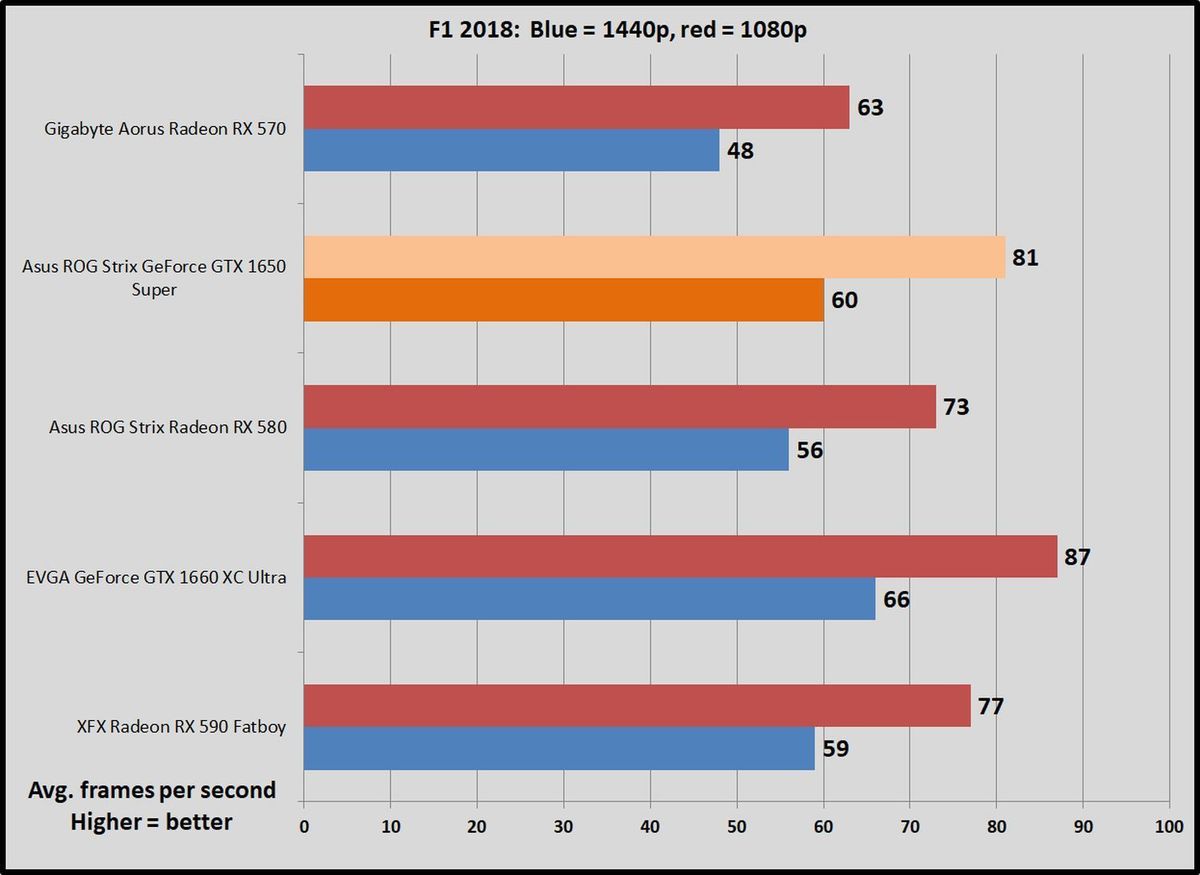 GTA V
We're going to wrap things up with a game that isn't really a visual barn-burner, but still tops the Steam charts day in and day out. We test Grand Theft Auto V ($30 on Humble) with all options turned to Very High, all Advanced Graphics options except extended shadows enabled, and FXAA. GTA V runs on the RAGE engine and has received substantial updates since its initial launch.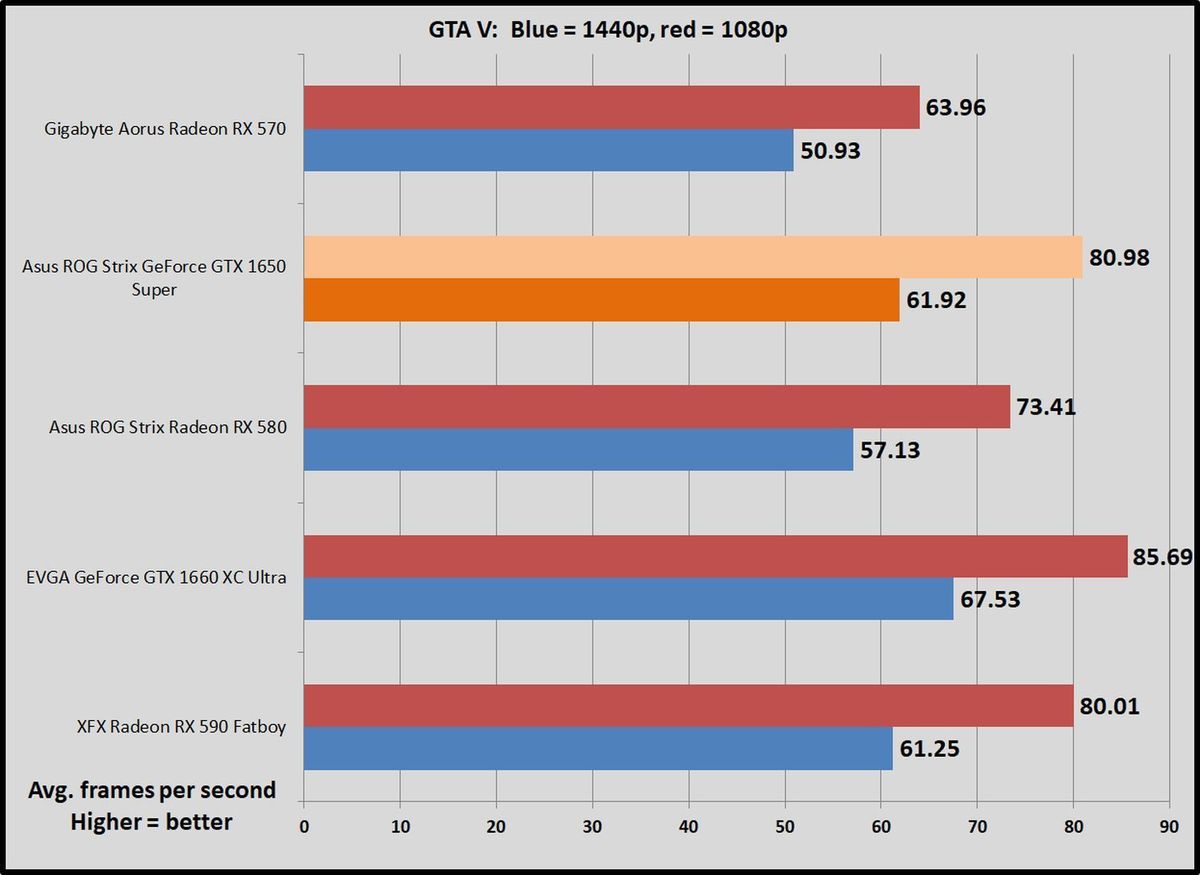 Power draw, thermals, and noise
We test power draw by looping the F1 2018 benchmark for about 20 minutes after we've benchmarked everything else and noting the highest reading on our Watts Up Pro meter. The initial part of the race, where all competing cars are onscreen simultaneously, tends to be the most demanding portion.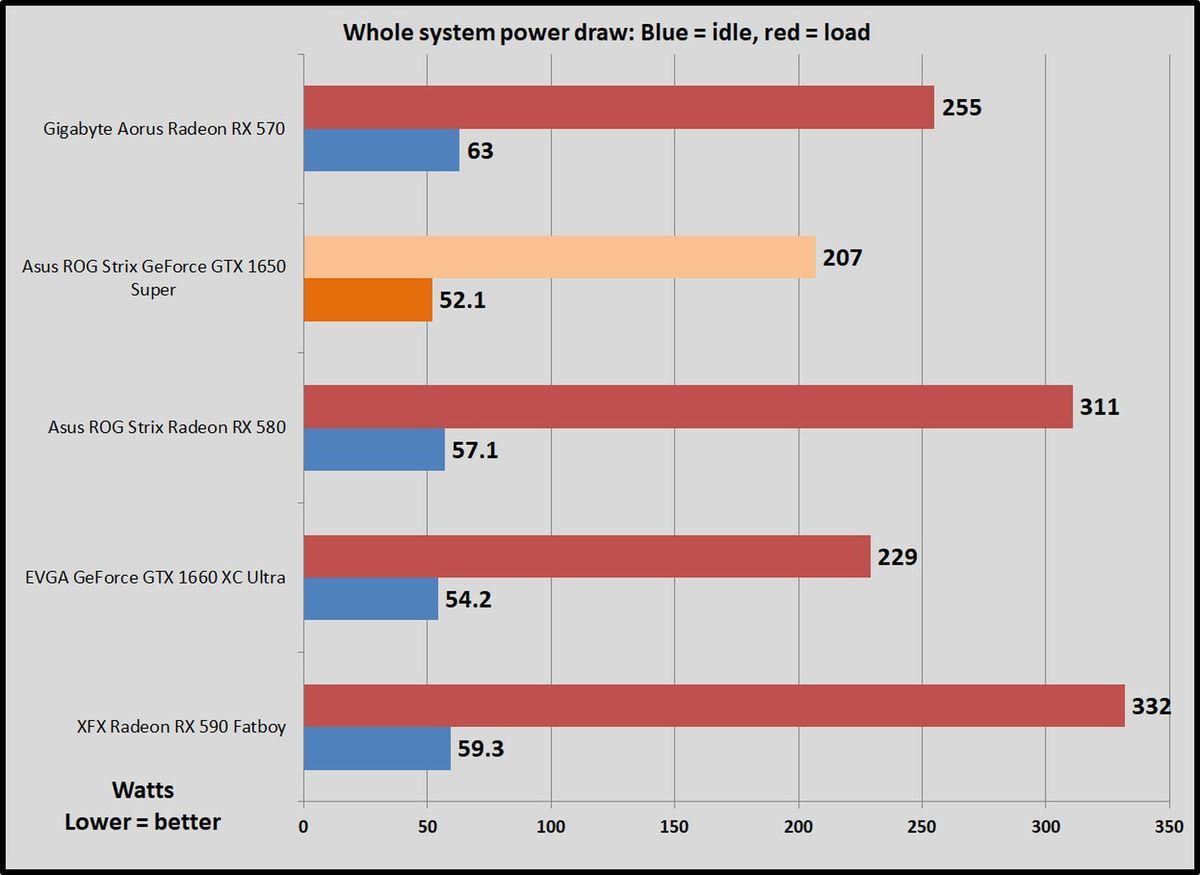 It's no contest here. Nvidia's power-sipping Turing architecture blows away AMD's ancient Polaris GPUs, delivering performance on a par with the Radeon RX 580 for over 100 watts less. The GeForce GTX 1650 Super even stays well below the Radeon RX 570's energy draw, despite firmly outpunching it.
We test thermals by leaving either AMD's Wattman (for Radeon GPUs) or EVGA's Precision X1 (for GeForce GPUs) open during the F1 2018 five-lap power draw test, noting the highest maximum temperature at the end.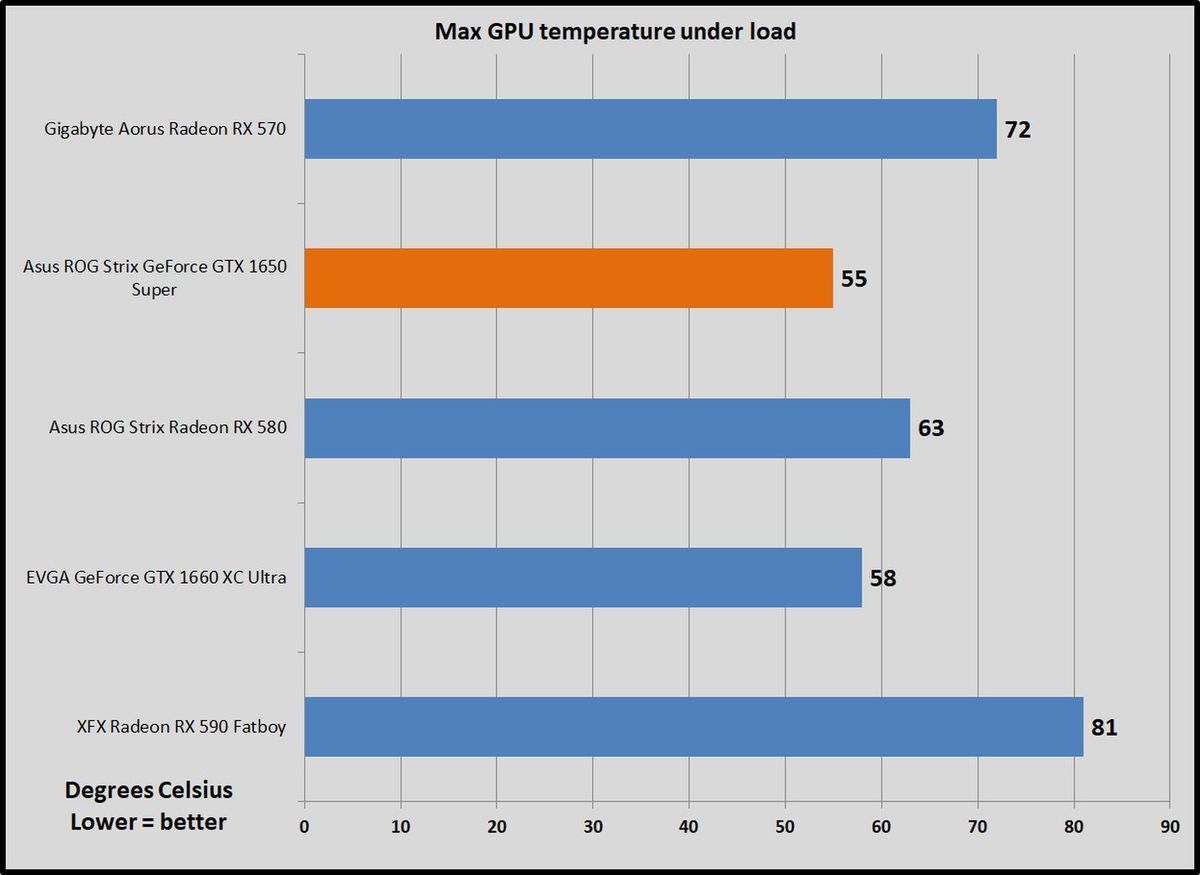 Here's where that vastly superior power efficiency comes into play. Both the GTX 1650 and the Radeon RX 580 we tested performed similarly, and both versions were killer ROG Strix variants—but the bulky triple-fan cooler on the RX 580 is much, much larger. Nonetheless, the tinier dual-fan ROG Strix GTX 1650 Super manages to stay cooler by a full 8 degrees Celsius, while running next to silent. This is a great GPU in a great graphics card.
Should you buy the Nvidia GeForce GTX 1650 Super?
Definitely. The $160 Nvidia GeForce GTX 1650 Super is the best budget graphics card you can buy—at least for now. It's a killer option for 1080p gaming.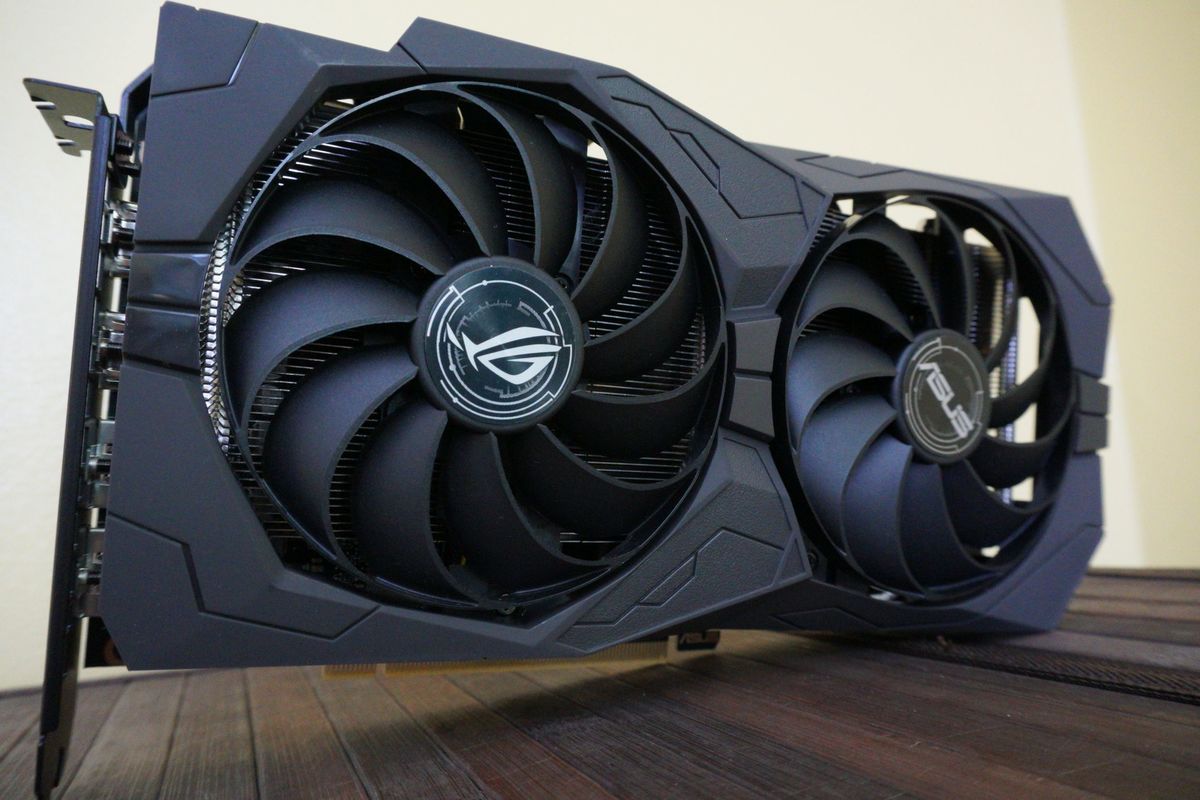 While its still-available non-Super predecessor failed to make a dent versus AMD's ancient, yet value-packed Radeon RX 500-series, the GeForce GTX 1650 Super equals or surpasses the Radeon RX 580's performance in every game but Strange Brigade, while proving far superior in power efficiency. That helps it run much cooler and quieter than AMD's options.
Nvidia's graphics card can hit a comfortable 60 frames per second with most if not all graphics settings maxed out, even in modern games. You might need to drop some especially strenuous games down to High, but that's still great for a $160 GPU. It's got Nvidia's latest and greatest Turing NVENC encoder, too, a boon for streamers and video editors.
Given how much more efficient the GeForce GTX 1650 is, we'd opt for it over the Radeon RX 580 every time. AMD's game bundles and deals might sway you to Team Red, though. At the moment, Radeon cards offer three free months of Microsoft's superb Xbox Game Pass for PC, as well as your choice of either Borderlands 3 or Ghost Recon Breakpoint. We found both those games ho-hum, but it's a compelling offer if you planned on picking up either title anyway. With Game Pass you won't need to splurge on any games for a while. Still, Microsoft's subscription gaming service is cheap enough—$1 for the first month, and $9 per month thereafter—that we'd still generally recommend the GTX 1650 Super.
If the slightly faster Radeon RX 590 drops down to the GTX 1650 Super's price range, though, it's worth considering if you don't mind its awful power efficiency. And if you don't mind dialing down graphics options a bit, the Radeon RX 570 with all those free games are still worth considering at just $120 to $130 on sale—and we've even seen it as low as $100 in the lead-up to Black Friday. That's ludicrous. In general though, you're getting a lot more performance out of the GTX 1650 Super for just $30 or so more.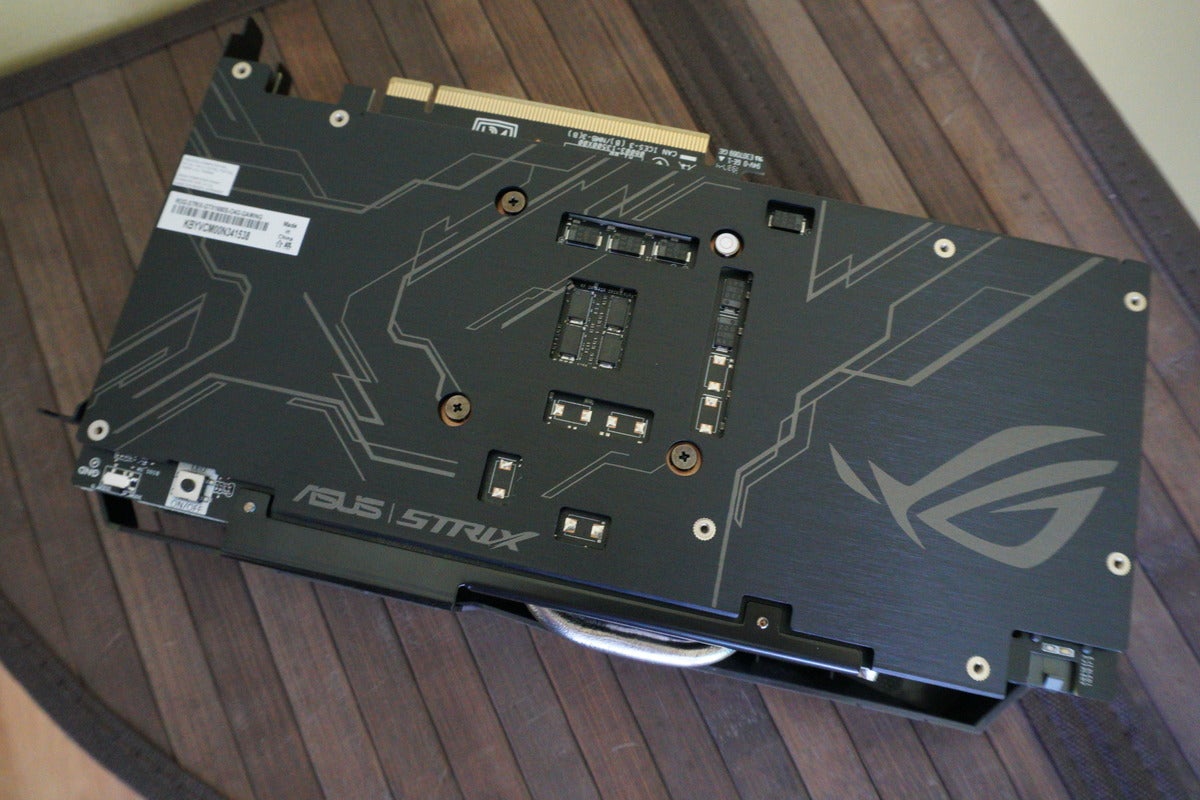 Moving onto the $170 Asus ROG Strix GeForce GTX 1650 Super specifically, we can't recommend it highly enough. It's a well-built, attractive, and borderline silent version of a great graphics card, loaded with premium features like a metal backplate, customizable RGB lighting, idle fan stop, dual BIOSes, a significant factory overclock, ports galore, and a fan header that ties control of one of your case fans to your GPU temperature. For a mere $10 premium? It's a no-brainer.
Unfortunately, the ROG Strix isn't available at retail at the time of publication. Two other Asus GPUS— the $165 GeForce GTX 1650 Super Phoenix Fan Edition and $160 Asus TUF GTX 1650 Super—are, and you should expect similar bottom-line gaming performance out of them, though these alternatives don't pack all the same extras as the Strix.
Wrapping it up, the Nvidia GeForce GTX 1650 Super is the best budget graphics card you can buy for 1080p gaming, and the Asus ROG Strix is a sterling custom version of it with a barely-there price premium. Both come highly recommended. It remains to be seen how long they hold onto the crown, though, as AMD's Radeon RX 5500-series graphics cards are scheduled to launch sometime this quarter, built using the next-gen Navi architecture with support for GDDR6 and PCIe 4.0. We know they're targeting 1080p gaming for the masses, but pricing and performance still remain a mystery.
For now, Nvidia can take a much-deserved victory lap. Hail to the new budget gaming champion.