At a Glance
Expert's Rating
Pros
Fits USB Type-A port into slender chassis
Keyboard has the good travel missing from other thin-and-light laptops
The M.2 SSD is replaceable
The 10th-gen Core i7-1065G7 offers decently fast performance
Cons
Would be nice to have charging port on both sides of laptop
Our Verdict
HP's Spectre x360 13t gives you thin and light without removing all the good stuff: an Intel Ice Lake CPU, long battery life, a full-travel keyboard, USB Type-A and an upgradable SSD.
Best Prices Today: HP Spectre x360 13t
HP's latest Spectre x360 13t has something to say to other thin-and-light laptops, which, it seems, are all about taking good things away from you. Keyboards with travel, USB Type-A ports, and even the opportunity to replace your SSD are features that have all gone by the wayside in some of Dell and Apple's newest and thinnest laptops.
In the face of all that No, the HP Spectre x360 13t simply says Yes. You want a standard M.2 SSD? Got it, the Spectre x360 13t says. NBA-level of travel in your keys? Sure thing. USB Type-A port?! Of course the Spectre x360 13t has that, too.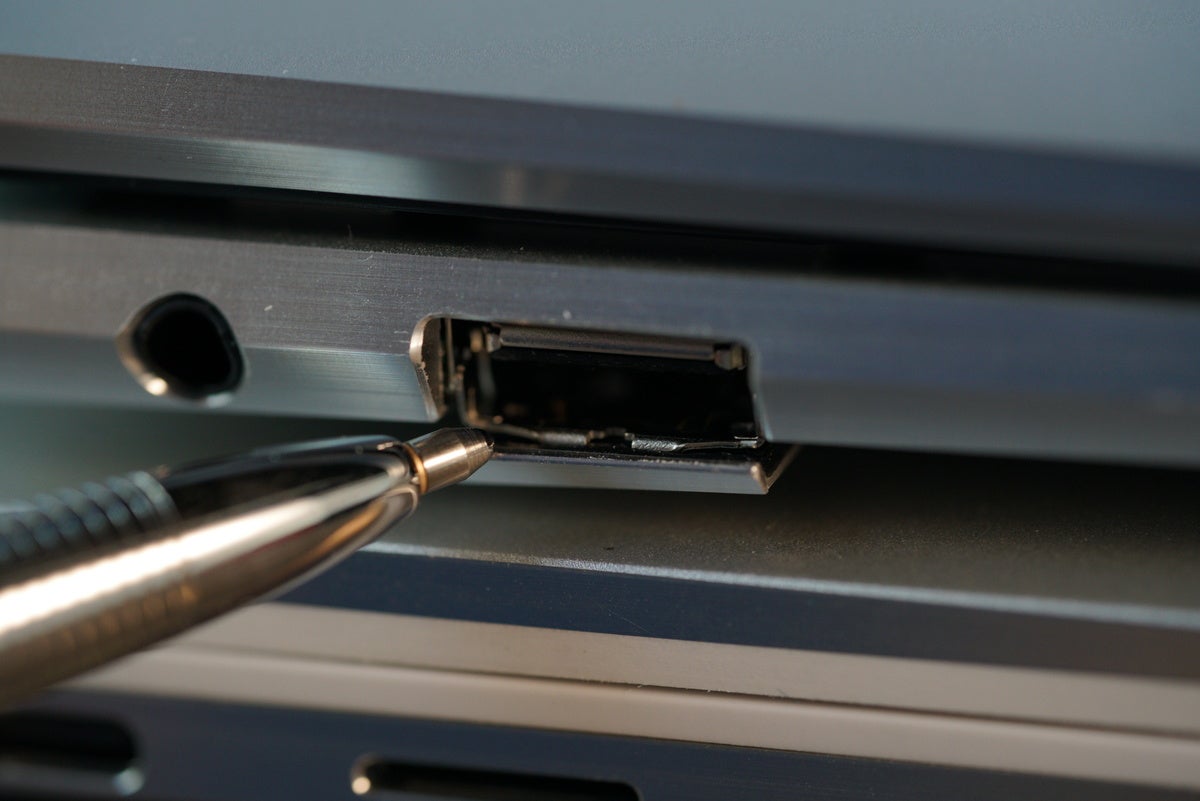 And that's just for starters.
While vendors have been happy to trim away bezels in laptops, that's also meant leaving behind one of the coolest features in Windows 10: Windows Hello and facial recognition login. Yet somehow HP has fit what appears to be the smallest IR-enabled camera we've seen to date into the tiny Spectre x360 13t. And if you don't like the facial recognition feature, you can also use the integrated fingerprint reader.
That Windows Hello support is fast, too. We've previously found Microsoft's implementations have been the best at speed and recognition, but the new Spectre x360 13t will go from lid-closed to the desktop in an impressive 1.5 to 3 seconds. Performance is fastest when the laptop isn't in its deepest sleep state. Sometimes it's so fast, you almost wonder if you even have a password on the laptop.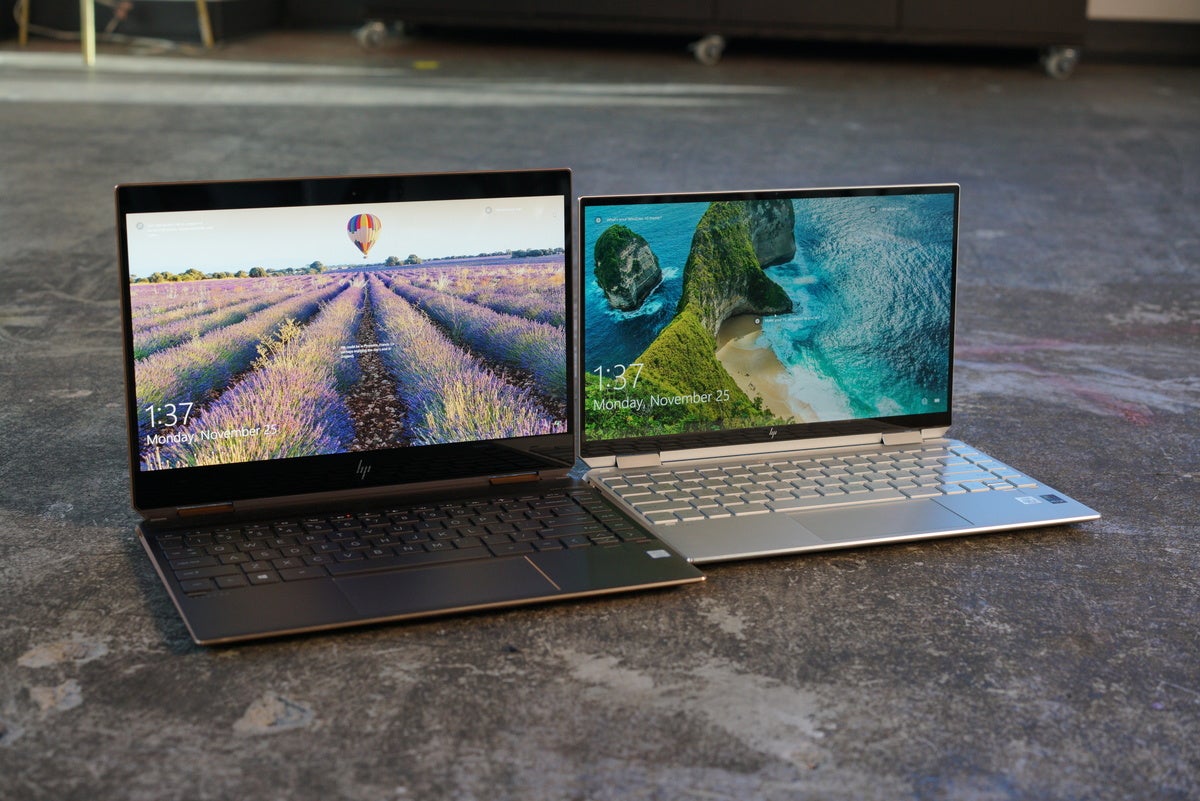 It's smaller
What's amazing is how HP added all of these features some vendors say can't be done while getting smaller. Physically, the new Spectre x360 13t takes the footprint down by about an inch compared to the prior generation. The new Spectre x360 13t is actually a bit smaller than Apple's beloved MacBook Air 11, which people coveted for its teeny footprint. Just like that MacBook Air 11, the Spectre x360 13t slips into your bag so discreetly you won't even know it's there.
About the only thing we wish it had was dual AC charging ports. But one is fine.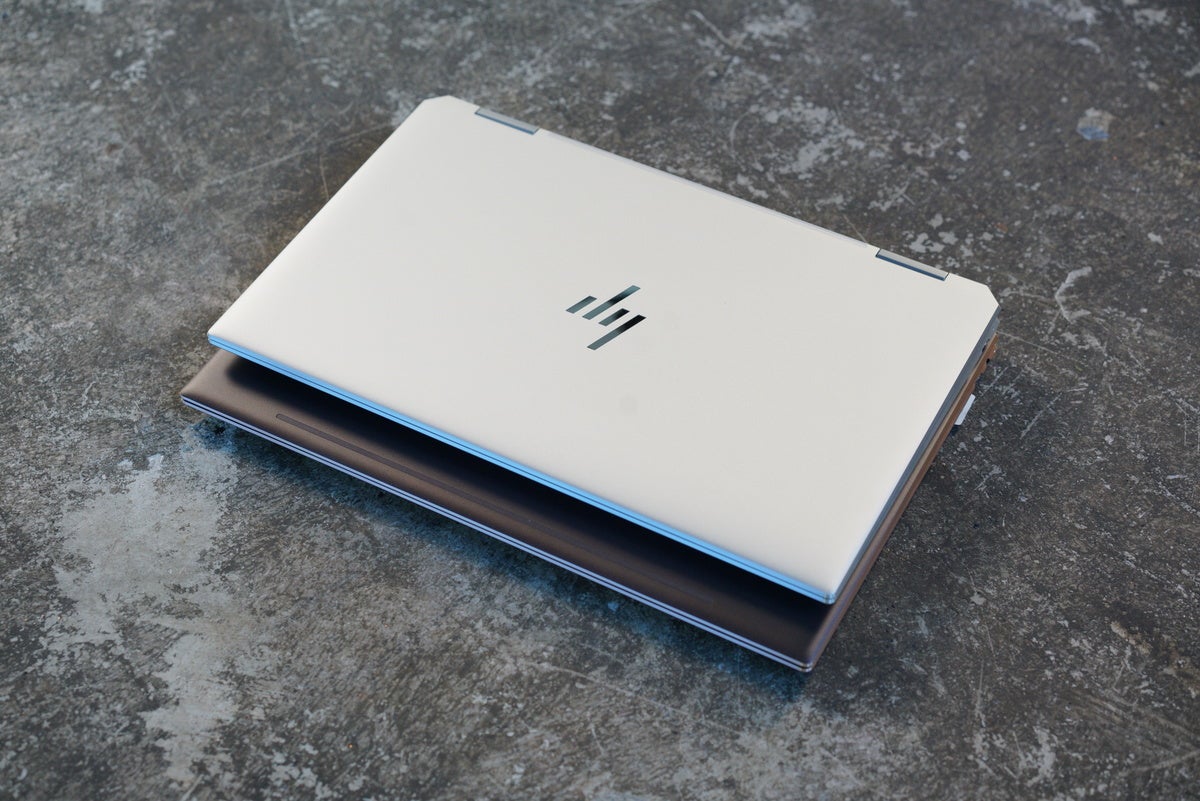 There is a cost in thickness. When Dell and Apple decided to go with a low-travel MagLev 2 keyboard and soldered SSD, it wasn't to annoy you—it was to make the laptops thinner. The Dell XPS 13 2-in-1 is legitimately thinner than the Spectre x360 13t by about 2mm at its thickest point. In fact, the 5th-gen Spectre x360 13t is about 1mm thicker than the previous model.
The question many will ask is whether that sacrifice in thickness, or "Z-height," is worth giving up an M.2 SSD, a keyboard with travel, and a USB Type-A port. We'd bet not. At least, that's what consumers themselves have been screaming for years now, in response to the sacrifice of features at the altar of thin.
HP Spectre x360 13t specs
HP doesn't scrimp on hardware specs, either. The obvious standout part is the new Intel Ice Lake 10nm CPU, but other highlights include a 1-watt IPS display with pen and touch support and the Intel Optane H10 drive, which combines Intel's whiz-bang Optane with a traditional NAND SSD. The result is actually very impressive for most of what people do, but it does have limitations that you can read about in our review of the Optane H10 drive.
CPU: Intel 10th gen quad-core Core i7-1065G7
GPU: Intel Iris Plus Graphics
RAM: 8GB LPDDR4X/3733
Display: 13.3-inch, 1920×1080 (FHD) AU Optronics touchscreen (A 4K AMOLED is also available)
Storage: 512GB Intel H10 Optane NVMe M.2 SSD
Ports: Two Thunderbolt 3, 1 USB Type-A (5Gbps), analog combo headset jack, microSD slot.
Wireless: Intel WiFi 6, Bluetooth 5
Dimensions: 12.08 x 7.66 x 0.67 inches
Weight: 2.8 pounds (not counting AC)
Keyboard and Trackpad
As we've said, HP seems to have dug in its heels and decided not to take shortcuts, such as forcing you to use near-no-travel keyboards. The keyboard has what amounts to a luxurious 1.5mm of travel, which is about double that of the Dell XPS 13 2-in-1. We'll praise it just so other laptop makers can hear it.
The trackpad supports Microsoft's Precision Trackpad and appears to be made by Elan. One issue that still bugs us is where HP centers the trackpad: on the U key. Placing your fingers on the home keys puts puts more of your right palm over the trackpad, which, no matter how good the palm rejection, could lead the cursor to jump. On most competing laptops, the trackpad is centered on the Y key.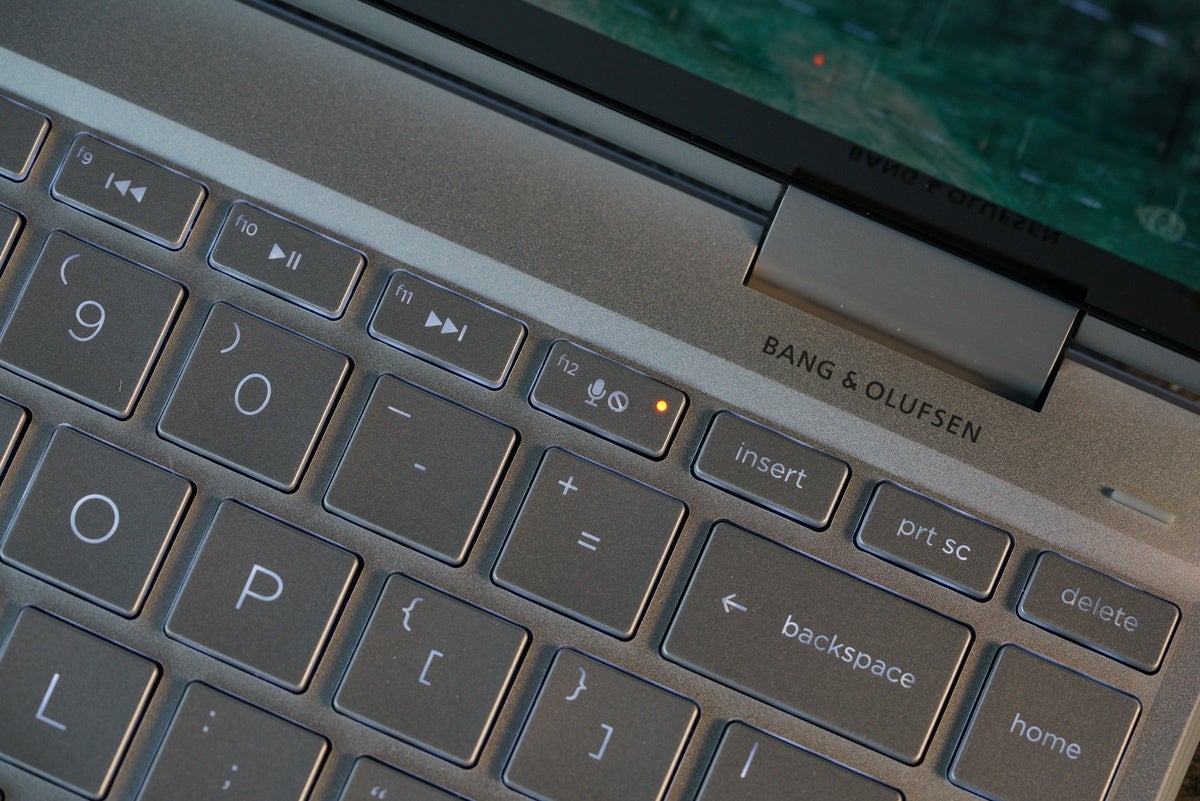 One thing we do want to point out in the new Spectre is a dedicated button to mute the microphone. The laptop added a hardware kill switch for the webcam earlier this year. This new mute button takes privacy one step further, because you can visually confirm the mic has been muted in the OS. The next logical step would be to allow a hardware kill switch for the mic.
Speaking of the webcam, which everyone will still cover with tape, we did a quick image quality comparison between the 5th-gen Spectre, the 4th-gen Spectre, and Dell's XPS 13 2-in-1. To be honest, the results were all mediocre, but if we had to pick, it would be close between the 5th-gen Spectre x360 13t and the Dell XPS 13 2-in-1 7390.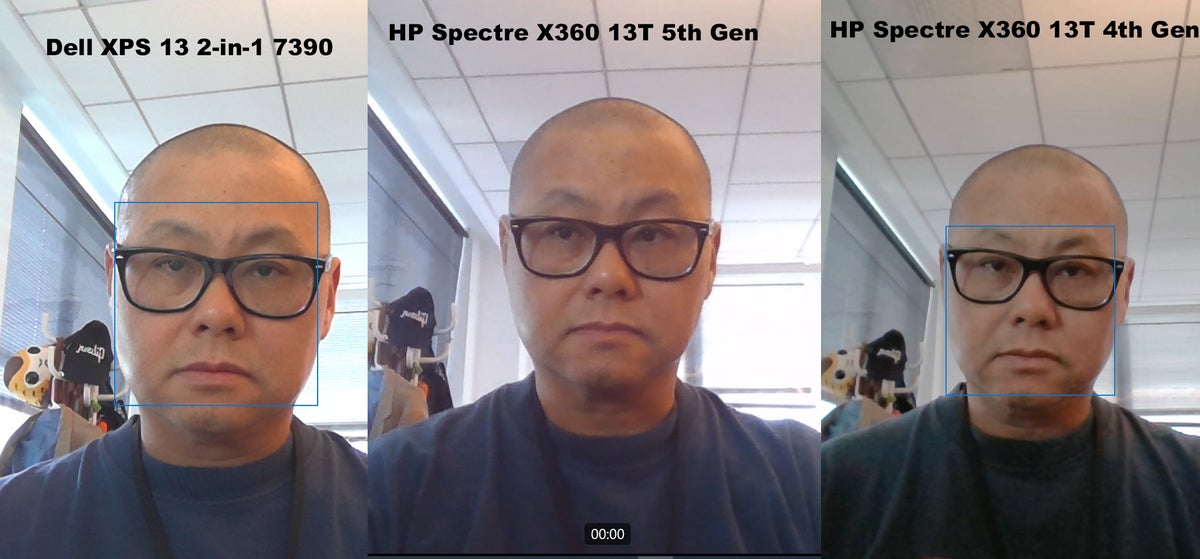 Among the other amenities that deserve to be called out is the inclusion of a leather carrying case, which also securely holds the included active stylus. HP has done this for some time with its laptops, and it's something to be lauded. The leather case won't impress your designer-handbag friends, but it provides scratch protection when it's sliding around in your bag. Did we mention that while Dell charges you $100 for its pen, HP includes it?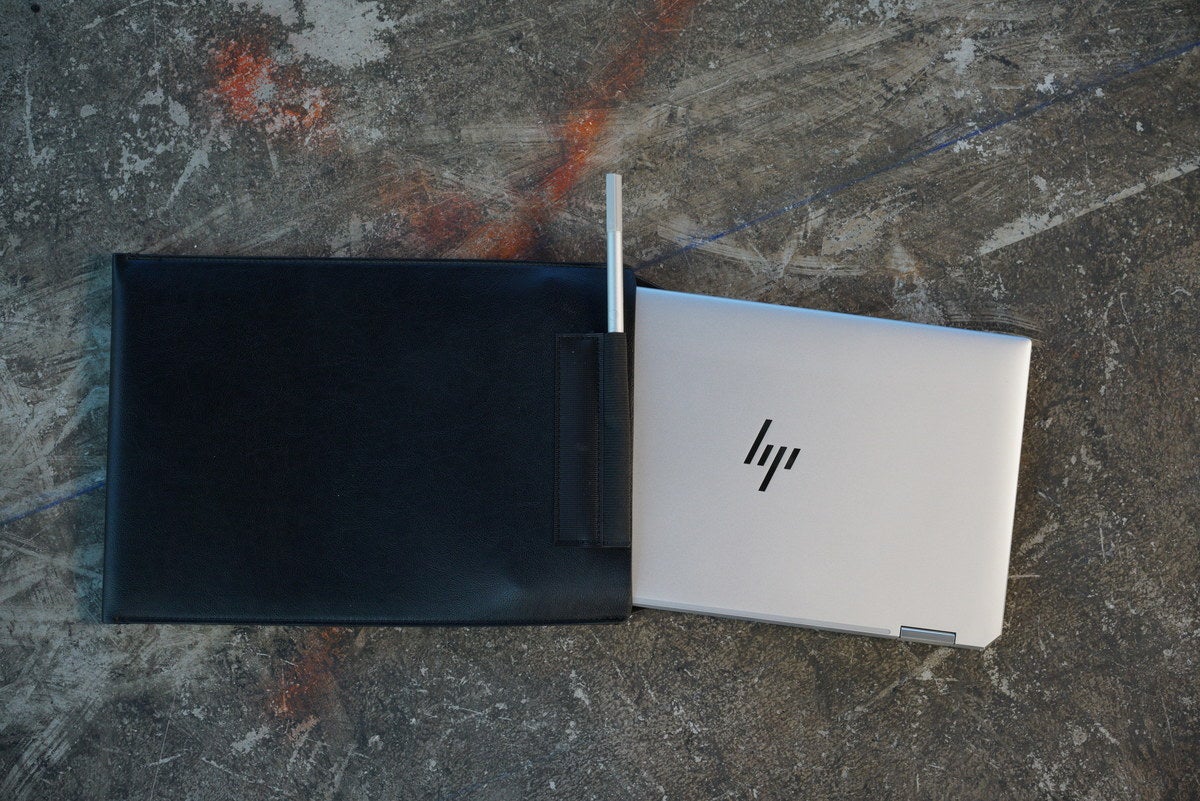 How is the pen?
Speaking of the pen, we wanted to get a quick take of the pen's performance from a person who actually uses them, so we turned to our sister site Macworld's Leif Johnson, who still prefers pen and paper to typing. Although not presently a Windows inking fan, we asked him to try his hand at the 4th-gen Spectre x360 13t, the new 5th-gen Spectre x360 13t, and the Dell XPS 13 2-in-1 7390 with the optional Dell pen, and then rate them against the device he has the most experience with: Apple's iPad Pro and the 2nd-generation Apple Pencil.
We believe the underlying technology in the Dell uses Wacom's Active ES or Electro Static, while both of the HP's appear to use Microsoft's N-Trig technology.
Johnson noted that the Spectre x360 13t was far more accurate than the Dell XPS 13 2-in-1 7390 when doing fine dotting. However, Johnson gave the latency on the Dell a slight edge, which put it over the top in his book. On scale of 1 to 10, with the Apple Gen 2 Pencil and newest iPad Pro as a reference point of 10, Johnson said the Dell's Wacom-based pen would probably rate an 8, while the Spectre x360 13t's would get a 7. Again, that's from a handwriting fanatic. For the typical person who signs a PDF or occasionally takes notes, all would function just fine. We'll get into more focused pen evaluations with Johnson at a later time.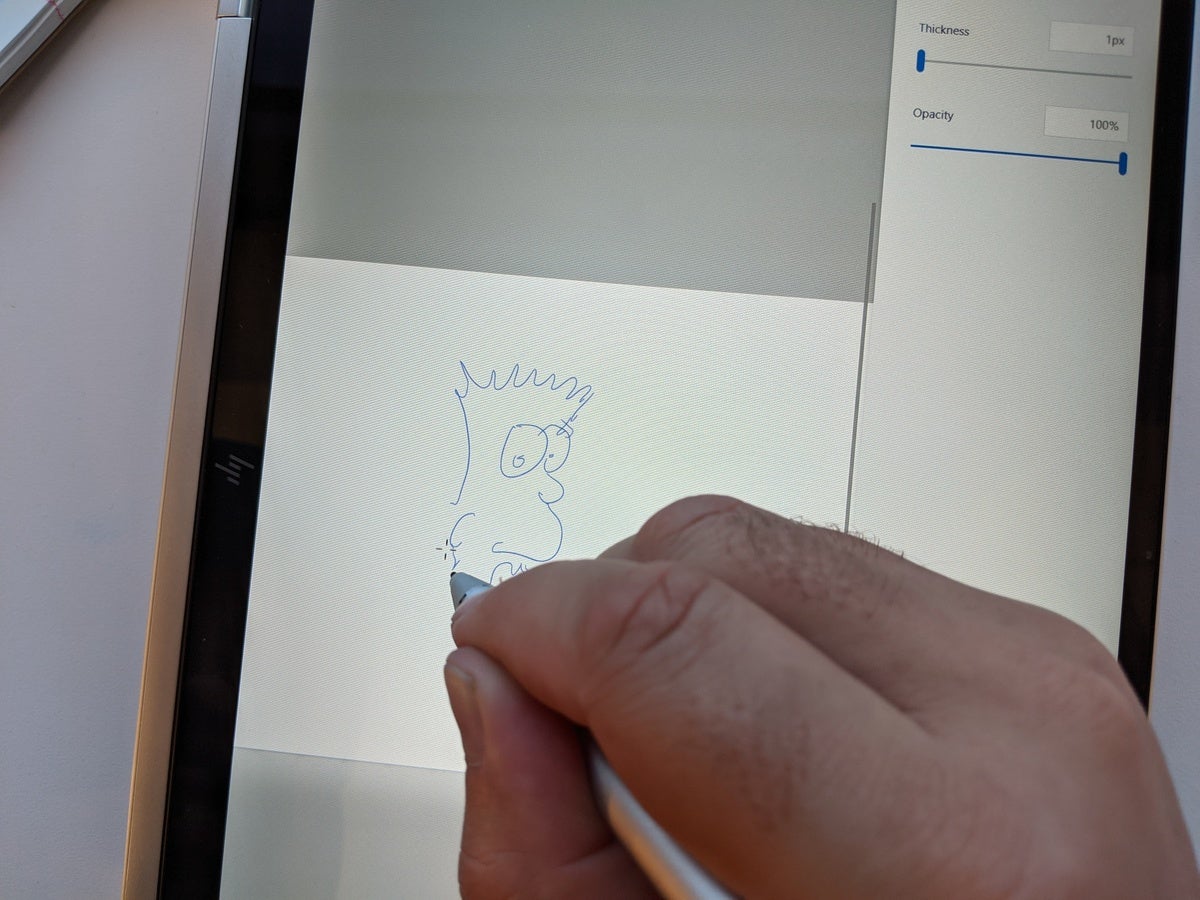 Keep reading for performance benchmarks and more.
Spectre x360 13t CPU Performance
We'll kick off our performance evaluation with Maxon's Cinebench R15 benchmark. This test uses an older 3D rendering engine from Maxon's commercial Cinema4D application to gauge CPU performance while rendering 3D content. Intel has lately argued that Cinebench isn't an appropriate benchmark for thin-and-light laptops, given that very few users would do that kind of work on such a system. At the same time, the performance of tiny laptops has increased so much in the last two years that Cinebench-style work probably isn't beyond the pale.
We ran the Spectre x360 13t on its default settings, and then we re-ran the test with the laptop cranked up to its "performance" setting in the HP utility.
The clear winner is Dell's clamshell XPS 13 7390, with its 6-core Core i7-10710U CPU. Even though it's built on an older 14nm process, 6 cores will generally beat 4 cores. More in line with the Spectre x360 13t is the Dell XPS 13 2-in-1, which has the same Ice Lake Core i7-1065G7 CPU inside. Dell has long swung for the fences in performance, and we see that in both the default settings and the XPS 13 2-in-1's performance setting, leaving the HP trailing a bit.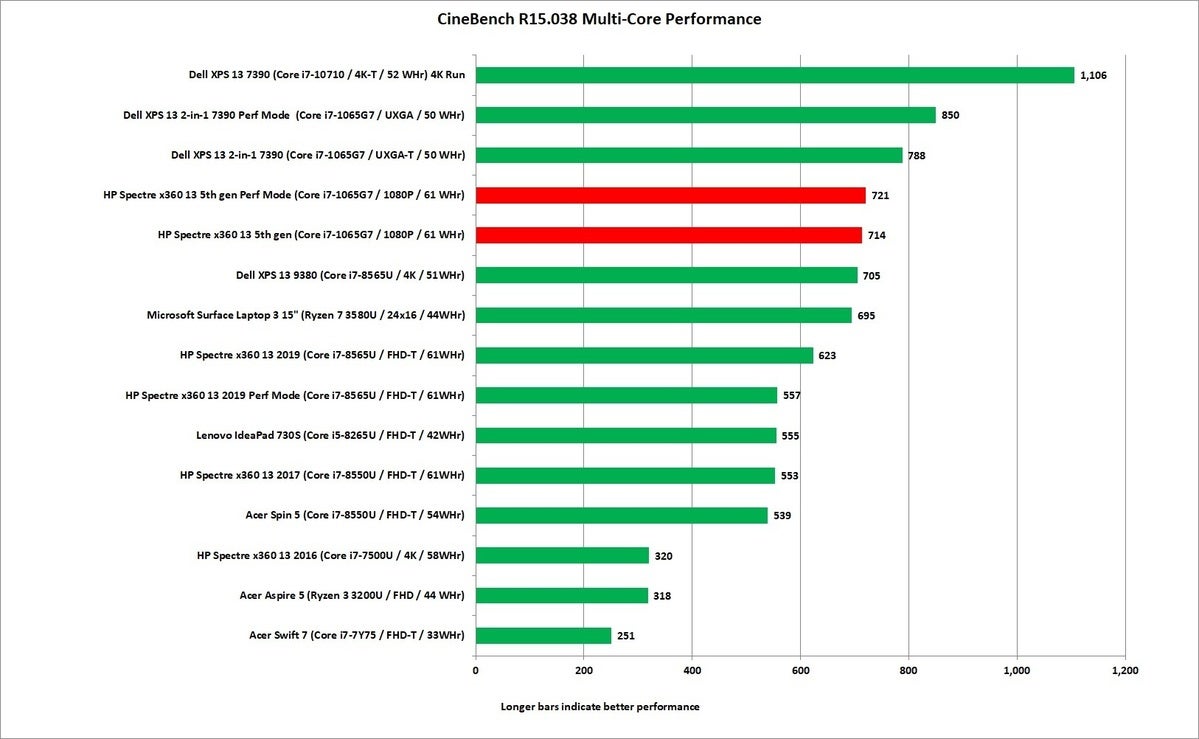 One thing we'll give Intel is that the vast majority of applications people use are single-threaded, and thus can use only one CPU core at a time. That's why we also run Cinebench R15 using a single thread. In fact, it may be the more important score for most people, who lagrely stick to mainstream productivity tasks.
The result tells us that for a typical person, the performance difference between most laptops probably isn't noticeable. Perhaps the low-power Acer Swift 7 and its 7th-gen Core i7-7Y75 might be noticeable, but likely tolerable.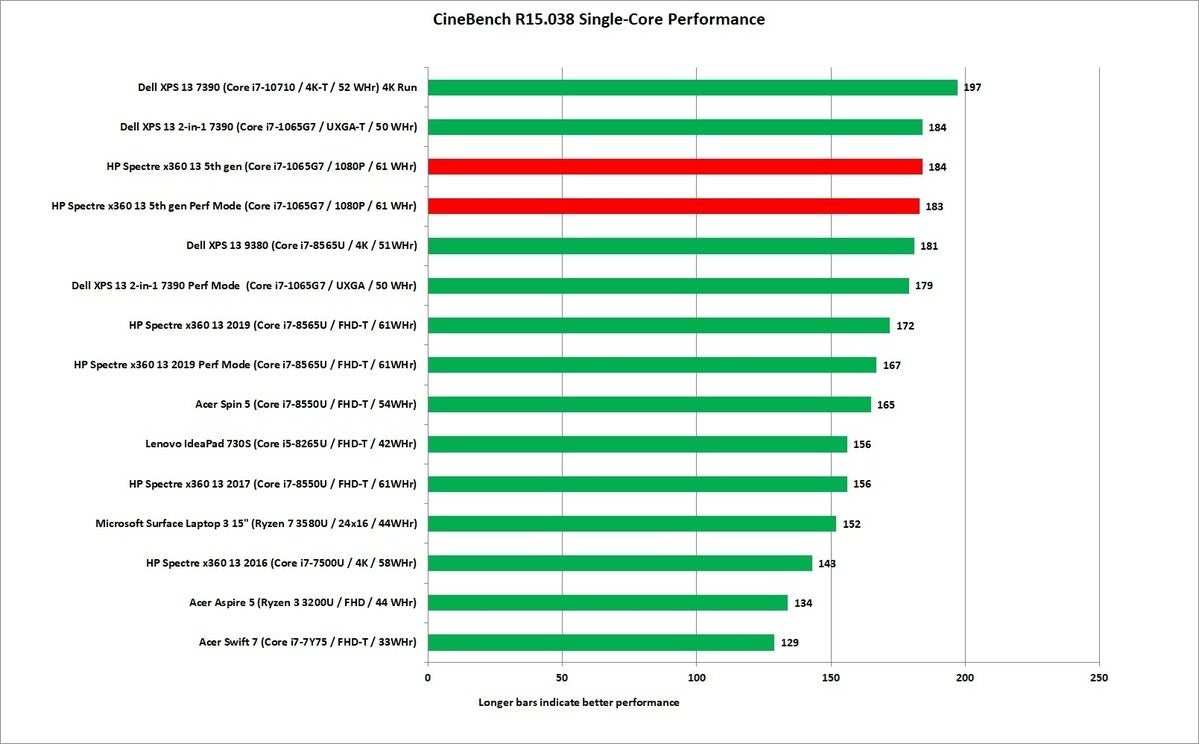 You can see this fairly even CPU performance in PCMark 8 as well. The benchmark uses custom-built applications to simulate mundane tasks such as typing, video conferencing, and browsing. All the laptops shown here exceed the 2,000-point threshold for solid performance on this test. Still, if we're going to pick a winner, both the Dell 2-in-1 and HP 2-in-1 10th-gen CPUs top the list. The 6-core Core i7 Dell XPS 13 ranks far lower, but that's due to its 4K-resolution screen and how PCMark 8 reacts to the high-dpi panels with integrated graphics.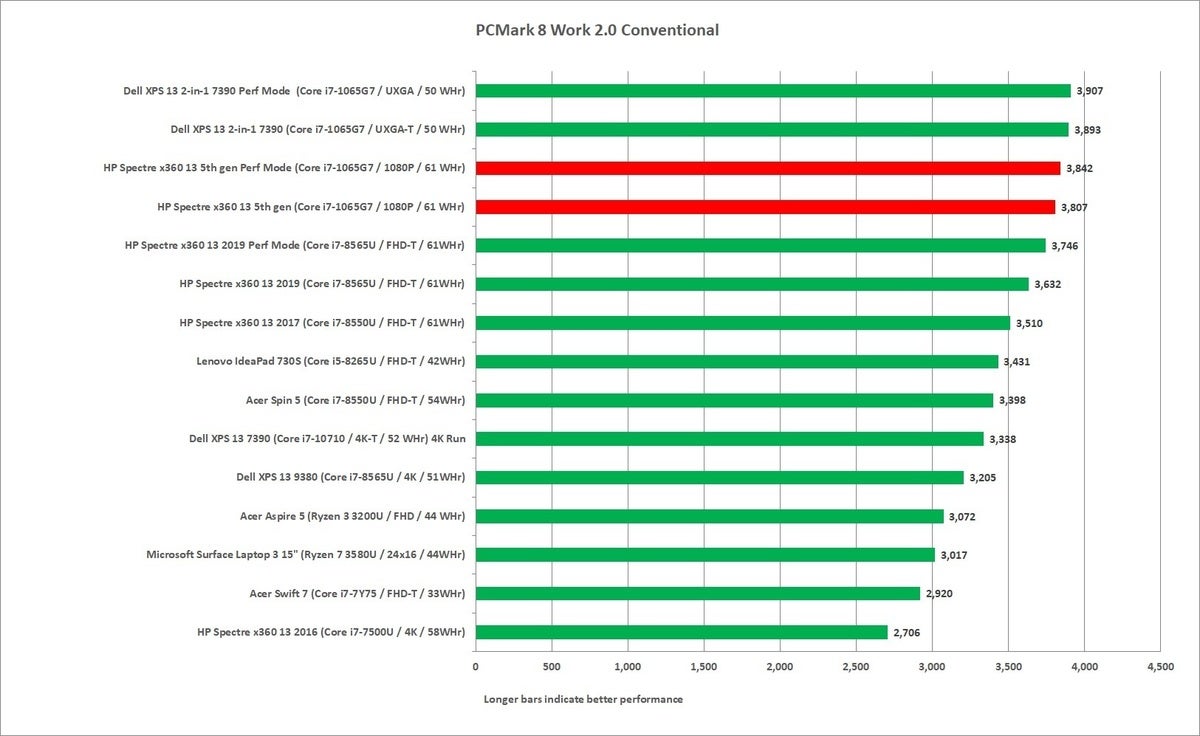 While the last two tests tell us that that most laptops are fine, our CPU stress test requires laptops to bring their A-game. Using the free HandBrake encoder, we convert a 30-minute 1080p video using the Android Tablet Preset. The encoder is multi-threaded, so the more CPU cores you have, the better the performance. The test also takes more than an hour to complete on most ultra-portable laptops, heavily stressing their cooling capabilities.
For the HP, we first ran the test with the laptop set to its default. The result looks dismal, as the Spectre x360 13t's 10th-gen CPU performed more in line with the first 8th-gen Kaby Lake-R CPUs. But that's intentional: The Spectre x360 13t prioritizes acoustics and skin temperature in default settings, as HP believes most consumers would rather take a speed hit than listen to the whine of the fans. Unless you actually do long video encodes, you won't feel the loss.
However, we did re-run the test with the Spectre x360 13t set to Performance Mode to see what we were missing. On default, it'll basically run the chip at 18 watts, but it notches up to 28 watts for Performance Mode. We saw a significant boost in results: The Spectre x360 13t easily outran the Dell XPS 13 2-in-1 and lost only to the clamshell XPS 13 7390, with its six-core Core i7-10710U chip.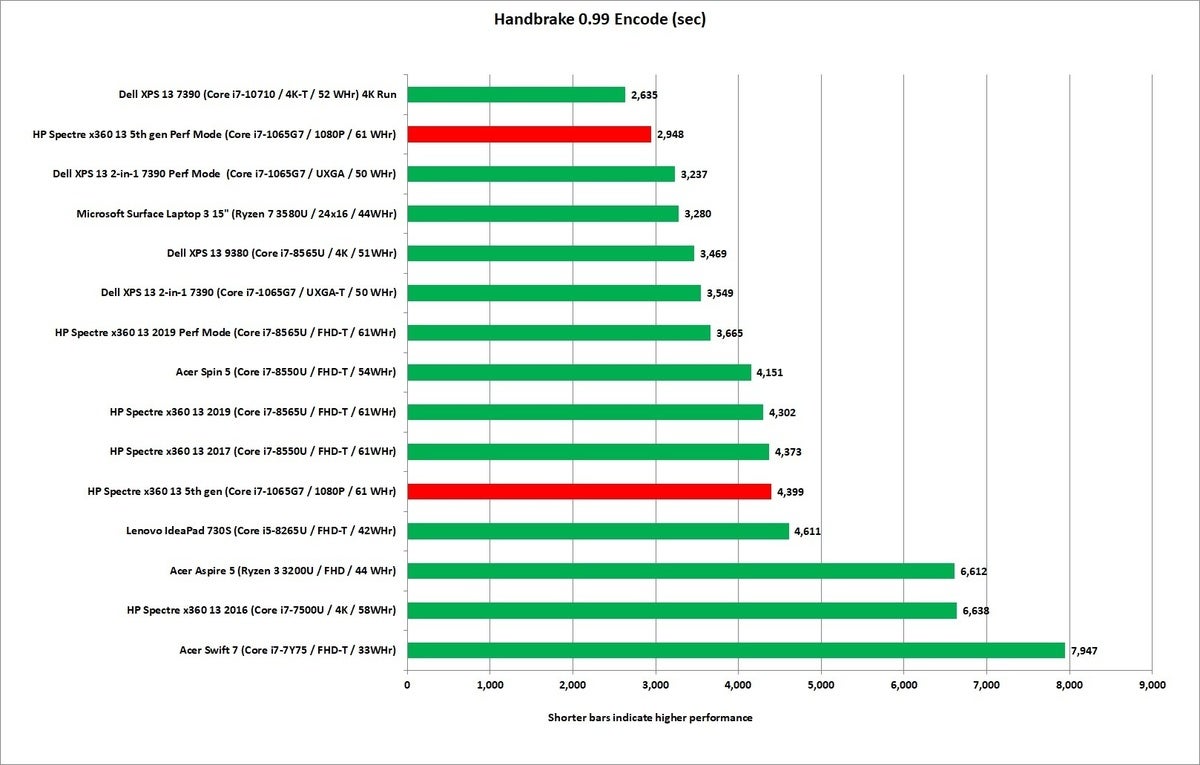 Graphics performance
To look at the graphics performance of the Spectre x360 13t, we tap 3DMark's Sky Diver test. Although the Dell outpaces it a step, the HP's graphics performance is actually fairly decent for this size of laptop, thanks to the improved Iris Plus graphics inside the Core i7-1065G7.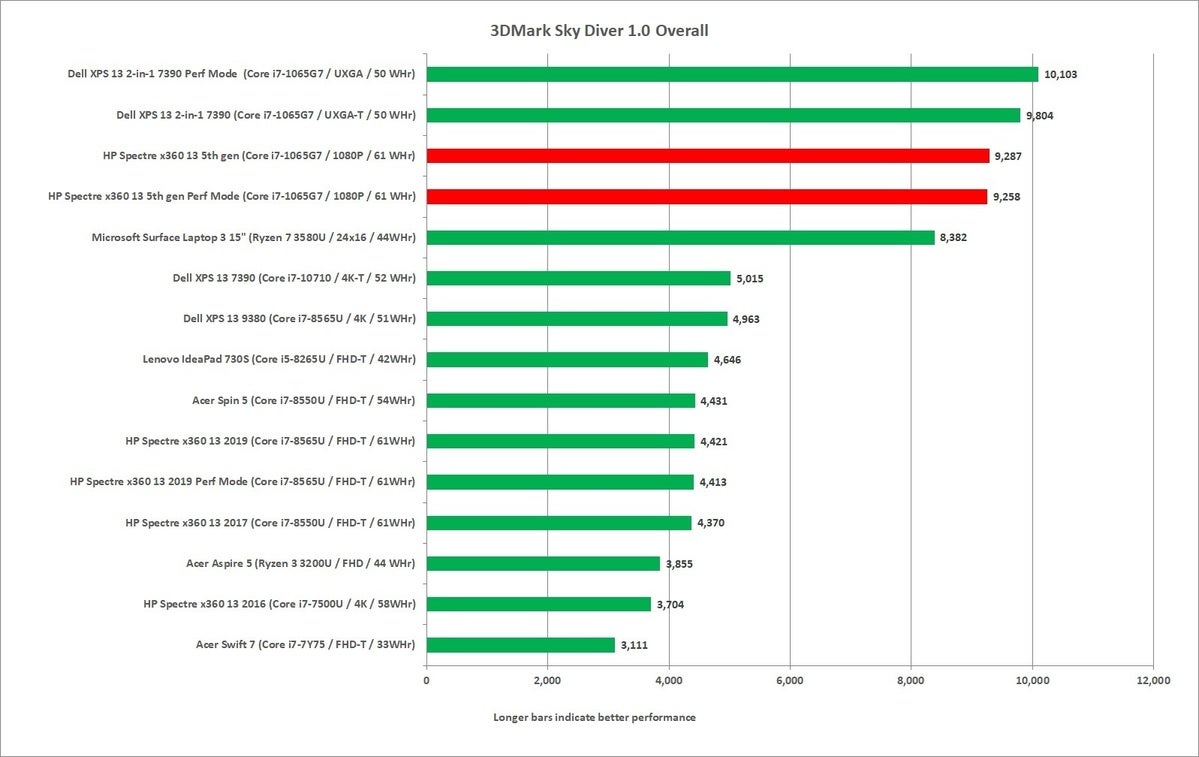 HP Spectre x360 13t battery life
This last test is perhaps the most important one in a laptop: battery life. HP doesn't mess around here, packing in a fairly large 61-watt-hour battery. The Dell XPS 13 2-in-1, by comparison, has a 50-watt-hour battery. HP also takes advantage of Intel's low power display technology which can reduce the power consumption of the laptop screen to 1 watt under many scenarios.
For our battery rundown test, we loop a 4K-resolution video with the laptop in airplane mode, with earbuds connected and the screen set to an relatively bright 250 to 260 nits. The Spectre x360 13t turned in nearly 16 hours of runtime. The only laptop to surpass it is the previous 4th-gen Spectre x360 13t, which also features a 1-watt display.
Remember: your mileage in battery life varies depending on the use. As video performance is so heavily optimized these days, it's one of the easier chores. You can probably expect to chop a third off the battery life if you're going to browse all day, but all-day runtime shouldn't be an issue.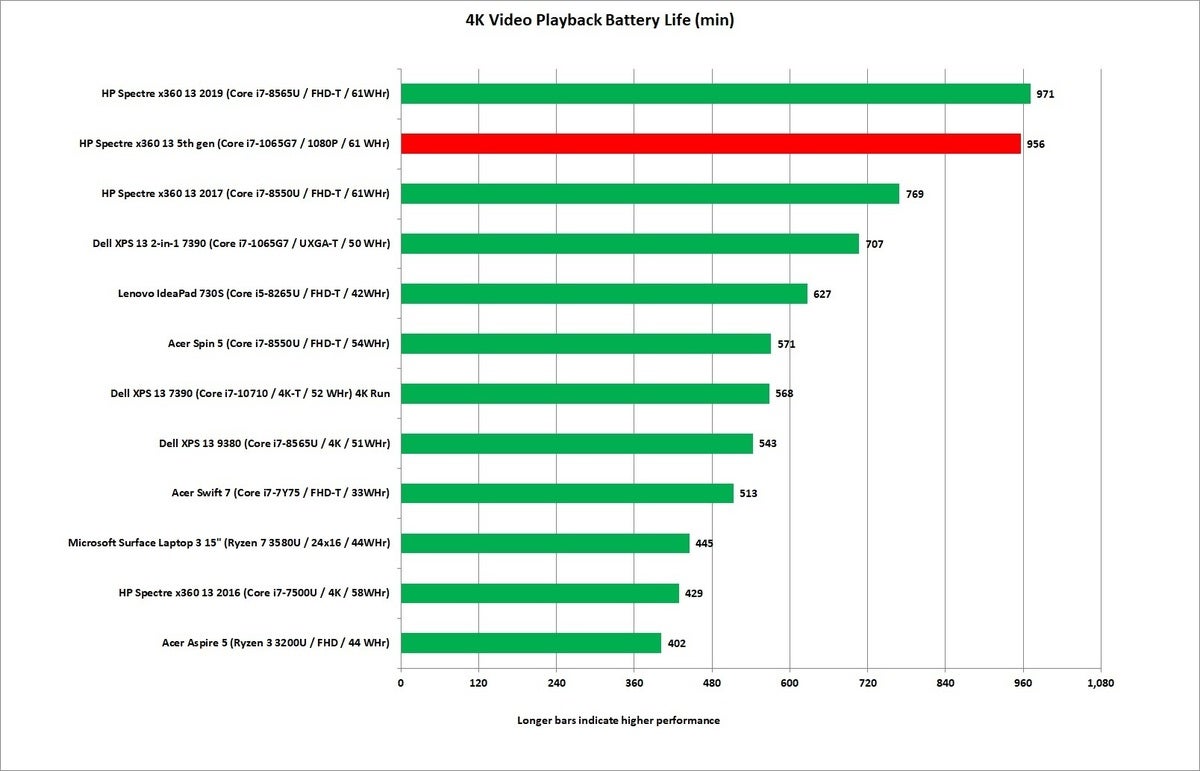 Conclusion
For years, consumers have watched as PC makers have taken away feature after feature in the interest of shrinking laptops. We hope that line stops here, because HP just proved that you can make a tiny, powerful, long-lasting and feature-packed laptop without yanking every single thing people love. Losing any of those features isn't always a deal-breaker, but if we have a choice between that and the HP Spectre x360 13t, a laptop with good keyboard travel, an IR camera, larger battery, USB Type-A, and upgradable SSD, we'll reach for the latter 9 out of 10 times.
Best Prices Today: HP Spectre x360 13t