At a Glance
Expert's Rating
Pros
Excellent gaming performance
Stunningly gorgeous design
Dual-BIOS switch
Idle fan stop feature for silent desktop use
PCIe 4.0 compatible
Supremely cool and very quiet
Cons
Very high power consumption
Long, thick card won't fit in some cases
No real-time ray tracing capabilities
Our Verdict
The refined triple-fan XFX Radeon RX 5700 XT Thicc III Ultra pushes the pedal to the metal while fixing the cooling flaws of its predecessor. This muscle car roars, but you'll barely hear it.
The XFX Radeon RX 5700 XT Thicc III Ultra takes the delicious muscle car-evoking design of its namesake and tunes it into something even more kick-ass.
We enjoyed the original XFX Radeon RX 5700 XT Thicc II Ultra, which only launched in September. But while XFX's throwback Double Dissipation aesthetic was alluring, the graphics card wasn't perfect. "It's high-performing, a little loud, extremely impressive, and in need of some slight tinkering for peak performance," we said, continuing the hot-rod theme this hardware begs for. Fan control bugs common to third-party Radeon RX 5700 models dragged it down, requiring a BIOS update out of the box, and the fans roared to tame the card's power-pushing clock speeds.
The new XFX Radeon RX 5700 XT Thicc III Ultra does the tinkering for you. It swaps out the dual 100mm chrome fans of the original with two 90mm and one 100mm fan, and bolsters the cooling design under the shroud to fix heating concerns of the original. Then XFX cranked up the power draw even more to push clocks even higher. The end result? A still-gorgeous, high-performing, quietly purring muscle car of a graphics card that fixes the flaws of its predecessor for the same $440 price tag.
Zoom zoom.
XFX Radeon RX 5700 XT Thicc III Ultra: Specs and features
AMD's new Navi GPU is a known quantity at this point, so we won't cover its features in extensive detail yet again. Check out our Radeon RX 5700 series review if you want a deeper dive. Here's a look at the GPU's baseline specifications, alongside the non-XT Radeon RX 5700 and last generation's Vega chips.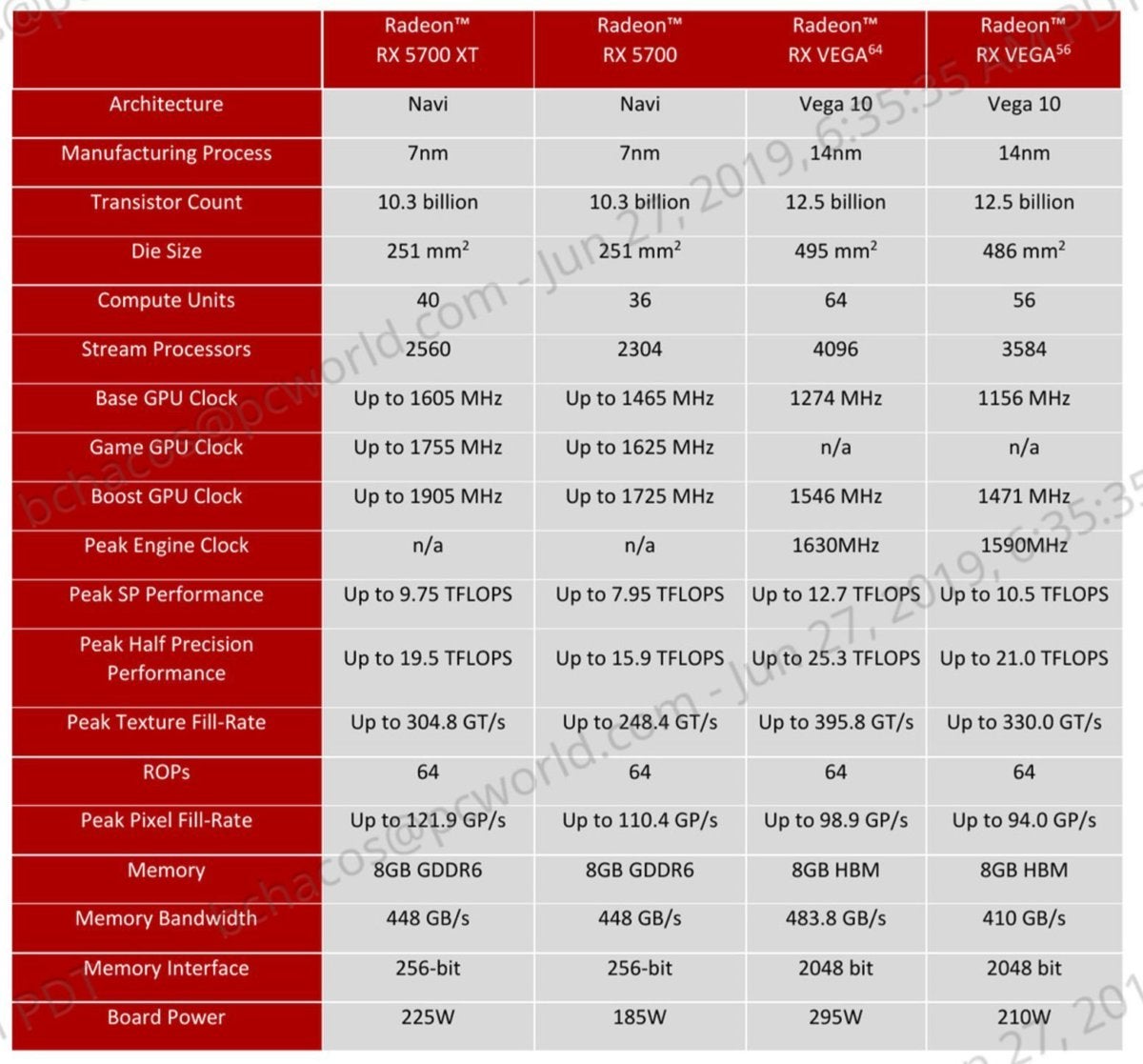 XFX builds upon the base. The original Thicc II Ultra was the fastest Radeon RX 5700 XT we've tested thanks to the 1,870MHz Game Clock on its default Performance BIOS—well above the reference 1,755MHz. The Thicc III Ultra pushes the pedal to the metal even harder, hitting a blistering 1,935MHz Game Clock in Performance mode, with a base clock of 1,810MHz. It's the new Radeon RX 5700 XT performance champion, though as you'll see in our benchmarks, the frame rate difference won't be perceptible to the naked eye. The 8GB of GDDR6 memory sticks to stock (yet face-melting) speeds.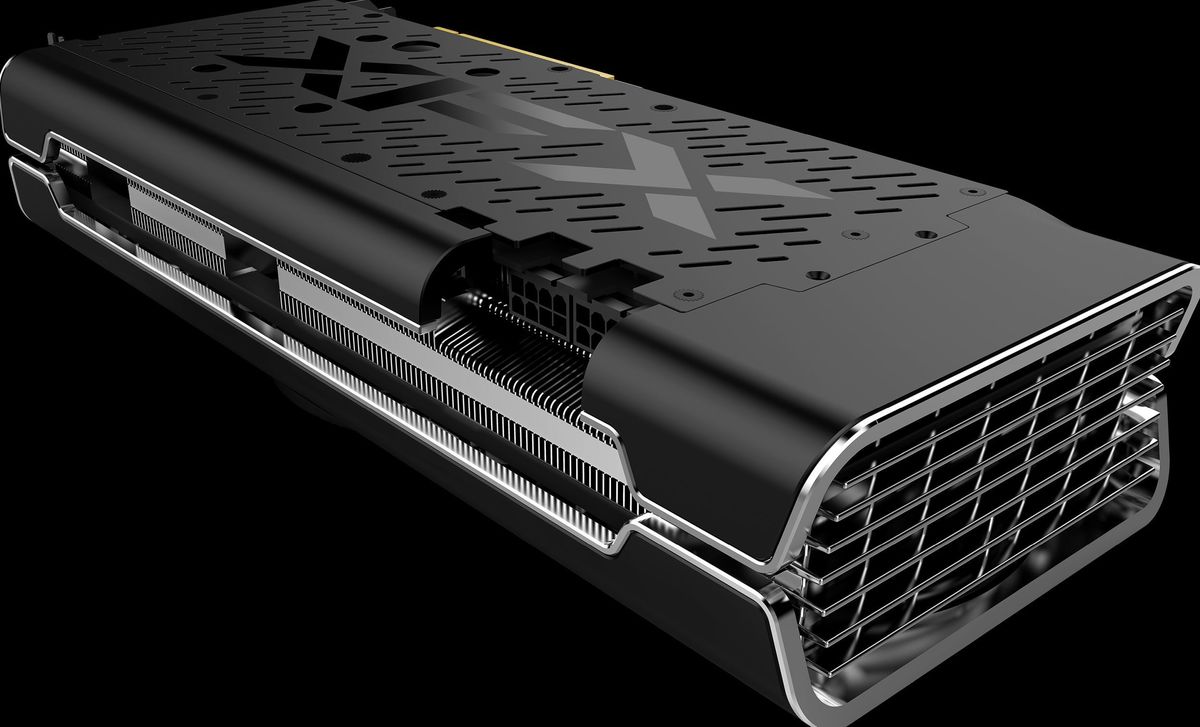 More power demands, well, more power, and this new iteration requires a pair of 8-pin power connectors rather than 6-pin and 8-pin connections. The XFX Radeon RX 5700 XT Thicc III Ultra's Performance BIOS is rated for 230 watts, 20W more than the previous model and a fair bit more than the competition, while a secondary Quiet BIOS—accessible via a physical switch on the board—drops that to 195W for people more interested in power efficiency.
I have no idea who wants better power efficiency from a huge, maxed-out graphics card like the Thicc III Ultra, but more options are always welcome, and people who like to tinker (a more likely audience for this) will appreciate the extra BIOS option in case overclocking endeavors go awry.
More power also demands more heavy metal to keep things from getting hot and loud. The Thicc III Ultra is just as Thicc as its triple-slot cousin while measuring nearly an inch longer. "Thicc" indeed. Even that ample size wasn't enough to fully tame Navi's power in the original Thicc II, but XFX's "Ghost" thermal design received some much-needed refinements in the Thicc III Ultra.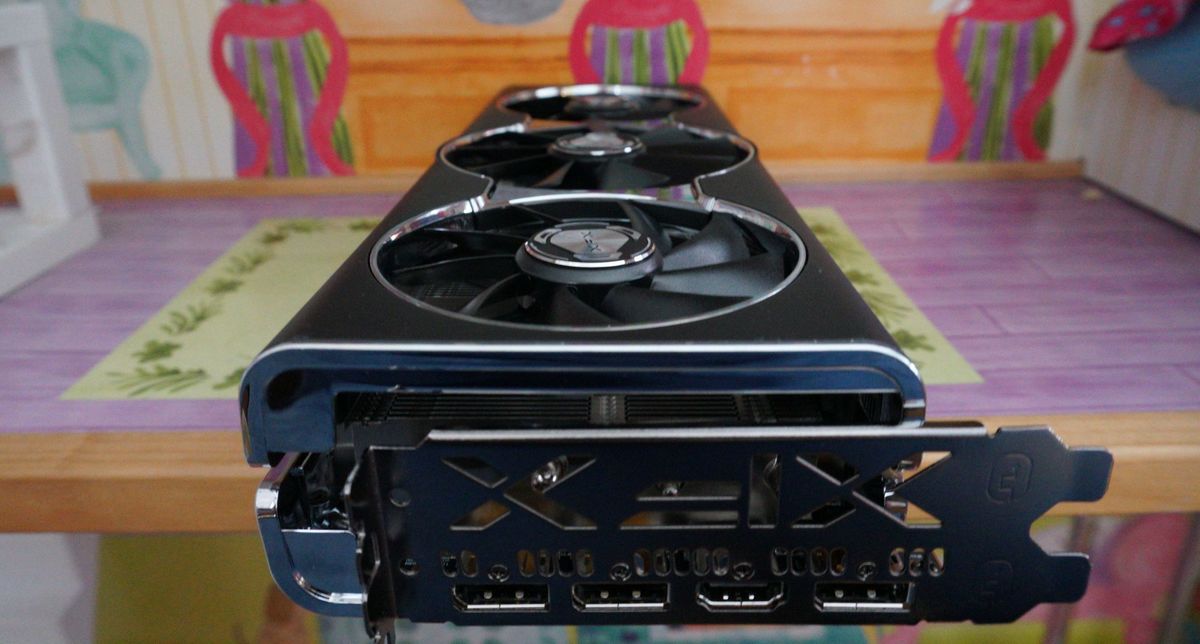 As mentioned before, the dual 100mm fans of the original have been replaced by a pair of 90mm fans, with a third 100mm set of blades plopped between them for extra airflow. More fans mean they can turn slower, too, which helps alleviate the noise concerns we had with the Thicc II. Where XFX claimed a 35-percent noise reduction compared to the reference Radeon RX 5700 XT with the Thicc II, the newer Thicc III boasts a 50-percent improvement, according to marketing materials. The Thicc III Ultra also includes zero DB fan technology, which stops the fans from moving until the GPU comes under heavy load. Idle fans create a silent experience when you're slinging spreadsheets on the desktop instead of bullets in a game.
XFX additionally lengthened the heatsink—hence the extra size of the card—and gave the GDDR6 modules a copper cooling plate to respond to concerns about memory heat with the original Thicc II design. Added together, the cooling tweaks provide a substantial quality of life improvement. Now that Navi's early teething problems with fan control have ironed out, everything works as expected out of the box, too. Phew.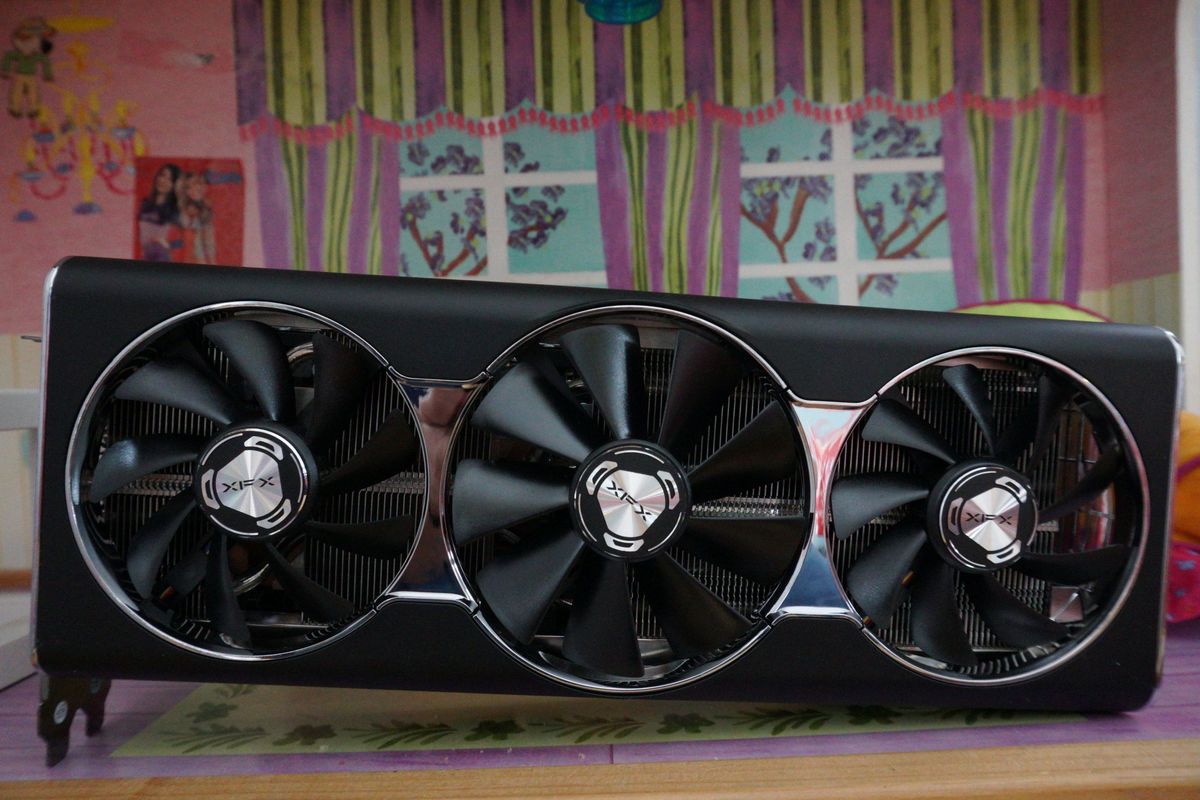 The XFX Radeon RX 5700 XT Thicc III Ultra remains drop-dead gorgeous. It's right up there with the Galax GeForce RTX 2070 Super WTF as my favorite graphics card design in recent memory, albeit in polar opposite fashion. Here's how I described the Thicc II, and it remains just as applicable for the Thicc III:
"Taste is subjective, but I was always an admirer of the original Double Dissipation design, and the XFX Radeon RX 5700 XT Thicc II Ultra is one of the most beautiful graphics cards I've ever laid eyes on. The card's rocking an ultra-clean, ultra-solid-looking black vibe with chrome accents, going so far as to outfit the end of the card with a chrome grille that enhances the roadster look.

The black plastic shroud wraps the edge of the card, providing a glimpse at the aluminum heatsink underneath, while a metal backplate with the XFX logo on the top of the card completes the stark, sturdy look. You won't find any RGB lighting on this graphics card."
I love the design of the XFX Radeon RX 5700 XT Thicc III Ultra, full stop. But muscle cars aren't all about looks. Performance matters. Let's go.
Our test system
Our dedicated graphics card test system is packed with some of the fastest complementary components available to put any potential performance bottlenecks squarely on the GPU. Most of the hardware was provided by the manufacturers, but we purchased the cooler and storage ourselves.
Mentioned in this article
Nitro+ Radeon RX 5700 XT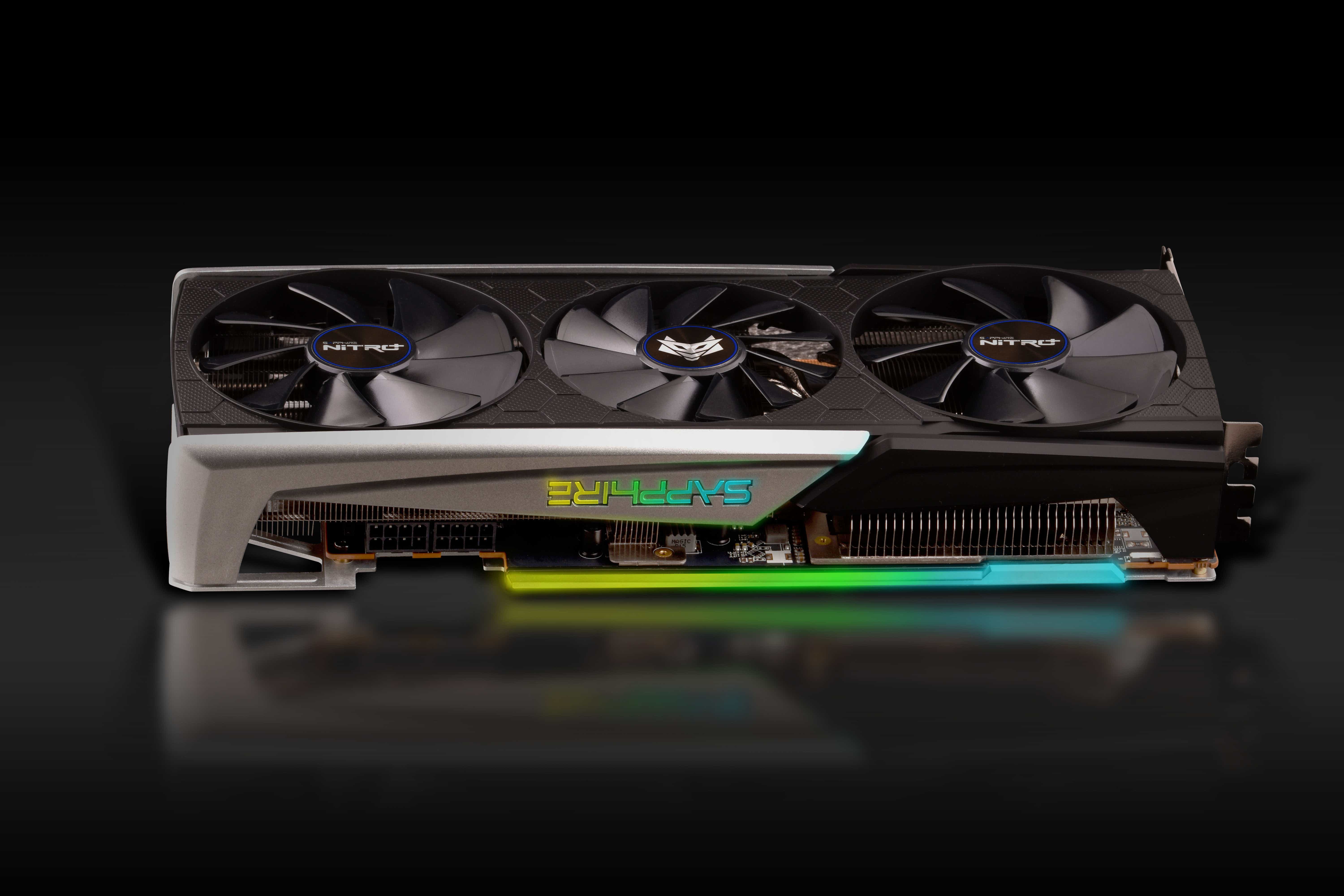 We're comparing the $440 XFX Radeon RX 5700 XT Thicc III Ultra against the Thicc II Ultra, obviously, which launched at the same price. We're also including Sapphire's excellent $450 Nitro+ Radeon RX 5700 XT, as well as the reference $400 Radeon RX 5700 XT. Rounding things out, we've tossed in results for the step-down $350 Radeon RX 5700 reference edition, and Nvidia's $400 GeForce RTX 2060 Super $500 GeForce RTX 2070 Super Founders Editions, the Radeon RX 5700 XT's nearest competition.
Be sure to read our guide to the best graphics cards for PC gaming for a more holistic look at the GPU landscape.
Each game is tested using its in-game benchmark at the highest possible graphics presets, with VSync, frame rate caps, and all GPU vendor-specific technologies—like AMD TressFX, Nvidia GameWorks options, and FreeSync/G-Sync—disabled, and temporal anti-aliasing (TAA) enabled to push these cards to their limits. If anything differs from that, we'll mention it. We run each benchmark at least three times and list the average result for each test.
We tested the XFX Radeon RX 5700 XT Thicc III Ultra using its default Performance BIOS, clocked at 1,935MHz, rather than its secondary Quiet BIOS that increases efficiency and lowers fan speeds at the cost of performance.
Because all of these GPUs are known quantities at this point, we're going to let the benchmark results speak for themselves and save commentary for our conclusion. Our power and thermal section will include analysis, however.
Gaming performance benchmarks
Division 2
The Division 2 is one of the best looter-shooters ever created. The luscious visuals generated by Ubisoft's Snowdrop engine make it even easier to get lost in post-apocalyptic Washington, D.C. The built-in benchmark cycles through four "zones" to test an array of environments. We test with the DirectX 12 renderer enabled. It provides better performance across-the-board than the DX11 renderer but requires Windows 10.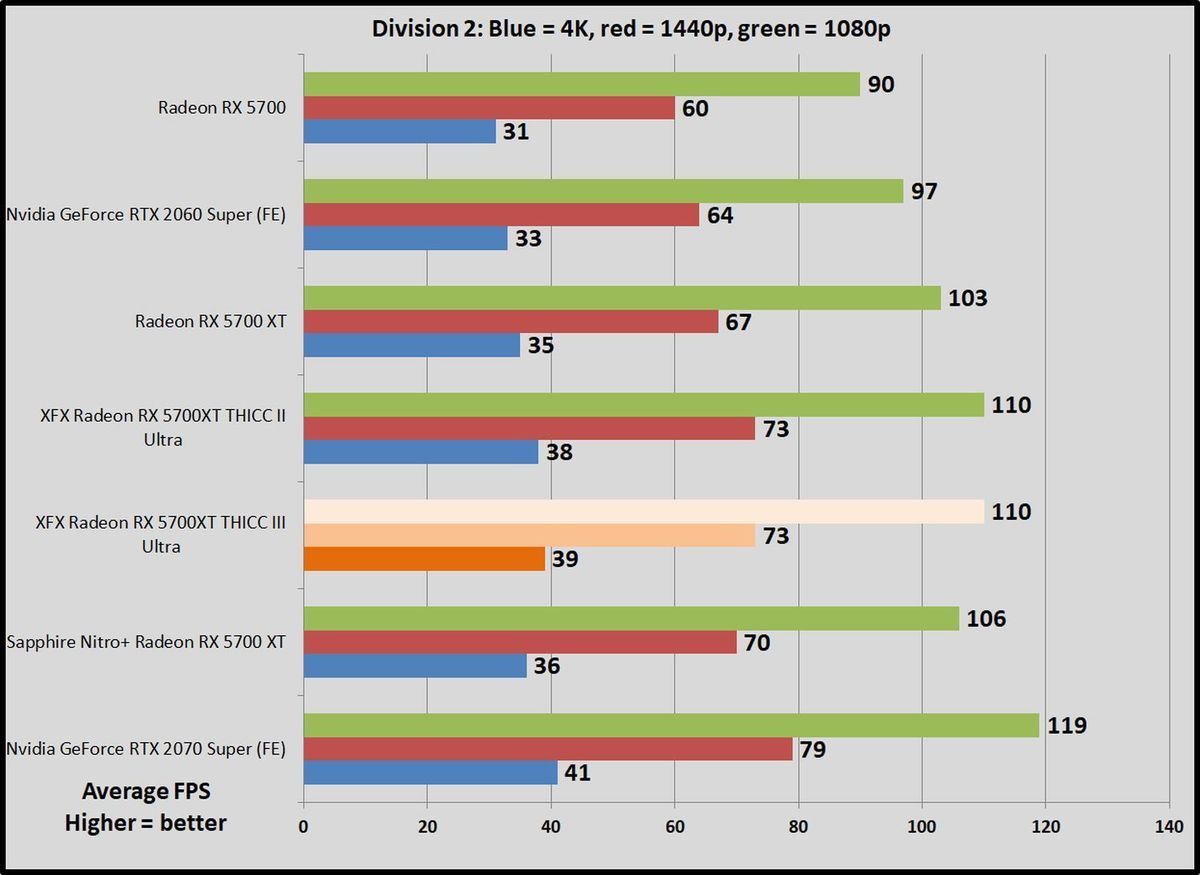 Far Cry: New Dawn
Another Ubisoft title, Far Cry: New Dawn drags Far Cry 5's wonderful gameplay into a post-apocalyptic future of its own, though this vision is a lot more bombastic—and pink—than The Division 2's bleak setting. The game runs on the latest version of the long-running Dunia engine, and it's slightly more strenuous than Far Cry 5's built-in benchmark.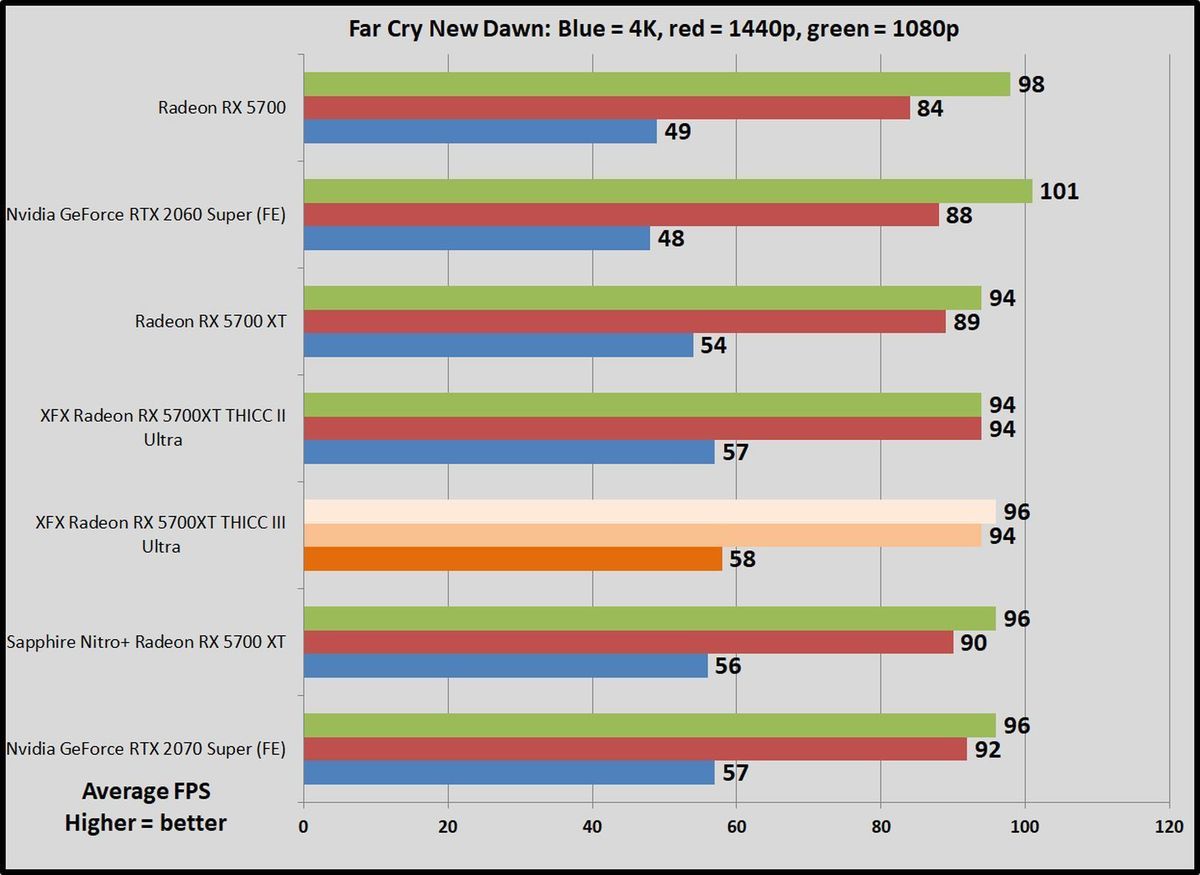 Strange Brigade
Strange Brigade ($50 on Humble) is a cooperative third-person shooter, where a team of adventurers blasts through hordes of mythological enemies. It's a technological showcase, built around the next-gen Vulkan and DirectX 12 technologies and infused with features like HDR support and the ability to toggle asynchronous compute on and off. It uses Rebellion's custom Azure engine. We test the DX12 renderer with async compute off.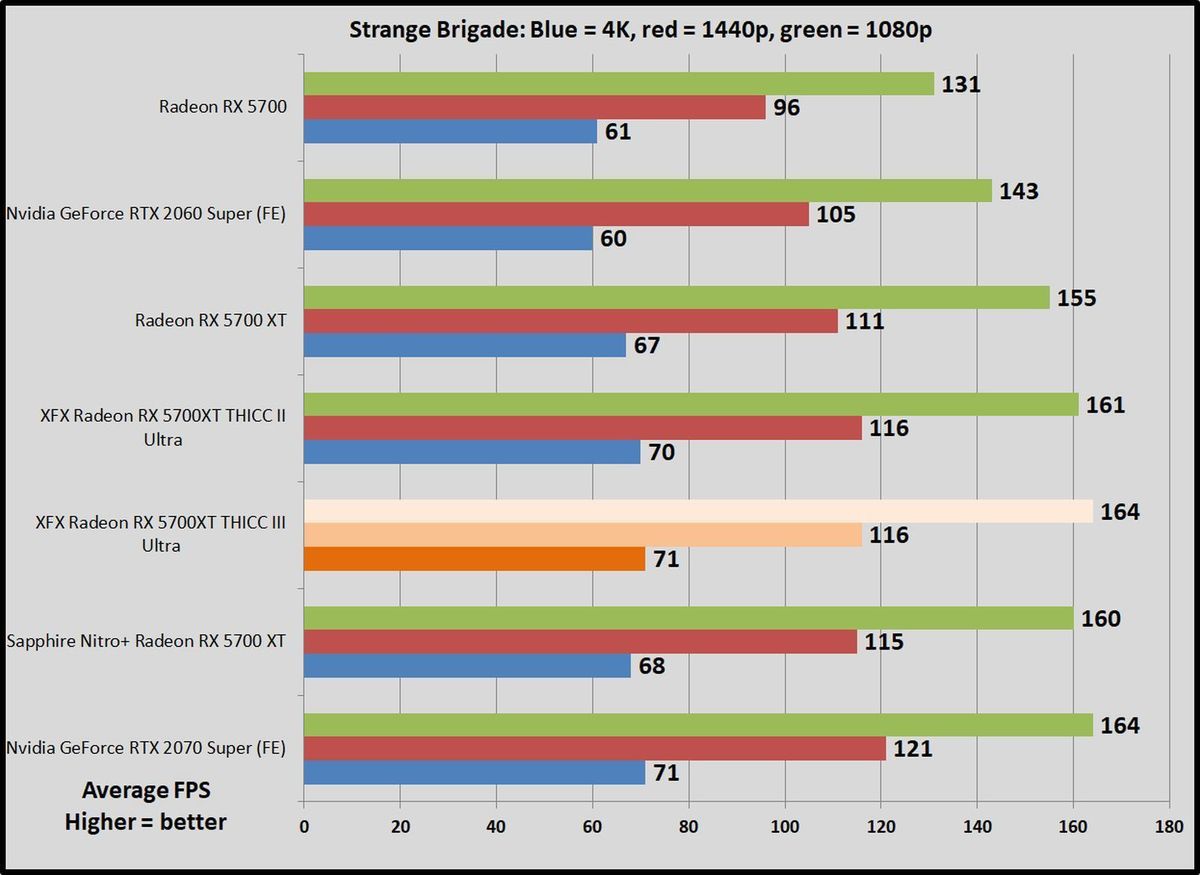 Shadow of the Tomb Raider
Shadow of the Tomb Raider ($60 on Humble) concludes the reboot trilogy, and it's utterly gorgeous. Square Enix optimized this game for DX12, and recommends DX11 only if you're using older hardware or Windows 7, so we test with DX12. Shadow of the Tomb Raider uses an enhanced version of the Foundation engine that also powered Rise of the Tomb Raider.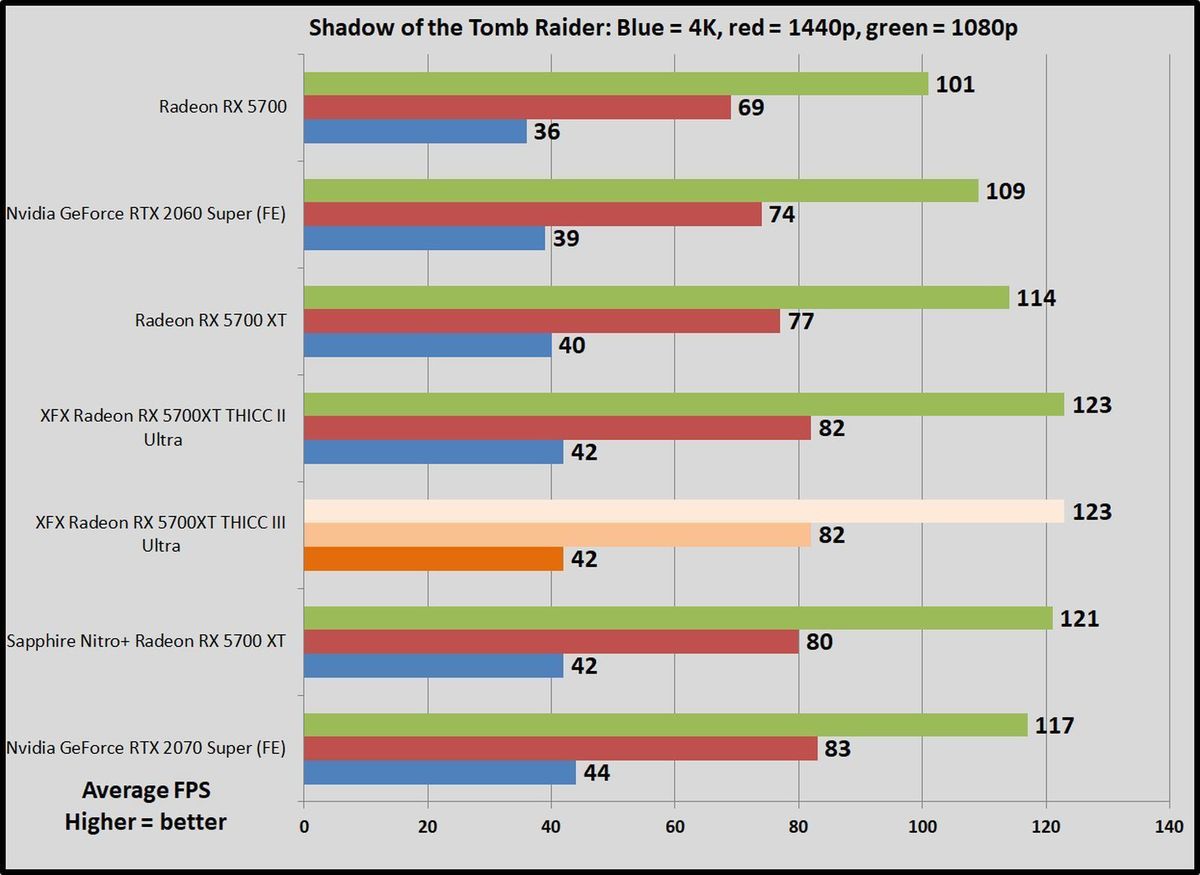 Ghost Recon Wildlands
Move over, Crysis. If you crank all the graphics options up to 11, like we do for these tests, Ghost Recon Wildlands ($50 on Humble) and its AnvilNext 2.0 engine absolutely melt GPUs, even with a sequel due later this year. It's by far the most strenuous game in our suite, even with newer stunners like Division 2 in the mix. Sequel Ghost Recon Breakpoint recently launched but has been receiving frequent tweaks, so we haven't swapped over to it for our testing yet.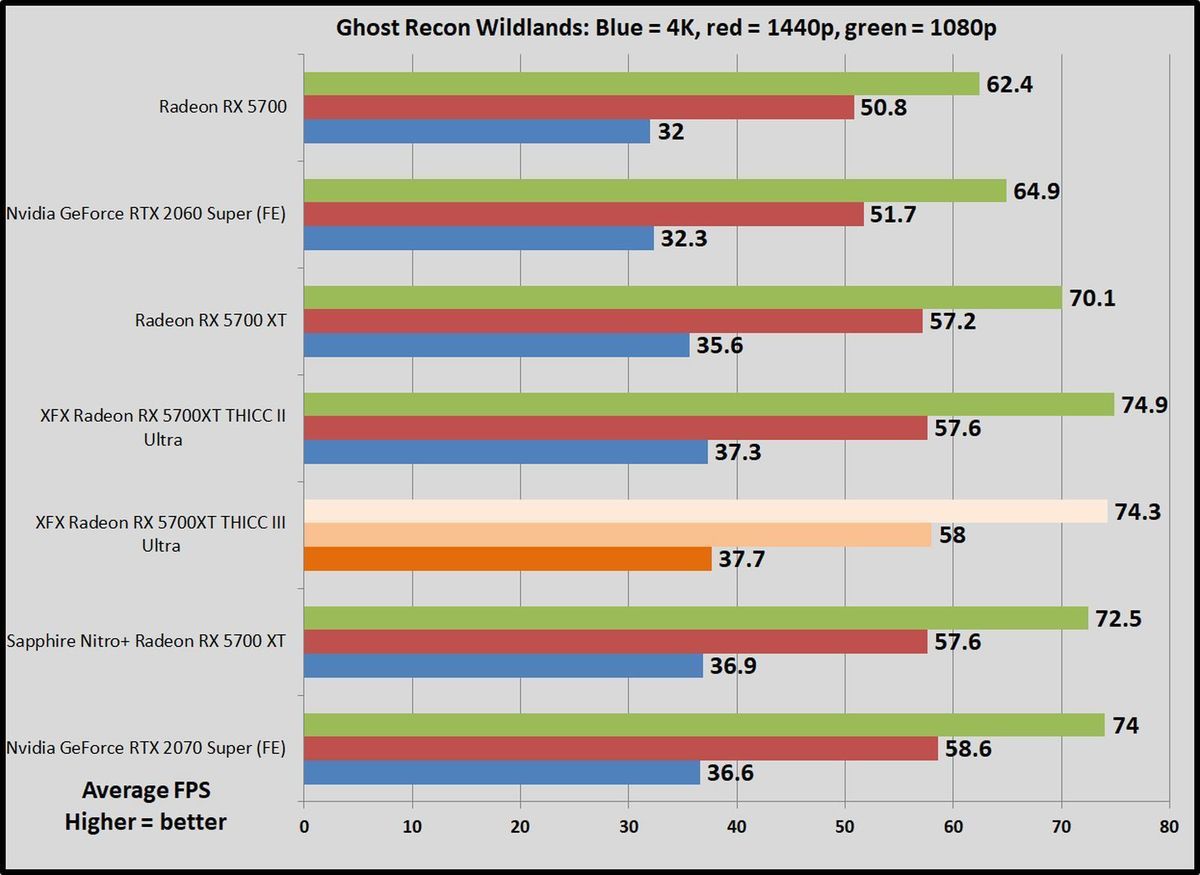 F1 2018
The latest in a long line of successful games, F1 2018 ($60 on Humble) is a gem to test, supplying a wide array of both graphical and benchmarking options—making it a much more reliable (and fun) option that the Forza series. It's built on the fourth version of Codemasters' buttery-smooth Ego game engine. We test two laps on the Australia course, with clear skies.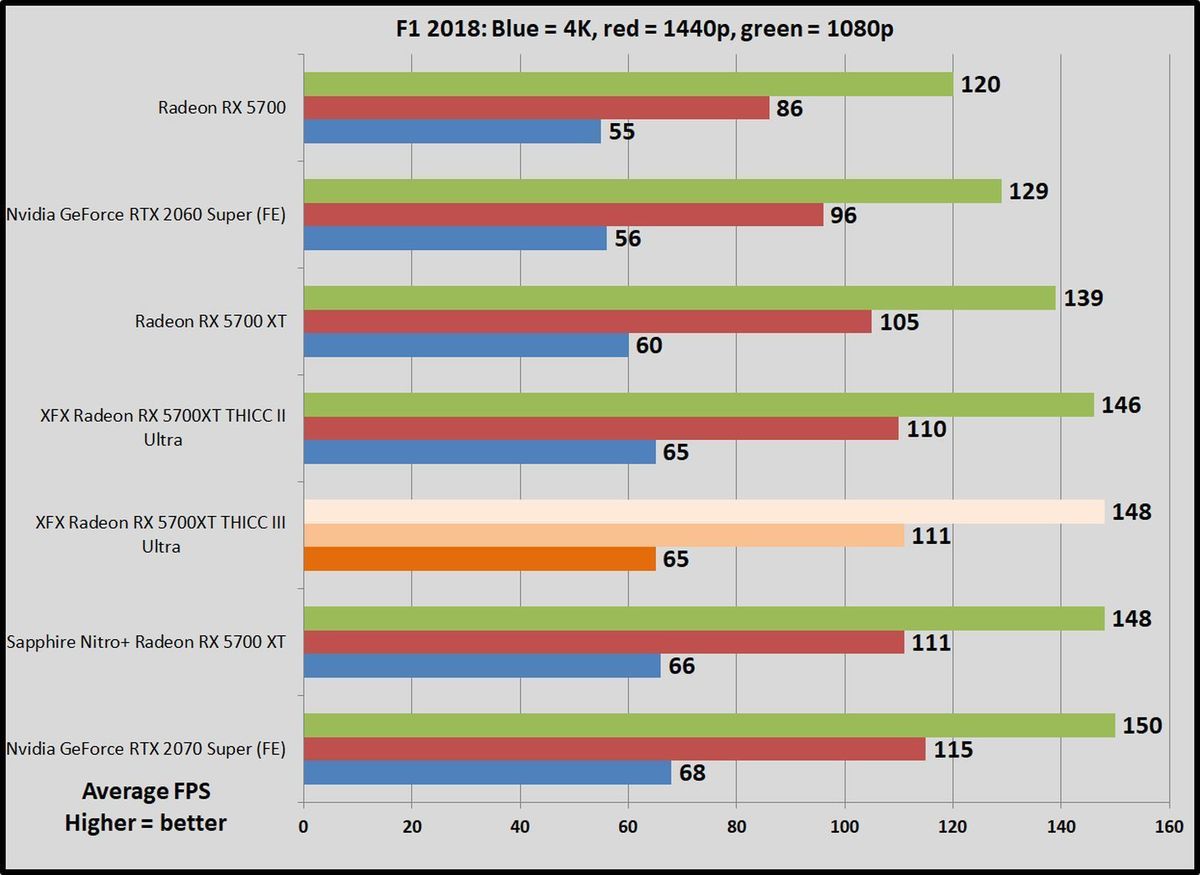 GTA V
We're going to wrap things up with a game that isn't really a visual barn-burner, but still tops the Steam charts day in and day out. We test Grand Theft Auto V ($30 on Humble) with all options turned to Very High, all Advanced Graphics options except extended shadows enabled, and FXAA. GTA V runs on the RAGE engine and has received substantial updates since its initial launch.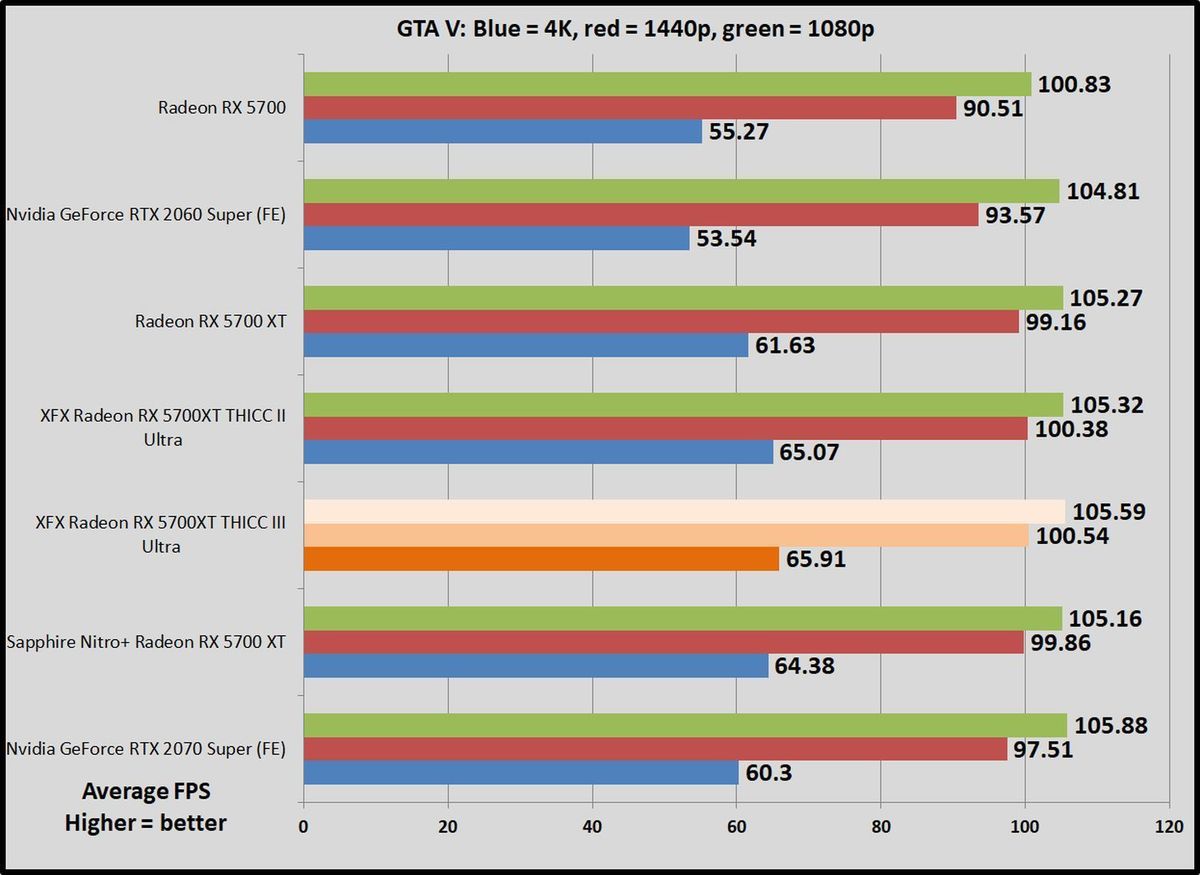 Power draw, thermals, and noise
We test power draw by looping the F1 2018 benchmark for about 20 minutes after we've benchmarked everything else and noting the highest reading on our Watts Up Pro meter. The initial part of the race, where all competing cars are onscreen simultaneously, tends to be the most demanding portion.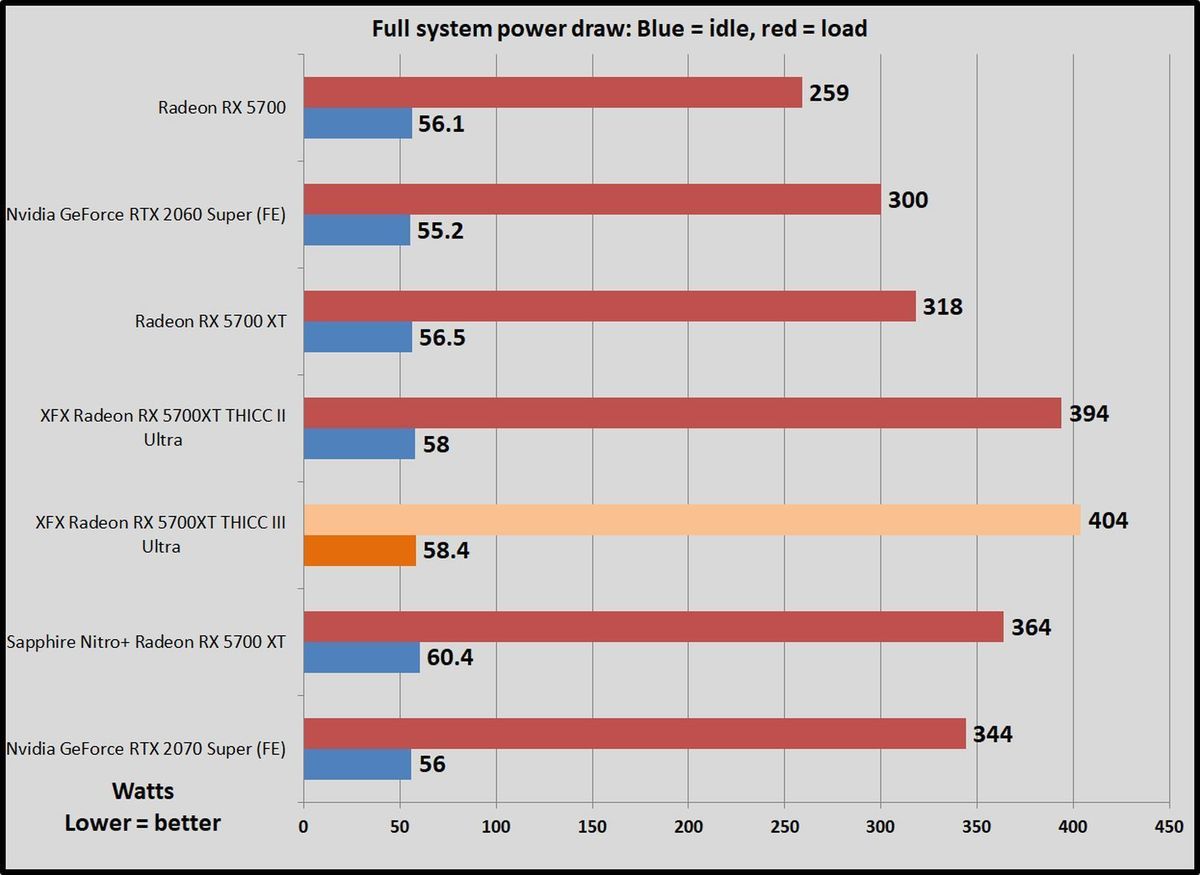 The original Thicc II pushed AMD's Navi GPU hard with a hefty overclock, and the XFX Radeon RX 5700 XT Thicc III Ultra drives even harder. The lofty 1,935MHz overclock requires a similarly lofty power draw. As a result, the Thicc III joins only the monstrous GeForce RTX 2080 Ti and last generation's notoriously inefficient Radeon Vega 64 (neither pictured in the graph above) as the only graphics cards to push our benchmarking machine's whole-system power draw past 400 watts in this testing configuration.
Forget about efficiency. This muscle car's engine goes full-power, more V8 than hybrid—though again, the Quiet BIOS dials things back to much more reasonable levels if it's a concern for you. (It shouldn't be if you're buying a graphics card like this.)
The real question is how the cooler design handles all that power and the heat this beastly overclock throws off. The answer? Exceptionally well. We test thermals by leaving either AMD's Wattman (for Radeon GPUs) or EVGA's Precision X1 (for GeForce GPUs) open during the F1 2018 five-lap power draw test, noting the highest maximum temperature at the end.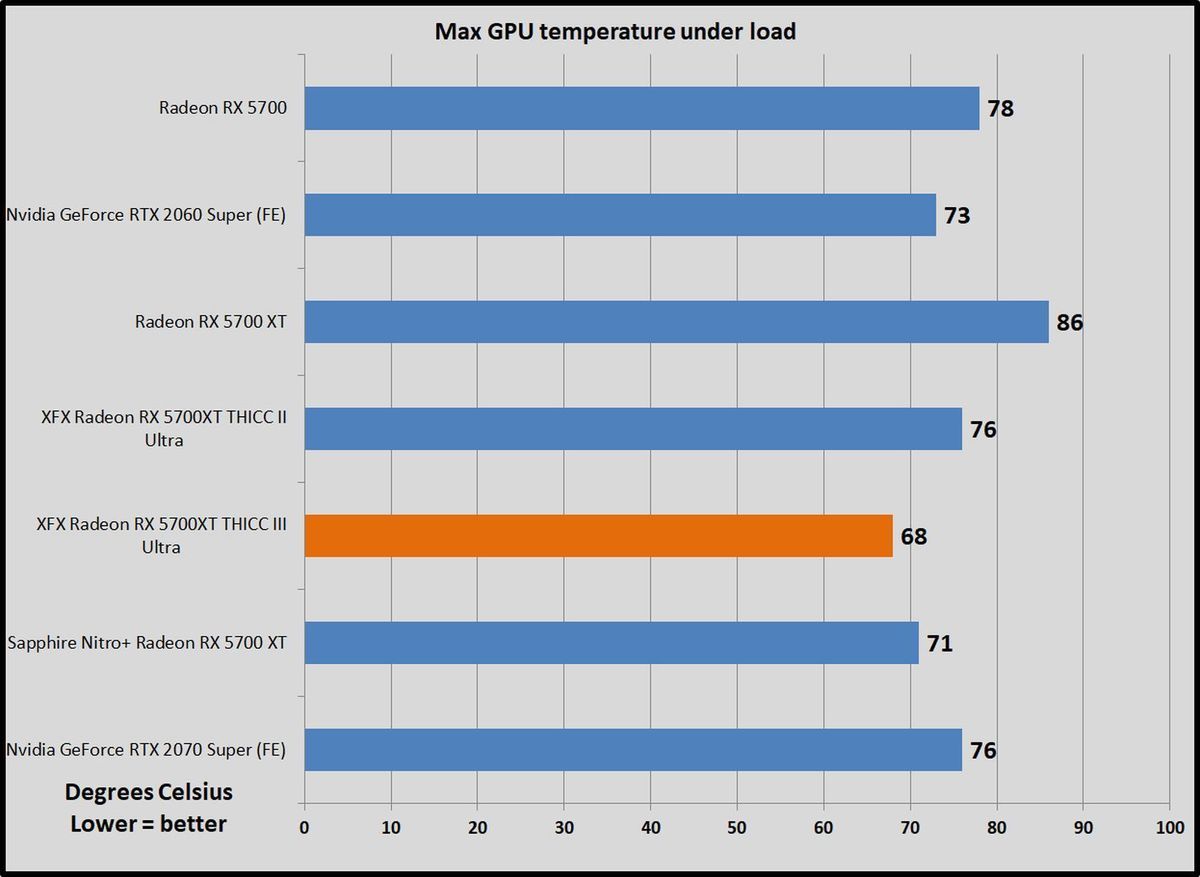 Look at that. Temperatures never top 70 degrees Celsius in our test. At 68 degrees, the XFX Radeon RX 5700 XT Thicc III Ultra is one of the coolest high-end graphics cards we've tested—a full 8 degrees cooler than the Thicc II, even with a much more aggressive overclock. Better yet, the card is very quiet, delivering subjective noise levels on a par with the best thermal solutions around. As you'd expect, the Quiet BIOS makes the graphics card hard to hear even under full load.
It's safe to say that the original Thicc II's rocky thermal performance is a thing of the past. XFX responded to those concerns with a flat-out outstanding cooler design for the Thicc III Ultra.
Should you buy the XFX Radeon RX 5700 XT Thicc III Ultra?
The handful of misgivings we had with XFX's original Thicc design are gone. The XFX Radeon RX 5700 XT Thicc III Ultra is one of the best custom versions of one of the best GPUs you can buy for 1440p gaming.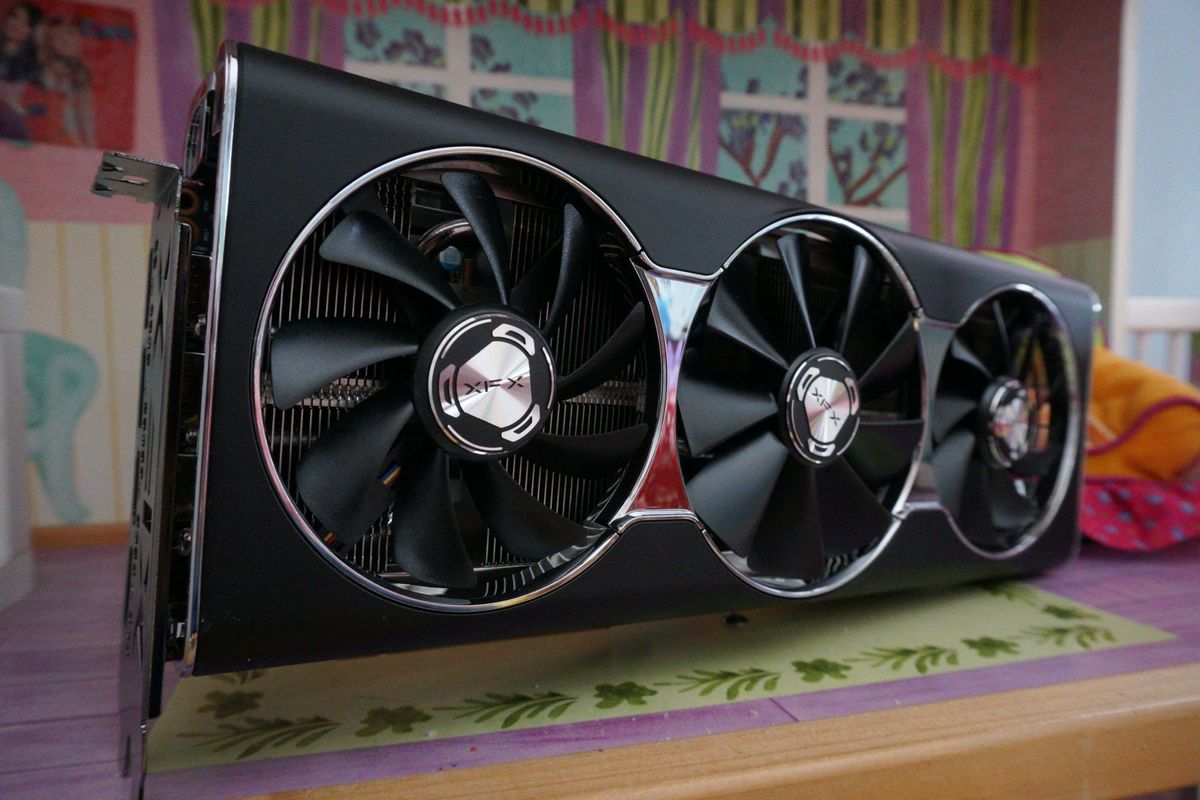 XFX leaned hard on the Radeon RX 5700 XT, supercharging the Thicc III Ultra's clock speeds to the fastest performance we've seen yet. Doing so requires a substantial power draw, but the overhauled triple-fan "Ghost" thermal design handles it capably, delivering some of the coolest temperatures and quietest noise levels we've seen (and heard) in a high-end graphics card, albeit at the cost of an extra inch of length. A secondary Quiet BIOS silences it even further for a minor performance cost. The chrome-and-black muscle car aesthetic of XFX's Double Dissipation-inspired design remains drop-dead gorgeous—one of my favorite custom graphics card looks in recent memory.
Better yet, at $440, the Thicc III Ultra is priced the same as its impressive, yet flawed predecessor. It easily justifies the $40 premium over the reference Radeon RX 5700 XT, spitting out frames virtually as fast as the $500 GeForce RTX 2070 Super while leaving the $400 GeForce RTX 2060 Super in the dust. Believe it or not, at $440, the XFX Radeon RX 5700 XT Thicc III Ultra is a pretty good value.
The only drawbacks? The Thicc III Ultra is a massive graphics card, three slots deep and well over a foot long. You'll need a spacious case to squeeze this in, and a 600W or more PSU to handle its power. AMD Radeon graphics cards also lack dedicated hardware for real-time ray tracing, though few games support the cutting-edge technology at this point.
Another stellar, very different Radeon RX 5700 XT option
Nitro+ Radeon RX 5700 XT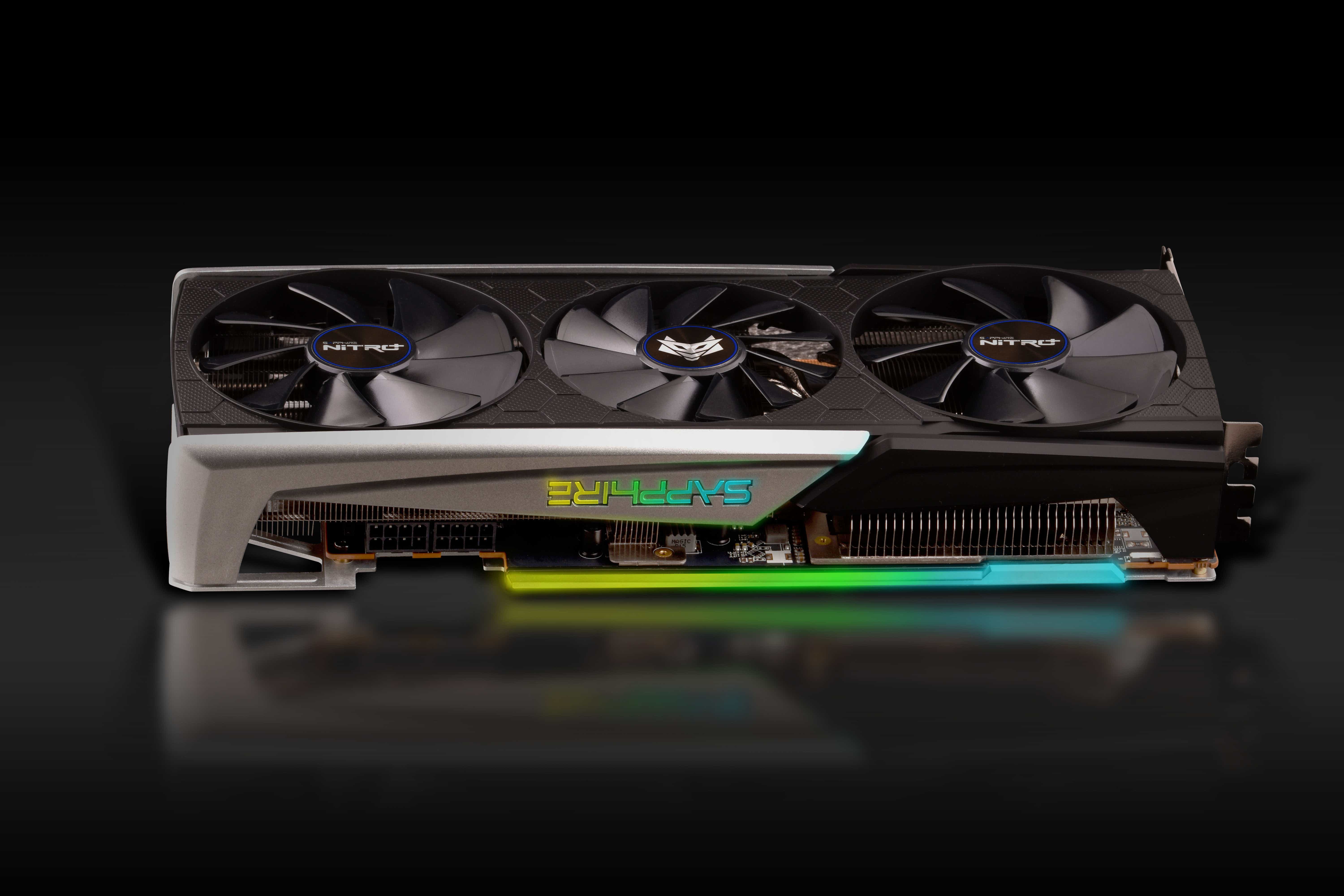 The XFX Radeon RX 5700 XT Thicc III Ultra also runs neck-and-neck with Sapphire's sublime Nitro+ as our favorite custom Navi design. Sapphire's card costs $10 more but delivers flashier features: a metal-clad exterior, impressive and extensive RGB lighting, and nifty software that mixes resolution downscaling with AMD's Radeon Image Sharpening technology to deliver ultra-fast frame rates with minimal visual degradation. XFX's card stands out for its stunning muscle car-evoking aesthetic design, even lower temperatures, and out-of-the-box performance better than its Sapphire rival, albeit barely.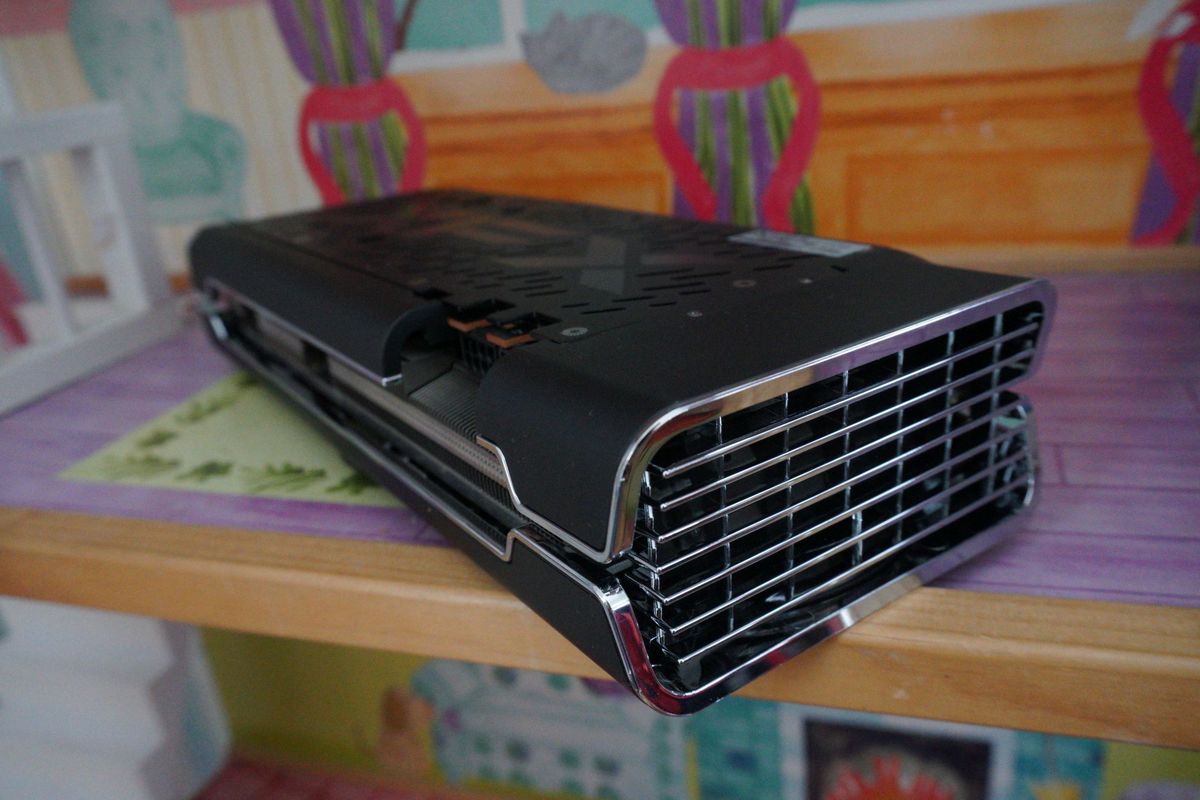 The Radeon RX 5700 XT also excels at high refresh-rate 1440p gaming with few visual compromises, or even 4K gaming with graphics dialed down to High in some games. It's a beast. If you're using a 60Hz 1440p monitor or a high refresh rate 1080p display, the $350 Radeon RX 5700 non-XT might be a better option. Conversely, if you want to tap into cutting-edge real-time ray tracing in the handful of games that support it, step up to the $500 Nvidia GeForce RTX 2070 Super rather than the $400 GeForce RTX 2060 Super, which is considerably slower than the AMD card and requires some significant visual trade-offs for ray tracing. If you're indifferent about ray tracing, definitely opt for the XFX Radeon RX 5700 XT Thicc III Ultra over the RTX 2070 Super, as AMD's option delivers virtually the same performance for much less money.
Bottom line: XFX nailed the do-over. While the original Thicc II was fun, fast, and flawed, the XFX Radeon RX 5700 XT Thicc III Ultra is fun, fast, and almost flawless. It's highly recommended and easily earns our Editors' Choice award. Don't be surprised if the original Thicc II is phased out soon, because this superior successor nailed it.