Dell's XPS 13 2-in-1 7390 and HP's 5th-gen Spectre x360 13t embody the intense rivalry of the two top American PC vendors. Locked in a constant fight for market share, the companies seem to pour every technological advance they have into these two premium convertible laptops. With each iteration, one seems to challenge the other, "can you top this?"
Both companies recently released new models, so it's time to pit Dell's XPS 13 2-in-1 7390 against HP's 5th-gen Spectre x360 13t in an epic battle, which we'll recount blow by blow as we talk specs, features, performance, and more.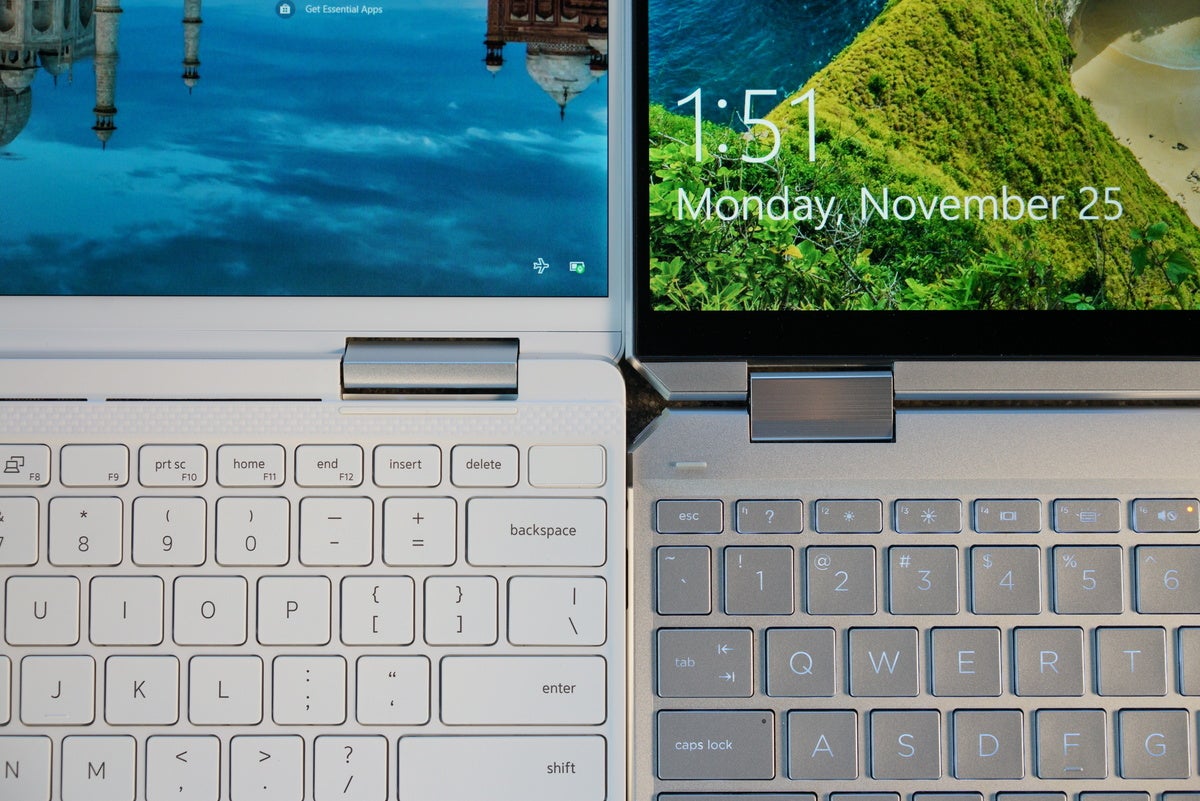 Specs
On specs, both rivals are very similar. Both are based on Intel's new 10nm, 10th-gen Core i7-1065G7 chip. The RAM is similar, too, with LPDDR4X/3733 in both. The Dell does, however, offer a higher optional maximum of 32GB of LPDDR4X.
Both have 4K screen options, so there's a tie. The technologies differ, though: IPS with the Dell XPS 13 2-in-1, and AMOLED with the HP Spectre x360 13t.
The only internal spec that varies is storage. Our XPS 13 2-in-1 7390 features a Kioxia BG4 TLC SSD NVMe PCIe drive. If you've never heard of Kioxia, it's just the new name for Toshiba. Our Spectre x360 13t featured an Intel Optane H10 drive, an option sold at Best Buy at the 512GB capacity. Both laptops offer larger capacities on their websites, but the Dell stops at 1TB, while HP offers up to a 2TB NVMe PCIe drive.
You can argue the merits of the technologies and the capacities, but we're going to declare this a tie, as each has specs the other doesn't offer.
Winner: Tie
Storage
There's more to the storage story on these laptops, what you might call two schools of thought, so we're giving it a dedicated category.
Dell's storage philosophy with the XPS 13 2-in-1 suggests that consumers are willing to think of their laptops as phones. Because 99 percent of users never replace SSDs, Dell solders it in place and takes the dividends to make the laptop thinner and smaller. Indeed, between the two laptops, the Dell is thinner by about 1.5mm to 2mm.
HP, on the other hand, sticks with the tried-and-true M.2 standard for storage, though it's not meant to be upgraded by the consumer.
Which is right? Again, Dell (and others who do the same, such as Apple) aren't doing it to anger you. They're taking that space from the M.2 slot and using it for, say, better cooling, or shrinking the motherboard.
We, however, like to think long-term. While 512GB seems like more than anyone will ever need today, in three years when you pick up a 4TB SSD for $25 on Black Friday, you (or some authorized person) can crack open the Spectre x360 13t and replace the 512GB one that the HP came with. Dell's SSD will be there for eternity.
We should also mention that the Intel Optane hybrid drive option is available only on the HP. There are times when Intel's fancy new storage is a huge advantage, and times when it doesn't help—you can read more on that here in our Optane H10 review.
We suspect the Optane hybrid SSD greatly contributes to just how crazy-fast the HP is at booting. You can see this captured on slow-motion film in the video attached to this story. Note: Our video was shot at a high frame rate, so it'll appear these laptops are cold-booting slowly. In real time, the HP boots in about 8 seconds, while the Dell boots in about 13. The HP is so fast, it gets to the desktop using Windows Hello facial recognition before the Dell even hits the login screen prompt.
Both laptops include microSD slots, which let you add cheap 1TB memory cards for additional storage. We tested both and found the card readers performed about the same, with read speeds in the 77MB range and write speeds in the 70MB range.
Winner: HP Spectre x360 13t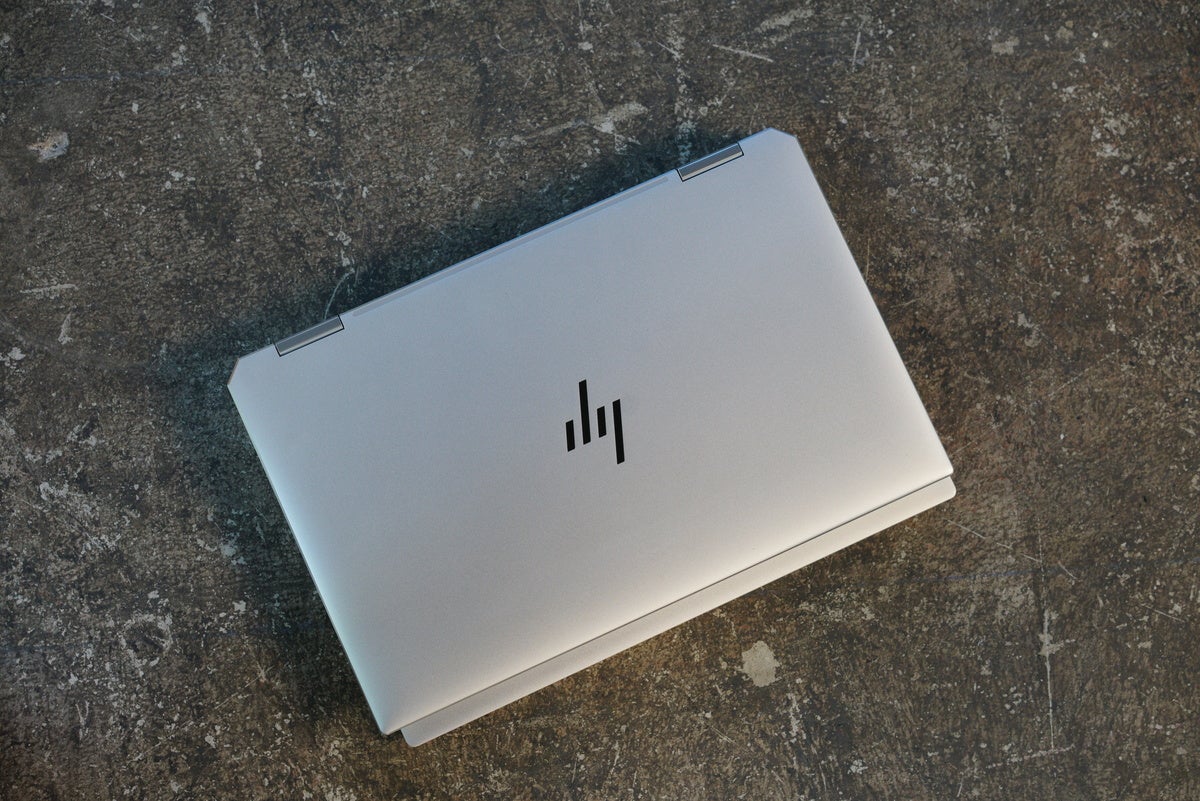 Size and weight
Both laptops are pretty darn close in size. While it's a little difficult to tell from the perspective in the picture above, the Spectre x360 13t is basically about a half-inch wider, while the XPS 13 2-in-1 is about a half-inch deeper. In weight, our postal scale put the Spectre x360 13t in front at 2.7 pounds without AC, with the XPS 13 2-in-1 slightly heavier at 2.9 pounds without AC. Adding power bricks and pens for both, the gap basically vanishes, as both the Spectre and XPS 13 end up at about 3.4 pounds, with the Spectre only an ounce lighter.
The reason? Dell runs the XPS 13 2-in-1 off of a smaller 45-watt PSU, while the Spectre comes with a larger, heavier 65-watt PSU. Overall, once both laptops are in your shoulder bag, it's a wash.
Winner: Tie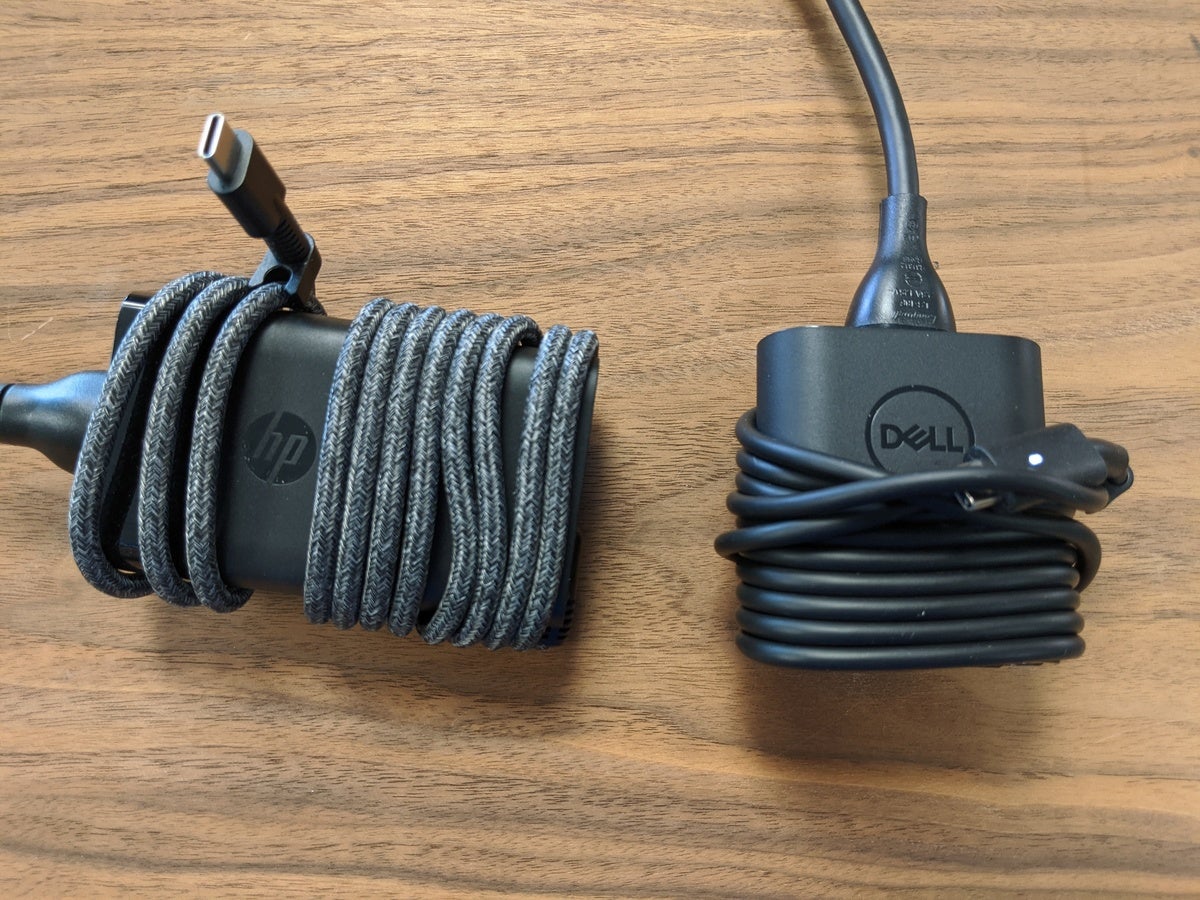 Chargers
Both laptops come with very small, USB-PD spec power bricks. The Dell's is smaller and lighter and puts out less power at just 45 watts, but it features a nifty LED at the end of the cable. While the LED doesn't indicate the charge condition of the laptop like Apple's older Magsafe bricks, the LED does confirm it's plugged in properly, so you don't wake up to a dead laptop. The HP lacks the LED, but its cable features a classy cloth braid, and it puts out 65 watts, or 45 percent more power output, than the Dell.
We had no issues with interoperabiilty. Both laptops charged off OEM USB-PD chargers from Dell, HP, and Apple, as well as a third-party Delta USB-C charger.
The only problem for the Dell is that tiny 45-watt charger. With brightness cranked and as decent load on the GPU or the CPU, we found it often consumed right up to the limits of the brick. Dell did its homework, and the laptop did not use so much power that it discharged the battery. However, performance will occasionally suffer as the laptop prioritizes either charging the dead battery or running the CPU hard. Dell lets you mitigate this by changing the charge priority, but on auto we found performance dipped when the battery capacity was under about 20 percent.
We also looked at the charge rates of both by discharging both to zero, then tasking each with an hour-long encode before letting the laptops continue charging, with the systems idling at the desktop.
To show the disparity between brick sizes, we recorded power consumed at the wall using a pair of watt meters.
In the graphic belong, you can see the HP's power output in red and the Dell's in purple.The HP used 65 watts until HandBrake completed and then dropped down to about 45 watts as it continued to charge quickly. Once the battery was filled beyond 90 percent, the charge rate gradually tapered off.
With its smaller brick, the Dell ran at a maximum of 48 watts and then dropped off once Handbrake was done. It continued to charge harder until it also reached above 90 percent, where it tapered off to preserve battery longevity.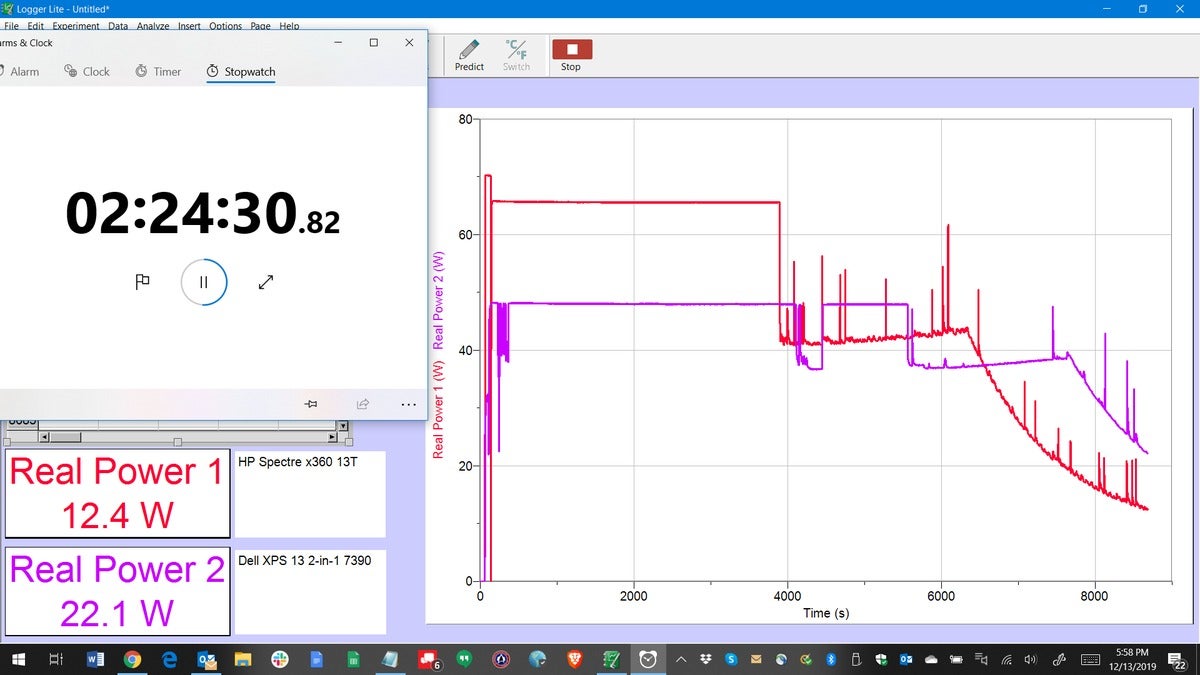 Based on our test, the HP has a big advantage in charge rates and performance with a dead battery, but it comes at the cost of a little more weight. The Dell is at a disadvantage, but still charges up reasonably fast despite the smaller brick. In the end, you get a lighter brick as well. One last word: The Dell's charging system does support using a larger power brick, and with the HP's USB-C in place used up to 65 watts.
While we'd prefer a more powerful brick, we understand that this probably isn't something most people would prioritize above having less weight in their bag. We'll just call it a tie.
Winner: Tie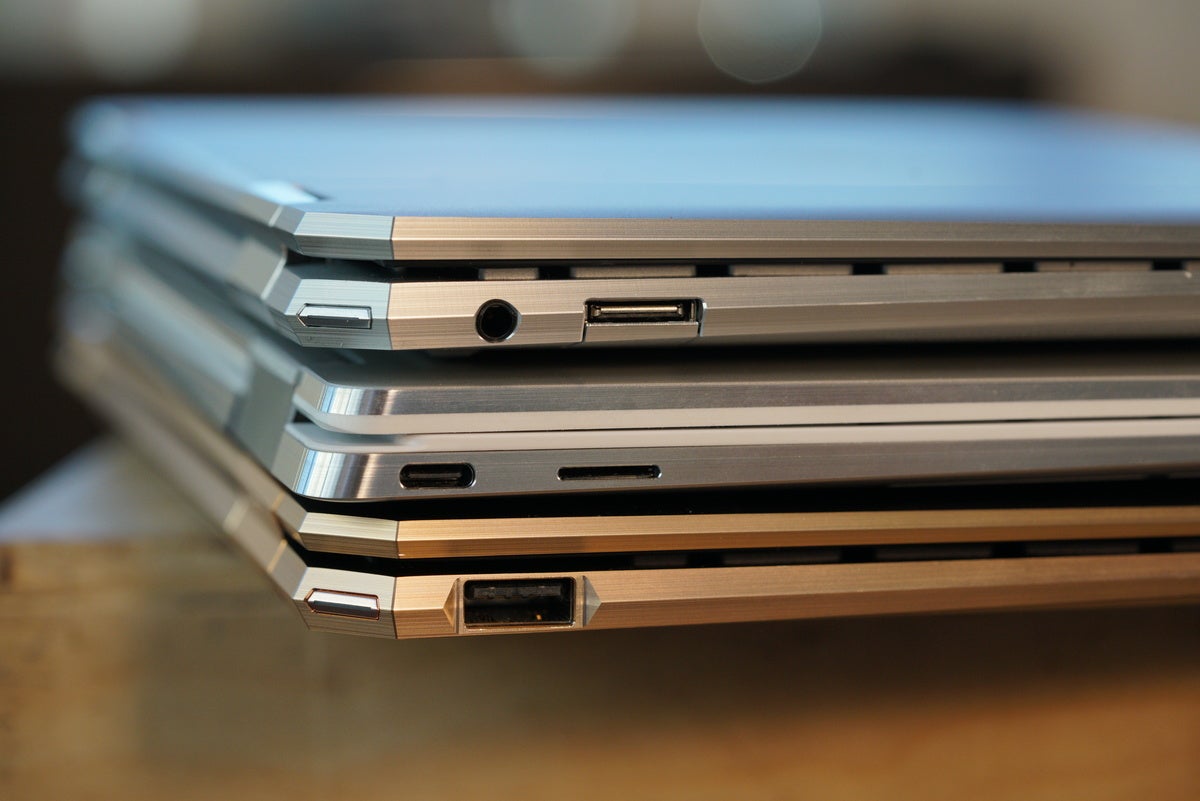 Ports
This one is fairly easy. The Dell XPS 13 2-in-1 offers two Thunderbolt 3 ports, a microSD slot and a combo headset jack. The HP also offers two Thunderbolt 3 ports, a microSD slot and a combo headset jack. The thing that pushes it over to the HP is the inclusion of a USB Type-A port. You know, the good old rectangular slot you can't live without.
Sure, Dell gives you a dongle, and it has Thunderbolt 3 ports on both sides (which means you can charge from either side), but we can't quit USB Type-A just yet. We know what it's like to be on the road and have to go dongle-begging from others just to access a USB memory stick.
Winner: HP Spectre x360 13t
You stare at your laptop display all day. Keep reading to see how these two compare.
Display
The Dell's 13.4-inch Sharp SHP14AF IPS panel is simply spectacular. It puts out a blazing 550 nits, and text is perfectly crisp. The display also includes EyeSafe technology, which purports to lower sleep-stealing blue light emissions without making it look like you just put on a pair of brown-tinted sunglasses.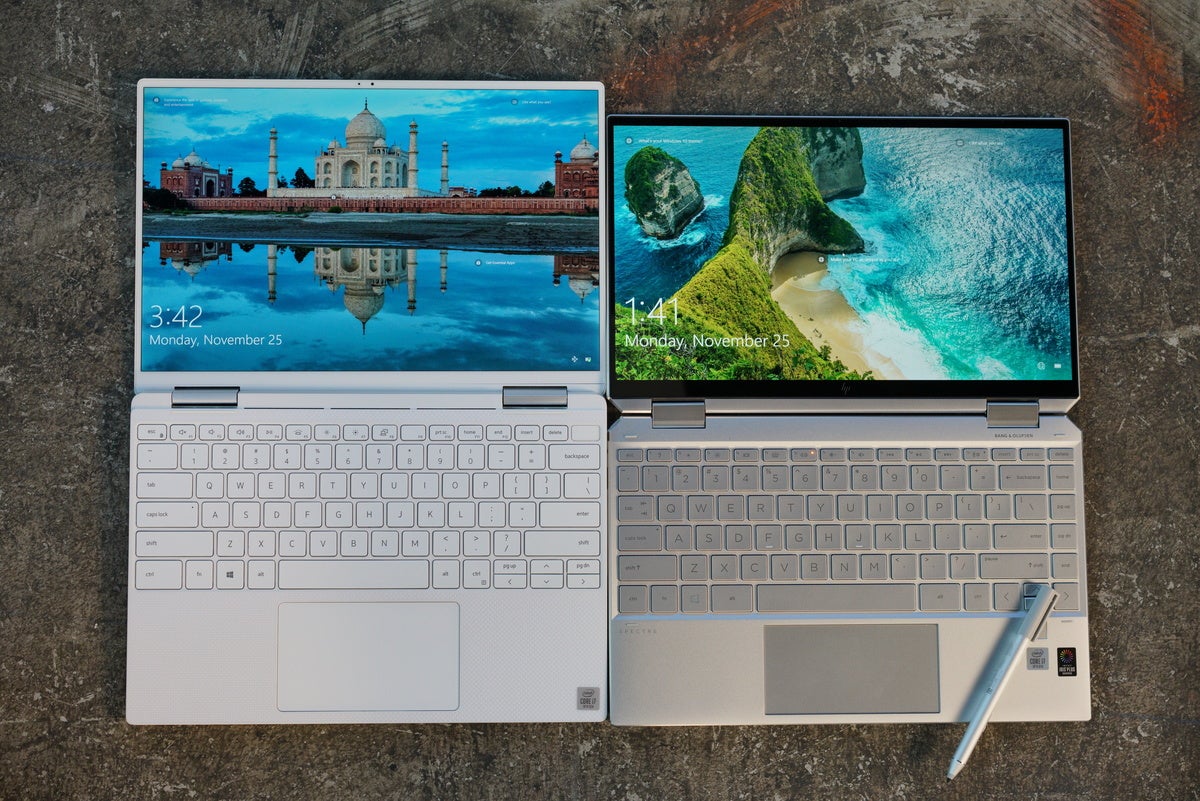 The Spectre x360 13t's panel is a very good 13.3-inch AU Optronics "IPS-like" panel that can use as little as 1 watt under many conditions. Its maximum brightness is a good 350 nits. Overall, however, it's just not quite as lovely as the Dell's.
The other point in Dell's column is the use of a 1920×1200 resolution, which results in an aspect ratio of 16:10. That makes it slightly taller than the 16:9 displays used in most other 13-inch laptops, and better for actual work with open windows.
While the Spectre's panel is fine and commendably power-efficient, panel aficionados will prefer the Sharp screen in the Dell.
Winner: Dell XPS 13 2-in-1 7390
Keyboard and Trackpad
Keyboards and trackpads are truly personal experiences for most people, so it's always a little difficult to pass judgment. We will say that Dell's decision to go with a low-travel "Maglev 2" keyboard continues to be polarizing. Certainly not as polarizing as Apple's unreliable and now-abandoned Butterfly series of keyboards, but it's not what you're used to.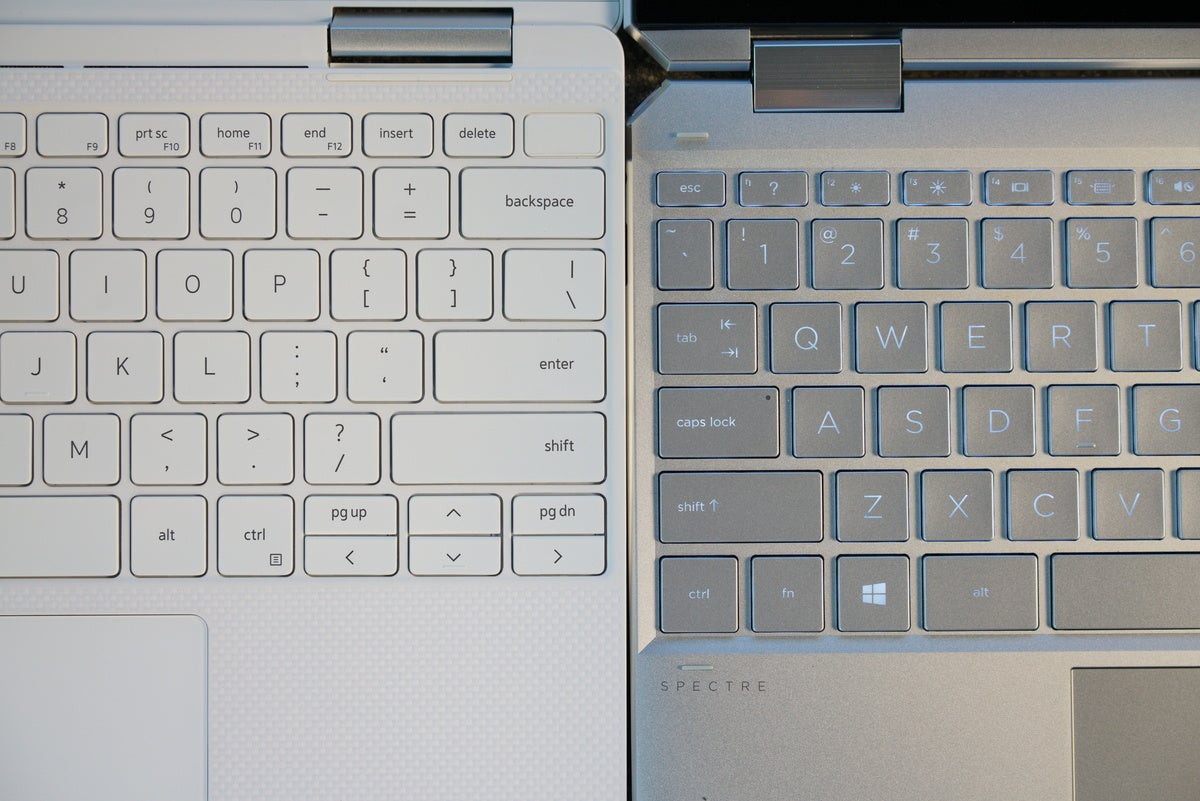 The Maglev 2 uses magnets to repel the keys, which just sounds louder. When everyone in the conference room gives you the stinkeye because it sounds like you're firing off an angry email to your cable company, you just might have a problem.
The HP's keyboard, meanwhile, offers the experience everyone is used to and has come to expect. Let's just say we prefer the luxurious 1.4mm travel of the HP over the 0.7mm of the Dell.
The other aspect is the trackpad. Although the HP features a good experience, we prefer the glass-smooth Dell trackpad. The Dell's is also centered closer to the Y key, instead of centered on the U key like the HP. That puts less of your palm on the trackpad during use.
In the end, the keyboard matters more than the trackpad, so we're giving this one to the HP.
Winner: HP Spectre x360 13t
Pen Support
Laptop vendors seem to switch laptop pen technology constantly, and that doesn't change here. The current XPS 13 2-in-1 features Wacom Active ES 2.0 technology, while the current Spectre x360 13t features Microsoft's N-trig. We compared Dell's Premium Active Pen PN579X (which is an extra-cost option) vs. HP's included base-level Pen.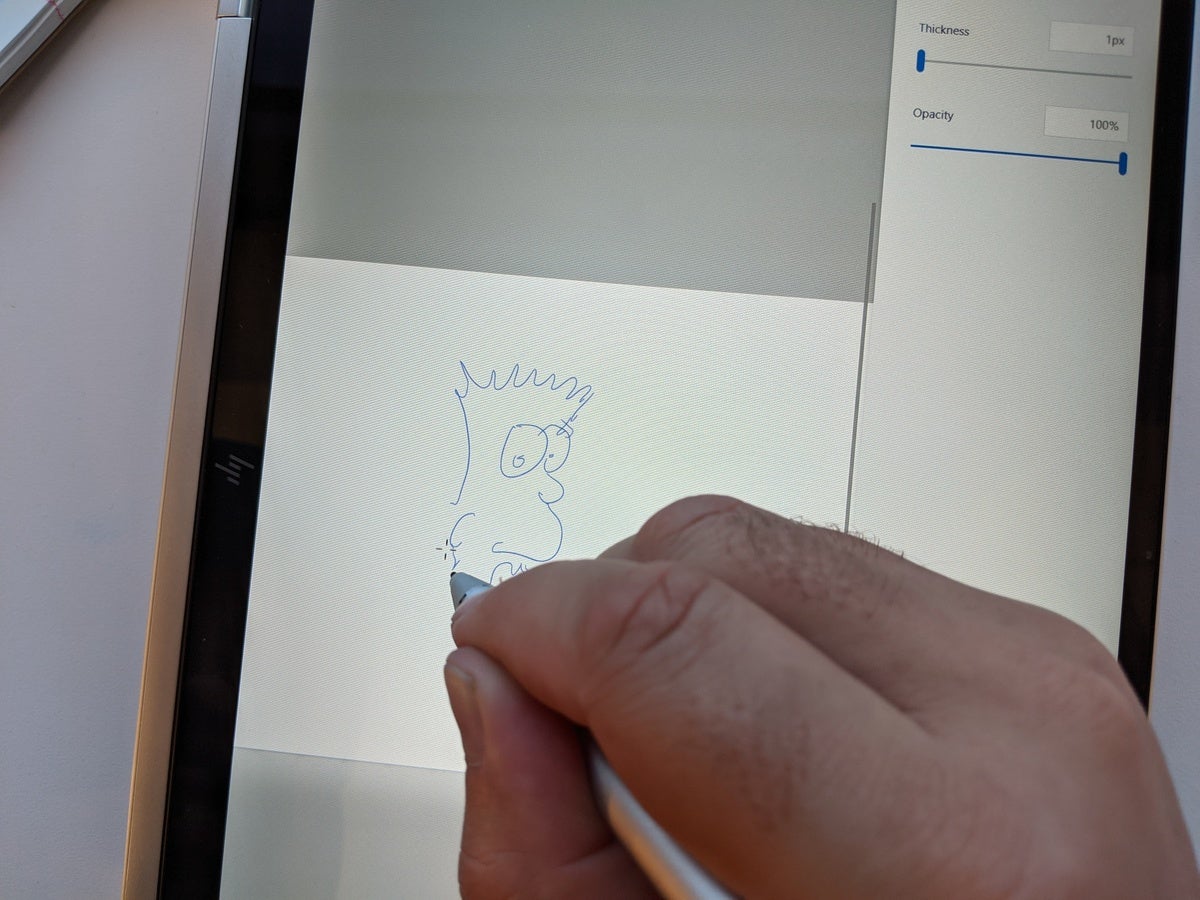 Which is better? We asked Macworld associate editor and pen aficionado Leif Johnson to rate them. He gave the Dell's Wacom AES pen and digitizer the edge in use, even though it occasionally misregistered during a fine-dotting technique test. The HP didn't miss any dots, but its latency and "pen feel" put it just a step behind the Dell. And if you had to pry Johnson's precious iPad Pencil 2 out of his hands, he said he would reach for Dell's Wacom system.
Over? Not necessarily. Note that the Dell Premium Active Pen is optional and $100, while the HP Pen is included. Even if the Dell pen supports both MPP and AES pen protocols (which is nice if you want to move it between, say, a Microsoft Surface and the XPS 13 2-in-1), it's still an extra cost. So somewhat better vs. "comes free with the laptop" likely neutralizes it for most consumer use, which will largely involve signing documents and playing Hangperson during boss meetings.
Winner: Tie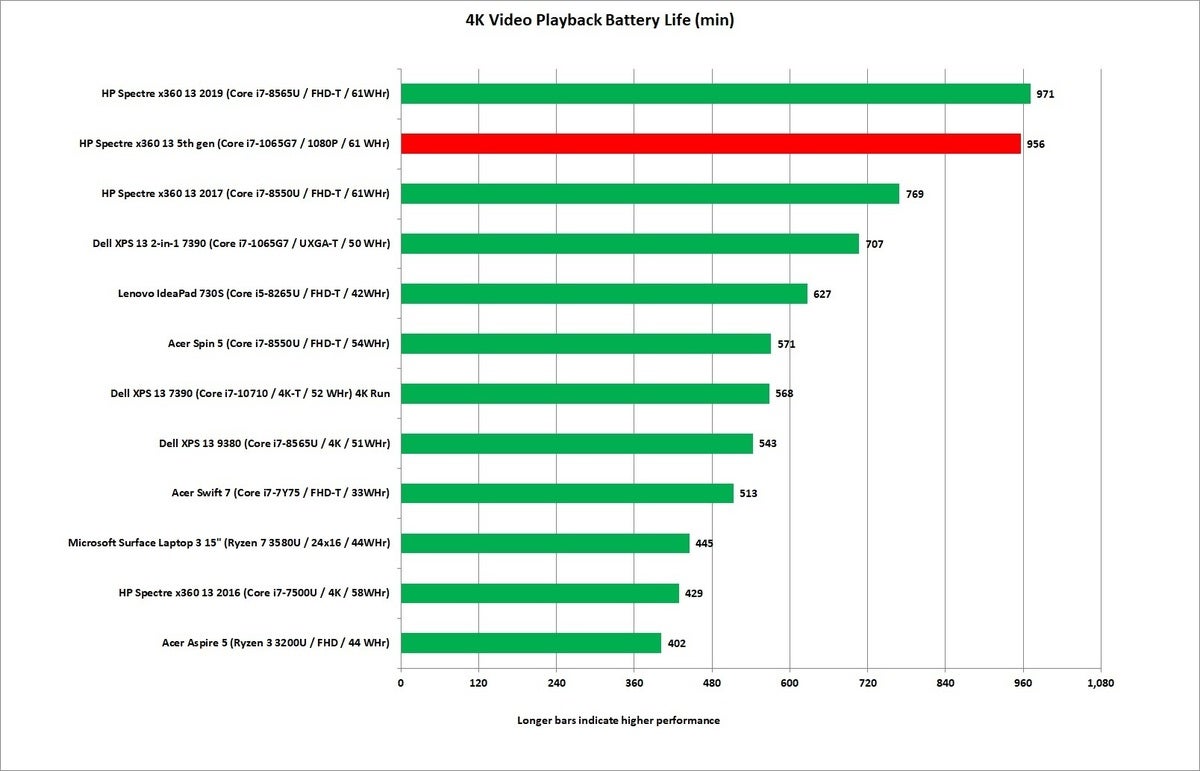 Battery Life
The Dell XPS 13 2-in-1 features a 51-watt-hour battery. In our video rundown test in airplane mode with ear buds, it cranks out a very respectable run time of 707 minutes, or just under 10 hours.
The HP, with its power-efficient "1-watt" panel and larger 61-watt-hour battery, takes it out to 969 minutes, or almost 4 more hours of video run time over the Dell. The HP's battery life is basically annoyingly long—for reviewers who need to run it all the way down to finish their testing.
We kind of wished Dell had integrated a larger battery, but maybe it chose to use that space for more cooling instead.
Winner: HP Spectre x360 13t
Performance
Some have argued that performance doesn't matter as much on small laptops. It's a fair point, given that pushing Outlook, Chrome, and PowerPoint is basically the same experience on any premium laptop.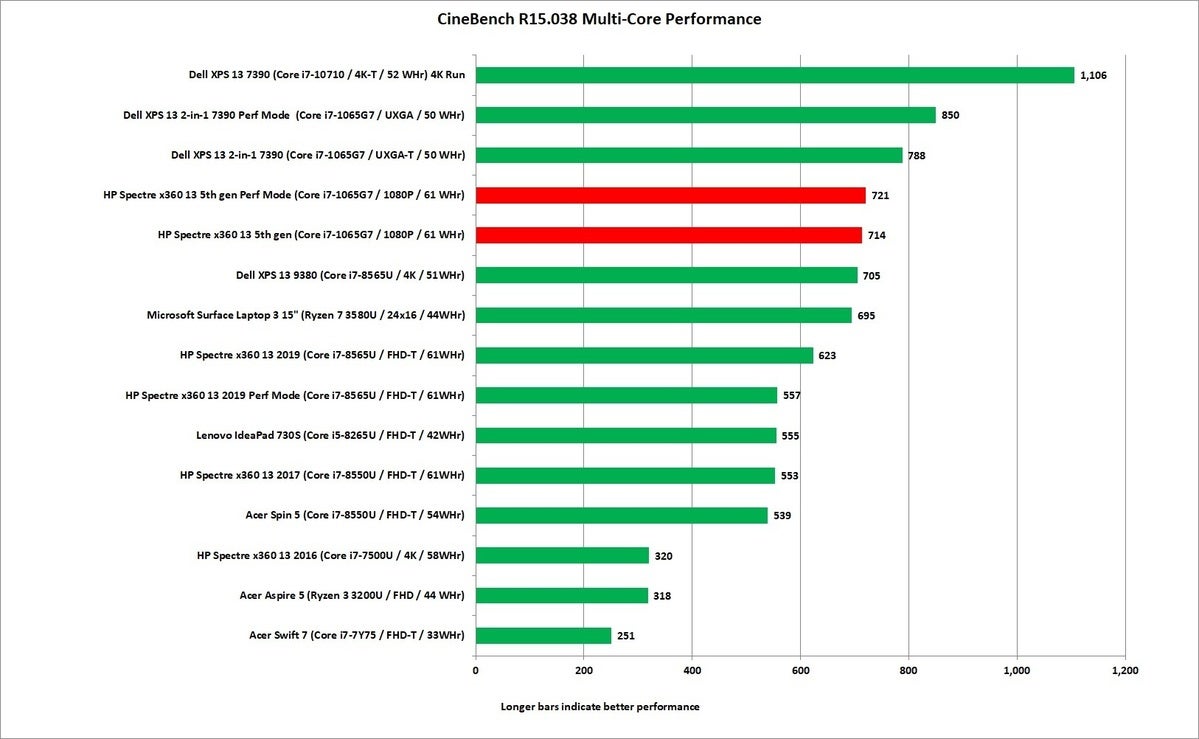 Still, when push comes to shove, you want to know that the money you paid for your Core i7 is actually getting you Core i7 performance. In that case, the winner most of the time is the XPS 13 2-in-1 7390. There are times when the Spectre x360 13t comes pretty close, but the edge goes to the Dell, which pushes its 10th-gen Core i7-1065G7 far harder.
How much harder? We recorded the clock speed, temperature, and TDP of each laptops during a Cinebench R20 run, each set to their performance setting.
You can see the solid blue line of the Dell constantly pushing up to 3.5GHz as much as possible. The HP, meanwhile, maintains a solid, consistent clock speed—albeit lower than the Dell's. Basically, the Dell takes the "15-watt" CPU and pushes it to 46 watts most of the time, while the HP is more conservative at 28 watts to 35 watts (although it will boost to 51 watts briefly).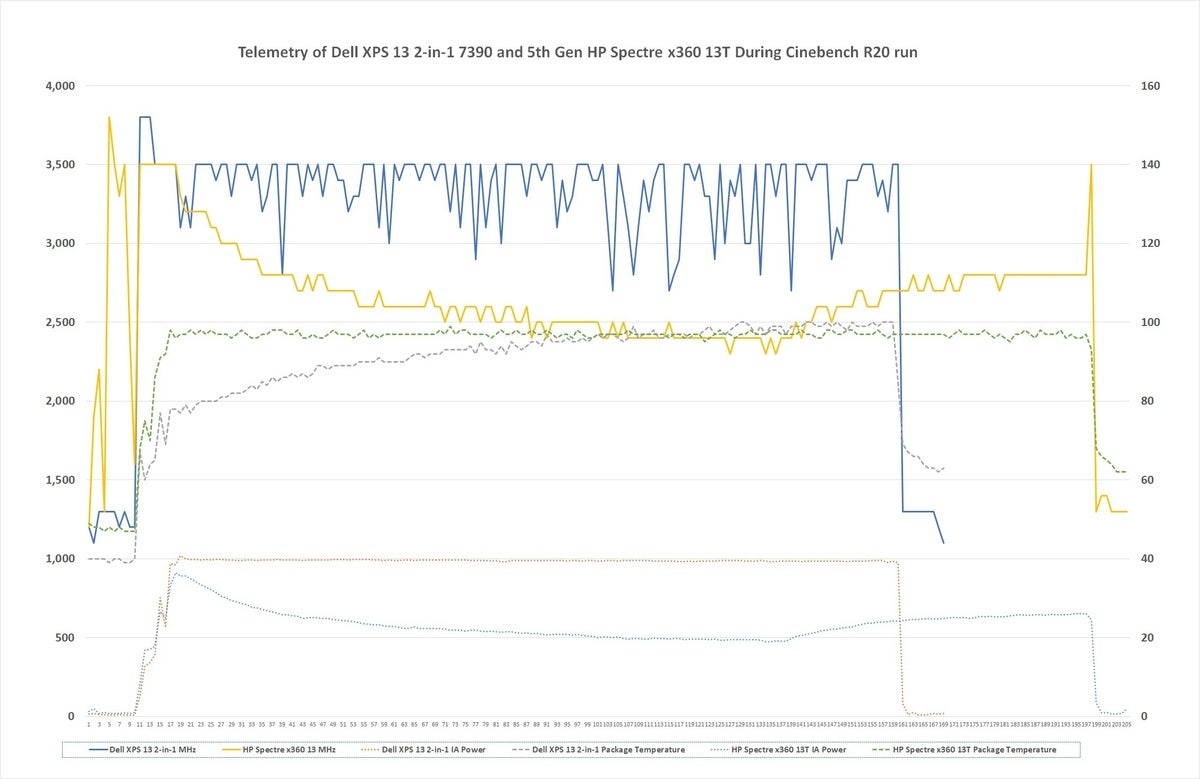 The Dell is plain faster most of the time. There is a cost, though: The Dell was far quicker in triggering its fans, while the HP tried to keep the fans silent longer.
The other bill for all this performance is thermals at the keyboard deck. Below you can see a thermal image of both laptops after running the CPU near 100 percent for 40 minutes. The Dell's keyboard temps on the left are definitely toasty compared to the HP's on the right. HP also says its newest Spectre features small air inlets below some of the keys to allow cool air to be sucked in from the keyboard and exhausted out the back. We suspect they may have contributed to the cooler keyboard on the HP as well.
All of this performance testing is on AC, which is how most people will use their laptops during intensive modes. When running off of the battery, both laptops significantly throttle performance, by about 50 percent. It actually ends up being a tie when running on battery between the two.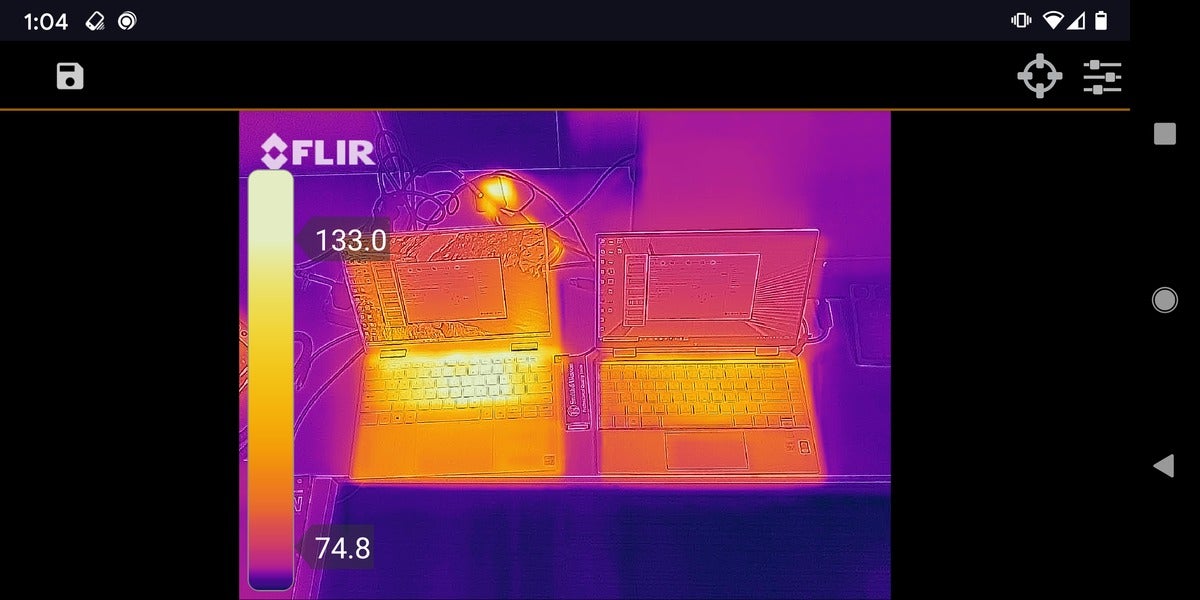 In the end, we have to give it to the Dell for this category because in a drag race, the first one across the finish line wins. By a huge margin? No, but there can be only one winner here.
Winner: Dell XPS 13 2-in-1 7390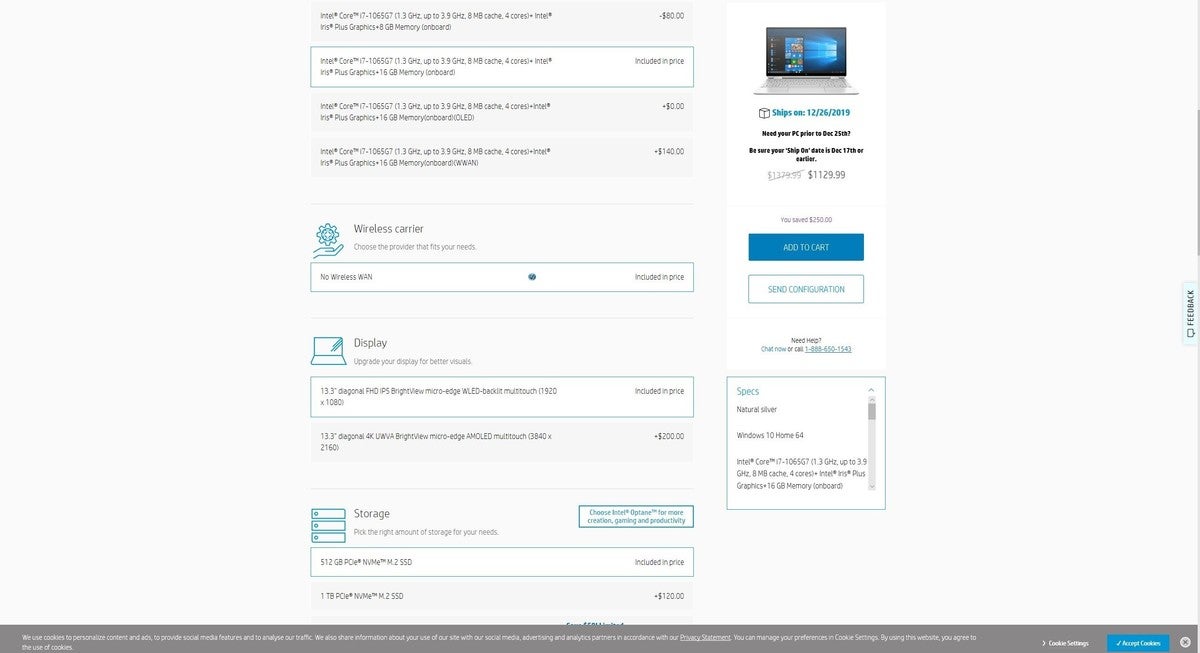 Value
To compare prices, we configured the XPS 13 2-in-1 7390 and a Spectre x360 13t with a 10th-gen Core i7-1065G7, 16GB of LPDDR4X/3733, 512GB SSD, Windows 10 Home, and standard-res screens (1920×1080 for the HP, and 1920×1200 for the Dell.) The Dell had a list price of $1,699 and was on sale for $1,599 in early December when we priced it out. The HP had a list price of $1,379 and was on sale for $1,129. When you remember that HP bundles an active pen and a leather carrying case, the easy winner is the HP Spectre x360 13t.
Winner: HP Spectre x360 13t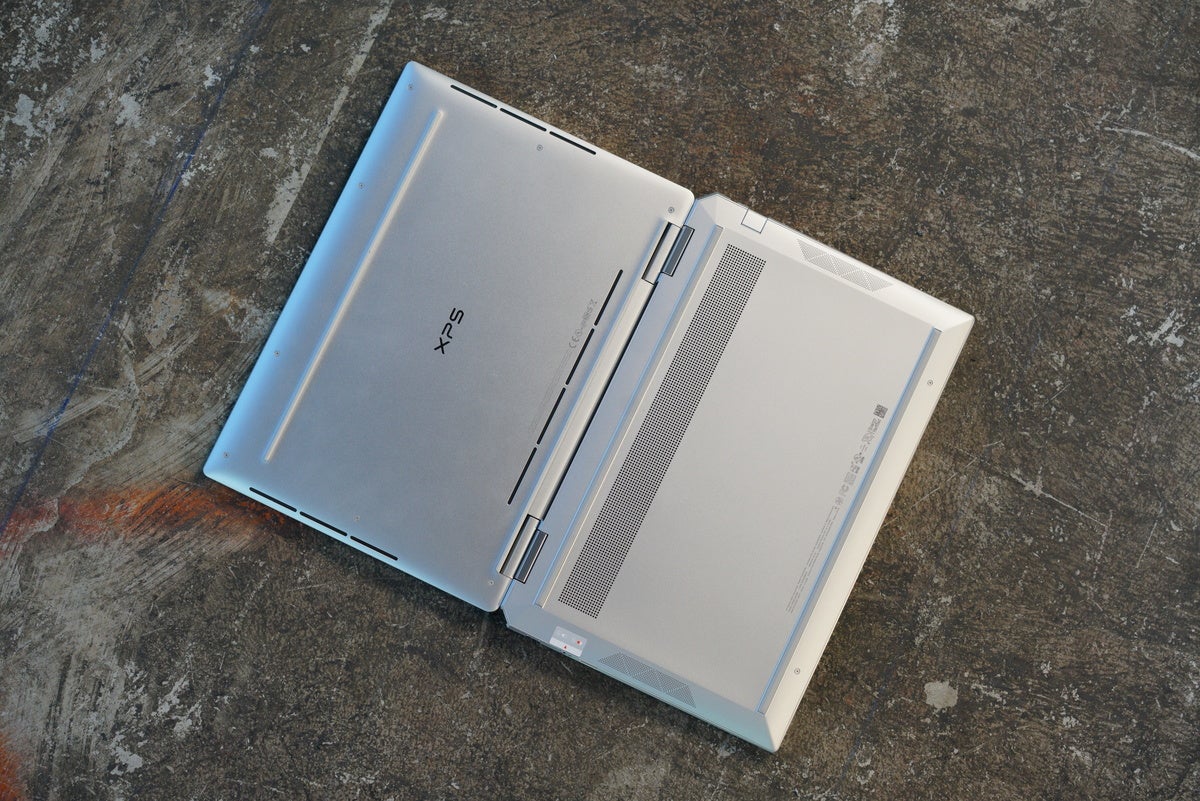 Conclusion
We tallied up the wins, losses and ties, and we can only conclude the overall winner to be the HP Spectre x360 13t. The Dell XPS 13 2-in-1 gets some very critical wins in display quality and performance, so if those are your priorities, go ahead and pick the Dell. But big-picture, the wins in storage, ports, keyboard, battery life, and value easily push the HP to the front for us.
Winner: HP Spectre x360 13t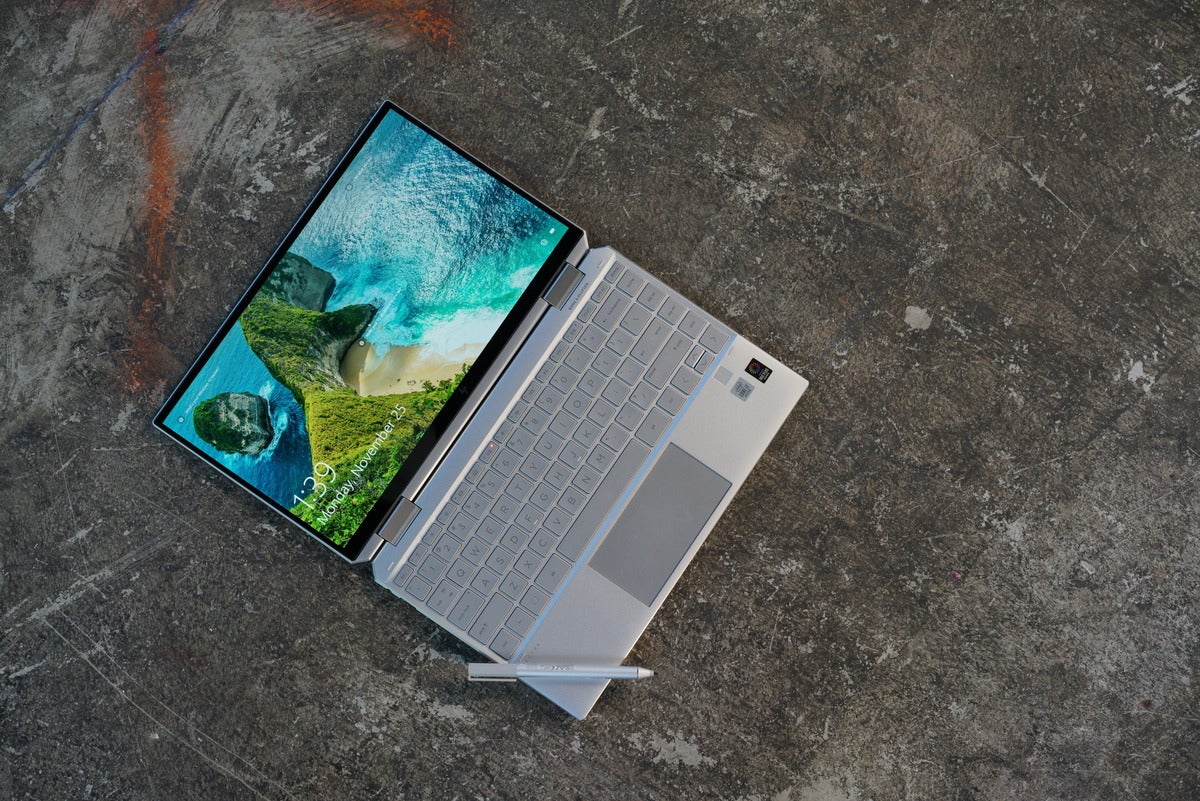 XPS 13 2-in-1 7390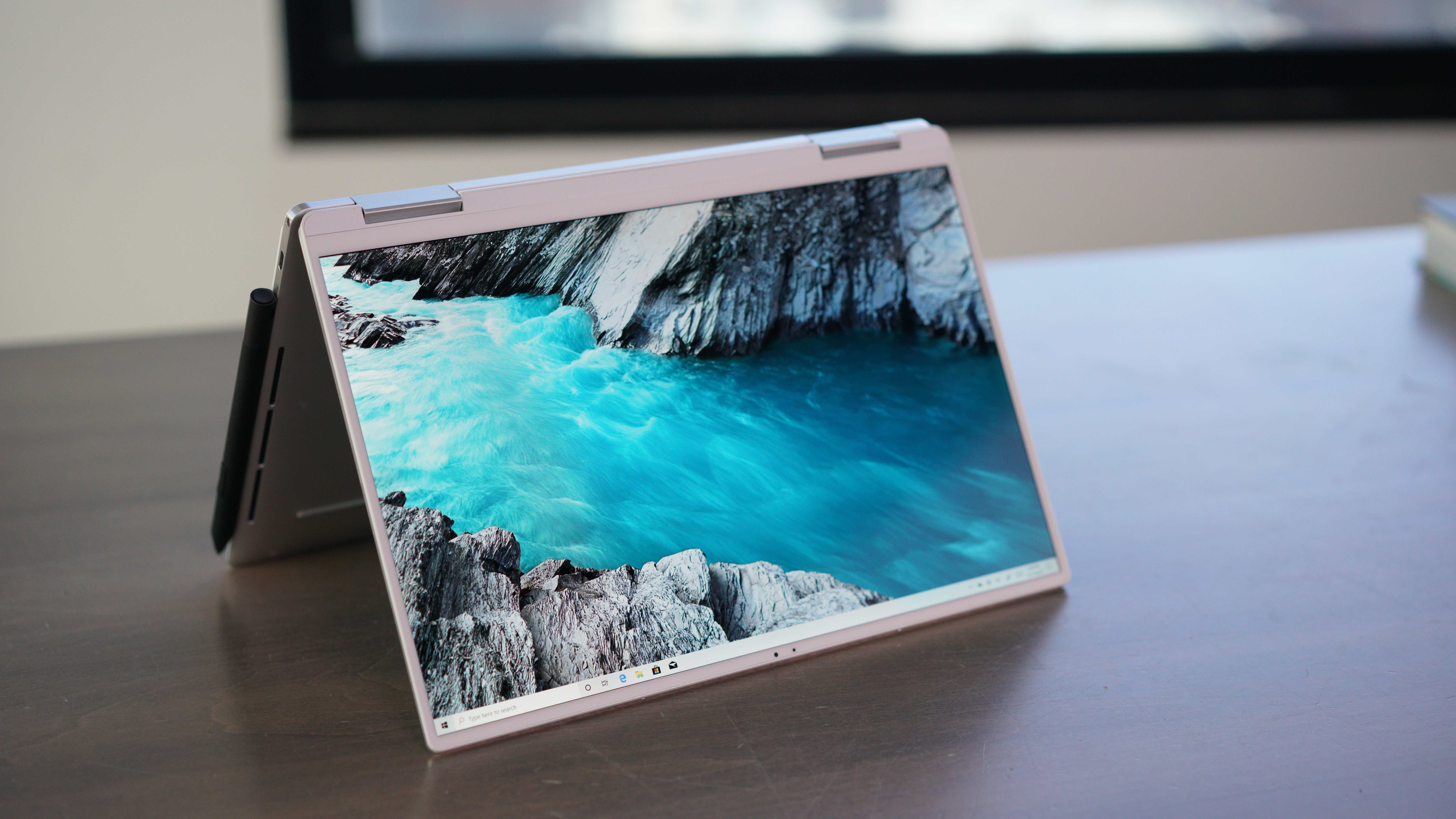 Read our full
XPS 13 2-in-1 7390 review
HP Spectre x360 13t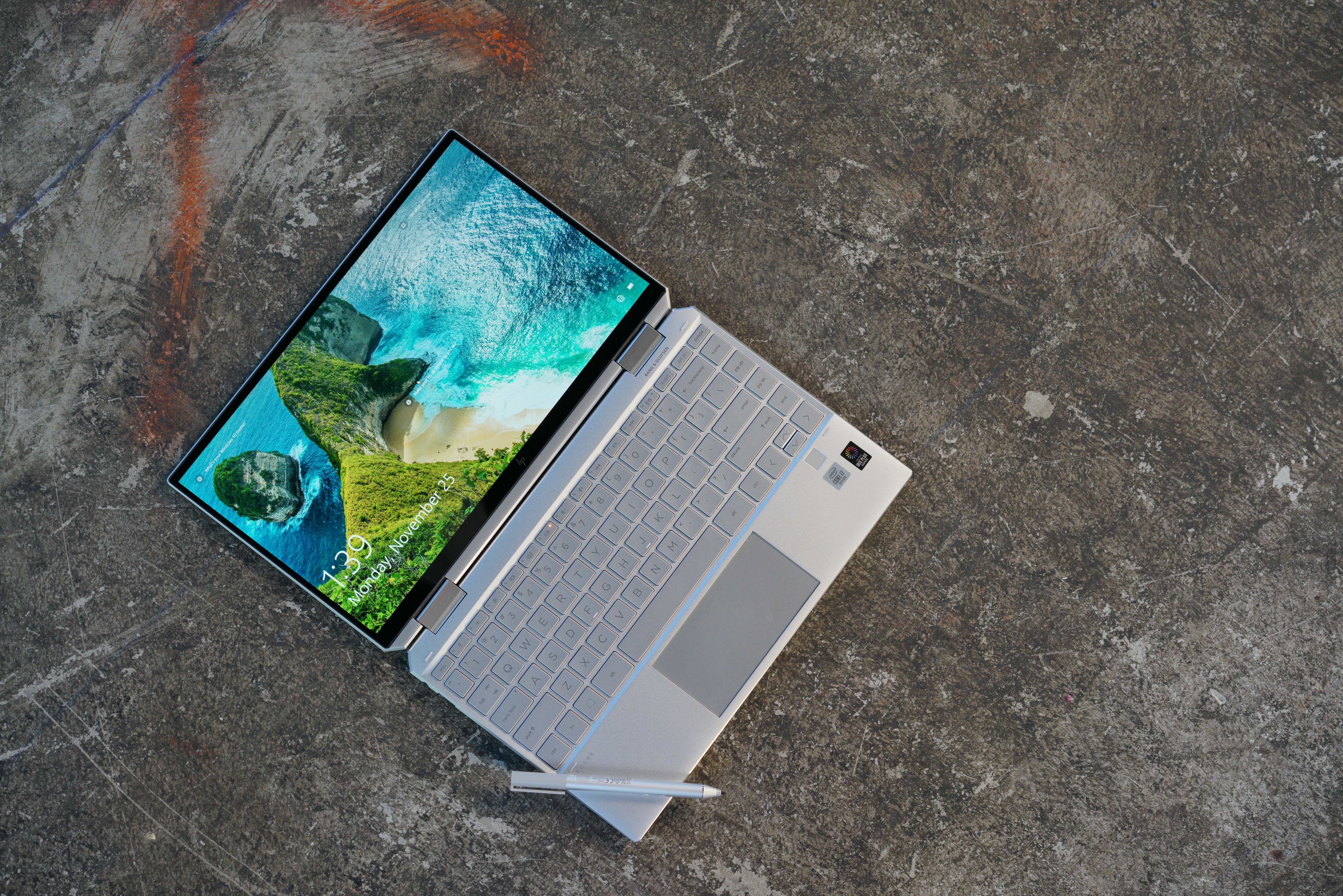 The new Spectre x360 13t is actually a bit smaller than Apple's beloved MacBook Air 11, which people coveted for its teeny footprint. Just like that MacBook Air 11, the Spectre x360 13t slips into your bag so discreetly you won't even know it's there.
HP doesn't scrimp on hardware specs, either. The obvious standout part is the new Intel Ice Lake 10nm CPU, but other highlights include a 1-watt IPS display with pen and touch support and the Intel Optane H10 drive, which combines Intel's whiz-bang Optane with a traditional NAND SSD.
Read our full
HP Spectre x360 13t review