At a Glance
Expert's Rating
Pros
Good 1080p gaming performance
Fast GDDR6 VRAM, PCIe 4.0 support
Great power efficiency
Bundled with Monster Hunter World: Iceborne Edition and 3 months of Xbox Game pass
Sapphire's cooler is whisper quiet and very cool
Sapphire Pulse has great features for the price
Trixx Boost software uses smart downscaling for FPS gains
Cons
Doesn't outperform RX 580 or GTX 1650 Super in many games
Costs more than GTX 1650 Super and 8GB RX 580
Some cutting-edge Navi features aren't beneficial in budget GPUs
Our Verdict
AMD's Radeon RX 5500 XT brings its next-gen navi GPU architecture to the masses, with mixed results. It's a good budget gaming option that's priced slightly too high.
Best Prices Today: Pulse Radeon RX 5500 XT
When it comes to graphics cards, AMD's owned the sub-$200 price point for years. Nvidia's GeForce GTX 1060 and 1660 series graphics cards couldn't hold a candle to the value proposition of the Radeon RX 570 and 580, nor its predecessors, especially once AMD started bundling them with games galore. Those Polaris-powered GPUs are downright ancient, however, and suck down obscene amounts of power compared to modern graphics cards.
Enter the new $169 Radeon RX 5500 XT, launching today after being teased in October.
Navi's debut kicked butt
Nitro+ Radeon RX 5700 XT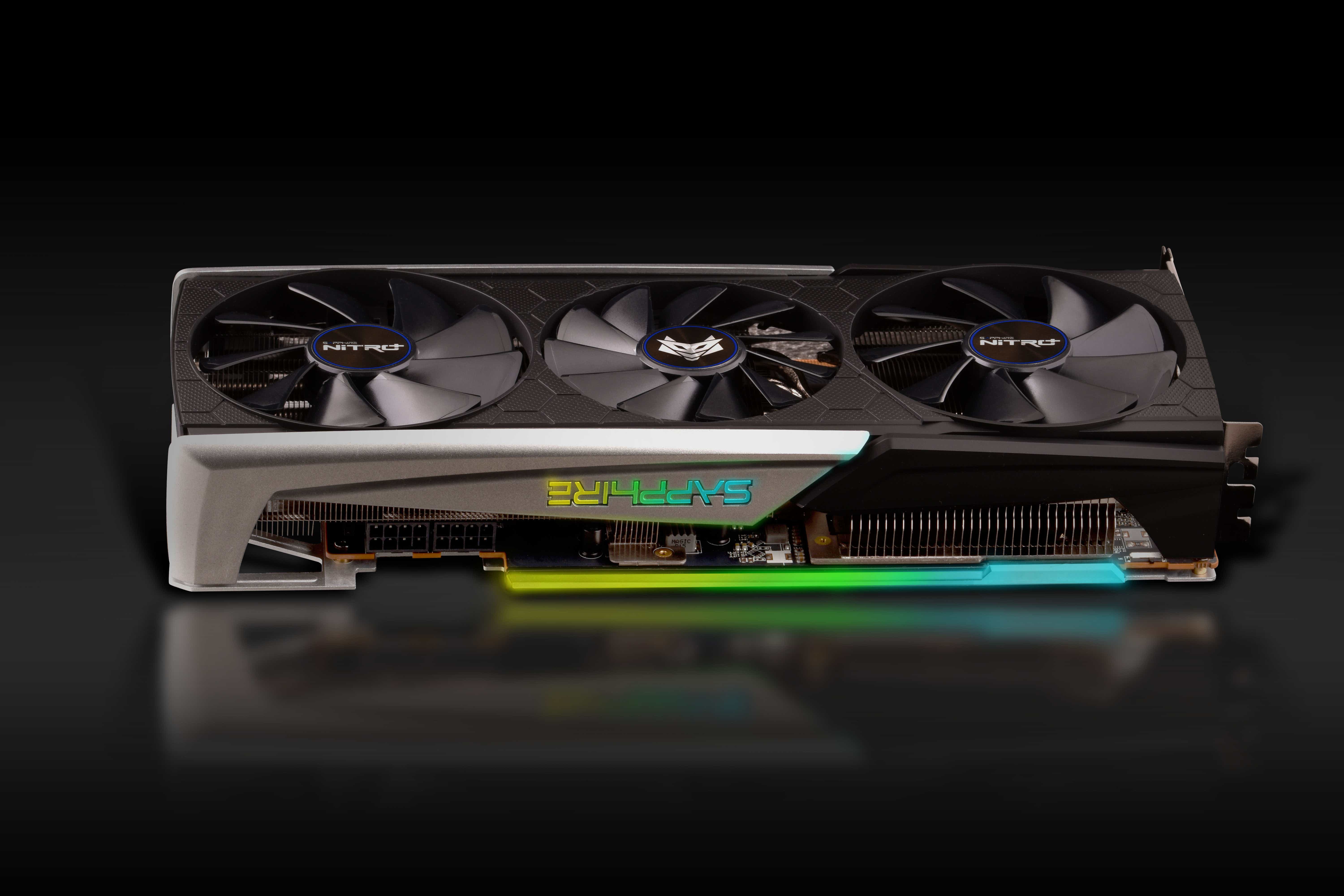 The Radeon RX 5500 XT brings AMD's "Navi" GPU, built using the company's next-gen RDNA graphics architecture, to the masses. Navi debuted in the Radeon RX 5700 and 5700 XT, which immediately became our go-to recommendations for 1440p gaming. Navi's loaded with cutting-edge tech: The Radeon RX 5500 XT is one of the first consumer GPUs built using 7nm process technology, and to support the bleeding-edge PCIe 4.0 interface. It's upgraded to ultra-fast GDDR6 memory. The card packs AMD's latest and greatest media encoders, and fresh display technologies that enable 4K, 144Hz monitors without the need for messy chroma subsampling (though you won't game at anywhere near those levels with this humble graphics card). It's tremendously more power-efficient, too.
Yet despite all those advances, and all AMD's previous wins with Polaris and Navi, the Radeon RX 5500 XT can't lay claim to the mainstream crown. Nvidia's just-launched $160 GeForce GTX 1650 Super puts up a tough fight for the budget graphics card market. While AMD's card is only $169, it's still priced too high for the performance it delivers.
AMD Radeon RX 5500 XT specs, features, and price
As mentioned above, the Radeon RX 5500 XT uses a cut-down version of AMD's "Navi" GPU.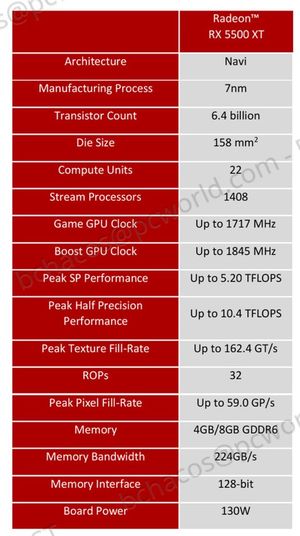 Where the Radeon RX 5700 series packed 2,304 stream processors into the $350 Radeon RX 5700, and 2,560 SPs in the faster $400 Radeon RX 5700 XT, AMD's mainstream-focused Radeon RX 5500 XT reduces that to 1,408 stream processors. The Radeon RX 5500 XT's effective clock speed during play splits the difference between the two RX 5700 cards, with a rated 1,717MHz Game Clock. A bug in AMD's new Radeon Software Adrenalin 2020 Edition prevented us from verifying that speed under load, but should be fixed shortly after this card's launch, the company says.
Compared to the "Polaris" GPU-based graphics cards that the Radeon RX 5500 XT replaces, the shift to Navi is a big deal, delivering all those snazzy new features as well as vastly improved power efficiency. But the change in memory helps reduce power needs, too. AMD's latest GPU packs ultra-fast, energy-efficient GDDR6 memory. Paired with a 128-bit bus, it's good for an overall memory bandwidth of 224GBps. For comparison, the older Radeon RX 570 with GDDR5 memory hit the same speed but required a much wider 256-bit bus to do so, while Nvidia's $160 GeForce GTX 1650 Super achieves 192GBps with its 4GB of GDDR6 memory.
Both 4GB and 8GB models will be available starting at $169 and $199 respectively. AMD says that 4GB is the better price-to-performance option for most people, and it should deliver identical frame rates in many games—but not all. The AMD-supplied slide below shows the 8GB Radeon RX 5500 XT outpunching the 4GB model in some key games. We were sent a 4GB model for review.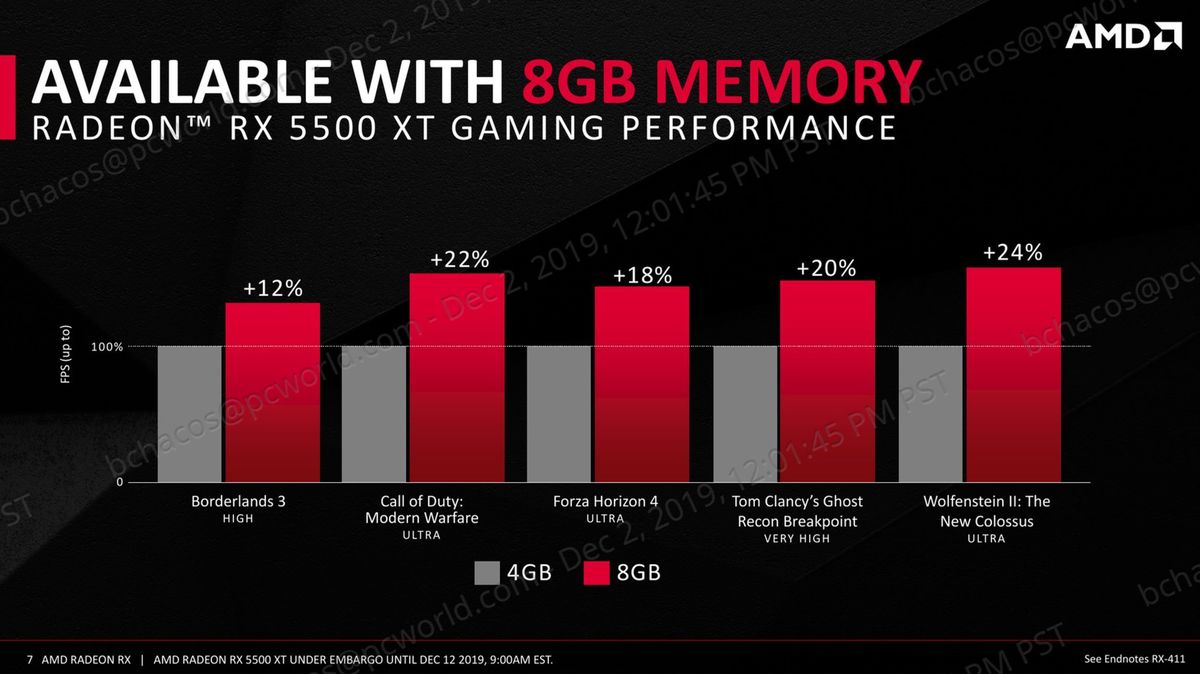 Among all the various improvements, AMD claims that the Radeon RX 5500 XT delivers up to 1.6 times the performance-per-watt of the two-generation-old Radeon RX 480, with 12 percent more absolute performance at 30 percent less power draw. Actual performance results vary game to game, as you'll see later.
The Radeon RX 5500 XT requires 130W of power for the board, which means that all models will have to include at least a 6-pin power connector. The Sapphire Pulse Radeon RX 5500 XT we reviewed came equipped with an 8-pin connector, along with an HDMI port and a trio of DisplayPorts.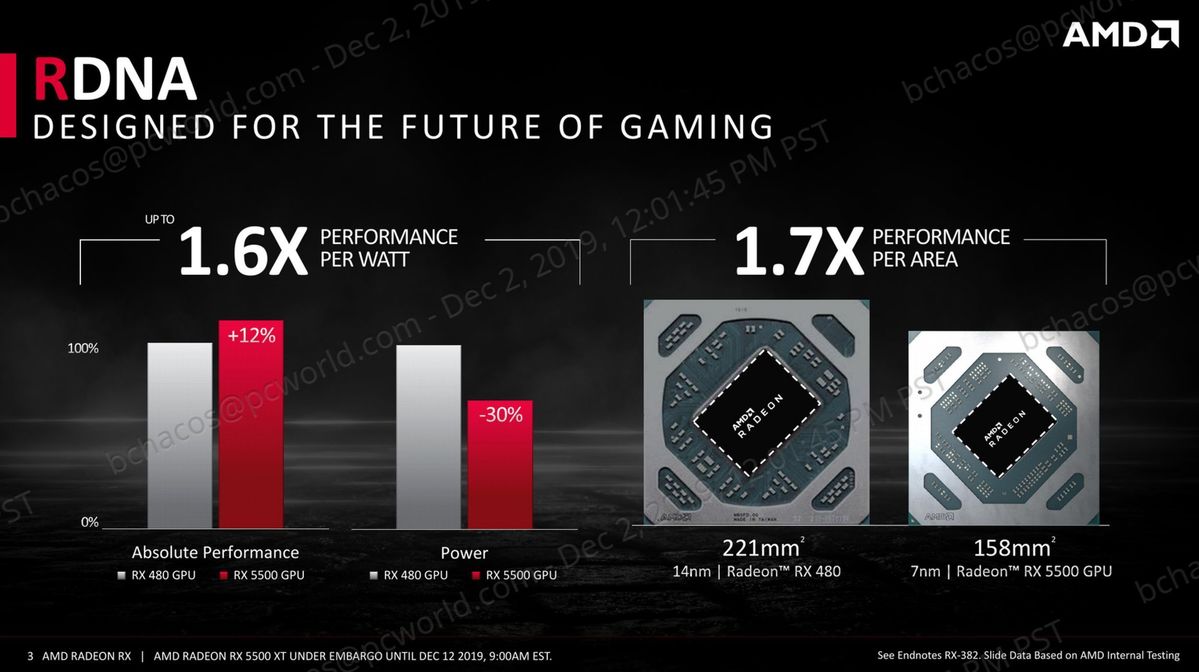 This 1080p Navi GPU debuted in desktops and laptops alone, in the form of the Radeon RX 5500 and RX 5500M. The Radeon RX 5500 XT destined for DIY systems is basically a faster version of the non-XT RX 5500, and unlike the Radeon RX 5700 series, it won't be available in a reference card version. The Radeon RX 5500 XT launches today with a wide variety of custom models available from AMD partners like Sapphire, XFX, Asus, Gigabyte, and others. To sweeten the pot, AMD's tossing in a free copy of Monster Hunter World: Iceborne Master Edition and three free months of Microsoft's superb Xbox Game Pass for PC.
Next page: Meet the Sapphire Pulse Radeon RX 5500 XT
Meet the Sapphire Pulse Radeon RX 5500 XT and Trixx Boost
We're reviewing the $180 4GB Sapphire Pulse Radeon RX 5500 XT today. The more mainstream sibling to the enthusiast-class Nitro graphics cards, Sapphire's Pulse series delivers solid features and performance at an affordable price, charging a mere $10 premium over MSRP. We loved the Pulse iterations of the Radeon RX 570 and 580, as well as the Pulse Radeon RX 5700.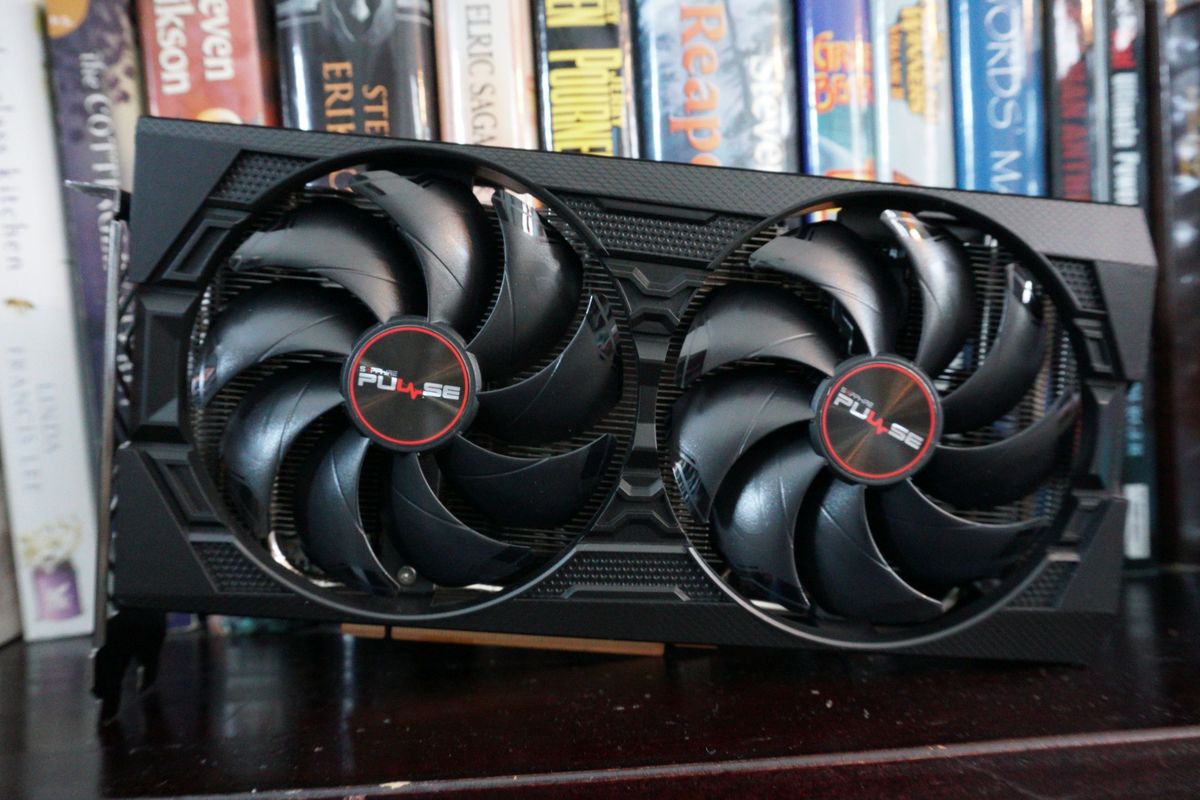 The Sapphire Pulse Radeon RX 5500 XT continues the tradition and the same basic design. The card includes a pair of large fans atop a decently sized heatsink, which help to keep temperatures low and sound minimal. It's even quieter on the desktop thanks to the much-welcome inclusion of idle fan stop, which prevents the card's fans from spinning when the GPU isn't under load. Translation: The Pulse Radeon RX 5500 XT is utterly silent during normal desktop usage. You can send sound levels plummeting even further by flipping a BIOS switch on the edge of the card over to a secondary Quiet profile.
Dual BIOSes and idle fan stop are rare features in custom graphics cards that hover around MSRP, as is the full-length metal backplate this card ships with. It's little touches like these, at such affordable prices, that help Sapphire's Pulse series stand out from the masses.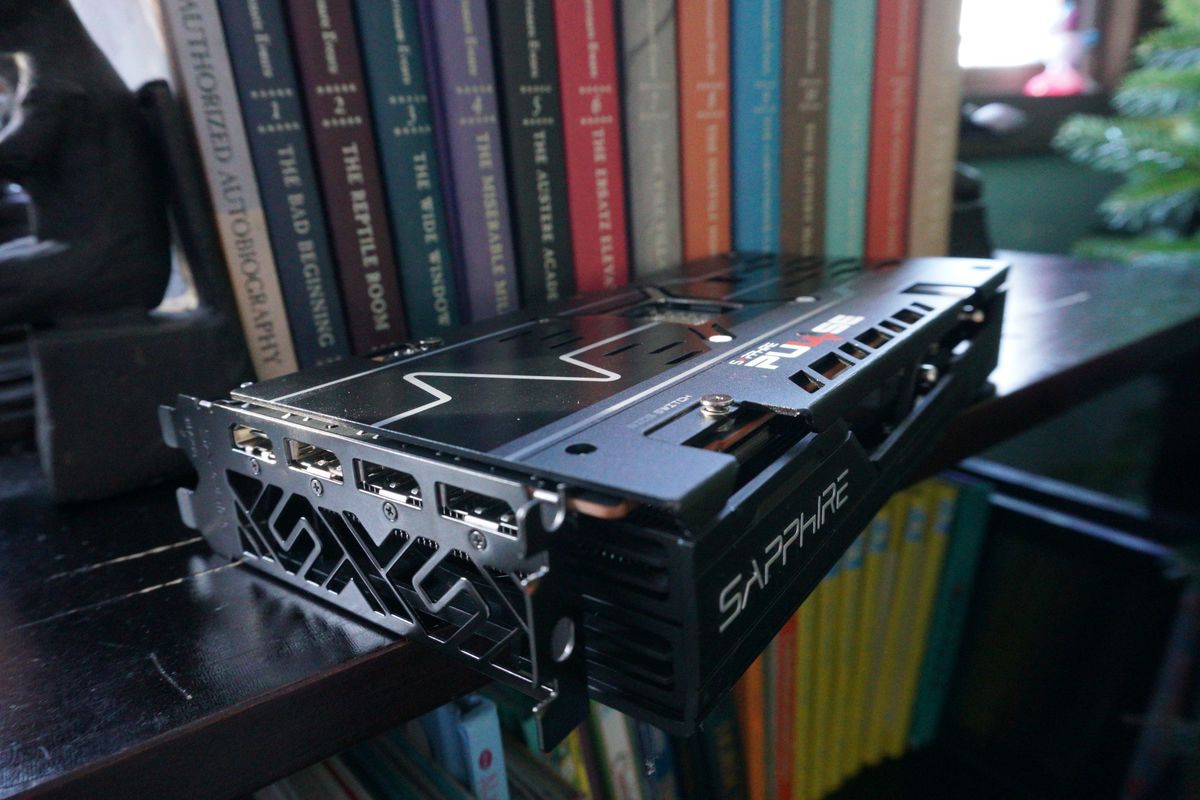 The other thing? Software, at least now that the Navi generation is here. Sapphire introduced the outstanding Trixx Boost feature to its Trixx software in the Pulse RX 5700, and it continues in fine form with the Pulse RX 5500 XT.
Check out the Trixx Boost section of our Pulse RX 5700 review for a fuller walk-through, but basically, Trixx Boost weaves together AMD's superb Radeon Image Sharpening feature with slight resolution downscaling to give you more performance with minimal visual compromises. You tell Trixx Boost how much you'd like to scale down the resolution, click Apply, and after a few screen flashes, you'll be able to select those new, scaled-down resolutions in games.
Trixx Boost defaults to 85-percent scaling. That works wonderfully for the 1440p and 4K resolutions that the more powerful Radeon RX 5700 hangs around in, but we found it a bit too aggressive at the 1080p resolution that the Sapphire Pulse Radeon RX 5500 XT was built for. The 85 percent scaling created a new resolution of 1632×918; with far fewer pixels to work with than in the downscaling options for higher resolutions, it appeared just a bit too shimmery and pixelated to our eyes. Some games, like Strange Brigade, also resorted to framing the image in a letterbox at that resolution.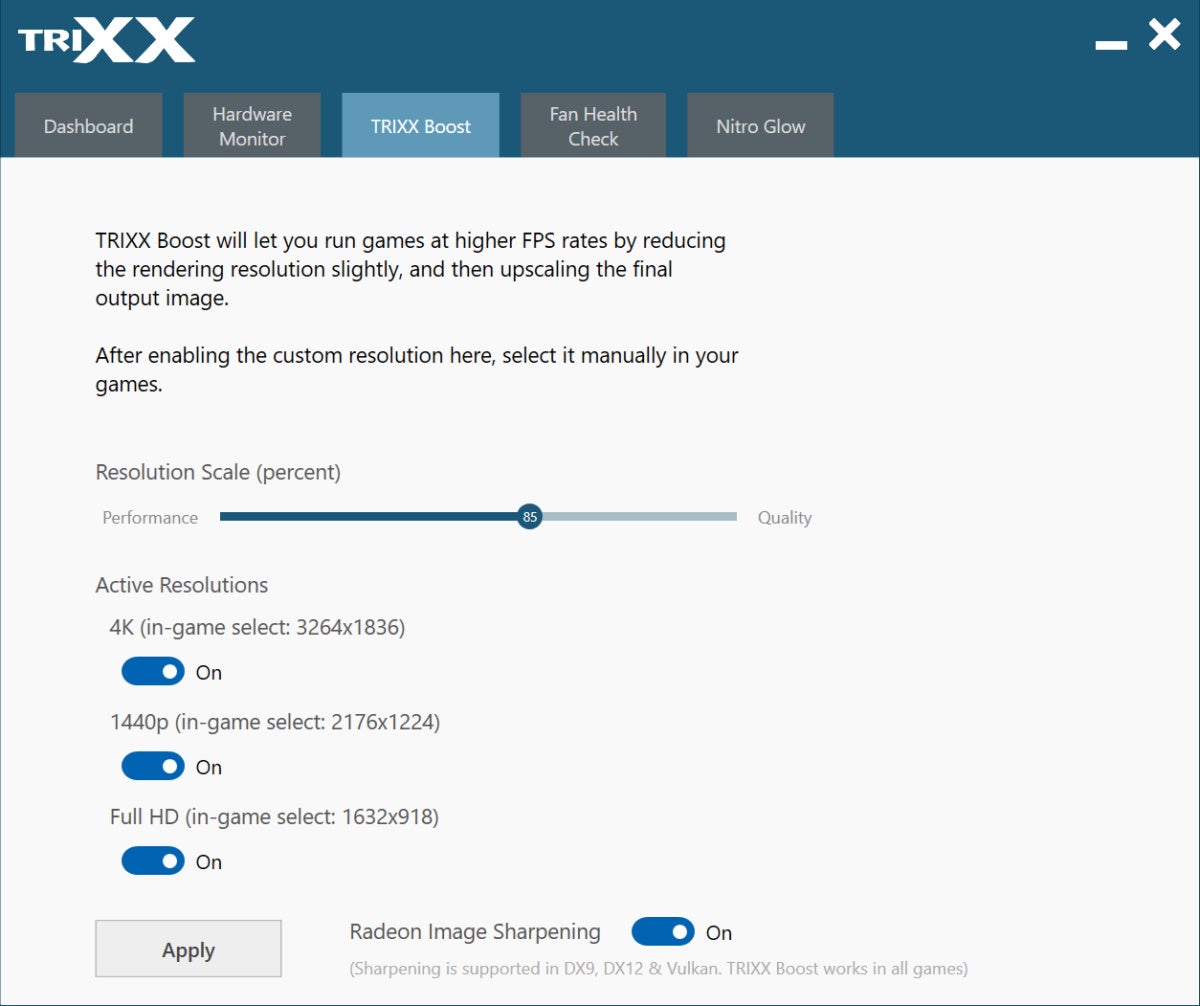 Bumping the scaling up to 90 percent—1728×972 resolution—got rid of those problems. Some pixelization can be seen if you really examine the image, but it's barely perceptible during actual gameplay. Of course, reducing the downscaling also reduces Trixx Boost's potential performance benefits, but as you'll see in our benchmarking session, it can still deliver a meaningful difference depending on the game. We benchmarked every game with the Pulse's out-of-the-box performance as well as with Trixx Boost set to 90-percent scaling.
Don't confuse Sapphire's unrivaled Trixx Boost with AMD's new Radeon Boost feature. Trixx Boost is available only for Sapphire graphics cards, but it works with any game running any graphics API. Radeon Boost, introduced in the huge Radeon Software Adrenalin 2020 Edition update just two days ago, works with any modern Radeon graphics card, but only in a small handful of games, and only if those games are running in DirectX 11 mode. Radeon Boost dynamically downscales the game's resolution when you move your mouse or control stick in-game to improve performance during action scenes.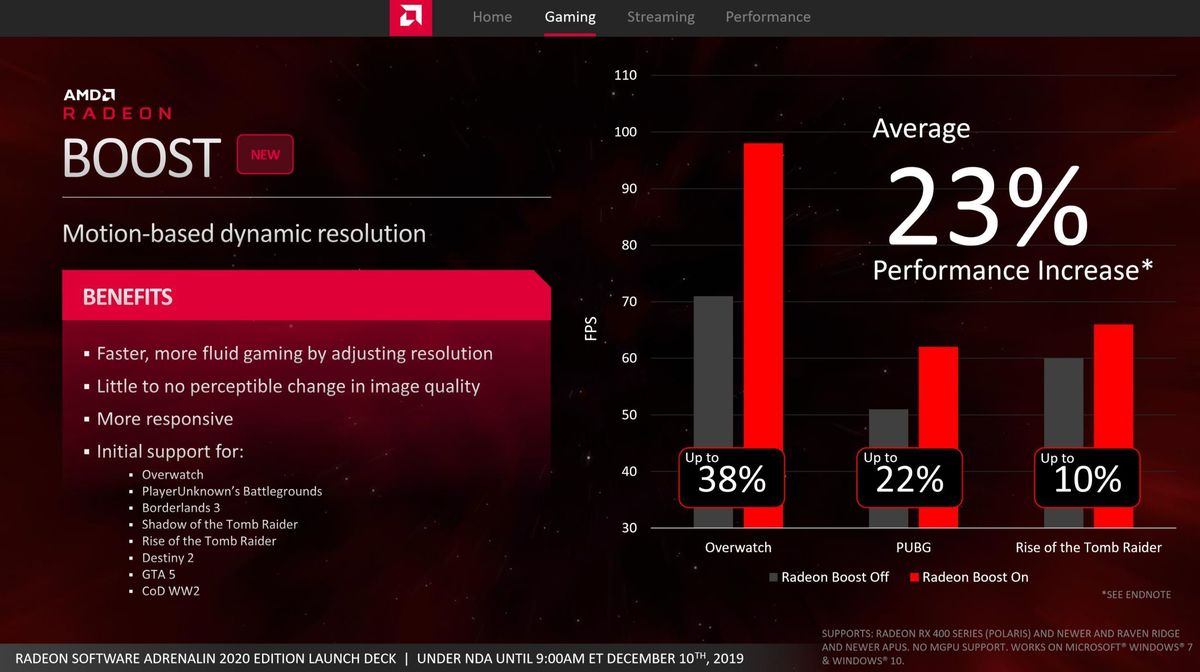 Trixx Boost provides its benefit much more consistently. You could theoretically use both Boost technologies at the same time for even faster performance, but given the limited pixels available at 1080p resolution, combining downscaling tricks below that could get real grainy, real fast. It's worth a shot in Radeon Boost-compatible games that you want to try at 1440p resolution, though.
Next page: Our test system, performance benchmarks begin
Our test system
Our dedicated graphics card test system is packed with some of the fastest complementary components available to put any potential performance bottlenecks squarely on the GPU. Most of the hardware was provided by the manufacturers, but we purchased the cooler and storage ourselves.
Mentioned in this article
ROG Strix GeForce GTX 1650 Super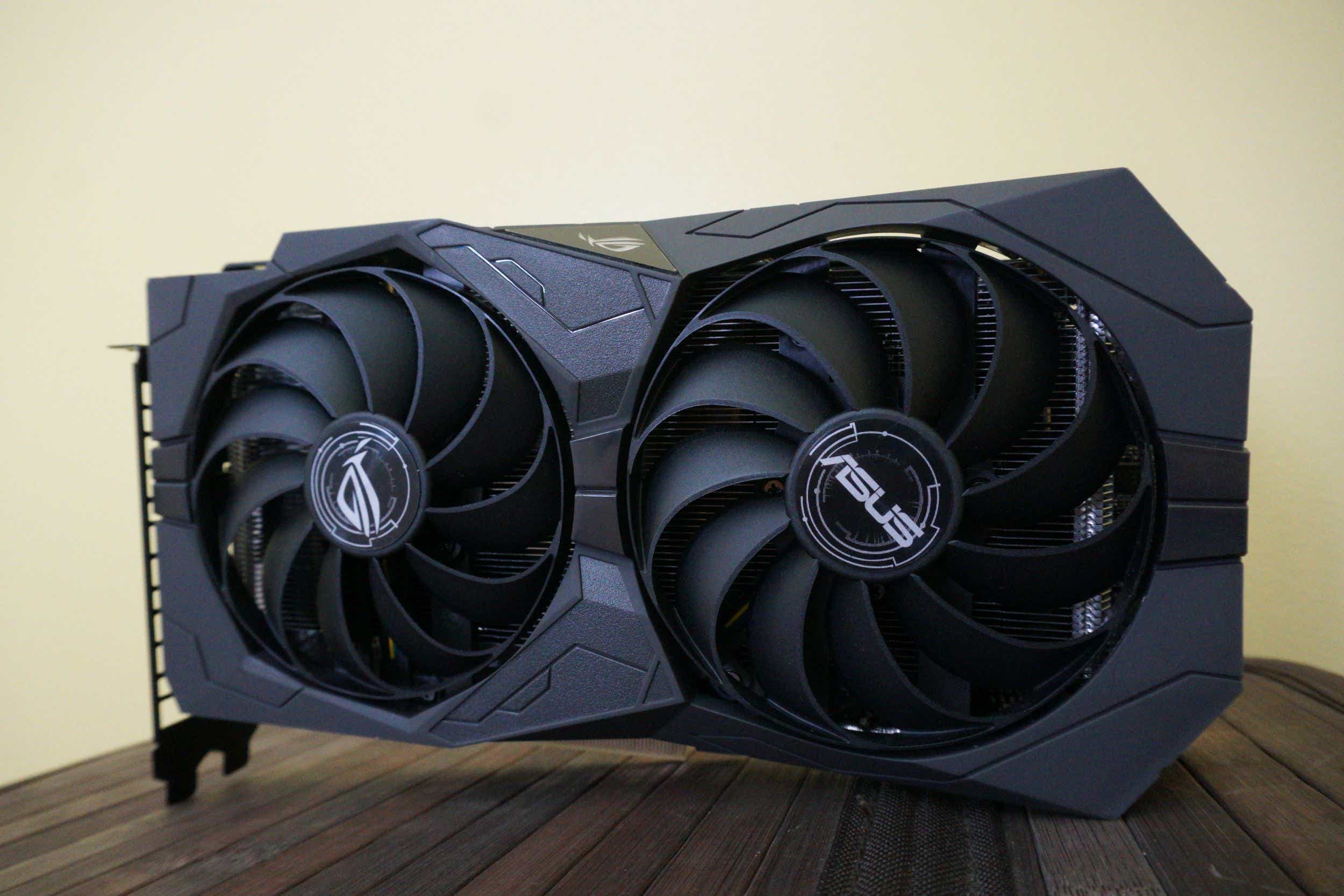 We're comparing the $169 Sapphire Pulse Radeon RX 5500 XT against the identically priced 4GB Asus ROG Strix GeForce GTX 1650 Super, a kitted-out custom model that charges a $10 premium over the GTX 1650 Super's suggested pricing. We're also throwing in the 4GB Radeon RX 570, 8GB RX 580, and 8GB RX 590 graphics cards that the Radeon RX 5500 XT replaces, as well as the 6GB EVGA GeForce GTX 1660 XC Ultra to represent the GTX 1660 series, which now starts at $200. Be sure to read our guide to the best graphics cards for PC gaming for a more holistic look at the GPU landscape.
Each game is tested using its in-game benchmark at the highest possible graphics presets, with VSync, frame rate caps, and all GPU vendor-specific technologies—like AMD TressFX, Nvidia GameWorks options, and FreeSync/G-Sync—disabled, and temporal anti-aliasing (TAA) enabled to push these cards to their limits. If anything differs from that, we'll mention it. We run each benchmark at least three times and list the average result for each test.
We tested the Sapphire Radeon RX 5500 XT using its default Performance BIOS, rather than its secondary Quiet BIOS that increases efficiency and lowers fan speeds at the cost of performance. We're also including benchmarks for each game that show the results of using the Trixx Boost utility with resolution downscaling set to 90 percent, as discussed in our introduction of the Pulse's unique features.
Gaming performance benchmarks
Division 2
The Division 2 is one of the best looter-shooters ever created. The luscious visuals generated by Ubisoft's Snowdrop engine make it even easier to get lost in post-apocalyptic Washington D.C. The built-in benchmark cycles through four "zones" to test an array of environments. We test with the DirectX 12 renderer enabled; it provides better performance across-the-board than the DX11 renderer, but requires Windows 10. (The Radeon RX 570 refused to complete a full benchmark run at 1440p resolution, crashing to the desktop repeatedly.)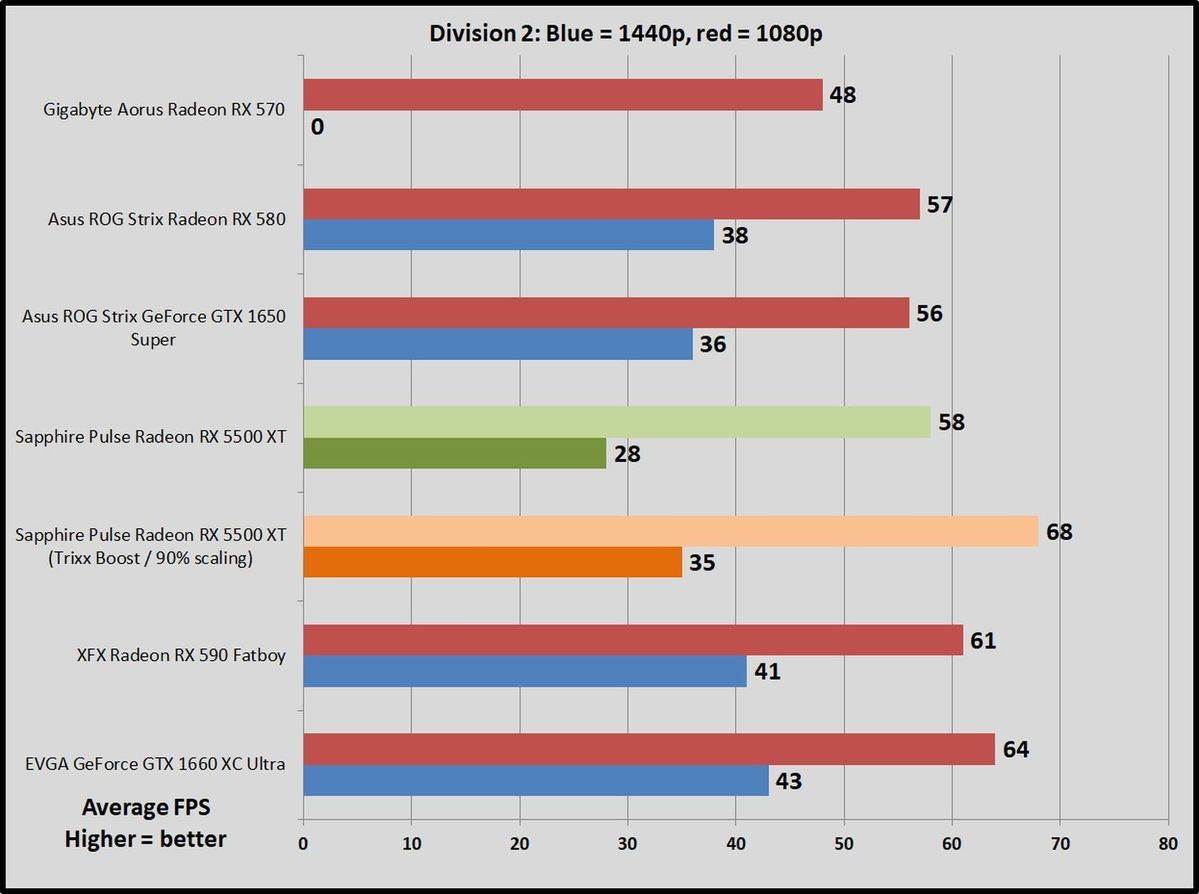 The Radeon RX 5500 XT is roughly as fast as the GTX 1650 Super, and the older Radeon RX 580—at least at the 1080p resolution the card's intended for. Performance plummets at 1440p resolution. Sapphire's Trixx Boost technology can propel the Pulse RX 5500 XT past even the $200 GTX 1660 with scaling set to 90 percent.
Far Cry: New Dawn
Another Ubisoft title, Far Cry: New Dawn drags Far Cry 5's wonderful gameplay into a post-apocalyptic future of its own, though this vision is a lot more bombastic—and pink—than The Division 2's bleak setting. The game runs on the latest version of the long-running Dunia engine, and it's slightly more strenuous than Far Cry 5's built-in benchmark.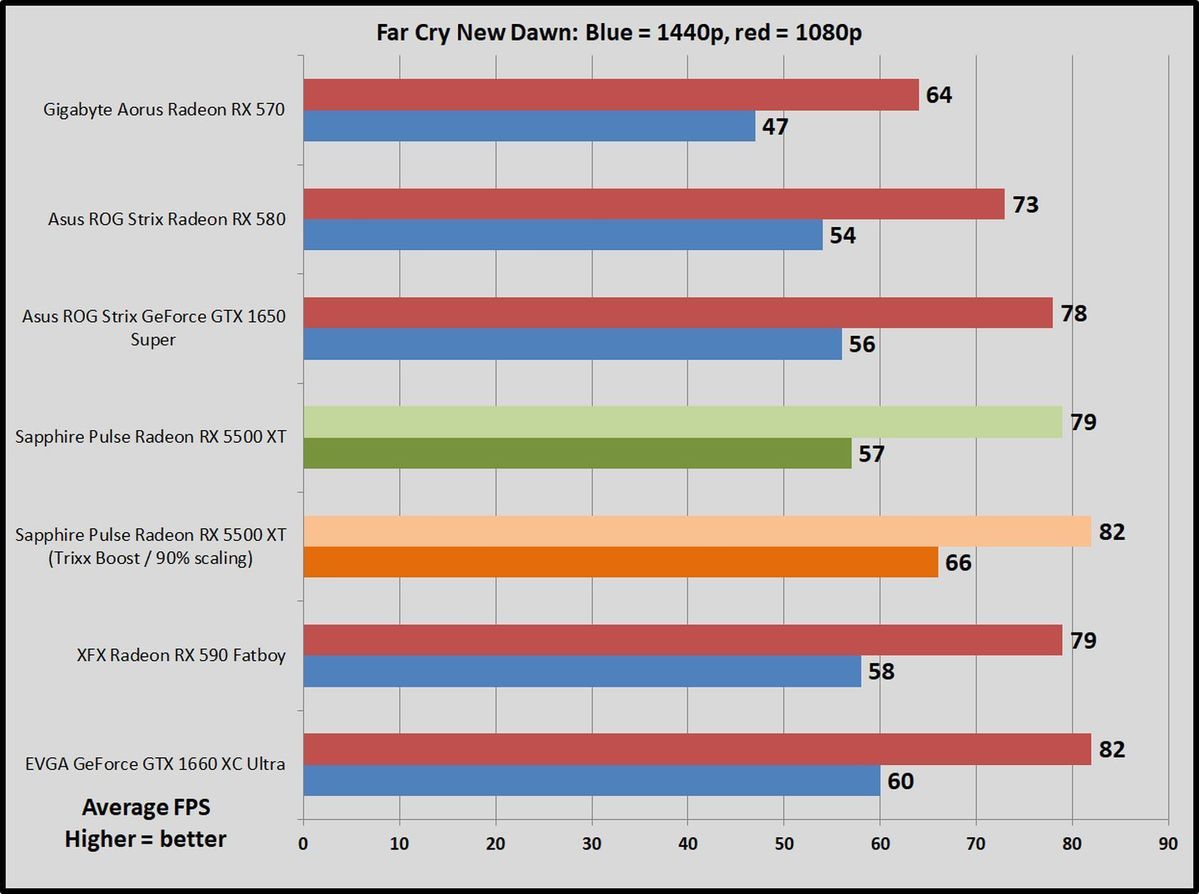 AMD's latest and greatest draws even with the Radeon RX 590 here, rather than the RX 580, and again ties with Nvidia's GeForce GTX 1650 Super. Trixx Boost offers much less benefit at 1080p resolution here, though it pushes the game past the hallowed 60-fps standard when active at 1440p resolution.
Next page: Gaming benchmarks continue
Strange Brigade
Strange Brigade ($50 on Humble) is a cooperative third-person shooter where a team of adventurers blasts through hordes of mythological enemies. It's a technological showcase, built around the next-gen Vulkan and DirectX 12 technologies and infused with features like HDR support and the ability to toggle asynchronous compute on and off. It uses Rebellion's custom Azure engine. We test the DX12 renderer with async compute off.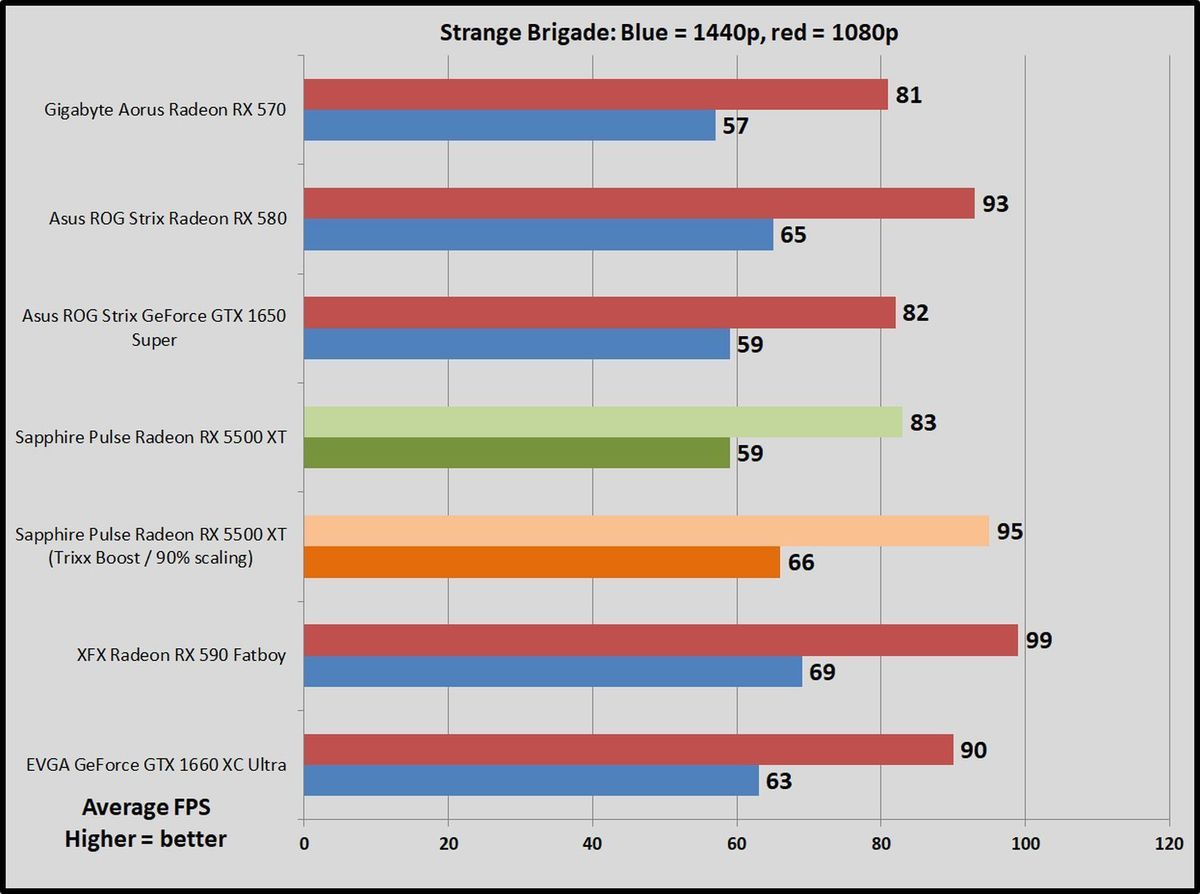 Here's an interesting anomaly: Strange Brigade performs much better on all the older Polaris GPUs than the newer Radeon RX 5500 XT and GTX 1650 Super. The modern models draw even with the Radeon RX 570's performance—a card you can often find on sale for $120, and sometimes less. The game seemingly likes larger memory capacities. Either way, Trixx Boost helps the Pulse make up the lost ground.
Shadow of the Tomb Raider
Shadow of the Tomb Raider ($60 on Humble) concludes the reboot trilogy, and it's utterly gorgeous. Square Enix optimized this game for DX12, and recommends DX11 only if you're using older hardware or Windows 7, so we test with DX12. Shadow of the Tomb Raider uses an enhanced version of the Foundation engine that also powered Rise of the Tomb Raider.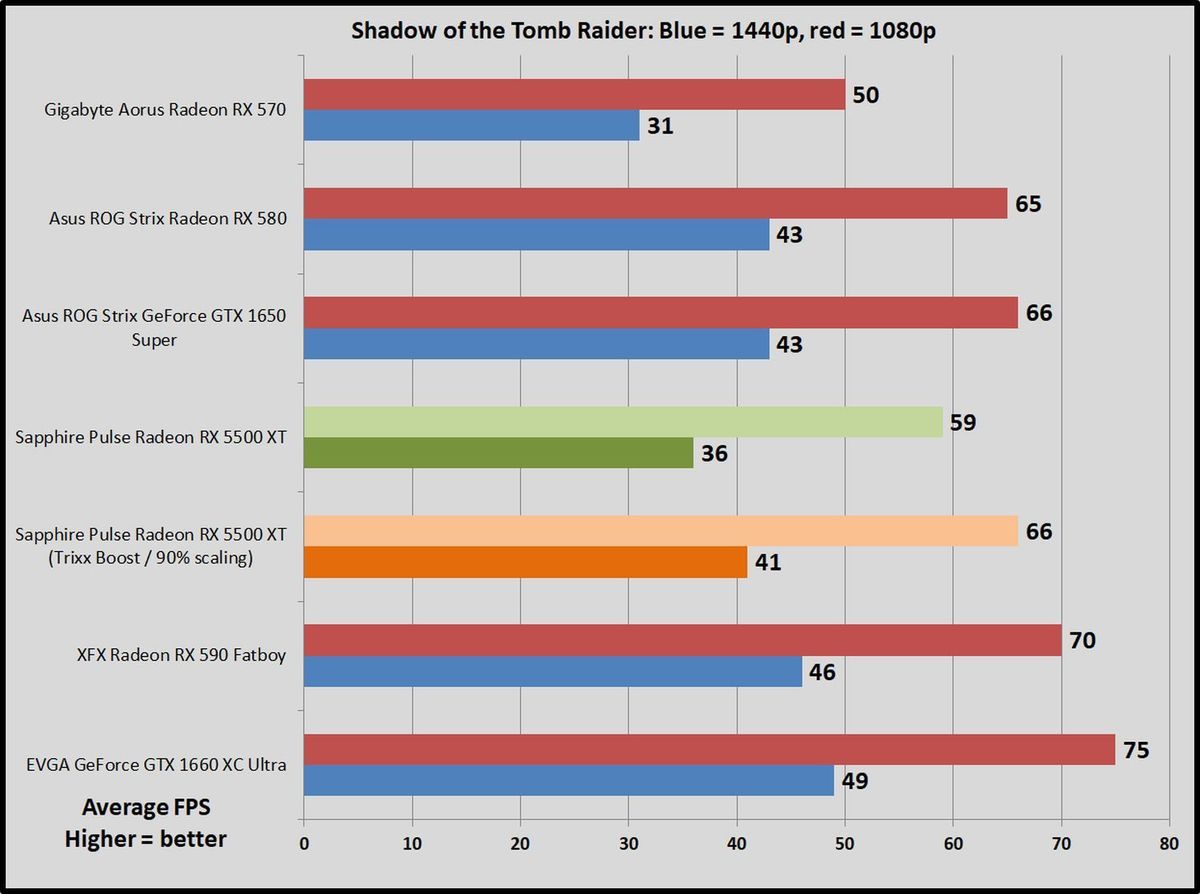 The Radeon RX 5500 XT is slower than the GTX 1650 Super here, as well as the ancient Radeon RX 580. It's much slower than the Radeon RX 590. Again, Trixx Boost helps the Pulse make up some of the difference, but it's a discouraging result for AMD's new card—especially at 1440p resolution.
Ghost Recon Wildlands
If you crank all the graphics options up to 11, like we do for these tests, Ghost Recon Wildlands ($50 on Humble) and its AnvilNext 2.0 engine absolutely melt GPUs, even with a sequel due later this year. It's by far the most strenuous game in our suite, even with newer stunners like Division 2 in the mix. Sequel Ghost Recon Breakpoint recently launched but has been receiving frequent tweaks, so we haven't swapped over to it for our testing yet.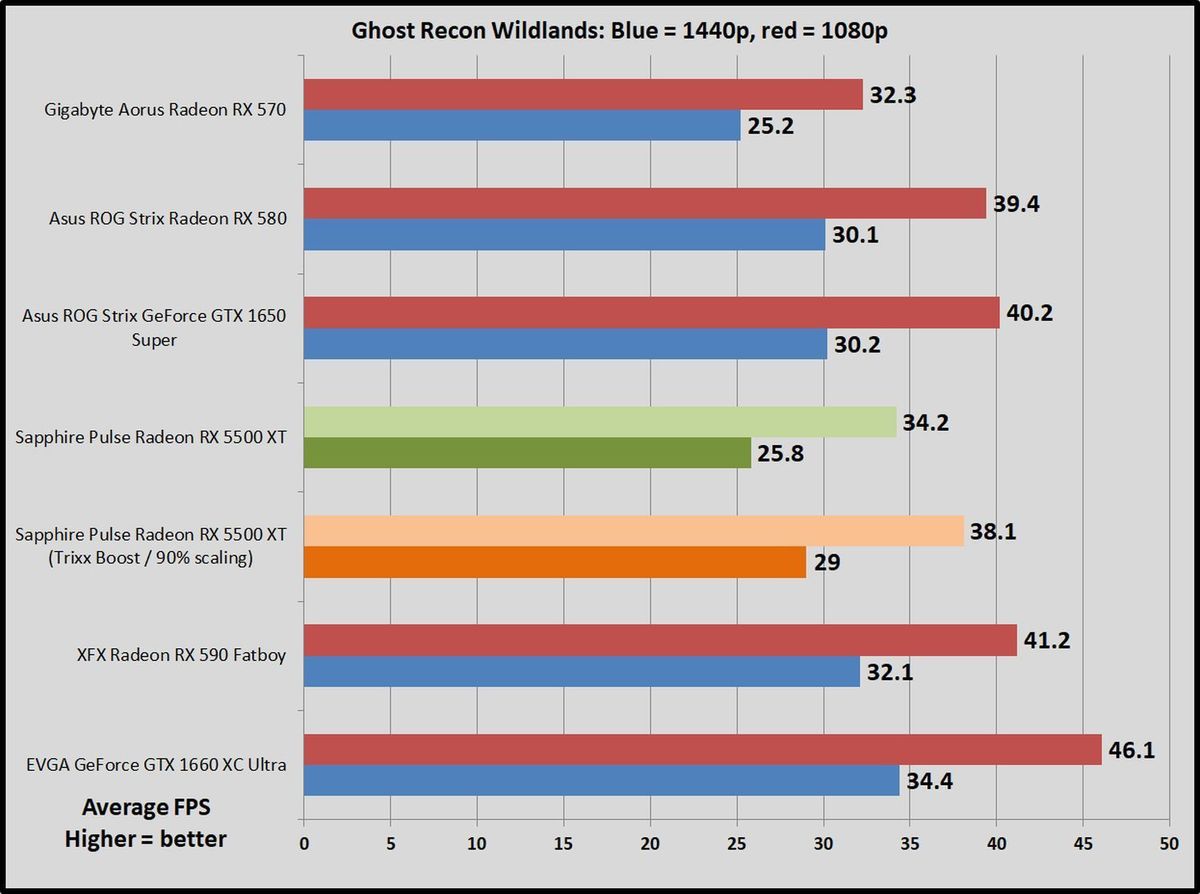 Ghost Recon's Ultra graphics preset hammers budget graphics cards. The Radeon RX 5500 XT turns in another disappointing result here, with performance falling between the Radeon RX 570 and RX 580, all these years later. Even with Trixx Boost active, the Pulse can't keep up with the GeForce GTX 1650 Super.
F1 2018
The latest in a long line of successful games, F1 2018 ($60 on Humble) is a gem to test, supplying a wide array of both graphical and benchmarking options—making it a much more reliable (and fun) option that the Forza series. It's built on the fourth version of Codemasters' buttery-smooth Ego game engine. We test two laps on the Australia course, with clear skies.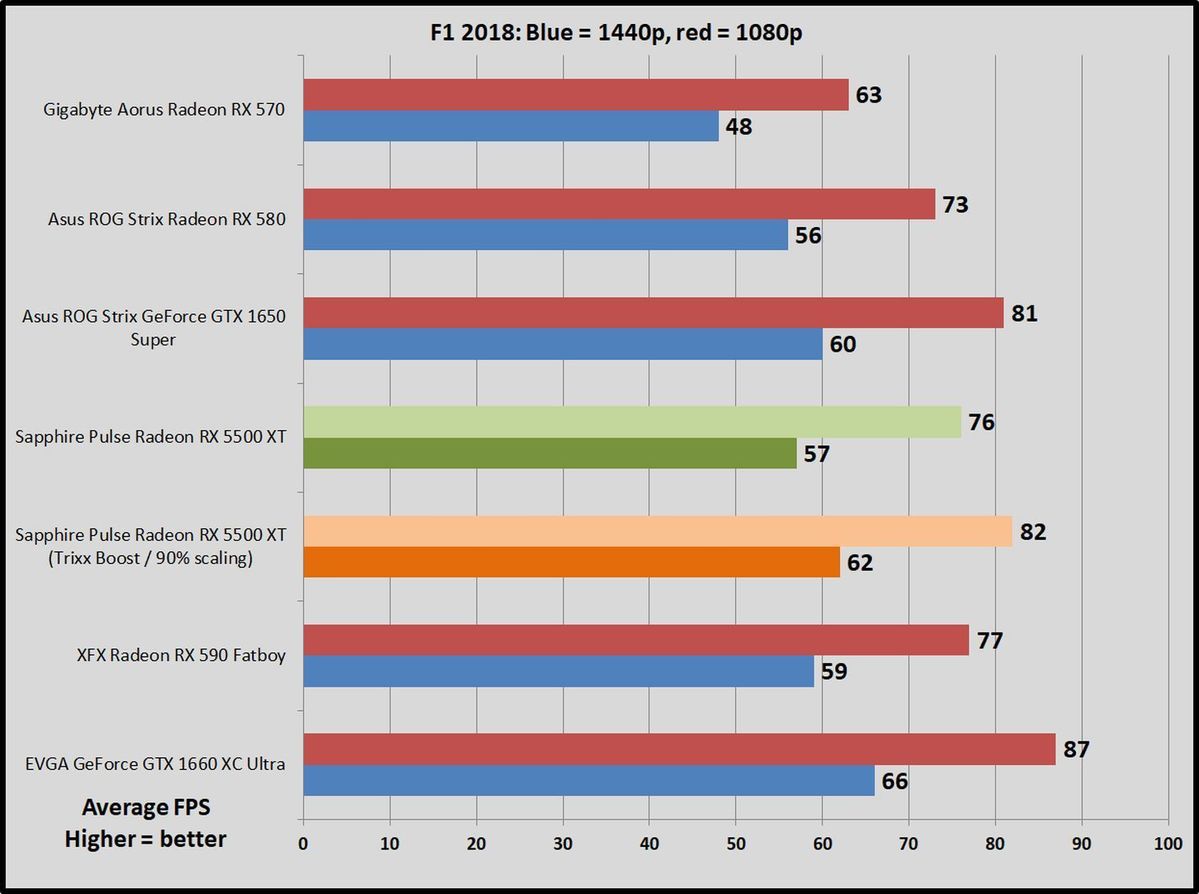 The Radeon RX 5500 XT puts in a good showing here, albeit one roughly on a par with the Radeon RX 590. The GTX 1650 Super just puts in a better one.
Next page: Gaming, power, and thermal benchmarks
GTA V
We're going to wrap things up with a game that isn't really a visual barn-burner, but still tops the Steam charts day in and day out. We test Grand Theft Auto V ($30 on Humble) with all options turned to Very High, all Advanced Graphics options except extended shadows enabled, and FXAA. GTA V runs on the RAGE engine and has received substantial updates since its initial launch.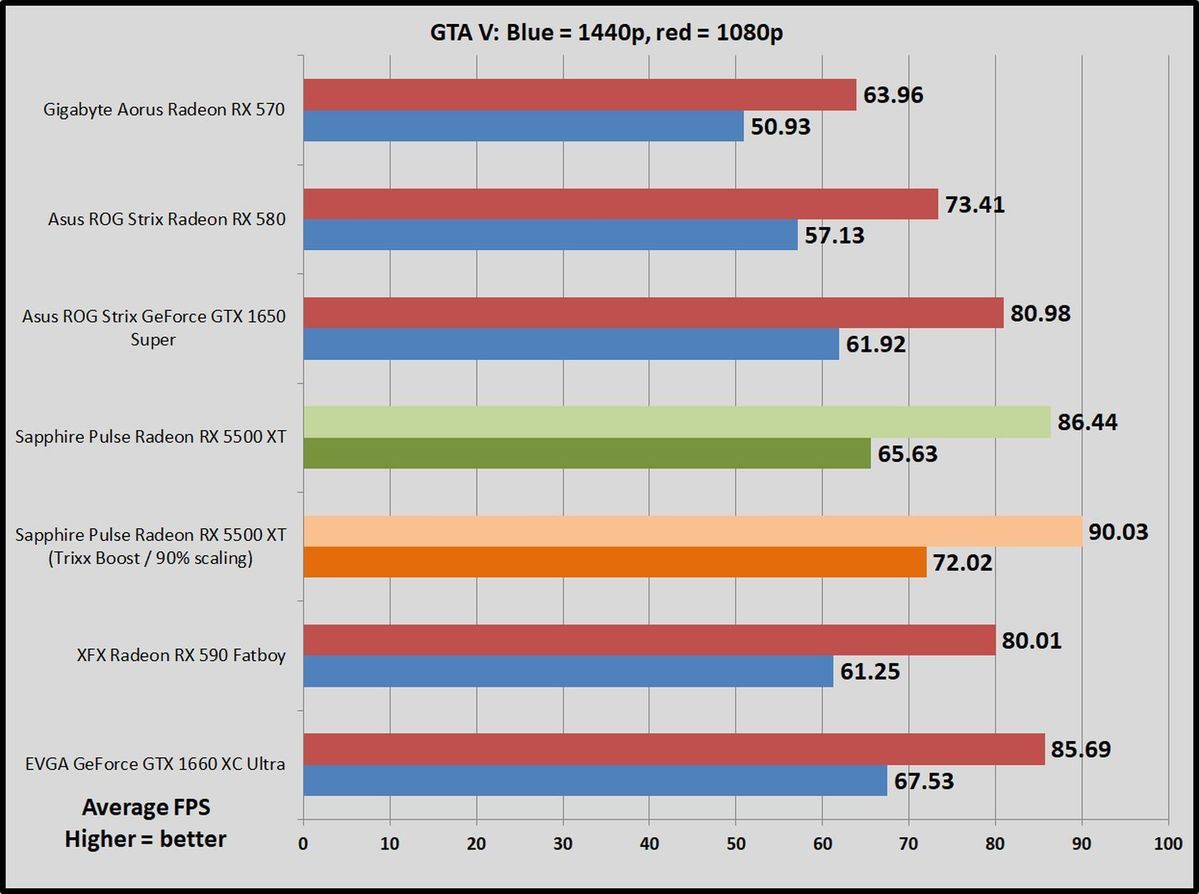 While GTA V has traditionally been a big win for Nvidia GPUs, it loves AMD's new Navi architecture. The Radeon RX 5500 XT shines here, keeping pace with the $200 GTX 1660, and surpassing it with Sapphire's Trixx Boost active.
Power draw, thermals, and noise
We test power draw by looping the F1 2018 benchmark for about 20 minutes after we've benchmarked everything else and noting the highest reading on our Watts Up Pro meter. The initial part of the race, where all competing cars are onscreen simultaneously, tends to be the most demanding portion. (Note that we did not retest power with Trixx Boost active.)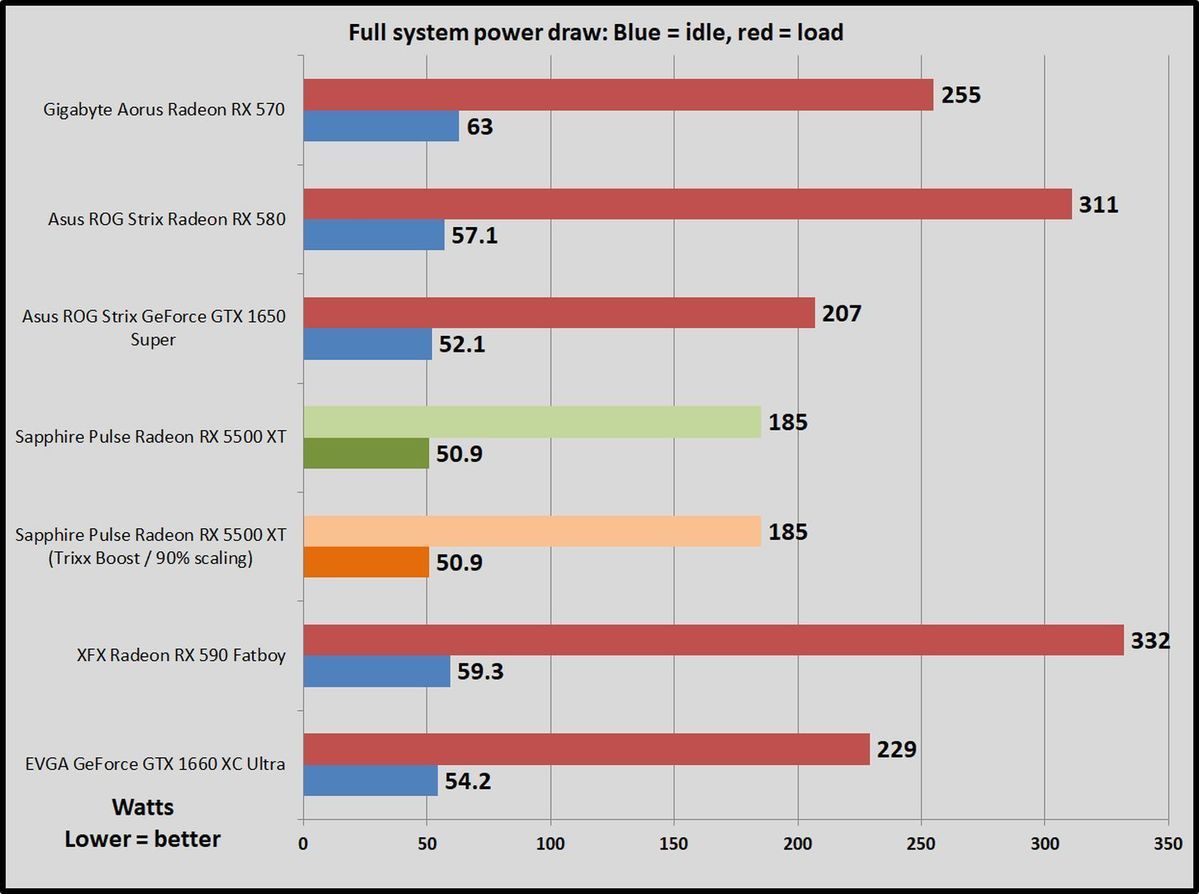 AMD's move to 7nm, GDDR6, and the new RDNA architecture paid off. While Radeon GPUs have been hot and power-hungry compared to their GeForce rivals for several years running, the Radeon RX 5500 XT draws less energy than the GTX 1650 Super. (It's also less powerful, however.)
The real question is how the cooler design handles all that power and the heat this beastly overclock throws off. The answer? Exceptionally. We test thermals by leaving GPU-Z open during the F1 2018 five-lap power draw test, noting the highest maximum temperature at the end. (Note that we did not retest temperatures with Trixx Boost active.)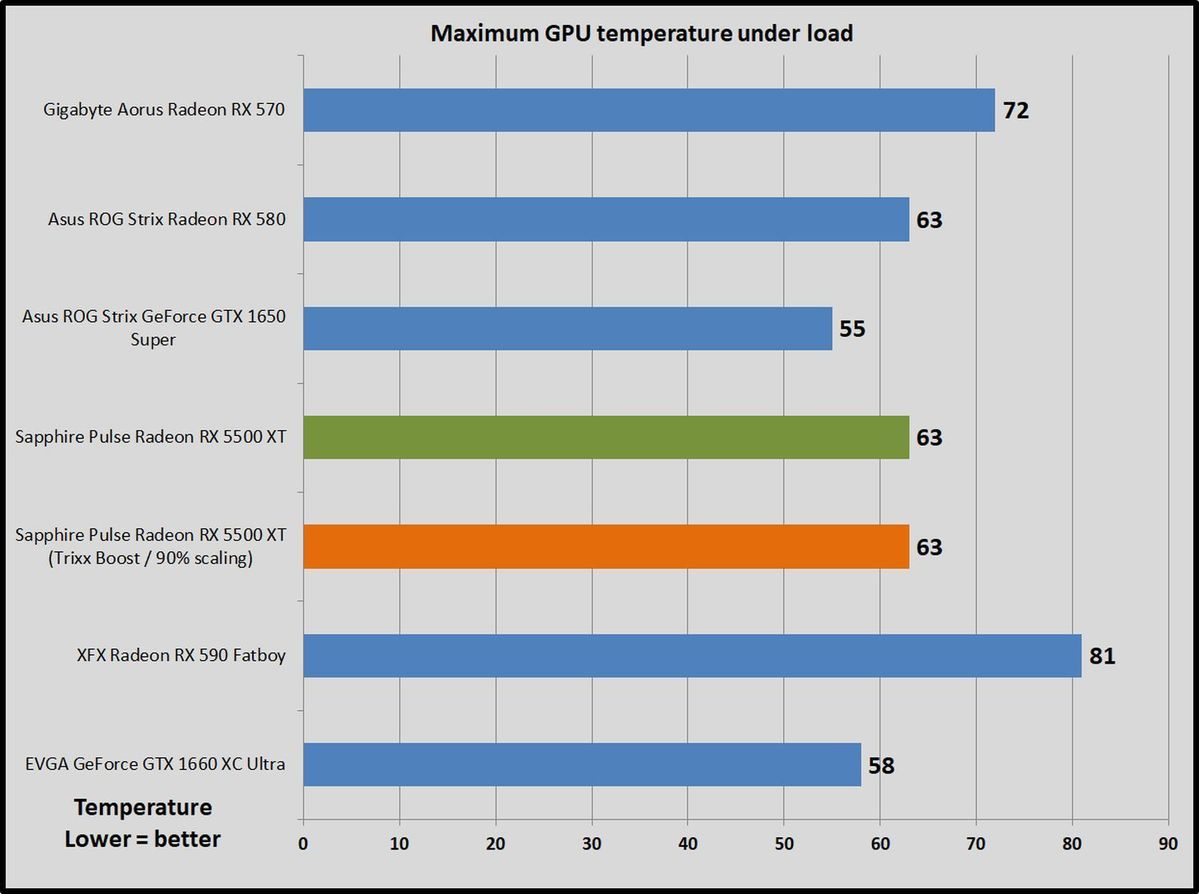 Sapphire's Pulse isn't as ludicrously chilly as the monstrous ROG Strix cooler on the GTX 1650 Super, but don't let that fool you: This is a damned good design. The Sapphire Pulse Radeon RX 5500 XT stays at 63 degrees Celsius or below, an outstanding result for an affordable cooling solution. Better yet, it's virtually silent even with the default Performance BIOS. Thanks to the idle fan stop feature, it's literally silent on the desktop. The Pulse makes AMD's power-efficient GPU even better with a fine custom cooler.
Next page: Should you buy the AMD Radeon RX 5500 XT?
Should you buy the AMD Radeon RX 5500 XT?
The Radeon RX 5500 XT is a decent budget 1080p gaming option, but most people would probably be better off buying Nvidia's GeForce GTX 1650 Super. AMD's affordable card is still priced too high against the competition.
ZOTAC Gaming GeForce GTX 1650 Super Twin Fan
Nvidia's GPU is effectively equal in performance or flat-out faster than the Radeon RX 5500 XT in most of the games we tested and starts at $10 less. Luxurious custom versions like the Asus ROG Strix GTX 1650 Super we reviewed previously cost the same $170 that the Radeon RX 5500 XT uses for baseline pricing. GeForce GTX 1650 Super stocks are limited on Newegg, but you'll find single-fan models still available for $160, and several dual-fan versions on Amazon.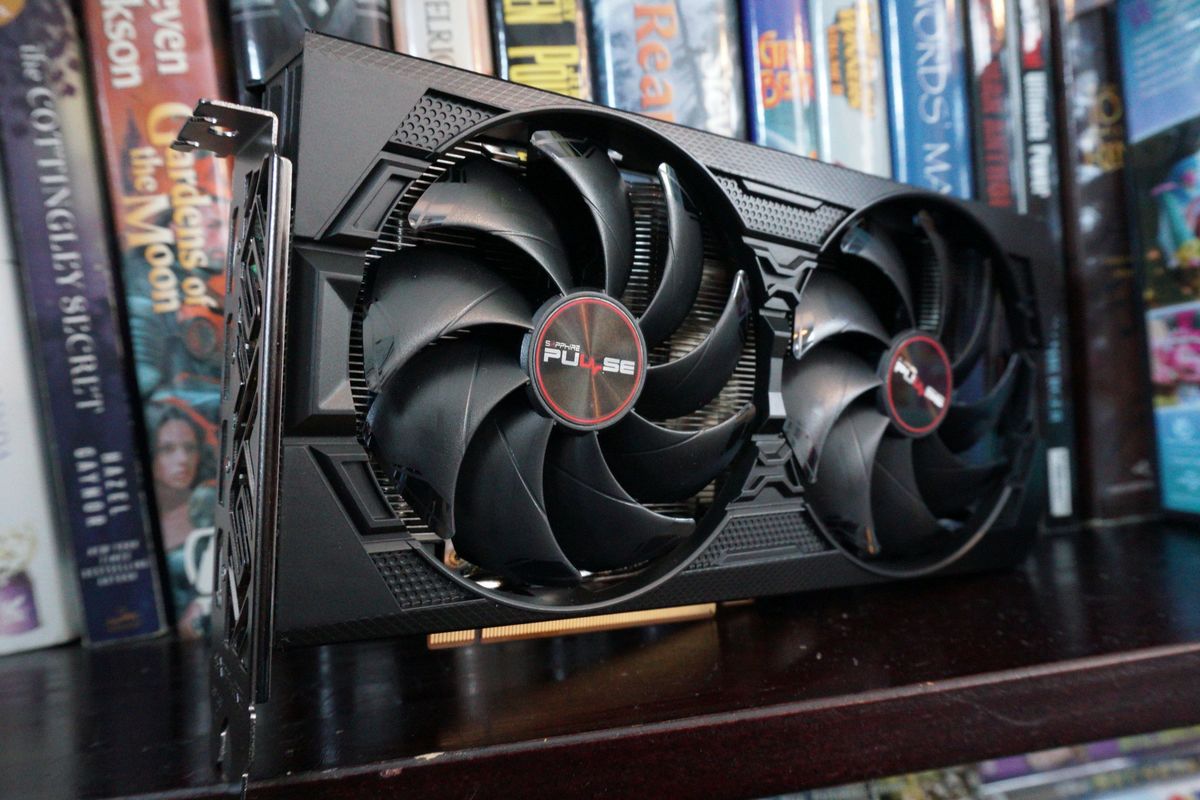 XFX Radeon RX 580 GTS XXX Edition
Moving past Nvidia's options, I can't even see the Radeon RX 5500 XT as a clear recommendation over its ancient predecessors. Newegg's selling several Radeon RX 580s at or under the RX 5500 XT's $169 starting price, and they all come with free games and 8GB of GDDR5 memory—double the capacity of the RX 5500 XT. The Radeon RX 580 equals or even beats the newer card's 1080p performance in many of the games we tested, too, albeit at drastically higher power consumption.
You can find some even faster 8GB Radeon RX 590 models starting at $180 on Newegg. But most people should buy a GeForce GTX 1650 Super instead.
AMD's new mainstream GPU has some merit. The Radeon RX 5500 XT delivers satisfying performance for the price at Medium to High graphics presets, best-in-class power efficiency, and a slew of bleeding-edge features that its Polaris-based predecessors lack. On the other hand, PCIe 4.0 capabilities deliver no real-world gaming improvements for graphics cards right now, though AMD's implementation helps improve this card's power efficiency, and most people aren't pairing budget GPUs with 4K, 144Hz panels.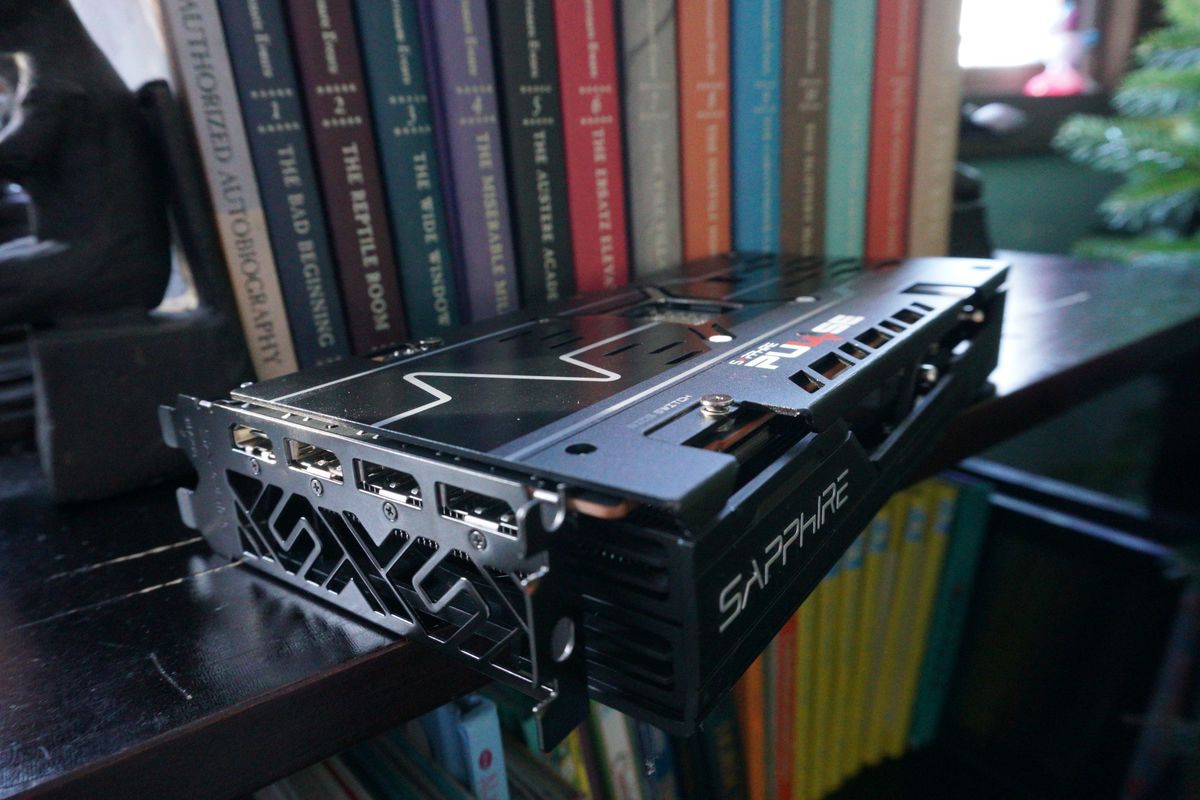 Overall value plays a big part in buying decisions in this price range. AMD tosses in a free copy of Monster Hunter World: Iceborne Master Edition and three free months of Microsoft's excellent Xbox Game Pass for PC, and those goodies could tip the scales enough to sway some people to Team Red. You could buy the Radeon RX 5500 XT without spending extra on games for at least a quarter of a year. That's compelling, especially if you were already considering picking up MHW.
Definitely consider the Sapphire Pulse if you want to buy a Radeon RX 5500 XT. The graphics card comes loaded with some nice extras you don't normally find in affordable custom models—a dual BIOS switch, idle fan stop, and a metal backplate—and runs very cool and almost imperceptibly quiet. It's great.
Mentioned in this article
Nitro+ Radeon RX 5700 XT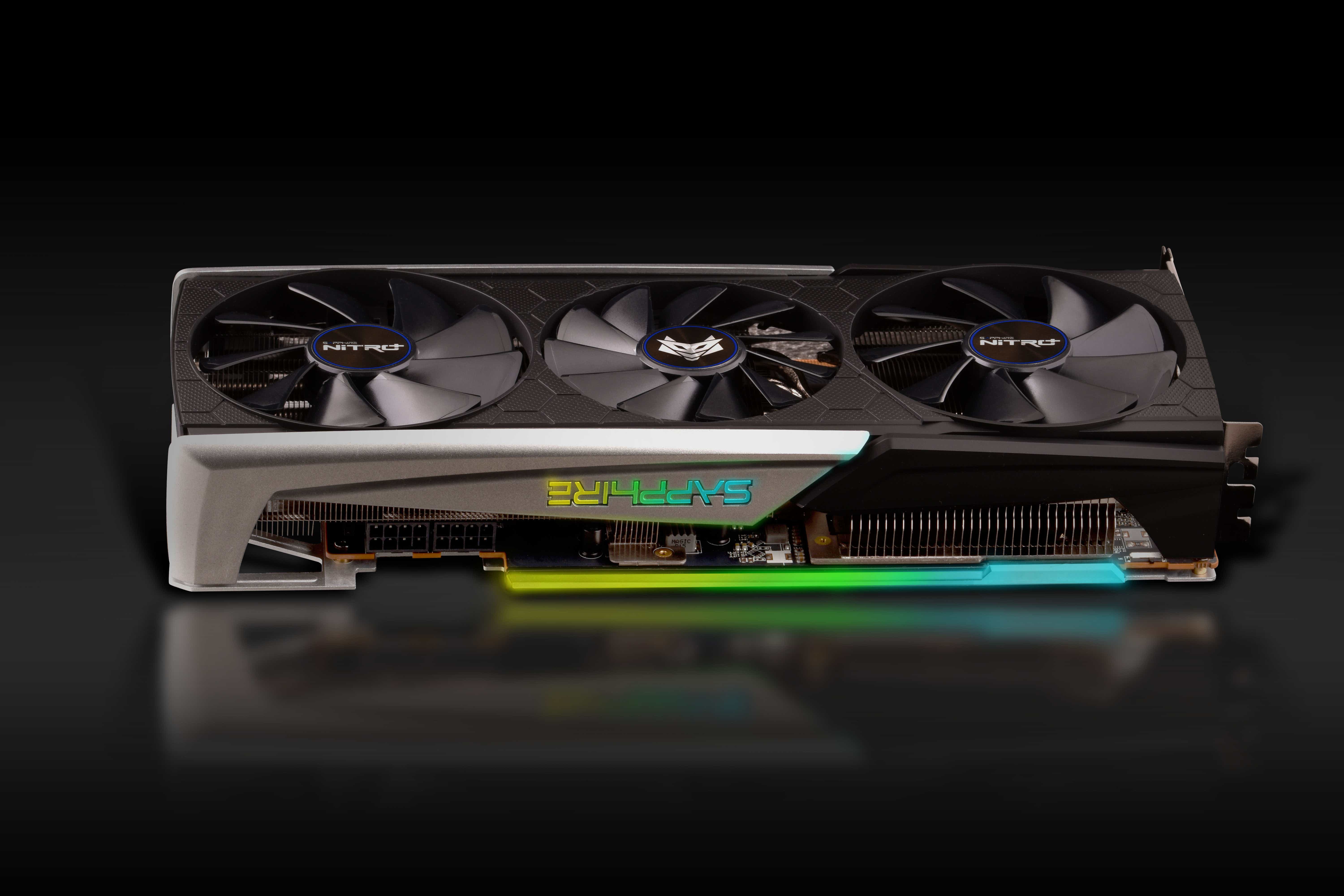 Better yet, the company's innovative, thus-far-unrivaled Trixx Boost feature helps push performance further, matching the GTX 1650 Super in worst-case scenarios and teeing up against the $200 GeForce GTX 1660 in the best. Trixx Boost kicks ass, full stop, though it kicks less ass for the budget Radeon RX 5500 XT than it does in the more potent (and much pricier) Sapphire Nitro+ Radeon RX 5700. The Radeon RX 5500 XT performs best at 1080p resolution, meaning you can't tap into Trixx Boost's downscaling as aggressively as you can with all the pixels shooting forth from the 1440p-focused RX 5700, reducing the potential performance uplift. We had to adjust the feature's default 85 percent scaling up to 90 percent for games to look good to our eye, though that'll differ for everyone.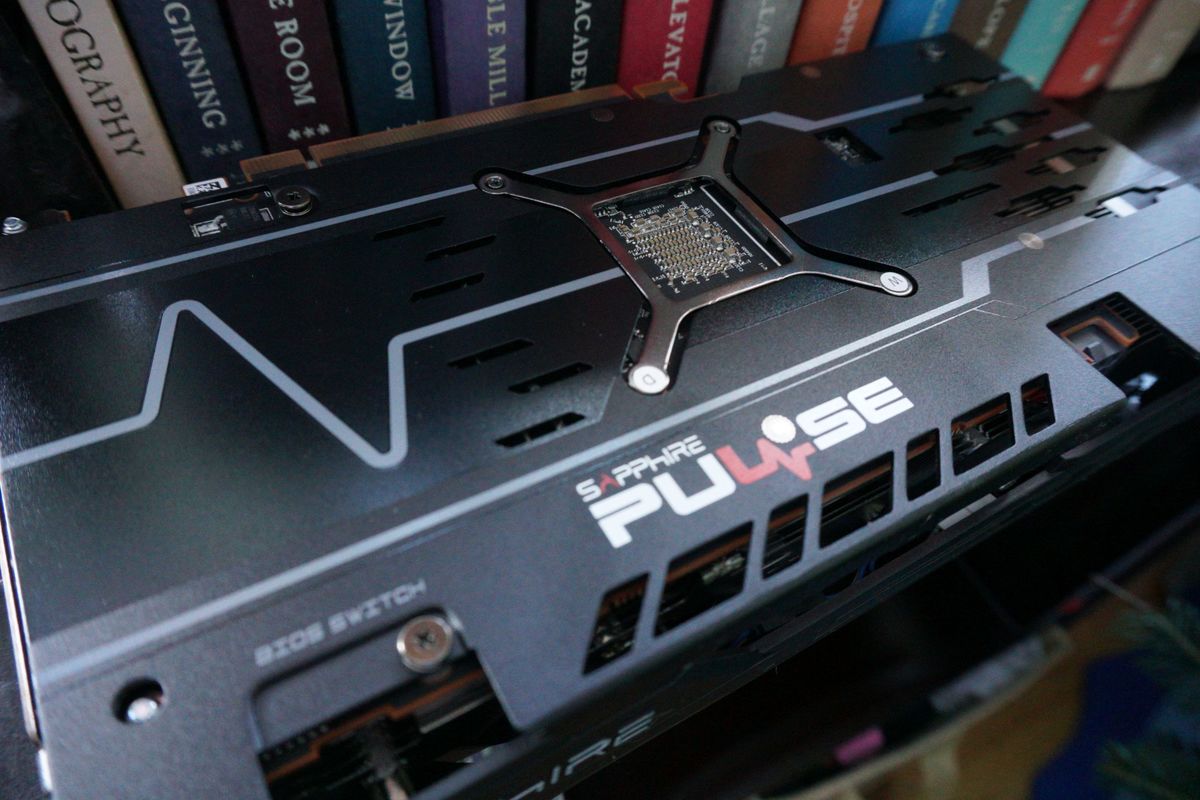 Bottom line: The AMD Radeon RX 5500 XT moves the needle forward in terms of features and power efficiency, but not in performance compared to what Polaris-based Radeon cards have been selling for over the past year. If the card cost $20 or $30 less, we'd like it a lot more in this value-obsessed section of the market. Sapphire's Pulse design and fantastic Trixx Boost feature deserve praise, however. If we were reviewing a (non-existent) reference version of the Radeon RX 5500 XT, we'd award it 3 stars. The extra value provided by Sapphire's custom model bump it up to a 3.5. The Sapphire Radeon RX 5500 XT is a great custom cooler design built around a good AMD GPU with a too-high price.
Riding the bleeding-edge of features ain't cheap, but for budget graphics cards, every dollar matters.
Best Prices Today: Pulse Radeon RX 5500 XT