We've been putting together these "Games You Might Have Missed" lists for a long time now, trying to surface deserving indies you might've overlooked. It gets harder every year though—to narrow it down, I mean. There are just so many games. We logged over 300 review codes in 2019, and that's still a tiny fraction of what actually released. Even shouting out 30 indie games a year doesn't feel like enough anymore.
All we can do is try, though. Below, you'll find 15 fantastic indie games from the second half of 2019. Rhythm games, visual novels, frogs and alligators, skateboarding—it's a rich and varied cross-section of the industry, and I'm certain you'll find something worth taking a chance on. Though if you don't…well, there's our list of great indie games from the first half of the year as well, not to mention our Game of the Year list. That's like, 45 great games from 2019.
Now if only there were more hours in a day.
Wilmot's Warehouse
Wilmot's Warehouse is a game about the joys of organizing. You've got a big ol' room, a growing inventory of colorful boxes, and a bunch of demanding customers. Arrange your boxes however you'd like, whether by color, by shape, by theme. It doesn't matter, so long as you can summon their location at a moment's notice and drag them out of the lineup.
It sounds stressful, but I found Wilmot's Warehouse surprisingly calming. Like unpacking after a move, it's soothing to discover that everything has its place, that you can impose some order on the chaos with a bit of time and devotion.
Frog Detective 2: The Case of the Invisible Wizard
"Good thing crime's not real." Of all the jokes in Frog Detective 2, that one maybe got the biggest laugh out of me. It strikes at the heart of the series, one wherein you play as the titular Frog Detective—and yet your cases always end with a heartfelt apology and a dance party. There's nothing sinister, no conspiracy and no bodies and no murder weapons. Just funny goofs and a cast of oddball animals to chat with.
The writing is good for more than a few blow-air-out-your-nose moments and at least one or two solid chuckles, and then an hour later it's over. It's perfect, and I hope Frog Detective turns into an annual tradition.
Sayonara Wild Hearts
Sayonara Wild Hearts is a jaw-dropping spectacle, and I wish it let you sit back and enjoy that fact more. Essentially a music video with a rhythm game aspect, all I wanted to do was watch the action and hit a button every once in a while. Instead I was constantly aware of the points I was earning, the rankings I received at the end of every level, and the breaks in the action that coincided with kicking me back to the menu.
After finishing once—it's only an hour or so—you unlock a mode that just jams every level back to back and only ranks you at the end. I can't help wishing this was the first encounter I'd had with Sayonara Wild Hearts, a more relaxing experience that focuses on the artistry. Still, it's a beautiful piece of work if you can turn off the perfectionist part of your brain.
Eliza
For years, Zachtronics has built tough puzzle games within elaborate story frameworks. Way more elaborate than most puzzle games attempt, really.
With Eliza, they simply dispensed with the puzzles for a moment. A visual novel, Eliza discusses the role of technology in modern life, all its myriad facets. Privacy laws, artificial intelligence, isolation and detachment, snake oil disguised as miracles, the reification of everyday life, all subjects that Eliza takes a passing interest in. None of it is all that surprising, but it's a well-told story that's as much a mirror of the player as the titular Eliza itself.
A Short Hike
A Short Hike is a perfect summer day, captured. You've been sent to Hawk Peak Provincial Park for the summer to live with your aunt. Trouble is, your phone doesn't work out here—but your aunt says if you climb to the top of Hawk Peak you might find cell reception.
And off you go. That's pretty much the entire setup and plot of A Short Hike. Oh, and you're a bird. That's important. You walk, hop, and glide your way towards the top, following the trail if you feel like it or aimlessly wandering if you don't. A Short Hike doesn't really care what you do, but has filled every nook and cranny with potential discoveries—chests to open, treasures to dig up, characters to talk to, fish to catch, secret passages, and so forth. It's a magical slice-of-life experience, one that made me surprisingly nostalgic for summer camp. It's short, yes, but compelling.
Session
With EA stubbornly refusing to make a Skate 4, it falls to others to ollie that gap. Of the few choices out there, Session is probably my favorite—though it takes a lot of getting used to.
Billed a "skateboarding sim," Session's controls are incredibly complicated. Overcomplicated, I'd argue. Steering is done with the triggers, and then the analog sticks each control a foot. Left stick, left foot. Right stick, right foot. Oh, and if you switch your stance, the sticks swap as well. It is an absolute nightmare that ties my brain up in knots—and thus pulling off a trick feels incredibly rewarding as a result. Like the early days of Skate, I've been able to watch myself get progressively better at Session. Not good, but better. I'm looking forward to seeing what 2020 brings for this Early Access game.
Later Alligator
Who's trying to kill Pat the Alligator? And why? That's the mystery at the heart of Later Alligator, one of this year's most charming adventure games. In the vein of Puzzle Agent or Professor Layton, Later Alligator wraps a thin story around 30-odd minigames. There's a rhythm game, a Flappy Bird clone, a spot-the-difference, a version of Simon, all of the classics.
The characters and world make even the most well-trod activity feel fresh though. Later Alligator's version of New York City is packed full of gator puns, meta-humor, dad jokes, and secrets. It's the perfect way to spend a lazy afternoon.
Next page: More wonderful indie games you might have missed
What the Golf?
What the Golf? made me laugh more than any other game this year, over and over and over again. Ostensibly a golf game, it's actually a series of sight gags. Most levels use the same basic mechanic: You charge up your swing and release. But from that mechanic come a near-infinite number of jokes, be it the club flying off into space instead of the ball, or a couch hurtling down the putting green, or a massive soccer ball, or…
Well, I don't want to spoil too much, because therein lies the fun. Suffice it to say, What the Golf? goes places. I can't even tell you how many times I thought it had run out of tricks, only for it to surprise me again.
Children of Morta
Many of the games on this list are weird or daring or experimental. Children of Morta is just good, solid comfort food by comparison. It's a run-based action-RPG, the type where you click on a lot of spiders and skeletons until they die. Centered on the Bergson family, you'll eventually unlock six different characters with six (somewhat) varied skillsets, and it's all very satisfying. Go on a run, kill enemies, get loot, die, return home, strengthen your characters and unlock new skills, rinse and repeat.
The storybook narration also gives Children of Morta a more endearing vibe than the edgy Diablo knockoffs I usually see in this genre, as does the phenomenal pixel art.
Nauticrawl
The first 20 minutes of Nauticrawl are my favorite part. Beginning with an exhortation to not give up, you're plunked into a submarine and presented with an inscrutable instrument panel. Dials, levers, wheels, buttons, switches—a whole mess of controls, none of them labeled. In classic video game fashion, you start fiddling with everything to see what happens.
And then you die, probably.
If not immediately, then eventually. It's like a puzzle, oddly reminiscent of Myst's contraptions even though the two bear little resemblance otherwise. Maybe you deplete the battery before you even get the engine running, or crash into a wall and drown, or burn through all your fuel. And then? Time to start again, forearmed with slightly more knowledge than the time before.
Afterparty
Afterparty feels like a Double Fine game—and I'm not just saying that because it bears a passing resemblance to Tim Schafer's work on Grim Fandango. Sure, the afterlife motif is the same, but I more meant the world-building. When I think LucasArts/Double Fine, I think of settings built around a singular concept, i.e. Full Throttle and biker gangs, Psychonauts and summer camp, or Brutal Legend and rock music.
In Afterparty, that singular concept is Hell. It's less Dante and Milton, more The Good Place though. Torture confined to work hours, bars for demons and the damned alike to relax in, and a rager of a party thrown by Satan every night. The writing's good, but the jokes hidden in the environment are often even better. Keep an eye out.
Arise: A Simple Story
Arise: A Simple Story is the most beautiful game I played in 2019. It's stunning. In the first level, you're using the triggers to transition between winter and spring, the landscape freezing into snow drifts and ice floes one moment and then flooding the next. The second level depicts a world in miniature, traversed by jumping on sunflowers and hanging from bees. The third, a calamity rends the world in two, great sheets of rock tumbling into the abyss below—until you raise them back up again for safe passage.
It goes on and on, one unique idea after another. I wish the platforming were a bit more interesting, but everything else is so richly depicted it doesn't matter. Arise is a simple story, yes, but wonderfully told.
Kind Words
If you simply need a place to talk about your problems, visit Kind Words. "Group therapy" is maybe too lofty a term for what goes on there, but Kind Words is a place to receive wholly anonymous moral support and advice from strangers—or give the same to others. This takes the form of letters, 150-word snippets wherein you either lay out your own fears or respond to other people. Be warned, the topics discussed can get heavy. Or it can simply be a teenager asking for advice with their first relationship. I've seen both ends.
The only rule? Really and honestly? Be kind. It's one of the few projects I've found where the community is by and large respectful of the stated goal.
Manifold Garden
Manifold Garden is a game to get lost in. Ostensibly a puzzle game, the goal is to manipulate gravity and transport blocks onto switches. You know: Make a wall the floor so you can move past an obstacle.
Simple enough, except every structure in Manifold Garden is a labyrinth of impossible staircases and floors that become walls that become floors, on and on into infinity—a place where you fall into the void and then land right back where you started. This Escher-like quality is the true hook of Manifold Garden, taking the non-Euclidean architecture of Antichamber and making it somehow even more confusing through unbounded repetition.
AI Dungeon 2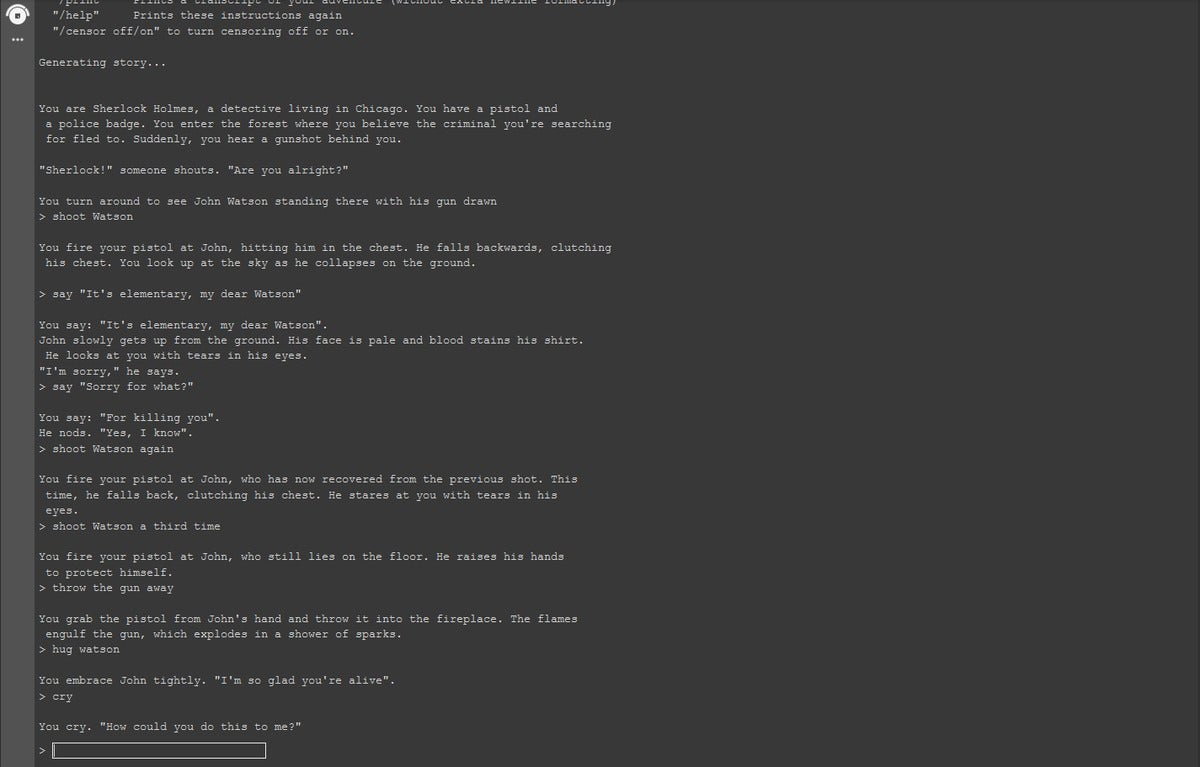 A last-minute addition to the list, AI Dungeon 2 is the strangest story you're liable to play in 2019—because a computer wrote it. Creator Nick Walton used OpenAI's GPT2 model to develop a text adventure that theoretically writes itself. No need for some pesky human to think three steps ahead of the player here. Any setting you want, you can play it. Any action you want to take, you can try it.
Of course, you're more than likely going to receive nonsense in return. AI Dungeon 2 is great at moment-to-moment interactions, less so at carrying a coherent plot. (Check out my Sherlock Holmes story above to see an example.) It's a fascinating way to spend a few hours though, mucking about with different story seeds and seeing what it spits back out. I recommend feeding it details from a favorite film or book to start. And hey, it's free-to-play (for the moment at least) but apparently is ridiculously expensive to run, so maybe toss them a few bucks if you enjoy it.
Note: When you purchase something after clicking links in our articles, we may earn a small commission. Read our affiliate link policy for more details.