At a Glance
Expert's Rating
Pros
Extremely affordable lifetime plan
10 simultaneous connections
Free cloud storage and password manager included
Our Verdict
FastestVPN is extremely affordable, allows up to 10 simultaneous connections, and has decent enough speeds. It might not be the best, but the lifetime plan gives you premium features for a rock-bottom price.
Price When Reviewed
$40 for a lifetime subscription
Best Prices Today: FastestVPN
FastestVPN in brief:
P2P allowed: Yes
Simultaneous device connections: 10
Business location: Cayman Islands
Number of servers: 300+
Number of country locations: 39+
Cost: $7 per month, $24.95 per year, or $40 for a lifetime plan
FastestVPN's name says it all: It aims to be the fastest VPN service around. It's no easy feat to lead with a superlative like that and back it up. FastestVPN strives to be a top VPN and at least on the surface, it makes a persuasive case for itself.
The company is based in the Cayman Islands, which bodes well for privacy and security. The service also offers a solid premium feature set, with 10 simultaneous connections, P2P optimized servers, no logs, and stated promises to unblock region locks on most of the top streaming platforms.
Note: This review is part of our best VPNs roundup. Go there for details about competing products and how we tested them.
Updated 07/27/2023: To include information about the completed independent no-log audit by Altis IT on FastestVPN's servers and the addition of more streaming-specific servers for more major channels.
FastestVPN: Features and services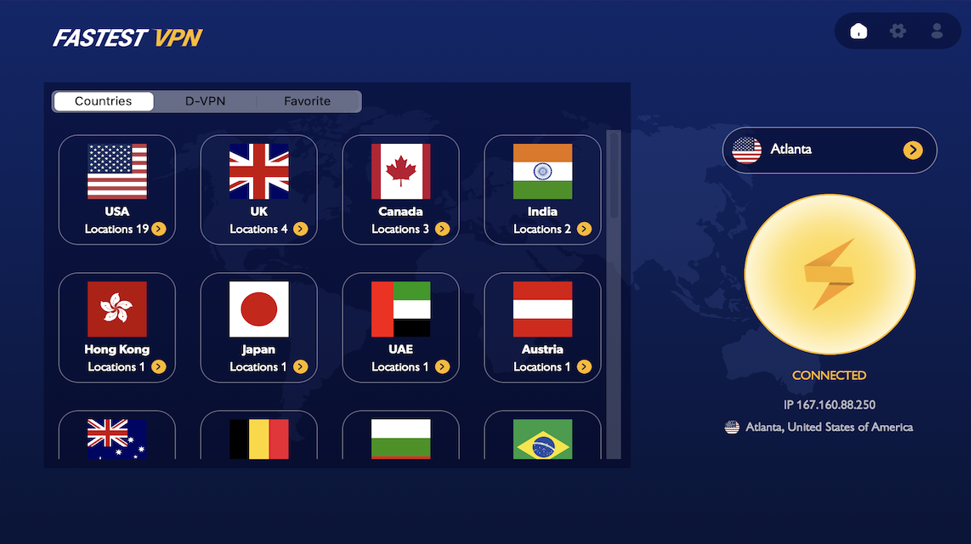 FastestVPN
From the time of our last review, FastestVPN has once again upgraded the design of its application to make it simpler and easier to use across devices. Upon first opening the application in Windows, you'll find a list of countries you can connect to in the main screen, making it easy to get started right away. Off to the right you'll find the FastestVPN trademark lightning-bolt button to connect, along with basic info about the connection (IP address and server location). In the top-right you'll have three buttons for the home screen, account info, and settings.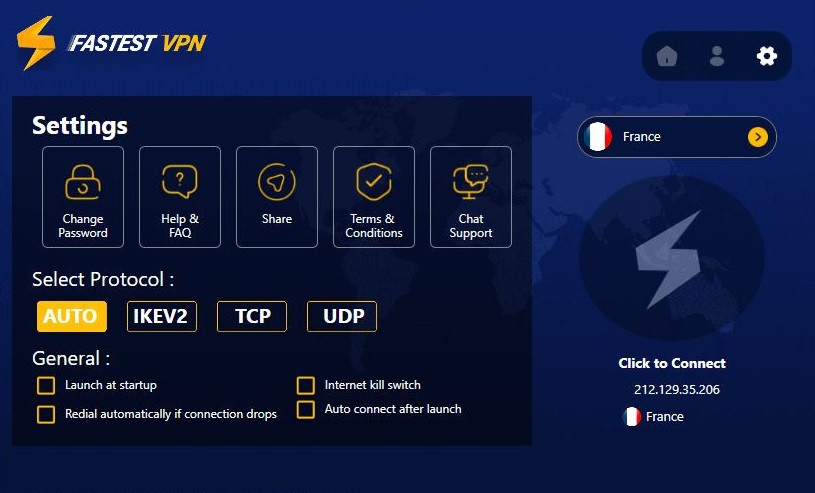 FastestVPN
The settings screen is similar to what we've seen in previous versions of the app. Here you can switch your VPN protocol between IKEv2, TCP, UDP, and Auto. The Auto protocol option is new and when chosen will theoretically give you the best protocol among the other three according to your given tasks.
Below the VPN protocol options are checkboxes for things such as an Internet kill switch as well as options to Launch at startup, Redial automatically if connection drops, and Auto connect after launch—all standard fare for most modern VPN applications. The kill switch is a nice feature though and isn't provided by all VPN services.
As for servers, it's a little unclear how many servers FastestVPN actually has. It claims "Servers Available in 39+ Countries and 55+ Locations," but we found that what servers are actually available will depend somewhat on the device and application you are using. Additionally, it has a limited number of streaming-specific servers and D-VPN (Double VPN) servers that bounce your connection through more than one server to provide double encryption.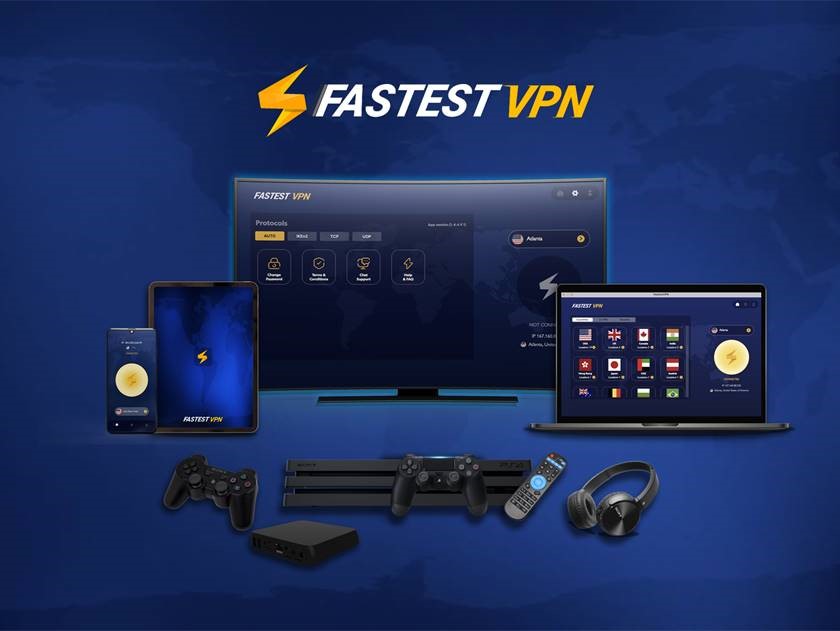 FastestVPN
FastestVPN has done a great job providing app support for a ton of devices. These range from the standards such as Windows, MacOS, iOS, and Android, to others such as Linux, Roku, and Amazon Firestick, among others. It even has browser extensions for Chrome and Firefox.
Unfortunately, one area that seems to be missing from all of FastestVPN's apps is information regarding each specific server's load or latency figures. This is useful if you're looking to connect to the fastest server in a given location, and frankly it's a missed opportunity in the application design. Regardless, the applications are straightforward and easy to use across all devices.
One other quirk we noticed was a problem with the Windows application when installing. It seems that it may not have the proper certification with Microsoft, which causes Windows Defender to flag the application and present an error message that halts the installation process. This is easy enough to bypass, but may be confusing at first.
FastestVPN also provides a few bonus features such as helpful 24/7 chat and email support, a free password manager, and up to 2TB of cloud storage.
FastestVPN: Performance
In our performance tests we compared the base speed of our internet to that of different server locations across the world to see how our internet speed connected to a VPN compares to our base internet speed.
Last time around we saw FastestVPN hitting 45 percent of the base speed in our tests averaged across all locations. At the time, that was a huge bump from the 30 percent base speeds in our initial review of the service.
This time around we didn't see quite the same jump, but we did notice a slight improvement of up to 49.5 percent of the base download speed when connected to FastestVPN's servers. Furthermore, we saw an admirable 68 percent of the base upload speed. These are solid numbers and FastestVPN's recent upgrade to 10Gbps+ speed servers is obviously making a difference for its users.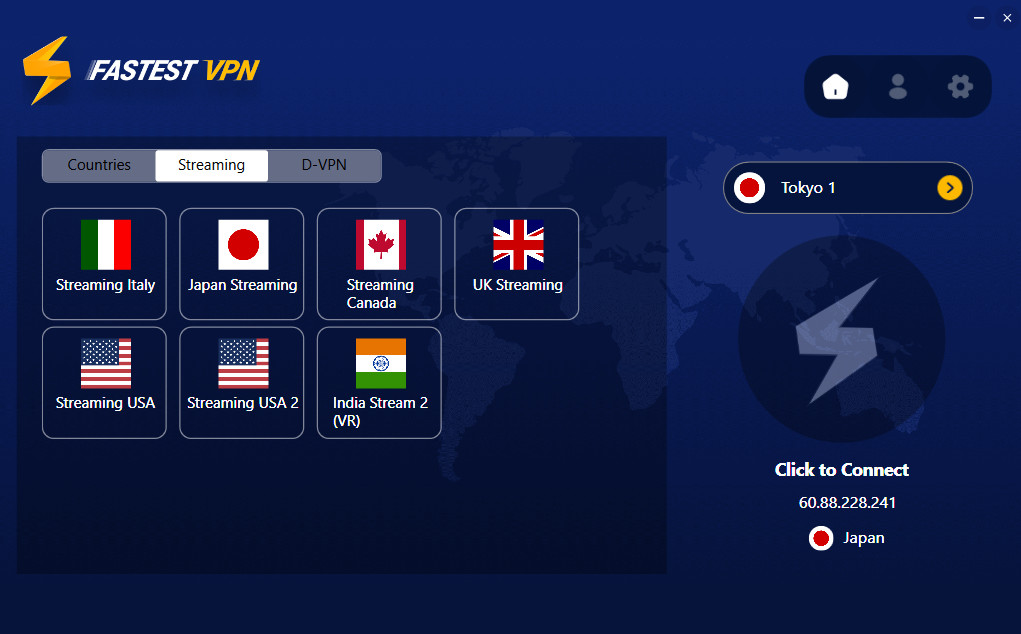 FastestVPN
FastestVPN does an alright job at getting around region locks and geo-restricted content. Using its normal servers was rather hit or miss when trying to access sites such as Netflix and Disney+. Some servers were able to bypass the region locks while many others were actively blocked and the streaming sites wouldn't load properly. That being said, FastestVPN (at the time of writing) has seven streaming-specific servers, which all worked just fine in our tests. The only issue here is that if you want to access content from countries other than these streaming-server locations, you may be out of luck. But just recently, FastestVPN has updated their streaming-specific servers to include more major channels including Hotstar, BBC iPlayer, and Amazon Prime, among others, so they are making strides in the right direction.
FastestVPN: Security and privacy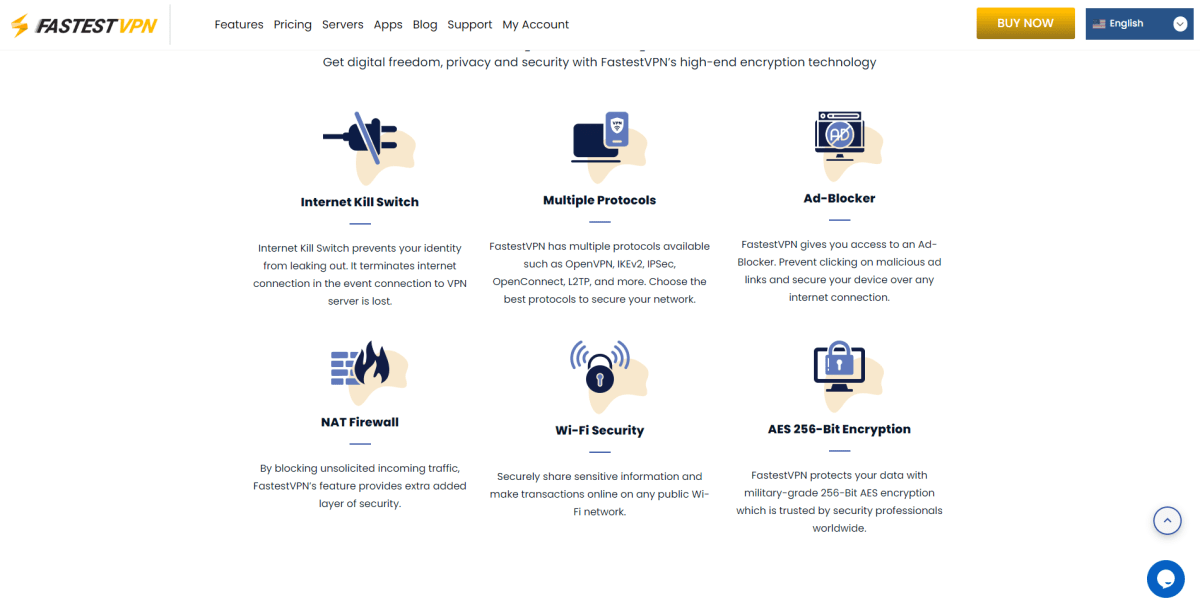 Sam Singleton
FastestVPN's official business location is the Cayman Islands. This might sound kind of sketchy at first glance, but the company says that this was on purpose in order to avoid any laws requiring them to keep browsing records on its customers.
The company's privacy policy states that it does not log any information about its customers. The only thing the company keeps, it says, is the email address you use to sign up for the service. In mid-2023 FastestVPN completed an independent audit by AltisIT to successfully verify their no-logs policy.
The service uses the industry standard AES 256-bit encryption and comes with IPv6 and DNS leak protection. Our DNS leak tests proved that there were no IP or DNS leaks while using the VPN. This is important as IP and DNS data leaks can allow for outside parties to know your true location and watch your activity while online.
FastestVPN: Final thoughts
FastestVPN has improved upon its service since the last time we tested it, but there are some areas that still need improvement. It's obvious that it doesn't have the same resources as some of the largest VPN services, but nonetheless it's still able to make the core VPN features work.
Despite what is stated in its name, it may not be the fastest VPN, nor does it have the most robust feature set. But that's not the main draw anyways. The company seems to know where it stands in the marketplace and it's leaning heavily on privacy and cost.
It offers enough speed and security for most everyday uses, and extras such as free Cloud storage and a password manager are welcomed additions. Ultimately, it's the price that will appeal to most people and for only $40 for a lifetime plan, FastestVPN is certainly worth considering.
Editor's note: Because online services are often iterative, gaining new features and performance improvements over time, this review is subject to change in order to accurately reflect the current state of the service. Any changes to text or our final review verdict will be noted at the top of this article.
Best Prices Today: FastestVPN