At a Glance
Expert's Rating
Pros
Great 1440p and 1080p gaming performance
Outstanding price vs. other RTX 2060 models
RTX hardware for ray tracing and DLSS
Metal backplate, idle fan stop features
No need for out-of-box BIOS updates, unlike rival Radeon RX 5600 XT
EVGA's Precision X1 software is excellent
Cons
Ray tracing and DLSS picking up steam, but not widely available in games yet
Basic, no-frills design
A little louder than rival GPUs
Our Verdict
The EVGA GeForce RTX 2060 KO makes some smart compromises to bring real-time ray tracing under $300, drastically undercutting its rivals.
Best Prices Today: GeForce RTX 2060 KO
The EVGA GeForce RTX 2060 KO offers something for everybody.
Gamers like you and me get a custom GeForce RTX 2060 graphics card and all its benefits—great 1080p gaming, good 1440p gaming, and real-time ray tracing—for just $300, a full $50 below the RTX 2060's suggested price. EVGA steals the spotlight in a crucial segment of the market by significantly undercutting its competitors. And Nvidia gets to clear out stock for a different GPU, surprisingly enough, while fielding a headache-free rival to the new $280 Radeon RX 5600 XT.
Okay, maybe AMD doesn't get anything out of it.
EVGA's graphics card cuts some corners to hit the $300 mark, but they're wholly reasonable tweaks, and the lower price point makes Nvidia's entry-level ray tracing option much more appealing. So does EVGA's $300 GeForce RTX 2060 KO and overclocked $320 RTX 2060 KO Ultra manage to knock out AMD's latest GPU? And what about Nvidia's own RTX 2060 Founders Edition, which just received a price cut to $300 itself? Let's dig in.
EVGA GeForce RTX 2060 KO: Specs, features, and price
Surprise! The EVGA GeForce RTX 2060 KO doesn't use the TU106 GPU found inside other GeForce RTX 2060 cards, at least in our review sample. Instead, it revolves around a version of the TU104 GPU found inside the much more powerful GeForce RTX 2080, but cut-down to match TU106's specifications.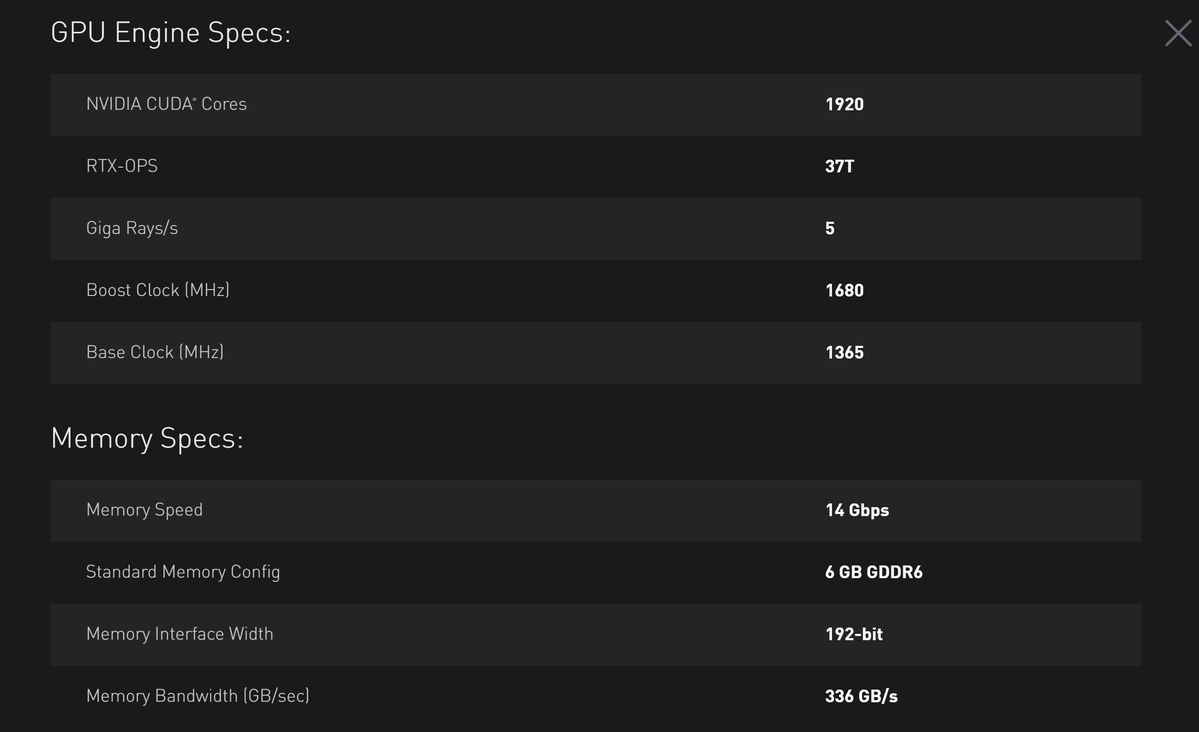 That means the EVGA KO packs the same 1,920 CUDA cores and 30 dedicated ray tracing cores as other RTX 2060s, tied to the same 6GB of GDDR6 VRAM with a 192-bit bus, bringing the total overall memory bandwith to a blistering 336Gbps. It behaves exactly like its TU106-based siblings in both gaming and ray tracing performance in our testing. Gamers Nexus discovered one key performance difference: The TU104-based EVGA KO performs up to 57 percent faster in Blender rendering tasks. That's a very niche use case, but if you use Blender, it's enough to push you toward the EVGA KO over rival RTX 2060 models.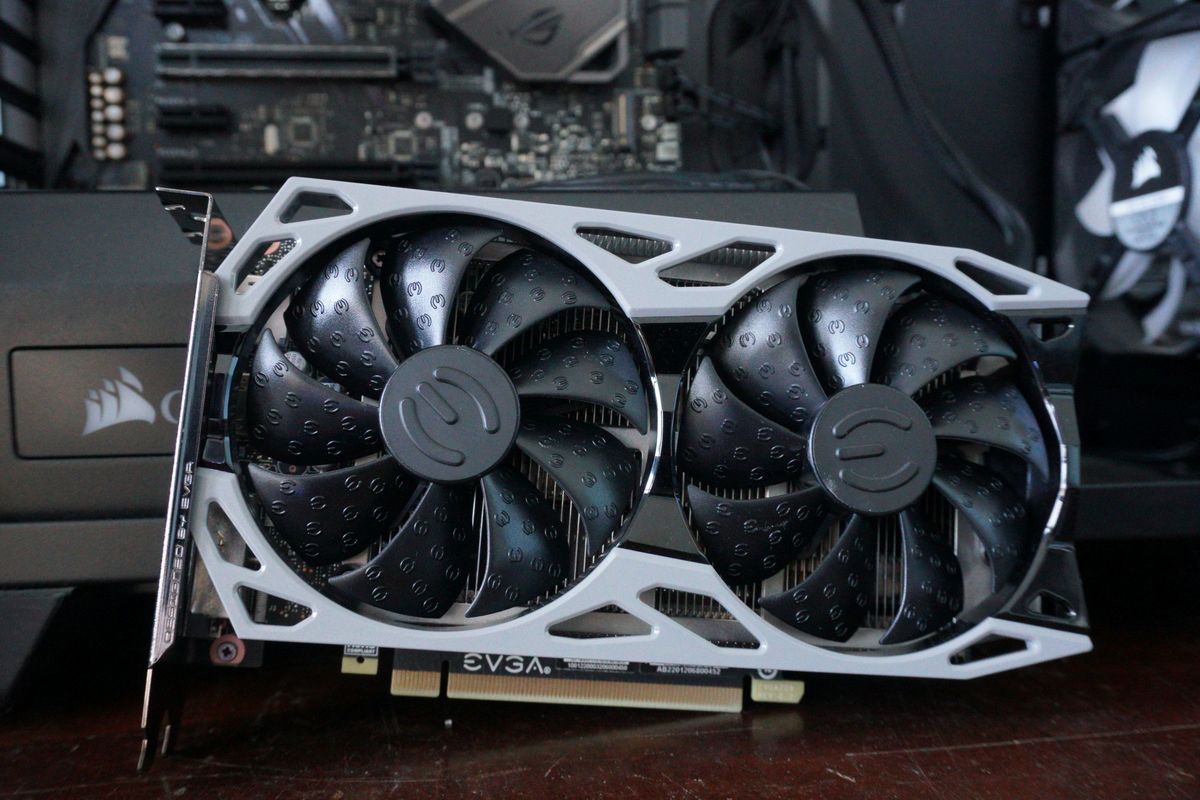 EVGA offers two different variants. The $300 GeForce RTX 2060 KO sticks to the GPU's stock 1,680MHz Boost clock speeds, while the $320 EVGA RTX 2060 KO Ultra offers a mild overclock to 1,755MHz. You can overclock them further yourself, but EVGA prevents users from increasing the power limit to keep from overloading the board's 4-phase VRM. The KO and KO Ultra are identical other than the clock speeds. We're reviewing both configurations: EVGA sent us the Ultra model along with the BIOS for the cheaper version, so we could test both.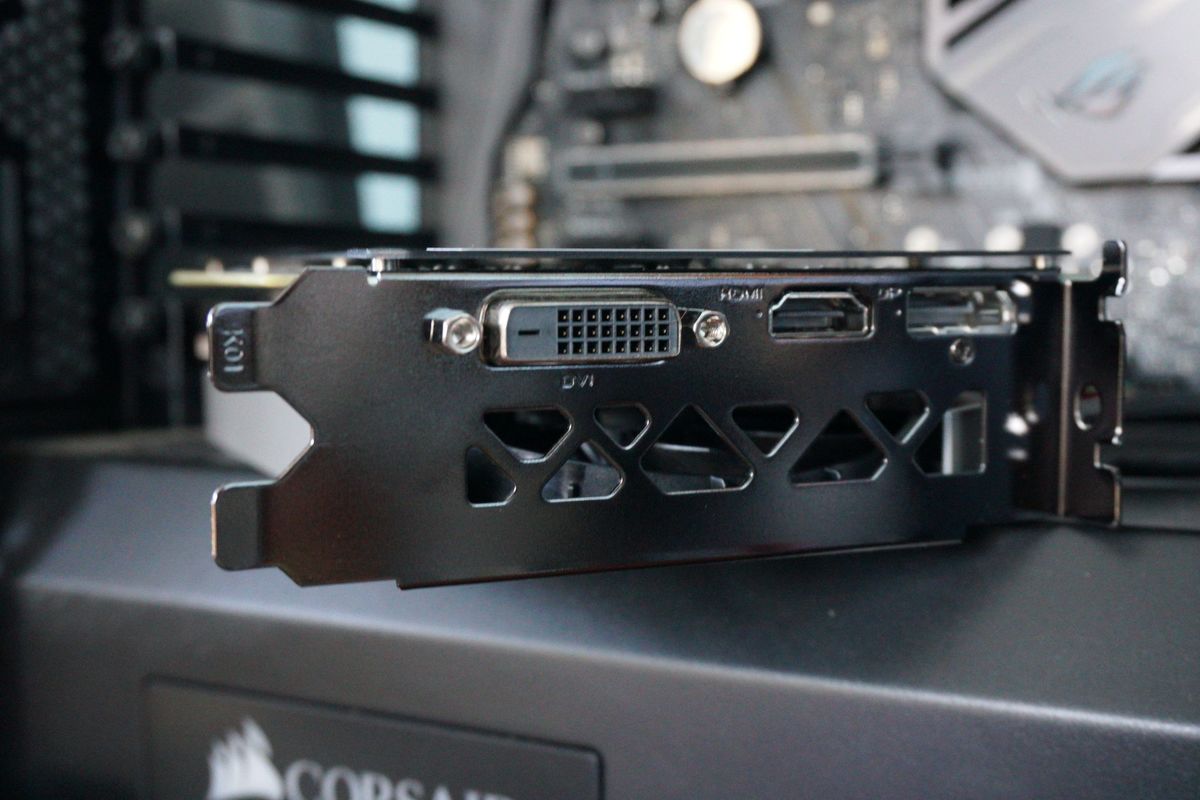 You'll notice some cost-saving measures as soon as you take the EVGA RTX 2060 KO out of the box. It's a tiny card that reuses the design of the $240 EVGA GeForce GTX 1660 Super SC, eliminating development costs for another custom cooler. The shroud's plastic, rather than metal, and lacks the RGB lighting options found on most modern custom graphics cards. The KO also sticks to a very basic port configuration, with singular DisplayPort, HDMI, and DVI connections. Those are all reasonable downgrades to shave $50 off the normal cost of RTX 2060 models, in our opinion.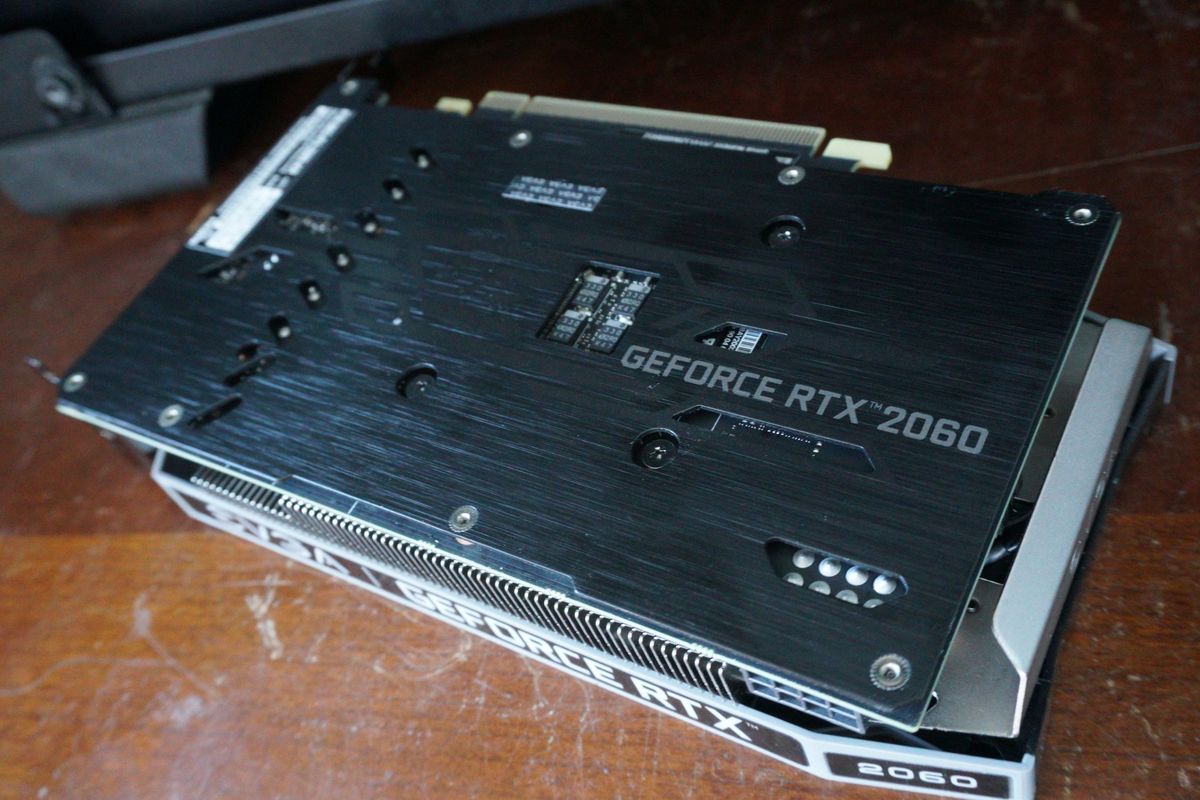 EVGA still managed to sneak some nice extras onto the card despite its budget price, however. The RTX 2060 KO includes a metal backplate that looks nice and clean in your case, while the two large fans adorning the shroud support the crucial idle fan stop feature. Idle fan stop prevents the fans from spinning when the GPU isn't under heavy load, creating an utterly silent environment when you're just tooling around on your desktop. EVGA's Precision X1 monitoring and overclocking software remains among the best available, too.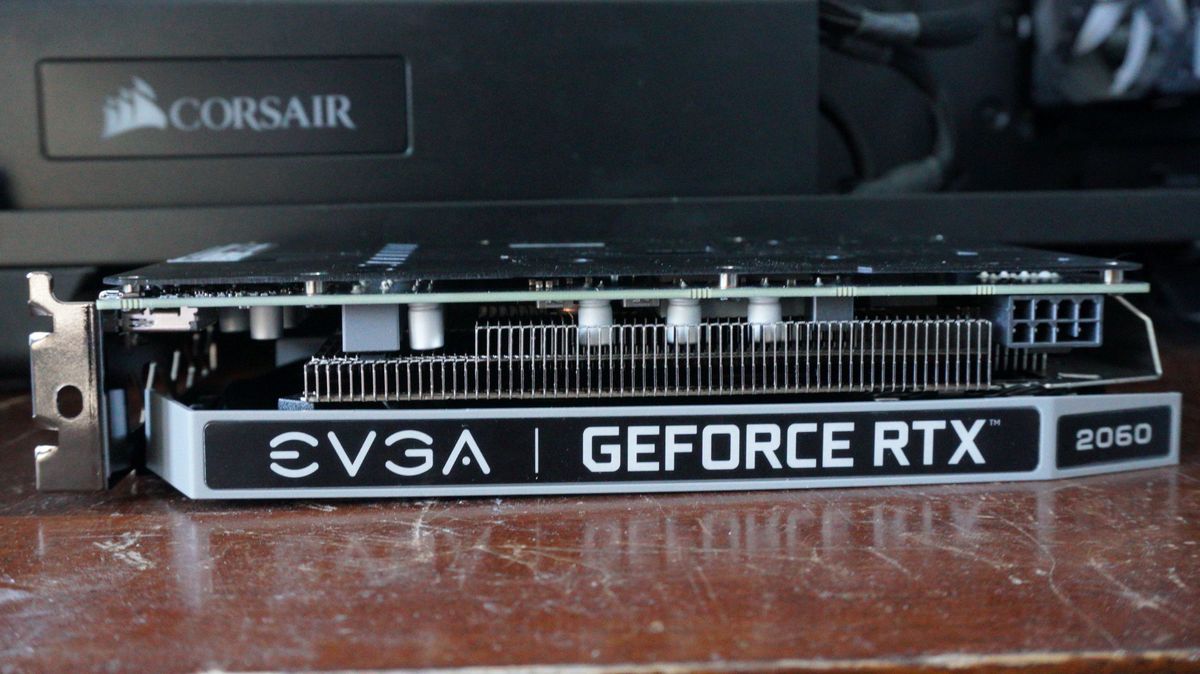 Of course, as a GeForce RTX 20-series graphics card, the EVGA KO can run real-time ray tracing in the games that support it, and it supports all Nvidia's latest hardware innovations. Check out our Turing architecture deep-dive for more information on that front. On the software side, the EVGA KO plays nice with GeForce Experience and its myriad features, including Ansel super screenshots, ShadowPlay video recording, integer scaling for retro games, low-latency modes for competitive titles, and more.
But onto the real question: How does it game?
Our test system
Our dedicated graphics card test system is packed with some of the fastest complementary components available to put any potential performance bottlenecks squarely on the GPU. Most of the hardware was provided by the manufacturers, but we purchased the cooler and storage ourselves.
Mentioned in this article
Pulse Radeon RX 5600 XT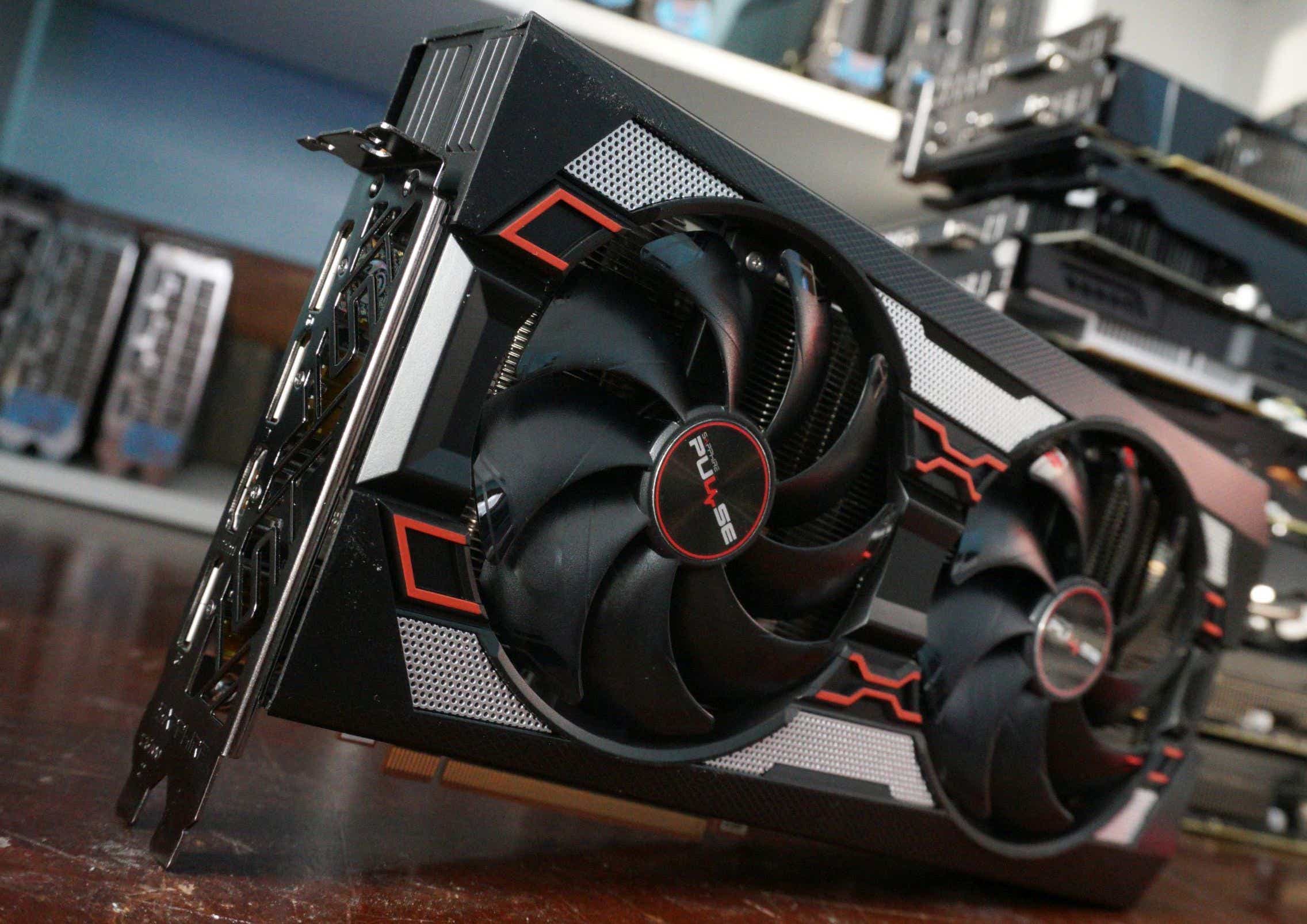 Price When Reviewed:
$290
We're reviewing both the $300 EVGA GeForce RTX 2060 KO and the $320 RTX 2060 KO Ultra. Because the cards are identical other than clock speeds, EVGA supplied us with the KO Ultra as well as a VBIOS that transforms the card into the cheaper model.
The RTX 2060 is a known quantity at this point, so we're comparing EVGA's card only against its most direct rivals: The $280 Radeon RX 5600 XT, the Nvidia GeForce RTX 2060 Founders Edition (which itself recently dropped in price to $300), and AMD's reference $350 Radeon RX 5700.
The Radeon RX 5600 XT had a messy launch due to a last-second VBIOS upgrade that won't be applicable to every model, and often won't be applied to the first wave of stock on store shelves even if you're getting a faster version. We've included results for both the reference configuration and the faster VBIOS provided for the Sapphire Pulse Radeon RX 5600 XT.
Each game is tested using its in-game benchmark at the highest possible graphics presets unless otherwise noted, with VSync, frame rate caps, real-time ray tracing or DLSS effects, and FreeSync/G-Sync disabled. We've enabled temporal anti-aliasing (TAA) to push these cards to their limits. We run each benchmark at least three times and list the average result for each test.
Gaming performance benchmarks
Metro Exodus
One of the best games of 2019, Metro Exodus is one of the best-looking games around, too. The latest version of the 4A Engine provides incredibly luscious, ultra-detailed visuals, with one of the most stunning real-time ray tracing implementations released yet. We test in DirectX 12 mode with ray tracing and DLSS disabled.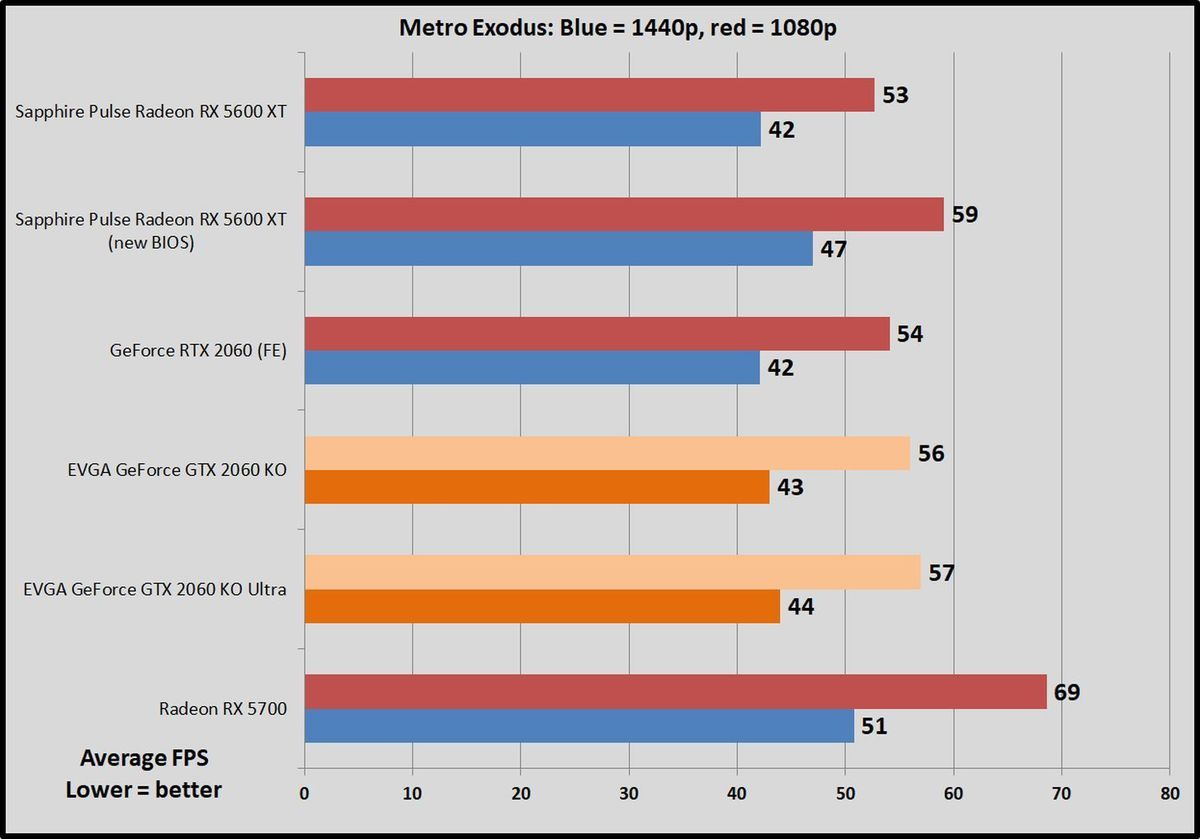 Borderlands 3
Borderlands is back! Gearbox's game defaults to DX12, so we do as well, and gives us a glimpse at the ultra-popular Unreal Engine 4's performance—though this game's implementation leans heavily in AMD's favor.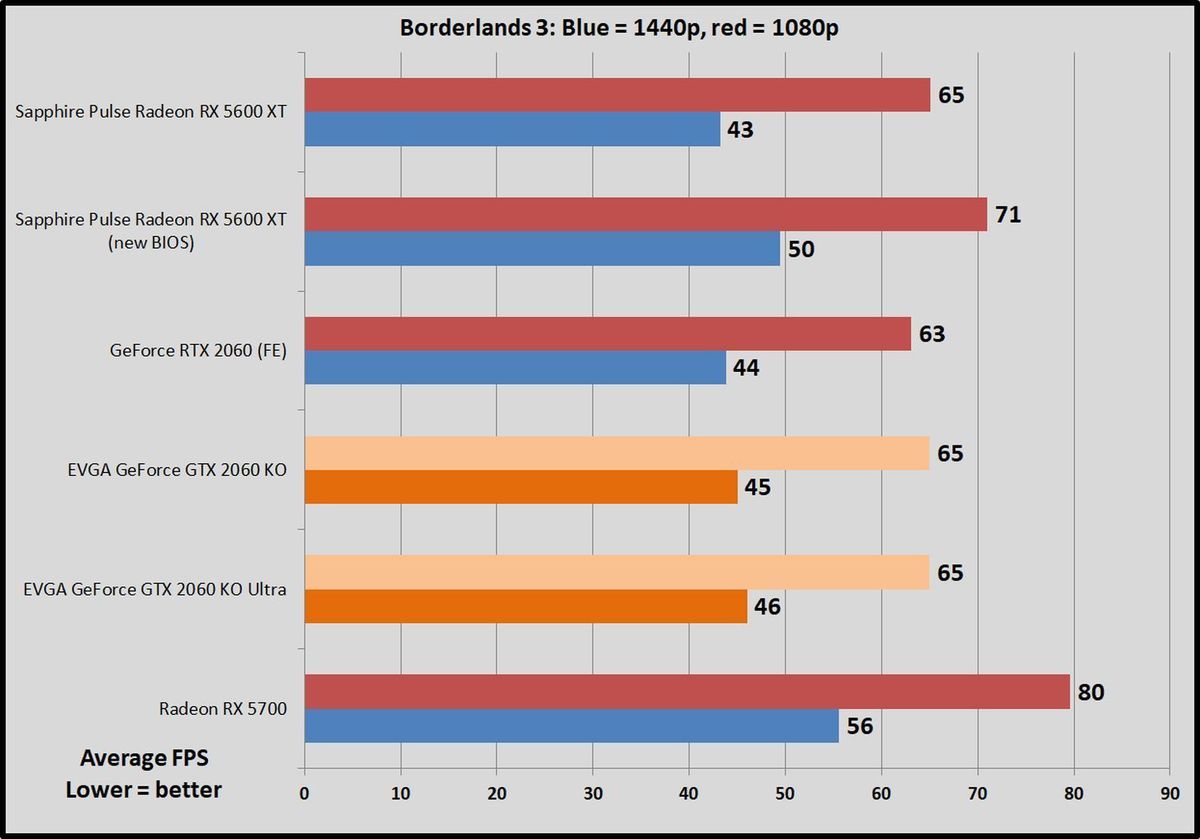 Division 2
The Division 2 is one of the best looter-shooters ever created. The luscious visuals generated by Ubisoft's Snowdrop engine make it even easier to get lost in post-apocalyptic Washington D.C. The built-in benchmark cycles through four "zones" to test an array of environments, and we test with the DirectX 12 renderer enabled.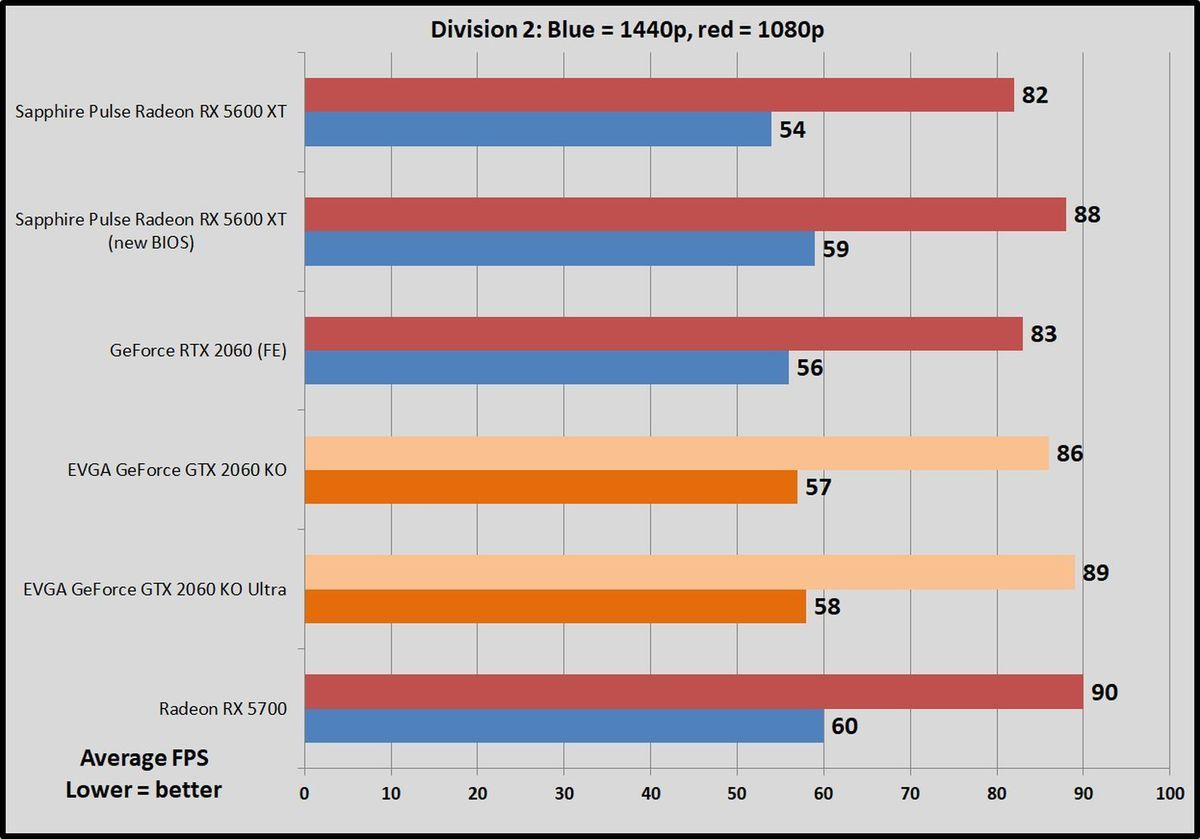 Strange Brigade
Strange Brigade is a cooperative third-person shooter where a team of adventurers blasts through hordes of mythological enemies. It's a technological showcase, built around the next-gen Vulkan and DirectX 12 technologies and infused with features like HDR support and the ability to toggle asynchronous compute on and off. It uses Rebellion's custom Azure engine.
Last year, we used the DX12 renderer as it offered improved performance. In 2020, we've switched to the Vulkan renderer with async compute enabled, as it's now your fastest option and Vulkan games are rare indeed.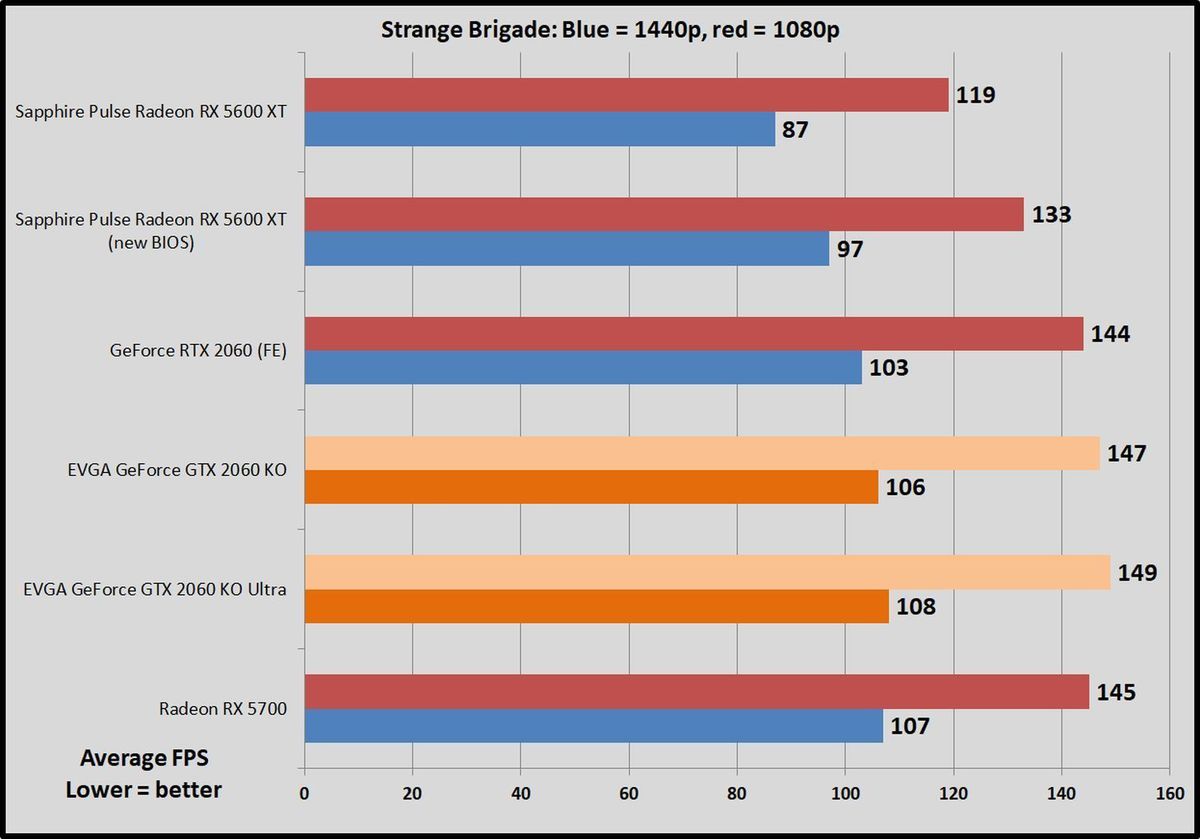 Shadow of the Tomb Raider
Shadow of the Tomb Raider concludes the reboot trilogy, and it's utterly gorgeous. Square Enix optimized this game for DX12, and recommends DX11 only if you're using older hardware or Windows 7, so we test with DX12. Shadow of the Tomb Raider uses an enhanced version of the Foundation engine that also powered Rise of the Tomb Raider and includes optional real-time ray tracing features.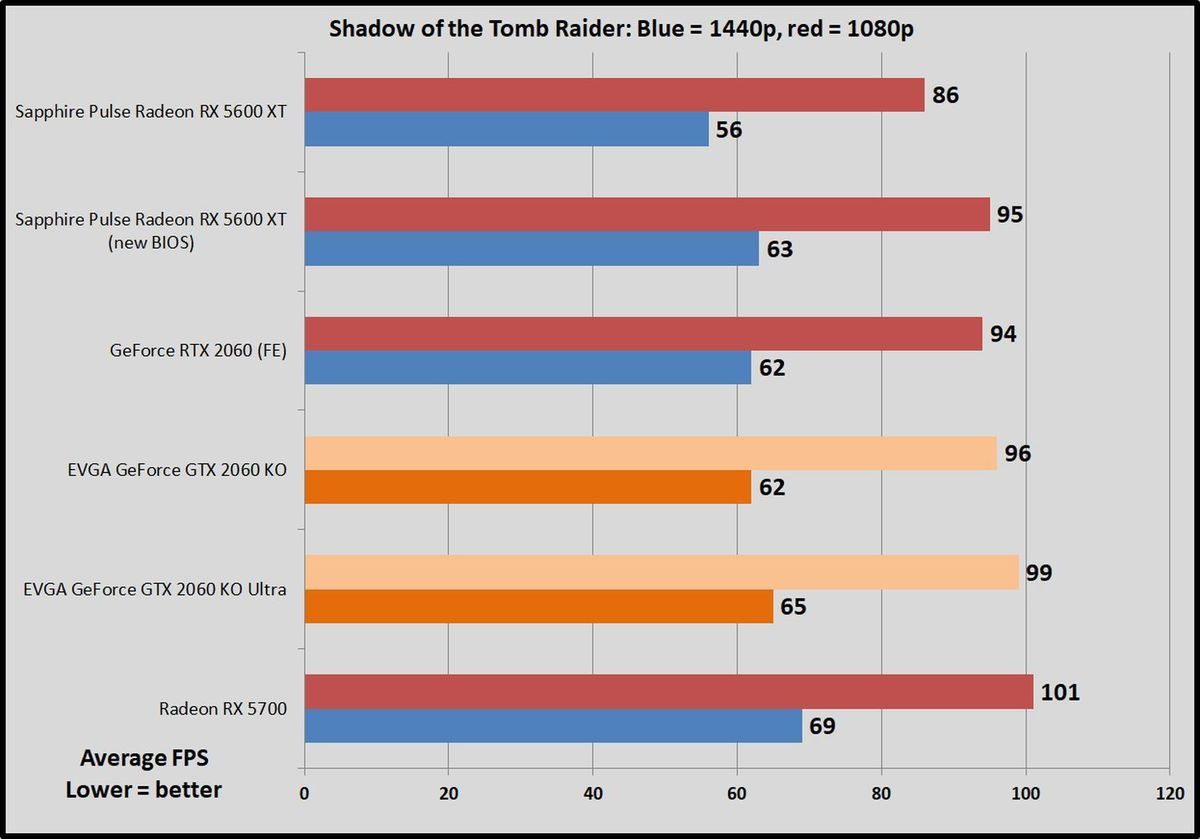 Ghost Recon Breakpoint
It may run in DX11, but like its predecessor, Ghost Recon Breakpoint and its AnvilNext 2.0 engine absolutely melts GPUs—so much so that we test this game on Very High rather than Ultra settings.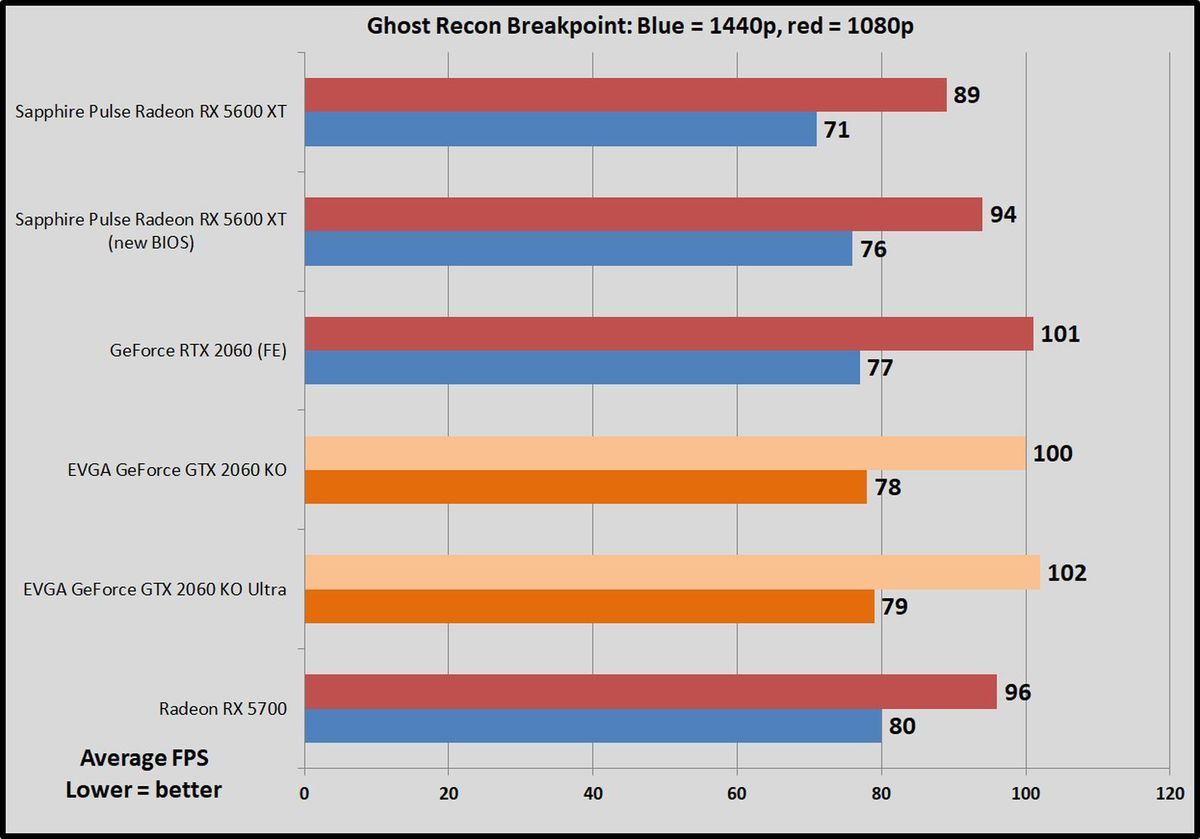 Total War: Three Kingdoms
Most of the games in our suite are shooters or adventure games, but we've included Total War: Three Kingdoms to give us a glimpse at RTS performance. It's another DX11 game, running on an improved version of the same engine found in Creative Assembly's previous Total War entries.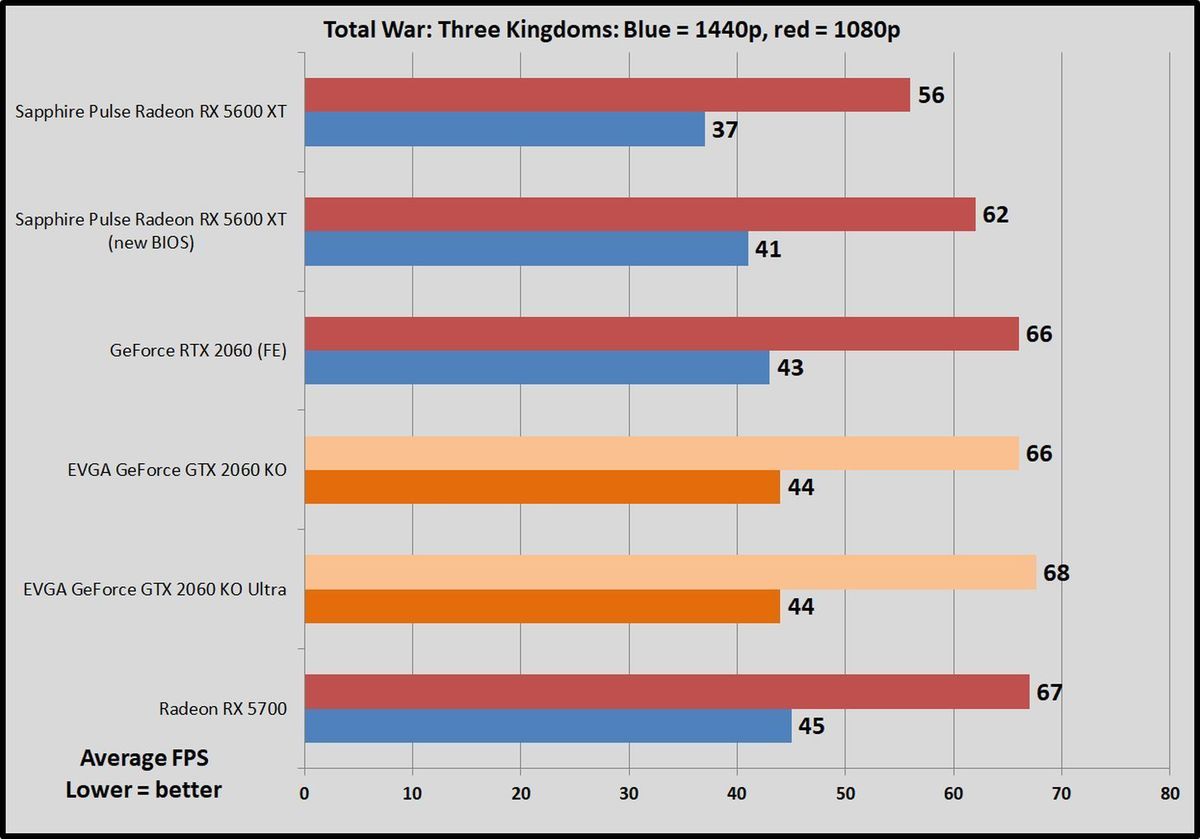 GTA V
This game isn't really a visual barn-burner, but still tops the Steam charts day in and day out. We test Grand Theft Auto V with all options turned to Very High, all Advanced Graphics options except extended shadows enabled, and FXAA. GTA V runs on the RAGE engine and has received substantial updates since its initial launch.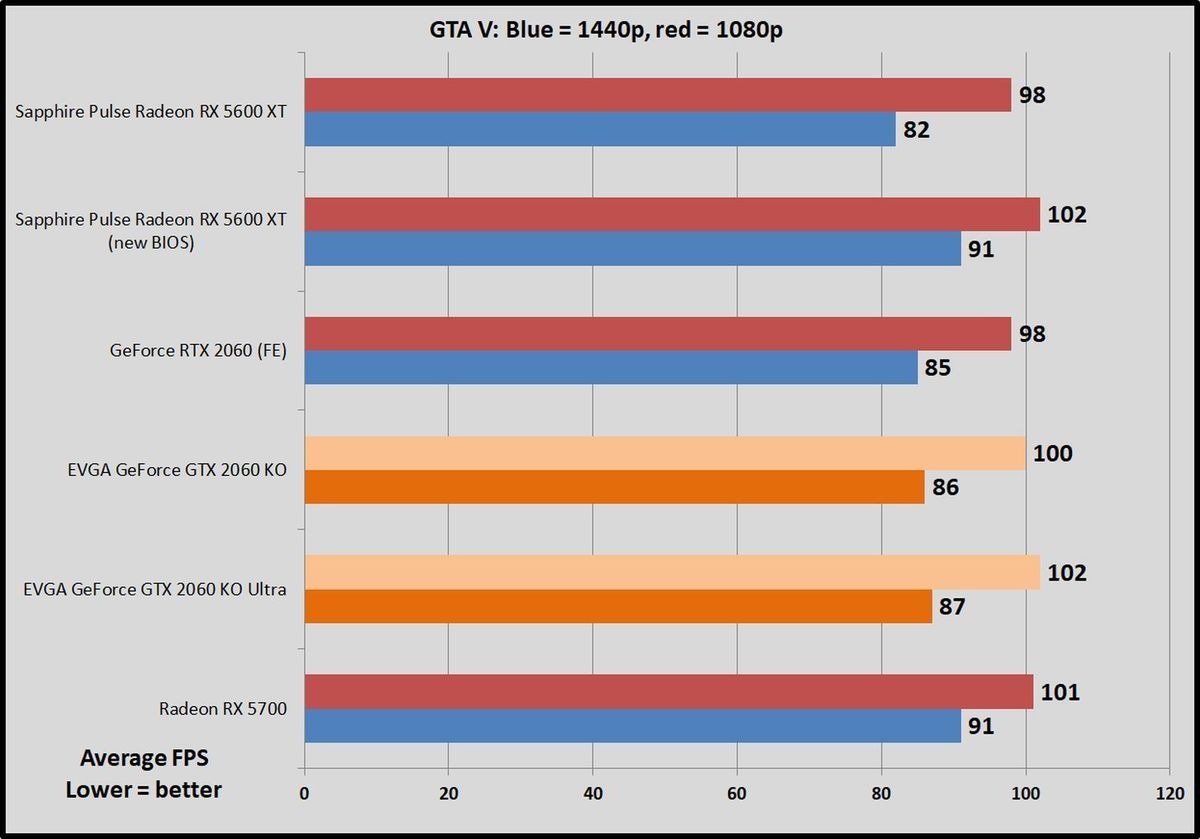 F1 2019
The latest in a long line of successful racing games, F1 2019 is a gem to test, supplying a wide array of both graphical and benchmarking options, making it a much more reliable (and fun) option than the Forza series. It's built on the latest version of Codemasters' buttery-smooth Ego game engine, complete with support for DX12 for the first time. We test two laps on the Australia course, with clear skies.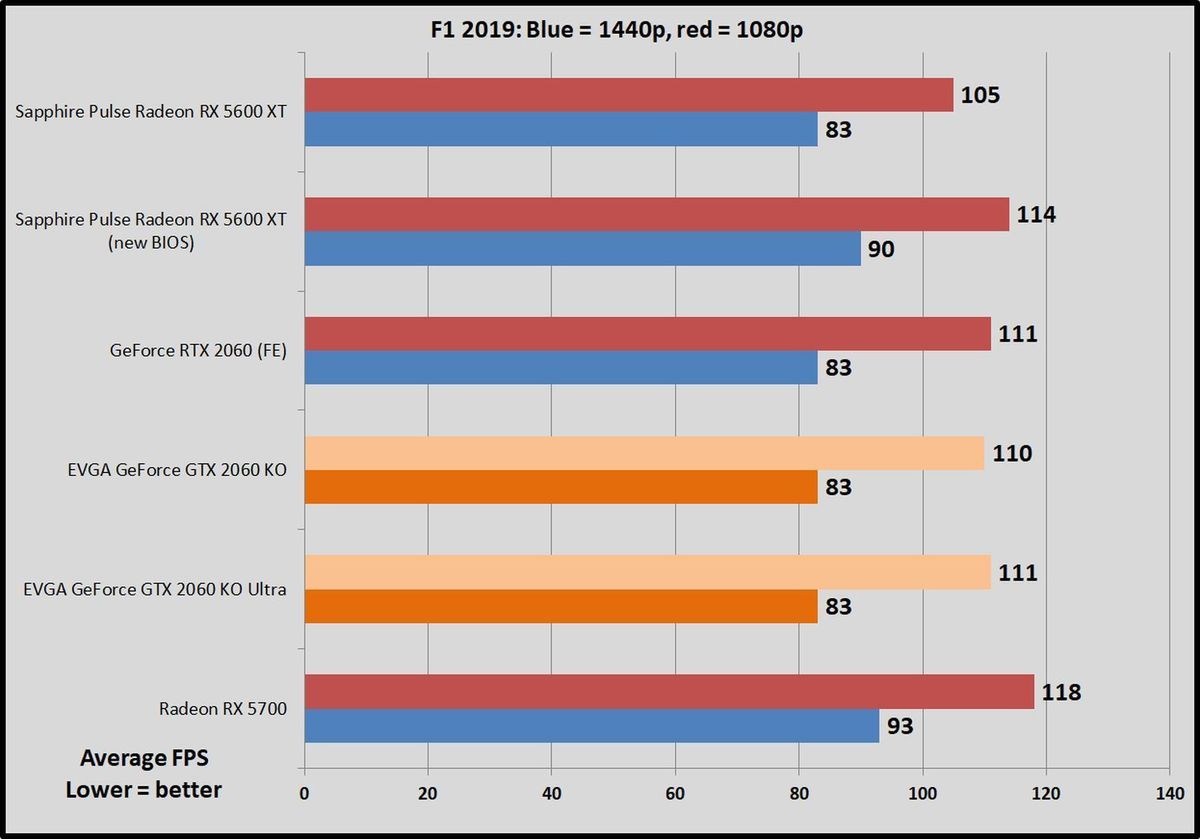 Real-time ray tracing
Unlike AMD's rival Radeon cards, Nvidia RTX GPUs pack dedicated hardware to enable real-time ray tracing, though the cutting-edge lighting effect can put a big damper on performance depending on the implementation. Nvidia's Deep Learning Super Sampling (DLSS) technology claws back some of those frames in games where it's available, though.
To see if the EVGA KO's unique cut-down TU104 GPU performs differently than the TU106 GPU in standard RTX 2060 models, we've compared its ray tracing performance against Nvidia's Founders Edition in Shadow of the Tomb Raider and Metro: Exodus at 1440p resolution. (Spoiler: The KO isn't faster.) Tomb Raider lacks DLSS, and we've tested it with ray-traced shadows set to both Medium and Ultra. Metro Exodus supports DLSS. We tested it using the RTX preset in the benchmark, which sets its ray tracing to High and activates DLSS. A more intense Ultra setting is also available, but we didn't test it here.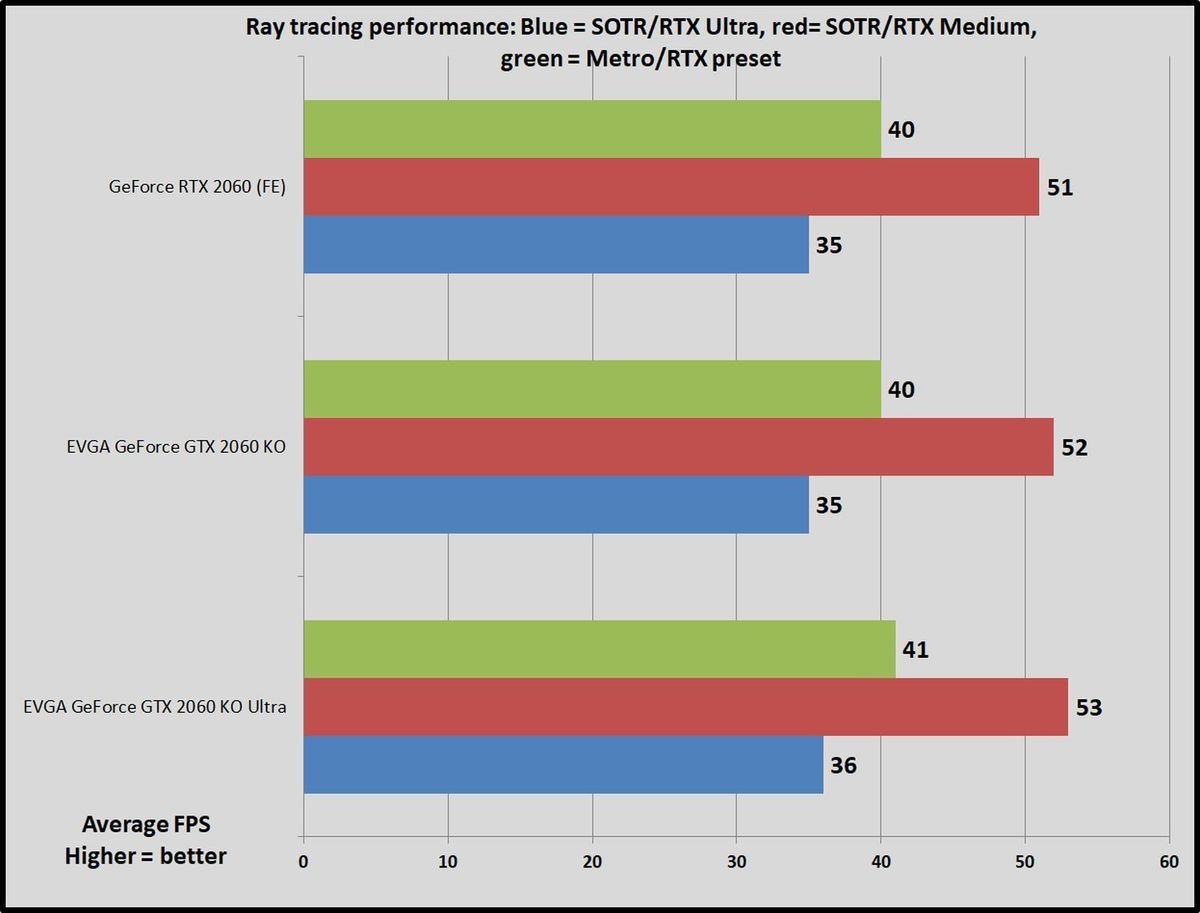 Power draw, thermals, and noise
We test power draw by looping the F1 2019 benchmark for about 20 minutes after we've benchmarked everything else and noting the highest reading on our Watts Up Pro meter. The initial part of the race, where all competing cars are onscreen simultaneously, tends to be the most demanding portion.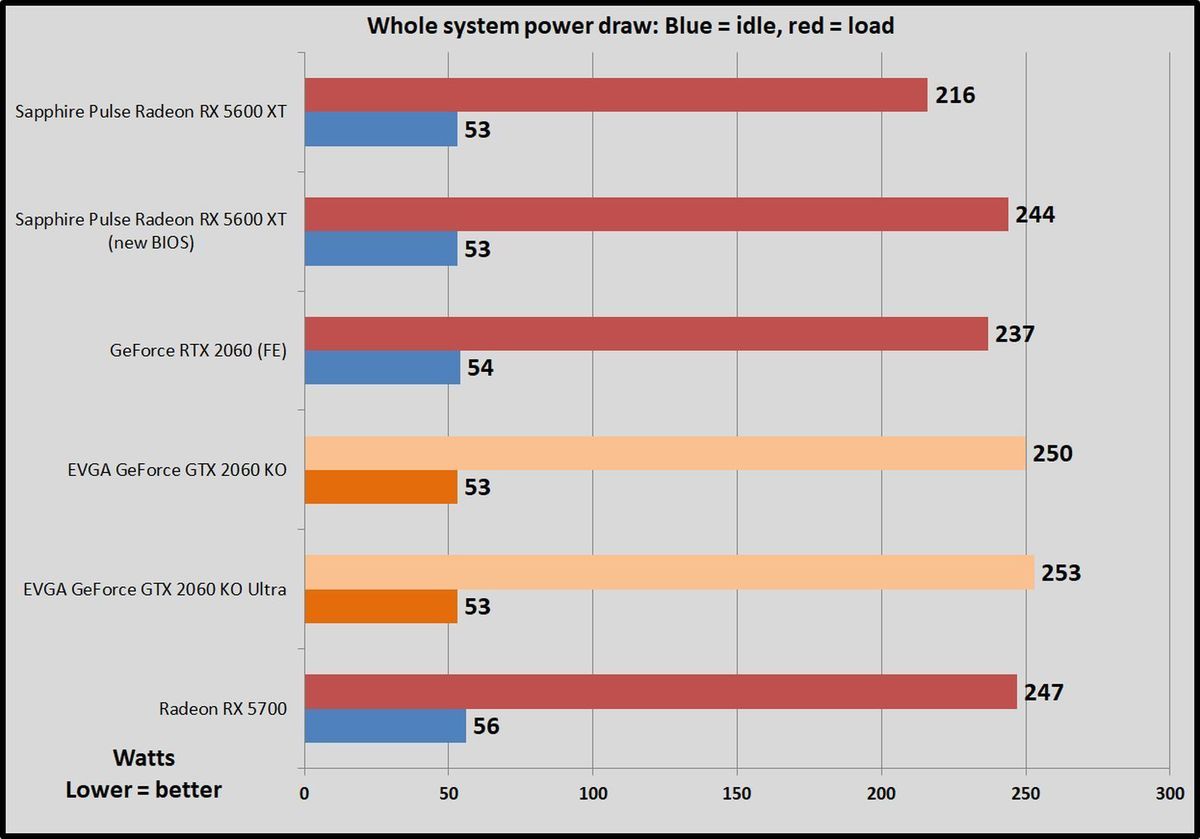 Here's where the switch from TU106 to a cut-down TU104 GPU makes a slight difference. The EVGA GeForce RTX 2060 KO sucks down slightly more power than the Nvidia Founders Edition. Not by much though. It's interesting to note, but it isn't a practical consideration in the real world.
We test thermals by leaving GPU-Z open during the F1 2019 power draw test, noting the highest maximum temperature at the end.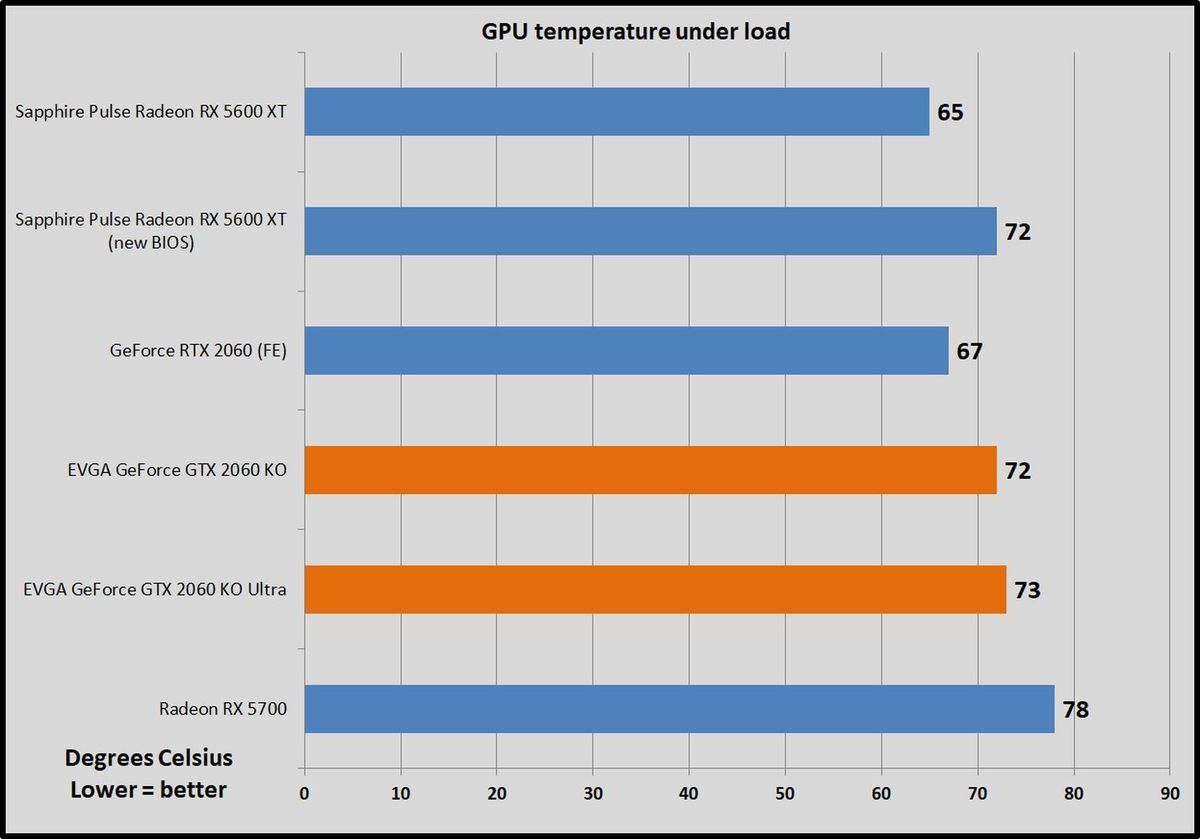 Despite its small stature and reused cooling design, the EVGA RTX 2060 KO stays nice and cool, never going above 73 degrees even in its overclocked form. It's not all roses though. Subjectively, the EVGA KO gets louder than most graphics cards in this price range to hit those chilly temperatures, and it's more audible than the Founders Edition's dual fan setup or the whisper-quiet cooler on the Sapphire Pulse Radeon RX 5600 XT. Our review sample had some slight coil whine during especially intense gaming scenes as well.
Still, the sound levels aren't bad, and the KO proves quieter than AMD's recent blower-style reference coolers. It's a reasonable compromise to hit the $300 price point. The EVGA KO's wonderful idle fan stop feature, which Nvidia's Founders Edition card lacks, makes it much preferable to use when you're not gaming, as it's silent during desktop use.
Should you buy the EVGA GeForce RTX 2060 KO?
If you're on the hunt for a solid 1440p graphics card, or one capable of feeding an ultra-fast 144Hz 1080p monitor, the $300 EVGA GeForce RTX 2060 KO should be on your shortlist, especially if you're interested in real-time ray tracing capabilities. It's a steal.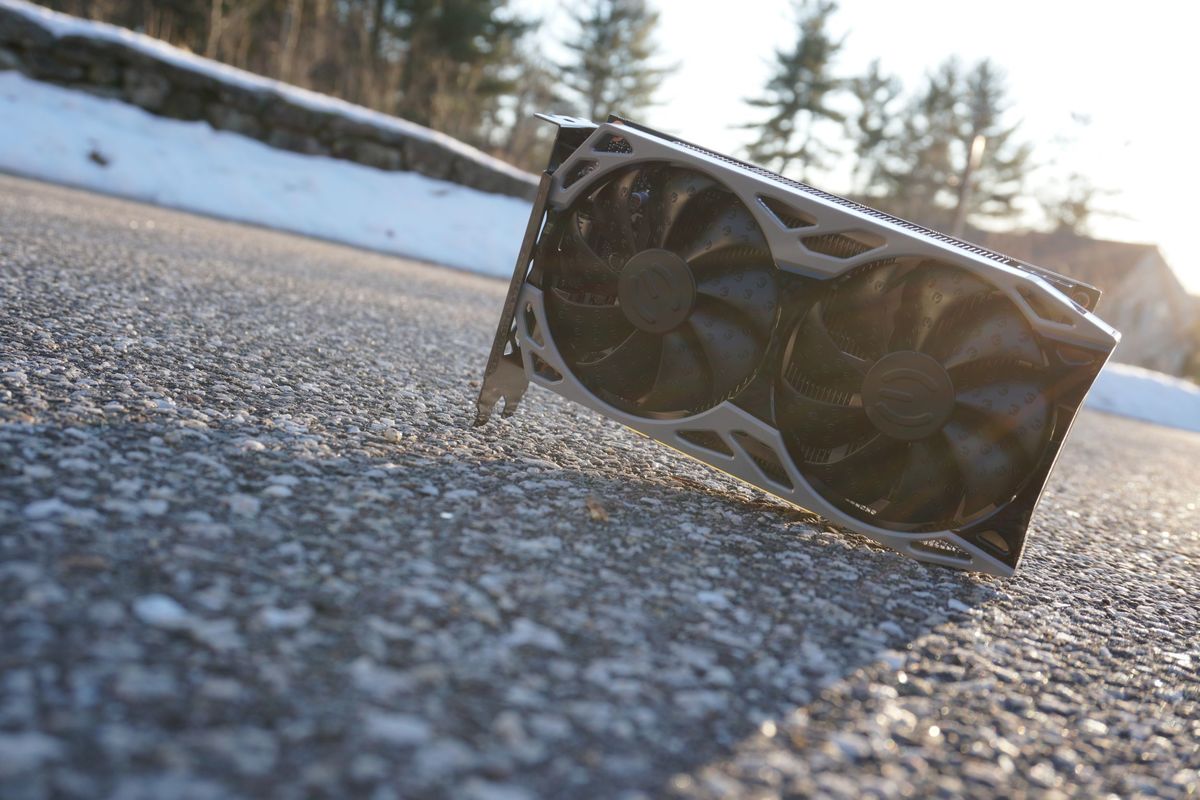 At $350, the normal price for GeForce RTX 2060 models, we tend to recommend the Radeon RX 5700 for 1440p gaming, as it's slightly faster and has 2GB more memory, bringing it to 8GB of GDDR6 in total. But EVGA's cheap RTX 2060 is much more appealing at $50 less. It's almost as fast as the RX 5700 in most games, trading blows with the excellent Sapphire Pulse Radeon RX 5600 XT, which costs $290.
Mentioned in this article
Pulse Radeon RX 5600 XT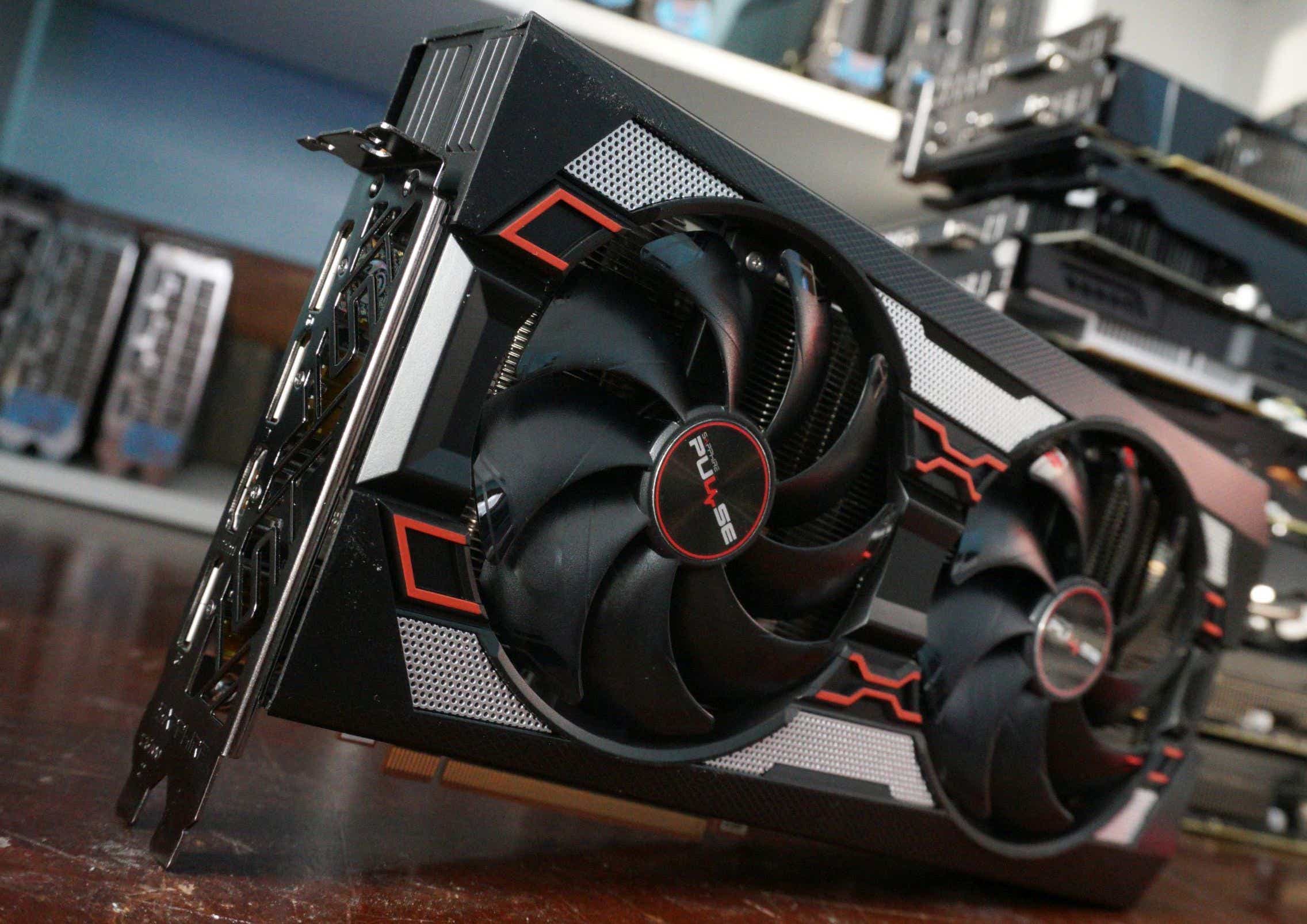 Price When Reviewed:
$290
AMD's Radeon RX 5600 XT had a messy launch, however, with some models being much faster than others thanks to a last-second BIOS upgrade. The first wave of faster cards on store shelves will probably require users to upgrade their BIOS to get the additional performance. The EVGA GeForce RTX 2060 KO is significantly faster than Radeon RX 5600 XT models that don't get upgraded memory speeds, and that's the majority currently—faster, upgraded models are few and far between.
EVGA's card doesn't have to deal with any of that software headache. It just works out of the box. And that price. At $300, the KO undercuts most dual-fan RTX 2060 models by $40 or more, delivering excellent gaming performance at a steep discount. Better yet, at $300 and with performance comparable to the Sapphire Pulse Radeon RX 5600 XT, you're basically only paying a $10 premium for real-time ray tracing. The cutting-edge lighting technology is still is in its infancy, with only a handful of games supporting it thus far, but it's very much on the upswing and well worth the investment in for such a minimal surcharge.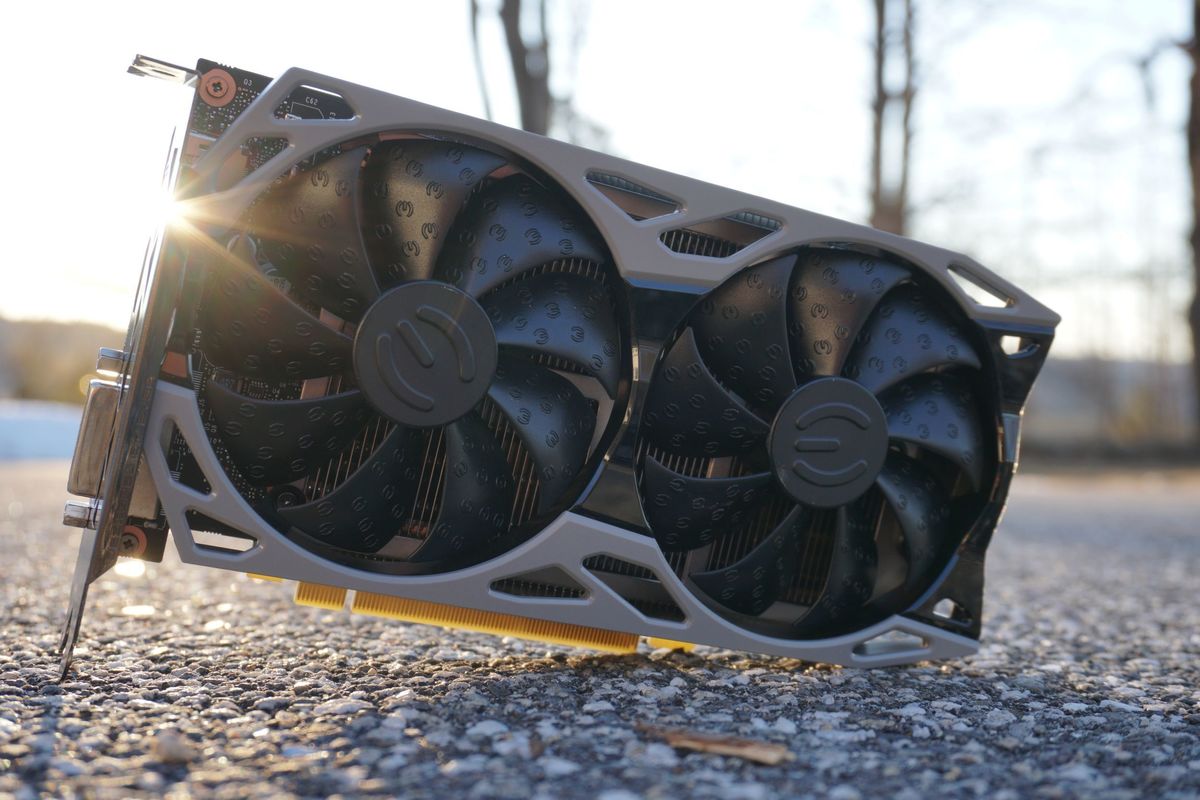 Nvidia's own GeForce RTX 2060 Founders Edition dropped to $300 to counter the Radeon RX 5600 XT, and it's also worth considering. We prefer the premium metallic look of the Founders Edition, and Nvidia's card runs a bit quieter under load, but the 2060 FE lacks the EVGA KO's crucial idle fan stop feature, which creates a silent desktop browsing experience. They're both solid options, though it remains to be seen how many Founders Edition cards Nvidia makes available at this price. That luxurious shroud ain't cheap. EVGA's card has seen high demand too, however.
EVGA cut some corners to achieve this awesome price. The KO sports a plastic shroud reused from a lower-end GTX 1660 design (albeit augmented by a fetching metal backplate), and its fans get a little loud to maintain chilly temperatures. The port selection is basic. Overclockers will want to look elsewhere, as you can't increase the card's power limit, and the miniscule performance boost provided by the pricier EVGA RTX 2060 KO Ultra isn't worth the extra $20. At $320, it's probably worth looking instead for a quieter, fuller-featured RTX 2060 model on sale for a few dollars more.
Don't let that dissuade you though. This is a great, no-frills graphics card for people who just want to put their graphics card in their system and play. The $300 EVGA GeForce RTX 2060 KO delivers everything you need for a kick-ass gaming experience, even ray tracing, and it made some reasonable sacrifices to hit a truly compelling price point—no confusing BIOS upgrades required. It's highly, highly recommended. You can find more feature-packed GeForce RTX 2060 models, but they'll cost you a whole lot more.
Best Prices Today: GeForce RTX 2060 KO