At a Glance
Expert's Rating
Pros
Excellent 1080p gaming performance
Fast GDDR6 VRAM, PCIe 4.0 support
Attractive, sleek design
Idle fan stop feature for silent desktop use
Dual-BIOS switch
Very quiet
Cons
Not as fast as RTX 2060 or RX 5600 XT at similar prices
Have to manually install critical performance-boosting BIOS
No real-time ray tracing capabilities
Our Verdict
The XFX Radeon RX 5600 XT Thicc II Pro is a good, well-designed graphics card for no-compromises 1080p gaming, but it suffers from AMD's last-second product decisions.
The XFX Radeon RX 5600 XT Thicc II Pro is a good $300 graphics card that suffers from AMD's disjointed launch for the Radeon RX 5600 XT.
AMD pitched its $280 GPU as a rival to Nvidia's identically priced GeForce GTX 1660 Ti. Then the company rushed out optional last-second BIOS updates that could greatly enhance memory and clock speeds (and thus performance), because Nvidia and its partners rolled out $300 GeForce RTX 2060 models rather than cutting costs on the GTX 1660 Ti. The eleventh-hour change indeed made the RX 5600 XT competitive with Nvidia's RTX 2060, but AMD's partners had already designed their lineup around the original specifications. That means you'll find a wide variety of custom Radeon RX 5600 XT graphics cards available, some much faster than others, and with pricing that can sometimes seem befuddling.
Case in point: XFX's Radeon RX 5600 XT Thicc II Pro remains worth considering but isn't quite as appealing as it would have been originally, now that the dust around AMD's last-second strategy shift has settled down.
XFX Radeon RX 5600 XT Thicc II Pro specs, features, and price
As a recap, the Radeon RX 5600 XT is essentially a lower-clocked, memory-reduced version of the Radeon RX 5700. It packs the same core GPU configuration, but just 6GB of GDDR6 memory compared to the RX 5700's 8GB, and delivered over a smaller 192-bit bus. This gives it a lower overall memory bandwidth than its pricier sibling.
Here are AMD's reference specs for the GPU, which remain the same despite the upgraded VBIOSes available: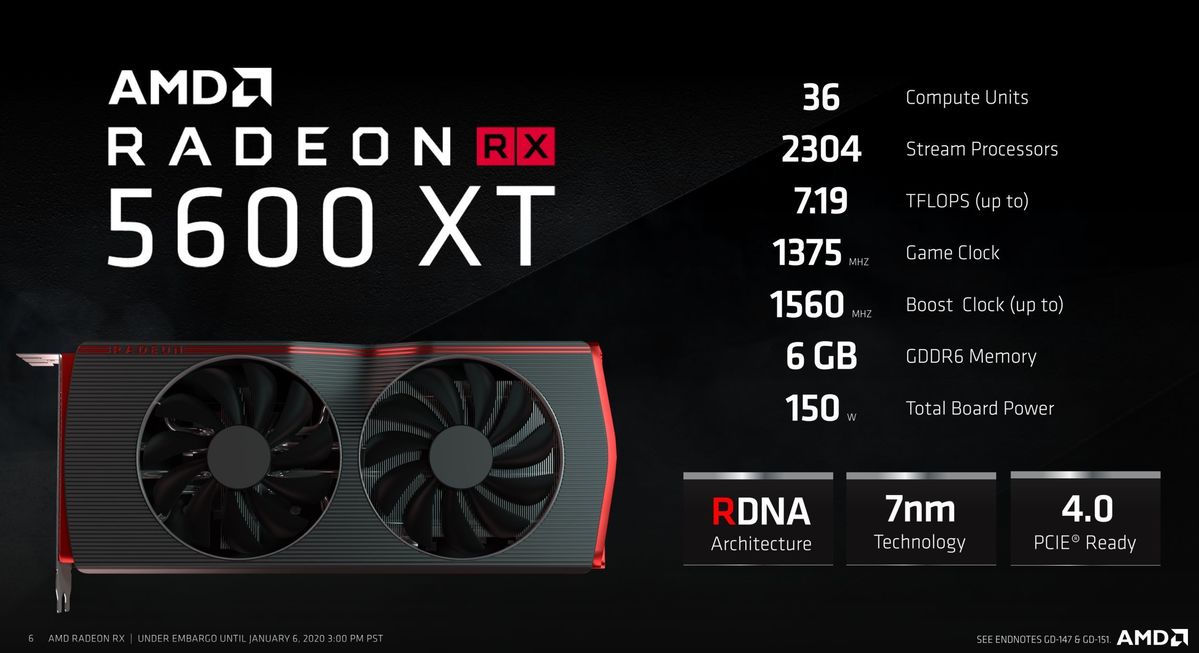 The Thicc II Pro was originally designed to run at those reference clock speeds, and if you buy one on store shelves today, near the Radeon RX 5600 XT's launch window, it likely tops out at the reference 1,560MHz boost clock. XFX has released an updated "pro-tuned" BIOS for the Thicc II Pro that increases speeds.
AMD's decision to loosen BIOS restrictions was so last-minute, the first wave of stock for most custom models shipped with the original, slower software. You can grab the new BIOS from the downloads section of XFX's RX 5600 XT Thicc II Pro page if your model doesn't come equipped with it. Asking end users to flash their firmware sucks, especially in a segment of the market that isn't necessarily flooded with enthusiasts who might be more comfortable with the mildly risky process. This problem stems from AMD, not XFX.
Here are the specs for the Thicc II Pro with the upgraded VBIOS: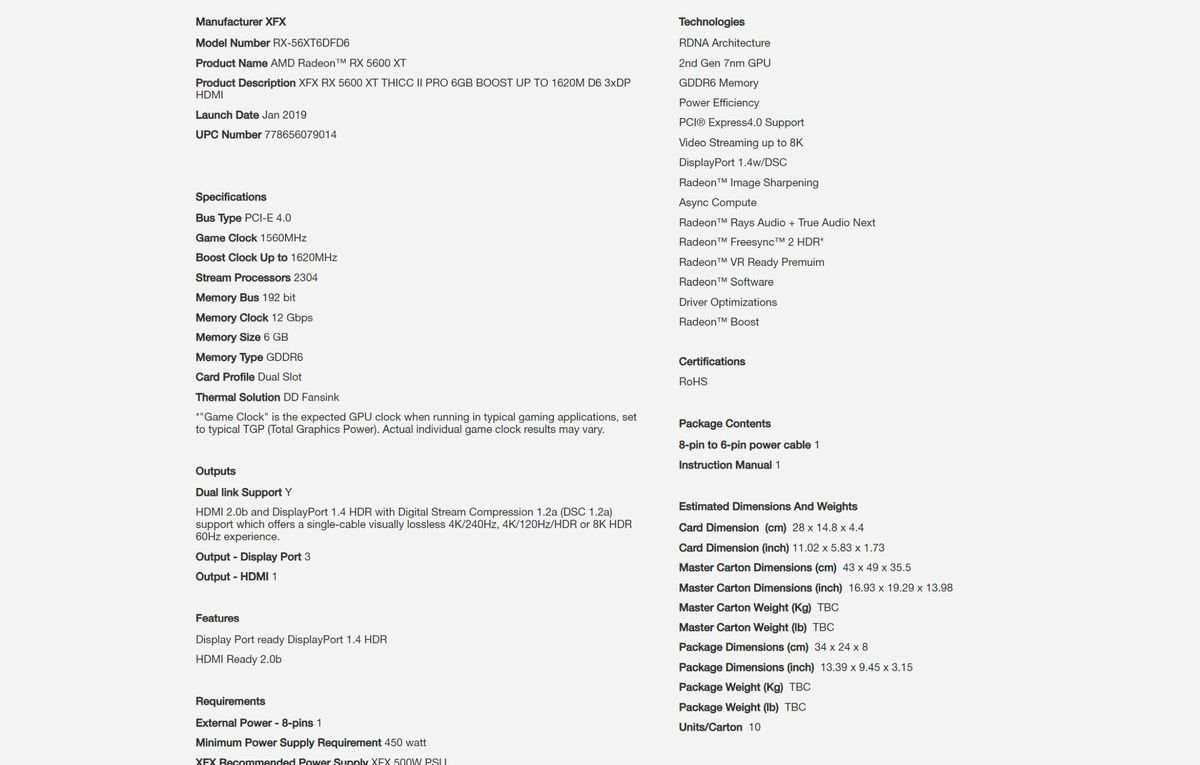 Despite being called "pro-tuned," however, the Thicc II Pro's new BIOS doesn't add quite as much oomph as the upgraded VBIOS for the Sapphire Pulse RX 5600 XT does—and Sapphire's card costs $10 less. XFX's pro-tuned BIOS bumps the boost clock up to 1,620MHz, and the game clock up to 1,560MHz (or AMD's reference boost clock). It also leaves memory clock speeds untouched, at 12Gbps. By contrast, Sapphire's new BIOS for the Pulse bumps the boost clock speeds to 1,750MHz and memory clock speeds to 14Gbps. Between the two, Sapphire's card can be roughly 10 percent faster in some games (but not all), as you'll see in our benchmarks.
So why wouldn't XFX bump speeds up to match the Pulse, given that Sapphire's card was widely sampled by AMD for product reviews? Product lines are complicated. Remember that graphics card makers designed their lineups before AMD released its BIOS restrictions. The Thicc II Pro is just one of many cards in XFX's Radeon RX 5600 XT series—it also offers Raw II Pro, Thicc III Pro, and Thicc III Ultra models. Boosting the specifications of one affects the value proposition of the others. Factory overclocks are a premium feature, especially the higher they go.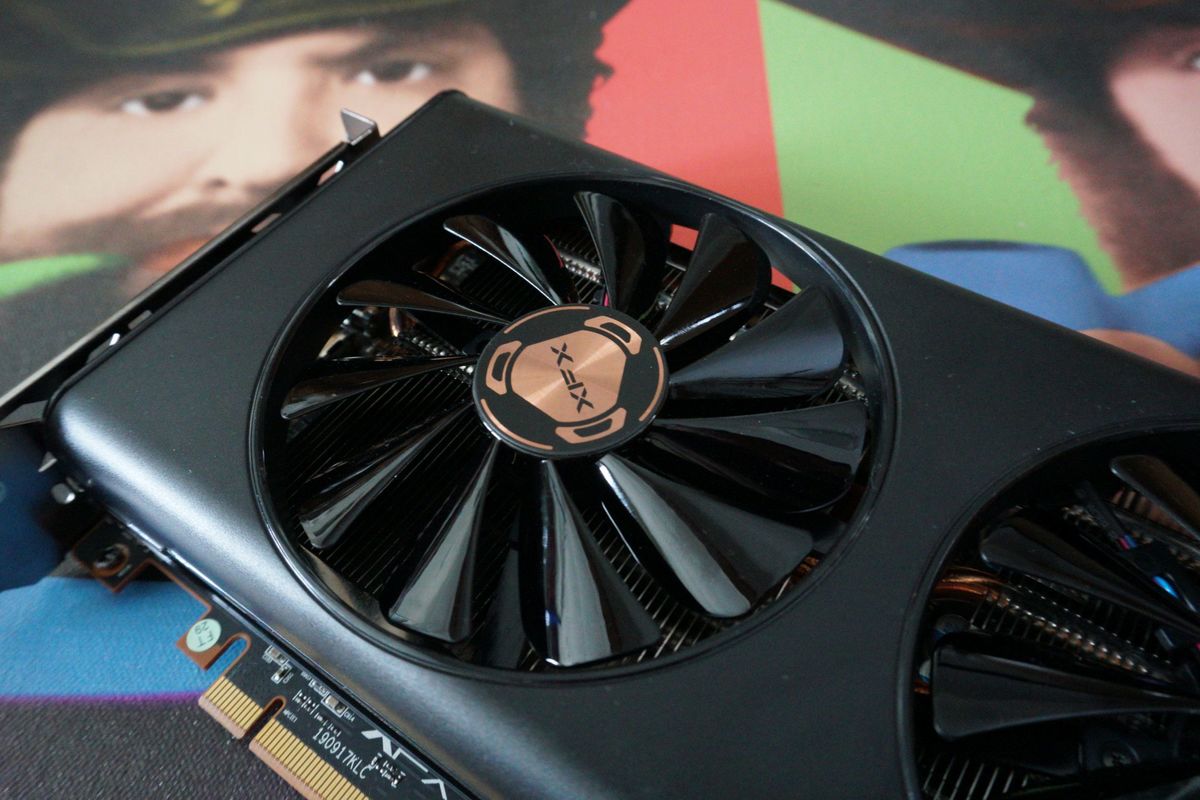 None of XFX's pro-tuned BIOSes offer memory clock boosts, though. Again: why? In an eye-opening video stream, MSI marketing managers said that while the memory chips provided by AMD are technically 14Gbps modules, they were tested and validated only for 12Gbps. Pushing speeds higher because AMD authorized a higher power limit for these boards could affect stability, and don't forget that AMD's partners designed their cooling systems around the reference specifications at the 12Gbps validated memory speeds. Just because Sapphire was willing to push the pedal to the metal doesn't mean all GPU makers can swallow the potential risk, and the potential support headaches from graphics cards suffering from instability in the hands of buyers.
Bottom line: AMD's decision to push the eleventh-hour BIOS tossed a big monkey wrench into its partners' Radeon RX 5600 XT lineups.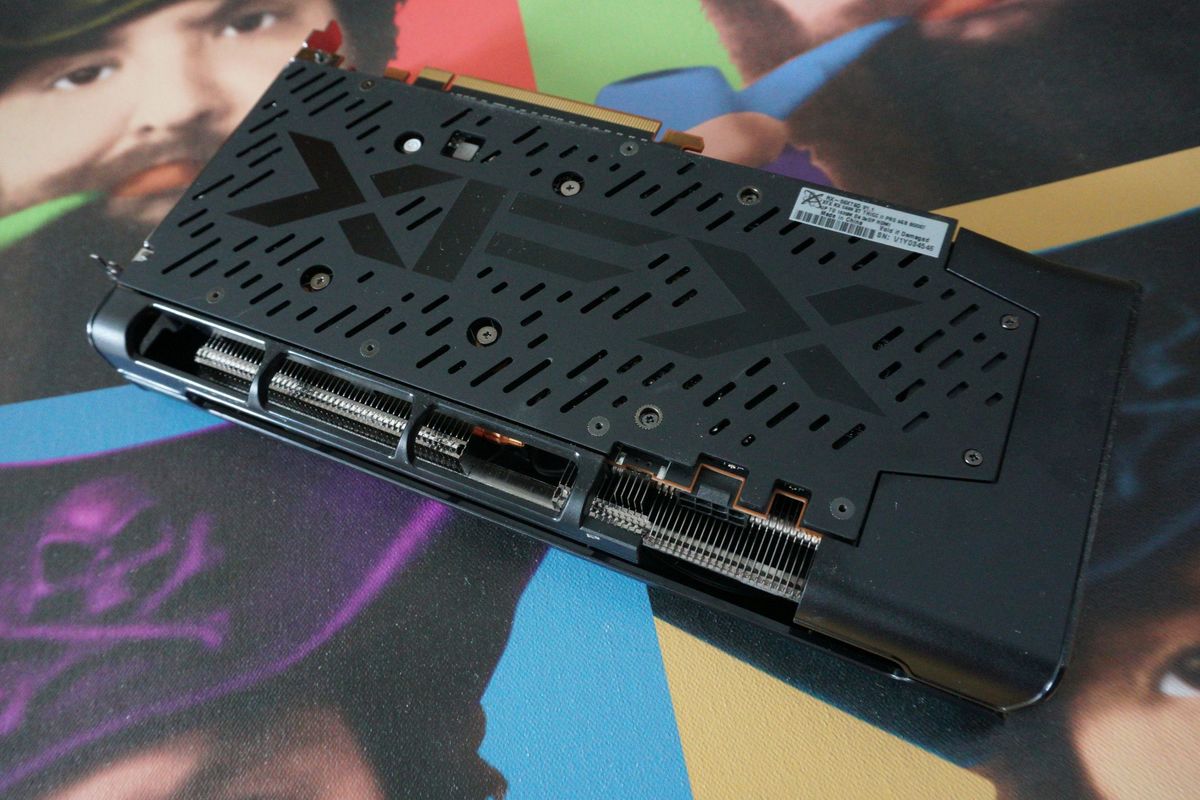 It's a shame, because the Thicc II Pro features a nice custom design that's well worth the extra $20 over the Radeon RX 5600 XT's $280 MSRP. This new model continues the sleek matte black aesthetic introduced in the Radeon RX 5700 XT Thicc II Ultra, but refined by feedback that XFX received over the pricier card's thermal design.
XFX's new Thicc II Pro is noticeably slimmer and shorter than its bigger sibling. A smaller heat sink inside and a lack of chrome accents unfortunately removes some of the muscle-car feel of the original. Yes, it's less "thicc." It's still fetching, though—one of my favorite looks in recent years.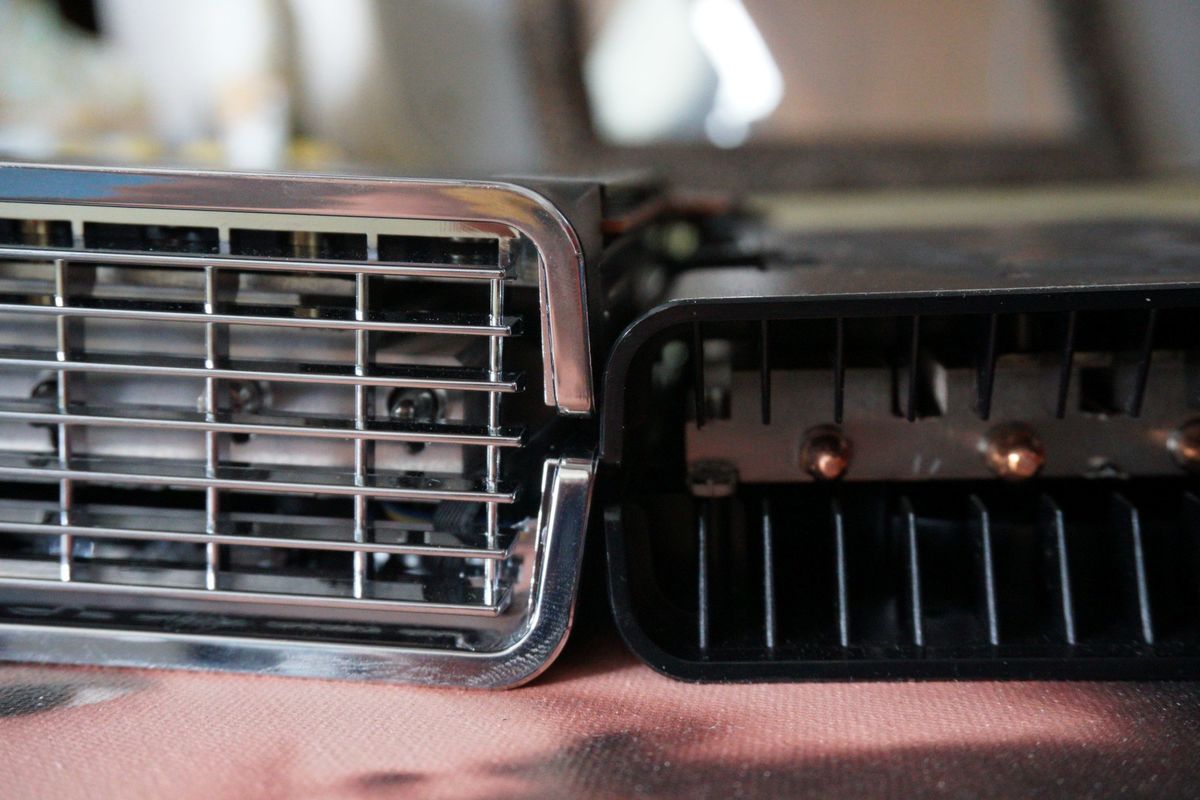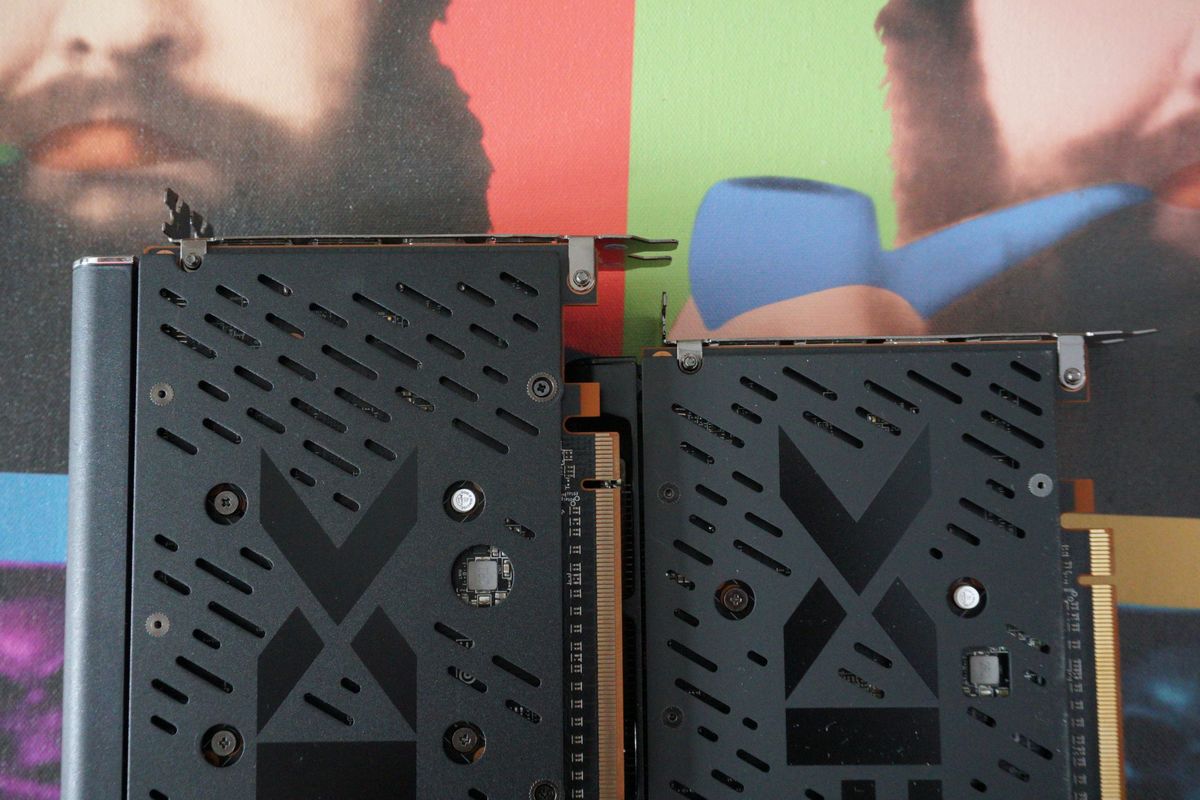 XFX's new card works in the copper cooling plate introduced in the follow-up Radeon RX 5700 XT Thicc III Ultra to help lower memory temperatures, along with copper heatpipes, and puts additional cooling vents on the edge of the shroud. These components also reduce the hot-rod feel of the design, but in any muscle car, performance is paramount.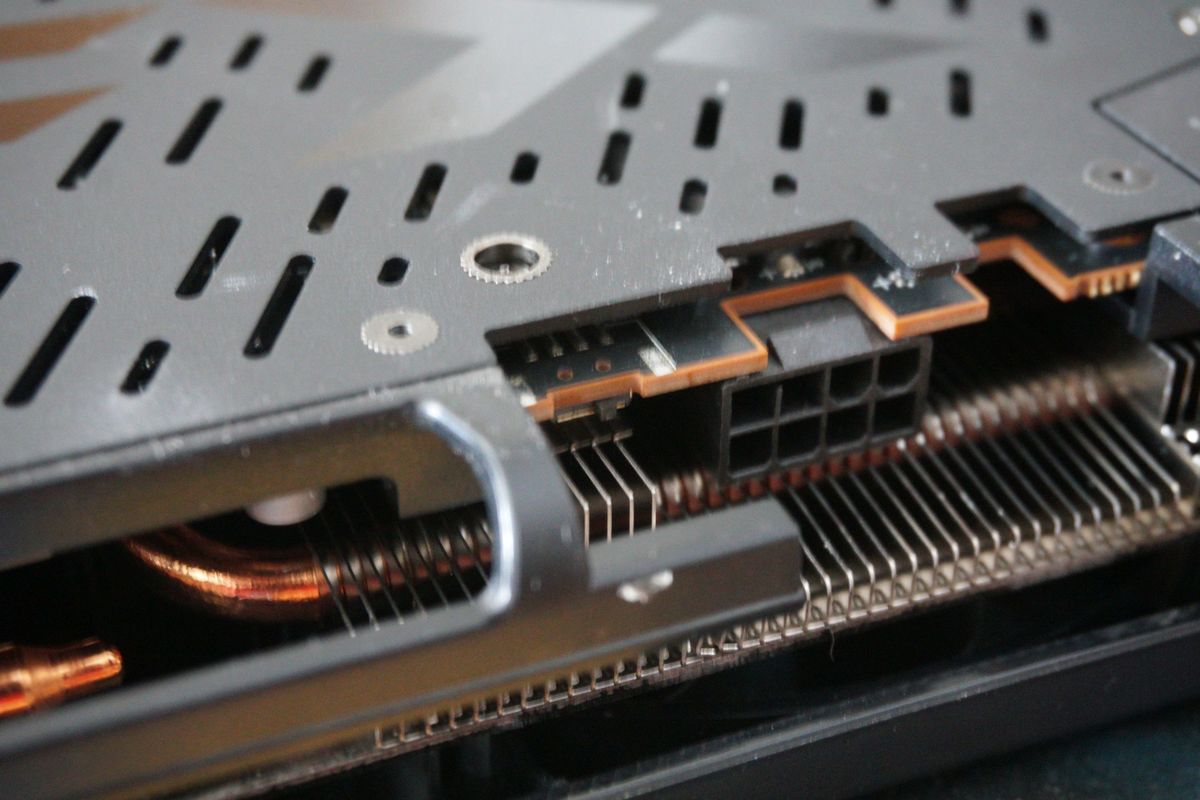 The card's topped by a fetching metal backplate emblazoned with XFX's logo, though the shroud itself is plastic. Two large axial fans push hot air out of the card and into your system. Better yet, they remain idle (and thus utterly silent) until you load up the GPU with a game or other visually intensive workload. A dual-BIOS switch, for different high-performance and lower-acoustic profiles, serves as the cherry topping off this solid design.
The XFX Radeon RX 5600 XT Thicc II Pro connects to your power supply via a single 8-pin connector, while you'll find a single HDMI connection and three DisplayPorts for outputs. Speaking of which: Let's get to the games.
Next page: Our test system, benchmarks begin
Our test system
Our dedicated graphics card test system is packed with some of the fastest complementary components available to put any potential performance bottlenecks squarely on the GPU. Most of the hardware was provided by the manufacturers, but we purchased the cooler and storage ourselves.
We're testing the $300 XFX Radeon RX 5600 XT Thicc II Pro using its default Performance profile, with the company's performance-boosting "Pro-tuned" VBIOS installed. You'll likely have to install that VBIOS yourself if you purchase the card today. We're comparing it against the $290 Sapphire Pulse model that we originally used to evaluate the RX 5600 XT. The Pulse received an upgraded VBIOS that increases both memory speeds and GPU clock speeds past the XFX card's levels, and that new VBIOS should come preinstalled on most graphics cards in North America. We're including testing results for both the enhanced VBIOS and the original, slower VBIOS for the Pulse, using that card's default Performance profile as well.
Mentioned in this article
GeForce RTX 2060 KO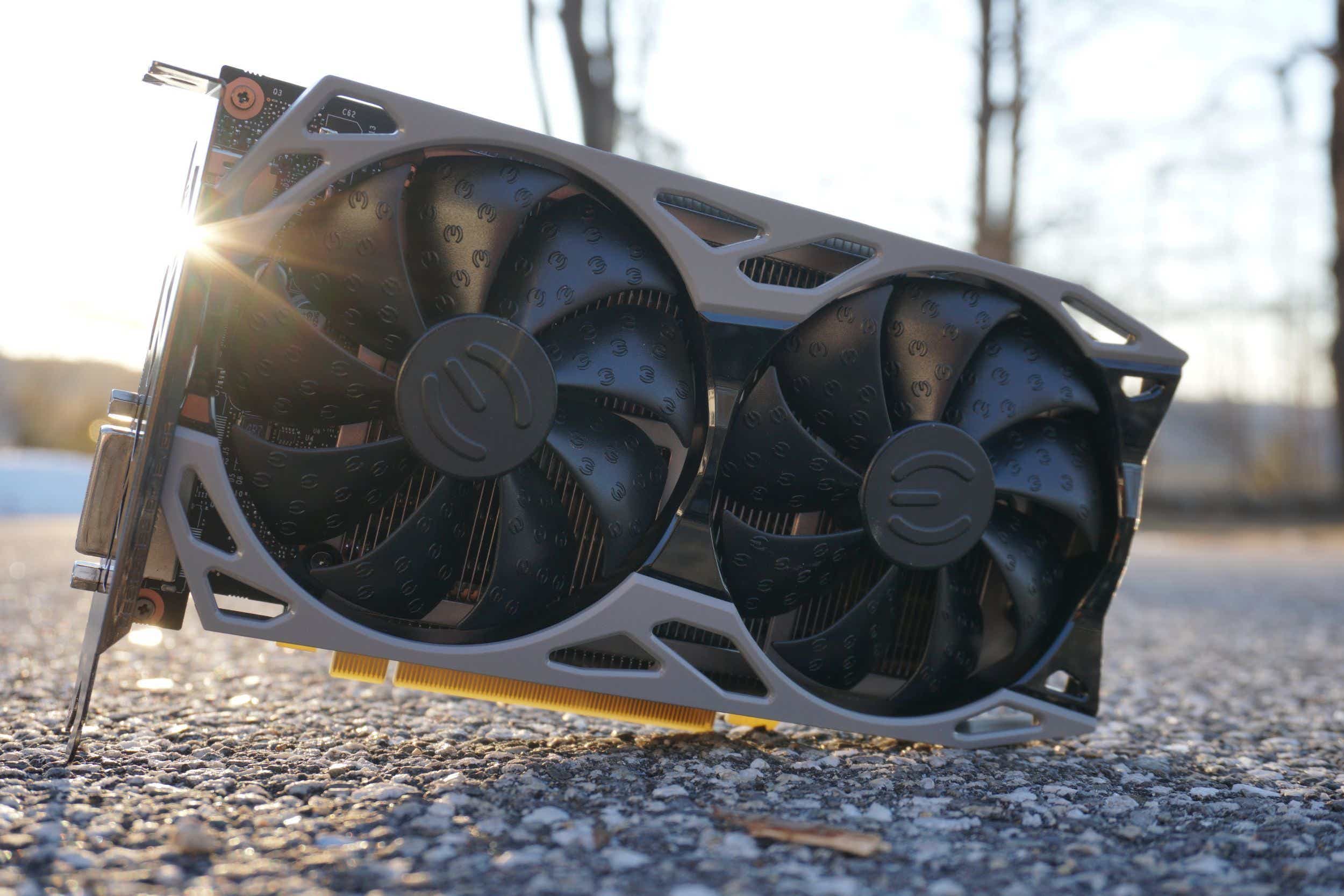 Price When Reviewed:
$300
We've also included test results for the $280+ Asus ROG Strix GeForce GTX 1660 Ti, the $350 Radeon RX 5700 reference edition, and EVGA's $300 GeForce RTX 2060 KO.
Each game is tested using its in-game benchmark at the highest possible graphics presets unless otherwise noted, with VSync, frame rate caps, real-time ray tracing or CLSS effects, and FreeSync/G-Sync disabled, and we've enabled temporal anti-aliasing (TAA) to push these cards to their limits. We run each benchmark at least three times and list the average result for each test. Ghost Recon Breakpoint, a title we introduced to our suite this year, refused to launch at the time of testing, so it's excluded from our results.
Gaming performance benchmarks
Metro Exodus
One of the best games of 2019, Metro Exodus is one of the best-looking games around, too. The latest version of the 4A Engine provides incredibly luscious, ultra-detailed visuals, with one of the most stunning real-time ray tracing implementations released yet. We test in DirectX 12 mode with ray tracing and DLSS disabled.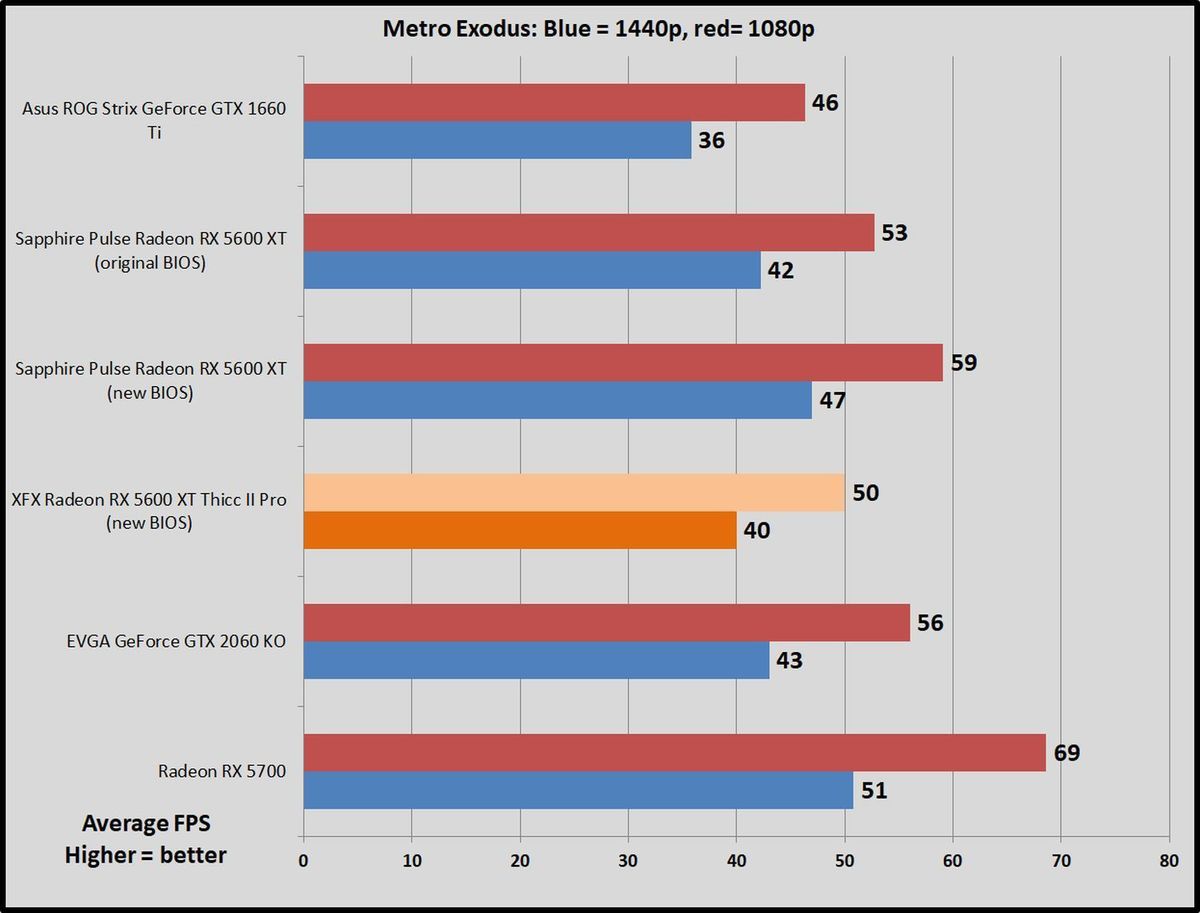 Borderlands 3
Borderlands is back! Gearbox's game defaults to DX12, so we do as well. It gives us a glimpse at the ultra-popular Unreal Engine 4's performance—though this game's implementation leans heavily in AMD's favor.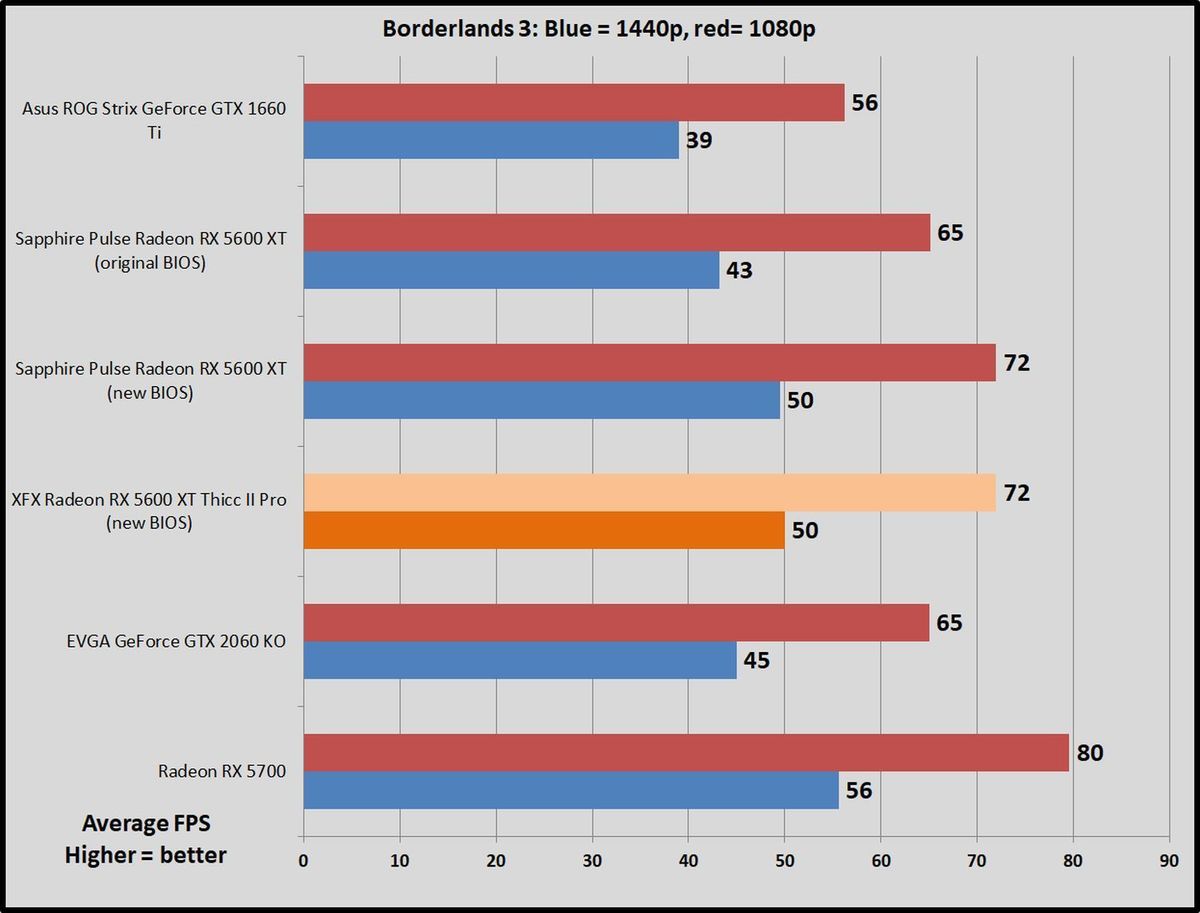 Division 2
The Division 2 is one of the best looter-shooters ever created. The luscious visuals generated by Ubisoft's Snowdrop engine make it even easier to get lost in post-apocalyptic Washington D.C. The built-in benchmark cycles through four "zones" to test an array of environments, and we test with the DirectX 12 renderer enabled.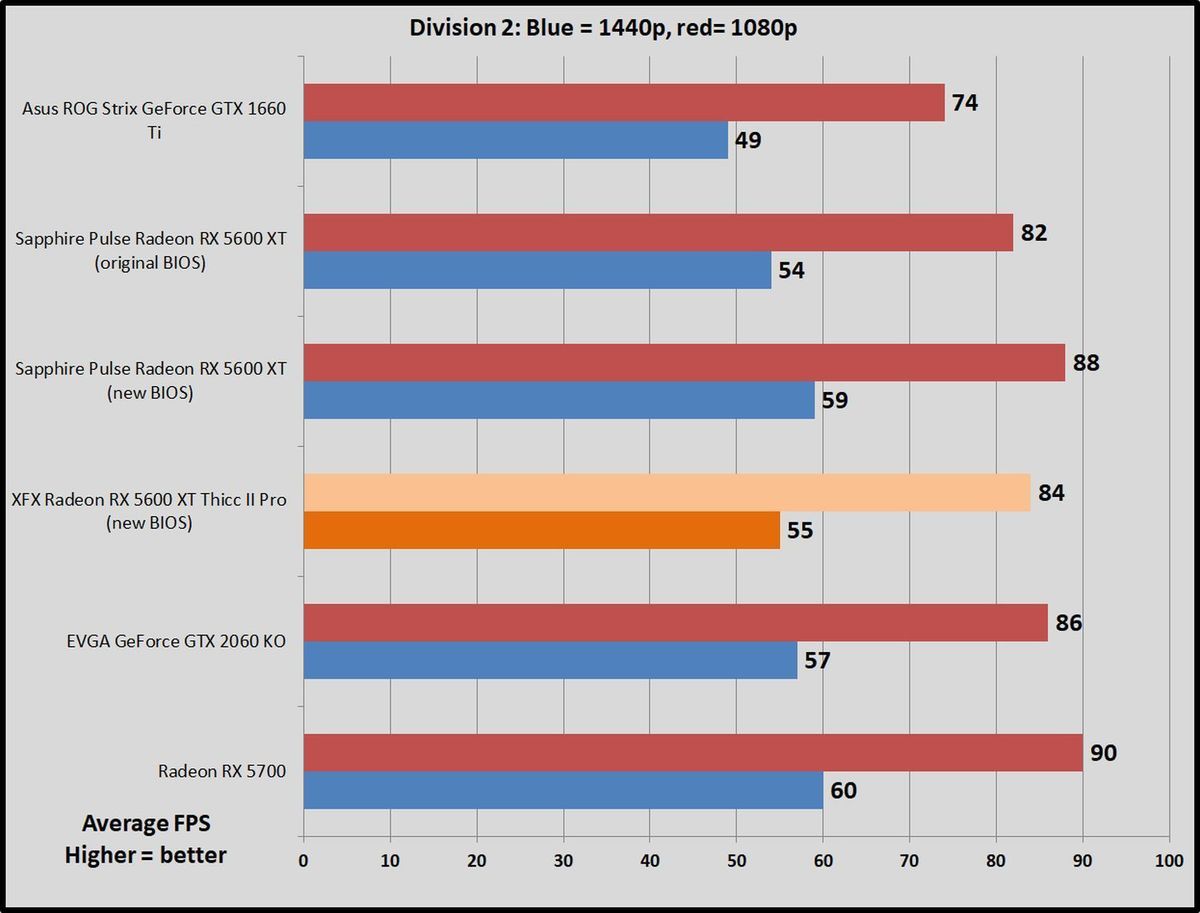 Next page: Gaming benchmarks continue
Strange Brigade
Strange Brigade is a cooperative third-person shooter where a team of adventurers blasts through hordes of mythological enemies. It's a technological showcase, built around the next-gen Vulkan and DirectX 12 technologies and infused with features like HDR support and the ability to toggle asynchronous compute on and off. It uses Rebellion's custom Azure engine. Last year, we used the DX12 renderer as it offered improved performance, but in 2020, we've switched to the Vulkan renderer with async compute enabled, as it's now your fastest option and Vulkan games are rare indeed.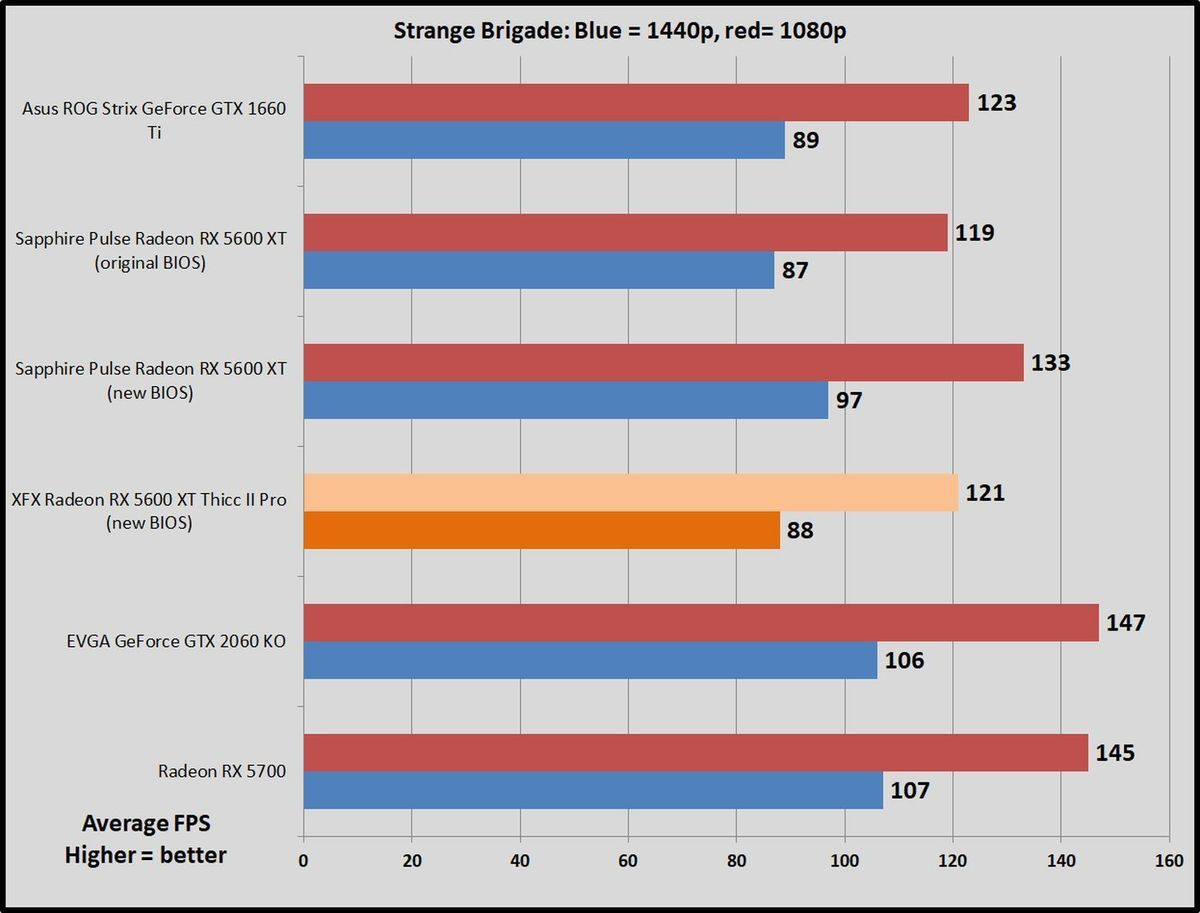 Shadow of the Tomb Raider
Shadow of the Tomb Raider concludes the reboot trilogy, and it's utterly gorgeous. Square Enix optimized this game for DX12, and recommends DX11 only if you're using older hardware or Windows 7, so we test with DX12. Shadow of the Tomb Raider uses an enhanced version of the Foundation engine that also powered Rise of the Tomb Raider and includes optional real-time ray tracing features.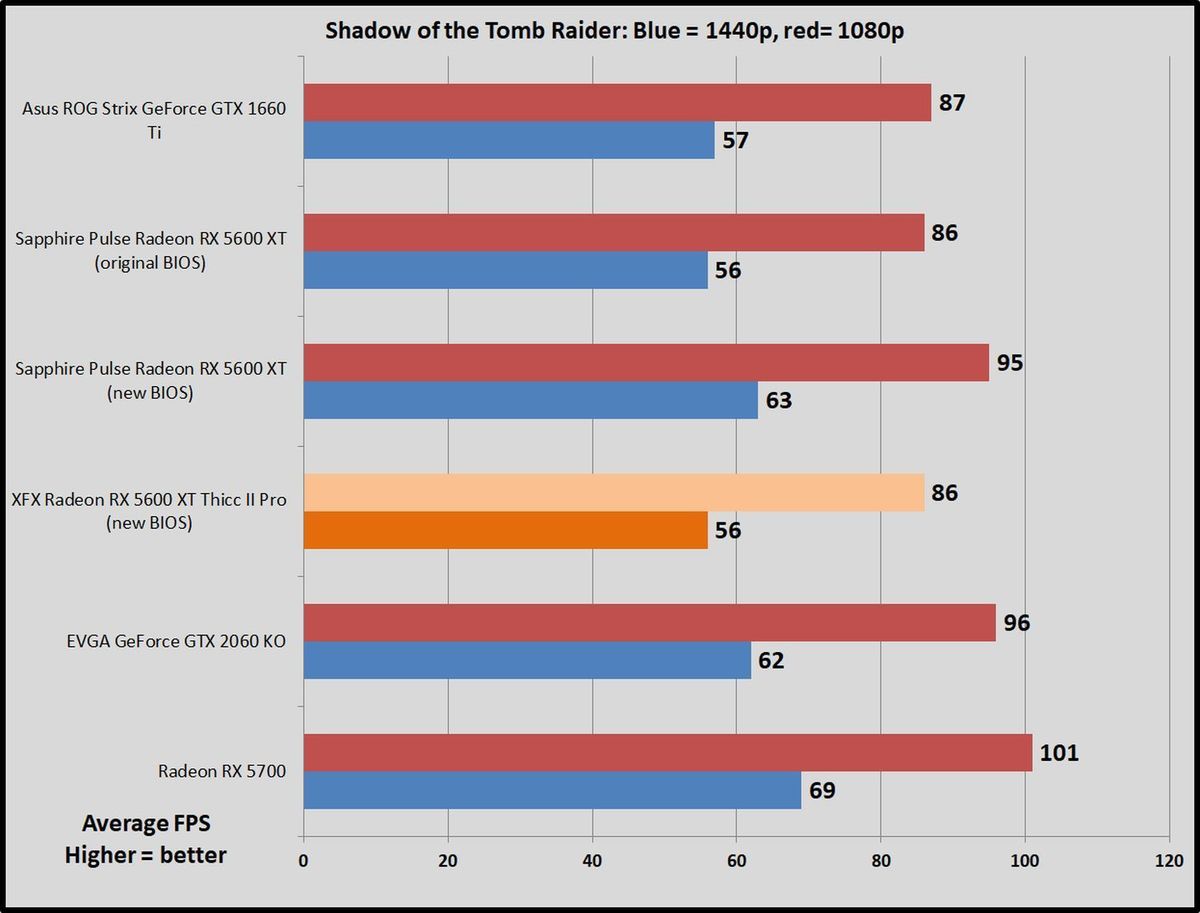 Total War: Three Kingdoms
Most of the games in our suite are shooters or adventure games, but we've included Total War: Three Kingdoms to give us a glimpse at RTS performance. It's another DX11 game, running on an improved version of the same engine found in Creative Assembly's previous Total War entries.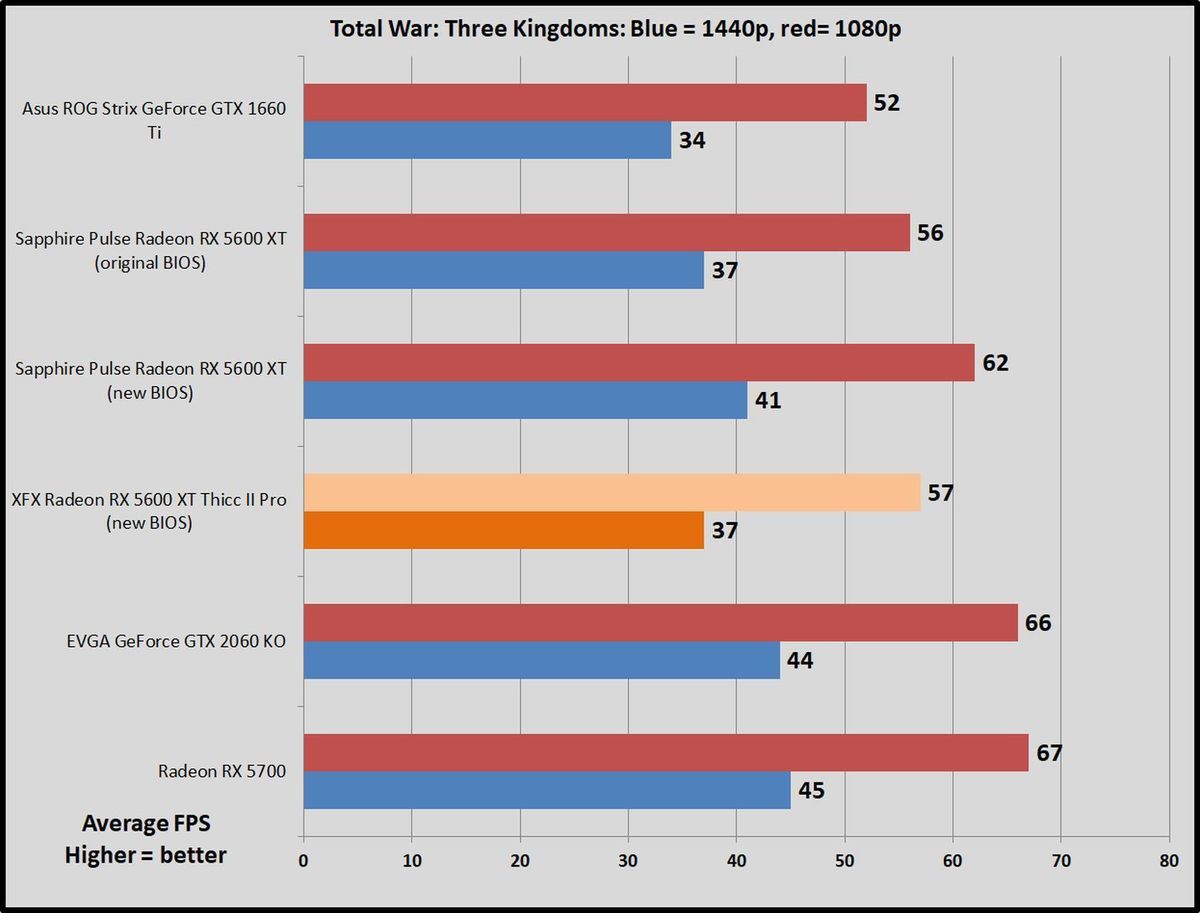 GTA V
This game that isn't really a visual barn-burner, but it still tops the Steam charts day in and day out. We test Grand Theft Auto V with all options turned to Very High, all Advanced Graphics options except extended shadows enabled, and FXAA. GTA V runs on the RAGE engine and has received substantial updates since its initial launch. The game hits a CPU bottleneck around 100 fps at 1080p resolution in our system.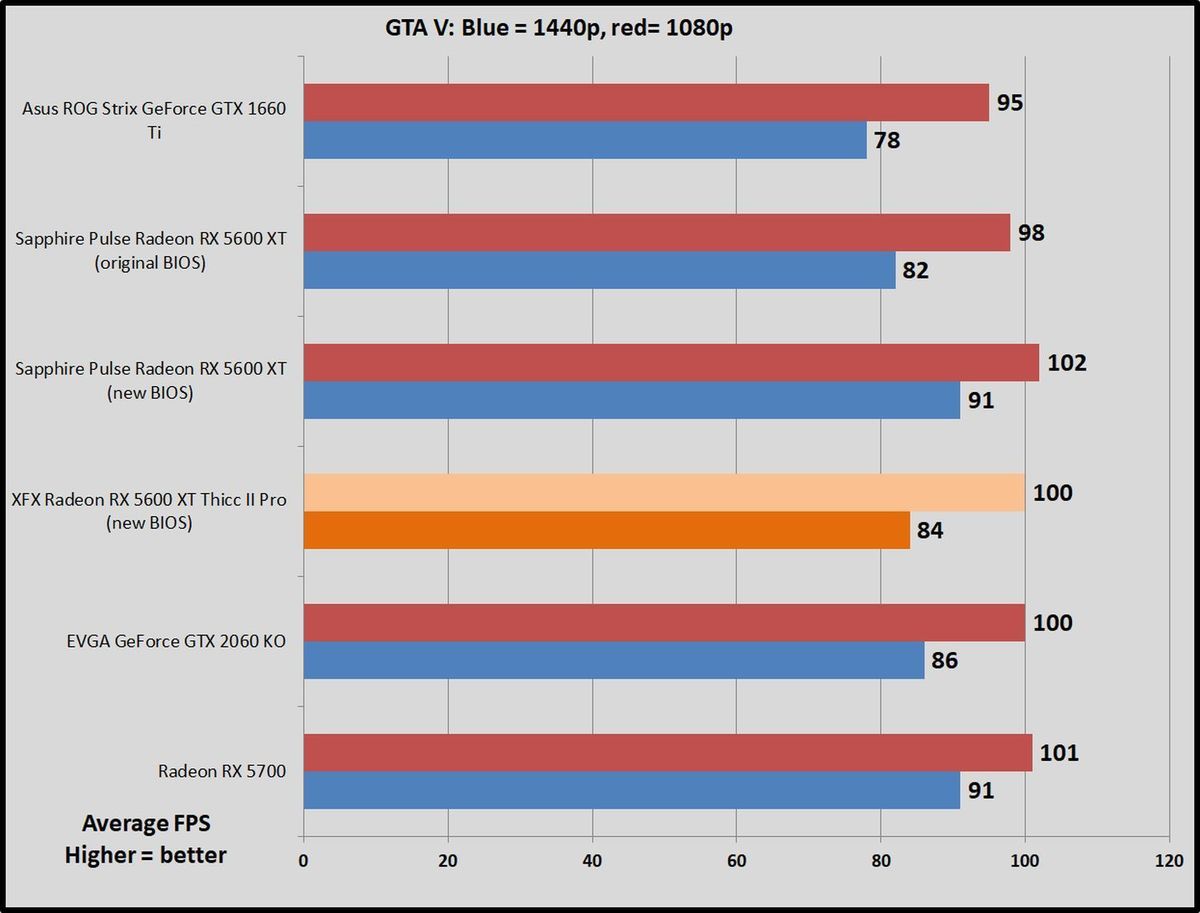 Next page: Gaming benchmarks, thermals, and power
F1 2019
The latest in a long line of successful racing games, F1 2019 is a gem to test, supplying a wide array of both graphical and benchmarking options, making it a much more reliable (and fun) option that the Forza series. It's built on the latest version of Codemasters' buttery-smooth Ego game engine, complete with support for DX12 for the first time. We test two laps on the Australia course, with clear skies.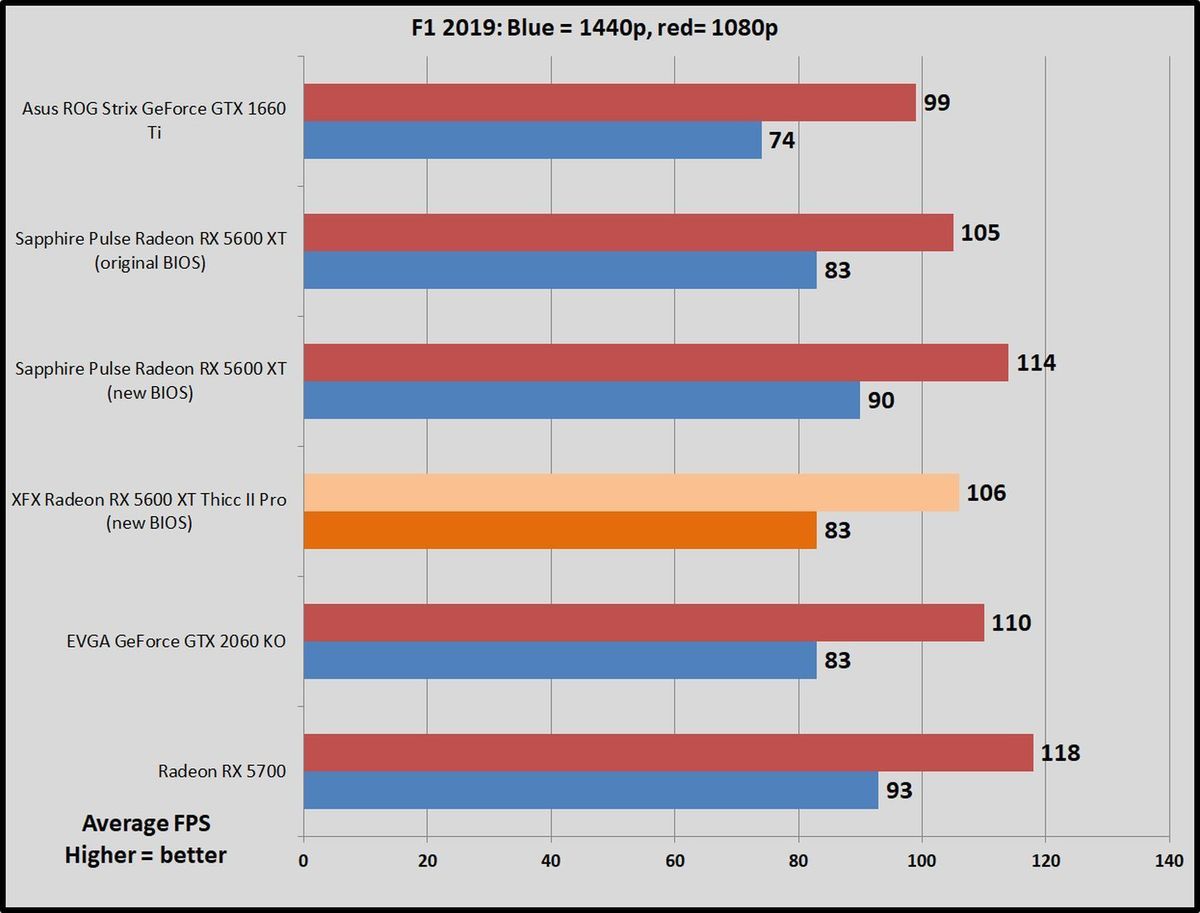 Power draw, thermals, and noise
We test power draw by looping the F1 2019 benchmark for about 20 minutes after we've benchmarked everything else and noting the highest reading on our Watts Up Pro meter. The initial part of the race, where all competing cars are onscreen simultaneously, tends to be the most demanding portion.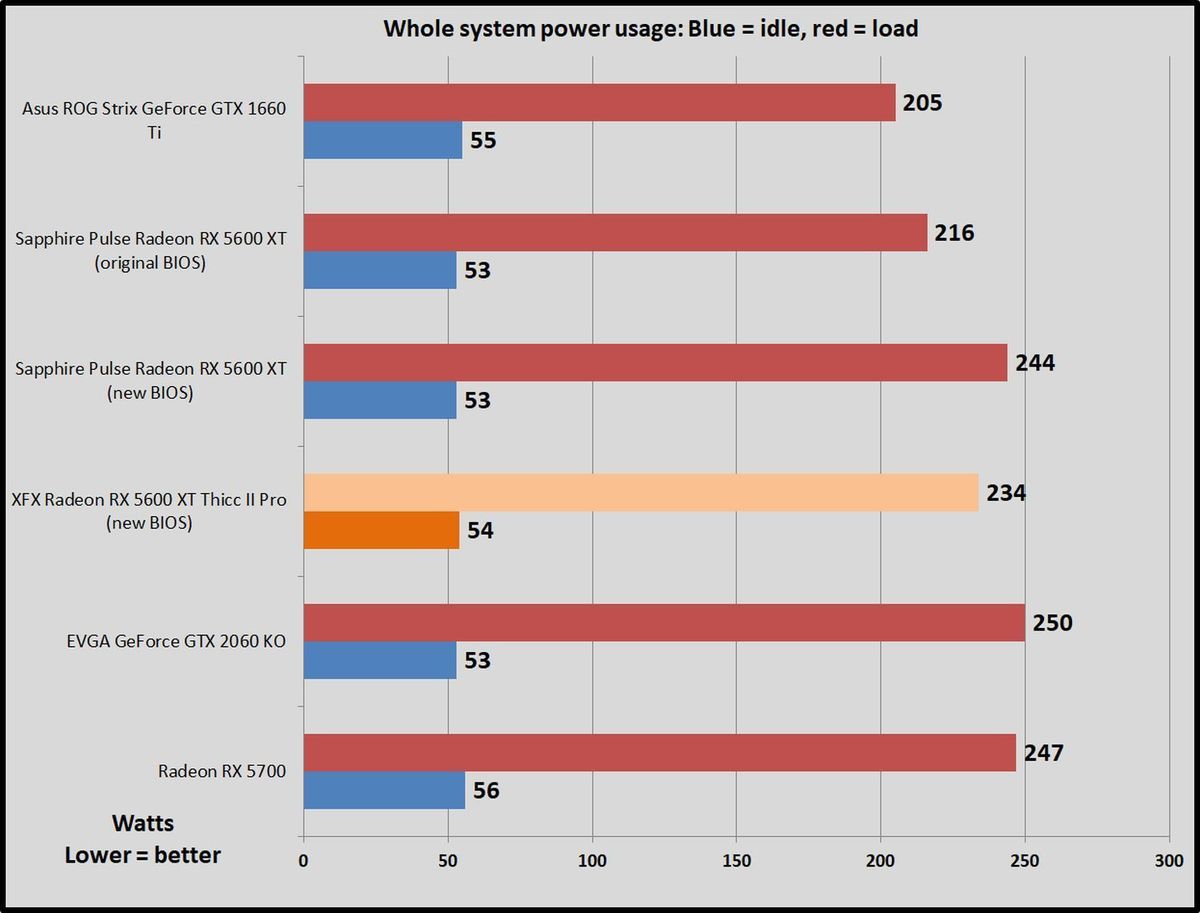 AMD's new "Navi" GPU architecture blessed the Radeon RX 5000-series GPUs with significantly better energy efficiency than previous Radeon generations. Despite having slower GPU and memory clock speeds than the Sapphire Pulse equipped with its upgraded VBIOS, XFX's Thicc II Pro draws only slightly less power. Every card tested here does great, though.
We test thermals by leaving GPU-Z open during the F1 2019 power draw test, noting the highest maximum temperature at the end.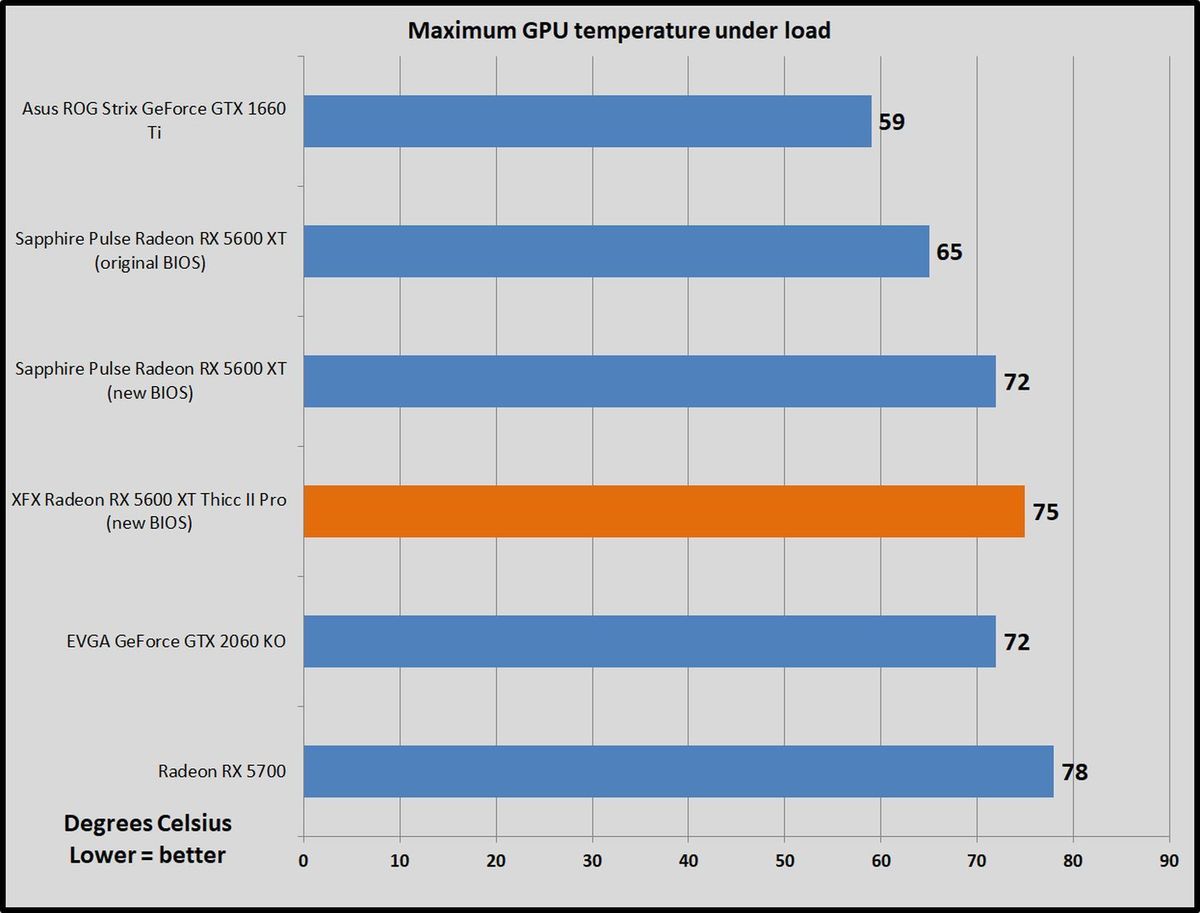 XFX's cooler design looks much sleeker than the Sapphire Pulse's budget aesthetic, but the reduced "thiccness" affects the card's cooling. Even though the Pulse packs much higher GPU and memory clocks, it runs slightly cooler than the Thicc II Pro, and even the EVGA RTX 2060 KO's bolted-on GTX 1660-class cooler manages to hit lower temperatures. It's a bit of a letdown on paper, but not in practice: XFX's Radeon RX 5600 XT runs plenty cool enough and maintains subjectively quiet noise levels.
Next page: Should you buy the XFX Radeon RX 5600 XT Thicc II Pro?
Should you buy the XFX Radeon RX 5600 XT Thicc II Pro?
You won't be disappointed if you buy the XFX Radeon RX 5600 XT Thicc II Pro.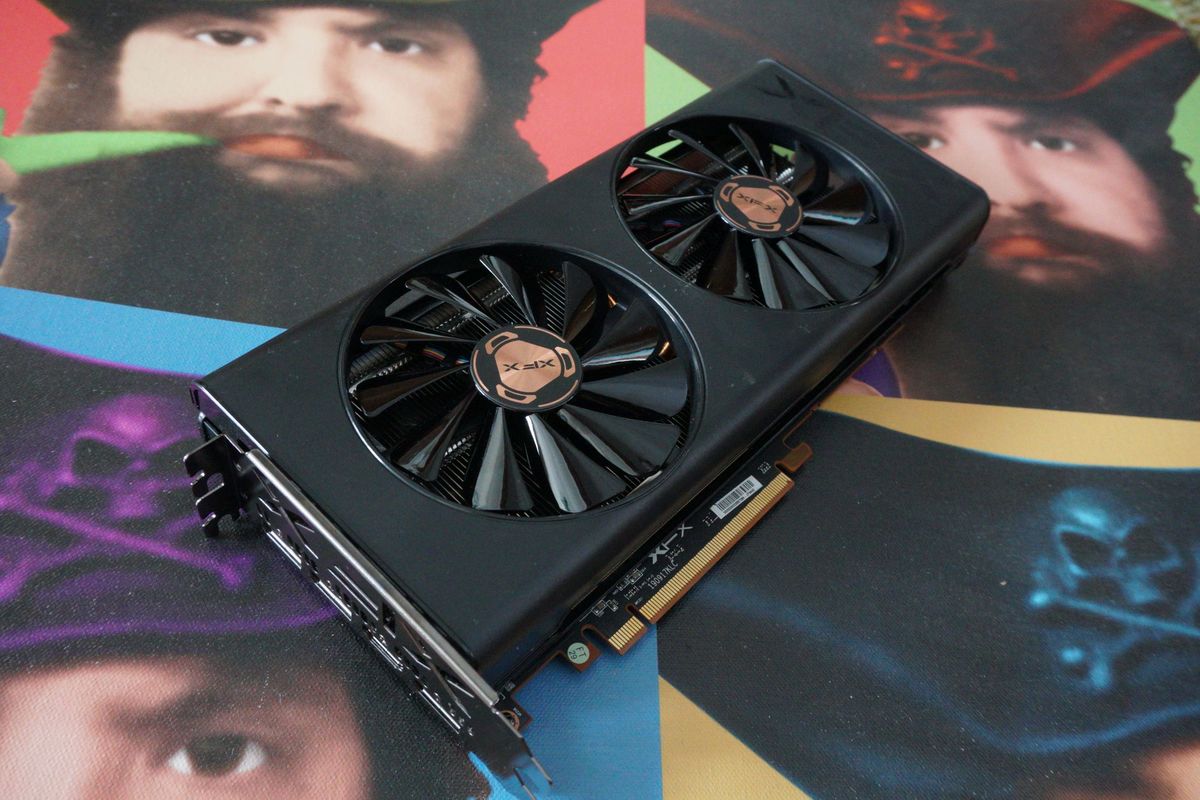 It delivers killer 1080p gaming at high refresh rates and ultimate visual quality, as well as solid 1440p gaming. The blacked-out aesthetic of the custom cooler remains drool-worthy, even if it isn't quite as thicc or blinged-out as other Thicc models, and XFX includes desirable dual-BIOS and idle fan stop features for a good all-around experience. AMD's new Navi architecture is much more energy-efficient than past Radeon GPUs, too. In a sane world, the mere $20 premium XFX charges for this card would be well worth the price.
The vicious AMD and Nvidia counterpunching around the launch of the Radeon RX 5600 XT has caused the Thicc II Pro to lose a bit of its luster, unfortunately.
You'll probably need to flash a new VBIOS onto your card to get the best performance in the wake of AMD's last-minute tweaks. That's not difficult, nor unique to XFX—pretty much all of the first Radeon RX 5600 XT shipments are affected—but it's not very user-friendly for a $300 purchase. Even once you do, XFX's "Pro-tuned" BIOS for the Thicc II Pro doesn't apply overclocks as fiercely as the $290 Sapphire Pulse Radeon RX 5600 XT does, nor does it increase memory clock speeds.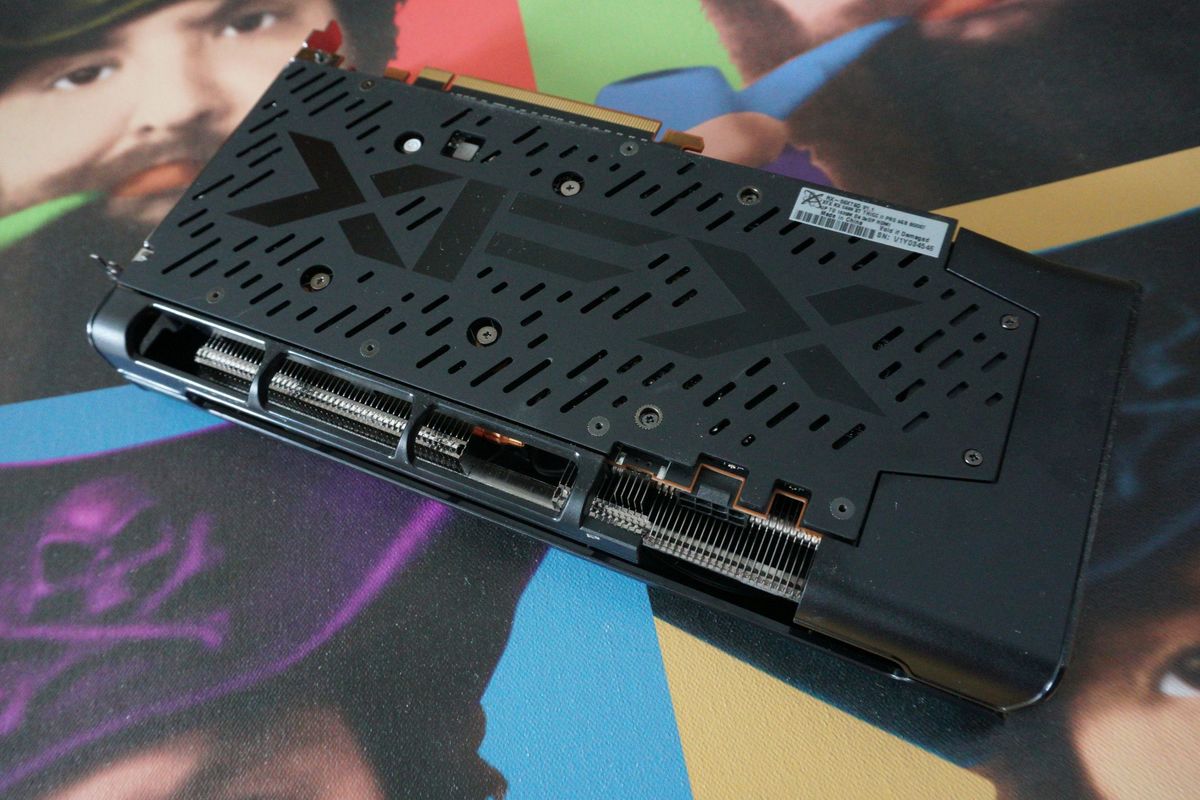 Mentioned in this article
Pulse Radeon RX 5600 XT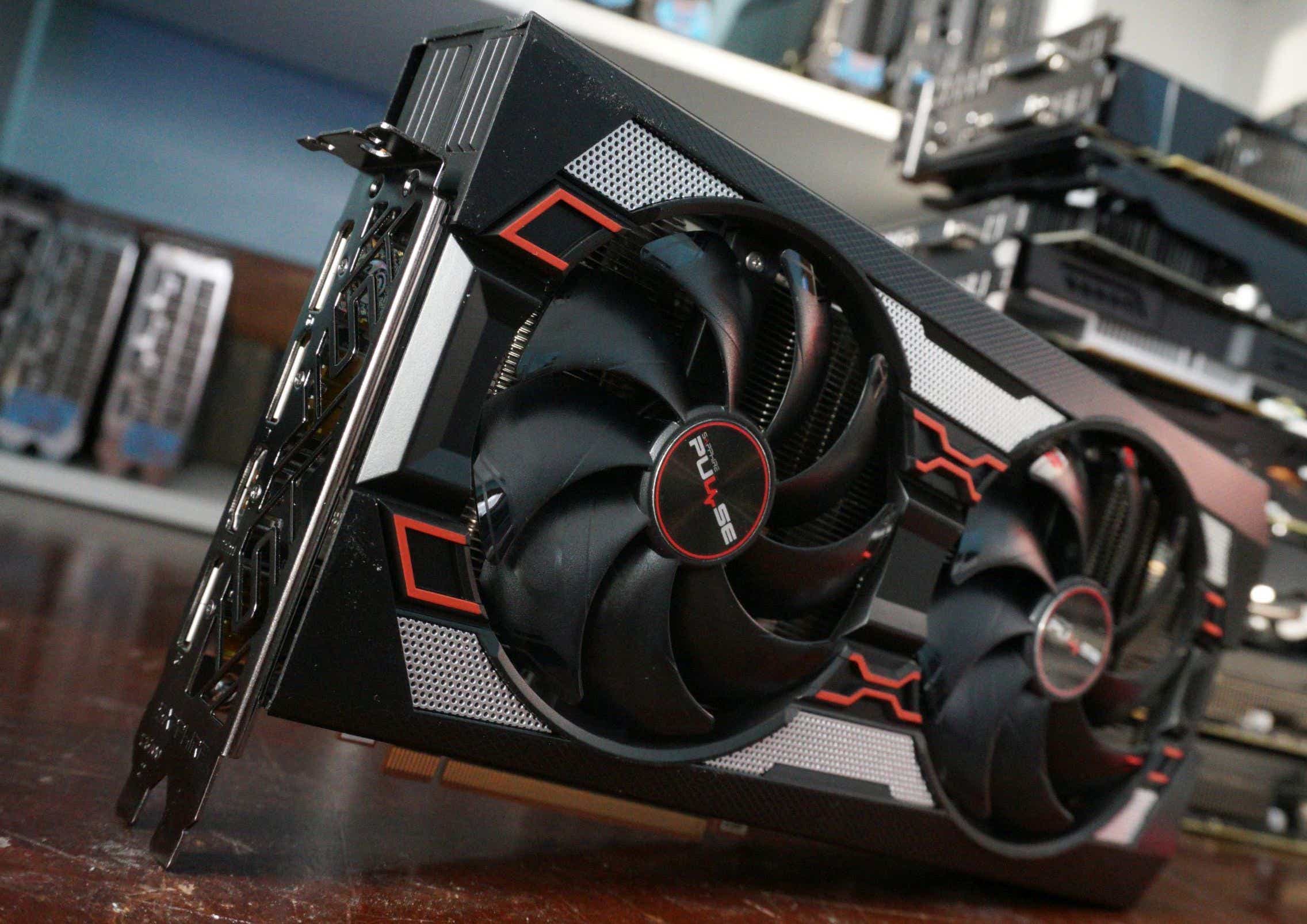 Price When Reviewed:
$290
In some games, that doesn't matter much, but in several games, the faster speeds give the Sapphire Pulse up to a 10-percent performance advantage even with a sticker price that's ostensibly $10 less. (We've seen it as high as $300 on the street.) Sapphire's card also runs extremely quiet and offers a dual-BIOS switch, but it's uglier than the XFX Thicc II Pro. Sapphire also managed to get its upgraded VBIOS onto most Pulse cards sold in North America, negating extra legwork on your end.
At $300, the XFX Thicc II Pro goes head-to-head with the new EVGA GeForce RTX 2060 KO, as well as Nvidia's own reduced-priced RTX 2060 Founders Edition. EVGA's card is louder than XFX's and lacks a dual-BIOS switch, but it also offers about 10 percent more performance, as well as real-time ray tracing capabilities limited to GeForce RTX 20-series GPUs alone at this point. You also don't need to bother with manual BIOS flashing to get your best performance from GeForce cards, unlike Radeon RX 5600 XT models.
The XFX Radeon RX 5600 XT Thicc II Pro is stuck between Sapphire's rock and EVGA's hard place.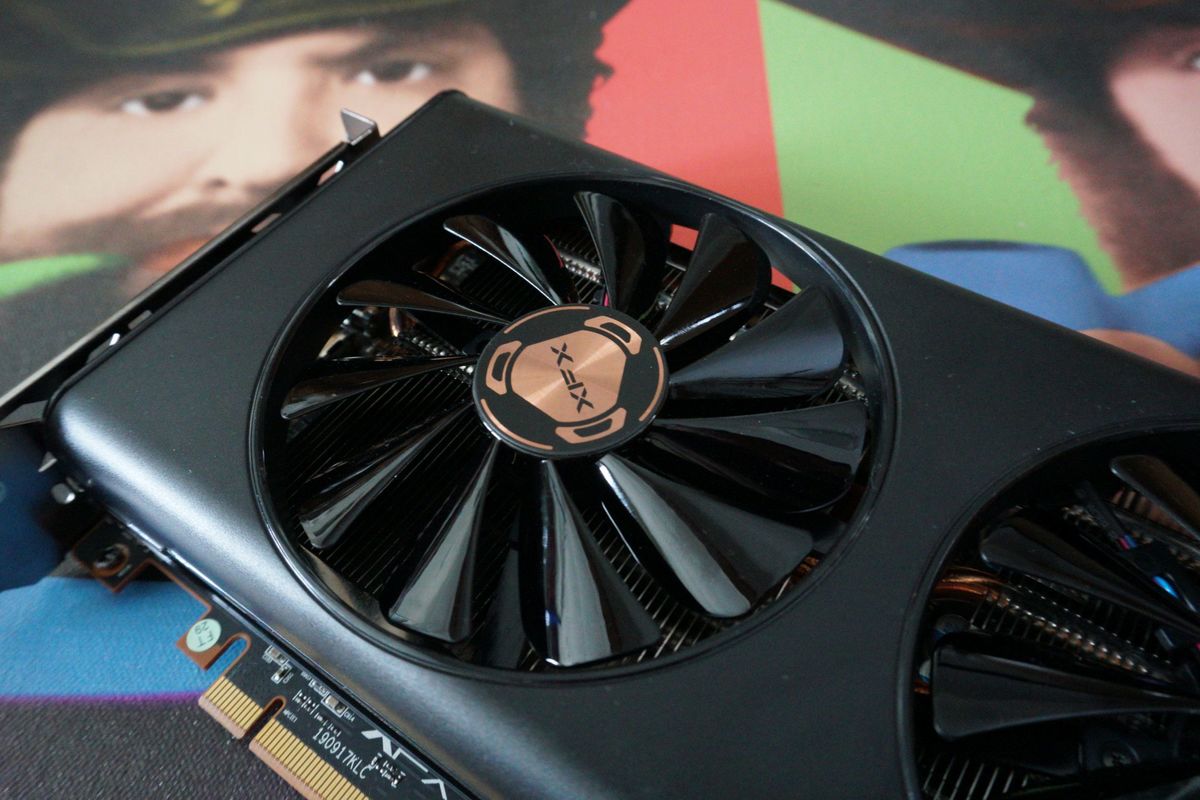 If AMD's last-second VBIOS shenanigans hadn't occurred, XFX's card would be a much more compelling option, offering a sleek, attractive, solid-performing custom model for a mere $20 premium. Sapphire and Nvidia came hard in the wake of the Radeon RX 5600 XT's CES reveal, however. You won't be disappointed with the Thicc II Pro if you buy one, but unless you place a high value on its gorgeous RGB-barren aesthetic—which isn't even quite as pretty as past Thicc iterations, due to the removal of chrome accents—it's hard to recommend over the higher performance of the Sapphire Pulse Radeon RX 5600 XT and EVGA GeForce RTX 2060 KO.
It's a good graphics card surrounded by great options—and one that's sadly been somewhat kneecapped by AMD's eleventh-hour product decisions.