At a Glance
Expert's Rating
Pros
Solid quad-core performance
Bright display
Lightweight design
Exceptional battery life
Cons
Side sleep button could be pressed accidentally
So-so speakers despite DTS:X 3D audio support
Our Verdict
The LG Gram strikes a nice balance between exceptional battery life, an impressively lightweight design, and solid quad-core performance.
Best Prices Today: LG Gram 14T90N-R.AAS8U1
The LG Gram 14-inch laptop we tested may not be the fastest we've seen, but with its Intel Core i7 Comet Lake CPU, it offers solid mainstream performance in a durable 2-in-1 design. It also boasts a bright full-HD display with impressive viewing angles.
The Gram really comes into its own in the battery life department, making it a great choice for productivity-minded professionals who don't want to be tied down by an AC adapter. You'll see us compare it to two other convertibles we've reviewed recently—the budget-friendly Lenovo Yoga C740 (currently $790 on Lenovo.com) and the similarly priced Lenovo Yoga C940 14 (currently $1,430 from Microsoft.com). Both those competitors earned high ratings from us (as does the LG Gram) and are well worth considering, but the Gram beats them both on battery life.
This review is part of our ongoing roundup of the best laptops. Go there for information on competing products and how we tested them.
Configuration
LG sells two versions of its latest 14-inch 2-in-1 Gram. First, there's the model that we're reviewing here (14T90N-R.AAS8U1), which is $1,400 as a Costco exclusive with a 10th-gen Core i7 Comet Lake processor, integrated Intel UHD graphics, a 512GB solid-state drive, and 16GB of RAM. The second model (14T90N-R.AAS9U1Remove non-product link) is identical save for a larger 1TB SSD and a $1,600 price tag. LG also offers a pair of 15-inch Gram models with stepped-up Ice Lake CPUs starting at $1,300, but the 15-inch versions are conventional clamshell laptops, not 2-in-1 designs.
Let's take a closer look at the specs for our review unit:
CPU: Quad-core 10th-gen Intel Core i7-10510U
Memory: 16GB DDR4
Graphics: Integrated Intel UHD Graphics
Storage: 512GB SSD
Display: 1920×1080 IPS touchscreen
Wireless networking: Wi-Fi 6
Battery capacity: 72 watt-hour
Dimensions: 12.8 x 8.3 x 0.7 inches
Weight: 2.46 pounds
There are a few key specs worth calling out here, starting with the CPU. The Core i7-10510U is a 10th-gen Comet Lake Intel CPU, but it represents only a modest bump over older 8th-gen Whiskey Lake chips such as the Core i7-8565U. The Core i7-10510U is built on the same 14nm architecture as its 8th-gen predecessors, rather than the 10nm process of Intel's latest and greatest Ice Lake CPUs. It also hits the same base clock and only a slightly higher boost clock than its 8th-gen ancestors (4.9GHz, versus 4.6GHz for the Core i7-8565U).
More power, less battery life
Lenovo Yoga C940 14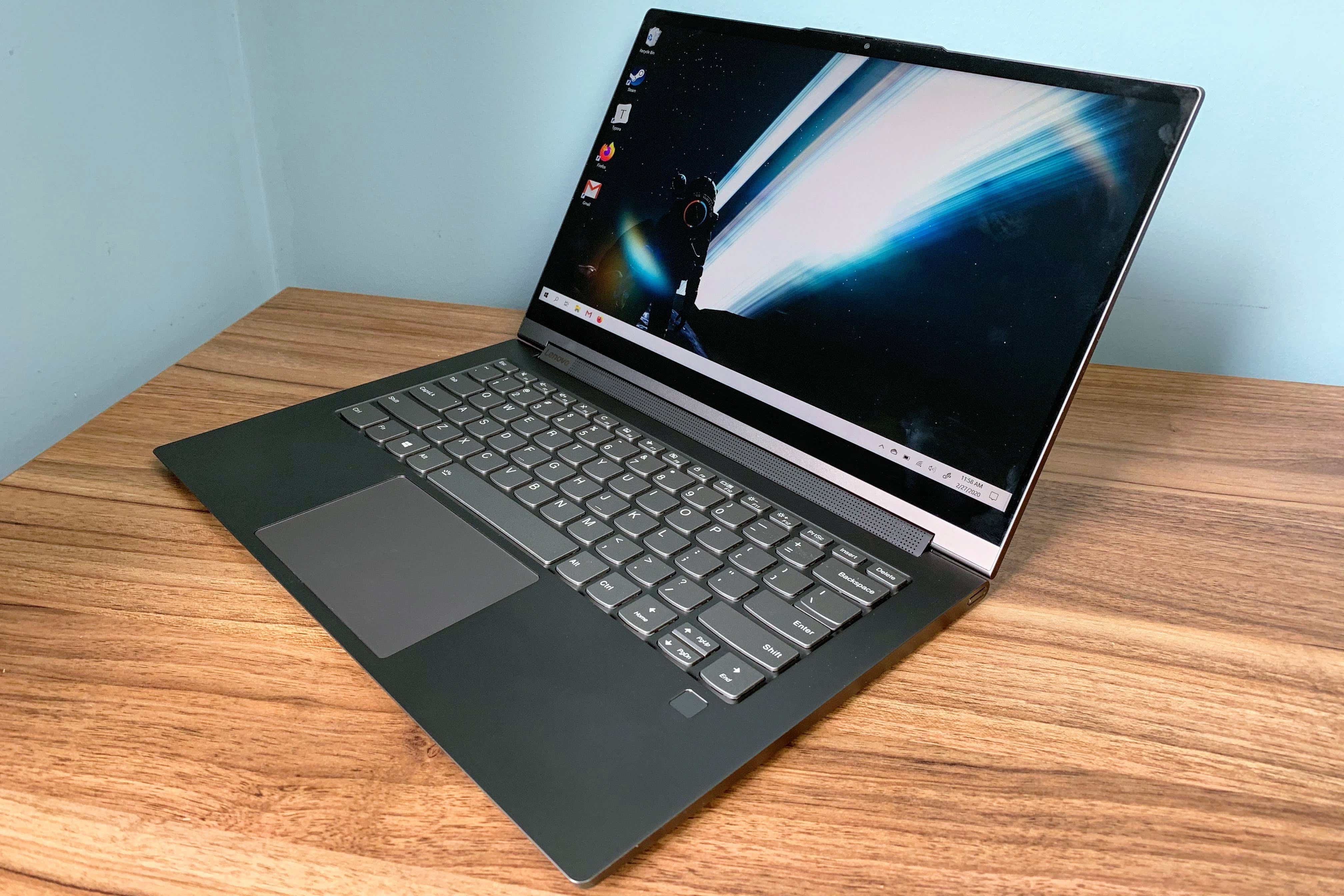 Price When Reviewed:
$1429.99
To say that the Core i7-10510U is roughly equivalent to its 8th-gen counterpart isn't a knock, however: The older chip was (and is) a dependable workhorse when it comes to daily computing tasks as well as CPU-intensive chores. We expect no less from this Comet Lake processor.
We also like the generous 16GB of RAM (perfect for smoothing out multitasking hiccups) and the roomy 512GB SSD. The Wi-Fi 6 support means the Gram will be ready once you upgrade to a router that supports the latest and greatest Wi-Fi standard.
A budget alternative
Lenovo Yoga C740 14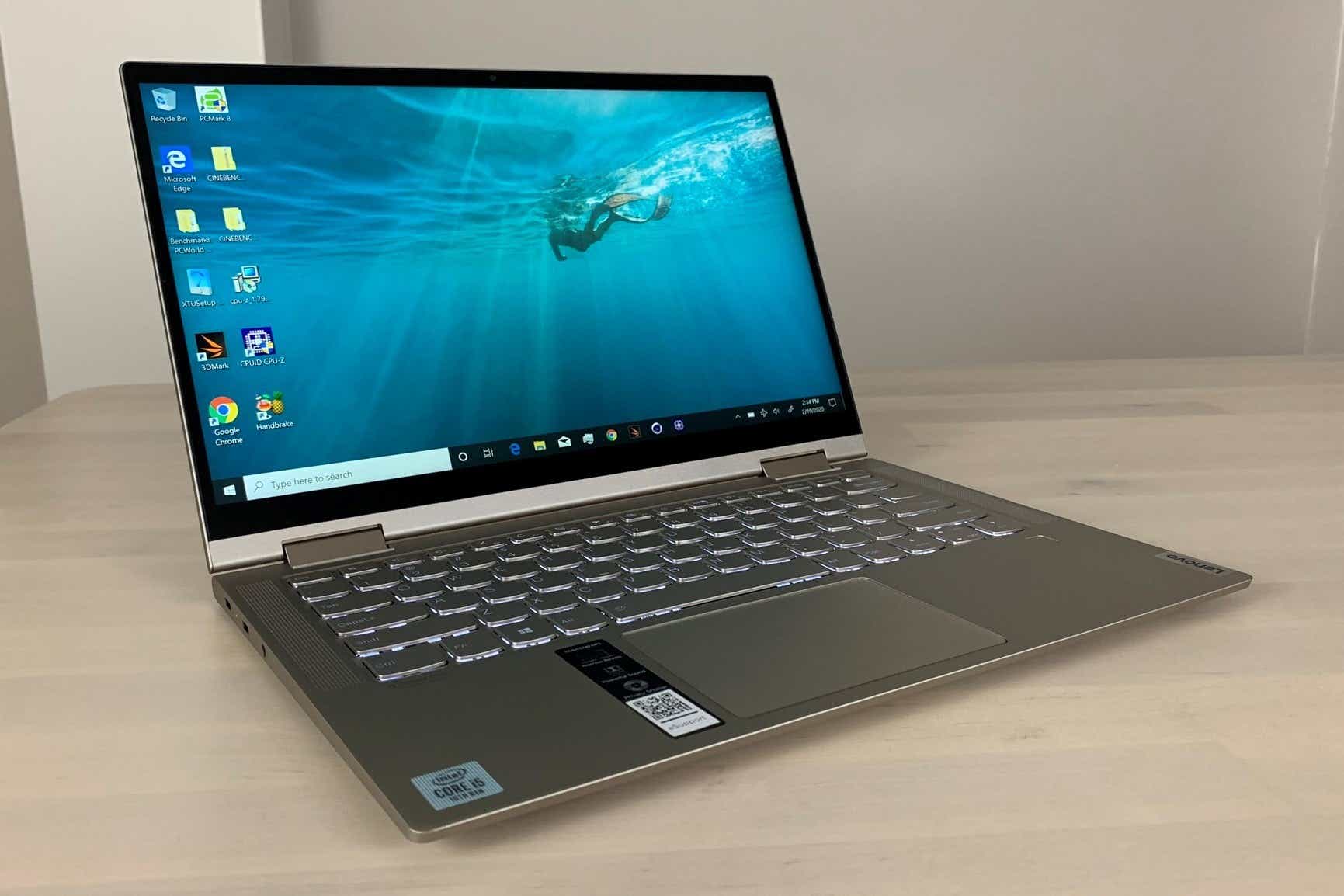 Price When Reviewed:
$780
Best of all, check out that 72-watt-hour battery capacity, pretty impressive for a 2-in-1 laptop that weighs less than 2.5 pounds. That means we're looking for impressive numbers from the Gram when it comes to battery life. However, cramming such a big four-cell battery into the Gram's svelte chassis also (probably) means you'll have to accept some performance trade-offs to keep things cool under the hood.
Design
The LG Gram's design is understated. As with Gram laptops in previous years, the 14-inch Gram 2-in-1 has a perfectly flat and nearly featureless lid, save for the "Gram" logo in the cente. The dark-silver chassis and its lid logo are about as close as the laptop comes to a signature look.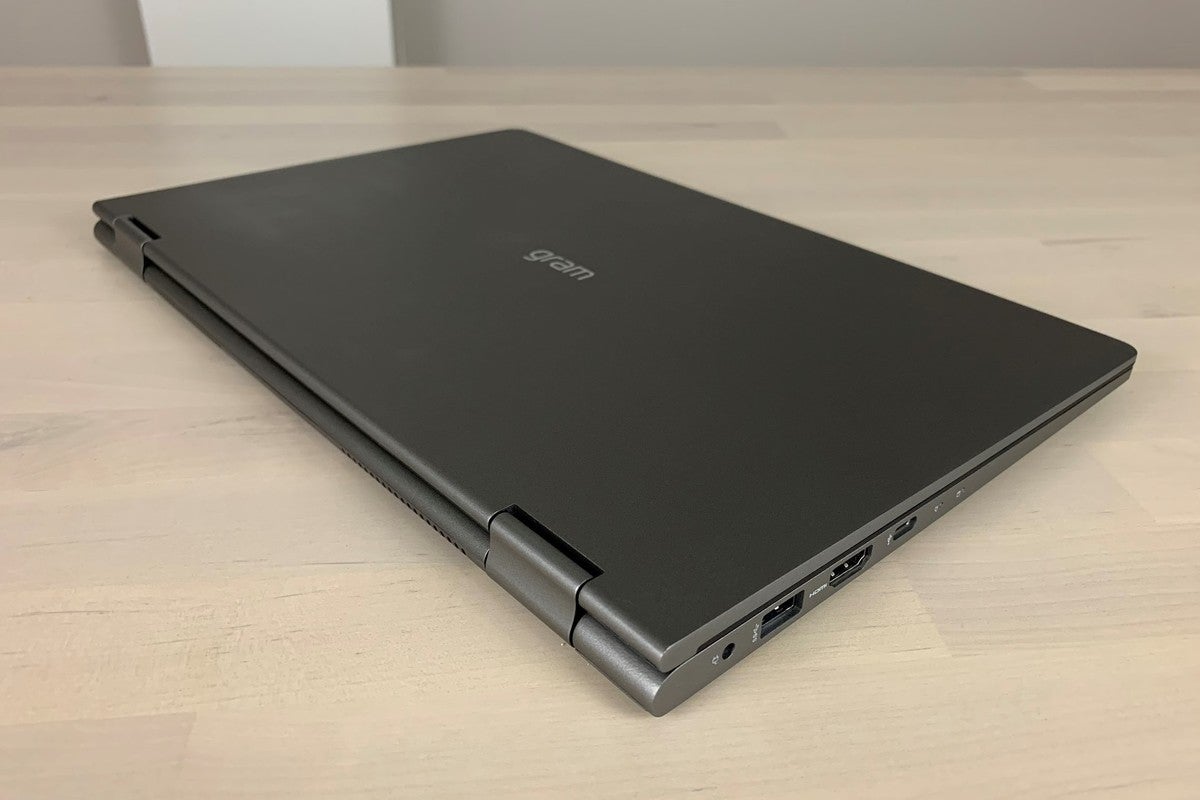 More important than how it looks, however, is how the Gram feels. Weighing in at a tad less than 2.5 pounds according to my scale (actually a little less than LG's specs claim), the Gram feels impressively light, particularly considering its 2-in-1 design.
Thanks to its convertible form factor, the Gram's display can be rotated to use the device in a "tent" position, a "kiosk" position (keyboard down, display tilted up), or a tablet when its screen is swiveled all the way around.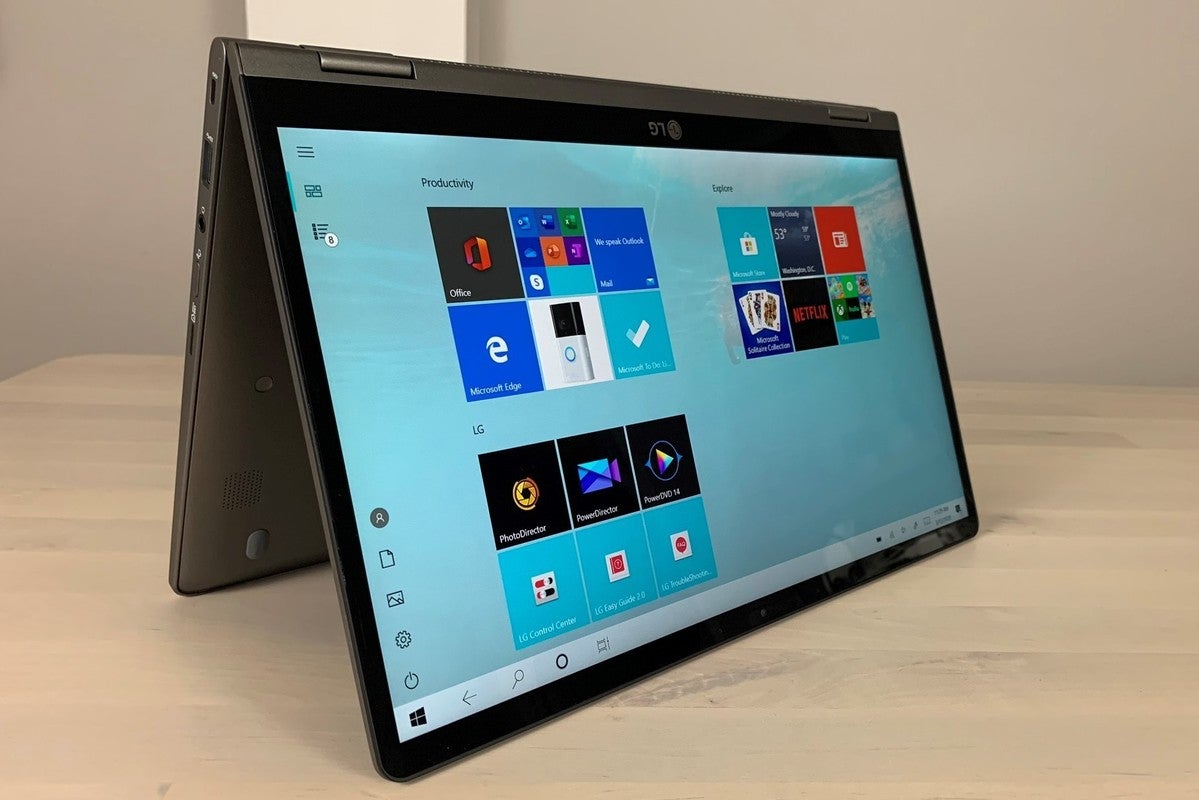 LG also says that it's designed the Gram's magnesium alloy shell to meet MIL-STD 810G standards, which means it's passed a battery of durability tests including shock, vibration, pressure, dust, and extreme temperatures.
Display
The LG Gram's 14-inch, Corning Glass-protected display is pleasingly bright, measuring 400 nits (or candelas) according to our light meter readings. That's well above our minimum 250-nit standard for comfortable indoor reading, and it means you'd have a reasonable shot at making out the full-HD (1920×1080) display outside in direct sunlight.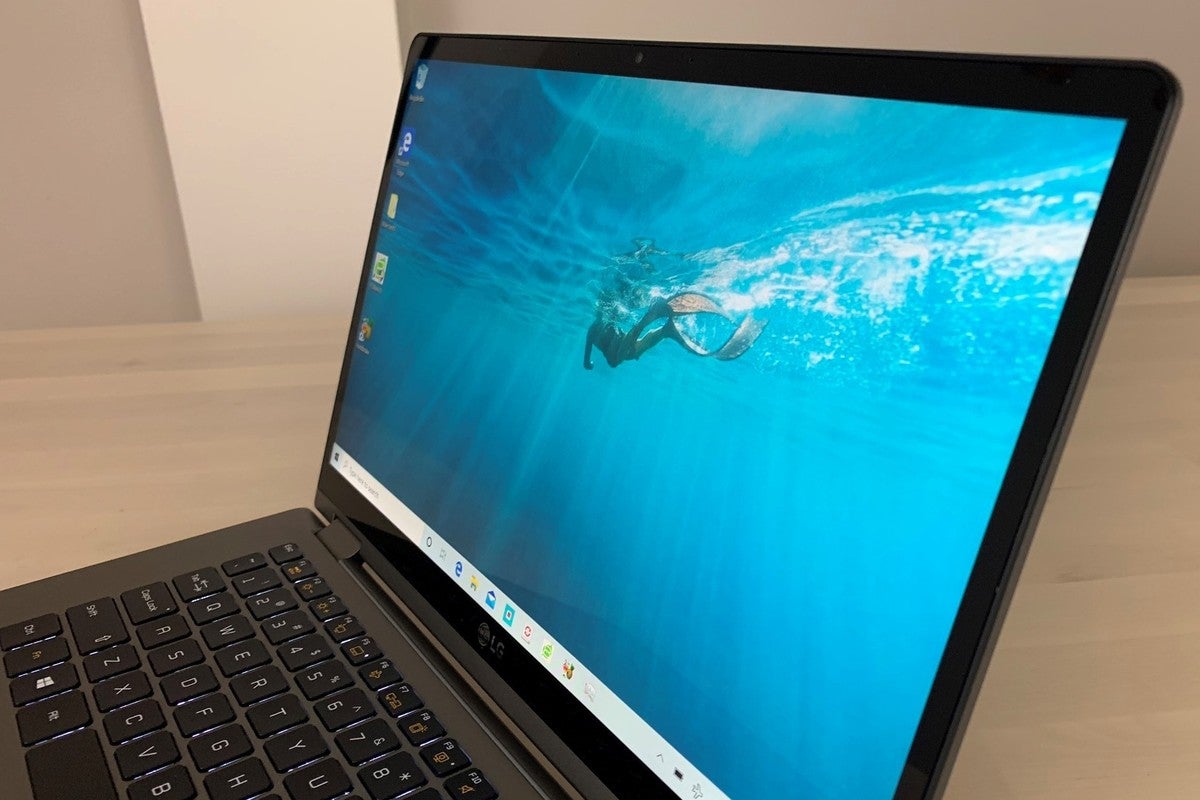 The IPS (in-plane switching) touch display boasts wide viewing angles. The screen dims only slightly when viewed from the far left and right sides, as well as from the top and bottom. Even with the Gram sitting flat on my desk with the lid open at a 180-degree angle, the Microsoft Word document on my screen remained perfectly readable, making the display ideal for sharing with someone nearby.
LG includes its Stylus Pen in the box. The zero-stroke Stylus Pen supports 4,096 levels of pressure, tilt detection, and up to 18 months of battery life.
Keyboard, touchpad, speakers, and extras
The LG Gram's backlit keyboard has a springy, comfortable feel, with a solid mid-keystroke bump. I wouldn't have minded slightly longer keyboard travel, but that's a tradeoff with thinner laptops. The keyboard lacks dedicated media controls, but there are function-enabled shortcuts for airplane mode, keyboard backlighting (two steps are available), and LG's Reader Mode (which cuts down on the amount of blue light emitted by the display).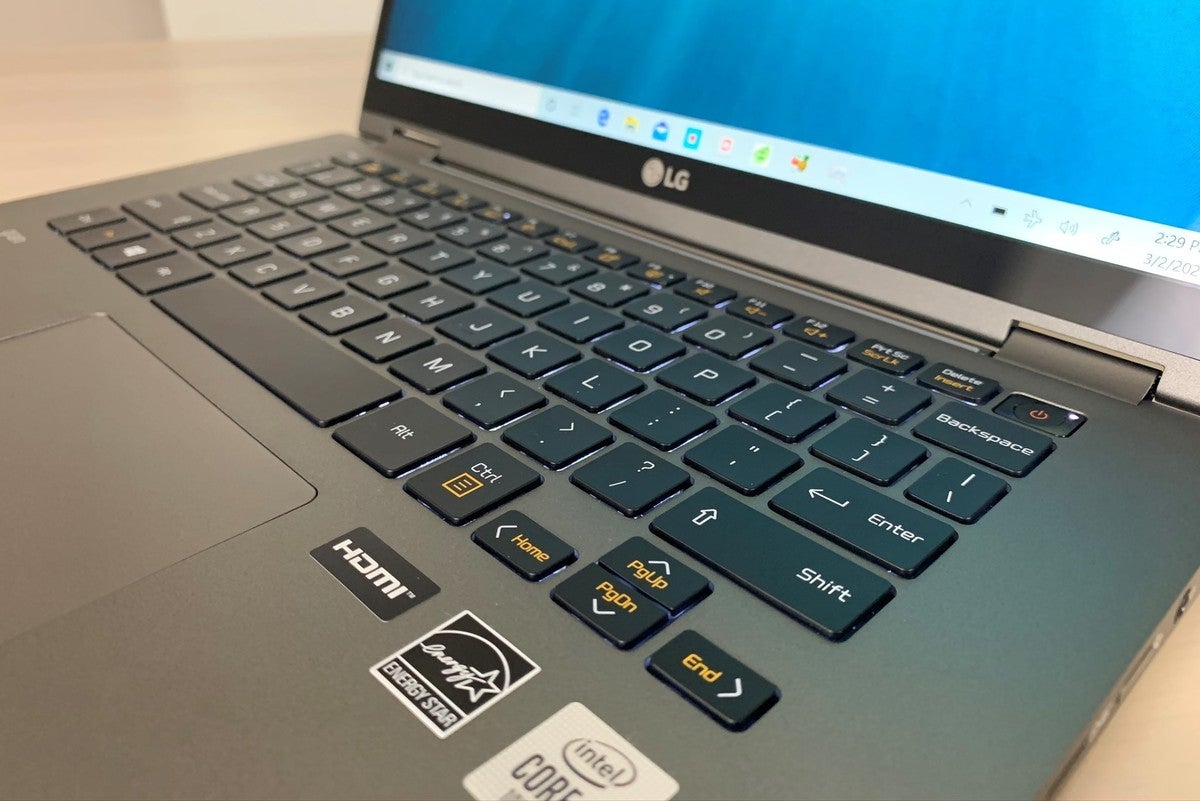 The LG Gram's power button sits in the top-right corner of the keyboard. That could be a recipe for accidentally powering off the laptop, but the power button's flat and somewhat stiff design makes it difficult to press inadvertently. Embedded in the power button is a Windows Hello-compliant fingerprint reader, which lets you log into Windows and sign in to Windows Hello-enabled apps. I used the reader throughout my testing, and I found that it unlocked Windows almost instantly and never failed to recognize my fingertip.
The medium-sized trackpad on the Gram sits precisely centered beneath the keyboard, and it's small enough that my palms rarely grazed it while I typed. While I didn't notice much in the way of accidental inputs during my everyday typing, I was able to make the cursor jiggle around the screen when I deliberately dragged my palms across the bottom corners of the keypad. But as I just mentioned, I rarely noticed any issues when I was typing and clicking normally.
The LG Gram's integrated down-firing speakers are par for the course, which is to say they're nothing special. The Gram's support for DTS:X, an object-based 3D audio format that competes with Dolby Atmos, does help boost the width of the soundstage, but the speakers themselves sound (typically) dull and listless, with decent detail on the high end but practically no bass at all. As with pretty much every laptop we review, we recommend using external speakers or a headset if you plan on listening to music on the Gram for any length of time.
Ports
The LG Gram comes with a solid array of ports for a laptop in its price range, starting on the left side with a USB 3.1 Gen 1 Type-A port, a full-size HDMI port, a Thunderbolt 3 port (good for connecting a 4K monitor or transferring data at up to 40Gbps), and a barrel-shaped power connector.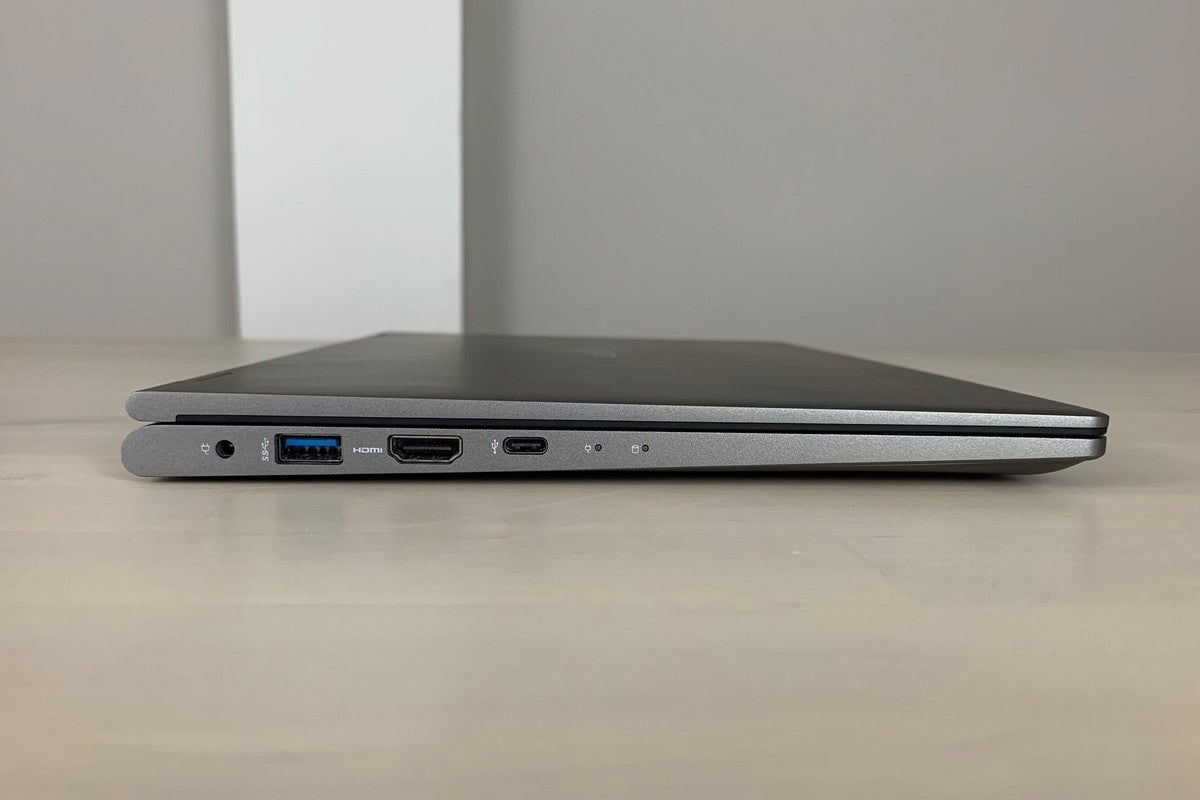 On the right side you'll find a second USB 3.1 Gen 1 Type-A port, along with a microSD media card reader, a laptop security slot, and a combo audio jack.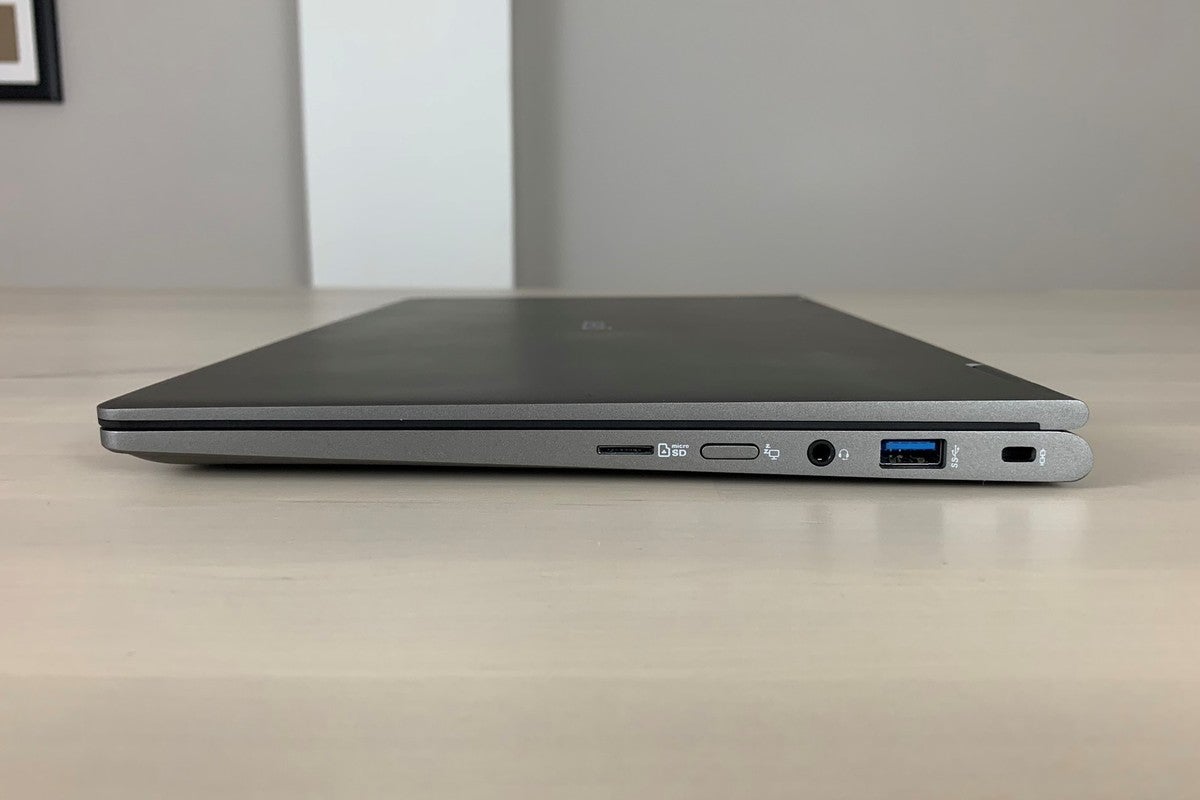 Nestled in with the right-side ports is a button that puts the laptop to sleep. While the sleep button is both stiff and flush with the edge of the laptop, it is possible to press it by accident, as I learned when I picked up the Gram on the right side (that only happened once, however).
Unsurprisingly, the LG Gram lacks an ethernet port, although it does come with a USB-C-equipped fast ethernet (10/100bps) dongle.
Keep reading for performance and especially battery life numbers.
Performance
Overall, we were pleased by the LG Gram's performance results. It's no screamer, but it ably handles everyday productivity tasks and even some CPU-intensive chores, all while keeping its weight to a minimum and maximizing its on-battery power. We compared it to a handful of laptops with 10th-gen CPUs, along with a few 8th-gen predecessors.
PCMark 8 Work 2.0 Conventional
Our first benchmark measures how well a given laptop can perform everyday computing duties such as web browsing, word processing, spreadsheet work, and video chat. Generally speaking, a PCMark 8 score higher than 2,000 means you can expect ultra-smooth Office performance. The LG Gram chalked up a score well above 3,000, as did the other, similar laptops included here.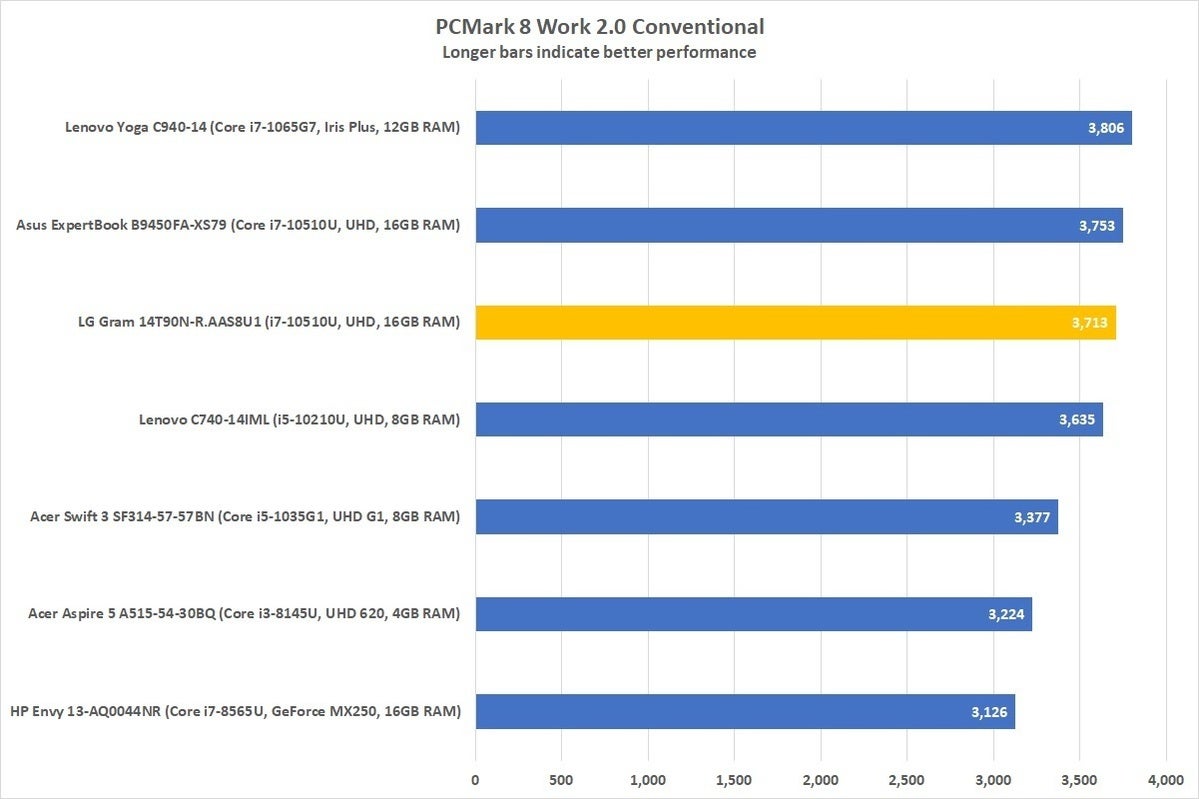 Because most daily desktop chores demand only a single processor core, it's worth noting that a six-core CPU won't necessarily snag a better PCMark 8 score than a budget-minded dual-core chip. In other words, if you're primarily shopping for an Office laptop, spending hundreds more for (say) a six-core Ice Lake CPU would be a waste of cash.
HandBrake
In our next benchmark, we use the free HandBrake video encoding tool to convert a 30GB MKV video file into a format suitable for Android tablets. It's a CPU-intensive task that's way more demanding than PCMark 8. Because it often takes more than an hour to complete, it also shows us how a given laptop handles heat over time.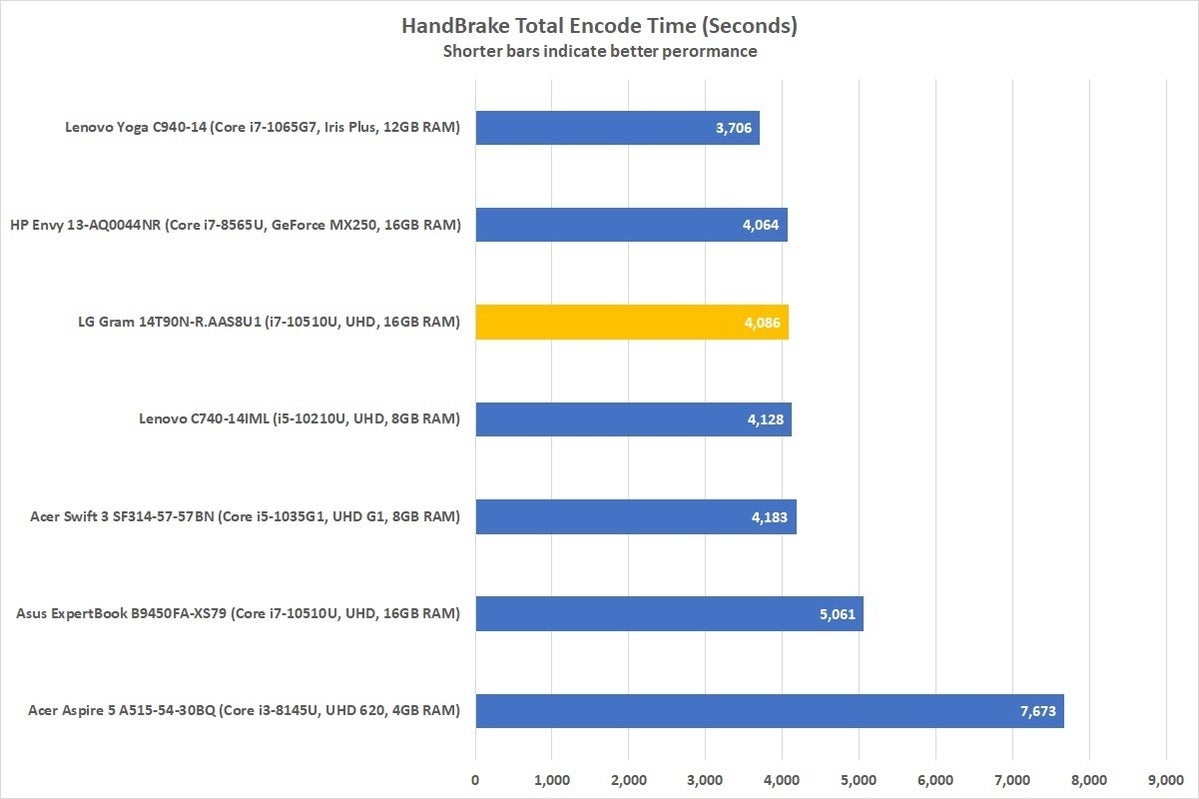 The LG Gram's showing in our chart—in third place, just a whisker behind the HP Envy 13 and its quad-core Core i7-8565U processor—is pretty much what we expected. Remember, the Gram's Comet Lake Core i7 CPU represents only a slight bump over its 8th-gen Whiskey Lake counterparts, so it's expected to see the Gram in a virtual tie with the Envy and its 8th-gen Core i7 chip. Snagging first place is the Lenovo Yoga C940-14 and its cutting-edge Ice Lake processor.
Cinebench
While HandBrake is a fairly lengthy benchmark, Cinebench, which involves tasking a laptop to render a 3D image in real time, is like the 100-yard dash, generally taking only a few minutes to complete. Because it's over so quickly, Cinebench tells us a lot about how a given laptop deals with quick bursts of intense CPU activity.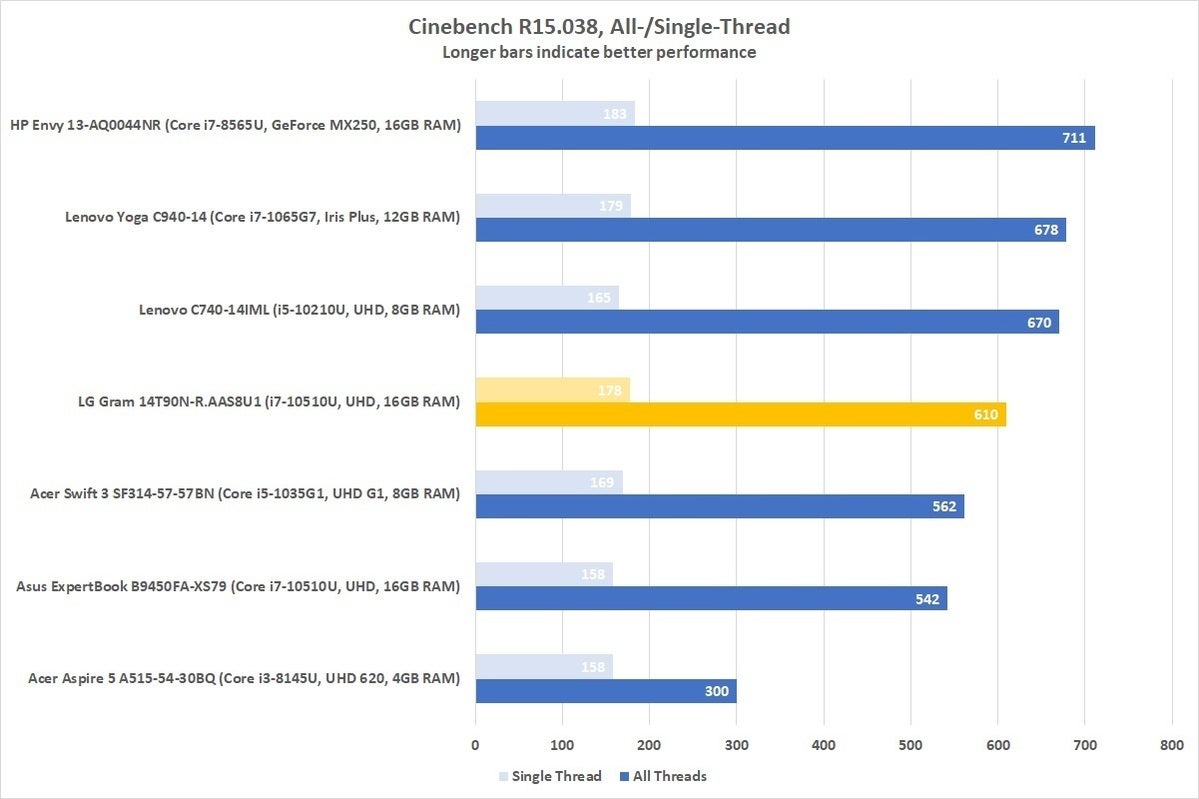 The LG Gram's Cinebench performance falls smack-dab in the middle of our chart, falling behind the HP Envy 13 and its 8th-gen Whiskey Lake Core i7 processor, as well as the Ice Lake-packing Lenovo Yoga C940 and C740.
So, why the performance gap (which, by the way, isn't a massive one)? We're guessing it has to do with the LG Gram's massive 72 watt-hour battery, which is far bigger than the batteries in the Envy or the two Yogas. With a battery that large in such a slender chassis, something's gotta give in heat management. It's likely that LG dialed down the Gram's CPU a tad in favor of better battery life. We'll see if that decision paid dividends in a bit. (Spoiler: It does.)
3DMark Sky Diver 1.0
While the LG Gram isn't a gaming laptop, we still put it through its graphical paces with 3DMark Sky Diver. Laptops with discrete graphics cards enjoy a distinct advantage in this test, while laptops with integrated graphics cores—such as the LG Gram—typically lag well behind. I only say "typically" because newer Ice Lake CPUs boast Intel's new integrated Iris Plus graphics cores, which can sometimes rival entry-level discrete graphics cards such as Nvidia's GeForce MX250.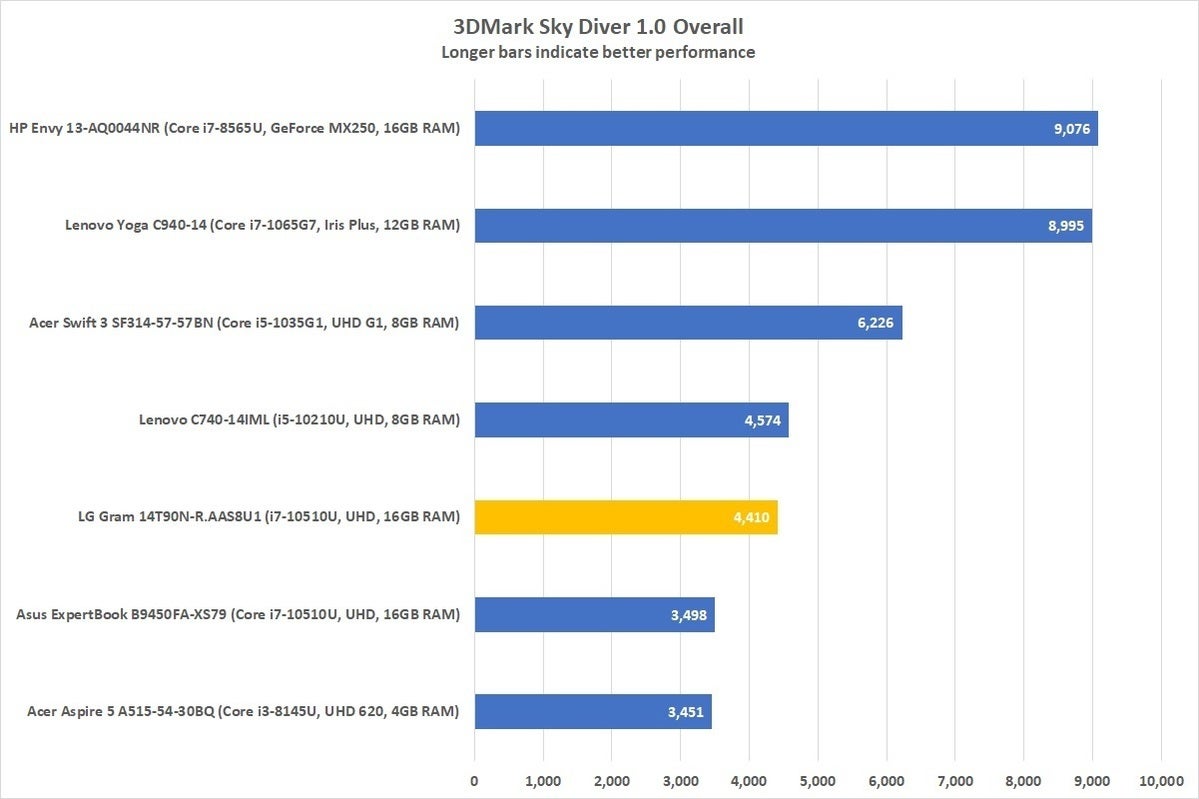 No surprise: The Gram sits right next to the Lenovo Yoga C740, another Comet Lake 2-in-1 with integrated Intel UHD graphics. Up at the top of our chart is the HP Envy 13, with its discrete GeForce MX250 card. Just below the Envy, however, is the Yoga C940, which lands in a strong second place with its integrated Iris Plus GPU.
What do the Gram's Sky Diver results mean from a practical standpoint? Well, you'll probably end up looking at a slideshow if you try to play Fortnite at anything but its lowest graphics settings, but the integrated UHD will do the job just fine when it comes to light photo and video editing.
Battery life
Now, here's the LG Gram's moment to shine. We test battery life by looping a 4K video using the stock Windows Movies & TV app, with screen brightness set at about 250 nits and the volume dialed to 50 percent, with earbuds plugged in.
Battery tests cannot replicate what anyone will experience in real life, given all the variables in system settings and activities. That said, the video rundown test is an accepted method of gauging the laptop's longevity on a common and fairly lightweight task. Your mileage will vary.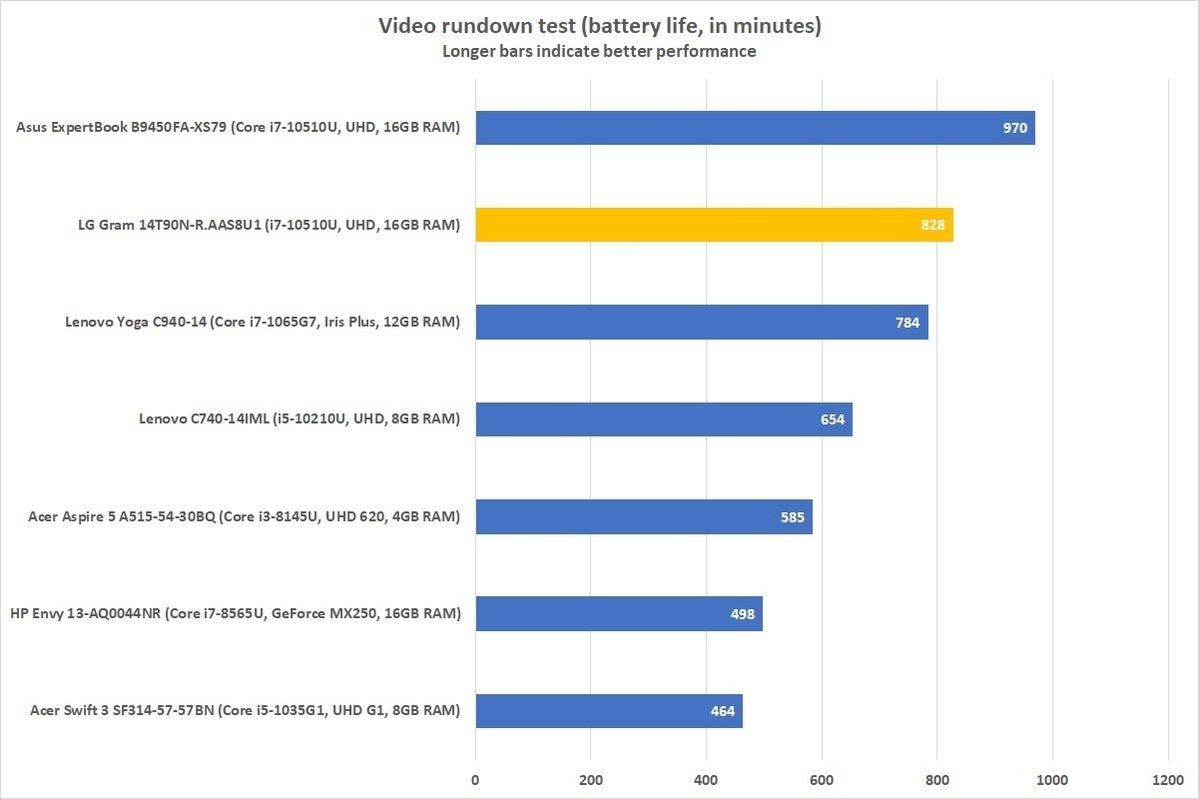 As you can see from the chart, the Gram scored the second-best battery drain score (828 minutes, or 13.8 hours) in our comparison, bested only by an extraordinary result from the similarly configured ASUS ExpertBook, which has otherwise lagged in overall performance. The Gram's 72 watt-hour battery is the largest of those in our roundup, followed by the ExpertBook's 66-watt-hour battery and the Lenovo Yoga C940's 60-watt-hour battery.
So, how did the ASUS ExpertBook snag a better battery-drain score than the Gram with a smaller battery? Well, ASUS was clearly aiming to maximize battery life as much as it could in a 2.2-pound design, and it did so by significantly dialing down the laptop's performance (as we saw in its HandBrake and Cinebench results). LG went in a different direction. The Yoga C940 boasts better performance than the ExpertBook or the Gram while sticking close to the Gram's battery-drain score, but at 2.97 pounds, it's significantly heavier than both.
Bottom line
In the end, it's all about priorities. We think the LG Gram strikes a nice balance among exceptional battery life, an impressively lightweight design, and solid quad-core performance. We have some minor quibbles, such as the lackluster audio, but we think the LG Gram makes an excellent choice for mobile professionals looking for a versatile and light 2-in-1 system that gets things done without skimping on battery life.
Best Prices Today: LG Gram 14T90N-R.AAS8U1