At a Glance
Expert's Rating
Pros
Blistering 8-cores of Ryzen performance and RTX 2060 Max-Q too!
Impressively thin and light for the amount of performance you get
Reasonably priced
Cons
No web cam? Really?
Keyboard backlight is weak
No Thunderbolt 3 support
Our Verdict
The Asus ROG Zephyrus G14 is the first laptop with AMD's Ryzen 4000 mobile CPU, and it sets a new standard for the performance you can expect from a thin and light laptop.
Best Prices Today: Asus ROG Zephyrus G14
We've tested the new ROG Zephyrus G14, which debuts with AMD's stellar Ryzen 9 4900HS CPU, and we can safely say: Just give Asus your money. This laptop packs a stupid amount of performance into a stupidly small and stupidly light frame.
To give you an idea of just how impressive this 3.5-pound, Ryzen 4000-based laptop is, you're talking about a weight class that typically gives you lower-power CPUs and GPUs. Yet the G14 can hang in CPU performance with laptops that weight 10 pounds.
Obviously the star of the show is the Ryzen 9 4900HS CPU, which we review in detail separately. But the Asus ROG Zephyrus G14 as a whole package is nearly as impressive, so keep reading to find out more.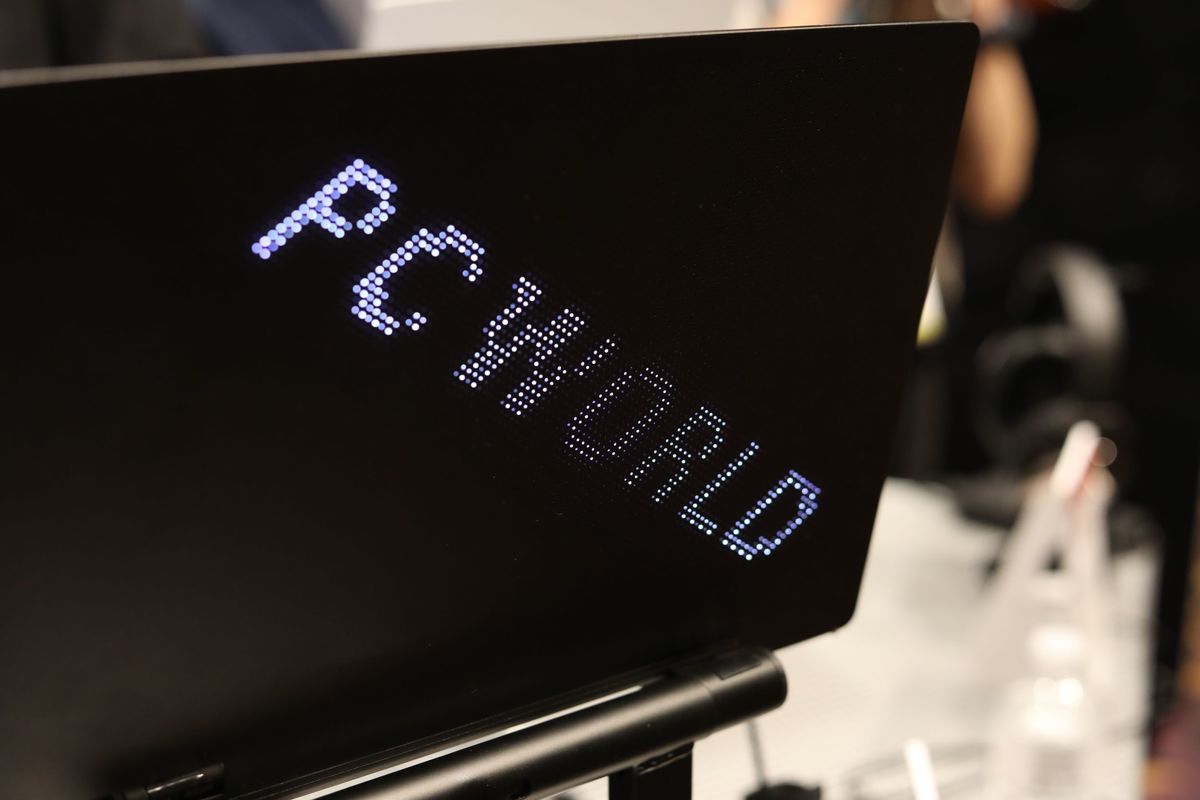 ROG Zephyrus G14 Specs and Features
The ROG Zephyrus G14 model we reviewed ($1,450 from Bestbuy.com) has the following configuration:
CPU: 8-core AMD Ryzen 9 4900HS
GPU: Nvidia GeForce RTX 2060 Max-Q
RAM: 16GB DDR4/3200 in dual-channel mode
SSD: 1TB Intel 660P NVMe SSD
Networking: Intel AX600 WiFi 6, Bluetooth 5.0
Display: 14-inch "IPS-like" Full HD (1920×1080) @120Hz, which we measured at 280 nits' maximum brightness
The G14 gives you a decent array of ports. The right side features two USB-A ports and one USB-C, along with a Kensington lock port.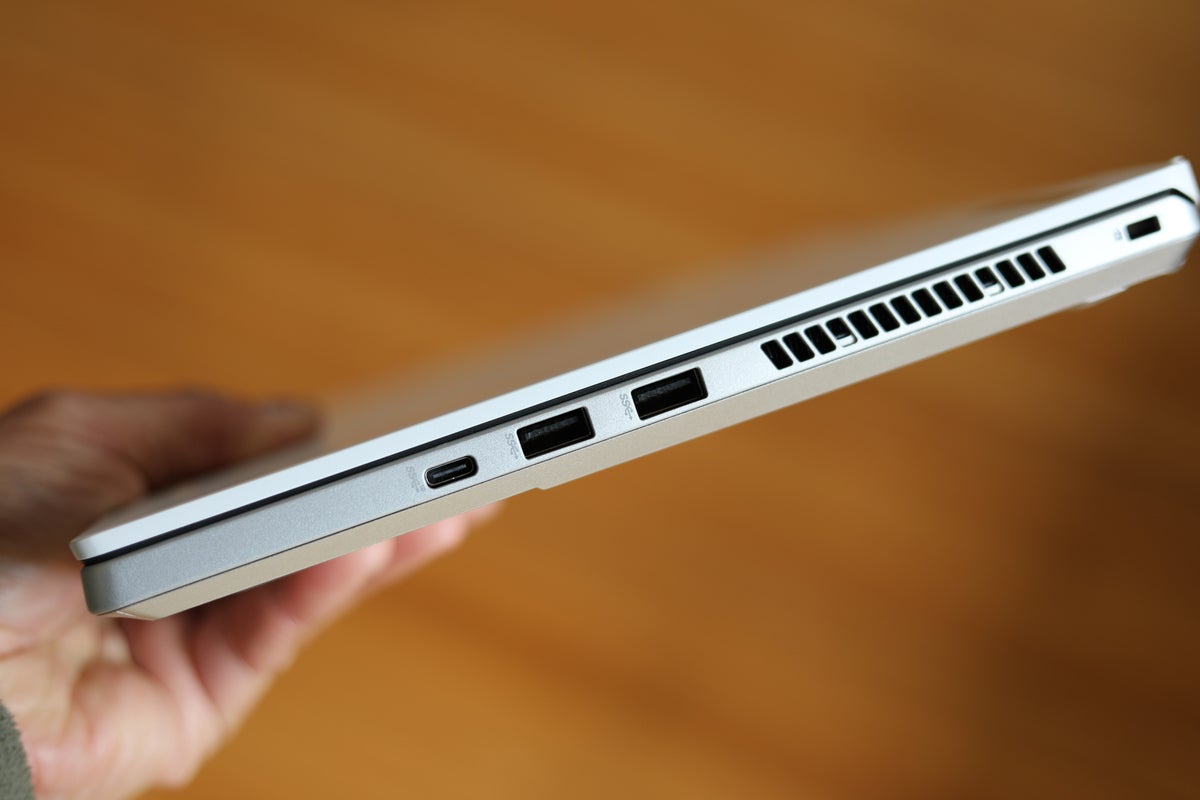 The right side features a barrel plug for the 180-watt power brick, and a full-size HDMI 2.0b port (hooked to the CPU's Radeon port). There's also another USB-C port with support for DisplayPort (through the GeForce RTX card) and USB-PD (Power Delivery). While you can't really run the laptop hard on a 100-watt USB-C charger, the idea is to give you a lighter-weight option than the included 180-watt brick when you're on the road (and not pushing it hard).
Thunderbolt 3 and Gigabit ethernet are notably absent from the port array. While we understand why Thunderbolt 3 is more difficult to obtain (given that the technology emanates from rival Intel), it does feel like onboard ethernet is important.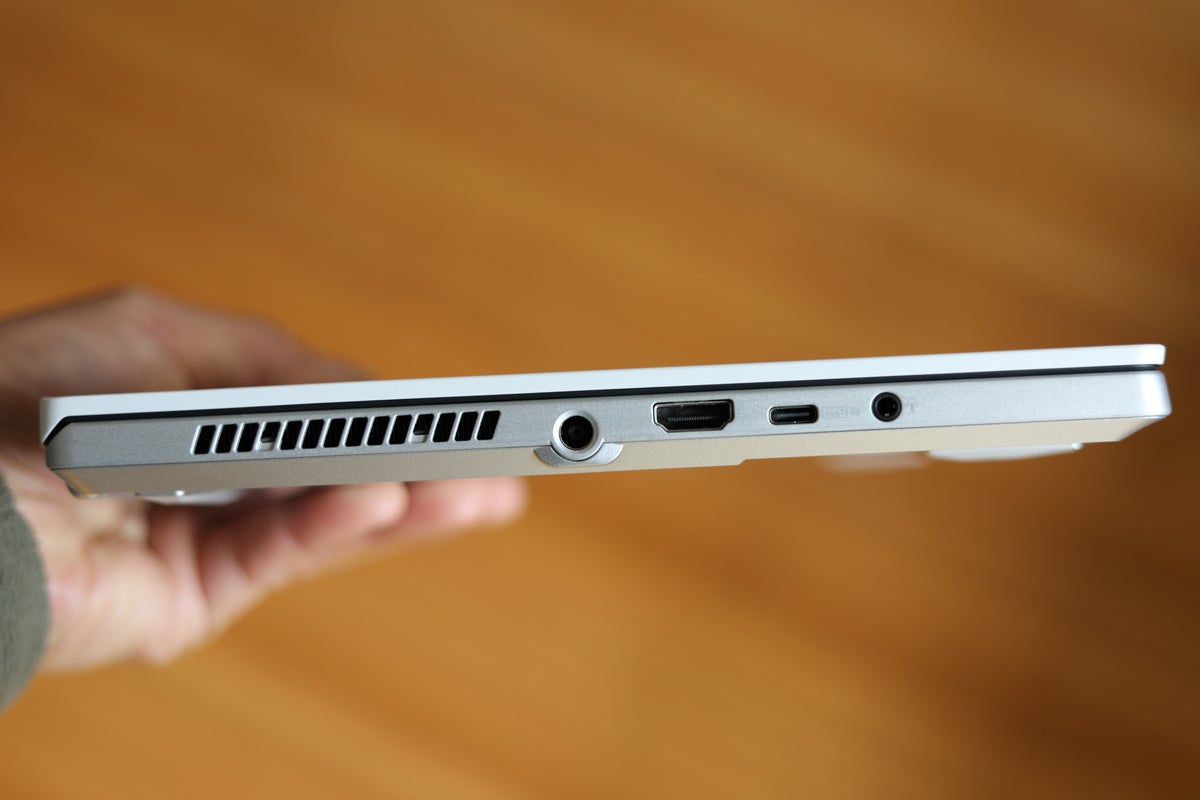 The other glaring omission is the lack of an onboard webcam. You can see below where it should be, in the blank spot between the microphones. The rationale from Asus was apparently that you'll be using your far superior dedicated webcam to become a Twitch star. But webcams have been standard issue on most laptops for many years, so on the ROG Zephyrus G14 it seems like a feature more conspicuous for its absence.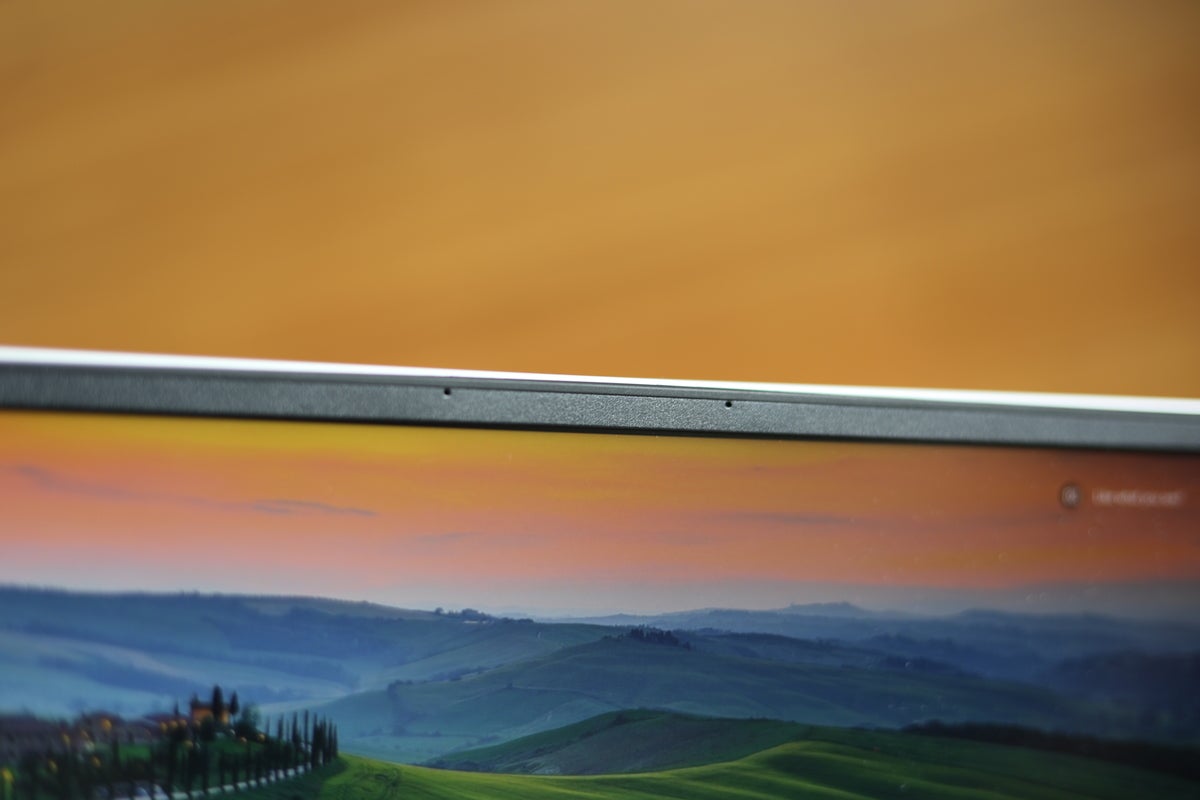 Upgrade options
Getting inside the ROG Zephyrus G14 is easy, if not quick. You'll need a small Phillips-head screwdriver and the patience to remove a million screws. You then use a spudger or a thin piece of plastic, such as guitar pick, to nudge the case open carefully at the seam.
Like most thinner laptops these days, there isn't much to do. There's one M.2 PCIe slot that's occupied by the Intel 660P SSD, and a single DDR4/3200 SO-DIMM.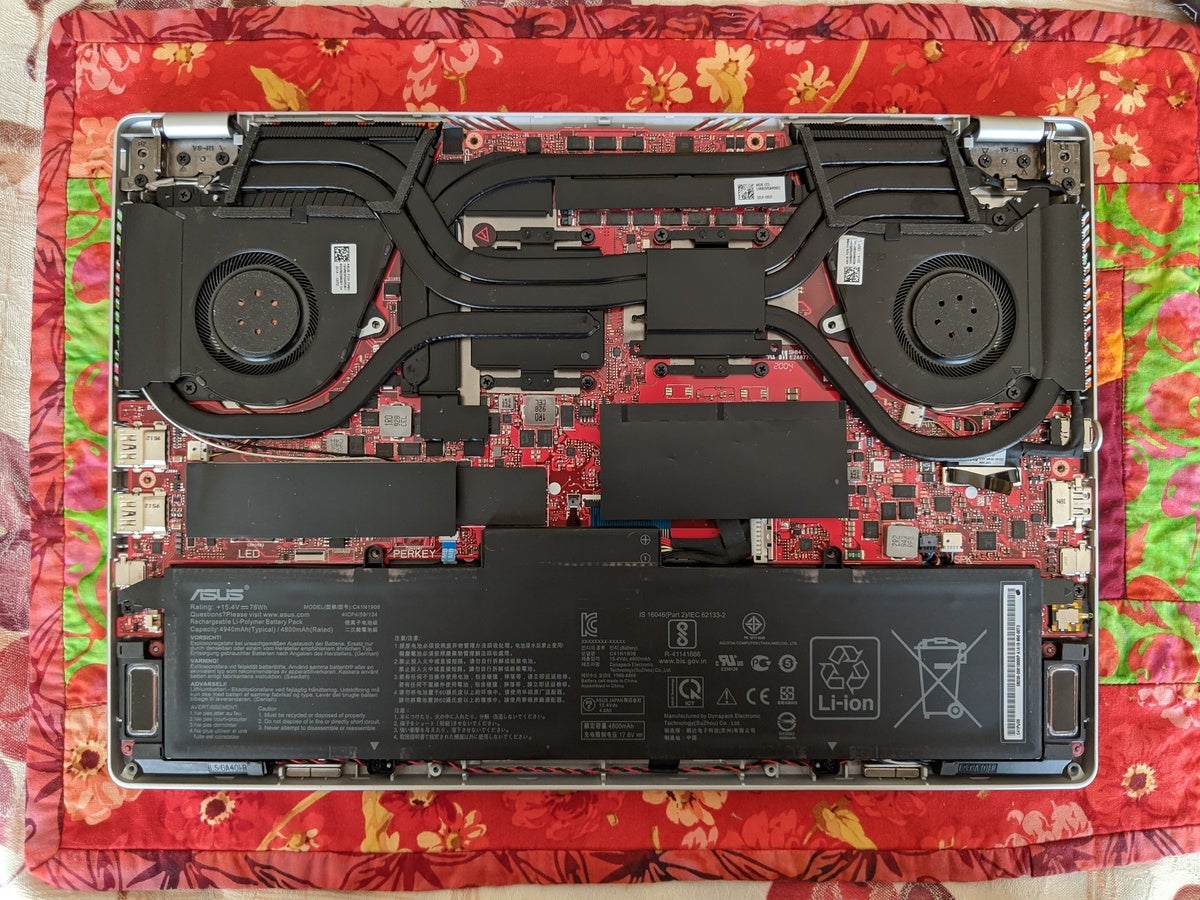 The laptop we reviewed, with 16GB, comes with one 8GB module in place. The other 8GB is on the reverse side of the motherboard in a module. The good news is it's dual-channel mode, so you won't hit memory bandwidth issues that impact performance. The bad news is if you want to get at that second slot, you'll have to pull out the motherboard.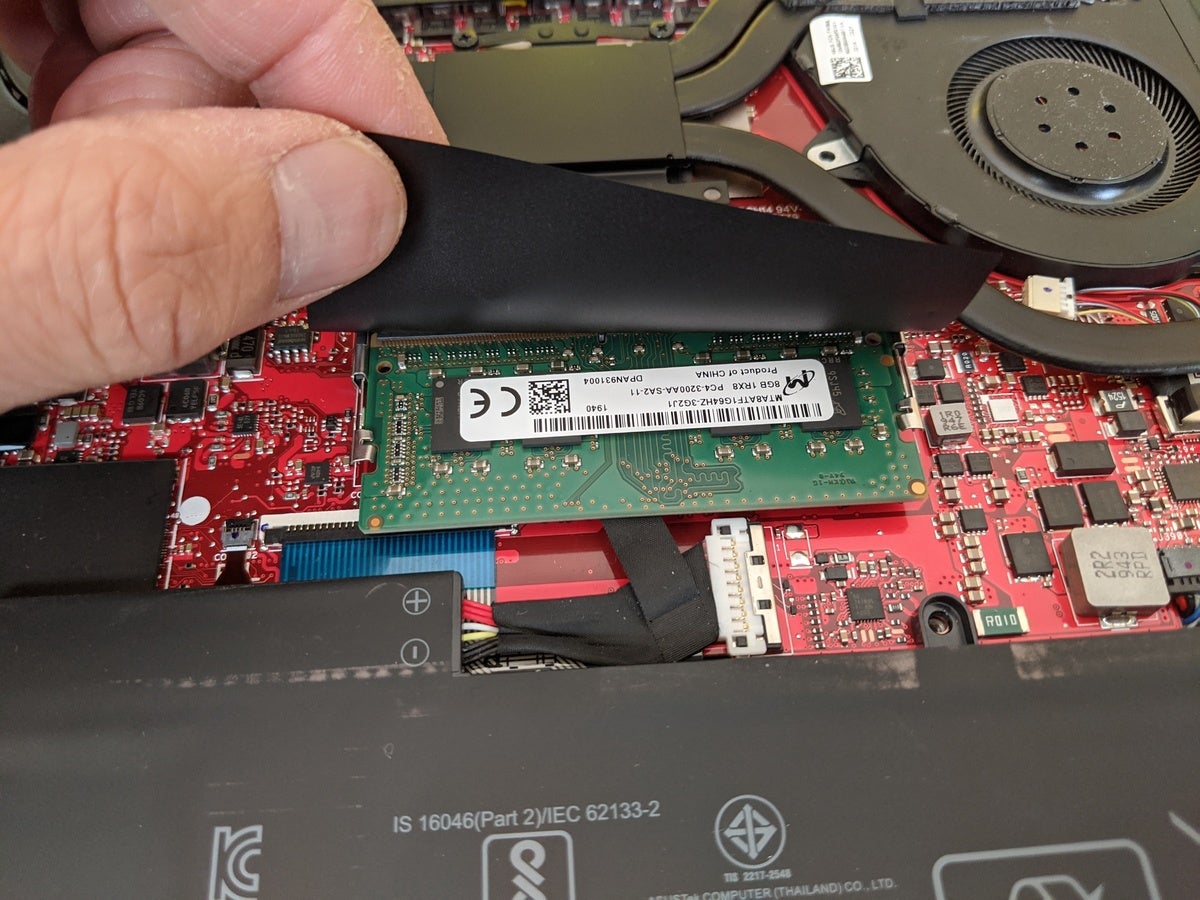 Keyboard and trackpad
We'd rate the keyboard and trackpad experience as generally good. There's decent travel and no oddly placed keys. We could complain about the tiny cursor keys, but at least they're in the traditional inverted-T style. The trackpad has slight metallic feel to it but works well and supports Microsoft's Precision driver.
If we had to complain about the keyboard, we'd say the backlighting is pretty medicore. We've come to expect RGB in gaming laptops.Likely for power and space reasons, Asus sticks with boring white that's neither particularly bright nor even.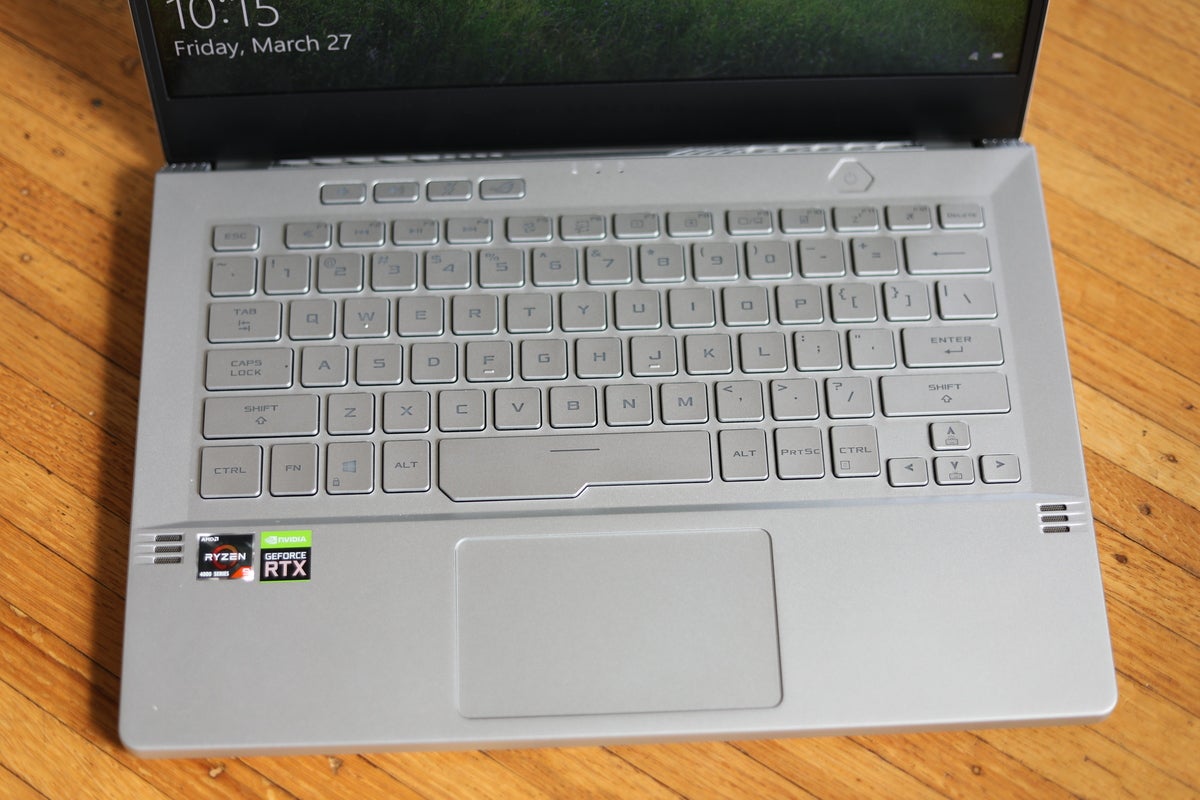 Since we're talking abolut the keyboard deck, if you look at the picture above you'll see two small grilles to the right and left of the trackpad. Those cutouts allow sound from the modest speaker drivers to project straight up and at you, rather than firing out the side or into the desk surface. The sound is fair overall and gets decently loud, which is about as good as it gets for most laptops.
Build Quality
Laptop build quality is usually in the eye of the beholder, but we'd rate the ROG Zephyrus G14's as generally pretty good. The lid and keyboard deck are magnesium, while the bottom appears to be plastic. Overall it feels solid and can be held by one corner without feeling like it's going to buckle. Does it have the built-like a tank feel of a Razer Blade? No, but it feels like a good compromise of performance-to-weight ratio.
Did someone say performance? Keep reading for benchmarks.
Asus ROG Zephyrus G14 CPU performance
We'll keep most of our CPU performance talk over in the Ryzen 4000 CPU review, but we know you just want to see one number. Below is our basic Cinebench R15 result for multi-core performance.
The results speak for themselves: Despite being in a weight class typically left to low-power, lower performance "U"-class CPUs, the G14 is able to stand with Intel's mighty Core i9-9980HK. And that's when the Core i9-9980HK is running in a far larger and far heavier laptop.
Let's just say if you want multi-core CPU performance in as light of a laptop as possible, it'll be hard to beat the ROG Zephyrus G14 right now.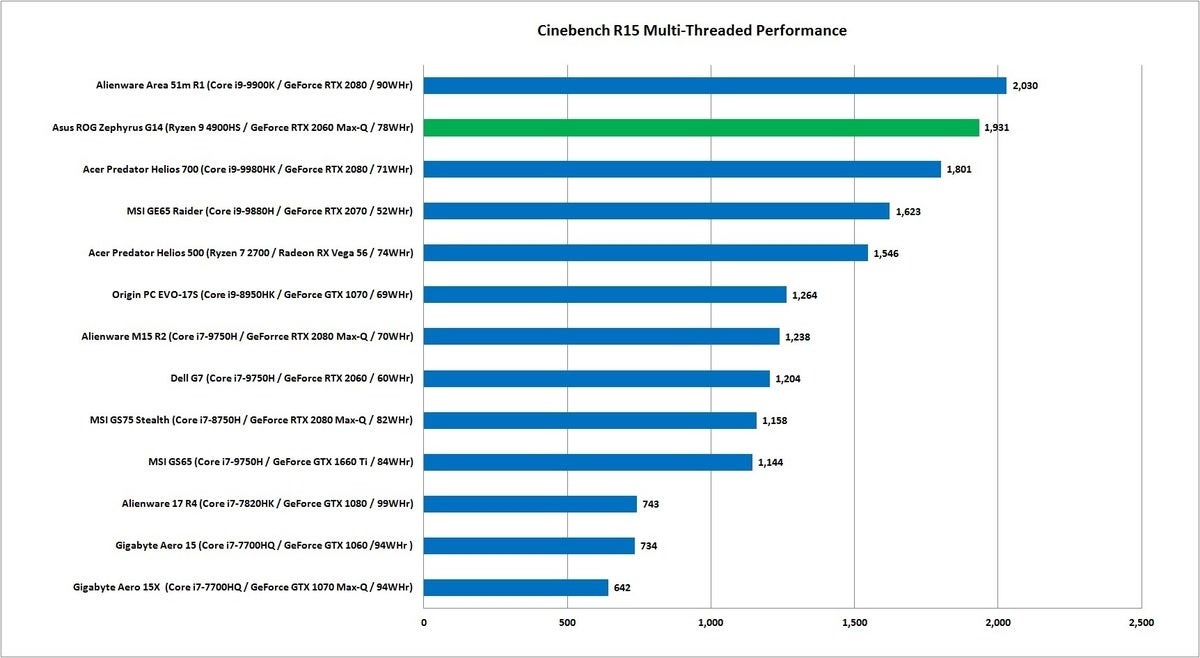 Asus ROG Zephyrus G14 GPU performance
The most important part of any gaming laptop is its GPU. In this case, it's Nvidia's GeForce RTX 2060 Max-Q chip with 6GB of GDDR6 memory. If you've never heard of the 2060 Max-Q, we haven't either. Nvidia launched its Max-Q variants with only the 2080 and 2070 versions, but somewhere along the way it appears to have quietly introduced the RTX 2060 Max-Q (although again, this is the first laptop we've seen with it). Notebookcheck.com offers specs on the RTX 2060 Max-Q. It appears to be a 65-watt version vs. the standard RTX 2060's 80 to 90 watts.
Gaming laptops being gaming laptops, we can tell you no matter how good a Ryzen 9 is, it won't make a GeForce RTX 2060 Max-Q into a GeForce RTX 2080. Still, it's valuable to see just where it falls, so we tested it using 3DMark's Time Spy Graphics subscore. The graphics subscore focuses solely GPU performance on DX12 workloads.
As you can see, a fast CPU won't make the GPU go faster, and the higher-end GPUs rule. The RTX 2060 Max-Q holds up surprisingly well, though. Typically we've seen Max-Q laptops give up a lot of performance to run in thin and light laptops. In the ROG Zephyrus G14, the RTX 2060 Max-Q is basically dead-on with the standard RTX 2060 in the Dell G7 laptop.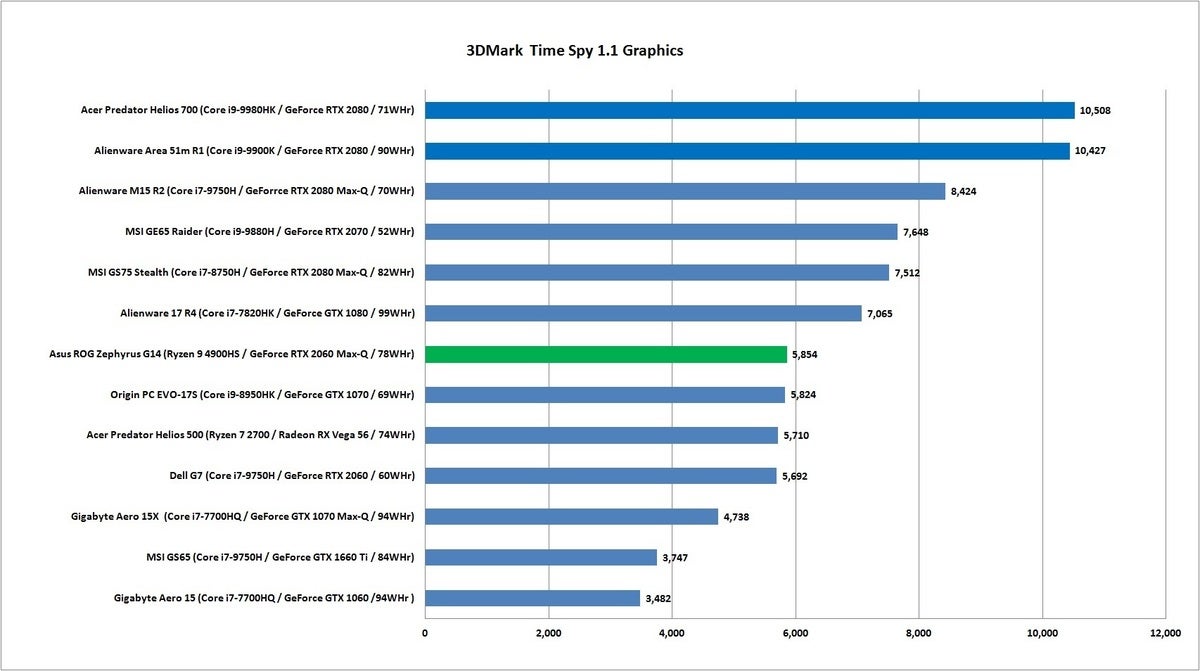 Certain games do rely on the CPU more than others. Using Rise of the Tomb Raider set to Very High and in DirectX11 mode, we're seeing the ROG Zephyrus G14 outpace that standard RTX 2060 in the Dell G7.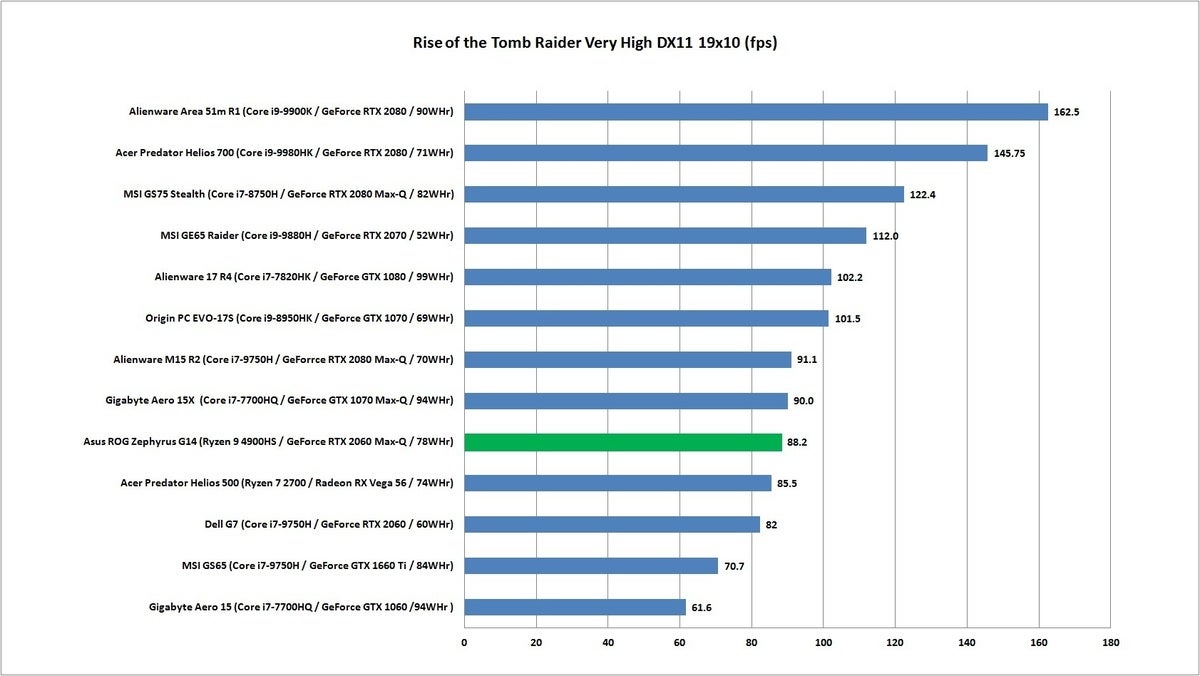 Switching to Middle-earth: Shadow of Mordor, we see the standard RTX 2060 paired with a Core i7-9750H a hair faster than the Asus.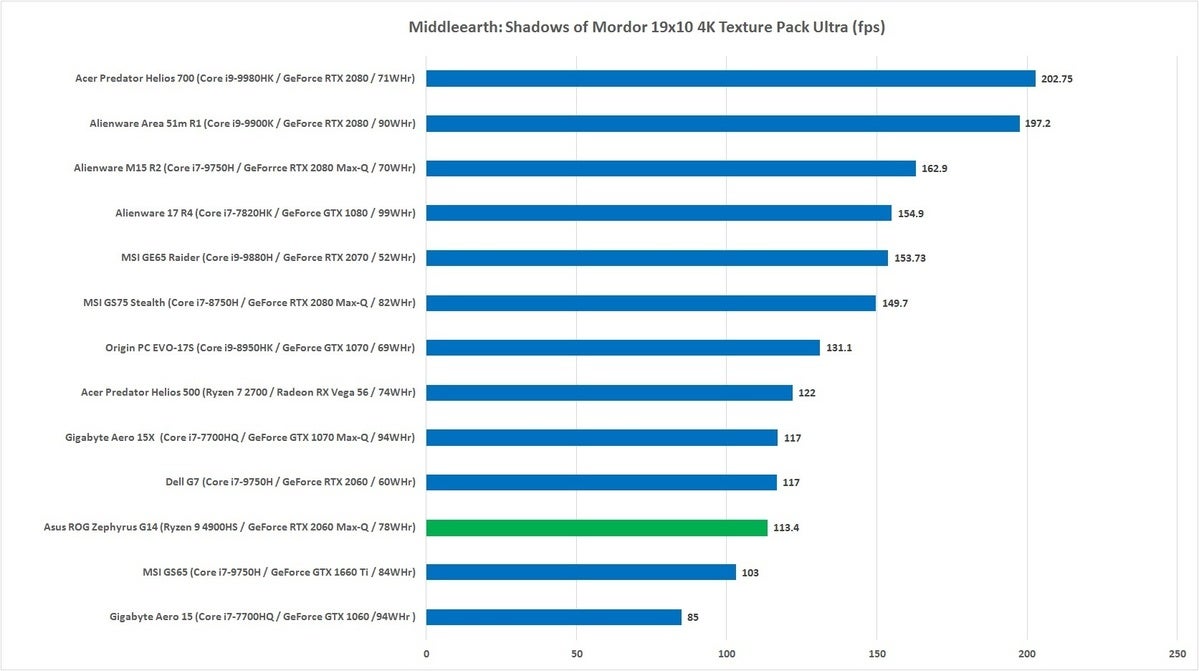 Obviously, the GeForce RTX 2060 Max-Q and Ryzen 9 4900HS are just fine for gaming, but one issue thin-and-light laptops can suffer from is performance degradation as heat builds up inside the chassis. To check for it, we fired up PlayerUnknown's Battlegrounds (PUBG) and ran it for an almost two hours. We saw no signs of trouble. For the most part, the GPU was reportedly running above 1,500MHz with the CPU at 4.1GHz or higher. The laptop may still hit a wall at some point, but its anecdotal behavior is quite promising.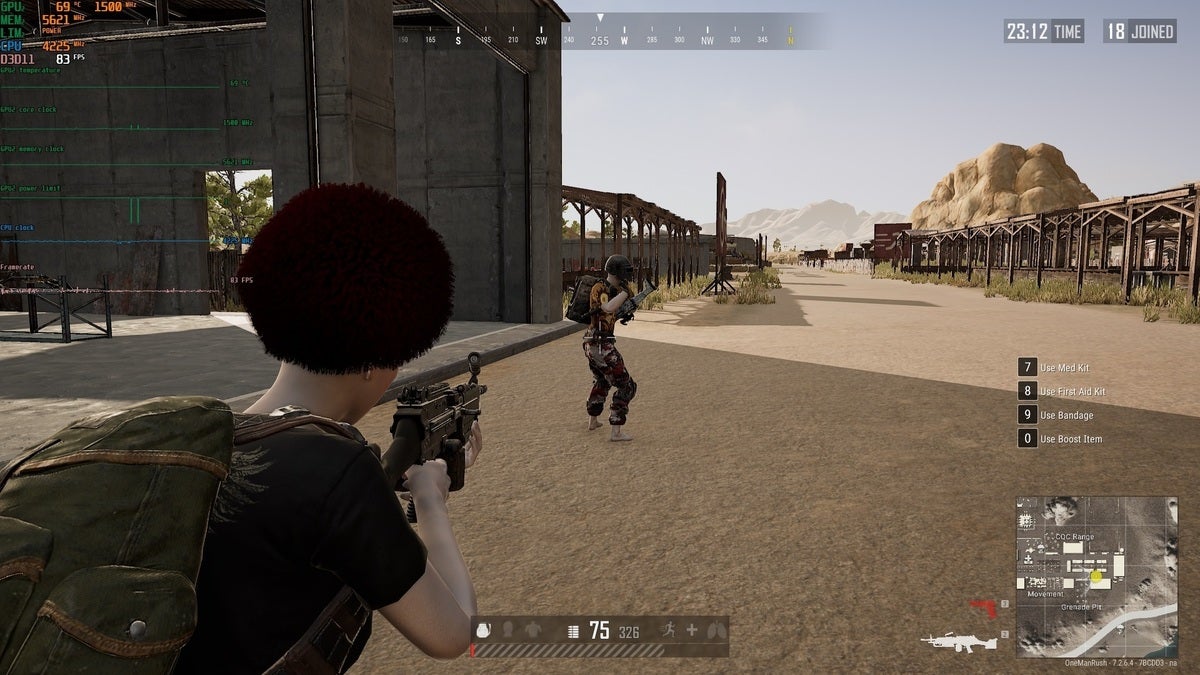 We also wanted to see if the laptop's keyboard would get excessively hot, so we shot a thermal image near the end of our gaming workout. The laptop's keyboard was fairly comfortable, with no sections climbing above 105 degrees Fahrenheit.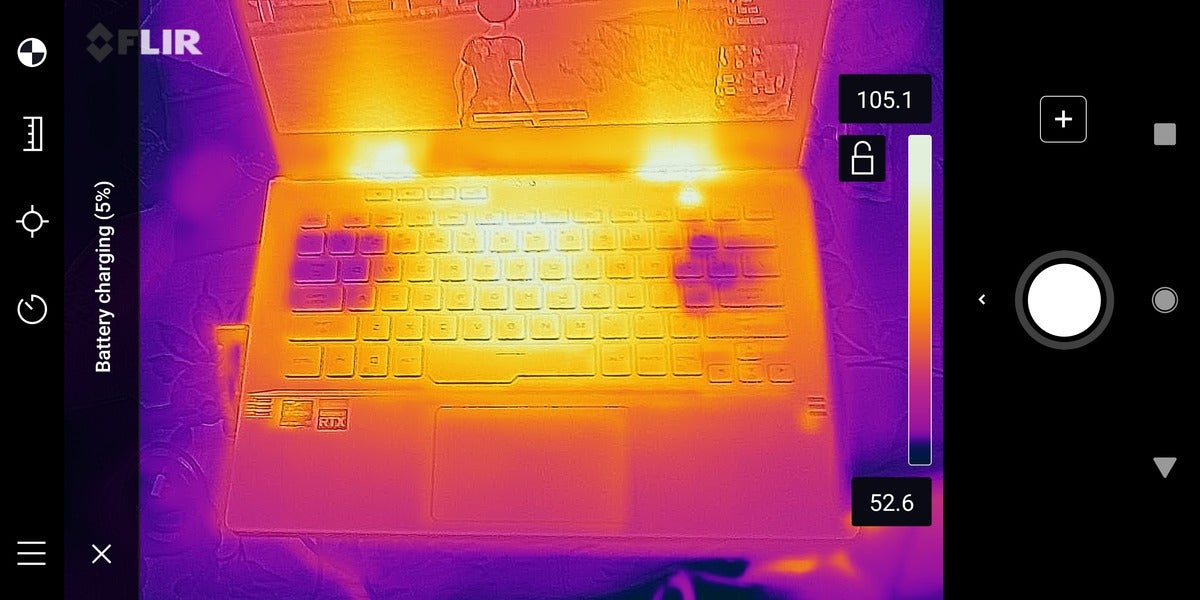 We should also say that fan noise with the laptop set to Turbo mode under very heavy CPU loads was quite pleasant and almost hard to hear in a daytime home environment. Gaming, however, pushed the fans to very high speeds. While not offensive, it was borderline loud, so put on your gaming headset, folks.
ROG Zephyrus G14 battery life
Our last report covers all-important battery life. Your mileage will vary greatly depending on what you do, of course. Our rundown test involves loop a 4K video using Windows 10's Movies & TV app. We set the screen brightness to 250-260 nits, with airplane mode on and earbuds connected (with volume at midrange), much as you'd set the laptop while watching a movie on an airplane with the cabin lights on. For comparison we have a stack of gaming laptops, which ran from criminally bad to decent battery life.
We'd slot the ROG Zephyrus G14 right into very good—for a gaming laptop—with just over six hours of run time. Considering its smaller battery, that's actually quite decent.
Obviously, if you play a game, expect maybe 90 minutes of life, if you're lucky. Beat on the CPU harshly and you probably shouldn't expect more than a couple of hours. Browsing will also likely cut life in half. The key message is there's just enough staying power in the G14 to make it actually quite usable.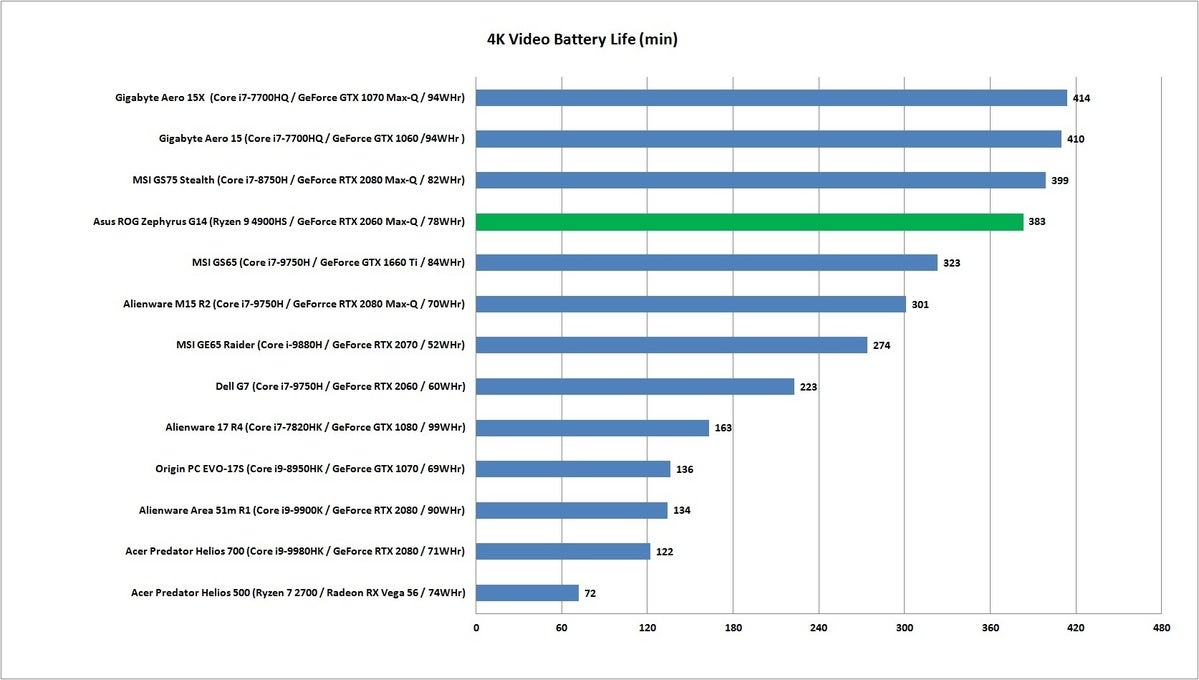 Conclusion: Can't touch this
To close this out, we really think you need to understand the context of the Asus ROG Zephyrus G14. The context being, it's a 3.5-pound laptop with real performance chops.
In the chart below we record the weight of various laptops we've tested, from the lightest to the heaviest. We also report the hardware inside. As you can see, the Asus ROG Zephyrus G14 weighs a little more than a Microsoft Surface Laptop 3, which features a quad-core CPU and no discrete graphics.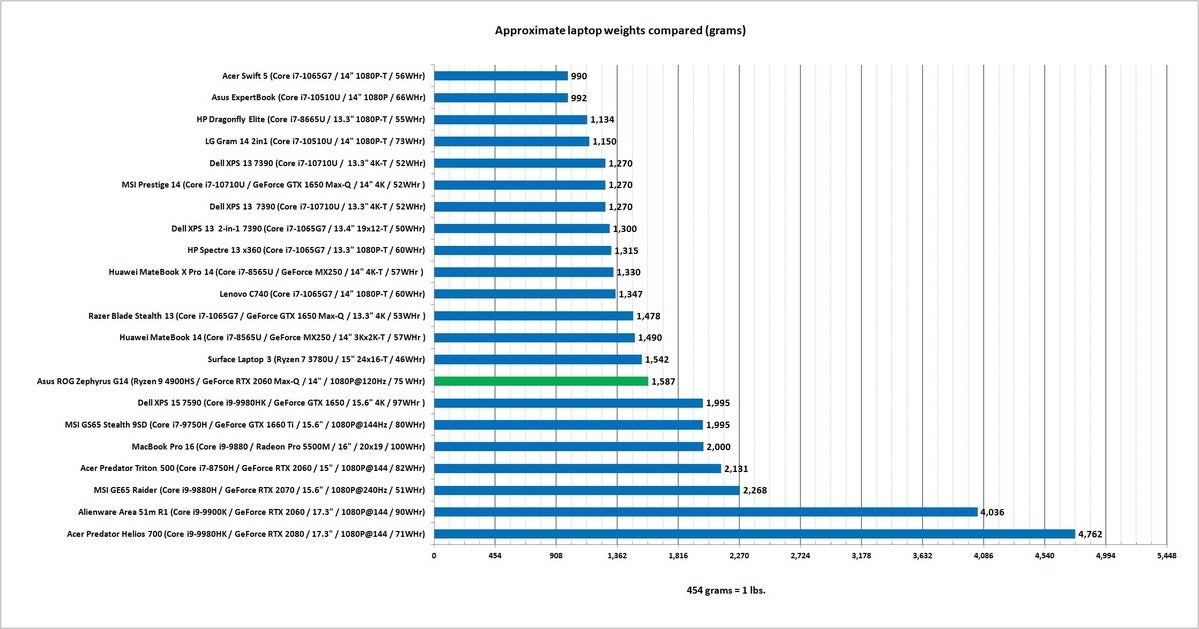 While its weight puts it with mostly "U-class" laptops, it performs in line with much faster "H-class" laptops. Just to remind you, here's the Cinebench R15 chart from earlier in the review, where you can see it actually outperforming a mob of larger and heavier laptops.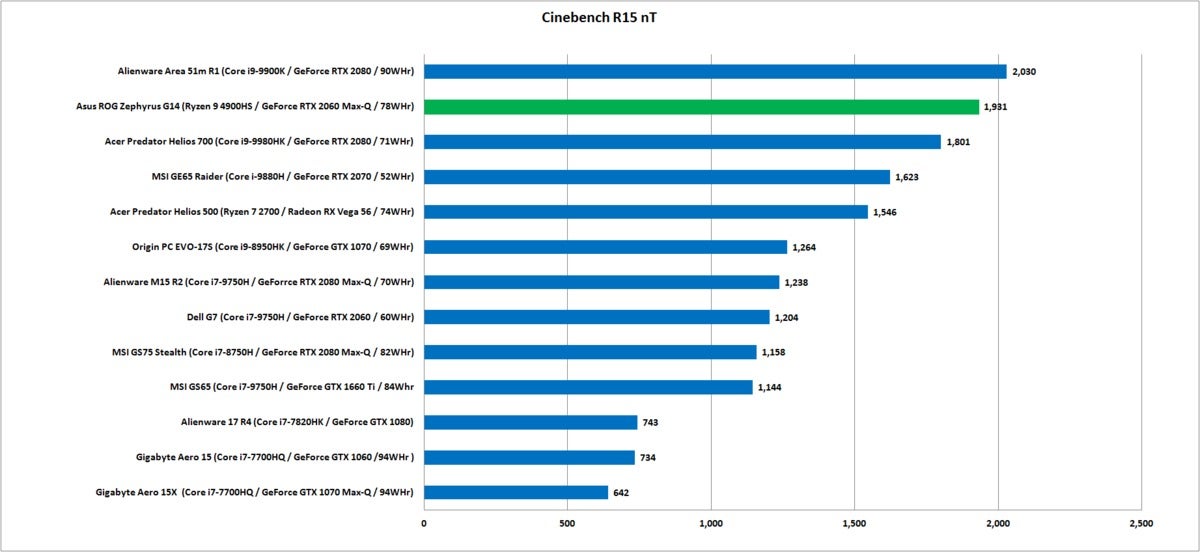 Is the ROG Zephyrus G14 without flaws? Certainly not (like that webcam move). But for someone who actually needs this kind of performance in as light a laptop as possible, we can think of no other laptop around that can touch it today.