At a Glance
Expert's Rating
Pros
Discounted price makes for a solid value
Speedy performance during short CPU-intensive bursts
Bright 4K display
Walnut wood palm rest looks and feels great
Cons
High-res display taxes battery life
Display isn't touch-enabled
Our Verdict
The HP Envy 13's walnut wood palm rest makes for a warm yet practical design touch, while its Ice Lake CPU can rev its engine when it needs to.
Best Prices Today: HP Envy 13-aq1195nr Wood Series
The HP Envy 13 Wood Series is the company's second foray into natural design flourishes—remember the leather-bound Spectre Folio? Now the company's thin-and-light Envy 13 laptop has a Wood Series variant, featuring a walnut wood palm rest and touchpad.
While these details might seem frivolous to some, the finely textured wood panel makes for a surprisingly warm, yet practical touch in a laptop that (for the most part) nails the fundamentals. That said, the 4K display on this reasonably priced Envy model skimps on a key feature, and we also had some (non wood-related) touchpad issues.
This review is part of our ongoing roundup of the best laptops. Go there for information on competing products and how we tested them.
Configuration
HP is offering three pre-configured SKUs for its latest quad-core Envy 13 models. We've already reviewed the Envy 13 in its "regular" form. The good news is, the special Wood Series is available in the least-expensive SKU, which offers a 10th-gen Core i7-10510U Comet Lake CPU, a Full HD (1920×1080) IPS multi-touch display, 8GB of RAM, a 256GB solid-state drive, 16GB of Optane Memory (good stuff!), and an $850 sticker price on HP.comRemove non-product link (after a $200 discount). A step-up non-Wood model ($1,200 on HP.comRemove non-product link) boasts the same internals save for a larger 512GB SSD and 32GB of Optane memory. The Wood Series model we're reviewing ups the ante with a 10th-gen Core i7-1065G7 Ice Lake processor and a 4K display that (unfortunately) lacks multi-touch, for $1,300 (or $1,050 after discounts) on HP.com.
Let's take a closer look at the specifications of our review model:
CPU: Quad-core 10th-gen Core i7-1065G7
Memory: 8GB DDR4-2400
Graphics: Intel Iris Plus
Storage: 512GB SSD
Optane memory: 32GB
Display: 13.3-inch 4K IPS (400 nits, non-touch)
Wireless networking: Wi-Fi 5
Battery capacity: 52 watt-hour
Dimensions: 12.08 x 8.32 x 0.57 inches
Weight: 2.82 pounds
On paper, we're looking at a thin, light, and reasonably powerful productivity workhorse, although a few corners have been cut to achieve that discounted $1,050 price tag.
On the plus side is the Envy 13's U-series Core i7-1065G7 processor, which is Intel's second-fastest Ice Lake CPU for laptops, plus a roomy 512GB SSD that gets a nice 32GB Optane Memory speed boost. The integrated Iris Plus graphics should rival the visuals of entry-level discrete graphics cards, while the bright (if power-hungry) 4K IPS display is always a welcome sight.
So far, so good, but this particular model of the Envy is saddled with a few compromises. For starters, while the 8GB of RAM is adequate when it comes to smoothing out multitasking, 16GB would give busy people more room to queue up multiple applications and browser tabs. And while the 4K display is (as we'll see) crisp and bright, it isn't touch-enabled. (The HP Envy 13 models with full-HD displays do have touchscreens, and the configurable Envy has a 4K touchscreen option.) We're also a tad disappointed by the Wi-Fi 5 networking, which means the Envy won't be able to take full advantage of newer, faster, and more efficient Wi-Fi 6 routers.
Still, if you can live without a touch-enabled display, there's a lot to like about this Envy 13 Wood Series configuration, which also happens to be among the least expensive Core i7-1065G7-powered laptops we've tested (assuming you can snag the discounted price).
Design
Our HP Envy 13 Wood Series review unit boasts the same anodized-aluminum exterior that we've seen on other Envy models, complete with a pleasingly slim (0.57-inch) design and a "lift" hinge that props up the laptop when the lid is open, ideal both for boosting the angle of the keyboard and allowing extra airflow beneath the chassis.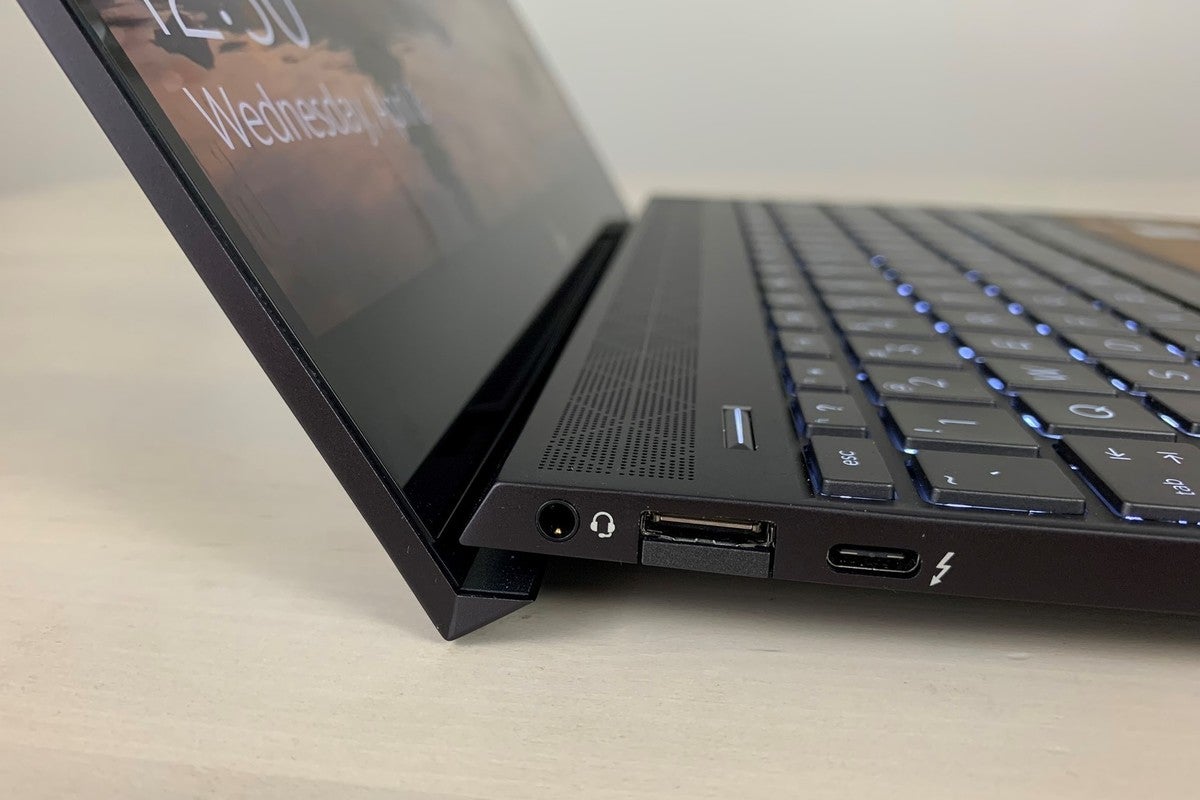 Opening the Envy 13's lid reveals the signature design element of this particular SKU (and the less expensive Comet Lake version): a walnut wood palm rest and touchpad. The finely textured wood grain feels smooth yet pleasingly tactile, particularly when you're swiping the touchpad, and I enjoyed resting my palms against the firm, yet comfortable surface.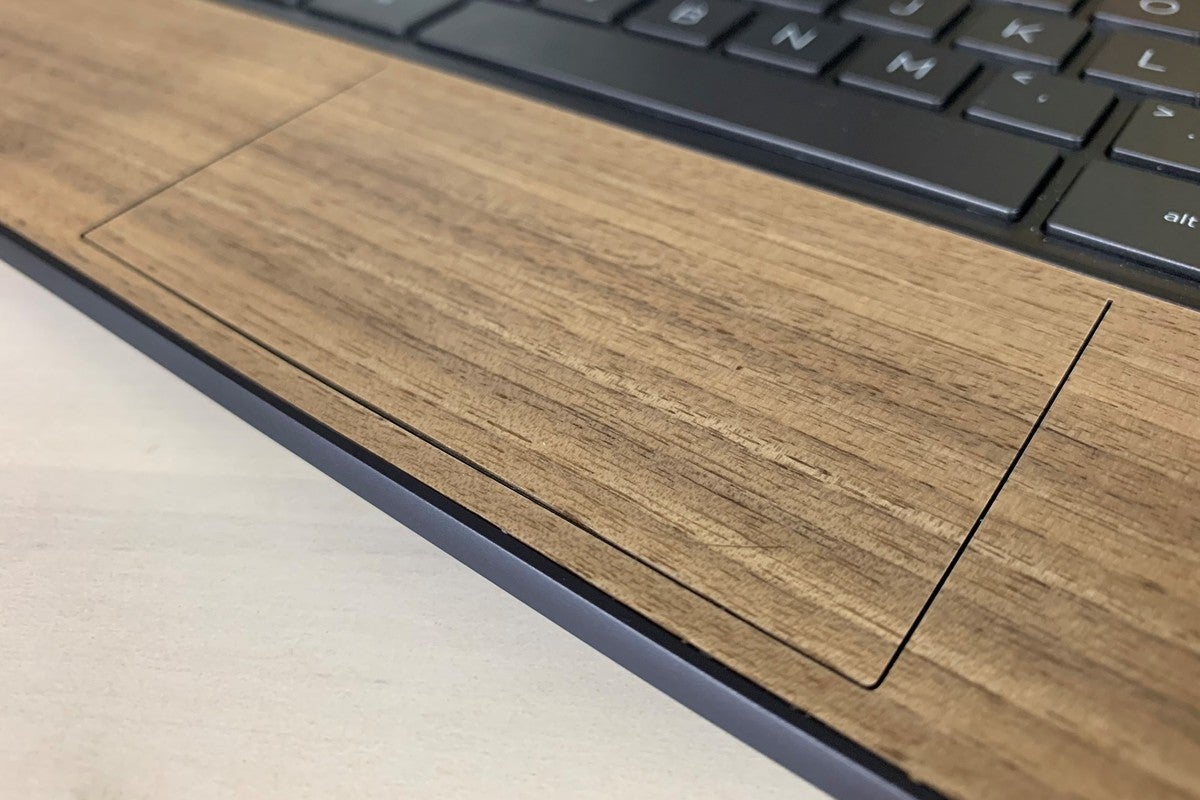 Besides its wooden palm rest, the HP Envy 13 boasts a few other nice design flairs, including the diamond-patterned speaker grille that sits above the keyboard, the flat rear spine with the sleek "Envy" logo, and a hourglass-shaped profile where the lip of the Envy 13's lid meets the bottom edge of the laptop chassis.
Display
The 4K display on our HP Envy 13 Wood Series review unit looked predictably sharp and vivid, and it's also impressively bright. HP's specs promise 400 nits (or candelas) of brightness for the screen, but our own measurements gave us a 495-nit reading—so yes, we're talking a bright display here, although it should be noted that the brightness drops precipitously after just a couple of taps on the brightness-down button. It's also worth remembering that a bright 4K display like the Envy 13's will take a heavy toll on battery life.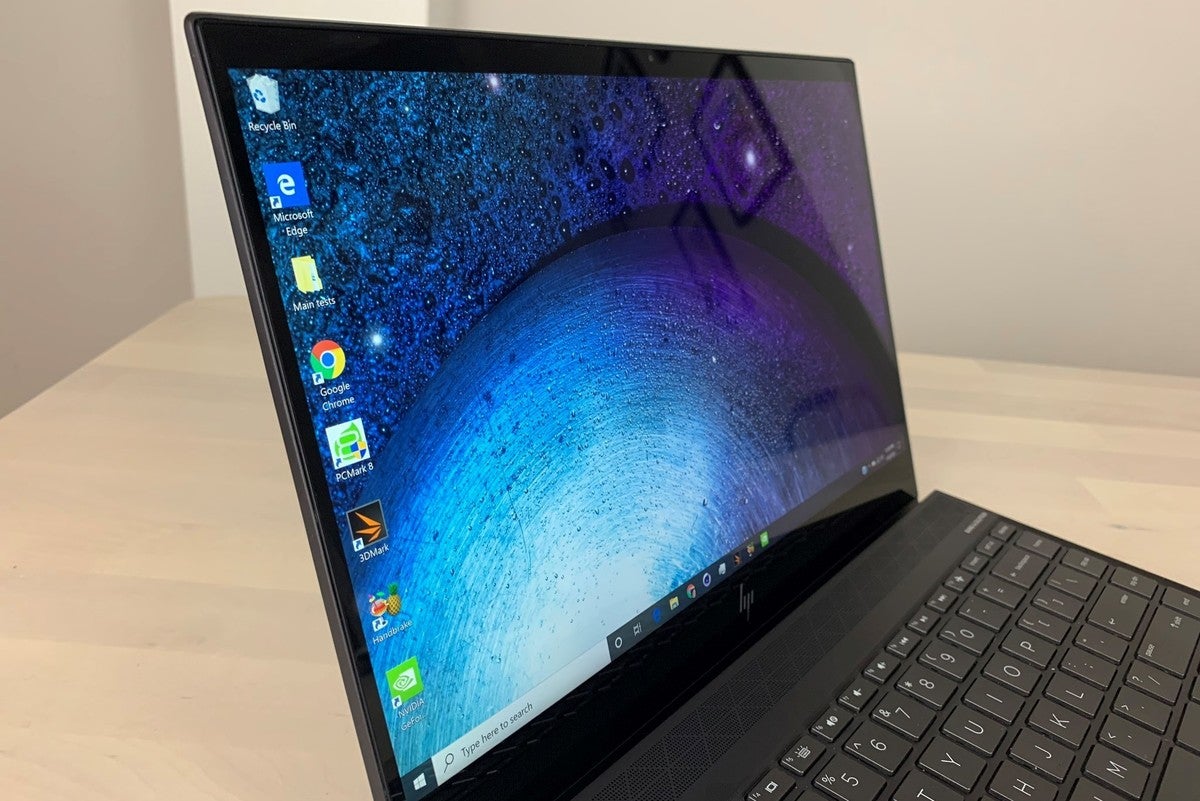 The Envy 13's display boasts wide viewing angles thanks to its IPS (in-plane switching) design. The screen dims only slightly when viewed from an angle, and I was able to read text on the display even when looking way over from one side or the other. For its part, HP promises a 178-degree viewing angle, and that sounds about right based on my experience.
A missing feature on the display of this particular Envy 13 model, however, is touch sensitivity. You won't be able to swipe or tap the screen to interact with it, nor will you be able to write or draw on it with a stylus. The lack of touch support is surprising given how common it's become on laptop displays, particularly on mid-tier and premium models. There are other Envy models that do boast full-HD and 4K touchscreens, although a custom-configured 4K touchscreen model with equivalent specifications (save for a downgraded Core i7 Comet Lake processor) costs about $240 more than the discounted price of our review unit.
Keyboard, trackpad, speakers, and extras
The HP Envy 13's keyboard feels solid and comfy, with snappy yet quiet keystrokes, decent travel, and easy discoverability. You also get hotkeys for media playback, airplane mode, and mute, but none for laptop settings or disabling the built-in camera (although, as we'll soon see, there's another way to quickly shut off the Envy 13's webcam).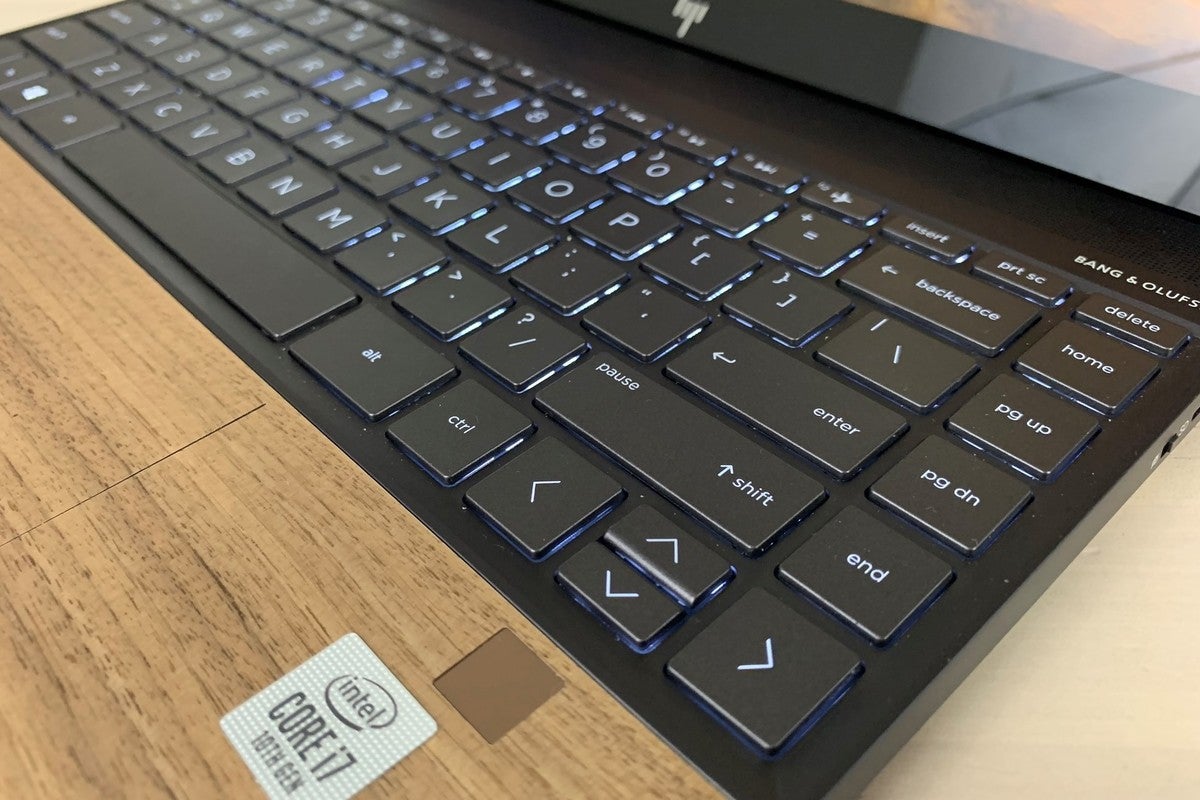 While the Envy 13's wood-crafted touchpad looks and feels great, we experienced the same occasionally jittery behavior from the touchpad on the Envy 13 Wood as we recently did with its aluminum sibling, the Envy 13, and a little further into the past with units such as the HP Pavilion x360 14. Not all typists who tried it had the same experience, so you might check your typing style for excessive palm-grazing, and try adjusting your touchpad drivers' sensitivity as well.
Sitting just below the bottom-right corner of the Envy 13's keyboard is a Windows Hello-enabled fingerprint reader, which lets you swipe a fingerprint to unlock Windows or log into Windows Hello-enabled apps. I enrolled my fingerprint shortly after I began testing my Envy 13 review unit and (aside from a very occasional hiccup) didn't encounter any problems.
I was also pleasantly surprised by the Envy 13's top-firing Bang & Olufsen speakers, which sounded impressively robust for laptop audio components. Just to be clear, the Envy 13's speakers can't rival the audio of external speakers or a good set of cans, but they sounded well above average, with a rich mid-range, plenty of high-end detail and even a sprinkling of bass.
Ports
While the HP Envy 13 might not give you all the ports you want, you get what you need. Starting on the left side, there's a drop-jaw USB 3.1 Gen 1 Type-A port (the first of two), a Thunderbolt 3 port (which supports data transfer rates up to 40GBps), and a combo audio jack.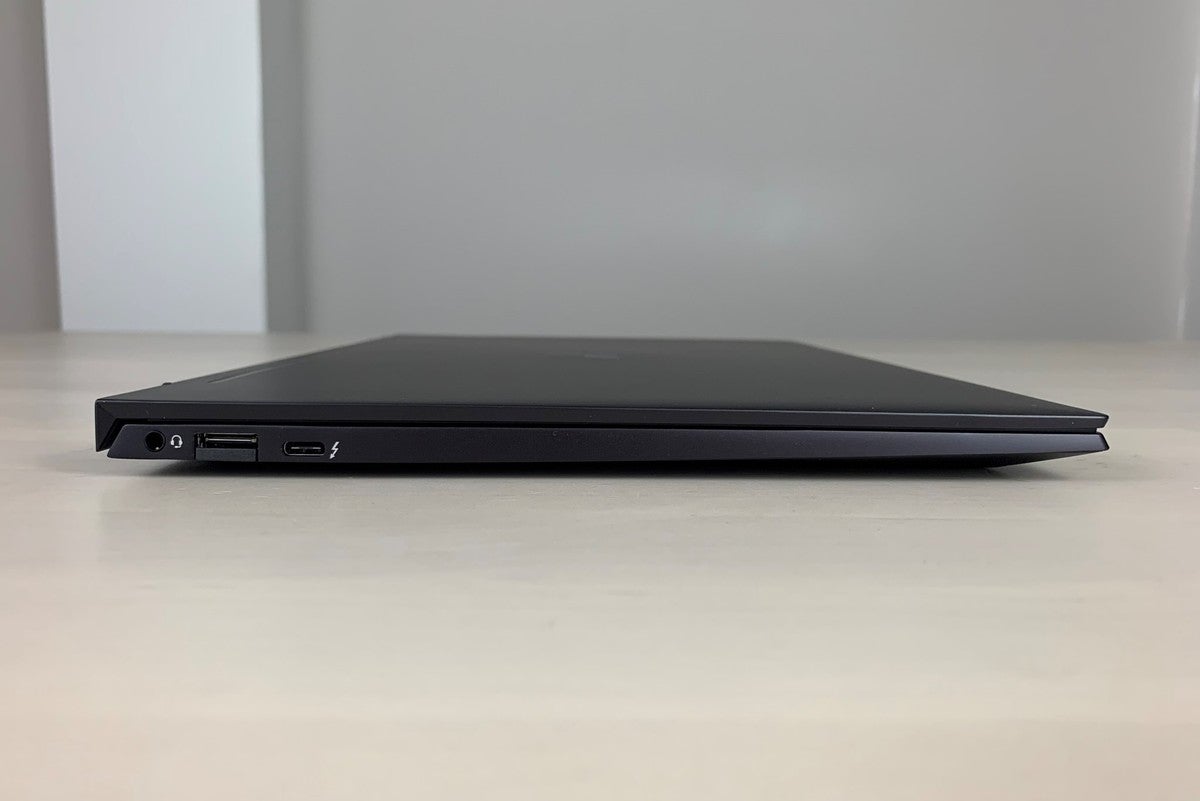 On the right side sits a second drop-jaw USB 3.0 port, along with a microSD card slot and a barrel-shaped charging port. Also on the right side is a switch that electronically disables the Envy's webcam (there's no physical lens shutter, however).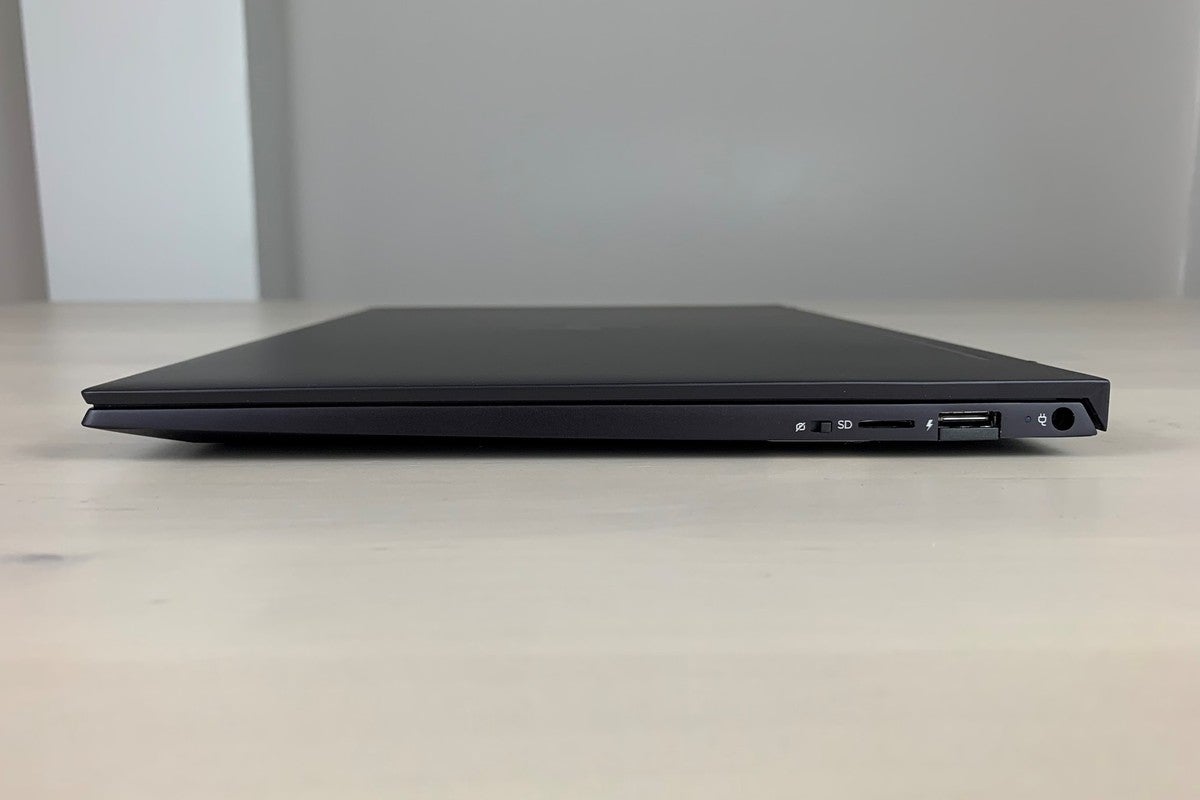 Missing in action is an ethernet port, which isn't a huge surprise given the Envy's slim-and-light design, and HDMI, which you can do without, as the Thunderbolt 3 port can power a pair of 4K displays or a single 5K display.
Keep reading for performance scores for the CPU, graphics, and battery.
General performance
Being the thin and light laptop that it is, you'd expect the HP Envy 13 to do its best to strike a balance between performance and heat management. Our test results show that it paces itself in both daily computing tasks and heavy CPU loads over long periods. We also saw (unsurprisingly) that the Envy 13's bright, beautiful 4K display takes a good-sized chunk out of the laptop's battery life. Thanks to the speedy boost clock of its Ice Lake processor, however, the Envy can put the pedal to the metal when it has to, and its Iris Plus-powered graphics are a cut above the norm as well.
PCMark 8 Work Conventional
Our first benchmark, PCMark 8 Work Conventional, simulates such day-to-day tasks as web browsing, spreadsheet work, Word composition, social networking, and video chat. Because such everyday computing chores usually demand only a single CPU core, pricier laptops powered by quad-core or better processors generally won't enjoy much (if any) of an advantage over cheaper dual-core systems. A PCMark 8 score north of 2,000 generally means you can expect smooth-as-silk Office performance on a given system.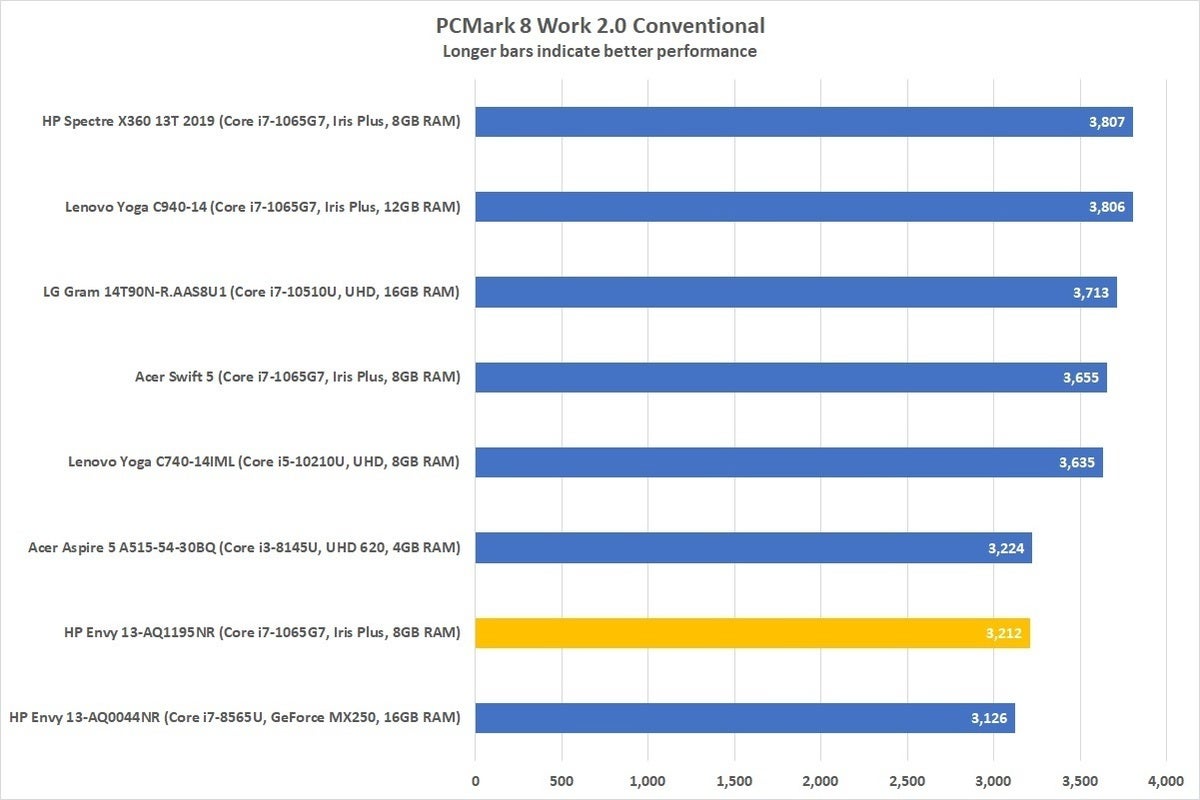 Now, it's tempting to see red flags when it comes to the Envy's second-to-last finish in our PCMark 8 chart (slightly above a Whiskey Lake-powered Envy 13 model), but let's not rush to judgment. Every laptop in our chart posted scores well north of 3,000, including a dual-core Acer Aspire 5 that only costs about $300. In short, all the laptops in our roundup will feel peppy and responsive when it comes to Office and other daily computing tasks.
HandBrake
Our next test involves using the free HandBrake utility to convert a 30GB MKV video file into a format suitable for Android tablets, a multi-core task that can take an hour or more to complete. Laptops with the most CPU cores will tend to do better. This benchmark also reveals how a given laptop handles thermals over an extended period of time.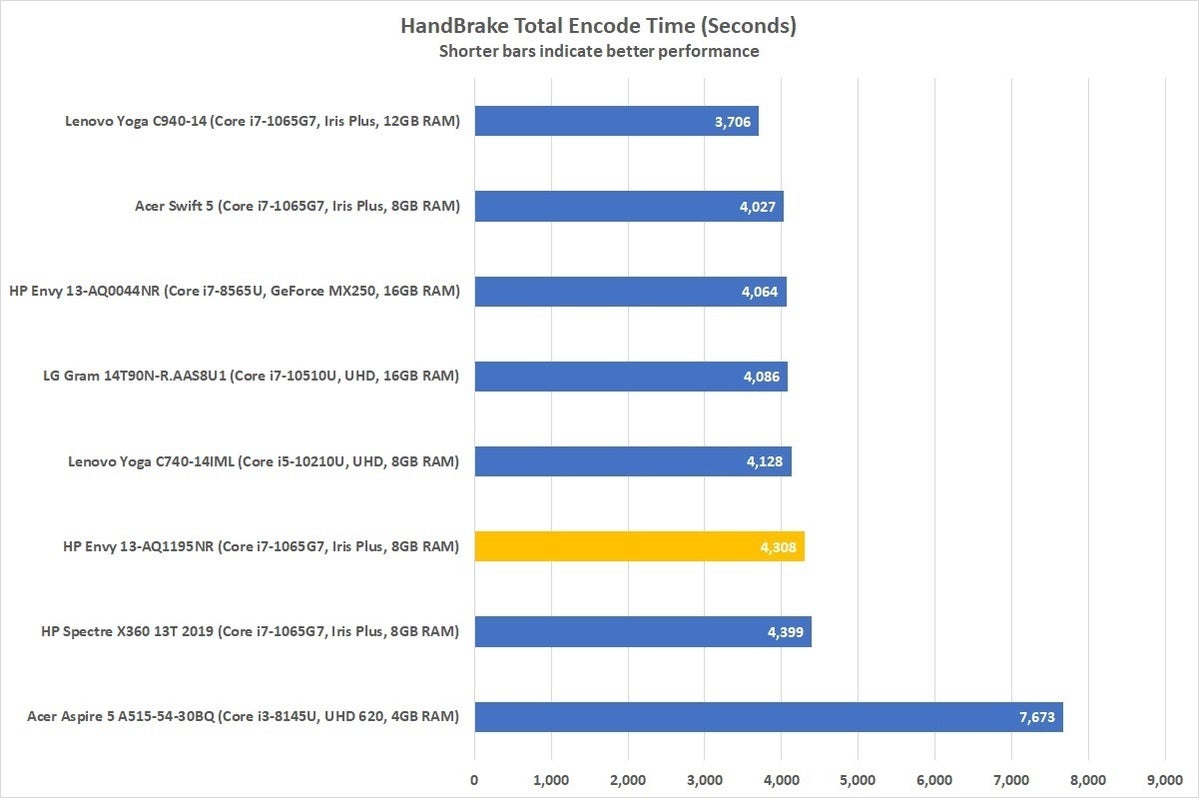 Again, our HP Envy 13 review unit sits near the bottom of the chart, but it's bunched up with several other quad-core laptops, including Ice Lake, Comet Lake, and Whiskey Lake systems. It's worth noting that the Envy notches a slightly higher score than a similar (and pricier) HP Spectre x360, a 2-in-1 laptop with the same Ice Lake CPU, while the Lenovo Yoga C940-14 at the top our chart is thicker, heavier, and considerably more expensive than the Envy. In other words, the Envy's HandBrake score is actually sitting in pretty good company.
Cinebench
While our Cinebench test (which involves rendering a 3D image in real time) is just as CPU-intensive as HandBrake, it only takes a few minutes to complete, versus an hour or so for HandBrake. Because it's such a short sprint, Cinebench gives a laptop the chance to rev its engines with less concern of overheating down the stretch. Systems with higher boost clocks (such as those powered by Intel's latest Ice Lake chips) will have a chance to shine here, and as you'll see, they sure did.
Check out the Cinebench score on the HP Envy 13, which easily dusts the competition when it comes to both multi- and single-thread results. Looking back at the Envy's Handbrake score in the context of its Cinebench numbers, it looks like HP tuned the Envy 13 to run a tad conservatively during longer spells of intense (and heat-generating) processor activity, while allowing it to open up the throttle for quick hits of speed.
3DMark Sky Diver 1.0
While HP doesn't bill the Envy 13 as a gaming laptop, we wanted to give its integrated Intel Iris Plus graphics a spin. Integrated graphics cores typically can't hold a candle to discrete graphics cards, but Intel says its Iris Plus graphics technology can keep up with such entry-level graphics cards as Nvidia's GeForce MX250.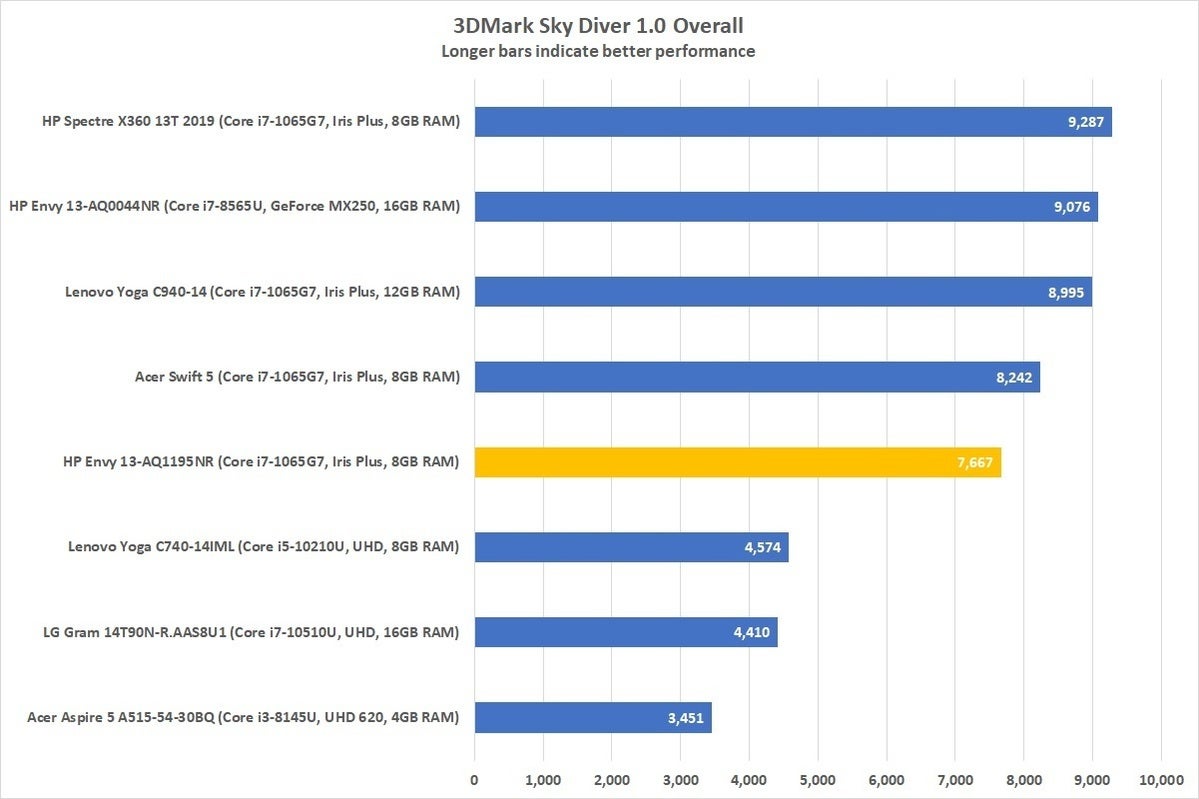 As you can see from the chart, while the Envy 13's Iris Plus graphics performance is head and shoulders above those of Comet Lake and older Whiskey Lake laptops (which generally rely on Intel's integrated UHD graphics cores), we've seen somewhat better scores from other Iris-equipped systems, such as the HP Spectre x360 and the Lenovo Yoga C940-14. Even so, pro-video users running (for example) Adobe Premiere will still appreciate the Envy's substantial graphical boost over integrated UHD graphics, even if gamers are disappointed by the herky-jerky Fortnite visuals (not that the Spectre or the Yoga could do much better).
Battery life
We test the battery life of laptops by looping a short 4K video using the stock Movies & TV app for Windows, with screen brightness set at about 250 nits (which, in the HP Envy 13's case, meant dialing its brightness down to 90 percent), and with the volume set to 50 percent, earbuds on.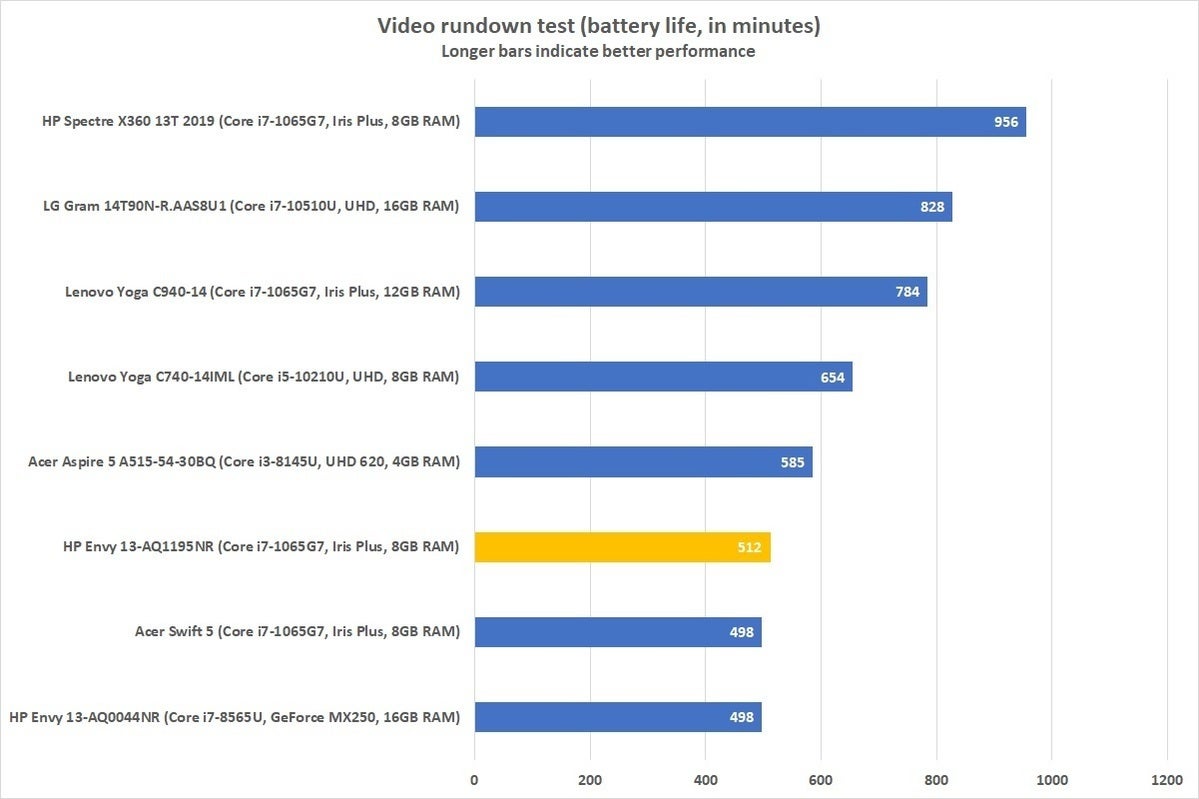 The Envy 13's 512-minute result (about 8.5 hours) is fair given the laptop's 52 watt-hour battery. (Note that real-world battery life may be somewhat lower depending on the applications you're running.) A good comparison is the Acer Swift 5, a laptop with the same Core i7-1065G7 CPU and a slightly larger 55 watt-hour battery: It managed pretty much the same score as the Envy—although, crucially, the Envy's battery was supporting a power-hungry 4K display, verus the Swift 3's less demanding Full HD screen. The chart-topping HP Spectre x360 and LG Gram 14, meanwhile, both have larger battery capacities than the Envy 13 (particularly in the Gram's case), as well as Full-HD displays that don't drain as much power as the Envy's 4K panel.
Bottom line
HP is onto something with the home-inspired design elements of its latest laptops, and the Envy 13's handsomely crafted wood palm rest continues in that vein. We also appreciated the powerful Ice Lake CPU, which strikes a reasonable balance between raw performance and heat management, not to mention the eye-popping 4K display, all for a reasonable price. That said, the gorgeous (albeit non-touch) screen does take a toll on battery life.
Best Prices Today: HP Envy 13-aq1195nr Wood Series