At a Glance
Expert's Rating
Pros
Gorgeous slim-bezel display
Fantastic audio for a laptop
Cons
GPU performance takes a step back
Not even one measly USB-A port
Our Verdict
The Dell XPS 15 9500 is finally the MacBook Pro killer it's always wanted to be, with a gorgeous display, better keyboard and trackpad components, and strong productivity performance. We miss USB-A, though.
Best Prices Today: Dell XPS 15 9500
Timing is everything in the PC business, and the Dell XPS 15 9500, an overdue refresh to the company's high-end workhorse, arrives just in time for it to be truly considered the "MacBook Pro killer" it's always aspired to be.
Yes, we know "MacBook Pro killer" is overused Internet clickbait. But with Apple's decision to throw in the towel on x86-based laptops, anyone buying a Mac today is basically volunteering to stand on the deck of the Titanic and wave as the last lifeboats pull away.
This review is part of our ongoing roundup of the best laptops. Go there for information on competing models and how we tested them.
Some laptop refreshes can be fairly minor. For the XPS 15 9500 ($2,254 at Dell.com), it's a complete redesign of a laptop that's changed little since 2015, when it first adopted its "InfinityEdge" bezels.
On this model, gone is the 16:9 display aspect ratio that was prevalent for some years—fine for watching YouTube, not so great for productivity. In its place is a 16:10 aspect ratio, 15.6-inch panel running 4K+ with HDR400 and Dolby Vision support. The result is a stunning all-screen look that is likely to set the style for other laptop makers to emulate.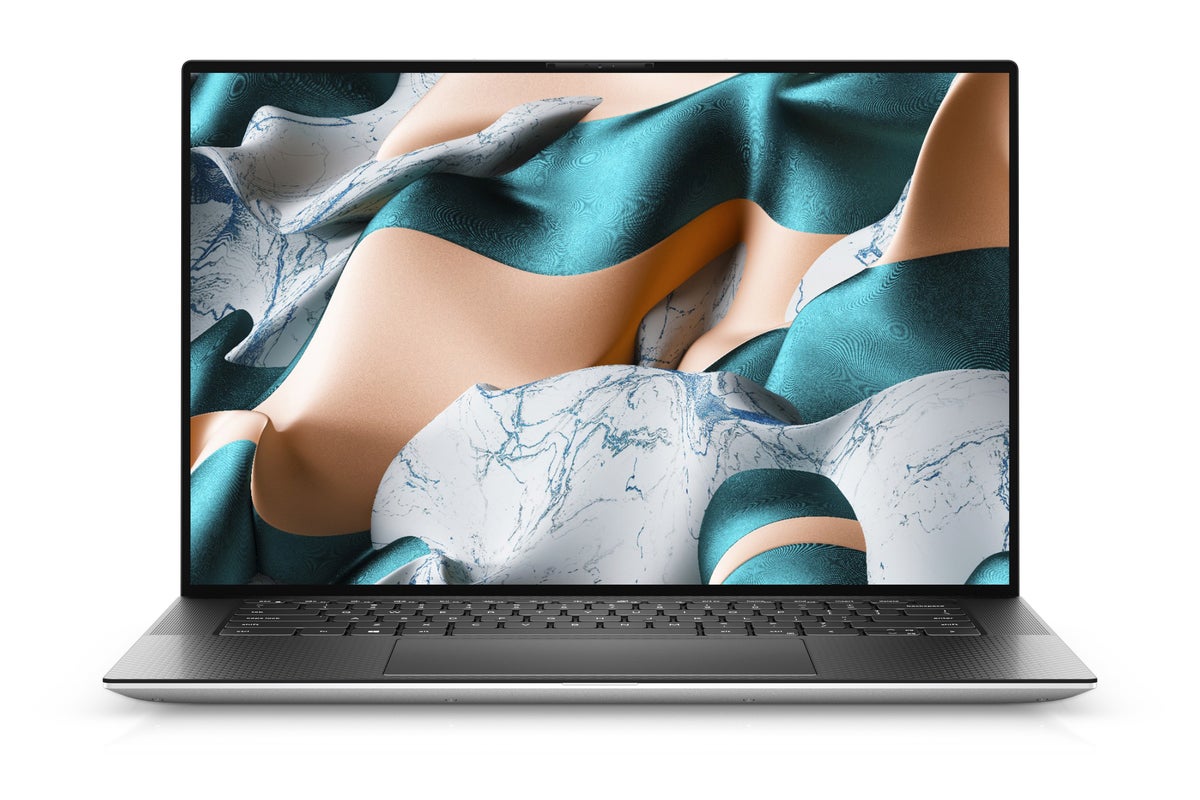 XPS 15 9500 Specs
The Dell XPS 15 9500 wouldn't be a Dell XPS 15 without top-shelf parts. As you can see from the spec list that follows, it's first-class all the way. Note that the eval unit we tested has a Core i7 CPU, which we think is a better choice overall than the 9th-gen Core i9 in the Dell XPS 15 7590 we tested last fall. The Core i9 chip seemed to push that laptop's thermals over the edge.
CPU: Intel 10th-gen 8-core Core i7-10875H
GPU: GeForce GTX 1650 Ti
RAM: 16GB DDR4/3200 in dual-channel mode and SO-DIMM slots.
Display: 4K UHD+ 3840 x 2400 Sharp IPS panel with touch
Storage: 512GB SK Hynix PC611 NVMe SSD
Networking: Killer WiFi 6, Bluetooth 5
Dimensions: 13.6 x 9 x 0.7 inches
Weight: 4.5 pounds, plus 1.5 pounds for the 130-watt power brick
Battery: Rated at 85 Watt-hours
Ports: For ports, pictures tell the story best. On the left side of the laptop you get a wedge-shaped lock port and two Thunderbolt 3 ports.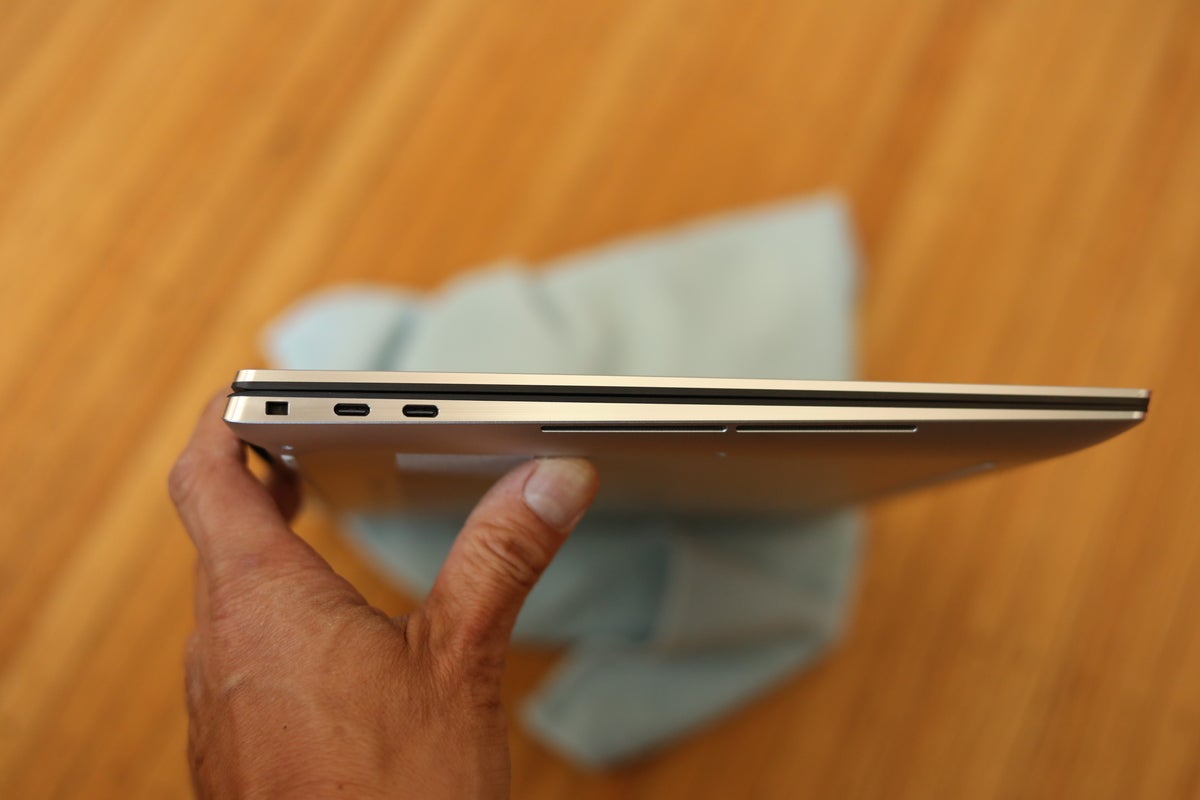 The right side of the XPS 15 9500 gives you a SuperSpeed USB 10Gbps Type-C port that can hit 10Gbps transfers and support USB Power Delivery charging and DisplayPort (with and adapter). You also get a UHS-III SD card reader and an analog audio jack.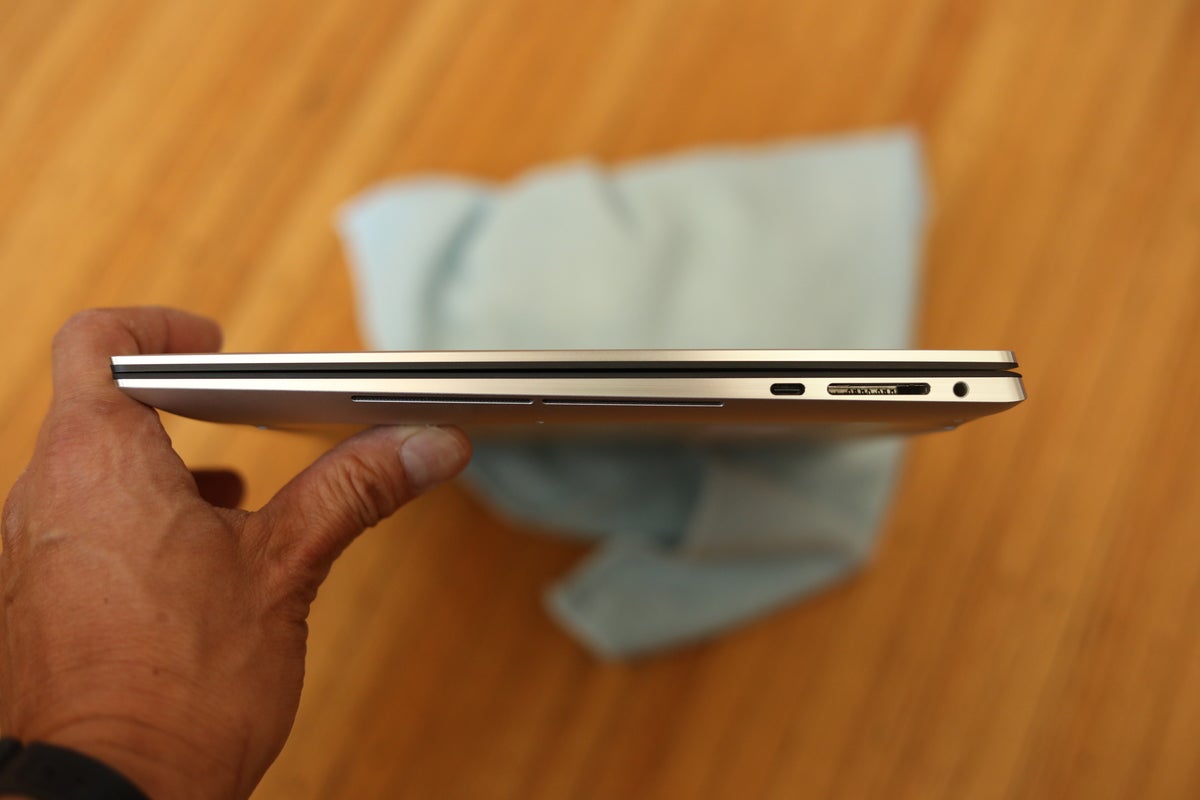 Sorry, USB-A
Yes, there's no square USB-A port on the XPS 15 9500, which is sure to chap some hides. We've complained about this since Dell jettisoned the USB-A on the XPS 13, but to no avail. Dell's official reason has been to reduce the thickness of the laptop without adding drop-down jaws or port bulges. The unofficial reason, we suspect, is that if Apple gets away with it, why not Dell? When we mean "get away with it" we mean, people still buy Apple and Dell laptops by the truckloads, so maybe it's just us.
Beyond the loss of the USB-A though, is an overall trend to lose concurrent port use. The previous XPS 15 7590 featured two USB-A, one Thunderbolt 3, a full-size HDMI port, headset jack, SD Card slot, lock port and dedicated charging port. That meant you could charge the older model with an HDMI monitor plugged in as well as a USB keyboard and USB mouse. With the XPS 15 9500, one USB-C port will always be occupied by the charger. A monitor (with adapter) would take another port. Suddenly you're down to a single USB-C port for everything else.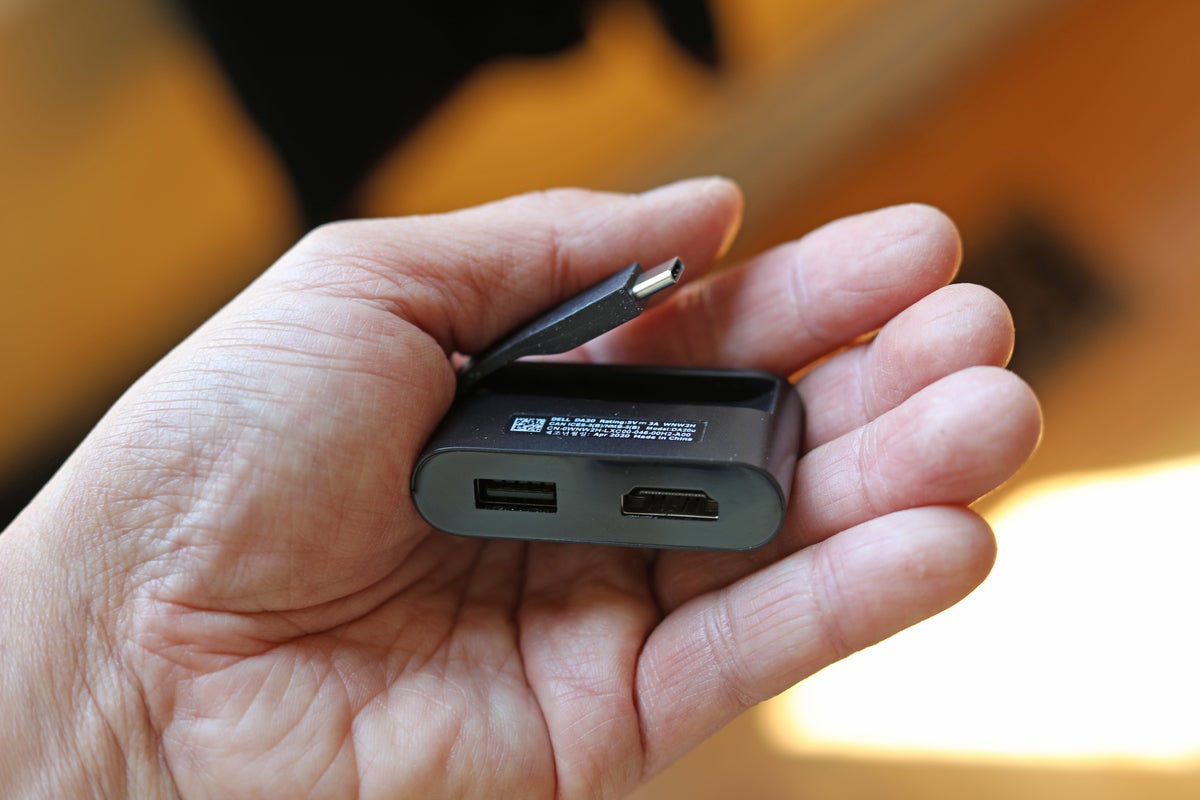 Fortunately, Dell mitigates this a little by including a USB-C dongle with a USB-A and HDMI adapter in the box. Dongles are yet another accessory to juggle, but a free dongle is better than none at all. You can guess what Apple does.

Dell XPS 15 Card Reader Performance
Because the XPS 15 9500 is aimed at content creators, Dell spends valuable real estate to integrate an SD card reader into the laptop. Dell specs it as a UHS-III-capable slot, which means in theory, it can hit 600MBps if you have a fast-enough card. Actual UHS-III SD cards are still nearly impossible to find, though, so for our test we used a 128GB SanDisk Extreme Pro card rated for 300MBps reads and 260MBps writes. We ran CrystalDiskMark 7.0's standard test on the XPS 15 9500 and compared it to the results of a SanDisk Extreme Pro UHS-II USB reader.
The XPS 15 9500's SD card slot outperformed a fast USB reader by 21 percent in reads and 18 percent in write speeds. If you're copying over 100GB of video files you just shot, that's a significant difference.
Dell XPS 15 Webcam
Webcams are no longer the throwaway feature they were last year. In the XPS 15 9500, it's a 720p-resolution unit (as are the vast majority) that's integrated into the top bezel. The module also supports infrared and works with Windows 10's biometric Windows Hello feature. If you don't want to use your face to login, there's also a fingerprint reader built into the power button.
Overall, the webcam delivered image quality similar to that of most current laptops in normal lighting. Unless you're doing a video conference in a cave with Colonel Kurtz, it's just fine.
Speakers
Laptop speakers generally run the gamut from medicore to worse. Sometimes, like in the case of the MSI GS66 Stealth, you almost wonder if there are speakers inside–or the world's smallest Kazoo band.
With the XPS 15 9500, Dell actually integrates four speakers: two side-firing in the base, and two speakers that fire up through 4,532 holes drilled through the keyboard deck. This gives the XPS 15 9500 legitimately the best audio we've heard in a small laptop in a while. No, this won't match the annoying beat coming from the back of a lowered Honda Civic, but it gets decently loud with a good balance of highs, mids and lows. It could use a touch more bass, but we suspect that's asking too much of a laptop this thin. As it is, the laptop is loud enough that you can feel the vibrations through the keyboard deck on your palms if it's turned up to moderately high volume. (We're not sure what could be done except add vibration insulation, which would make the laptop thicker and heavier.)
The speakers are branded Waves Nx. Dell says they were tuned by Grammy-award winning producer Jack Joseph Puig to improve its immersive sound. Whether that's just marketing fluff we can't say, but it does indeed sound very immersive, thanks to the combination of the sound coming at you from the top and the sound reflecting off a surface.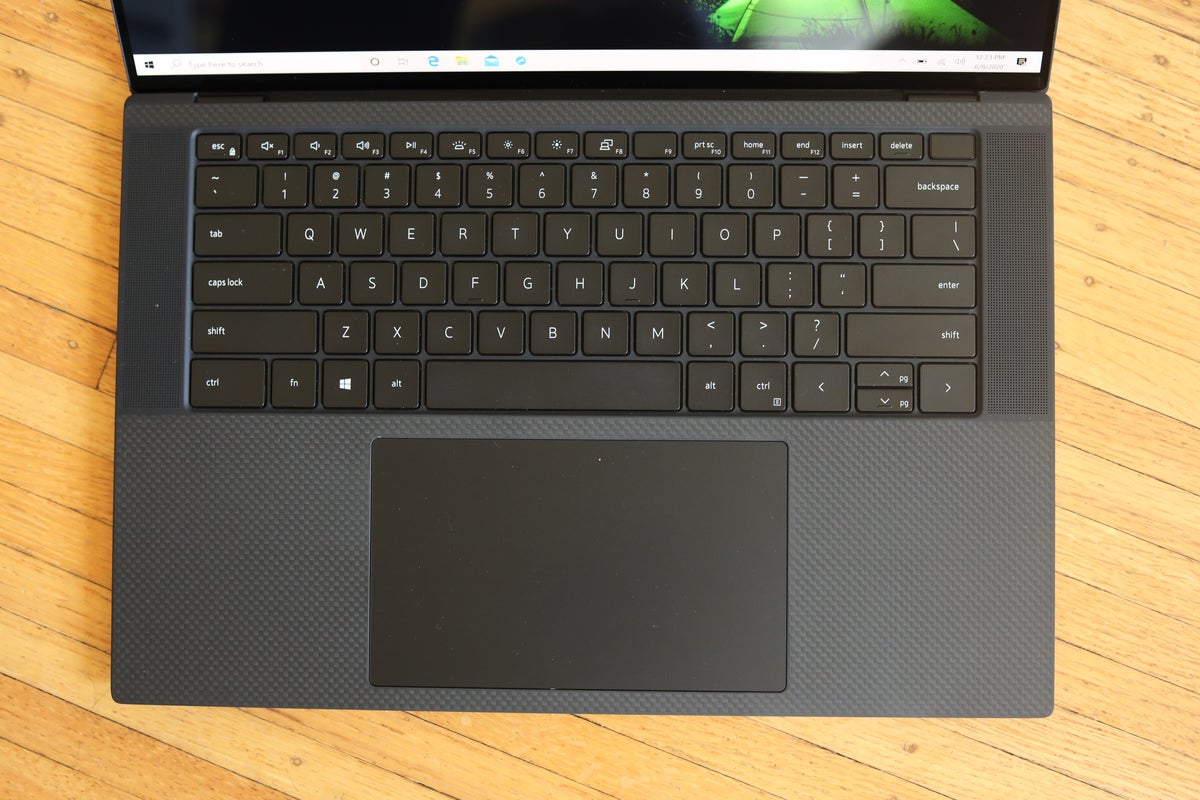 Keyboard and Trackpad
The parts of the laptop you touch most are the keyboard and trackpad. On the XPS 15 9500, you thankfully get a standard butterfly switch instead of the company's MagLev keyboard. That means good travel and fairly stable keys when depressed.
Much like the MacBook Pro, the trackpad is now huge. It supports Microsoft's Precision drivers for Windows 10's gestures and is fairly smooth, though not as buttered-glass smooth as MSI's GS66 Stealth. With its size, we were concerned about sending the cursor flying with our fat palms. But even when trying, we could not get our palms to move the cursor.
There were reported issues with loose and wobbling trackpads on early XPS 15 9500 units. Dell reportedly has said it identified the issue, which has been corrected on newer units. Any laptops already in the field will be fixed.
So is a large trackpad better? That's hard to say. A larger trackpad means you don't need your finger to be as precise or as focused in its movements as it would have to be on a smaller surface area. Your fingers also physically have to move farther. Overall, Dell has done its homework on tuning the trackpad.
The trackpad is still a physical clickpad as well, with a hinge design placing the pivot point at the top near the keyboard. That means it'll get progressively harder to click the trackpad as you move farther up the surface. In comparison, Apple's MacBook Pro series doesn't physically move, instead simulating clicks with haptic feedback.
Which is better? Apple's system will bug those who want their trackpads to actually move. Because the clicks are fake, however, there's no need to increase pressure near the top of the keyboard. To each their own.
Display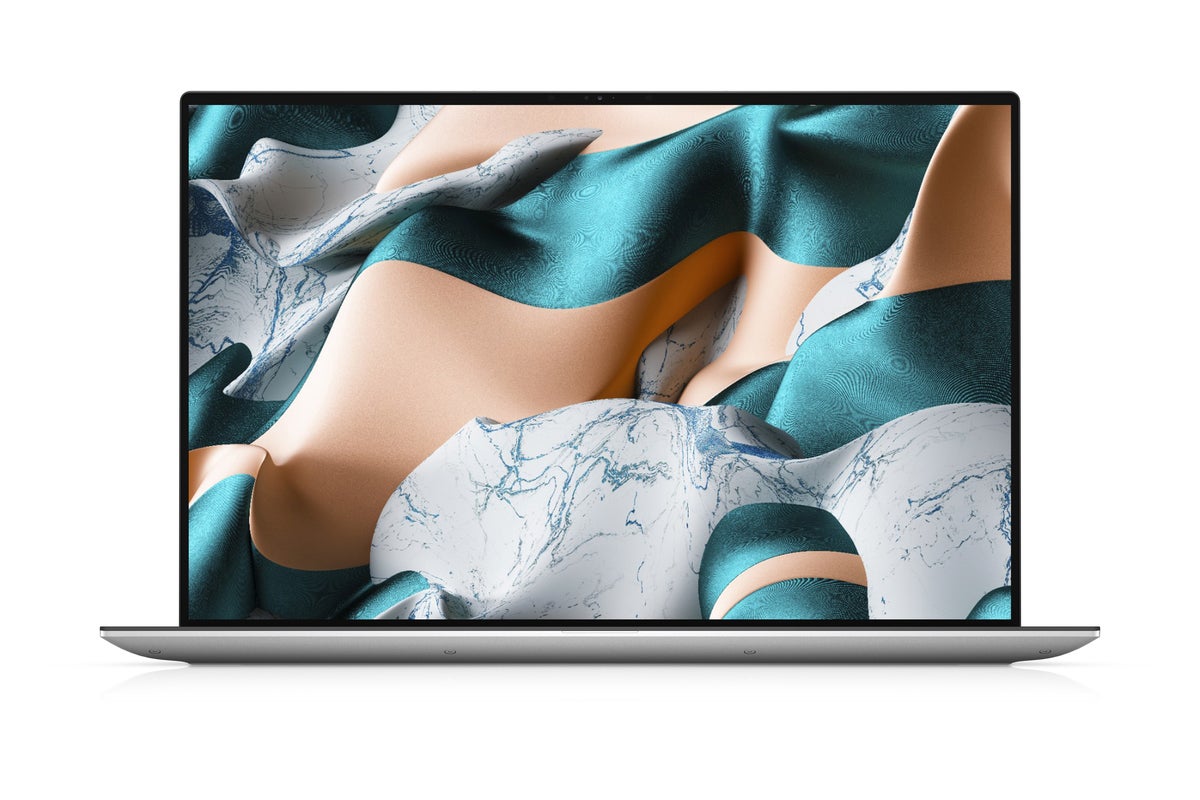 Before we go on to performance we do want to call out the display, which has more acronyms than a Ph.D. student who never left the university. The panel is UHD 4K+ with a 16:10 aspect ratio. It's not an off-the-shelf design either: While a typical 4K panel has a resolution of 3840×2160, the XPS 15 9500 features a native resolution of 3840×2400. The panel will hit 100 percent of Adobe RGB and 94 percent of DCI P3 color gamut. It meets VESA's Display HDR 400 spec, and it's also Dolby Vision-certified.
The screen is touch-enabled and sheathed in Gorilla Glass for protection. It has an anti-reflective coating to minimize glare, while still sporting that glossy look and feel people want.
Finally, the screen features Eyesafe technology, which reduces blue light emissions that keep you up at night—while still looking natural (more primitive blue-light reduction techniques look about as subtle as a fake sunset scene from a 1980s TV show). The screen is very bright and rated at 500 nits, which is about what we measured as well.
Compared to a standard laptop's screen, the XPS 15 9500 is a stunning difference. We also stood it up against the Gigabyte Aero 17 which similarly features an HDR400-rated 4K panel, and the MSI Creator 17 with an HDR1000 miniLED panel. Viewing various HDR1000 and HDR400 videos as well as still images, our eyes give the MSI Creator 17 the edge. There's a zing and contrast the HDR1000 miniLED panel produces that's undeniable. We'd say the XPS 15 9500 is very close to the Gigabyte Aero 17's display, but we give the latter a very slight edge. All three are spectacular, though, so you basically can't go wrong.
One thing we should mention: When you unplug the XPS 15 9500 from the power brick, the screen will go black for a few seconds before coming back on. The reason is harmless but still likely to annoy people: Anytime you switch a Windows laptop from displaying HDR content, it will automatically switch back to standard color gamuts when on battery to reduce power consumption. You can turn off this behavior by switching off HDR completely, or unchecking the Don't allow HDR games and apps on battery option from the display properties.
XPS 15 9500 performance tests
We'll kick off our performance testing of the XPS 15 9500 with Cinebench R20—which is an updated, harsher version of the older Cinebench R15 we've typically used. Both are valid measurements of CPU multi-core performance at 3D modelling (one lighter-duty and one heavier-duty), and they give you a general idea of how the laptop could perform in other tasks that are heavily multi-threaded.
For pure CPU tasks, the Core i7-10875H in the XPS 15 9500 represents well. It's right there with Gigabyte's much larger Aero 17, which uses the same CPU, and is awfully close to the 8-core Core i9-10980HK in the MSI GS66.
As this generation of laptop is highly dependent on performance settings, we tested the XPS 15 9500 in both its default and its "Ultra Performance" states.
Overall, this is a great showing for a 4.5-pound, 15-inch laptop, as it can hang with more gaming-focused and better-cooled laptops in CPU operations. The only fly in the ointment is the Asus ROG Zephyrus G14 with its Ryzen 9 4900HS, which is an even smaller and lighter laptop that generally whups laptops using Intel.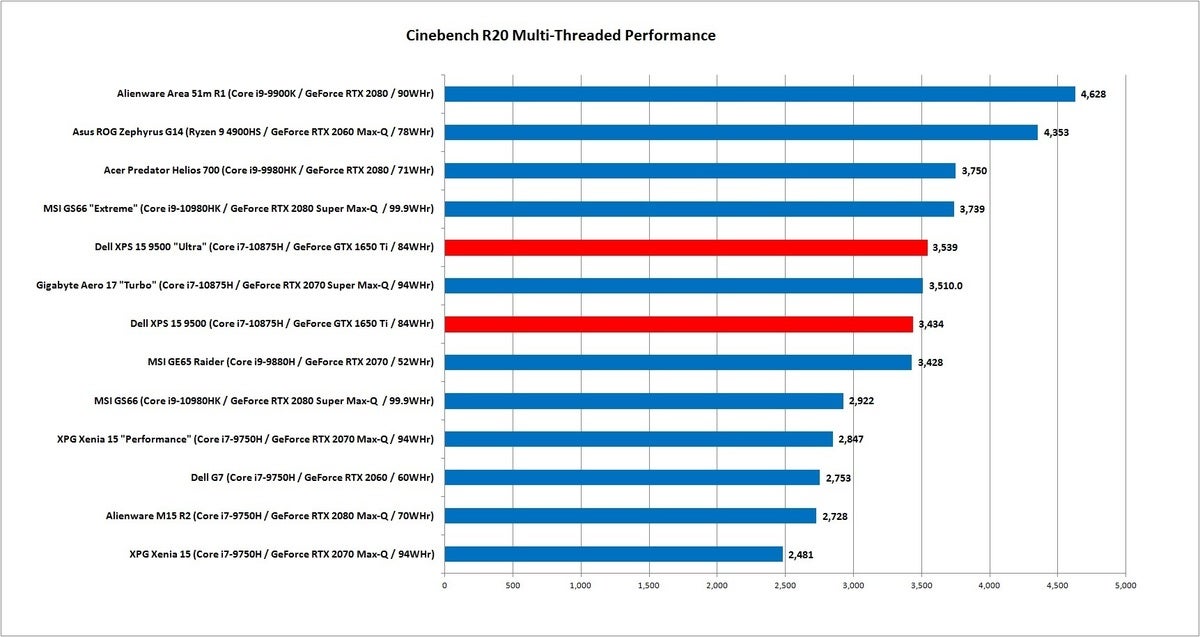 Even though Cinebench R20 takes three times as long as Cinebench R15 to run, it's still a fairly short load. Modern laptops slowly taper off performance as they build up heat over longer loads. To test that impact, we use an older version of the free HandBrake utility to convert a 1080p file using the Android Tablet preset. Although even this isn't the stress test it was a few years ago, it still takes an 8-core laptop 20 minutes or more to run it.
Given that longer workload, you can see the thermal limitations of a thinner laptop in the results. The larger and heavier Aero 17, with the same CPU as the Dell XPS 15 9500, opens up a 15-percent lead over the Dell. To be fair, the Aero 17 when set to its own "Turbo" mode is quick to trigger its fans and makes quite a racket. You might think the 8-core XPS 15's 6-core-level result is terrible, but this is the reality of a laptop this small running an 8-core CPU. On long-running CPU loads, it's going to give up ground.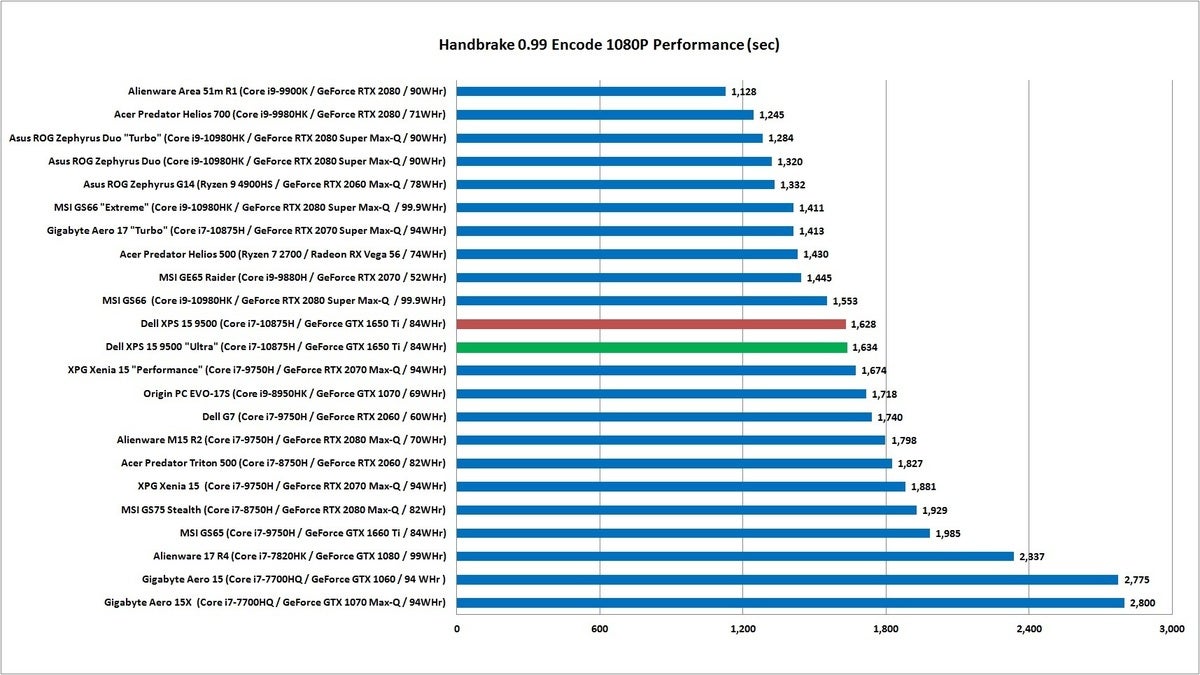 For gaming, we'll throw in the results from running Rise of the Tomb Raider at 1920×1080 resolution, set to Very High. This older test is run in DX11 mode without exclusive full-screen mode selected.
First you probably noticed that Dell's "Ultra Performance" setting didn't make much of a difference in CPU tests. But in this GPU load, we see a big difference.
Second: The result should be no surprise. Every laptop in this chart except the XPS 15 9500 are primarily gaming laptops, with big, hairy GPUs. They also tend to make more noise and generally have screens better for gaming, but poor for content creation.
Why are we even comparing the XPS 15 9500 to gaming laptops? Because people often do, just as they would do with the MacBook Pro 16. If that MacBook Pro 16 were in this list, it would be at the bottom or near the bottom.
Of course, the problem for the 4.5-pound XPS 15 9500 and the 4.3-pound MacBook Pro 16 is that gaming laptops—while certainly far thicker and larger—aren't too far off in weight. The MSI GS66 Stealth weighs the same as the XPS 15 9500 despite its GeForce RTX 2080 Super Max-Q. The XPG Xenia 15 is just over 4 pounds with a GeForce RTX 2070 Max-Q. So yes, it's fair to show the Dell here.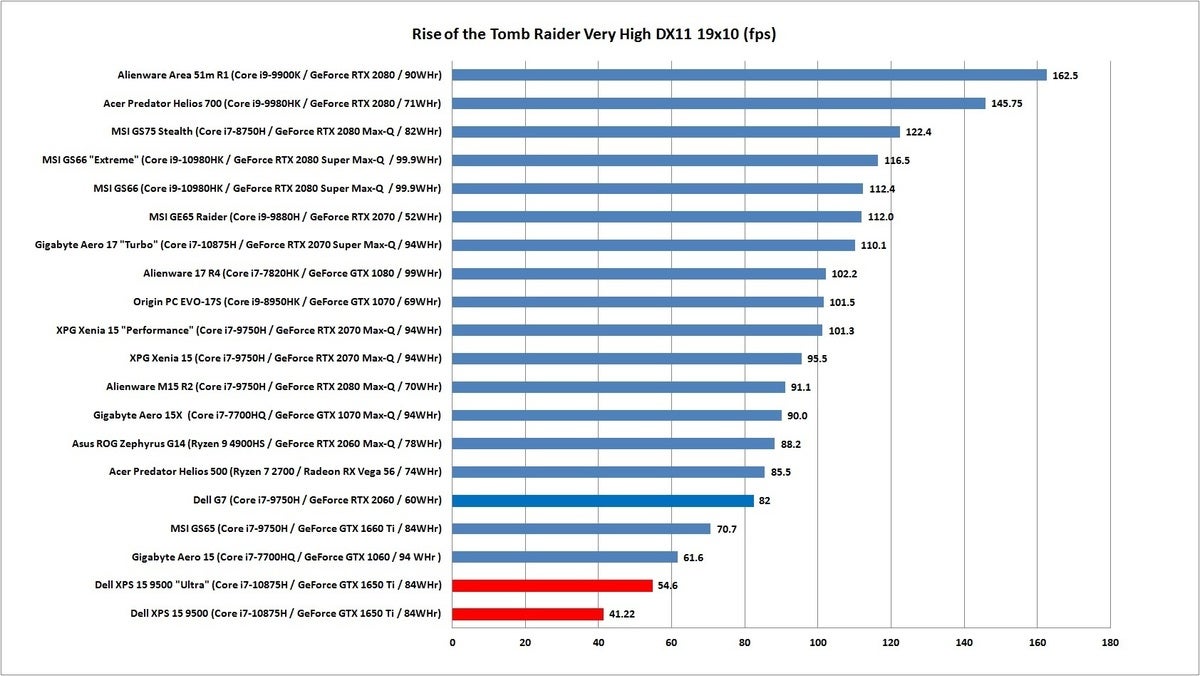 XPS 15 9500 battery life
The XPS 15 9500 gets its revenge in perhaps the most critical test of all for a laptop: battery life. For that we loop a 4K video at a fairly bright 250 to 260 nits, in airplane mode and with earbuds in place.
The XPS 15 9500 simply crushes those gaming laptops, with about 10.5 hours of video playback. Incredibly, that's with a 4K panel—which typically eats a third of run time—and an 84-watt-hour battery. Many of the gaming laptops you see here are packing much bigger gas tanks. The MSI GS66 Stealth runs the maximum allowed on an airplane: 99.9 Watt-hours. So yes, the XPS 15 9500 gets the last laugh.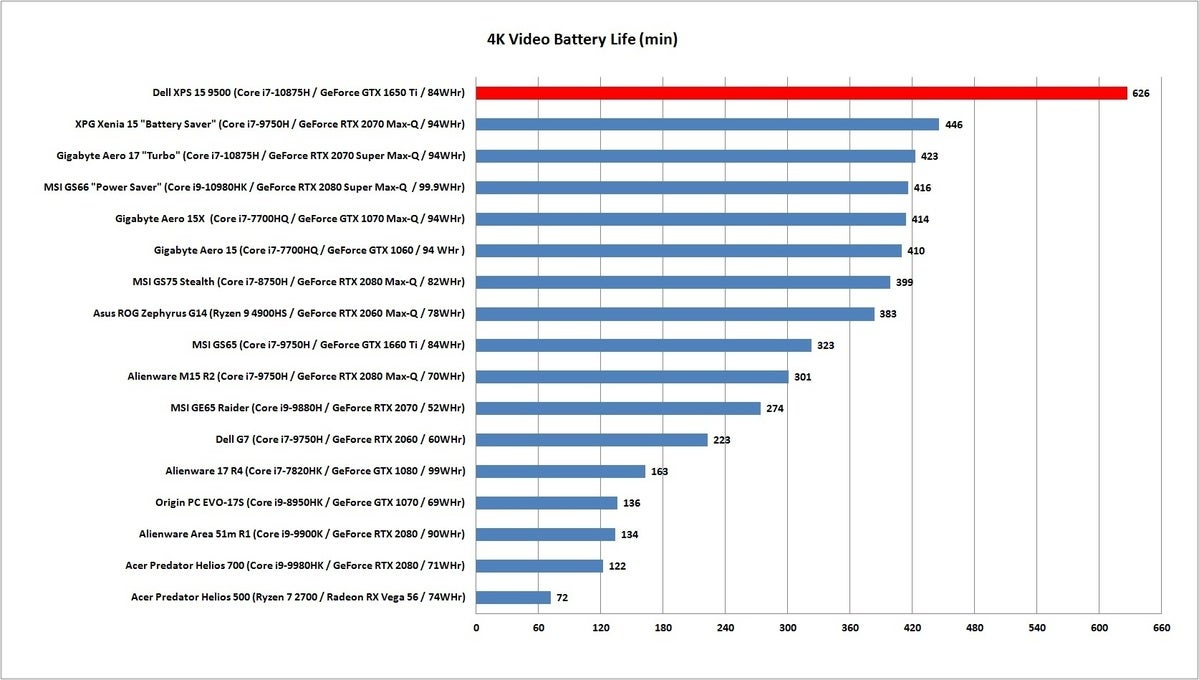 Should I dump my old XPS 15 for a new one?
We've reviewed enough XPS 15s over the years to give you some context for how much of an improvement the new 9500 delivers over prior generations. The results aren't as obvious as you'd think.
First up is the older Cinebench R15 CPU test. News flash: An 8-core XPS 15 (like last year's 7590) is faster than a 6-core XPS 15 (including this year's 9500), which is faster than all of those old 4-core XPS 15s.
Although last year's XPS 15 7590 is actually faster, that's because it features a Core i9 CPU. Note that this year's model seems to give you about the same performance from a Core i7.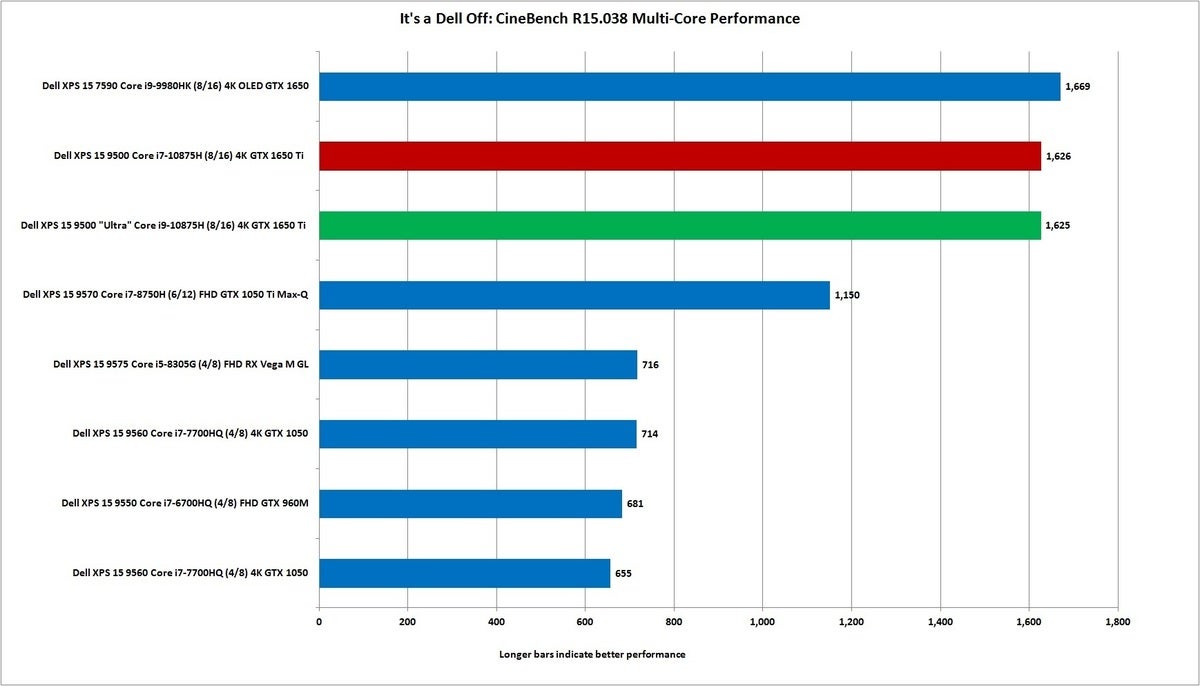 While the XPS 15 9500 gave up ground in the longer HandBrake encode test to larger gaming laptops, the performance against its own cousins is actually quite good. Here you can see that it's actually as fast as last year's Core i9-based 7590.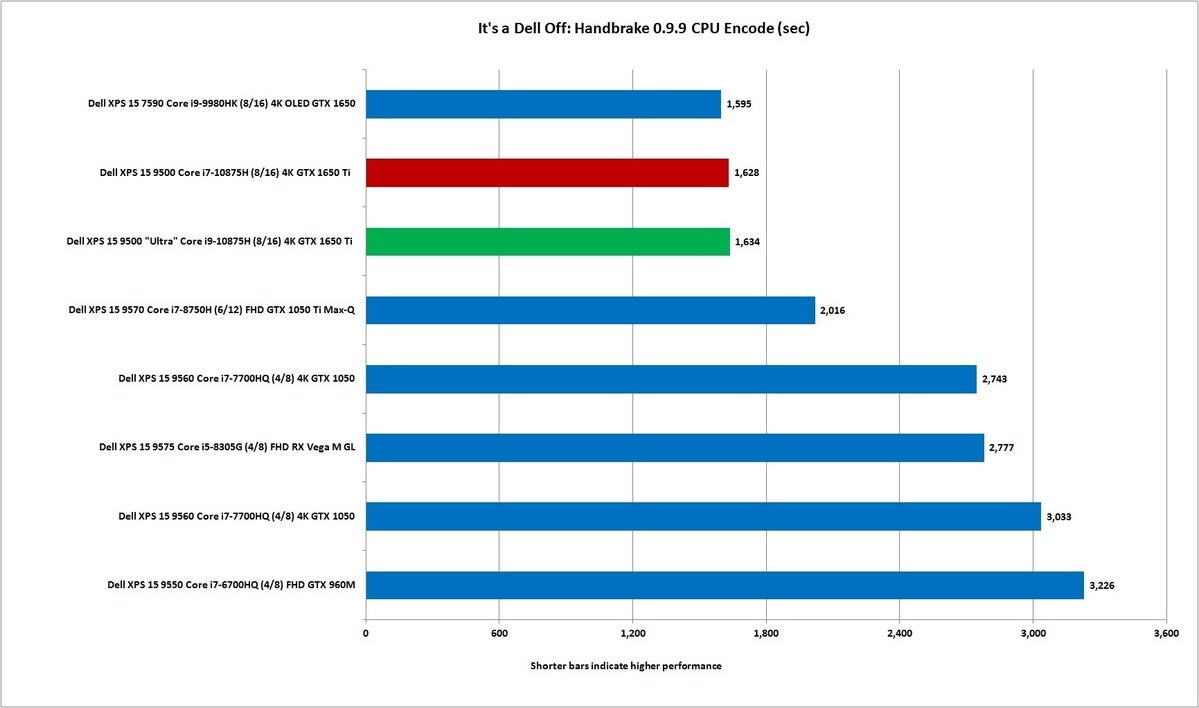 For graphics, the picture gets a little more muddled. The previous XPS 15 7590 eats the new XPS 15's lunch, and the two-year old XPS 15 9570 is tied with the new XPS 15 9500 even when set to Ultra Performance. This particular test result focuses solely on GPU performance and excludes CPU performance from its score, so we're a bit surprised by the result here.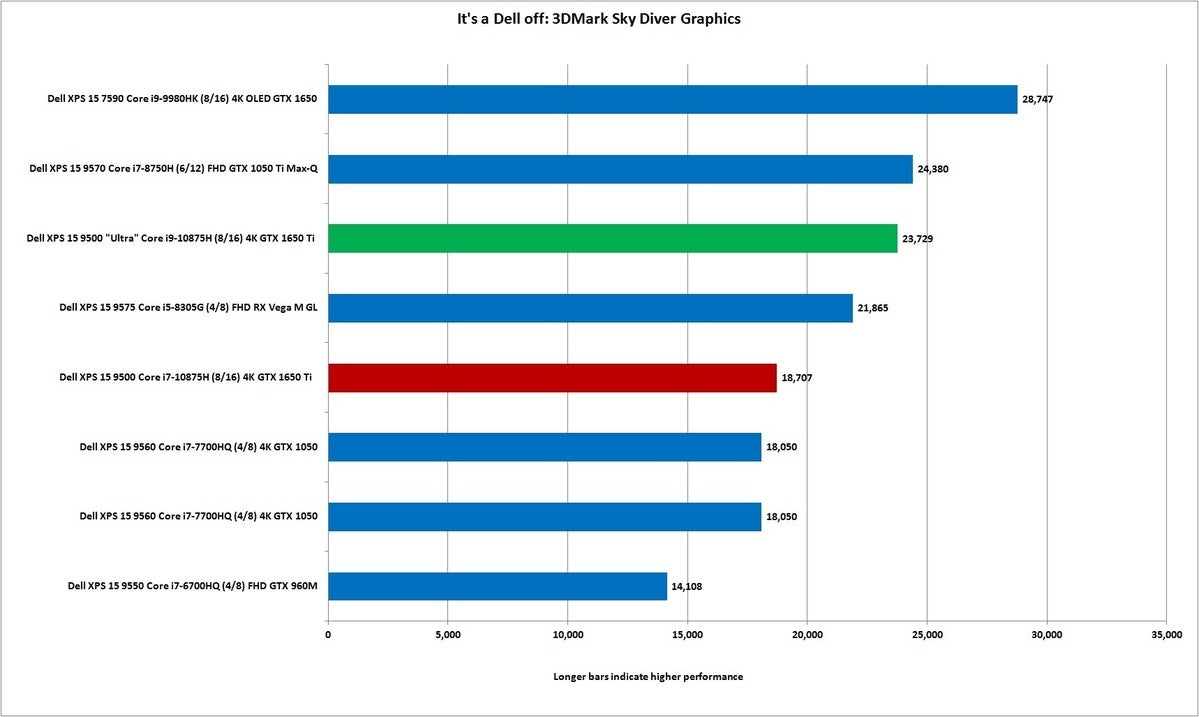 We'll end with a video rundown test. As we said earlier, 4K panels eat power. You can you see it here, where the XPS 15 9500 with its 4K IPS panel, and last year's XPS 15 7590 with its 4K OLED panel, easily lose three hours of battery life when compared to the XPS 15 9570 with its FHD screen. Even so, we've come a long way from the fairly miserable five-hour battery life of an XPS 15 9560 with its 4K panel. So yes, the new XPS 15 9500 is extremely good for a laptop with a 4K panel.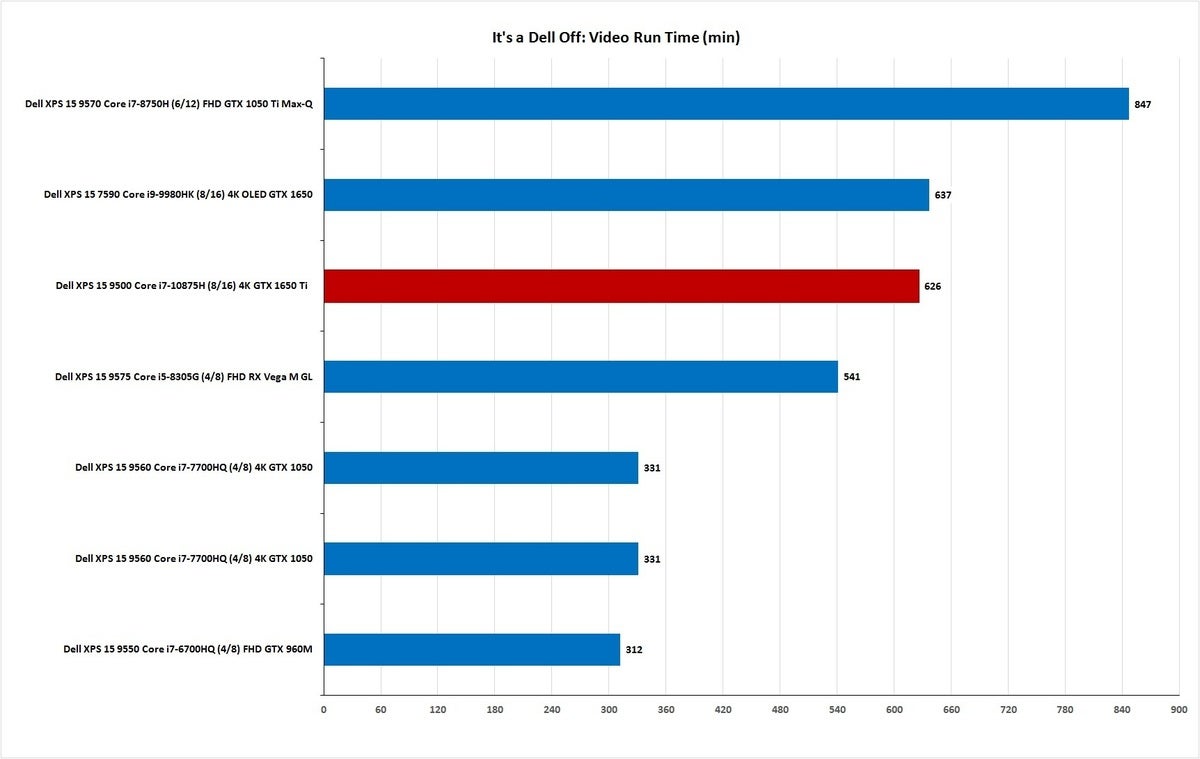 Dell XPS 15: Should you buy?
There's a lot to unpack with the XPS 15 9500. CPU performance is very good—it doesn't significantly move the needle over the previous model, but you're getting more bang for buck from the current Core i7 over the earlier, pricier Core i9 configuration.
On gaming performance, it looks like the XPS 15 9500 actually takes a step back for unexplained reasons. However, disappointing gaming doesn't mean bad encoding, so video editors can rest easy. Gamers: Buy an Alienware.
The primary focus of this generation of XPS 15 is the outside, an upgrade that was long overdue. The keyboard and trackpad are quite good, the sound is probably the best on a PC laptop this size, and the screen is gorgeous with its no-bezel look. It's slim and relatively light even with its 130-watt USB-C power brick. It is, basically, probably the perfect laptop for content creators on the move.
So yes, we're sticking with our original clickbait line, that the MacBook Pro 16 killer has finally arrived. We just didn't expect Apple would help push its own laptop overboard along with Intel.
Correction: A previous version of this story incorrectly stated what award music producer Jack Joseph Puig has won. He is a multi-Grammy Award winner. PCWorld regrets the error.
Best Prices Today: Dell XPS 15 9500