AMD released Radeon Software Adrenalin Edition 18.3.1 in early March with support for Final Fantasy XV Windows Edition and Warhammer: Vermintide 2, but the drivers made an even bigger splash thanks to newfound optimizations for several top e-sports games.
Radeon Software Adrenalin Edition 18.3.1 marks the debut of Project ReSX ("Radeon eSports Experience"). "The goal of this project was to optimize the performance of some of the most popular PC games in the world on Radeon graphics cards," AMD says. The company worked with developers for in-game optimizations—uplifting Fortnite performance most recently—and tweaked its drivers to support the initiative.
The result? Faster, smoother gameplay, AMD claims.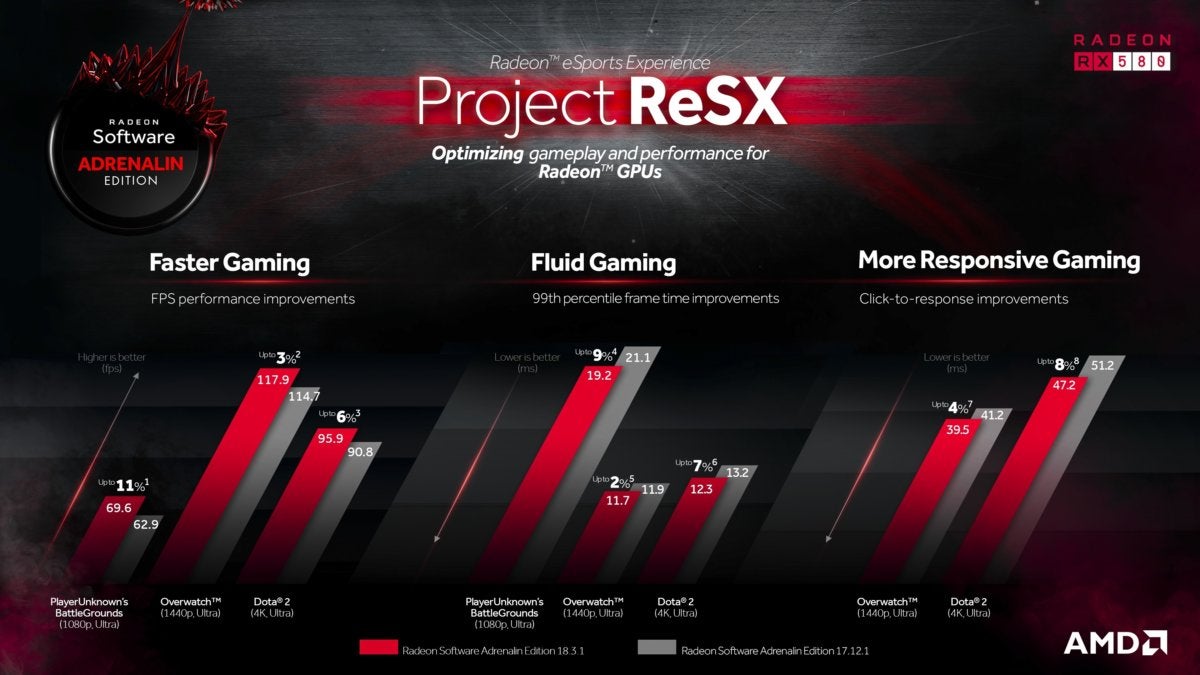 Mentioned in this article
Overwatch
Price When Reviewed:
$39.99
Compared to the original Radeon Software Adrenalin Edition release, average frame rates increased from three percent in Overwatch at 1440p resolution to 11 percent in PlayerUnknown's Battlegrounds at 1080p, using the 18.3.1 drivers released on March 6—but raw speed is only part of the improvements.
Looking at a game's 99th percentile frames gives you a better idea of how smooth a game feels. This metric examines how quickly the slowest 1 percent of frames are rendered. The new Radeon drivers improve performance here too, with Dota 2's 99th percentile score improving up to 7 percent per AMD, and Battlegrounds speeding up by 9 percent. Finally, Project ReSX also reduced the click-to-response times in Dota 2 and Overwatch, minimizing the lag between the time you press a button and the game responds.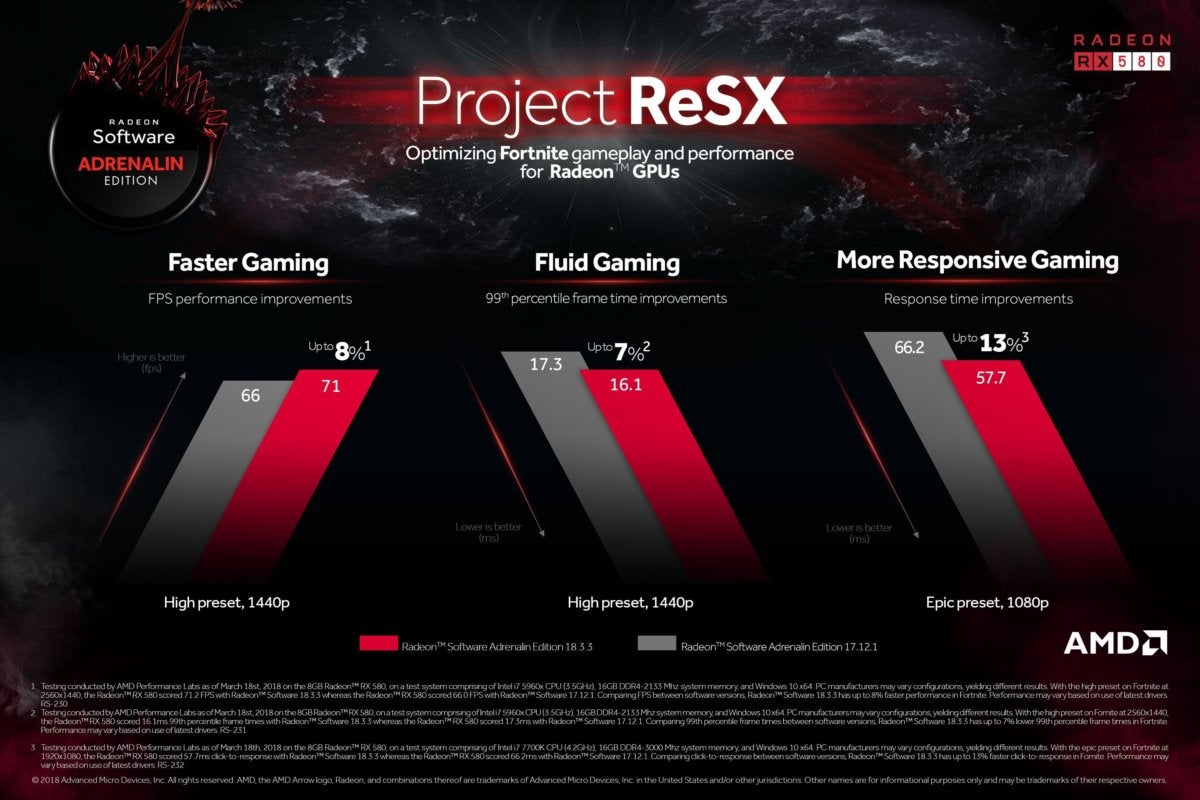 On March 20, AMD revealed Fortnite optimizations for Project ReSX. You can see the performance enhancements in the image above—AMD's claiming solid improvements in fluidity, responsiveness, and raw frame rate.
You can download the latest drivers on AMD's driver page, or by using the update function in Radeon Software.
Mentioned in this article
Playerunknown's Battlegrounds
Price When Reviewed:
$29.99
These are welcome improvements indeed for Radeon owners. Every millisecond counts in fast-paced e-sports games. It's also encouraging to see AMD building on top of the success of Radeon Software Adrenalin Edition by bolstering performance in games played by millions of people around the world. The initial performance gains were limited to Battlegrounds, Dota 2, and Overwatch, though AMD said "we will continue to push for similar improvements across the newest and most popular PC games," then followed through on the promise by enhancing Fortnite later in March.
Today's sky-high graphics card prices make it difficult for gamers to get their hands on new hardware, but Dota 2 and Overwatch should run fine even on a Radeon RX 550, which you can find for $130 on Newegg. If you're feeling pinched by ludicrous GPU prices, check out our guide on how to keep gaming when graphics cards cost so much.
Editor's note: This article originally published on March 6, 2018, but was updated March 20 to include Fortnite's optimizations.