If you have an AMD Radeon FreeSync-compatible Radeon graphics card or juiced-up processors like the new Ryzen 3 and 5 APUs, then you should do yourself a favor and get a FreeSync monitor to go with them for a buttery-smooth gaming experience. Today, Newegg's selling an LG 27-inch 1080p FreeSync display for a great price. The LG 27MP59G is available for $140 with the discount code EMCSPSPW3.
Both Amazon and Newegg just dropped the price of this monitor to $160 from $176, which is already an all-time low. But use the above code at Newegg and you'll get another $20 off, dropping it to unheard-of levels at $140 total.
LG's monitor packs solid features for a display in this price range, with 1080p resolution, a refresh rate of 75Hz, and a one millisecond response time–that's exceptionally fast for an IPS monitor. It's large, too. But FreeSync support steals the spotlight here. AMD's technology helpss compatible graphics cards sync their refresh rate with the monitor to reduce screen tearing and frame-rate stuttering.
Pairs well with AMD's new Ryzen APUs
AMD Ryzen 3 2200G
Price When Reviewed:
$99.00
One caveat though. According to AMD's database, this monitor's FreeSync support range is 40 to 60Hz. In other words, if your frame rates surpass 60 frames per second, or dip under 40fps, you'll lose the benefits of FreeSync. Still, 40 to 60Hz is a solid range that should pair perfectly with mainstream Radeon cards or AMD's new duo of Radeon-bolstered APUs. Even better, you can use FreeSync on this monitor over DisplayPort or HDMI.
Other onboard features include a black stabilizer to make darker scenes brighter, and built-in motion blur reduction at 1ms. There's also a game mode to improve performance for certain types of games including first-person shooters and real-time strategy.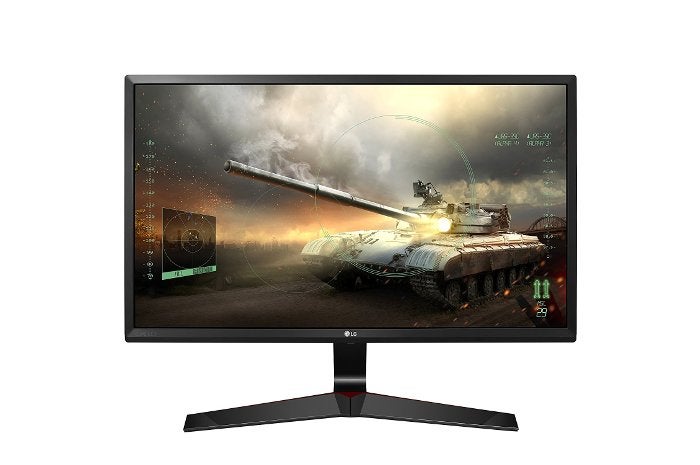 [Today's deal:LG 27MP59G for $140 at Newegg with discount code EMCSPSPW3.]