At a Glance
Expert's Rating
Pros
Timeline can be a genuinely useful organizational tool
Though its market share remains small, Edge continues to improve
Dozens of minor features, many worth taking advantage of
Cons
Easily the least important feature update in Windows 10's history
Near Share is too slow to be truly useful
A near lack of a formal launch (or name) signals lackluster expectations
Our Verdict
Microsoft's Windows 10 Spring Creators Update lacks marquee appeal, though features like Timeline and Near Share are useful additions to Microsoft's flagship operating system.
Microsoft's Windows 10 April 2018 Update barely received a formal title, which understandably makes you wonder how much importance the company ascribed to it. But as our review shows, what Microsoft internally referred to as the "Redstone 4" release conceals numerous changes and improvements, with two—Timeline and Nearby Sharing—sharing the marquee.
Really, though, the Windows 10 April 2018 Update (Version 1803) is an ensemble show, with a supporting cast of more minor enhancements. There's Quiet Hours, now called Focus Assist; improved data usage management; and a ton of updates in Edge, some of which you've seen before within other browsers. Underneath it all, Microsoft may be building something new, as the Edge engine includes the underpinnings for Progressive Web Apps, a fresh way of supplying apps to the Microsoft Store.
Unlike previous releases, Microsoft hasn't really established a cohesive narrative around the April 2018 Update, though the company has argued that it will save you time. When will you get the April 2018 Update? As early as today.
A peppier look and feel: Fluent Design
Your first impressions of the new version of Windows 10 will begin on the desktop, which looks nearly identical to earlier versions. Dive deeper, though, and more subtle changes reveal themselves. Expect to see more of Microsoft's Fluent Design throughout Windows, with its semi-transparent "acrylic" UI letting the colors of background apps bleed through like frosted glass.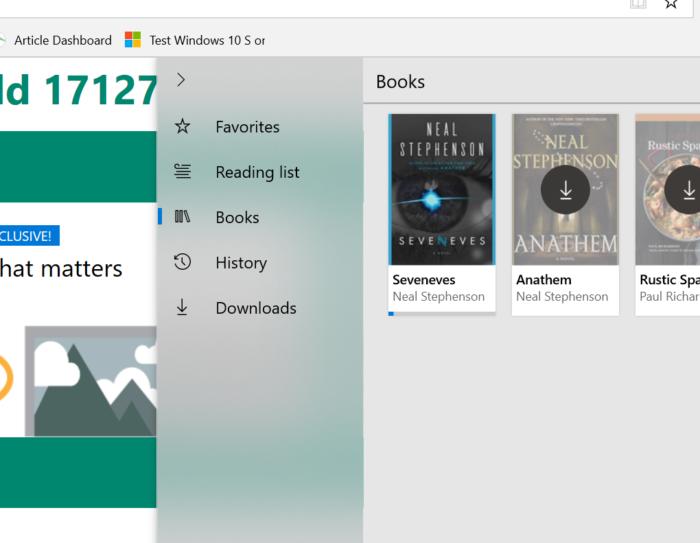 Under Settings > Ease of Access > Display, you'll find a wealth of new settings to manage this experience. Do you want to add visible scrollbars within UWP apps? (I do.) Turn off the background image? (Never!) You can also adjust how long notifications remain on your screen, and even extinguish Fluent Design's transparency effects.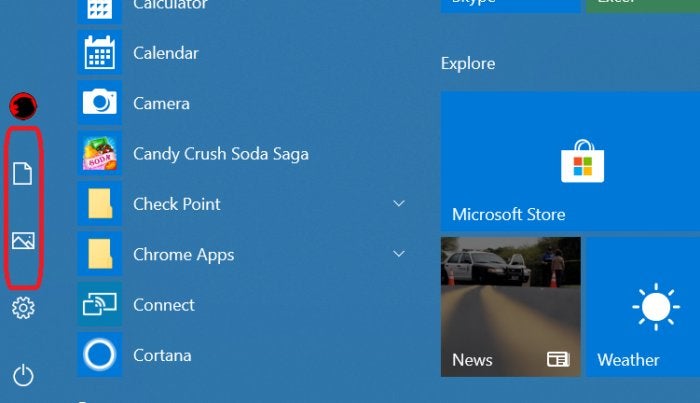 Functionally, there are a few small changes. Microsoft has now added shortcut icons for Documents and Pictures above the Start Menu icon in the lower left. Notifications once assigned to Cortana have now migrated to the Action Center on the lower right. The Windows Defender Security Center (Settings > Update & Security) is now just "Windows Security." And if you haven't turned on Windows Hello, you may see a prompt on the lock screen to set it up.
Timeline: A solid feature with future potential
One of Windows 10's strengths is supplying innovative ways to help users get things done. One of its weaknesses is how it peers over your shoulder to accomplish this. Timeline, arguably the marquee feature of the Windows 10 April 2018 Update, incorporates elements of both.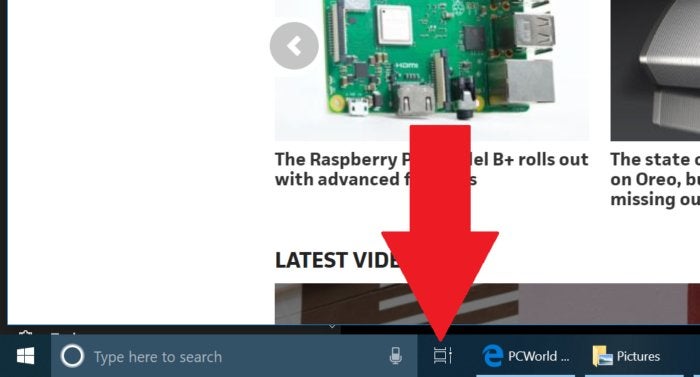 As you work, Timeline optionally records the pages you visited using Edge (but not Chrome, or any other browser) and keeps track of what documents you touch within Microsoft Office. (Timeline is on by default.) If you click the taskbar button once reserved for Task View, Timeline opens up to reveal your recent computing activity, going back over the past days and weeks.
[ Further reading: Windows 10 Timeline: How to use use Microsoft's new organizational tool ]
For Microsoft, Timeline is part of the "pick up where you left off" experience, tracking your work from your smartphone and from desktop PC to desktop PC. Is it useful to know what you were working on a week ago? Possibly. The selling point of Timeline, though, is its ability to group documents and webpages together in collections called Activities. If you do see value in knowing which budget spreadsheet you were working on a week ago, you'll find even more in being able to quickly re-discover and launch any related Web pages and Powerpoint presentations that you had open at the time.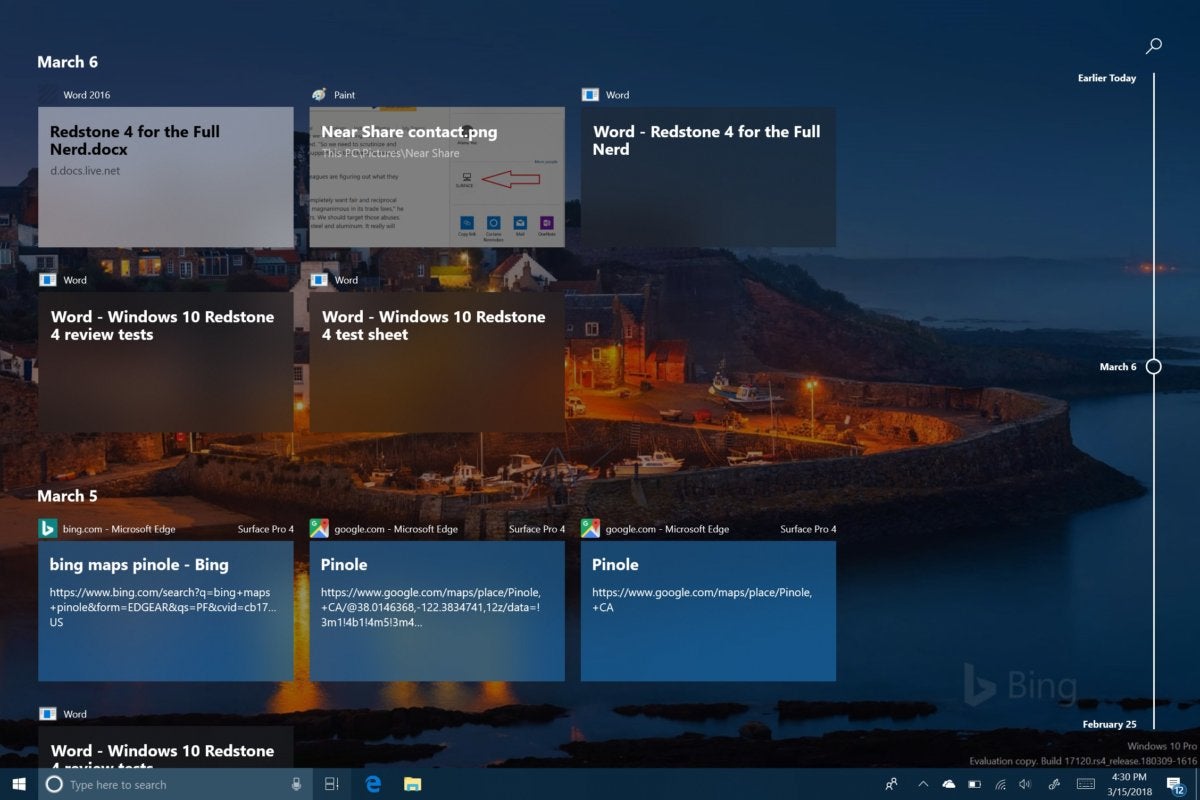 Timeline's a fine addition to Windows, similar to but worthier than your browser history. It's a helpful way to reorient yourself while hopping from task to task. Like many features within Windows, though, it doesn't thrust itself at you. What ultimately doomed Task View was a lack of attention, and the same fate could befall Timeline.
Near Share: Microsoft's mediocre answer to AirDrop
Near Share (also called "Nearby Sharing" within the Settings menu) sounds great on paper. It's a new feature that allows Windows PCs to share files and URLs with nearby PCs, assuming both have authorized the exchange. (Apple's similar AirDrop feature debuted several years ago.) The Edge browser and File Explorer already include "Share" options, which would normally limit you to routing that data via Mail, Facebook, Twitter, and other apps. Now, directly connecting to nearby PCs is an additional option.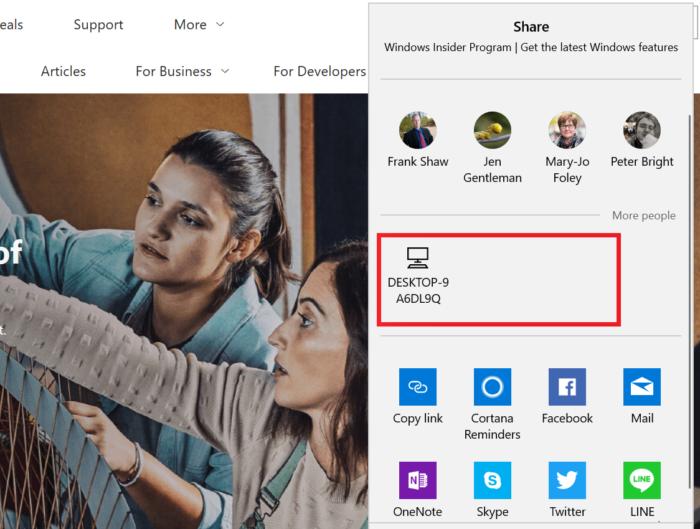 Near Share has a small list of requirements: you'll need a Windows PC (no phones, sorry) with Bluetooth and Wi-Fi enabled. You'll also need to turn on Nearby Sharing in Settings to share data with either your own devices or with strangers. Once set up, connecting is a cinch, though the way Windows assigns PCs names—with a seemingly random string of letters and numbers—can make identifying which PC you're sharing to a bit more complicated than it could be.
[ Further reading: How Windows 10's Near Share feature wirelessly beams files to nearby PCs ]
Unfortunately, Near Share offers Bluetooth-like (~3Mbits/s) speeds for actually sharing files — most of the time, anyway. (I saw 30 Mbits/s or so once or twice.) That makes sharing large files iffy. But if you need to quickly beam a complex URL to a neighbor, or zip a photo or a small file to a colleague in a conference room, Near Share avoids the necessity of digging out a USB stick. There are other, possibly even better ways of transferring files, but Near Share's a decent addition to a Windows PC's bag of tricks.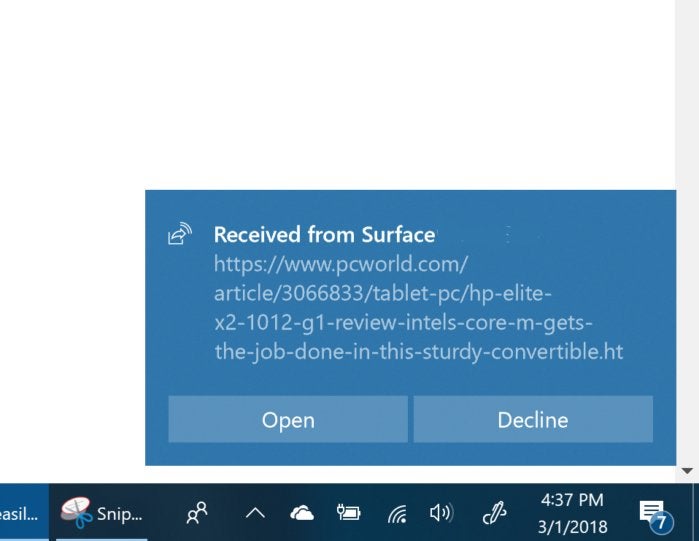 Since we're talking about sharing, there's one additional footnote you should be aware of. Within the April 2018 Update, the legacy Homegroup feature has gone away.
Focus Assist (nee Quiet Hours) keeps you on task
Email notifications sliding in from the side of your Action Center can provide you the opportunity to respond quickly to a task at hand, but can quickly become distracting when you really need to buckle down. A feature called Quiet Hours has helped manage notifications since Windows 8.1.
Within the Windows 10 April 2018 Update, Quiet Hours has been renamed Focus Assist, with substantially more powerful controls added to the feature. By far the most important are two: the ability to turn off all notifications while playing a DirectX game, as well as when you're duplicating your screen during a presentation.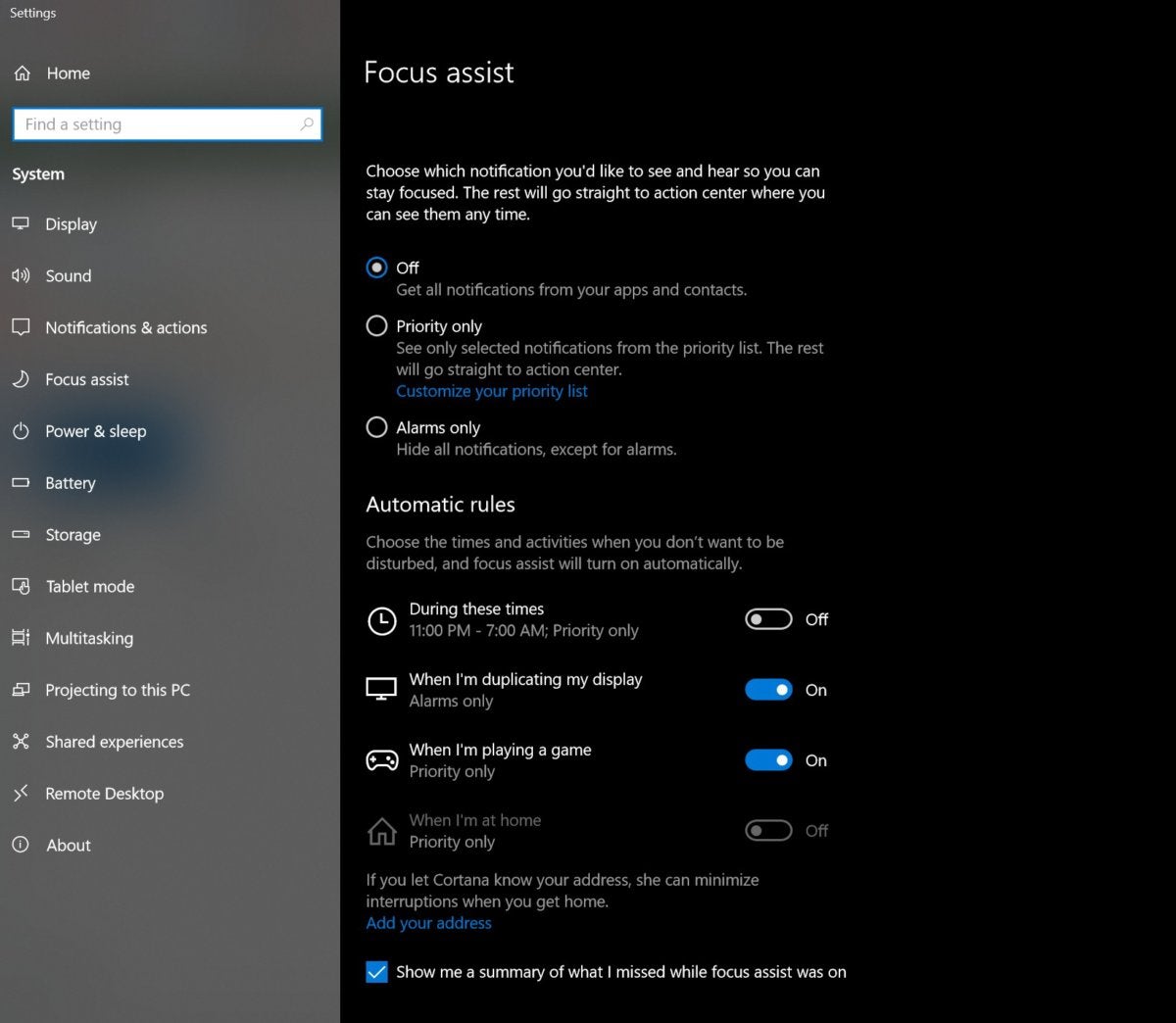 Focus Assist isn't perfect. You'll still need to dive into the Settings and order Windows 10 not to interrupt your game or presentation. It might be nice, as one beta-tester suggested, to be able to actually prevent websites like Facebook or Twitter from loading during an intensive work session. Otherwise, Focus Assist does one thing—block distracting notifications—and does it well enough that you'll barely notice.
Next page: Edge improvements, Windows Ink, and more
Microsoft Edge adds a ton of new features
I can't escape from my love-hate relationship with Microsoft's Edge browser. On some machines, it feels lean and fast, but when I used my test version of Edge to livestream Microsoft's Developer Day, the feed stuttered and skipped. Microsoft continues to grind away at Edge, however.
The Windows 10 April 2018 Update's feature release belatedly provides some general improvements, enhances Edge's ebook experience, and lays the foundation for what could be some interesting additions to the Windows app ecosystem. There's also a key security improvement that has migrated to Windows 10 Pro.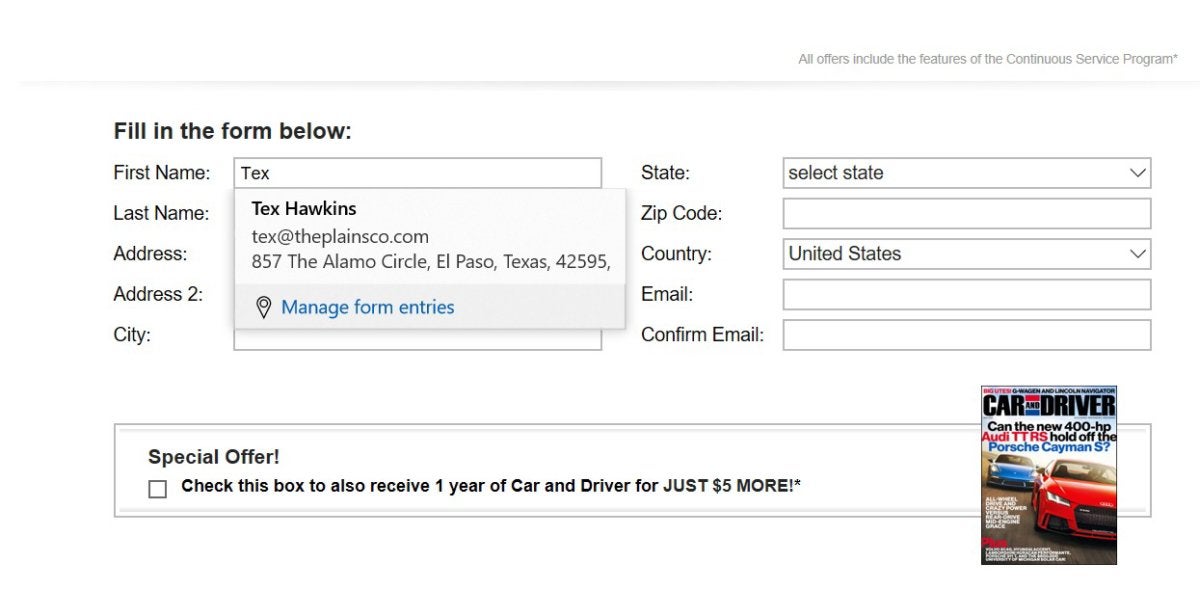 Two new features fall under the category of "I can't believe Edge didn't already have that": the ability to mute tabs, and a feature which automatically fills out forms. The former works as expected, but the latter is disappointing. You'll need to dig into Edge's Settings > Advanced Settings > Manage form entries menu, then manually fill out the fields yourself. Rival browsers simply slurp up the information as you type it, and include the option to store financial information, too.
Edge also received a nice facelift, with an updated flyout menu (Microsoft calls it the Edge Hub) that largely replaces the somewhat inscrutable icons of years past. The broad swath of white space also shows off the updated "Acrylic" look of Windows 10, with its frosted-glass transparency effects. Effectively using the available space is part of Edge's "clutter-free" printing, which reduced a thirteen-page print job down to seven by eliminating ads and other cruft.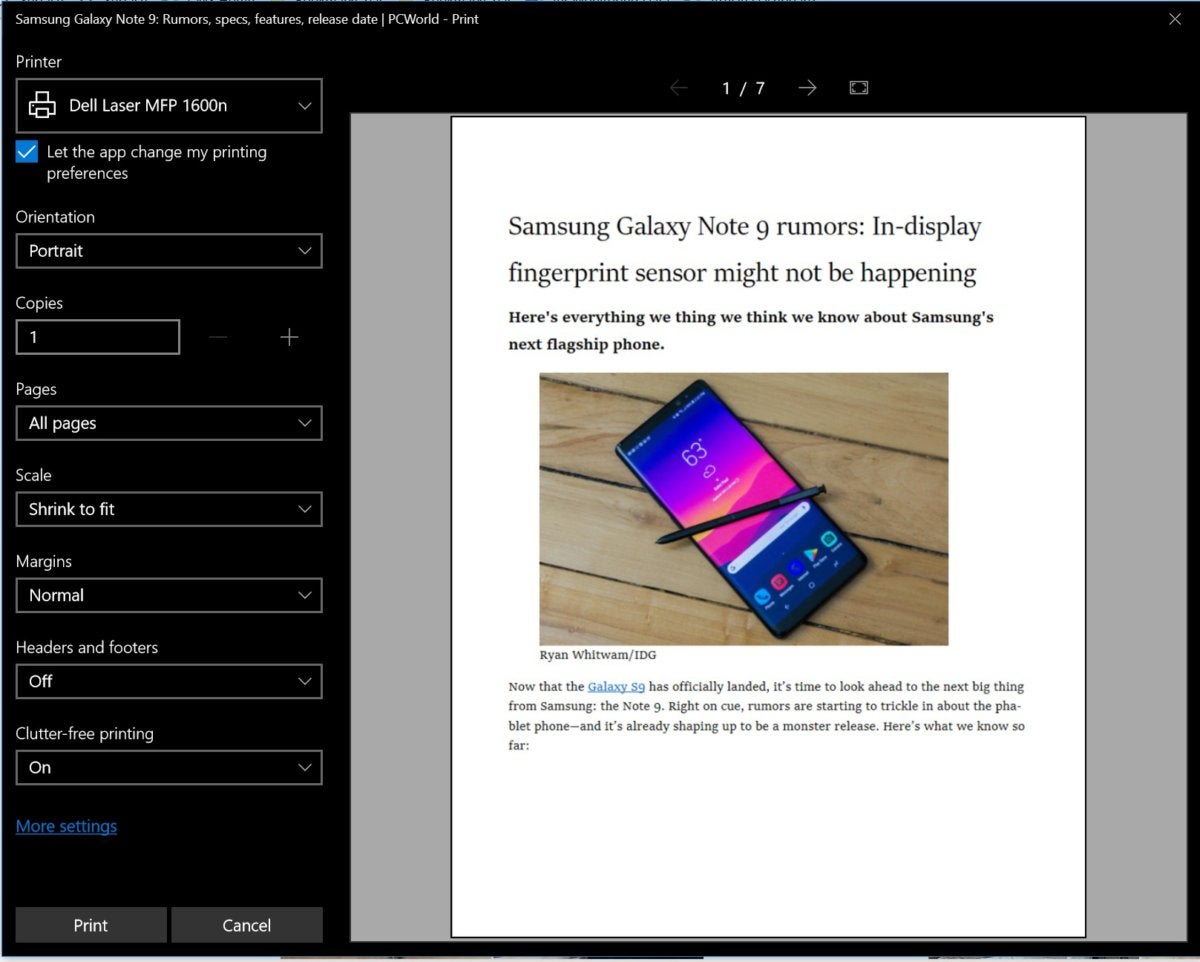 The other noteworthy update is to Edge's ebook reading experience, a unique feature among other browsers. When you click on the Books tab in the Edge Hub, it will open into a surprisingly attractive library of your ebooks, with several suggestions at the bottom. While the reading experience hasn't changed all that much, Edge has added much better note-taking, with a unified menu for bookmarks and an index to quickly find those notes. Edge also added the capability to break up words into syllables and identify nouns, verbs, and adjectives, an assistive technology for readers. I've never seen an EPUB book with audio narration, but Edge supports that too.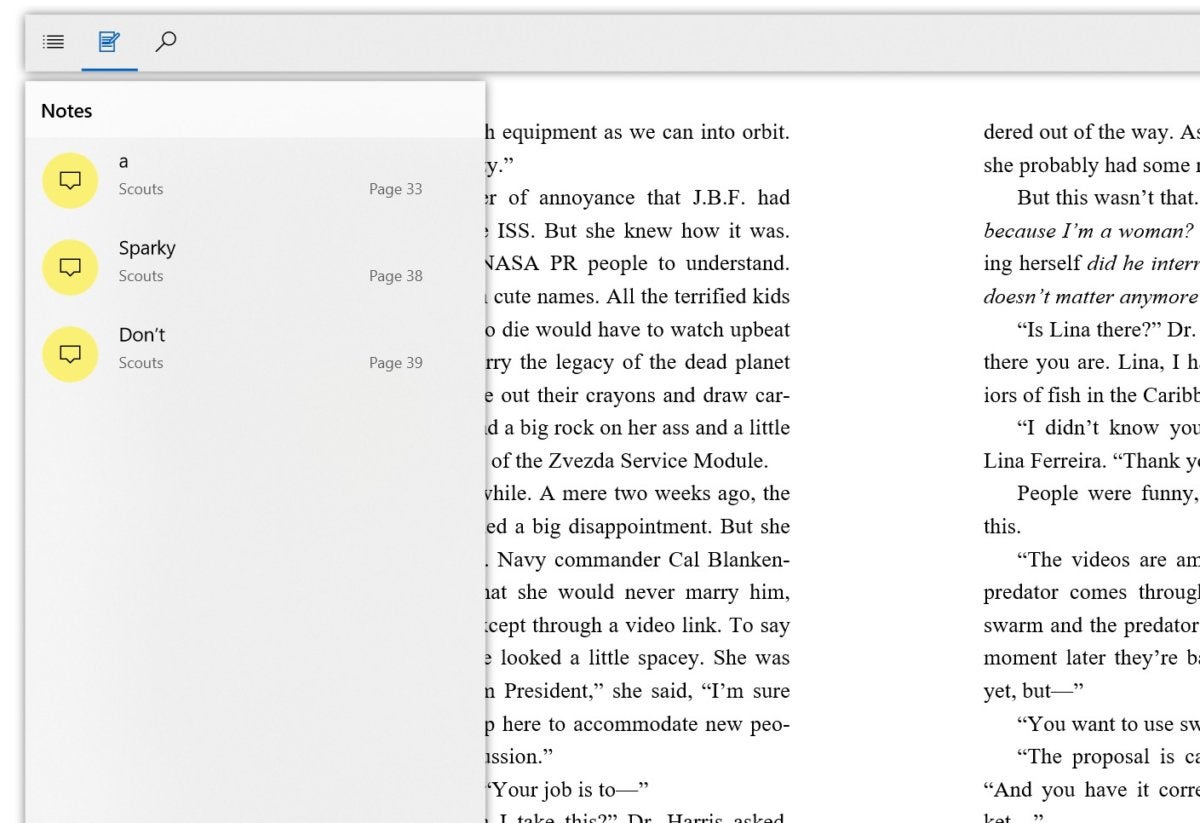 One key feature which has finally reached Windows is Windows Defender Application Guard, a sort of browser "super sandbox" which was restricted to enterprise versions of Windows, but has now been added to Windows 10 Pro. WDAG creates a virtual sandbox for your Edge browser, although you'll need to turn on the feature within the Control Panel (Control Panel > Programs > Turn Windows Features On and Off). If you're browsing the dark depths of the Web within Edge, do it with WDAG enabled.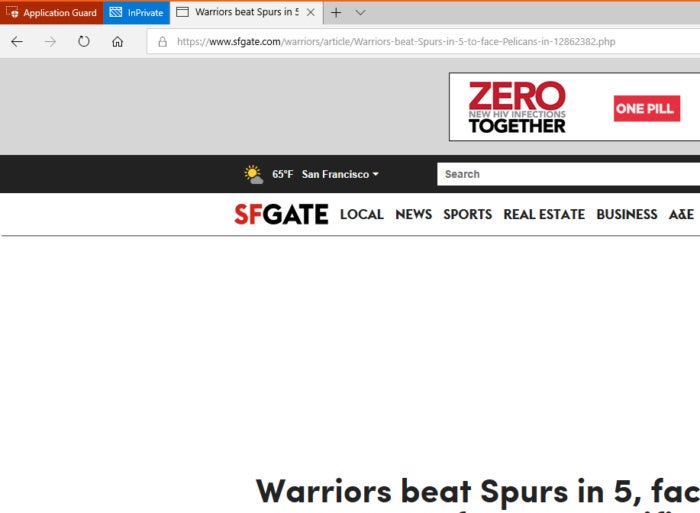 And there's also one more thing. Under the hood, Edge's new EdgeHTML underpinnings include Service Workers, Push and Cache APIs—developer-level improvements that will mean little to you, now. But Windows 10's Microsoft Store has always had an app shortage, and these capabilities lay the foundation for what's called Progressive Web Apps, one of the keys to the future of Windows.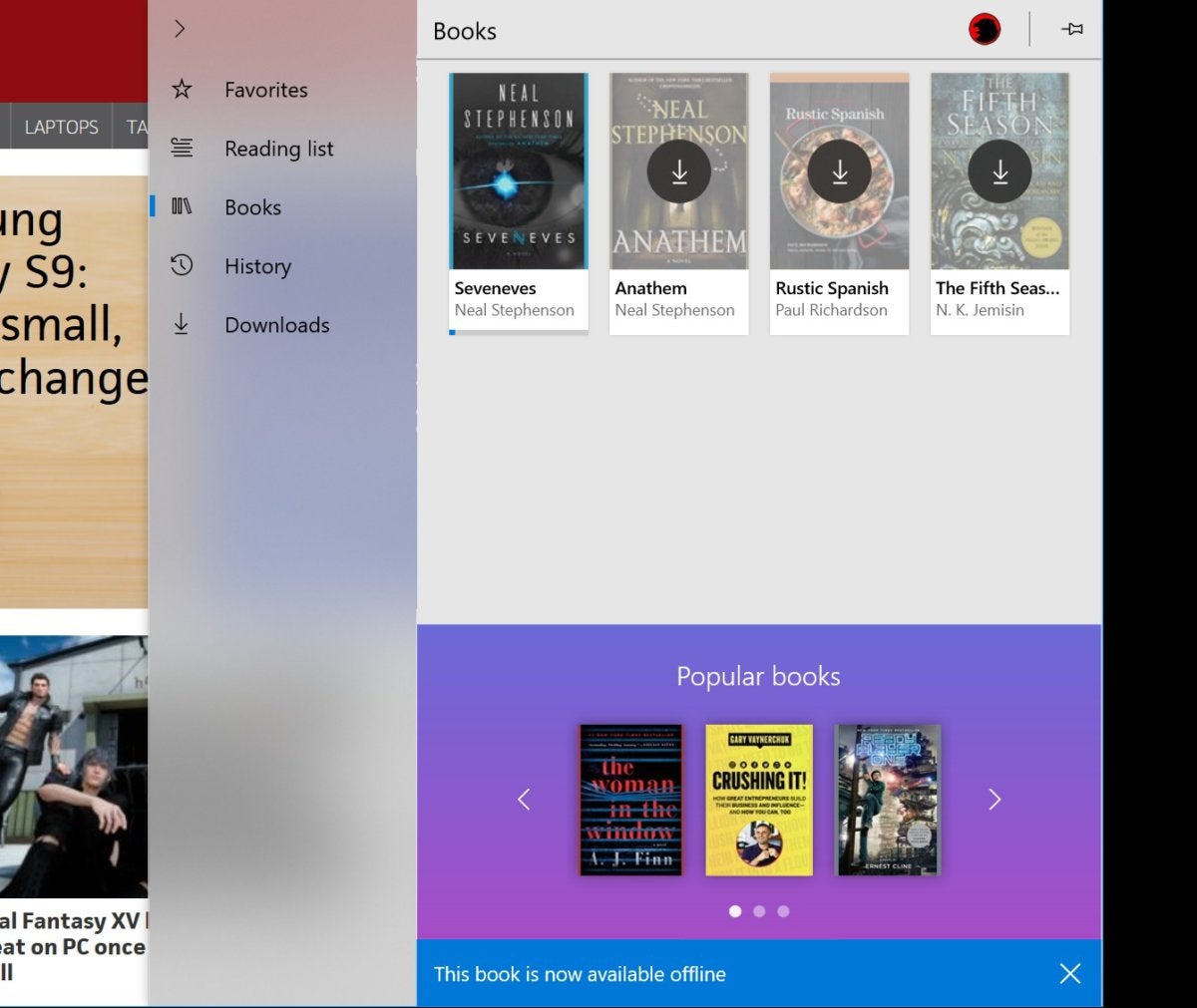 Think of PWAs as web apps on steroids, and within Windows, web apps don't even require the Edge browser to run. Before you sneer at the idea, consider that there are already Microsoft Store, web, and traditional Win32 "desktop" apps available for Spotify—and all of them basically look and feel the same.The updated Twitter app for Windows 10 is one of the first PWAs. While it feels too "big," with too much wasted space, it's still much more usable than the previous standalone app.
Do Windows users really care that PWAs will increase the number of apps in the Microsoft Store? Probably not, especially if Microsoft's mobile ambitions have been put on hold. But just as some users choose to use the Twitter Web page, others will prefer the app—just as some Windows users type with a keyboard, and others enter text with a stylus. And there's another intriguing possibility, too: if Microsoft makes its own Windows 10 apps PWAs—like Mail and Calendar, say—then maybe we'll see some of the aggressive features Microsoft brings to Web apps and services quickly migrated to the apps within Windows 10, instead of being delayed for months.
Data usage management: You need it
Two factors—ISPs like Comcast once again enforcing data caps, and the uncertainty surrounding net neutrality—have put data usage and its management into the spotlight once again. Here, the Windows 10 April 2018 Update offers a number of useful features.
An updated Data usage setting (Settings > Network & Internet > Data usage) offers a much more comprehensive way of viewing how much data you've used over the past 30 days, setting limits on how much to use, and managing background data from the Store. But the feature inexplicably refused to show data usage via ethernet, which seems like an odd omission.
Setting data limits will set your Wi-Fi or ethernet as a metered connection, which will prevent automated OneDrive syncing, however. Perhaps Microsoft could adjust your connection to metered when there's only 20 percent or so left on your cap.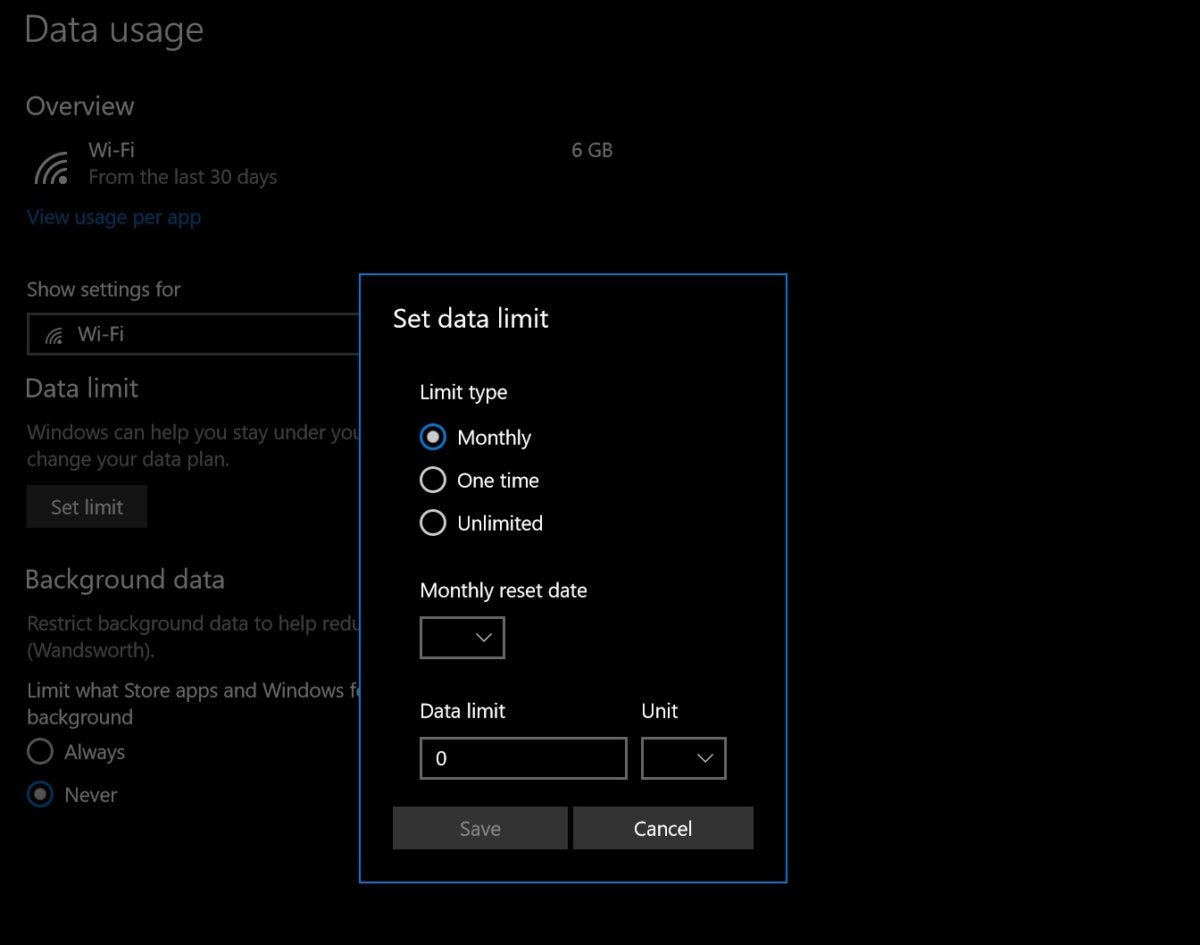 Way, way down in the Windows Update settings (Settings > Update & Security > Advanced options > Delivery Optimization > Advanced options) are a number of useful options for people with metered or low-bandwidth connections. Yes, you can graciously upload Windows patches to your neighbor's PCs, but cap the data you'll allow. You can also limit how much bandwidth you allocate to foreground updates (such as Store apps you click on) and background security and feature updates.
Finally, if you own an "always connected" PC with an active cellular connection, you'll also have the option to favor cellular connections over Wi-Fi. (If you don't have a PC with this capability, the Settings > Network & Internet > Cellular option won't appear.)
Windows Ink gains two handy gestures
Windows 10, I sometimes tell people, isn't necessarily their Windows. Microsoft's Windows 10 development team optimizes for a variety of modalities, including speech, pen, touch, voice, and more, some of which some users will never use. For people invested in those modalities, though, further development is among their top priorities.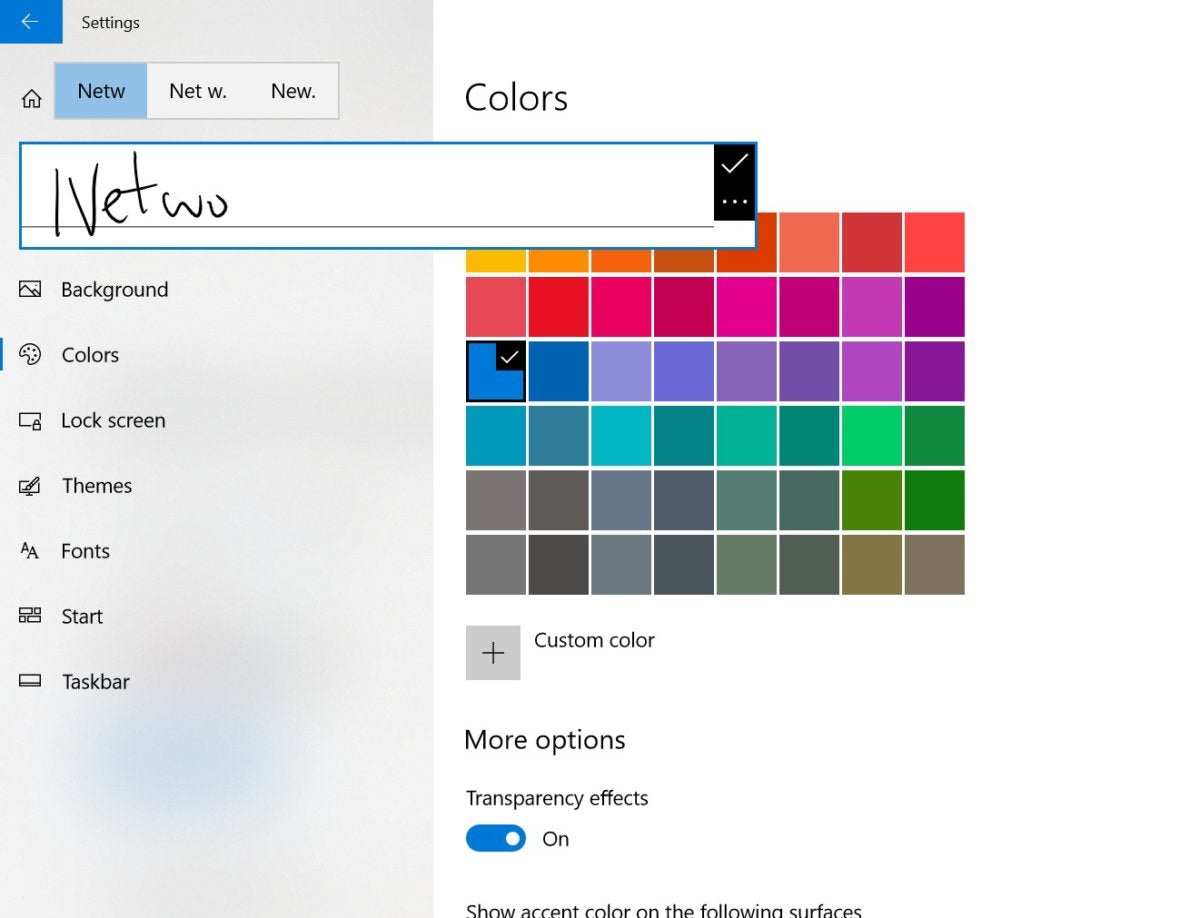 Here, the Windows 10 April 2018 Update holds two small but significant improvements. First, if there's a text field, you no longer have to open a separate handwriting panel. Simply click the field and you can write right within it. Microsoft also added a "commit" gesture, a sort of backwards "L", that helpfully clears out the handwriting panel. I'd still like an option to be able to "write" in one fixed position, though, with the text automatically scrolling out of the way.
Conclusion: No killer, mostly filler
Rather than a cohesive whole, the Windows 10 April 2018 Update seems more like a service pack of old—simply a collection of improvements, many minor. Simply put, the Windows 10 April 2018 Update at least feels like the least important iteration of Windows 10 to date.
What we haven't heard about is what may be going on behind the scenes. Microsoft's committed to making Windows 10 S a "mode" of Windows 10, and executives have stated that the majority of users will experience Windows in this way. Does that mean that universal Windows apps from the Microsoft Store will command a more prominent role in the future despite years of struggles? It certainly seems so. Meanwhile, forthcoming Progressive Web Apps may help enrich Windows 10's app catalog, someday.
Answers may arrive soon. Stay tuned for Microsoft's Build developer conference in May, where we can expect to hear more of what Microsoft has in store for future versions of Windows 10.