At a Glance
Expert's Rating
Pros
Relatively peppy quad-core performance
Snappy keyboard
Above-average laptop speakers
Solid viewing angles
Cons
Touchy fingerprint reader
"ErgoLift" hinge makes the laptop skate on smooth surfaces
Middling battery life
Our Verdict
With its peppy performance, sleek design, sharp display and comfy keyboard, the $900 Asus ZenBook Flip 14 makes for a solid entry in the current crop of 8th-generation Intel-powered 2-in-1 convertibles, but you can do better for just a hundred bucks more.
Best Prices Today: ZenBook Flip 14 UX461UN
Peppy, slim, easy to look at and fun to type on, the $900 Asus ZenBook Flip 14 has a lot going for it. That said, it's tough to recommend the Flip over our current favorite 2-in-1, the HP Spectre x360, which offers a more powerful CPU, a pair of speedy Thunderbolt 3 ports, and substantially better battery life, all for just $170 extra. Still, bargain hunters looking for a slightly larger display than the Spectre's 13-inch screen may yet be swayed by the cheaper Flip 14.
Asus ZenBook Flip 14 specifications and price
We reviewed the $900 version of the ZenBook Flip 14, which boasts an Intel Core i5-8250U quad-core processor with integrated UHD 620 graphics, 8GB of RAM, and a 256GB solid-state drive. If you've got more money to burn, there's a step-up model of the Flip 14 with an i7-8550U CPU, 16GB of RAM, a 512GB SSD, and a discrete Nvidia GeForce MX150 graphics chip.
Measuring 12.9 by 8.8 by 0.55 inches and weighing in at about 3.3 pounds, the Flip 14 feels thin but dense, as would be the case with pretty much any similarly sized laptop that weighs more than three pounds. Etched with Asus's signature hairline concentric circles, the Flip 14's lid looks fairly stylish, if not quite as eye-popping as the glossy lithographed lid of its smaller cousin, the ZenBook 13. Then again, the Flip 14's lid doesn't attract nearly as many fingerprints as the ZenBook 13's lid does.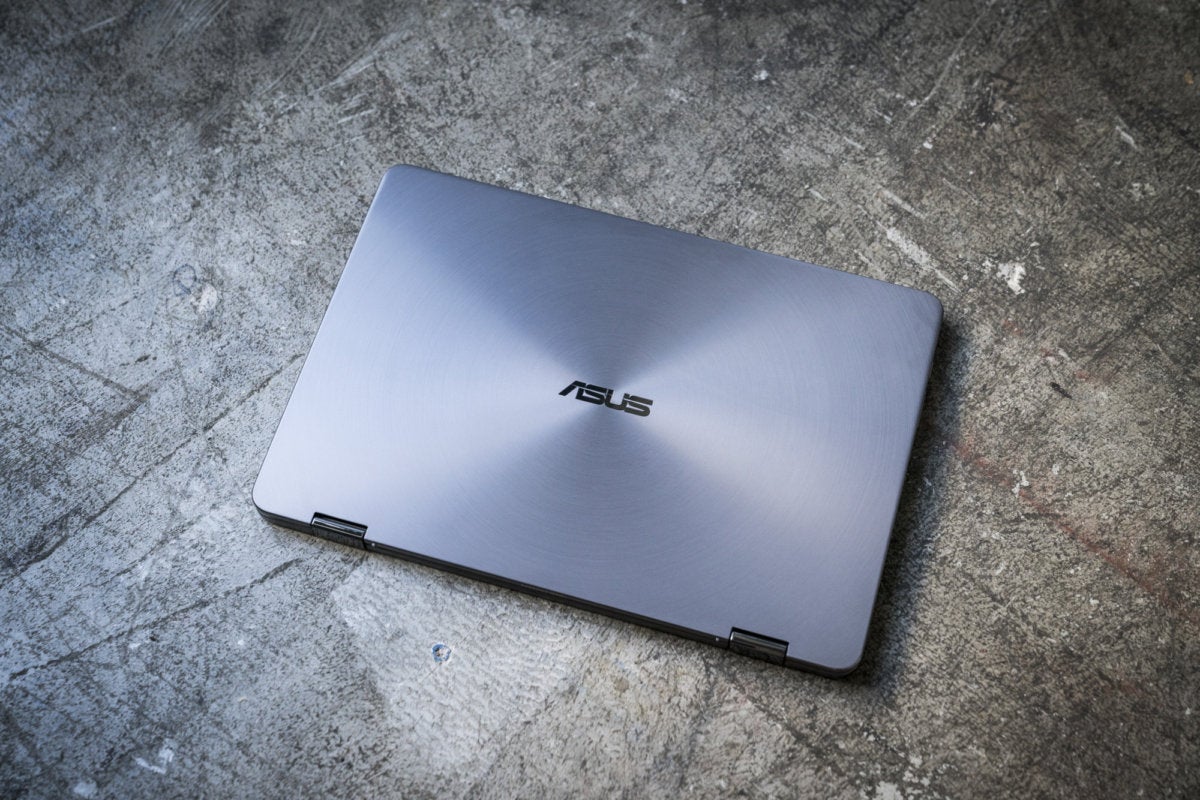 As usual with a 2-in-1 convertible laptop, the Flip 14 lets you swivel its display a full 360 degrees, allowing for a quartet of different form factors. Besides using the Flip as a standard laptop, you can tent it on a desk or tabletop, tilt the screen back and turn the keyboard surface into a stand, or swivel the display all the way around for tablet use.
One interesting and perhaps troublesome aspect of the Flip 14's lid is that when you open it for standard laptop use, the very back of the lid juts out a tad, lifting the keyboard up slightly as it does so. Asus says this so-called "ErgoLift" hinge was designed to keep the keyboard at a comfortable typing angle. Nice, but the hinge also lifts the Flip 14's rear rubber feet a few millimeters in the air, which allows the laptop to skate around your desktop with only the slightest nudge. To keep all four of the Flip 14's feet securely on your workspace, you'll need to adjust the screen so it's nearly ramrod straight.
Asus ZenBook Flip 14 display
Framed on the left and right sides by svelte 7.15mm bezels (the top and bottom bezels are considerably thicker), the ZenBook Flip 14's touch-enabled, 14-inch 1920-by-1080 display looks about as sharp and vivid as you'd expect. Measuring about 280 nits (or candelas), the Flip 14's display is reasonably bright and well above our 250-nit standard for comfortable indoor brightness, although shy of the 300-ish nit levels we prefer.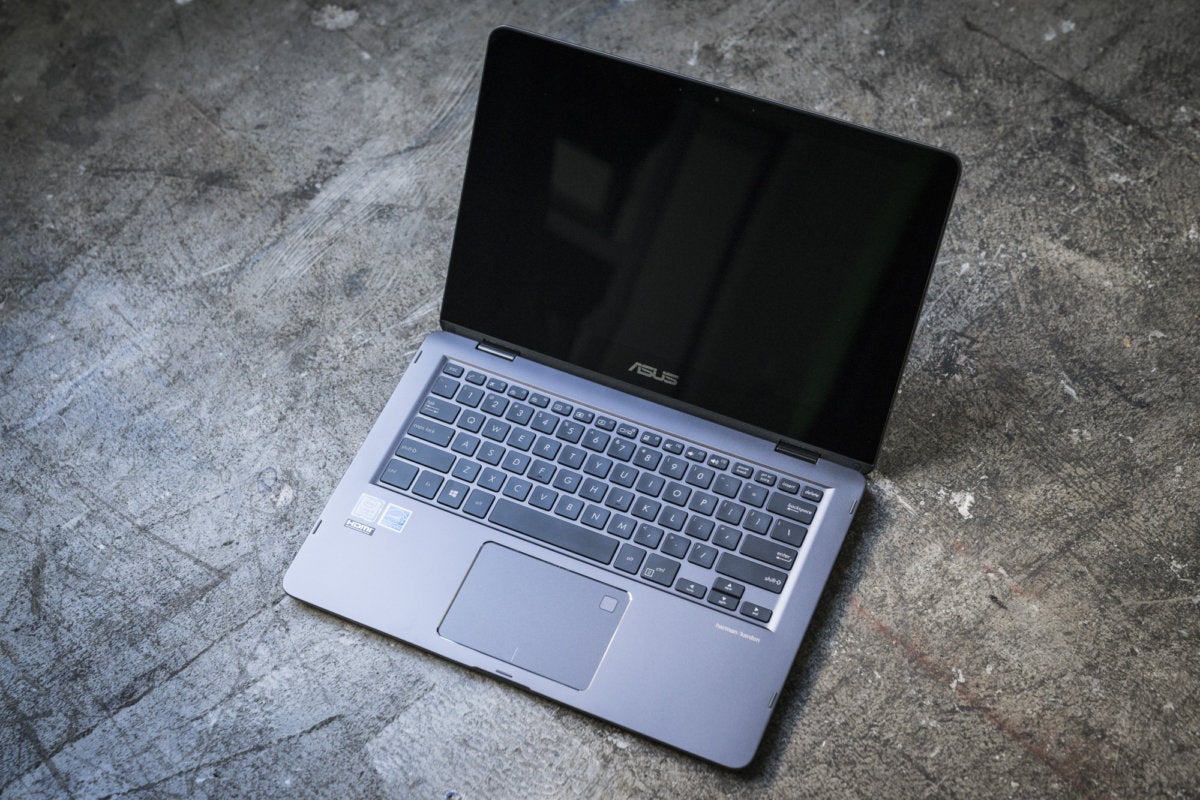 Viewing angles on the Flip 14's AHVA screen (a proprietary variant of IPS) are impressive, with the screen dimming only slightly when viewed from the sides, top or bottom, with no evidence of inverse colors at extreme viewing angles.
I had an easy time tapping and swiping on the Flip 14's touch display, and yes, pen support is included, provided you supply your own pen. Asus sells an optional active pen for $50.
Asus ZenBook Flip 14 keyboard, speakers, webcam
Asus appears to have used the same backlit keyboard on the Flip 14 as it did on the recent ZenBook 13, and that's a good thing. The Flip's snappy keyboard boasts square, slightly concave keys that give you a satisfyingly tactile bump when struck, with plenty of travel in the bargain. The lack of a numeric keypad leaves plenty of room for the main keyboard, making for easy discovery and few if any mistaken keystrokes.
I had no trouble with the ZenBook Flip 14's smooth, responsive trackpad, but I didn't love the finicky fingerprint reader that's embedded in the trackpad's upper-right corner. Even after carefully rescanning my fingerprint, the reader almost never managed to ID my fingerprint on the first or even second try. (I experienced similar problems with the fingerprint reader on the ZenBook 13, by the way.)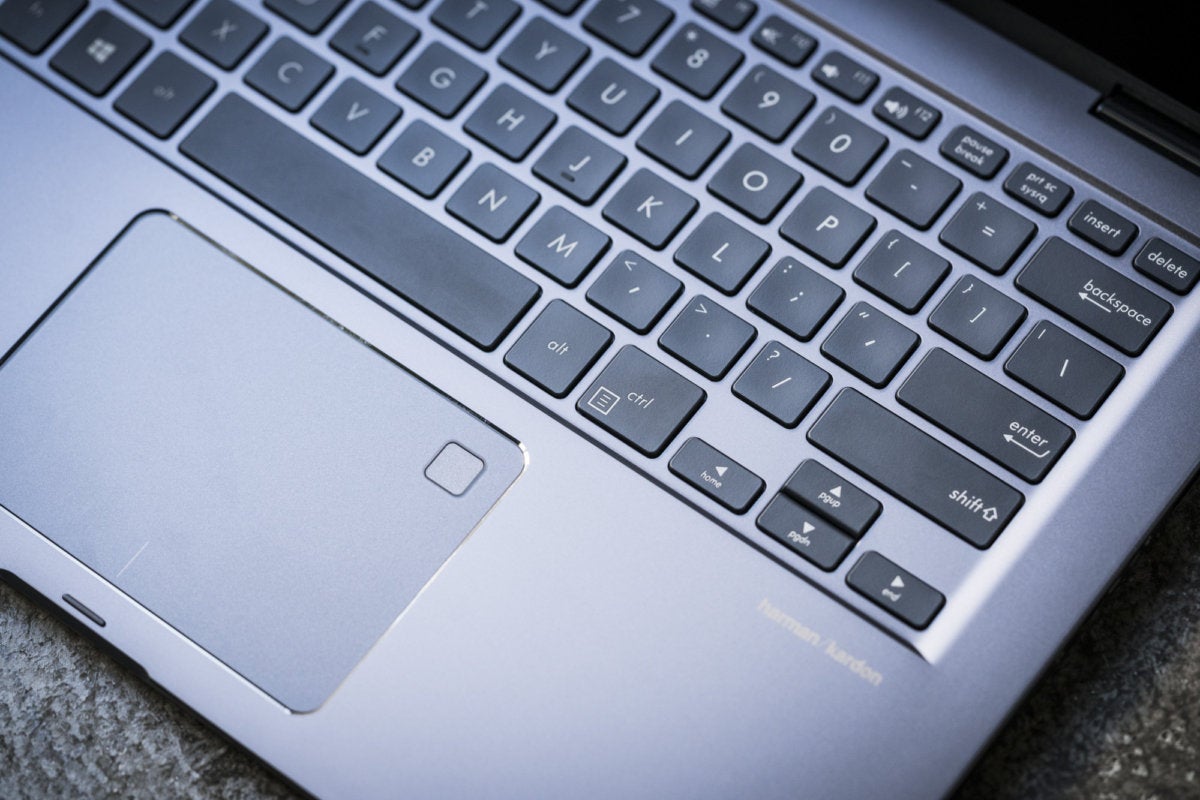 Back on the plus side, the Flip 14's Harman Kardon-designed speakers sound considerably better than those of your average laptop, with reasonably rich mid-range detail and even a hint of bass. I was able to crank Paul McCartney & Wings' "Live and Let Die" without any noticeable distortion, while Mozart's 26th Symphony sounded good enough that I kept listening after finishing my speaker testing—high praise when it comes to the typically tinny universe of laptops speakers.
Video images from the ZenBook Flip 14's 720p webcam look relatively sharp, a bit grainy but still perfectly adequate for Skype chat.
Asus ZenBook Flip 14 ports
The Flip 14's selection of ports is pretty much what you'd expect from a sub-$1,000 2-in-1 ultraportable. On the left side of the laptop, you'll find a single USB 3.0 Type A port, which sits sandwiched between a two-and-a-half inch air vent and the volume and power buttons.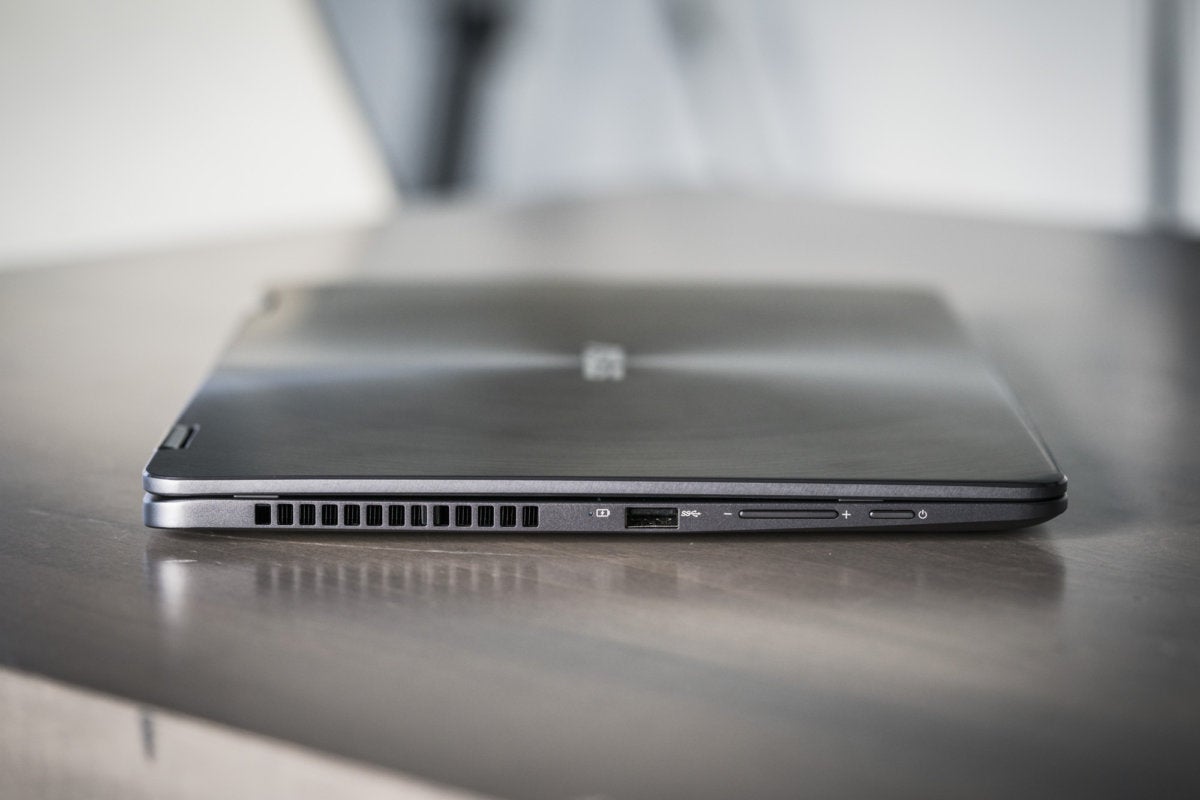 On the right side, we've got a barrel-style charging port, a full HDMI port, a second USB 3.0 Type A port, a combo audio jack, a USB 3.1 Gen 1 Type C port (up to 5Gbps), and a Micro USB card reader.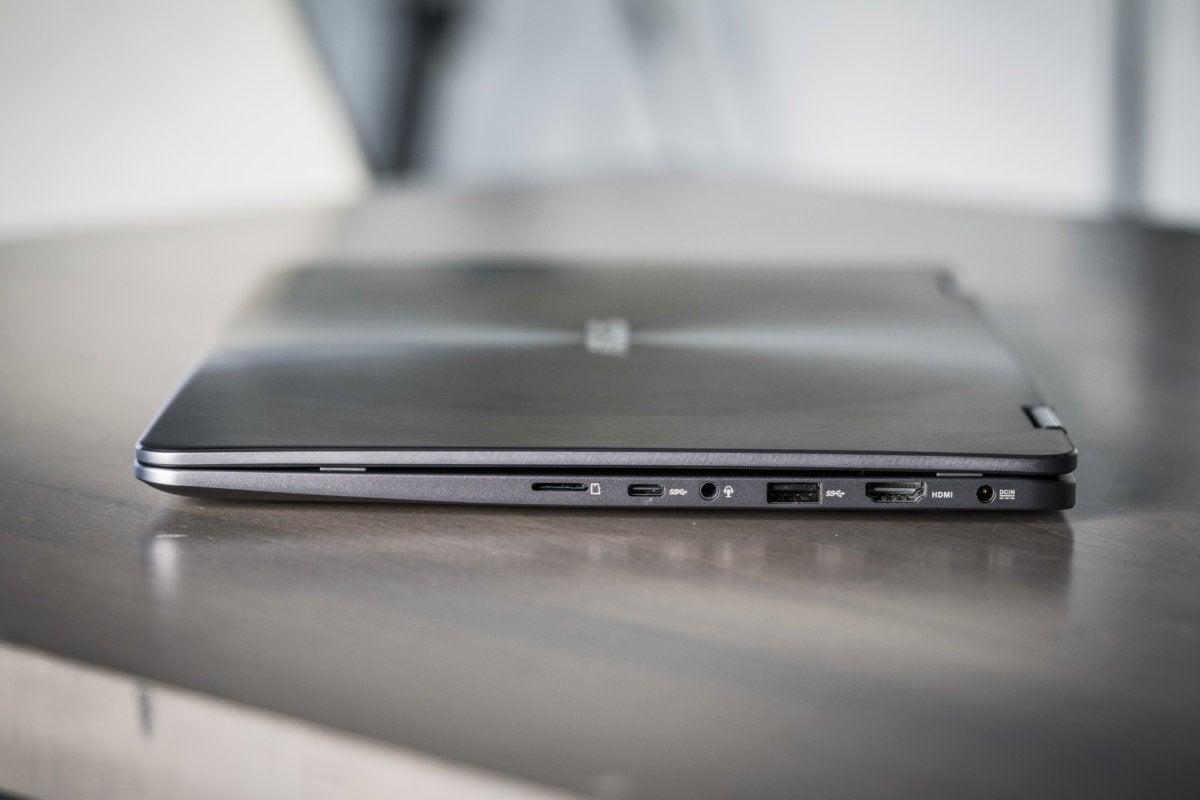 All in all, not bad, but the lack of Thunderbolt 3 ports is a disappointment, particularly given that the $1,000 HP Spectre X360, our current favorite 2-in-1, manages to squeeze in two of them.
Asus ZenBook Flip 14 performance
Armed with a quad-core i5-8250U processor from Intel's current 8th generation of CPUs, the reasonably fast ZenBook Flip 14 doesn't harbor any surprises in the performance department. Peppy without breaking records, heat-conscious without playing it too safe, the Flip 14 sticks with the 8th-gen pack without ever quite leading it. Only in the battery-life department were we wishing for more.
PCMark 8 Work Conventional
First, we ran the Flip 14 through its paces with PCMark 8 Work Conventional, a benchmark that simulates run-of-the-mill PC tasks like web browsing, word processing, video chatting and spreadsheet building.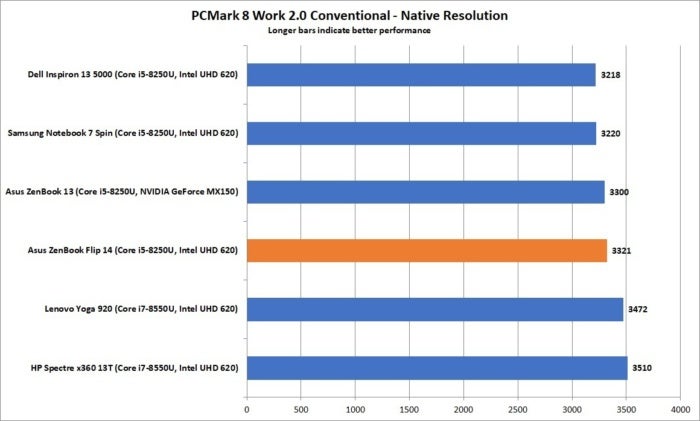 Unsurprisingly, the Flip 14 and its quad-core 8th-gen Intel CPU passed the test with ease, easily clearing our low-water mark of 2,000 for smooth performance of day-to-day laptop chores. In other words, you can expect the Flip 14 to run Office and its ilk without skipping a beat, although the same can often be said for cheaper dual-core systems.
Handbrake
Running Office is one thing, but encoding large video files is quite another, which is why we use the free Handbrake video conversion tool to see how laptops balance performance and heat management under a crushing CPU load.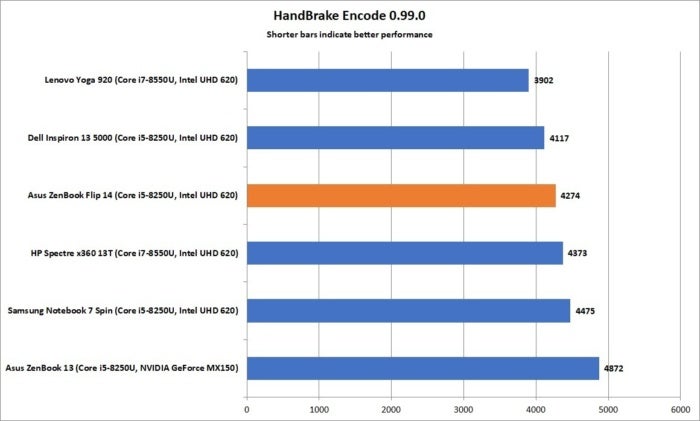 Compared to other recent 8th-gen quad-core laptops we've tested, the ZenBook 14 lands in the middle of the pack, slightly behind the speedy Lenovo Yoga 920 (a pricey 2-in-1 convertible that benefits from a beefier i7-8550U processor) but ahead of the somewhat slower ZenBook 13 (which has the same i5-8250U processor as the Flip 14 but in a smaller, slimmer chassis). So while it didn't win the gold in our Handbrake test, the Flip 14 came in a strong third, an impressive showing for a $900 convertible.
Cinebench
Yet another CPU-intensive test, our Cinebench benchmark pushes laptop processors to the limit as they render 3D images in real time. While Handbrake tells us how a given CPU deals with stress over the course of an hour or so, the Cinebench test is over in a matter of minutes, making it more of a sprint than a marathon.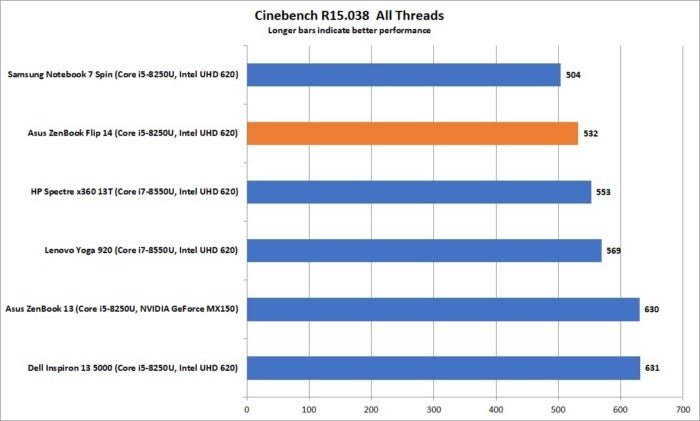 This time, the Flip 14 slides into second-to-last place, while its little cousin, the ZenBook 13, vaults into a virtual tie for first. To be fair, the Flip 14's next-to-last Cinebench score isn't necessarily a bad performance, considering the heady competition, but it does tell us that the heat-conscious Flip lacks the kind of bursty speed possessed by the ZenBook 13 and its counterparts.
We also tested the Flip 14's single-core Cinebench performance, and its results were expectedly middling, mirroring what we've seen from other quad-core and even dual-core systems.
3DMark Sky Diver 1.0
Only one of the 8th-gen laptops in our 3DMark Sky Diver comparison chart boasts a discrete graphics core, and (spoiler alert!) it's not the ZenBook Flip 14.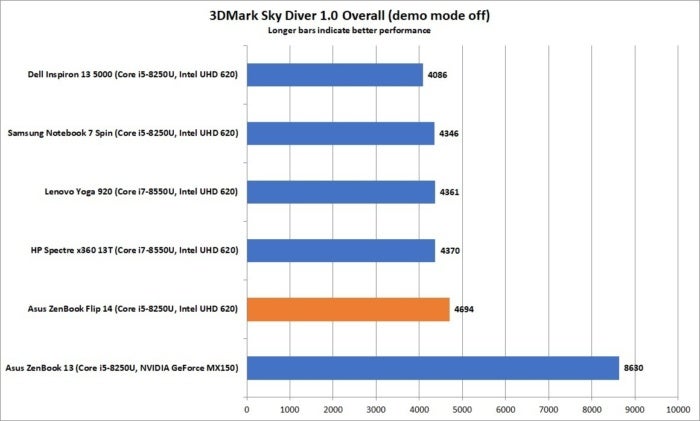 Back in the rear with all the other systems with integrated Intel 620 UHD graphics, the Flip 14's "best of the worst" score doesn't mean it can play Battlefield 1 appreciably better than the others. Instead, expect the Flip 14 and its similarly equipped competitors to do an OK job of handing everyday graphical duties with a little casual gaming on the side.
If you'd like to squeeze more gaming prowess out of the Flip 14, you can always pony up $400 extra for a model with Nvidia GeForce MX150 discrete graphics, mirroring the hardware inside the ZenBook 13.
Battery life
We test laptop battery life by looping a 4K video using the stock Windows 10 Movie and TV player, with screen brightness set between 250-260 nits (or about 90 percent on the ZenBook Flip 14) and with the volume set to 50 percent and headphones plugged in.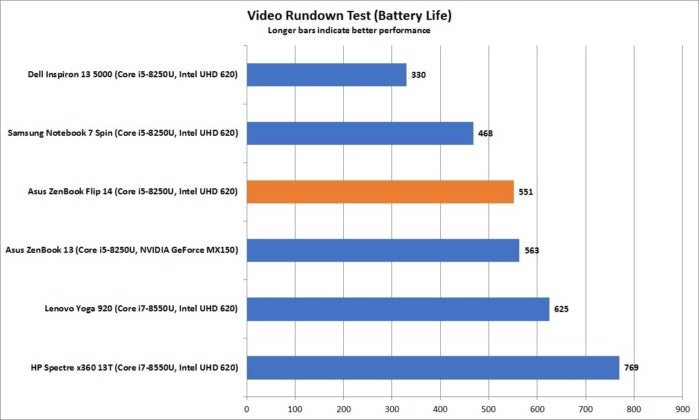 The Flip 14's more than nine hours of battery life is certainly respectable; indeed, I was able to use the Flip for most of a workday without plugging in its AC adapter. That said, we were hoping for more given the laptop's relatively roomy 57Whr battery.
For example, the ZenBook 13 and its smaller 50Whr battery basically scored the same result in our battery drain test, while the runaway winner, the HP Spectre x360, managed to wring more than three hours of additional battery life from an only slightly larger 61Whr battery.
Conclusion
With its peppy performance, sleek design, sharp display and comfy keyboard, the $900 Asus ZenBook Flip 14 makes for a solid entry in the current crop of 8th-generation Intel-powered 2-in-1 notebooks. But you can do better if you can spend a tad more cash for the $1,070 HP Spectre x360, which remains our favorite convertible laptop.
Best Prices Today: ZenBook Flip 14 UX461UN