The Samsung Galaxy S9 has slick design and the latest hardware, but it's not just a pretty face. This phone includes ample software features and options—so many, in fact, you might need help wading through it all to find the truly useful stuff. You need not wander the menus alone anymore. Here are the best tips to make your new Galaxy S9 as useful as possible.
[ Looking for a Galaxy S9 or S9+ case? We pick the best here. ]
One-handed mode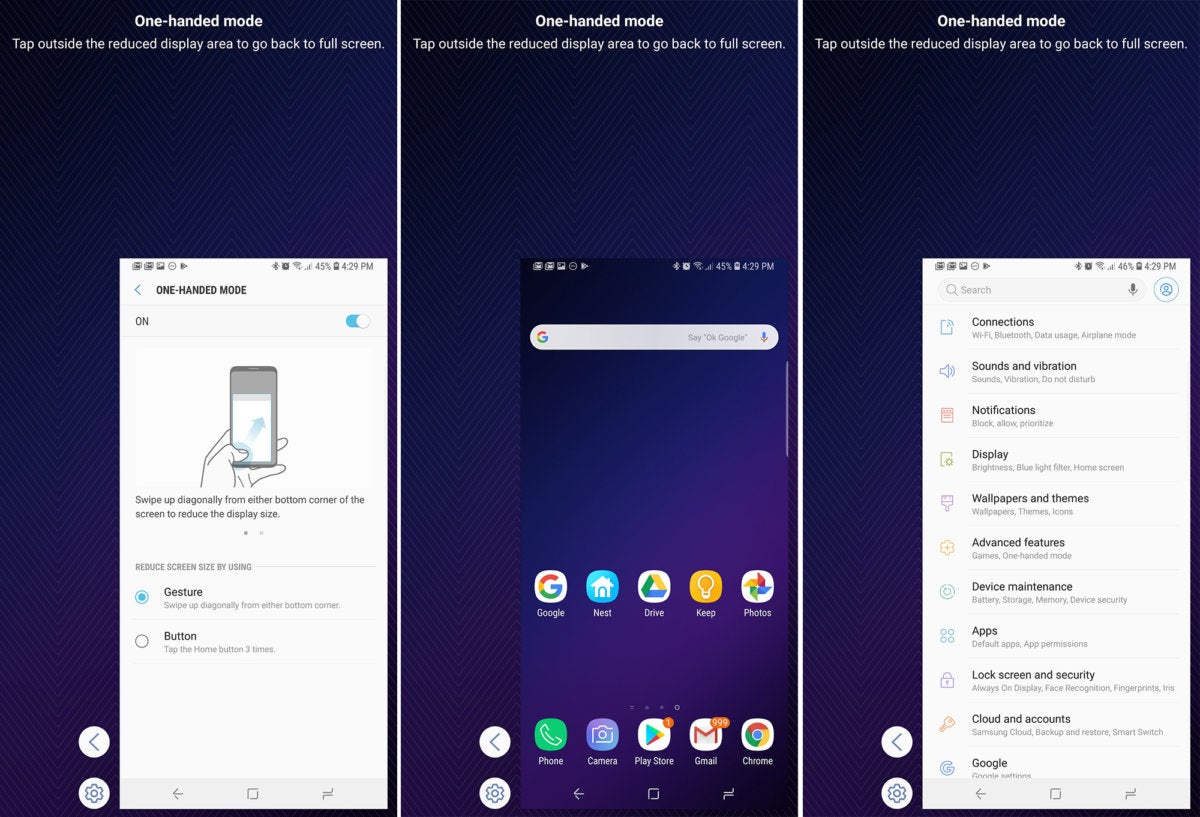 Samsung's slim bezels make the Galaxy S9 and S9+ comfortable to hold, but the displays are still quite large. The Plus in particular can be a hand-stretcher even for those with big mitts. You might want to consider using One-handed mode when the need arises, which you can turn on under Settings > Advanced features > One-handed mode.
You can activate it with a swipe up from the bottom left or right corner. Alternatively, you can choose to tap the home button three times to enter One-handed mode. When active, this feature shrinks the display down to a small area toward the bottom of the screen where everything is within reach. To exit One-handed mode, simply tap outside the shrunken screen window.
PUBLISH WEDNESDAY
Always-on display settings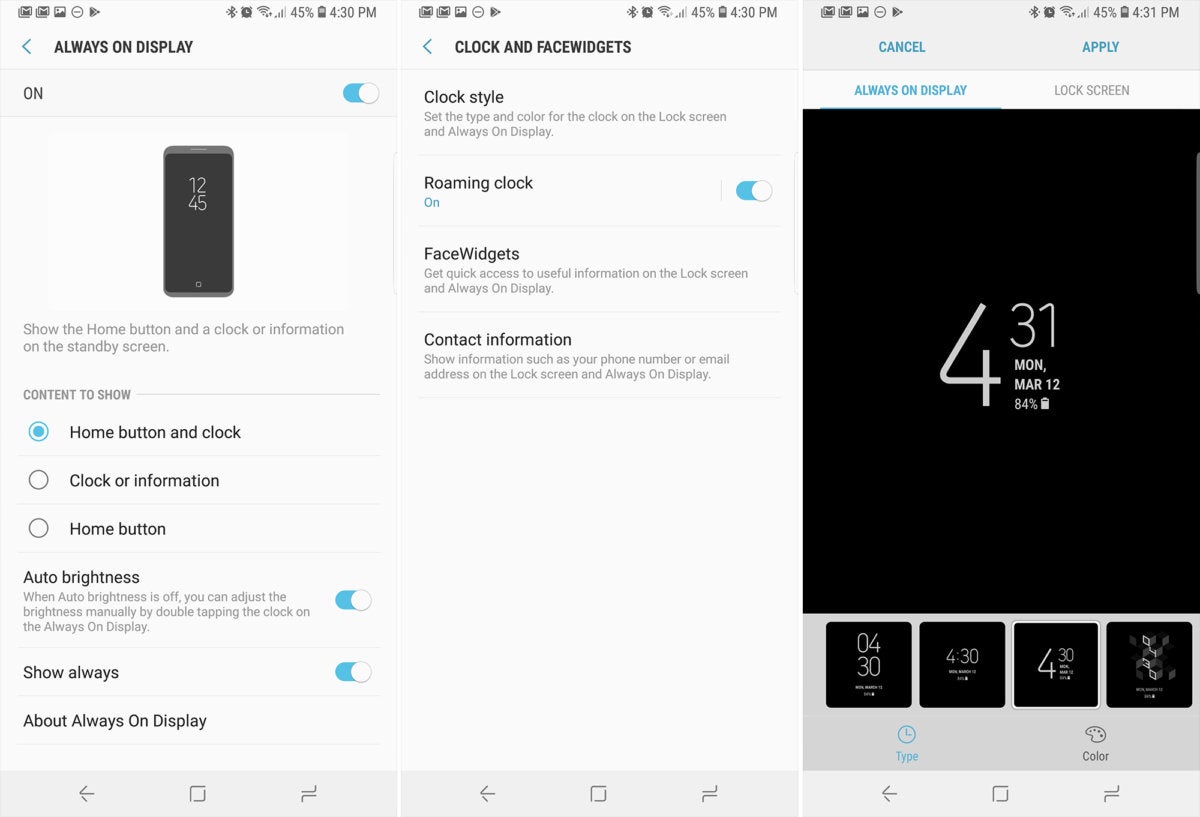 The Galaxy S9's always-on display can keep you abreast of things with just a glance—you don't even have to touch the phone. You might want to change how and when the Always-on display (AOD) shows up. The settings are a bit hard to find: They're under Settings > Lock screen and security, then scroll about halfway down.
The listing for Always-on Display lets you decide what information is shown and whether it's active all the time. That's ideal if you want AOD available during the day but off at night. The option below that one in the Lock screen menu is Clock and facewidgets. That's where you can change the AOD clock style and toggle support for music controls, calendar, and alarms. Only music controls are enabled by default.
Home screen landscape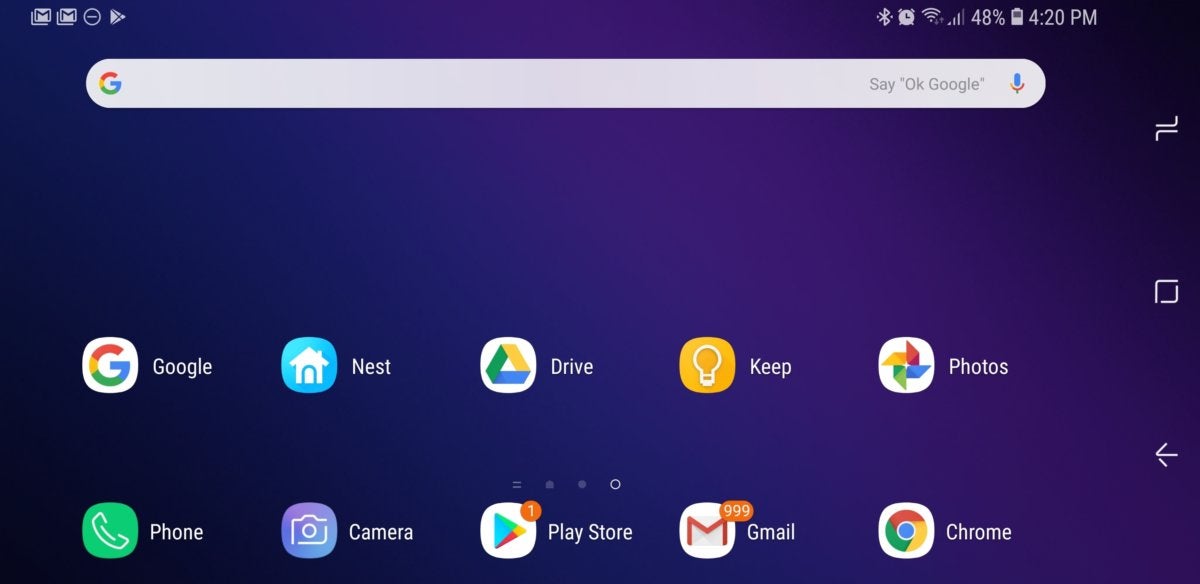 Samsung's home screen got a big overhaul last year, and this time it's refining what's already there. Finally, the stock "Samsung Experience" launcher works in landscape mode, and it's one of the best implementations of a landscape launcher you'll find. This feature is disabled by default on most versions of the Galaxy S9, but you can enable it with a quick trip to the launcher settings. Long-press on an empty space and tap the settings button at the bottom. You need to turn off the Portrait mode only toggle to get landscape mode.
Turn the phone, and your home screen will reorient immediately. Widgets are scaled to work in the wider layout fairly well, and icon labels move to the right of each icon. It looks much cleaner than other landscape launchers.
Navigation customizations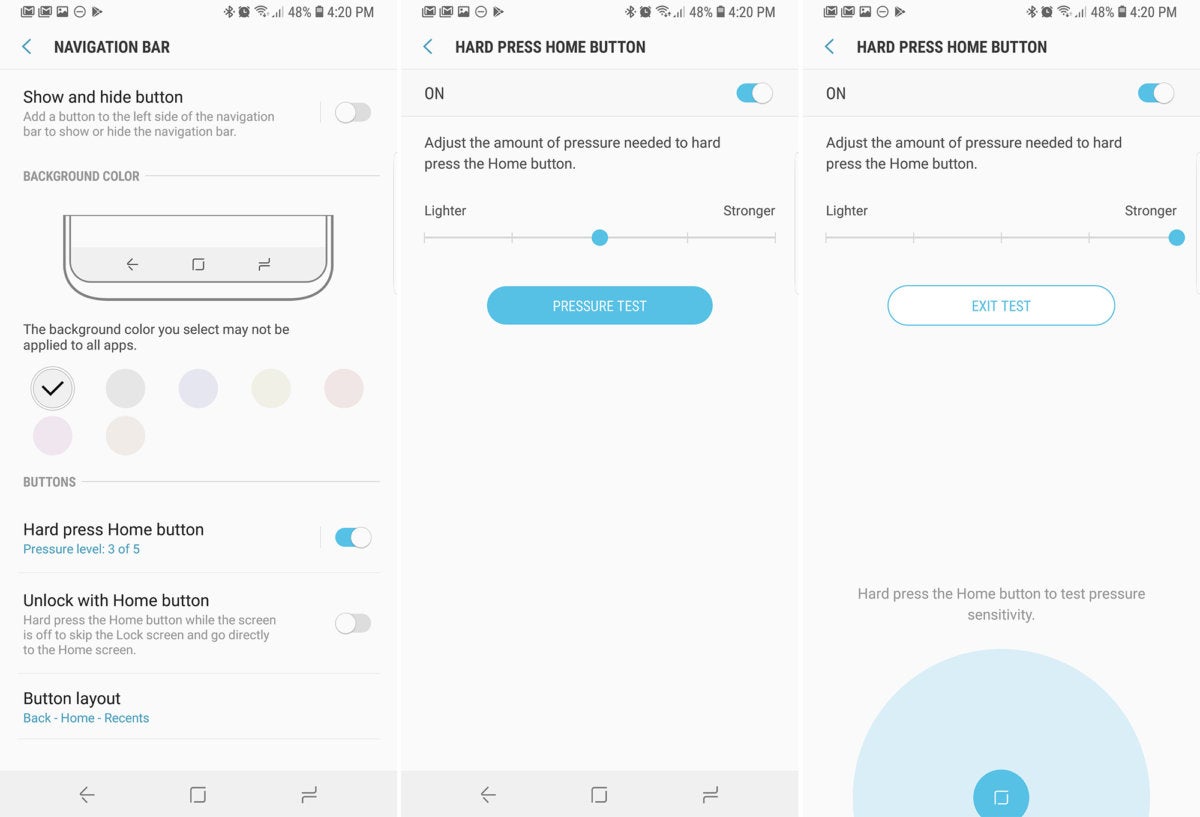 You interact with the navigation bar constantly throughout the day. So, you might as well make it work the way you want. You can do that in Settings > Display > Navigation Bar. Because Samsung uses on-screen buttons now, you can change the order from the default Samsung order (overview-home-back) to the standard Android order (back-home-overview). That is at the bottom under Button layout.
You should also experiment with the hard-press home button, which is active at all times, even if the button is hidden by full-screen content or your phone is asleep. It's very useful, but some people find the default pressure level too low or high. You can change it to suit your preferences.
Configure biometrics the right way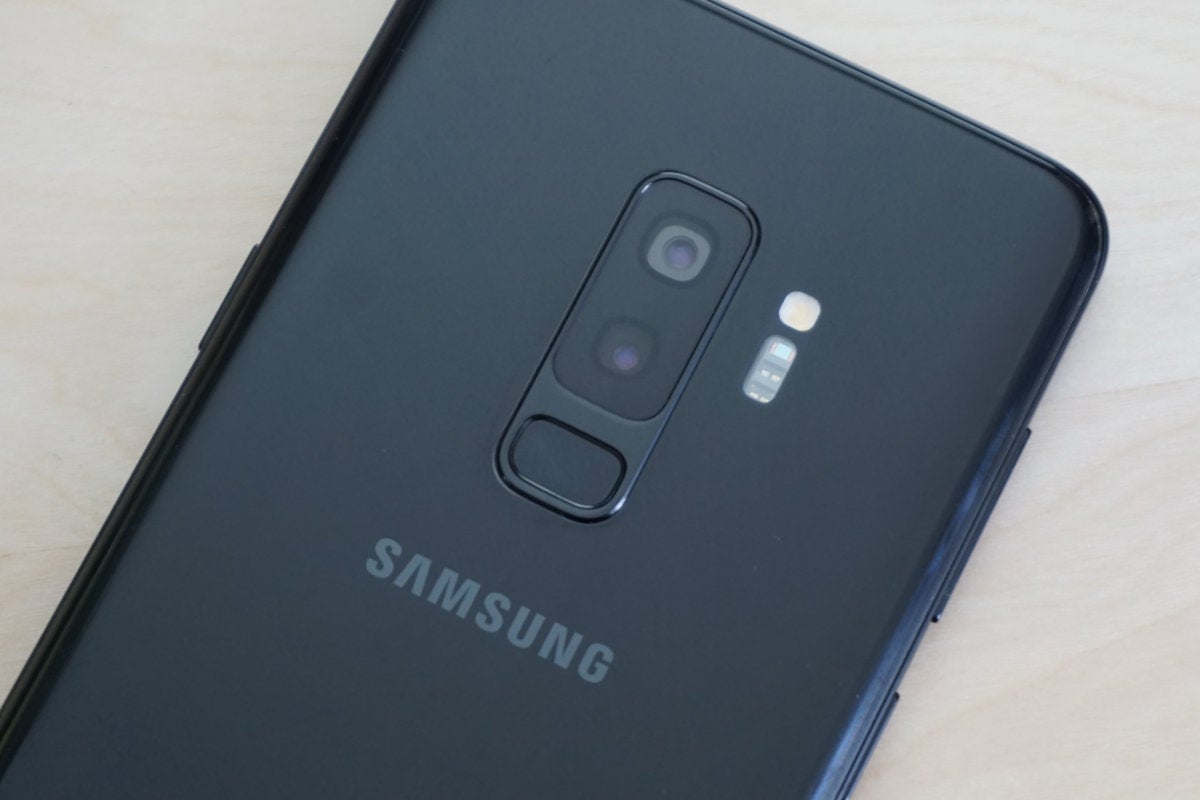 Samsung offers more biometric unlock options than any other phone, with facial recognition, fingerprints, and iris scans. You can set them all up to unlock your device, but there are a few things to know. If you add your face and irises, you can turn on Intelligent Scan under Settings > Lock screen and security > Screen lock type. This feature lets you unlock the phone more quickly with face unlock (which isn't as secure), but the phone will prefer irises if it's at the right angle to see your eyes. To access a secure feature like Samsung Pay, you can verify with your irises if you unlocked with facial recognition.
The new fingerprint sensor is in a better spot this year, but Samsung's enrollment dialog is confusing. The Galaxy S9 fingerprint enrollment screen tells you to swipe the sensor for faster setup. While it is faster, it's also not as accurate. You'll get more accurate fingerprint recognition if you just tap the sensor repeatedly to register.
Disable Bixby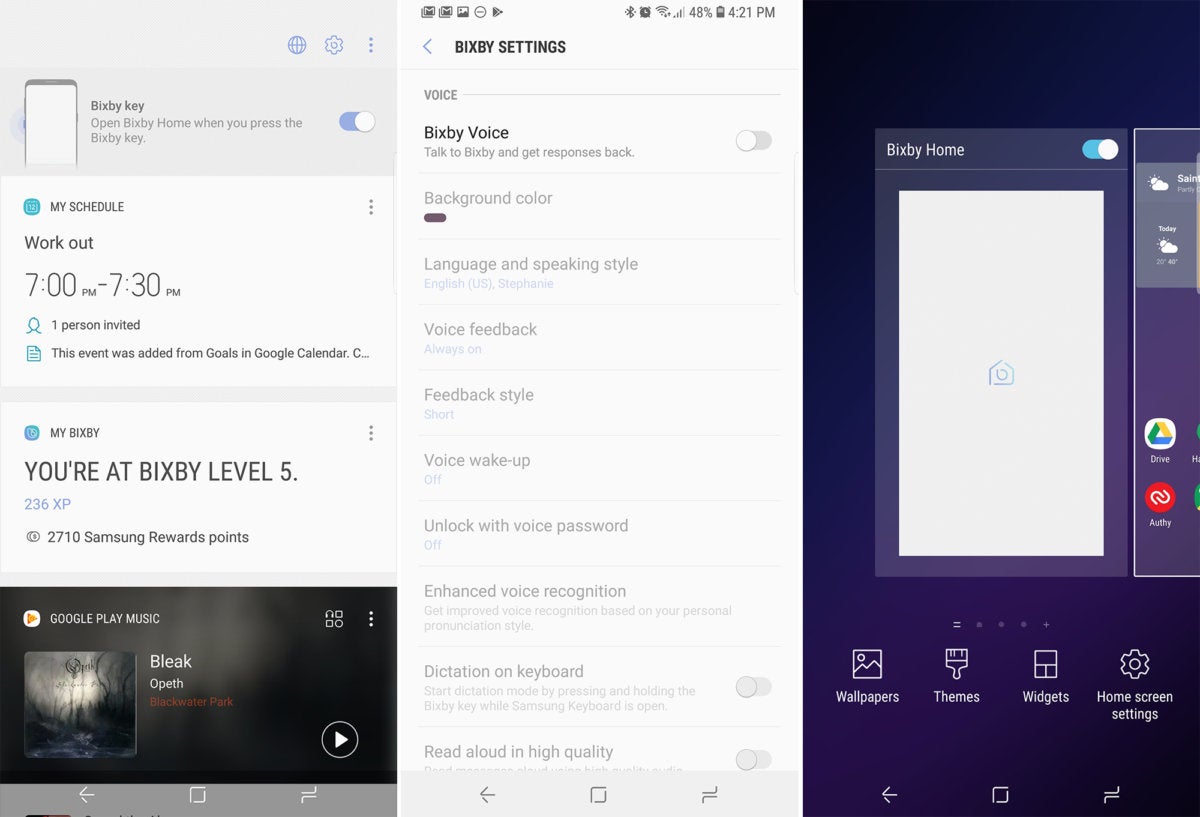 Samsung is really trying to make Bixby a thing, but it's still not very good on the Galaxy S9. The physical Bixby button on the phone remains entirely too easy to press. If you want to quash Bixby, you need to first swipe over to the left home screen panel or press the Bixby button to launch it. Tap the settings icon at the top and turn off the Bixby button via the toggle that appears.
Next, open the full settings menu and shut off Bixby Voice, which is also tied to the physical button. Finally, long-press in an empty area of your home screen to enter editing mode. Scroll over to the left, and turn off the Bixby home screen panel via the switch directly above it. Should you ever want to start using Bixby again, re-enable this panel to access the settings.
Secure Folder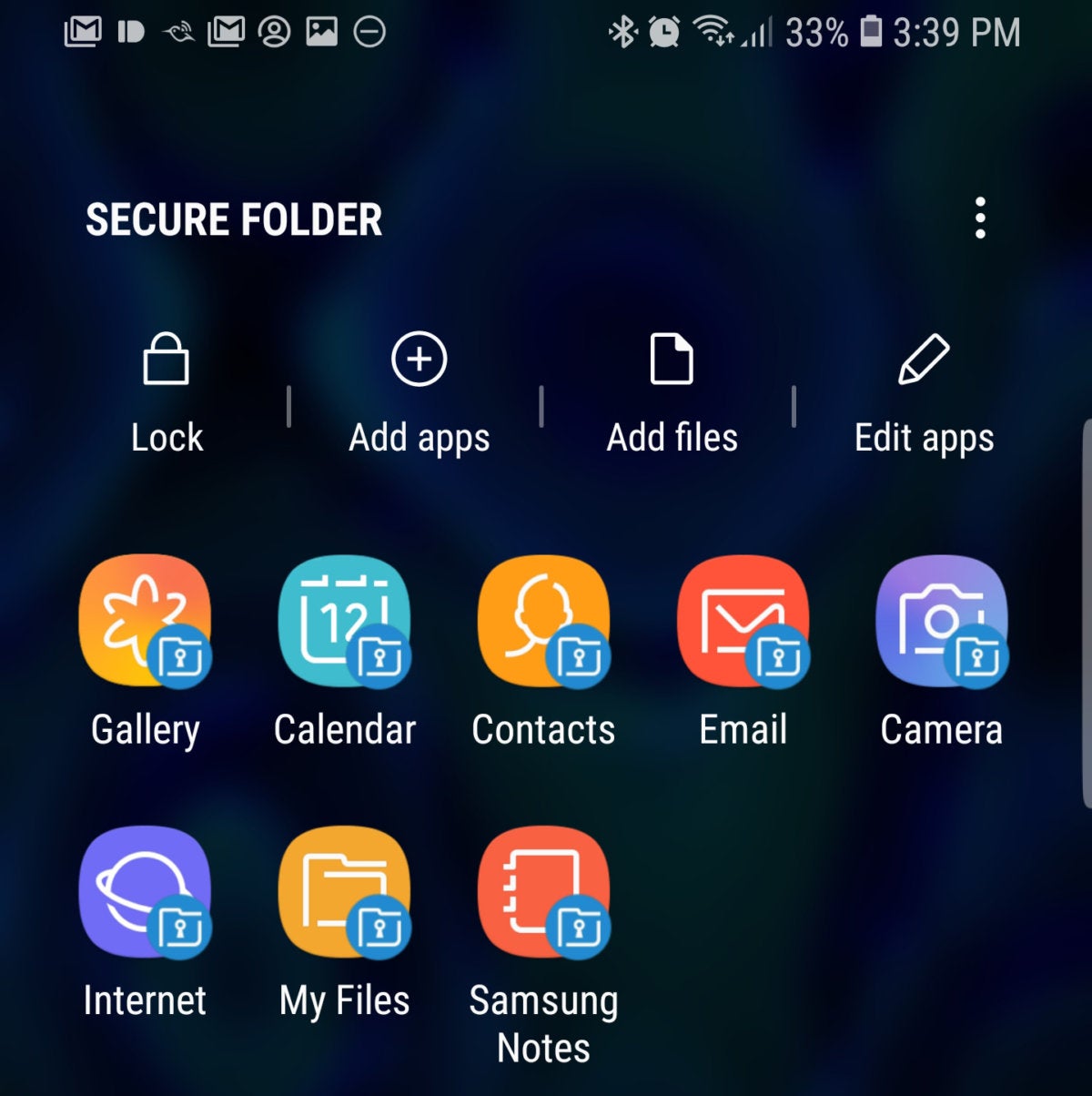 Samsung's Knox security framework is included on the Galaxy S9, allowing you to set up a so-called Secure Folder for all your most sensitive information. You'll find the option to set up a secure folder in Settings > Lock screen and security > Secure Folder.
You can access the secure folder with a PIN, pattern, or password. Fingerprints and iris scans you've registered can also open the folder. Secure folder can contain separate copies of your apps (for example, a banking app) as well as documents or images. Everything is encrypted, so no one except you can access the Secure Folder.
Manually control camera aperture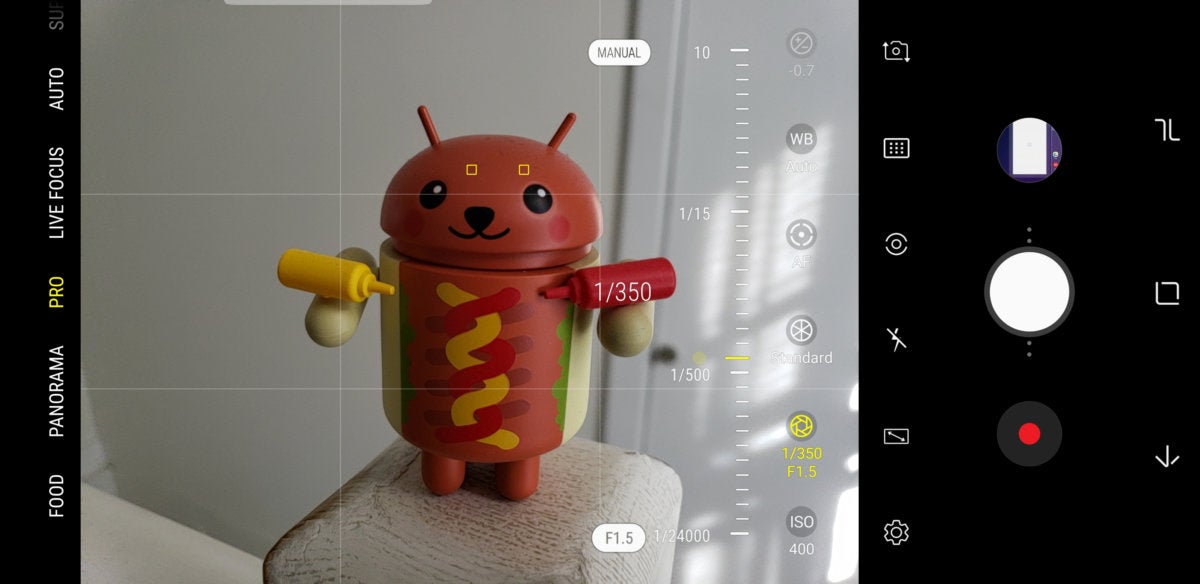 One of the Galaxy S9's new tricks is the dual aperture camera. It can operate in either f/2.4 or f/1.5—the former is best for bright settings and the latter is ideal for low light. You don't have to trust the phone to pick the aperture setting, though. Just switch over to Pro mode and you can play around with the adjustable aperture yourself. Swipe left twice to access Pro mode, and tap the aperture icon to access the toggle. On the bottom of the screen (in landscape orientation) is a button telling you which aperture setting is active. You can tap it to flip back and forth between f/1.5 and f/2.4.
Super slow-mo adjustments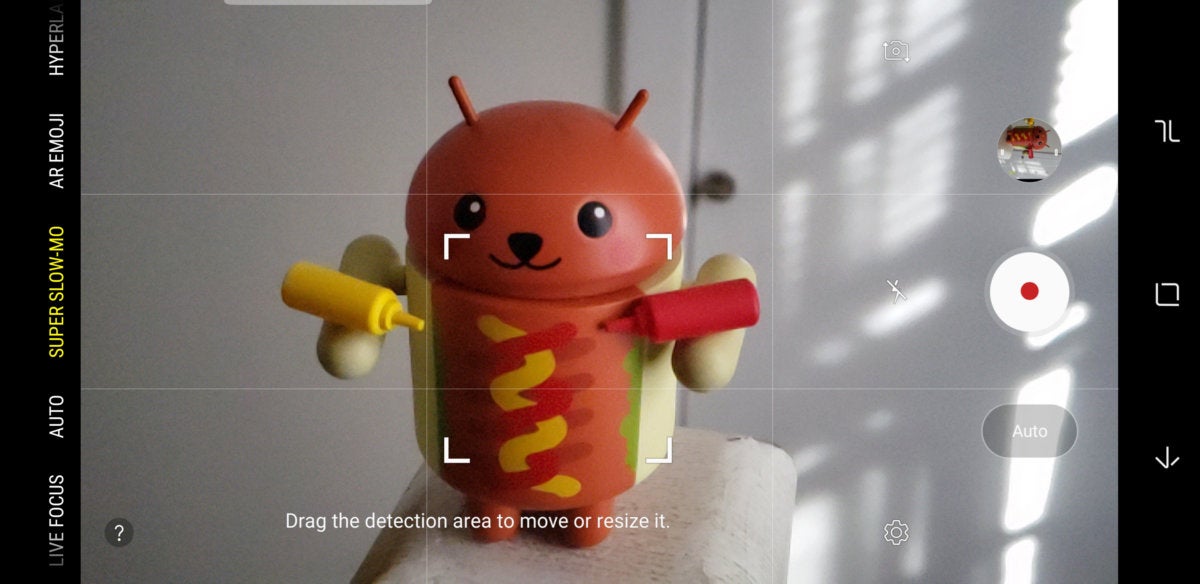 Samsung's new camera also includes a super slow-mo mode, but it can be a little hard to figure out. In the default mode, videos record at regular speed, but flip to 960 fps when there is movement in the highlighted box. If you want to stick with auto mode, you can press and drag to move that box around the frame and pinch to change the size. Alternatively, you can take full control of slow-motion video by tapping the Auto button to switch to manual mode. Now, you get a slow-motion button above the shutter to press whenever you want the video to record in super slow-mo.
More powerful multitasking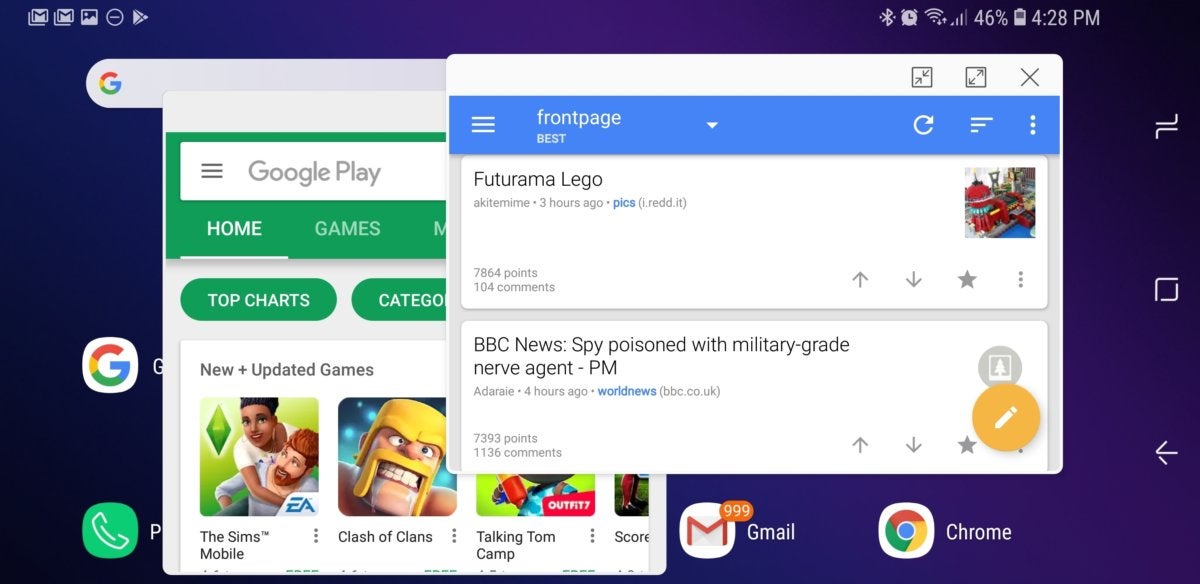 The Galaxy S9 ships with support for multi-window features, but several of them are turned off by default. Split-screen mode is all you have, and it's accessible only with a small button at the top of app cards on the overview screen. You can unlock the full multitasking power of your phone by going to Settings > Advanced features > Multi-window. Turn on both toggles in this menu. The top toggle lets you launch split screen instantly by long-pressing the overview nav button. The bottom toggle enables pop-up view for true windowed apps. Drag down from the top left or right corner to shrink your app into a movable window. You can have multiple apps open at a time and minimize them to floating icons.
Customize the Edge Panel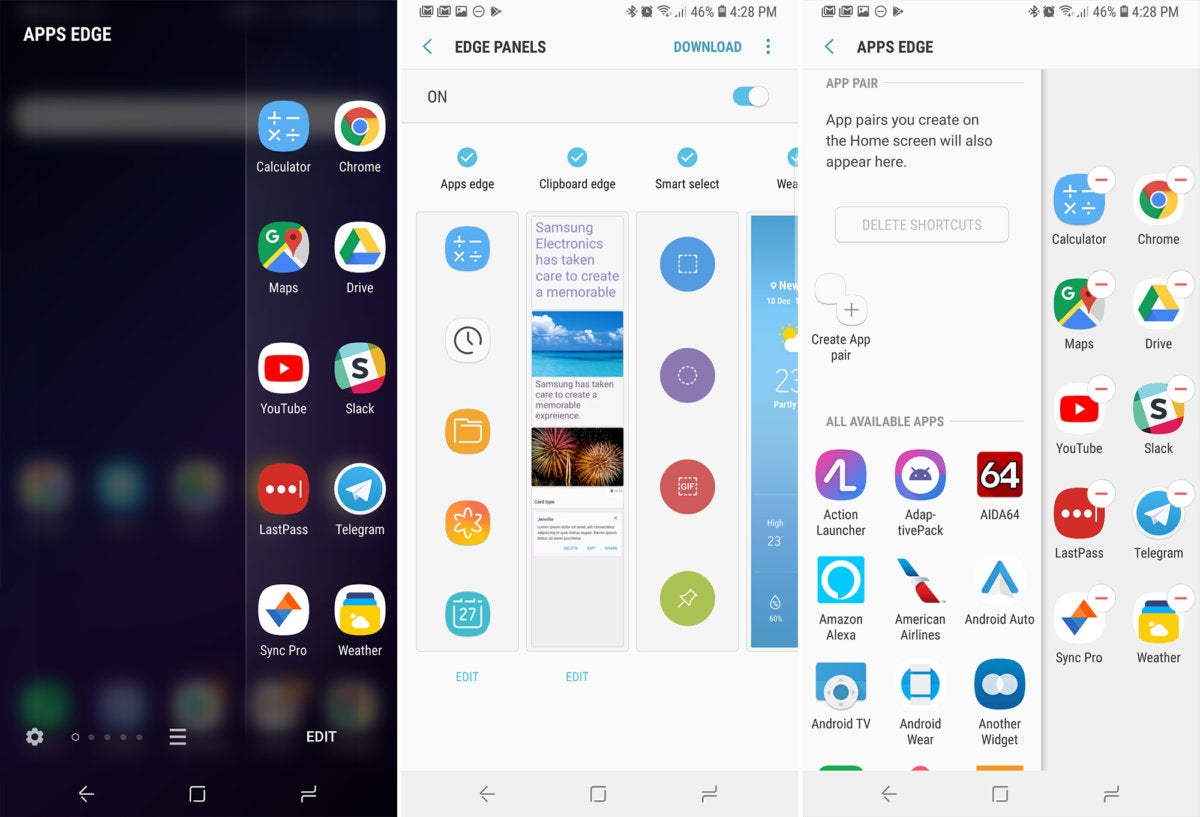 The Galaxy S9 has Samsung's Edge Panel tool present on the screen at all times. You can turn it off if you want, but a better course of action would be to customize the Edge Panel so it's more useful. The Edge Panel is accessible with a swipe in on the translucent handle (it starts out on the right edge around the middle). You can move the handle by dragging up and down instead of inward.
To make other changes, open Settings > Display > Edge screen > Edge panels. From here, you can change the order of the panels and what content they show. You'll want to pay special attention to the App Panel, which includes a selection of Samsung apps. Make sure to replace those with the apps you use most and want to access quickly.
Enhanced touch sensitivity mode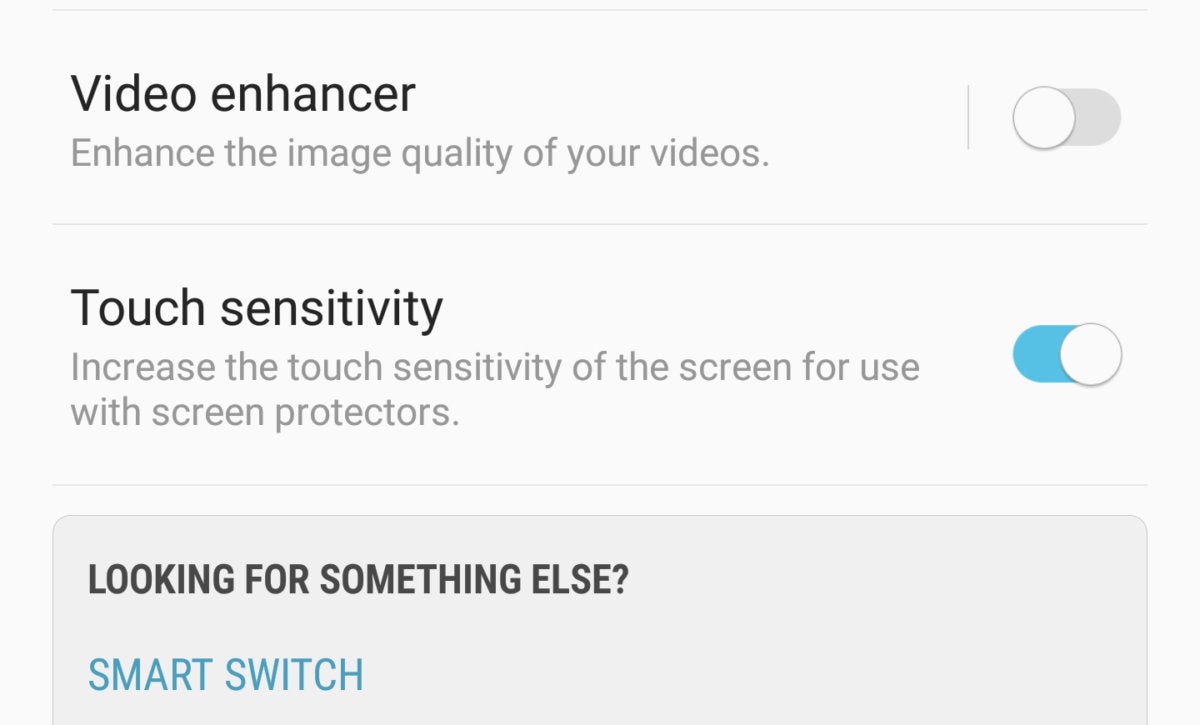 The Galaxy S9 has lots of new tricks, but this is an old one brought back from the dead. On the Galaxy S5, Samsung had a "Glove Mode" feature that boosted touch sensitivity. Now, the feature is back as a more general Touch sensitivity toggle. You'll find it under Settings > Advanced features. Samsung says this is mainly for boosting performance with screen protectors, which is a perfectly valid use. However, those in colder climates will appreciate being able to use the phone with gloves on.