We have access to more fonts today than ever before, and so many are free! Fonts, like graphics, can make or break a presentation (such as a PowerPoint slideshow); sell a book, magazine, newspaper (or leave it on the shelf); and make an advertisement succeed or fail. We'll go over fonts in detail so you can start downloading and using them for your own projects.
What are fonts?
Fonts are the complete set of characters—that is, letters, numbers, and symbols/icons—within a typeface, which is the design of the characters. For example, Arial is the typeface; Arial Bold, Italic, Narrow, Extended (Wide), Black, etc., are the fonts, or font Family.
Each typeface or font falls within one of five classifications:
Serif (Times Roman, Bookman Old Style, Cambria, Garamond, etc.)
Sans Serif—which means without the short serif lines at the beginning and end of a character (Arial, Helvetica, Humanistic, Calibri, etc.)
Script (Calligraphy styles, Black Letter styles, Zapf Chancery, English Adagio, etc.)
Decorative typeface (Cosmic, Kids, Keyboards, Palette, etc.)
Symbol/Icon, which are images sized in points (1/72 of an inch), pixels, or millimeters (such as Wing Dings, Bullets, Ornaments, Holiday-Fonts, etc.).
A sixth classification (Handwriting) has emerged since the industry created font design software. These typefaces can fall into any one of the previous classifications, as long as they are "handwritten."
A couple more notes about fonts:
Currently, there are three font formats compatible with personal computers, Macs, and other related devices: OpenType (OTF), PostScript (PS), and TrueType (TTF).
The Script, Decorative, and Handwriting typefaces often fail to provide numbers and special keyboard characters, such as the at (@) sign, the ampersand (&), and the pound or hash tag (#) sign. You will have to select another typeface to represent the numbers. Also, some of these specialty fonts only cover the uppercase letters.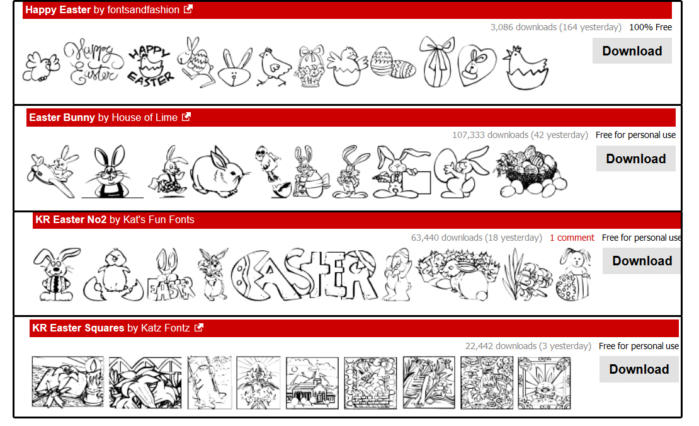 Where are the fonts located on my PC?
On Windows PCs, fonts are installed in the C:WindowsFonts folder. They are available to almost all software programs on the market today, including all the Microsoft Office programs, Photoshop, Corel Draw, Illustrator, and more.
Note: There is much debate regarding the number of fonts that come pre-installed with Microsoft Office. For example, Microsoft Office Professional & Professional Plus have about 216 fonts, and Microsoft Home & Student and Home & Business have around 68. I've asked Microsoft to clarify the disparity, but I've yet to receive a clear answer.
How to download & install fonts
The download process is the easy part. Finding the fonts is more challenging because of the sheer number of typefaces that are now available on the Internet. If you're just browsing, enjoy the journey. But if you're looking for the best typeface to complete that perfect book cover you're designing for a very famous client, pace yourself—it could take days. Here's a good way to get started.
1. Search for free fonts and select one of the websites from the results. If you are in a hurry, choose a site that provides a "Categories/Styles" list so you can, at least, eliminate all the categories you don't want.
For example, the 1001 Free Fonts site provides a large Categories/Styles list just beneath the site header. If it's a children's book, consider the Disney or Fantasy group; for science fiction, try the Sci Fi group; or a book about the Knights of King Arthur would likely use a typeface from the Medieval group.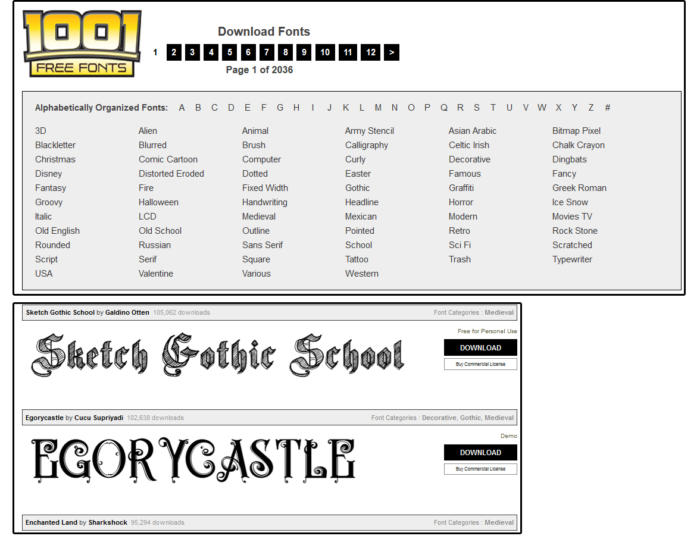 2. Browse through the target category, select the typeface that works best for your project, then click the Download button.
3. Font files are generally downloaded in compressed ZIP format. Assuming you have a program to decompress ZIP files, that program will guide you through the process.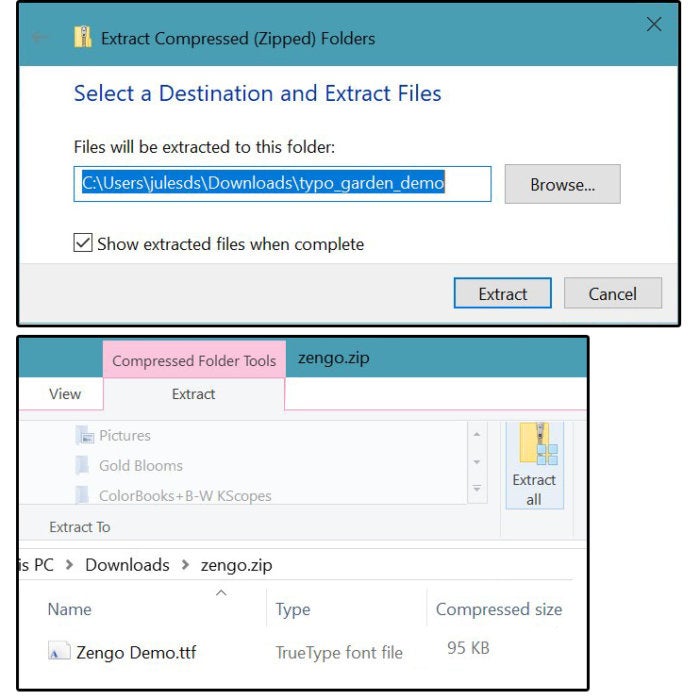 4. When the font file appears in the next dialog box, double-click the file, and Windows displays a screen that shows the typeface in multiple sizes. If it looks good, click the Install button.
5. A dialog pops up and says: Do you want the following program to make changes to this computer? If so, click Yes, and the fonts install directly to your C:WindowsFonts folder.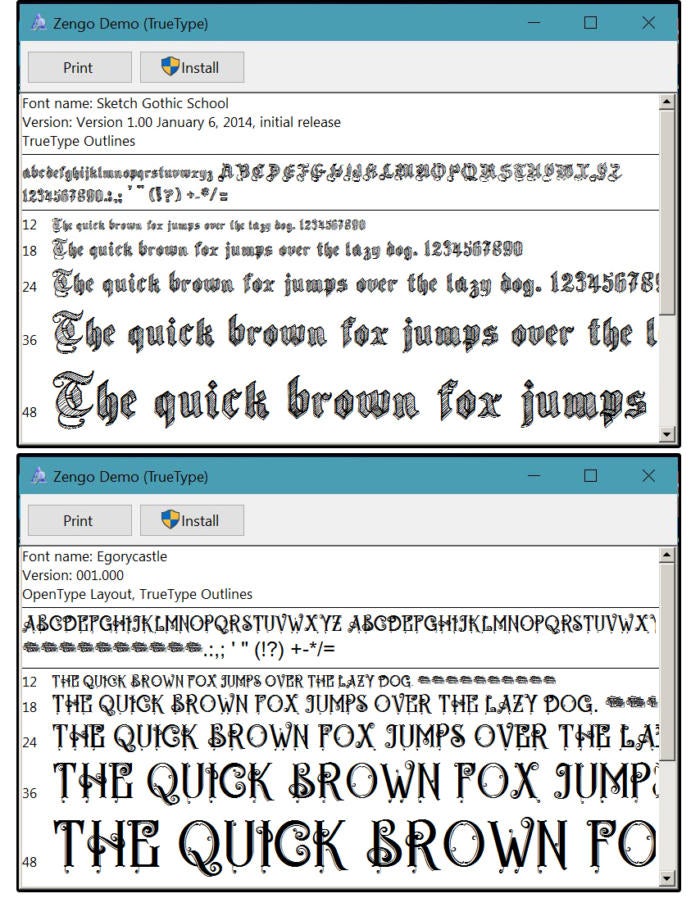 6. You can also copy the ZIP file to your desktop or another folder. Just locate, then click the Copy button.
7. Next, position your cursor on the ZIP file and right-click.
8. Select Open With (or Extract, based on your zip program) and choose a zip program from the dropdown list. The file unzips, and Windows copies it to the destination location you specified (such as the Desktop).
9. To install the unzipped file from the Desktop or another folder (that is not the C:WindowsFonts folder), just double-click the file and the Install Fonts screen appears. Click the Install button, and mission accomplished.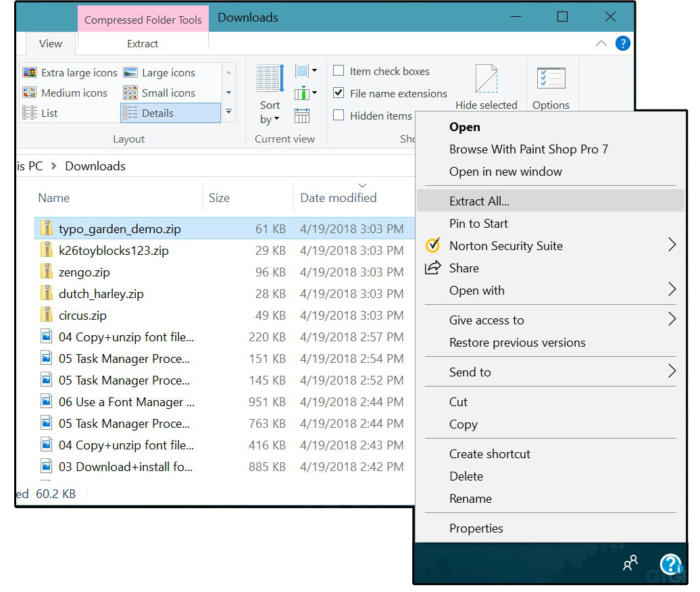 How to manage your fonts
The top questions we get regarding managing fonts are: How many fonts can each software program support, and why are some fonts available in certain programs and not others?
With no answer from Microsoft, I researched the quantity matter myself and found this general consensus: It depends on the software and your system's memory.
The operating system and your applications take some RAM. Add to that all the Plug-Ins that Photoshop uses, or the Add-ins that Word uses, plus a font folder stuffed with nearly 4,000 fonts, and the data or image file that you're working on, and that's it, you're out of memory.
2. If your system is memory-deficient, consider creating a secondary Fonts folder somewhere else on your hard drive. To avoid confusion, call it something else like Fonts2 or Uninstalled Fonts.
3. Next, create subfolders inside that folder for Categories, with Styles subfolders inside each Category folder. Now you can leave the fonts you use all the time in the C:WindowsFonts folder and just re-install the fonts you need for the current project, then uninstall them again when the project is complete.
4. Also consider copying all the fonts used in each project to that project's folder (but do not move or delete them from your Fonts2 folder, or they will not be visible for future projects).
5. Artists, graphic designers, page and layout production staff, and typesetters use hundreds of typefaces a month and, therefore, use font manager programs. Most of them are very user-friendly. Some of the free ones lack the extra features of the fee-based programs. Choose the program that fits your needs (and your wallet), then play around with it for awhile. Once you've chosen your program, start organizing your fonts.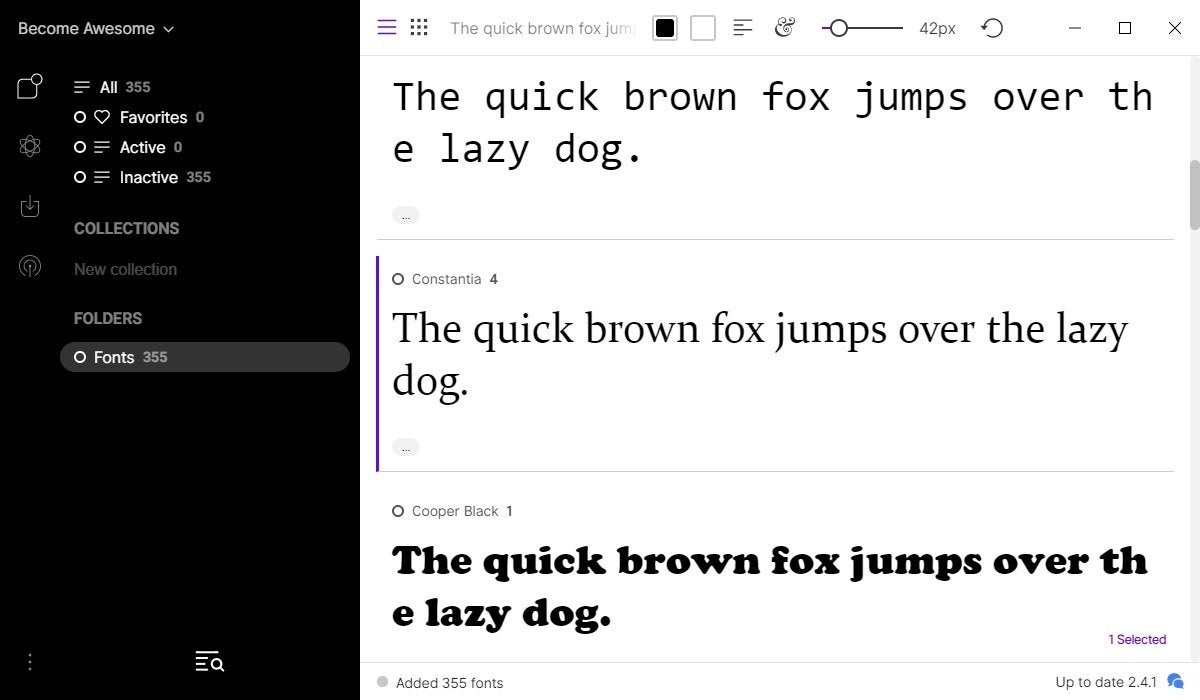 6. Notice that the font manager shown here (FontBase) uses the lefthand column to organize your fonts in a variety of ways: by Favorites, Active, and Inactive, or by setting up collections or seeing fonts in their folders. The main window displays the style and design of each typeface perfectly, so you can scroll through the lists and choose the best font for each project.
My font manager shaved 20 minutes off each of my projects when I was a graphic designer. Makes a difference when you have dozens of projects a week.