At a Glance
Expert's Rating
Pros
Top-notch performance
Priced more like a budget NVMe SSD than a premium model
Five-year warranty
Cons
Boring label
Easy to confuse with an older WD Black SSD that was also M.2/NVMe
Our Verdict
The Western Digital Black 3D NVMe SSD is as fast as Samsung's 960 Pro, but it costs a lot less. In fact, it's only slightly more expensive than entry-level drives. It's the drive that smart buyers should go for.
Best Prices Today
Western Digital's WD Black 3D NVMe SSD delivers much the same performance as the chart-topping Samsung 960 Pro, but for significantly less cash—$200 less in the 1TB capacity.
This is a good thing, and a big deal. Samsung has been unchallenged in the end-user, performance NVMe SSD market since its inception. If you wanted best speed at a fairly reasonable price, the company's SSDs were your only choice. Until now.
Note: This review is part of our best SSDs roundup. Go there for details about competing products and how we tested them.
Design and specs
Announced Thursday, the WD Black 3D NVMe is an M.2, PCIe x4 SSD in the 2280 (22 millimeters wide, 80 mm long) form factor. It uses WD's 3D TLC NAND, though WD was unable to confirm the number of layers. The NAND resides on only one side of the PC board, so the Black 3D NVMe can fit in the narrow confines of thin-profile laptops.
The Black 3D NVMe has roughly a 1GB/1MB NAND-to-DRAM-cache ratio, so you get 256MB of DRAM with the $120, 250GB drive, 512MB with the $230, 500GB drive, and 1GB with the $450, 1TB capacity. WD wouldn't talk about the amount of NAND being utilized in SLC mode (writing only one bit) as a secondary cache, but we're assuming it's somewhere around the traditional 1.5 to 2.5 percent of total capacity.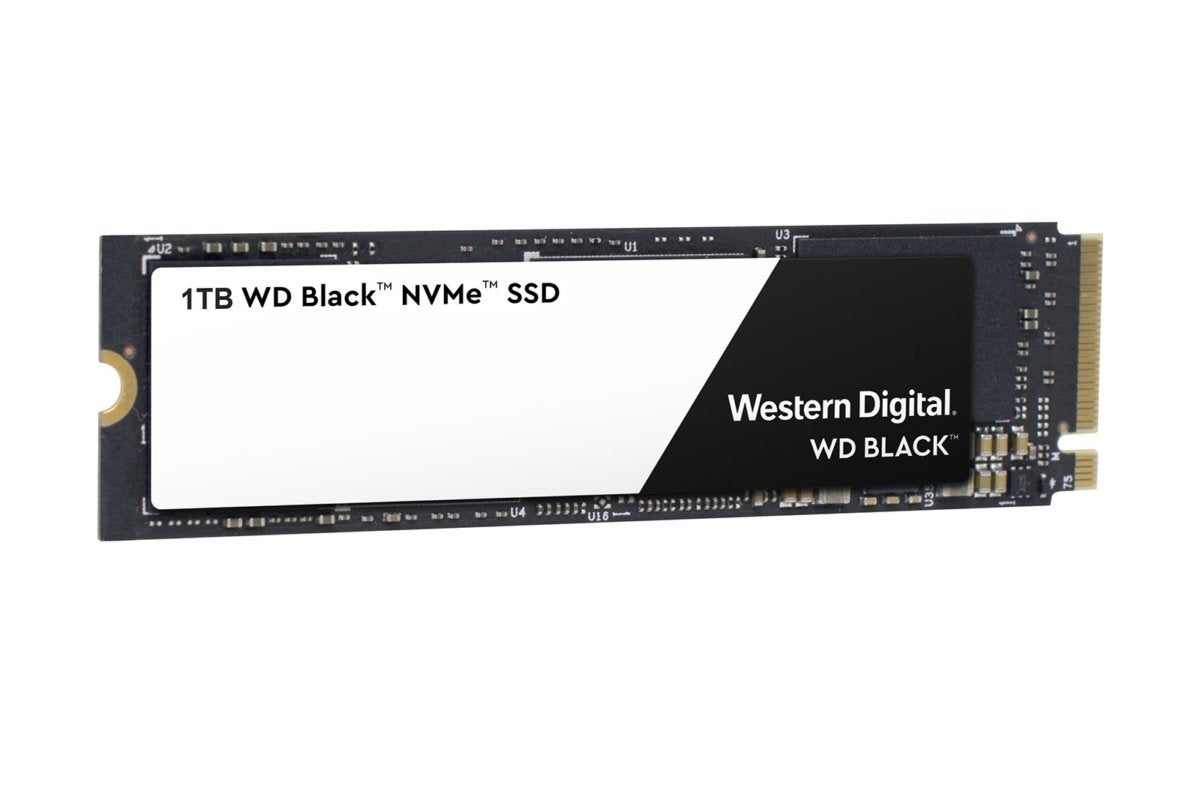 The WD Black 3D NVMe is covered by a five-year warranty and rated for 200TBW (TeraBytes Written) for the 250GB capacity, 300TBW for the 500GB capacity, and 600TBW for the 1TB capacity. Most users won't touch those amounts in 10 years of continuous use.
Note: There is already a WD Black SSD on the market in the M.2/PCIe 2280 form factor. This is not that drive. If it doesn't say "WD Black NVMe" on the label, it's the older drive.
Performance
In most respects, the WD Black 3D NVMe closely matched or exceeded the 960 Pro's performance. However, it fell short on one or two tests, most notably non-queued sequential reading (raw sustained throughput) with CrystalDiskMark 5, and a mysteriously slow random write access time in AS SSD 1.9. The latter disables caching, so it's not indicative of a drive's real-world performance.
CrystalDiskMark had nice things to say about the WD Black NVMe, rating it as the better writer, though the 960 Pro was the slightly better reader when multiple files were queued for writing.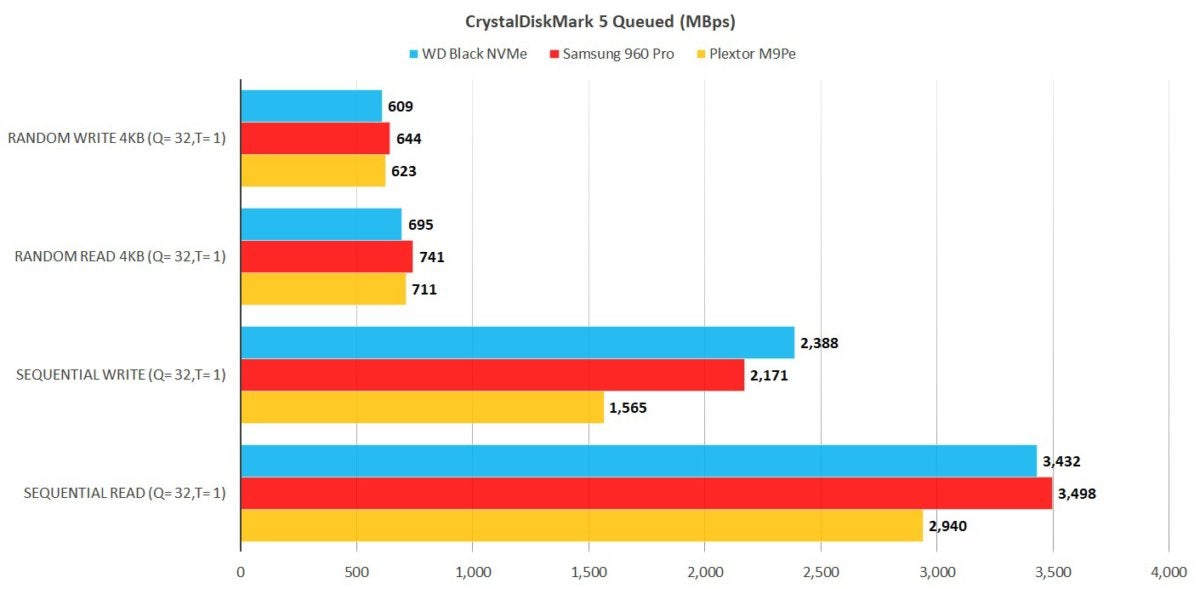 The numbers below are quite different, telling us that WD's caching techniques are quite effective when queues are involved.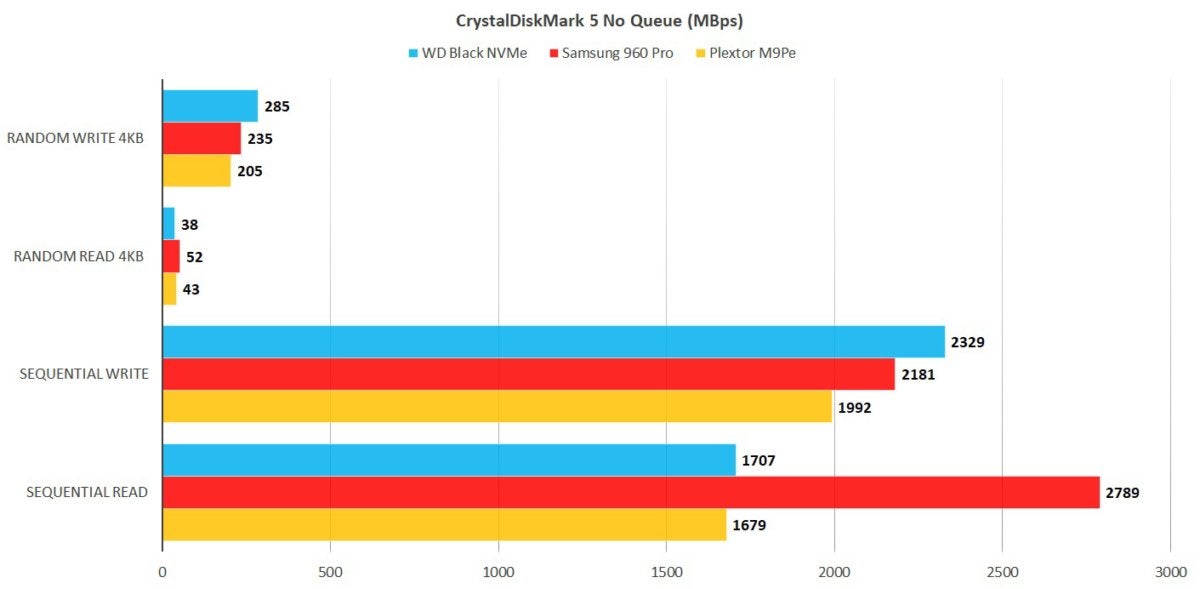 When queues weren't involved (see above), as when a single large file is copied, the Samsung 960 Pro was rated as quite a bit faster by CDM 5. AS SSD 1.9, seen below thought the opposite, placing the WD Black in front. Go figure.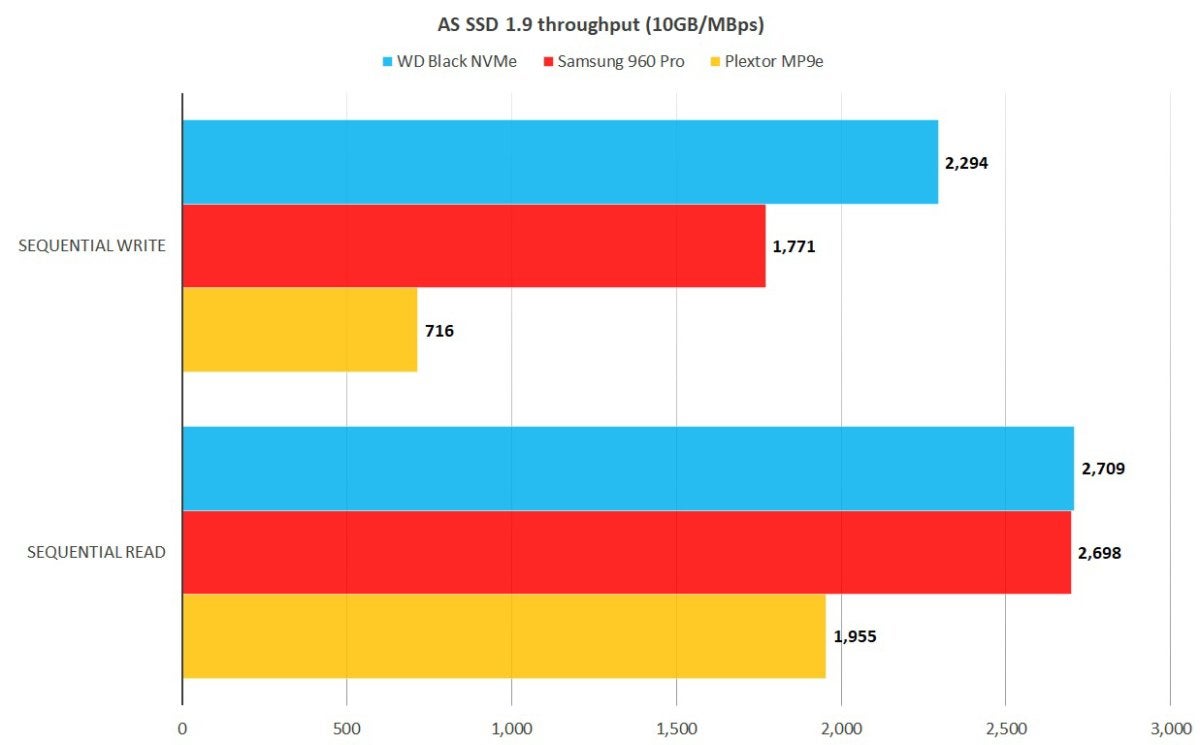 But with the FUA command disabling write caching, something that never happens in the end-user environment, the WD Black's smaller writes fell off the planet. To be fair, this is much the same phenomenon we saw with Samsung's own 950 Pro back in the day. Caching is a requirement for these drives to keep up with the speed of the bus.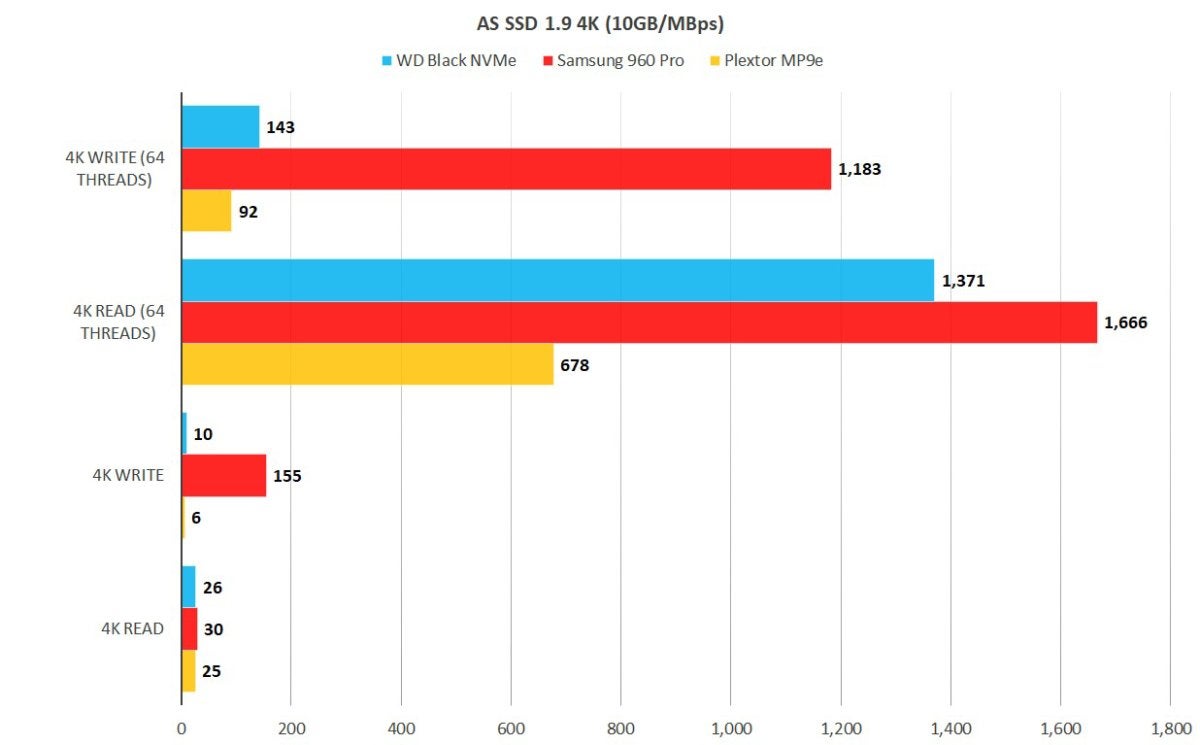 Because there's so much disparity in the synthetic benchmarks we've been using (we've already started moving our test MO towards the more modern and consistent AS SSD 2.0 and CDM 6), we tend to trust our 20GB file copy tests more when it comes to sustained throughput. Here, the WD Black 3D NVMe was very good with our 20GB group of files and folders, but not quite as fast as the Samsung 960 Pro with the single large 20GB file. We also fed the drive 48GB data sets from our new test layout without any appreciable slowdown over the entire copy.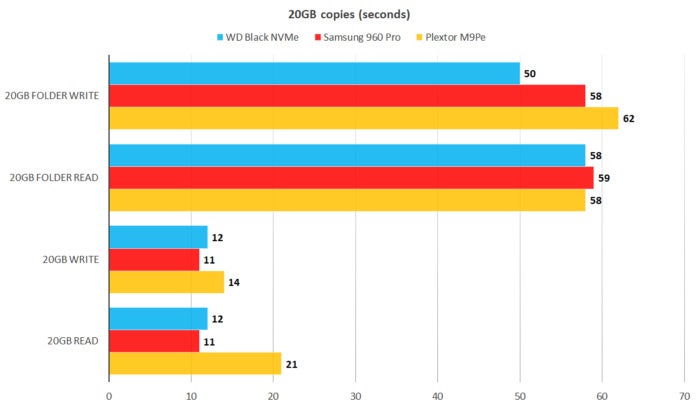 Note that you'll get slightly slower sequential write performance out of the 500GB Black 3D NVMe. Approximately 300MBps slower, according to WD. The Black 3D NVMe 250GB suffers a major drop-off in write performance of 1.2GBs. It's still a fast drive in the grand scheme of things, but that's a major difference. Note that Samsung's 960 Pro doesn't not suffer a dropoff in the 512GB capacity (and isn't available in a 256GB version).
Buying advice
You get much the same performance with the Western Digital Black 3D NVMe as you do with the Samsung 960 Pro, but for the price of a slower Samsung 960 EVO. In fact, it costs just a little more than the entry-level Plextor MP9e we compared it to in the performance section. That makes the WD Black 3D NVMe by far the sweetest deal in the performance NVMe market right now.
Best Prices Today
Note: When you purchase something after clicking links in our articles, we may earn a small commission. Read our affiliate link policy for more details.
Jon is a Juilliard-trained musician, former x86/6800 programmer, and long-time (late 70s) computer enthusiast living in the San Francisco bay area. jjacobi@pcworld.com